Date of Publishing:
Red has always been praised as the color of power. Red can effectively support and elevate the decoration of your living room. All you need to do is use red for a few small details in the living room and trust that everything will work out. Red is loud. It's eye-catching. Because red adds a lot of visual heat, so is a particularly fantastic and must-have option for those wanting to renovate a cold-looking room. These 14 Red Living Room Ideas are compiled to give you ideas and inspiration and unique ways to introduce shades of red hues and how to apply them to your living room.
1. Start With Dark Red Rug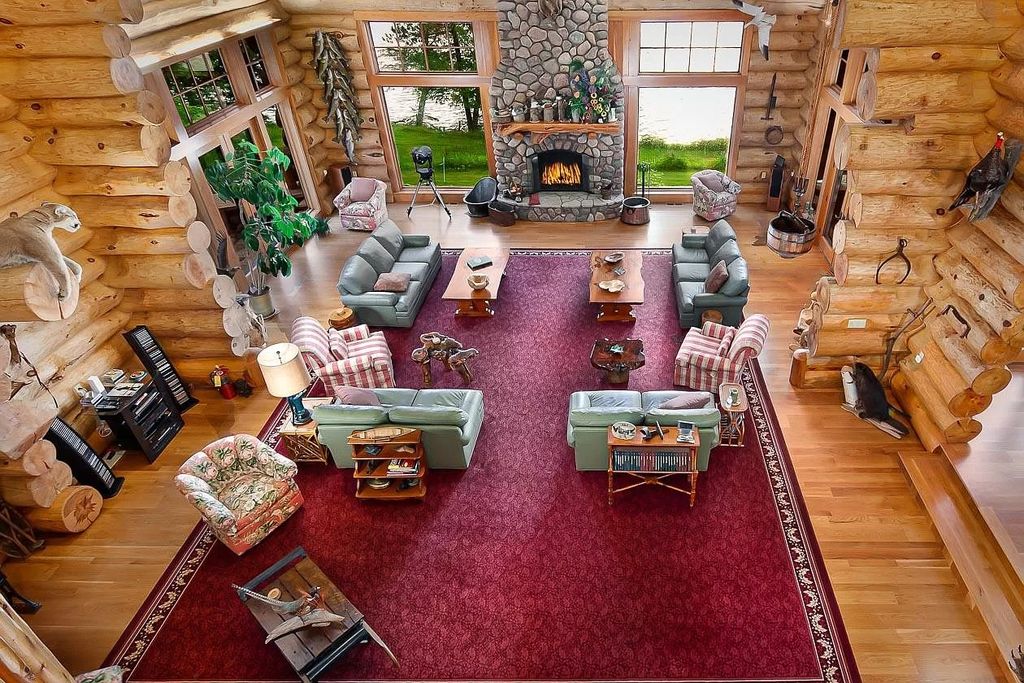 Bring in the atmosphere of the biggest festive season of the year by using a large bold red rug with a delicate pattern border for your living room. Wooden blocks of the same size are linked together to create the walls combined with a deep red carpet that makes the overall living room like a big Christmas gingerbread which is attractive and full of fun. Stunning Retreat of Unparalleled Design and Quality of Craftsmanship in Watersmeet Listed at $8.5M
2. Time Of Earthy Clay Red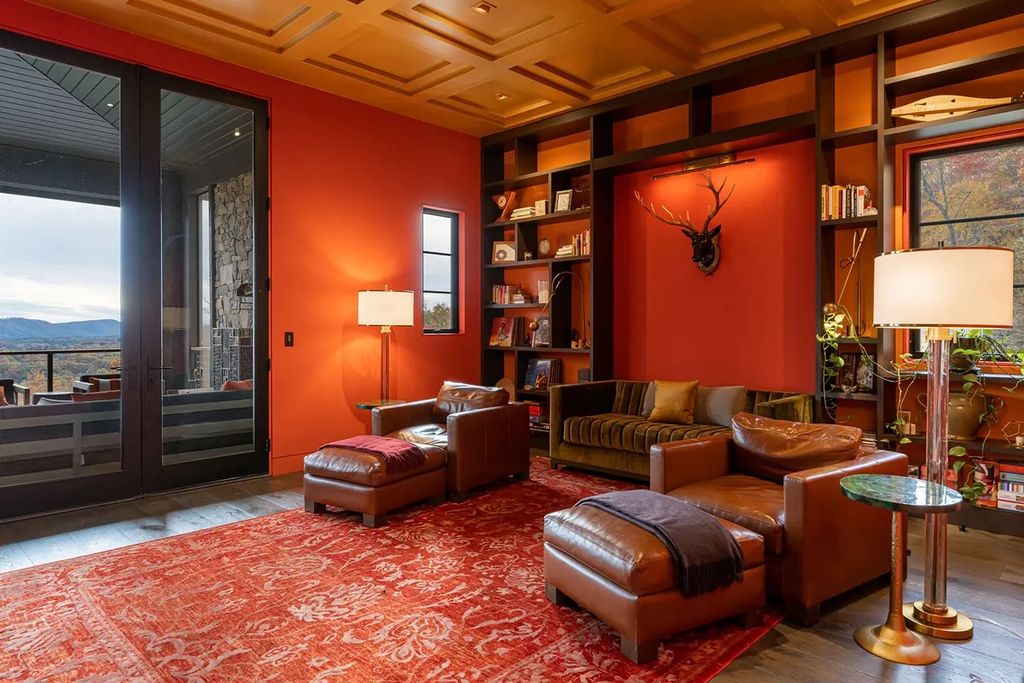 To fill your living room with warmth and bring nature into your home, earthy clay red is an extremely wise choice. Earthy clay red is used simultaneously for wall paint and textured rugs. This color tone is also very matching pair with recliners, making people feel real rest and relaxation just by looking at them. Don't forget to highlight the room with some eye-catching decorations such as a deer head hanging on the wall as the focal point. Discretely Sited with Coveted Mountain Views, This Grand Manor in Fairview Asks for $7,950,000
3. Pop Up Red Hue By Accent Chair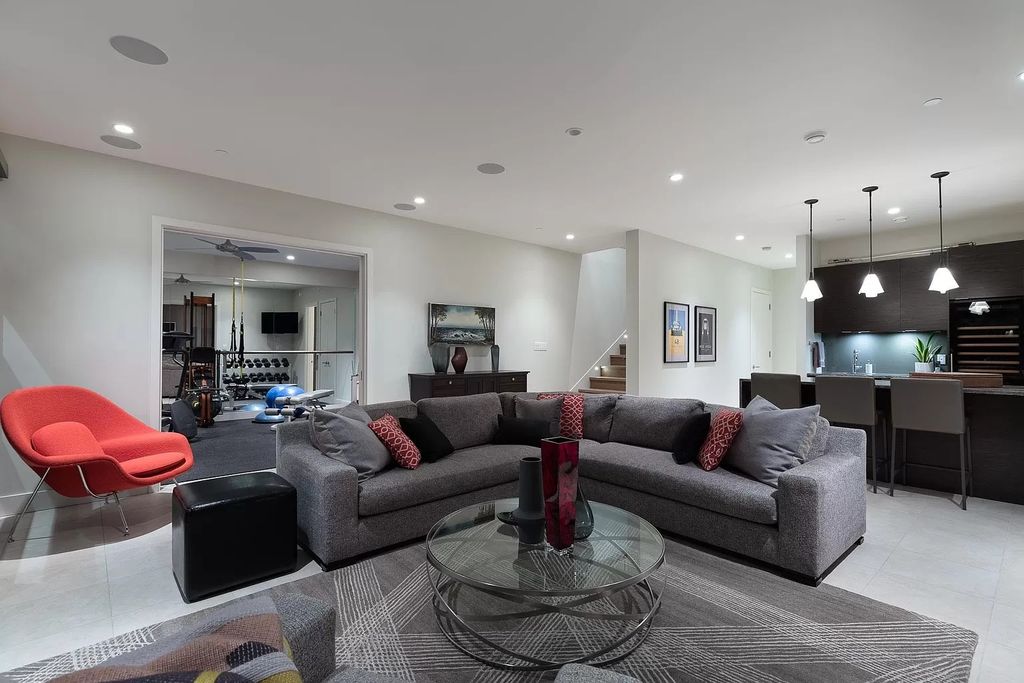 In addition to using throw pillows, artworks, or blankets in the shapes of red serving for the red living room, you may as well focus on some other red things as the focal points for your single-color living room, such as the red accent chair in the abovementioned example. I promise you gonna be amazed by the visual effect it brings to the overview. This C$6,689,000 Home in West Vancouver is a Beautiful Escape and The Ultimate in One Level Living
4. Curate The Details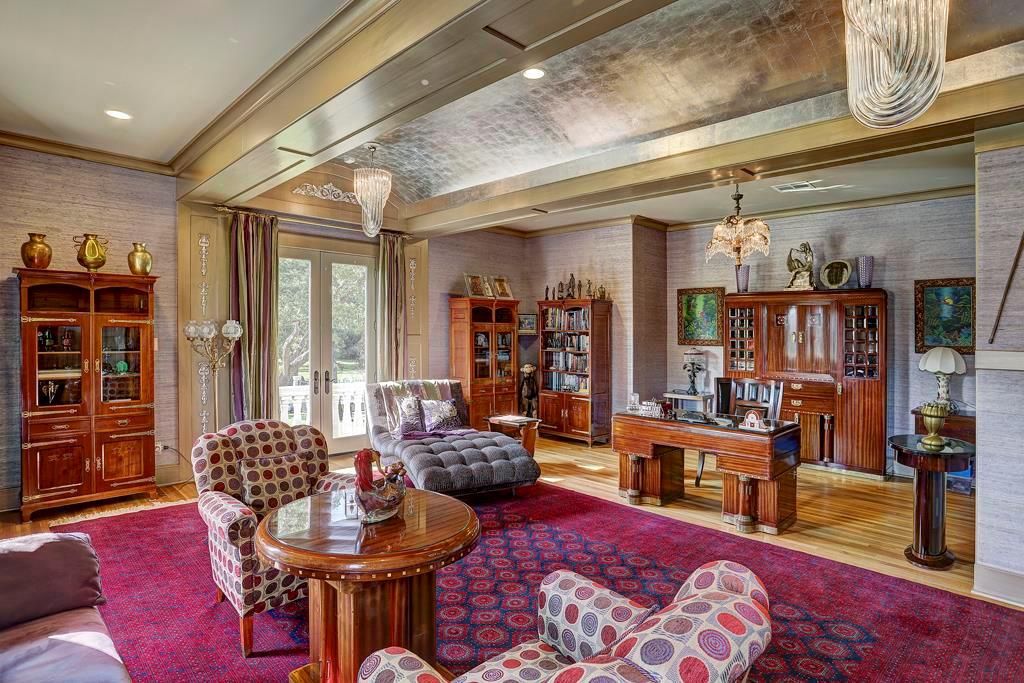 You can apply multiple shapes of red to the details of your living room at the same time, but it takes a bit of arrangement to make your palette feel cohesive. This living room idea starts from a large bold red rug to other smaller red details like the pattern on the pair of cough. It unites and brings together as one. This $12,950,000 Mega Mansion in Houston is A Palladian Paradise offers Spectacular Resort Style Living and Entertaining
5. Use Red As The Background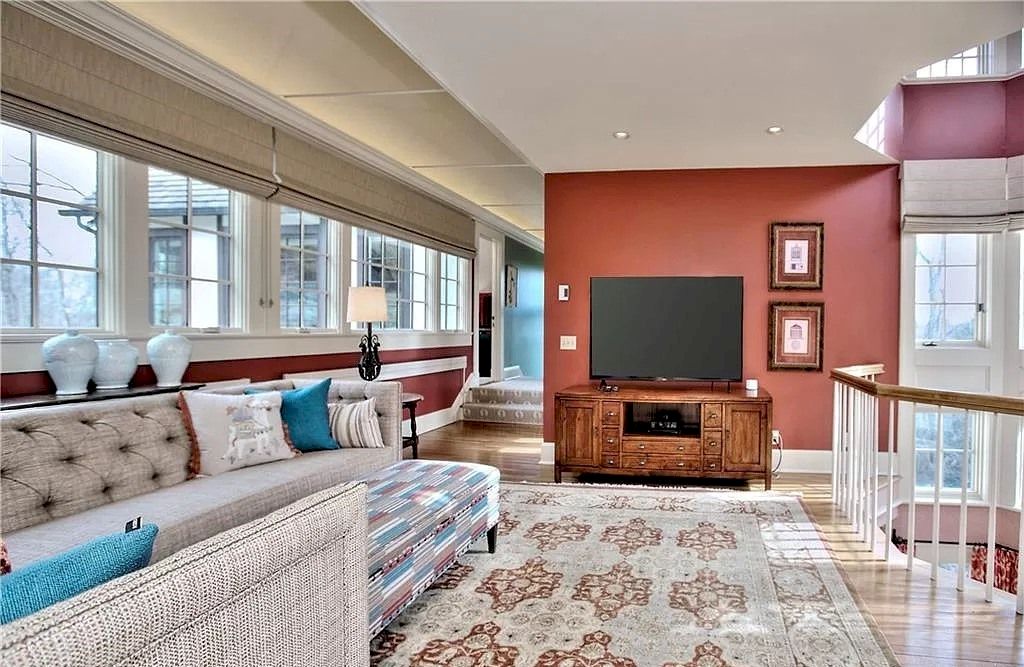 Enhance red hues inspired by the beautiful nature by using red clay terracotta. This high-end color is chosen for the wall paint as the background for displaying electronic devices and some outstanding artworks. This stunning clay terracotta background as well becomes the focal point for the whole room where you fail to take your eyes off. Such an eye-catching Red Living Room Ideas. This $2,995,000 Magnificent Home in Connecticut Embodies the Romantic Beauty of an English Country Manor
6. Tone Up Your Space With Wallpaper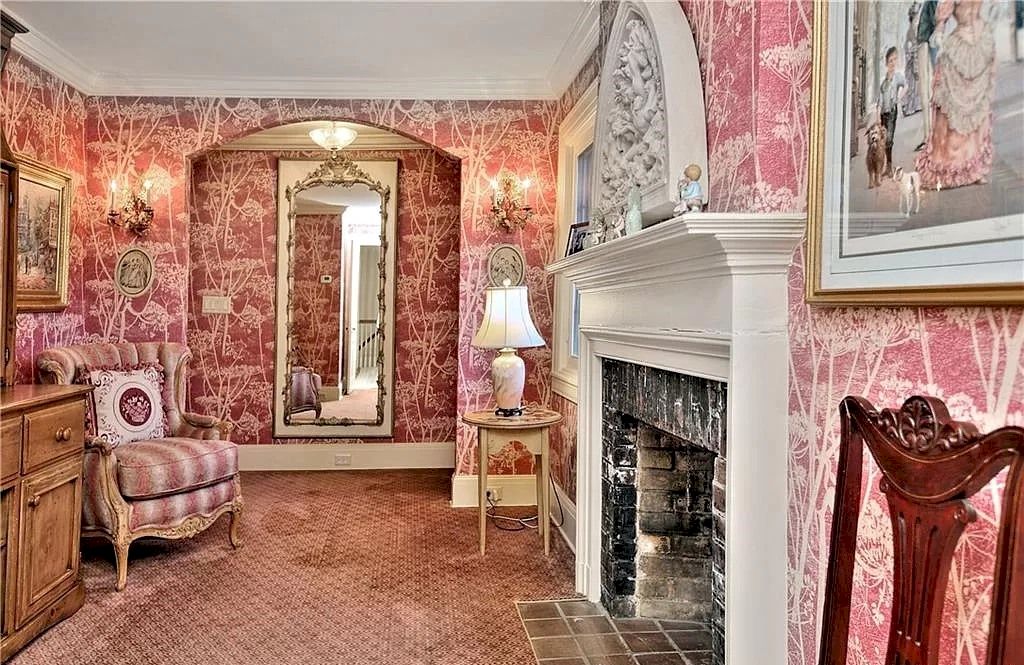 Dive into the classic space with the appearance of Cerise Red, presented on the cover of the single chair with floral wallpaper. Even the top of the fireplace is not overlooked. It feels like being immersed in a fragrant rose garden. If you do not like to use wall paint because there is only one color and it is difficult to decorate with textures, you can completely consider using wallpaper because it is various in textures, patterns and very easy to replace. This $2,995,000 Magnificent Home in Connecticut Embodies the Romantic Beauty of an English Country Manor
7. Do Not Forget Checkered Pattern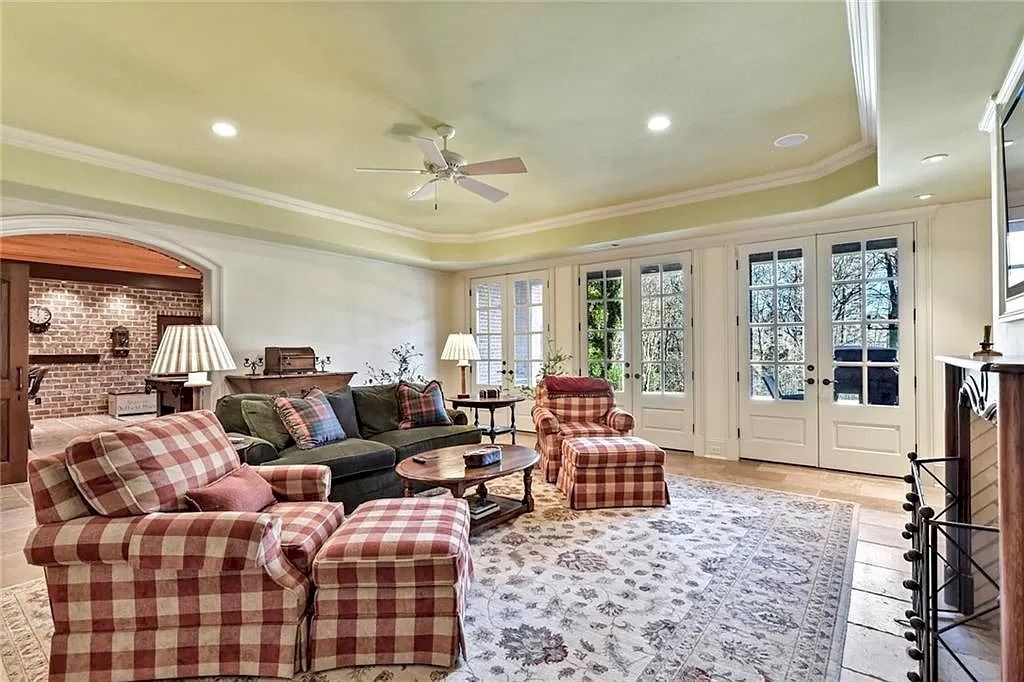 One of the leading reasons you might prefer Red Living Room Ideas is because of the color's heat, and perfect for cozy living room ideas. And the pattern never goes out of fashion, that is the checkered pattern. The upholstered recliners with brick red-hued checkered pattern installed on both sides of the coffee table warmed up the entire living room with the dominant cream tone. This $3,300,000 Stunning Estate Fulfills Your Enormous Dream in Georgia
8. Pick A Two-Tone Palette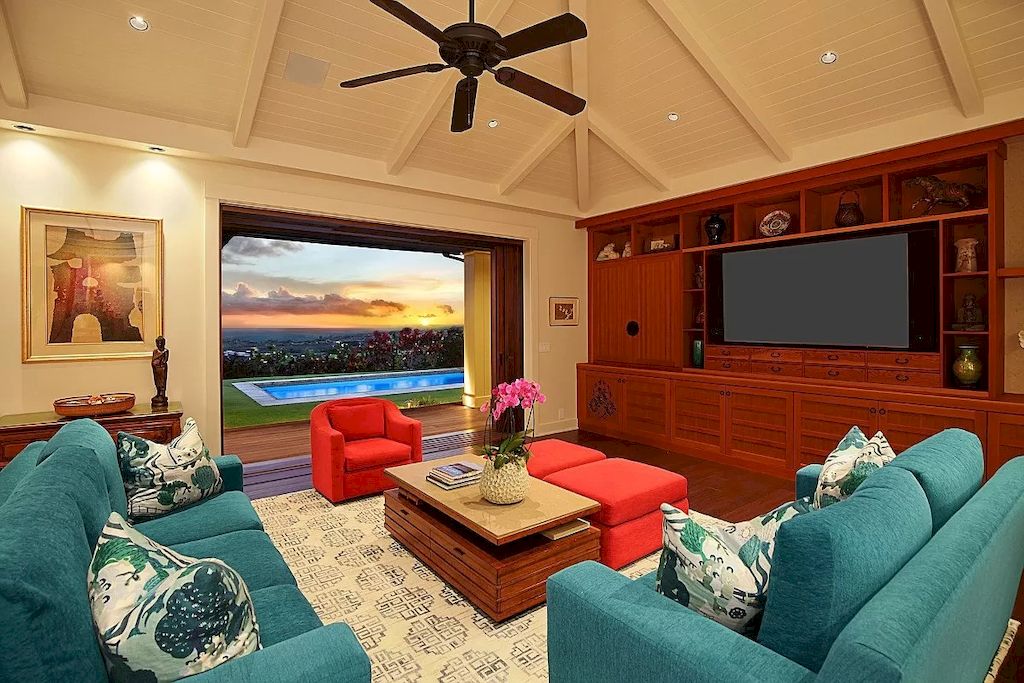 Design Red Living Room Ideas doesn't mean that you have to use red for every detail. Let me completely refresh your mind. Combine red with 2 or 3 more tones such as turquoise, beige, shades of brown, or any other hues you like, so that red is not the only color. It's the easiest way to bring red into your living room. Exquisite Japanese-inspired Home Offers Modern Living with Elegance, Privacy and Breathtaking Island Views Listed at $10,200,000
9. Choose Reds As Grounding Color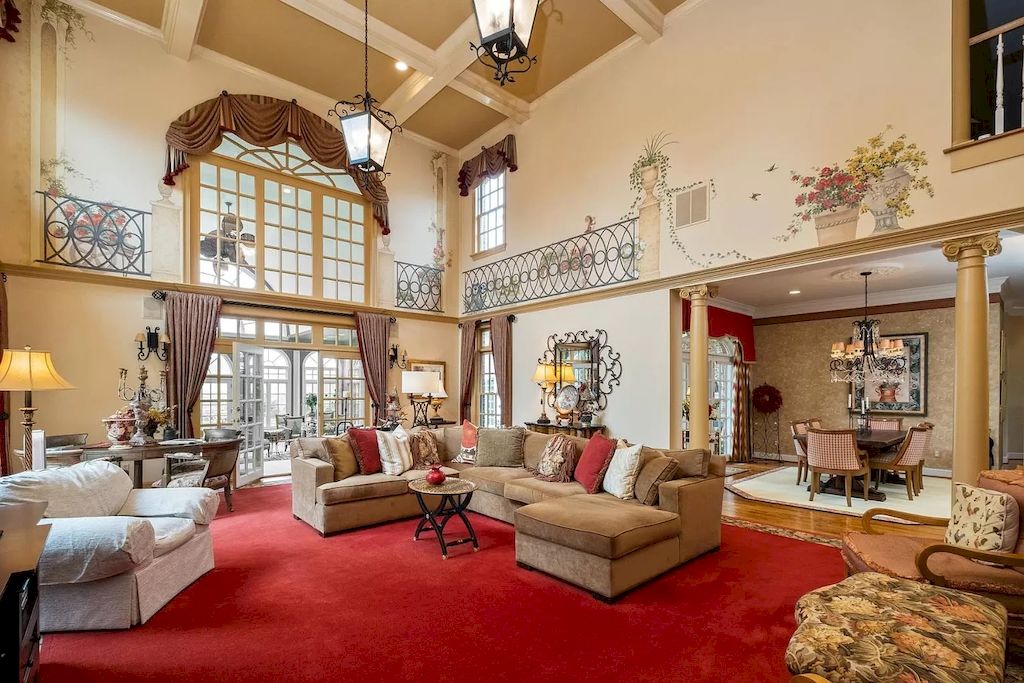 For more ways to bring the "powerful red hue" to your living room, you may consider applying red as the grounding color. The coral red or darker shades of red (such as burgundy or wine red) are the perfect options for this idea. The living room uses light tones as the main color, with the presence of red, your space will be much warmer than it would be otherwise. This $6,995,000 Exceptional Home Offers All Exquisite Details in Virginia
10. Combine Red Decorations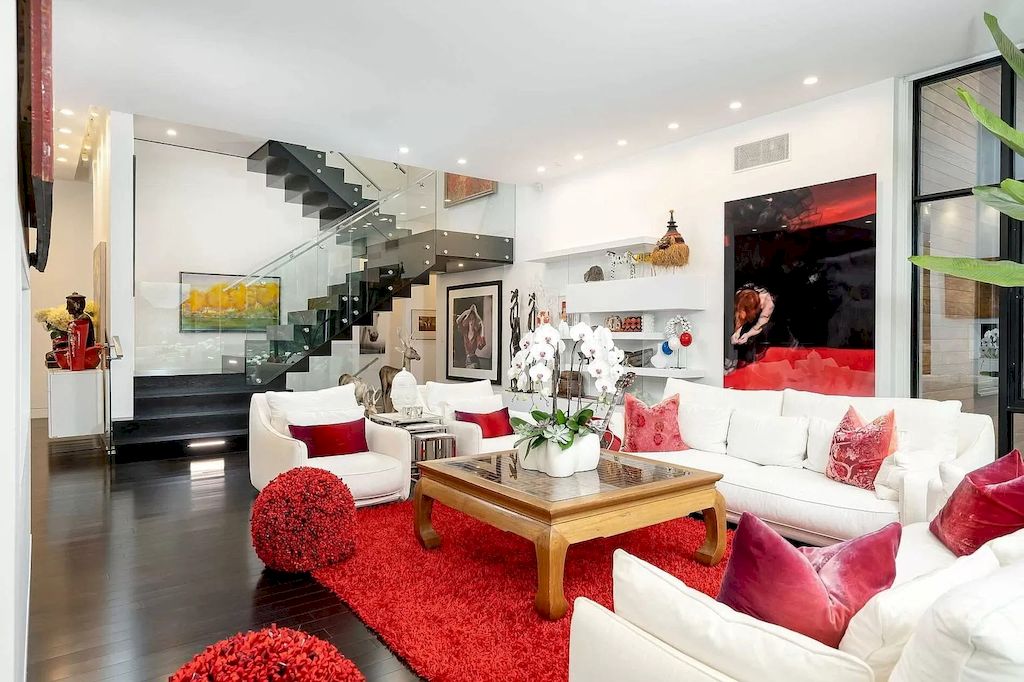 Don't know how to decorate and enhance an all-white room? Try using red for almost all of your living room decorations. As in the Red Living Room Ideas above, rose red and dark red are used for throw pillows; At the same time, cherry red is optional for stylized ottomans as well as faux fur rugs in a subtle way. Happy Colour Interior Home in Ontario is Private Oasis In An Enchanted Forest Asking for C$5,398,000
11. Install Striking Pair Of Coughs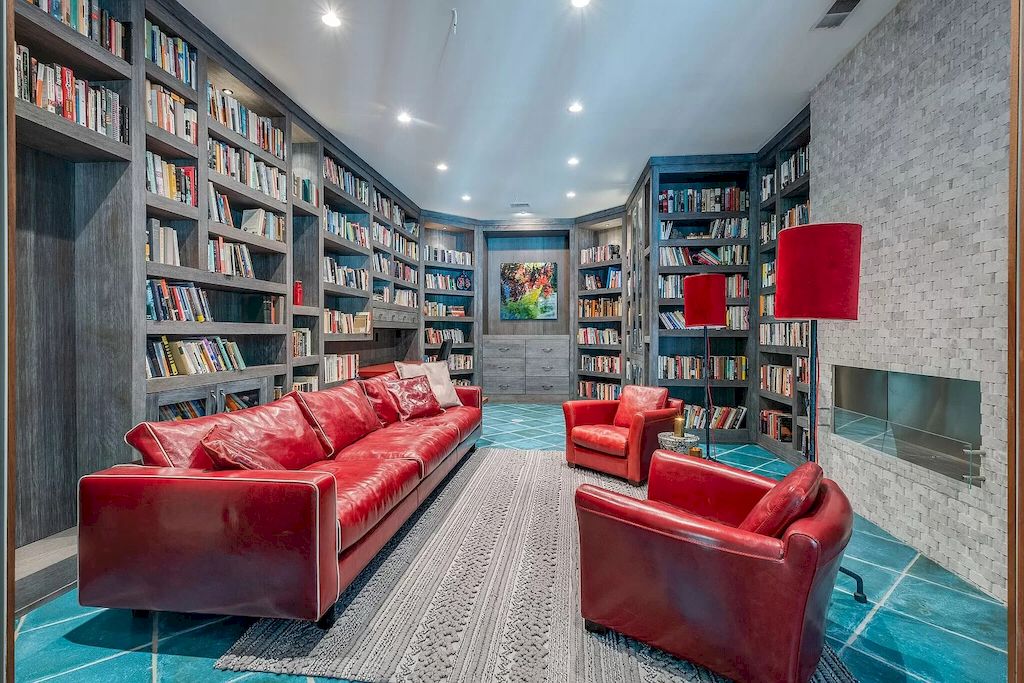 A glossy red fabric sofa set reminiscent of the 70s-80s combined with two-floor lamps makes this living room and the reading room unique. This living room idea with red color is the perfect expression of both retro, modern, and of course chic as well. Breathtaking Hilltop Estate with Exquisite Details and Finishes in Tennessee Listed for $8,250,000
12. Try Some Unexpected Color Combo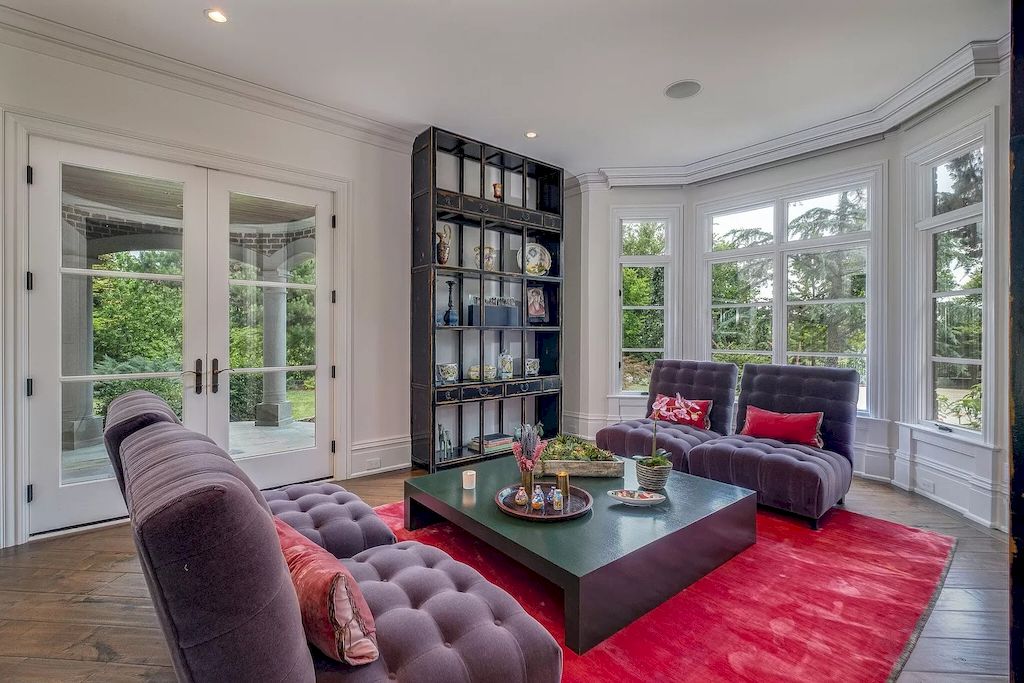 Creativity has no limits. Just like when you choose the colors for your living room, nothing can stop you from choosing your favorite tones and pairing them together. Combine a red floor rug with a set of sofa in heather purple to keep the color balance and softer the overview. Such a stunning place for relaxing! You can also try combining red with other seemingly inappropriate tones. You will be surprised at the results! Breathtaking Hilltop Estate with Exquisite Details and Finishes in Tennessee Listed for $8,250,000
13. Break The Normal Rule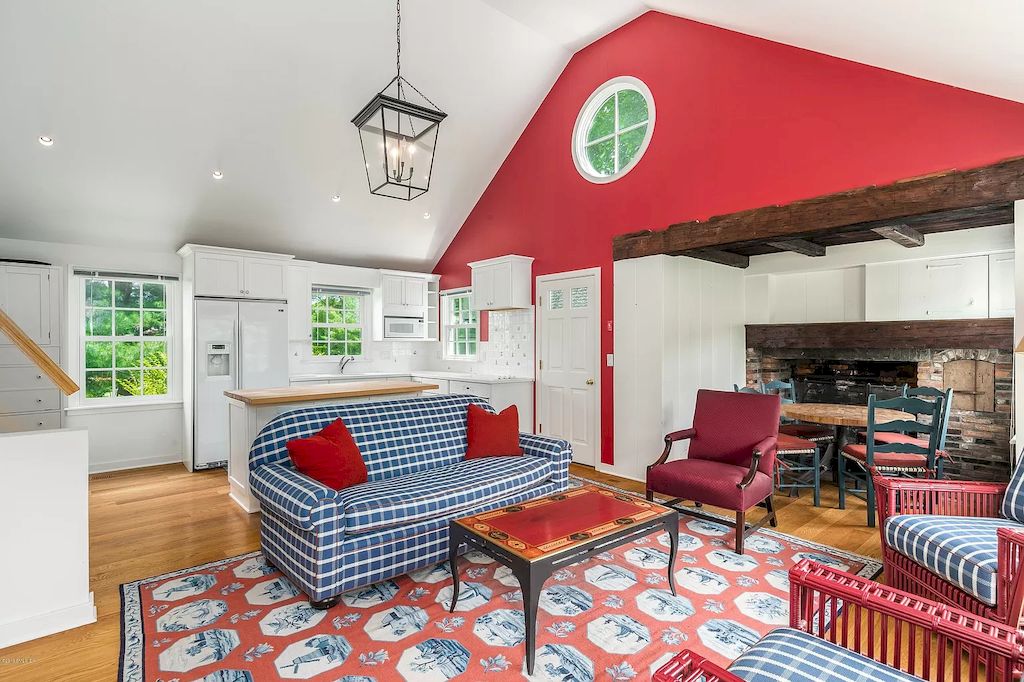 In addition to the usual ways to bring red into your living room, you can completely create other unique ways to use red. Your own space, your rules. You may dedicate an entire wall to honor shades of red or just part of it to create a difference. In the above Red Living Room Ideas, the upper part of the entrance is completely painted in red, combined with a small round window frame to make your living room take advantage of the outside light, as well as an attraction for any guest. This space is decorated miniature castle. Connecticut Elegant and Private Mid-Country Estate Listed for $11,900,000
14. Cocoon Yourself In Red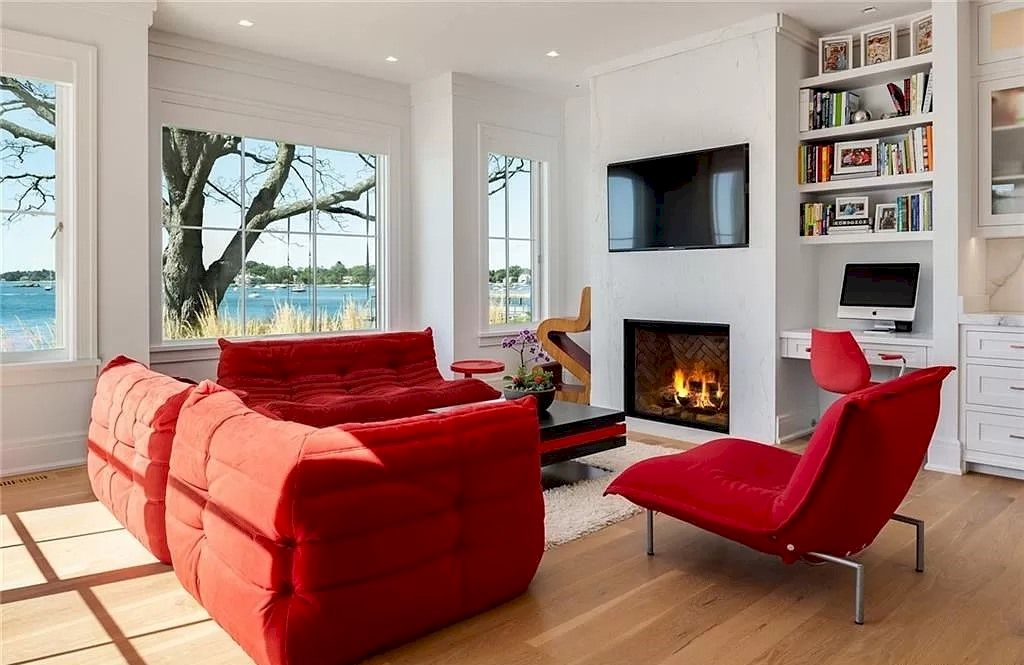 Immerse yourself in your own space with an eye-catching red velvet sofa and many other amenities. Large windows are installed and allow natural light, along with a warm fireplace and soft sofas that embrace you, making your living room space like your own little oasis and giving the feeling of a wonderful retreat. Enjoy Year-round Vacation Living in this Connecticut $14,950,000 State-of-the-art Waterfront Home
In conclusion, Red is a good color for living rooms because it evokes a comforting feeling, creating a cocooning space ideal for a place of welcome and relaxation. Red is a good color for decorating a living room also because of the many shades of tone, meaning it can create very different looks depending on the hue you choose. You can include red in a few small details of the room, can also choose to have the main color used for both wall paint and interior, of course in different red tones. Furthermore, red can also pair well with other tones like purple, turquoise, mint green, brass, or any other hues you prefer. Don't let your creativity be hindered by any barriers. For more amazing ideas, you may refer to another post How To Design A Gray Living Room In 18 Easy Ways
More Ideas For Living Room:
---
Thousand of high quality images of Living room and more you can see at Livingroom Gallery.