Date of Publishing:
Living Room Ideas Minimalist To Make Your Hectic Life Easier
Living room ideas minimalist abound, particularly in today hectic world where you wish to concentrate on simple living practices. Rather than scattering sculptural nooks and crannies over the room, which will be difficult to clean, you will concentrate on useful items with a straightforward design. Many people, however, are concerned that the minimalist style would be boring, monotonous, or even unsightly, and that it will lack emphasis. In the quick and continuous life cycle, the 40 living room ideas minimalist below will encourage you to try a simpler and more convenient lifestyle.
1. Ultra Airy Minimal Living Room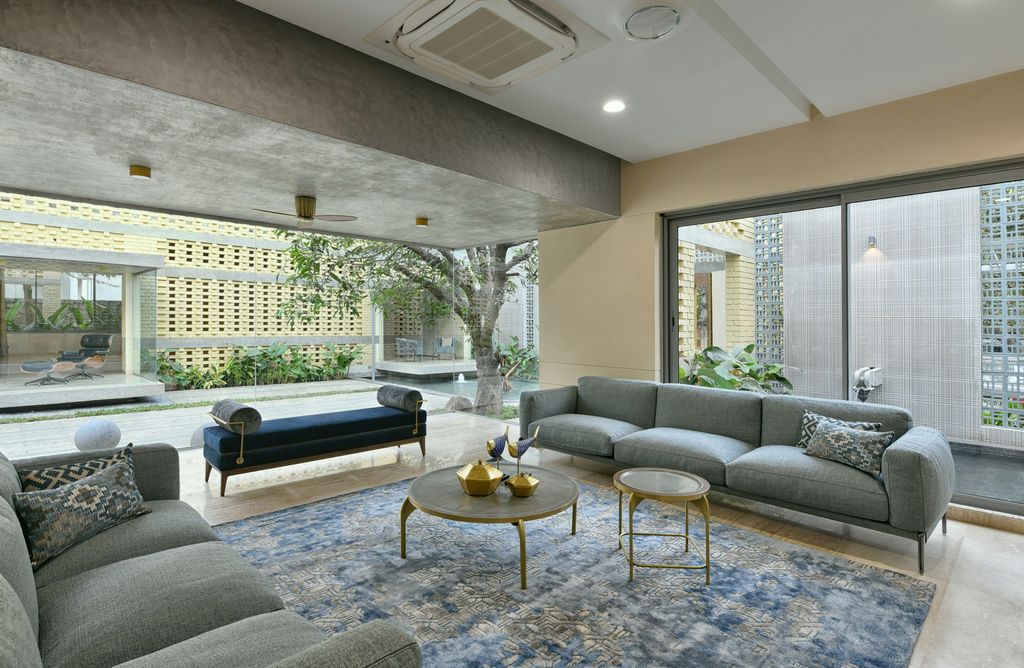 This is a great way to make your living area feel more open and inviting. The use of movable doors for the main door and glass windows helps to expand the room and utilize the outdoor space. Furniture with a golden metal border, which adds to the modern, youthful, and eye-catching aspect of the neutral area, is the focal point. A warm breath is brought into the space by a soft fur rug, which serves to offset the space's frigid colors. Brick Mask House, spacious luxury retirement home by Spacefiction Studio
2. Incorporate Nature-Inspired Materials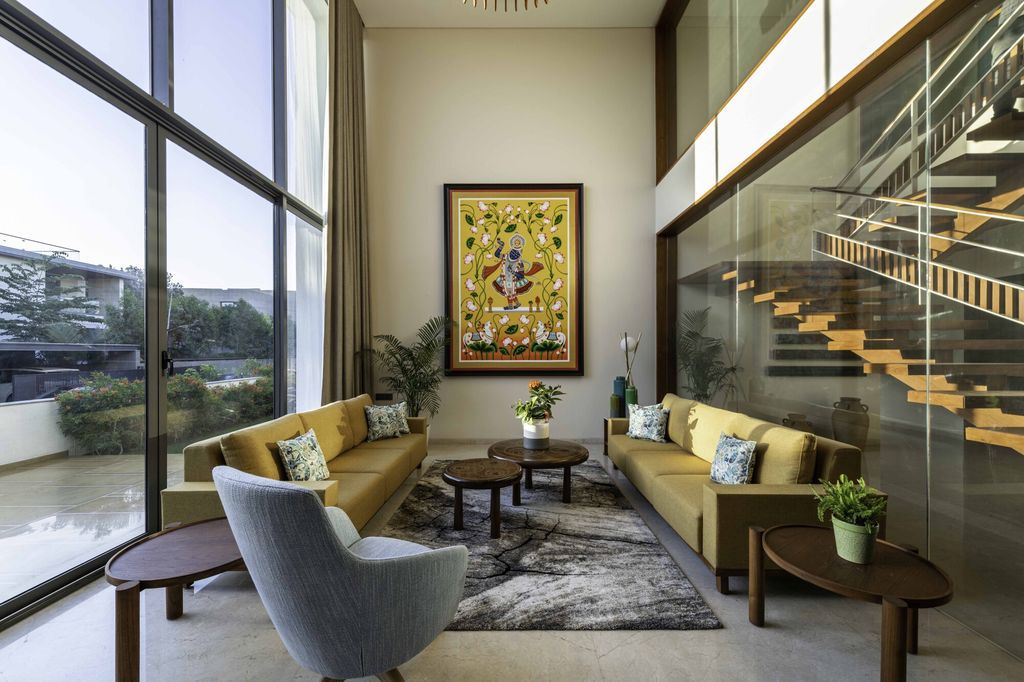 Minimalist living room ideas aren't just for small spaces; they can work in double-height homes. With the use of a long contemporary couch and a mural, which is a vivid canvas that visually invites others in, this is the perfect example of a fun, relaxing room. The environment is in harmony with nature, with potted plants in the corner and small cups of gorgeous plants distributed throughout the room. Finally, replacing the massive center table with lovely tiny round tables is a smart and formal interior design choice. Casa Bianca, white house offers serenity & harmony by The Grid Architects
3. Cozy Minimalist Seating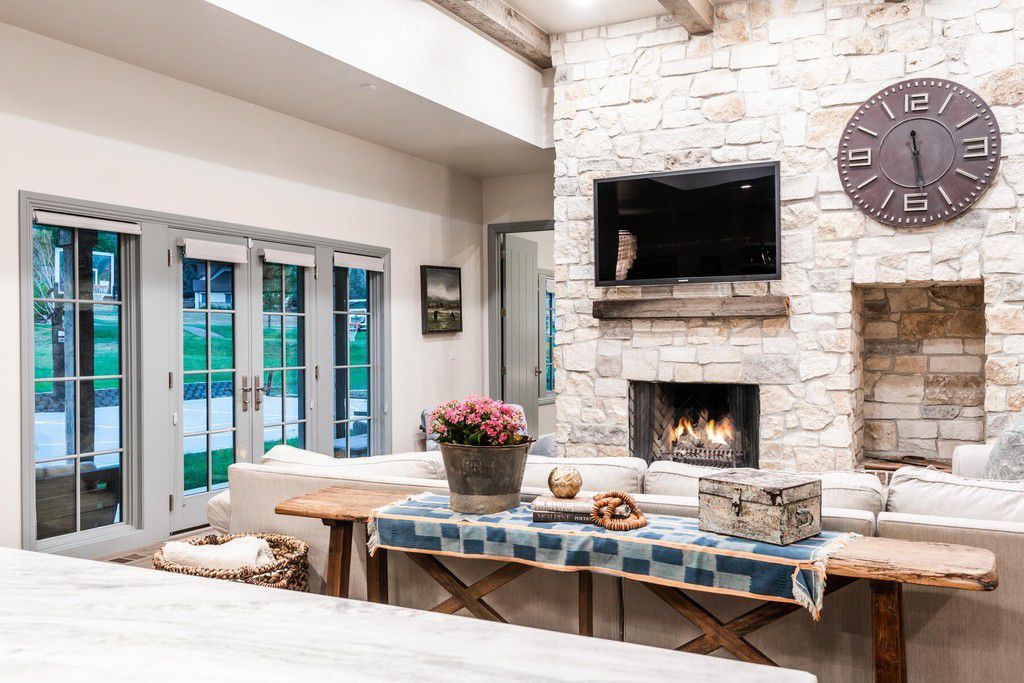 Combine historic stone architecture with playfulness on the stone wall itself in a modern setting. The living room, in contrast to the main door area, is created to be simple by utilizing the arrangement and placing shelving and storage boxes on the stone wall. However, this does not result in clutter or a reduction in value; rather, it enhances the room's artistry and appeal. There is nostalgia and pleasant sensations throughout the room, from the wall clock to the antique wooden table. Timeless European Inspired Farmhouse sells for $3,275,000 with the grace of European architecture
4. Pick a Tonal Palette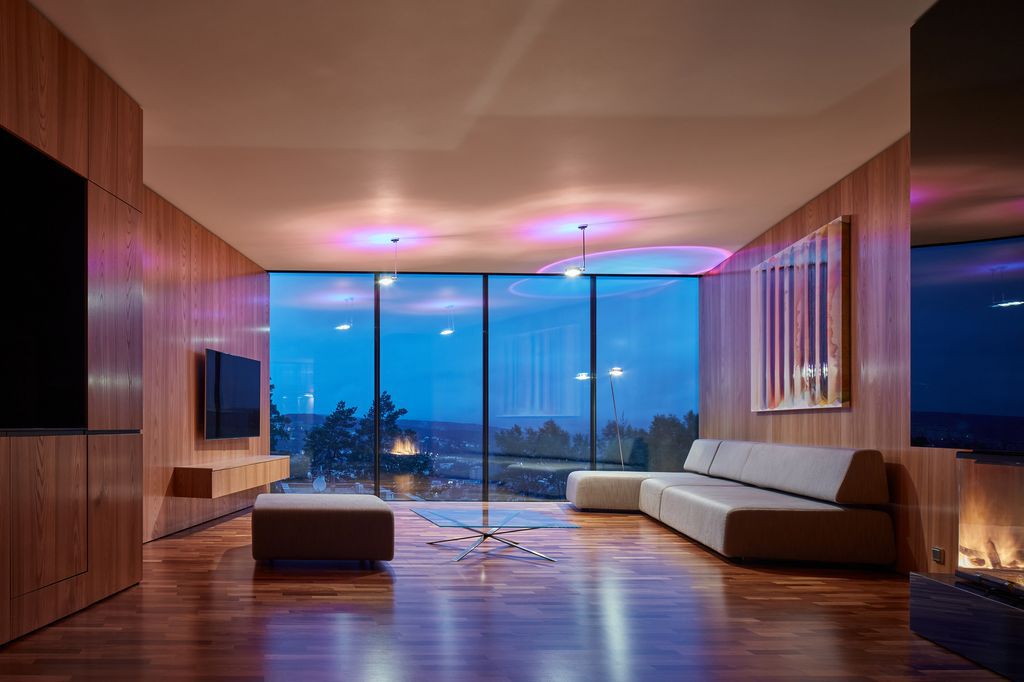 Who says minimalists are terrified of color and just use common hues? The key to this design is to maintain the color tone consistent, which in this case is a warm pink tone. The light softens the calming tones and grounded furniture, from the sleek leather sofa to the modest glass center table. Make it feel like a hug in the form of a living room by applying wood paneling throughout the space. Lazy House Sits Between a Forest and a Valley by Petrjanda/ Brainwork
5. Mid-Century Modern Minimalist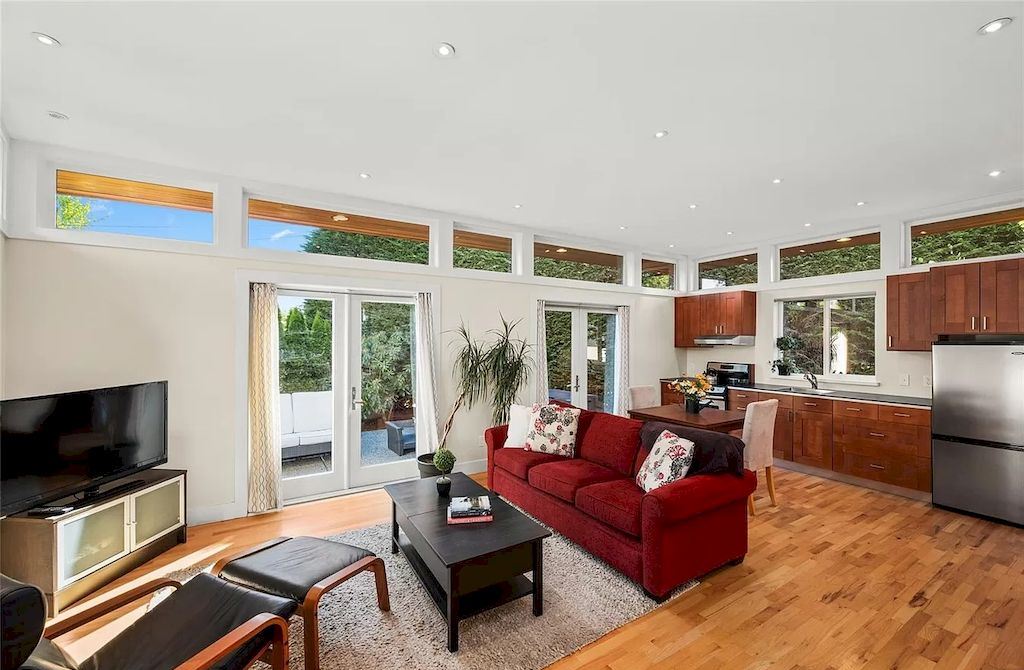 Create a safe and relaxing environment for yourself. This space is surrounded by glass windows and doors that allow natural light to enter. With a strong red sofa set and a soft carpet, define the living room space. A sleek leather long couch and a TV cabinet covered in reflecting mental bring modernity and sharpness into the area. These vibrant pieces of furniture infuse the white toned environment with new life and style. Spectacular Beachfront Estate in Saanich with Breathtaking Views Asks for C$5,450,000
6. Understated Minimalist Lounge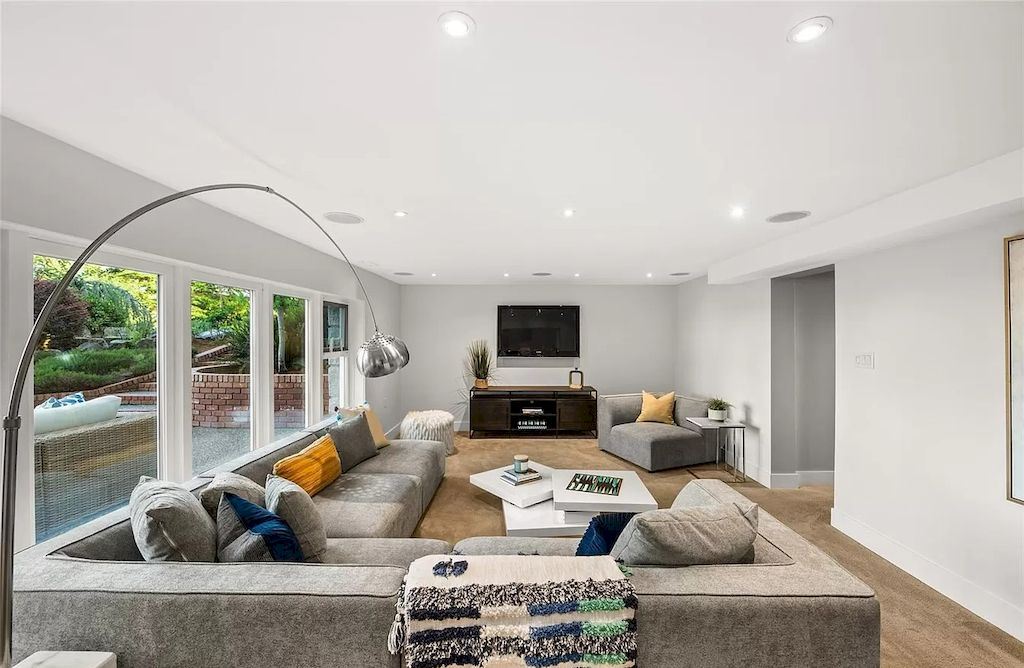 With a stark feature tree lamp and a grounded lounge, this living room commands the aesthetic. Low-rise building is becoming popular as a way to create a more intimate and pleasant environment. The soft sofa set combines with the corner lamp to create a warm corner, a really nice environment, to accentuate that impression. Arrange a few single couches in the room's corner to fill in the nooks and crannies and improve connectedness. Spectacular Beachfront Estate in Saanich with Breathtaking Views Asks for C$5,450,000
7. Simple and Sharp Living Room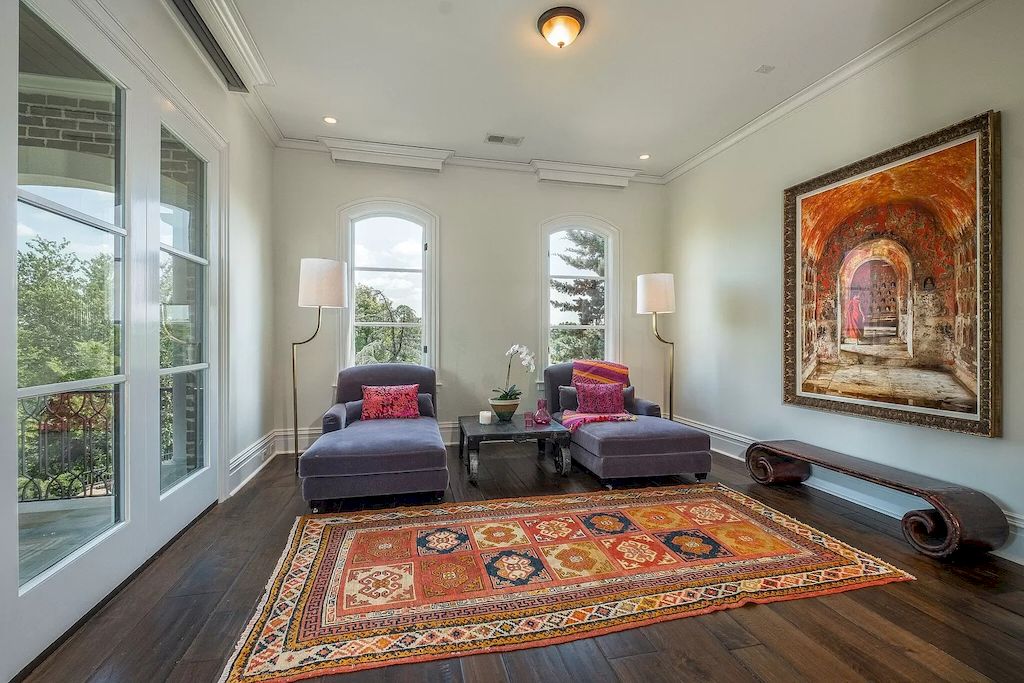 This living room demonstrates that it's not the quantity of items in a room that matters, but the quality of those items. It displays the pleasure in colors and textures thanks to the orange brocade carpet and the glass-framed art artwork on the wall. The combination of a tree lamp's unusual design and a linen long couch offers a soothing personal area. Finally, a minimalist but nevertheless nice oak couch that is not too large will be the greatest suit for this room. Breathtaking Hilltop Estate with Exquisite Details and Finishes in Tennessee Listed for $8,250,000
8. Create Dynamic Interest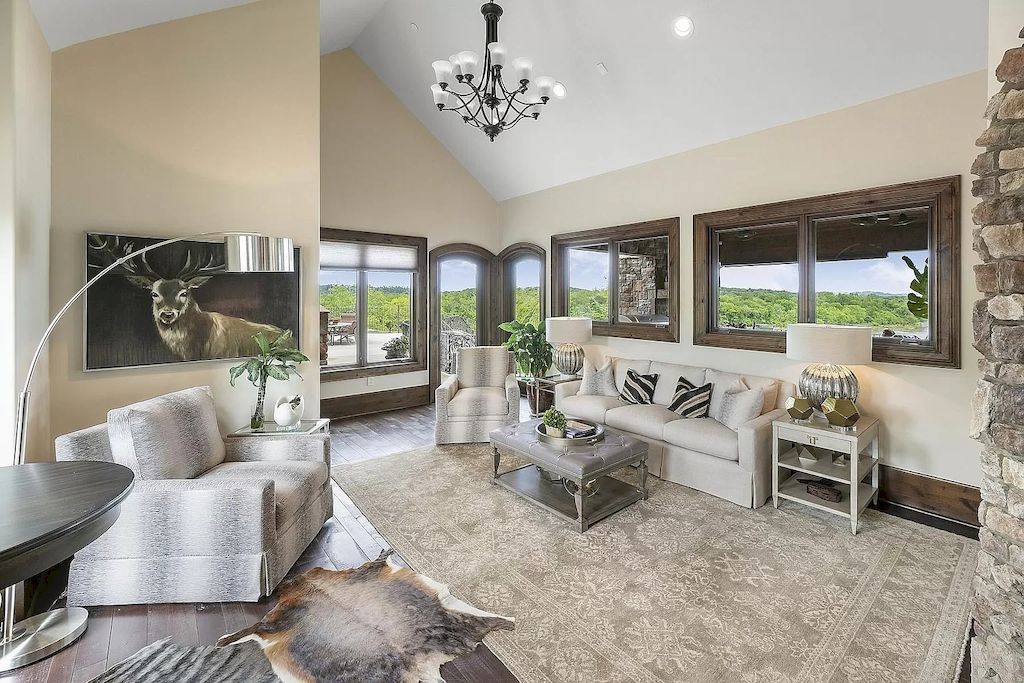 Focus on one location and style it to the max to add a bit of flair to a modest, minimalist environment. From the painting to the owl rug, this cream room feels close to nature and quite country. However, this does not imply that the space will follow the lightweight trend; the modernity is still bold, thanks to the arrangement of mental items with other wooden furniture. In the neutral color background, the usage of line fabric in various shades of color gives pleasant vibrations. This $9,000,000 Timeless Classic Estate in Tennessee is the Mark of Exquisite Quality Workmanship and Architectural Richness
9. Embrace the Outdoors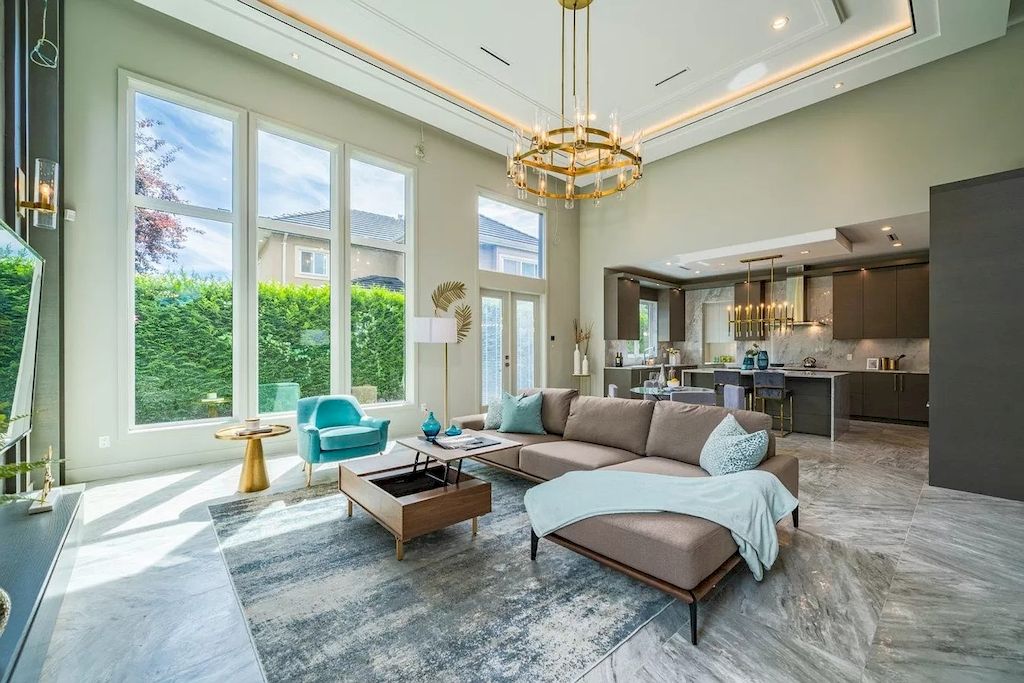 Some minimalist living room ideas are successful because they combine furniture and décor from many styles and eras. From design to color, this living room combines modern accent furniture with an inviting, open, youthful sofa. Meanwhile, the candlelight chandelier is in keeping with the old style, emphasizing the harmony with nature and the surroundings. Relax and appreciate the green space at a drink table near the main door. Luxury Immaculate Quality and Superb Craftsmanship Home in Richmond Prices at C$3,388,000
10. Minimalist Art Collection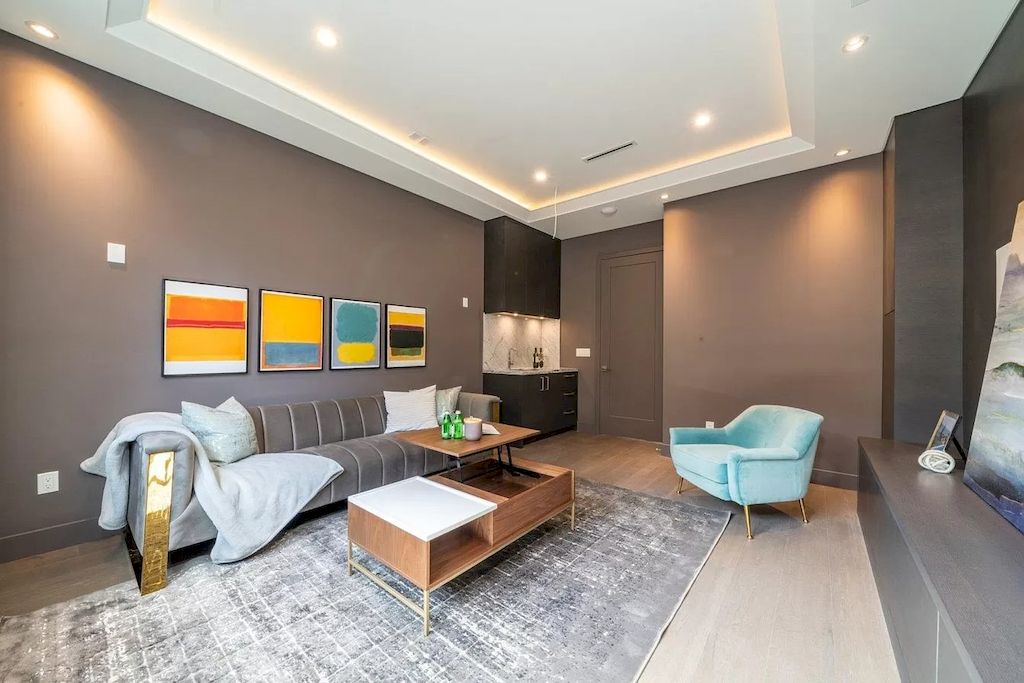 For a minimalist living room setting, glossy brown walls and wooden floors are used. Instead than using furniture in the same color tone, the designer used art photos and modern couches to offer color variety. A soft carpet and a trendy sofa set with a young look created by a yellow mental frame. The tiered table is both beautiful and personal, while also being practical for usage in small places. Luxury Immaculate Quality and Superb Craftsmanship Home in Richmond Prices at C$3,388,000
11. Timeless Appeal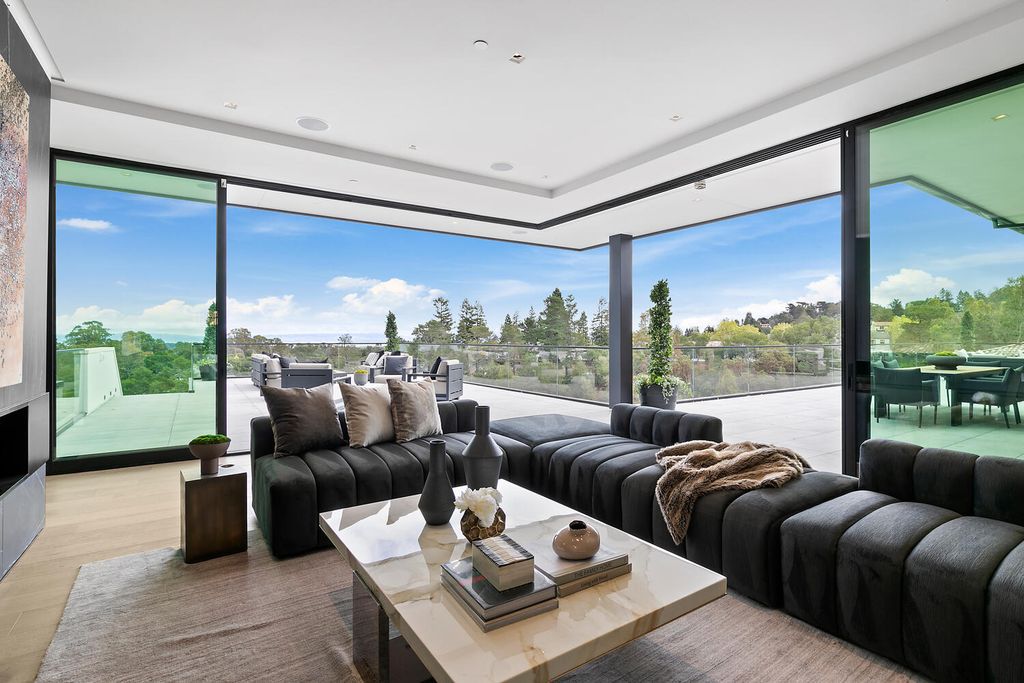 Do you want something basic but artistic? The essential colors in this area are the unique black sofa set and the door frames with black anodized aluminum trim. Artistic porcelain vases fill the area, showing emotion through the collection on this table. In the minimalist living room design, the thick rug and stone center table provide a balance of color and architecture. This $22,500,000 New Construction Mansion is the Finest Modern Estate Ever Built in Hillsborough
12. Don't Be Afraid to Get Weird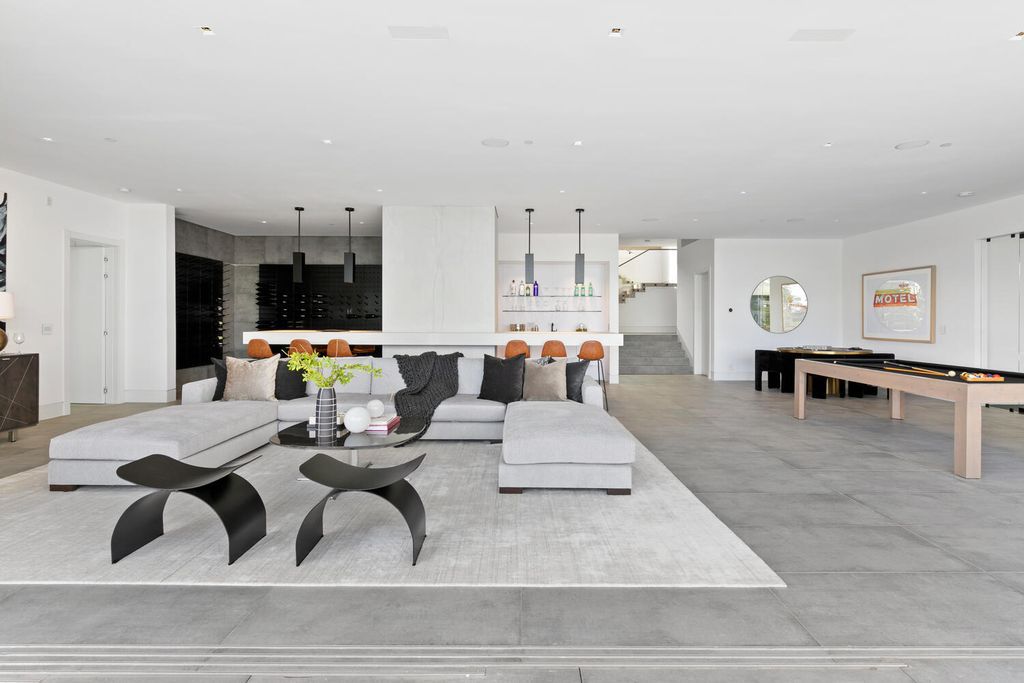 You're concerned that the simple design may become monotonous and uninspiring. As a result, the stool's unique form compensates for this space. From the modest long gray sofa set to the single color carpet in the same tone, the area is filled with harmony rather than dullness. Each element enhances the others by complementing and influencing the others.  This $22,500,000 New Construction Mansion is the Finest Modern Estate Ever Built in Hillsborough
13. Soften The Room With A Rug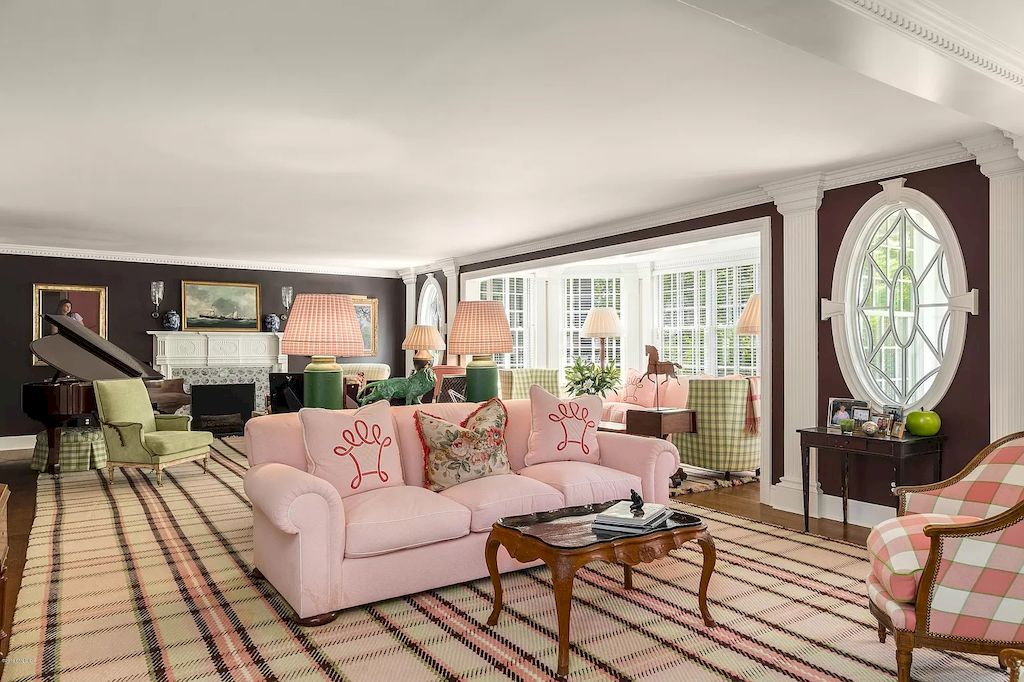 For a living room with wooden floors, a soft rug is a must-have item. It has the ability to reduce noise and soften the hefty space created by the wood paneling style. Pillows with unique designs help to draw attention and are a focal point in a minimalist setting. Minimalist design does not imply that everything is dull; you may still be creative with your preferred architecture. Connecticut Elegant and Private Mid-Country Estate Listed for $11,900,000
14. Mix Different Styles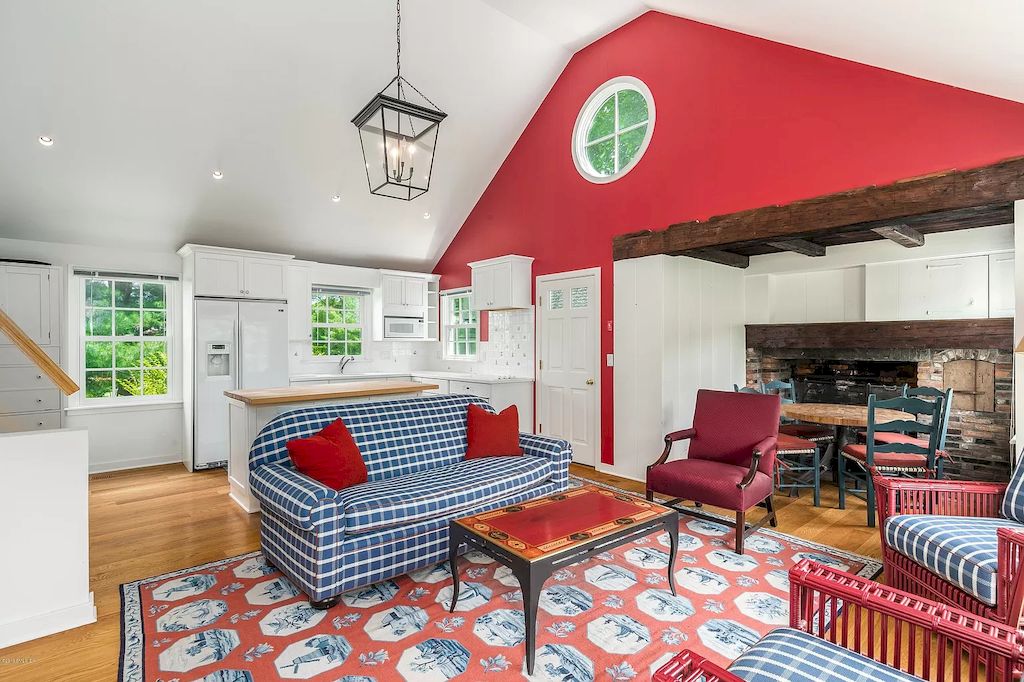 This is a classic monochrome design with soul, especially with its pyramidal roof architecture, which adds just the right amount of individuality. This design has a rustic feel to it, but it incorporates modern hues to create a striking contrast. While the house's frame conjures a huge sense of nature, the crimson rug and large blue sofa make the space feel more alive. The modest center table and a few chairs grouped around it also demonstrate how vibrant and warm minimalist environments can be. Connecticut Elegant and Private Mid-Country Estate Listed for $11,900,000
15. City Scape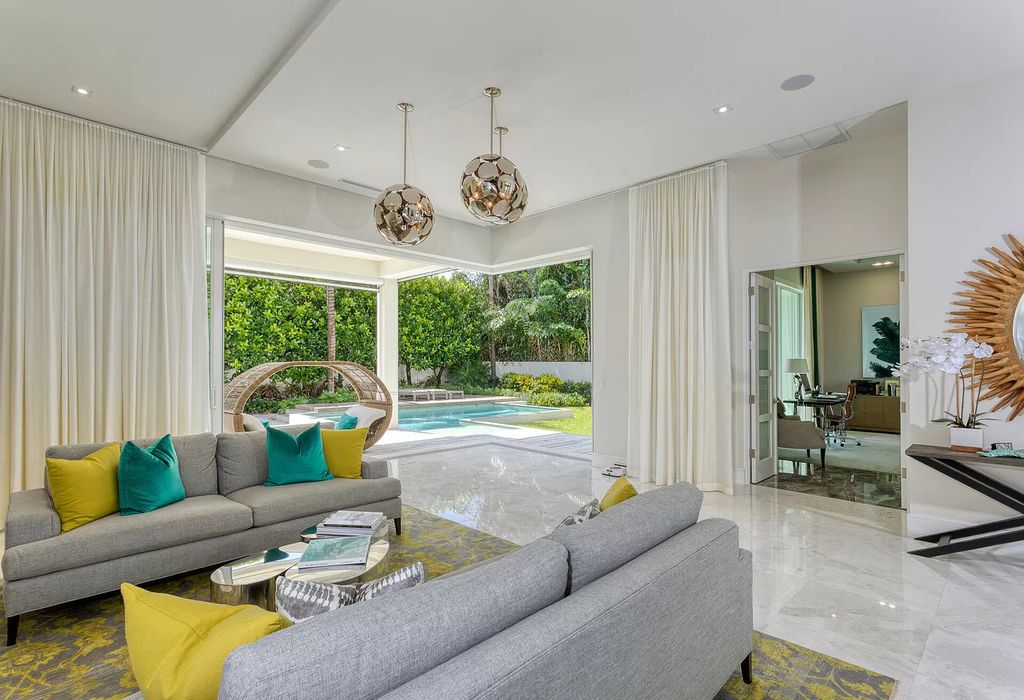 Make landscapes a part of your interiors with this minimalist living room's large open windows and sheer chiffon curtaining. Metallics in the form of circular pendants and brightly colored pillows give the area a youthful zing. Meanwhile, the marble floor exudes elegance and is appropriate for a property with a pool. With only a few key pieces of furniture, yet with eye-catching materials and colors throughout the space. This $6,995,000 Delray Beach Home offers Seamless Indoor Outdoor Living and Entertaining
16. Add Modern Light Fixtures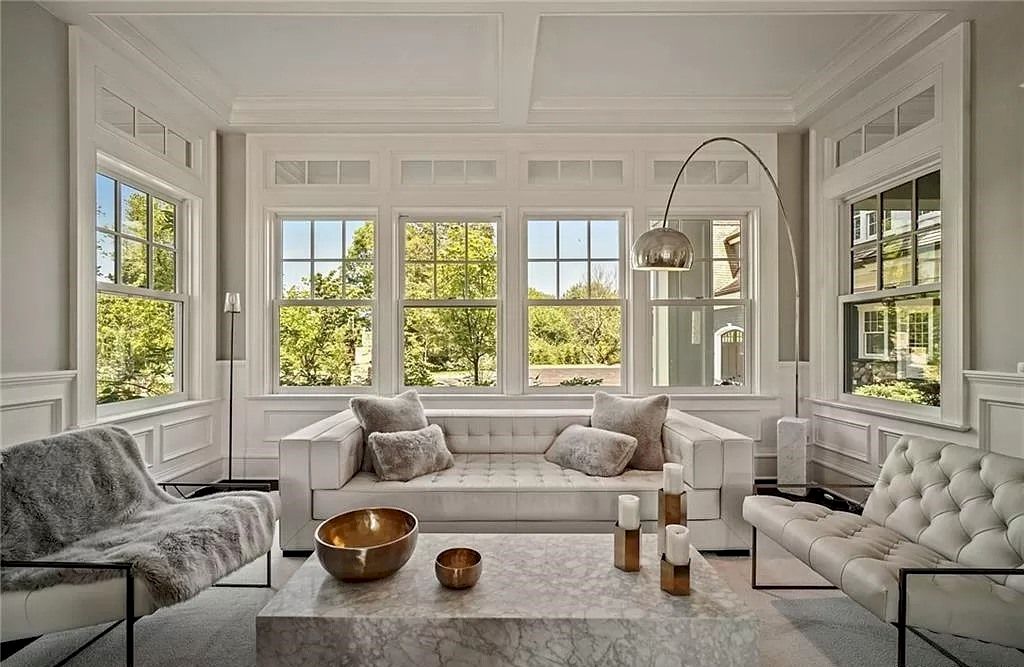 In most cases, minimalism is associated with a contemporary design style. Choose light fixtures that are sleek and subtle but appear to be intriguing, and bring in enough pieces to keep the entire space well-lit. When picking a lamp for this style of living room, the main factors to consider are mental and slim. This Connecticut $6,995,000 Elegant and Unique Home Designed to Embrace You by Its Beauty, Comfort and Security
17. Work With Warmth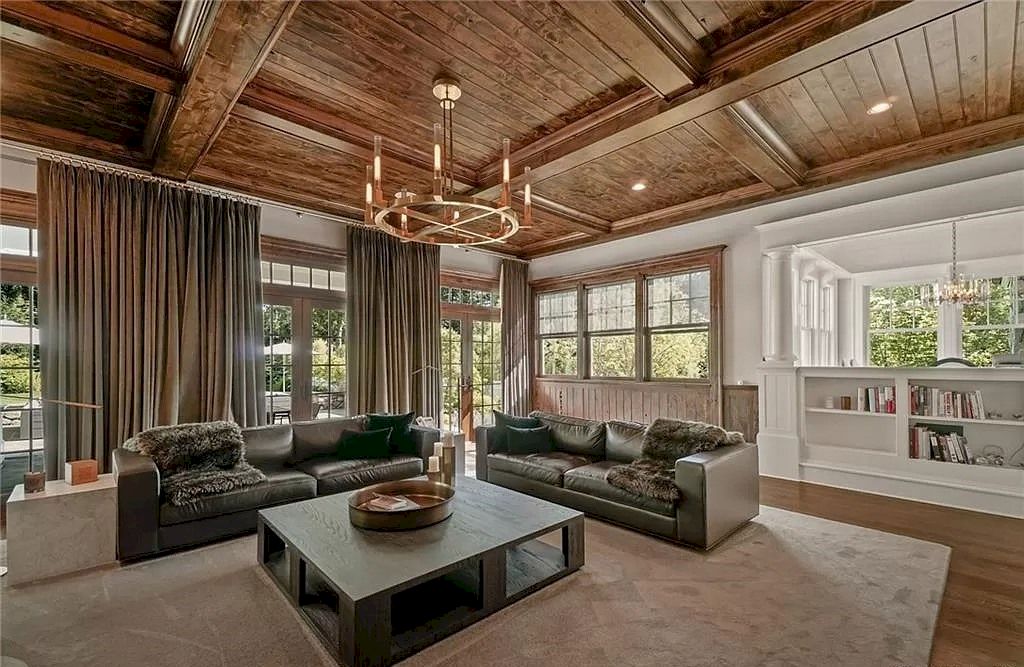 What comes to mind when you think of a cozy living room? It is, without a doubt, a wooden material. When coupled with chandelier lights, the area becomes snug and intimate, thanks to broad wooden roof beams and bright glossy paint. Modern furniture, such as a leather sofa set or a modern center table, stands out against the entire architecture. This is the ideal mix of a youthful space that is also cozy and intimate. This Connecticut $6,995,000 Elegant and Unique Home Designed to Embrace You by Its Beauty, Comfort and Security
18. Take Advantage Of Natural Light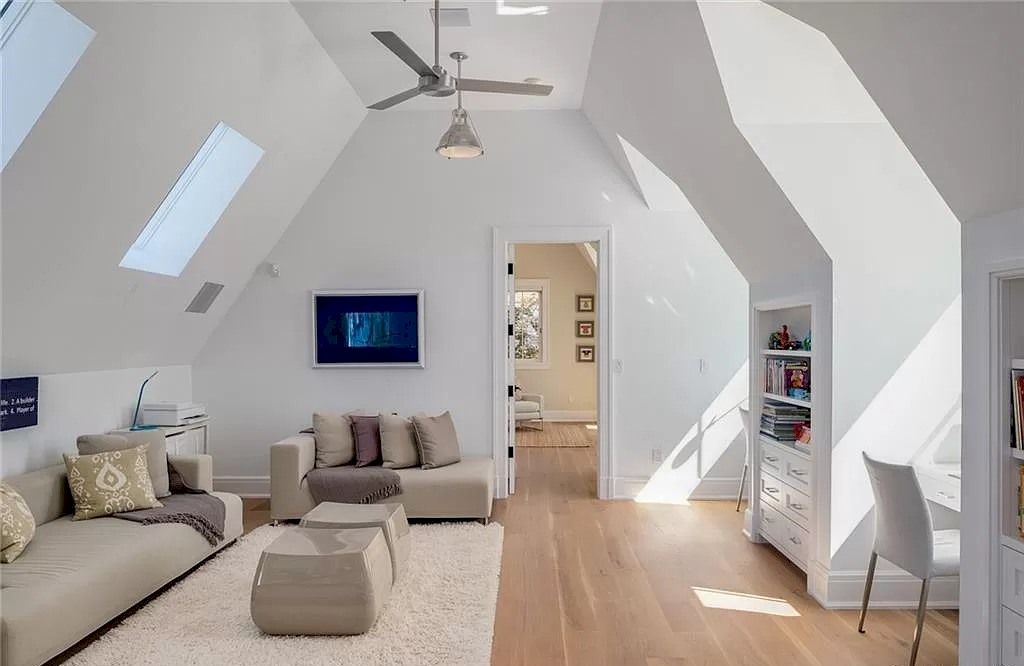 Have you considered using glass door frames in your living room? Allowing natural light into your living area will make it appear larger and more airy. Not only that, but you'll be able to minimize the number of lights in your room. The combination of natural light and neutral tones is ideal. Enjoy Year-round Vacation Living in this Connecticut $14,950,000 State-of-the-art Waterfront Home
19. Add Minimal Modern Touches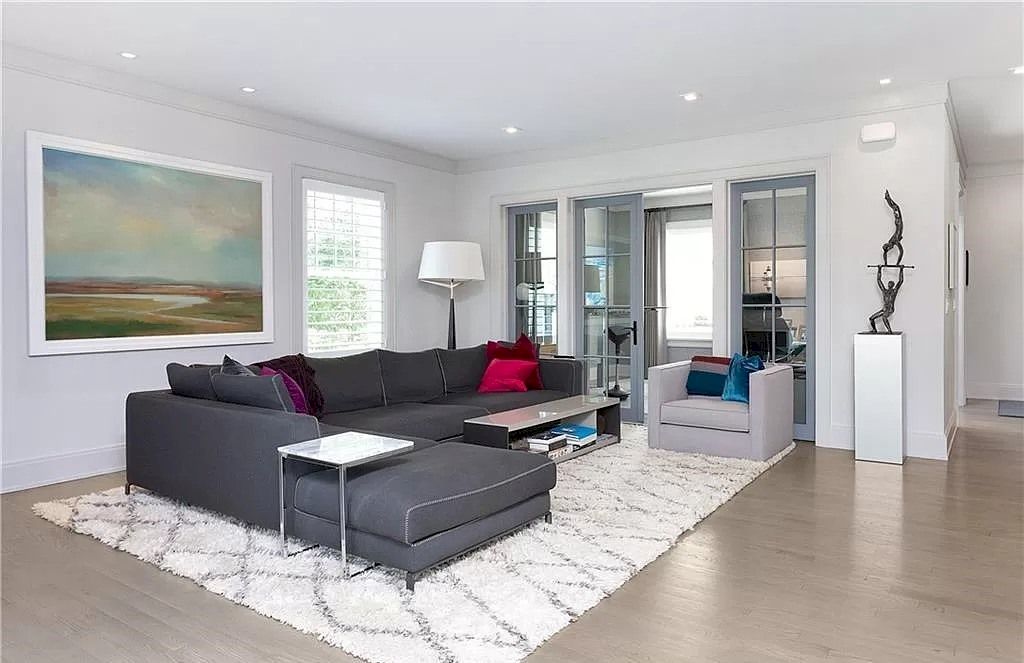 Consider the design aspects you wish to add after you've decided on a color palette for your area. Add modern simple components to the brilliant white living room with various color accents for the perfect combination. An additional trendy conceptual drink table, as well as a slim and light center table, add to the space's flexibility and pleasure. Incredibly Built and Renovated Colonial in Connecticut Listed for $3,375,000
20. Have Some Fun With Bright Colors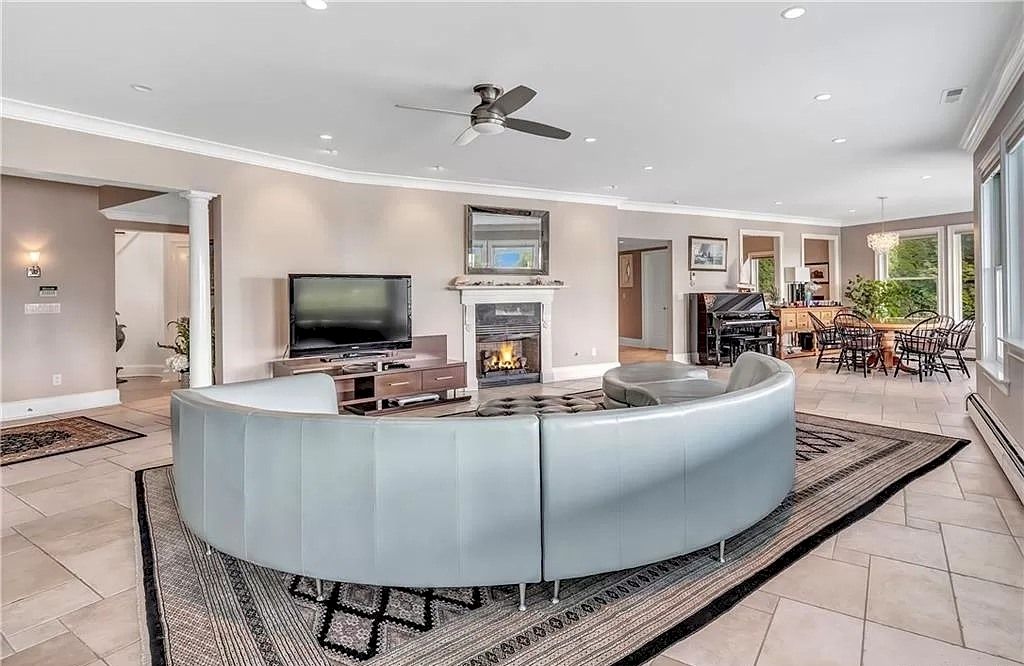 If you think a minimalist environment seems chilly and uninviting but still want to give it a shot, try incorporating some bright pastel colors into your design and see what happens. Not only that, but choosing furniture with unique shapes will give your area a sense of softness and flexibility. The limit and demarcation for the living room with open space is a black carpet stretched on the floor. This is a minimalist living room corner with a few key pieces of furniture. Paradise Found in Connecticut with this $5,995,000 Magical Home Enjoying Panoramic Views from Almost Every Angle
21. Choose Wall Colors Carefully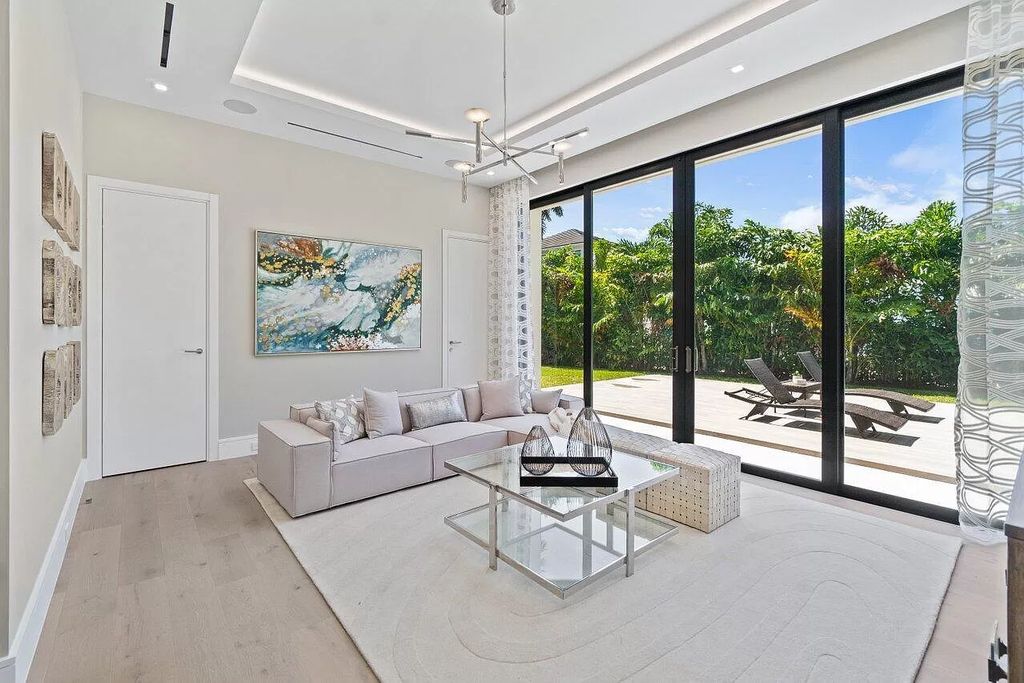 Stick to neutral tones that will reflect light well and keep your space from looking dark or cluttered when choosing a paint color for your living room ideas minimalist. Try an accent wall with a solid color that won't detract from the homey, inviting vibe you're trying for—think gentle tones of blue, pink, green, or yellow—if you want a little pop of color. Not only should the color of the wall paint match the color of the furniture, but it should also match the color of the paint. Most people should choose soft colors that match the paint color. However, certain unusual colored decorations can add focus and attractiveness to the place. Exceptional Brand New Modern Home in Boca Raton hits Market for $7,150,000
22. Minimalism With Patterns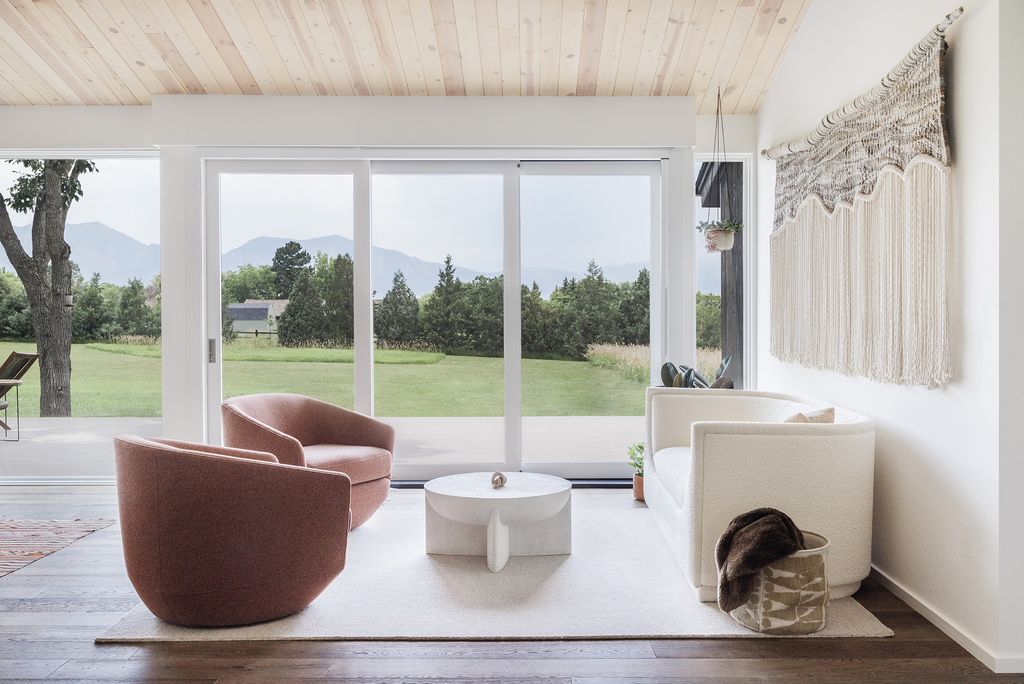 The selection of ornamental elements, such as the bohi chic curtain hanging on the wall, creates a sense of space that is quite rich and colorful. Two modern couches with vibrant colors contrast with the bohi style, creating a contrast between the two opposed parts. With its flat construction and wooden ceiling, the room exudes simplicity. Like the shape of the center table, the style is unexpectedly simple yet nevertheless elegant. Wandertree Residence, Stunning Refurbishment from 1970's Home by A21
23. Decorate A Small Minimalist Living Room To Perfection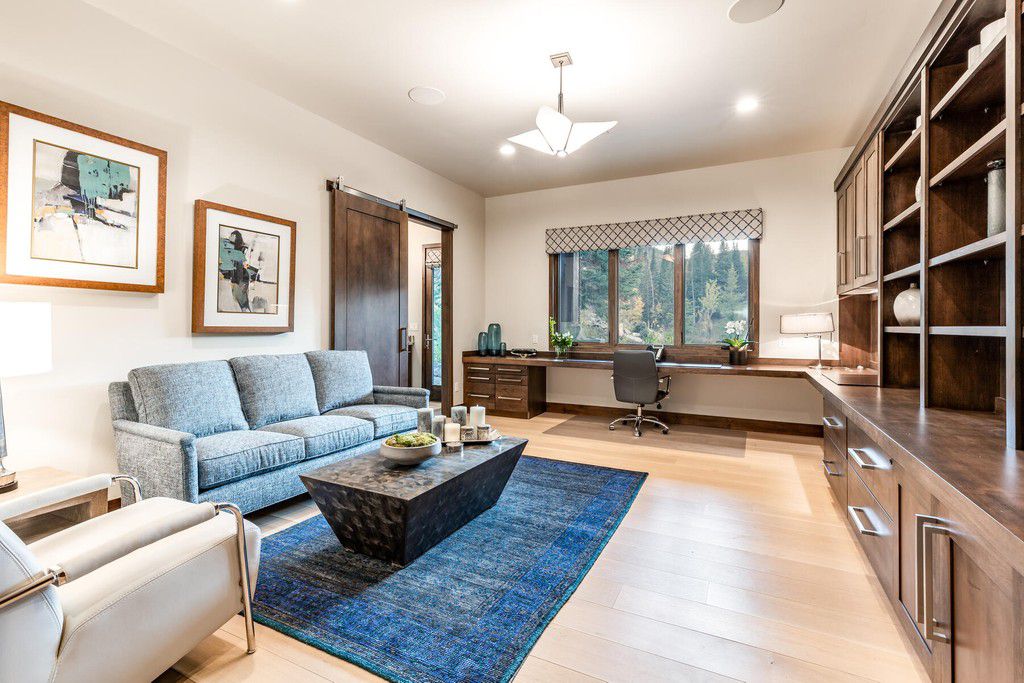 There is a wonderful minimalist area with only three fundamental color tones: white, blue, and brown. From the chandelier to the center table, the minimalist design in a small living room demands for geometric abstraction. A unique feature of this design is the staggered placement of two art pieces. Understated Elegance Home in Utah sells for $9,700,000 with views across the slopes and up to the mountains beyond
24. Create A Simply Elegant Statement With Luxurious Accents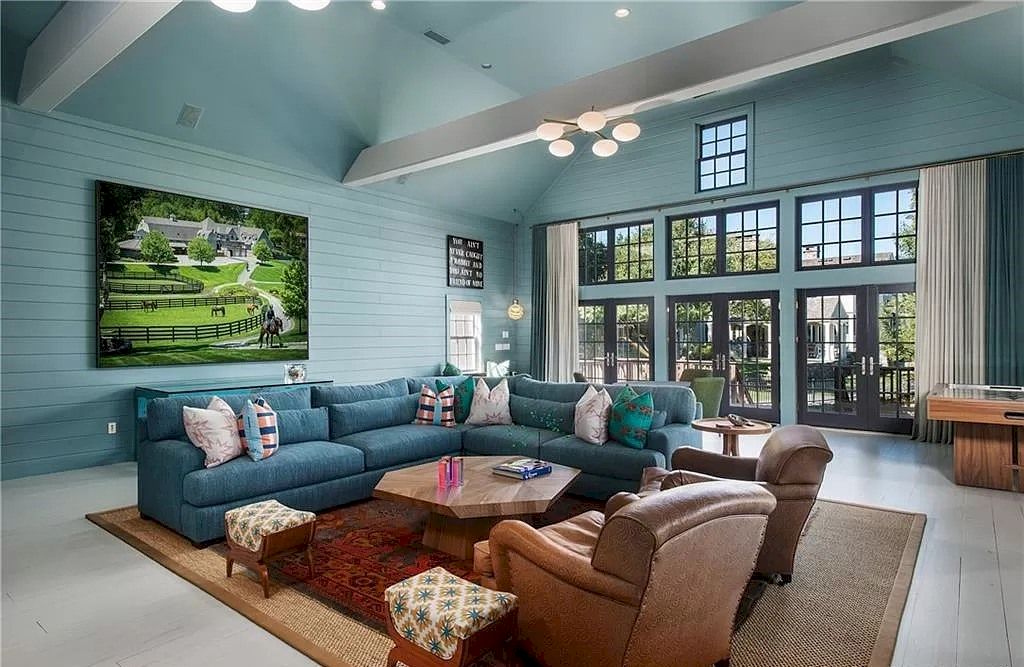 A wonderful area with a limited number of stuff. The country house is made of wood and has a pitched roof and wooden beams. With blue paint, everything becomes delicate and spectacular. With the color of the center table and the color of the soft fur rug, the sofa set has two distinct hues, providing a distinctive and harmonious color transition. This Connecticut $28,500,000 Extraordinarily One-of-a-kind Equestrian Compound is an Ideal Retreat
25. Go Linear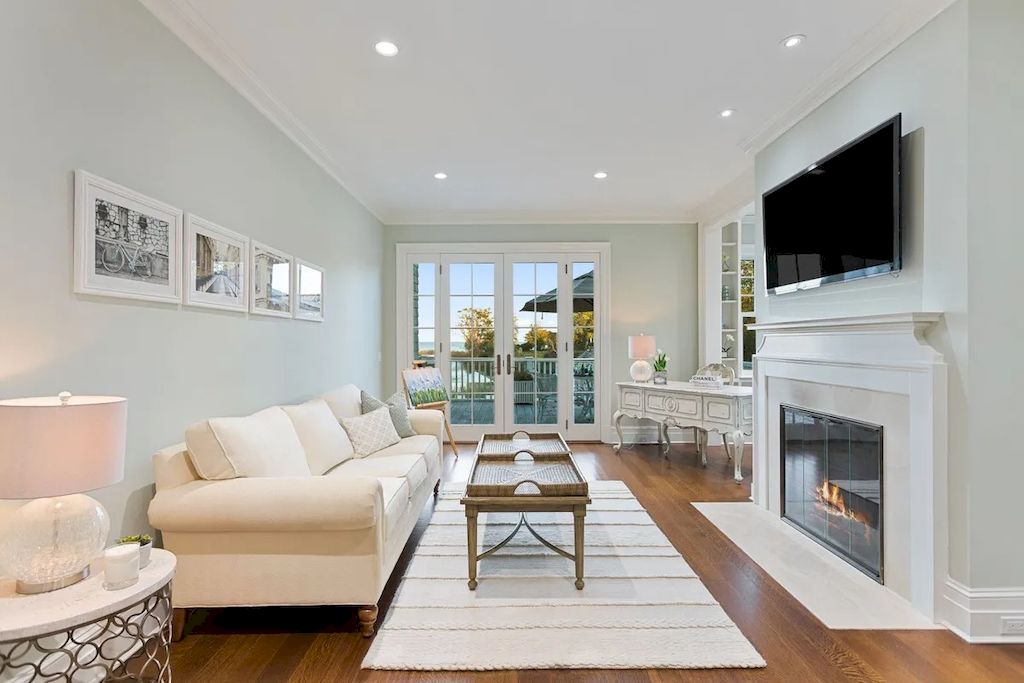 Everything in this room is nicely organized, ordered, and aligned. Everything in this room exudes surprising care, from the wall paintings to the center table to the carpet. This area emanates lightness and elegance throughout, with no differences or disruptions. Everything adheres to a set of rules. Connecticut Exceptional Estate on Majestic Setting of Endless Water Views Priced at $12,600,000
26. Make A Tiny Living Room Extra Cozy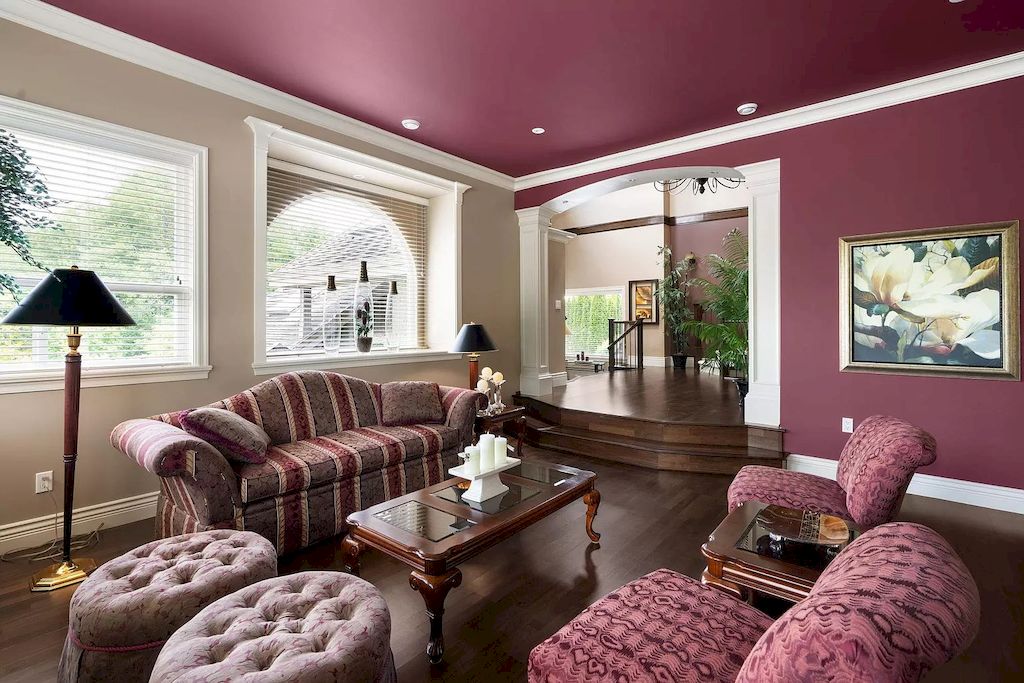 When space is limited, keep the amount of stuff in your room to a minimum and strive to keep everything tidy. It is not required to use neutral colors in minimalist living room ideas; for example, you may use warm tones, such as magenta, with glossy paint to provide warmth and proximity, as well as sweetness, as seen in this example. The use of comparable hues in the background of the sofa fabric enables the area to become more harmonious, peaceful, and gentle. Elegant and Functional, This 3 Storey Luxury Home in Surrey Asks C$4,488,000
27. Utilizing Deep Colors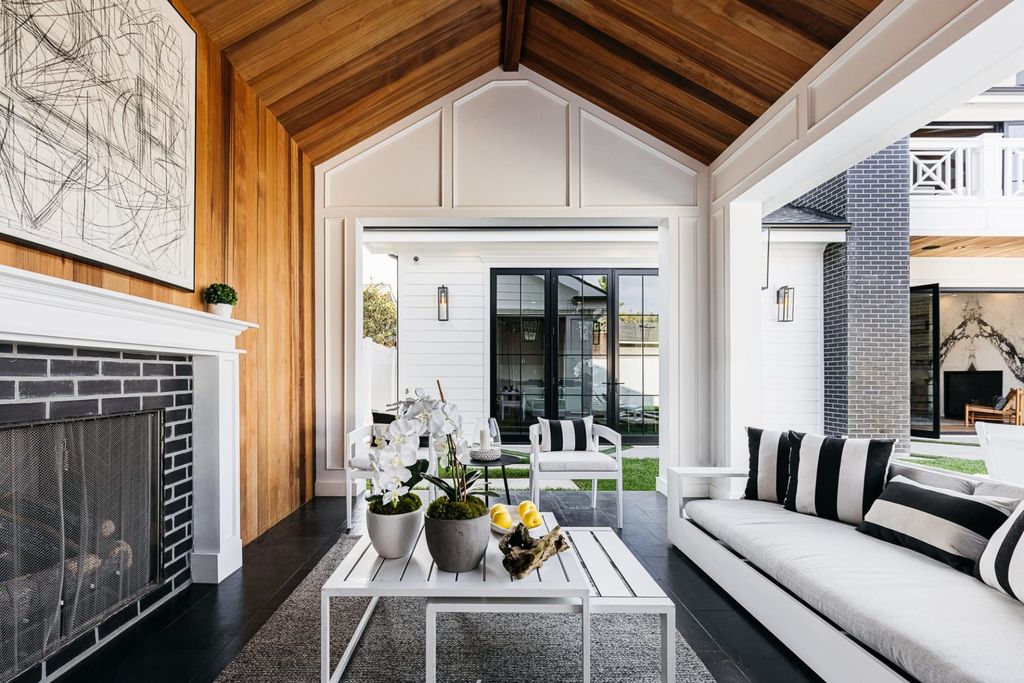 Look no further than this home to discover how you may employ dark hues while maintaining a minimalist aesthetic. To transform the area into a light-filled environment, balance dark and light hues and expand the space. The entire construction is country-style, from the pyramidal tiled roof to the wide use of wood throughout the room, but decorative themes, such as the fireplace area, reflect modernity and youth. Stripes on pillows or heaters, it's minimalist, yet it's not simple. Experience An Unprecedented Level of Design in $4,295,000 New Construction Home in Los Angeles
28. Make Storage-Minded Selections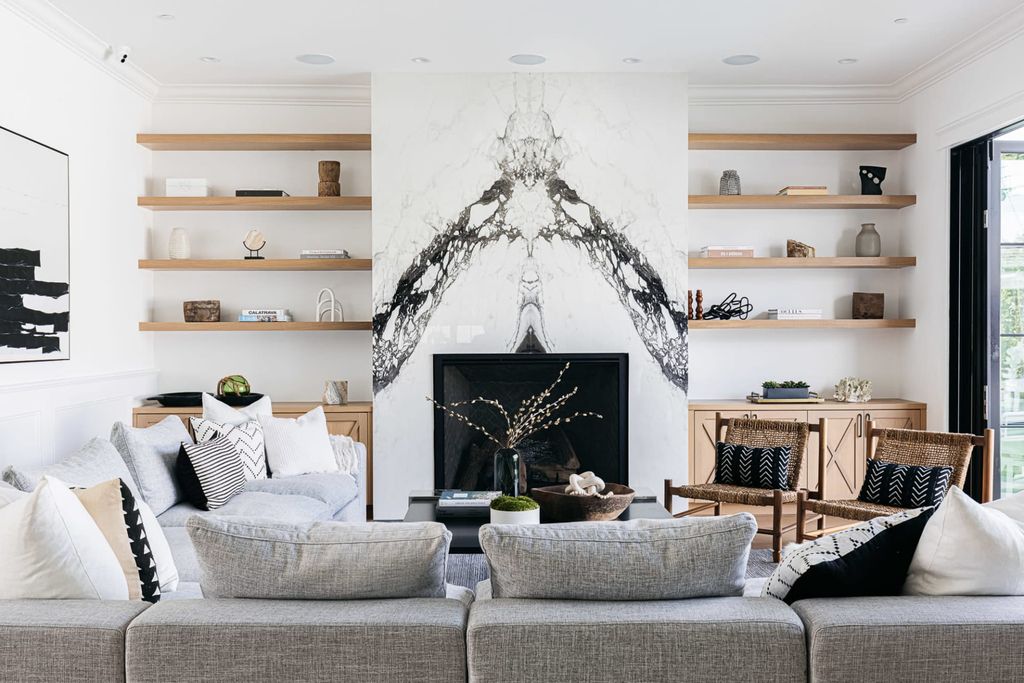 For minimalist living room designs, shelves or cabinets are a must-have. Shelving is a terrific idea whether you have a lot of things or just want to show off your collection. Take a look at this layout. They've adorned their nook with stunning artwork on the fireplace's stone face. Anything is feasible as long as you have a concept. Experience An Unprecedented Level of Design in $4,295,000 New Construction Home in Los Angeles
29. Coordinate with Decor Sets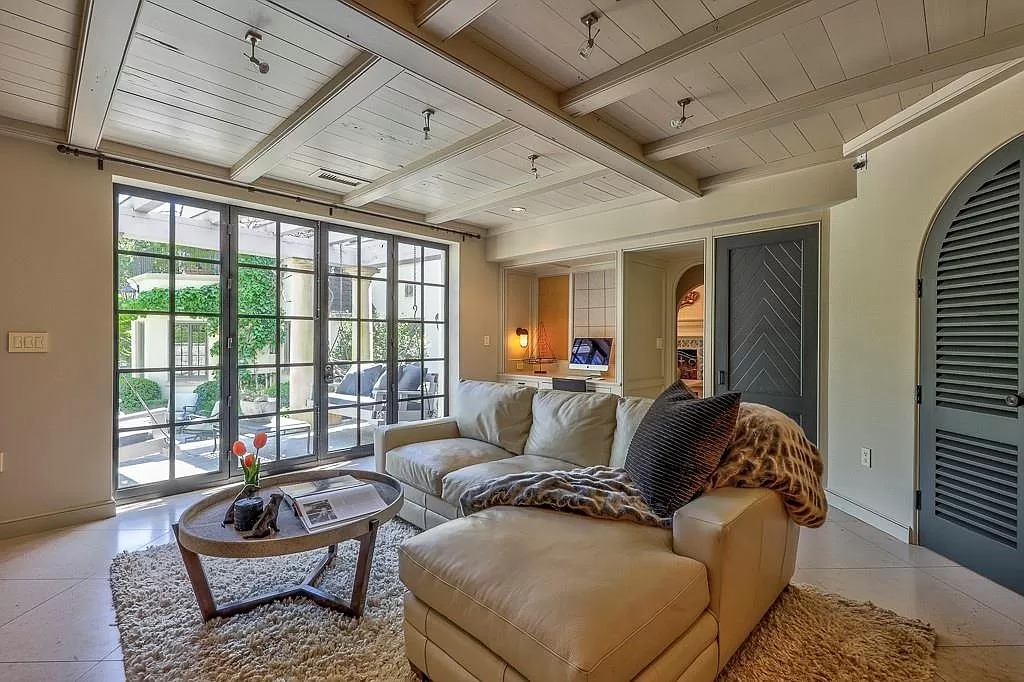 Everything should be coordinated down to the last detail to give your area an attractive sheen that complements its seamless minimalist design. Create a romantic little space with a round center table and attractive tiny items on the table, all exhibited on a soft fluffy rug. Despite the fact that they are all in the same color tone, this is quite appropriate for the current trend of basic, quiet tastes. Specially. The majority of the wooden structures adds to this feeling. This Georgia Gorgeous Light Filled Home on Market for $8,250,000
30. Split The Difference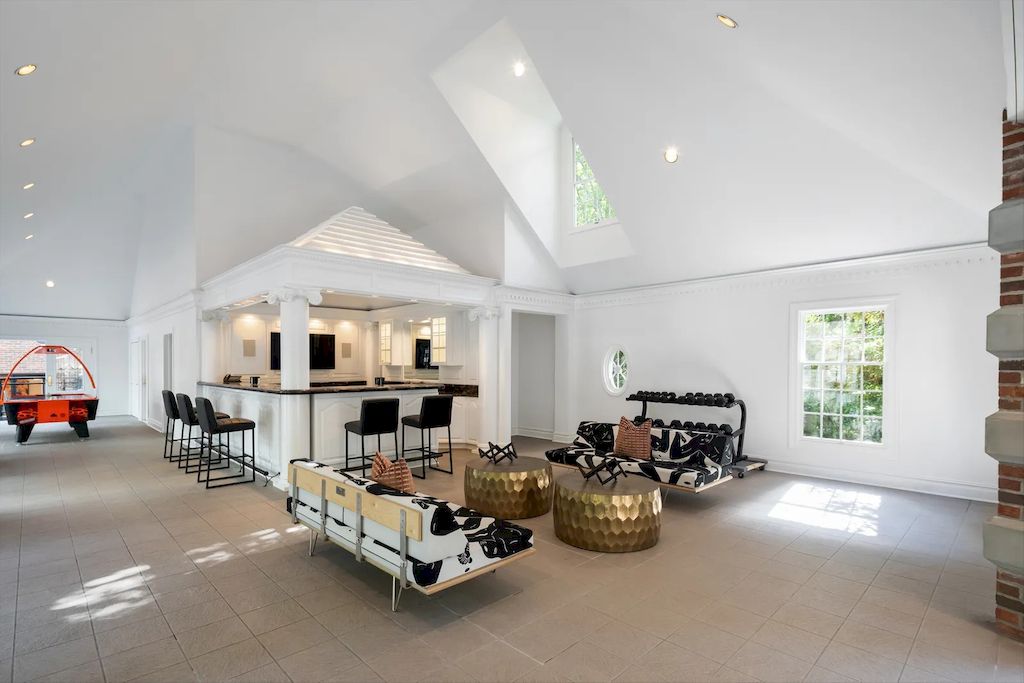 If there is a lot of open space and minimal furniture in your living room, it appears to be very light. What you should focus on is how to increase the difference in art when there is a restricted selection of furnishings in minimalist living room ideas. They featured a circular center table and an open shoe rack, both inspired by the music. Not only that, but the sofa's unusual upholstery fabric, which is made up of two colors: black and white, catches everyone's attention. Brick Mansion of Luxury Living Spaces and Endless Recreation World in New Jersey Priced at $9,990,000
31. Play With Varied Fabrics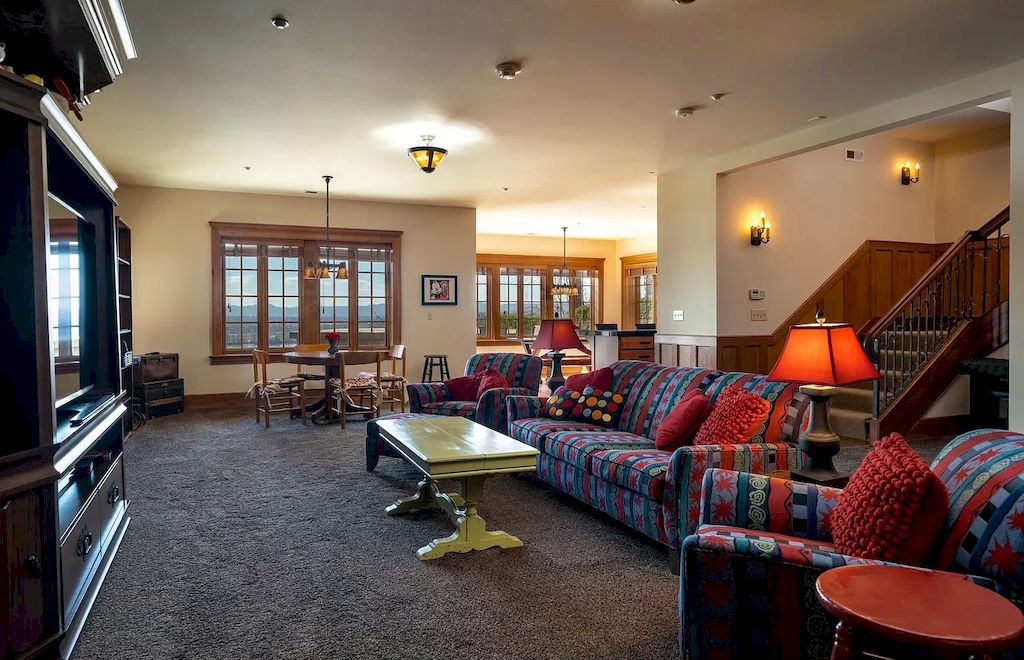 Adding pillows and rugs to your minimalist living room ideas is an additional choice for decorating your home. Under the lighting, brocade motifs on the fabric background, as well as the appearance of certain cotton cushions, assist to make things feel cozy. Consider hues that complement the room's color scheme and materials. Don't be afraid to try something new and distinctive, like the center table in this design. Overlooking the Columbia River, This $3,980,000 Fantastic Home in Washington Provides an Everyday Escape From the Ordinary
32. Soften With Textures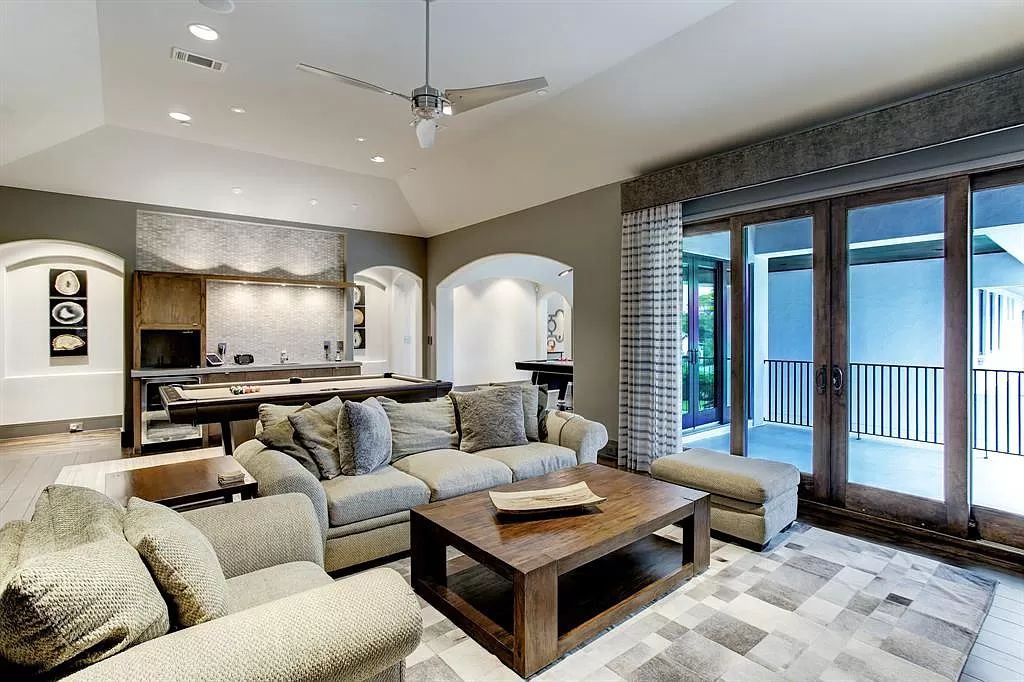 It's a wonderful idea to add a rug to your living area, especially if you have wooden floors. Furthermore, traditional soft fabric can be used to jazz up the design of your sofas. The silky silk curtain with texture adds to the softness of the environment. This not only minimizes the amount of noise in the room, but it also softens the minimalist style. Stunning Custom Home in Houston with A Backyard Paradise for Sale at $6,500,000
33. Go Industrial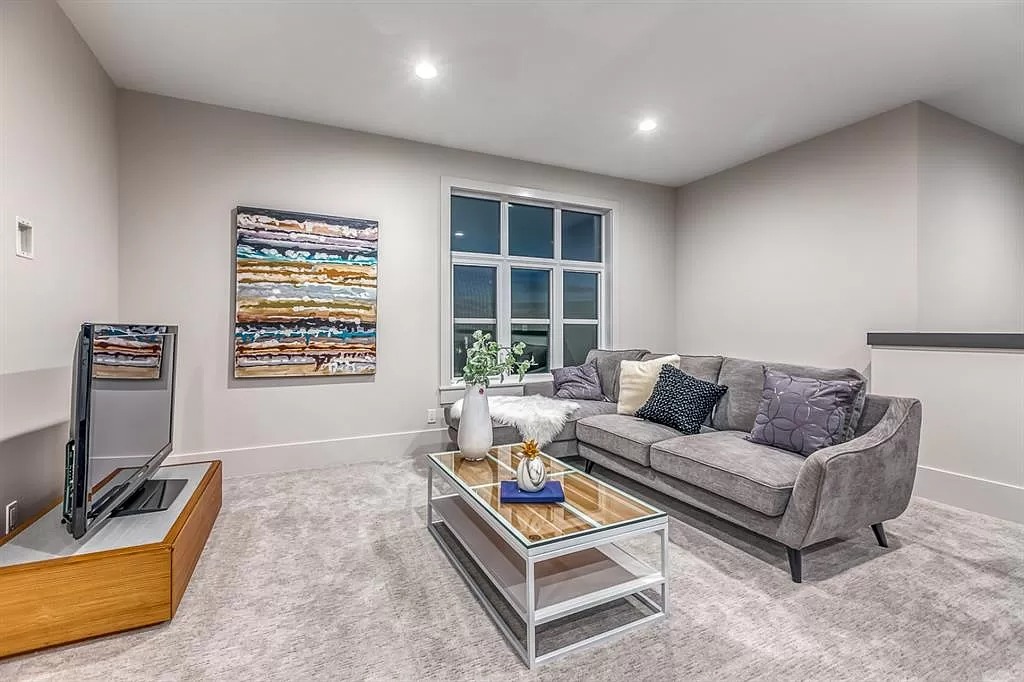 Concrete minimalism and gray tones can be used to create an industrial space. Color palettes and bright furniture are unavoidable in order to soften the roughness of this design. A lovely tiny flowerpot will assist the space become more green and natural. Regardless matter the style, the living room is always intended to be a wonderful place to unwind. This C$5,588,000 Property in Alberta is Powerful, Unparalleled, Monumental and Quite Simply Exquisite
34. Paint And Decorate In A Muted Color Palette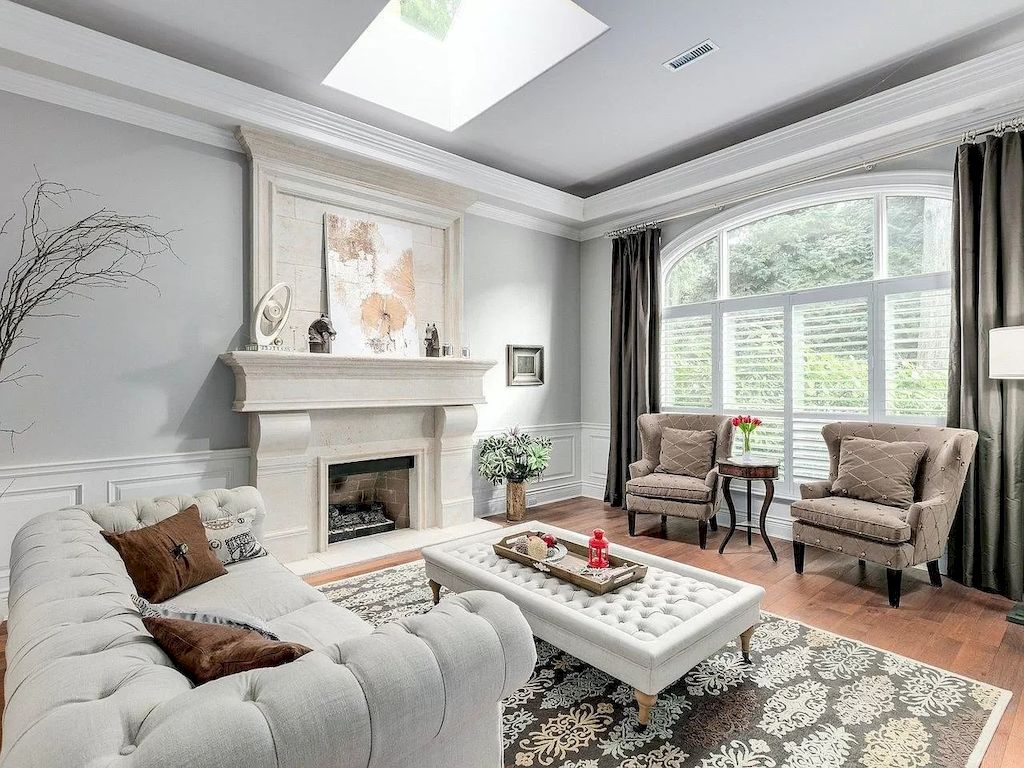 Even if the style of the home evolves, a minimalist blend of neutral, muted tones will display simplicity that will remain ageless. Because of the location of glass doors, a minimalist space shines and is flooded with light, bringing warmth to the area despite the use of numerous frigid tones. The layout of the sitting area near the door and the absence of technology make this a relaxing setting. Luxury and Nature Await You at This C$3,998,000 Elegant Gated Mansion in Surrey
35. Consider A Pale Monochromatic Palette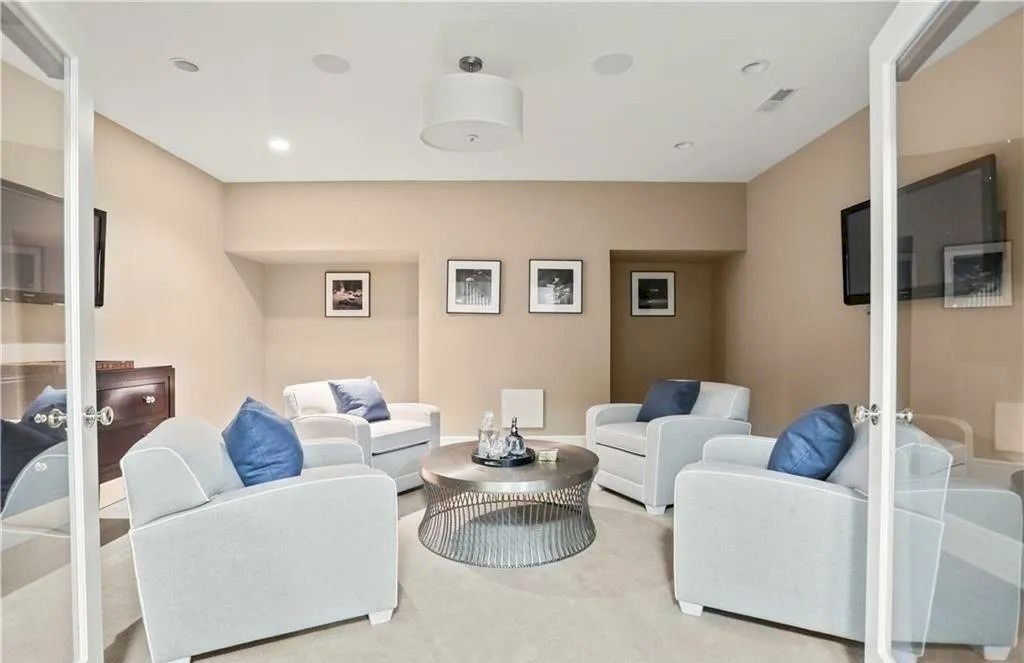 It's tough to create a small room with elegance, especially when utilizing a monochromatic color palette. There are a few suggestions for keeping this room from becoming cold and monotonous. Creating one-of-a-kind designs, such as the center table in the above design, is one example. Furthermore, selecting excellent hues for pillows allows you to experiment with the color palette, making the area more enjoyable. This $5,250,000 Resort Style Retreat Rich in Architectural Details Offers Unsurpassed Quality in Connecticut
36. Use Multiple Textures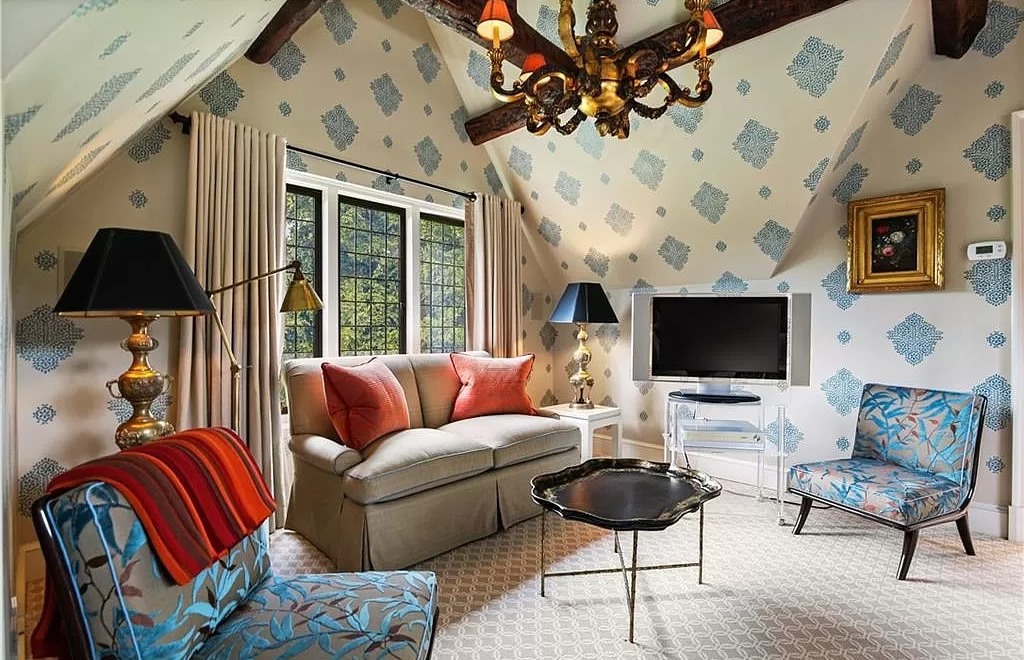 To draw the eye around the room, print a relatively minimalist space with multiple textures. With wallpaper covering the entire room, this must be a fantastic spire room, since the simplistic graphics frequently found in minimalist living room designs are erased. Not only that, but the sofa fabric and the trendy shape of the lights indicate the thoughtful investment. A rug covers the entire space, while silk curtains add warmth and intimacy. Peaceful Mid-country Retreat in Connecticut Hits Market for $13,500,000
37. Keep It Neutral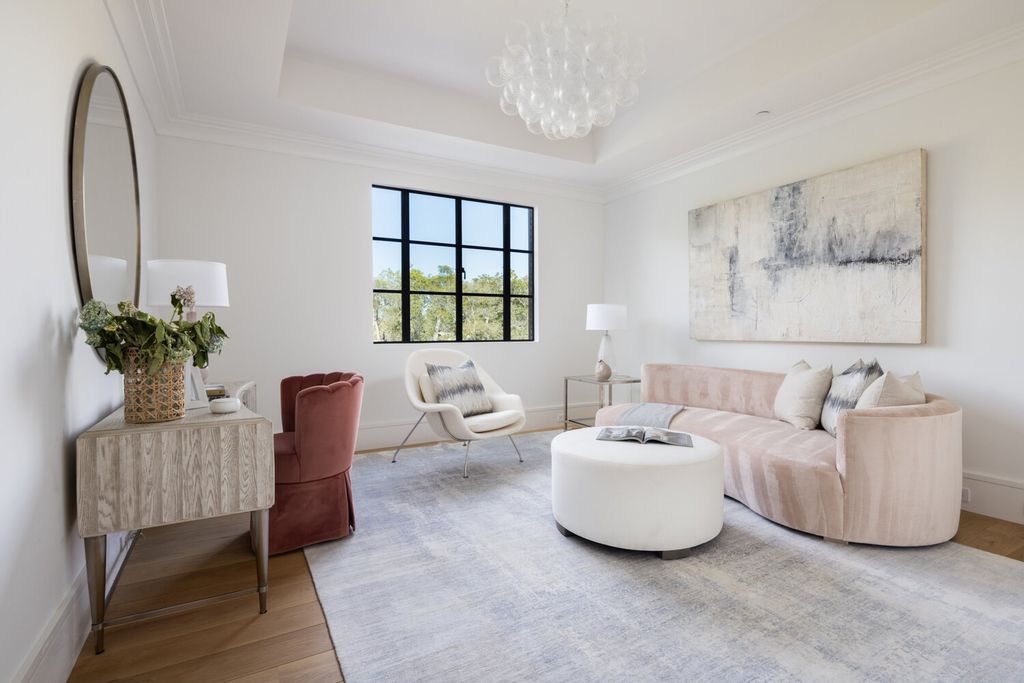 From the colors to the interior materials, this place radiates a delicate breath. Consider mild neutral colors when selecting a sofa for a neutral area because they are easy to store and help to showcase the color palette. The colors in the area, like in the design, are light and romantic, but they stand out against a stark neutral couch. This keeps the living room ideas basic while still providing surprises. Newly Exquisite Traditional Architectural Mansion in Los Angeles hits Market for $55,000,000
38. Plan More Storage Than Necessary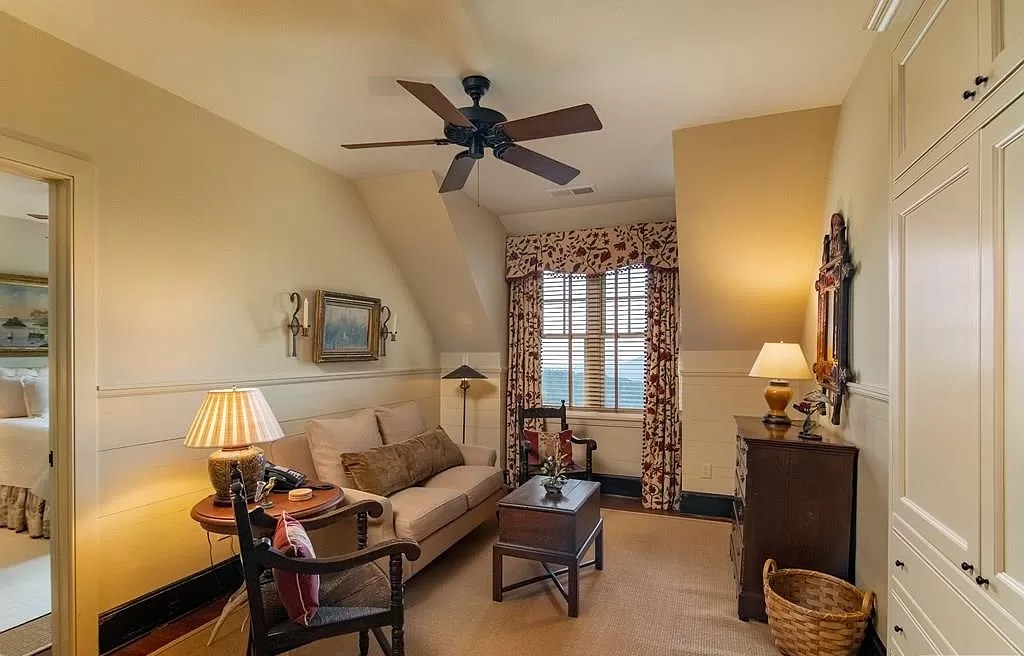 Clutter quickly detracts from the look of a minimalist room, so make sure to include as many hidden storage choices as possible in your minimalist living room. It's fantastic to have a wardrobe against the wall that doesn't detract from the room's artistic value. More importantly, use ottoman inspiration to store small items on the center table. It's a good idea to keep pillows or thin blankets in a slatted basket. Treasure of Antiques from All Over the World Filled in this North Carolina $7,000,000 Estate
39. Play With Color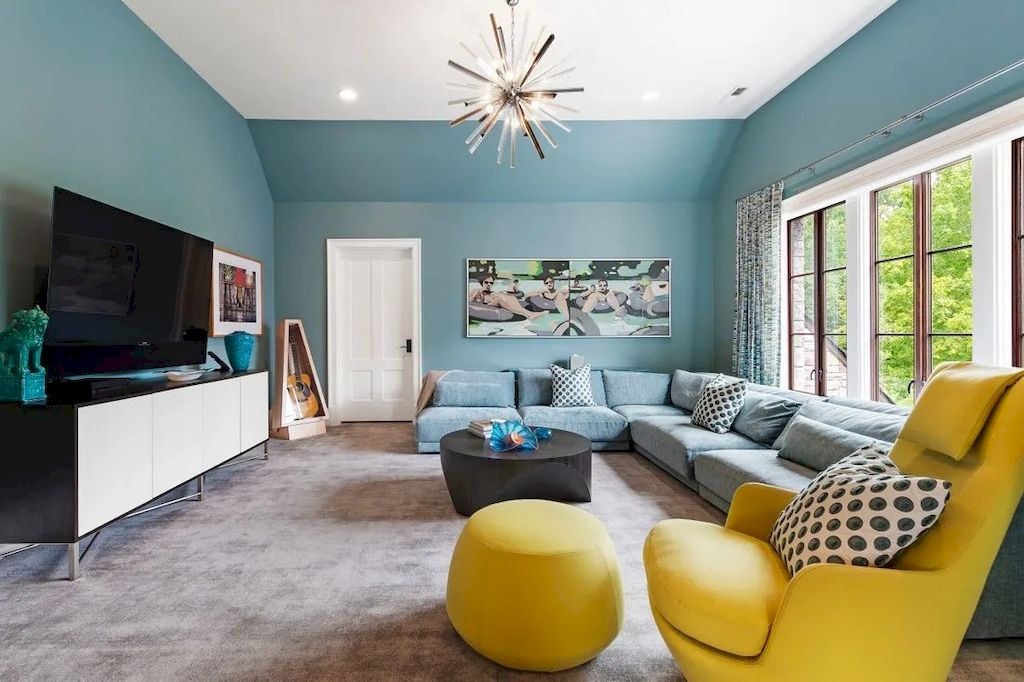 In minimalist living room ideas, color is very significant. When coupled with white and a large yellow couch, the royal blue living room appears warm and inviting. Warm yellow contrasts with cool tones, all of which shine and shimmer under the glittering lights. A fantastic final touch is to place ornamental things in the room's corner and add sparkle with colors. This $6,945,000 Spectacular Country Manor House Exudes Ambiance of Relaxed Sophistication in North Carolina
40. Keep It Sitting Room Only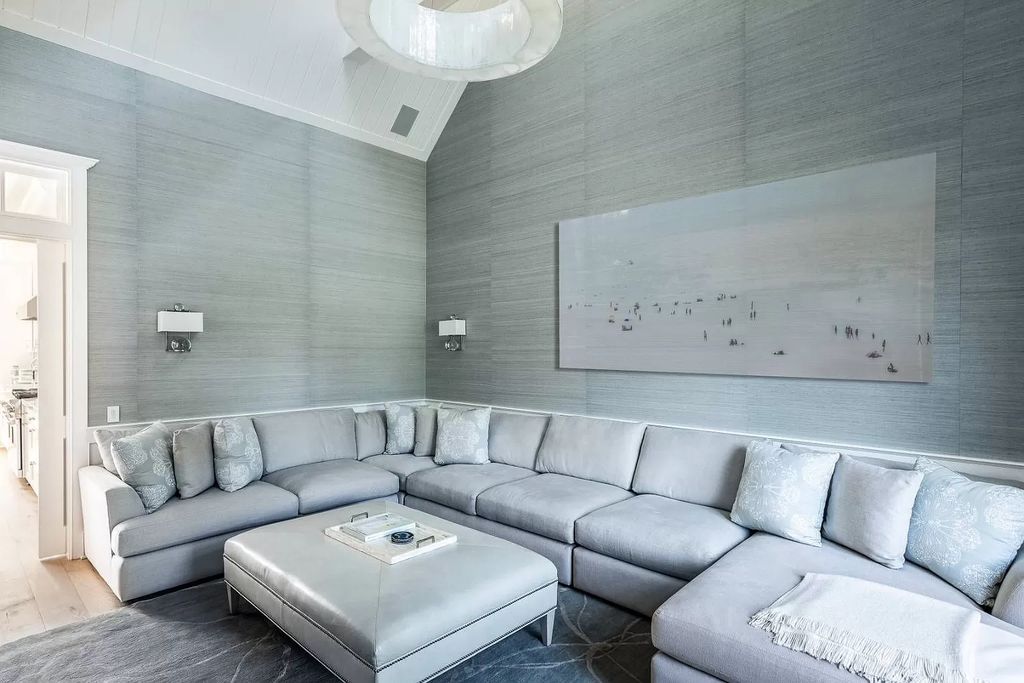 Remove electronic devices, musical instruments, and even favorite video games from your living room. To fully suit the decoration in this style, minimalist living room ideas always encourage silence. The usage of a single color tone across the space, from the wall paint color to the color of the sofa set, as well as the mural and the carpet. There isn't a single one of them that isn't the same hue. However, because of the color scheme, this does not mean uninteresting, but rather eye-catching and appealing. Picturesque New York house designed by architect James D'Auria sells for $9,975,000
As you can see, despite the limited space and neutral color palette, there are still a lot of ways to make minimalist living room ideas stand out. It is critical to keep the number of furniture and goods exhibited in the living room to a minimum; also, you should make use of items that may serve several roles, such as a combination of a center table and ottoman. Furthermore, for an optimal relaxation atmosphere, we suggest the use of less technological devices in the room. I hope that by reading this article, you will be able to build a minimalist place for your family.
You can read more: Living Room Ideas Blue Couch
More Ideas For Living Room:
---
Thousand of high quality images of Living room and more you can see at Livingroom Gallery.