Date of Publishing:
Brilliant Black and White Living Room Ideas.
A white and black palette is traditional and ageless, with many choices ranging from bold to understated. You will fall for these white and black areas whether you are color-phobic or color-obsessed. The living room is one of the most important rooms in any home. It's where the entire family congregates, therefore it's critical to make the family room more comfortable and delightful for everyone. Today, we've gathered 15 photographs of black-and-white living room ideas in the hopes that they'll encourage you to embrace this classic and beautiful color scheme.
1. Monochrome Minimalism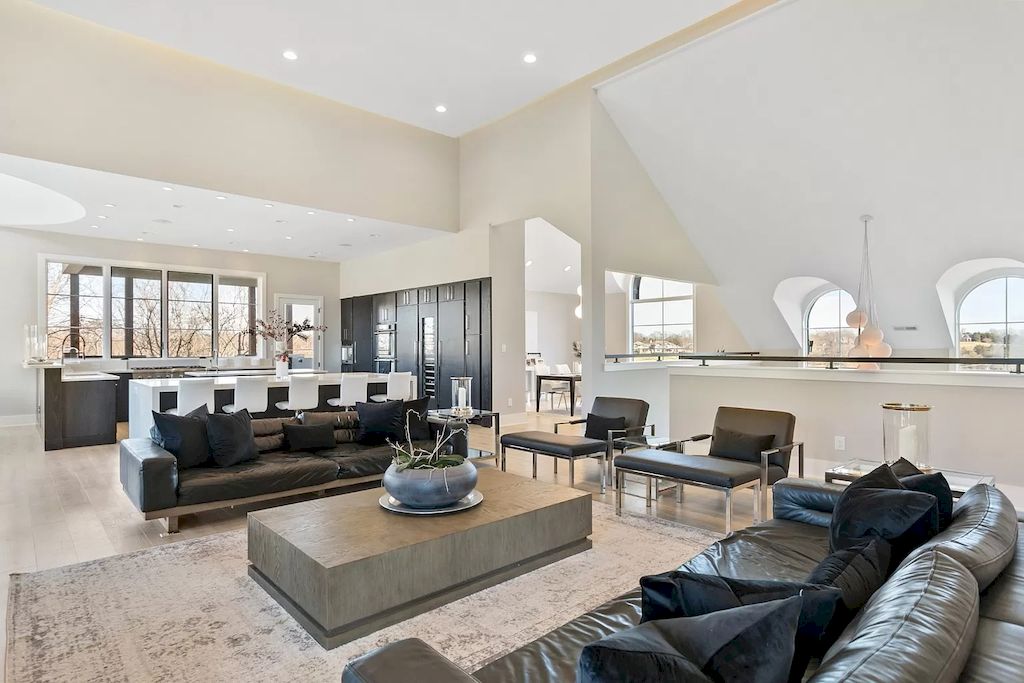 Creating a monochrome minimalist living room is all about sleek lines, neutral hues, and carefully curated decor. Opt for a clean white backdrop and pair it with black furniture, such as a streamlined sofa and matching coffee table. Add a pop of visual interest with black and white wall art to complete the look. This $3,300,000 Stunning Home Offers Fantastic Features and Unique Details in Tennessee
2. Ceiling Color: Black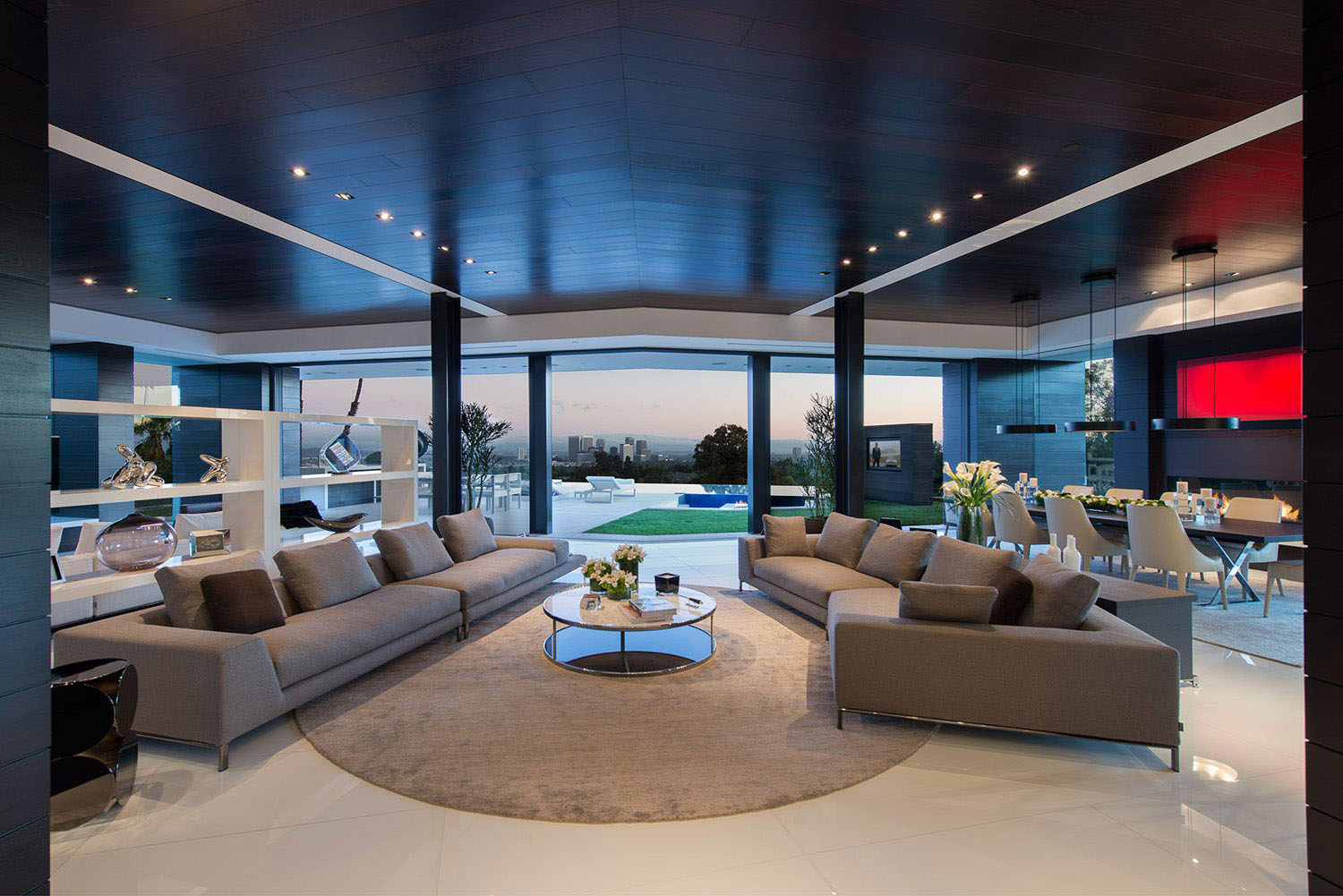 Not ready to commit to all-black living room walls but still want to include the color somewhere? Look it up. A black ceiling is a stylish yet understated design choice. Neutral walls and flooring assist to soften the overall effect, while paneled drapes and sky-high mirrors direct the attention skyward. Lucite accents and pink tones add a feminine touch to balance out the strong, black ceiling. Exclusive Elegant Luxury Laurel Way Modern Home with unobstructed views of Downtown Los Angeles
3. Timeless Elegance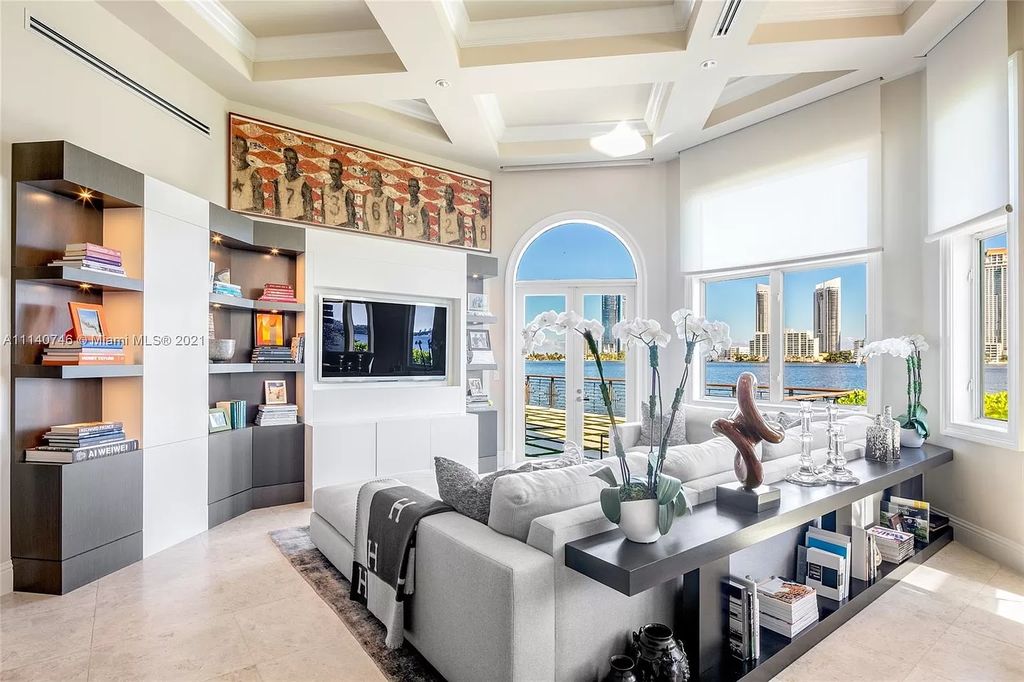 Traditional design black and white is a timeless neutral. Paint built-in bookcases with deep black paint to establish the tone in a formal sitting area. The hue serves as a main point while also acting as a strong backdrop for furniture and accessories. Vertical shiplap behind the bookcases gives depth to the room. The remainder of the space should be kept basic with minimalist furnishings and a barely-there animal-hide area rug. This North Miami Beach Home features Sophisticated Island Living
4. Combination of Black and Gold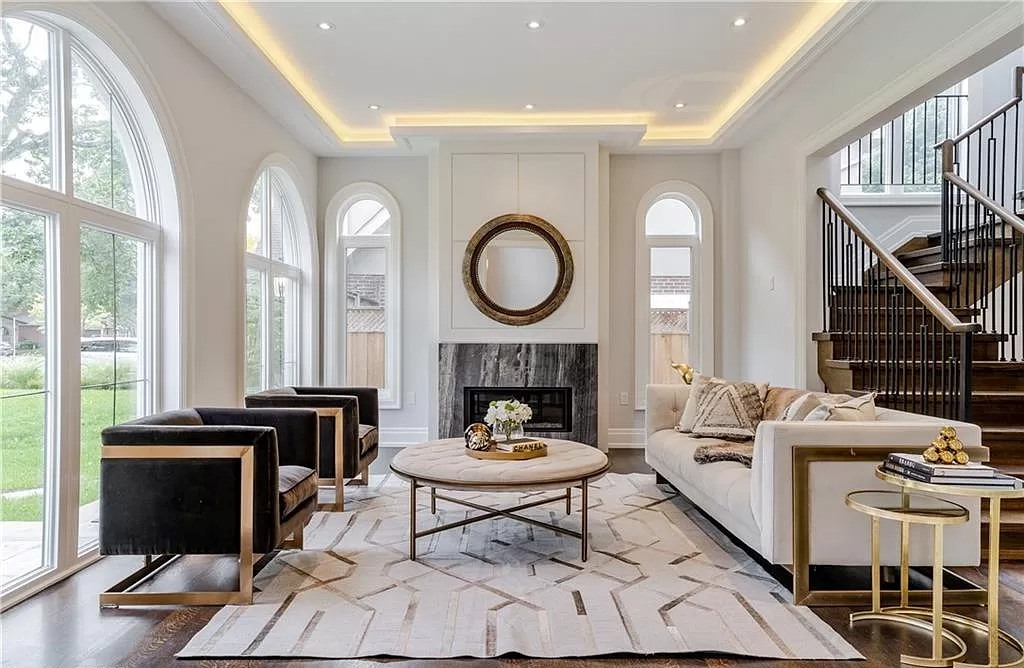 There's a reason that matte black and gold are so popular right now: It's elegant, ageless, and exudes richness. Black elements should be paired with metallic accessories such as an end table, wall art, and a geometric pendant lamp. Soften the area with gold velvet couches and throw cushions, as well as floor-to-ceiling drapes. To make the space feel even more opulent. This $9,280,000 Gem Exhibits Unparalleled Architecture and Exquisite Minimalism in Washington
5. The Look of a Chalkboard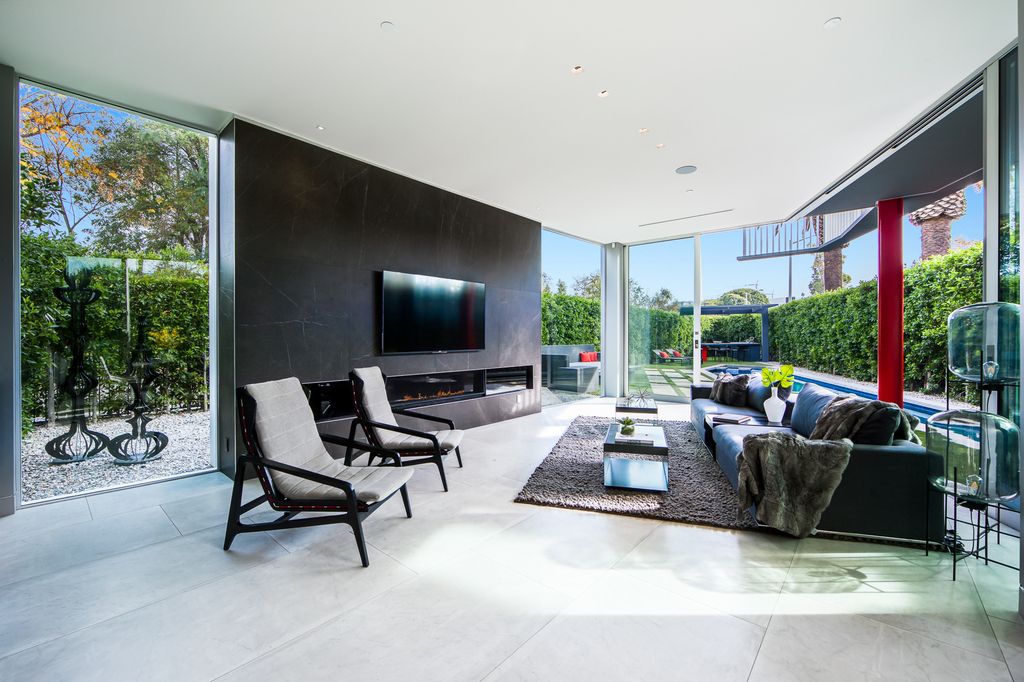 A black-and-white chalkboard-inspired pattern will bring out your inner youngster. Recreate the design in this living room using black blackboard paint, or build your own. Consider utilizing patterned black wallpaper to make a statement. To prevent overpowering the area, stick to one accent wall and paint the rest of the walls in the same solid color. With a striped accent rug and matching sofa pillows, you can keep the black and white theme going. An Exquisite Urban Architectural Home in West Hollywood for Sale at $6,475,000
6. Rustic Style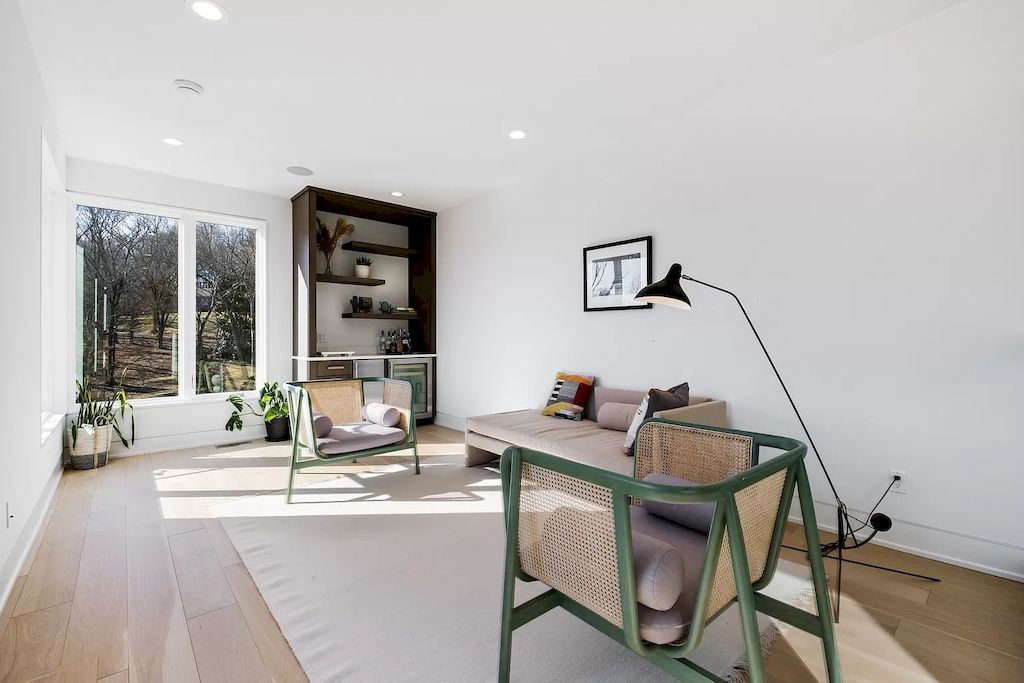 Shades of beige and brown may come to mind when you think of a rustic house. Consider updating the style with black and white paint and brown furniture and decorations. Furniture and accessories in subtle, natural tones stand out against the backdrop of black walls, bookshelves, and window trim. Warmth is provided with leather cognac armchairs, a damaged coffee table, and an espresso pendant lamp. Bathed in Natural Light and Elegant in Every Detail, this Masterpiece in Tennessee Listed at $4,999,990
7. The Balance of Black and White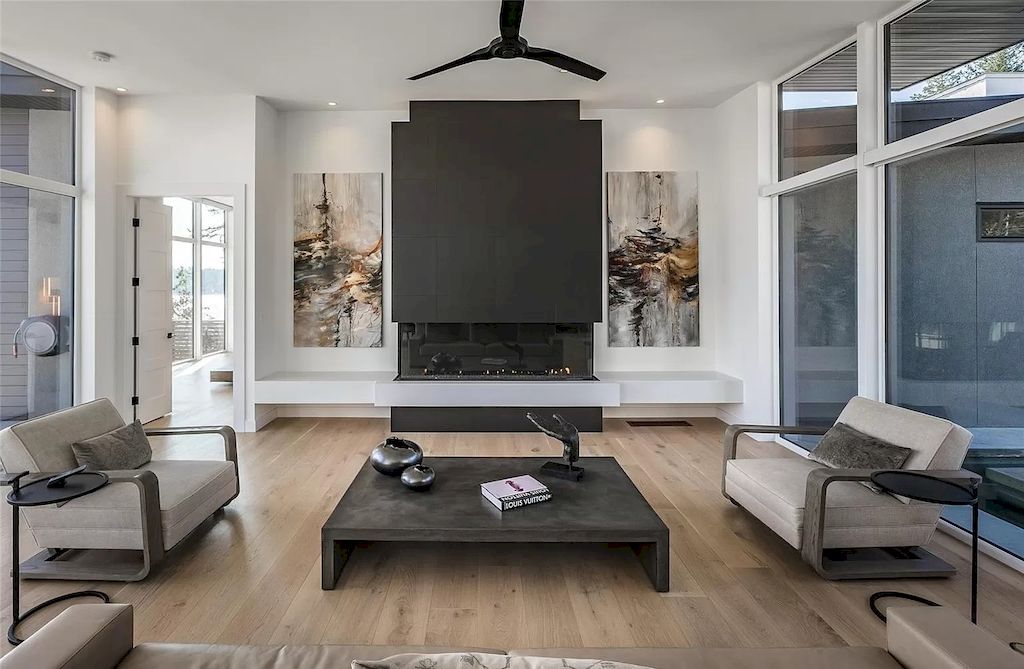 Opposites attract, so use a black-and-white color scheme for your living room ideas. A large black wall and black table stand out against the brilliant white walls, while the white ceiling balances off the dark furniture. When establishing contrast in a black living room, use decorations such as black-trimmed Roman shades, a duckbill pendant lamp, and patterned vases. Live Your Ultimate Dream in C$5,495,000 Oceanfront Home on Vancouver Island
8. Industrial Vibes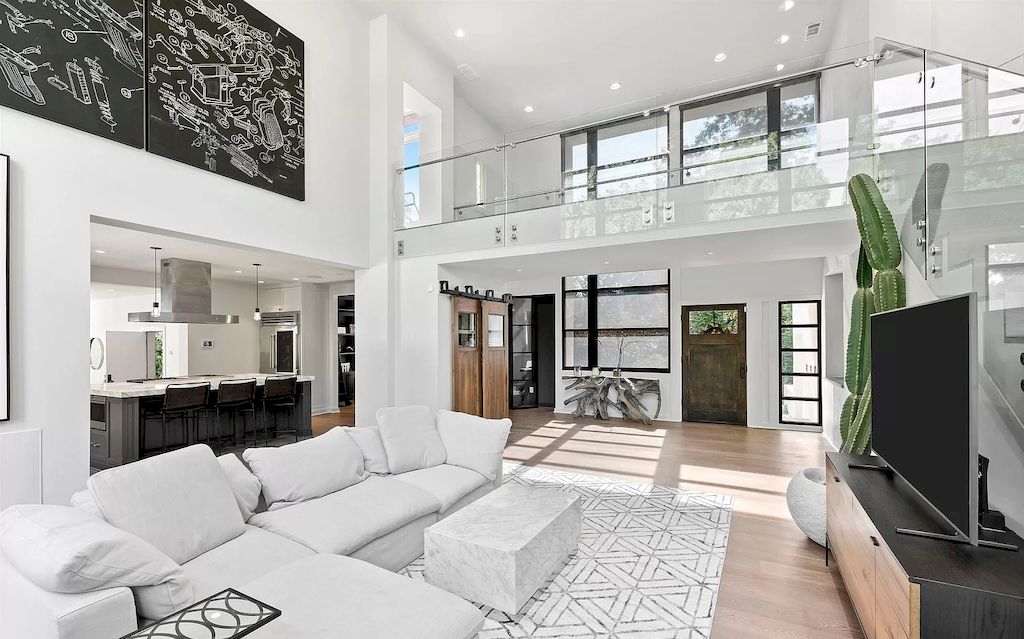 Infuse an industrial edge into your living room by exposing elements like brick walls and ceiling beams. Keep the color palette primarily black and white to maintain a cohesive look. Industrial-style lighting fixtures and metal-framed furniture can further enhance the theme. Stunning Contemporary Estate in Georgia Hits Market for $3,000,000
9. Black with Jewel Toned Accents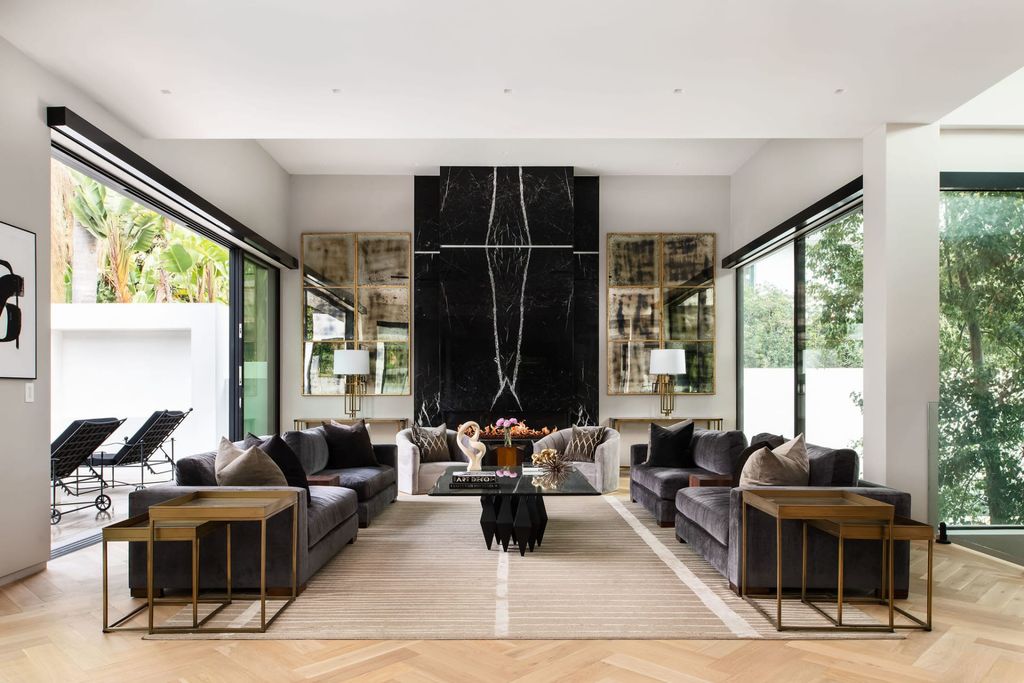 Combine black and white walls with rich jewel-tone furnishings to create a stylish living space. Jewel tones are rich and provide a lot of depth to a room, especially when contrasted with black. A velvet sofa, golden and marble elements all shine out against the space's gloomy walls. Brand New Modern Home on one of the most Prestigious Streets in Beverly Hills hits Market for $26,900,000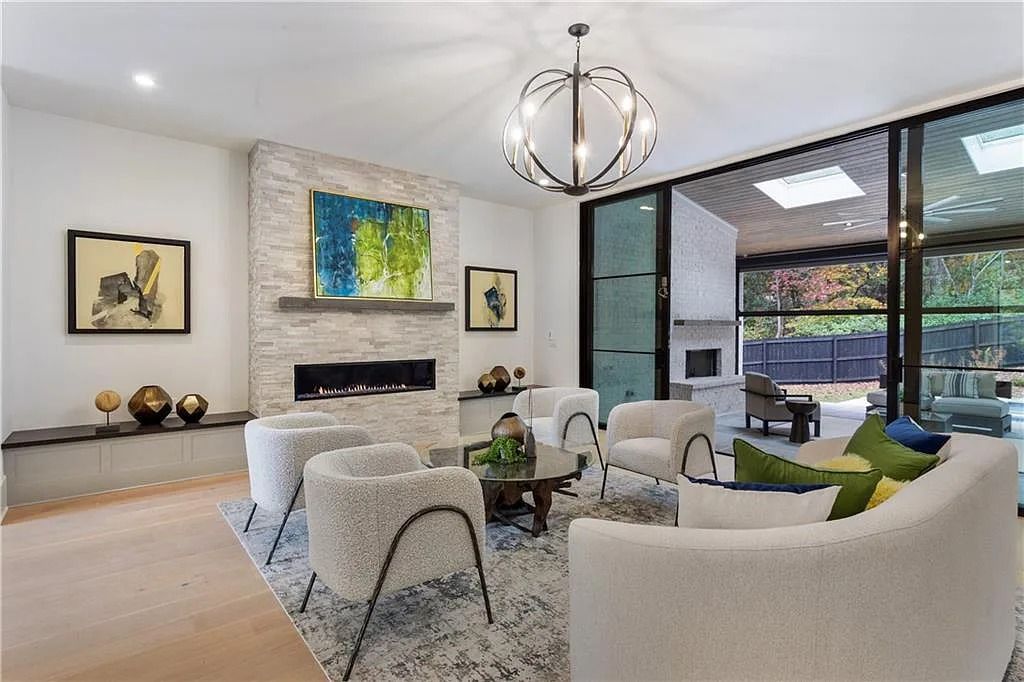 Achieve Scandinavian chic by focusing on comfort and functionality. Choose black and white furniture with clean lines and add cozy textiles like chunky knit blankets and throw pillows. A minimalist black and white color scheme complements the cozy ambiance. Offering Grandeur with No Compromise of Privacy or Security, This Gorgeous Residence in Sandy Springs, GA Lists for $5.699M
11. Black and White Indoor-Outdoor Living Room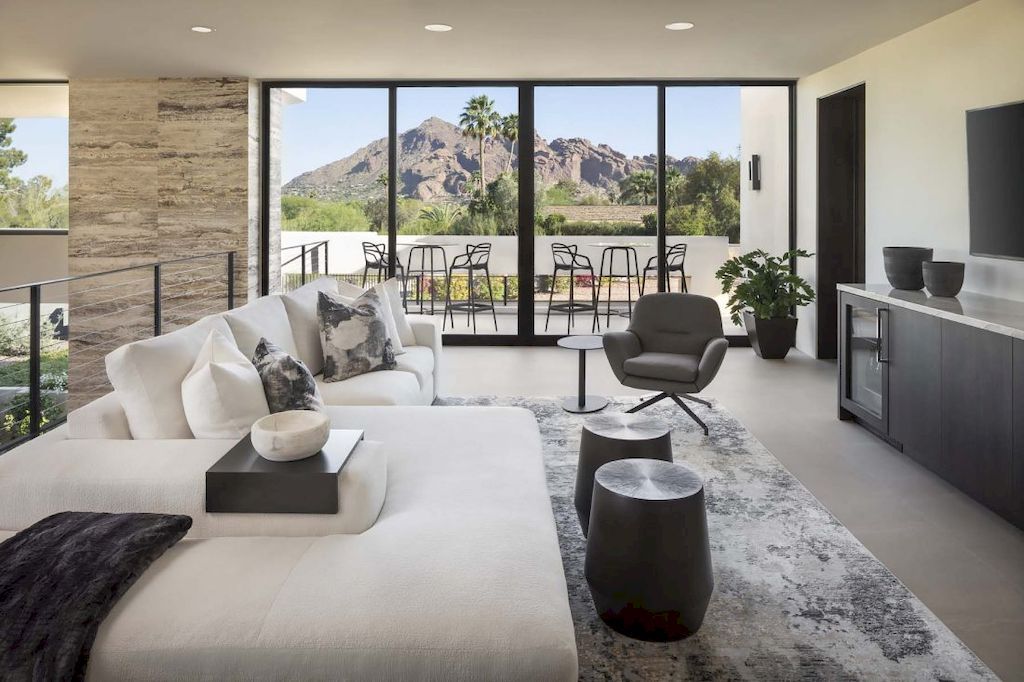 This indoor-outdoor living space features stunning black and white décor. Large white couches face one other and are supplemented by two black velvet armchairs to provide a beautiful party seating space. The large white rug anchors the space and adds texture and warmth. This would be a wonderful Luxury idea. Contemporary design Razor's Edge with Natural Beauty by Drewett Works
12. Minimalist Living Room that is Light and Airy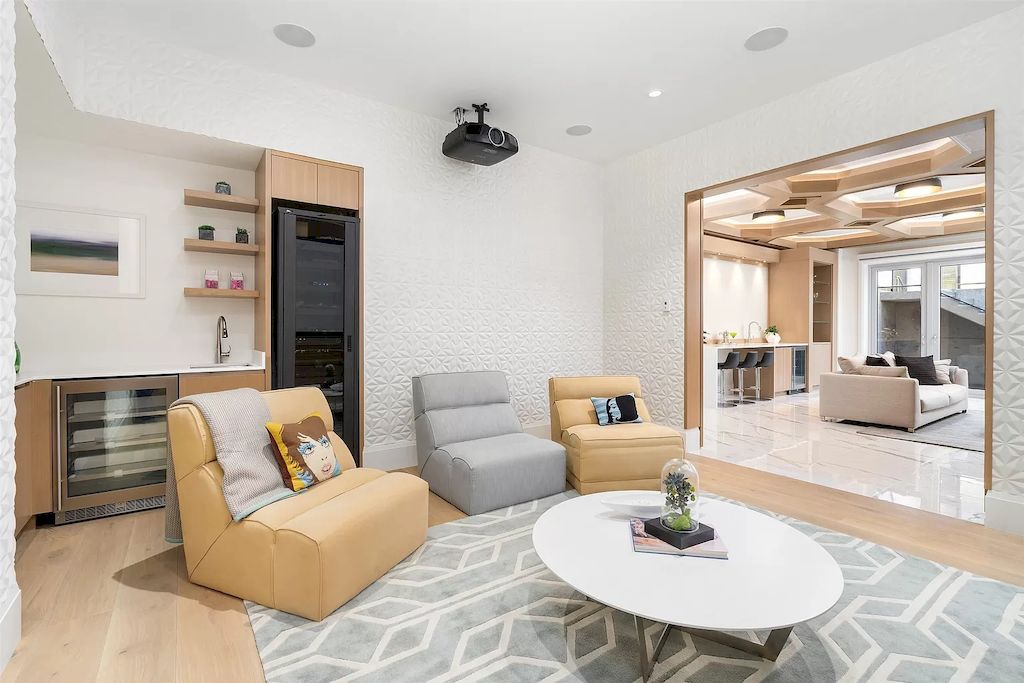 This is a light-filled living room with a white wooden ceiling with exposed wooden beams that matches the white walls and lets in an abundance of natural light via the surrounding large windows that illuminate the comfy black sofas. This Breathtaking C$7,880,000 Home in West Point Grey Epitomizes Luxury High-Rise Living
13. Huge Library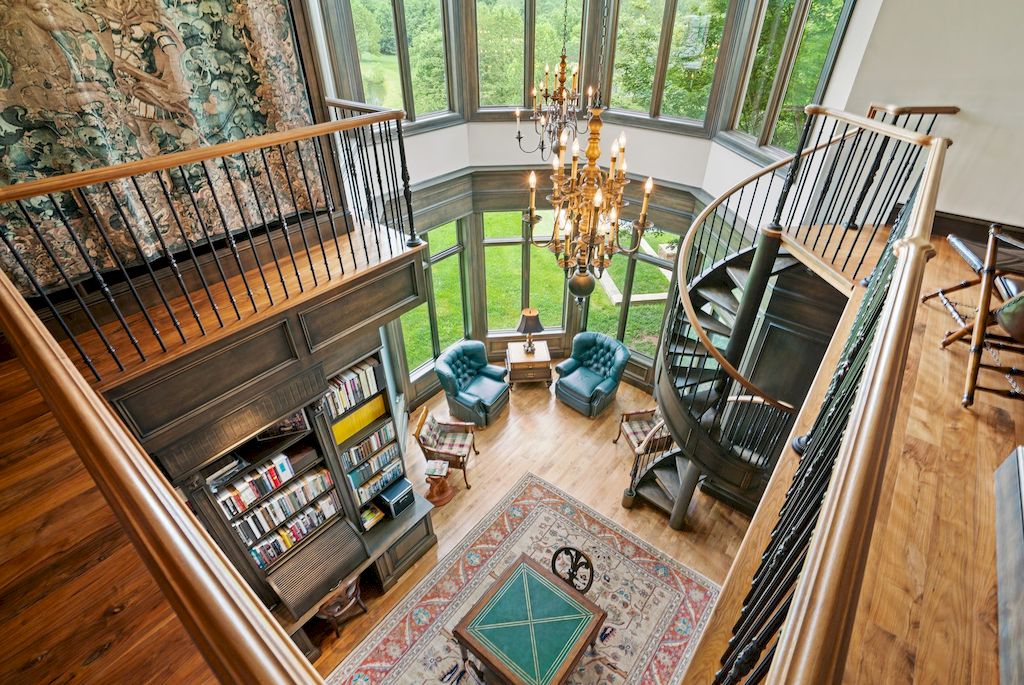 In this stunning location, black and white merge to form an attractive backdrop. The accent wall around the fireplace is painted black with a contrasting white mantle, and the bookcases provide a built-in facade that complements the living room themes. The huge, comfortable white lounge chairs give plenty of sitting, and the Victorian armchair creates a lovely tableau opposite the fireplace. Ultimate Private Home Commands Magnificent Panoramic Views in Virginia Listed for $19,500,000
14. Open-Space Minimalism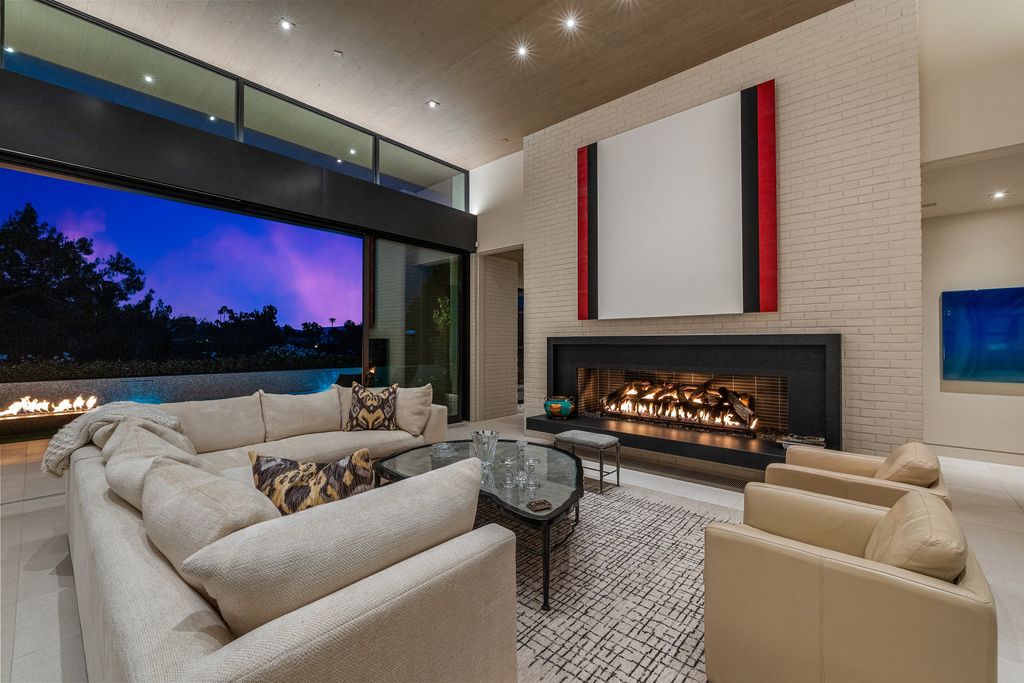 A wide open living area with a natural wood ceiling and glass walls creates a peaceful and modern atmosphere. The floor-to-ceiling windows provide enough of natural light while overlooking the spectacular outside vistas. The large gray sectional couch gives enough of seats for entertaining guests and relaxing in front of the fireplace. This $11,200,000 Vintage Country Club Home is a True Trophy of Design with Perfectly Appointed Taste
15. Elegant Black and White Living Room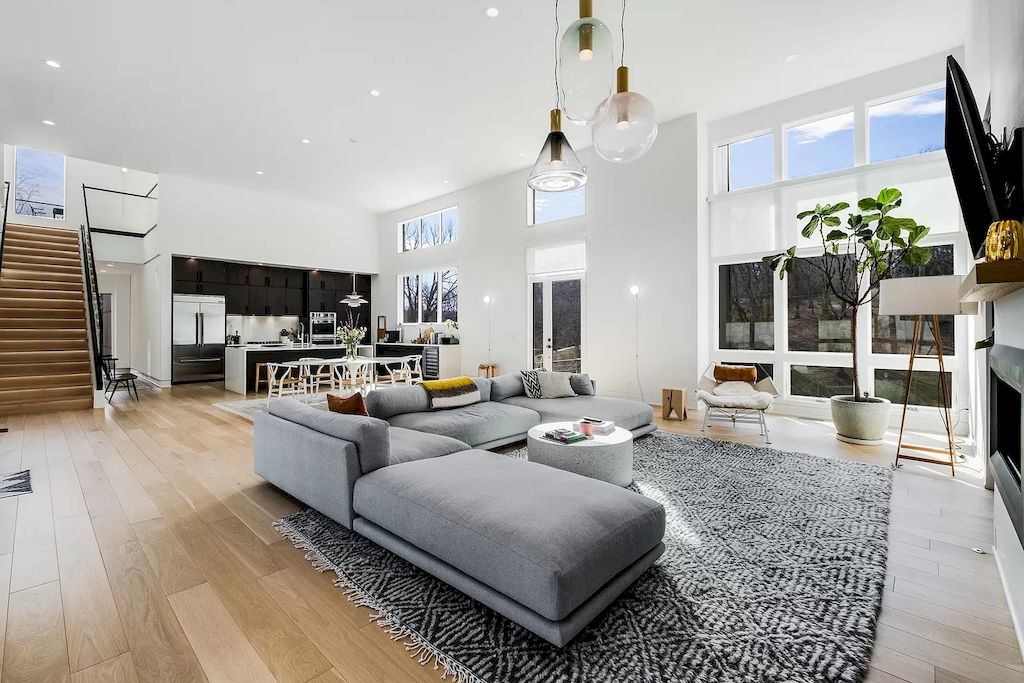 This sleek black and white living room is dominated by black walls and sophisticated decor. A white plush rug anchors and lends warmth to the space, while the black walls contrast with the white built-ins and draperies. The furniture in the living room facing the coffee table is set up to amuse visitors while they relax around the fireplace. Bathed in Natural Light and Elegant in Every Detail, this Masterpiece in Tennessee Listed at $4,999,990
Embracing the captivating allure of a black and white living room is a design choice that transcends trends and stands the test of time. The juxtaposition of these two contrasting hues creates a sophisticated and visually appealing space that can be tailored to various styles. From modern minimalism to eclectic charm. Whether you're drawn to the simplicity of monochrome, the complexity of patterns, or the elegance of vintage accents, a black and white living room offers a canvas for endless creativity. Do you like to find more fantastic living room ideas? Please do not hesitate to refer to our other articles listed below: 20 Colorful Living Room Ideas: Transform Your Space with Vibrant Design
More Ideas For Living Room:
---
Thousand of high quality images of Living room and more you can see at Livingroom Gallery.