Date of Publishing:
Ideas For A Comfy And Beautiful Large Living Room.
This gallery's large living room ideas feature traditional, modern, rustic, eclectic, and artisan interior designs. Top designers built these distinctive formal and informal spaces, which include exquisite furniture, views of the outdoors, and expensive furnishings. We hope these images provide you with a ton of design inspiration and ideas for making your own opulent living rooms.
1. Main Point in the Living Area with a Fireplace.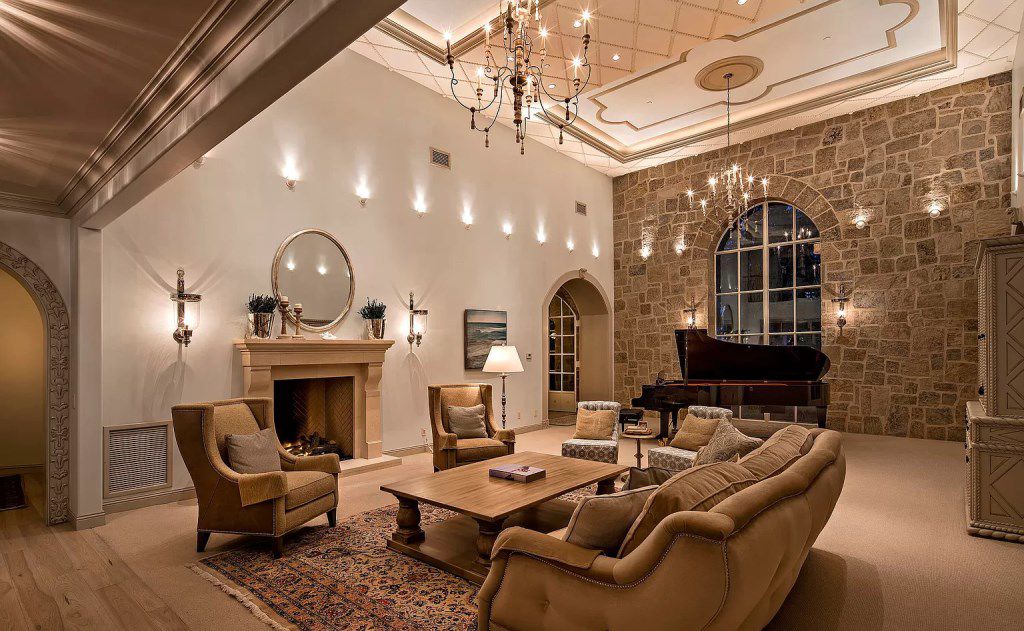 To the right of the room is a sizable stone fireplace with a variety of stone tile facings. The space is given the much-needed warmth it needs by the wooden high ceiling, gorgeous chandelier, and hardwood flooring. This living area is made cozier by the modern interpretation of the sofa and the attractiveness of the wooden coffee tables. This $12,900,000 Paradise Valley Estate represents true timeless elegance
2. Taller Furniture Items Balance and Scale a Vast Living Area.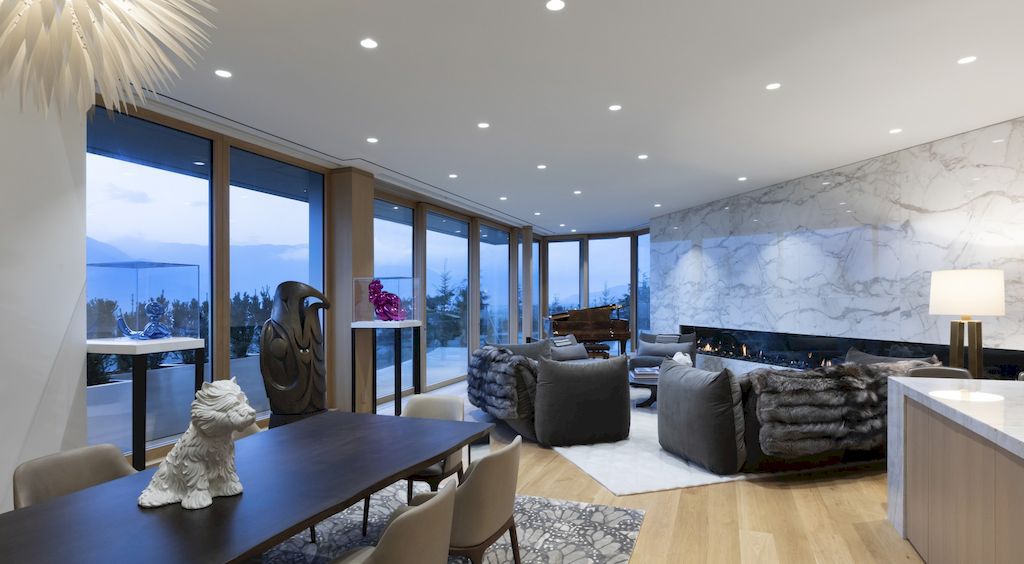 The treatment of the walls, tray ceiling, and polished porcelain floor tiles, while impeccably lovely, demonstrate how strong and calming white can be. The big view doors and windows at the far end of the room allow you to appreciate the breathtaking views of the ocean from the mid-century modern section sofa and contemporary armchairs.  Sunridge House, Stunning 3-level project in Canada by McClean Design
3. Visually Stunning is a Living Room with a Gorgeous Lighting Fixture.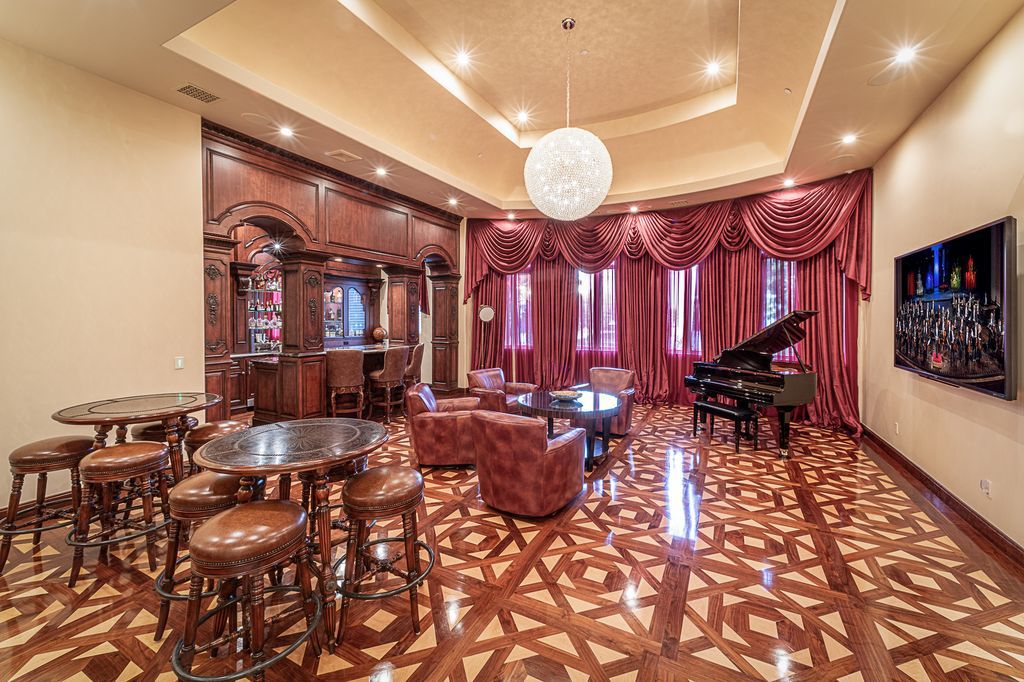 Two adjectives that can be used to characterize this spacious living room design are modern and beautiful. The exquisite gas fireplace, built-in display shelves, and the room's surface treatment—marble wall—are all perfect complements to the room's sleek modern luminaire, which makes a stunning centerpiece. Equally exquisite furnishings is chosen. One of A Kind Home in Calabasas with Unparalleled Quality and Design Asking for $12,999,000
4. Sliding Door to Increase Access to the Living Room.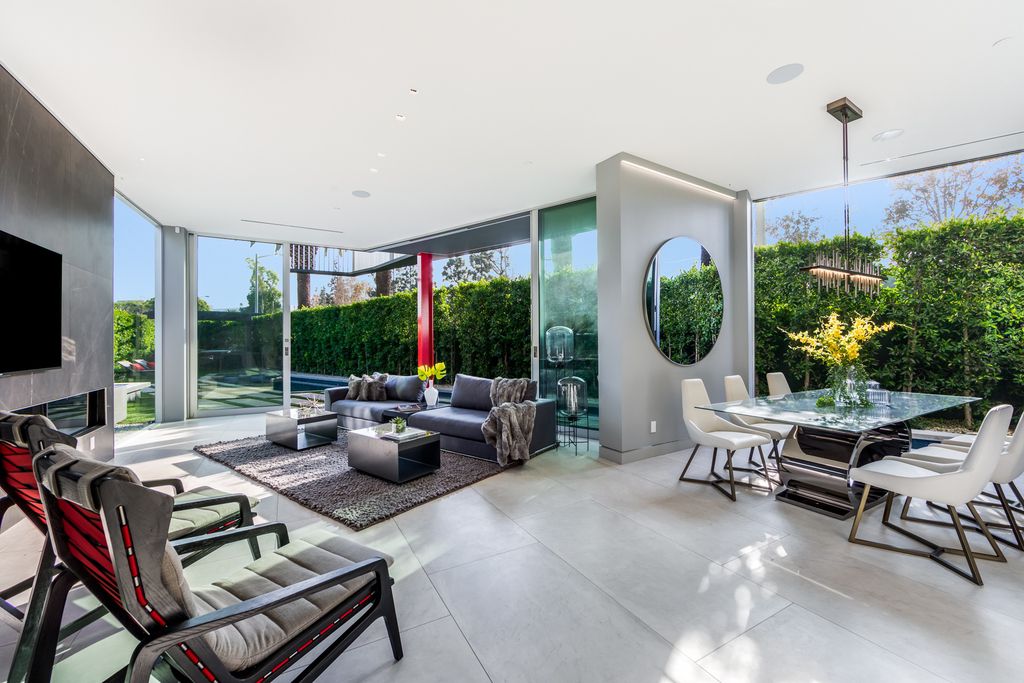 This living room is open in design and features a sizable glass door that quickly connects the indoor area to the patio outside. The light teak floorboards, accent walls made of grey marble, and white-painted ceilings and walls all make use of neutral lighting. The black couch, contemporary console, and various furniture accents prevent the room from being overly cluttered. This recreational area is made visually spacious and light by the outside view. An Exquisite Urban Architectural Home in West Hollywood for Sale at $6,475,000
5. The Aesthetic and Coherence of Matching Furniture and Color Schemes.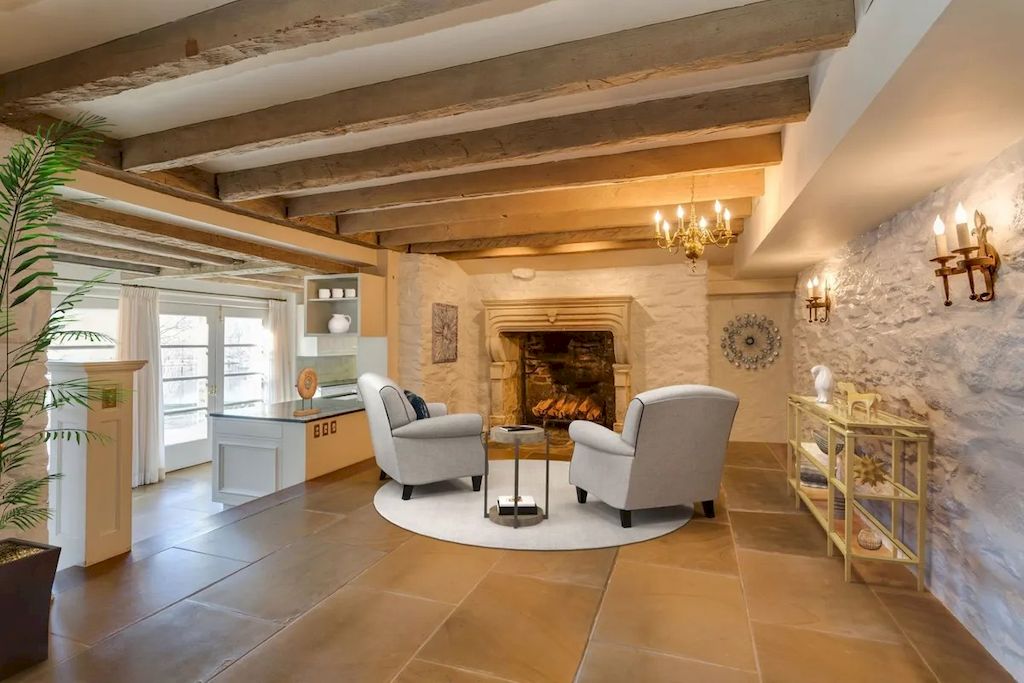 This rustic living room design sample successfully combines stone and wood. This room has a rustic and warm vibe that not many rooms can achieve. This room is made to feel warm and inviting by the wood plank ceiling, the accent wall surrounding the fireplace, the comfortable and eye-catching seating furniture. The breathtaking scenery outside is also very helpful. This $5,999,500 Grand Farm Estate in Virginia Replete with Modern Facilities
6. To Create a More Welcoming Space, Combine Several Design Elements and Styles.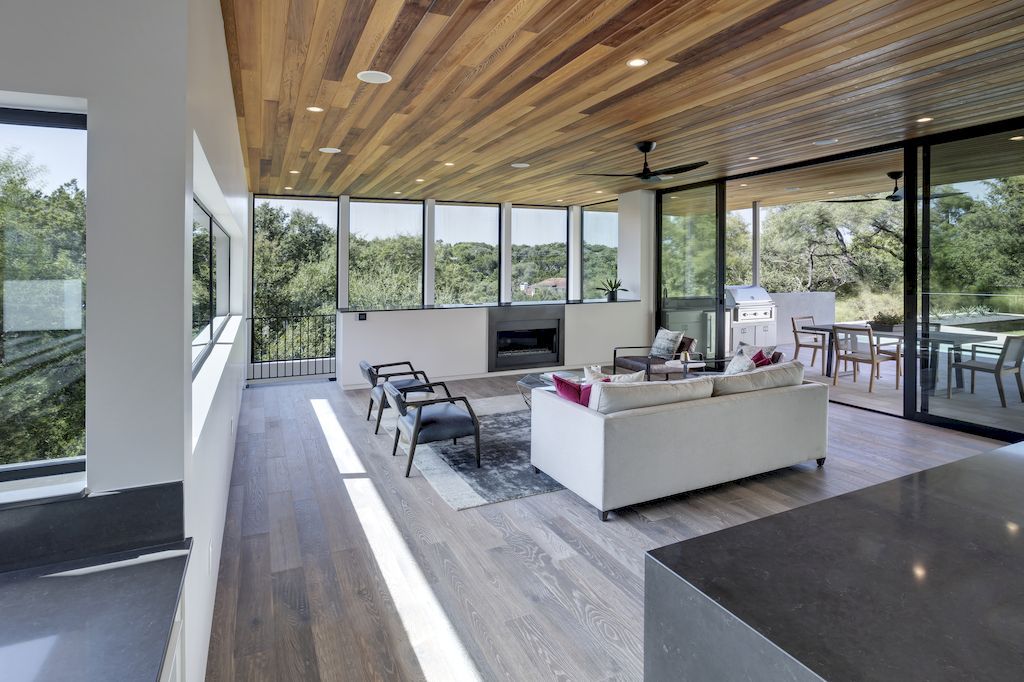 Designs that are modern and minimalist like this one run the danger of coming off as excessively formal and frigid. In addition, the use of rustic and hospitable design elements like the wood plank ceiling and the light wood flooring ingeniously addresses that concern. Bracketed Space House, Open concept Design by Matt Fajkus Architecture
7. Zone In The Large Living: Split-Level.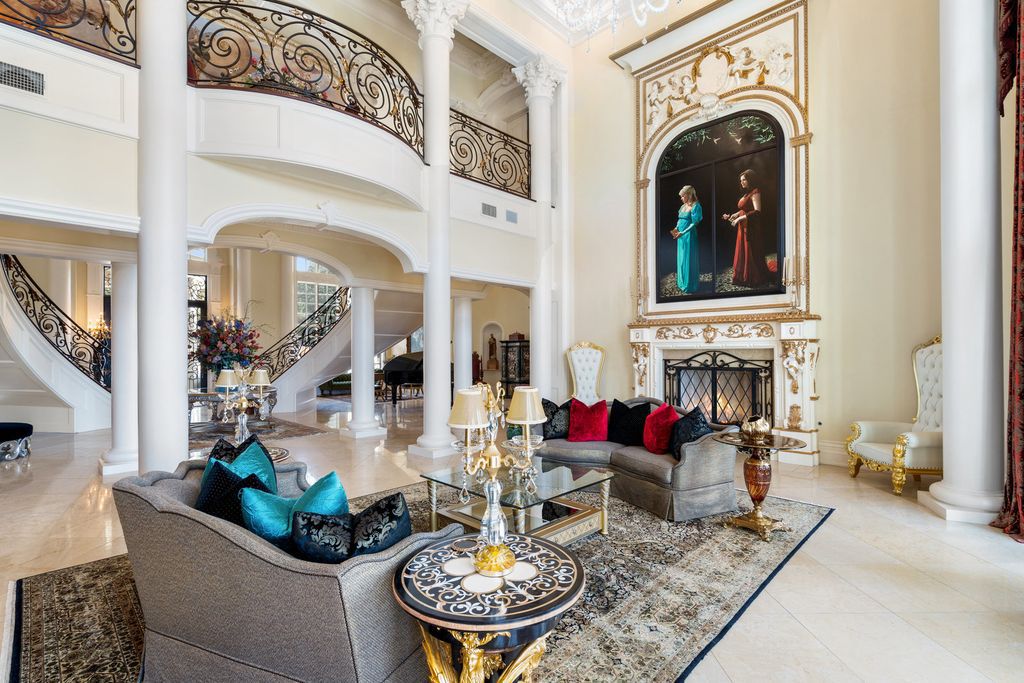 A space with multiple floors is referred to as split level! In order to tie the room together, those who have a big living room can use this idea in their decor. Maintaining various floor levels can also be a fantastic addition in lovely double-height living room designs! Elegant Italian Baroque Mansion in Austin with Breathtaking Panoramic Views Selling at $9,900,000
8. The Color Play.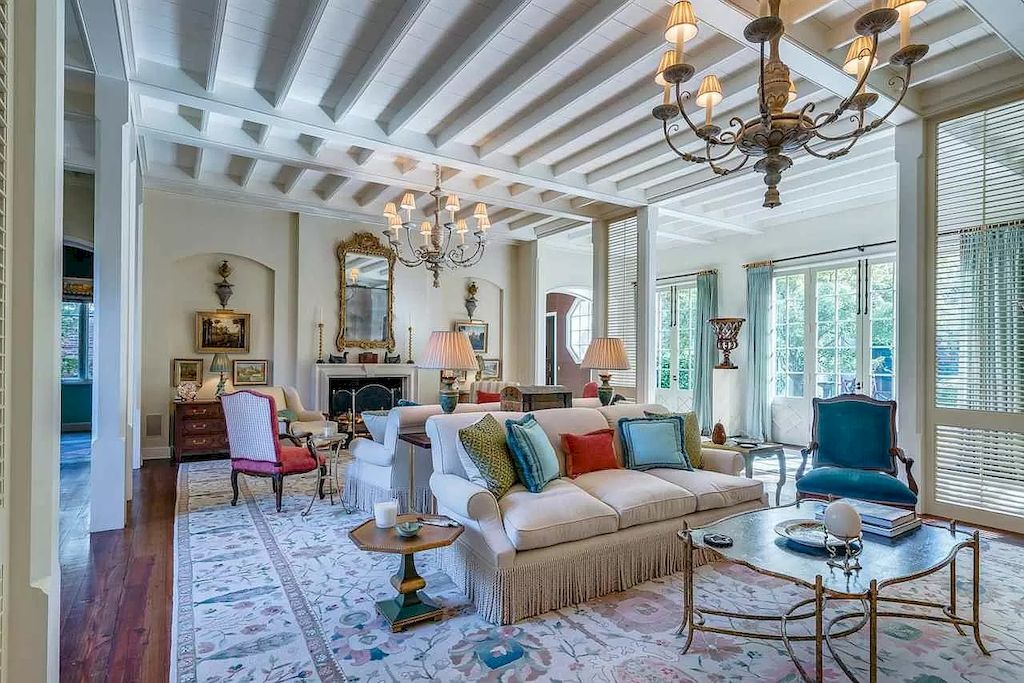 It is well known that using a living room with a light color scheme that sparks unusual and colorful combinations give the impression that everything is open. Similar to how adding huge patterns or splashes of deep, dark colors can seemingly reduce the size of the walls. Gorgeous Home in Memphis, Tennessee Listed for $3,995,000
9. Go Bigger, Be Bolder.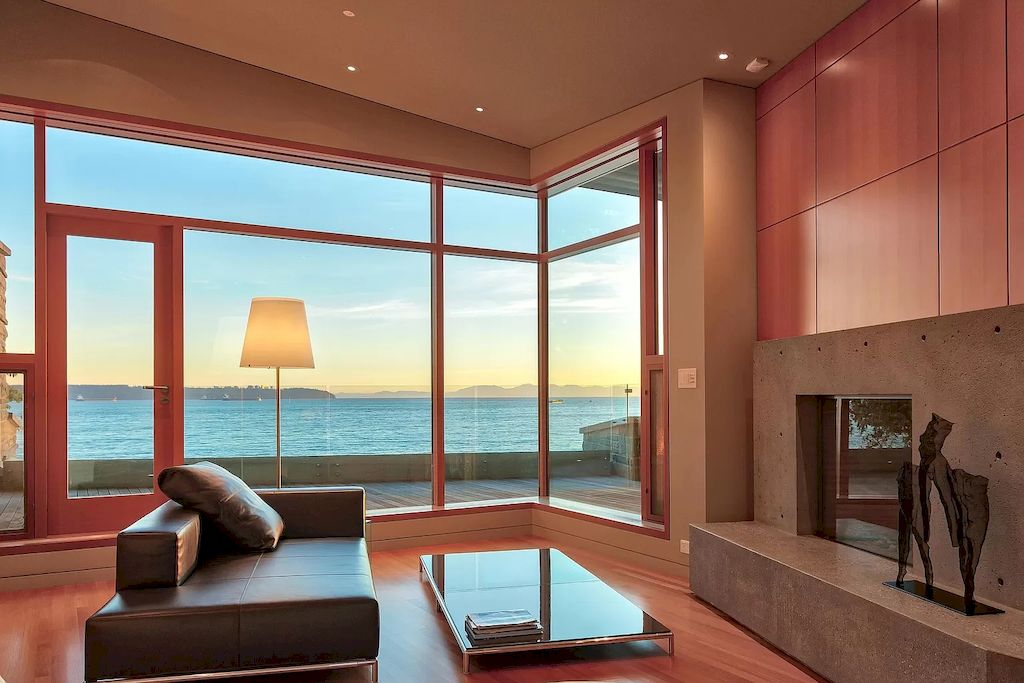 Don't hold back from experimenting with larger-sized ornamental embellishments. As a vast living space with too many tiny items would only give off the impression of being congested.  Experience the Energizing Allure of the Ocean at This C$26,800,000 World Class Luxury Estate in West Vancouver
10. Away From The Walls.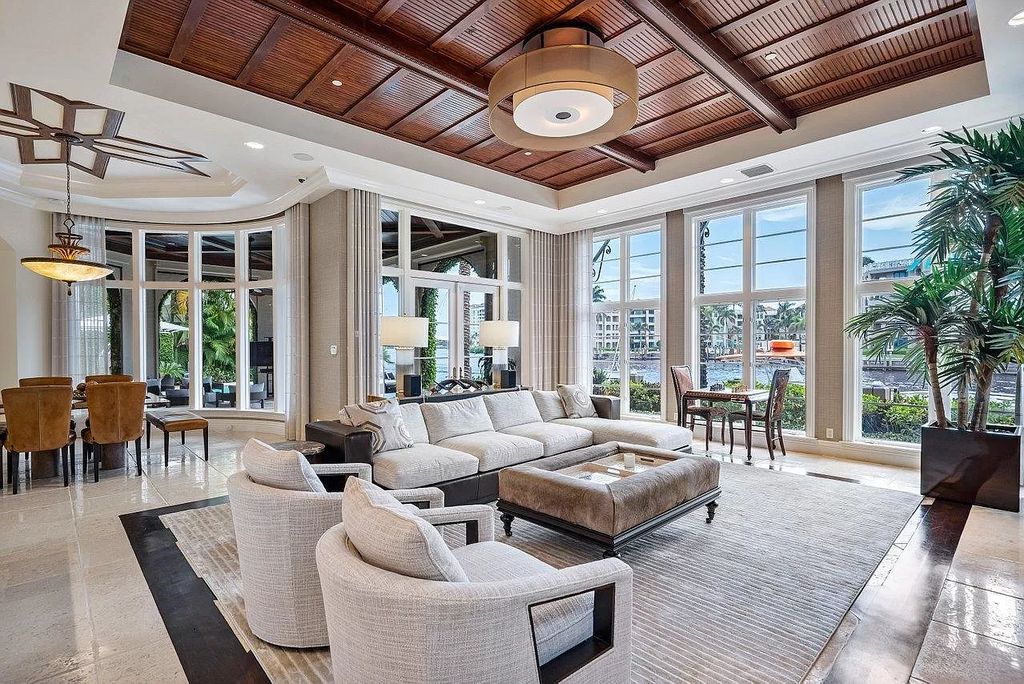 In order to gain more space, furniture is frequently pushed against walls in small to medium-sized rooms, but doing the same in larger rooms will completely change the appearance of the space. Instead, position the sofa so that its back is facing a different room, and utilize the wall space for a console table or an art gallery. It is unquestionably a gorgeous combination to set an attractive console table up against a blank wall with a tidy grid of frames strung above. This $14,950,000 Premium Mansion set on the best Location in Boca Raton has just been Updated
11. Give In To Soft Layers.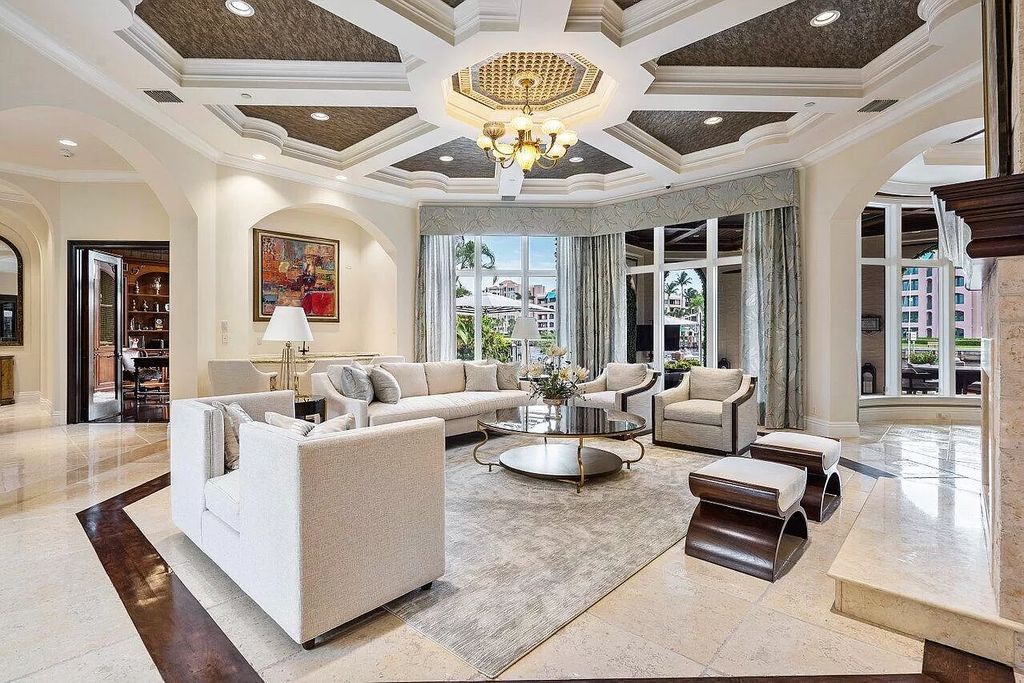 Any area will feel instantly cozier and warmer with the addition of giant living room rugs, cushions, curtains, or other soft furnishings and decorative accents. So make sure to stock up on lots of upholstered furniture! This $14,950,000 Premium Mansion set on the best Location in Boca Raton has just been Updated
12. Multi-Functional Living Room.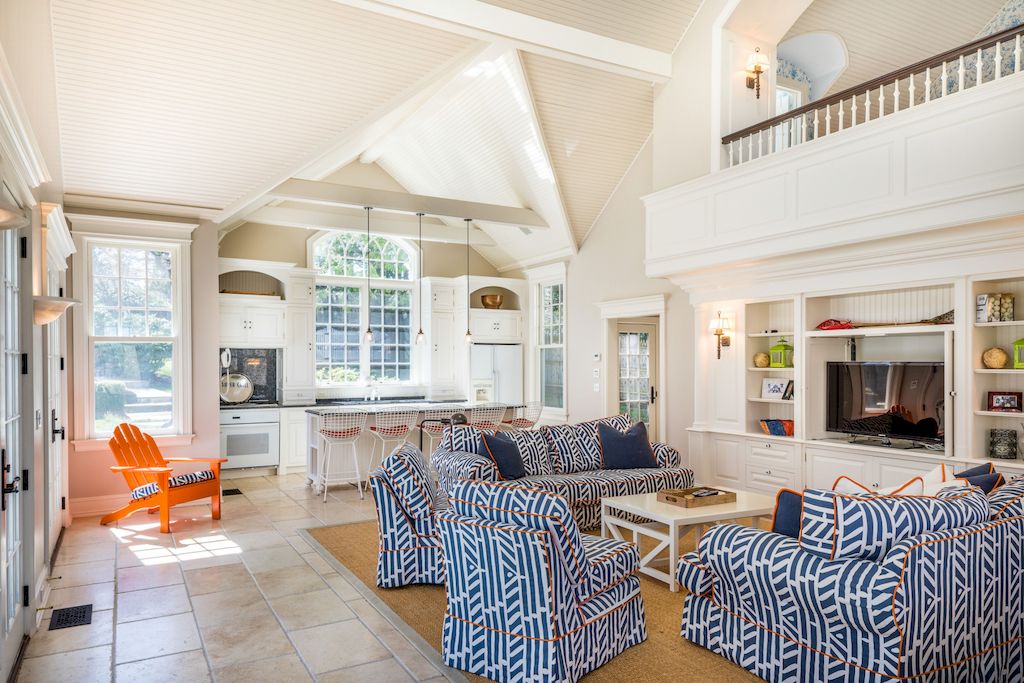 Create several zones in the living room by first sketching out the layout. Get imaginative and play with the space's size or shape because a large living room design would look boring if all that is present is a large sitting area. To make a space more useful, divide it into zones according to your needs. These zones could include a conversation area, a reading area with a desk, a console table, a dining area, and more. This $7,450,000 Historical New Canaan Manor is an Unsurpassed Residence for Today Lifestyle in Connecticut
13. Scale The Size Of The Big Living Room.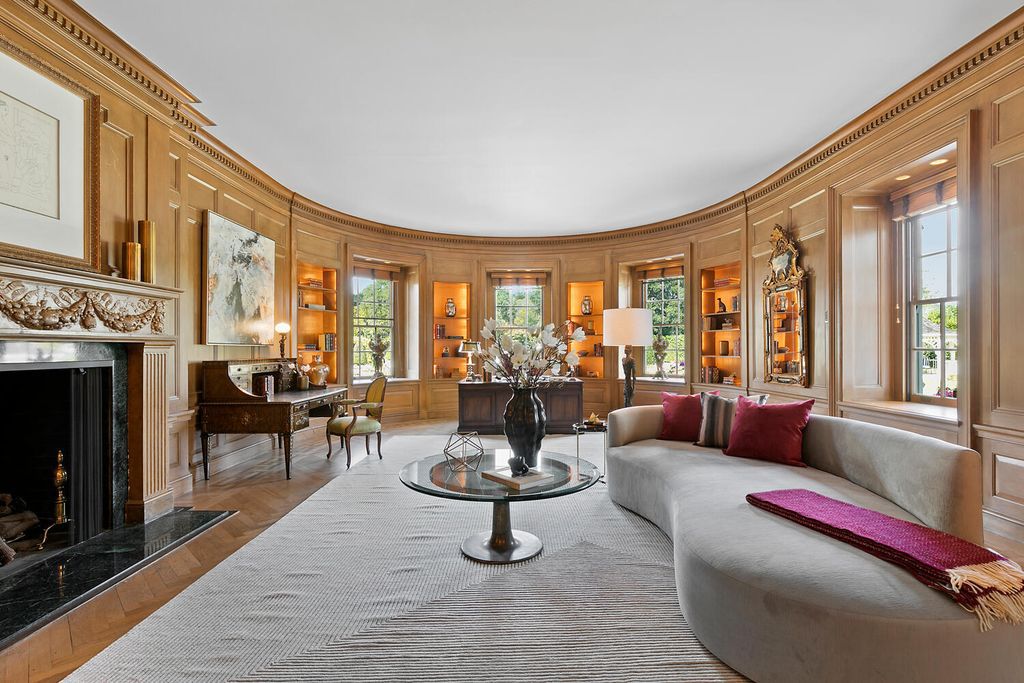 The majority of the time, a large living room does have high ceilings. Start concentrating the room upwards once the floor space zoning is finished! In these situations, choose taller furniture units, such as a tall bookshelf unit, chairs with higher backs, taller large living room accessories, floor lights, a taller crockery unit, and so on. The Historic Mansion Western White House in Hillsborough comes to Market at $25,000,000
14. Repeated Patterns and Textures.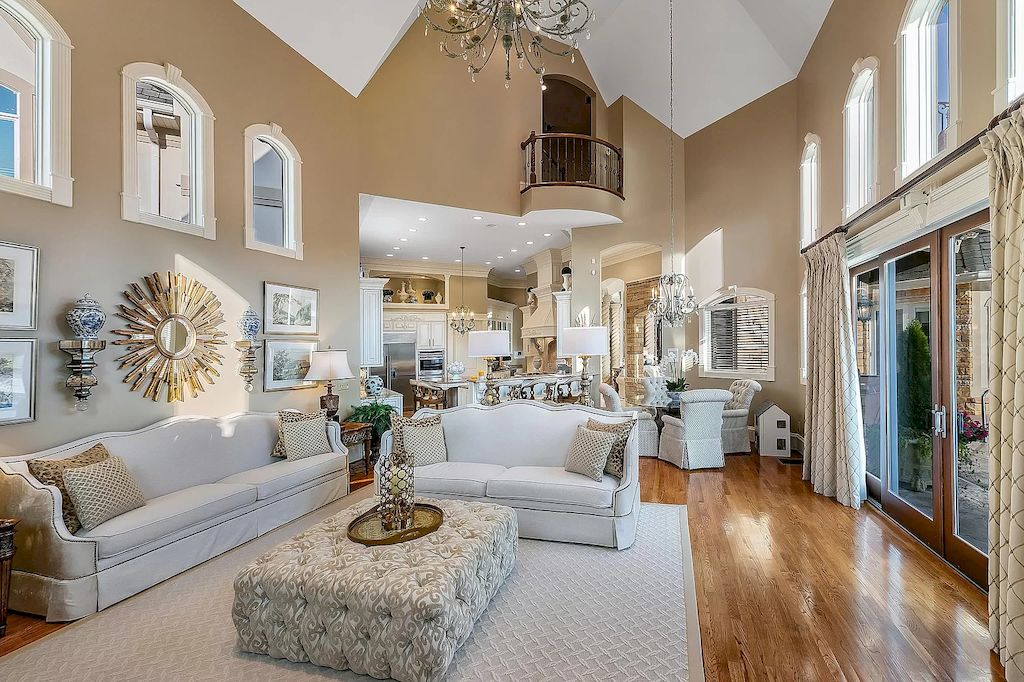 A large living room may be made cohesive by repeating textures and patterns in the form of fabric patterns on chairs, throw cushions, a table runner, floor vases, and other items. This is because a large living room would have more accessories and furniture for each zone. This $2,950,000 Spectacular Equestrian Farm in Tennessee Built with Luxurious Top-of-the-line Finishes and Latest Trends
15. Make A Center Point.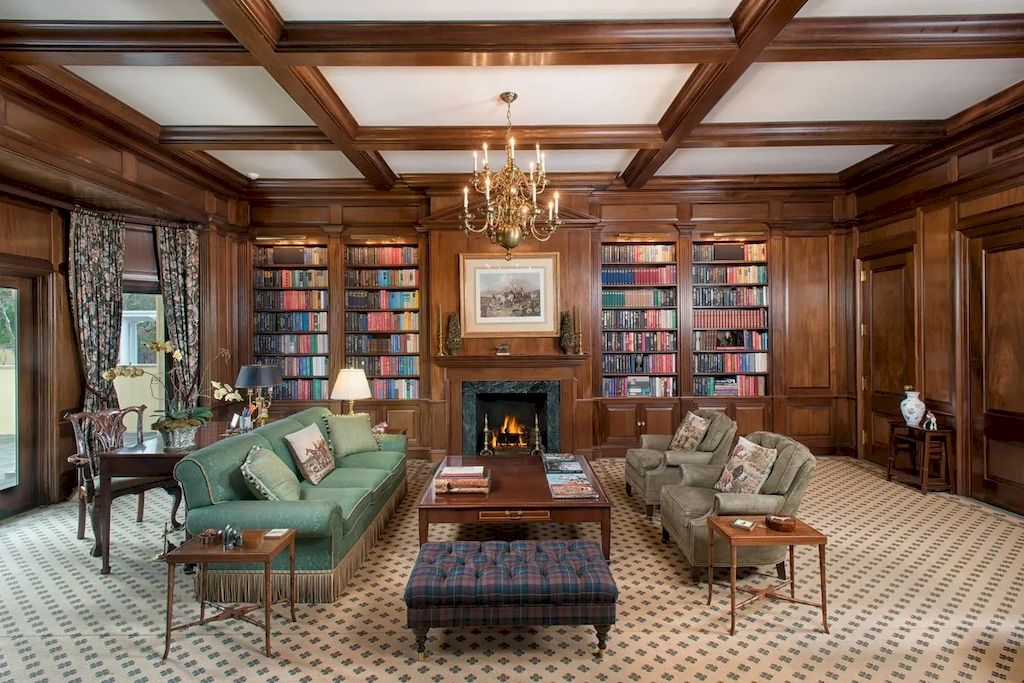 Whether the room is tiny or huge, having a focal point is crucial since it is that area of the room that first captures the attention of spectators. Furthermore, a focal point can help tie together furniture and accessories in vast areas in a more meaningful way. A large tall floor to ceiling bookcase, for instance, can have a single magnificent armchair with a floor lamp behind it and carpeting underneath. This $14,900,000 Classical Villa Contributes to the Timeless Elegance in Connecticut
16. The twin rule: Pair the Furniture.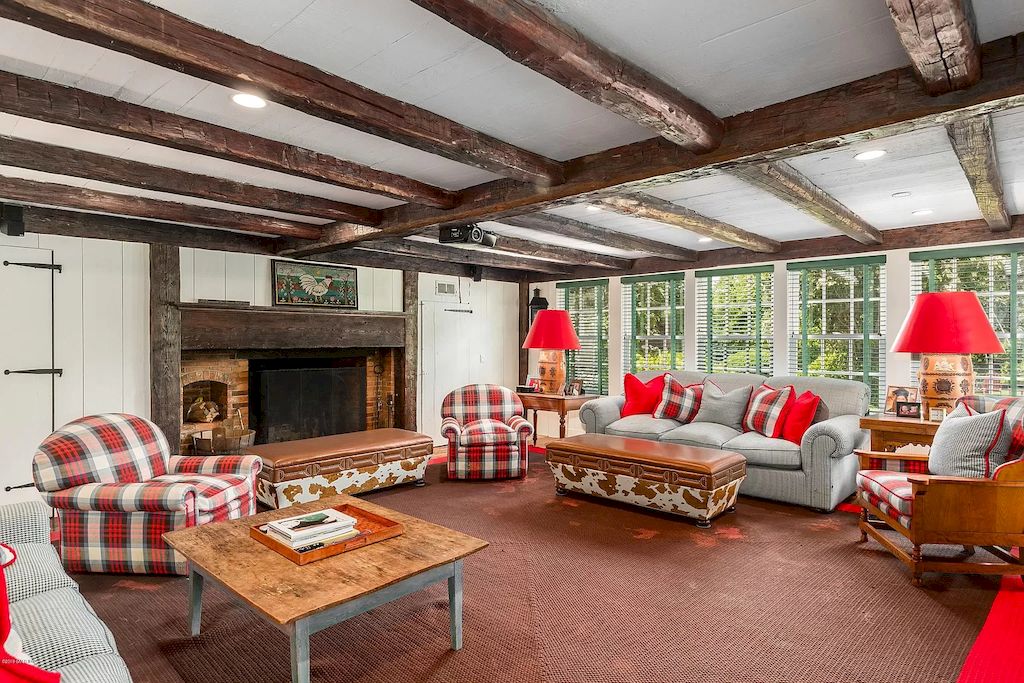 How about applying the twin rule to larger spaces where a greater impact is required? For instance, adding two matching ottomans on either side of a coffee table that isn't big enough for the area would be helpful. Similarly, using two area rugs for two distinct conversation places rather than one enormous carpet would work nicely. The goal here is to make a bigger impact by coordinating and mixing the furnishings and accents to produce a lovely flow that shouts comfort! Connecticut Elegant and Private Mid-Country Estate Listed for $11,900,000
It's simple to feel envious of others who have larger living rooms when yours is modest. If you had a little more space, decorating would seem to be so much simpler. Making the room appear larger and making the most of the available space are the main goals of small living room ideas. Large living room ideas with the opulent furnishings and gorgeous fittings are far more enjoyable than that. I hope these ideas will be useful for your large living room. For more amazing ideas, you may look at the post 19 Best Living Room Designs That Make You Overwhelmed And Infatuated
More Ideas For Living Room:
---
Thousand of high quality images of Living room and more you can see at Livingroom Gallery.