Date of Publishing:
No matter what style you choose for your home in general or the living room in particular; From traditional, transitional, contemporary, or ultra-modern, Bohemian, Minimalist, etc, color selection is always a very important element. This determines the overall house or room after completion, and is also an expression of your personal style. Choosing which colors to decorate your living room ideas with can be daunting – partly because there are so many options available. And, without letting you wait any longer, get inspired with 18 of the best Living Room Ideas With Colors that you can easily adapt to match your decorating style. Fresh your mind and enjoy!
1. Pink Pastel To Beautify Femininity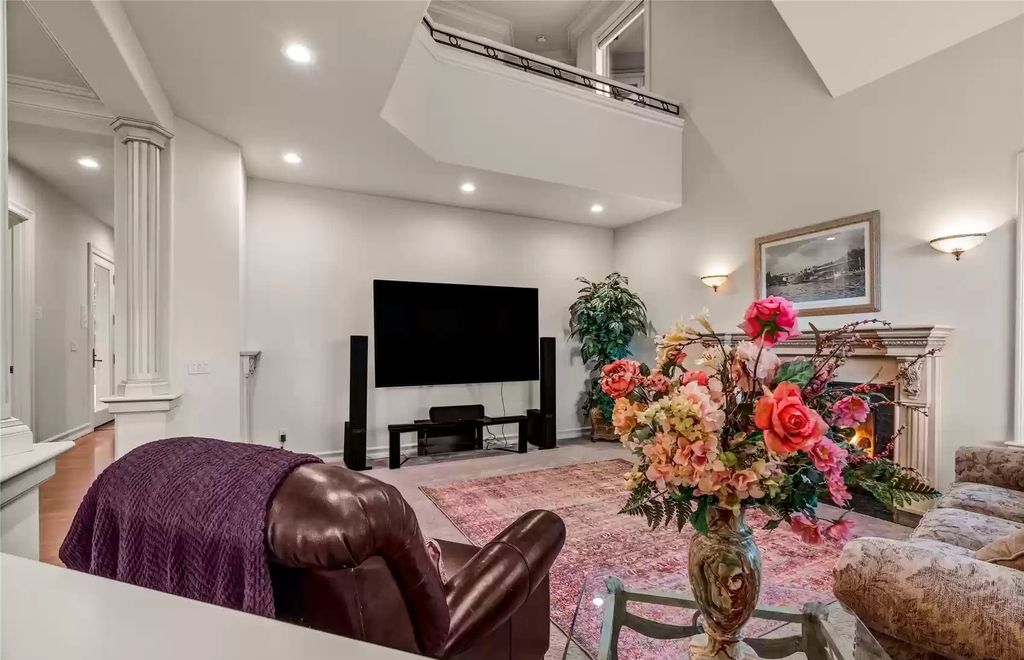 Bring femininity to the throne with a combination of sweet pastel pink tones on white wall paint. The pink velvet carpet and vase of colorful roses become the highlight of the room. The brown leather single sofa brings balance to the look. Such a perfect whole, even the most flamboyant ladies can hardly refuse. Chic Entertainer's Dream Home in Woodinville with Magnificent Outdoor Living Areas Lists for $4,390,000
2. It Is All In The Mix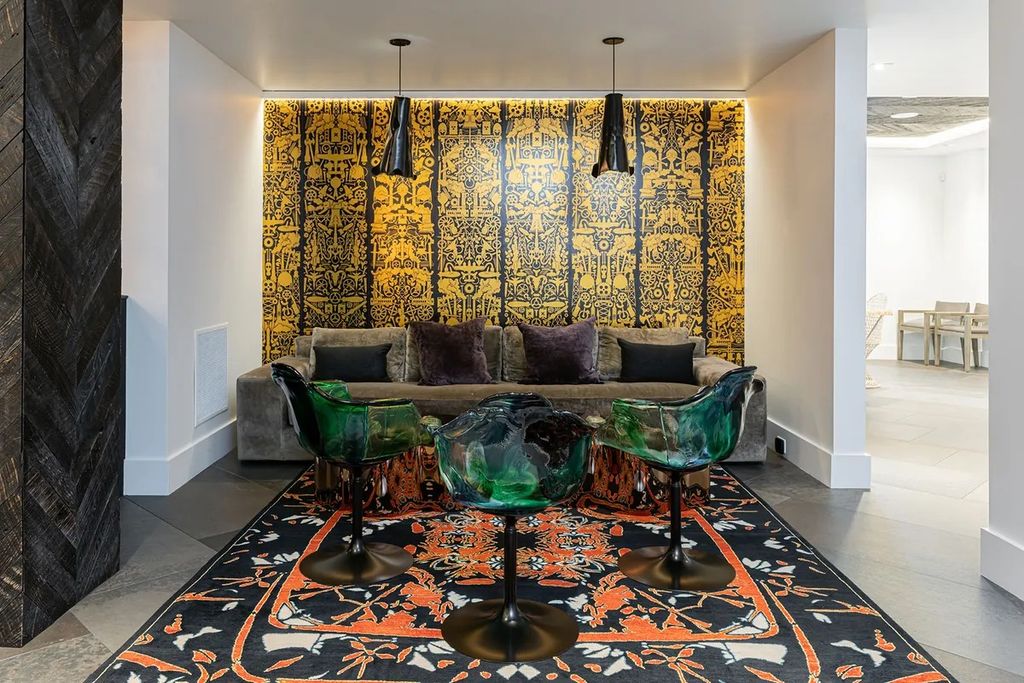 Let's the party of color begin. From the gray velvet sofa, and set of bar stools with marble pattern to the Parsian-inspired rug stand out thanks to the three outstanding tones of black, white and orange. The color combo brings a sense of mystery and attraction. Discretely Sited with Coveted Mountain Views, This Grand Manor in Fairview Asks for $7,950,000
3. Brown And White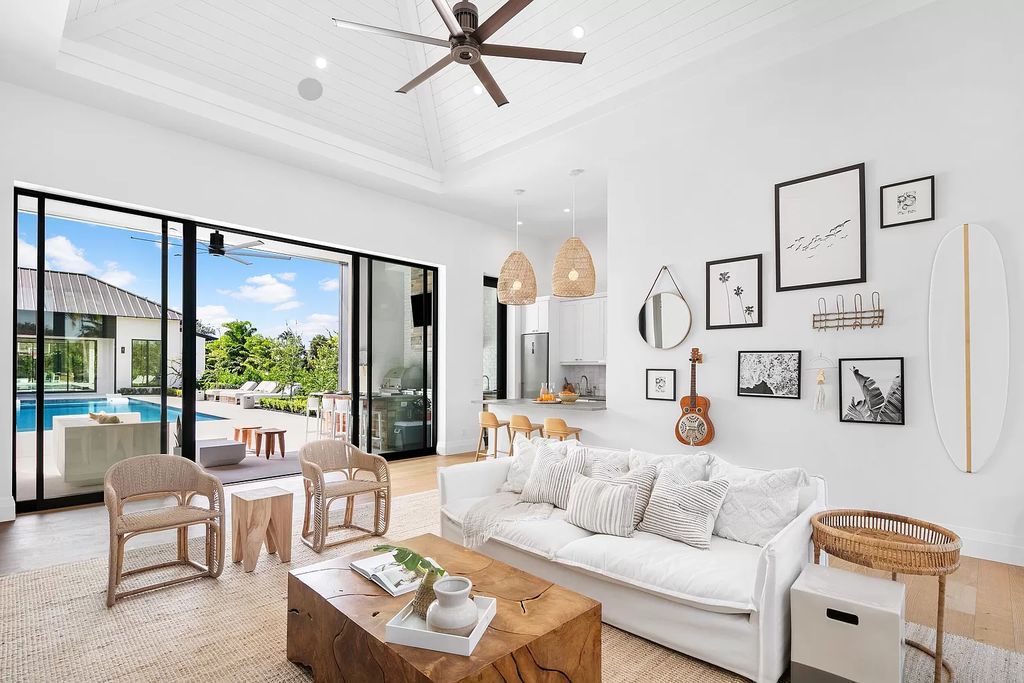 The harmony of brown in the wooden coffee table, eye-catching sofa, white paint for the wall and vault achieves the minimalist style to the pinnacle of perfection. This Living Room Idea With Colors is a prime example of this style. This color paring creates absolute visual effect, making your space more spacious and airy. An Impeccable New Contemporary Home in Delray Beach offered at $10,000,000
4. Warm Red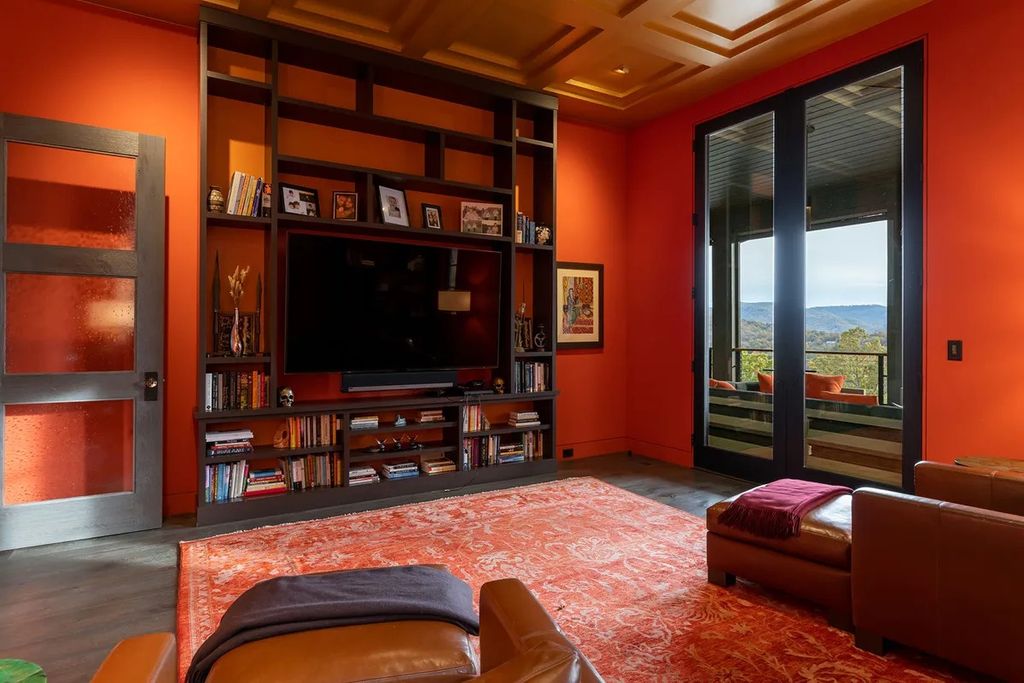 Red is defined as the hue that symbolizes power. This color has been incorporated into this living room idea in every little detail, from the wall paint and floral prints on the carpet to the blanket on the recliners. Someone once told me: "In a cool living room or one that you want to feel incredibly warm and welcoming, red is always a great choice". Discretely Sited with Coveted Mountain Views, This Grand Manor in Fairview Asks for $7,950,000
5. Black And White For The Contrast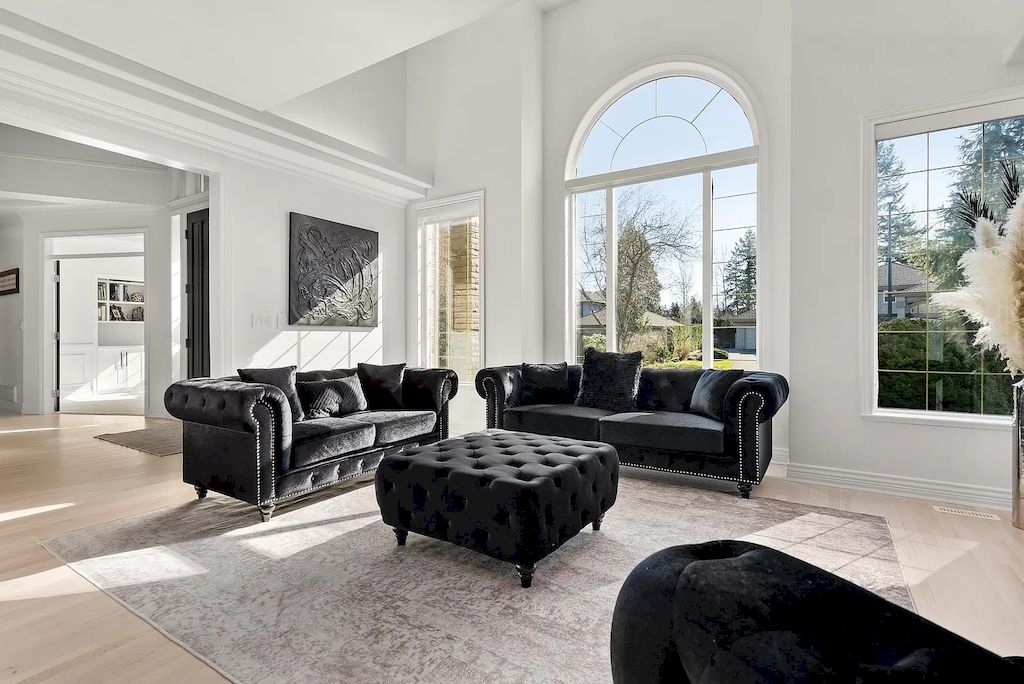 No color presents a better contrast than the combination of black and white, both glamorous and never out of style. The jet black velvet sofa and the coffee table did their job well, creating a "silent note" for the light-toned room. Guys, please save this idea right away, it's the one for you. Beautifully Updated Executive Home in Surrey with Stunning Back Yard Asks for C$3,298,000
6. Coban Blue For Gentlemen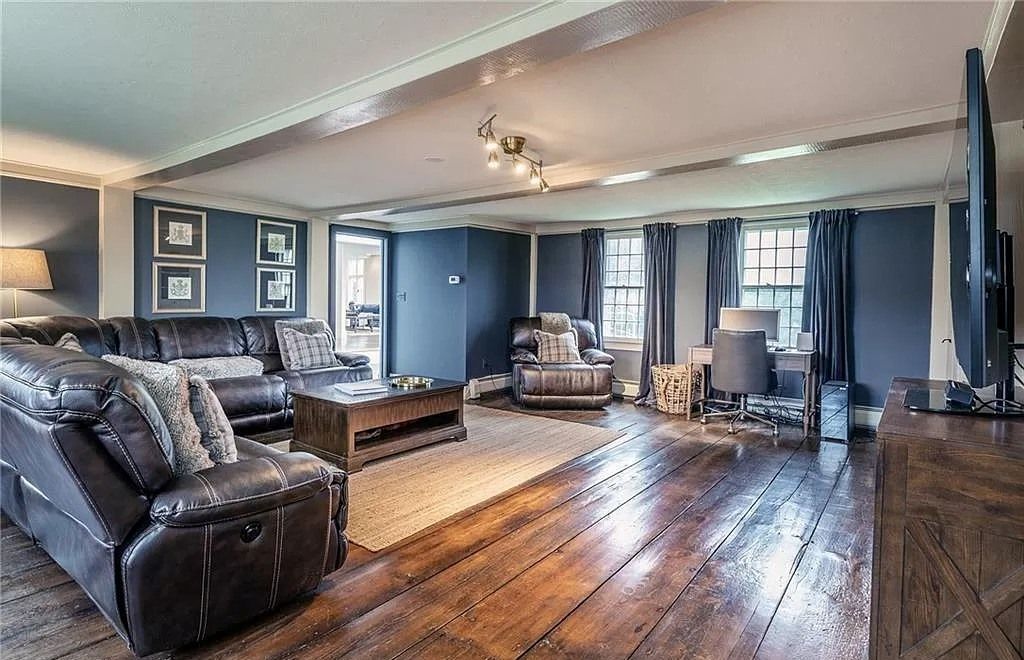 Another idea is also very consistent for gentlemen as well as those who like the design style to express the strong and minimalistic elements by using monochromatic colors. Try Cobalt blue for your Living Room Ideas With Colors. You will be surprised by the results. If you find the overall look a bit boring and rigid, make the overview softer with wall paintings, pillows, blankets or carpets in white or pepper and salt color. Explore Endless Possibilities of Satisfying Your Lifestyle Demands in this $4,750,000 Elegant Country Estate in Connecticut
7. Blue, Mint Green And Purple For A Vintage Look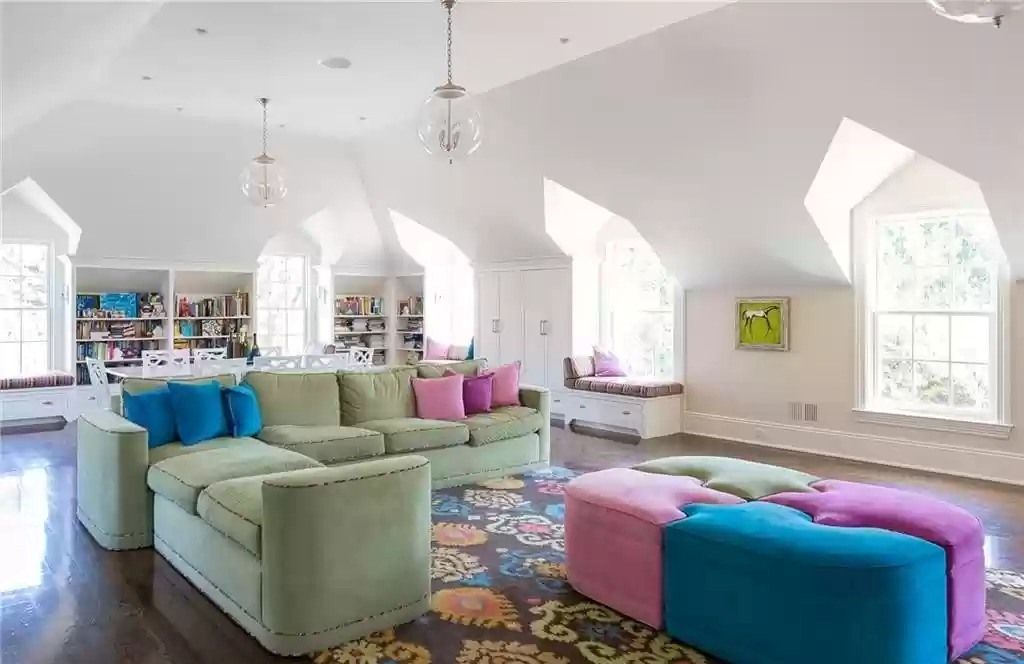 Bring the atmosphere of the 80s-90s with the rise of the Disco vibe into your living room. The use of vibrant colors, as you can see in this living room idea; teal blue, mint green, with pink pastel and magenta pink for the unique puzzle coffee table, floral patterned sofa and the rug underneath the table create an eye-catching and quite nostalgic place. Designed with Enjoyment in Mind, This Impressive Residence in Connecticut Asks $12,250,000
8. How About Emerald Green And Light Grey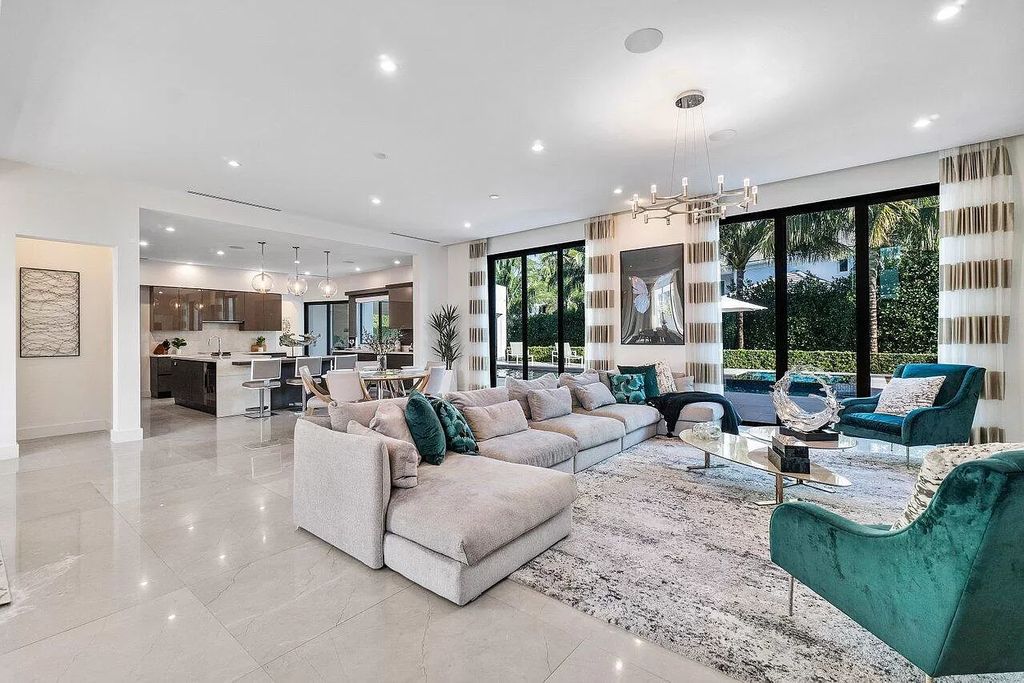 In my opinion, there is nothing more luxurious and noble than emerald green. The use of light gray tones for the rest of the room is a perfect background to elevate the emerald green in this colorful living room idea. This $8,700,000 Modern European Home in Boca Raton has An Incredible Backyard Space
9. Shades Of Blue and White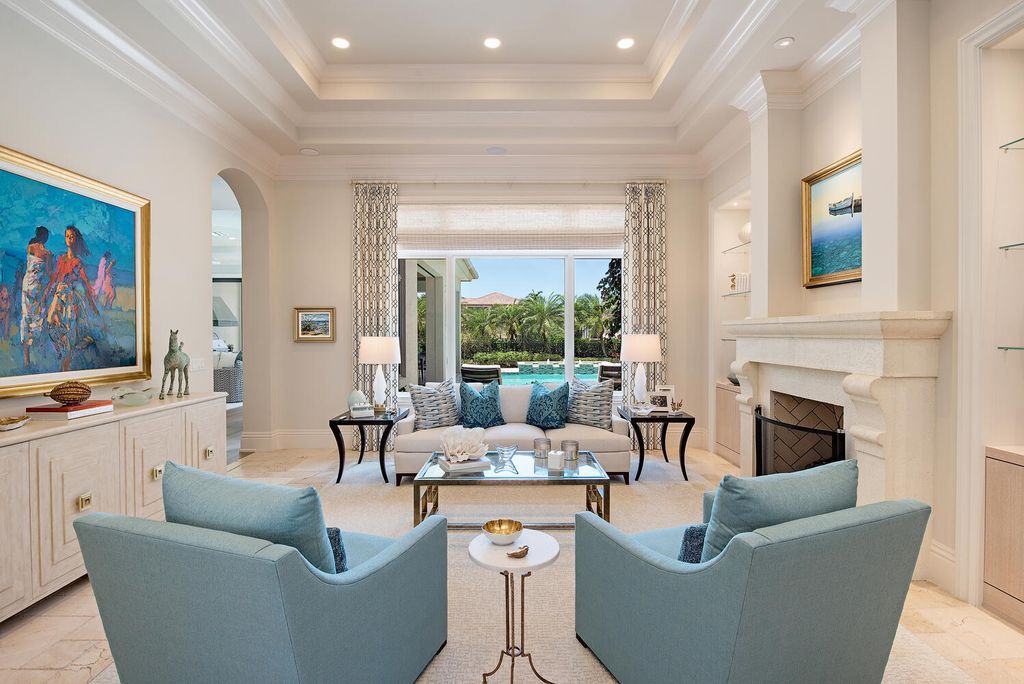 Archive the instant ocean vibe to your living room by applying shades of blue on a creamy white overall. You can decorate an empty white wall with some pictures in blue tone to have an amazing gallery wall or just some brass decorations. Exceptional Custom Home in Naples with The Finest Finishes Comes to The Market at $5,970,000
10. Turquoise And Deep Burnt Red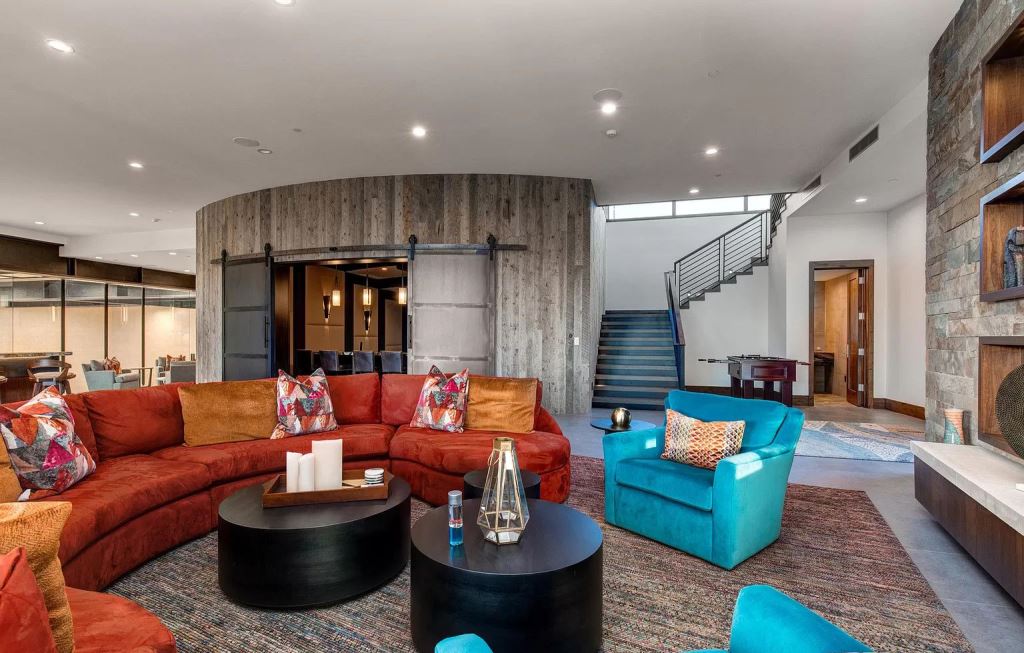 Pairing the turquoise with deep burnt reds it will build a sophisticated tonal palette with a lot of warmth and welcome; Supplement some pillows with colorful motifs, carpets and wood-paneled walls to make your living room a miniature tropical forest. Opulence House in Utah asks for $17,500,000 designed by architect Michael Upwall
11. Mustard, Turquoise And White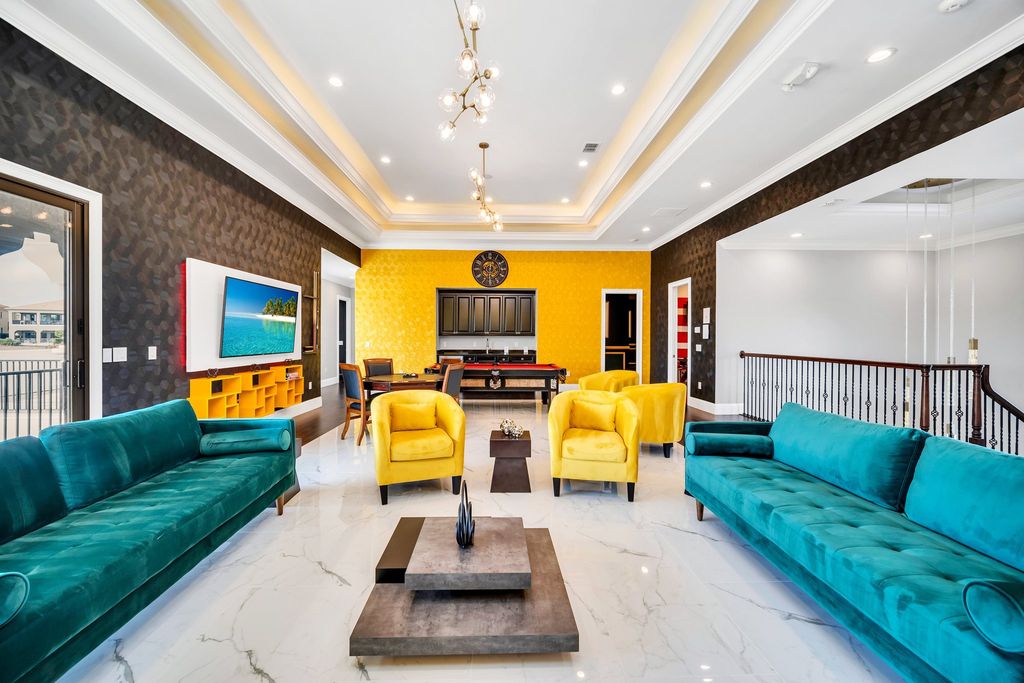 Mustard and turquoise can't be combined? Absolutely wrong. This is an example of the negation of the above. The application of mustard hue and turquoise hue separate, non-overlapping creates the feeling that you have two adjacent living rooms in the same space. Overall creates the feeling of bustling festivals, but still carries a bit of classic. This $6,900,000 Resort Style Home in Reunion has An Open Contemporary Floor Plan which Exudes Luxury
12. Grey, Beige With Green For Minimalist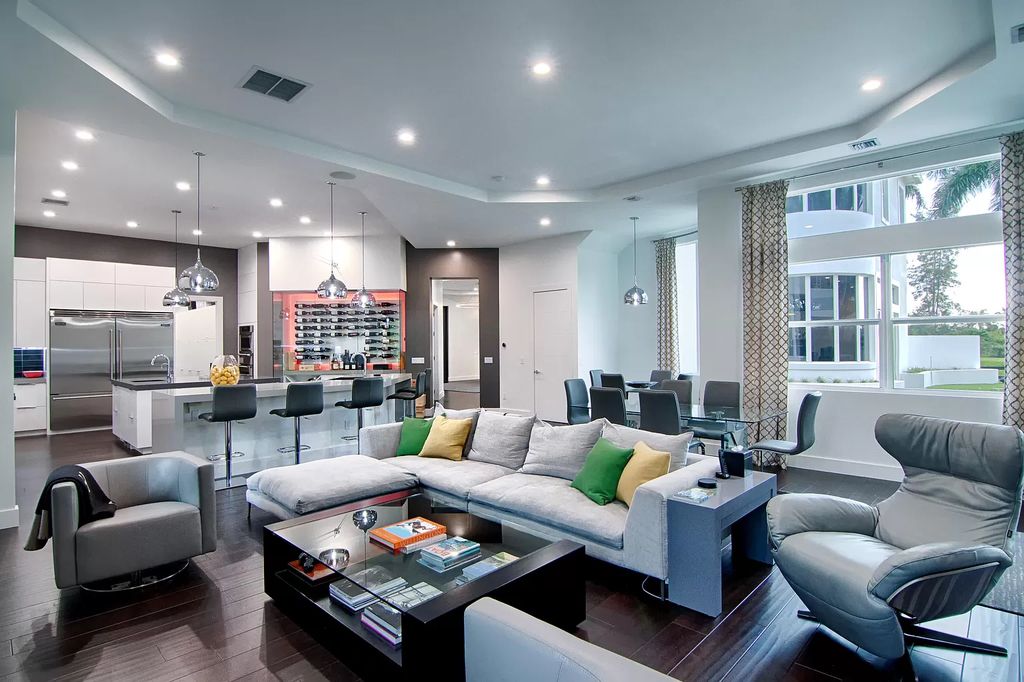 Grey, grey, grey, this is the ultimate choice for those who obsess with gray hue. Many shades of gray are used for this living room wall idea. The dark grey of bar tools near wine bottle cabinet, medium grey for the sofa as well as a recliner. And finally, light grey is chosen for the wall paint color. Don't forget to create a few focal points for your space. Some pillows with pops of color are a good idea. An Incredible Contemporary Home in Wellington with High End Finishes Asking for $9,980,000
13. Mint Green For Airy Feel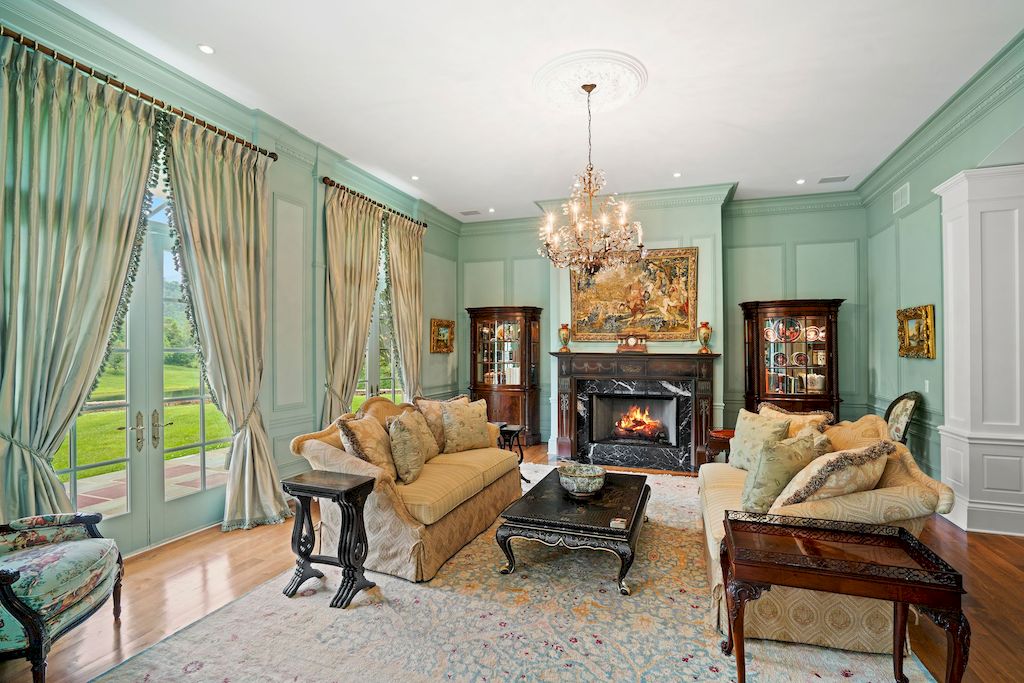 Send the love of plants and nature into your living room with the gentle mint green tones to create an airy feel and absolute relaxation. This is what anyone needs after stressful working hours. Mint Green can also be combined with a lot of tones, from brass, brown, black or pastel yellow, so you don't need to worry about color combinations at all. Ultimate Private Home Commands Magnificent Panoramic Views in Virginia Listed for $19,500,000
14. Pepper-And-Salt Hue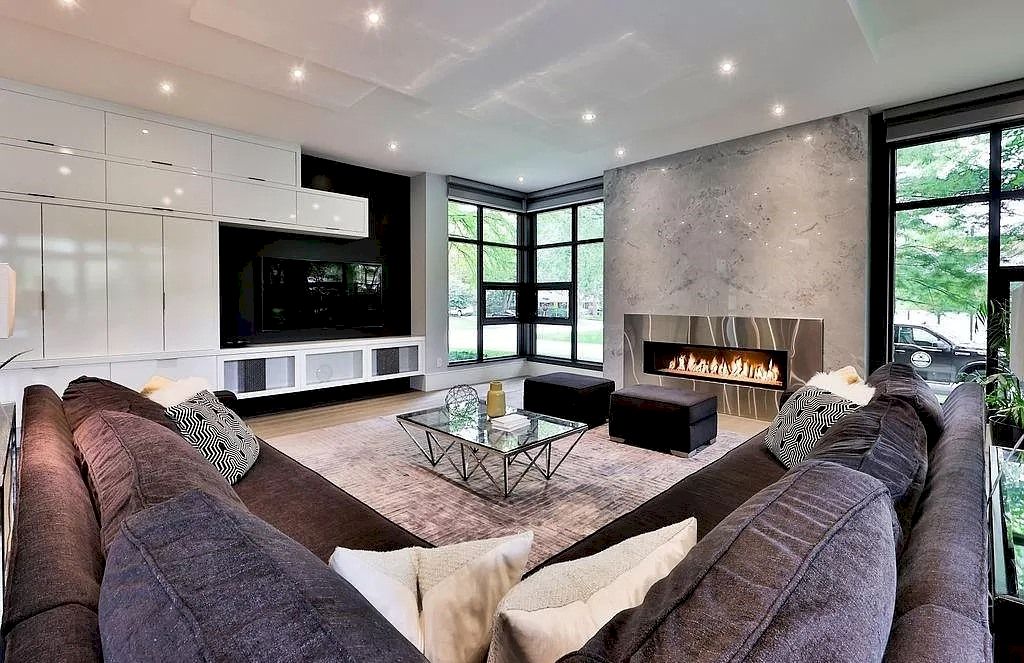 Pepper-and-salt tones have always been a hot trend, from time to time used in home design and interior design. A huge L-shape sofa set in pepper-and-salt color will make your living room more high-end than ever. You can combine it with a stylized coffee metal legs table to create accents and light tones for wall paint so that your overall living room is too dark. Modern Sophisticated Design Masterpiece in Ontario Lists for C$8,200,000
15. Purple And Red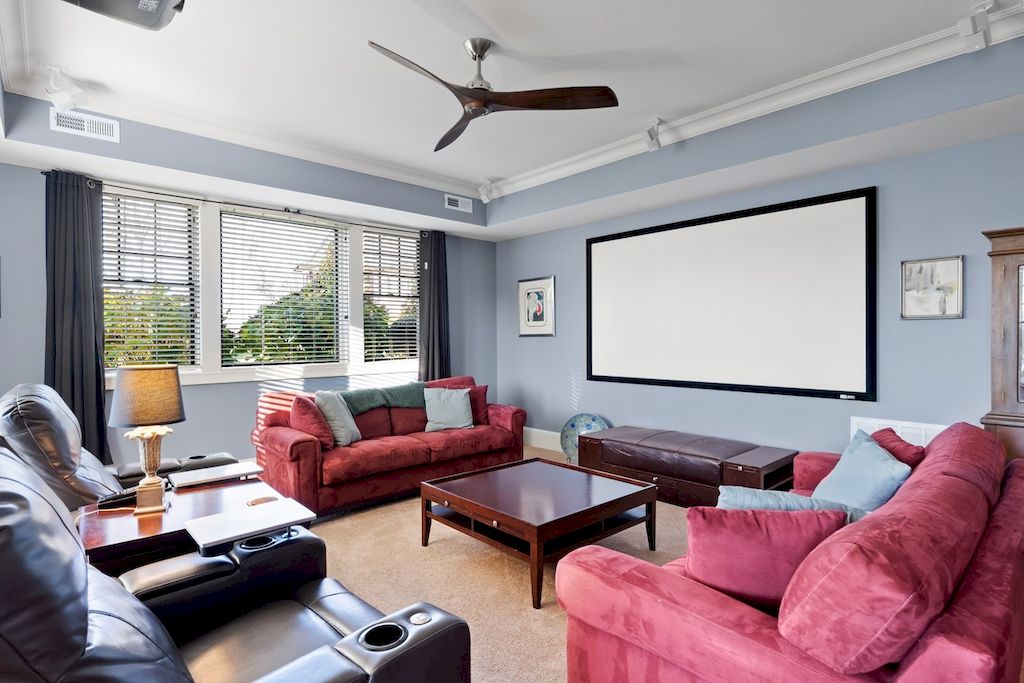 You are one of a kind, so it is worthy to have a living room that is just as unique. Here purple and red create a standout statement in this space. This combo is perfect for creating a cozy space for the family, while also bringing a breakthrough in the use of color. Pastel pink and red combo, to be honest, I don't even think about it before till I admire this masterpiece with my own eyes. Extraordinary Waterfront Home in North Carolina Listed for $3,190,000
16. Do Not Underestimate Neon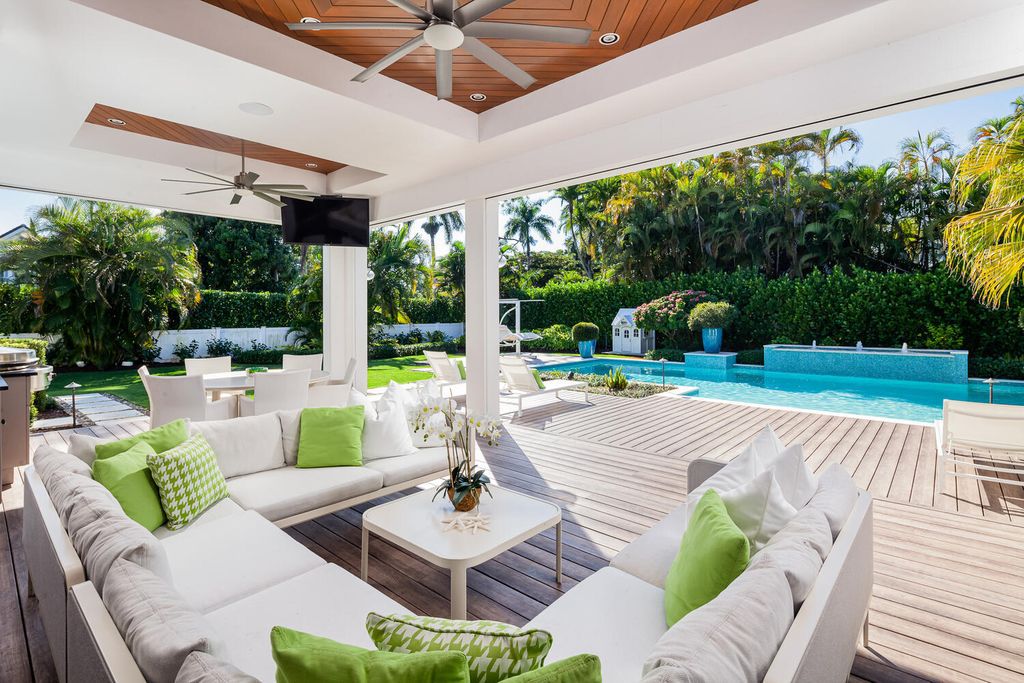 Let Neon do what it does best, which is shine. Plain Neon green-tone pillows and checkered-patterned pillows brighten up the outdoor living room near the poolside. You can also combine neon tones with sofa sets in other tones such as beige, pastel yellow and mint green to get a ton-suit-ton feel. This $9,995,000 Thoughtfully Designed Home in Naples offers Exceptional Floor Plan
17. Emerald Green And Brass For Timeless Space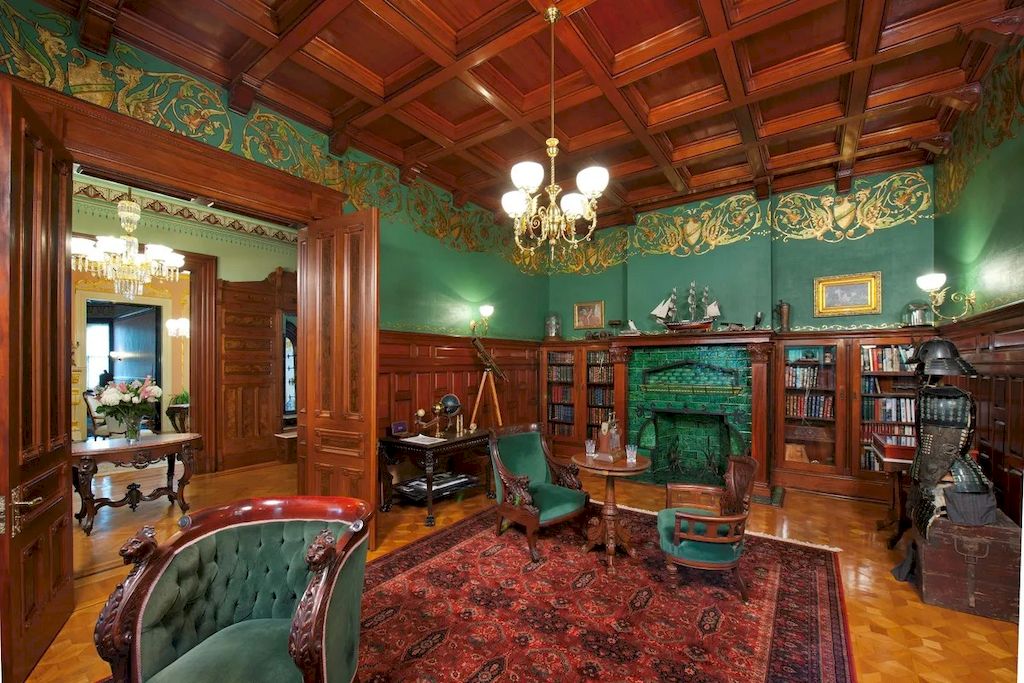 If you are crazy about classic, timeless style, the combo emerald green with some brass details for decoration that goes well with the wooden interior is for you. You can spend a bit space of the living room for a reading area with built-in cabinets to create accents and creativity for your space. This $3,280,000 Remarkable Residence is Truly a Piece of Art in Pennsylvania
18. Raspberry And Cream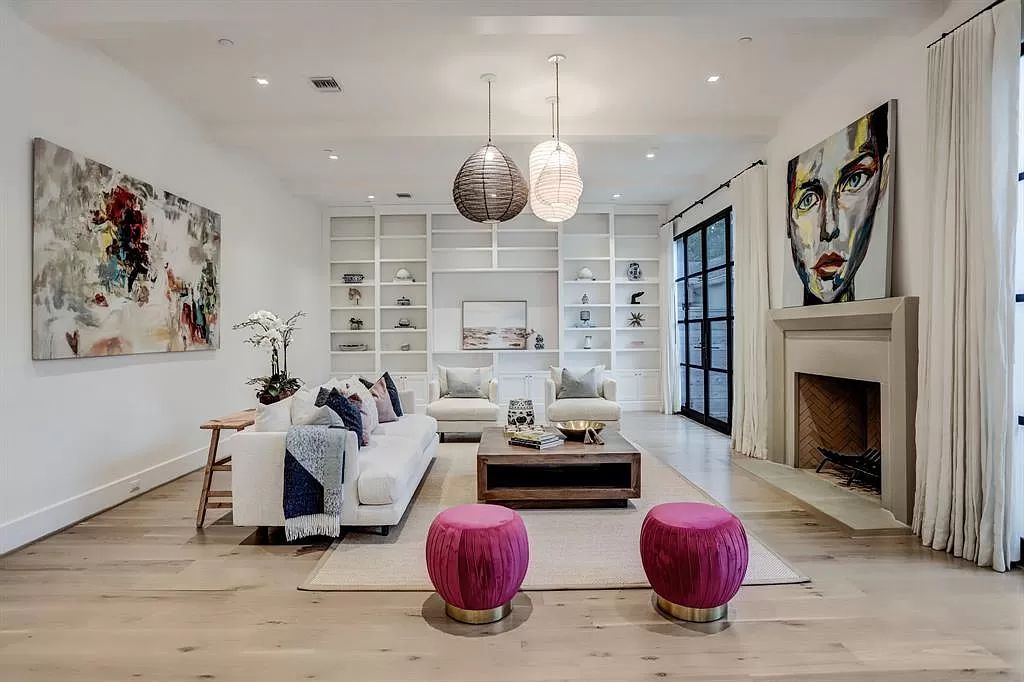 Light raspberry and white combo is an unexpected and stunning pairing that adds a playful vibe to a living room, like in this striking design above. A pair of ottomans in a deeper shade of raspberry brings balance to the white tones used throughout the rest of the room. A Beautiful Home in Houston with Stunning Design Features and High End Finishes for Sale at $3,595,000
There is hard to decide which color option is the best for your place. It depends on your personal style and character. If your goal is to make your living space look bigger, choose cool colors such as whites and grays, or light shades of blue and green. If you want to focus on classical and traditional styles, try bold colors such as emerald green, or raspberry. If you would like to refer to some color ideas for gentlemen, you may apply black and white combo, grey or pepper-and-salt hue. Generally, it is no limit to your color decision. For more interesting ideas in housing design, you may look at our latest article 17 Stylish Paint Colors For A More Welcoming Living Room
More Ideas For Living Room:
---
Thousand of high quality images of Living room and more you can see at Livingroom Gallery.