Date of Publishing:
Best Living Room Ideas Paint In 2022
A pleasing color scheme is one of the first considerations you should make while designing your house or living space. Simply consider your mood when selecting a hue because, in 2022, a new trend will be associated with each color. Furthermore, the living room is a place to spend a lot of time and decorate with trendy colors. richest person in the home. We have a ton of living room ideas paint color suggestions to help you feel motivated and choose between styles with ease.
1. Use A Cozy Accent Color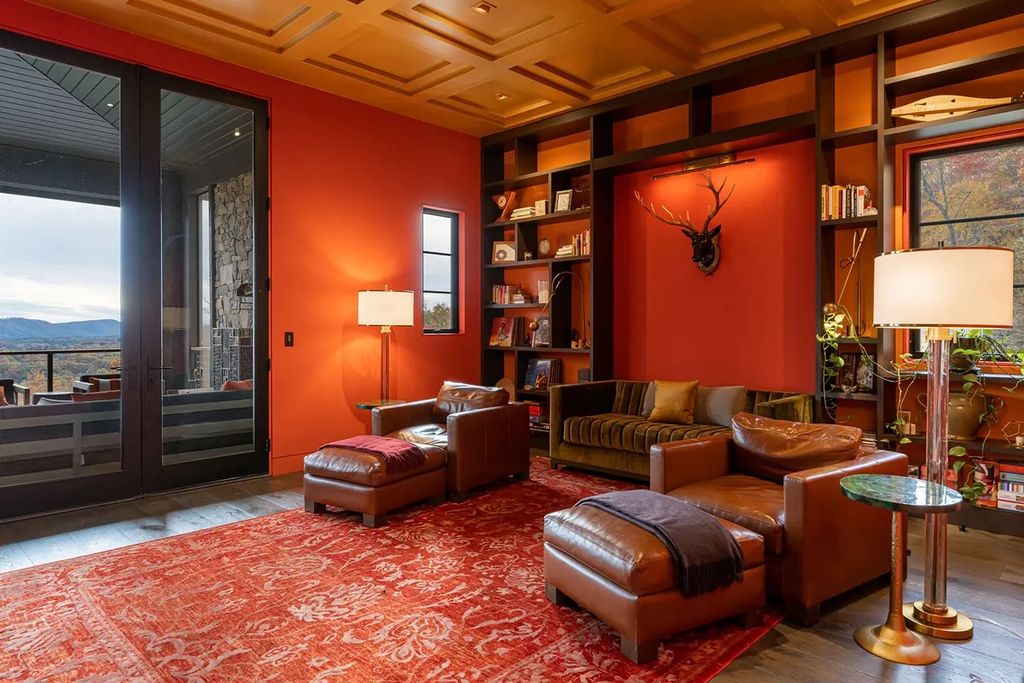 The living room is the ideal space to design an eye-catching feature paint effect. Although there are many featured living room wall ideas available, such as wallpaper or wood paneling, painting is a quick and effective way to create a special design that reflects your taste and personality. The living room's reddish-orange color scheme produced a cozy, daring style and homogeneity in the ornamental accents. Discretely Sited with Coveted Mountain Views, This Grand Manor in Fairview Asks for $7,950,000
2. Make A Slippery Room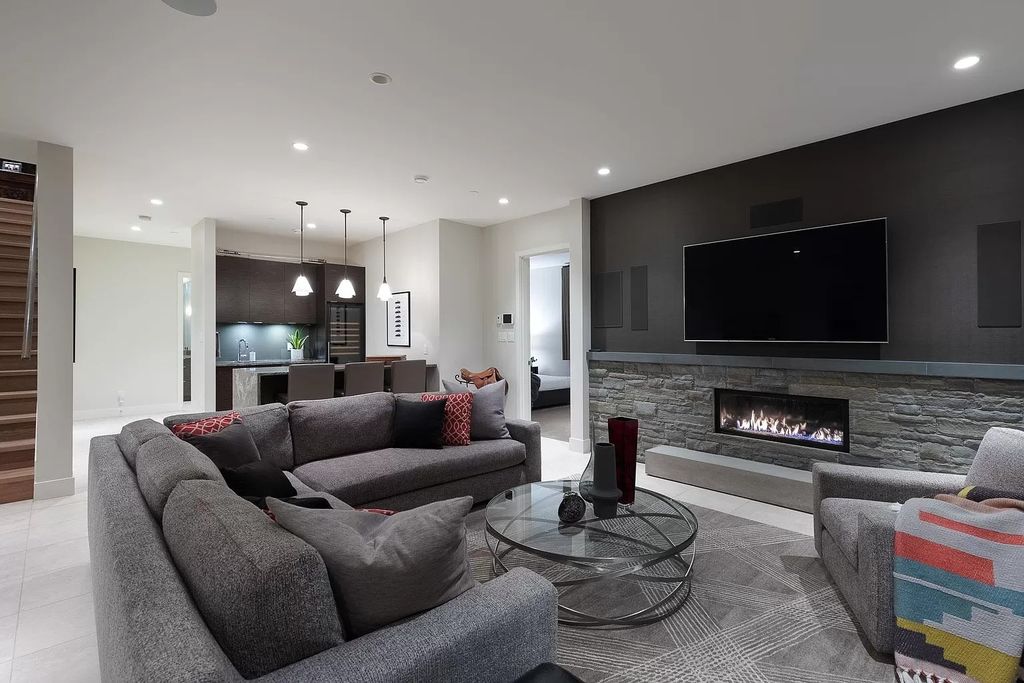 The use of stunning and strikingly different black-gray tones in this living room not only produces accents and features for the design but also establishes a division between the two areas. Gray accents give the room a powerful, contemporary feel by striking a lovely contrast with the glossy black paint on the walls and the soft, light gray sofa. The proper paint color will have an impact and enhance the space regardless of whether you utilize it to accentuate any architectural features in the living room. This C$6,689,000 Home in West Vancouver is a Beautiful Escape and The Ultimate in One Level Living
3. Calming Setting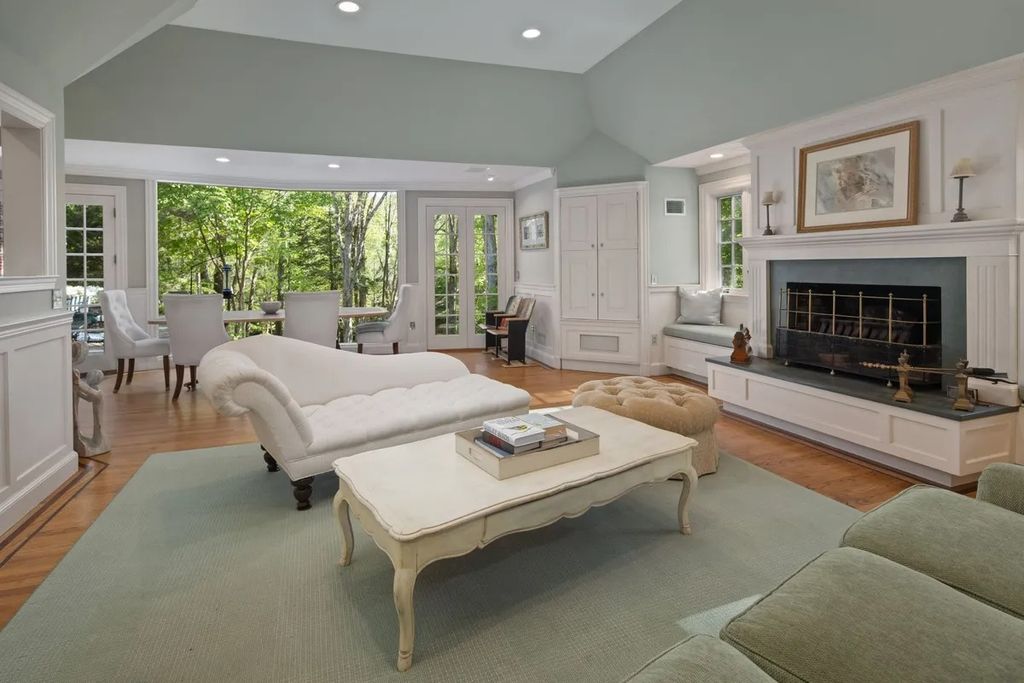 If you're having trouble deciding on the ideal paint color for your living room, consider the style you want. Beautiful mint green paint and calming white combine in this living room to provide a bold, calming decor. The living room's overall design stands out thanks to the color-coded zones, which add highlights, warmth, and contrast. The Architectural Details of this $3,775,000 Manor Reflect Exceptional Quality and Craftsmanship in Connecticut
4. Match The Hue Of The Furniture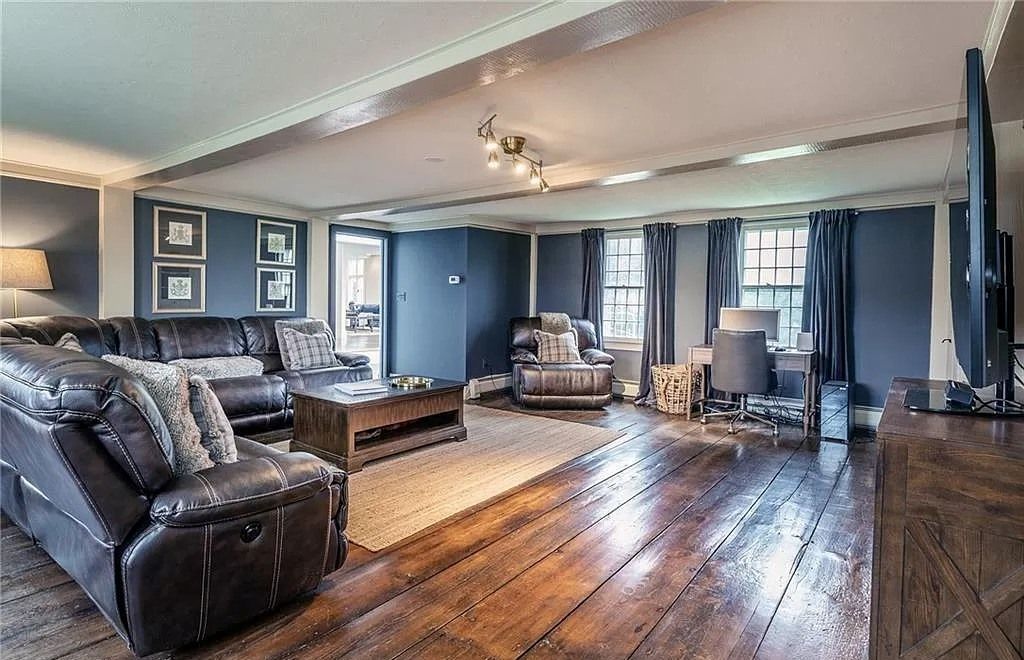 Similar hues on the color wheel make for a beautiful mix in interior design, producing a unified, lively, and vivacious whole. By using contemporary paint colors in the living room, you can create a unified design that is full of personality and style. Blue and black are complementing hues that look fantastic in this living room. Explore Endless Possibilities of Satisfying Your Lifestyle Demands in this $4,750,000 Elegant Country Estate in Connecticut
5. Make A Suggested Statement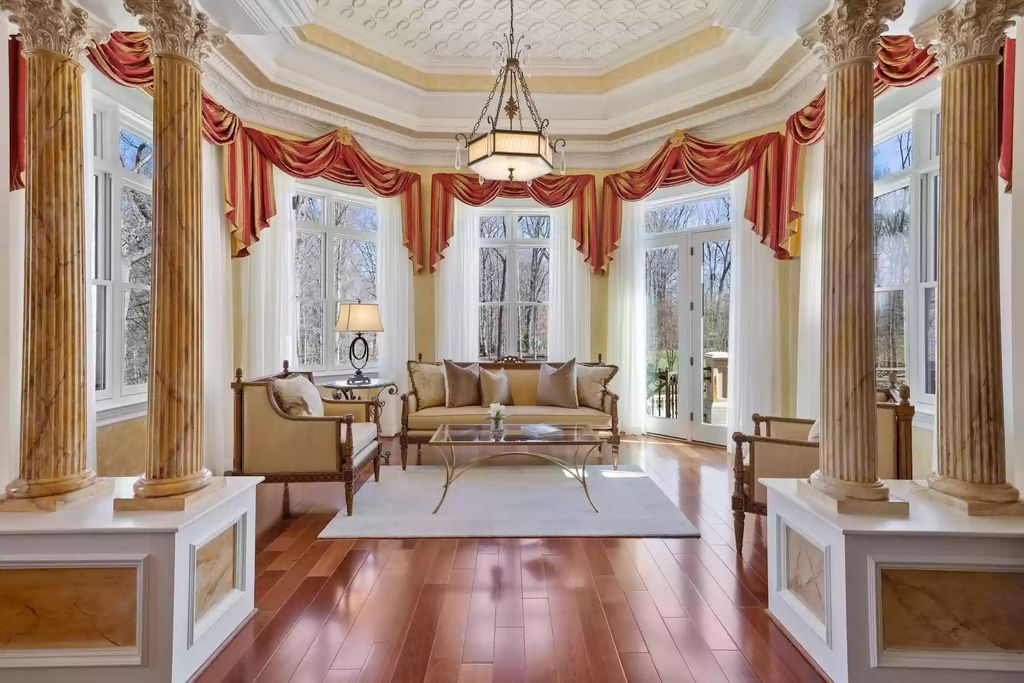 Without turning to big, bold designs, you may make an elegant, sophisticated statement by utilizing specific living room paint ideas. This living room's white walls and dark wood tones are brightened by the addition of soft draperies and delicate, linear borders. Blending Opulence and Old-World Craftsmanship, This Lavish Estate in Virginia Lists for $6,998,000
6. Connect With Grey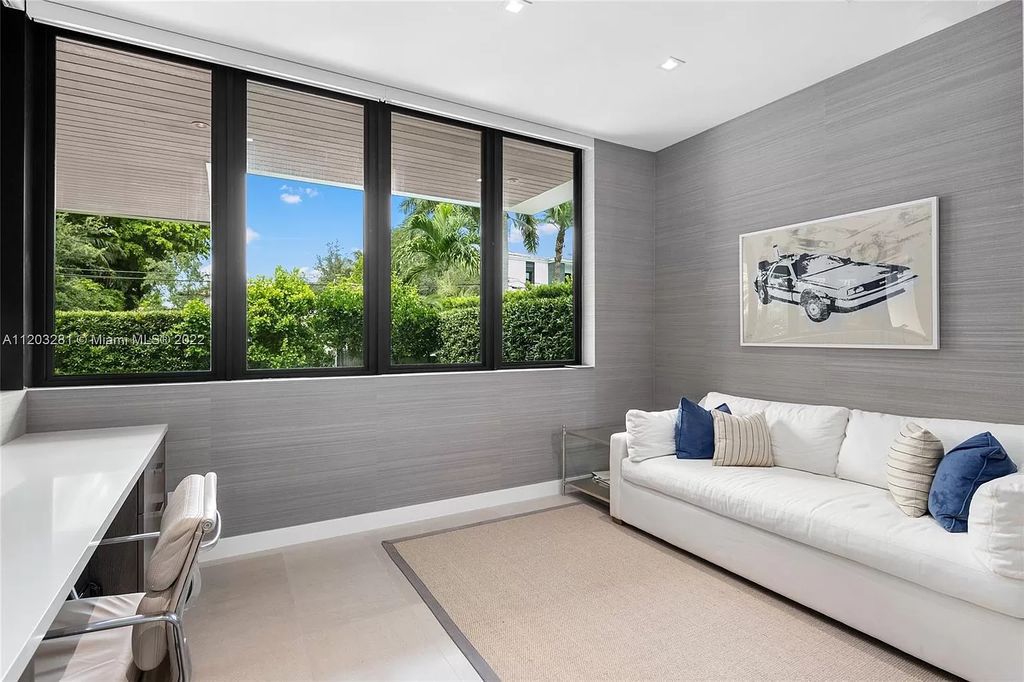 It should come as no surprise that a wall painted gray with white veins may completely change the look of an environment; if used on a wall, it will make any piece of furniture stand out. When it comes to small living room designs, gray is also a fantastic option. It is a color of paint that draws in all kinds of light and energy while also reflecting it elsewhere and drawing attention to it. This $8,995,000 Contemporary Home in Miami Beach is Perfect for both Family Enjoyment and Entertainment
7. Include Stylish With Glossy Paint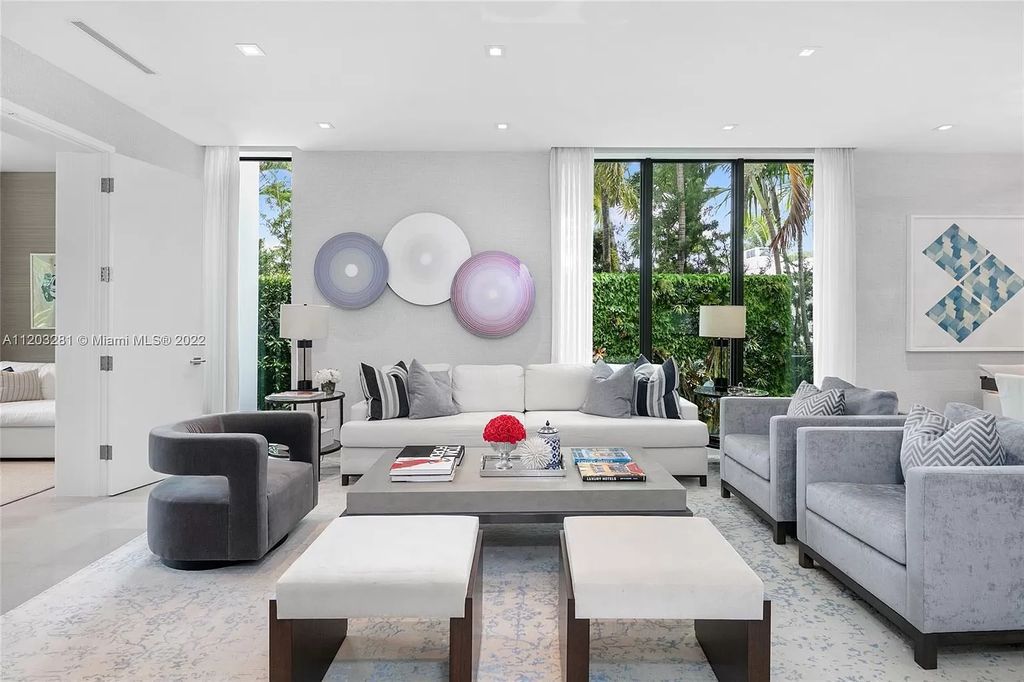 The use of monochromatic hues has recently gained popularity. In fact, this is one of the styles you could consider if you like the notion of a white room but your living area faces north or east and receives little natural light in the warm sunshine experience. It will serve as a light reflector and warm the space. This $8,995,000 Contemporary Home in Miami Beach is Perfect for both Family Enjoyment and Entertainment
8. Transport The Atumn To The Room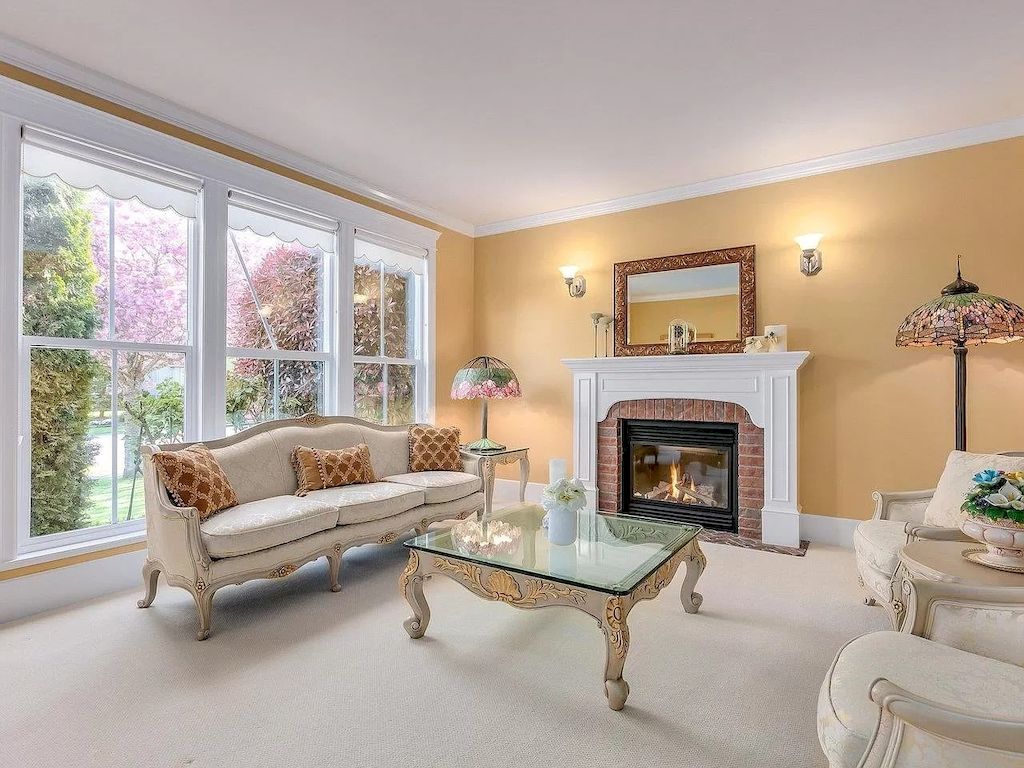 One of the most popular design ideas for tiny rooms is the earthy beige living room. Glass doors that open to a garden will let in a lot of sunshine; thus, use shady colors like this one to keep the room cool. To provide a sense of freshness, you should also use curtains and other elements with a complementary color scheme; you might even think about using a natural color scheme. Stunning Victorian-Styled Home in Surrey Prices at C$3,298,000
9. Bright With White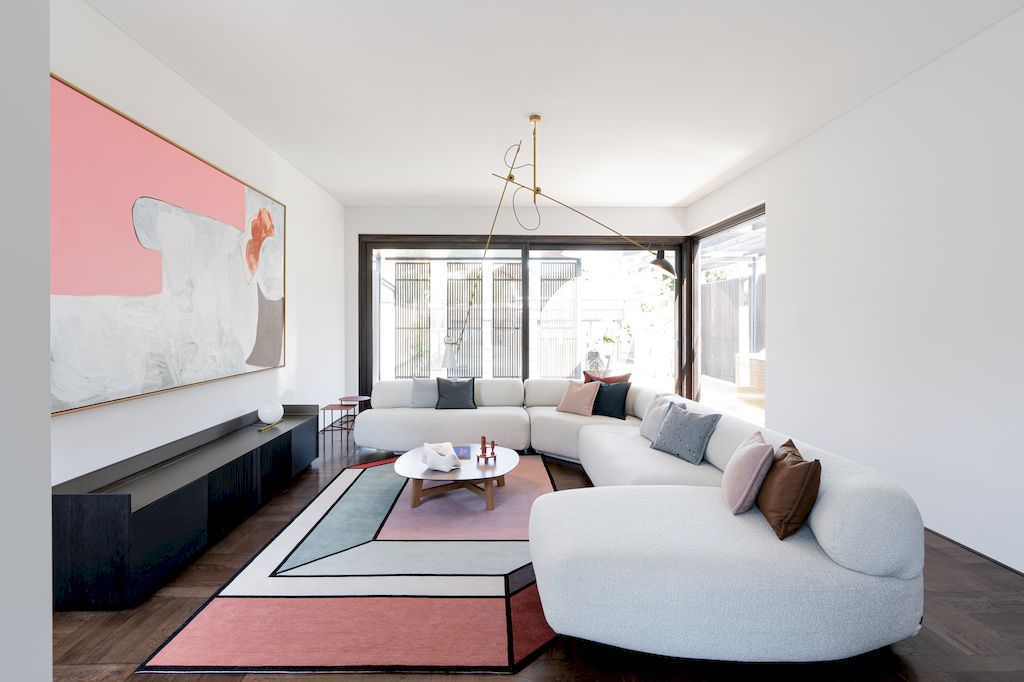 Right now, white is the most popular color for paint. In a white room, they are always seeking out combo ideas. There are many different styles you can mix, from opulent to rustic, or from sweet to soothing. Your trip starts with the color schemes you prefer. The most intriguing aspect is how readily white can be paired with a variety of hues. Shutter House, inspiring & forward thinking home by State of Kin + Mobiliax
10. Choose A Pale Gray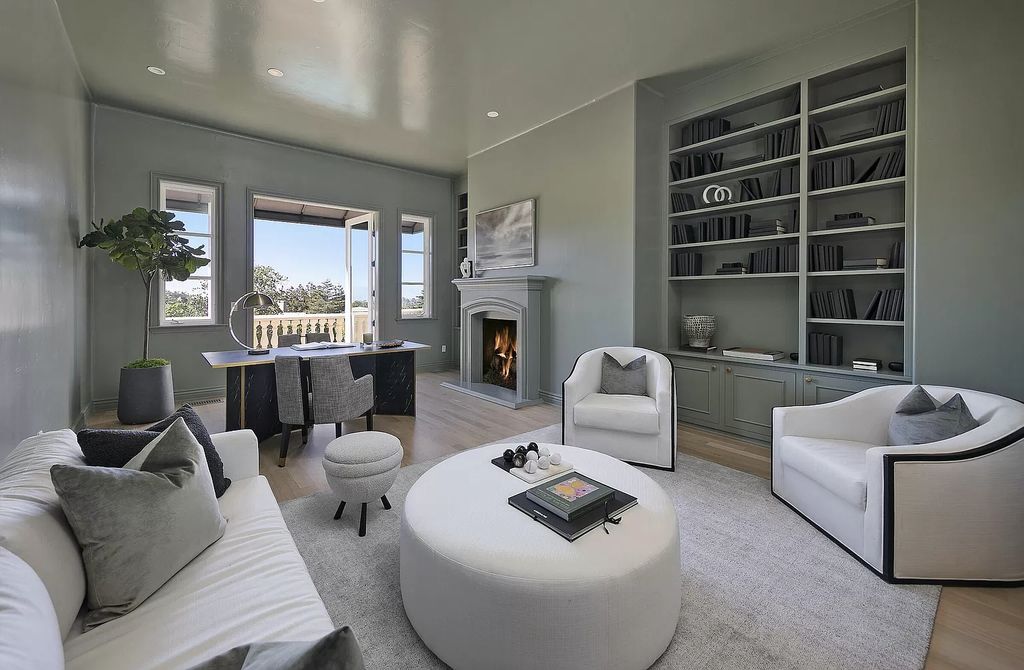 Shades of gray are flexibly used in this living room design to give it a deep tone. This shade of gray adds warmth at other times of the day and is perfect for rooms that face east or west for diffused light at sunrise or sunset. This $15,750,000 Traditional Mediterranean Villa in Santa Barbara with Jaw Dropping Mountain Views
11. Pick A Neutral Tone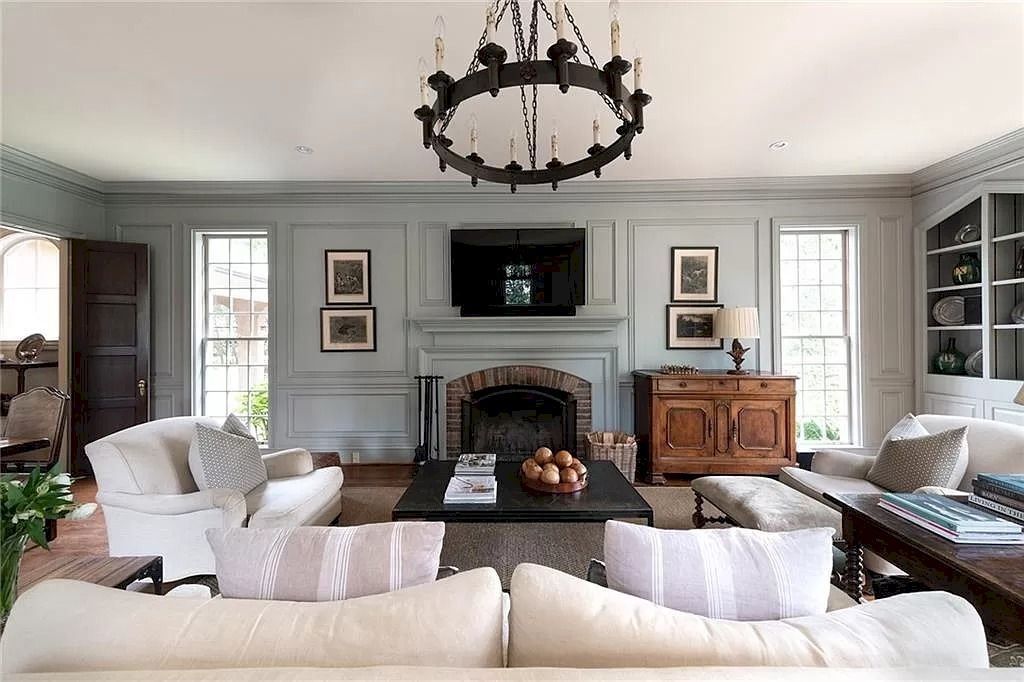 Earthy colors are always a terrific choice for warm, rustic living room designs. With its low ceiling and green-gray paint, which is a new hue for 2022, this living room creates a cozy and welcoming ambiance. This color looks great with white and calming grays in a typical country house setting. Add a sleek, contemporary accent. Considered as the Unbeatable Elegance in Georgia, this Gorgeous Home Hits Market for $4,650,000
12. Using Brown Throughout The Space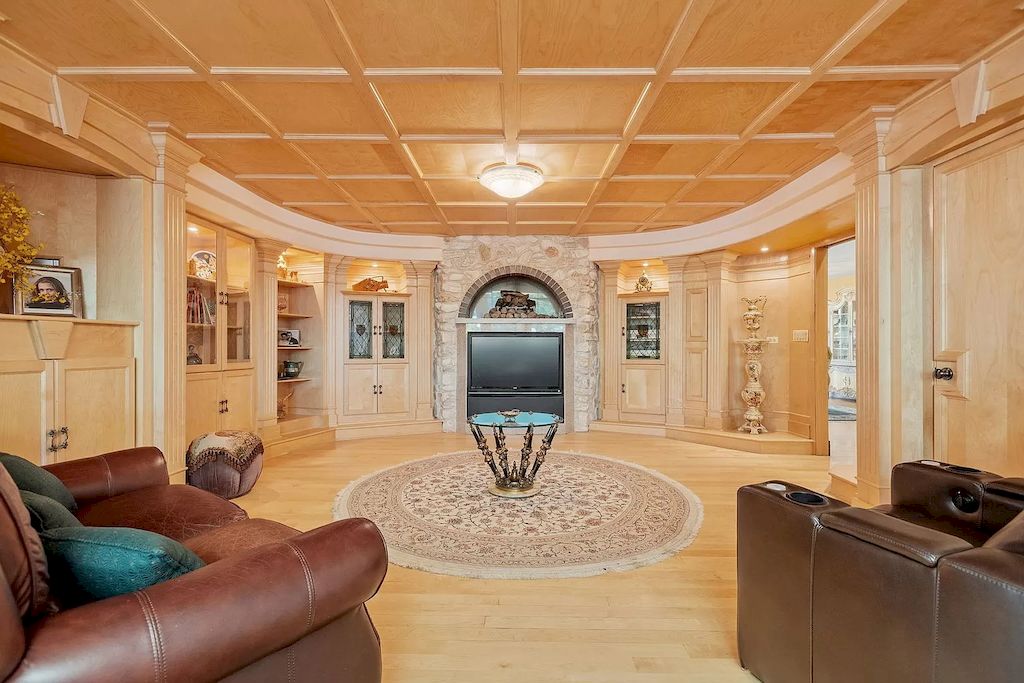 Finding the perfect circular living room ideas may seem challenging, but they make a fantastic choice for a unified, cozy space. They thrive in an enclosed space and are warm and easy to care for. Of course, balance is essential to the success of the rest of the plan. The area will feel lighter if you add a dash of brilliance and contrast, possibly in the form of accessories. True Masterpiece Perfectly Blends Mid-Century Modern and Mediterranean Architecture in Illinois List at $5,000,000
13. Return To Nature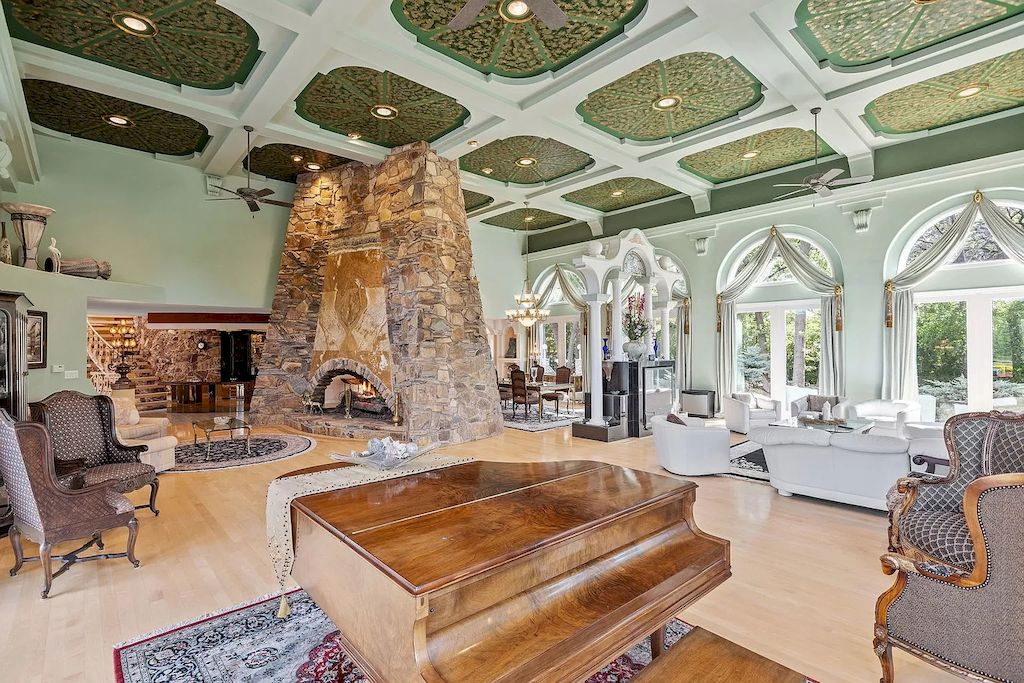 This living room's green hues provide a pleasantly richness and depth. The interaction of light and space in your room will be radically altered when utilized with wood color, bringing the environment closer to nature. Use this color to highlight the interior design elements and ensure that the room's walls receive enough of natural light. True Masterpiece Perfectly Blends Mid-Century Modern and Mediterranean Architecture in Illinois List at $5,000,000
14. Select Vibrant Blue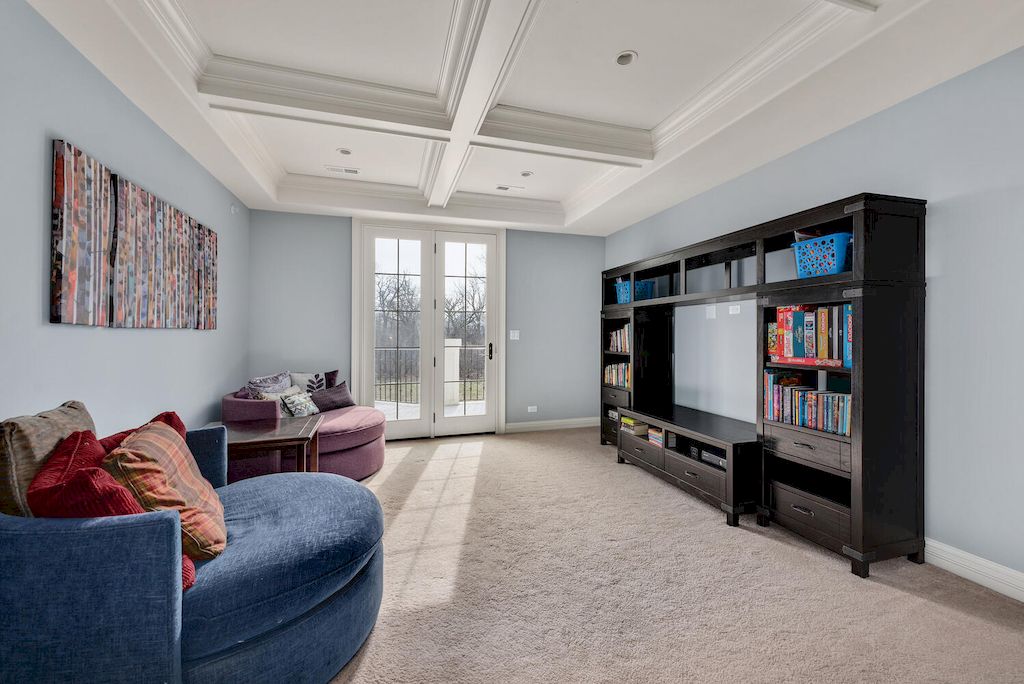 A navy blue living room is the most calming and tranquil setting imaginable; blue is a sky color with transformative qualities. Navy blue is undoubtedly the most playful hue since it is calming and light. Neutral furniture matches the blue walls since it is a soothing color that designers and artists have chosen. This $3,375,000 Exceptional Residence in Illinois Features Perfect Interior and Construction Quality
15. Create A Living Room Scheme In Earth Tones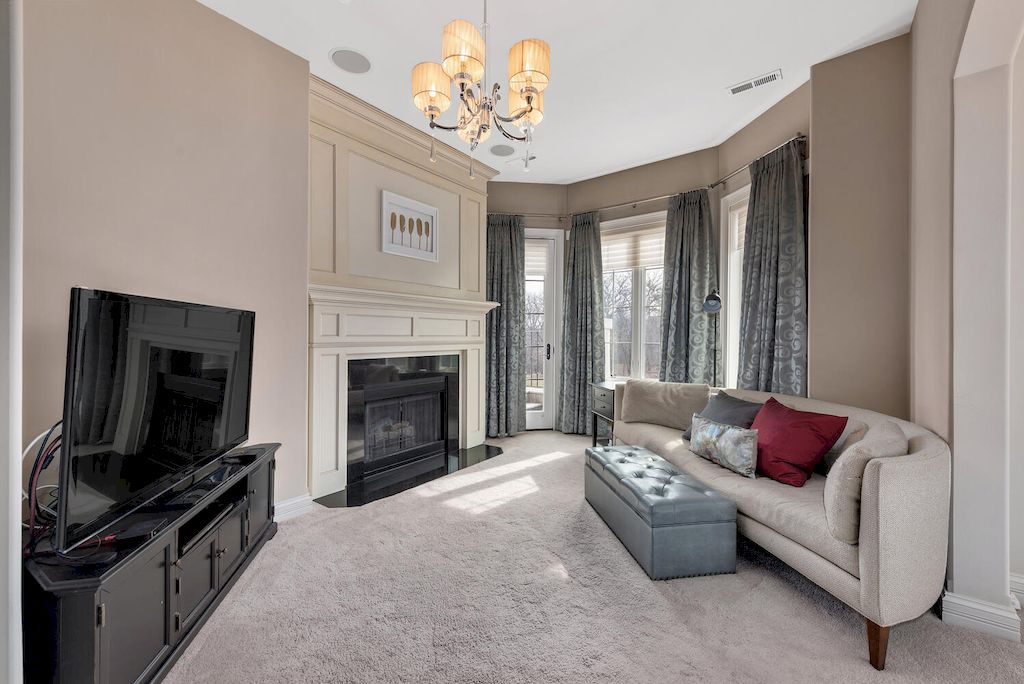 Subdued earth is a trending living room color that is rising in popularity in the interior design industry and is predicted to be the color of the year in 2022. Smooth earthy paint has the effect of bringing people closer together while giving a great deal of design versatility, it is close to nature. When combined with white and black, it fosters tranquility. This $3,375,000 Exceptional Residence in Illinois Features Perfect Interior and Construction Quality
16. Keep It Warm In The Lavish Living Room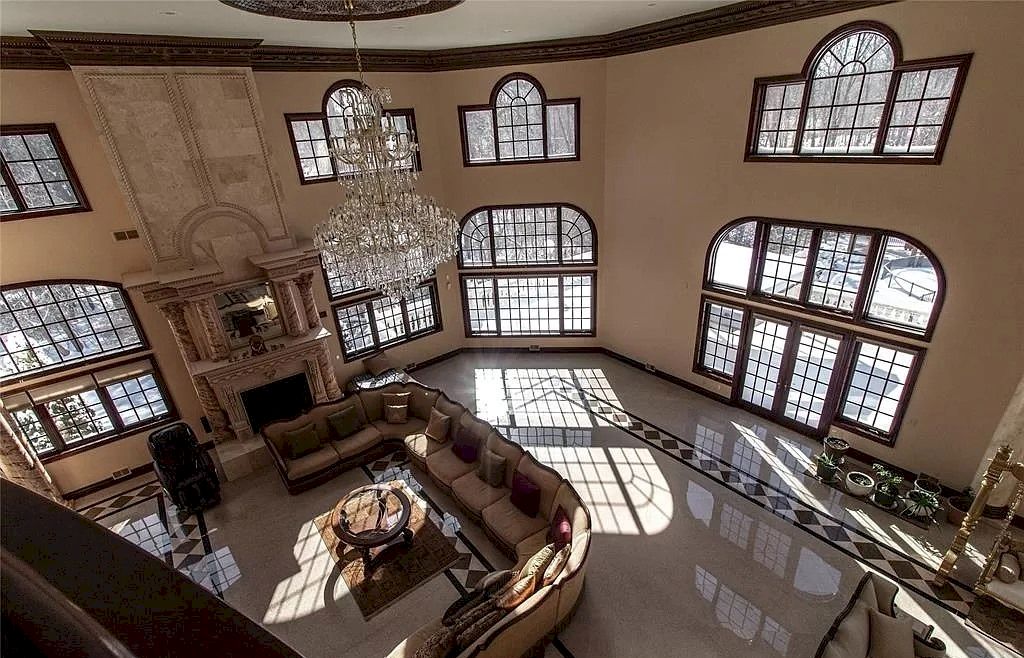 Choose a spacious area with a generous layout if you adore earthy yellow but are concerned that the room you're decorating could feel a little too gloomy afterward. This results in a much cozier room that won't be dark thanks to the glossy tiles' reflections. It can be put to use as an accent wall or in the corners. Going through Complete Floor to Ceiling Renovation, this Amazing Home in Michigan Hits Market for $4,900,000
17. Give Purple Credentials To Your Living Room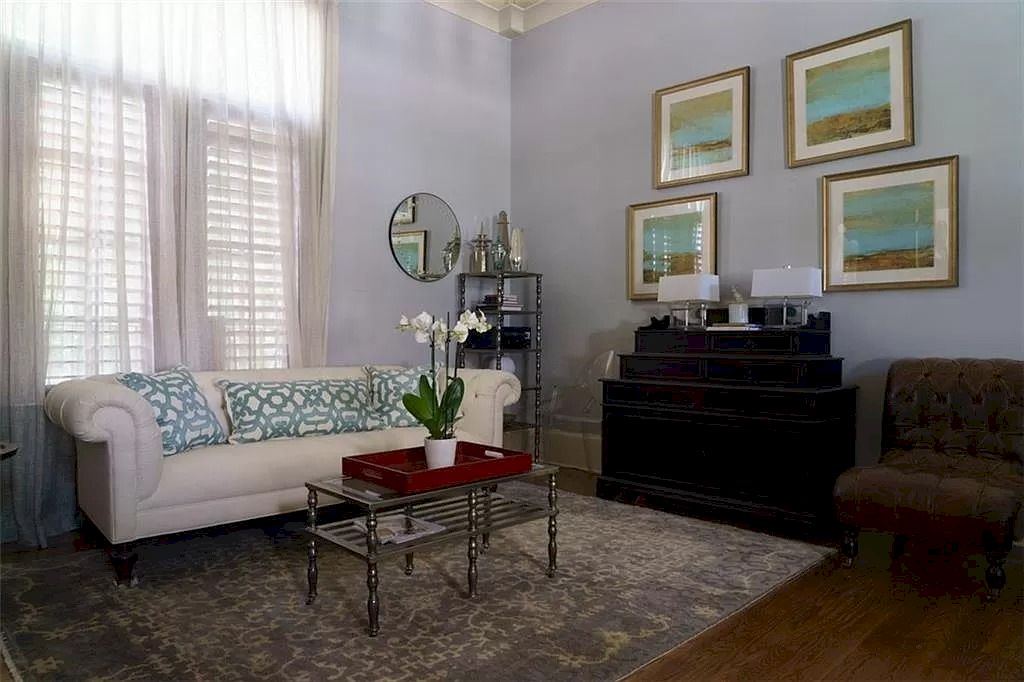 The soft and welcoming purple living room provides comfort and a refined atmosphere. It is surprisingly quiet and peaceful because to its gentle, textured tones, which set it apart from the sheer curtain, especially in tiny living spaces. Elegant and Finely Crafted Home in Georgia Hits Market for $3,000,000
Making sure you have a cozy sofa, a chic rug, and decorative accents will finish off the appearance once you've decided on the finest paint color for your living room. So, you can learn more living room Ideas brown couch for more combinations.
More Ideas For Living Room:
---
Thousand of high quality images of Living room and more you can see at Livingroom Gallery.