A good sofa set will take a lot of time and money to purchase because it is the main piece of furniture in the living room. Unsurprisingly, when it comes to choosing colors for sofas, living room ideas brown couch is the most popular option. Brown sofa will work well in any setting, from rustic country to minimalist modern. The brown sofa's versatility is reflected not only in its ability to be combined in various spaces, but also in the various shades of this color tone. This option is also ideal for households with young children or pets. We boldly present to you the 15 most popular brown couch designs on the market, with the hope that you will select great combinations for your beloved home.
1. Emphasizing Earth Tones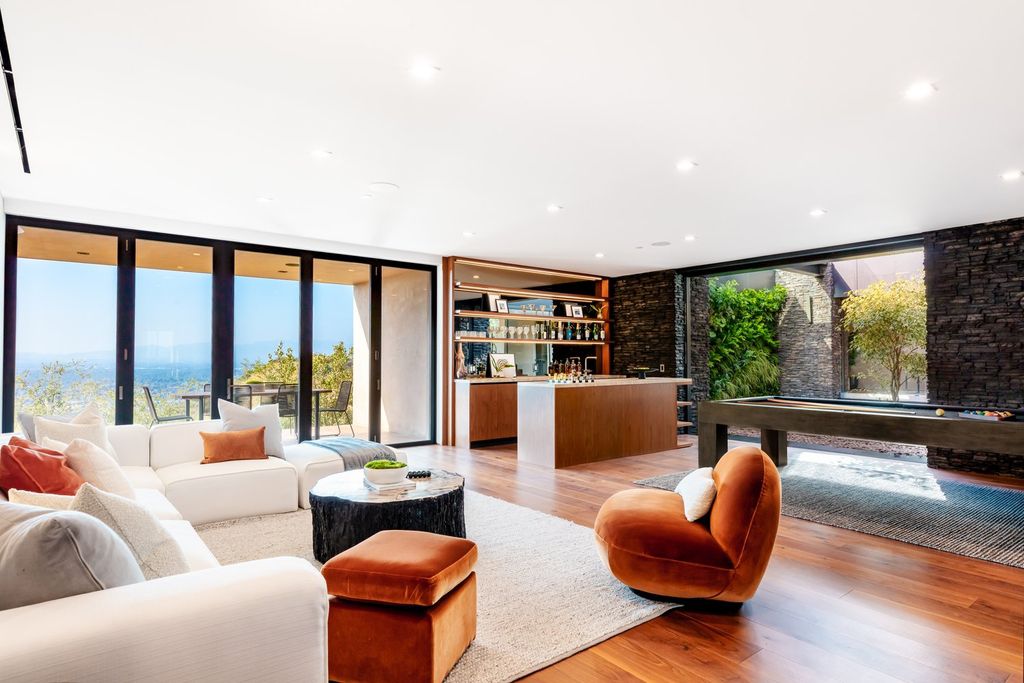 Increase the organic beauty of the living room space by reaching for the sofa in ocher tones. Color tones such as black and white are appropriate for brown because their lightness complements each other. It is not necessary to place a large brown couch in the living room; simply placing a beautiful small single couch and a few warm brown pillows in the corner of the carpet is enough to attract attention. To increase the coziness and closeness, complement the floor with brown wood panels and add some modern wooden furniture. This Brand New $17,500,000 Sprawling Home in Beverly Hills Inspired by Nature and Centered in Tranquility
2. Luxury Couch With Chandelier Lighting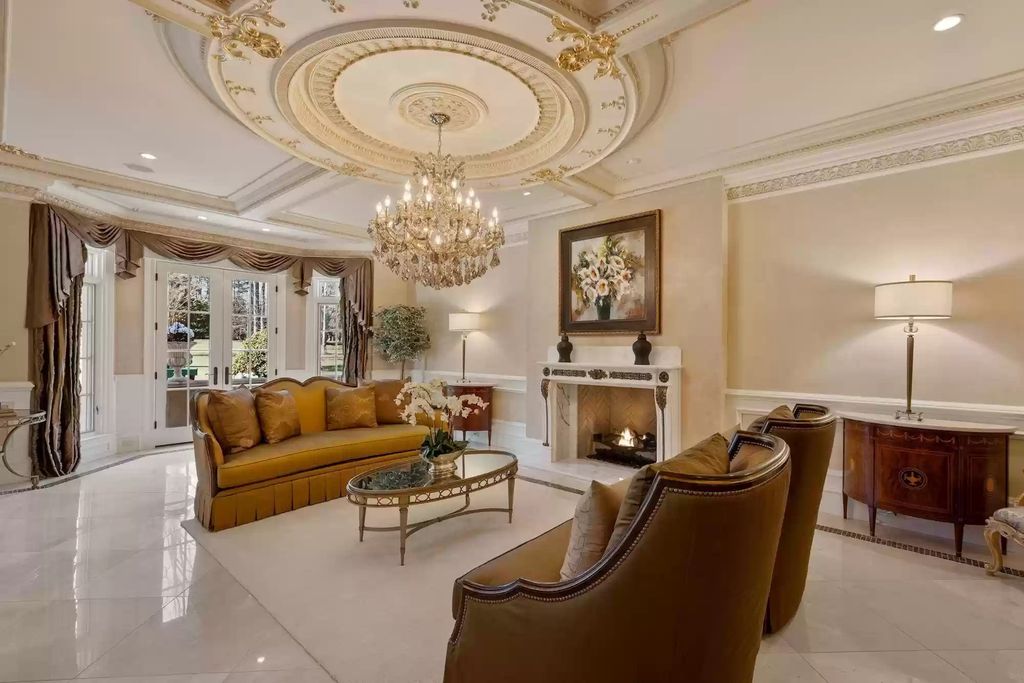 The design of your couch will be determined by the style of your living room. The living room in this design is not large, but it is focused on the ceiling beams, soft silk curtains, and shimmering chandeliers. A modern couch design based on a chesterfield sofa is ideal for a cozy yet valuable living room space. Subtle details are visible through each seam on the couch's armrests. Blending Opulence and Old-World Craftsmanship, This Lavish Estate in Virginia Lists for $6,998,000
3. Combine Various Materials On A Couch Set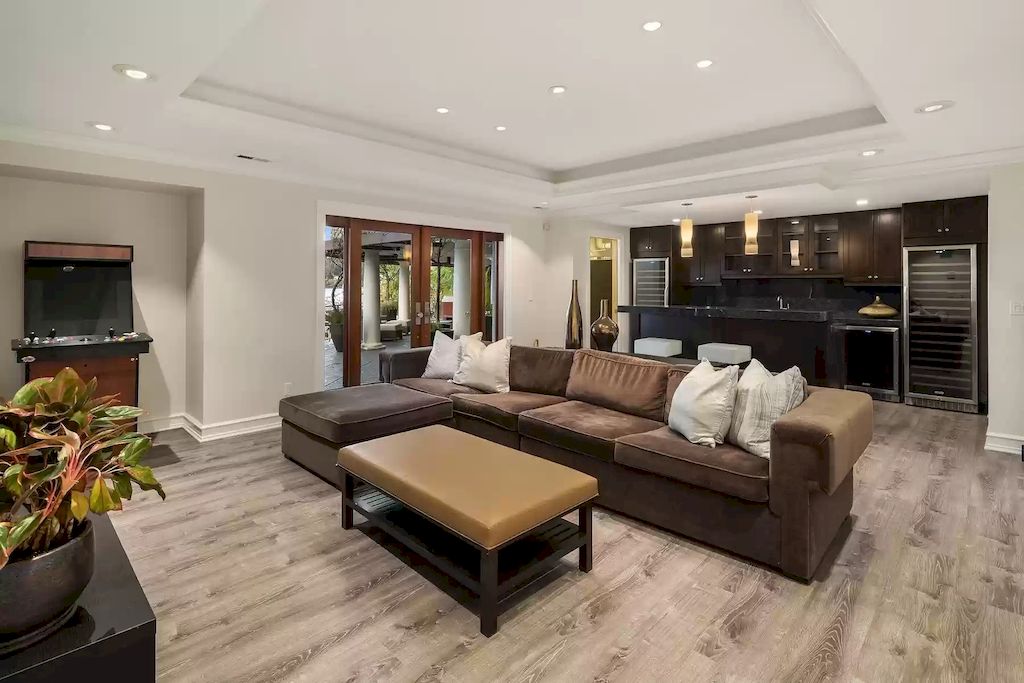 If you're not sure what color would go well with a brown leather couch, start with a wood tone. Brown is a color that goes well with neutral tones like wood and other warm colors. It will bring different emotions and breaths to the room depending on the shade of brown. A brown mocha couch is ideal for owners who have young children or pets. With the same color tone, changing the sofa material will result in different styles. For example, glossy leather material will exude a modern look, whereas velvet material will tend to match the farmhouse living room. This $9,500,000 Waterfront Estate Offers the Epitome of Privacy in Washington
4. Select Warm Accent Colors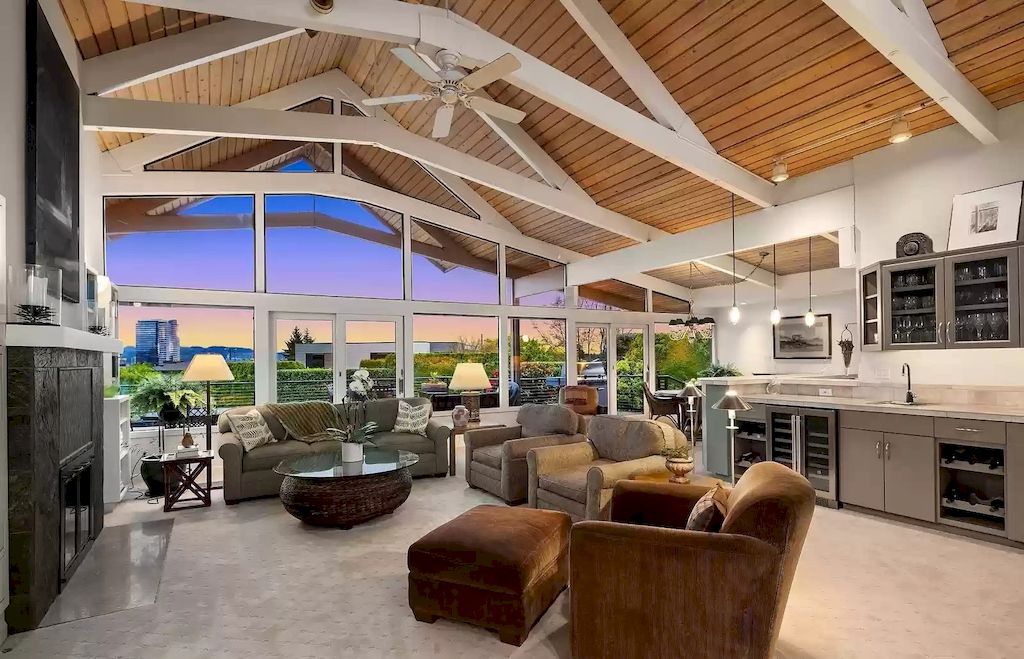 It can be combined with brown as a cold or hot color accent because brown has a warm natural characteristic. A gray couch and pillows, for example, can help to highlight the warmth of a single long couch. The ceiling in this living room is designed in the style of a spire and is supported by beam frames. The surrounding wall-mounted furniture is dark gray, and the simple decoration emphasizes the warm area around the fireplace. This $3,950,000 Stunning Estate Commands Gorgeous Views of Mountains and Downtown Bellevue, Washington
5. Pick A Good Brick Wall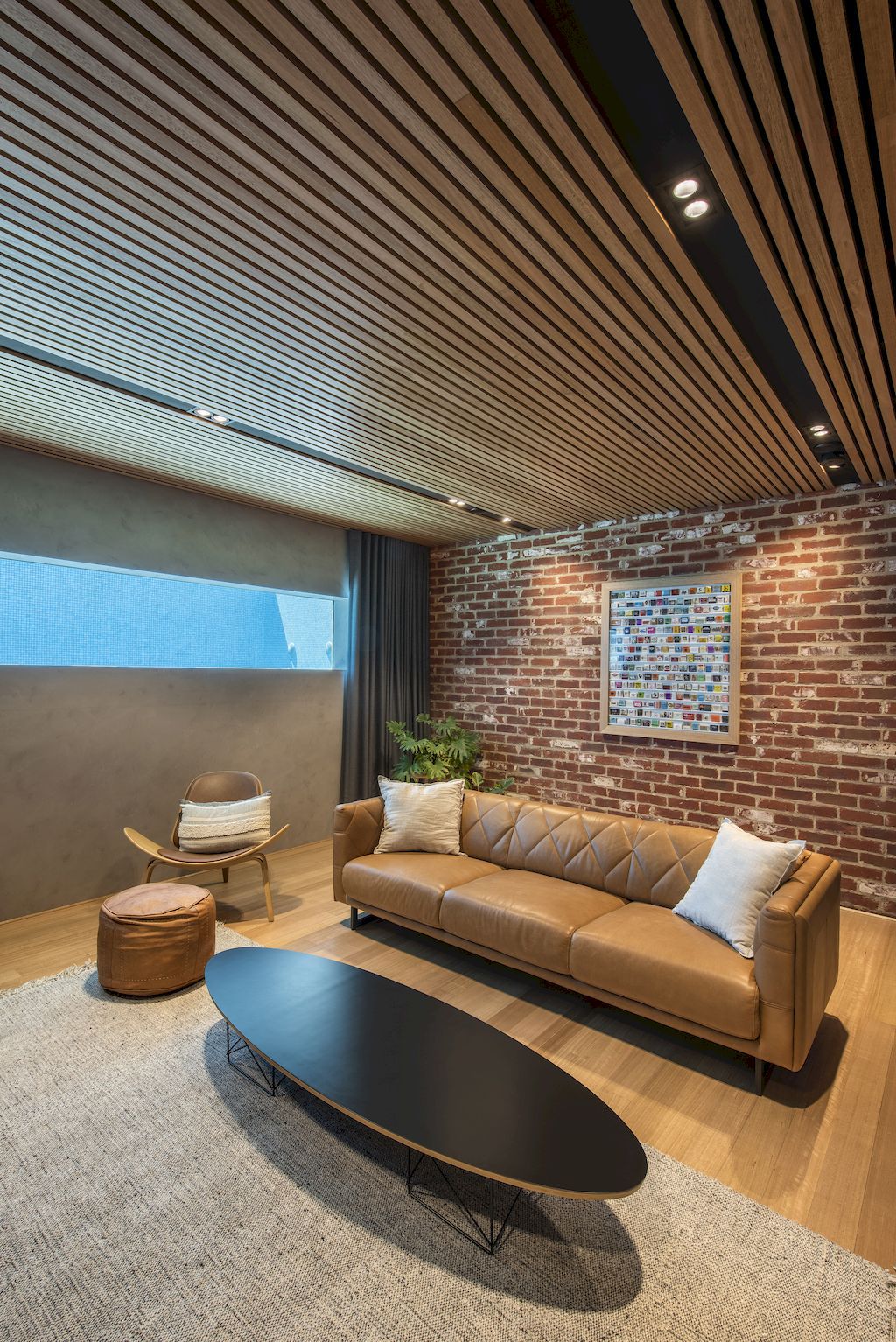 Play up the highlights of the brown couch with the right wall color for a bold design statement. To be safe, most homeowners choose neutral or cool colors when a brown couch is present. However, this living room, for example, makes extensive use of brown or warm tones while remaining completely, and even prominently, modern. The red brick wall and ceiling with thin wooden beams provide an excellent foundation for the soft leather couch's modern yet minimalist appearance. The oval table complements the fabric carpet perfectly. Plympton House with Flexible Living Space connect to Outdoor by Contech
6. Couch With A Low Backrest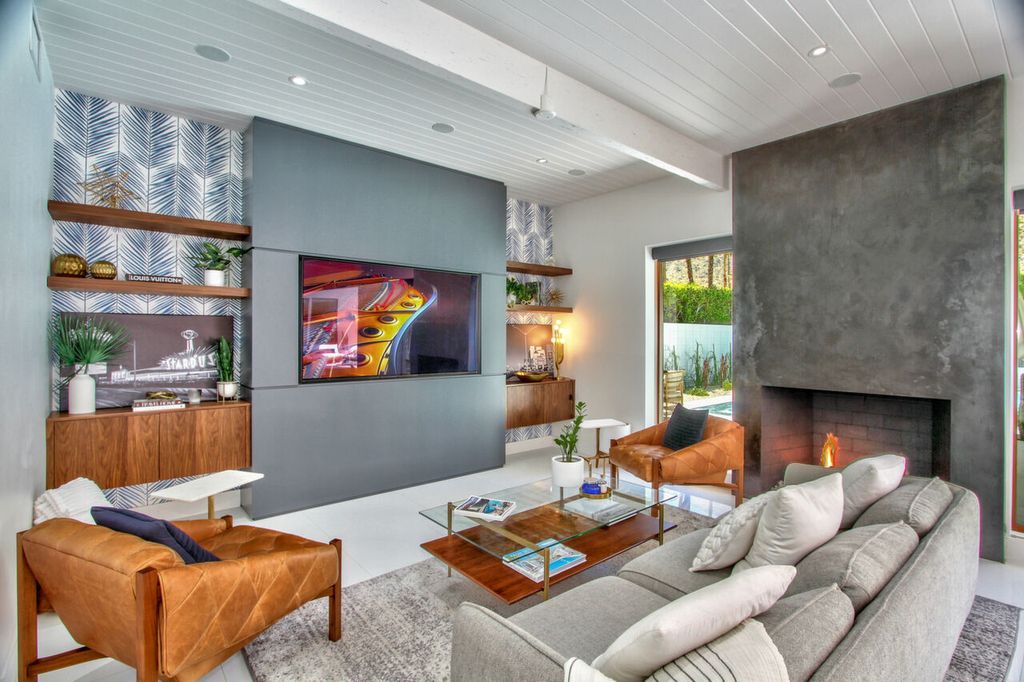 Are you looking for a brown couch design to complement your contemporary living room? Some people will opt for large, luxurious couches. Another trend will be to look for young, shiny leather couches. Each model will have trends and will be appropriate for different spaces. This design is an example, with the living room not being overly large but with the brown leather couch being the ideal spot with the glossy paint on the walls and the cool gray covering the room. Warm and cool tones are intertwined and complimented to create a harmonious and modern combination. Perfect Mid Century Pool Home in Palm Springs with The Highest Level of Finish Aiming for $3,700,000
7. Repeat Brown Tones
To avoid the light brown sofa looking out of place while still retaining its distinct personality, repeat its color elsewhere in the room. A set of brown and beige couches is used in this room. The light beige carpet and the paint color on the walls tie the look of the objects together. The light brown leather couch's soft material accents and relaxing silhouette continue the theme. Magnificent Gated Waterfront House in White Rock with Ocean View Asks for C$14,888,000
8. Work A Brown Sofa Into A Warm Living Room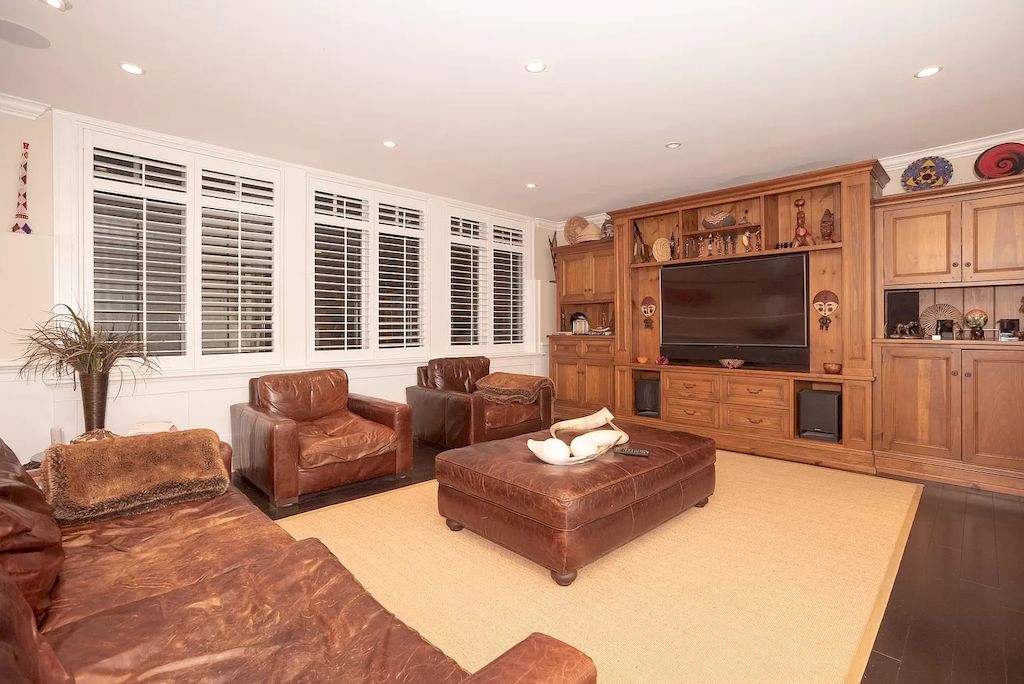 With pattern strokes, soften the strong color of the brown sofa. This living room's color palette is interesting thanks to the sweet, soft pink walls. The lovely living room is enhanced by solid wooden shelves in a classic style. Decorate the brown couch in the living room with a tiny vase of flowers, bold rustic and country nuances. This C$8,998,000 Spectacular Property in West Vancouver Offers Privacy Yet a Sun Filled Sky
9. Eastern European-style Brown Couch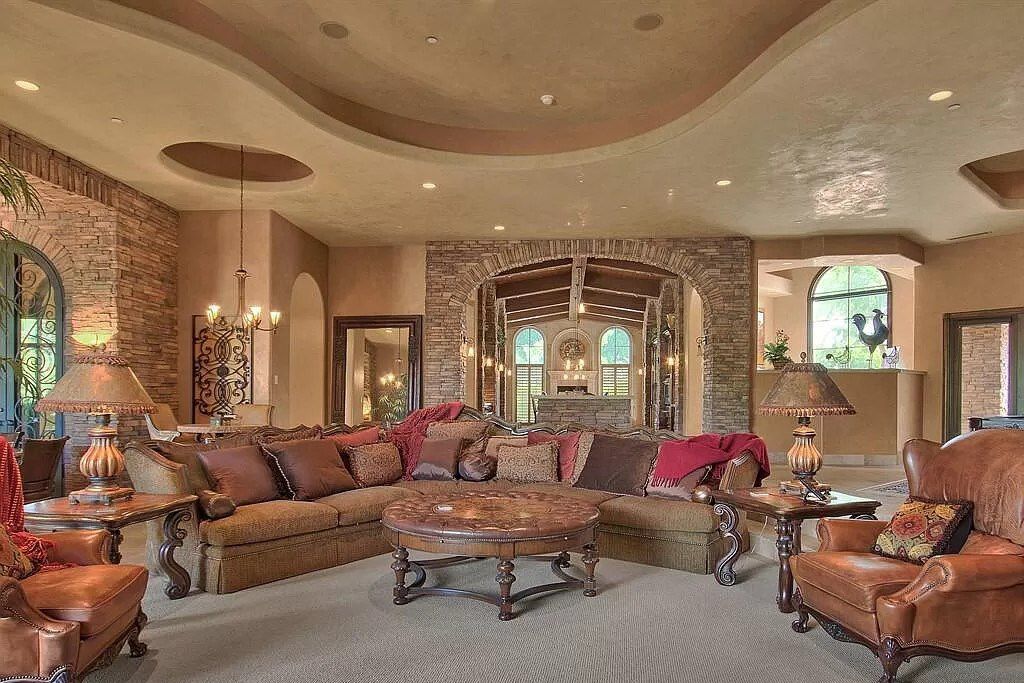 Don't worry about the brown couch overpowering or disrupting the style of your living room. This way, with any brown couch, the room becomes cohesive because shades of brown cover the entire space, from the brick walls to the table lamps to the modern ceiling. To soften and cool the brown living room, place a cool gray rug on the floor. Nothing could be more appropriate in this living room than the luxurious brown sofa set. This $9,500,000 Home in Arizona offers a magnificent mixture of grass and desert landscaping
10. Brown Sofa Stands Out In White Living Room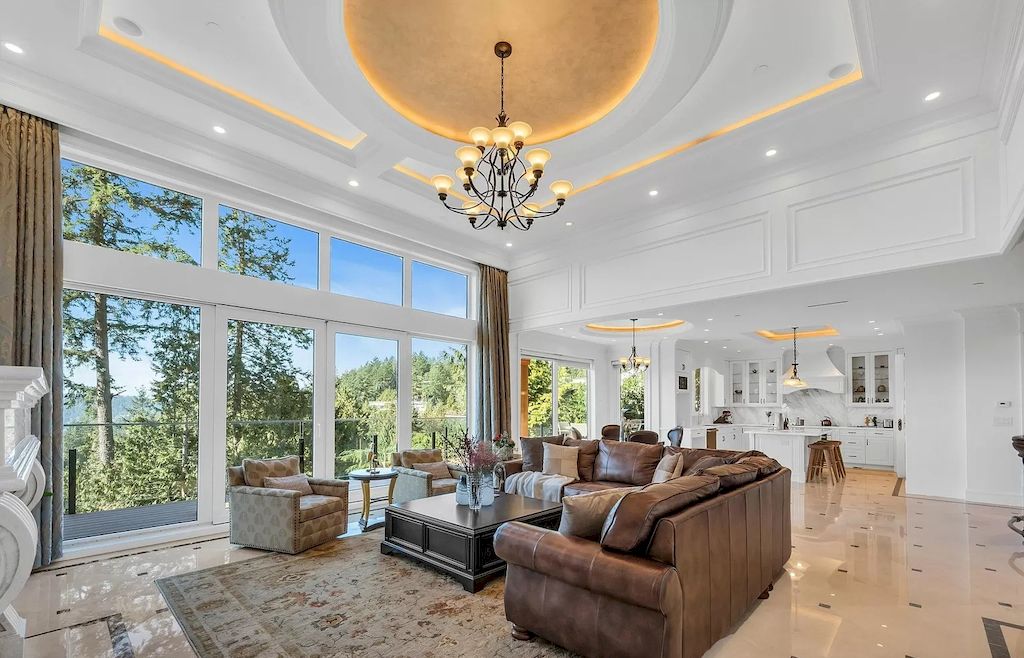 When surrounded by softer elements, a dark brown leather couch will dominate the space. To begin, the overall architecture of the entire room is designed in a minimalistic trend, with few textures and a pure white covering. Then, through the main glass door frame, gentle light is combined with natural light. Finally, there is the logical arrangement of the main furniture, including the sofa set and the warm velvet carpet. European inspired Residence with Unobstructed Water Views in West Vancouver Asks for C$6,280,000
11. Add Eye-catching Colors To Living Room Ideas Brown Couch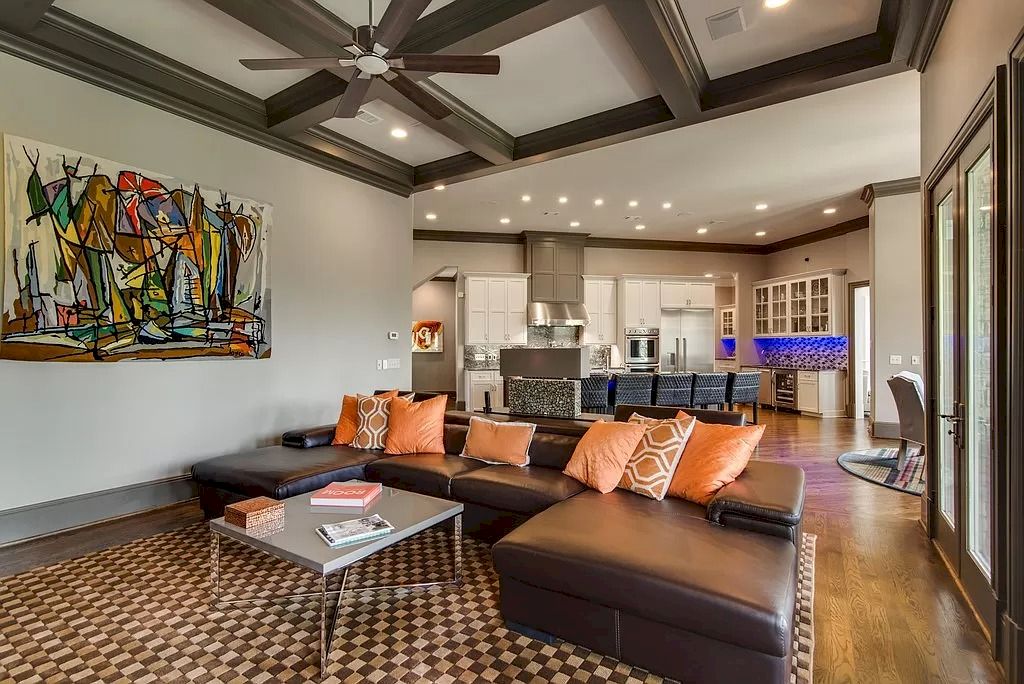 Color schemes for the living room with dark brown chairs can be found in the color palette. The brown couch in this room does not resemble the models above. It's not just a brown couch that most homeowners choose when looking for a sofa with a large, comfortable backrest. However, in this house, comfort is entirely dependent on the cushions that are used to sit on. The orange pillows, along with the color palette, are hung on the wall as a focal point in the room. This $4,395,000 Wonderful Estate Opens the Doors of Incredible and Opulent Living Style in Tennessee
12. Add Warmth To A Country Living Room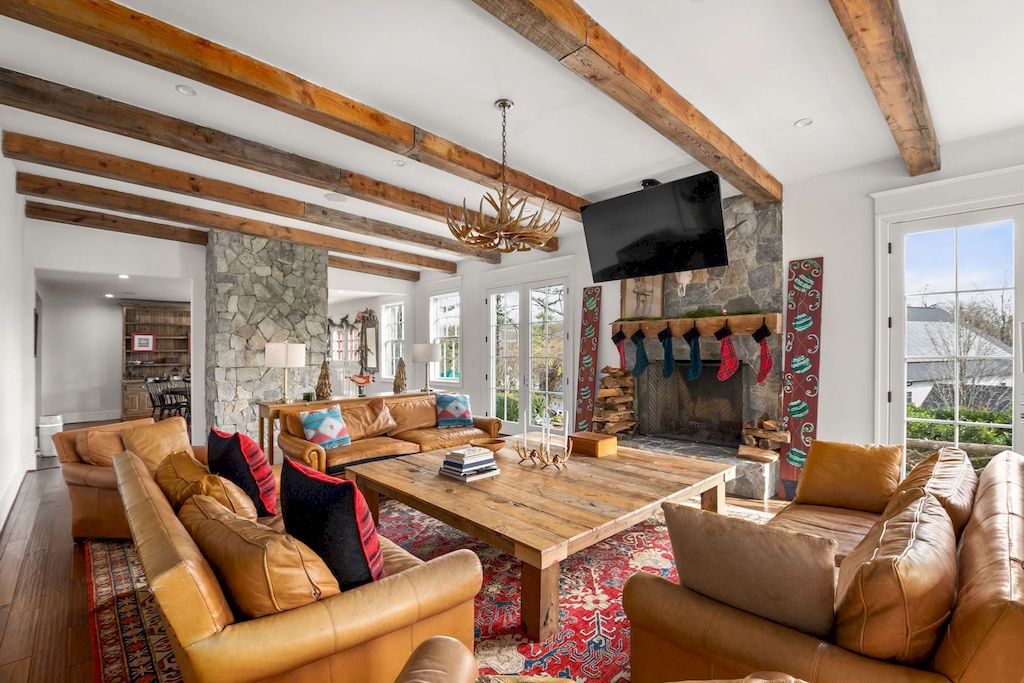 Warm colors, such as brown from the wood and red from the carpet, make up a cozy, cohesive living room. While some areas, such as the fireplace, are clad in cold large stones, the warm interior and wooden beam architecture have added gentle warmth from nature. It is impossible to overlook the appearance of a wooden center table, which, despite its simplicity, is an essential item if you are planning to build a country-style living room. This $6,500,000 Truly One-of-a-kind Estate in Virginia Blend Historical Charm and Modern Conveniences
13. Using Coffee As Inspiration For The Brown Couch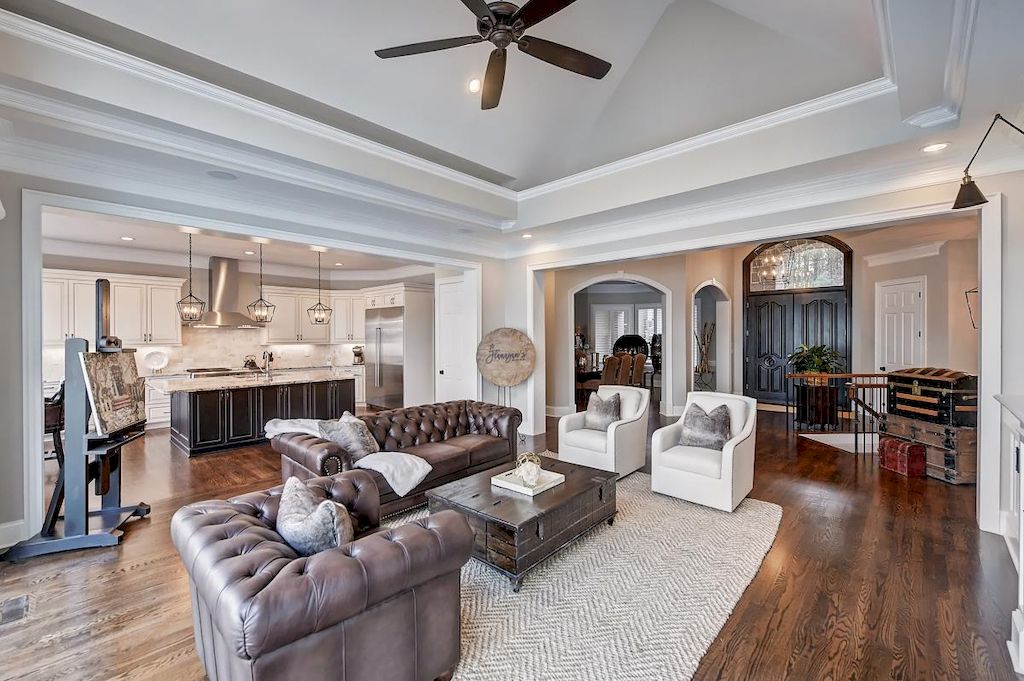 Brown has become popular on large pieces of furniture, making decorating around it more difficult. However, if you have a minimalist living room with white or neutral tones, everything will become simpler. The brown couch will have different connotations depending on the shade of brown. There are color tones that are associated with wood and nature. The couch above, on the other hand, is pure coffee brown. Elegant and Private Waterfront Estate in North Carolina on Market for $3,390,000
14. Stand Out With Green Chesterfield Couch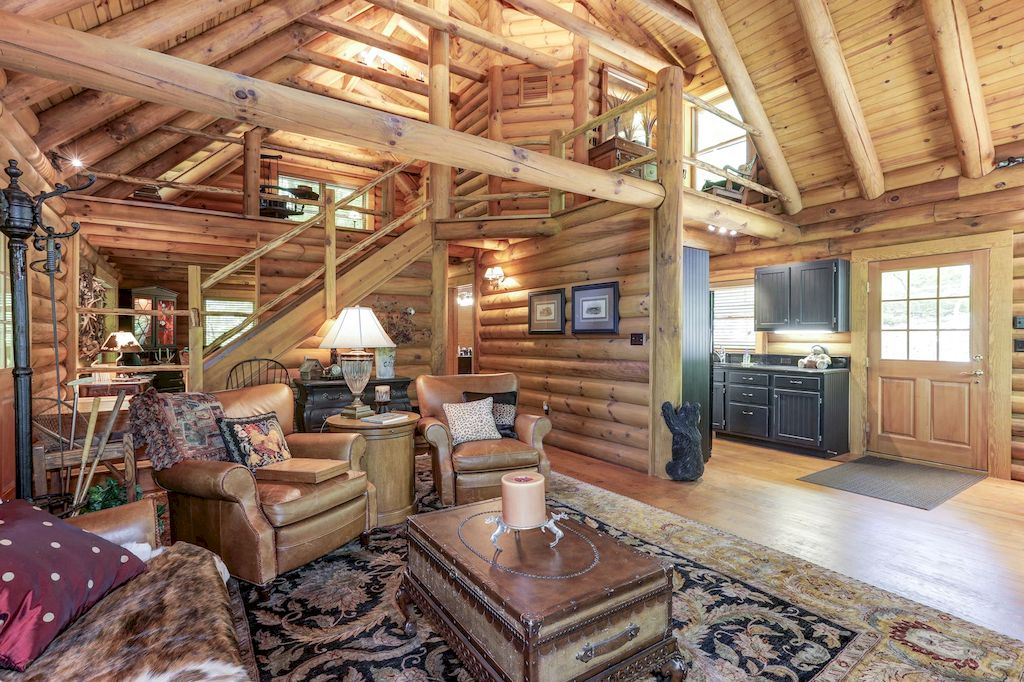 What are your thoughts on owning a house made entirely of wood? This appears to be becoming increasingly difficult in modern life. Look to nature's colors for safe pairing. The use of a wood color throughout the space will keep the room warm in the winter and cool in the summer. Combine with a chestnut brown sofa to make your life more in tune with nature. Magnificent Home in the Heart of Virginia Hits Market for $10,500,000
15. In A Monochrome Living Room, A Curved Couch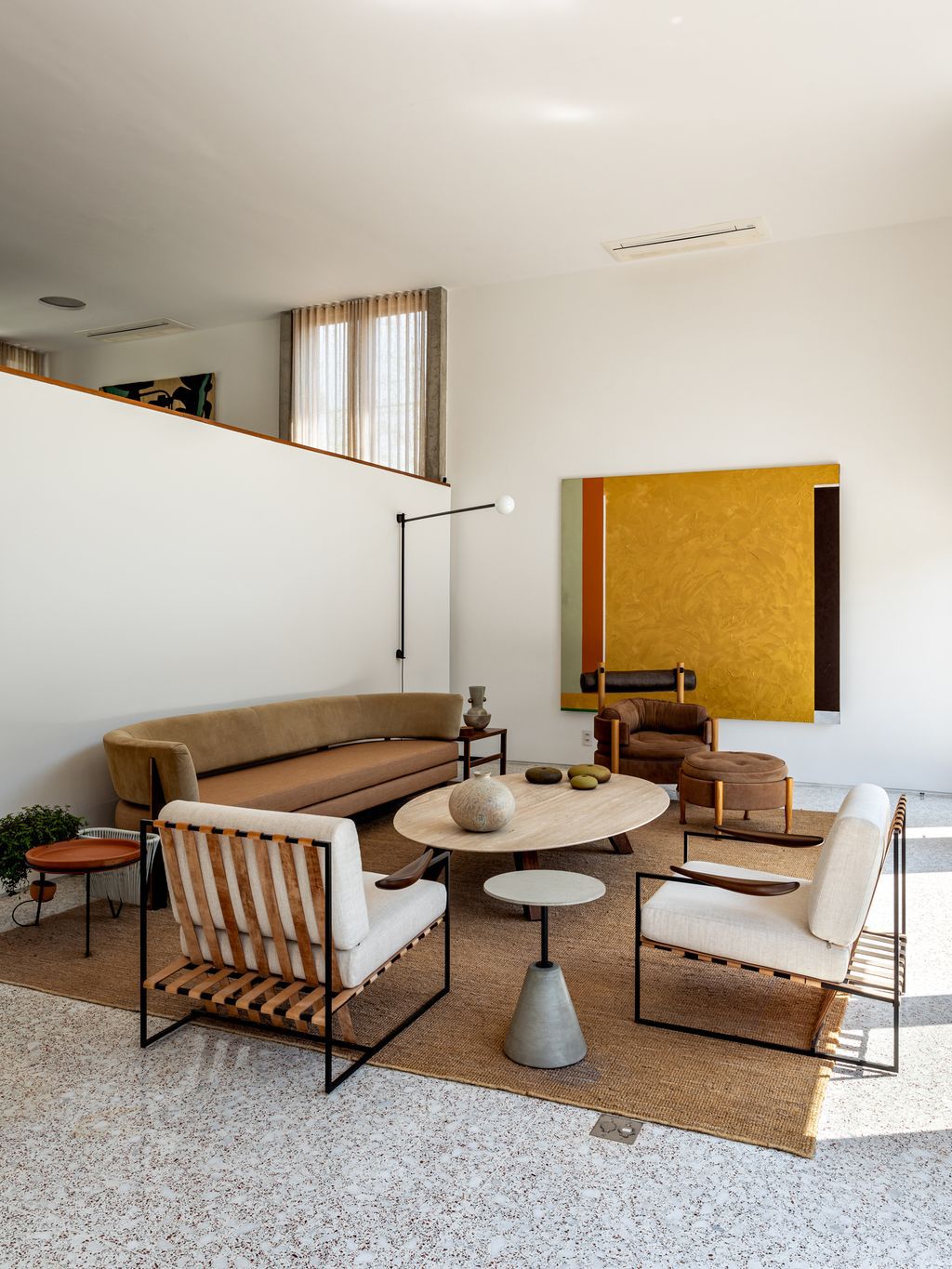 The brown curved couch looks fantastic in a modern living room. Brown, mid-century-inspired couches sit alongside slim, modern items such as wall-mounted reading lights or drink tables with modern round table tops. Warm brown sofas will make the room appear more welcoming by providing a comfortable space in a modern rustic style. A sedge carpet and a few potted plants help to make the space more eco-friendly. Brasil House, a Stunning Renovation Project in Brazil by Play Arquitetura
When combined with lighter tones, or even when the entire space is covered in a wood color, the brown sofa will never become gloomy and overwhelming. Choose cool-colored walls and furniture for safety and harmony. Meanwhile, the dark brown couch will become the focal point of the room, balancing the nuances. Simultaneously, there are numerous ways to enhance the effect of tones, such as the use of light texture patterns. A subtle combination will make a significant difference. You can learn more living room ideas blue couch for more combinations besides green couch.
More Ideas For Living Room:
---
Thousand of high quality images of Living room and more you can see at Livingroom Gallery.