Date of Publishing:
Creative Modern Living Room Ideas.
One of the most often utilized rooms in a home, living rooms ought to feel and look their finest. Living room ideas modern can help you give your cluttered and worn-out living room a trendy makeover. There are ways to upgrade your area into contemporary style, whether you're seeking for completely new living room ideas modern or a few quick tweaks. Additionally, you can experiment with modernism or follow the hottest trends right now.
1. Minimalist Modern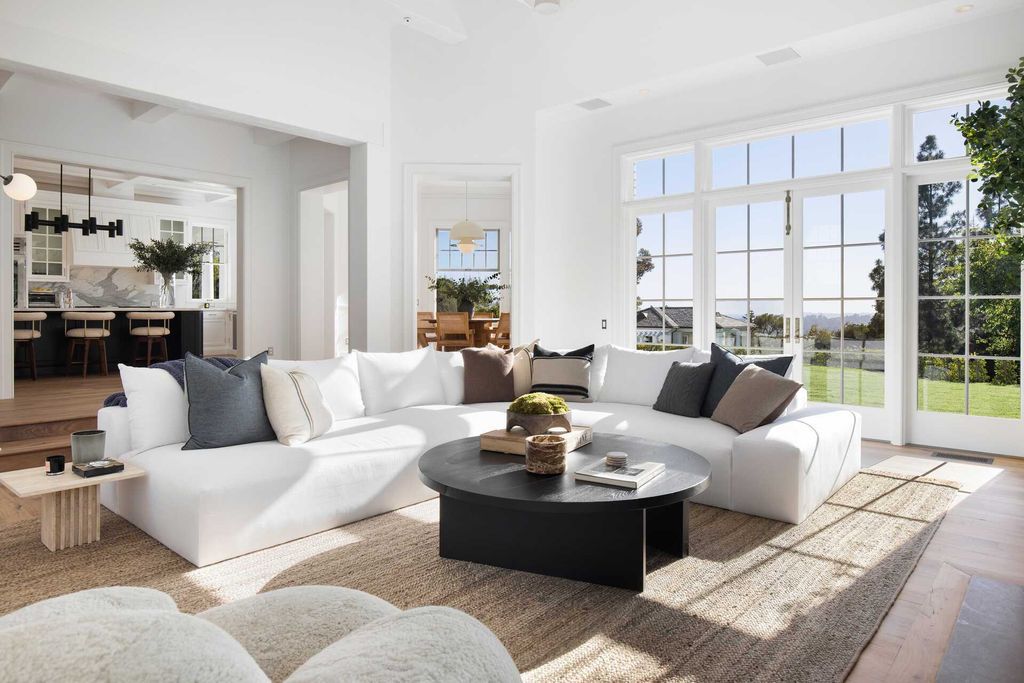 The traditional mid-century modern interiors were simplified for a more modern appearance. The minimalist style includes simple décor, uncluttered walls, and neutral colors. Black accents and warm wood tones are balanced with light colors and an open glass wall. contemporary, minimalist, and sleek. A Magnificent Ocean and Mountain Views California Mansion comes to Market for $35,000,000
2. Desert Shades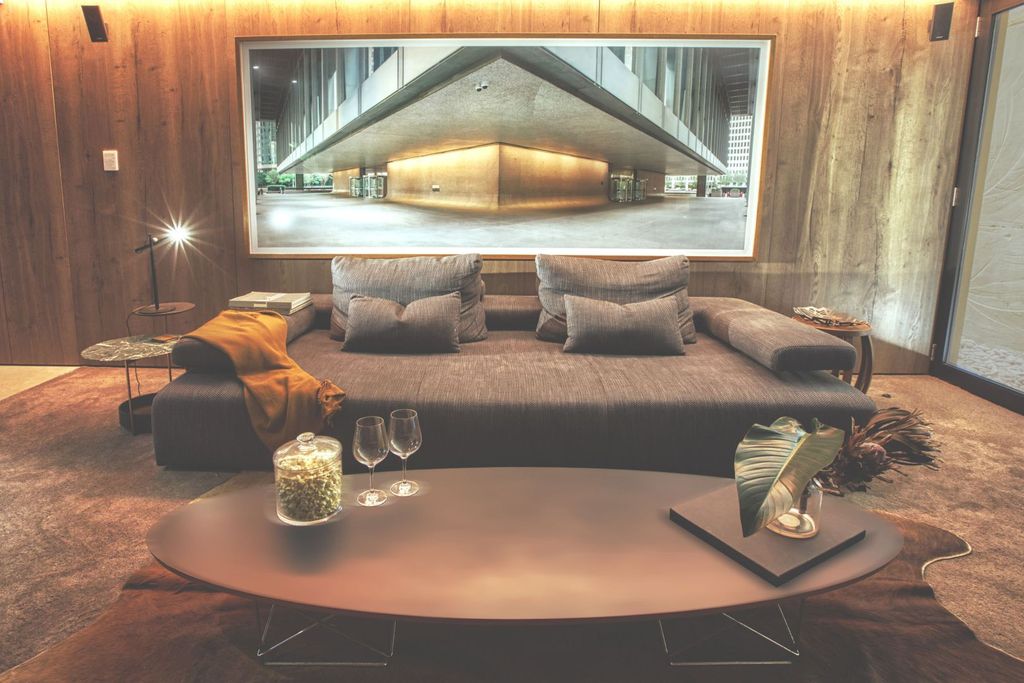 Bring some of the desert's warmth into your living space! The warm colors of the desert, including tawny, sand, buff, and tan, are featured in this cheerful and charming living room. Create your own oasis in the room by including cozy furniture, adequate lighting, and original artwork.  Unique Queens Park home in New South Wales by Steven Gerendas for auction
3. Sea Colors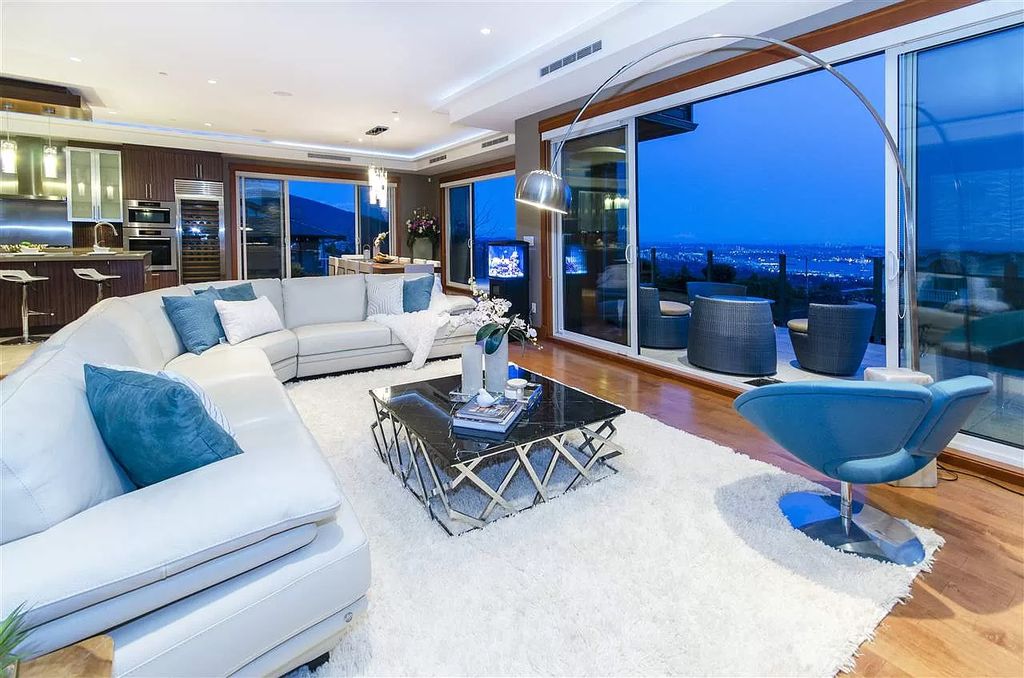 Using numerous water shades can help you to capture the cool, breezy ocean vibe. Emeralds, emerald, teal, cerulean, and the ocean. The water bubble chandelier is the ideal accent to finish the style.  Spectacular Custom Built Contemporary Home in West Vancouver immersing a luxurious lifestyle offers C$8,980,000
4. Displayed Brick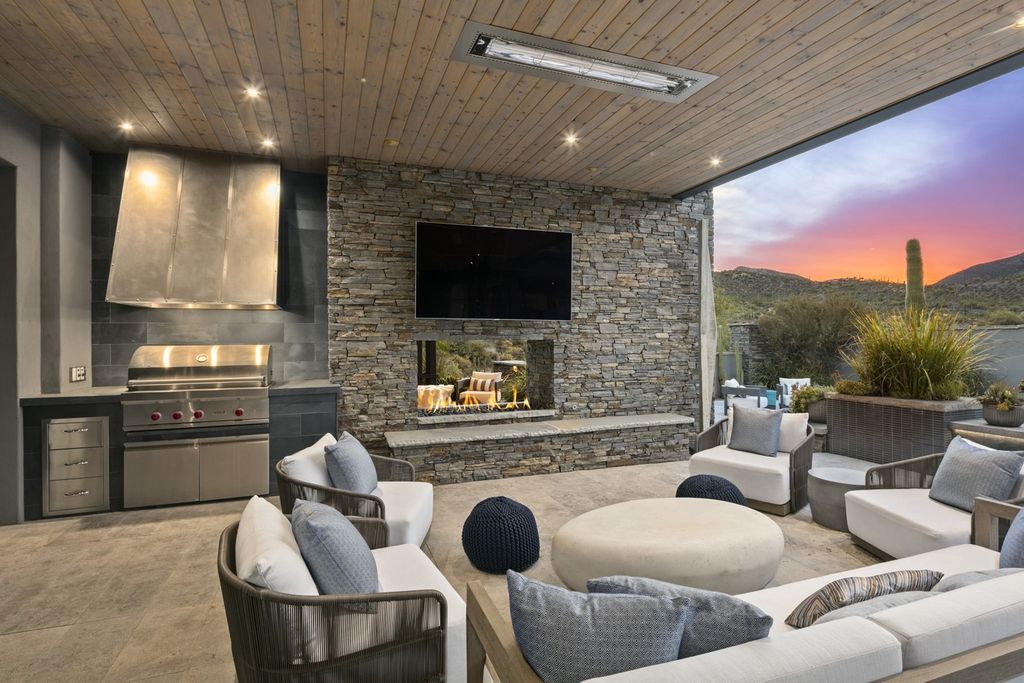 The industrial aesthetic of today is popular. By emphasizing its essential components, such as its huge windows, wood paneling, and brick walls, this residence also managed to preserve its architectural beauties. The living room's contemporary appearance is attributed to the inviting sectional, circular tables, and striking ceiling. A Simply Stunning Contemporary Home in Scottsdale with Striking Mountain Views for Sale at $7.25 Million
5. Light And Ambient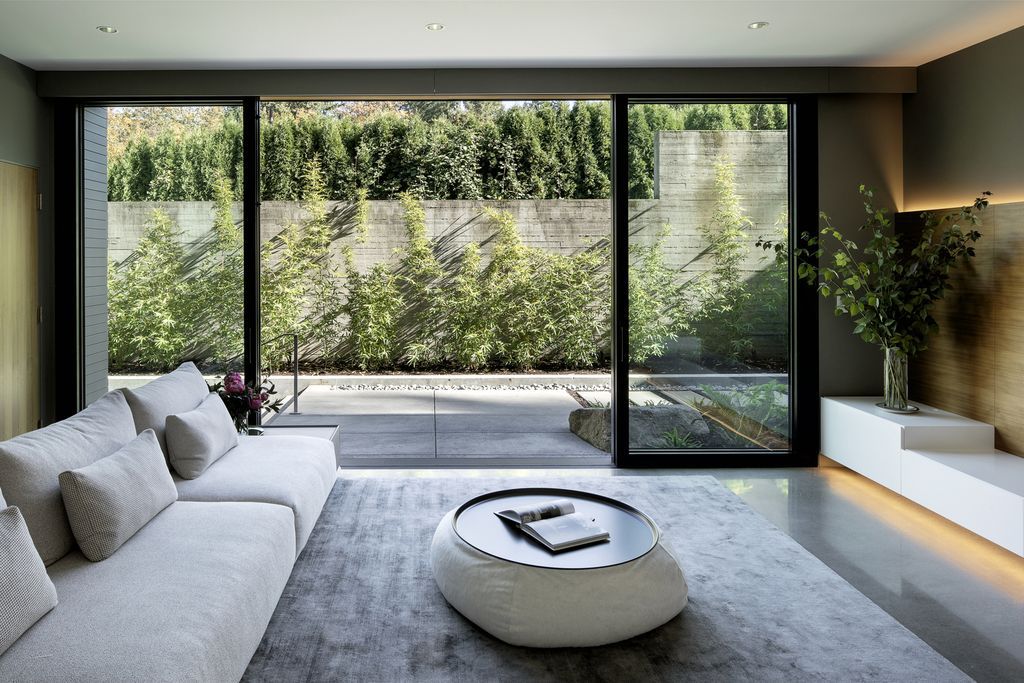 By removing extraneous wall decorations, unneeded draperies, and carpet from the floor, you can modernize your traditional and stuffy mansion living room. The uncluttered appearance has a more modern and minimalist feel. It allows a lot of natural light to enter and enlarges the space.  Graceful Glass Link House with nature connection by Edwards Architecture
6. Wood Components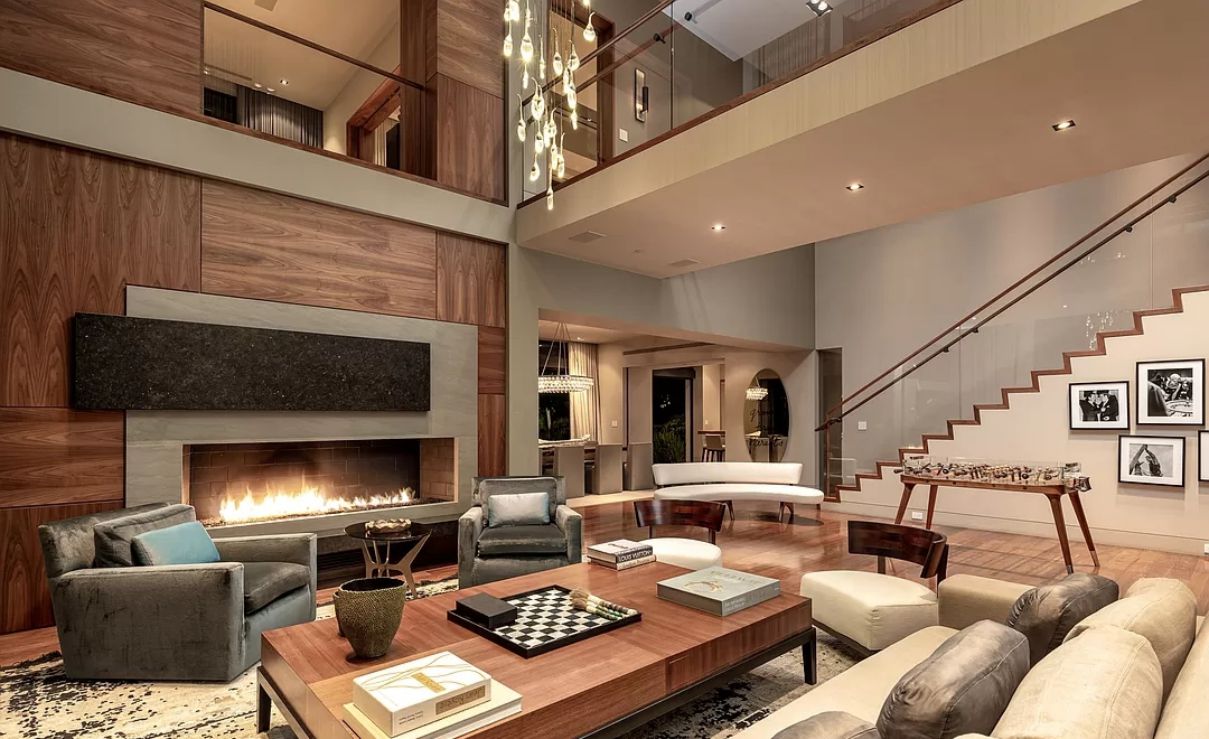 This contemporary living area is dominated by various colors of grey. Warm wood components like center tables, rafters, and the ceiling provide contrast to the interiors' black, white, and grey tones. The beautiful flower doddle wall feature and the distinctive metal pendant lighting are noteworthy features. Beverly Hills Mansion in A World-class Location Asks for $23 Million
7. Pastels From The Mid-Century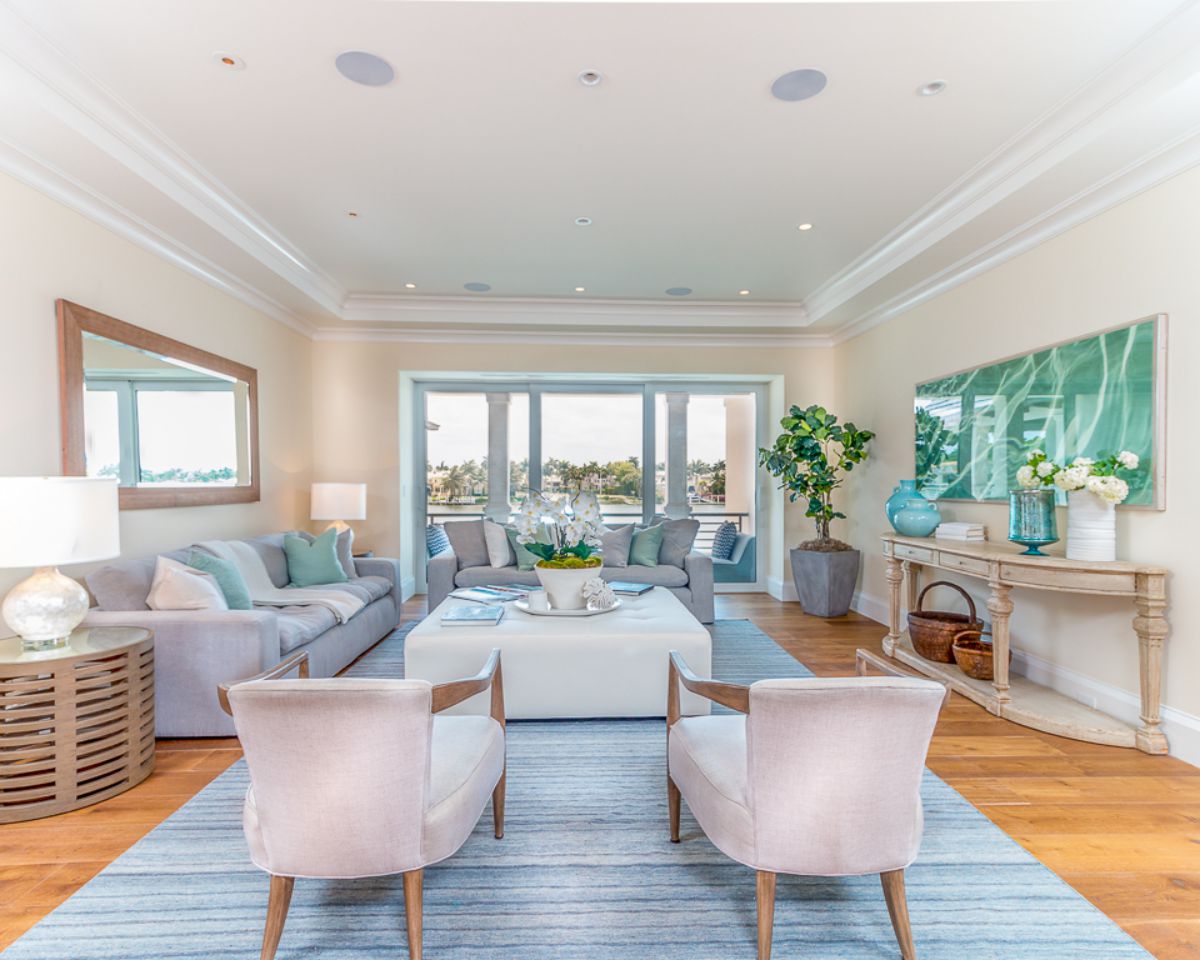 Great styling, calming tones, and vibrant colors. The vibrant pastels give the most popular modern mid-century interiors an update. The light colors also provide the appearance of more space, which is ideal for smaller living areas. Naples Estate at Treasure Lane by Stofft Cooney Architects
8. Minimal White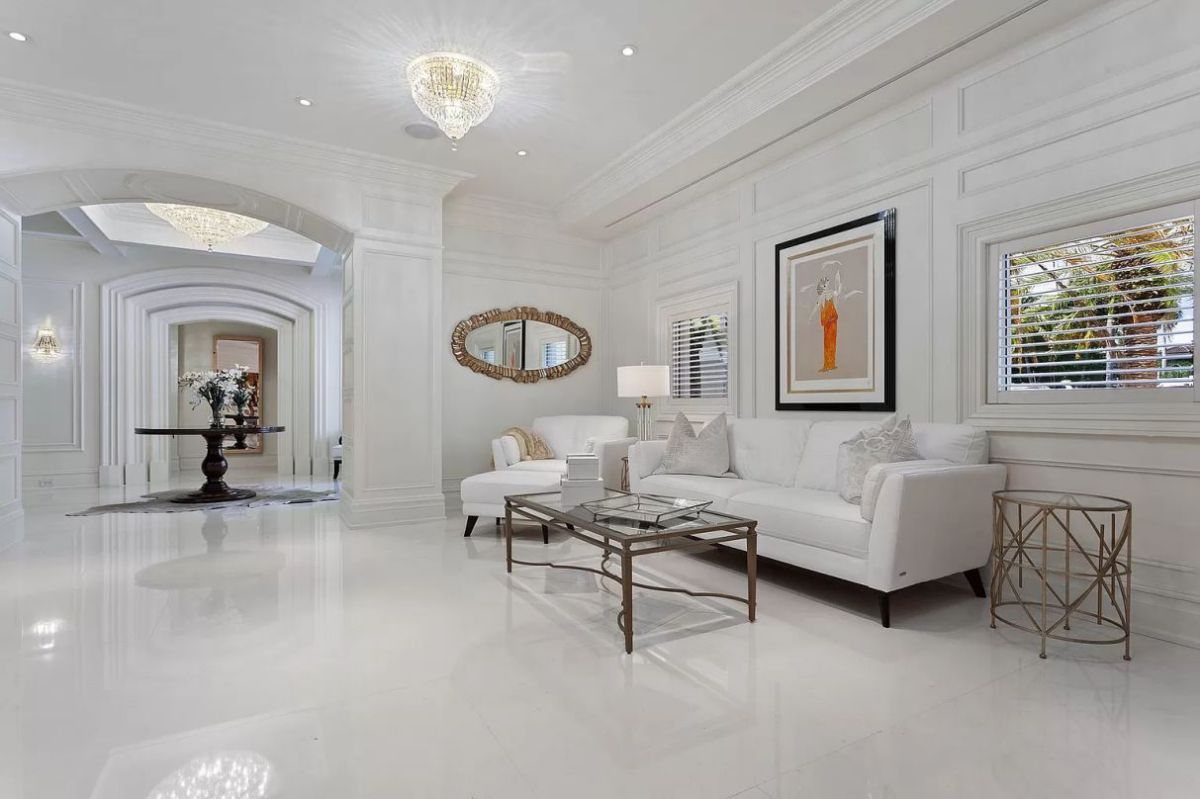 Simplicity has its beauty. White is the main color of this airy, wide living room. The few accent colors used are mostly natural wood tones. Ample lighting is provided by the enormous skylight. This is nature brought indoors and refined. Stunning Fort Lauderdale House on Royal Plaza offered at $7.5 Million
9. Cozy Vibes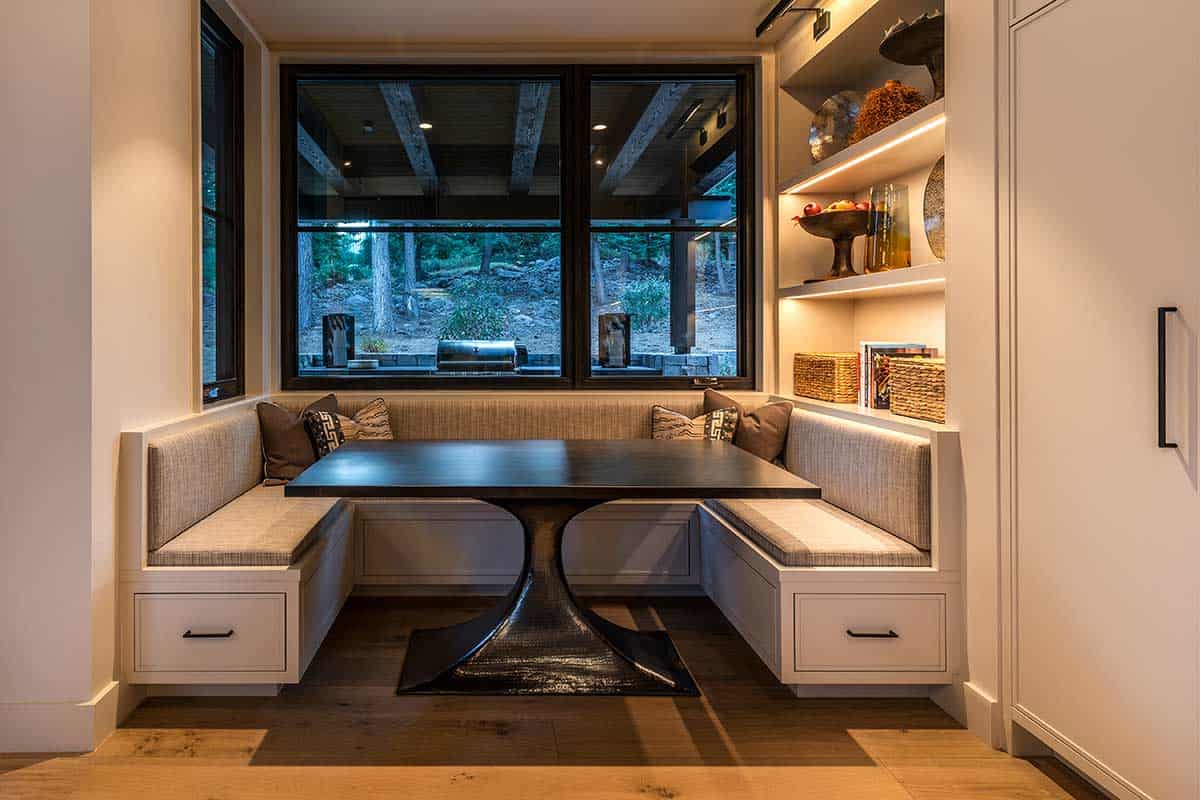 Excellent design and smart use of space. Definitely not the typical living room setup, this cozier pit couch is modern and chic. The intriguing setup is a terrific blend of modern industrial and calming emotions, highlighting the contemporary wood floors and steel ceiling.  Martis Camp Mountain Home 14 by Walton Architecture + Engineering
10. Maximalist Compact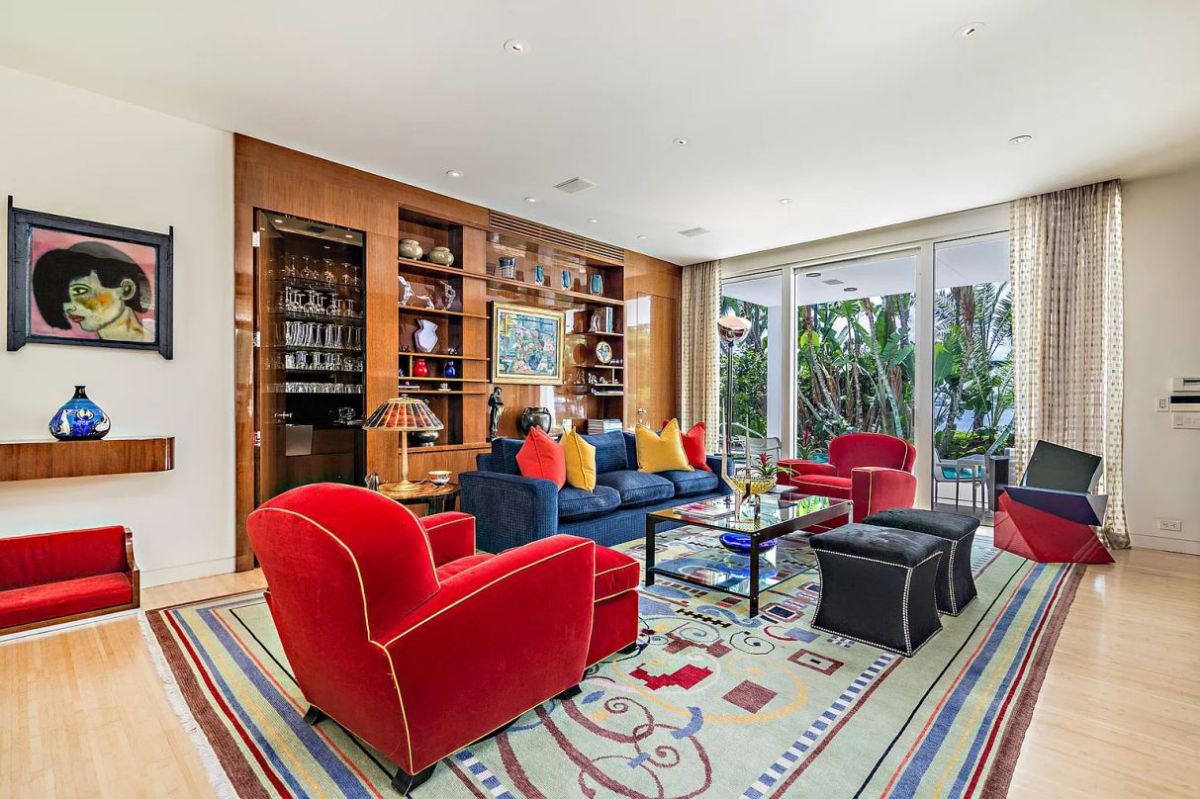 A space bursting with hues, forms, and patterns! There is a lot going on in a tiny space. The space is crowded by a vibrantly patterned rug, modern art, and a scattering of indoor plants. However, the more subdued hues like pure white walls, grey, and blue aid in reducing glare. $27.0 Million Palm Beach House with Sweeping Views of The Intracoastal
11. A Wall Of Glass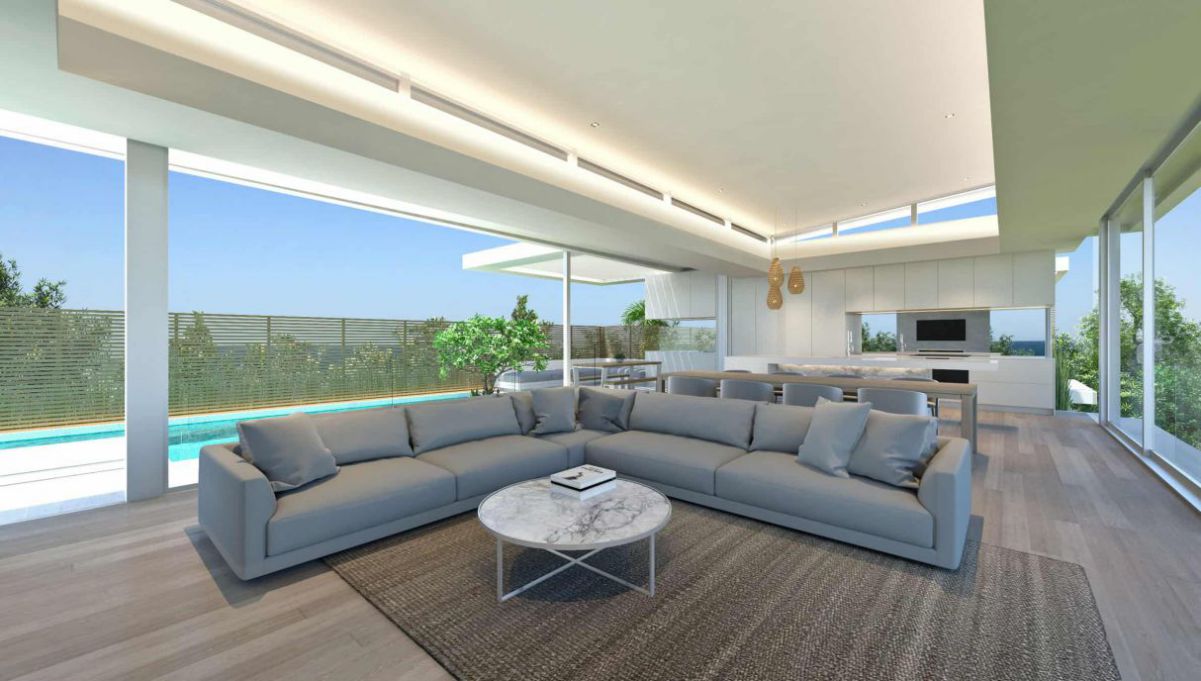 Make space by opening up a room, and let light in. With the help of this glass wall, an indoor/outdoor space is created, allowing you to take advantage of the cool, dry comforts of indoors while still enjoying views of the outside and natural illumination. Coral Cove House Concept in Victoria, Australia by Chris Clout Design
12. Maritime Blues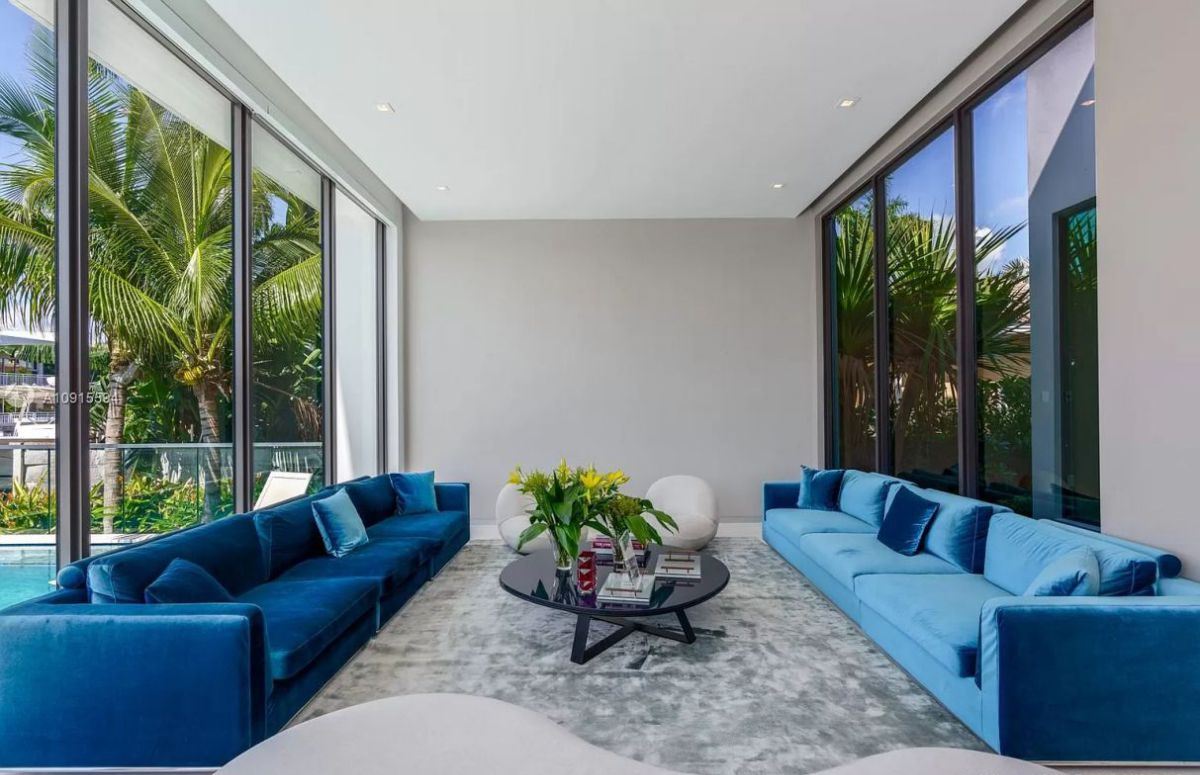 Bright and cheery blues can breathe new life into any living room's decor. Blue tones counteract the glare of white while being cool, happy, and sea-inspired. The blue in this contemporary nautical living room comes in a variety of tones and patterns. North Miami Beach Modern Home with Yacht Dockage Asks for $4.9 Million
13. A Mediterranean Influence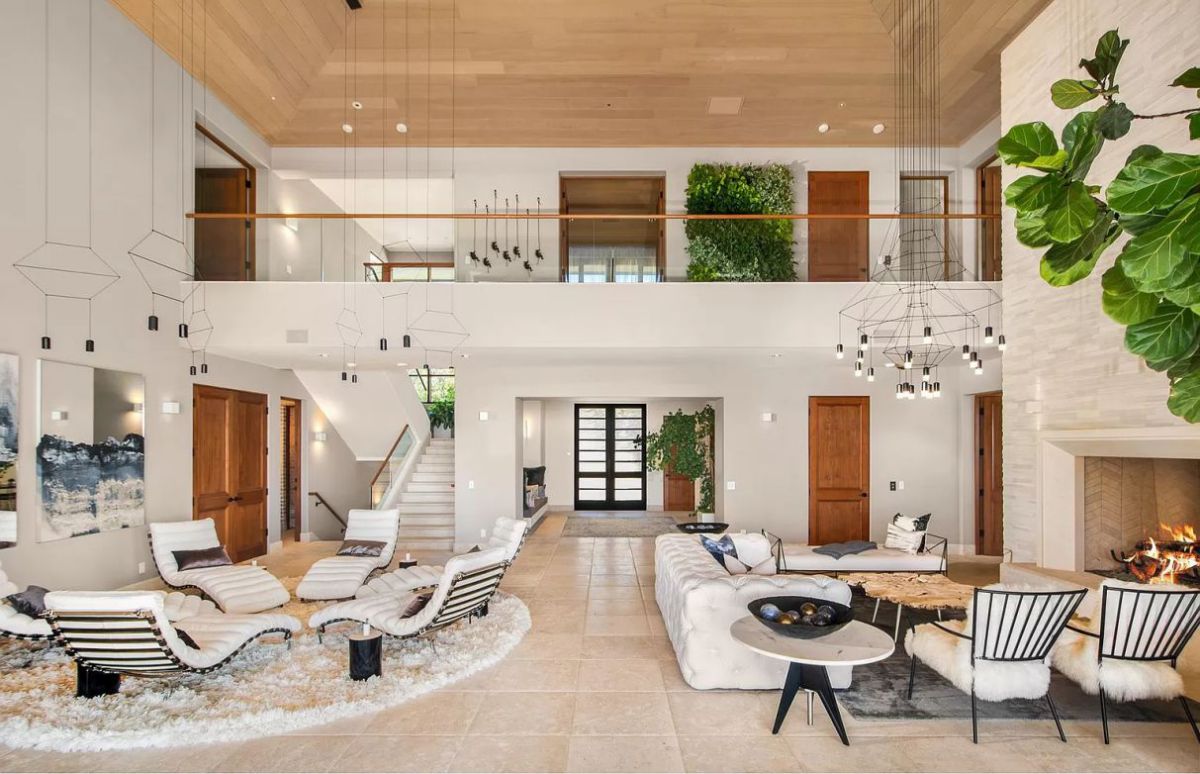 Utilize this luminous living room inspiration to recreate the warm and sunny Mediterranean. The stark white walls serve as a beautiful backdrop for the vibrant and earthy Mediterranean design, which has terracotta and medieval designs in sienna and amber tones. Unmatched Laguna Beach House with Shimmering Views asks $60 Million
14. Elegance In Curves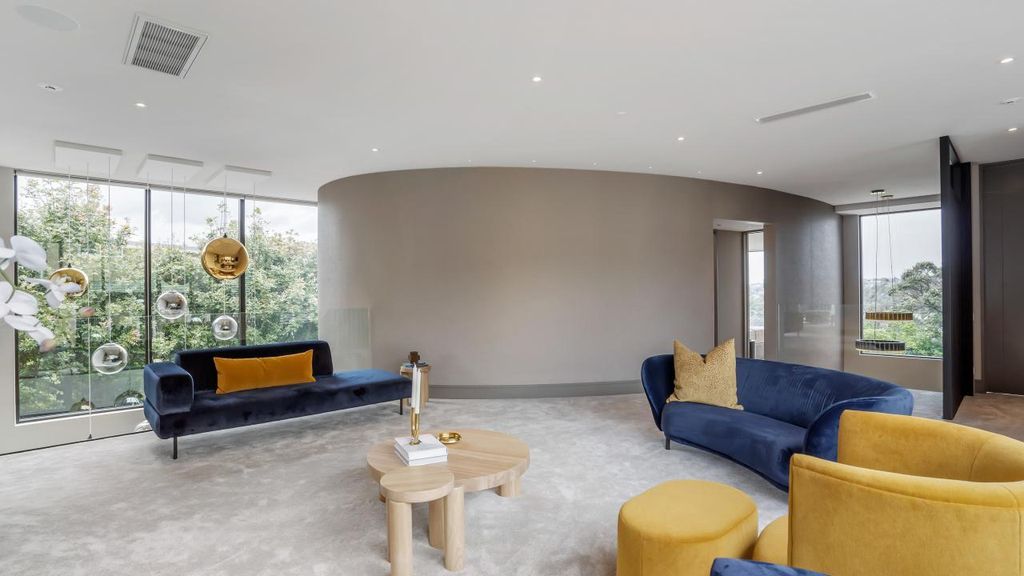 Defy the usual flat walls and corners! Create a space that is circular, has curving walls, and has no corners. With this classy curving sofa, an oval center table, a circle-shaped area rug, and a circle-shaped recessed ceiling, you can create the illusion of a circular living room. Splendid Paritai Drive Private House in New Zealand by Jessop Architects
15. Elegance On Two-Storey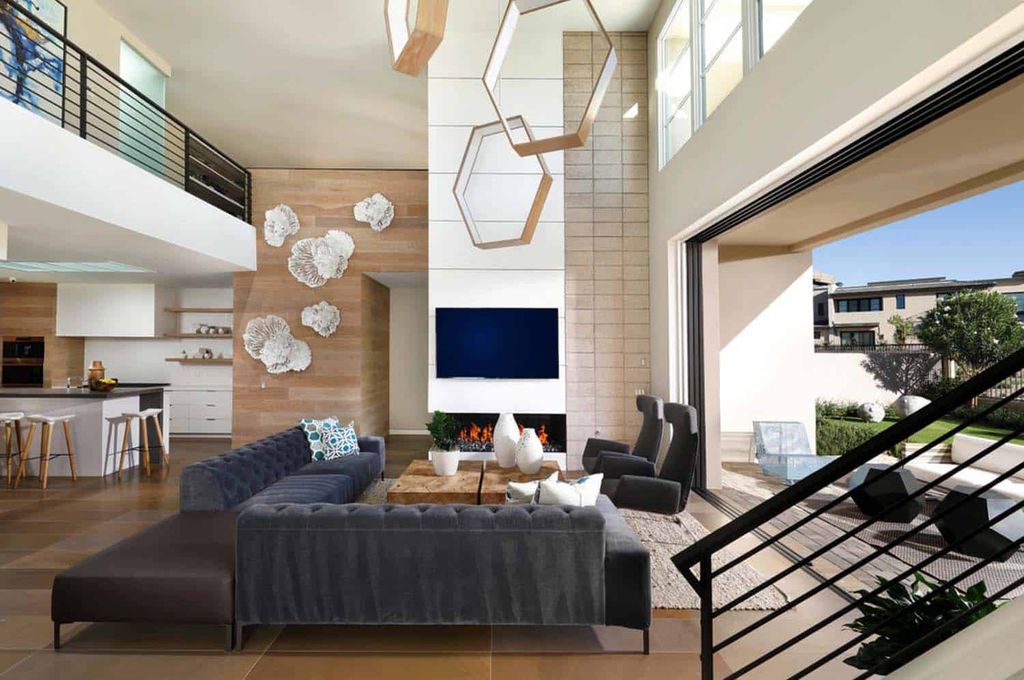 When you want to wow, use an opulent and sophisticated living room design! The vibrant green accents infuse life into the space, which is decorated in beige and brown tones. The extremely long silver bubble chandelier draws attention to the room's two-story height. Luxurious Desert Home Showcases Views of Camelback Mountain by Candelaria Design
16. Align Your Lighting's Warmth With The Gray You Choose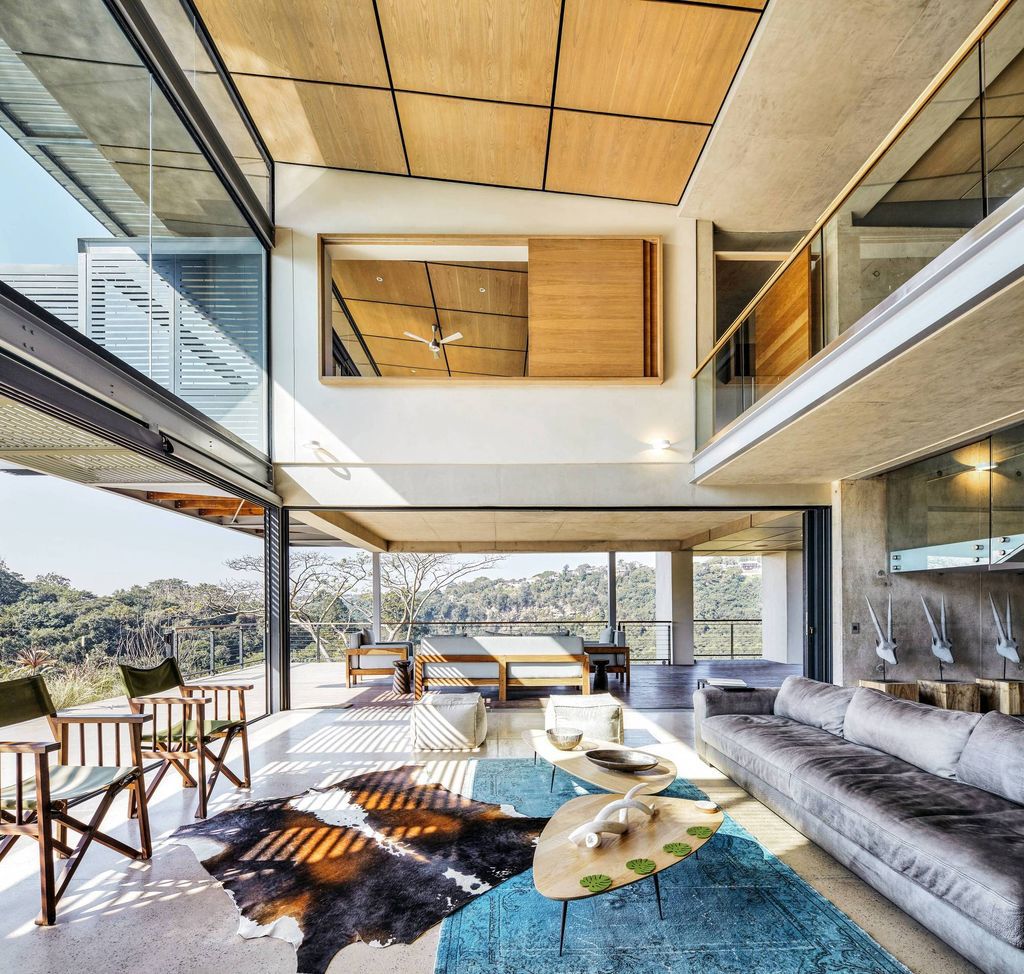 idyllic, rural, and cool the tranquil hues of blue, the charming rusticness of wood, and the contemporary vibe of the white, spotless walls and wood floors. The exposed wood beams emphasize the elegance of the area, while the sofa and chair combination keeps things intriguing. Mansfield House in South Africa by Elphick Proome Architects
17. Living Room Switches with Warm Woods and Soft Textures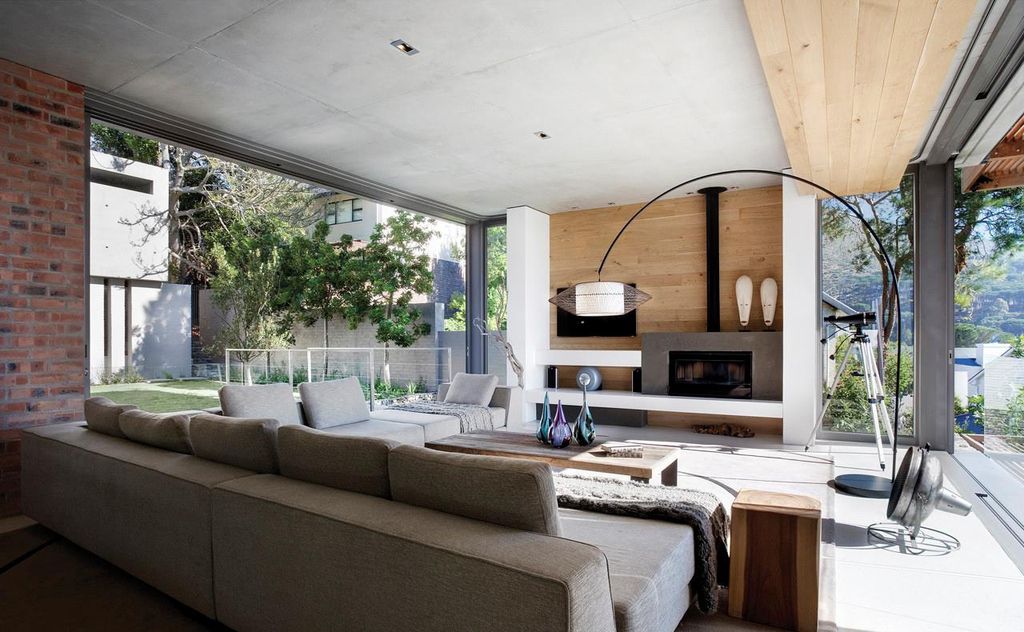 A person's style rarely fits neatly into one single theme. This contemporary living area is hygge-inspired by merging natural wood with soft textures. The wood in this area offers a link to nature while the grays in the space produce a cool, peaceful atmosphere. The advantages of this design, meanwhile, go beyond its aesthetic appeal. Anyone who constantly changes their decor may find castor wheels on an end table to be very useful. Glen 2961 House, an Incredible Modern Project in South Africa by SAOTA
18. Elegance On Two-Storey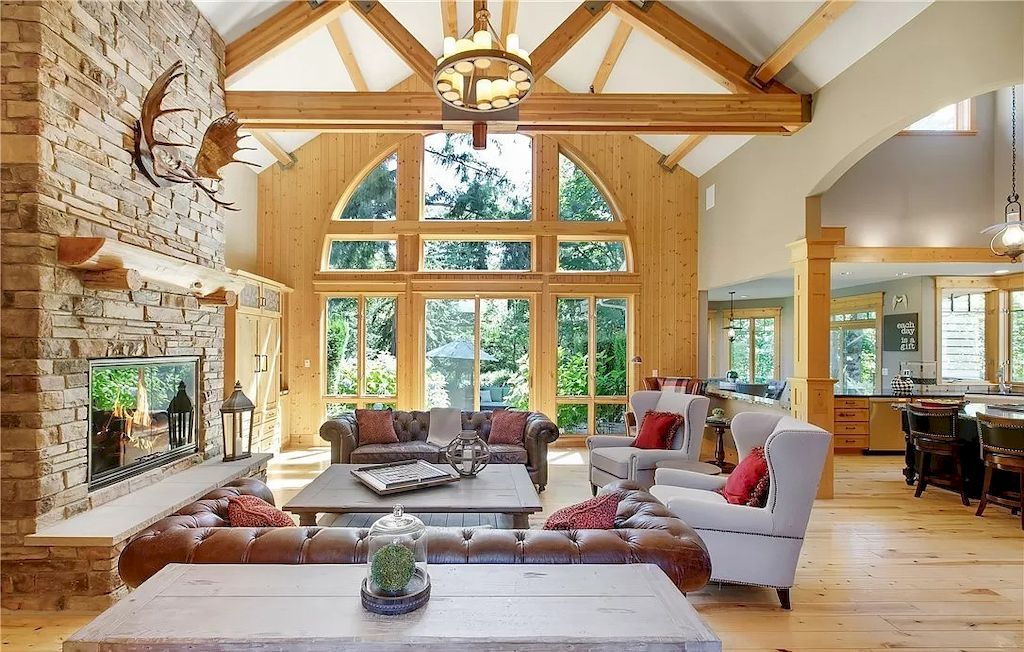 This living room's design depends on texture to draw the eye rather than color. The contrasting textures dominate this tiny living area, from the brown sofas to the exposed brickwork. The exposed brick in the brick wall is best highlighted by sconce lights installed there. While little black tables add some tonal depth and light grey seats soften the area, color does play a part in this design. House in Washington Where Luxury and Authenticity Converged, Lists for $3,750,000
16. Align Your Lighting's Warmth With The Gray You Choose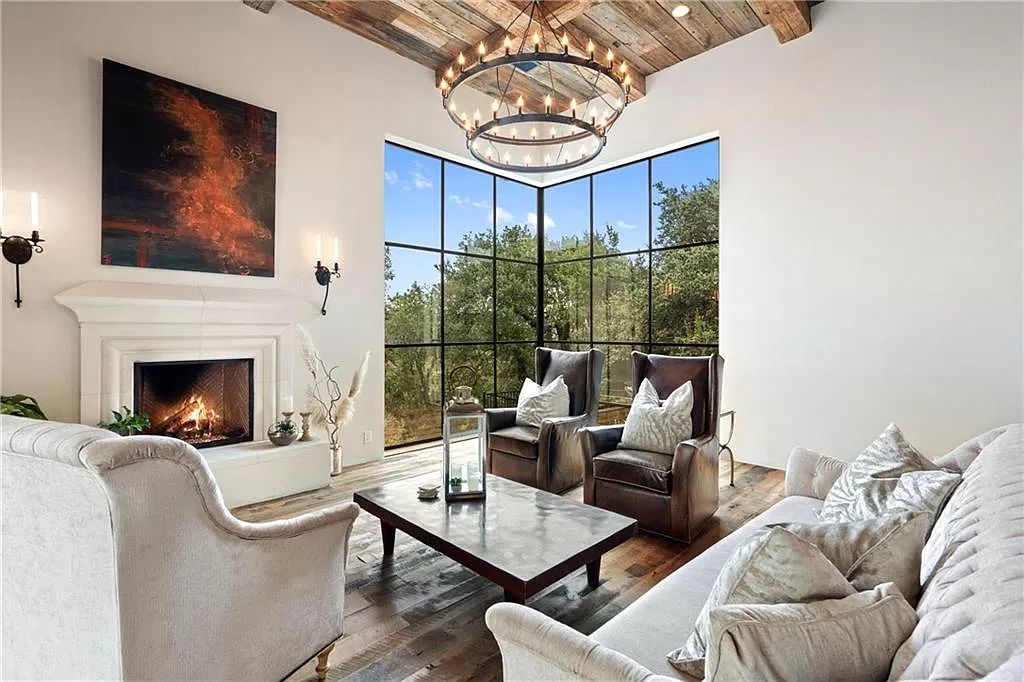 It's crucial to incorporate the view of the gorgeous woods outside into your home design when there is one. The view is well complemented by the hardwood floors, and the rounded shape of the sofa blends in with the natural surroundings outside. However, a hardwood table and a swinging basket chair use invigorating straight lines to keep the room looking fully modern. Throw pillows with subtle patterns add the finishing touch and provide a cozy spot to rest. Incredible Modern Santa Barbara Resort Style Home in Austin for Sale at $3,250,000
Modernism need not mean the same thing to everyone. Simply put, it's all about establishing an atmosphere that feels current and fashionable. From selecting the ideal sofa for your living room ideas modern to selecting the ideal wall color. Additionally, you need a plan that can provide an enduring and livable style. You can check another article 12 Living Room Ideas With Pictures To Subtle Show Up Its Owner's Character for more living room ideas.
More Ideas For Living Room:
---
Thousand of high quality images of Living room and more you can see at Livingroom Gallery.