Date of Publishing:
Search for traditional inspirational living room ideas? In fact, traditional definitions can be very different for each person, and no standard formula is established. Therefore, the design ideas for the traditional living room seem to be endless. With furniture layout and upholstery with different motifs, different wall paint colors are enough to create other traditional room ideas. In this article, we will take you through some of the most beautiful and easy-to-achieve living room decoration ideas, with various furniture, color schemes, and paint ideas. Lay down together to admire and enjoy the 17 Traditional Living Room Ideas below. Don't take your eyes off it!
1. Start With The Farmhouse Style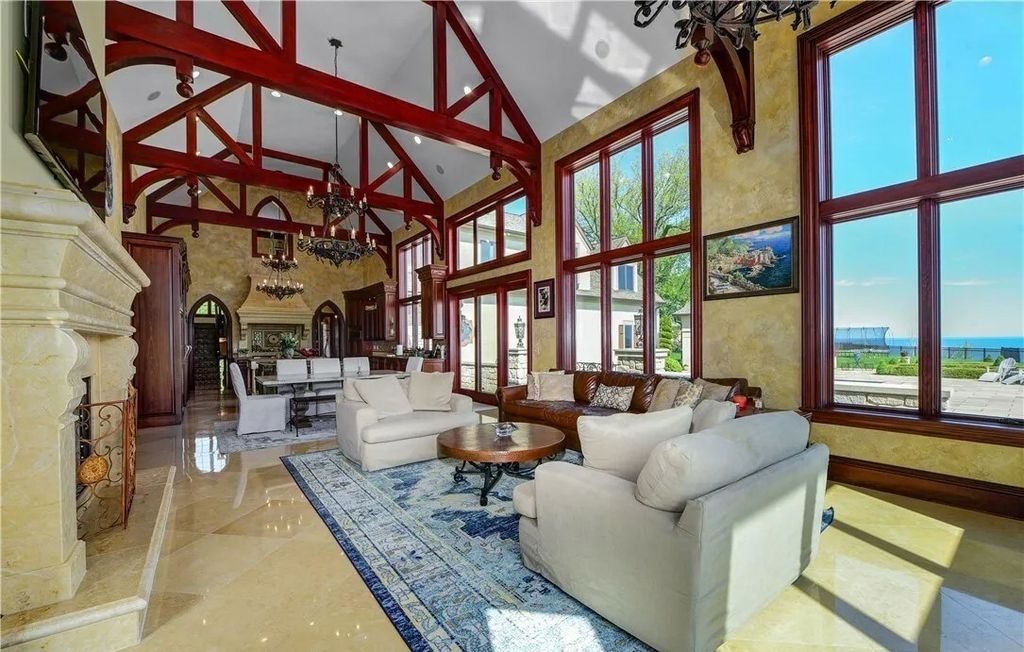 If you want to have a traditional living room with more attractive details without looking old, choose an idea of a farm-style living room with full of familiar materials. Gives your living room luxurious but still traditional with stone details such as a monolithic stone fireplace, chandeliers, wooden exposed beams, sofas, and pillows with floral or animal patterns. Using the stone floor surface to create a good highlight instead of using the traditional wooden floor is a good idea for mix and match. Exceptional Lakefront Estate in Bay Village on Market for $5.9M
2. Bring The Nature Into Your Living Room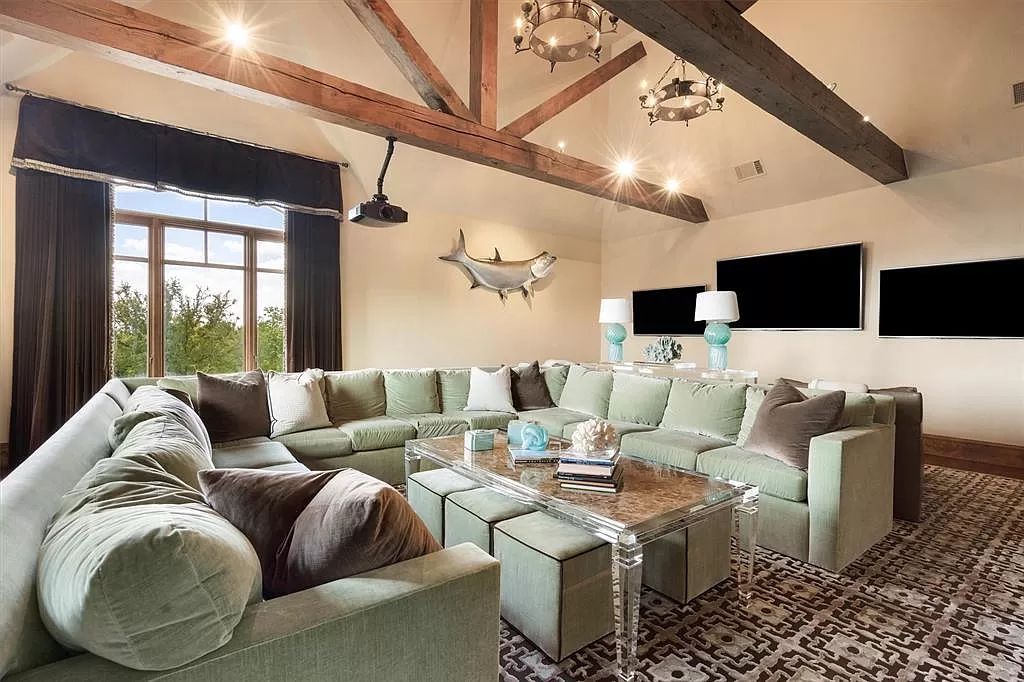 Green is a great choice for Traditional Living Room Ideas. Especially when combined with cream hues or light yellow color, it feels like beautiful spring in the space with a bright and airy feeling even on gray and boring days. The full sofa and the green coffee table are complete with the appearance of a few white velvet and gray fabric pillows alternating. Add the perfect to the overall living room with other natural decorative items depending on your talent in arrangement. Exclusive Mira Vista Estate in Fort Worth features French Traditional with Contemporary Transitional Design Asks $4.825 Million
3. Built-In Book Shelves For Multifunctional Space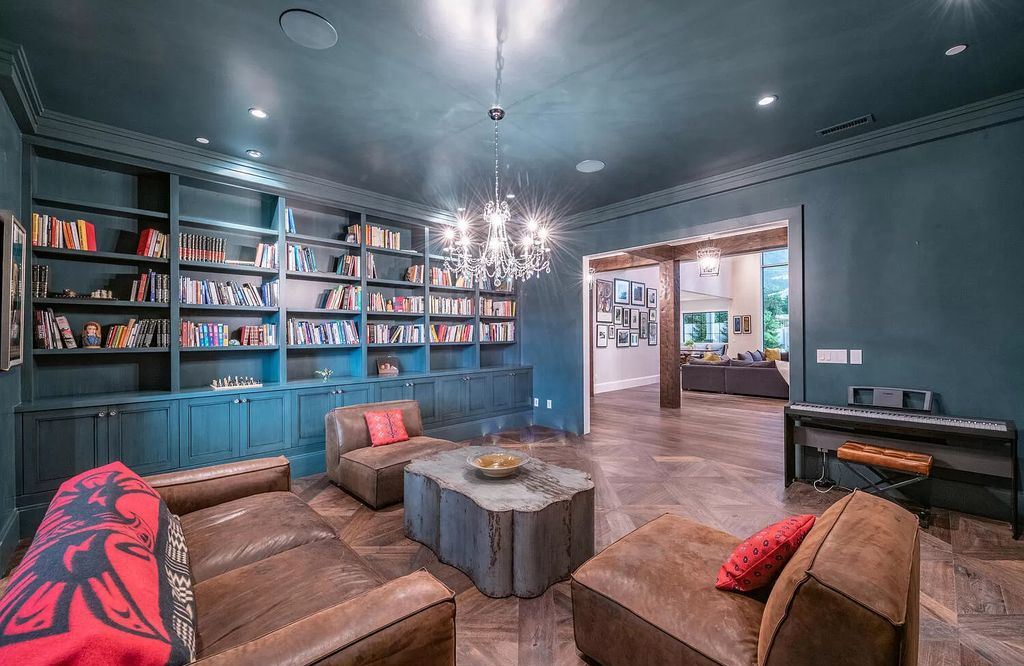 Built-In bookshelves are often applied in living rooms with a systemic style because of their multifunctional. While storing books or displaying cordially collected items, the built-in shelves will give your traditional living room valuable storage space. The idea of the living room with bookshelf will also support your space full of simplicity as well as multi-functions. If decides to apply a high ceiling to your space, they are a great way to make the space feel cozier. Magnificent Modern Farmhouse Nestled in A Picturesque Mountain Setting of Serene Tranquility and Panoramic Views Asking $12.75 Million in Salt Lake City
4. Install Floor To Ceiling Windows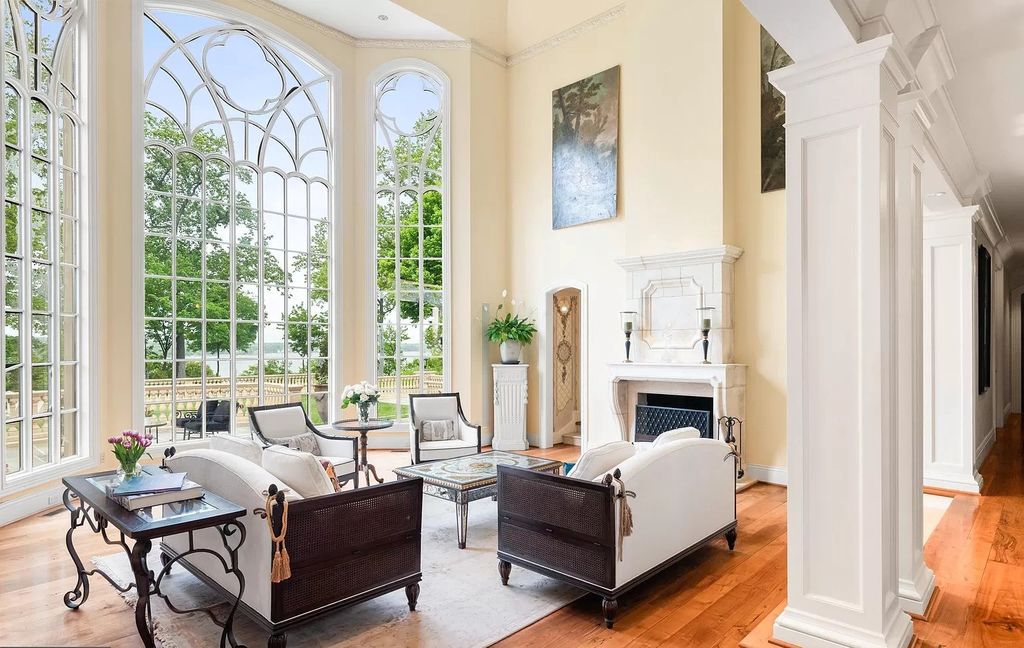 With the aim of bringing a traditional style to the house, try to apply some impressive therapy for transparent glass windows from the ceiling to the floor to create an inspiring overall. Make sure you take full advantage of the height of the room so that these window frames will promote all functions. Nothing is better than bringing natural light to your living room with high window frames. Your own space will be full of brightness. Concurrently, you can consider combining with folded curtains or not. Remarkable, Gated 20-Acre Waterfront Estate in Severna Park with French – inspired Design Lists for $15,900,000
5. Add Brass Mirror To Reflect Classic Style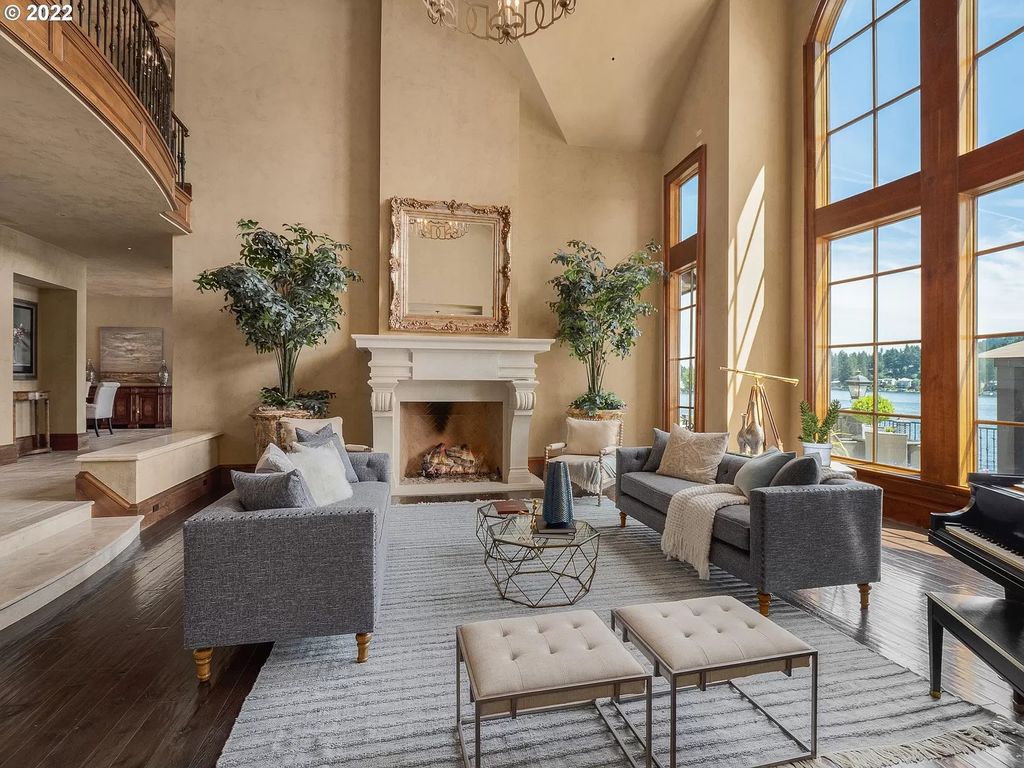 Statement mirrors are becoming very popular, especially in recent years. However, look forward to the rise of gold and brass decorative mirrors with sophisticated details. You can try the shape and size of the selected mirror to best suit your space. At once try oversized with a free-standing full-length mirror. Or find a smaller mirror to place above the fireplace or shelves to add a sense of elegance to the overall result. Enjoy Awe-inspiring Custom Living in This $11,500,000 Phenomenal Lakefront Estate in Lake Oswego
6. Invest In Quality Pieces To Display Your Passion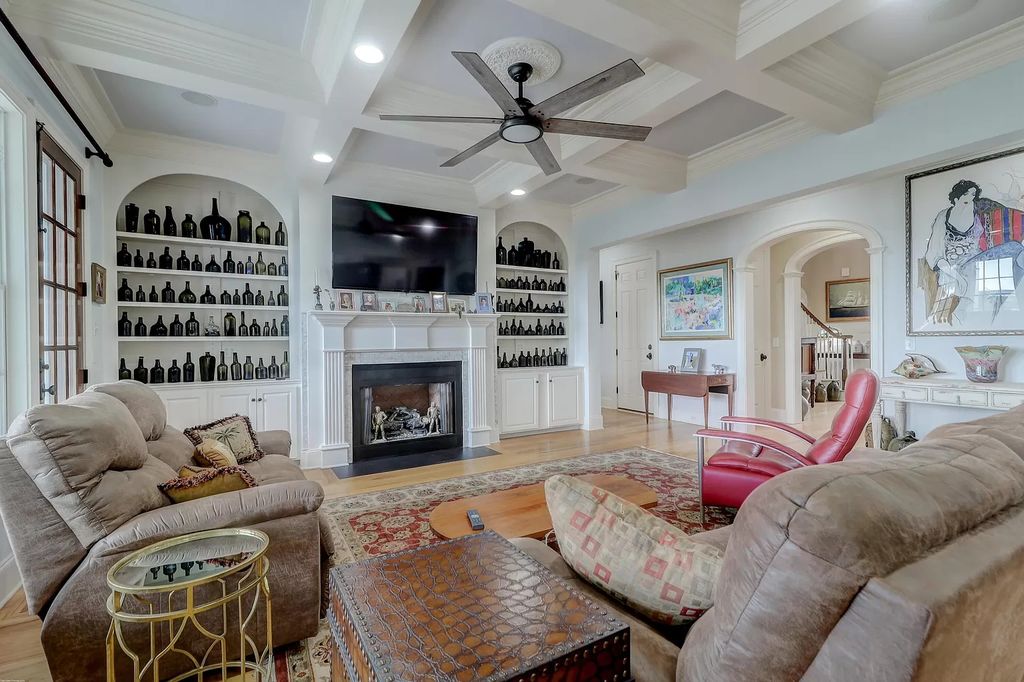 Hold a part of your living room space to display what you love and truly respect. This, in addition to expressing your true passion, will create the layout as well as the beginning of the room as the basis for you to choose wall paint, and interior to lift up this quality piece. The main key you have to write down is not to use prominent hues or a set of tables and chairs with a large version of colorful prints. This will make your statement place to be overshadowed. Beautiful, Georgian-style Home in Charleston with Unparalleled Water Views Lists for $2,845,000
7. Try Chinoiserie Pattens Curtain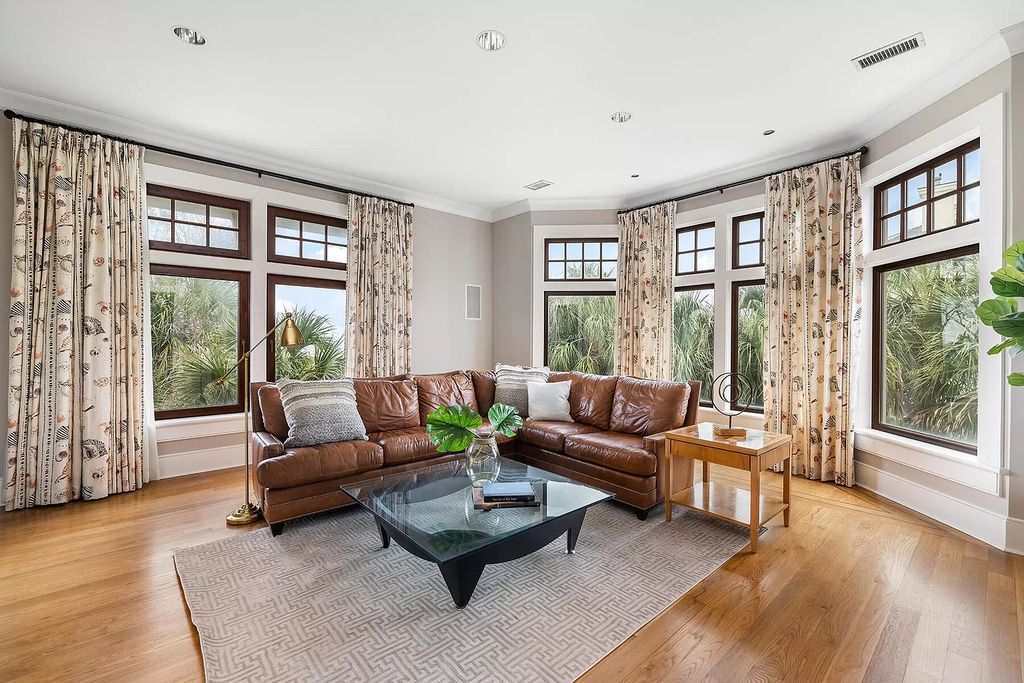 Chinoiserie interior style has brought a luxurious atmosphere since it appeared. Chinoiserie is a great decision for Traditional Living Room Ideas, bringing charm as well as patterns and colors to the scheme. The chinoiserie pattern often appears on the vase, pillows, sofa upholstery, or curtains – perfect for creating coordinating window treatments. Providing an Uncompromising Beach Lifestyle Unique to Kiawah Island, This House Lists for $20,000,000
8. Apply The Iconic Striped Upholstery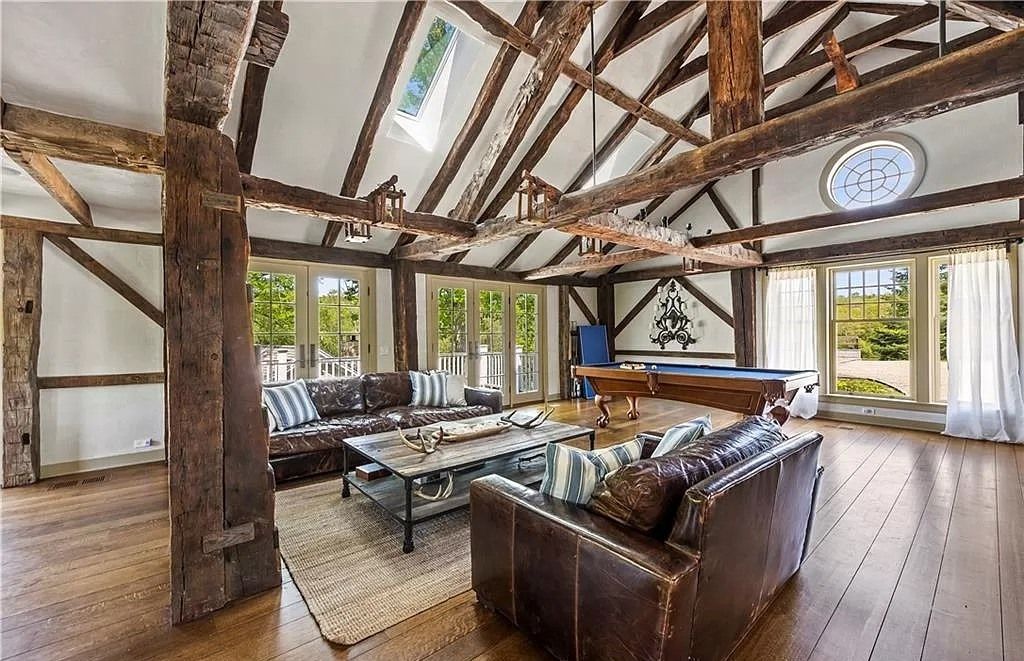 The striped fabric is a brilliant choice when it comes to both upholstery and window treatments in traditional living room ideas. Not expensive and easy to apply, they have all the shapes and densities in accordance with your design plan. If you are afraid of decoration with striped lines, the key is to avoid too many patterns in the space. Start by introducing a small striped accessory, such as a jar, a work of art or even a carpet, then you can build up the upholstery and window curtains. Explore Endless Possibilities of Satisfying Your Lifestyle Demands in this $4,750,000 Elegant Country Estate in Connecticut
9. Focus On Choosing Wall Paints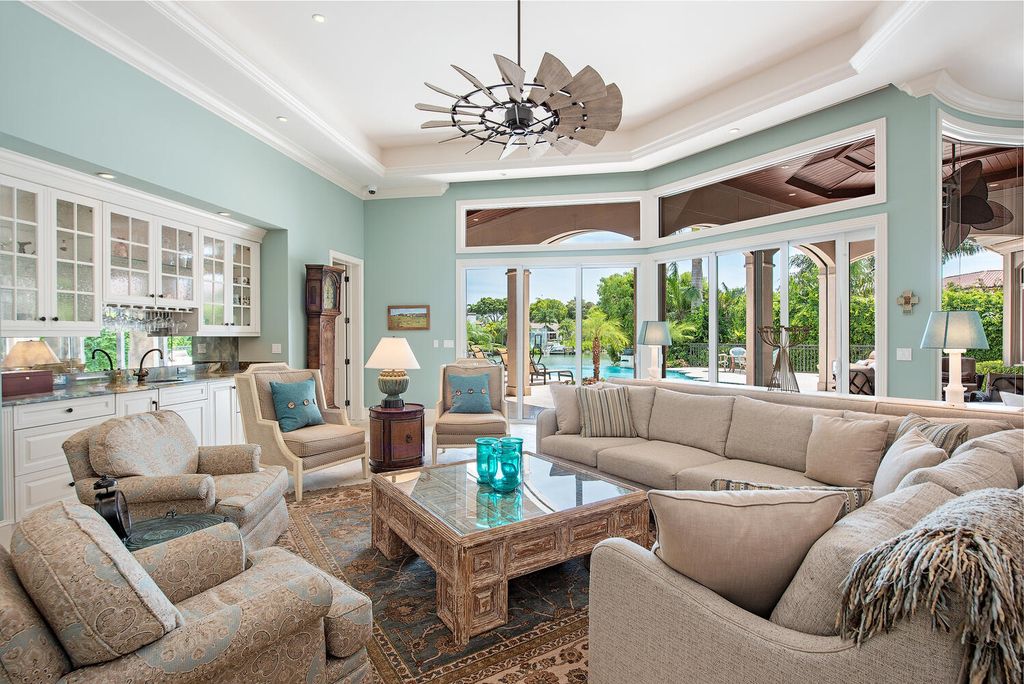 Choosing Wall Paints is one of the important elements to determine and decide the main style for your living room. Bright paint colors are often used for traditional living room ideas. The traditional style is often associated with spacious space, but there is no reason for a smaller space failing in decorating an elegant and traditional Way. Using bright wall paint colors like light blue or seafoam green is a good way to complete it. One of A Kind Custom Home in Naples was Thoughtfully Designed with Expansive Outdoor Living Space Asking for $24,750,000
10. Add Some Classic Feel By Ceiling With Exposed Beams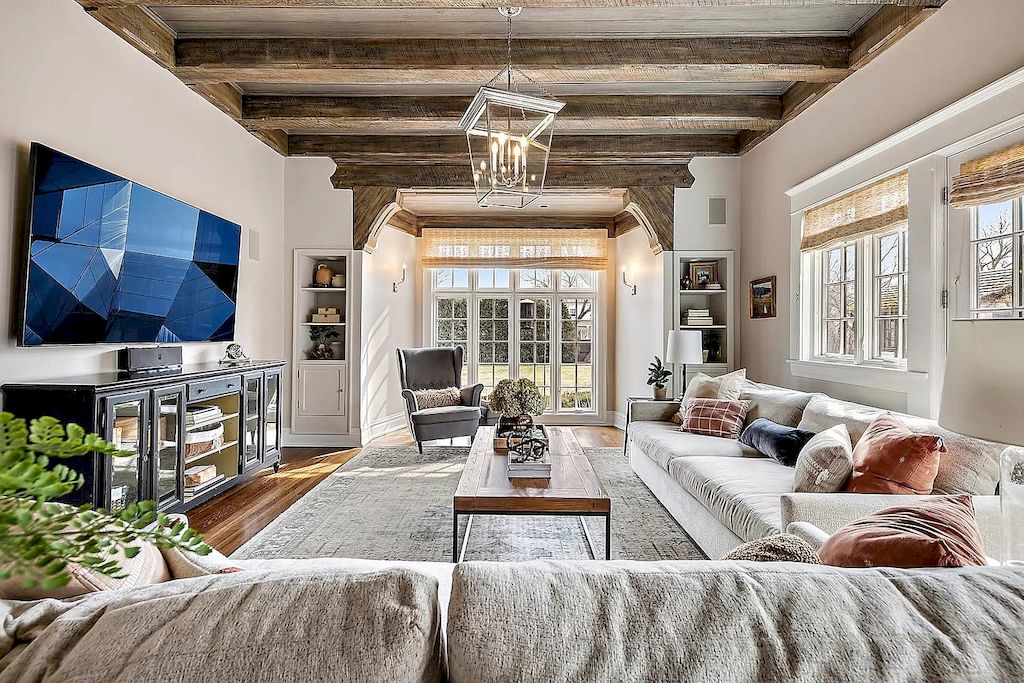 If you are lucky enough to have an arched ceiling or original beam, leave it original and consider adding a few highlights to your living room. Nothing is more suitable for a traditional living room with exposed beams than floor-to-ceiling windows and white hues interior. Exposed beam often appears in traditional living rooms with rustic or farmhouse style because of their closeness and minimalism. You can also decorate with an underneath rug with classic patterns or vintage curtains to level up your Traditional Living Room Ideas. As an Expression of Classical Style, this Renovated Residential Beauty in Illinois Hits Market for $2,995,000
11. Use Wood For Most Of The Details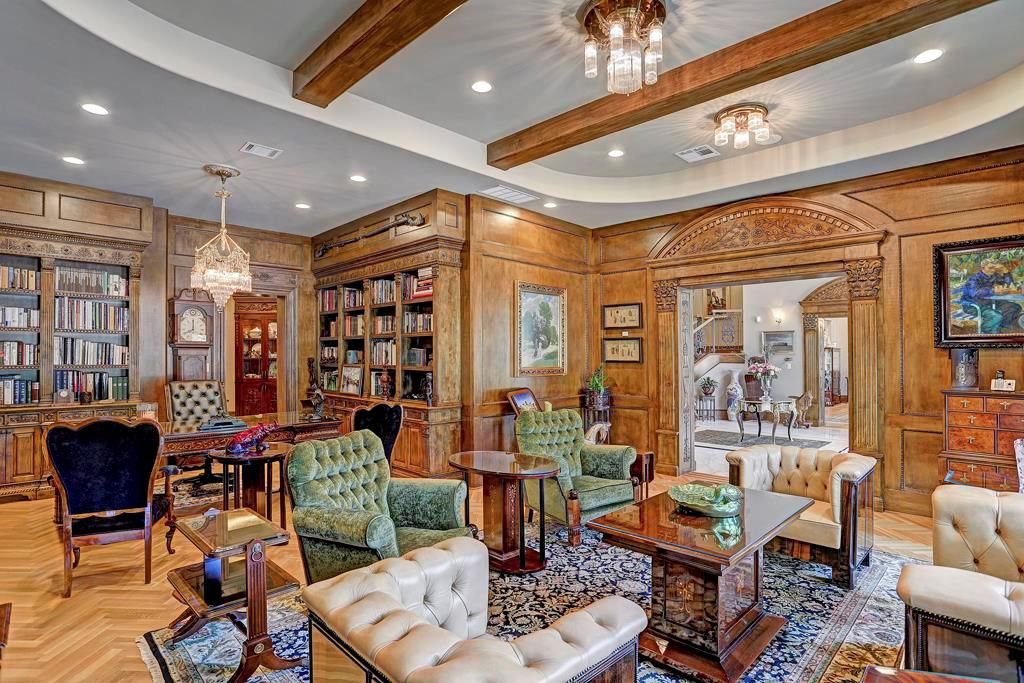 Nothing says traditional like a room with mahogany or cherry paneled walls. More than just paneled wooden walls, wood is well used for the interior such as: table coffee, working table, pair of single chairs, and classic clockwatcher. All the details combine together to create a perfect traditional living room idea and a timeless feel. You can also make your all-wooden space become more vivid by displaying some artwork with small-scale frames, chandeliers, or a few brass decors for a luxurious feeling. This $12,950,000 Mega Mansion in Houston is A Palladian Paradise offers Spectacular Resort Style Living and Entertaining
12. Highlighted By The Bold Patterns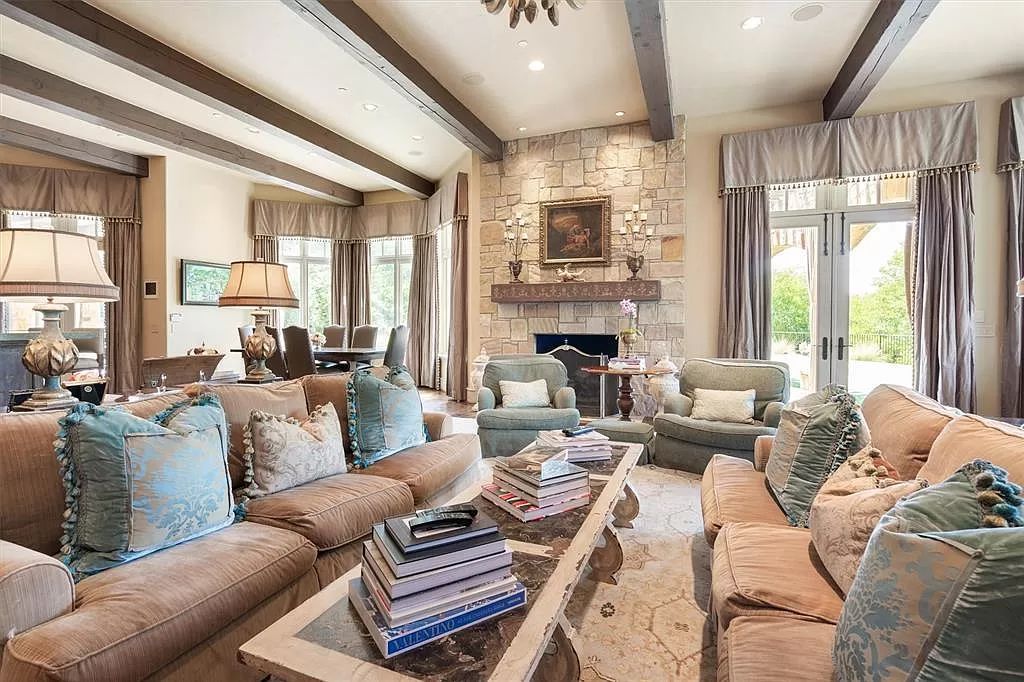 Plaid, bricks, striped, and floral patterns are perfectly suitable for Traditional Living Room Ideas – especially the large-scale version of these. Geometry and animal prints can also be combined, but you have to consider applying them carefully and calculating because they can bring the expected influences and style in a different way. Combined with fabric colors that are used as pillows, sofas upholstery, or curtains and carpets to create the highest efficiency. Exclusive Mira Vista Estate in Fort Worth features French Traditional with Contemporary Transitional Design Asks $4.825 Million
13. All-White For Luxurious Classic Look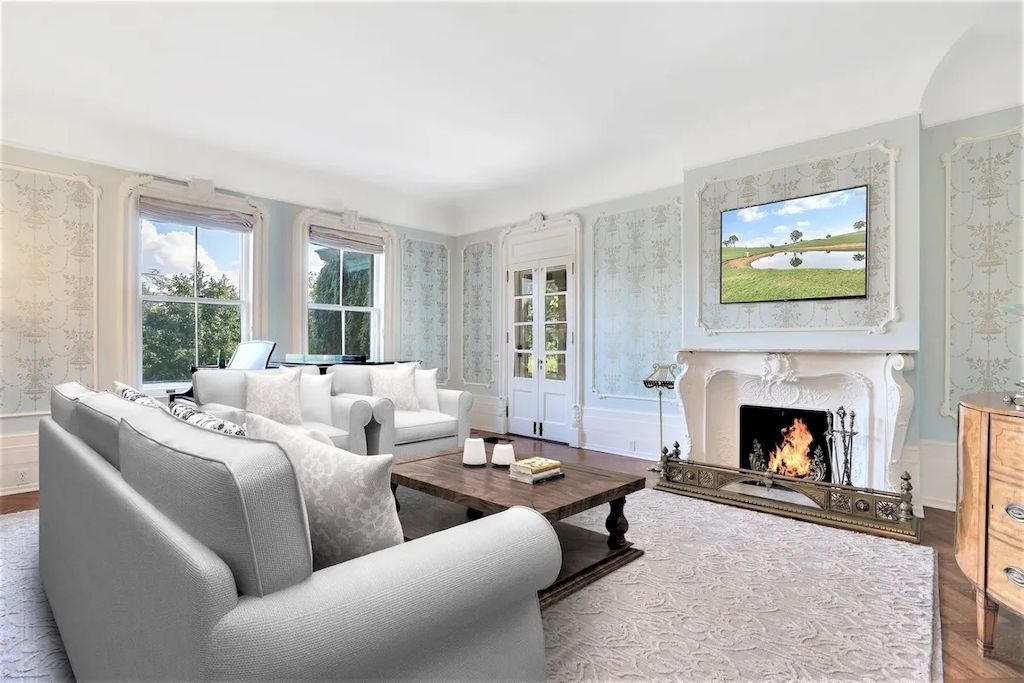 The easiest way to bring elegance into the design of traditional living rooms is to use white or cream for the overall from wall paint to the interior. This option makes the room as expanded and easy to combine with other decorations to make the room more accents. To avoid the room that becomes too tedious, you can also upgrade it by using mural wallpapers, but in light tones to fit with the overall results as expected. Spectacular Stone Mansion in New Jersey Hits Market for $7,500,000
14. Stoneworks Match Well With Traditonal Style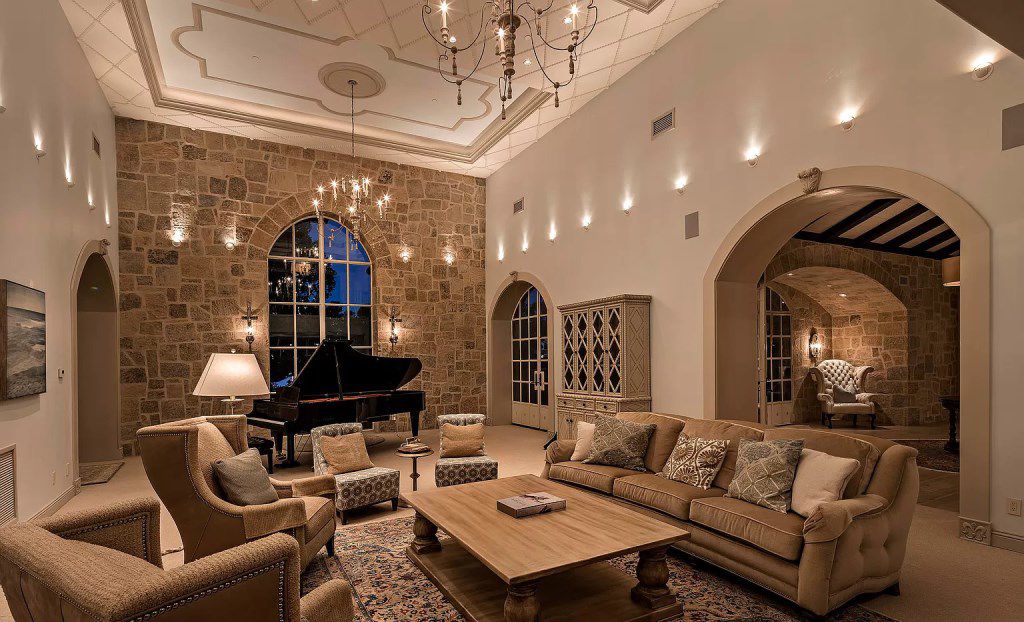 Besides the stone fireplace is always considered an iconic element of Traditional Living Room Ideas, you can completely opt the natural stones for other details. As you may see, the stone wall in this above idea is not only the background to display musical instruments, but also the focal point of this space. The lighting system is also installed very delicately and attractive in this living room idea to enhance your favorite area. This is truly a miniature stage serving for family and friends gatherings. This $12,900,000 Paradise Valley Estate represents true timeless elegance
15. Combination Of Traditional And Contemporary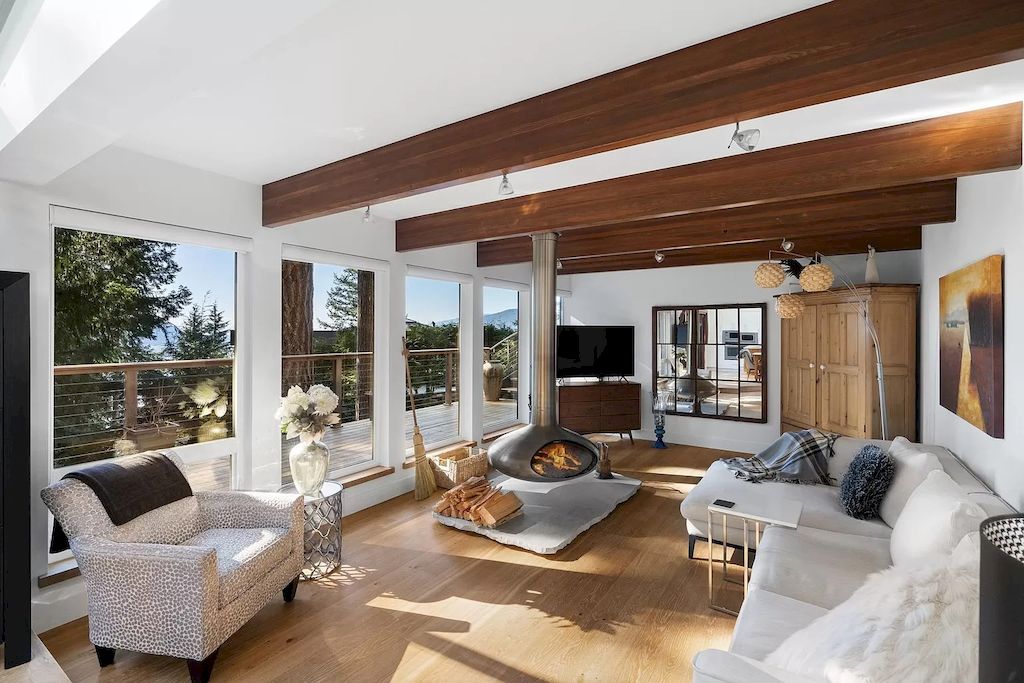 No one said that Traditional Living Room Ideas can only use the details that match the traditional style without alternating modern accents into it. A traditional furnace and exposed beams perfectly match the huge sofa in L-shape and versatile seatings. A mirror installed at the end of the room resonates with floor-to-ceiling windows showing the entire mountain and greenery landscape to create the visual effect, making the room spacious and airy. This is a good design idea for a small room with a lack of natural light. This C$3,050,000 Stunning Home in Lions Bay truly Embodies the Beauty of the WestCoast
16. Refresh The Overall With Symmetrical Interiors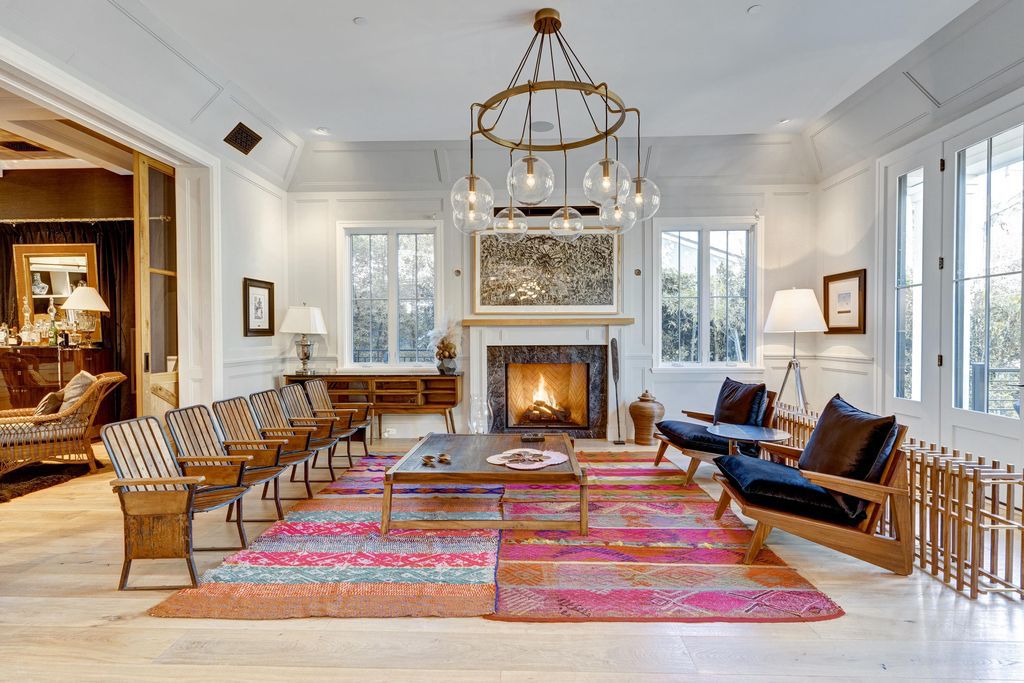 Symmetry is often applied to traditional living rooms. A central fireplace with two alcoves that you see a lot in traditional homes. Adding a focal point in the heart of a fireplace, whether it's a mirror, wall sculpture, or window gives any room a classic, timeless elegance that doesn't have to be searched for. The owner of this living room expects to take absolute symmetry to the next level in the arrangement of versatile chairs. Lower Mandeville Canyon Contemporary Farmhouse in Los Angeles boasts Quality Craftsmanship Selling for $14,250,000
17. Save The Place For Antique Pieces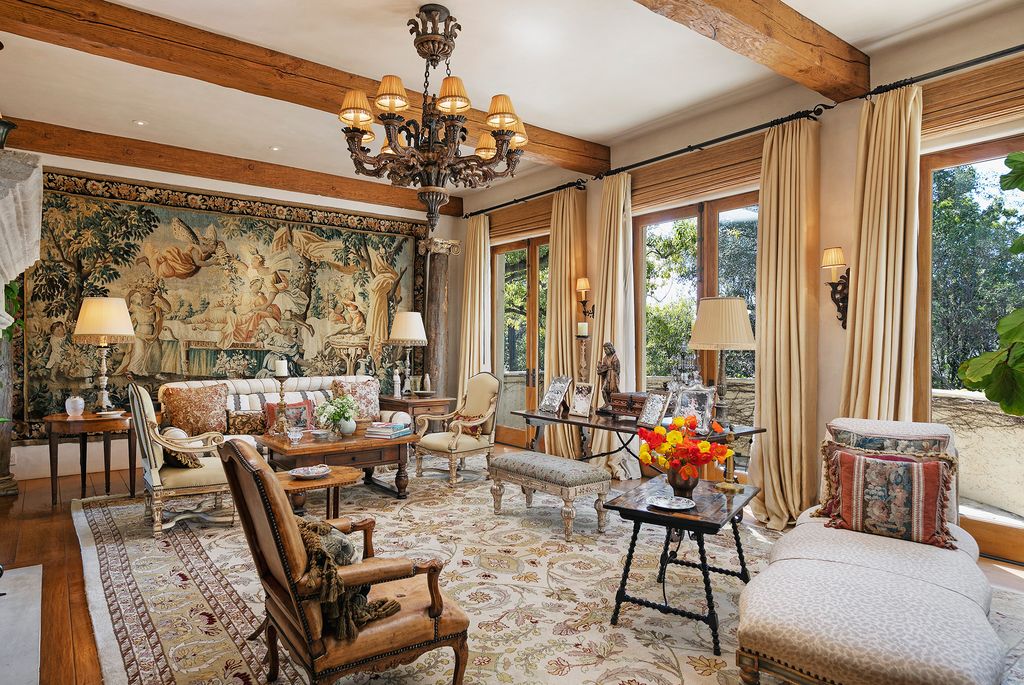 Exquisitely crafted using traditional methods and boasting inimitable manufacturing quality, antique furniture is a great alternative to traditional living room ideas. Aged furniture brings personality and character to a space that can't usually be achieved with modern pieces. Provided they're well cared for, antiques like the chandelier and large canvas in the example above will guarantee a timeless and elegant feel for years to come. Beautiful Italian Architecture Inspired Mansion in Pacific Palisades for Sale at $46,500,000
The main key in designing a more traditional living room is focusing on elegant colors, patterns, and shapes. But you don't have to be concerned about traditional design ideas that are outdated. Don't let your creativity and love of traditional design ideas get any limits. You can completely combine the traditional elements with other elements that are more modern and trendy, for achieving a harmonious overall from a combination that seems dislocated. For more interesting ideas and inspiration on living room ideas, you may see the article 16 Ideas And Inspirations For The Perfect Modern Living Room
More Ideas For Living Room:
---
Thousand of high quality images of Living room and more you can see at Livingroom Gallery.