Date of Publishing:
Brilliant Kitchen Sink Ideas.
The kitchen is often considered the heart of the home, a place where meals are prepared, memories are made, and conversations flow. Within this bustling hub, the kitchen sink plays a pivotal role in both functionality and design. It is where we wash, rinse, and sanitize our dishes, as well as a focal point that can elevate the overall aesthetic of the space. If you're seeking to revitalize your kitchen or simply looking for inspiration, we present to you a curated collection of ten captivating kitchen sink ideas. Get ready to reimagine your kitchen sink and create a space that embodies both functionality and style.
1. The Traditional Kitchen Sink Design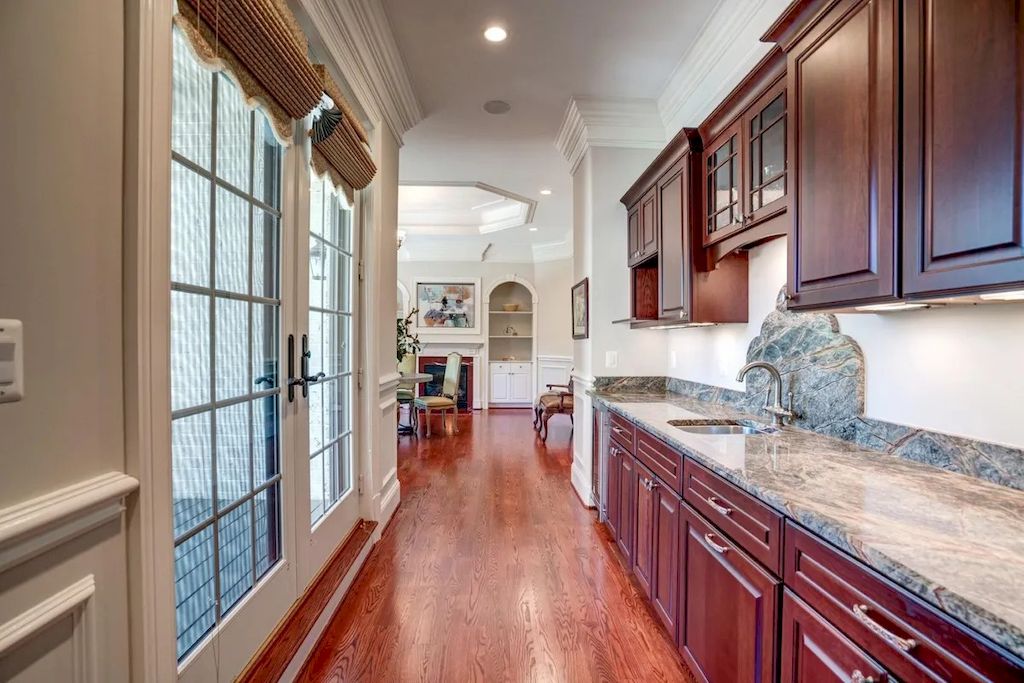 Don't worry if your kitchen lacks a center island table. As illustrated above, you can put a sink in one of your side table cabinets. The powder brown kitchen cabinets and a light marble countertop create a winning mix. All you need is a steel, porcelain, or ceramic wash basin and a smart tap to get started. This $5,995,000 French Chateaus Offers Unparalleled Lifestyle of Leisure and Elegance in Virginia
2. The Design of an All-White Kitchen Sink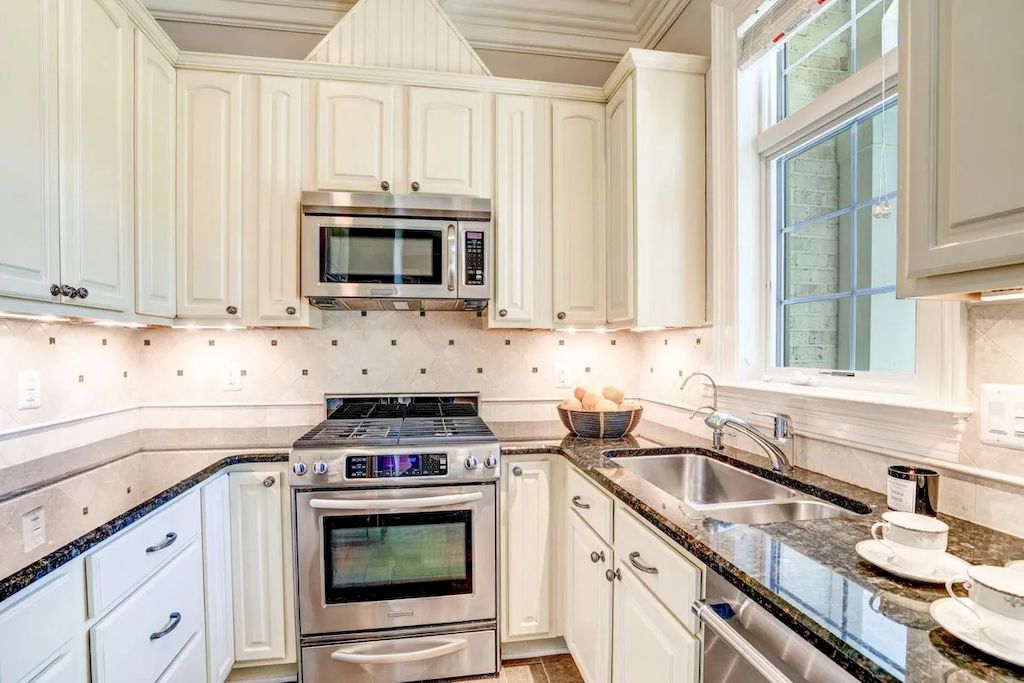 There are various options to consider while looking for the best sink for kitchens in India. The preceding example is one such possibility. This rectangular-style kitchen sink has plenty of space for washing large things like pans and pots. If you ever consider changing the shape of your sink, keep in mind that oval, circular, or even square-shaped sinks will not hold as many utensils as the usual rectangular-shaped kitchen sinks. This $5,995,000 French Chateaus Offers Unparalleled Lifestyle of Leisure and Elegance in Virginia
3. The Kitchen Sink Next to the Window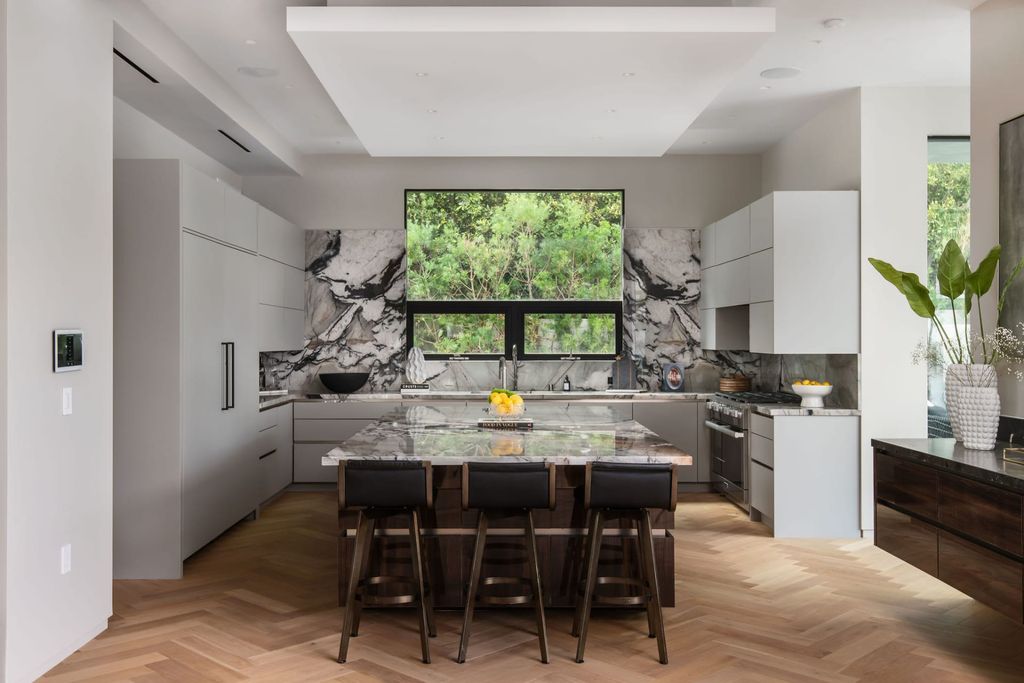 This kind of kitchen sink is evocative of 1940s America when the kitchen sink was always placed directly next to the window. The positioning of the sink in the center of the room allows the design to flow effortlessly. With this style of kitchen sink design, you'll need to give special attention to your soft furnishings, cabinet dcor, and surrounding area because the eyes will quickly be drawn to the center of the kitchen. Don't miss out on the larger-than-life hanging light on top, which physically and metaphorically brightens up this kitchen. Brand New Modern Home on one of the most Prestigious Streets in Beverly Hills hits Market for $26,900,000
4. The 'In-Between' Cabinets Kitchen Sink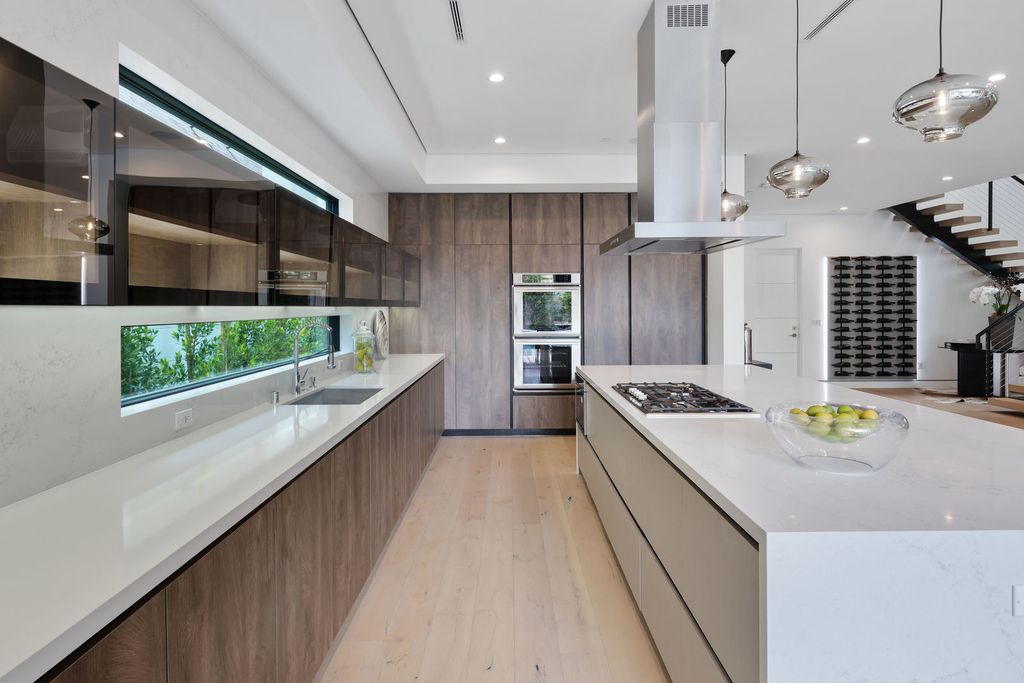 This style of kitchen sink design is a perfect representation of today's kitchen. The built-in cabinet surrounding the sink allows the kitchen sink to be visually appealing. It is softly tucked in and has plenty of room on all sides for preparing, chopping, cooking, and storing food and dishes. To be honest, this is one of our top picks for a world-class kitchen sink design from this list. Striking New Contemporary Modern Home in Los Angeles targeting for $3,995,00
5. The Round Kitchen Sink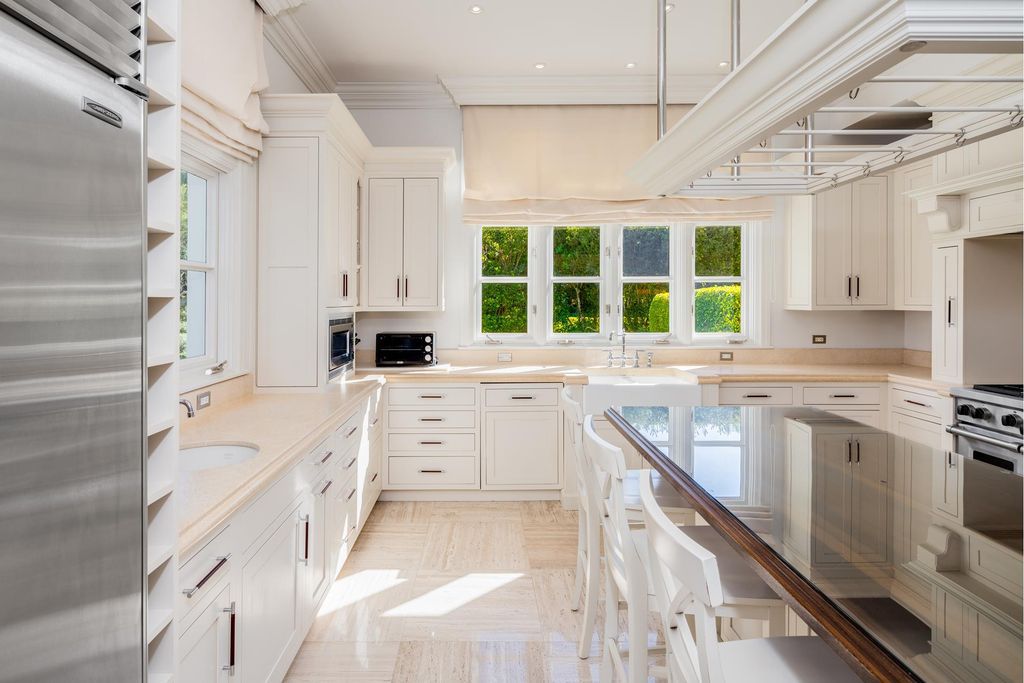 Though circular kitchen sinks cannot hold a large number of dishes at once, they are ideal as a second ornamental kitchen sink or for kitchens with smaller families. The style displayed above is, unsurprisingly, a welcome departure from the rectangular designs we've seen so far. So, if you're looking for an out-of-the-box solution, examine the example presented above to become inspired. Gorgeous Custom Built Mansion with spacious front yard in Florida
6. Design of a Low-Maintenance Kitchen Sink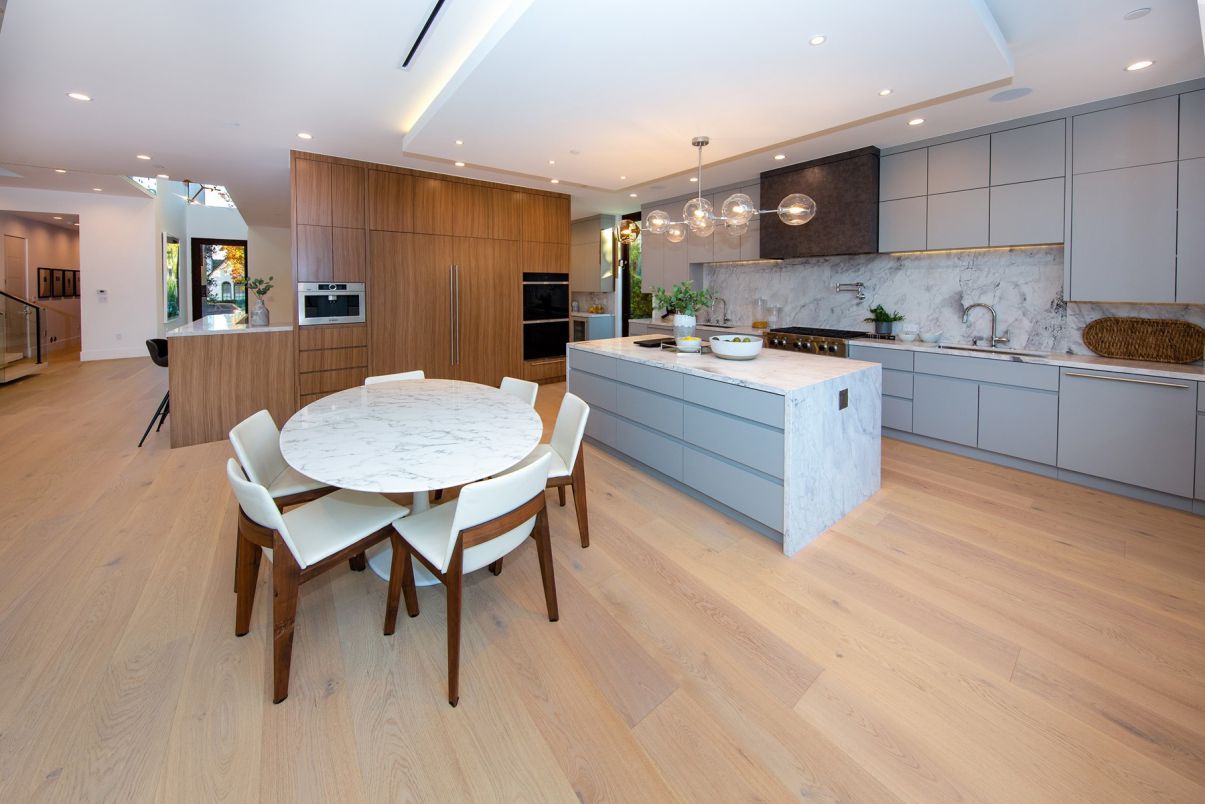 Here's another kitchen sink design that's simple to put together. This recommendation does not need a lot of hard labor. The sink's long rectangular design makes it a comfortable and simple-to-use alternative. There is no need for any partitions or sections in between. A single longish sink performs the job admirably. Stunning Crest Drive Modern House for Sale in Los Angeles at $4,595,000
7. The All-Class Kitchen Sink Area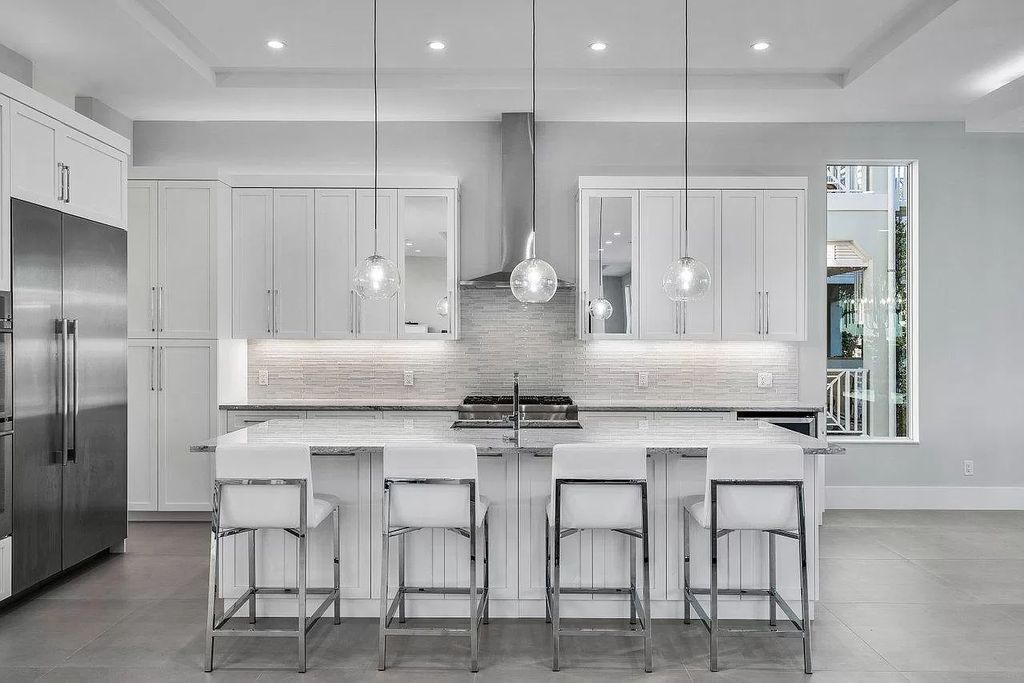 This advice is ideal for those who enjoy all things monotonous. The square backsplash fits the stainless steel kitchen sink area well. The textured black cabinetry lend layers of personality to the entire atmosphere. With the addition of a smaller tap directly next to the larger one, you may save water while completing large or minor activities with ease. An Incredible Brand New Coastal Contemporary Home in Florida for Sale at $4,499,999
8. Kitchen Sink Area in the Farmhouse Style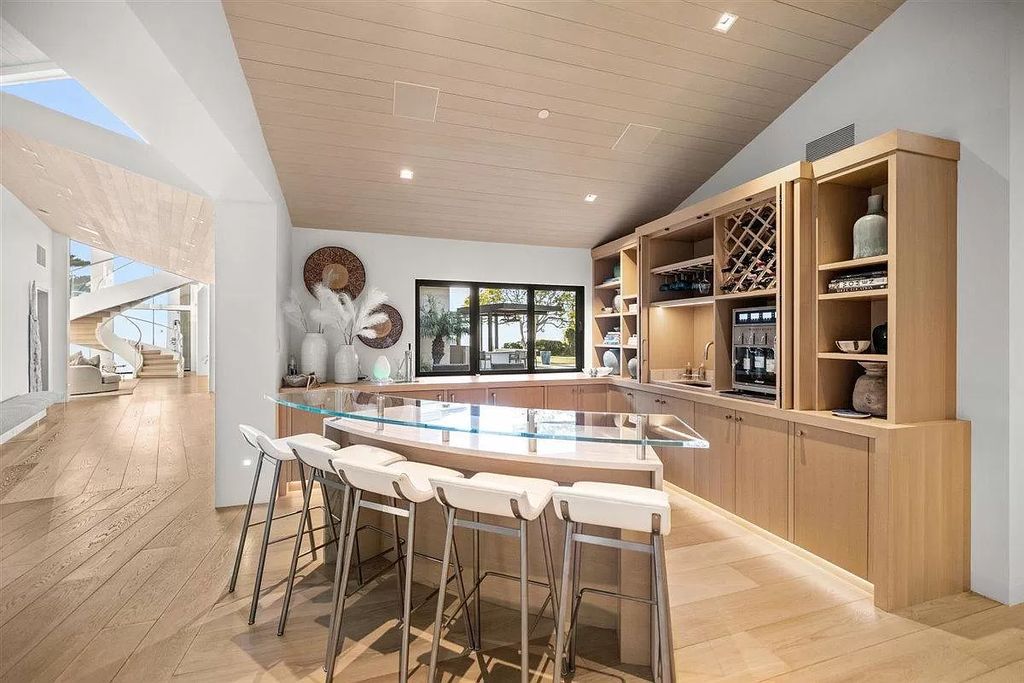 Want to give your kitchen a barnyard vibe? Take a look at the image above. What's not to love about this? The 'edgy' and coily steel faucet is unquestionably the showpiece. This kitchen sink design, set against an all-wooden backdrop, makes us glad and cheery. It's hip, fashionable, and one-of-a-kind all at the same time. Exceptional Santa Barbara Mansion on 4 Ocean View Acres Asking for $39,000,000
9. The Shining 'Basic' Kitchen Sink Design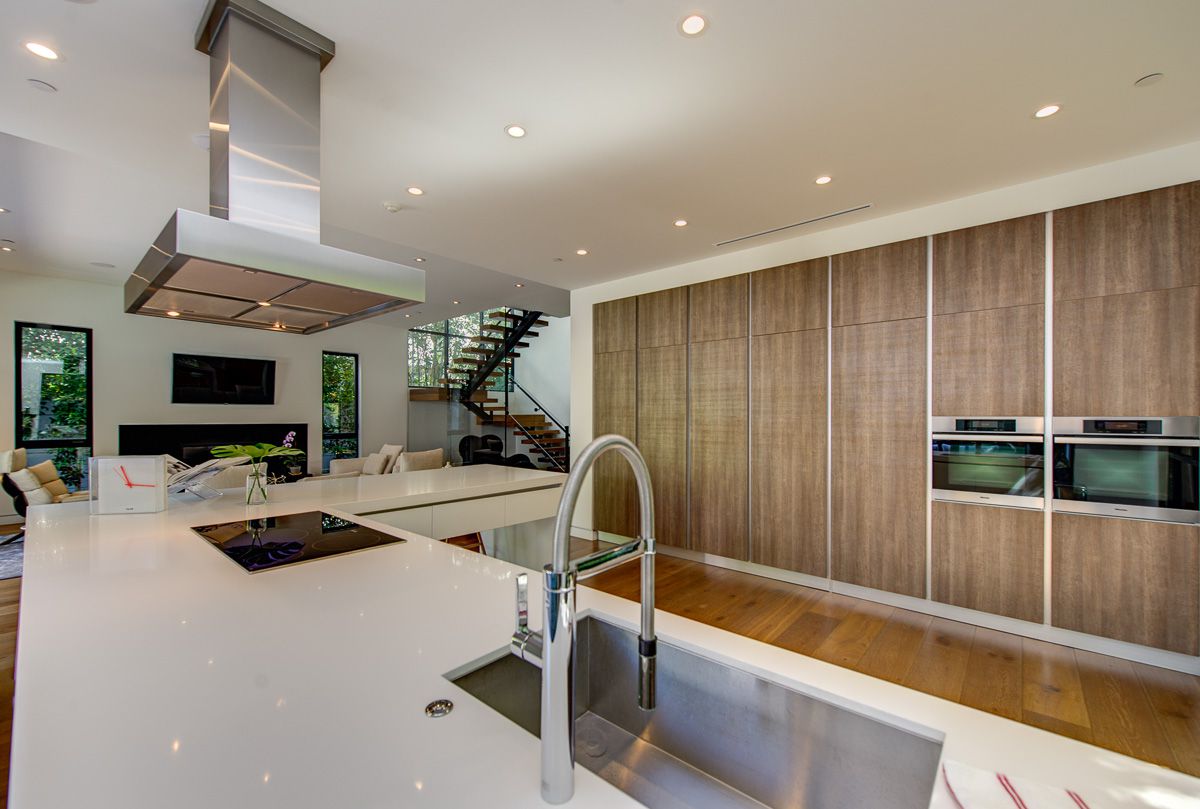 Stainless steel kitchen sinks are the most popular material for kitchen sinks. However, many people are unaware that you may experiment with various finishes for your kitchen sink, such as matte, polished, mirror, and so on. One simple and thick water tap just beneath the sink is sufficient to establish the groundwork for a functional, orderly, and visually beautiful sink. Laurel Avenue Modern House for Rent in Los Angeles $15,500 per Month
10. A 'Old' Yet Contemporary Kitchen Sink Design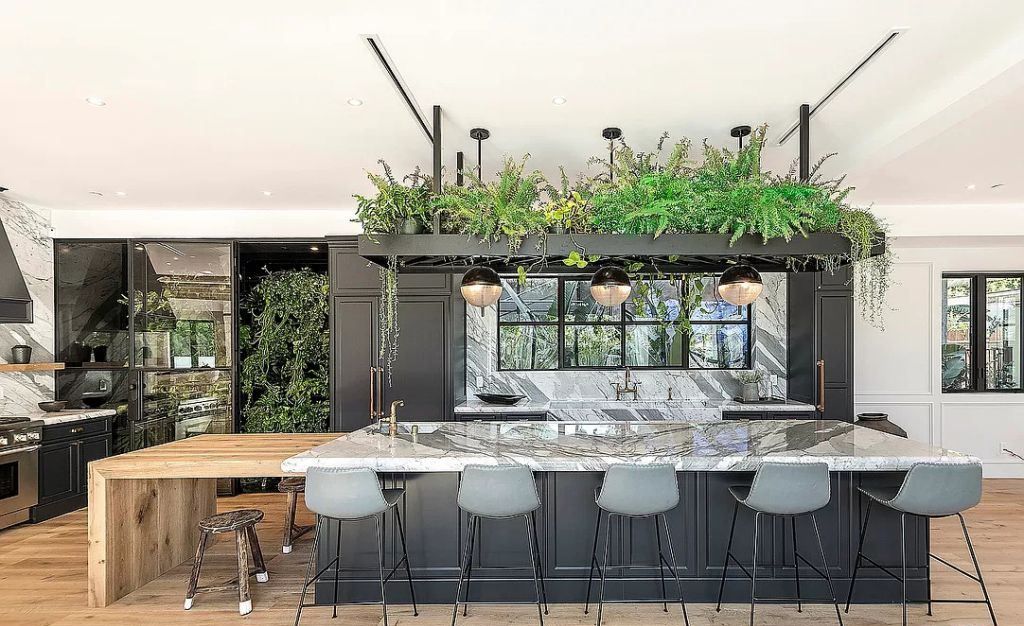 Do you want to replace your kitchen sink entirely? Here's an excellent worthy idea. From the dark green backdrop to the gorgeous ceramic sink with a marble stone finish, this kitchen has a lot to enjoy. Add floating shelves on the top and sides for more storage. Fresh plants planted around the kitchen sink finish off the look. This would be perfect for a Luxury idea. Meticulously Crafted West Hollywood Home awaiting new Owner at Price $3,985,000
11. Hanging Wooden Shelves!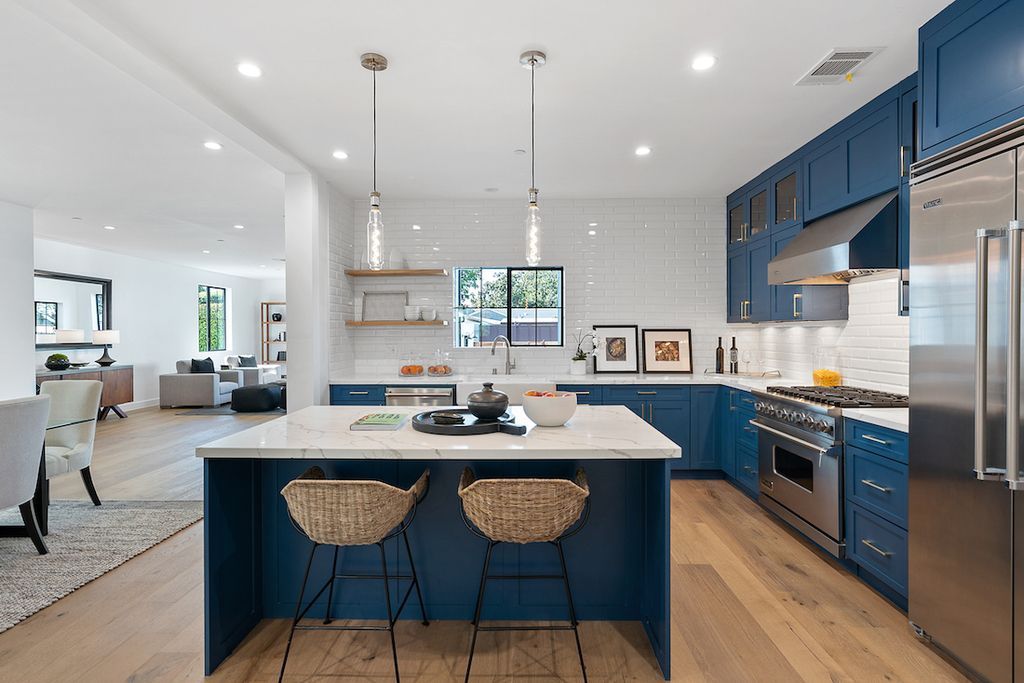 Install durable and high-quality hanging wooden shelves like the ones shown here if you have spare space over your kitchen sink. The cutlery is readily available, and the room does not look 'bare.'You may also store cleaning and laundry materials, putting everything within easy reach. Elegant Rancho Park Transitional Interior Design by Meridith Baer Home
12. Nothing Says Luxe Like More than Just a Marble Surface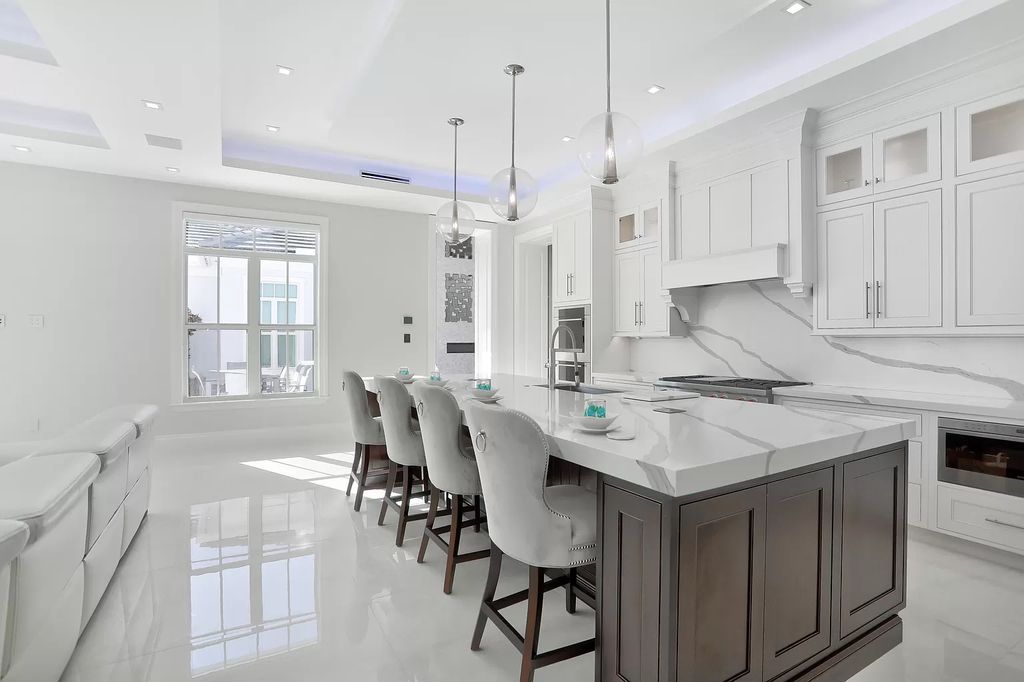 If you have a double sink kitchen, it makes sense to convert it with marble tile or a ceramic tile that has a marble appearance. The white veined marble tiles brighten the room. You also have adequate room to conduct any type of preparation or cutting. When choosing the proper kitchen sink material, keep in mind that it should be long-lasting, useful, and visually appealing. This $3,500,000 West Palm Beach House will Truly Amaze You with Impressive Finishes
13. Kitchen Sink Area in Uptown New York Style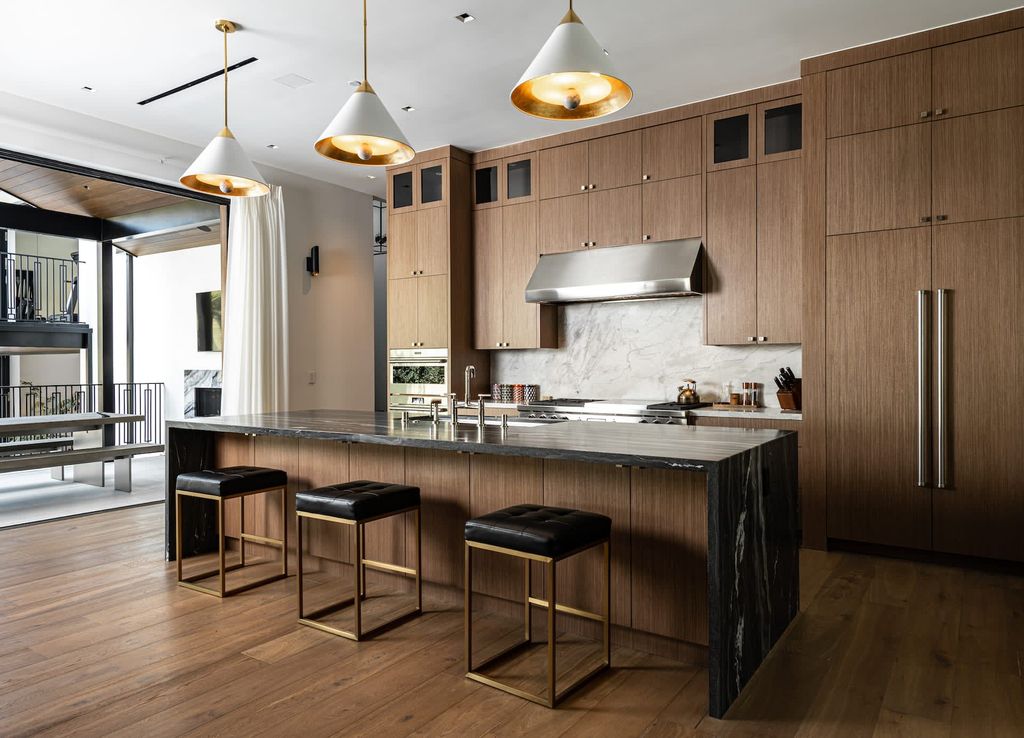 Here's a kitchen sink design worth considering, especially if you have a wide island with adequate seats. There's so much to inspire you, from the wooden seats to the vintage-style pendant hanging lamps. The gold rustic faucet adds a 'period' logical sense without making it appear out of date. Beverly Hills Home evokes Midcentury Design Asking for $13,495,000
14. The Kitchen Sink with an Eye-Catching, One-Of-A-Kind Faucet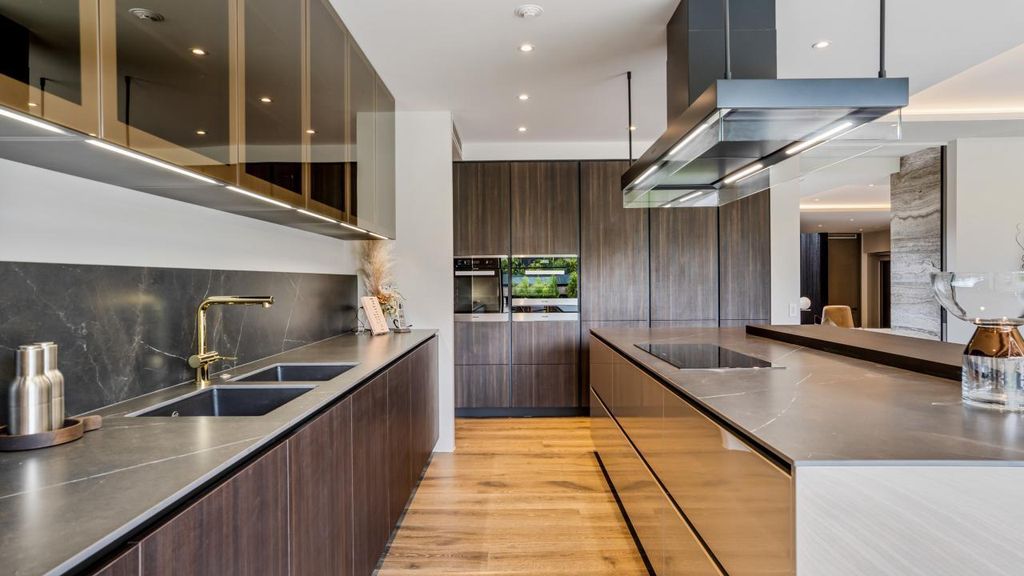 You may experiment with the sort of kitchen faucet displayed here if you like a little bit of drama in different sections of your home. This ultra-grunge faucet is sure to be a conversation starter and may quickly give your kitchen a complete makeover. The elegant carpeting underneath provides depth and texture to an otherwise understated and sophisticated design. Splendid Paritai Drive Private House in New Zealand by Jessop Architects
15. The Ingenious and Sleek Kitchen Sink Design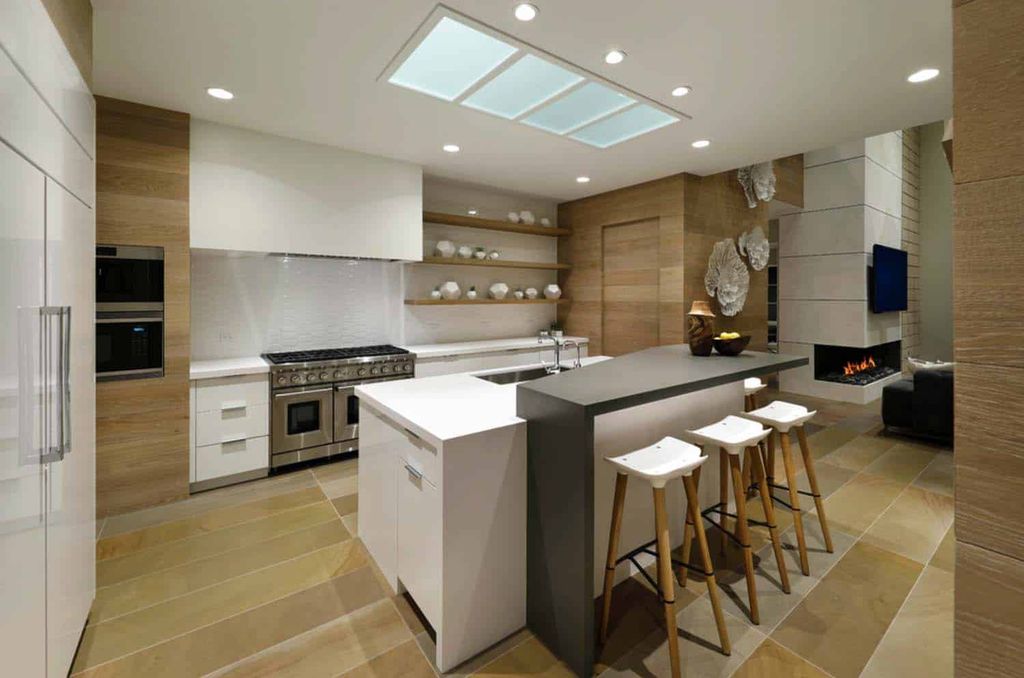 Consider the image above if you want a clever and contemporary kitchen sink design. It's a terrific place to start when making a killer mood board for your kitchen sink area. The beautiful backsplash, semi-open oak cupboards, bar stool-style seats, and jet panther-black faucet and sink make this kitchen sink area an ideal setting. Luxurious Desert Home Showcases Views of Camelback Mountain by Candelaria Design
16. Experiment with Different Color Combinations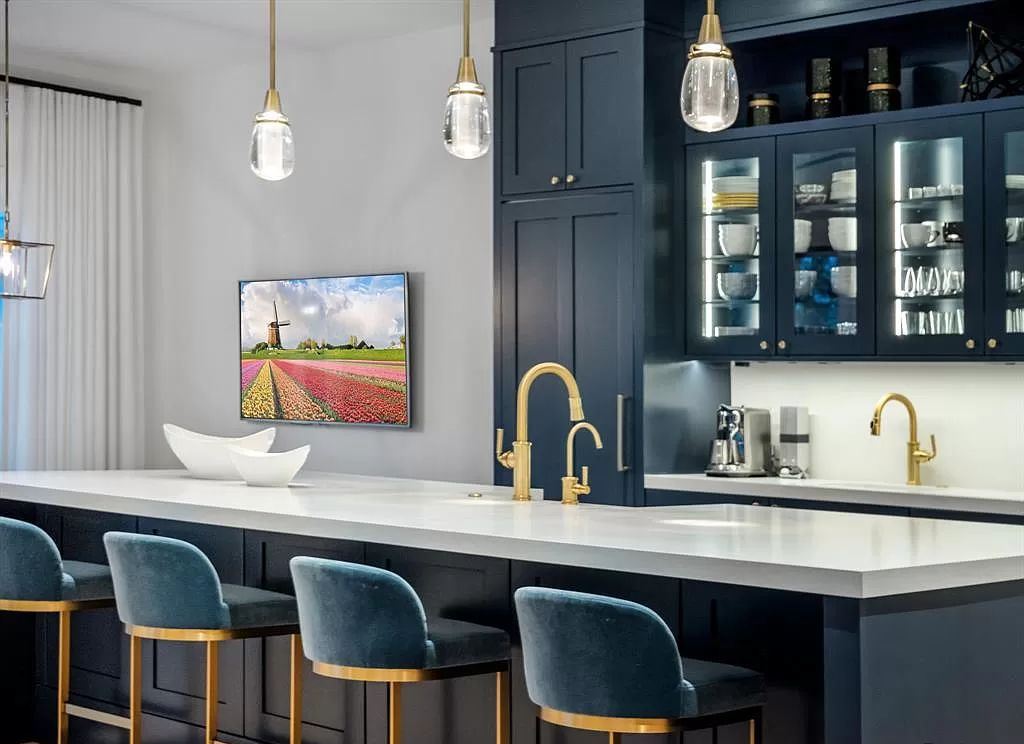 Playing with color combinations is another tried-and-true technique to experiment with your kitchen sink area. Consider the color combination of gold, white, and blue given above as an example. Take note of how the light, knobs, and faucets have been designed strategically. They provide an amazing sense of harmony and elevate the design of this kitchen to a new level. This $5,995,000 Resort Style Michigan Home is A Completely Hand Crafted Masterpiece
17. The Easy Kitchen Sink Makeover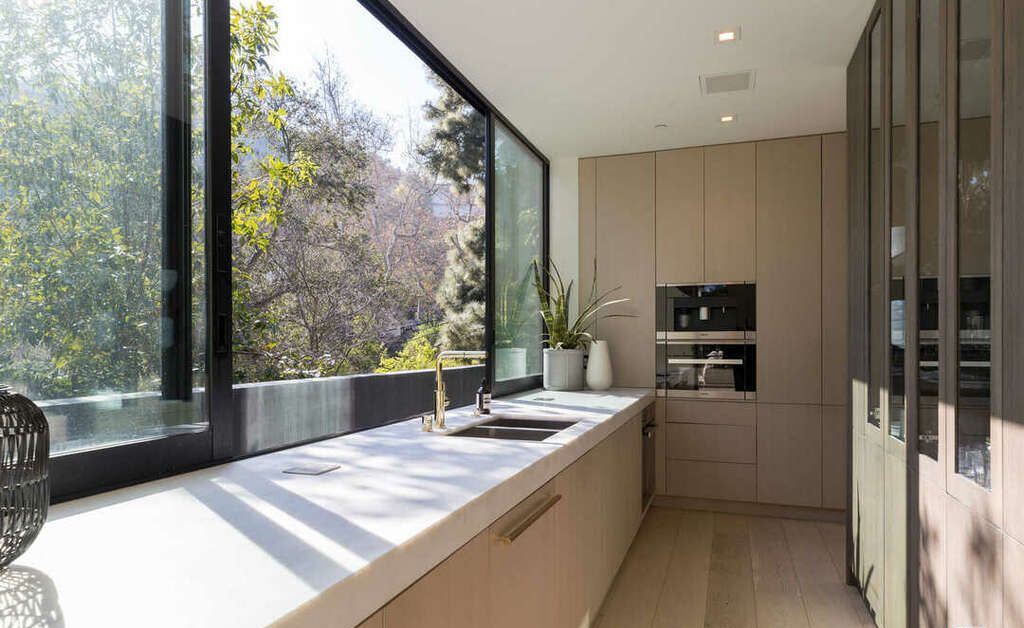 When it comes to modular kitchen design, each kitchen is unique. Consider the example above if you don't have the time, effort, or capacity to perform a full-fledged redesign. A fashionable and modern faucet is the way to go. You can experiment with the color and form of the faucet. Zen-inspired Contemporary Hollywood Hills Home Backs the Market for $14,450,000
18. The Dream Faucet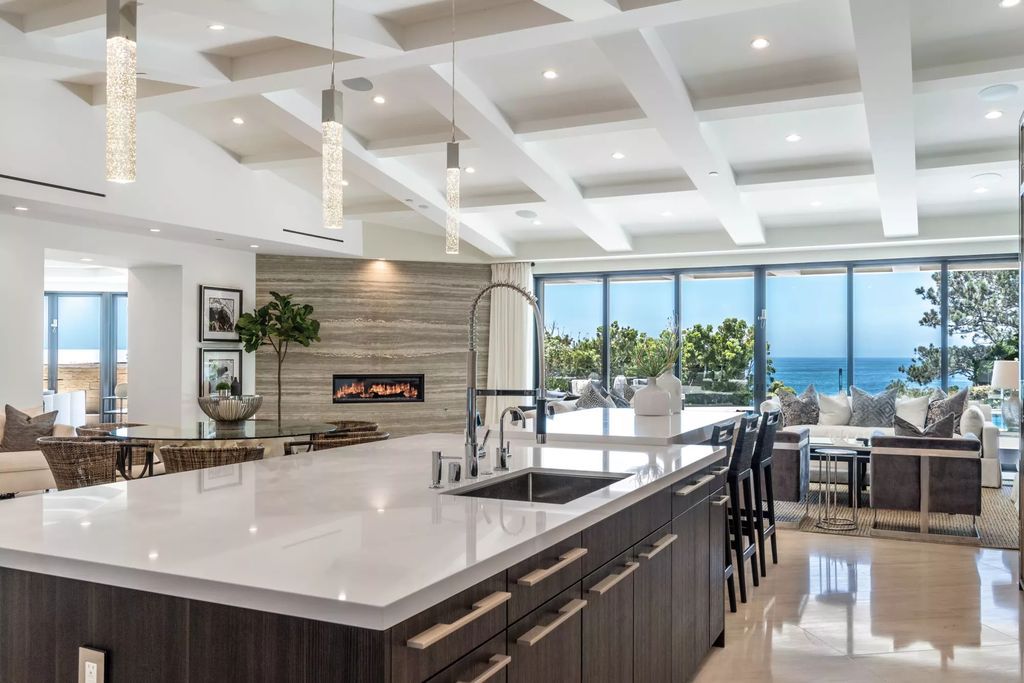 Have you ever imagined that a water faucet might give you a 1980s disco vibe? Look at this 'cool' water faucet. The finished product comes in a number of colors ranging from purple to blue and converts your kitchen sink area into a MasterChef-style kitchen sink setup. Inside Newly Constructed Oceanside house in Corona Del Mar, California
The kitchen sink is much more than a utilitarian fixture. It holds the potential to be a statement piece that enhances both the functionality and visual appeal of your culinary space. Whether you prefer the timeless charm of a farmhouse sink, the sleek elegance of stainless steel, or the convenience of integrated workstations, there is a kitchen sink idea to suit every taste and requirement. Also, check out the list of 13 Elegant Living Room Ideas to Achieve Dream Space for more ideas.
More Ideas For Living Room:
---
Thousand of high quality images of Living room and more you can see at Livingroom Gallery.