Date of Publishing:
Creative BBQ Island Ideas.
It is critical that your outdoor BBQ island works properly and provides a safe and simple method to cook on your patio. However, there is no reason why it cannot also be a gorgeous, one-of-a-kind addition to your outdoor living space, increasing the aesthetic attractiveness of your yard and maybe making your neighbors envy. Consider one or more of these outdoor BBQ island ideas to build a distinctive, stylish, and practical patio barbeque if you are in the design process or searching for ways to liven up an existing barbecue area. The yard gets in the way. Brunch, lunch, or evening meals may become a leisurely event with an outdoor kitchen, where everyone can chip in as needed.
1. A One-of-a-Kind Countertop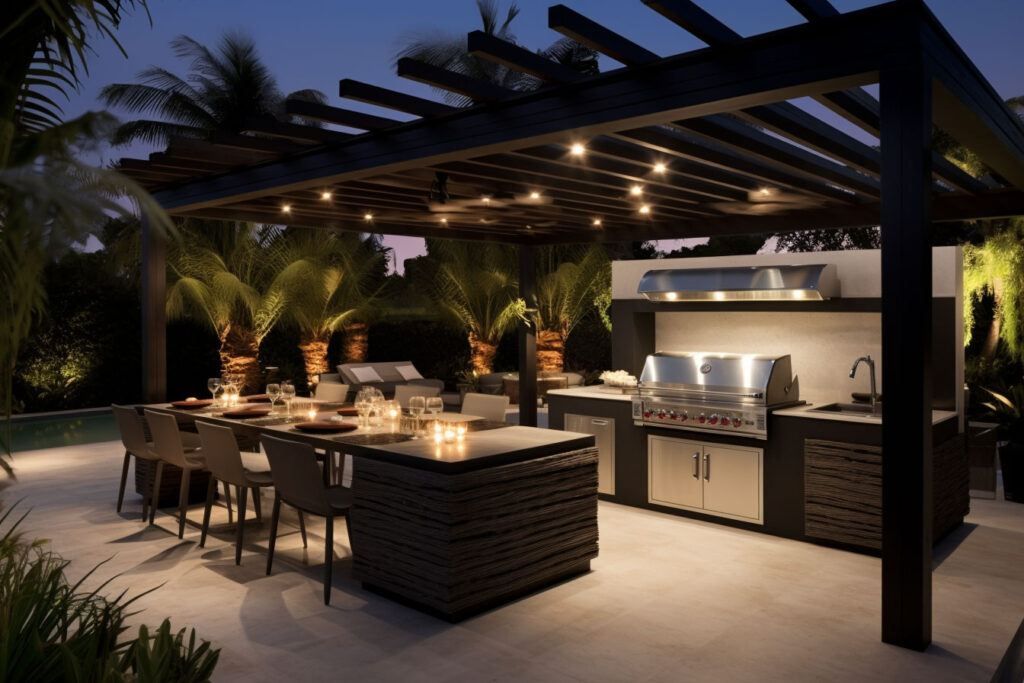 Outdoor kitchen worktops, like those in your indoor kitchen, may add color, serve as a focal point, or give your BBQ island a distinct appearance that will amaze your visitors. There are several countertop materials available, each with advantages and disadvantages. Many people like the look of granite, but it does require frequent sealing, especially when used in outdoor kitchens. The same is true for slate tiles and concrete. Both offer your BBQ island a distinct appearance but need more care. Consider your budget, where you live, how you want to utilize your BBQ island, and any other aspects that are particular to your circumstance. A Simply Stunning Contemporary Home in Scottsdale with Striking Mountain Views for Sale at $7.25 Million
2. A Attractive Splurge-Worthy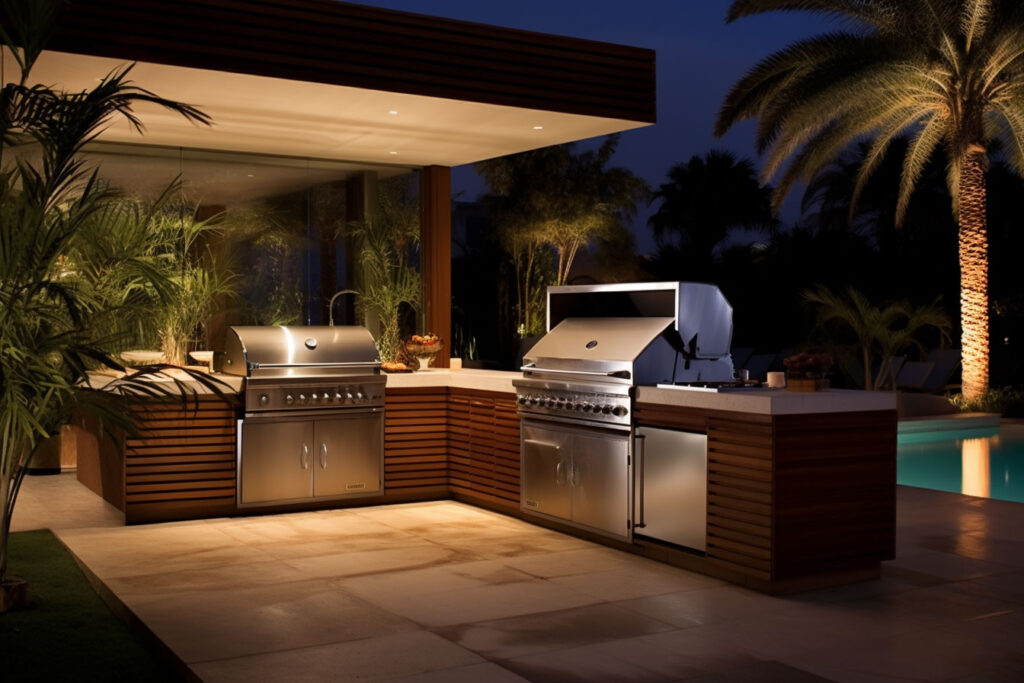 Hoods are useful when barbeque grills are located in regions with poor airflow. They may also add flair to your patio if you choose a splurge-worthy hood over the cheapest one at your local home improvement store. Additionally. if you intend to include a hood in your BBQ kitchen ideas or above your barbecue island, take advantage of this chance to select a unique or bespoke solution that will give your patio a more upscale appearance. Exquisite Riverfront Estate on 3+ Acres of Serene Beauty in Saint Charles
3. An Oven for Pizza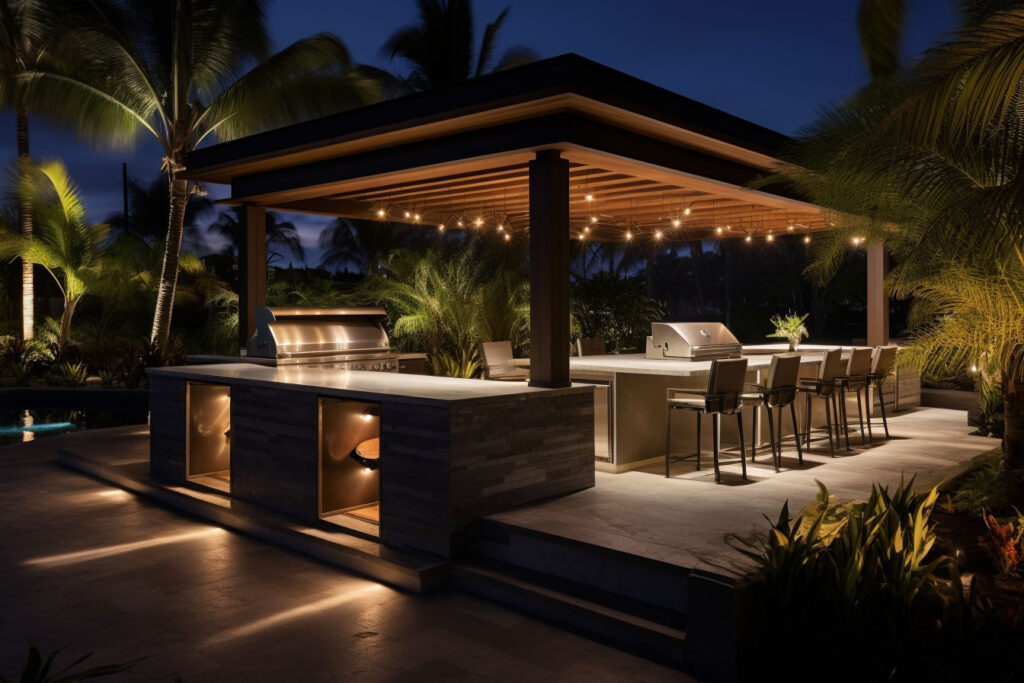 A patio pizza oven is a terrific addition to a BBQ island if you have the room. They look hip, they can feed a crowd, and they almost always wow guests. Of course, these wood-fired ovens can produce pizza, but they can also roast potatoes, bake breads and pies, and even cook your Thanksgiving turkey. This $11,495,000 Breathtaking Encino Estate offers the Quintessential California Living
4. A Personal Space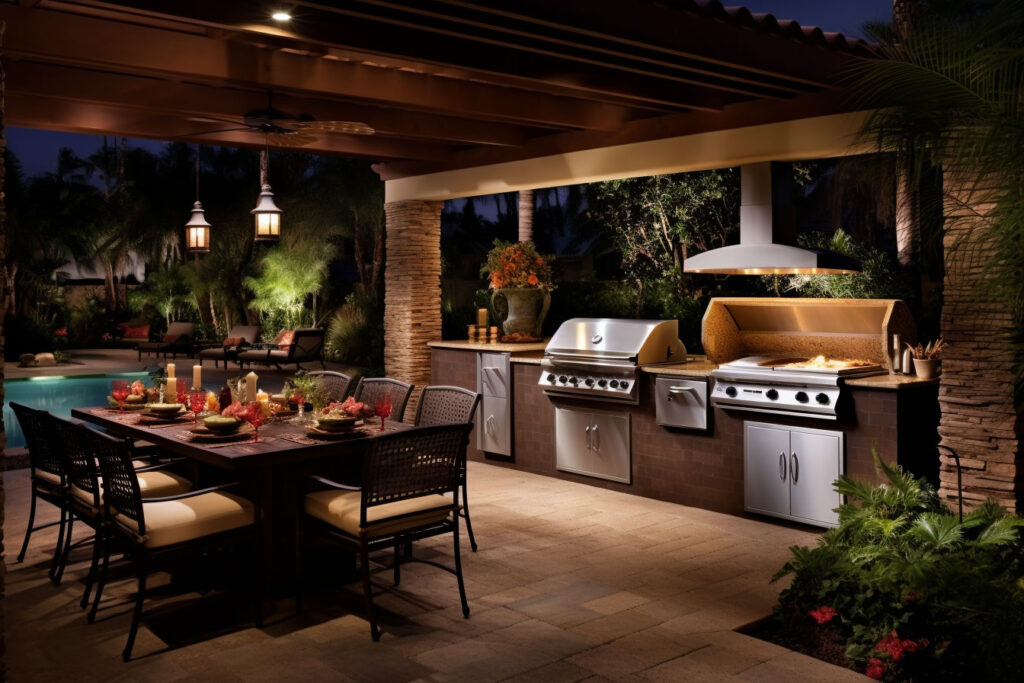 Consider creating a separate structure for your BBQ island if you have adequate room in your garden. This will leave your primary outdoor living space open and uncluttered, providing a spot for your family or friends to relax away from the cooking and smoking. It also allows you to set up a bar or other seating area near the barbeque grill so that visitors may relax while you cook. Passos House with Open Concept and Integrated Spaces by David Guerra
5. A Beautiful Backsplash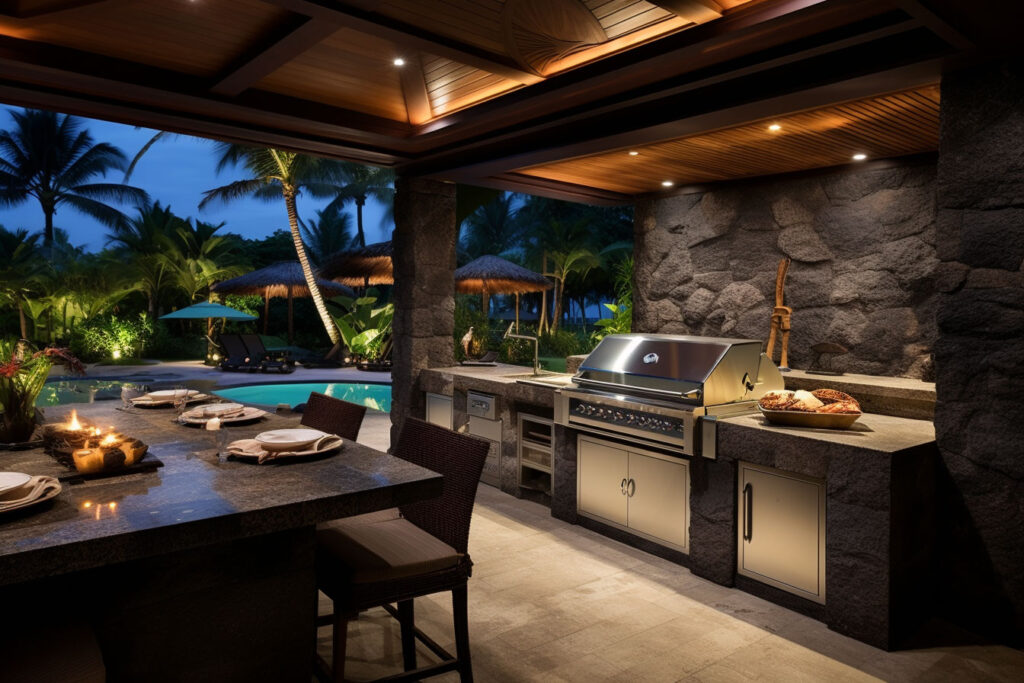 If your BBQ island is against a wall or has a raised space behind it, an appealing backsplash is a terrific way to add some fun color or personality to your barbeque area. It is typical in Southern California homes to use the external stucco as the backsplash, but stucco is difficult to clean and can become rather sooty from the smoke created by your grill. Therefore, consider a vibrant tile that will be easy to maintain and will add a splash of color to your patio. An Exceptional Coastal Farmhouse in Pacific Palisades Sells for $6,700,000
6. Ingenious Storage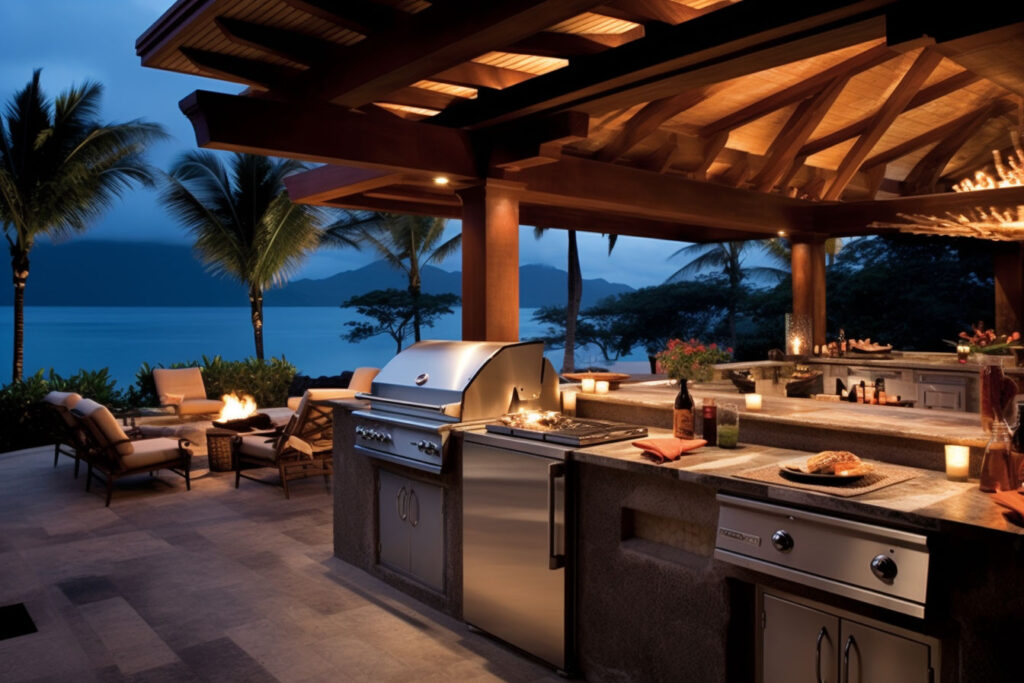 If you just consider one of the outdoor BBQ ideas on this list, make it this one. While the others can improve the aesthetic appeal and functionality of your outdoor cooking area, this one is definitely vital. Most BBQ islands contain some form of storage, but more is usually preferable. You can have a different set of cooking equipment if you have enough storage. Therefore, you may keep them in your outdoor cooking area and have them readily available when you need them. Stunning Victorian-Styled Home in Surrey Prices at C$3,298,000
7. A Blender, as well as other Small Appliances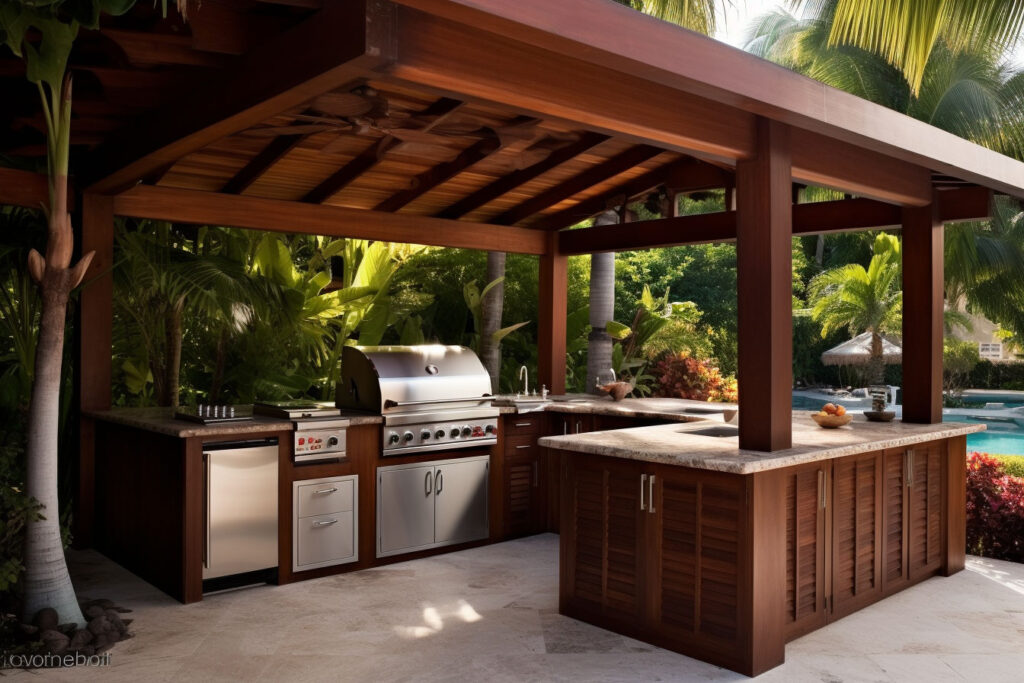 Some people like to keep things simple and only have what they need for basic grilling on hand. Others want to have their outdoor kitchens so well supplied that they never have to step inside after starting some patio dinner prep. We've discovered that most people fall somewhere in the center and like to have their BBQ island stocked with some of the goods they use the most. Luxury & Tranquility Meet in This C$4,298,000 Brand New House in North Vancouver
8. Backsplash in Rustic Style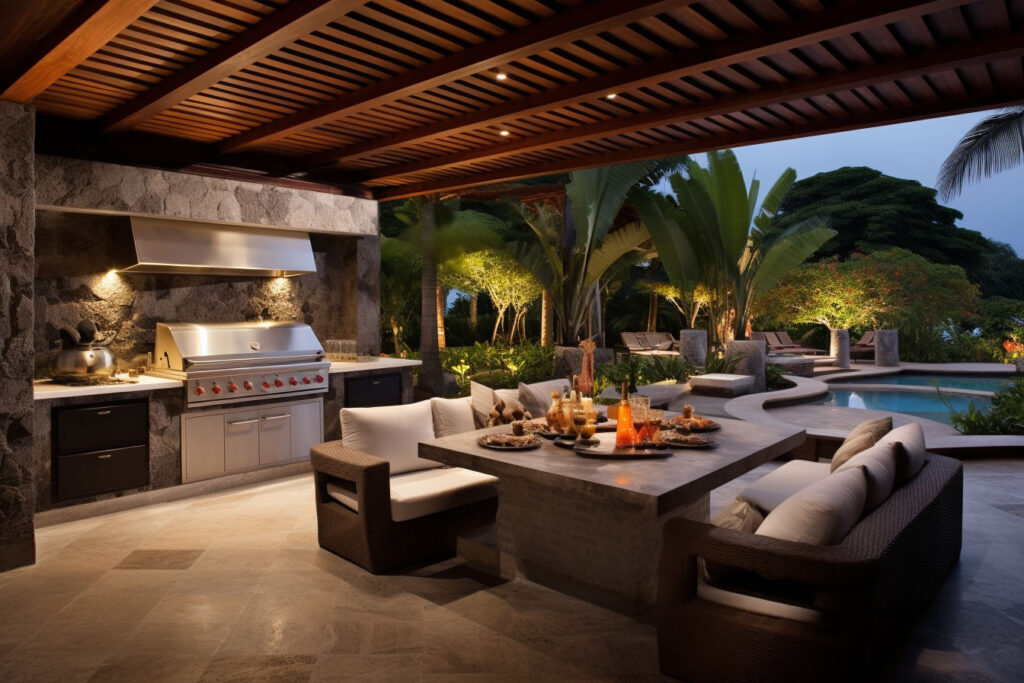 Tucking your outdoor BBQ island into a rock wall alcove or stack of railroad ties provides a rustic backsplash that divides your patio kitchen from the rest of your yard. If you have natural rock surrounding other elements that may be constructed to accommodate an alcove for your grill, this could be handy. The rustic design will give a fascinating and unusual touch to your outdoor cooking area that your guests will not be used to seeing. Look for modern refrigerators with a vintage design to increase efficiency. Brand New Waterfront Home in Lake Worth with Wide Intracoastal Water Views hits The Market for $12,995,000
9. A Cooking Surface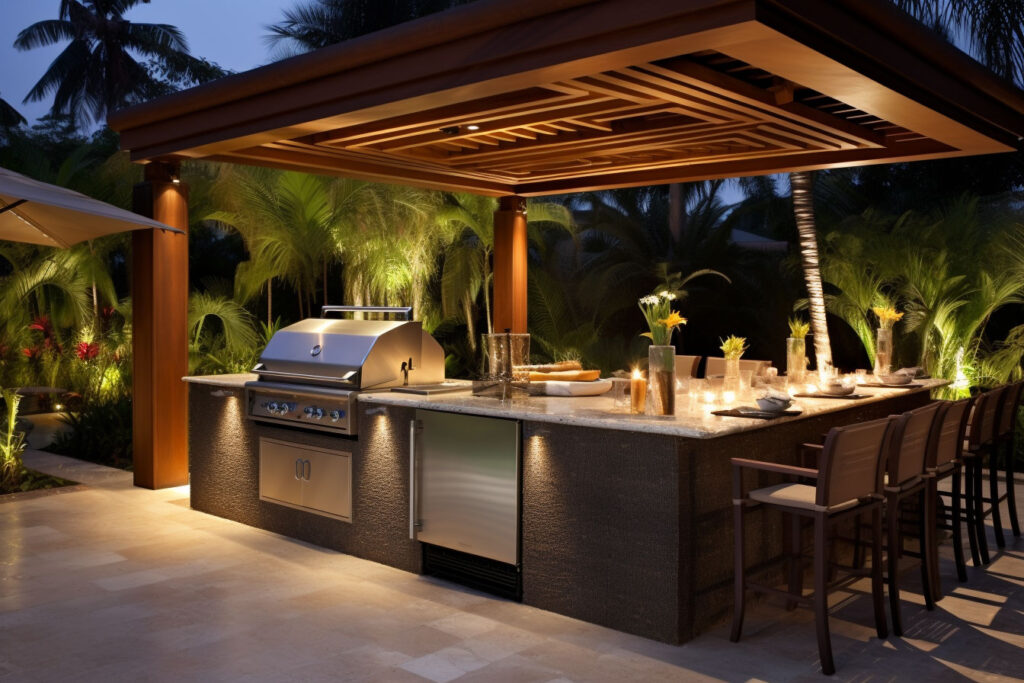 Some portable barbeque barbecues include one or two burners. When adding a built-in BBQ island, however, you will need to add burners separately. Not everyone adds burners to their outdoor kitchen, but they expand your ability to cook a variety of items so much that it is well worth the investment. By adding a cooktop to your barbecue island, you may choose between grilling some meat and veggies and preparing a whole dinner with numerous sides. By adding burners, you can cook sauces, soups, beans, curries, and stir-fries in addition to what you can currently cook on the grill. Masterfully Designed Home Built with Meticulous Attention to Detail in Washington Listed at $3,450,000
10. A Vintage Refrigerator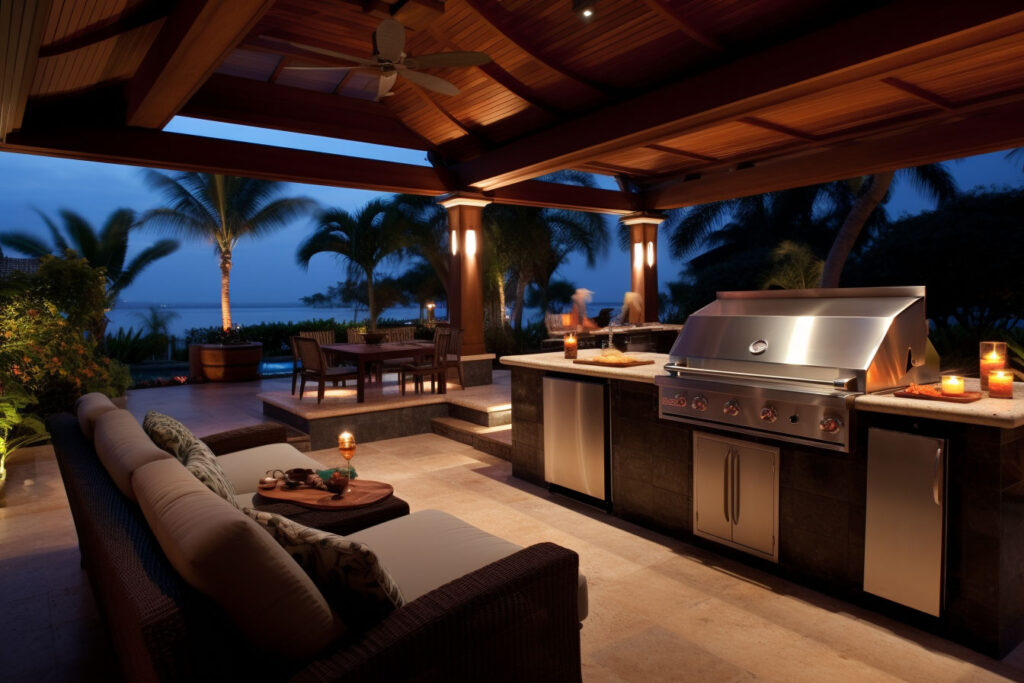 A vintage fridge may not be the most apparent choice for an outdoor BBQ, but it is worth considering. If you enjoy old products or diverse style, this may be the correct pick for you. Retro refrigerators come in a number of bright hues and may easily blend into a variety of backyard themes, from rustic to contemporary. If you can't locate an original antique refrigerator or are worried about energy efficiency, seek for new refrigerators with a retro style. This would be perfect for a Luxury idea. Modern Family Home, Kellett Street House by C.Kairouz Architects
Here are our final BBQ island suggestions. Of course, it comprises all of the necessary ingredients. It starts with grilling kits and progresses to a dining table and a couch set. By presenting this combination, it is evident that no one will be able to decline your invitation to a barbeque party. Even better if it also has a refreshing landscape. It's no surprise that you and your family will have the finest BBQ experience ever. After all, several of the BBQ island ideas above require professional assistance. As a result, it is always preferable to work with pros to design an outdoor kitchen that is exactly what you want. Also, check out the list of 13 Elegant Living Room Ideas to Achieve Dream Space for more ideas.
More Ideas For Living Room:
---
Thousand of high quality images of Living room and more you can see at Livingroom Gallery.