Date of Publishing:
Creative Patio Kitchen Ideas.
Do you want to cook outside but are concerned about a lack of space in your backyard? There are several modest patio kitchen ideas that may change your garden with careful design. There are lots of creative ideas and techniques to alter your yard, balcony, or patio, from tiny scale pizza hubs, slide out sink and prep stations, to spectacular hobs that belie their size. Sharing the joy of cooking outside with friends and family is a game changer, so don't allow the size of your yard prevent you from doing so. Brunch, lunch, or evening meals may become a leisurely event with an outdoor kitchen, where everyone can chip in as needed. Let's explore the possibilities and elevate your outdoor living with these creative patio kitchen ideas.
1. Layout and Design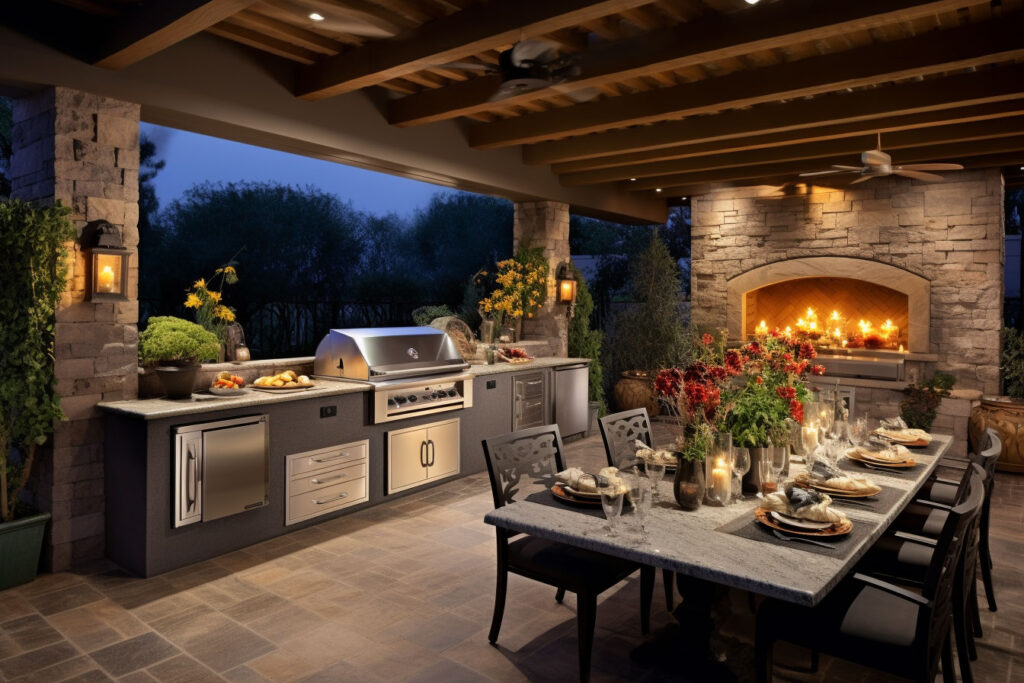 Before you start building your patio kitchen, consider the layout and design that best suits your space and needs. You can choose from various configurations, such as a straight-line layout, L-shaped design, or U-shaped kitchen island. In addition, assess your patio's size and shape to determine the most practical and aesthetically pleasing arrangement. A Simply Stunning Contemporary Home in Scottsdale with Striking Mountain Views for Sale at $7.25 Million
2. Cooking Appliances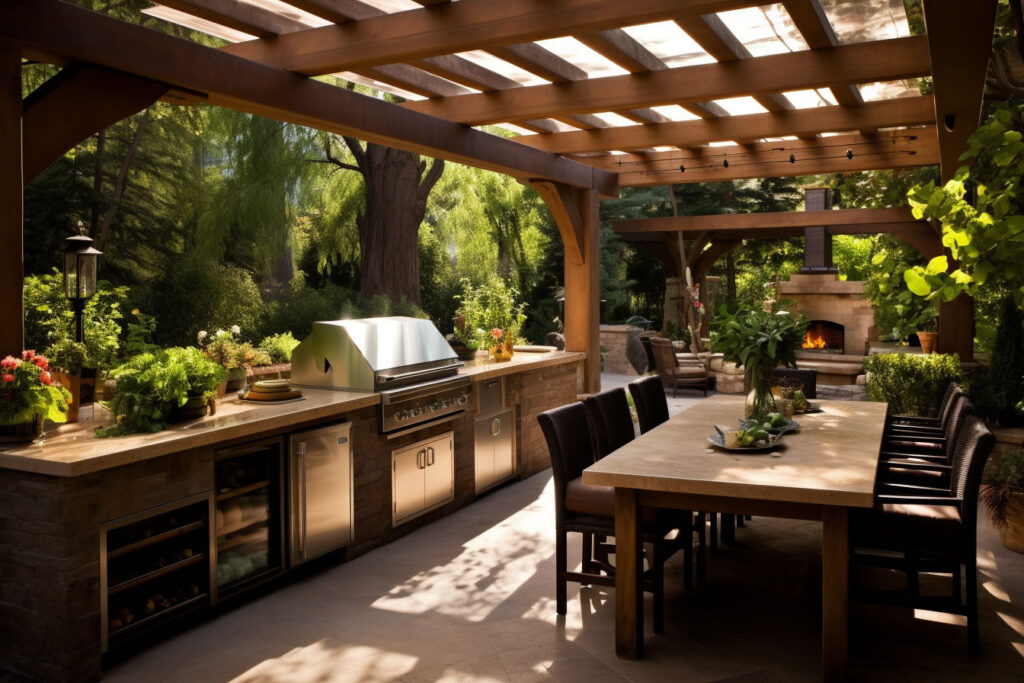 Investing in high-quality cooking appliances is essential for a functional patio kitchen. Furthermore, consider adding a built-in grill, a smoker, or even a pizza oven to expand your culinary options. Including a sink and refrigerator will provide convenience for food prep and storage. Additionally, a countertop burner or a side burner can be useful for cooking side dishes or sauces. Exquisite Riverfront Estate on 3+ Acres of Serene Beauty in Saint Charles
3. Materials and Finishes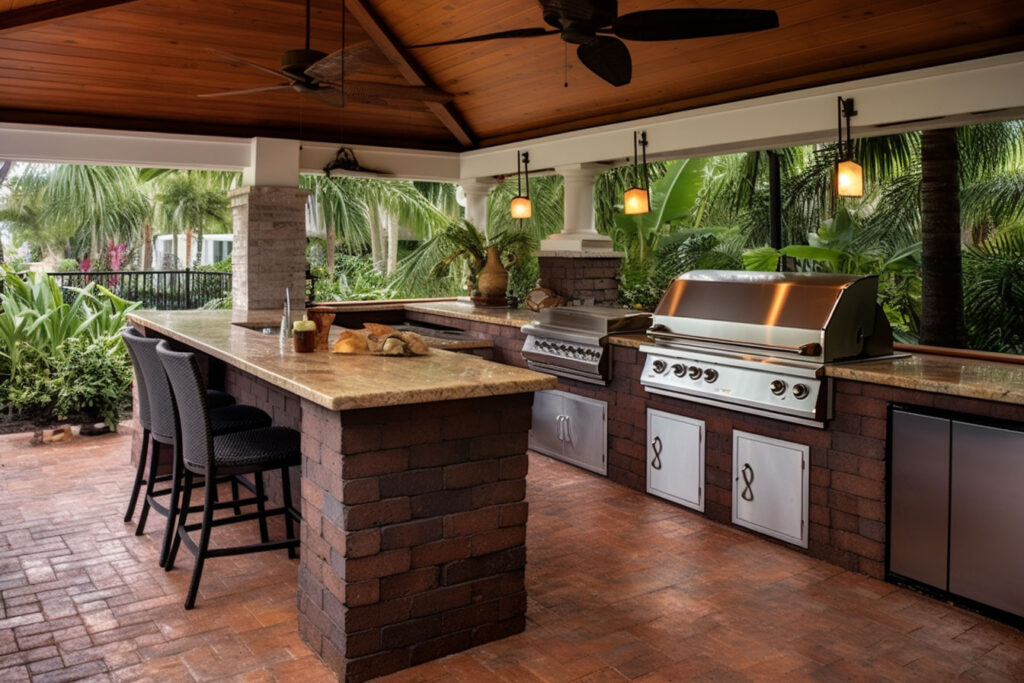 Selecting durable and weather-resistant materials is crucial for your patio kitchen's longevity. For example. if you opt for stainless steel appliances and surfaces, as they are easy to clean and resistant to rust. For countertops, consider materials like granite, concrete, or quartz that can withstand outdoor conditions. Therefore, use weatherproof cabinets and choose flooring options like pavers or tiles designed for outdoor use. This $11,495,000 Breathtaking Encino Estate offers the Quintessential California Living
4. Ample Storage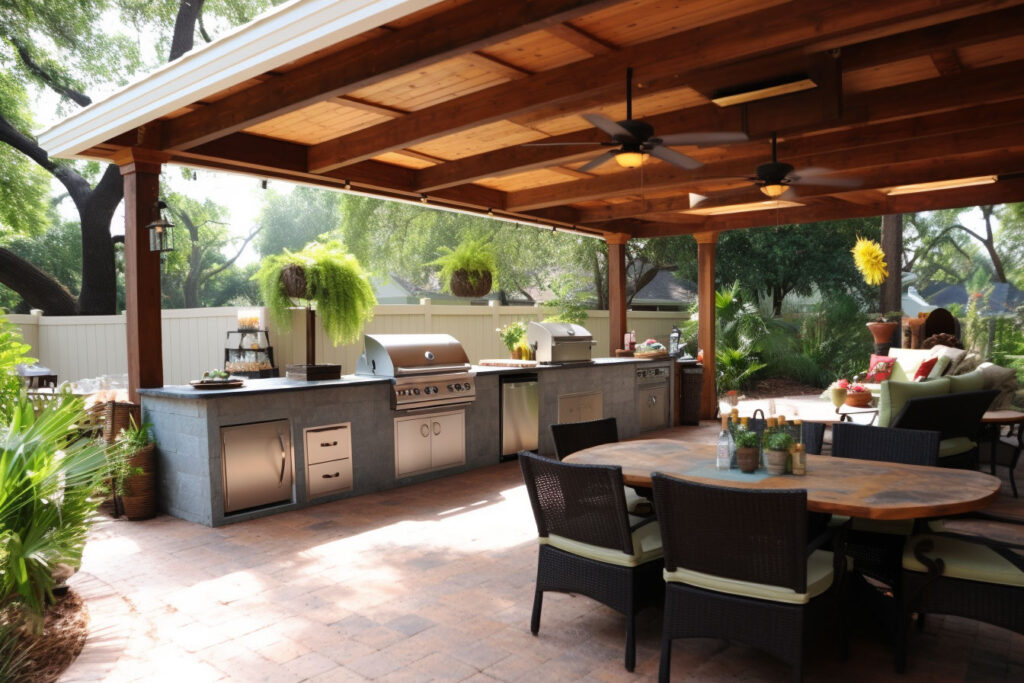 Having sufficient storage is essential for a functional patio kitchen. For instance, you can install cabinets or drawers to store utensils, plates, and other cooking equipment. Consider adding shelves or hooks for hanging pots, pans, and grilling tools. As a result, customizing your storage solutions will help keep your patio kitchen organized and efficient. Passos House with Open Concept and Integrated Spaces by David Guerra
5. Outdoor Dining Area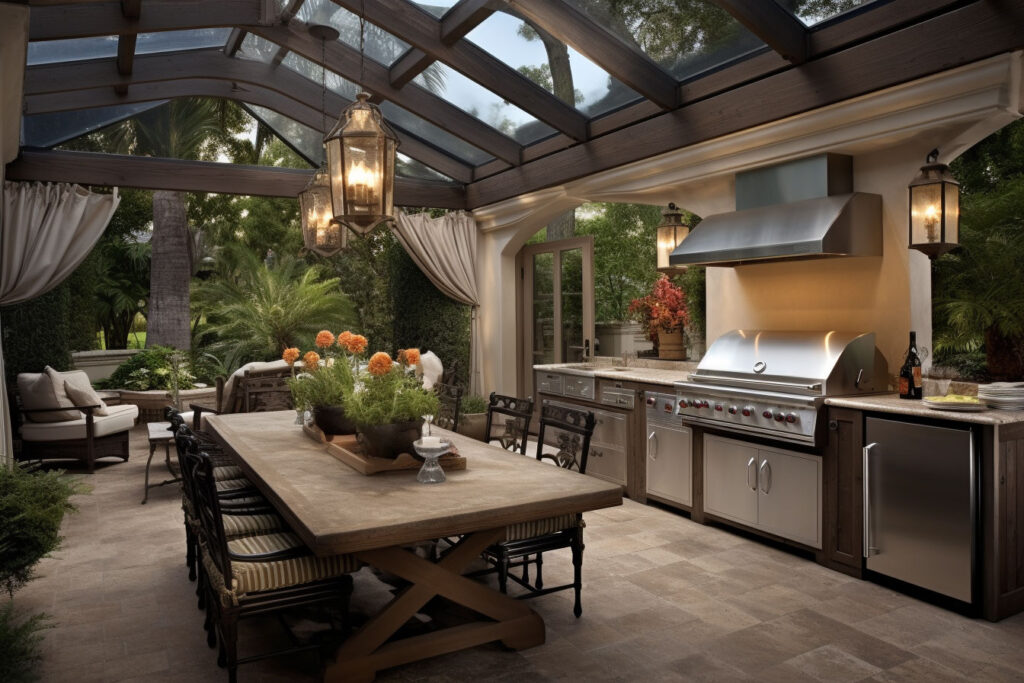 First of all, enhance your patio kitchen by incorporating a dining area where you can enjoy meals with family and friends. Include a dining table and chairs that are designed for outdoor use, complete with comfortable cushions. Then, consider adding an umbrella or a pergola to provide shade and create an inviting atmosphere. An Exceptional Coastal Farmhouse in Pacific Palisades Sells for $6,700,000
6. Landscaping and Greenery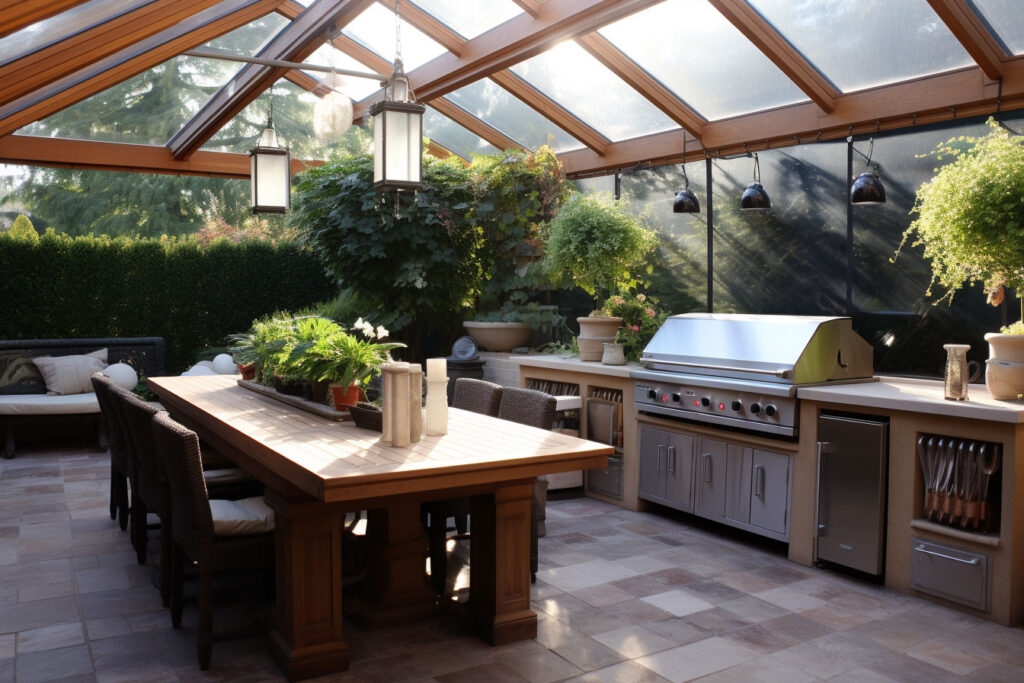 Integrate your patio kitchen seamlessly into your backyard by incorporating landscaping and greenery. Don't forget to surround your outdoor cooking area with plants, flowers, and herbs to create a visually appealing and functional space. Additionally, consider vertical gardens or hanging baskets to maximize space and add a touch of natural beauty. Stunning Victorian-Styled Home in Surrey Prices at C$3,298,000
7. Entertainment Options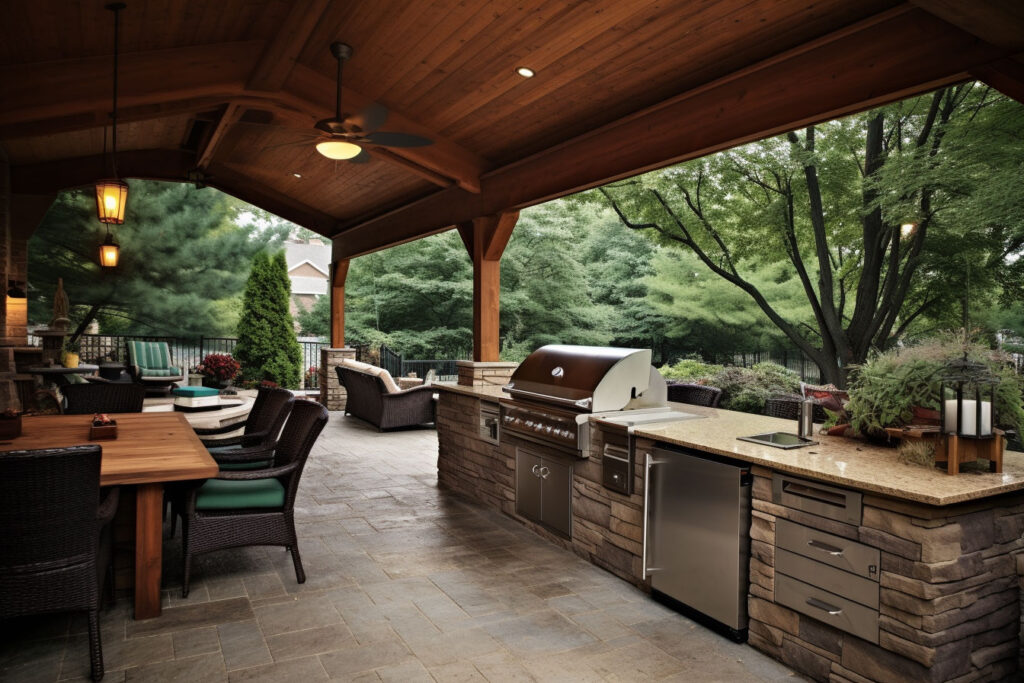 Take your patio kitchen to the next level by including entertainment options. Thus, install a weatherproof television or a sound system for outdoor entertainment. After that, consider creating a designated seating area with comfortable outdoor furniture, perfect for relaxing and enjoying your favorite shows or music. Luxury & Tranquility Meet in This C$4,298,000 Brand New House in North Vancouver
8. Lighting and Ambiance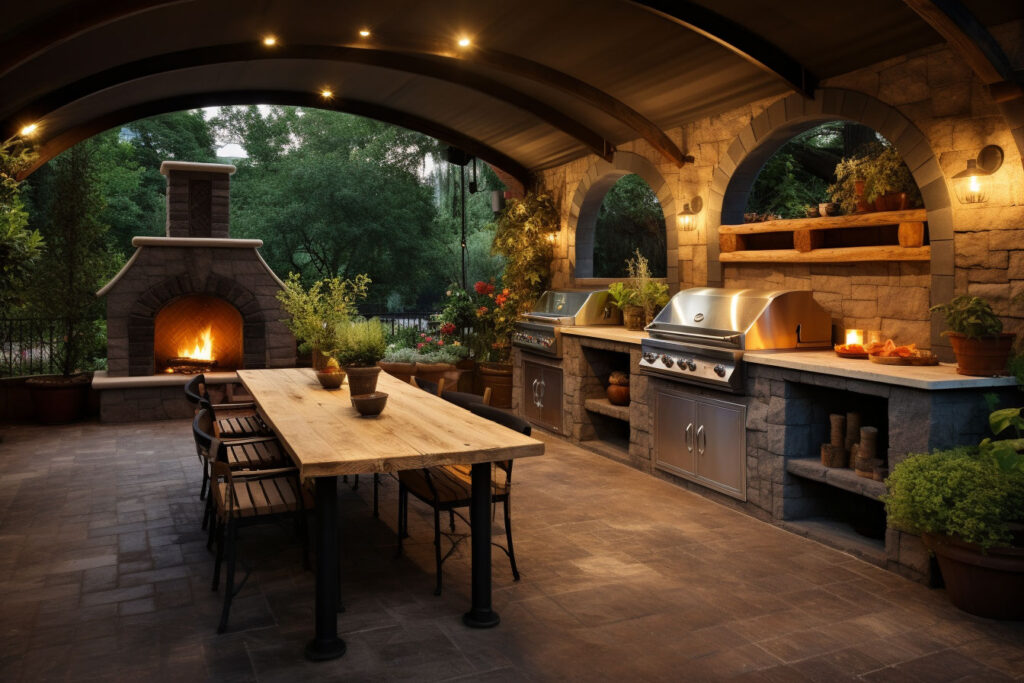 Extend the usability of your patio kitchen into the evening hours by incorporating proper lighting. Install overhead lighting for cooking and food preparation areas, and add ambient lighting to create a cozy and welcoming atmosphere. For example, you can think about string lights, lanterns, or even a fire pit to add warmth and charm to your outdoor space. Brand New Waterfront Home in Lake Worth with Wide Intracoastal Water Views hits The Market for $12,995,000
9. Personal Touches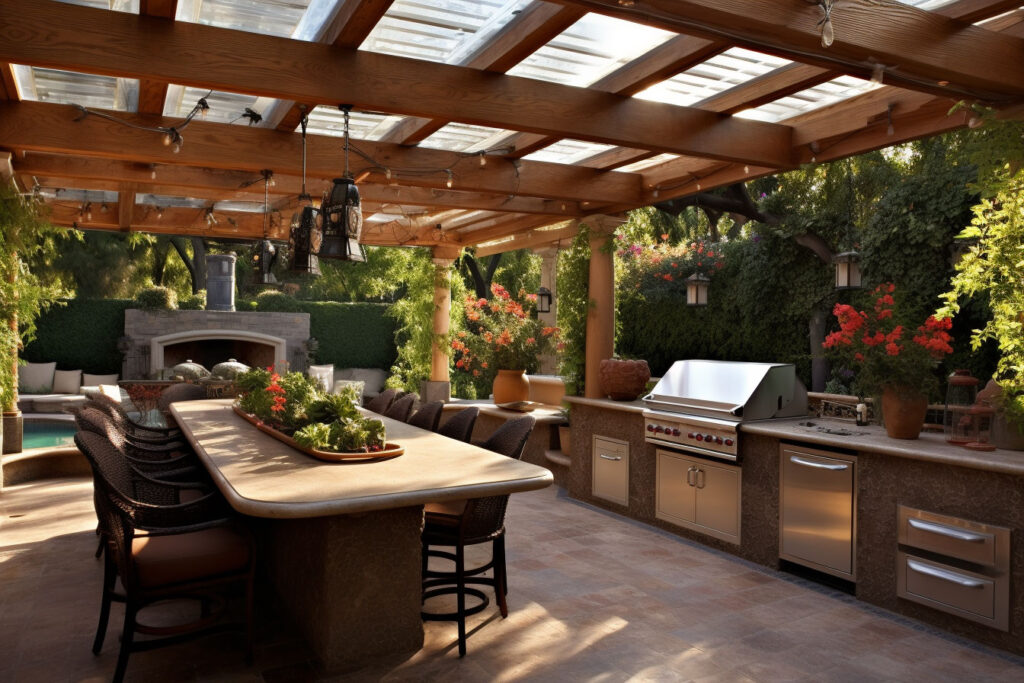 Make your patio kitchen truly yours by adding personal touches and decorative elements. For instance, hang artwork, mirrors, or outdoor-friendly decor that reflects your style and personality. In addition, include outdoor rugs, throw pillows, and cushions for added comfort and a cozy ambiance. Masterfully Designed Home Built with Meticulous Attention to Detail in Washington Listed at $3,450,000
10. Privacy and Shade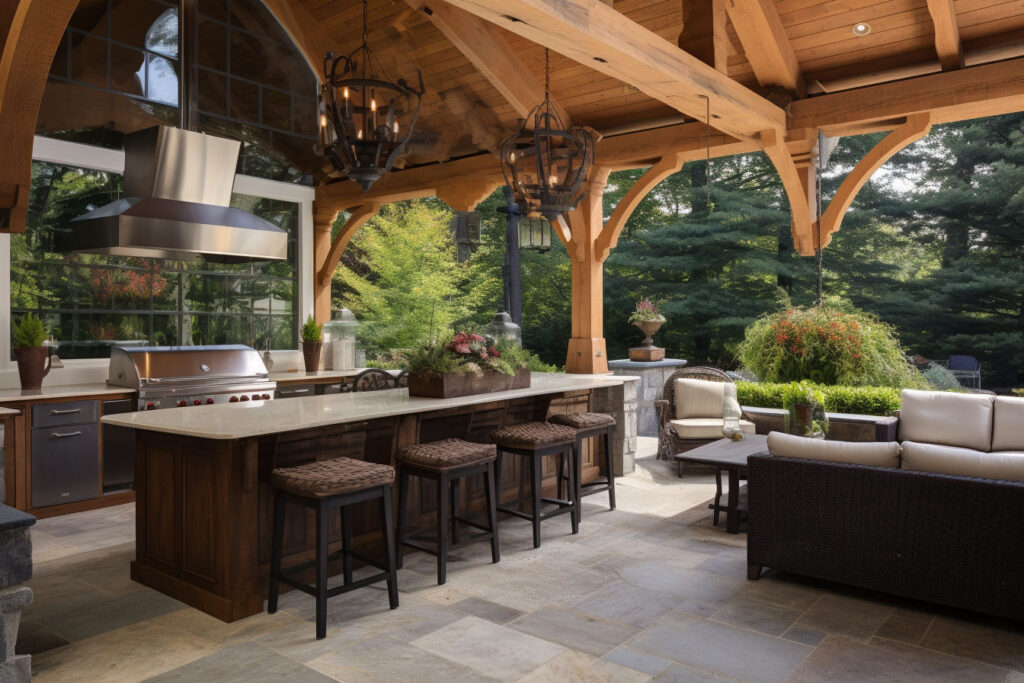 Ensure your patio kitchen feels private and comfortable by incorporating privacy elements and shade solutions. Install fences, screens, or trellises to create a sense of seclusion. Therefore, you can also use retractable awnings, pergolas, or shade sails to provide protection from the sun during hot summer days. This would be perfect for a Luxury idea. Modern Family Home, Kellett Street House by C.Kairouz Architects
11. Outdoor Fireplace or Fire Pit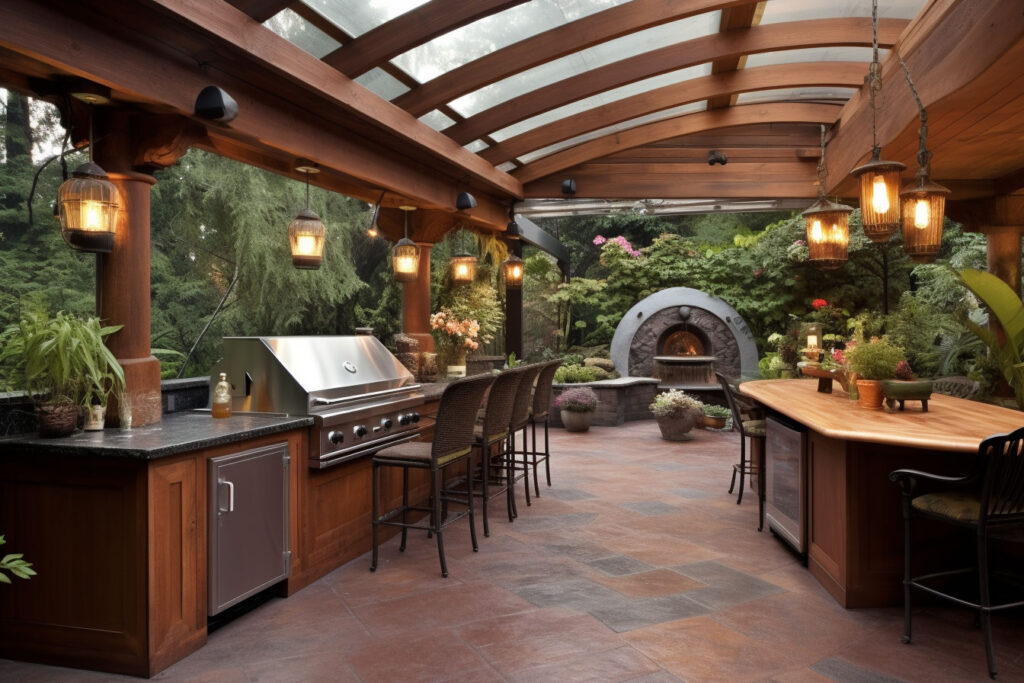 Create a cozy and inviting atmosphere in your patio kitchen by incorporating an outdoor fireplace or fire pit. Furthermore, these features not only provide warmth on cooler evenings but also serve as a gathering point for relaxation and conversation. Therefore, arrange seating around the fireplace to create a cozy outdoor lounge area. Stunning Oceanfront Home in South Palm Beach by Choeff Levy Fischman
With these inspiring patio kitchen ideas, you can transform your outdoor space into a haven for cooking, dining, and entertaining. Additionally, if you envision a sleek and modern design or a cozy rustic retreat, there are countless options to suit your style and needs. Choosing the right layout and cooking appliances to incorporating storage solutions and personal touches. As a result, you can create patio kitchen ideas that not only serves as a functional cooking area but also enhances your overall outdoor living experience. Embrace the joy of al fresco dining and elevate your outdoor living with a beautiful and well-equipped patio kitchen. Thus, get ready to savor delicious meals and create lasting memories in your own backyard oasis. Also, check out the list of 20 Colorful Living Room Ideas: Transform Your Space with Vibrant Design for more ideas.
More Ideas For Living Room:
---
Thousand of high quality images of Living room and more you can see at Livingroom Gallery.