Date of Publishing:
Designing Your Ideal Grey Kitchen Cabinets.
Grey kitchen cabinets have become increasingly popular in modern interior design. Moreover, the versatility of grey as a color choice allows for a wide range of design possibilities, making it a favorite among homeowners and interior designers alike. In this article, we will explore 15 inspiring ideas to help you incorporate grey kitchen cabinets into your own kitchen design. From sleek and contemporary to rustic and cozy, grey cabinets can transform the look and feel of your kitchen space.
1. Modern Minimalism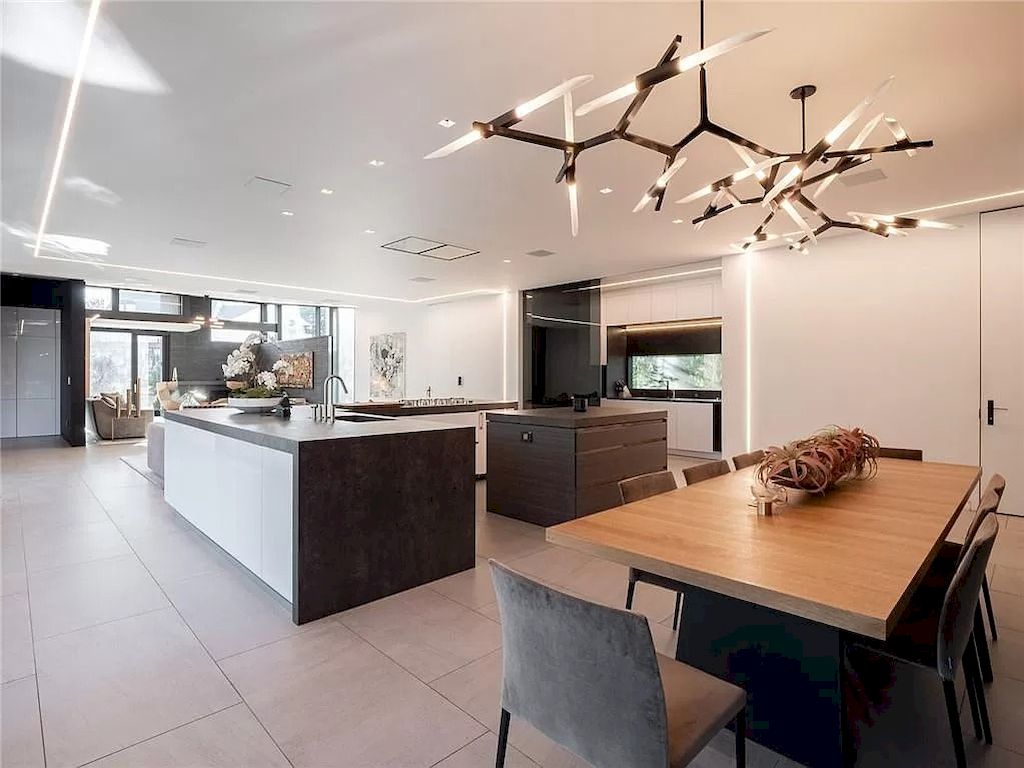 To achieve a sleek and minimalistic design, opt for light grey cabinets paired with stainless steel appliances and clean lines. This combination creates a chic and contemporary atmosphere. Moreover, the light grey color adds a sense of airiness to the space, making it feel open and spacious. Transitioning from traditional to modern? This is the perfect choice! This Gorgeous Contemporary Home in Georgia Hits Market for $4,995,000
2. Classic Charm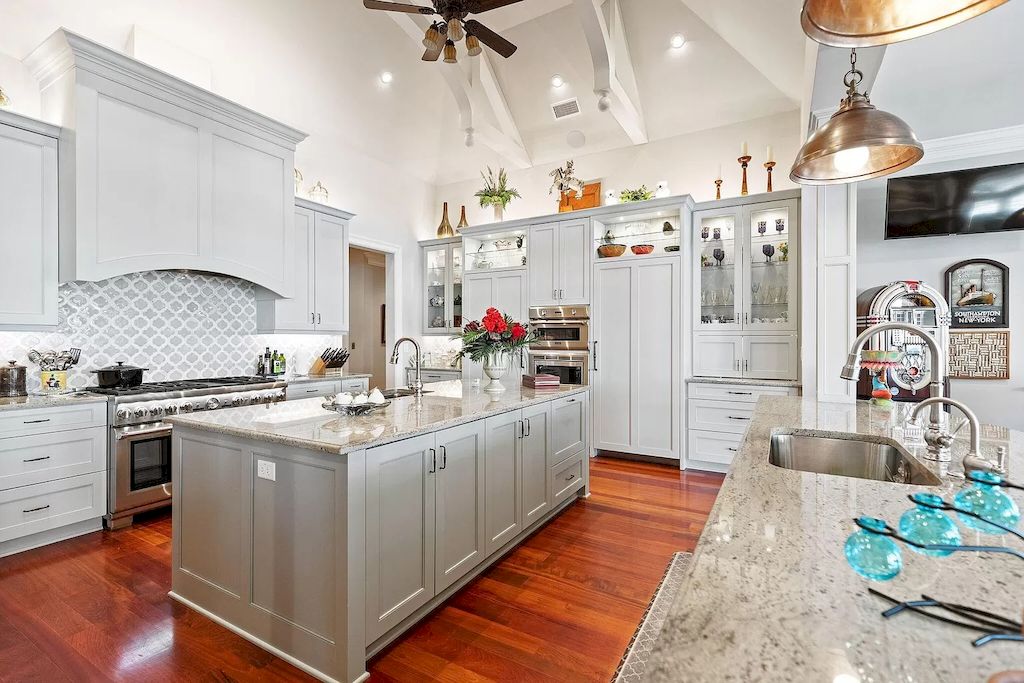 For a timeless look, consider soft grey cabinets with intricate details and elegant hardware. This style complements traditional and vintage-inspired kitchen designs. In addition, the soft grey color adds a touch of sophistication and elegance, while the intricate details on the cabinets bring a sense of craftsmanship and charm. Pair the cabinets with marble countertops and antique-inspired light fixtures to complete the classic look. Thus, embrace the charm of the past! High-end Custom Built Home with Breathtaking Water Views in South Carolina on Market for $8,500,000
3. Industrial Chic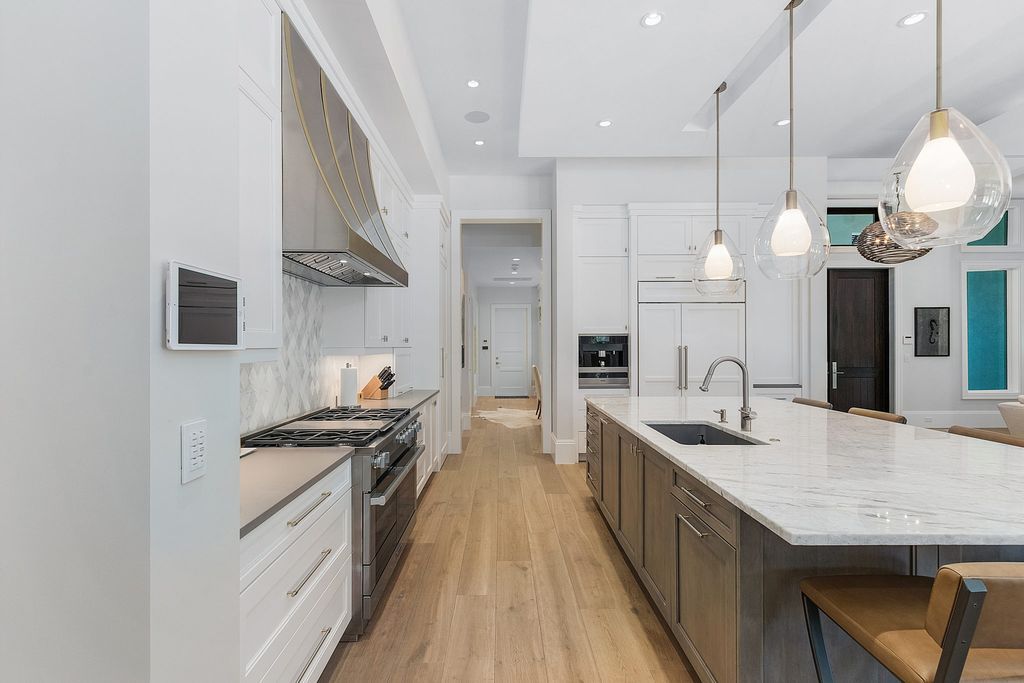 Embrace an industrial touch by incorporating grey cabinets with a slightly distressed finish. Additionally, combine them with exposed brick walls, concrete countertops, and vintage light fixtures for a trendy and edgy vibe. The distressed grey cabinets paired with raw and rugged materials create a unique and stylish look inspired by industrial loft spaces. Then, add open shelving and metal accents to enhance the industrial aesthetic. Get ready to rock the urban vibe! This $6,395,000 Naples Home with Top of The Line Features and Beautiful Lake View
4. Two-Tone Contrast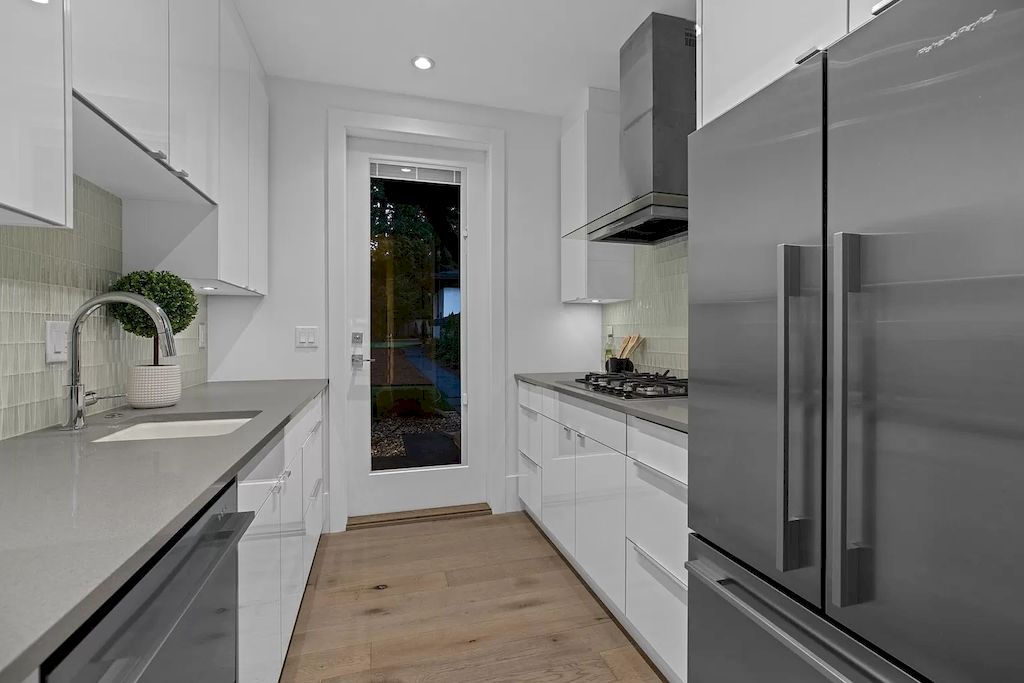 Create visual interest by combining white or light grey upper cabinets with dark grey lower cabinets. This contrasting effect adds depth and dimension to your kitchen design. The two-tone grey cabinets create a focal point in the kitchen and draw attention to different areas of the space. This technique works particularly well in large kitchens with ample natural light, as it prevents the overall look from feeling monotonous. As a result, it's all about balance. The Beautiful Landscape Presents Ultimate Privacy Making this C$7,488,000 Stunning Estate in Surrey truly Special
5. Warm and Cozy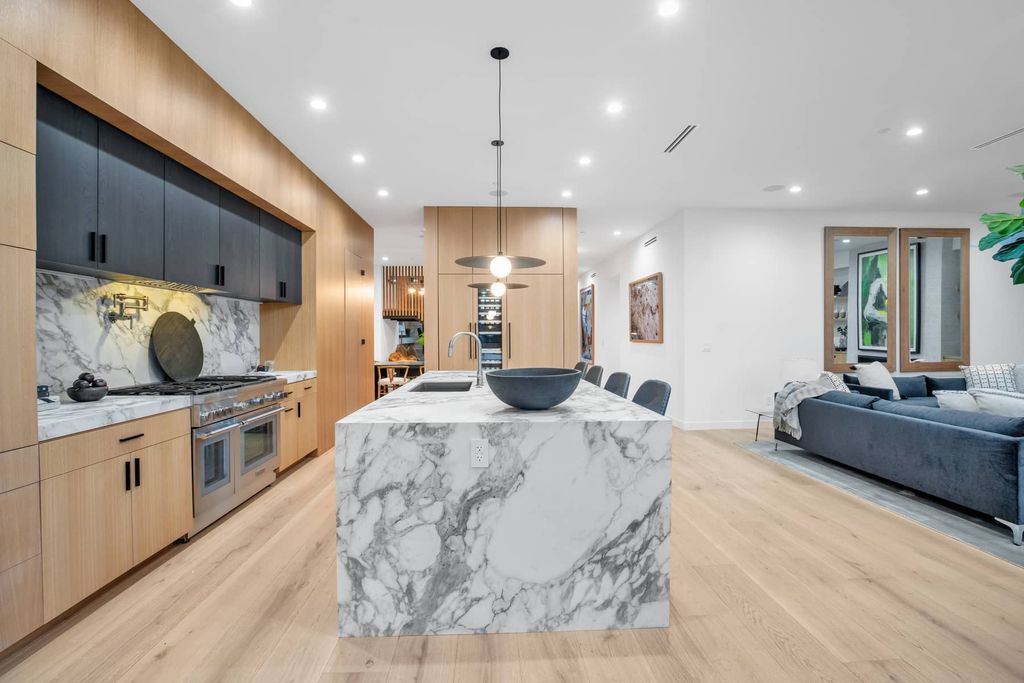 Choose warm grey tones with brown undertones to create a cozy and inviting atmosphere. Pair them with warm metallic accents and natural wood elements for a rustic charm. The warm grey color adds a sense of comfort and warmth to the kitchen, making it a welcoming space for family and friends. So, you can combine the cabinets with copper or brass hardware and wooden countertops for a rustic yet refined look. Create a snug haven in your kitchen. A Brand New Modern Home in Culver City with Outstanding Craftsmanship hits the Market for $4,350,000
6. High Gloss Glamour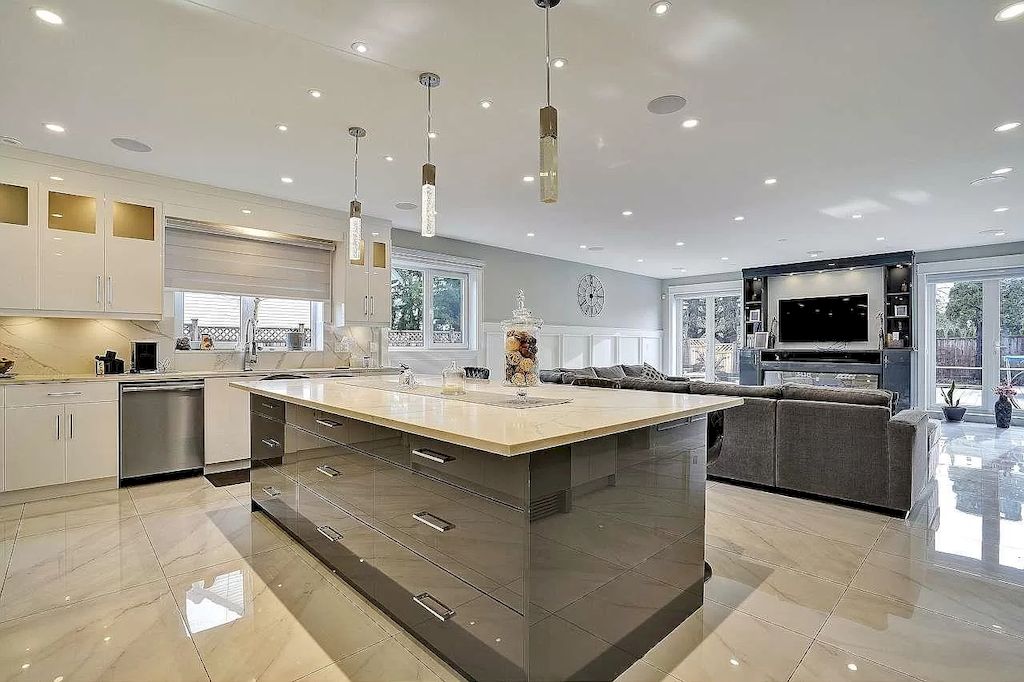 Opt for sleek, high-gloss grey cabinets to create a glamorous and luxurious kitchen. The reflective surface of the cabinets adds a touch of elegance and sophistication to the space. Therefore, pair them with quartz or granite countertops and crystal chandeliers for a truly glamorous look. This style is perfect for those who want to make a statement and create a kitchen that exudes opulence and grandeur. Prepare to dazzle! This is also can be a Luxury idea for your kitchen. Luxury Mega House in Surrey with Open Concept Lists for C$4,199,999
7. Coastal Cool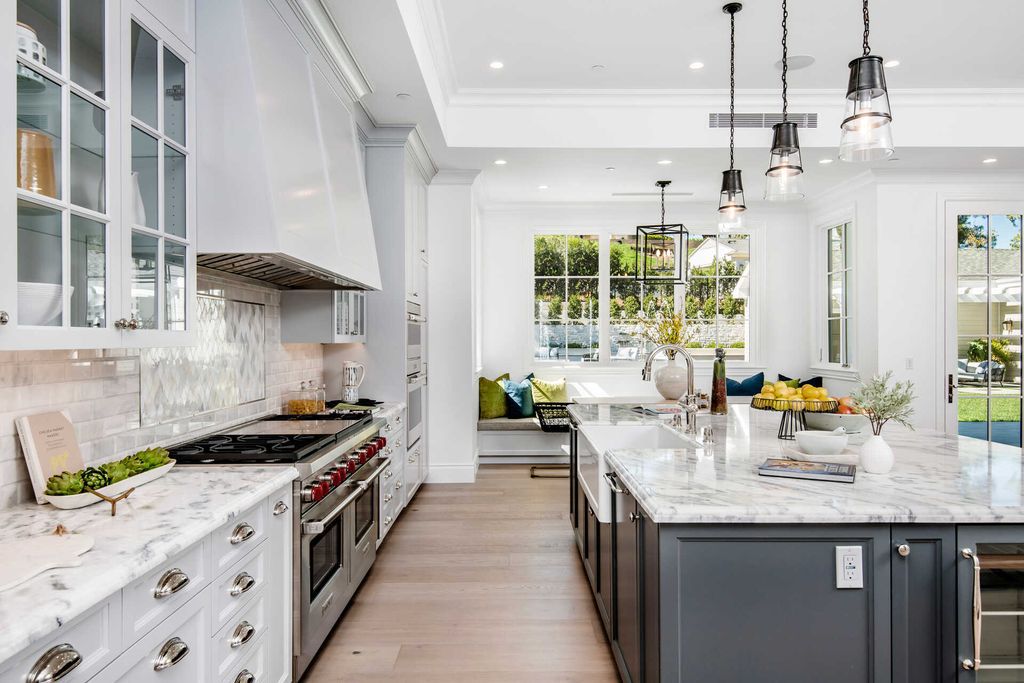 Create a coastal-inspired kitchen by incorporating light grey cabinets with a weathered finish. For instance, you can mix them with pale blue or seafoam green accents, nautical-inspired hardware, and natural textures like rattan or wicker. As a result, the combination of the light grey cabinets and the coastal colors evokes a sense of tranquility and relaxation, reminiscent of a beachside retreat. You can bring the beach vibes home. Exquisite New Construction Home in Encino Defines Luxury and Style Asking for $11,995,000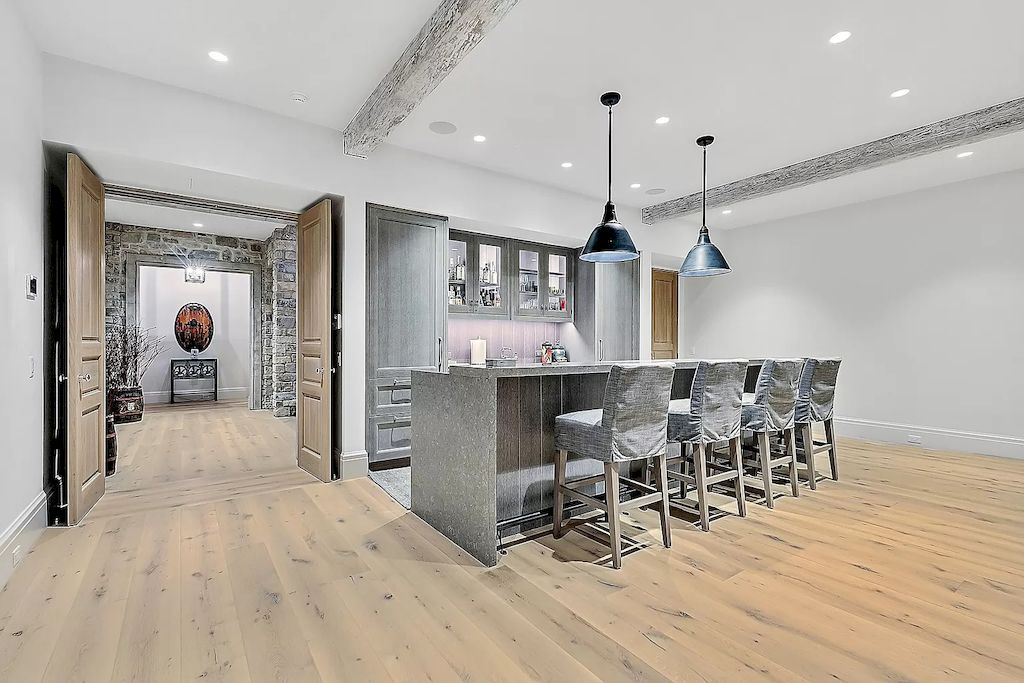 You should embrace the Scandinavian design aesthetic by choosing light grey cabinets with clean lines and minimalistic hardware. Then mix them with white subway tiles, light wood accents, and pops of color from kitchen utensils or fresh herbs. Thus, the light grey color enhances the bright and airy feel. Artful Stone Manor: A Fusion of Understated Elegance and Modern Rustic Charm in Illinois
9. Rustic Charm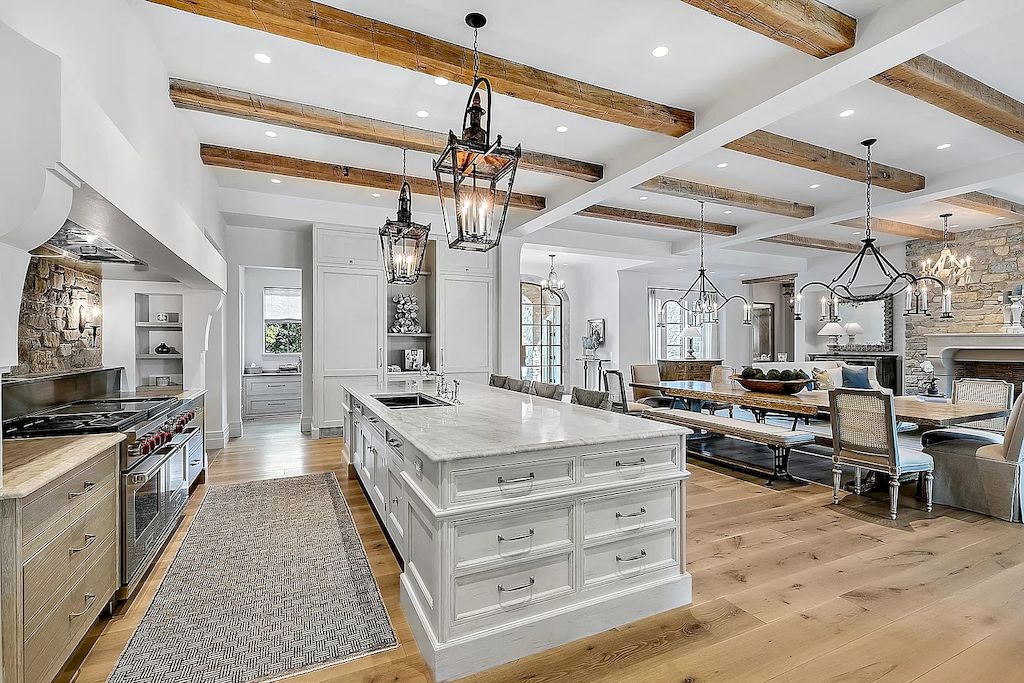 To achieve a cozy and inviting atmosphere in your kitchen, consider distressed grey cabinets. This rustic style adds character and charm to the space. We opt for cabinets with a weathered finish, showcasing the natural wood grain underneath the grey paint. Then, we can pair them with vintage-inspired hardware and a farmhouse sink to enhance the rustic appeal. Additionally, balance the look with modern elements like subway tile backsplash and sleek black appliances for a transitional twist. Artful Stone Manor: A Fusion of Understated Elegance and Modern Rustic Charm in Illinois
10. Farmhouse Chic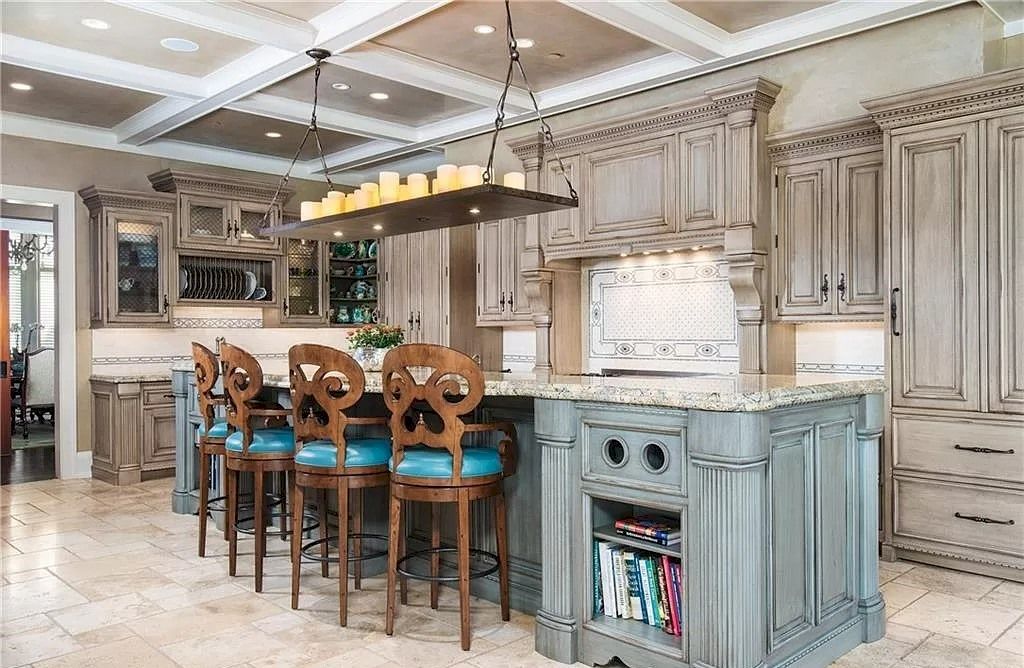 If you love the farmhouse aesthetic but want to incorporate a modern twist, a combination of grey and white cabinets can achieve the desired farmhouse chic look. In addition, use white cabinets for the upper section to create an open and airy feel, while grey cabinets for the lower section add depth and contrast. Thus, to enhance the farmhouse vibe, incorporate elements such as a farmhouse sink, open shelving with rustic decor, and a subway tile backsplash. Add warmth with wooden accents, such as a reclaimed wood countertop or floating shelves. This Connecticut $28,500,000 Extraordinarily One-of-a-kind Equestrian Compound is an Ideal Retreat
11. Earthy and Organic with Green-Grey Cabinets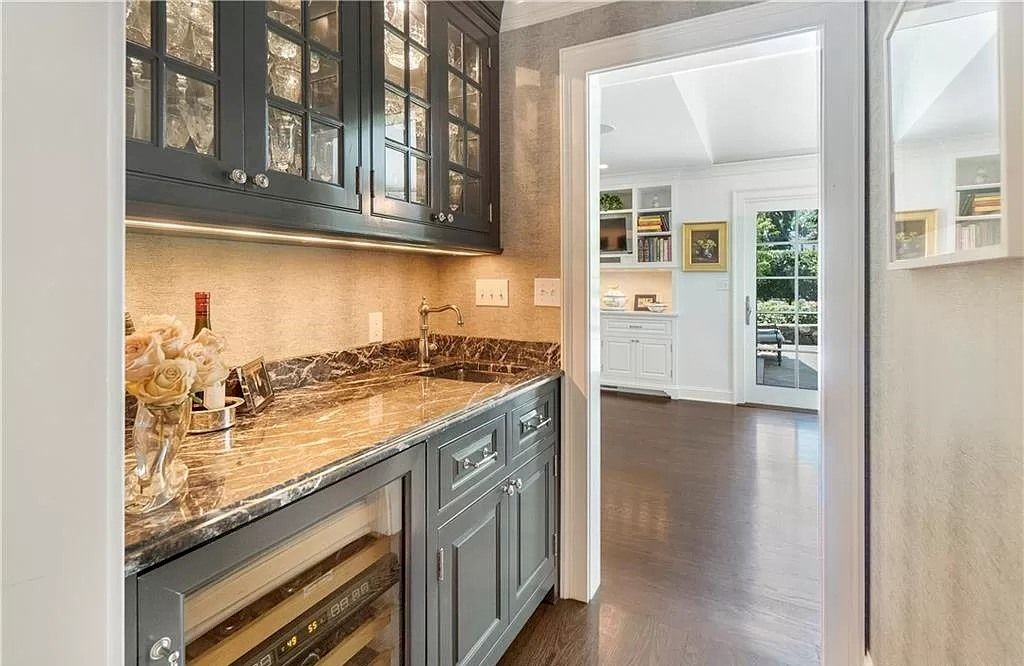 For a unique and nature-inspired kitchen design, consider green-grey cabinets. This color choice brings an earthy and organic vibe to your space. Opt for a grey shade with subtle green undertones to achieve this look. Moreover, mix the cabinets with natural materials such as butcher block countertops, bamboo flooring, or rattan pendant lights. We can raise the organic feel by incorporating indoor plants and botanical prints. As a result, the combination of green-grey cabinets and natural elements creates a soothing and refreshing transitional kitchen. Connecticut Sophisticate and Charming Waterfront Retreat Listed for $5,850,000
12. Vintage Charm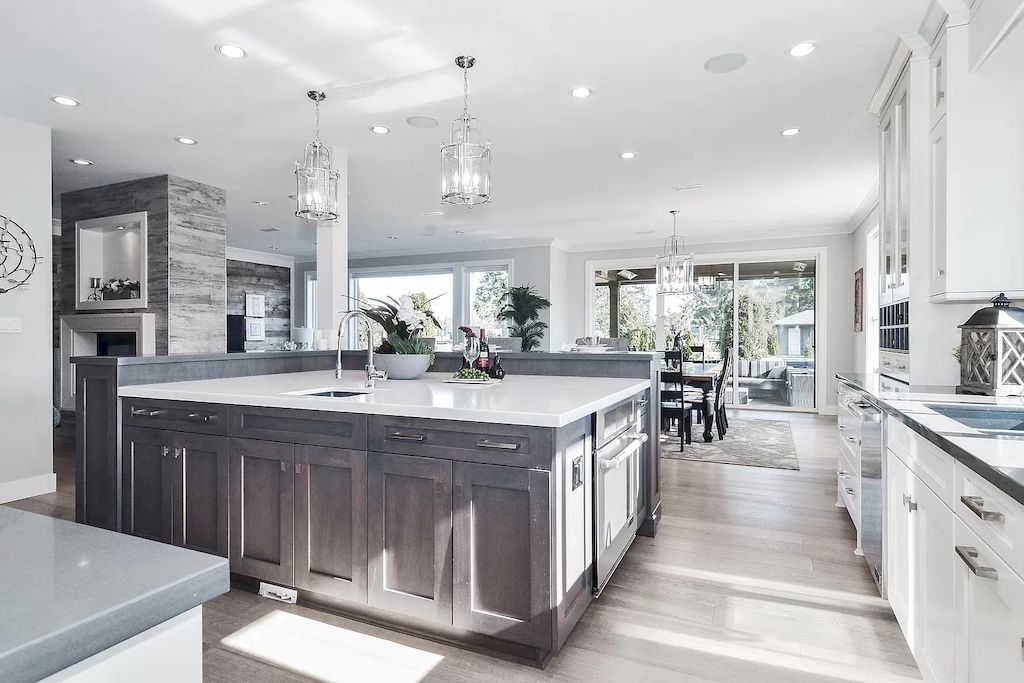 To bring a touch of nostalgia and vintage charm to your kitchen, consider antiqued grey cabinets. This style involves distressing the cabinets to create an aged and worn look. Then, choose a medium to dark grey shade and add techniques like sanding, glazing, or applying a faux finish to achieve the desired antique effect. Pair the cabinets with vintage-inspired hardware, such as ornate brass handles or glass knobs. Therefore, complete the look with a farmhouse sink, vintage-style light fixtures, and open shelving to showcase your collection of vintage dishware. Multi-generational Luxury House in Langley Sells for C$4,999,900
13. Sleek and Contemporary with Glossy Grey Cabinets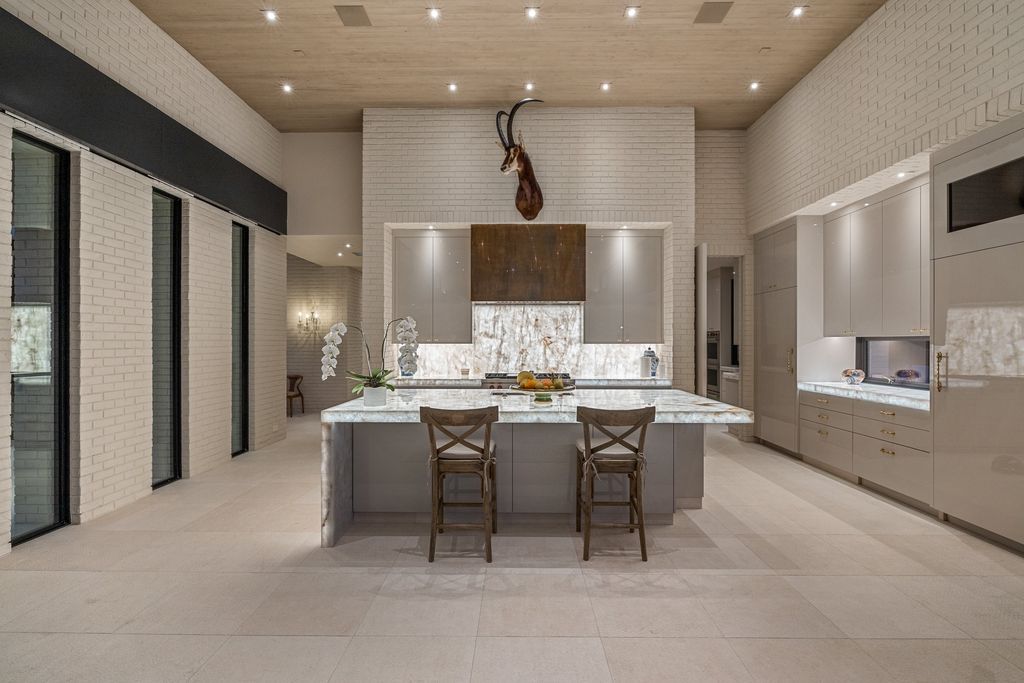 For a sleek and contemporary kitchen design, opt for glossy grey cabinets with glass accents. The high-gloss finish of the cabinets creates a modern and luxurious feel. For example, pair them with glass cabinet doors or open shelving to showcase your stylish dishware or decorative items. Then. choose a complementary backsplash made of glass tiles or mirrored surfaces to enhance the sleek aesthetic. Complete the contemporary look with stainless steel appliances, minimalist hardware, and a streamlined countertop in a contrasting color. This $11,200,000 Vintage Country Club Home is a True Trophy of Design with Perfectly Appointed Taste
14. Bohemian Chic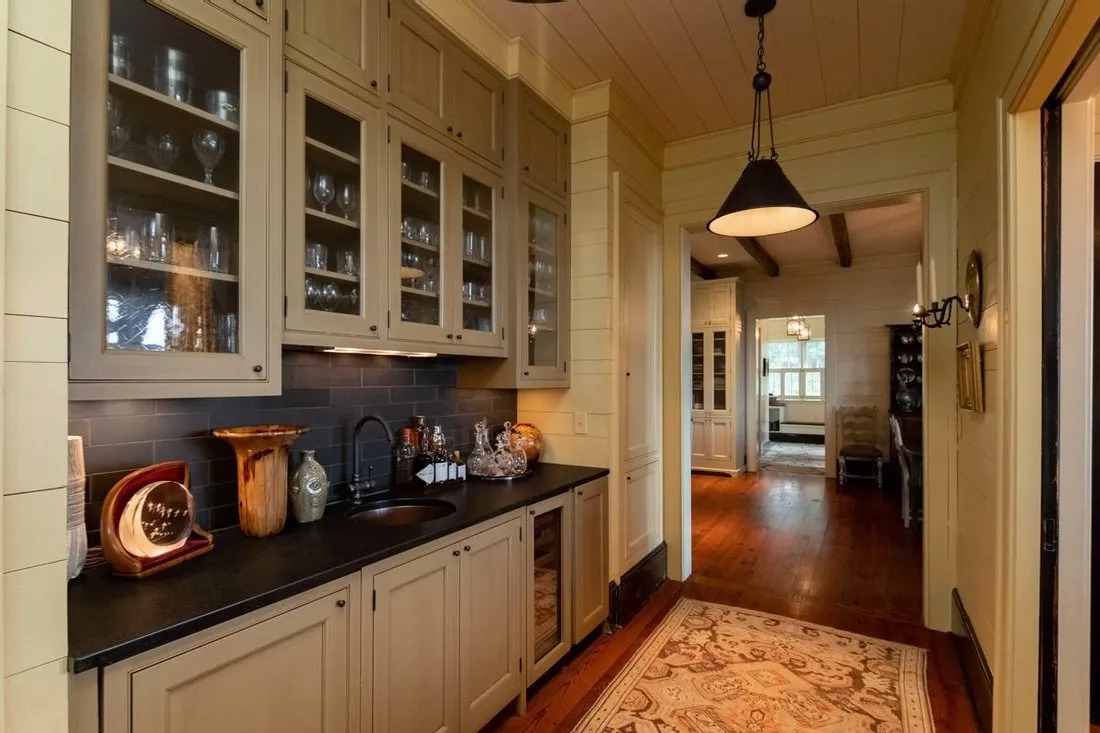 If you're drawn to a bohemian-inspired kitchen with a mix of textures, patterns, and colors, grey cabinets can serve as a versatile backdrop. You can choose a medium-toned grey shade and pair it with eclectic elements. For example, patterned tiles for the backsplash, a mix of vintage-inspired hardware, and open shelving to display your collection of bohemian-style ceramics or plants. Moreover, incorporate natural materials like rattan or woven pendant lights, bamboo blinds, and a wooden dining table to add warmth and organic appeal to the space. Therefore, the combination of grey cabinets with eclectic elements creates a unique and inviting bohemian-chic kitchen. Treasure of Antiques from All Over the World Filled in this North Carolina $7,000,000 Estate
15. Dark Charcoal Grey Cabinets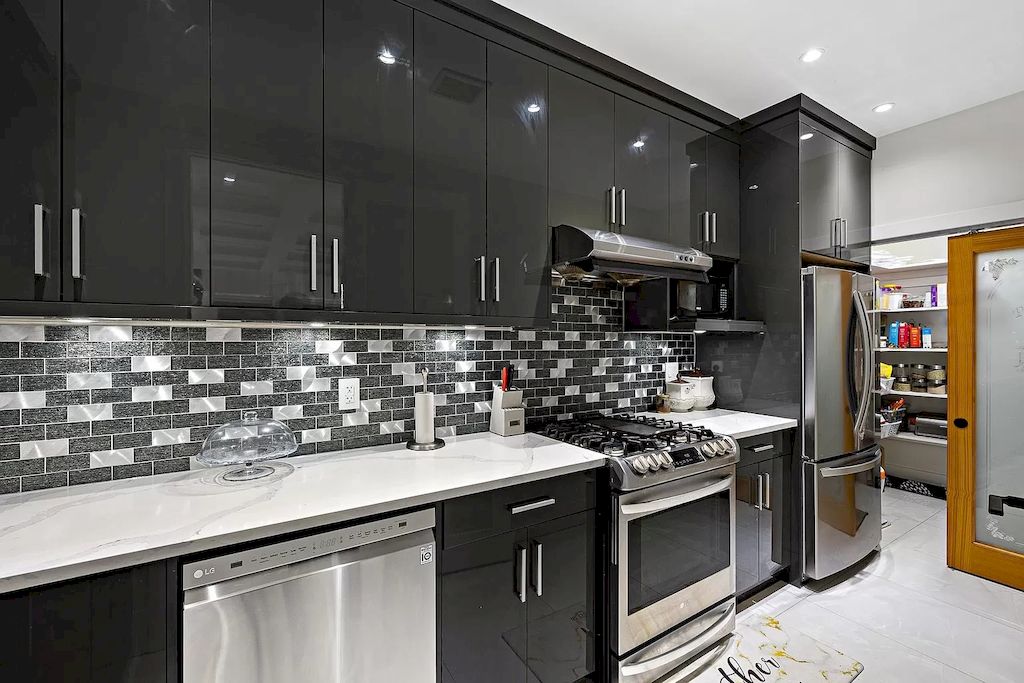 For a kitchen that exudes sophistication and drama, consider dark charcoal grey cabinets. This bold choice adds depth and creates a striking focal point. Incorporate statement lighting fixtures, like oversized pendant lights or a chandelier, to add a touch of glamour. Additionally, balance the dark cabinets with light-colored flooring and accents to create a visually balanced and transitional space. This C$3,499,000 Dream House in Surrey Offers Top of the Line Appliances and High-end Finishing
Grey kitchen cabinets offer a myriad of design possibilities to create a stunning and transitional space. Whether you prefer classic elegance, modern sophistication, rustic charm, or a coastal vibe, grey cabinets can be tailored to suit your desired style. Moreover, by incorporating elements from both traditional and contemporary design, you can achieve a seamless transition and a kitchen that combines the best of both worlds. Whether you opt for distressed grey cabinets for a cozy atmosphere or two-tone grey cabinets for a visually dynamic look, the versatility of grey allows you to express your personal style while maintaining a cohesive aesthetic. You can check another article 20 Colorful Living Room Ideas: Transform Your Space with Vibrant Design for more creative ideas.
More Ideas For Living Room:
---
Thousand of high quality images of Living room and more you can see at Livingroom Gallery.