Date of Publishing:
It is not difficult for designers to come up with new ideas due to the creativity and variety of materials available on the market. This article covers everything from modern styles to traditional styles to architectural breakthroughs. As a result, 17 kitchen ideas chosen from the best designs below will provide you with inspiration and the ideal combination for a cozy and comfortable kitchen space. Thousands of other fantastic home design ideas are available at LUXURY PHOTO.
1. Cheer It Up With Metal Appliances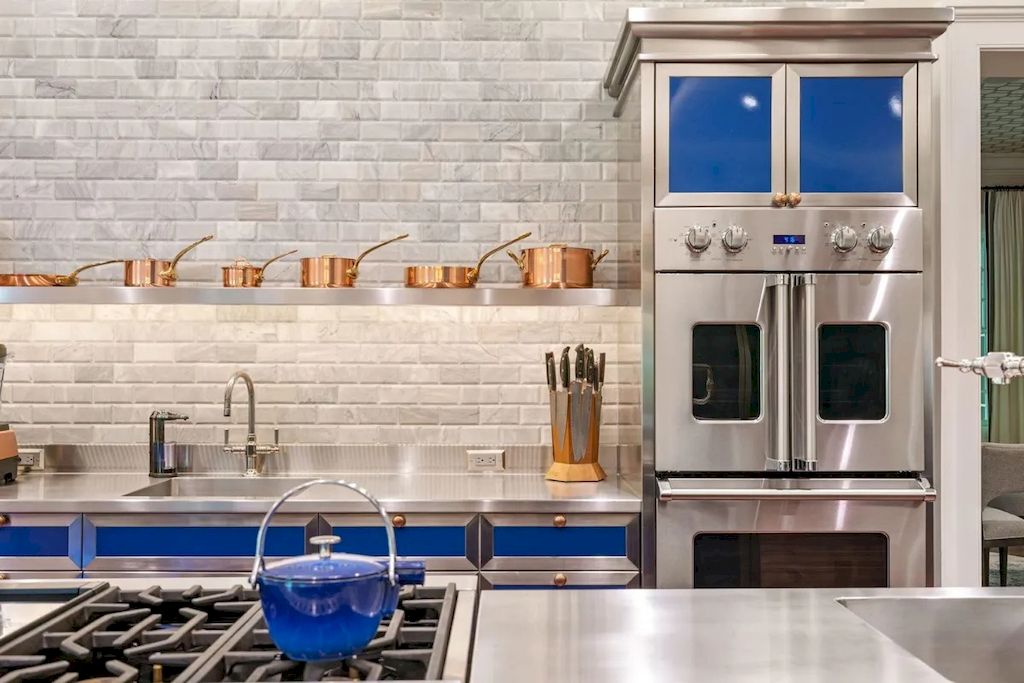 To complement the tiles wall's youthfulness, the designer used a copper and silver color palette. Tremendous and Noteworthy Residence in Virginia on Market for $14,700,000
2. Choose An Angular Architecture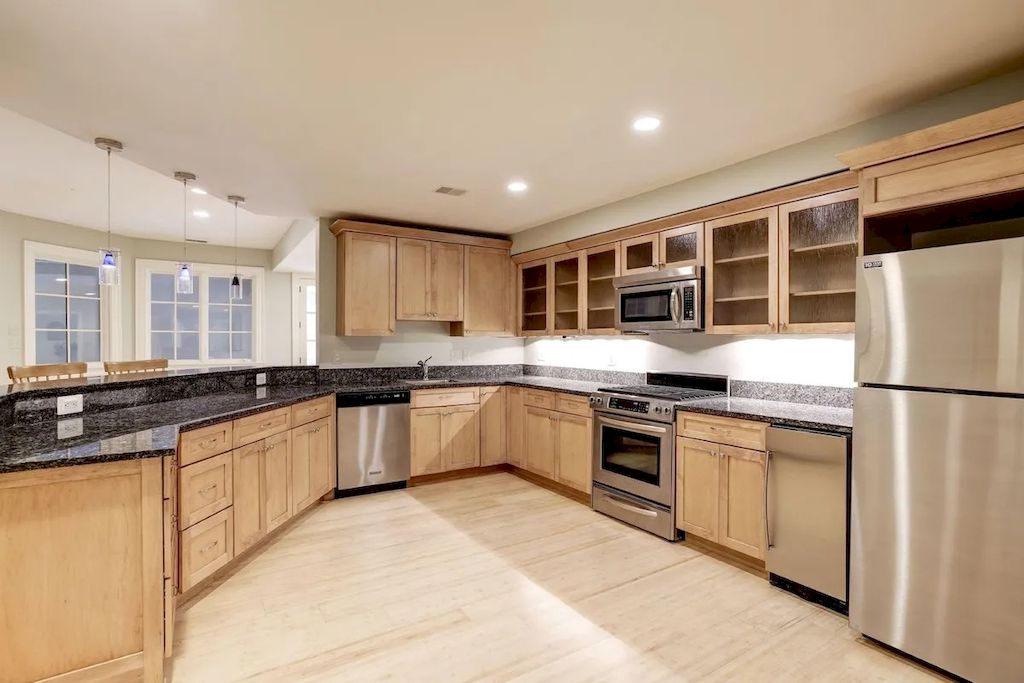 To create an angular plan, combine rectangular kitchen architecture with semicircular space architecture. As a result, it creates an environment that is both entertaining and functional. This $7,500,000 Palatial Estate Offers Resort-style Living in Virginia
3. All In White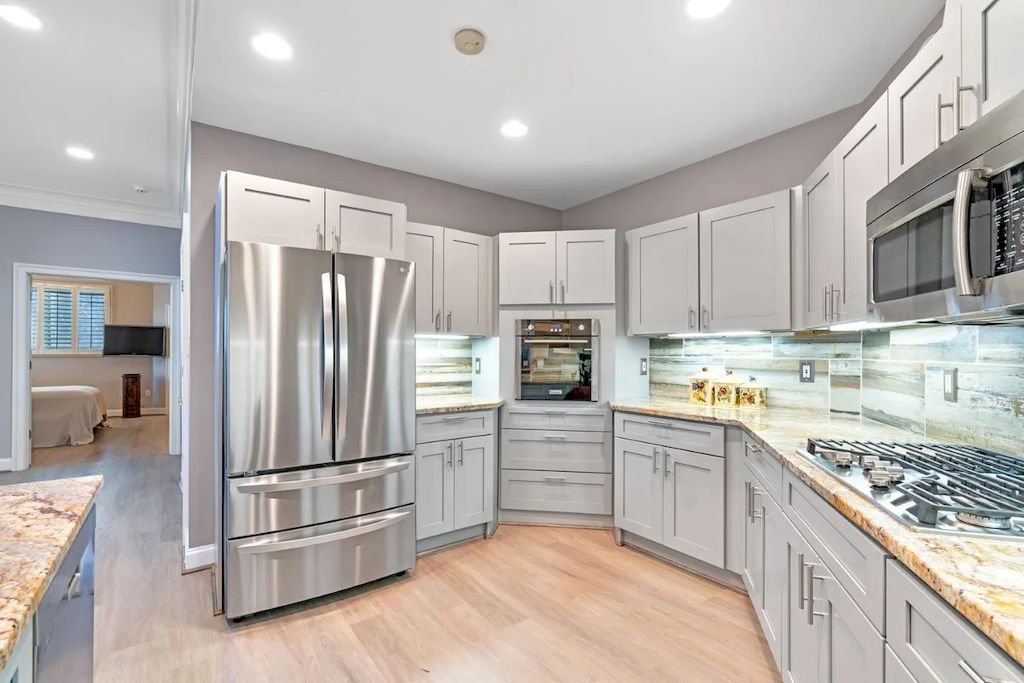 The stunning kitchen, designed by a creative designer, is painted in a glossy white finish. Not only does this make all of the surfaces very easy to shine, but the simplistic design also makes cleaning a breeze. This $11,500,000 Stone and Glass Estate Overlooks Spectacular Natural Landscape in Virginia
4. Never Out Of Date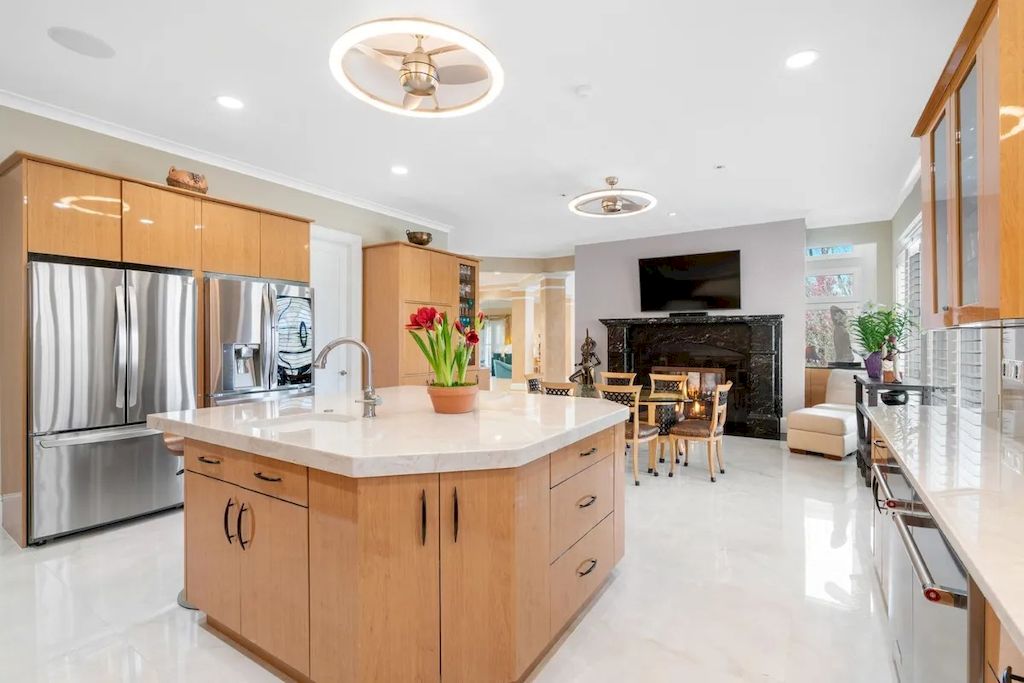 This is how you fill a room with light. Because of the reflection from the silver metal refrigerator, the circular chandelier in this area offers a flash of light to the industrial kitchen. This $11,500,000 Stone and Glass Estate Overlooks Spectacular Natural Landscape in Virginia
5. Invest In Modern Kitchen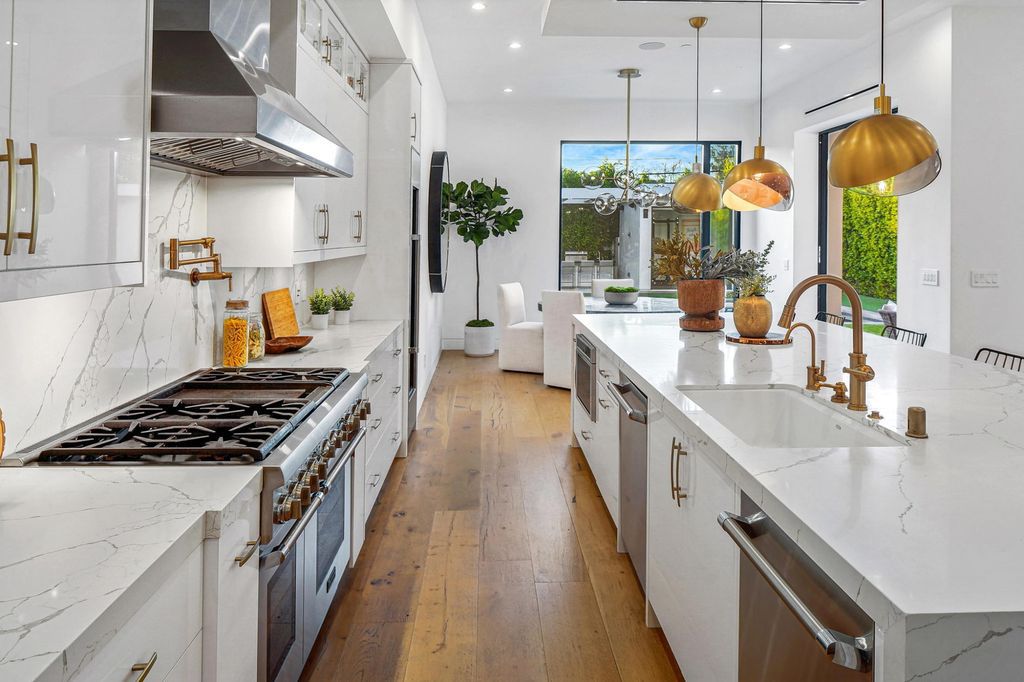 Modernity is reinforced by advanced equipment in a lengthy kitchen design with a white paint color tone. New This $4,695,000 Modern Home in Los Angeles has a Large Backyard Perfect for Entertaining
More Ideas for Living Room:
6. Set The Sence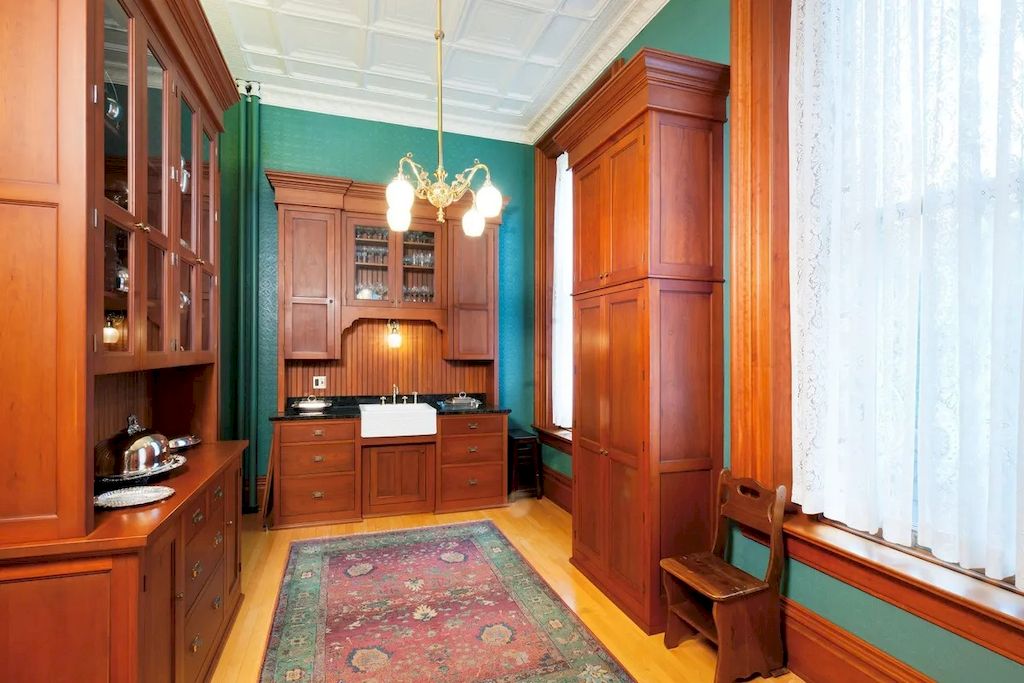 From the castleton artwork to the wooden cabinet to the lovely carpet, everything in this kitchen contributes to the Europian theme. This $3,280,000 Remarkable Residence is Truly a Piece of Art in Pennsylvania
7. Marble In Neutral Tone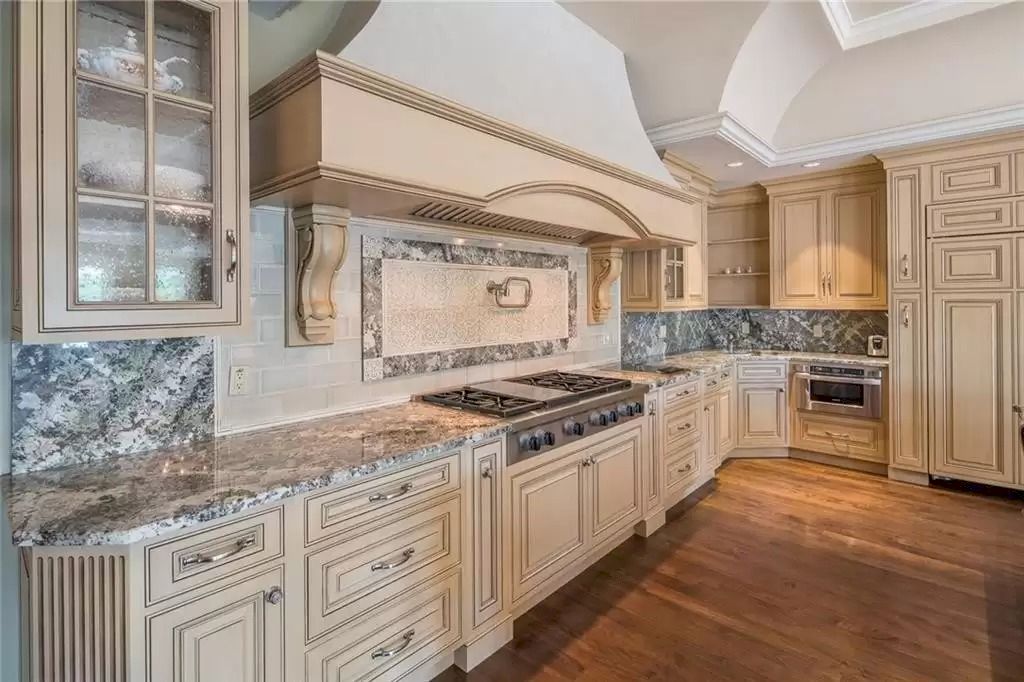 The room was accentuated by tiling several marbles in a variety of shades of cream color. This $3,900,000 Beautiful Estate Affords Stunning Panoramic Views of Lush Greenery in Pennsylvania
8. Playing With Tiles On The Wall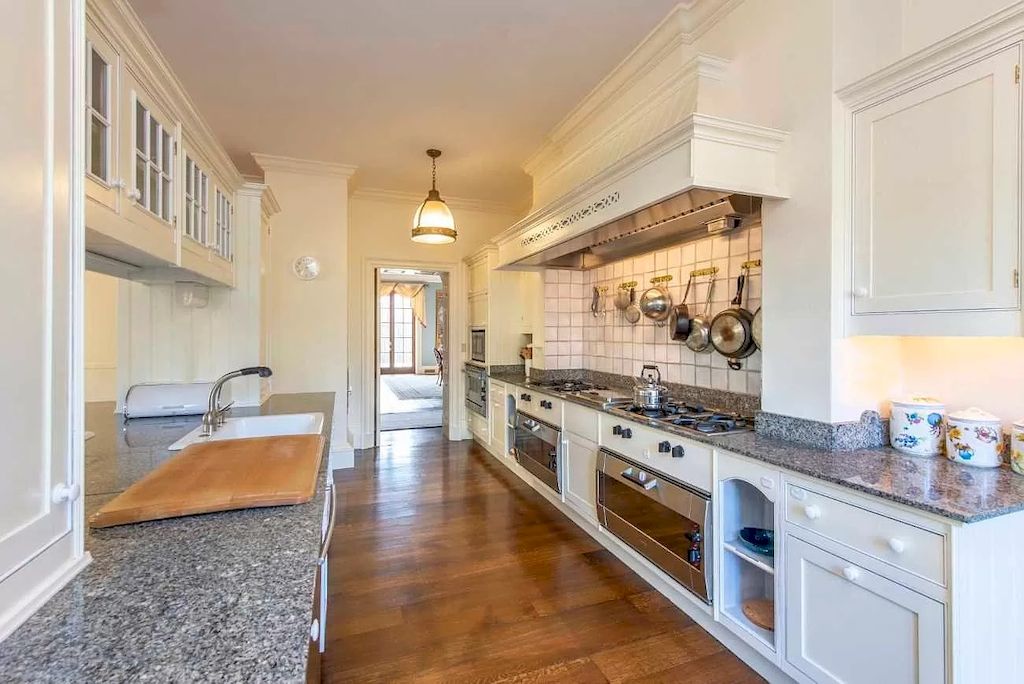 The tiles wall is a never-ending source of kitchen design inspiration; it creates a youthful, lively atmosphere, transforming the space into a fantastic painting. Beautiful Georgian Federal-Style Home in Connecticut Listed for $16,450,000
9. Chessboard Floor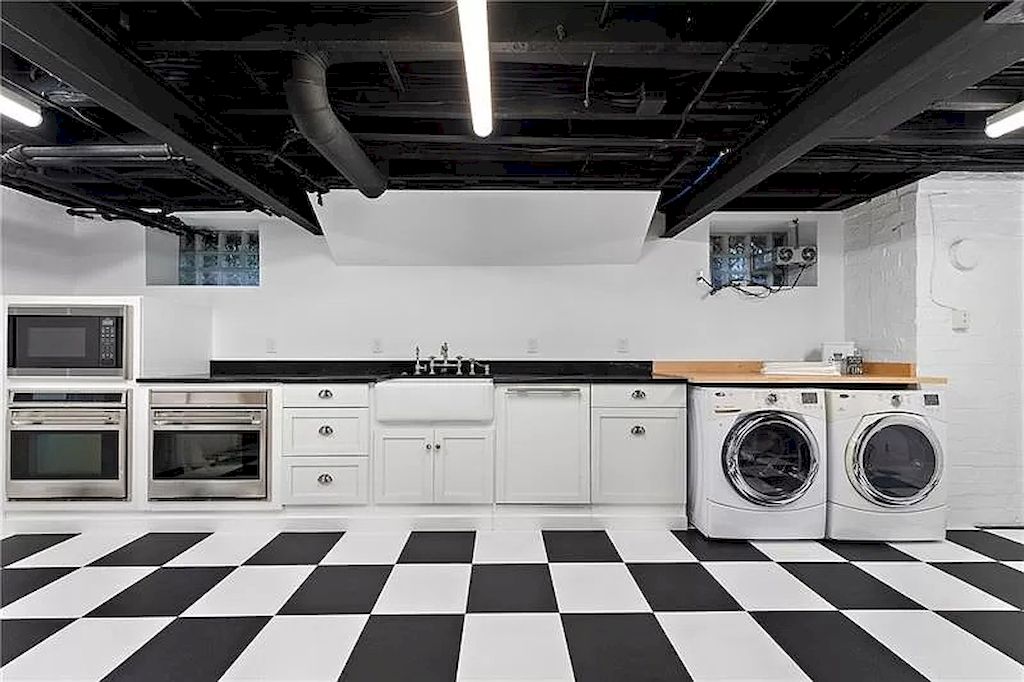 This kitchen exemplifies the importance of maintaining a sense of wellbeing. While painting the floor to look like a chessboard, the black ceiling, elegant backsplash, and stainless steel appliances create an unquestionably glam appearance. Discover Timeless Beauty and Classic Style of this $6,250,000 Outstanding Residence in Pennsylvania
10. Paint The Ceiling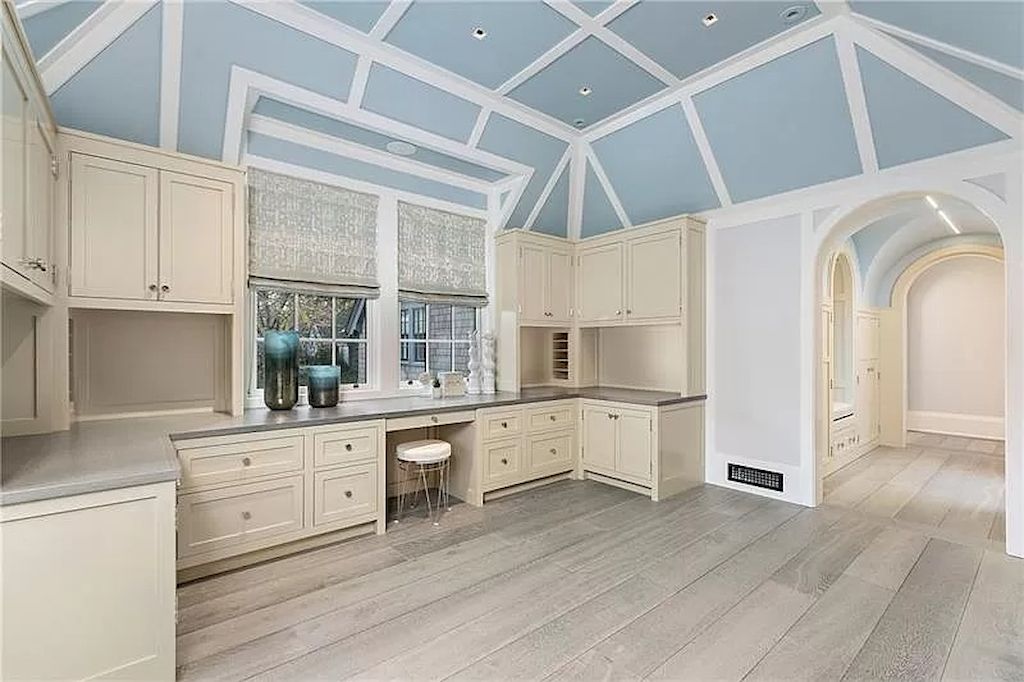 Thanks to selected colors and open space, kitchen concepts with open space are possible. Discover Timeless Beauty and Classic Style of this $6,250,000 Outstanding Residence in Pennsylvania
11. Brilliant With Cabinet Paint Color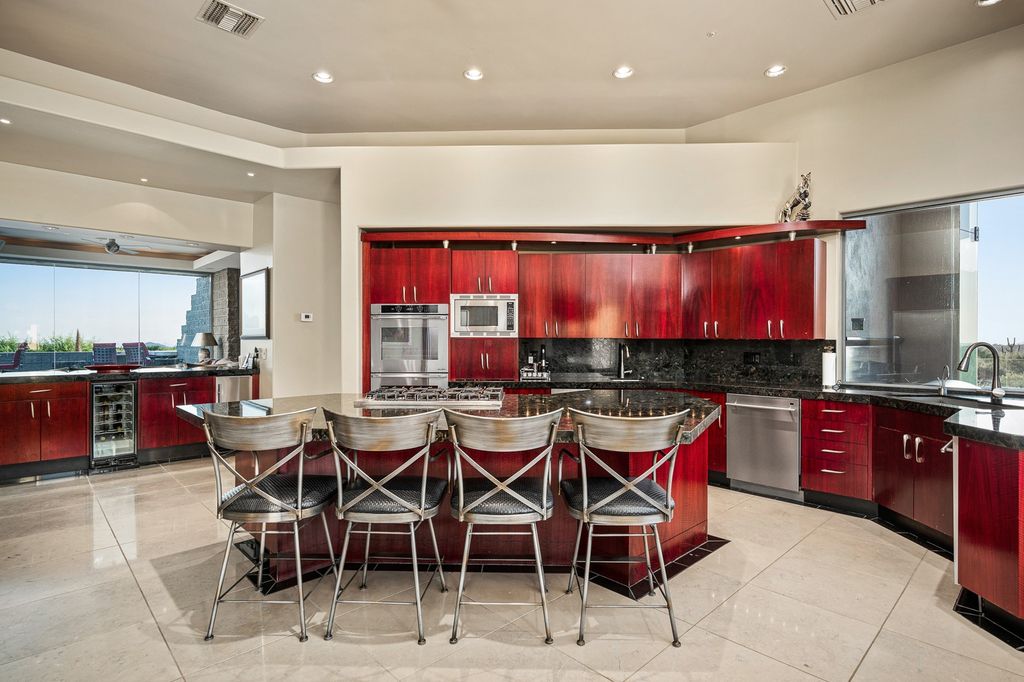 Instead of using popular paint colors, the designer went with a rich cherry red color that adds to the modernism of the design. Elegant contemporary home in Scottsdale with expansive Valley views as background sells for $5,000,000
12. Soft Curtains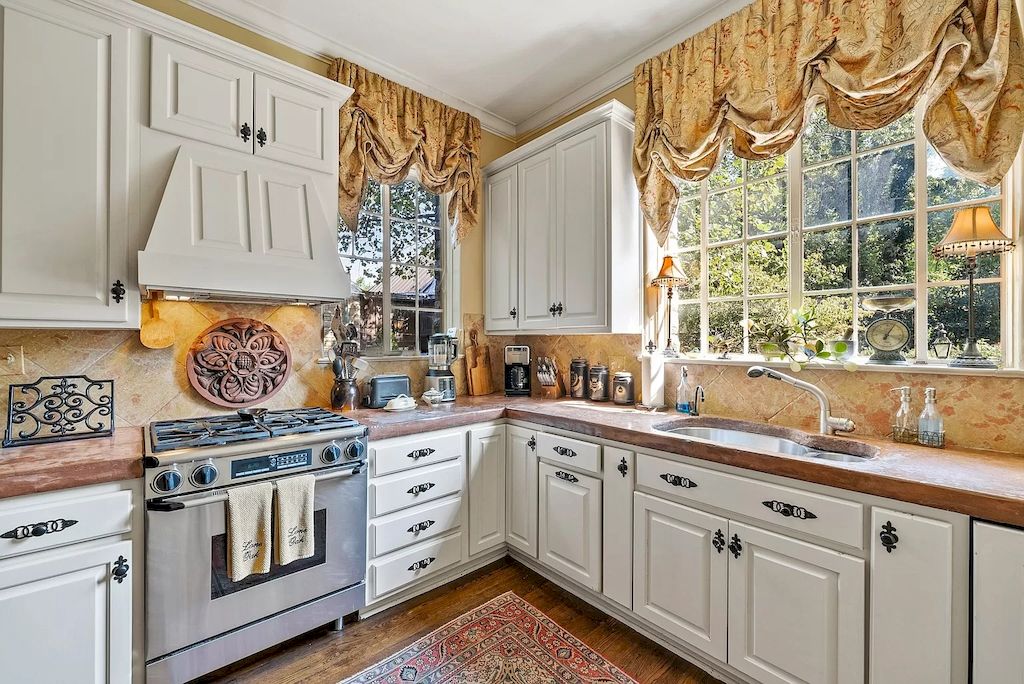 Because of the cleanliness and the necessity to change the curtains frequently, not many designers choose to use curtains in the kitchen. However, by choosing the proper placement and height, you may make the are more appealing. Beautiful Landmark in Tennessee Listed for $4,500,000
More Ideas For Bathroom:
13. Vintage Style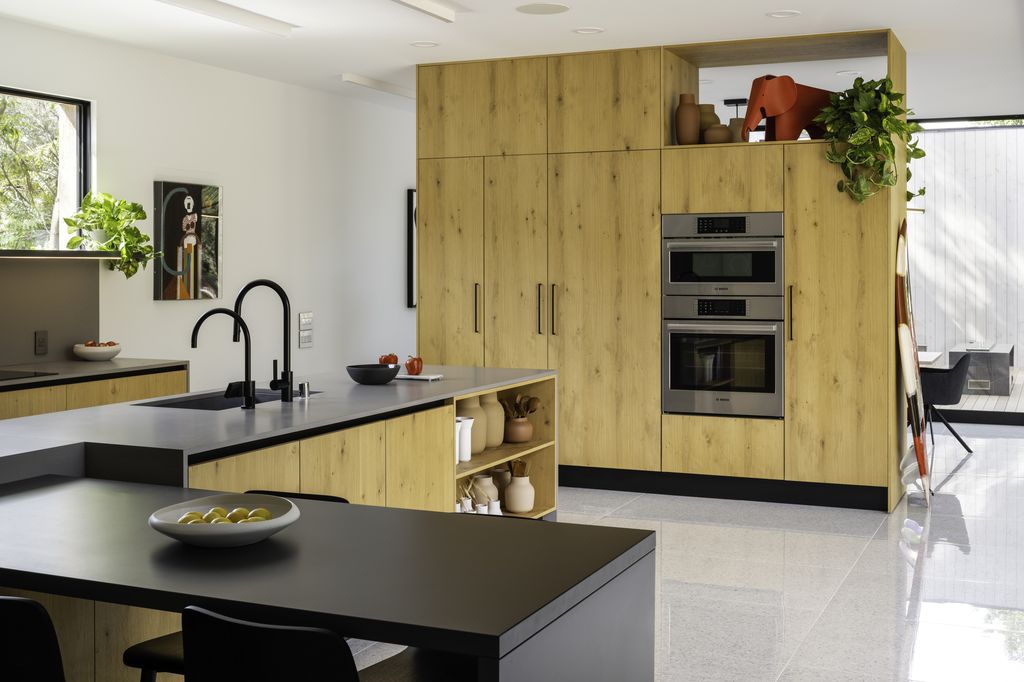 The designers complemented the modern kitchen idea with a glossy black surface in the vintage space with vintage wooden cabinets.. Bridge House Nestled in Nature in Los Angeles by Dan Brunn Architecture
14. Mix Pattern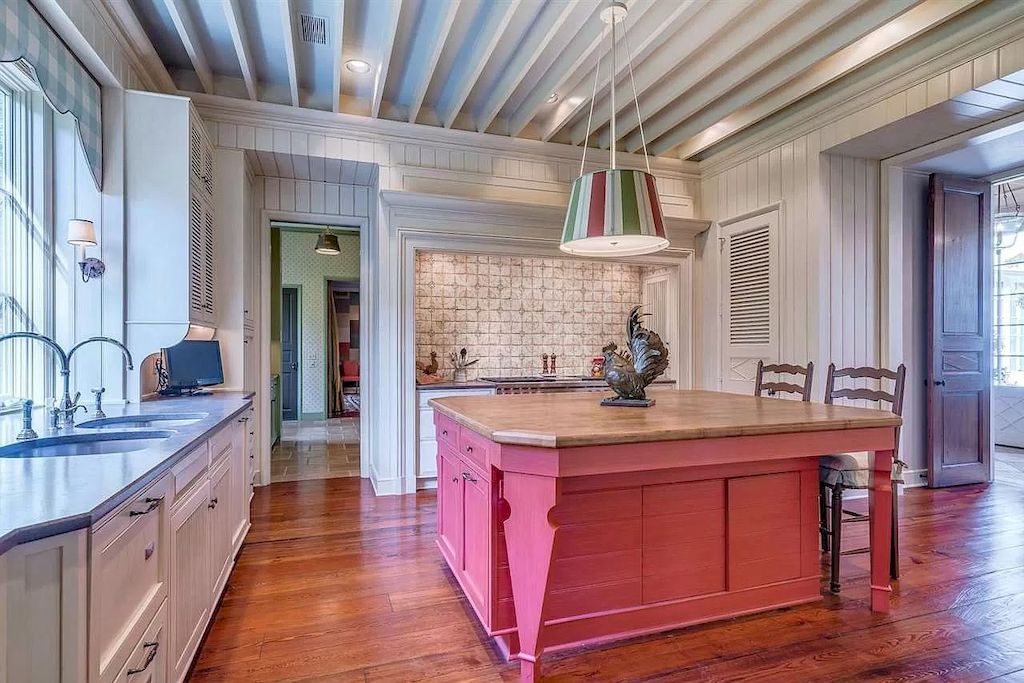 Plaid motifs can be found on the ceiling and on the wall frames. Meanwhile, diamond-patterned tiles are used in the kitchen. Gorgeous Home in Memphis, Tennessee Listed for $3,995,000
15. Go For A Colorful Space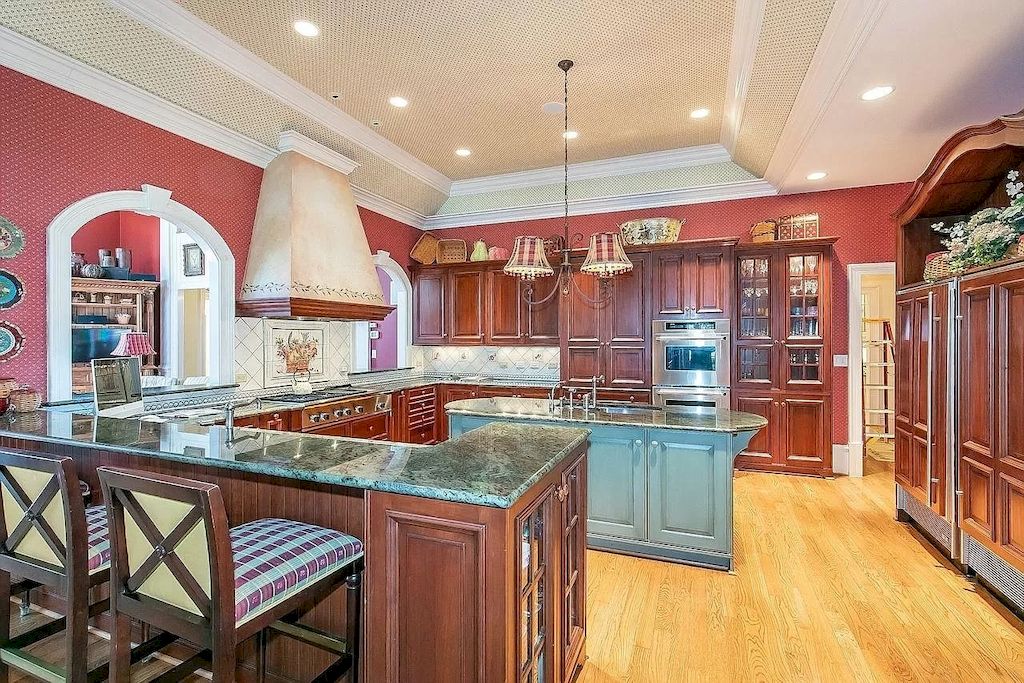 From the wall details to the decorative motifs on the hood, the kitchen space is meticulously designed. As a result, a space of color harmony illuminated by warm yellow light creates a warm and inviting atmosphere. Exquisite Custom-Built English Estate in Georgia Hits Market for $5,750,000
16. Tidy Up With Shelves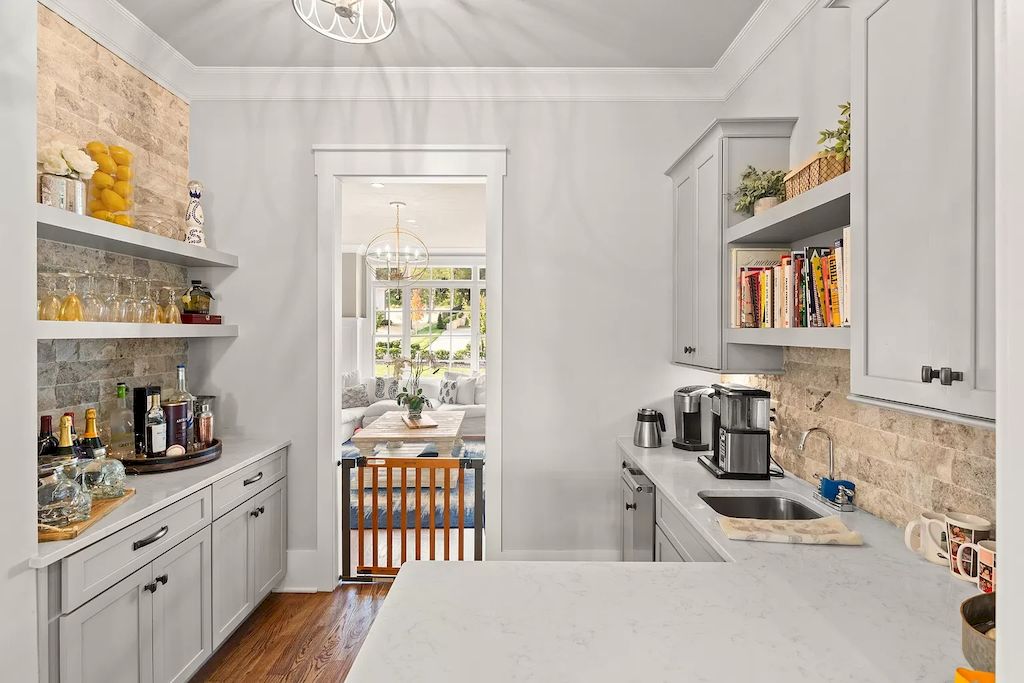 Because the kitchen isn't particularly large, the designer added shelves to help organize and manage the furniture.. This $3,499,000 Coveted Home Perfect for Entertaining Year Round in Tennessee
17. Breaking Textures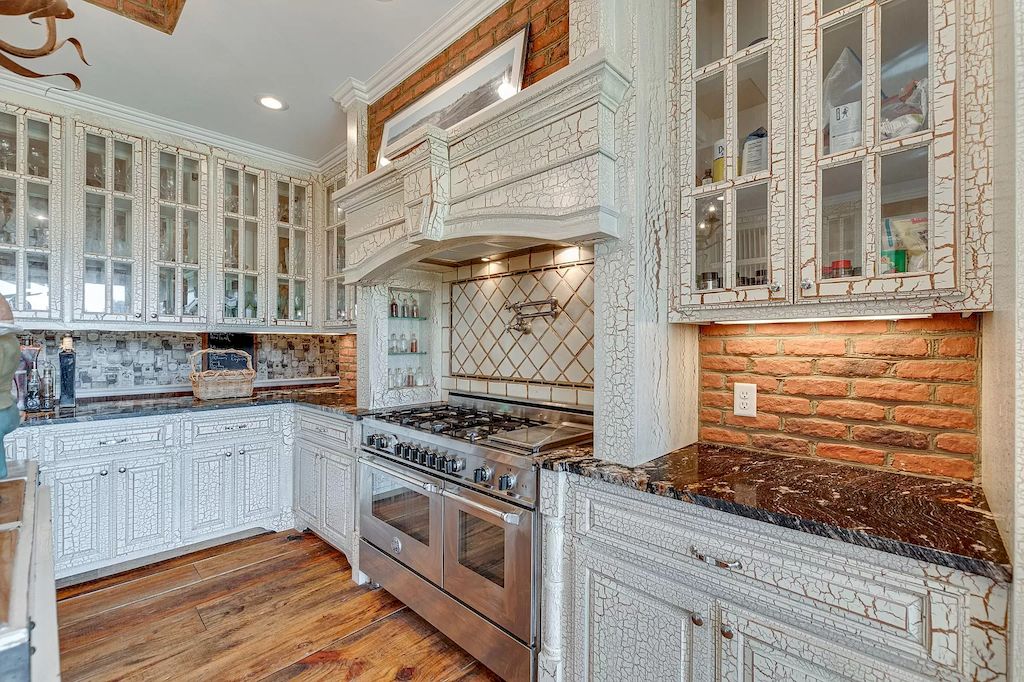 When combined with the red brick wall design, fancy choosing breaking textures for the kitchen space. This $3,280,000 Finest Home Makes Bold Statement of Luxury and Unparalleled Privacy in Tennessee
---
Thousand of high quality images of Kitchen and more you can see at Kitchen Gallery.