Date of Publishing:
Incredible suggestions for white bathroom ideas.
Welcome to a world of pure sophistication and tranquility – a realm where white takes center stage to create bathrooms that are not just functional, but also exquisitely serene and visually captivating. In this exploration of white bathroom ideas, we delve into the art of crafting spaces that resonate with elegance, simplicity, and a timeless charm. From the crisp cleanliness of white-on-white aesthetics to the interplay of textures and accents, each concept is a testament to the transformative power of this pristine hue. Join us as we journey through a gallery of design inspirations that celebrate the beauty of white in crafting bathrooms that are as inviting as they are rejuvenating.
1. Mix and match various tiles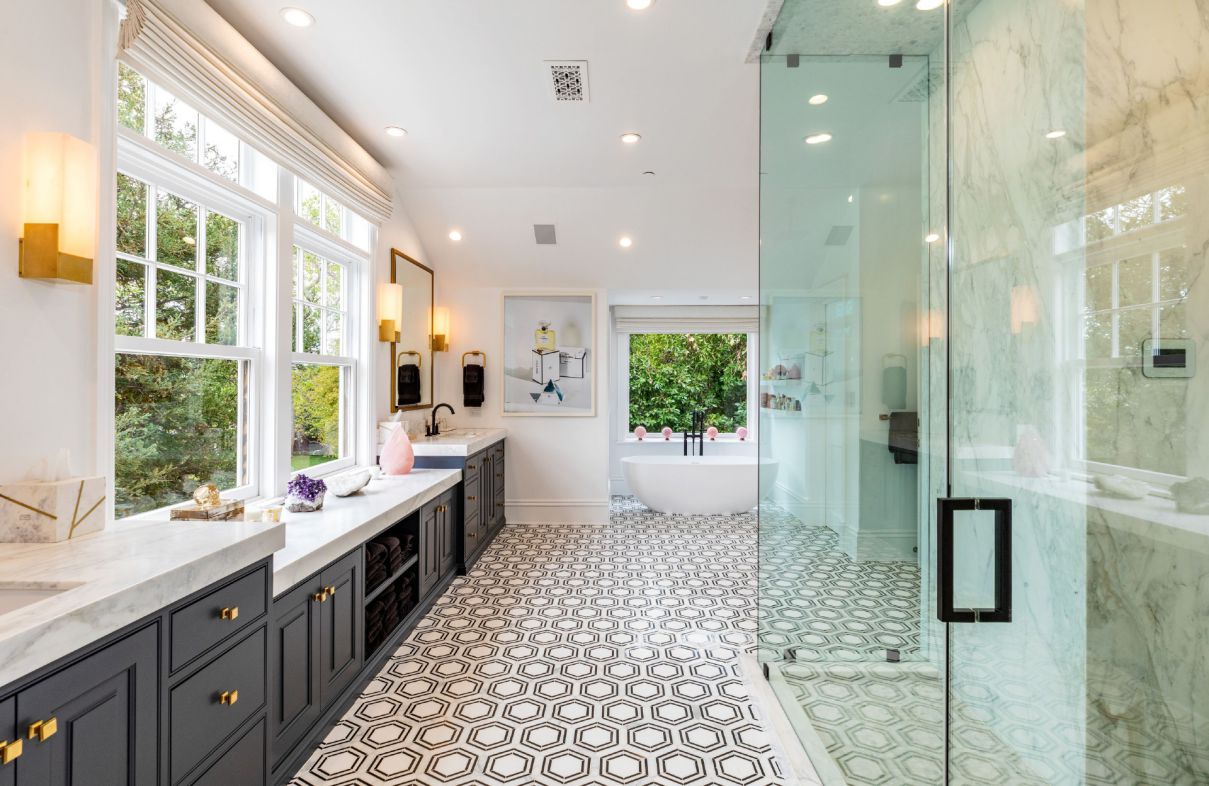 Pairing diverse tiles might be difficult, but when you work with a limited palette, it becomes much easier. Simply collect a variety of white tiles in various textures and shapes and arrange them next to one other. Because the tiles are the same color, they will look beautiful together no matter how they are arranged. Stylish Transitional Traditional Estate in Pacific Palisades for Sale at $11.5 Million
2. Purchase an eye-catching shower curtain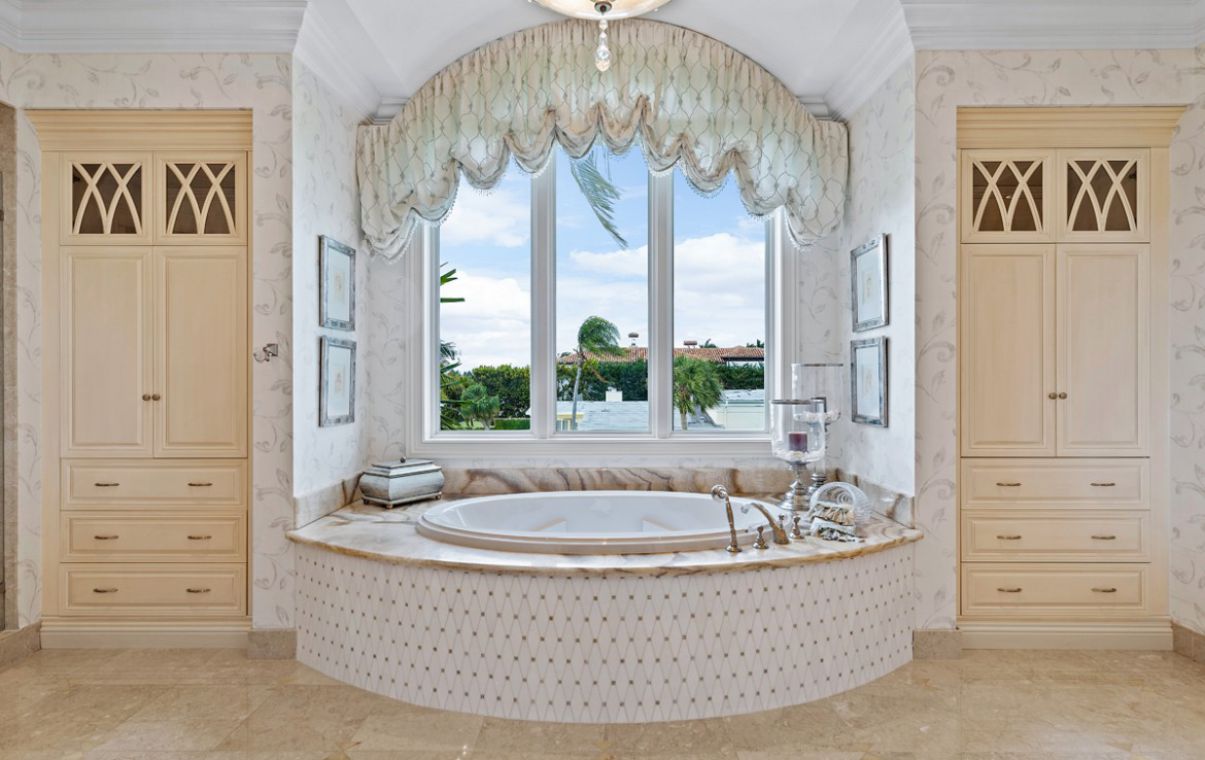 Shower curtains are the first thing people notice when they enter your bathroom, so select wisely. Look for a white alternative with a modest pattern, an unusual texture, or ornate edges. (After all, sticking to an all-white color scheme doesn't have to entail a dull shower curtain.) 1964 Royal Palm Way, Boca Raton on Market for an asking price of $12 Million
3. Instead of using color, experiment with shape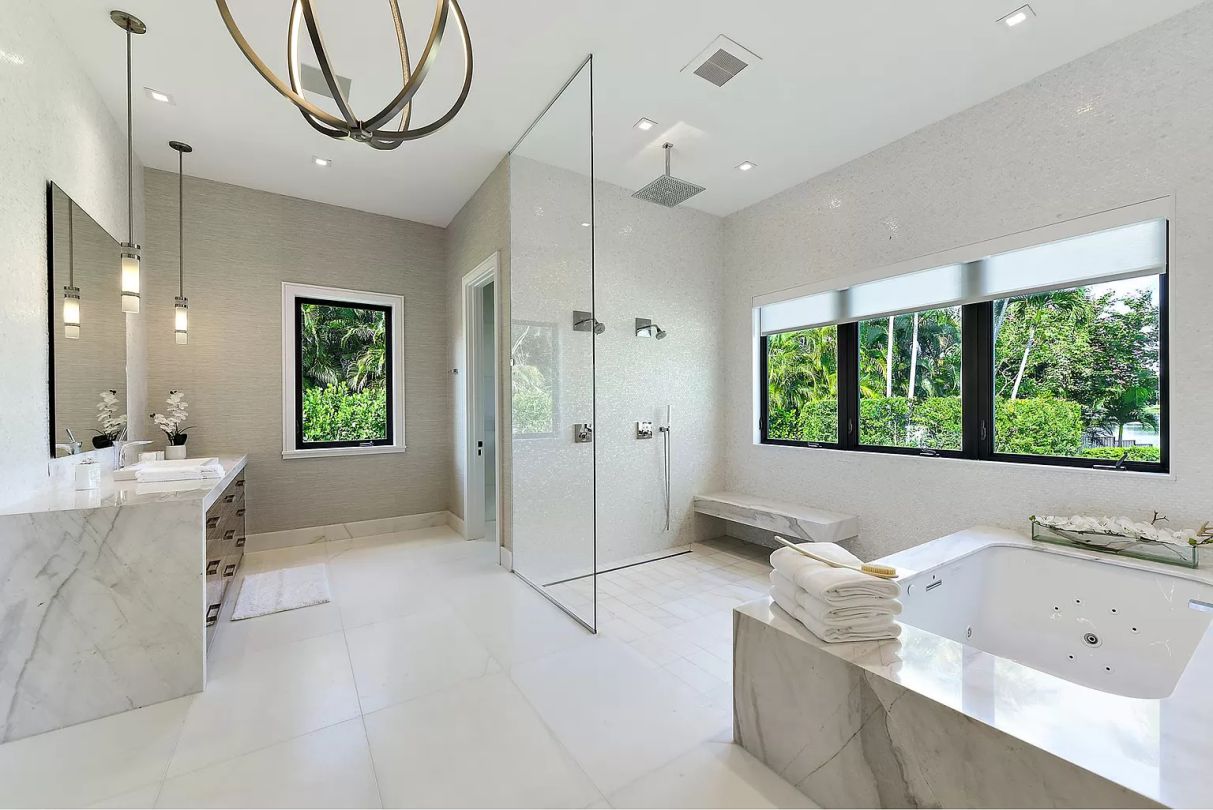 Color may be off the table when creating white bathroom ideas. However, there are several other design components, such as form, that you may experiment with instead. By swapping standard straight lines for curves and arches, you can create a sculptural and eye-catching bathroom—even if it's all one hue. Prestigious Twin Lake Residence in Boca Raton for Sale at $6.5 Million
4. Consider a sleek marble shower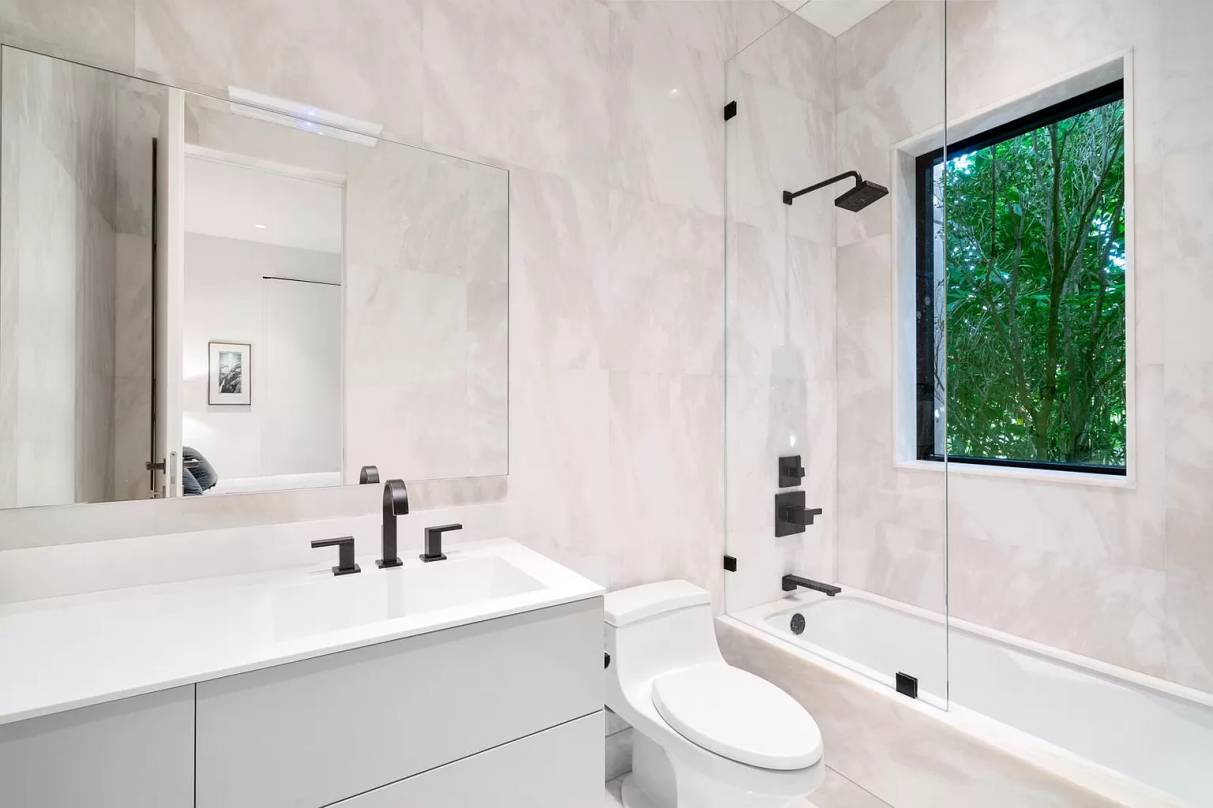 Marble is not only elegant, but also extremely textured. Line your shower walls with elegant white marble to make the entire bathroom more visually appealing. Brand New Dilido Home on the Venetian Islands hits Market for $13.7 Million
5. Choose a single accent color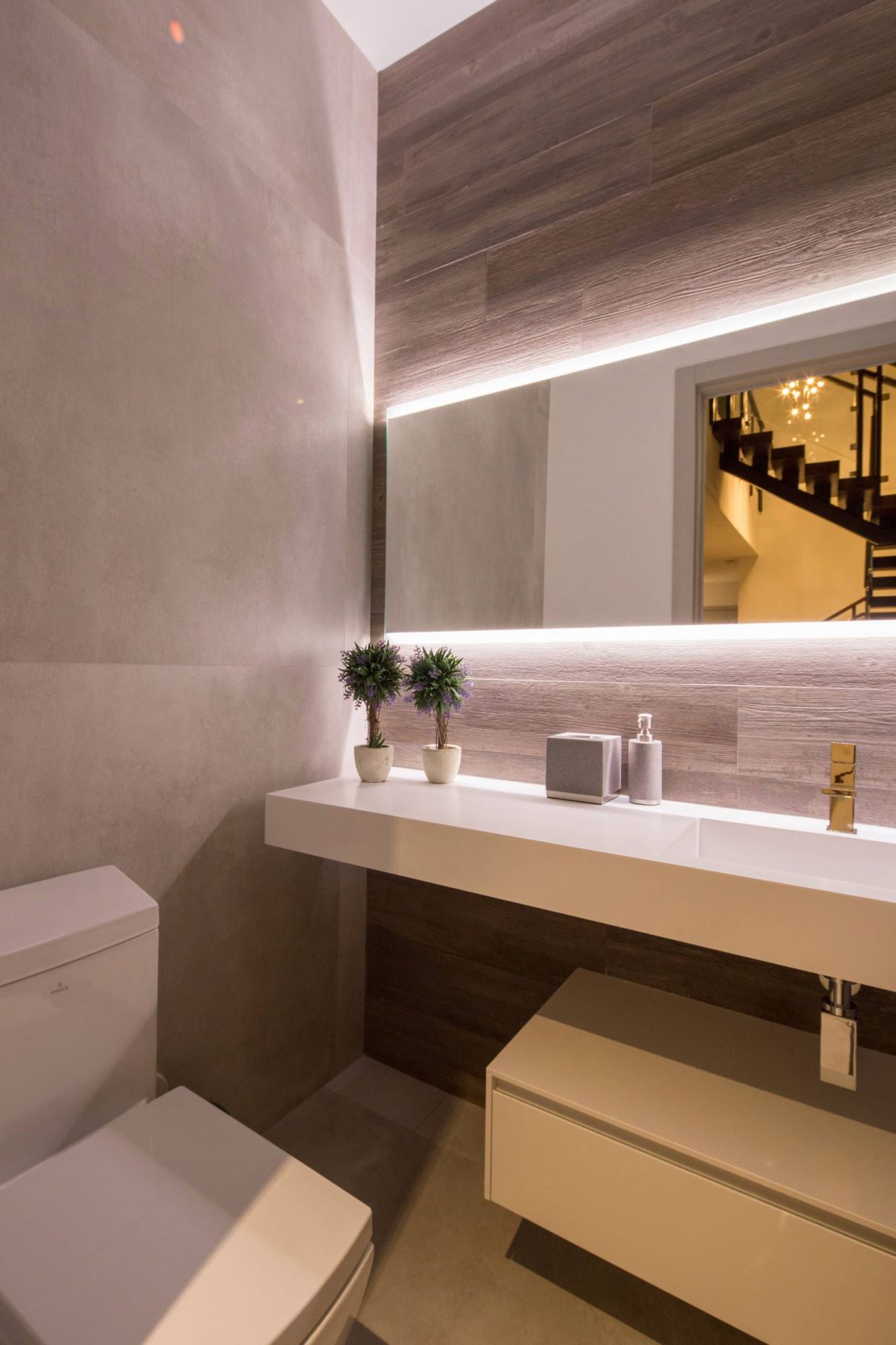 Color isn't off-limits in your white bathroom ideas, but if you want to keep the area primarily white, choose a single accent color and stick with it. Colors that are subtle, such as beige or gray, are good.
If you prefer to use color, I recommend light or medium tones to avoid a sudden contrast. Lake Front Residence in North Miami Beach by SDH Studio Architecture + Design
6. Purchase some textured drawer fronts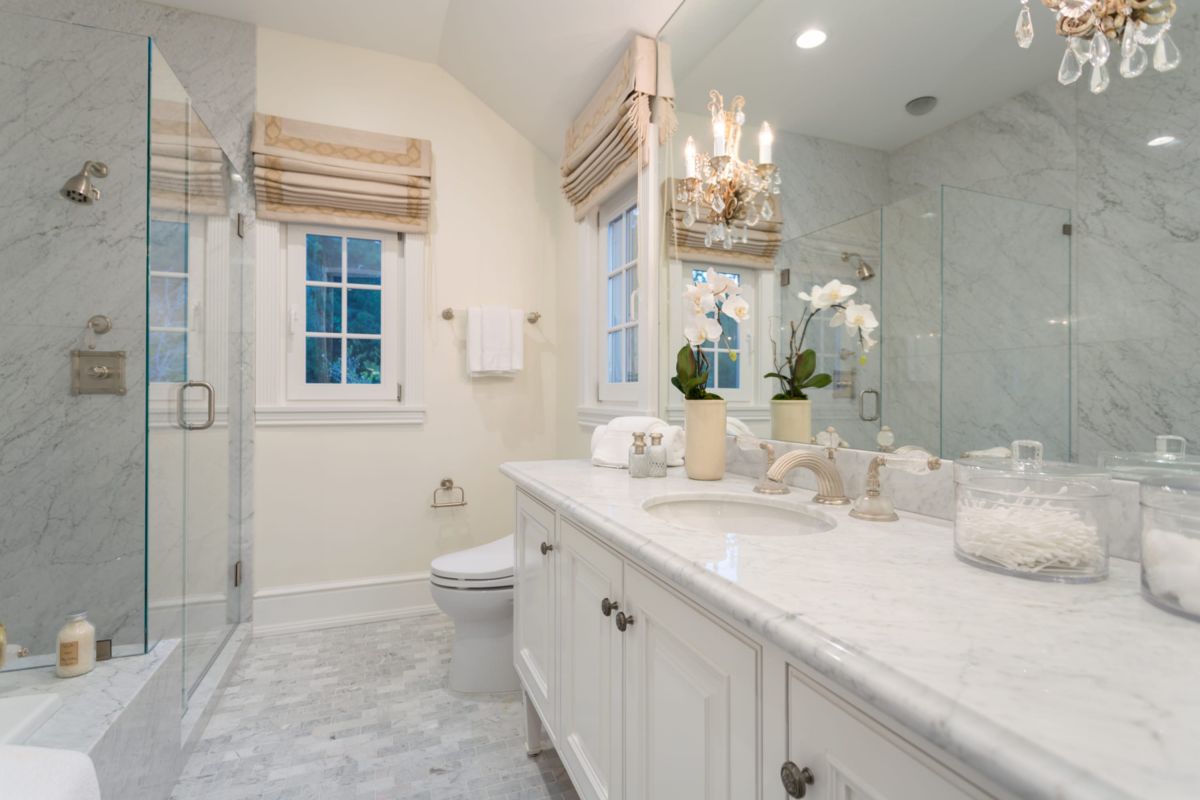 Want to spruce up your vanity without changing it entirely? Replace the drawer fronts. Replace the conventional drawer fronts you already have with something textured. The intricacy will draw attention to your room without detracting from the all-white color scheme. 65 Beverly Park – An East Coast Traditional Estate for Lease at $125,000 per Month
7. A lot of white towels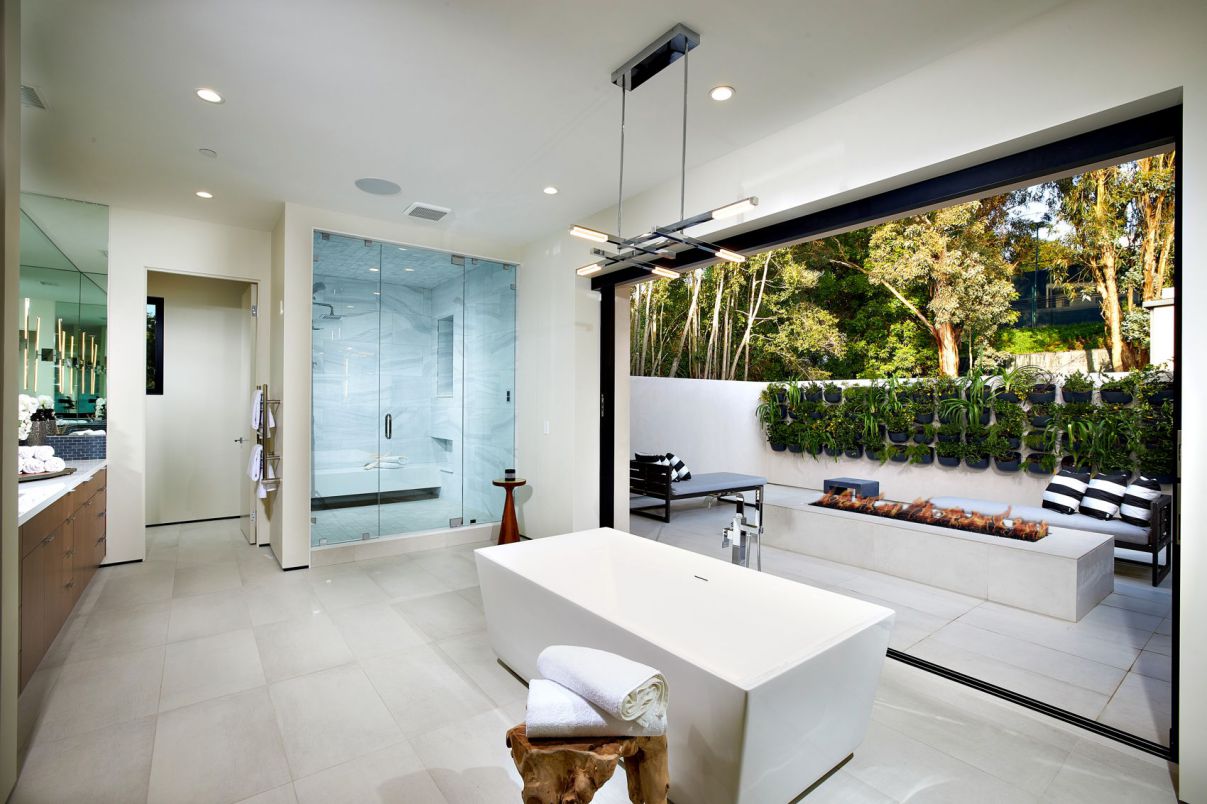 Plush white towels are a classic, and because they fit your all-white color scheme, they may also serve as décor. Invest in a set of ultra-comfortable white towels and keep them prominent, such as on a sleek towel rack or within a woven basket. Castejon Modern Home in La Jolla, California for Sale at $8.2 Million
8. A white rug will soften your floors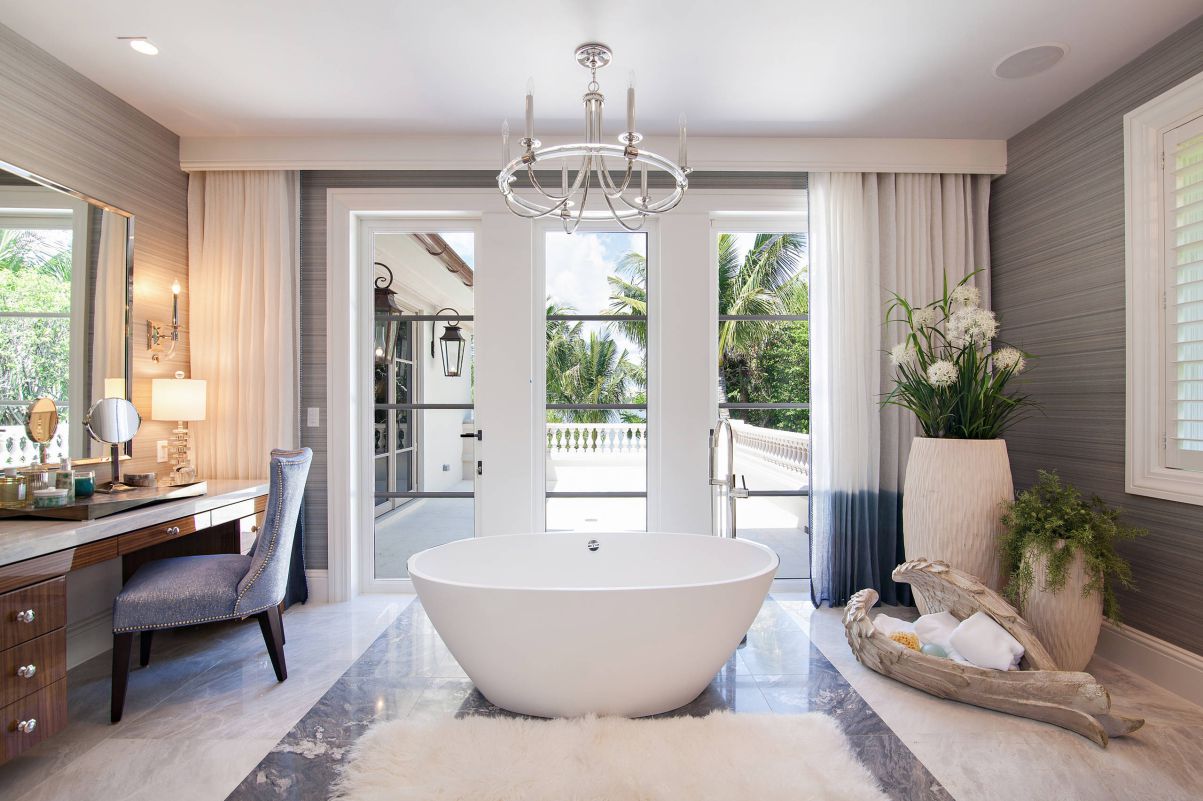 Bathroom flooring may become icy and slick with time, so search for methods to soften yours. You can make your bathroom cozier while maintaining an all-white palette by covering your flooring with a soft white bath mat or a textured white rug. Interior Design Ideas of Transitional Home by Marc-Michaels Interior Design
9. Textures of various types should be layered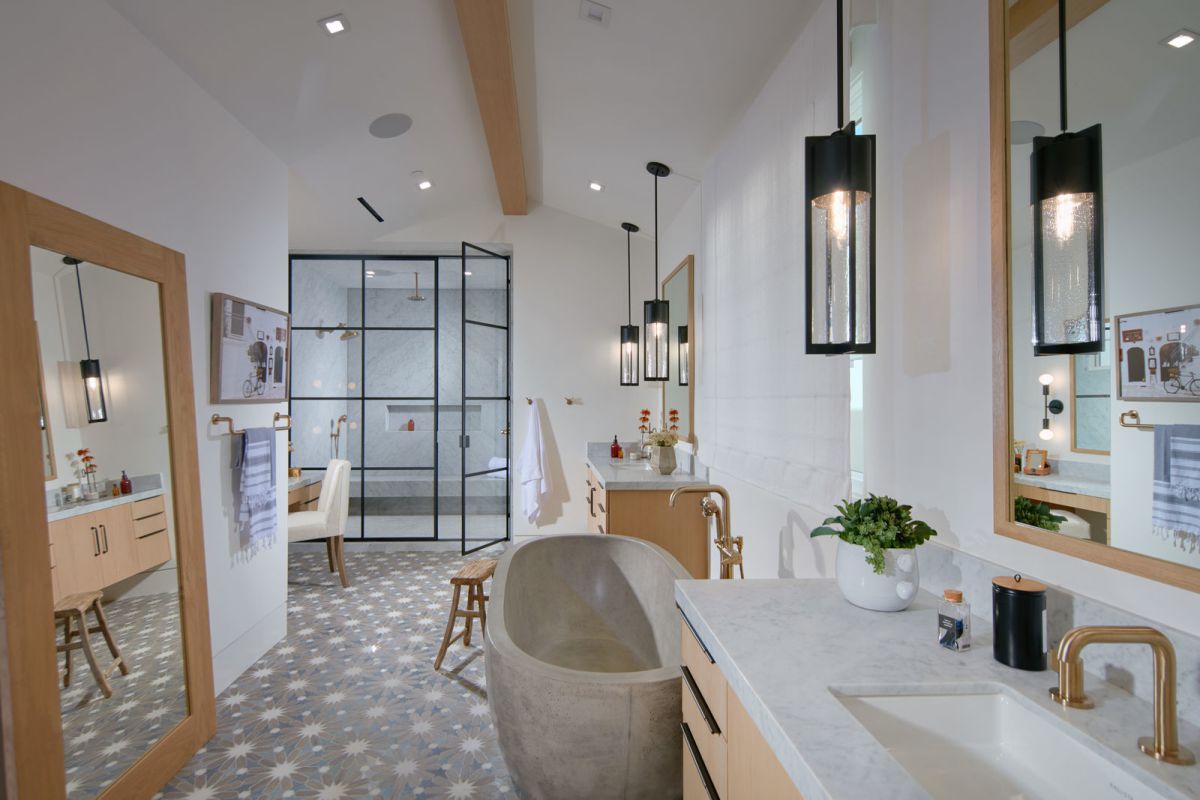 When you can't use color, texture becomes much more significant. Combine exposed wood beams with beadboard walls, a ceramic tub, and some gleaming tiles for good measure. A layered look offers the room language, depth, and personality. 1627 Bayadere Ter, Corona Del Mar – Exquisite Coastal Living for Sale at $16 Million
10. Make your vanity white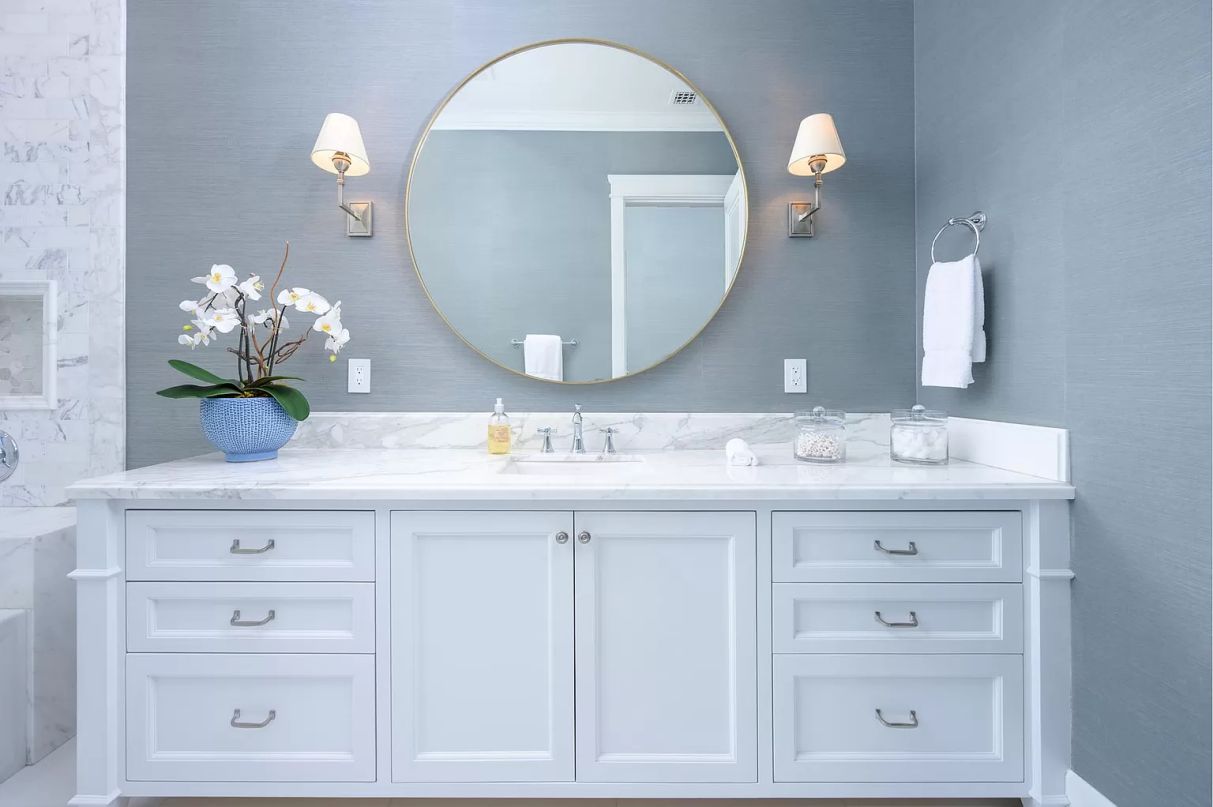 Your bathroom's walls may not be the only thing that needs to be repainted. If your vanity doesn't fit into your clean white palette, grab a paintbrush and start to work. Although the DIY project may need some elbow grease, it is a less expensive option to replacing your vanity. Spectacular Custom-Built Hampton Style Home with Panoramic Ocean Views in Pacific Palisades
11. Use white wallpaper to cover your walls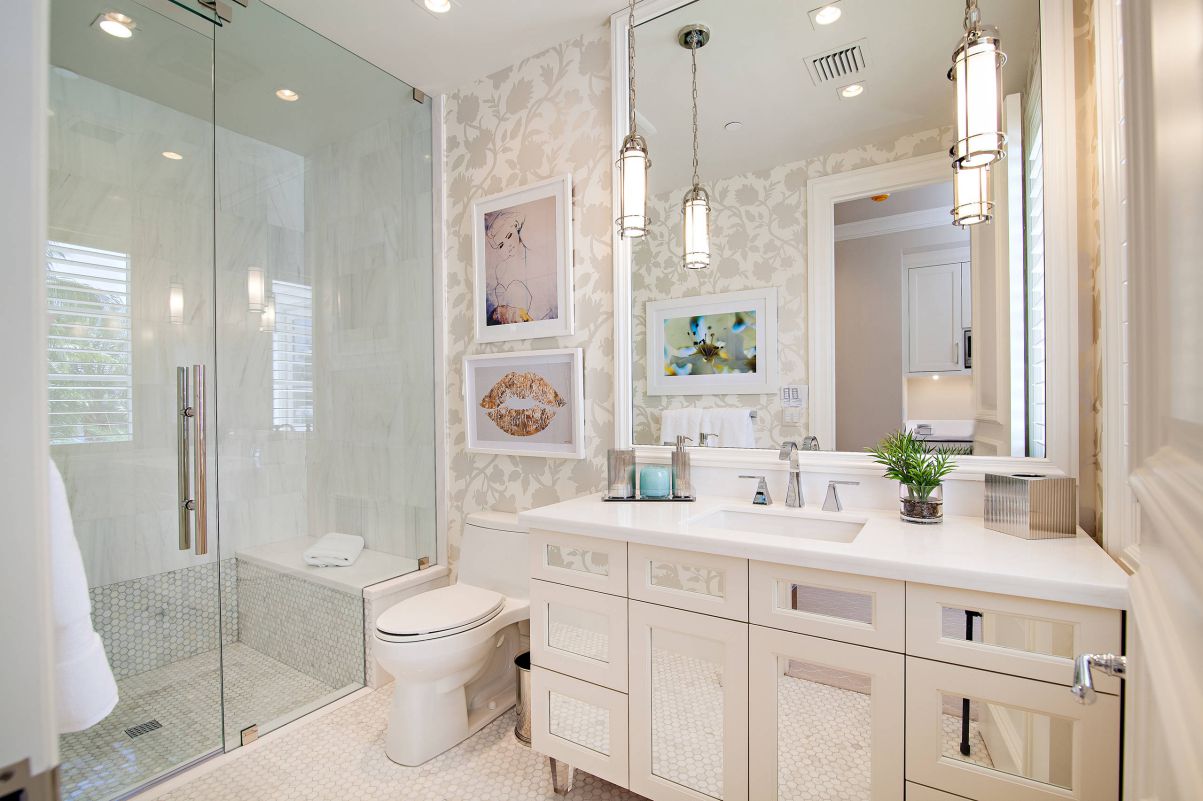 Line your bathroom walls with patterned wallpaper to add some flare to your white bathroom ideas. Choose products with white backgrounds and delicate patterns. Remember that you want to dress up your environment rather than dominate it. Interior Design Ideas of Transitional Home by Marc-Michaels Interior Design
12. Allow a lot of light in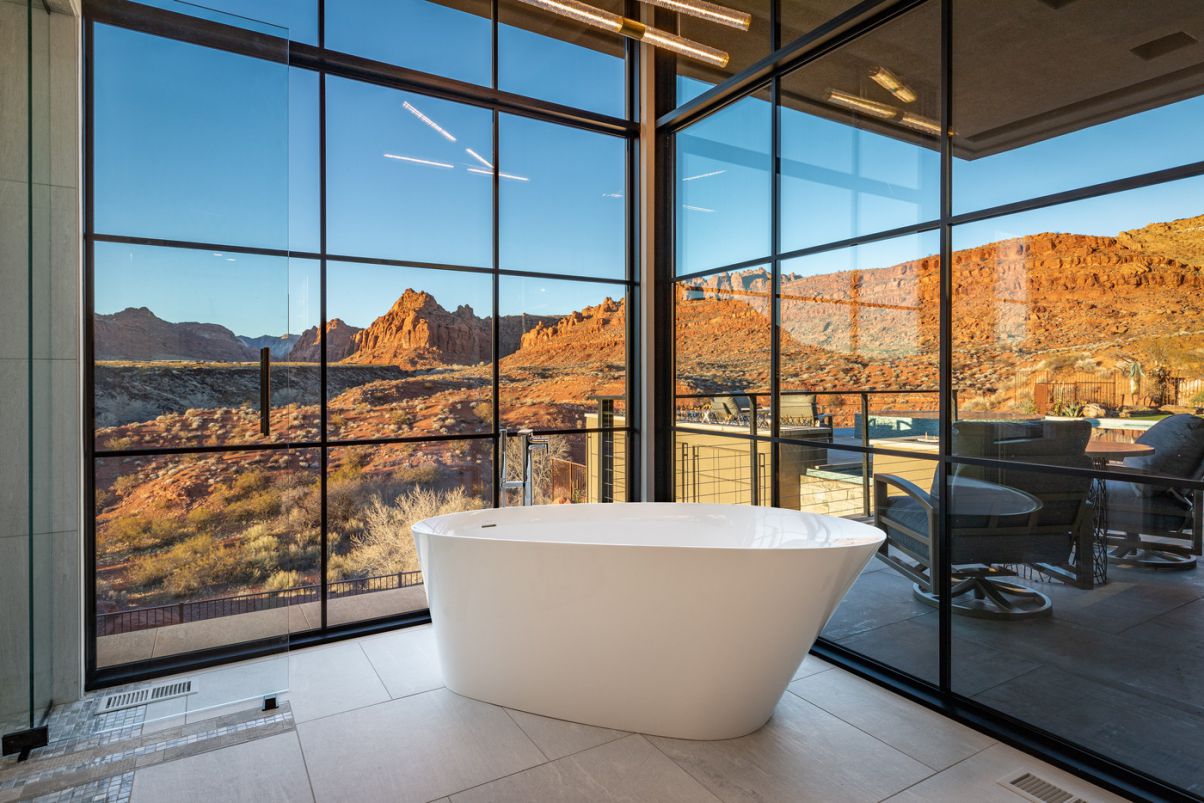 Allow plenty of natural light into your bathroom to bring out the best in it. Windows are vital in bathrooms because natural light fills the area with warmth. Of course, adding a new window is a difficult task, so concentrate on making the most of the ones you already have: Keep your curtains drawn, your blinds rolled up, and your windowpanes spotless. Deja View Residence in Salt Lake City, Utah by McQuay Architects
13. Install a white chandelier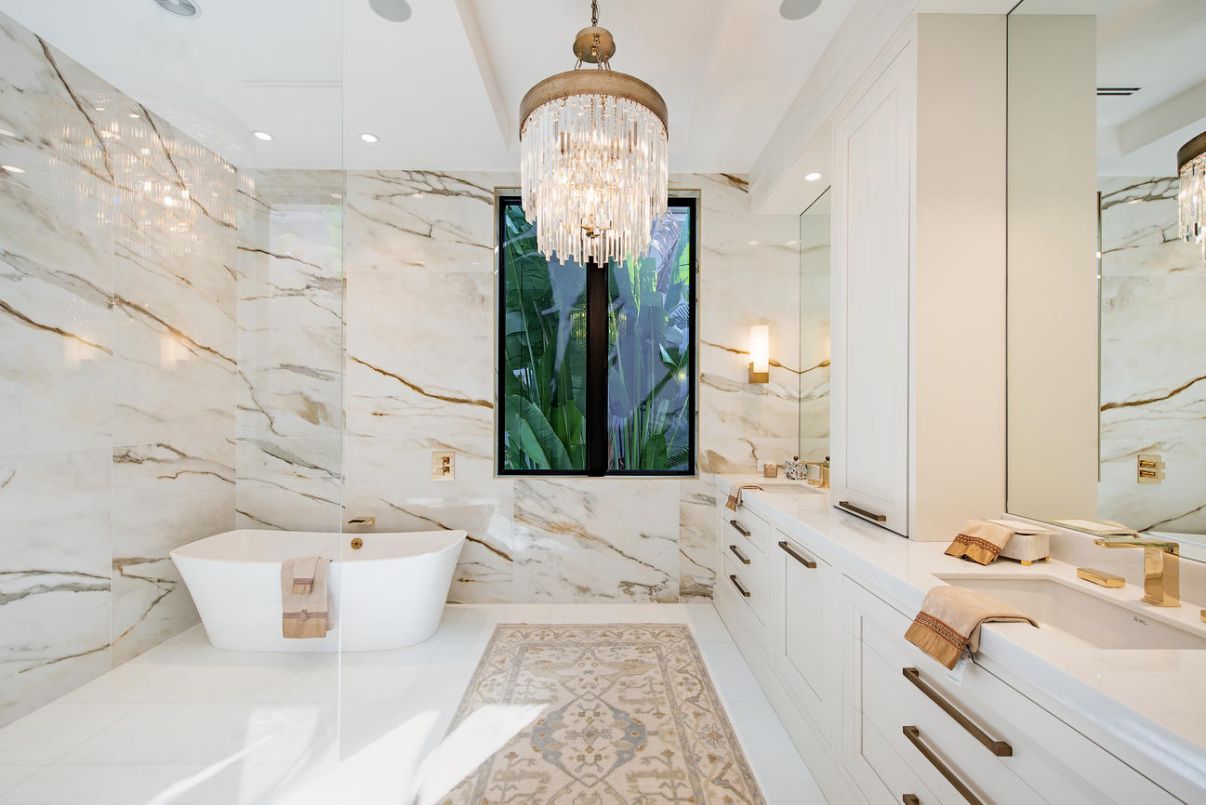 Hanging a chandelier is a simple way to make your bathroom more opulent. And if you find an all-white choice, you can solidify your pearly palette, instantly making your bathroom sleeker and more eye-catching. This also could be a wonderful Luxury idea. $8.2 Million Florida Mansion – The pinnacle of Aqualane Shores Living
14. Textured tiles for your bathroom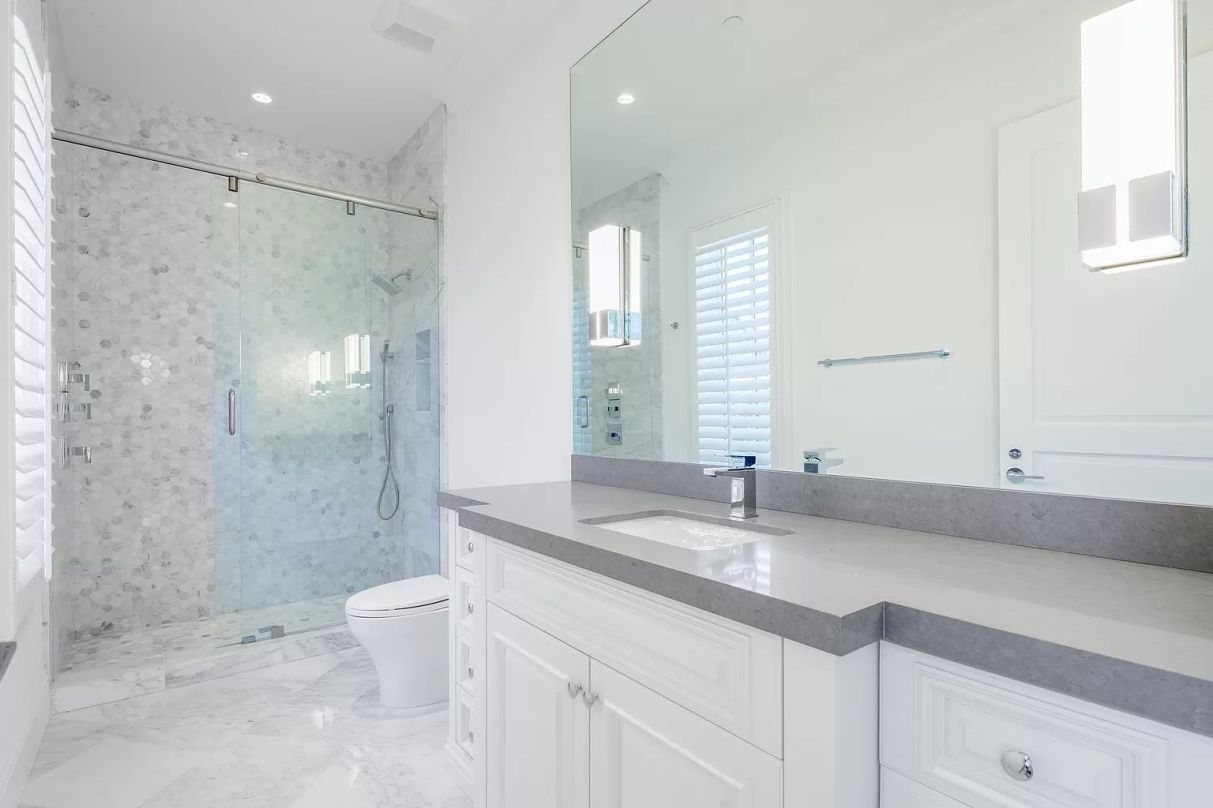 Not a fan of plain white walls? Instead, cover your walls with white tiles. Allow the tiles on your shower walls to fill the entire white bathroom ideas or allow the backsplash on your bathtub to grow so tall that it hits the ceiling. Completely Renovated Delray Beach Oceanfront set A New Standard for Oceanfront Living
15. Consider the undertones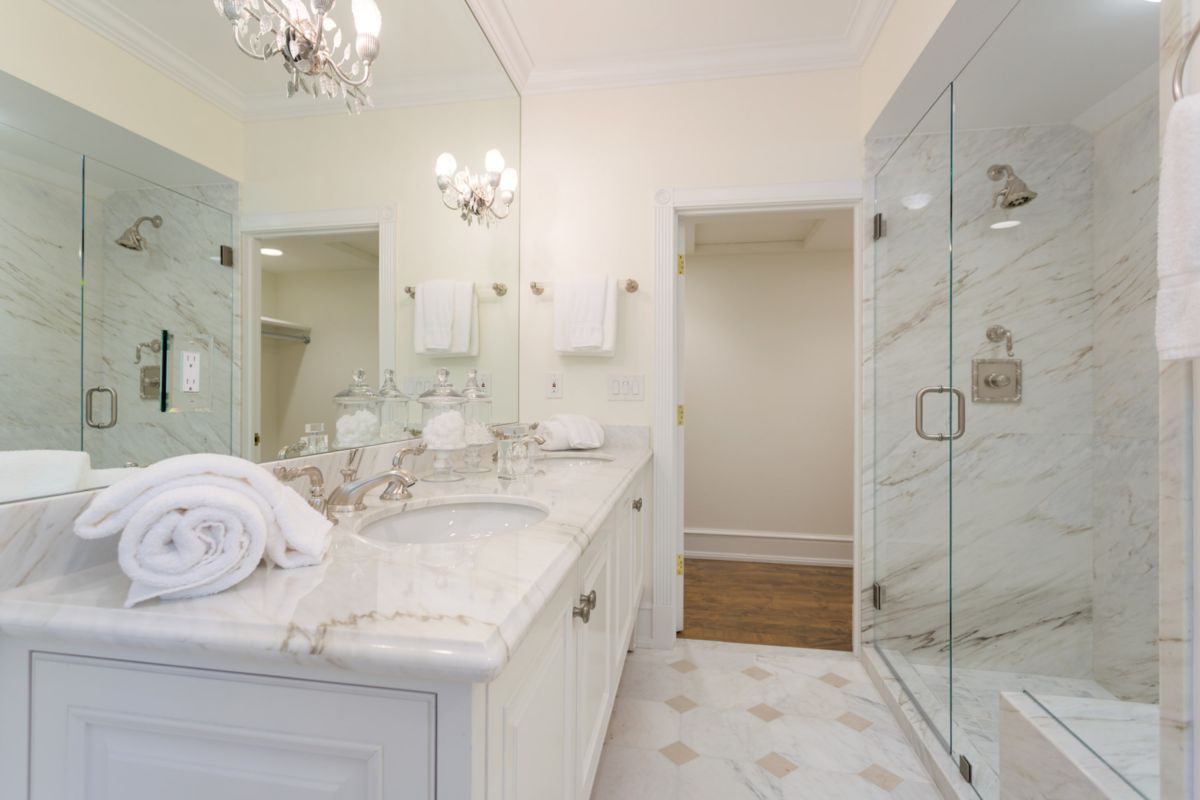 White does not exist in a single tint, and the color may make a space feel warmer or colder depending on its undertones. White is generally referred to as the colorless hue, yet I believe it to have a great spectrum and depth. Choose your white with care, and consider the other items in the space. 65 Beverly Park – An East Coast Traditional Estate for Lease at $125,000 per Month

It's clear that the allure of this versatile hue knows no bounds. White, with its innate ability to create a sense of space, purity, and calm, has proven itself as the ultimate canvas for bathroom design. Whether you seek a modern minimalist retreat, a vintage-inspired haven, or a contemporary sanctuary, the elegance of white will guide your vision to fruition. Let these ideas be your inspiration, your starting point, as you embark on the delightful journey of transforming your bathroom into a place of timeless elegance and serene rejuvenation. You can check another article 15 Stylish Black and White Living Room Ideas to Elevate Your Space for more ideas.
More Ideas For Living Room:
---
Thousand of high quality images of Living room and more you can see at Livingroom Gallery.