Date of Publishing:
Creative With Bathroom Layout Ideas
A planned bathroom layout is an important factor for the successful design of the bathroom, serving your own and your family's long term use. When planning your bathroom ideas, you should decide on the overall layout first because this will then allow you to choose the interior and fittings that perfectly suit the use demand. We have summarized 12 excellent Bathroom Layout Ideas, applied to the whole bathroom with large and small areas, to create excitement, inspiration, and suggestions as well for you in the design process. Don't hesitate any longer and discover together!
1. Take Advantage Of Natural Light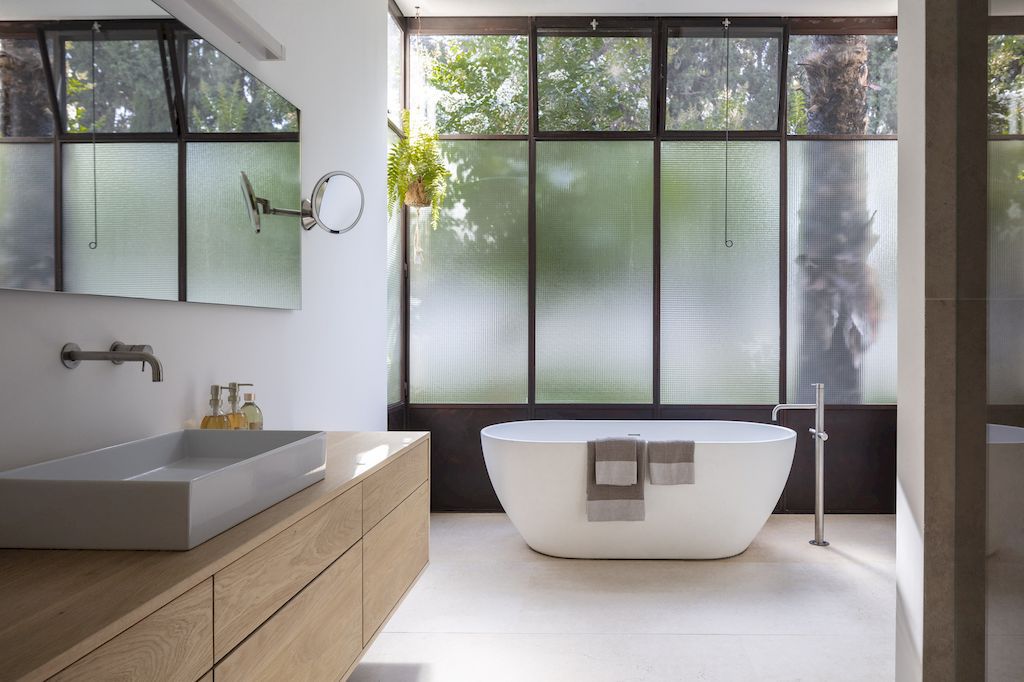 A space with good lighting quality, especially natural light, is not only good for your thoughts and physical health, it can make a room feel more attractive, relaxing and functional. In this Bathroom Layout Ideas, the bathtub is close to the window area with glass panels and metal frames to create a refreshing, lighting quality and help you save electricity by not using artificial light at certain times of the day. BD House with harmony & warmth by Blatman Cohen Architecture Design
2. Arrange Your Bathroom Layout's Negative Space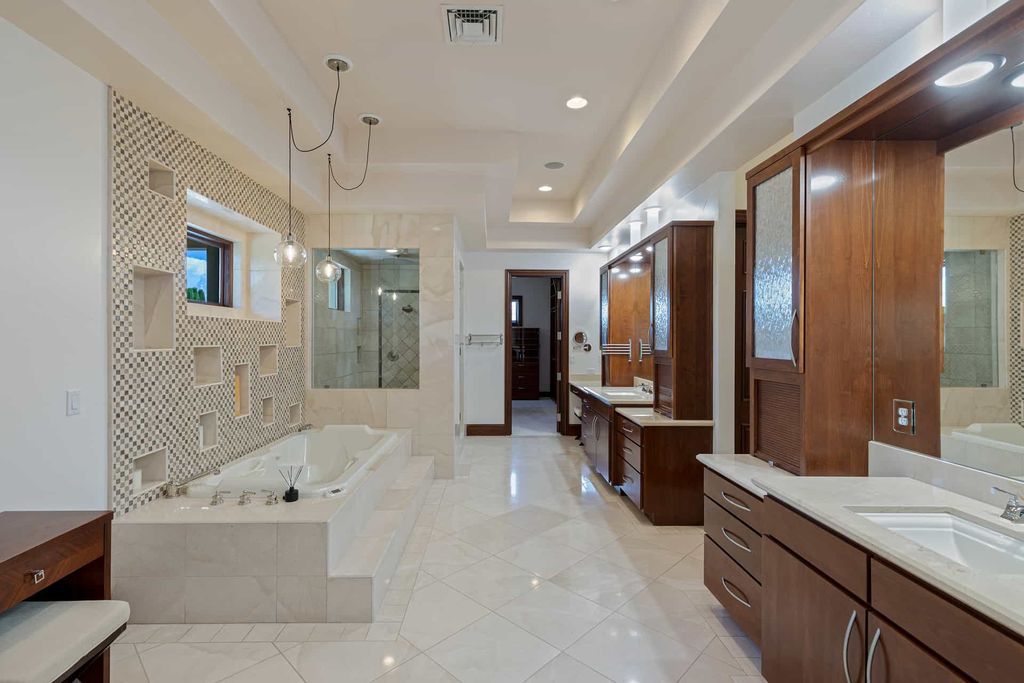 Negative Space in the bathroom is defined as the space between the different elements of your bathroom layout. This factor needs to be carefully considered in the bathroom design process, ensuring that users can move comfortably, easy for cleaning as well as avoiding empty areas. If there is a built in vanity or storage shelves in the bathroom, having a suitable Negative Space is also a way for you to be able to use these utilities without any obstacles. A Custom Guard Gated 2 Story Home with Incredible Interior and Spacious Backyard Seeks $3 Million in Las Vegas, Nevada
3. Separate Bath and Shower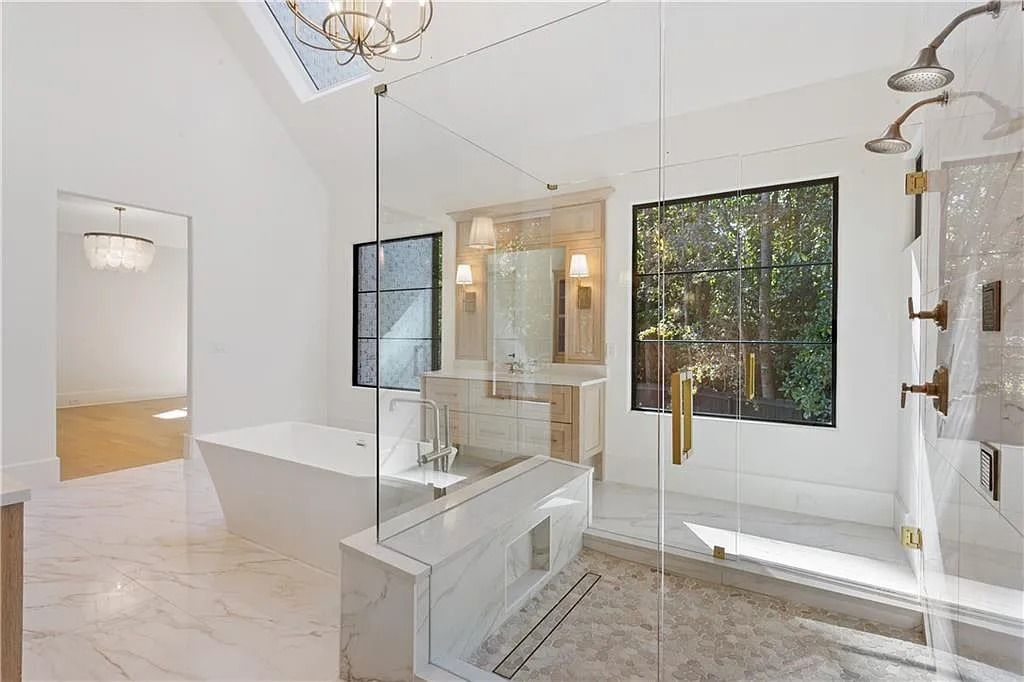 If you are updated for building a master bathroom with full functions and are not limited by the budget, you should really divide the area for a separate bath and shower. Each member of your family will definitely have different hobbies, including in bathing, people prefer to use bathtubs, and people prefer to use the shower. This is an effective way to maximize the use of bathroom space. You can consider zone division with glass panels, creating a luxurious overall and ensuring light circulation. Offering Grandeur with No Compromise of Privacy or Security, This Gorgeous Residence in Sandy Springs, GA Lists for $5.699M
4. Supplement The Storage Space For The Bathroom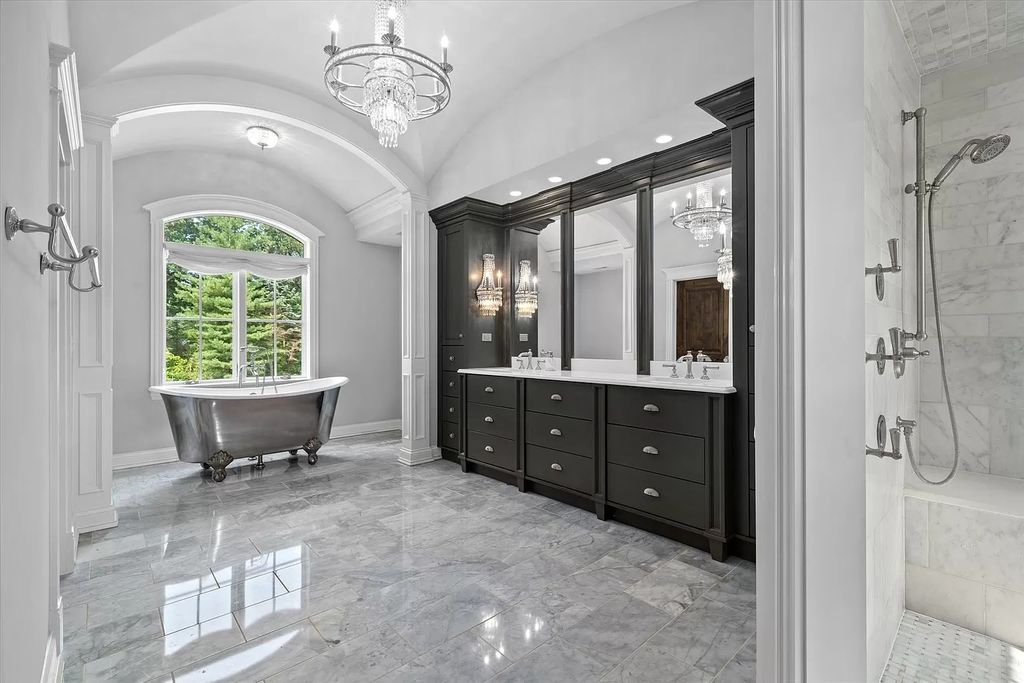 Storage capacity is always a problem that needs early and first research when it comes to Bathroom Layout Ideas. With a small bathroom, you can use wall mounted cabinet shelves, and mirror cabinets with secret storage behind. If your bathroom has an advantage in the area, you can invest in a large closet from the ceiling to the floor with separate large drawers, mirrors and hand sink. Providing Unmatched Tranquility, and Picturesque Landscape, This Riverfront Estate Asks for $2.35 Million in Saint Charles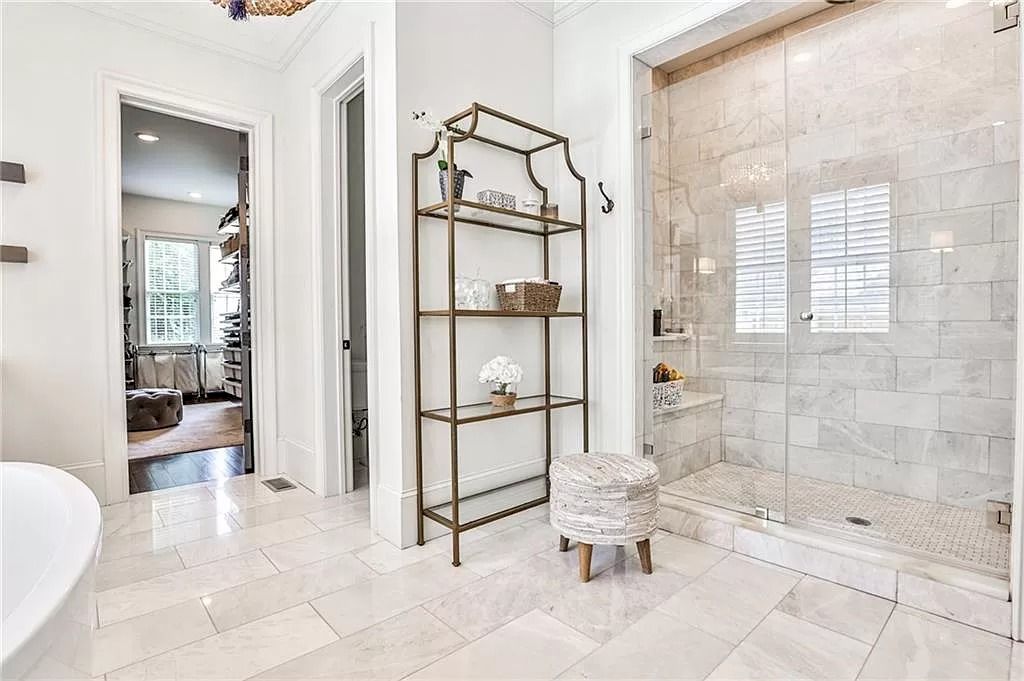 Or use a versatile shelf for the bathroom, to have more storage space. You can consider the location of this shelf next to your bath to facilitate the arrangement of the necessary items, such as shampoos, shower gel, or a stack of clean towels. Add a few greenery pots or scented candles to decorate and make the space more perfect and romantic. This $3,850,000 Elegant Home in Georgia Re-images a Resort through the Lens of Its Architecture, Landscape and Finishes
5. Enhance The Space With Wall Hung Fittings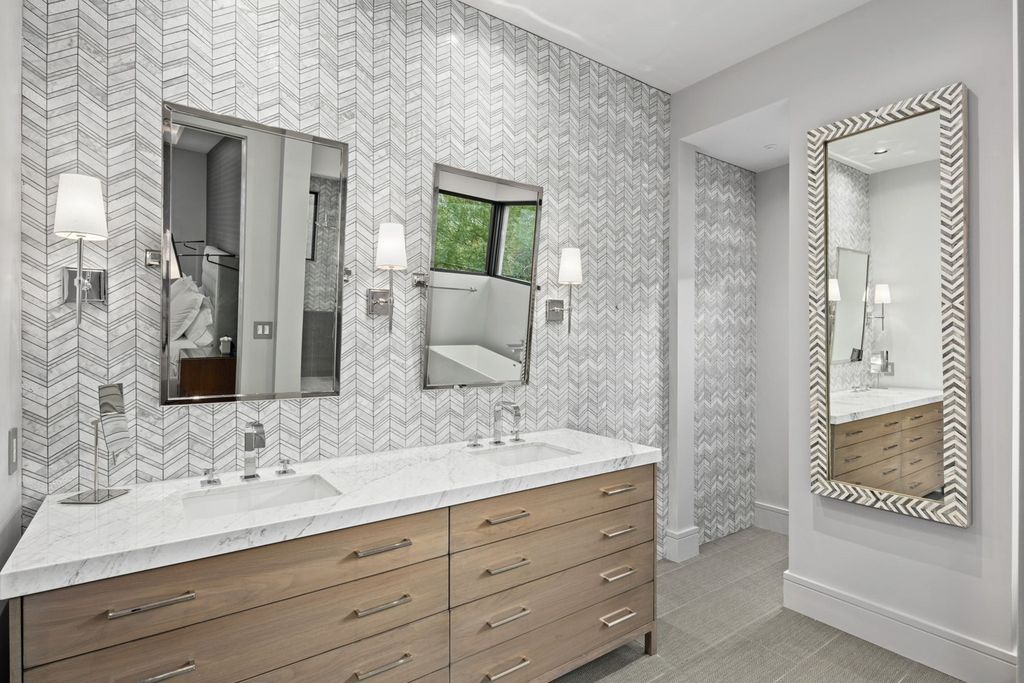 Bathroom fittings are one of the most important elements in creating bathroom ideas. But many people still believe that it is only a secondary issue. To start ideas about bathroom wall hung fittings, you can think about double mirrors, single mirrors, wall mounted lights or wall mounted cabinets. Using a wall mirror is also a great method to extend your bathroom space more spacious. A Simply Stunning Contemporary Home in Scottsdale with Striking Mountain Views for Sale at $7.25 Million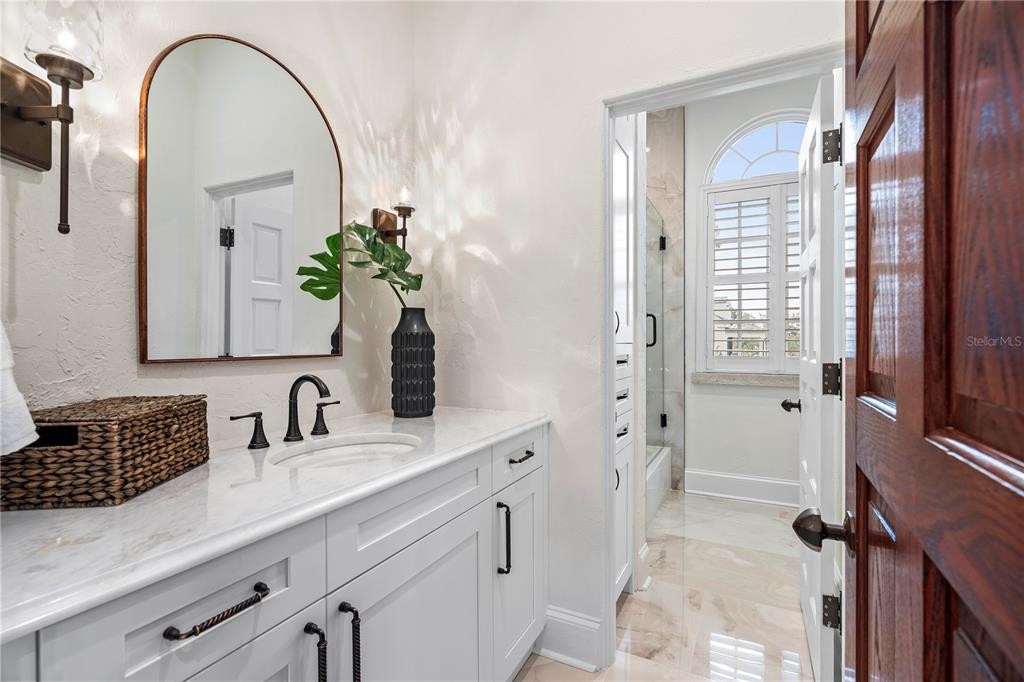 You should consider using wall hung fittings with the type and size suitable for the bathroom area to set up a balanced and complete overall. An Elegantly Exquisite Estate on Iconic Bayshore Boulevard in Tampa on The Market for The First Time with Asking Price $6.3 Million
6. Determine The Focal Point Of The Bathroom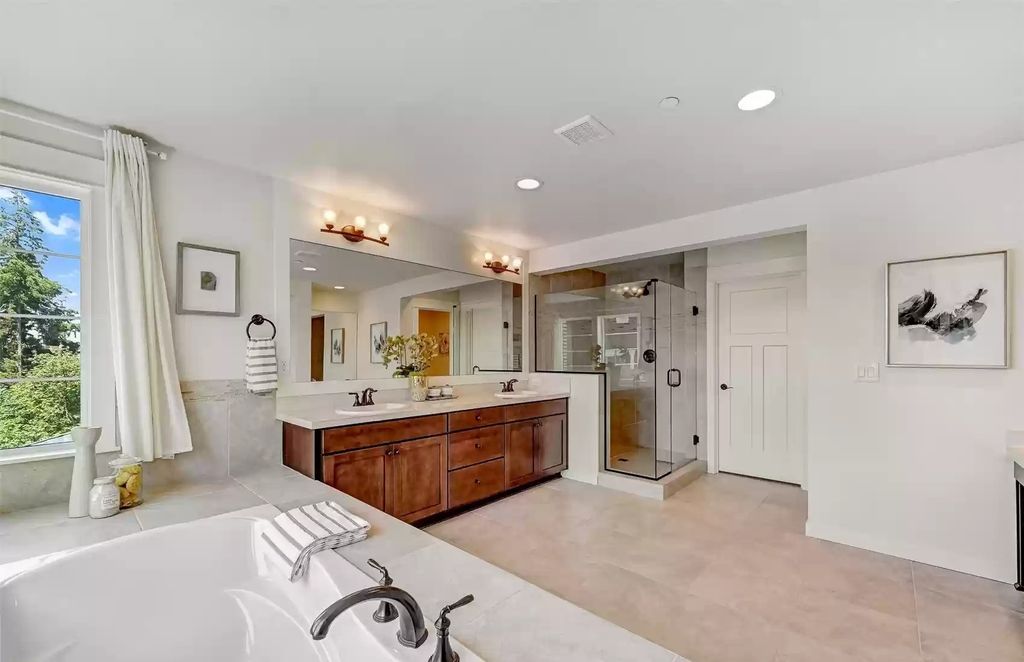 With the purpose of creating a bathroom design that is visually harmonious and has accents, you really need to define a focal point for your bathroom, like a bathtub with fine details, a mirror and a wall mounted light or hank sinks with storage shelves, as in Bathroom Layout Ideas above. Once you have identified the focal point, it will be a lot easier for you to choose the color of the wall paint, the color of the floor tiles, and other pieces of furniture among various designs. This $2.5M Contemporary Home in Bothell Features Elegant Finishes Throughout
7. Bathroom Layout For Small Area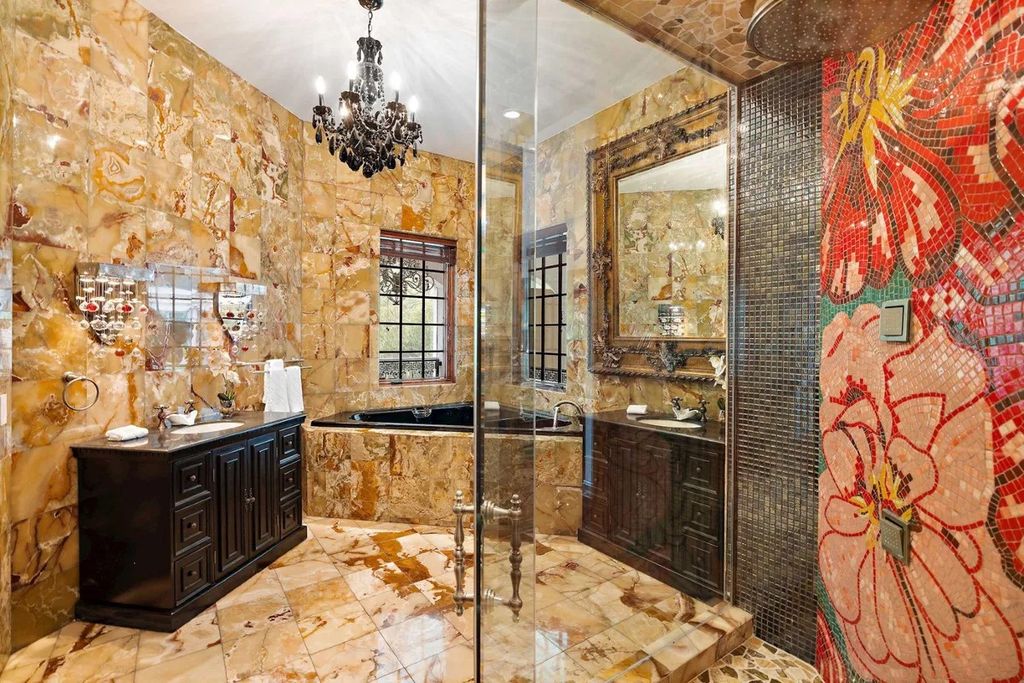 The most important thing when designing a small bathroom is to maximize the usable area. As in the luxury ideas above, the bathroom has a small floor area and a super narrow wall corner, which is composed of two perpendicular sides like an isosceles right triangle. Installing a bathtub in the corner of the bathroom will help make use of the dead corner of the space. Thanks to that, the structure of your bathroom will become much more harmonious and scientific with full use. Without a Doubt, this $4.995M Casa de Amor is One of the Most Unique Properties in Potomac
8. Bathroom Layout For Multifunction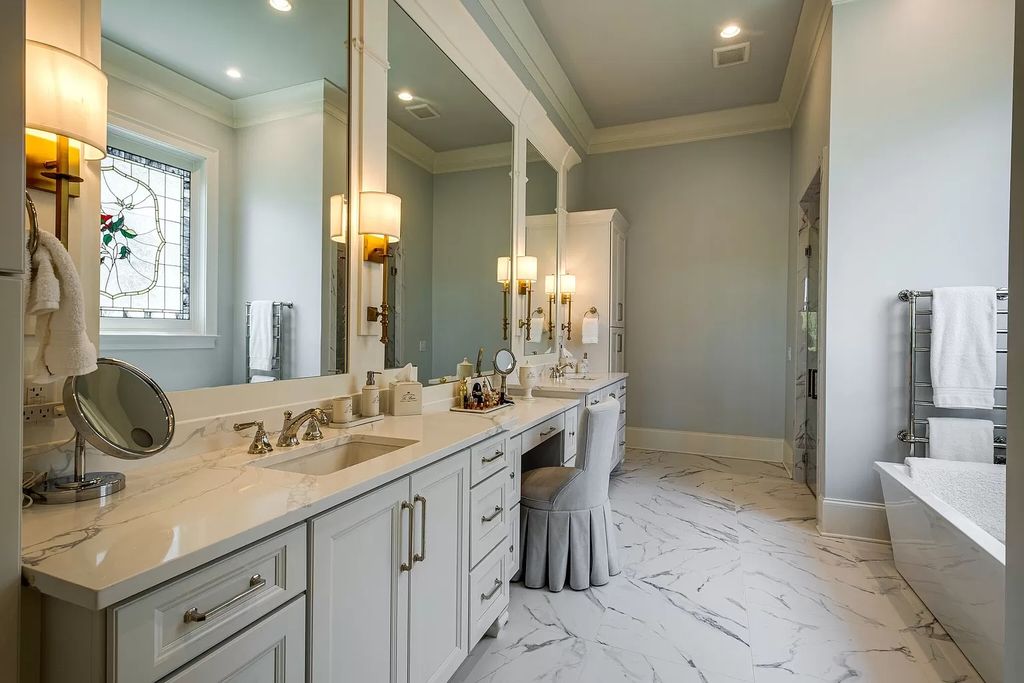 The integration of additional functions for the bathroom is no longer a strange idea when life becomes busier and busier and we need to take advantage of the time for everything. If your bathroom is large, try adding a vanity with a seat and mirror. Women will save a lot of time in the morning before leaving the house as well as more time with family when everything they need is already at hand. This $5.935M Spectacular Waterfront Home Commands Breathtaking Lake and Sunset Views in College Grove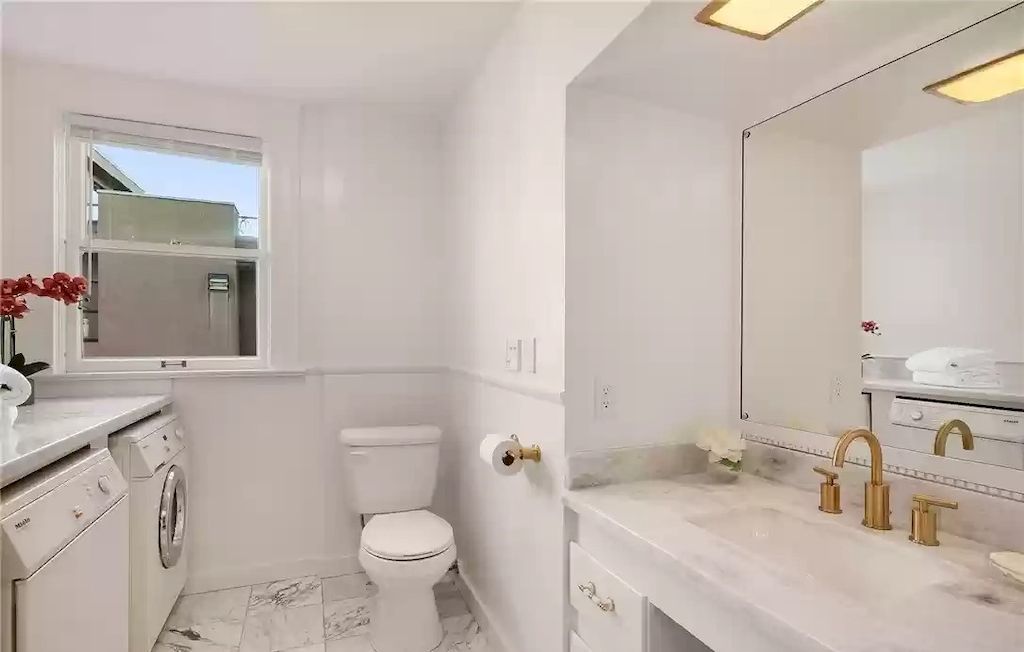 Or family members can quickly complete laundry and clean up the bathroom when a washer and dryer combo is at hand. Really a good idea that you need to consider. Even when you use front load washing machines, you can also arrange and install the dryer section right on the top of the washing machine, to save space for your bathroom. Commanding Breathtaking Views from the Highest Peak in Queen Anne, Washington, this Stunning Mansion Listed at $8,250,000
9. Supplement More Seating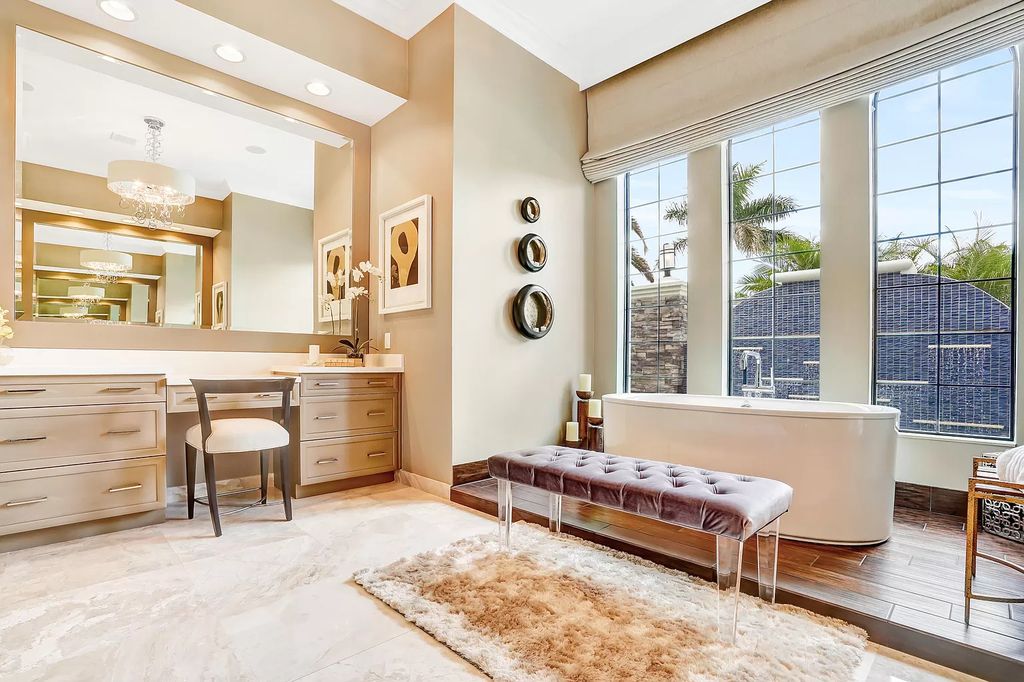 Adding more seating with the presence of some type of stool or chair in different types for you to choose for your bathroom. Such an amazing way to create a nice spot for someone to chat with you while you're showering or cleaning, or simply a place for you to keep your clean clothes and personal stuff. You can set up an upholstered padded bench right next to the tub for maximum convenience. This $6,975,000 Exceptional Home in Boca Raton has Ultimate Amenities for Relaxation and Entertainment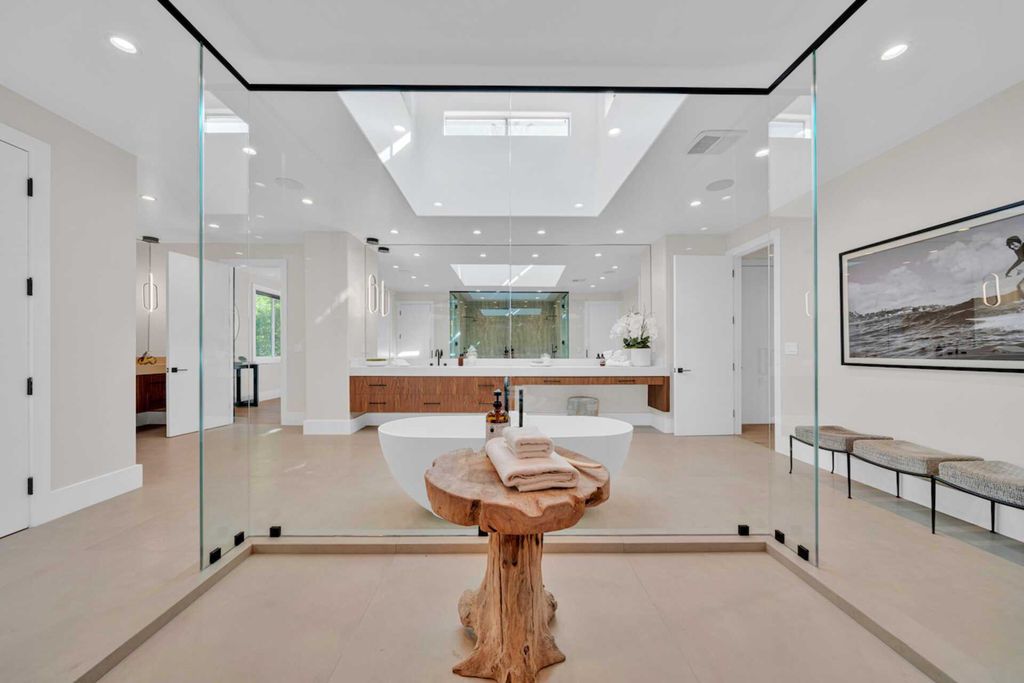 Or arrange the benches in a row by the wall like in the Bathroom Layout Ideas above. Overall, the master bathroom is like an art gallery with wall paintings, a bench next to the wall with a bathtub in the center of the room, and a wooden table with a unique style to put stacks of clean towels. Surely an overwhelming layout of grandeur and extremely modern. Brilliantly Renovated Contemporary Home in Encino offers Sophistication and Relaxation for Sale at $6,299,000
10. Try A Proportional Layout for Your Bathroom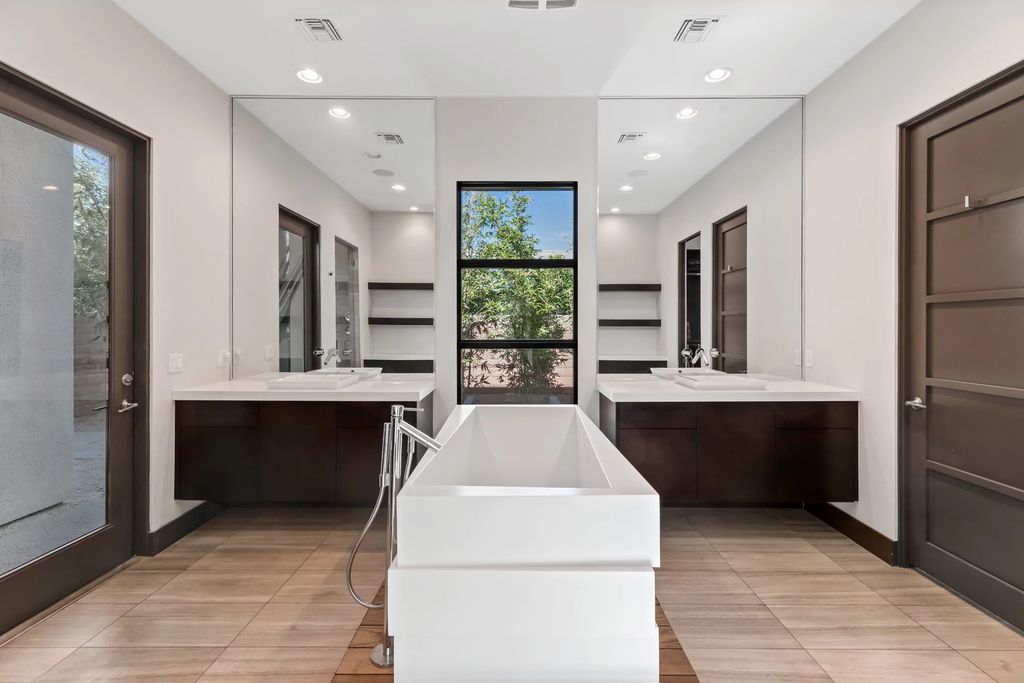 Bringing the rule of symmetry into the bathroom design idea with the appearance of a luxurious bathtub in the middle of the two hand basins. This structure seems to divide the bathroom into two separate halves but still connects to each other. Two large mirrors on either side of the window create reflections to the end of the room, making the overall look much more spacious. This Bathroom Layout Idea is quite suitable for families with many members. This $5,750,000 Blue Heron Home in Las Vegas showcases the Pinnacle of Luxurious Desert Living
11. Level Up Your Space With Raised Platform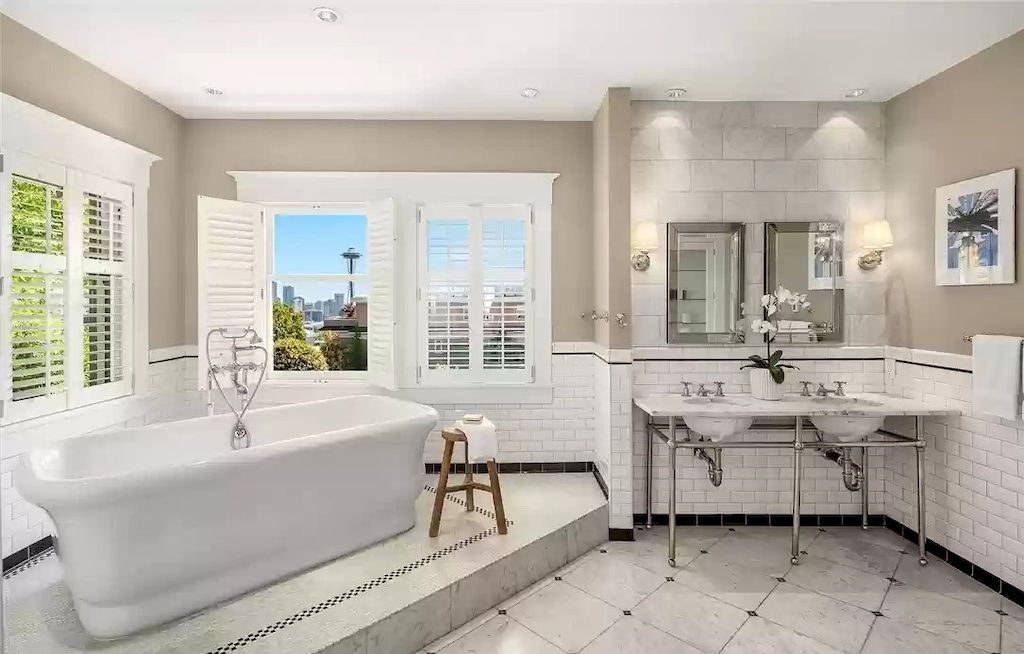 Try different heights and platforms when planning your bathroom layout ideas so the final result really fits your practical needs. With the raised platforms, this structure can help you make the most of your space, creating an elegant and classy design. The bathtub placed on a raised platform structure also automatically becomes the key feature for the whole room. Palatial Estate of Irreplaceable Quality in Construction and Materials in Washington Listed at $4,850,000
12. Design A Room Inside The Bathroom Area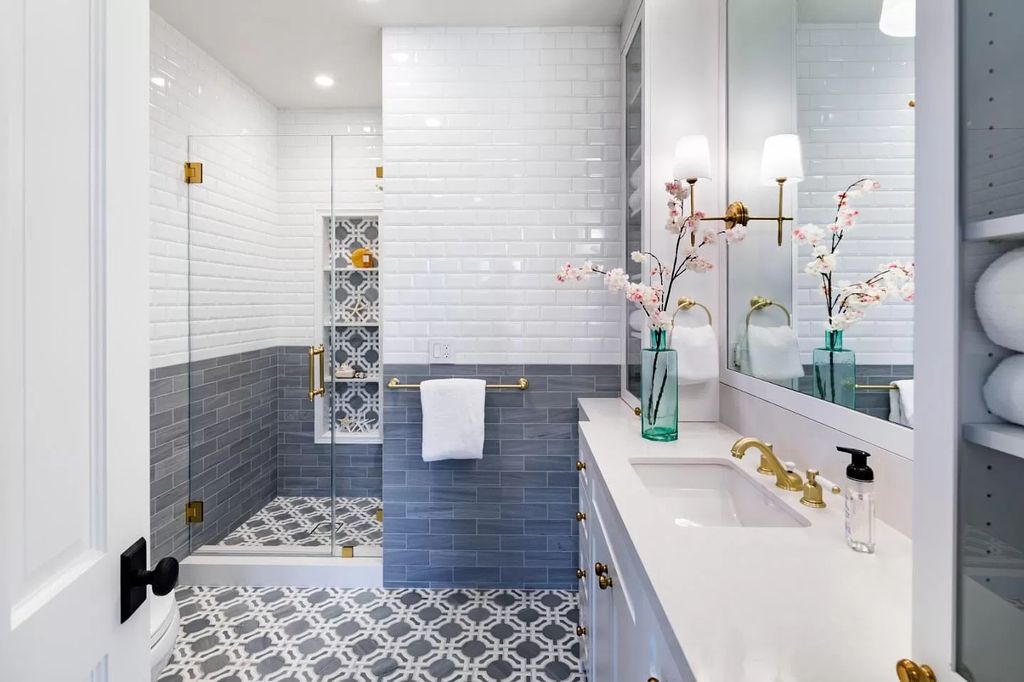 Smartly zoning your bathroom space with the creation of a room within a room rule. It's like you're creating a luxurious, spa like layout in your own home. In this unique bathroom, sleek glass and metal panels have been used for the entryway. The overall design makes for a gorgeous bathroom space, with a modern, artistic feel. Recently Renovated American Colonial Home in Atherton with Newly Landscaped Backyard for Sale at $19,988,000
For more ideas and inspiration to create your own masterpiece, you can refer to the article 15 Amazing bathroom styles that are both functional and artistic
More Ideas For Luxury Ideas:
---
Thousand of high quality images of Bathrooms and more you can see at Bathroom Gallery.