Date of Publishing:
Brilliant modern bathroom backsplash ideas
Welcome to a world of contemporary design and creativity. Where every detail comes together to shape the perfect modern bathroom oasis. In this exploration of modern bathroom backsplash ideas, we delve into a diverse array of concepts that seamlessly blend form and function. From the timeless allure of tiles to the unexpected charm of unconventional materials. Let's join us as we journey through a collection of inspirations that redefine the very essence of modern bathrooms.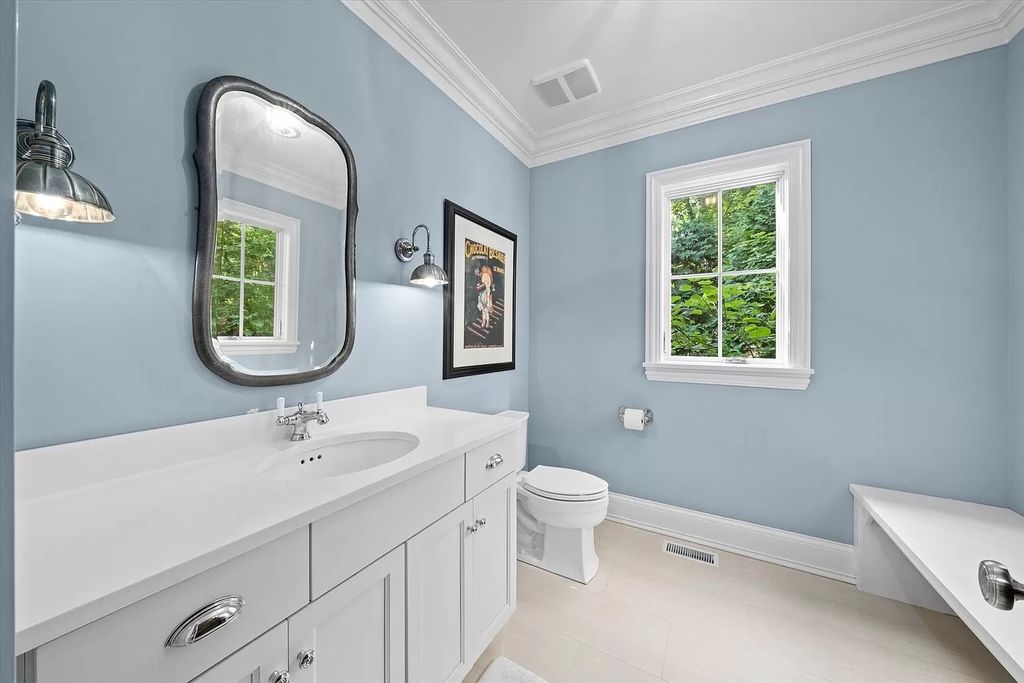 With a vivid blue backsplash, you may create a relaxing getaway in the comfort of your own home. The stunning linear tiles inspire ocean seas with varying tones of soft powder navy. The to-the-ceiling backsplash complements the marble-framed mirrors' delicate gray veining. Exquisite Riverfront Estate on 3+ Acres of Serene Beauty in Saint Charles
2. Backsplash for Painted Bathroom Sink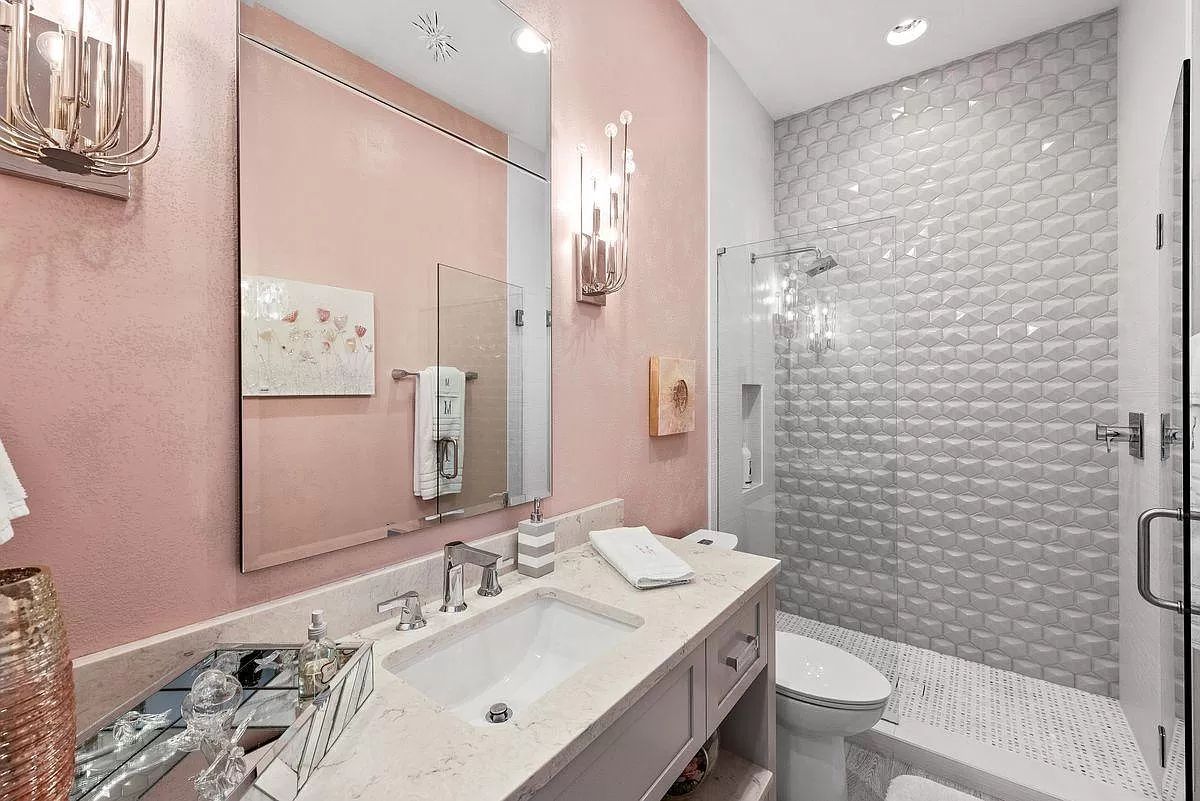 Try a two-tone treatment on the wall behind the sink for a low-cost bathroom modern bathroom backsplash ideas. This gives the appearance of a backsplash without the expense of tile installation. A soft pink paint tone that complements the slate floor tiles runs partway up the wall in this bathroom to create a feeling of architecture. An Outstanding Florida House in Seagrove Beach Sells for $3,750,000
3. Bathroom Backsplash Tile in a Vibrant Color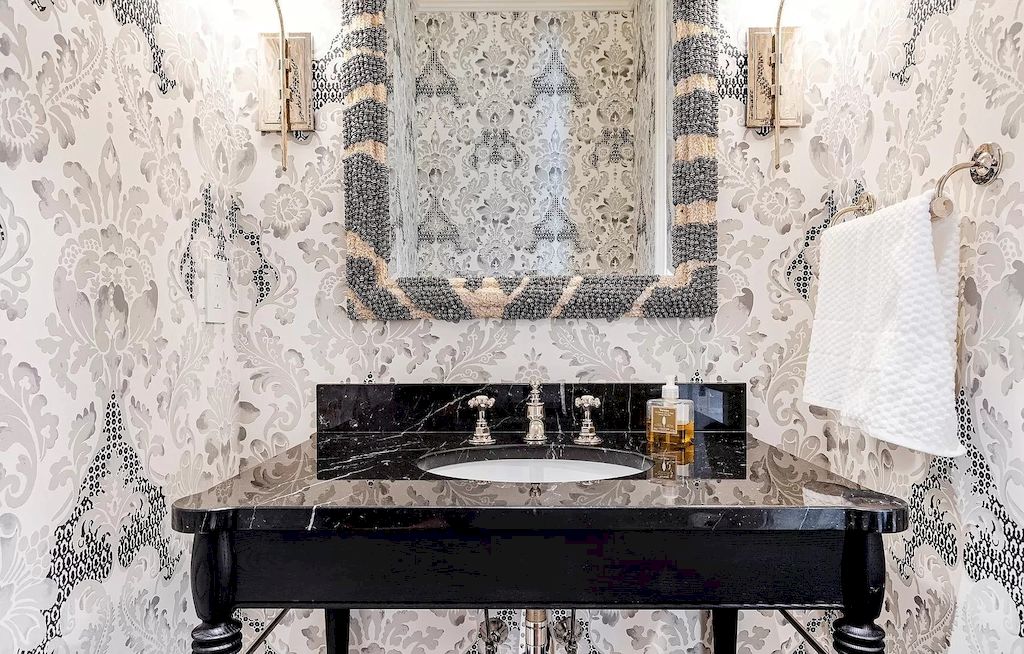 For a bold bathroom backsplash, go with a graphic pattern. Patterned black-and-white tiles extend to the ceiling here, providing a striking focal point along the vanity wall. The ornamental tile designs that may be mixed and matched provide texture and complexity to the bathroom backsplash.Luxurious Custom Home in Exclusive Renaissance at Regency Estates in North Carolina
4. Bathroom Tile Backsplash Ideas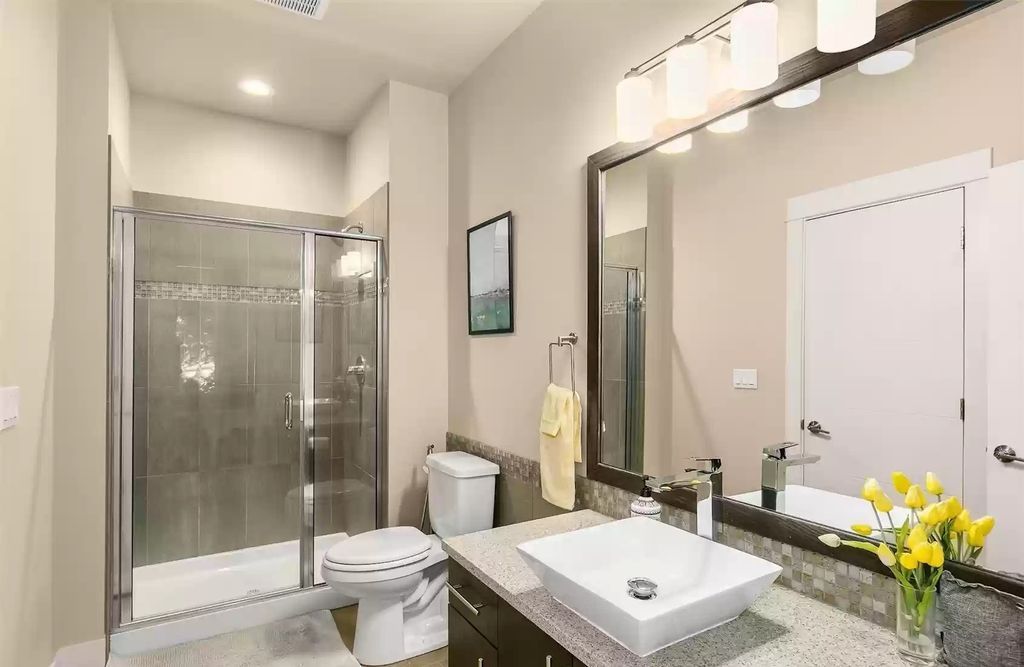 Blending a variety of tile colors and textures may provide interest to a bathroom backsplash. The harsh white subway tile in this primary bathroom contrasts well with the green mosaic tiles. The low-cost tiles continue onto the floor, creating a low-cost geometric impression. Beautiful Estate with Desirable Floor Plan in Kirkland Hits Market for $2.39M
5. Bathroom Backsplash Made of Wood Planks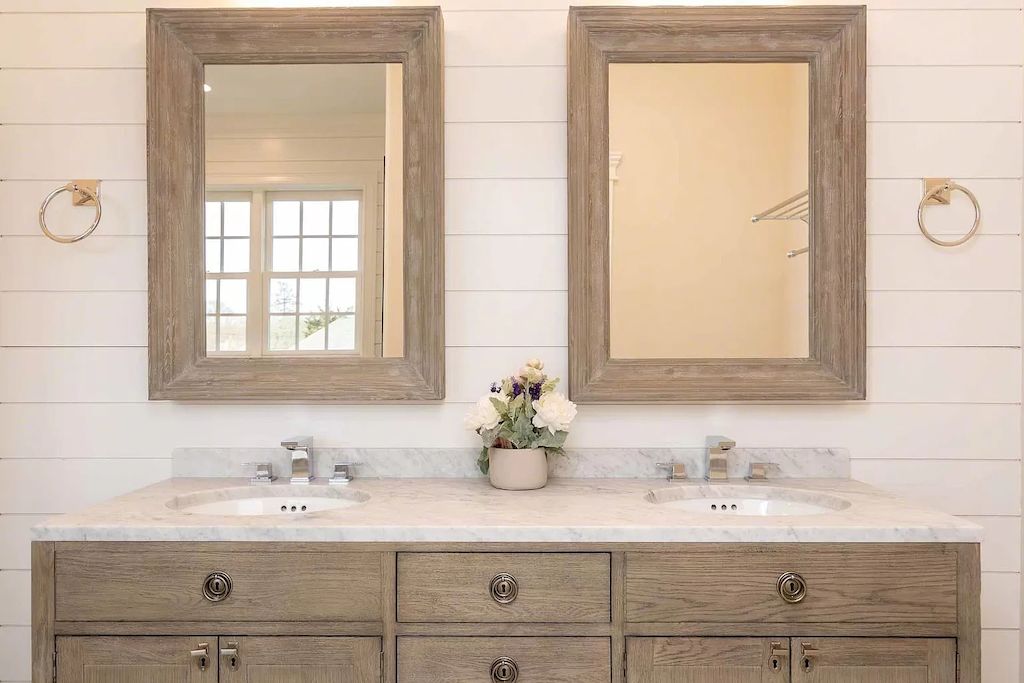 Horizontal painted wood planks are an inexpensive yet eye-catching bathroom backsplash solution. A shiplap wall treatment lends cottage appeal to this beautiful blue bathroom. Industrial-style lighting and a colorful vanity give the rustic look a contemporary update. Gracious Colonial-style Retreat in Massachusetts Features Open-designed Floor Plan Listed for $4,995,000
6. Bathroom Backsplash Made with Faux Concrete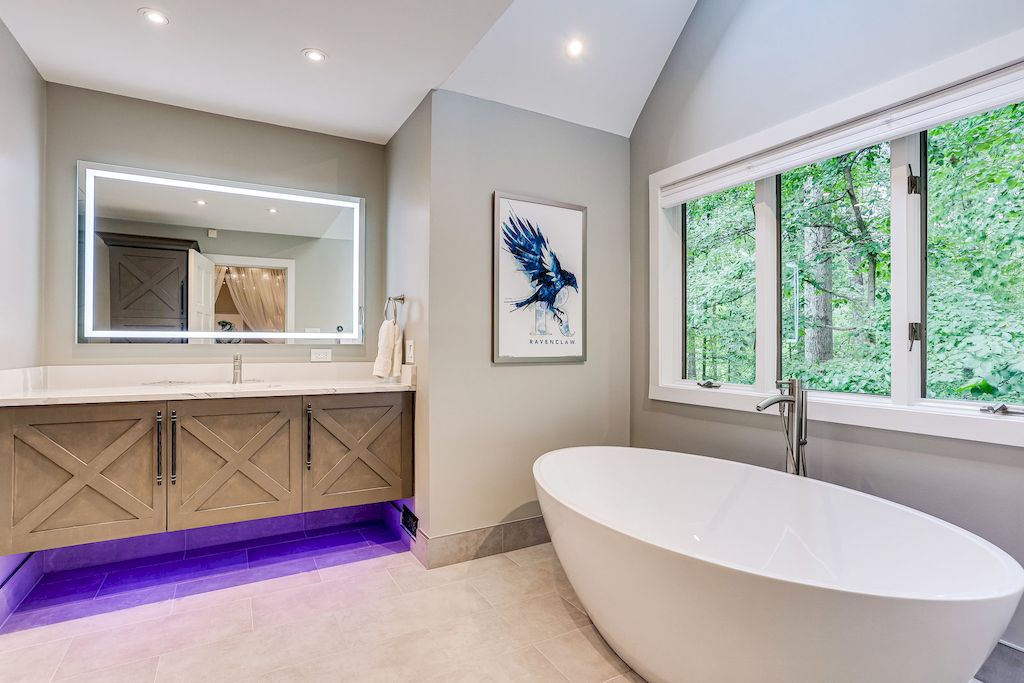 A concrete-inspired hand-plastered backsplash complements a contemporary vanity. This bespoke effect was achieved by troweling gray plaster; a strip of stainless steel beneath the faucets protects against splashes. Combine the material with touches of green for a peaceful blend of earthy and industrial. New Year, New Beginning with this $5,160,000 Enchanting Home in Virginia
7. Bathroom Waterproof Wallpaper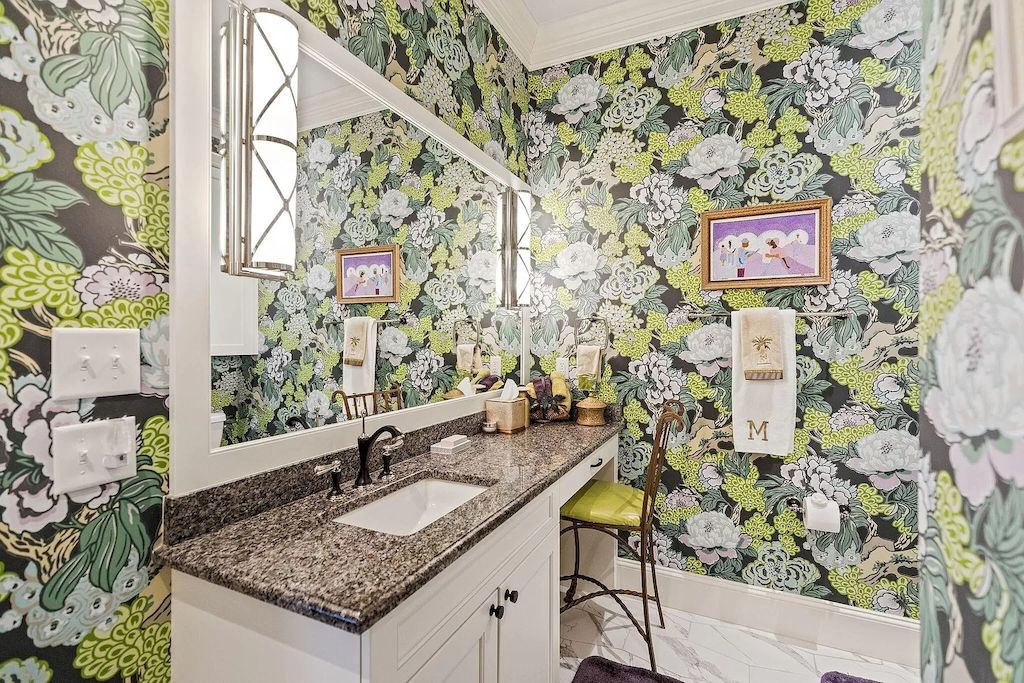 A wallpapered accent wall may liven up a powder room. This floral pattern adds a splash of color to the modest bathroom. For the best protection, use vinyl-coated wallpaper that can tolerate dampness and materials branded "scrubbable." High-end Custom Built Home with Breathtaking Water Views in South Carolina on Market for $8,500,000
8. Bathroom Backsplash Penny Tile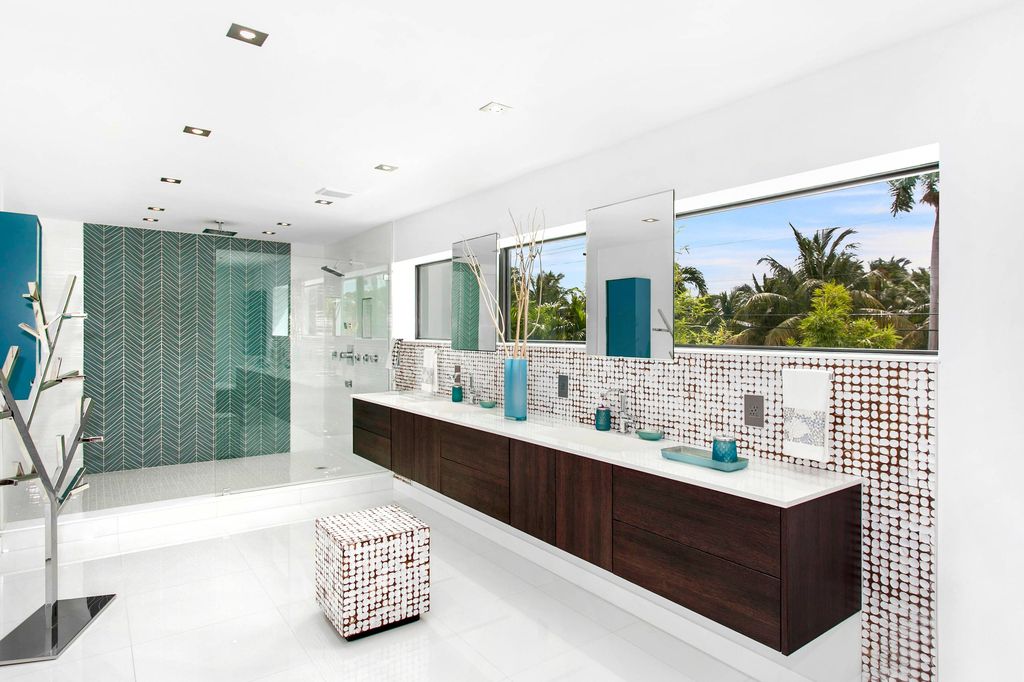 The use of round penny tiles is not limited to the bathroom. Bring them up to the backsplash of your bathroom vanity for a creative take on tradition. To warm up a small bathroom and compliment an earthy color scheme, choose a cream-colored tile for your modern bathroom backsplash ideas. Fort Lauderdale Waterfront Modern Home by In-Site Design Group LLC
9. Ideas for a Mixed-Material Backsplash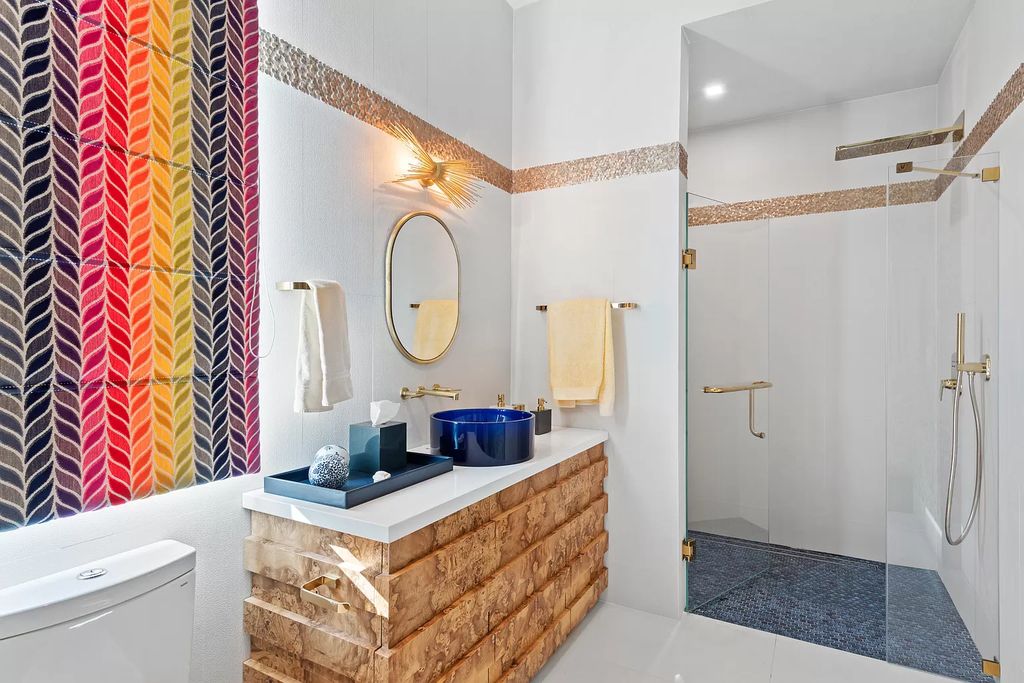 Natural stone trim complements white tile. Thin moldings split tile lines and highlight the transition between the backsplash and the white wall here. Honey-colored grout complements the space's neutral color palate while warming up the typical bathroom backsplash.  A South African Inspired Masterpiece of Contemporary Design in Boca Raton, Florida
10. How to Install a Bathroom Backsplash Tile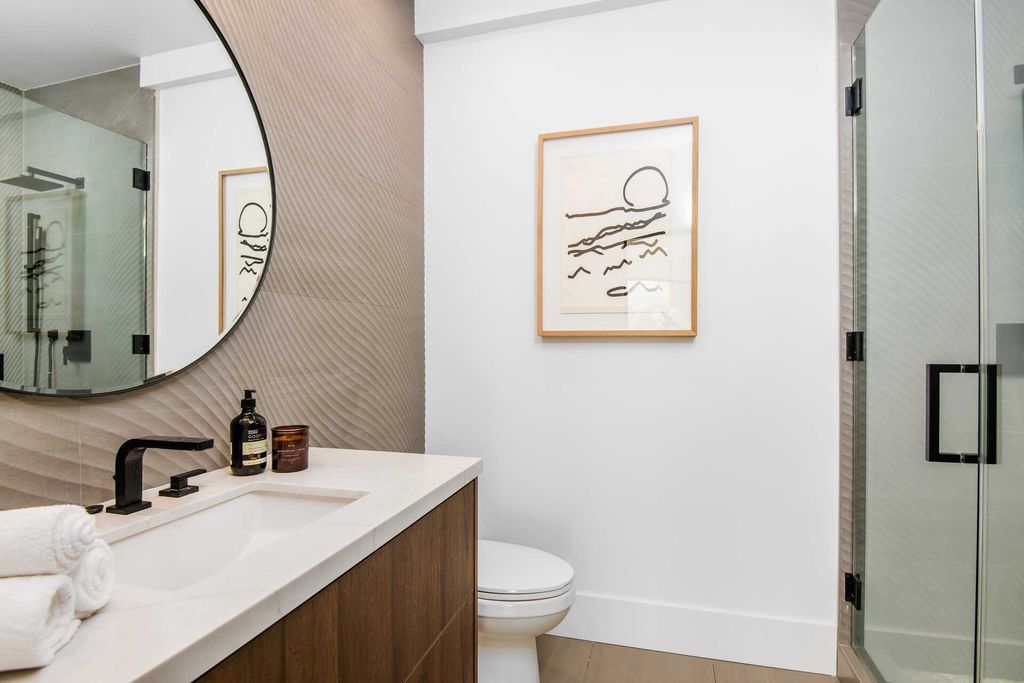 With a simple tile backsplash, you may add color and design to your bathroom. This wall treatment is easy to install on your own. We'll demonstrate how! Absolutely Stunning Brand New Home in Bell Canyon features Impeccable Amenities for Sale at $4,399,000
11. Bathroom Mosaic Tile Backsplash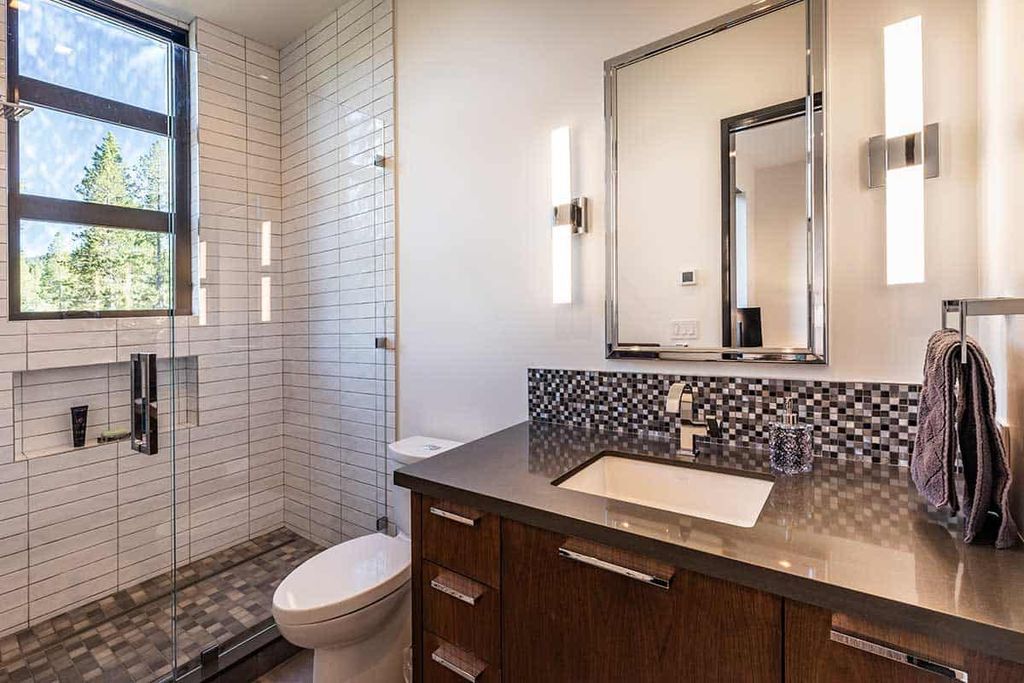 Mosaic tiles come in sheets, making them a simple DIY bathroom backsplash concept. Choose your preferred color combination or a sparkling glass finish to fit the décor of your bathroom. Continue the tiles behind open shelves to increase the impact of a mosaic backsplash. Brand New Tropical Modern Home in Miami Beach with An Exquisite Outdoor Oasis hits Market for $25,000,000
12. Bathroom Backsplash with Colorful Tile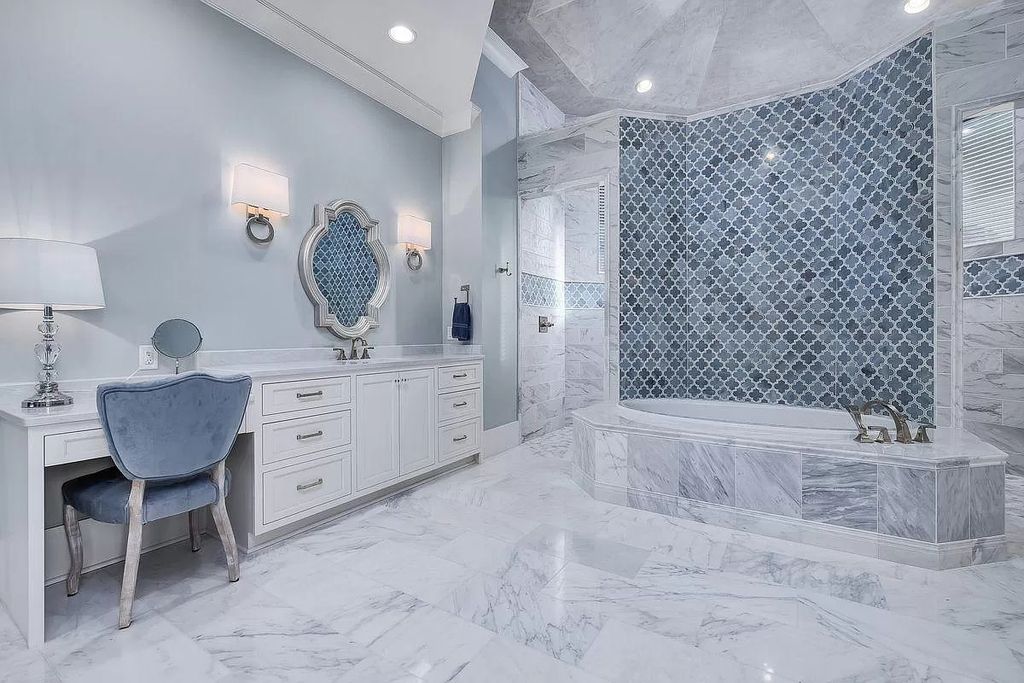 For a clutter-free bathroom design with a relaxing flash of color, the light blue backsplash surrounds a contemporary vessel sink and wall-mounted faucets. The tile backsplash's gleaming surface nicely reflects light from the ceiling above. Thoughtfully Designed Florida Retreat in Destin Asking for $4,999,000
13. Bathroom Backsplash with Oversized Tile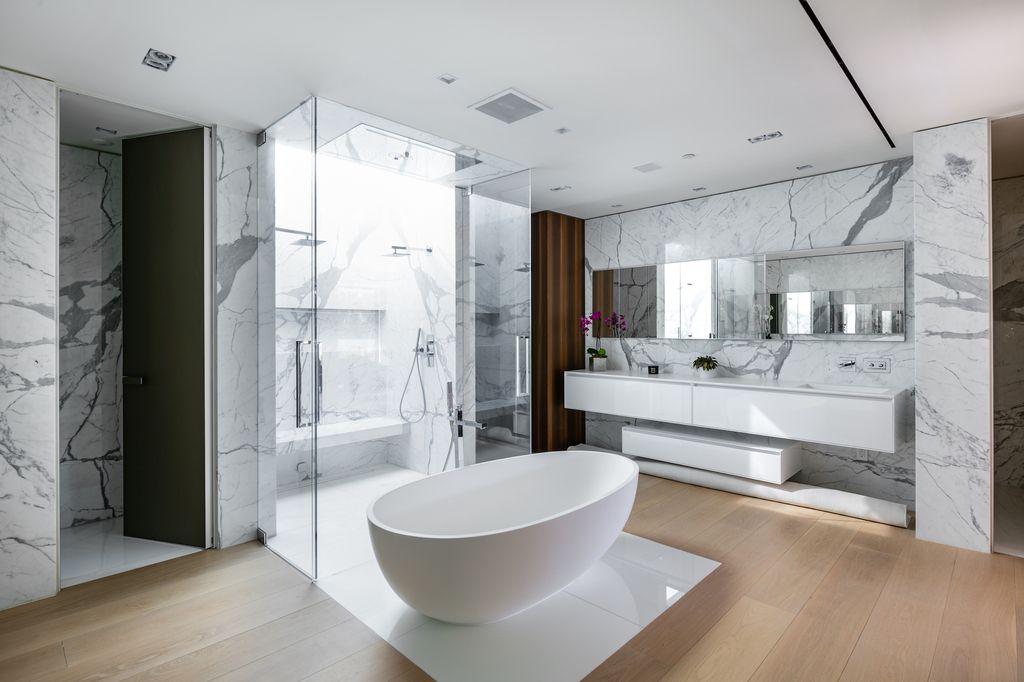 For a clean, uncomplicated bathroom backsplash, cover the wall behind your vanity with large tiles. A pristine white and gray backsplash constructed of large-scale ceramic tile sparkles in this bathroom. The sleek symmetrical design that repeats on the slate floor underneath is completed with clean white grout. This would be a wonderful Luxury idea. This Remarkable Beverly Hills Mansion showcases Sleek Design and Exquisite Finishes
14. Bathroom Backsplash in Black and White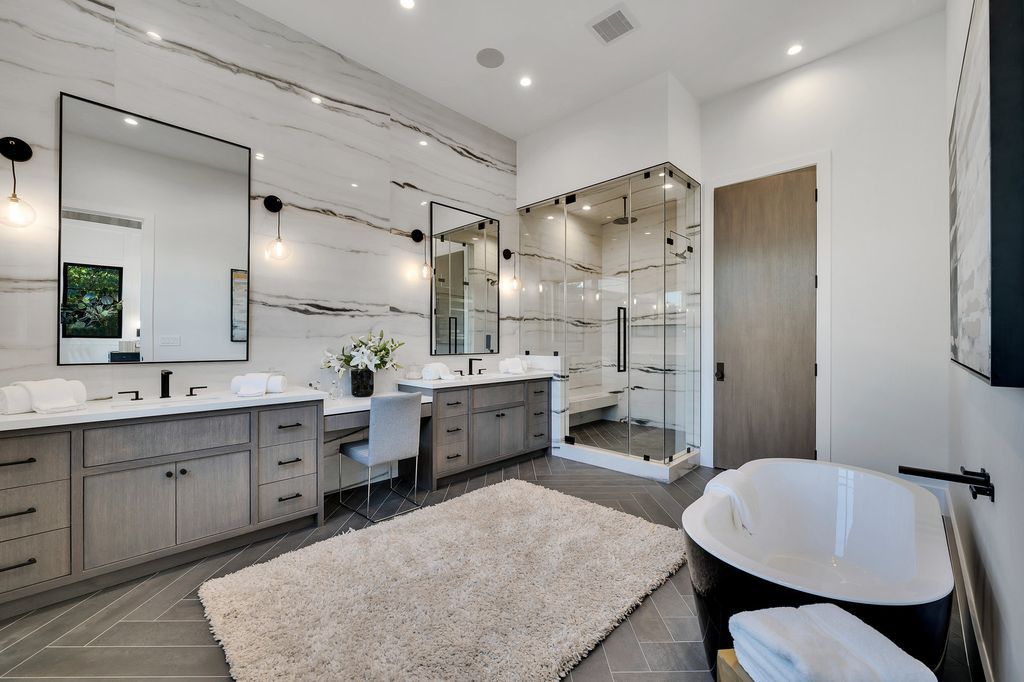 An eye-catching black-and-white bathroom sink backsplash may liven up a plain countertop. Behind the modern vanity, the slim glass liner tiles serve as a practical focal point. To enhance its impact, the backsplash extends from floor to ceiling. Brand New Gated Single Story Modern Farmhouse in Encino for Sale at $5,395,000
15. Backsplash for a Neutral Bathroom Sink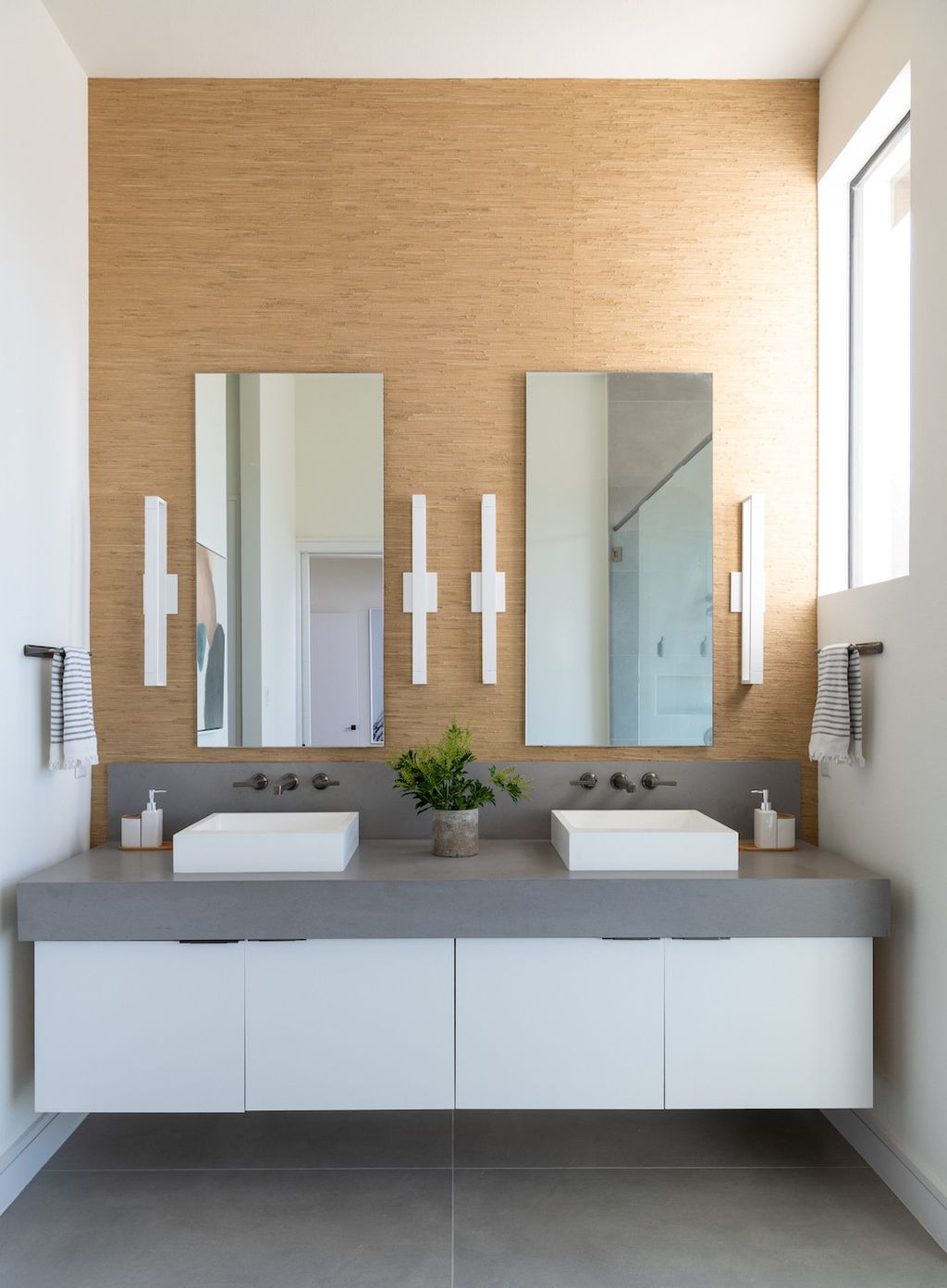 Opt for natural stone tiles like travertine or marble in neutral tones. These materials can add a touch of luxury and sophistication to the bathroom, while still blending nicely with the wooden elements. High-end Design of Cobalt Lane in Dallas by Traci Connell Interiors
16. Subway Tile Bathroom Backsplash on a Small Scale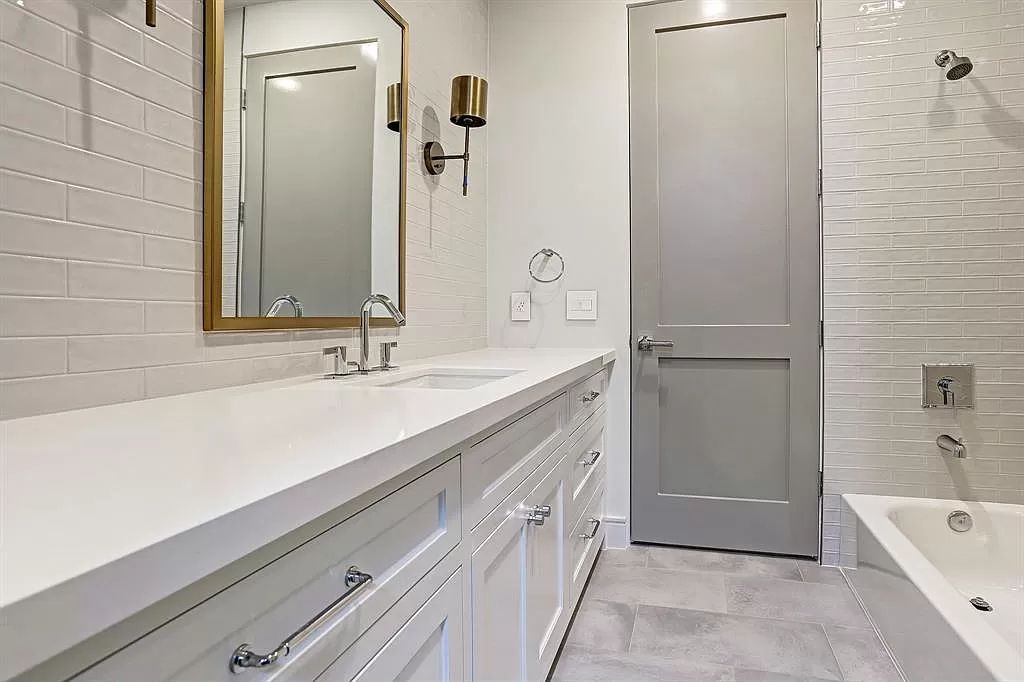 Choose small subway tiles for your bathroom backsplash for an unexpected variation on a classic aesthetic. The beveled-edge feature on this small-scale tile adds texture. Extend the neutral backsplash to the ceiling to visually enlarge a tiny bathroom. A Breathtaking New Construction Home in Houston listed for $4,199,000
17. Bathroom Glass Tile Backsplash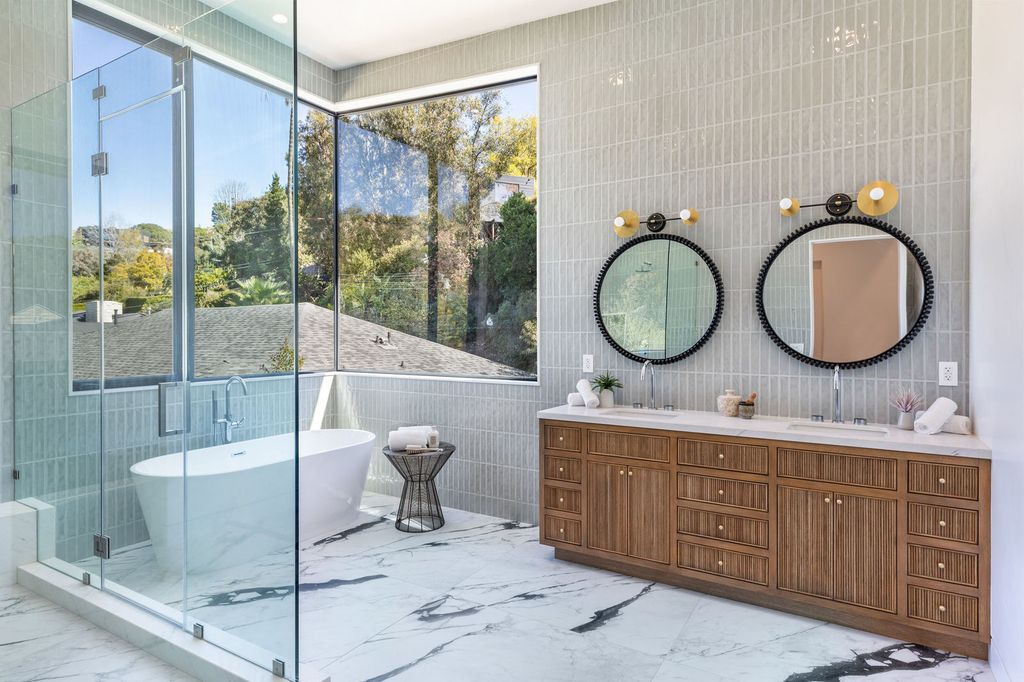 Above this warm wood vanity, a light blue backsplash constructed of square glass tiles offers visual depth. The highly reflective surface reflects light, making this an excellent little bathroom backsplash design. The small pop of color adds an unexpected element to the modern concrete countertop. Sensational Living in A Newly Completed Beverly Hills Home listing for $4,250,000
18. Bathroom Backsplash in Rustic Wood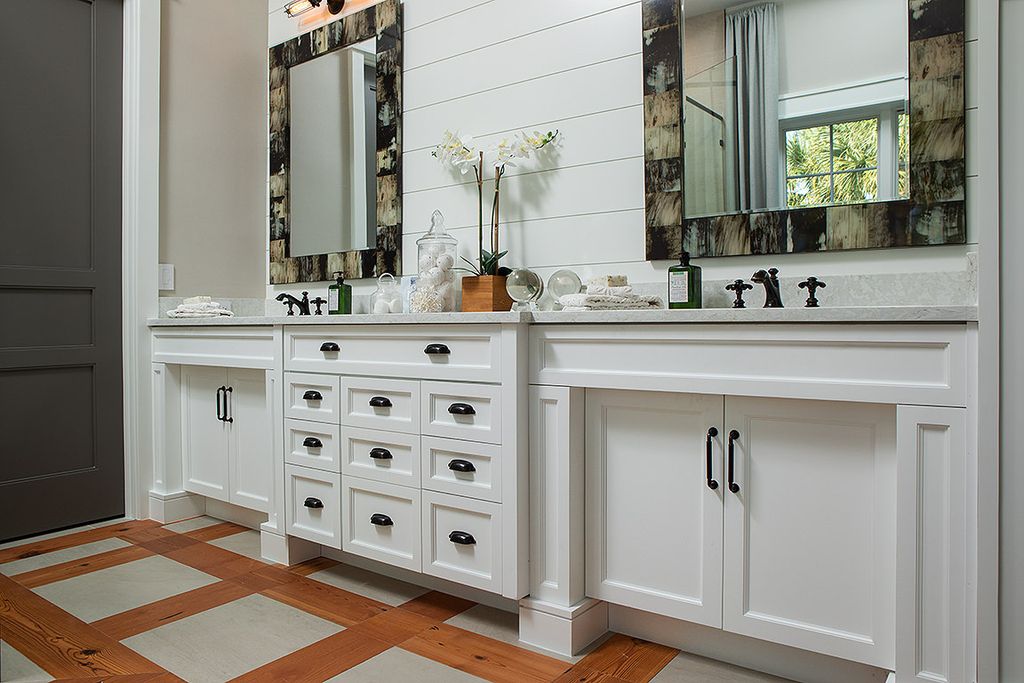 The wood planks cut from 8-foot lengths make a farmhouse-style statement. Install the boards on one wall, then add texture with a light gray stain. The rustic tones of this wood bathroom backsplash are enhanced with a granite countertop. Luxurious Interior Design of 760 Park Model by Clive Daniel Home
19. Bathroom Backsplash With a Global Influence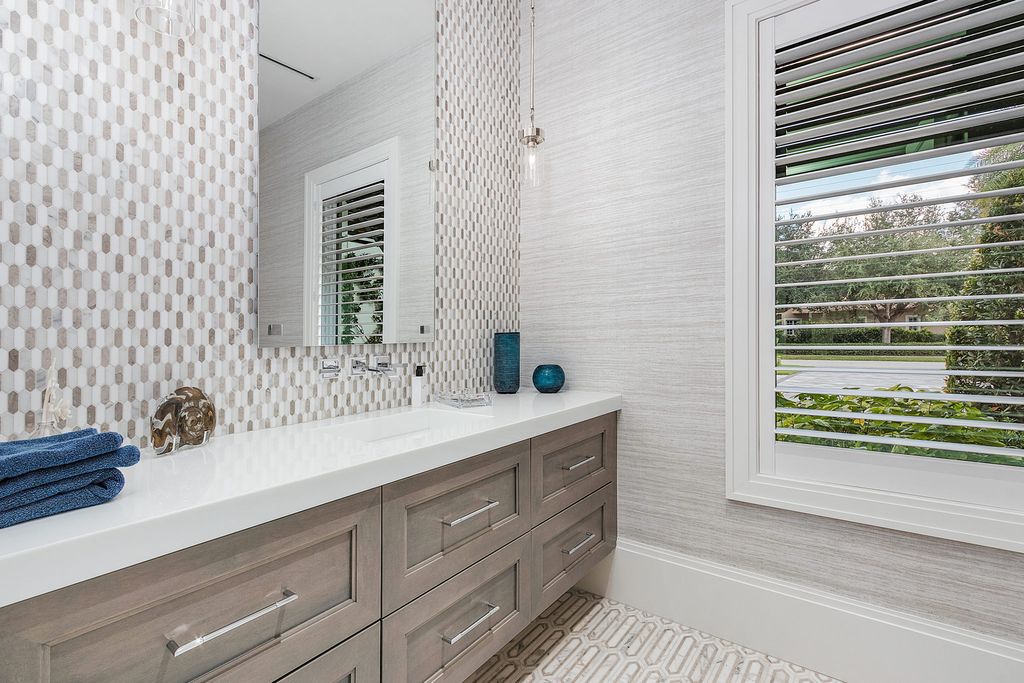 Moorish features, such as a shapely tiled backsplash wall, can contribute to an internationally inspired aesthetic in your bathroom. The arabesque tile design compliments a borderless mirror by repeating a motif prominent in Moroccan architecture. Each tile stands out because to the bright white grout. This $6,395,000 Naples Home with Top of The Line Features and Beautiful Lake View
As you embark on your own design endeavors, remember that the bathroom backsplash is your chance to tell a story. It's an opportunity to echo the hues, patterns, and textures that resonate with you. It can transform your space into an extension of your personality. The choices are as diverse as your imagination. Furthermore, it offers you the privilege of curating an environment that reflects your distinct taste. For more amazing ideas, you may look at the post 19 Best Living Room Designs That Make You Overwhelmed And Infatuated
More Ideas For Living Room:
---
Thousand of high quality images of Living room and more you can see at Livingroom Gallery.