Date of Publishing:
Cozy and Intimate with Rustic Bathroom Ideas
Rustic bathroom ideas are designed to evoke a sense of warmth, comfort, and simplicity. They often feature natural materials such as wood, stone, and metal, and are designed to create a cozy and inviting atmosphere. Rustic bathrooms often incorporate elements of nature, such as plants and greenery, to bring the outdoors inside. They also typically feature earthy tones and warm lighting to create a relaxed and calming ambiance. Whether you're looking for a cabin-inspired retreat or a luxurious spa experience, a rustic bathroom is a perfect way to create a charming and welcoming space.
1. Rustic Bathroom with Green Theme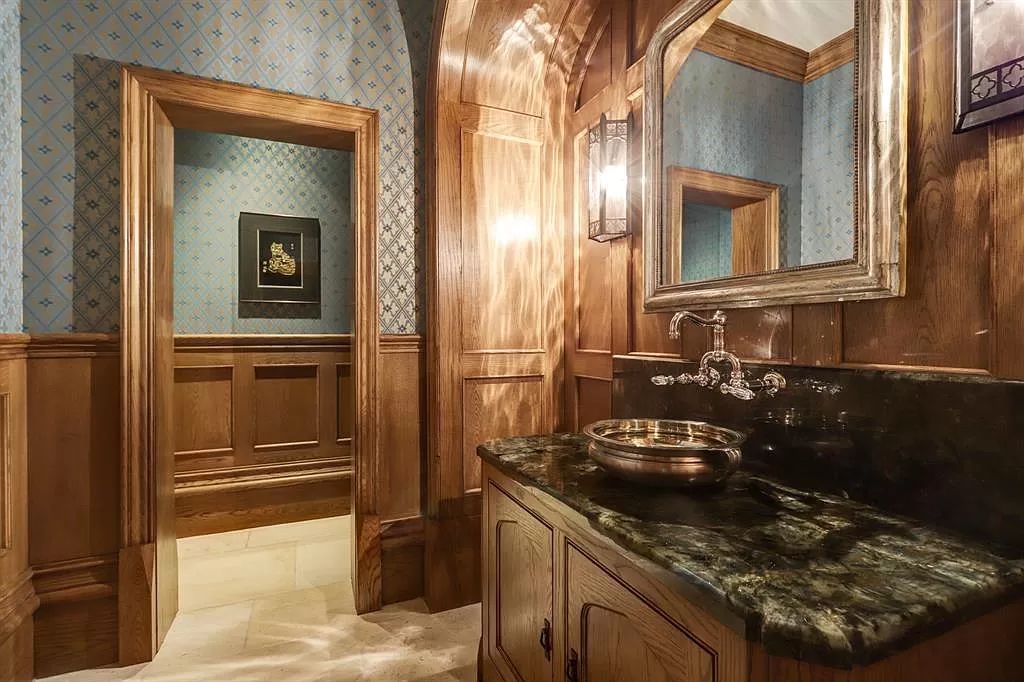 This rustic bathroom boasts a cozy green wallpaper that creates a warm and inviting atmosphere. Wooden materials are used throughout the space, adding to its rustic charm and creating a natural aesthetic. Despite its small size, the bathroom feels spacious and comfortable, thanks to the clever use of materials and the addition of a beautiful copper wash basin, which adds an elegant touch to the overall design. This $17,900,000 English Manor Estate in Houston was Built of Only The Finest Materials
2. Dark Wood in Bright Bathroom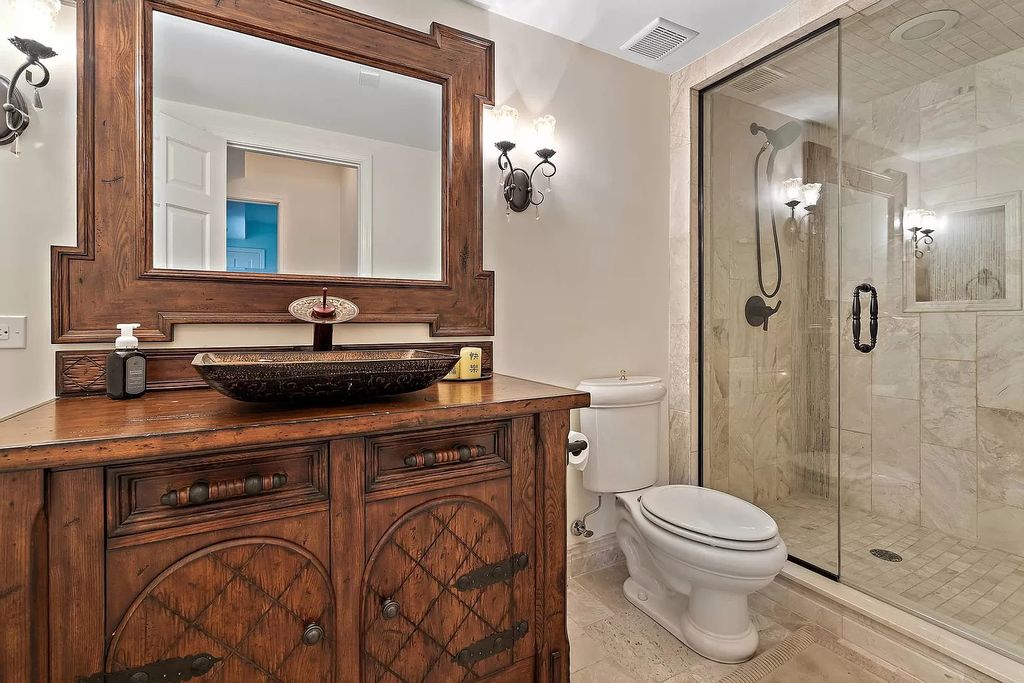 You can't go wrong with natural wood furniture and neutral bathroom colors. Try adding a copper washbasin and an oak-framed mirror to create a contrast with the glass-walled shower. Beautifully Reimagined Luxury Residence with Brick and Stone Exterior in Oak Brook Lists for $2.799 Million
3. Natural Details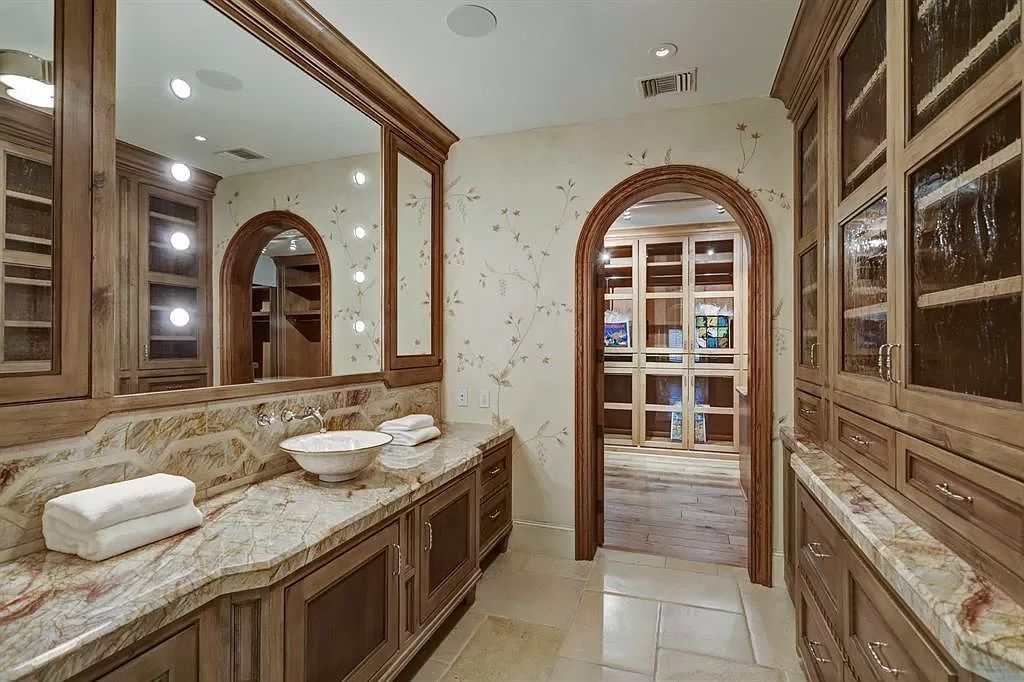 Rustic bathroom ideas are distinguished by simple details such as door frames, cabinets, and towel racks. Choose natural floral patterns for wallpaper to bring the room to life. This $17,900,000 English Manor Estate in Houston was Built of Only The Finest Materials
4. Antique Bathroom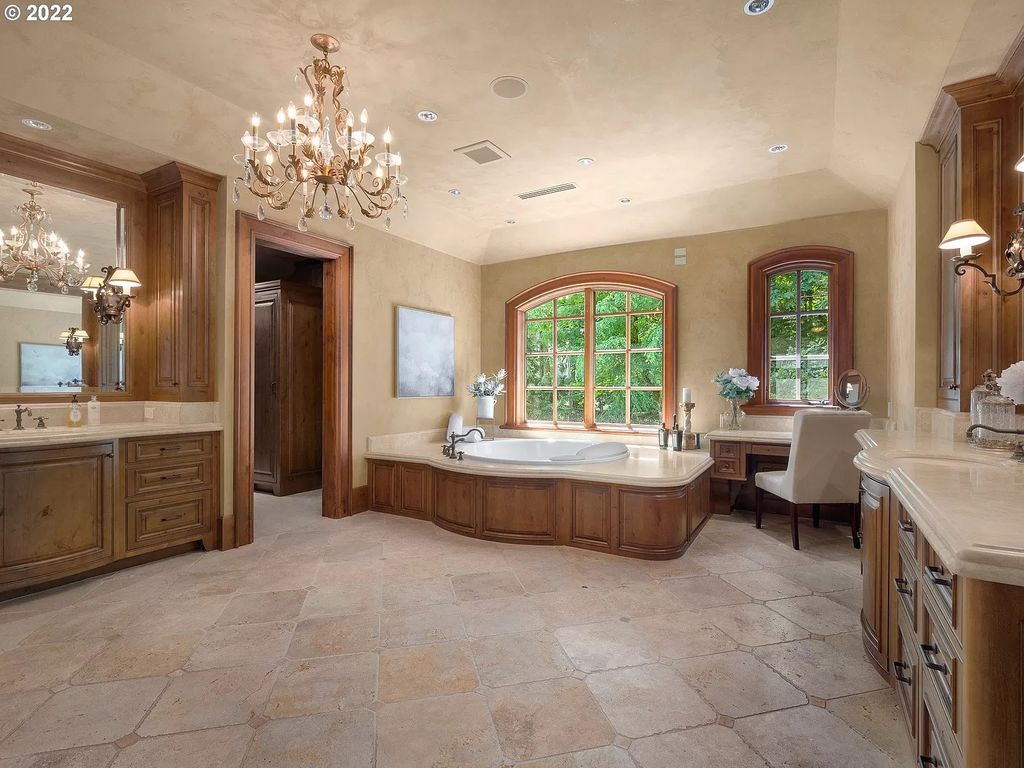 Combining classical art with luxurious living room decor can be a difficult but rewarding way to create a rustic and cozy environment. The art of furniture arrangement has contributed to the creation of a more spacious living space. The chandelier light illuminates the room, so the space does not feel distant. Enjoy Awe-inspiring Custom Living in This $11,500,000 Phenomenal Lakefront Estate in Lake Oswego
5. Country Bathroom Idea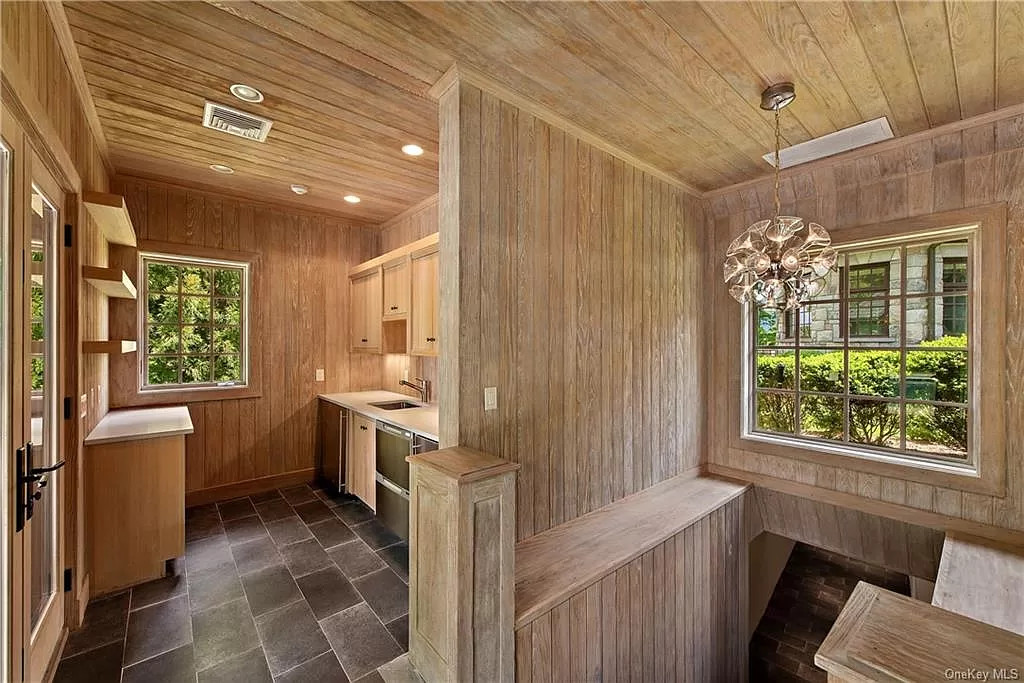 Rustic bathroom ideas, along with other styles, are always an excellent choice for country design. Whether the house was built recently or a long time ago, the wooden slats mark the passage of time. This magnificent $5,789,000 Residence in New York has top of the line amenities
6. Bring Natural Idea to Modern Bathroom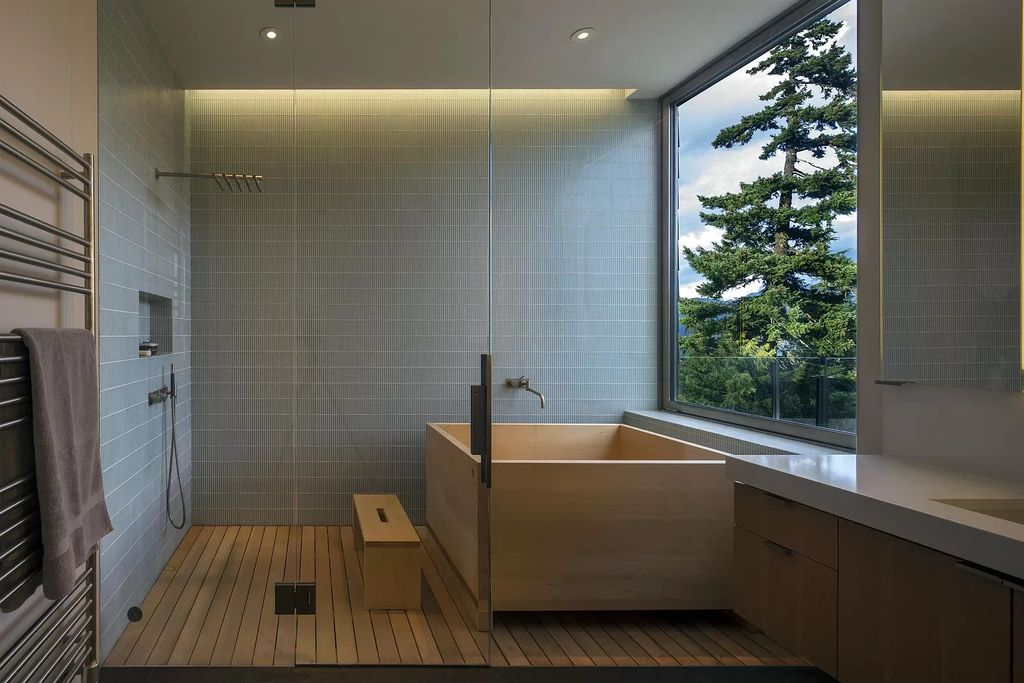 The Masterpiece in Whistler's modern design is a mix of modern and classic. A wooden bathtub appears in the minimalist and youthful living room space. These appear to be two opposing design styles. However, the angled wooden bathtub adds to the youthfulness of this bathroom. Blend Perfectly with the Surrounding Landscape, Architectural Masterpiece in Whistler Listing for C$39,000,000
7. White House with Farmhouse Style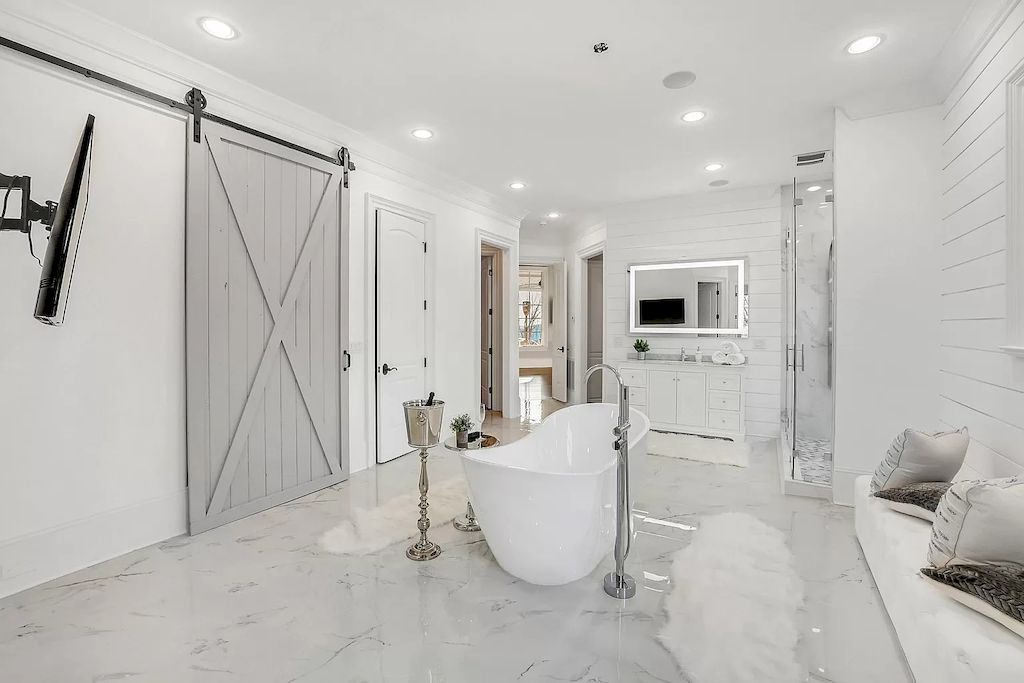 With a bold antique design, this is a complete approach to rustic bathroom style. From the overall decoration of the spire bathroom to the main door design. This is also an example of a rustic bathroom, but it has a light and airy feel to it. Extraordinary Hilltop Estate with Spectacular Sunsets and Exquisite Views in Tennessee Listed at $7,499,999
8. Industrial Design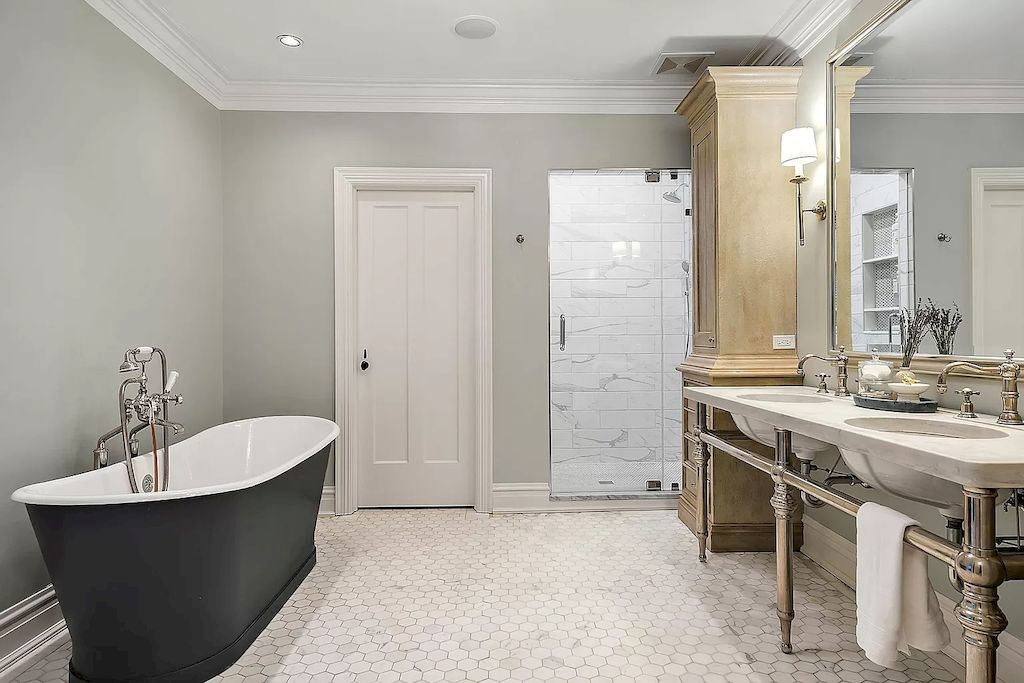 Make your bathroom design more traditional. To give the space a "classic" color scheme, balance and accentuate the design style with a striking bathtub and silver cabinet. Rustic bathroom design is defined by a washbasin with classic motifs and a bronze metal frame. As an Expression of Classical Style, this Renovated Residential Beauty in Illinois Hits Market for $2,995,000
9. Accents Inspired by Nature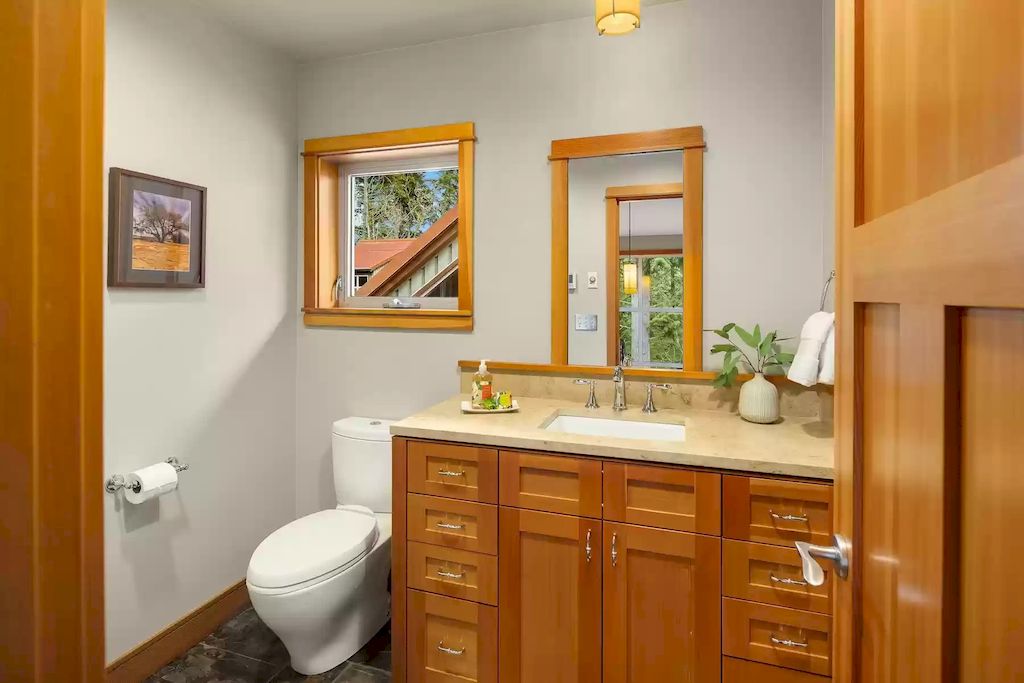 Your bathroom becomes more intimate and warm with simple accents and a rustic approach to architecture and building materials. From the closet to the window frames and mirror frames, wooden frames take up the majority of the space in this design. All have prominent countryside features. This $5,498,000 Farmhouse-inspired Estate in Washington Leaves You Breathless
10. Elegance in the Classic Style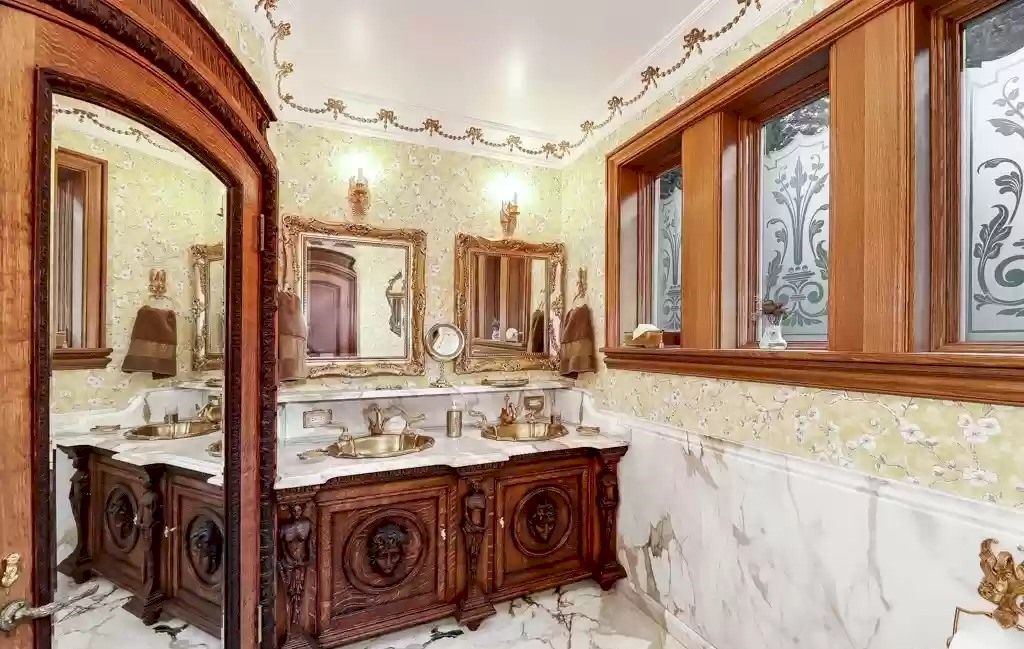 To match the rustic bathroom style, you don't have to tone down the elegance in your design. Using ancient and luxurious decorations, as well as wall paper and skilled decorative patterns, to create a royal classic for luxury ideas. This $3,250,000 Masterfully Crafted Home in Washington Is a Stunning Combination of Art, History, and Design
11. Wooden Bathroom Cabinet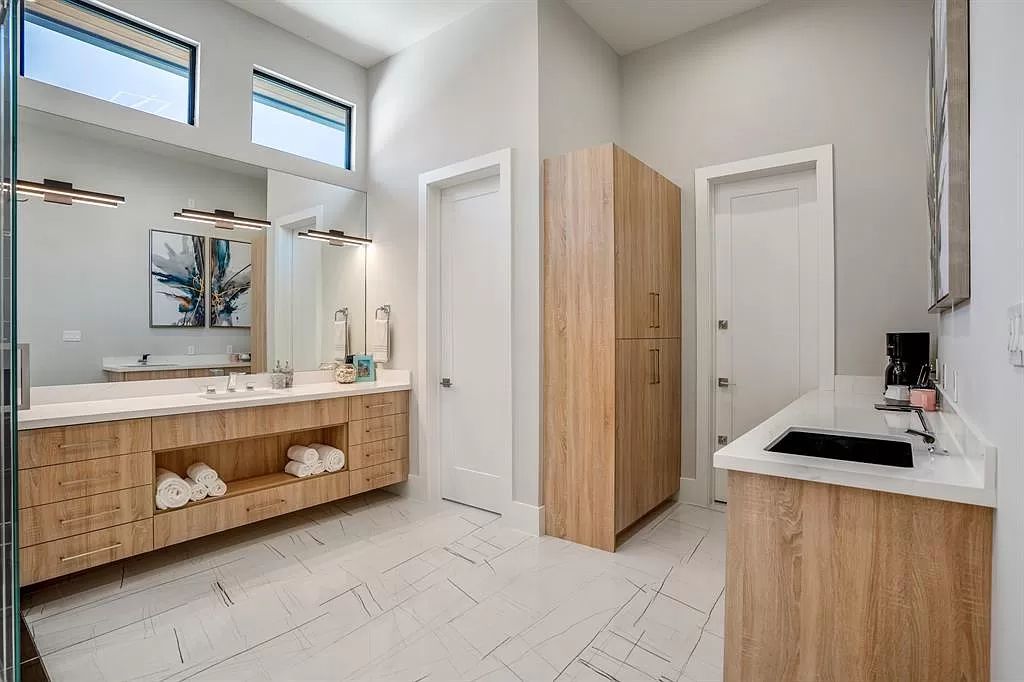 Bring cozy warmth to a neutral bathroom by incorporating rustic wooden materials into your bathroom storage cabinet. A simple, gentle washbasin design with a subdued mossy paint color is a simple way to create a subtle focal point. With this design, the bathroom layout is neat and tidy yet still charmingly rustic. This $3,600,000 Contemporary Home in Houston is The Epitome of Modern Luxury with Amazing Features
12. Luxury Rustic Bathroom Ideas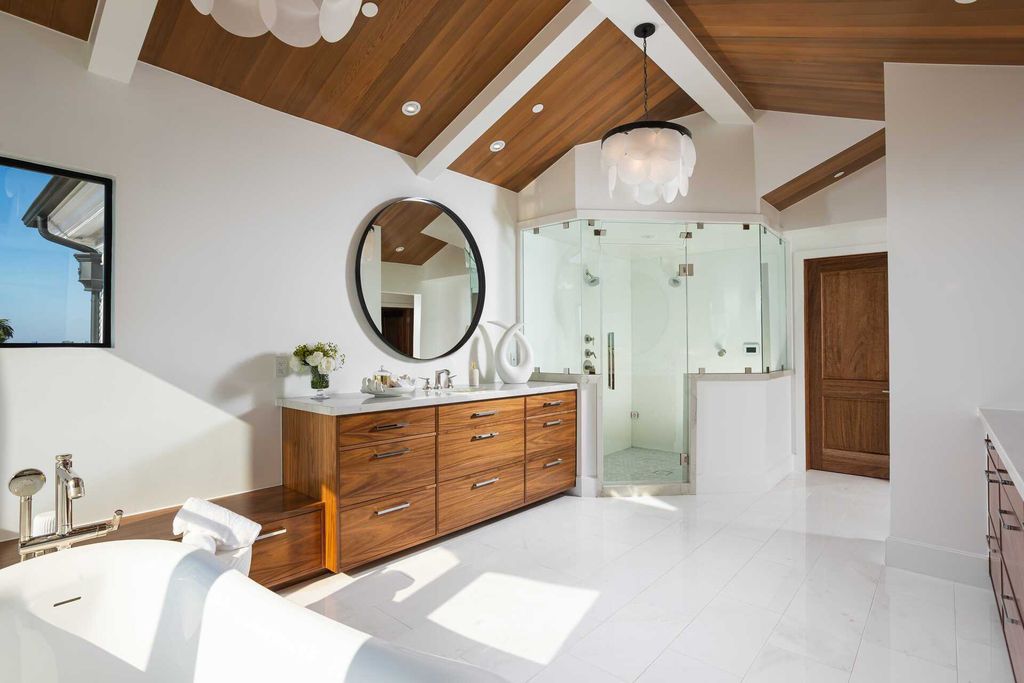 Add a touch of luxury to a rustic bathroom by incorporating elegant ceiling light fixtures. The interplay between classic architecture and youthful, modern furnishings is a perfect way to complete the look and add liveliness to a rustic bathroom in a luxury estate. Entirely Reimagined Corona del Mar Architectural Home with Sweeping Ocean View for Sale at $25,995,000
13. Vintage-Inspired Decoration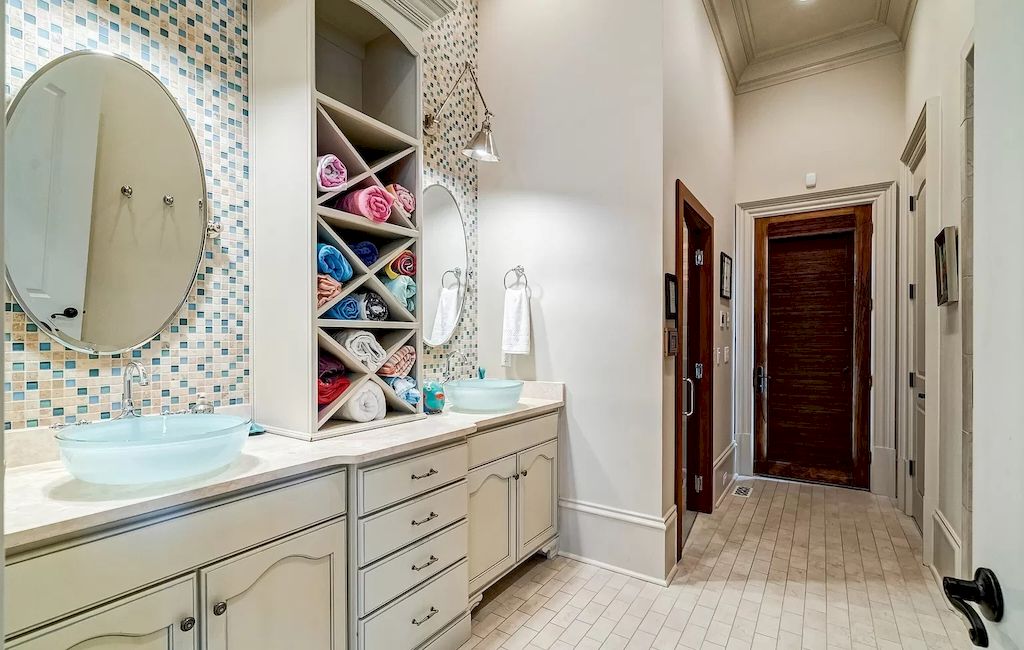 Decorate the tiled walls with 90s-inspired details to give a vintage feel. Especially when paired with a simple washbasin that blends seamlessly with the overall bathroom design. Beautiful European Gated Estate in Georgia Hits Market for $3,985,000
14. Copper Storage Rack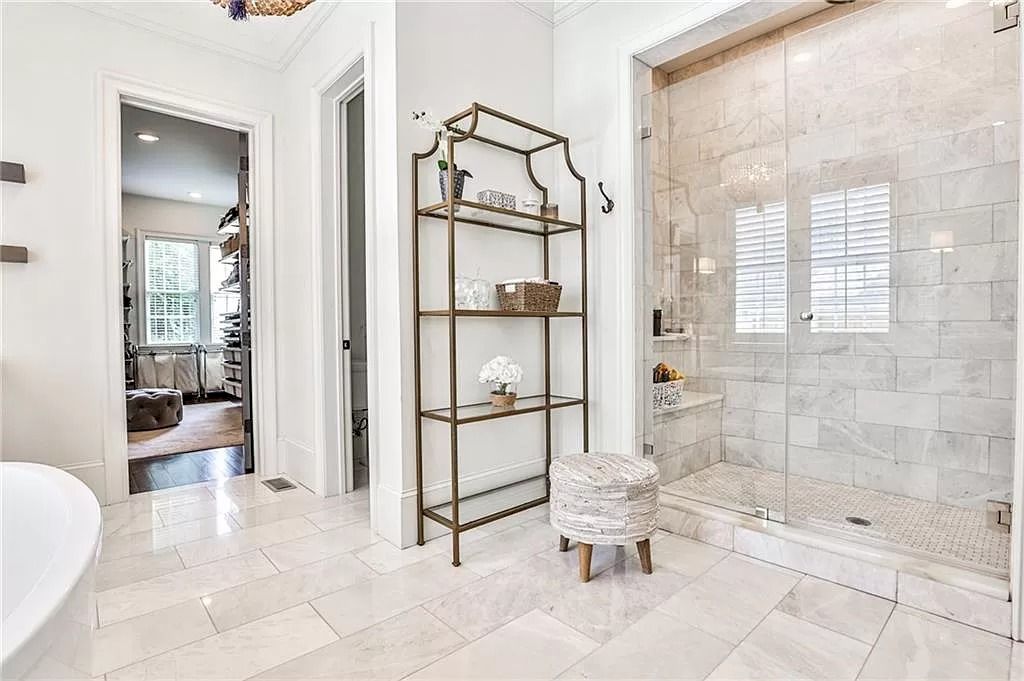 Create a focal point in the white tiled living room with a copper storage rack. Other details can bring instant warmth and coziness. However, incorporating copper furnishings will leave a strong impression of timelessness. These furnishings can fit well with luxury ideas as well. This $3,850,000 Elegant Home in Georgia Re-images a Resort through the Lens of Its Architecture, Landscape and Finishes
15. Black Wooden-framed Mirror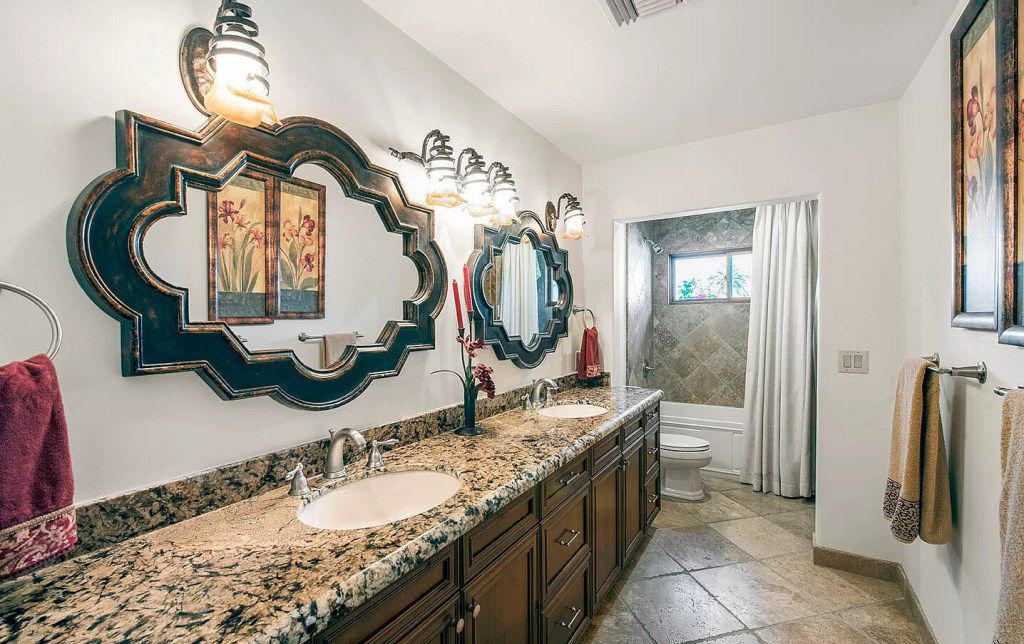 You can still maintain the rustic charm of your bathroom by designing a low ceiling and painting it with white paint. Then, create an attractive focal point with exquisite wooden-framed mirrors or unique wall-mounted lights. Beautiful $3,400,000 single story Residence in Arizona makes you stop and stare
16. Spacious Brick Bathroom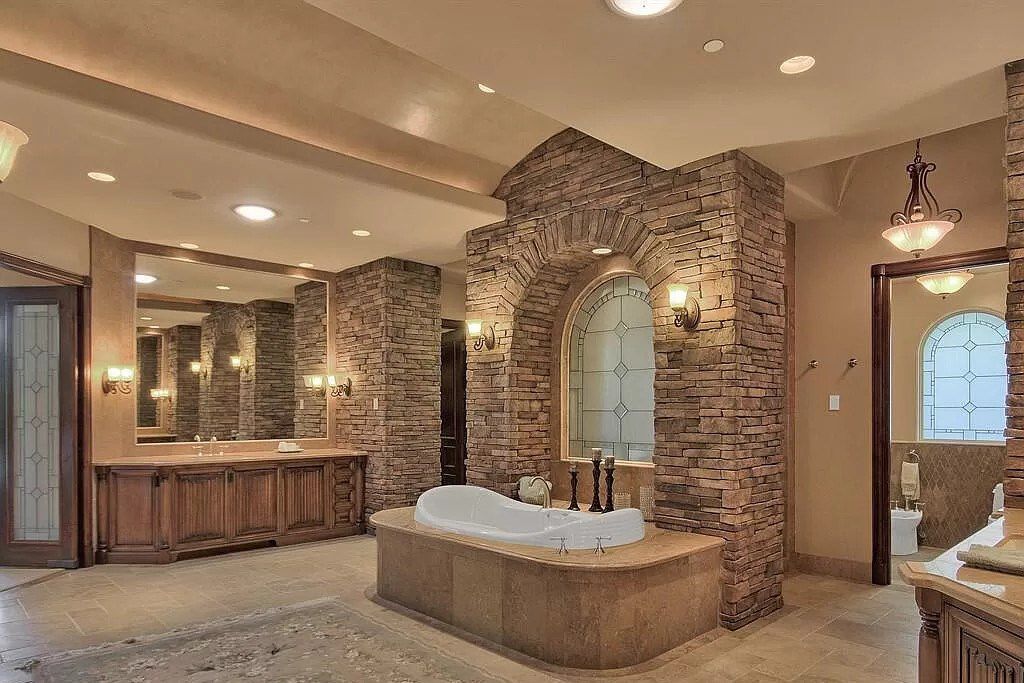 Sometimes, just with the right architecture and appropriate building materials, you can create a rustic yet luxurious bathroom space. A bathtub with a partition wall built entirely from bricks serves as a focal point and blends well with the overall architecture. This $9,500,000 Home in Arizona offers a magnificent mixture of grass and desert landscaping
The rustic bathroom style is characterized by its use of natural materials, earthy colors, and a cozy, inviting feel. To create a rustic bathroom, you can use materials such as wood, stone, and brick, and incorporate elements such as vintage fixtures and natural textures. A rustic bathroom can be both simple and elegant, with carefully chosen details like a copper bathtub or a hand-carved wooden vanity. Overall, a rustic bathroom is a perfect choice for those who appreciate a warm, welcoming ambiance and a connection to nature. Let us look at a variety of sharp images of bathrooms with the small bathroom ideas.
More Ideas For Bathroom:
---
Thousand of high quality images of Living room and more you can see at Livingroom Gallery.