Date of Publishing:
Creative With Pink And Gray Bathroom Ideas
There are quite a few color combinations that bring sophistication without being boring and there are color schemes that bring a sense of brilliance and daring. However, there are also color combinations that are full of softness, and femininity, and at the same time bring elegance and class to your furniture. And pink and gray are one of those perfect color combinations. There are many ideas and how to combine these two colors of your bathroom, making the overall unique and attractive. So, please refer to and admire our 9 Pink And Gray Bathroom Ideas Ideas below to have the most sophisticated suggestions for your own bathroom.
1. Add Modern With Grey, Pink, And Brown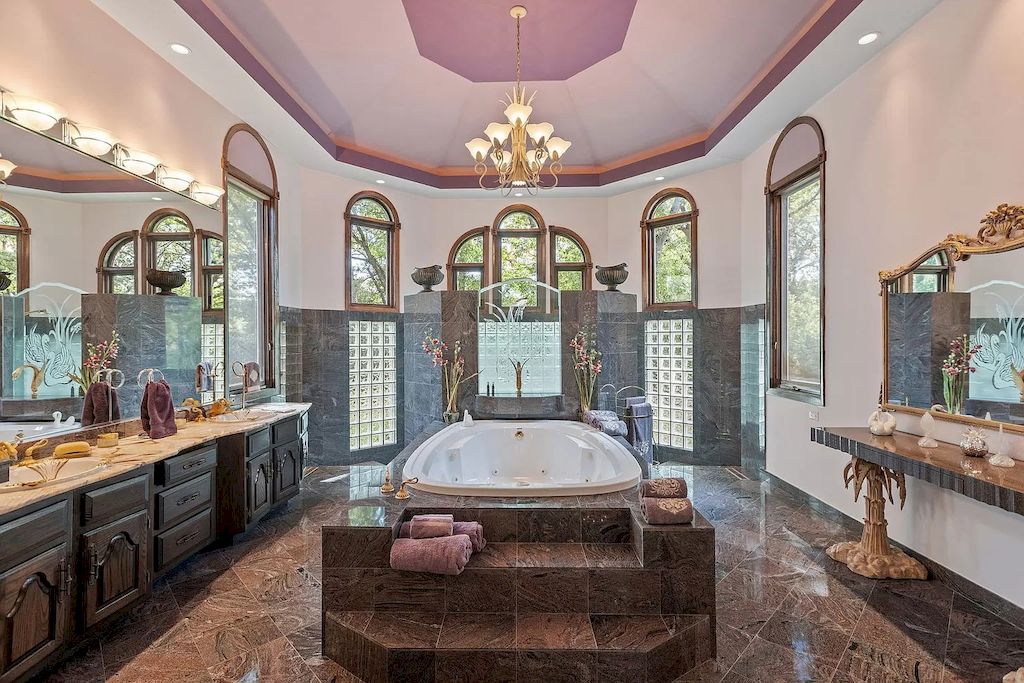 Gray is a blend of white and black, often bringing a sense of sadness and gloom. In the Pink And Gray Bathroom Ideas above, purple pink tones are selected for the paint color of the ceiling, combined with the brown color of the cabinets under floating sinks making the gray wall tile with marble motif become brighter. The blend of this color makes the room full of vitality and freshness. True Masterpiece Perfectly Blends Mid-Century Modern and Mediterranean Architecture in Illinois List at $5,000,000
2. Choose Light Pink For The Wall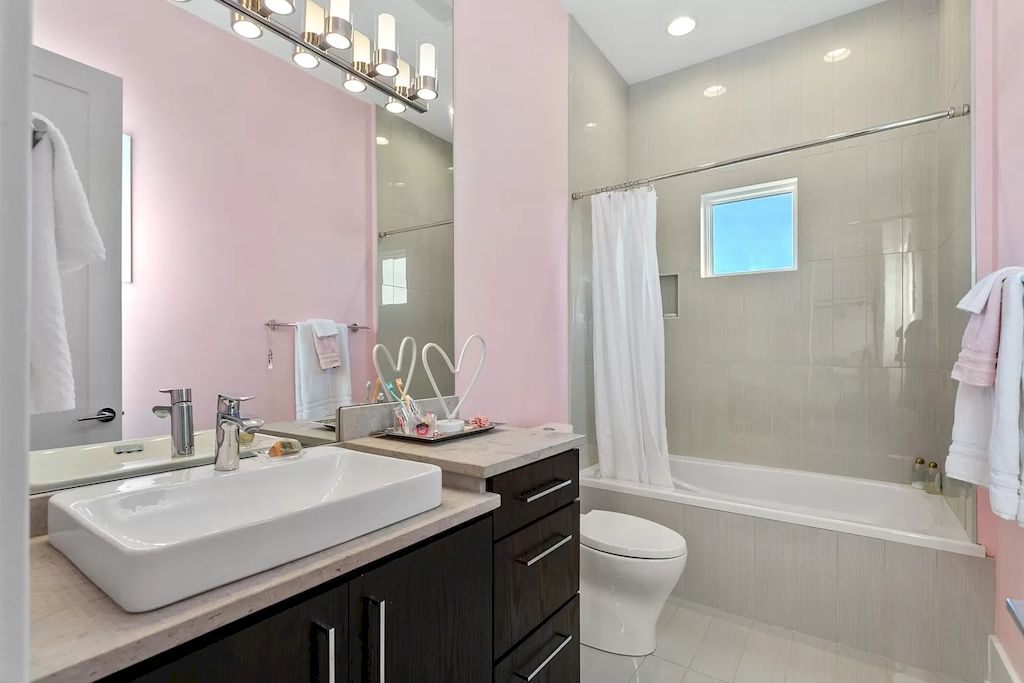 Using baby pink wall paint is a great way to bring sweetness, and youthfulness into your bathroom. Especially with the priority designs using gray tones for most of the bathroom's interior, from cabinets, floor tiles, or bath splash. There are many pink tones for you to choose in this case. But for the bathroom with a small area and you love the minimalist style, the bright pink tones are still the first choice. Or if you choose the break, you can also change the color arrangement on it. This $3,300,000 Stunning Home Offers Fantastic Features and Unique Details in Tennessee
3. Apply Floral Motifs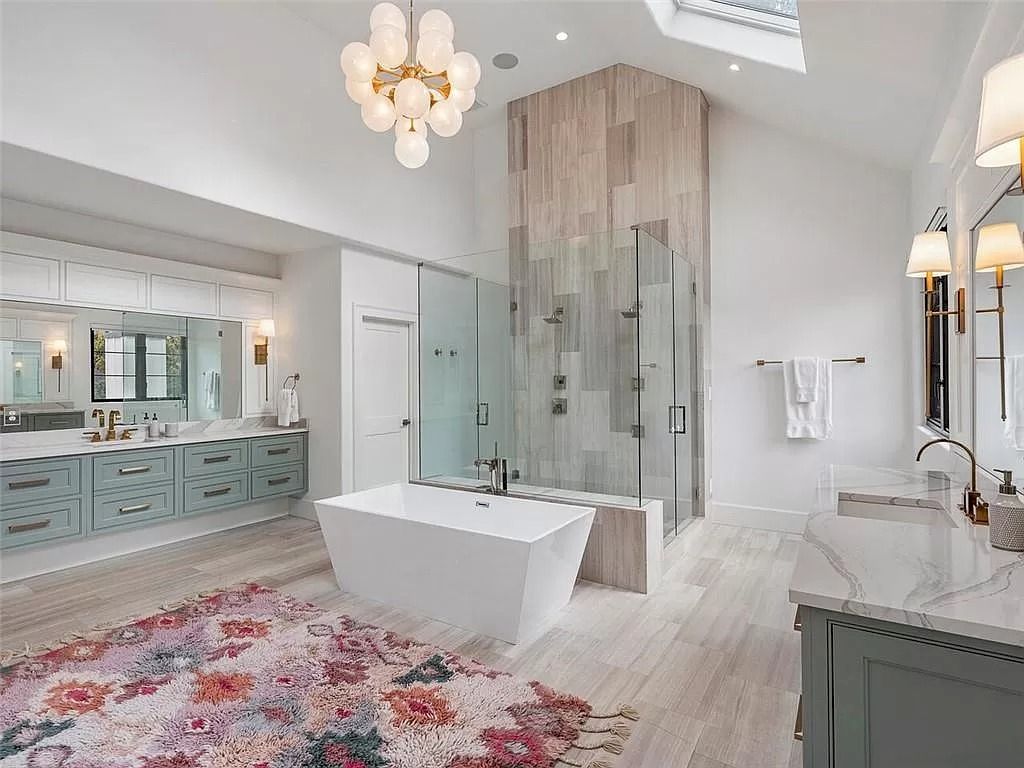 There is no faster and more effective way to bring warm pink tones into a gray bathroom than by adding pink accessories and furniture with floral motifs. The above luxury ideas will captivate you with the appearance of a fluffy rug with brocade prints in pink hues with unique tassel details. This rug can keep you contemplating for a long time. You may not need to wear slippers because of the softness it brings. Natural Elements and Contemporary Architectural Details Create Seamless Indoor-Outdoor Lifestyle in this $3,750,000 Georgia Estate
4. Install Lights To Supplement More Elegant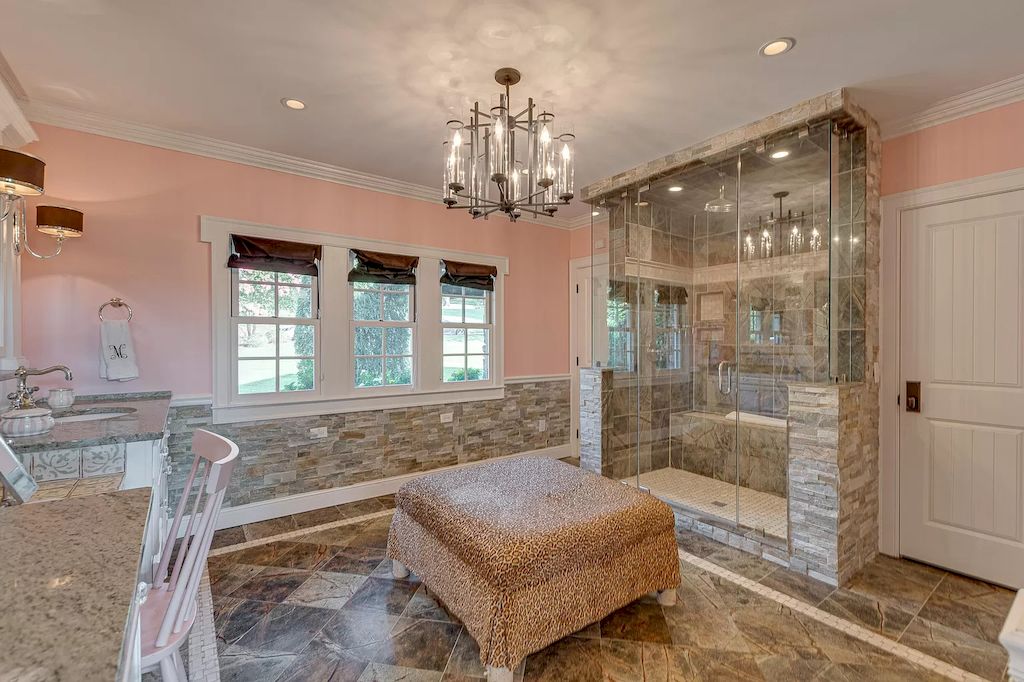 Enhance the overall look of Pink And Gray Bathroom Ideas with the shine of wall mounted lights and chandeliers, especially with bathrooms using pale pink and light gray tones, to bring coziness to the whole space. There are many models of wall mounted lights and chandeliers that you can choose from, depending on your bathroom area and the style of bathroom you like. Prioritize the use of yellow lights to maximize visual efficiency. This $3,280,000 Finest Home Makes Bold Statement of Luxury and Unparalleled Privacy in Tennessee
5. Try Wallpaper For Instant Change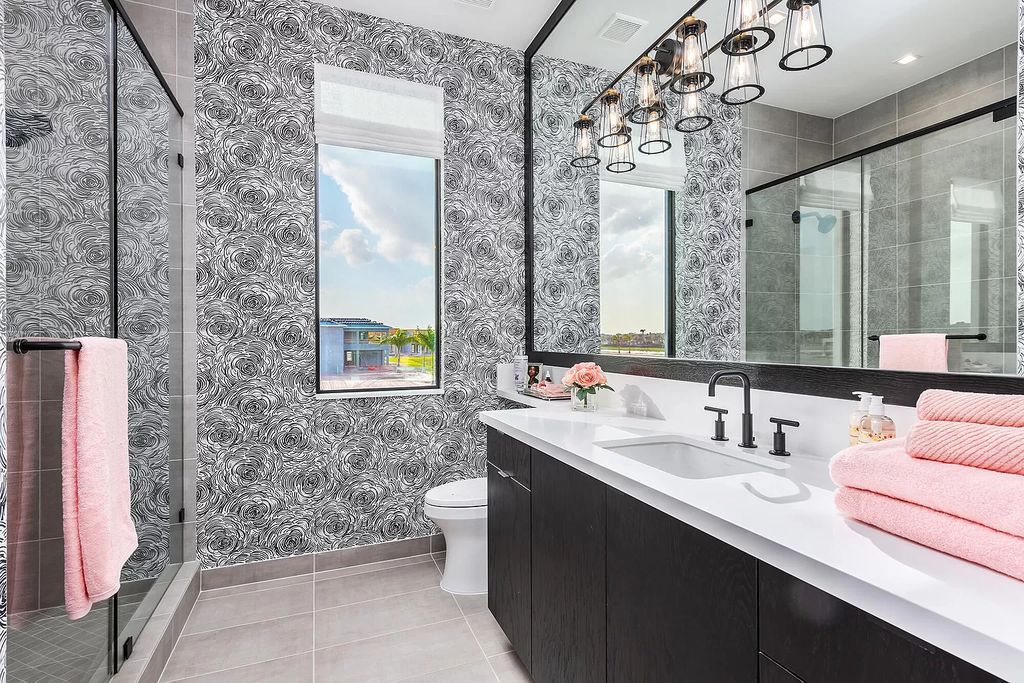 Two features that make wallpaper always worth using are its low cost and ease of change to bring a different style to any space. In terms of perception, between pink and gray, gray toned wallpaper will be easier to combine with light toned interiors such as pink and beige. As the typical example above, the overall bathroom becomes extremely prominent when accessories such as bath towels, pink vases appear. And these details become more attractive than ever when placed next to the wallpaper with a sophisticated rose flower pattern. This $5,800,000 Magnificent Modern Home in Boca Raton features High End Finishes
6. Lighten Up The Grey With Pink Accessories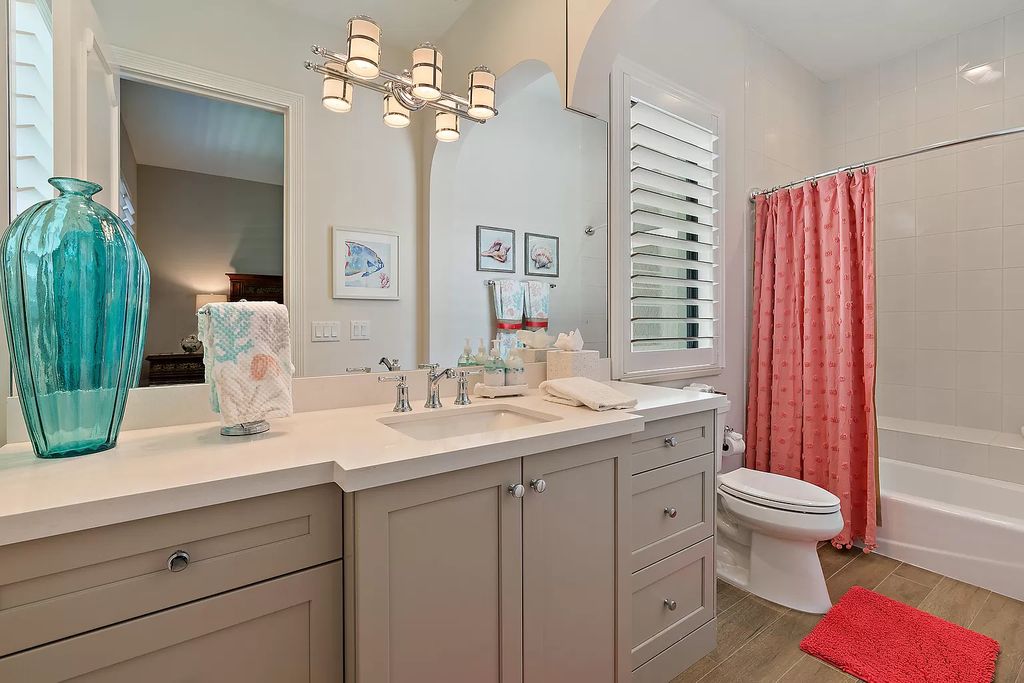 Choosing neutral gray tones for wall paints or floor will be the basis for you to choose curtain fabrics, carpets, or furniture. To create a color balance between warm and cool tones, you should choose models that complement or contrast the gray tones that have been used for most of the room. As a hint, you can consider using coral and peach tones for small bathroom details like the shower curtain and doormat. Although they are only small details, they are still enough to highlight the overall room. An Entertainer's Dream Home in Jupiter with lake views listed for $5,149,00
7. Way To Decide Pink Or Grey For The Base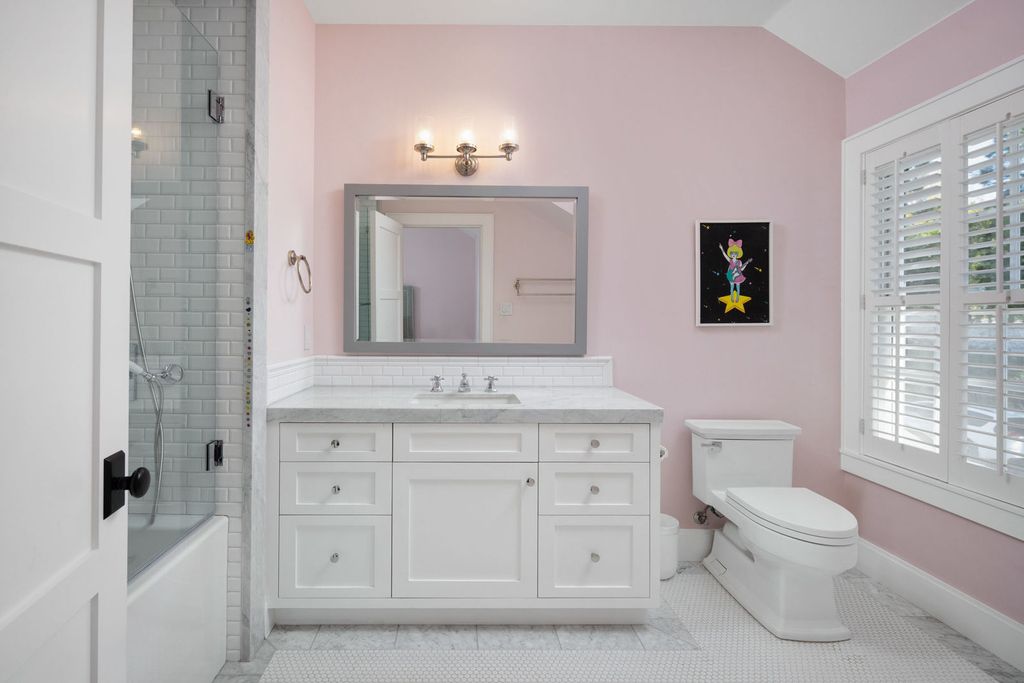 Gray is associated with serenity and stillness. On the other hand, this tone is also strong and elegant, but sometimes it also feels quite heavy. Therefore, gray tones are often used as a background for the striking pink tones of the interior or for bathroom accessories. However, as in the luxury ideas above, the inversion of the color rule also works great. The pink tone of the wall paint serves as the background for the wall mirror with a gray frame. Such a wonderful combination! A Completely Renovated Traditional Home in Bel Air to Sell for $10,995,000
8. Bring The Classic To Your Bathroom Ideas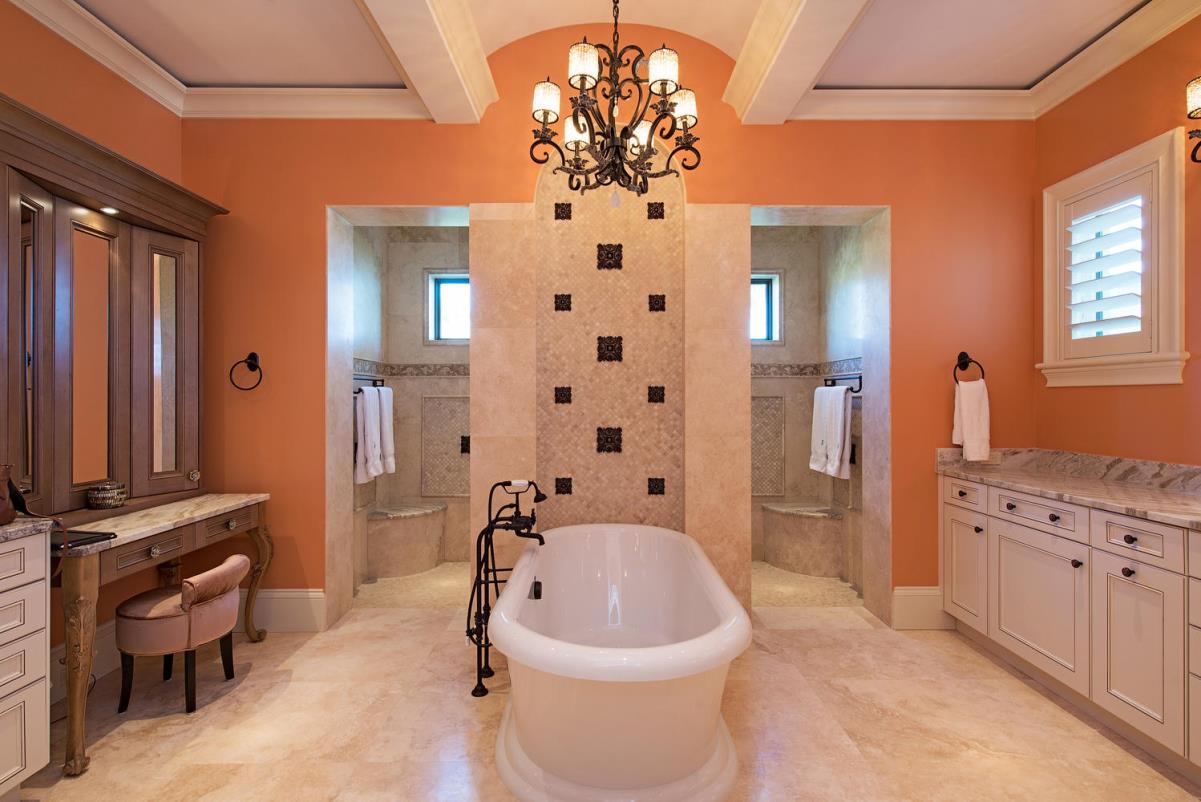 Nothing brings a classic beauty to Pink And Gray Bathroom Ideas faster and easier than using warm coral pink for a gray bathroom. Coral pink combined with the clay gray tones of floating cabinets and marble floor tiles has brought a perfect whole for the classic, luxurious bathroom style. It's really impossible to take your eyes off such a masterpiece! Vista Pointe Waterfront Residence in Naples by Stofft Cooney Architects
9. Artwork May Work Well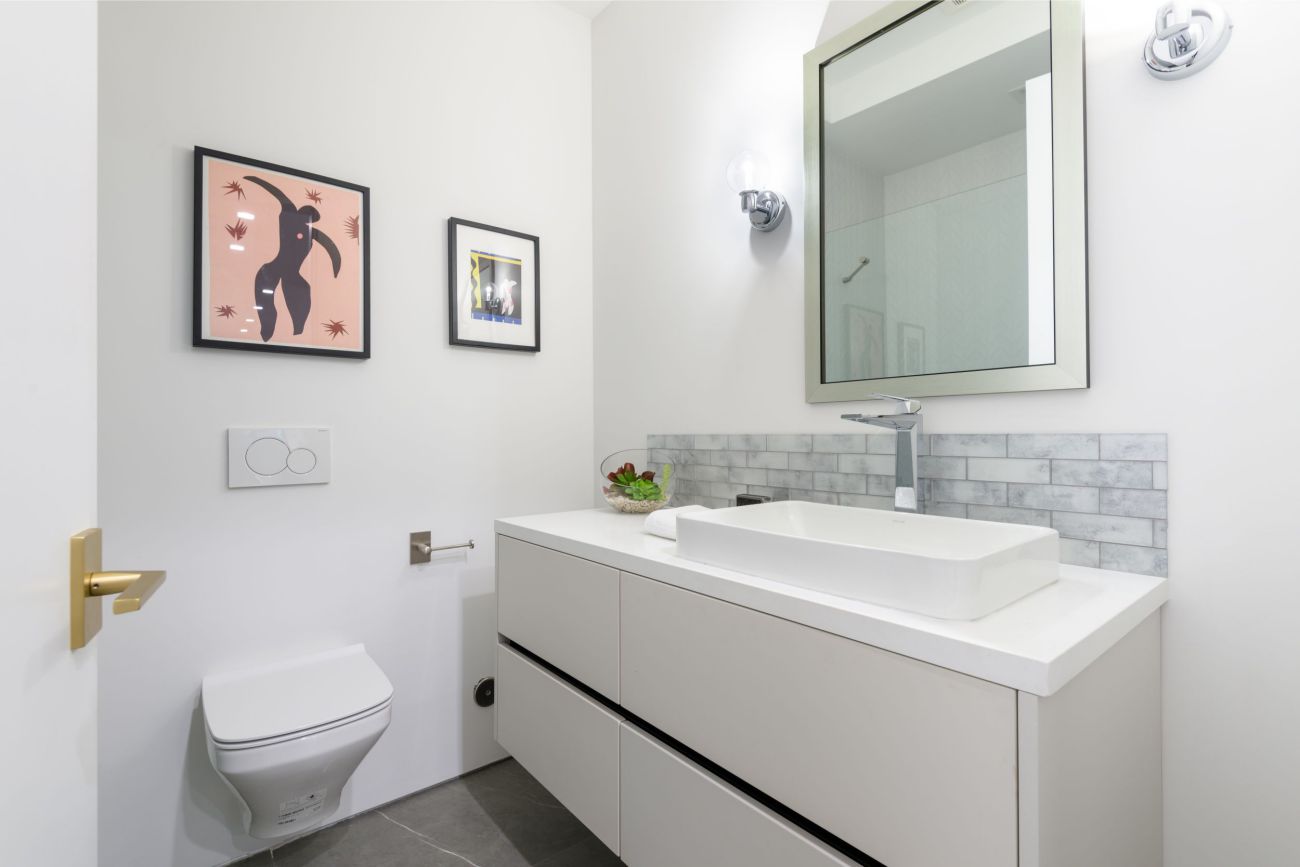 Paintings always promote their full function and become the highlight of any space. With Pink And Gray Bathroom Ideas above, just an abstract picture with a square frame and a pretty pink background brightens up the space covered by rather faded white and pale gray tones. Sleek North Crescent Heights Home in Los Angeles
For more inspiration and ideas, you may refer other our article 18 Timeless and Versatile Gray Bathroom Ideas for an Amazing Look
More Ideas For Bathroom:
---
Thousand of high quality images of Bathrooms and more you can see at Bathroom Gallery.