Date of Publishing:
Brilliant Gray Bathroom Ideas.
Gray has become a popular choice for bathroom design in recent years due to its versatility and timeless appeal. It's a neutral color that can be used as a base color or as an accent to complement other colors. Gray bathroom ideas can range from modern and minimalist to classic and elegant, depending on the design elements used. Whether you prefer a light gray or a darker shade, there are endless possibilities for incorporating gray into your bathroom design. From gray tiles and fixtures to painting and accessories, there are many ways to create a stylish and functional gray bathroom that suits your personal style and preferences.
1. Adopt A Vintage Mindset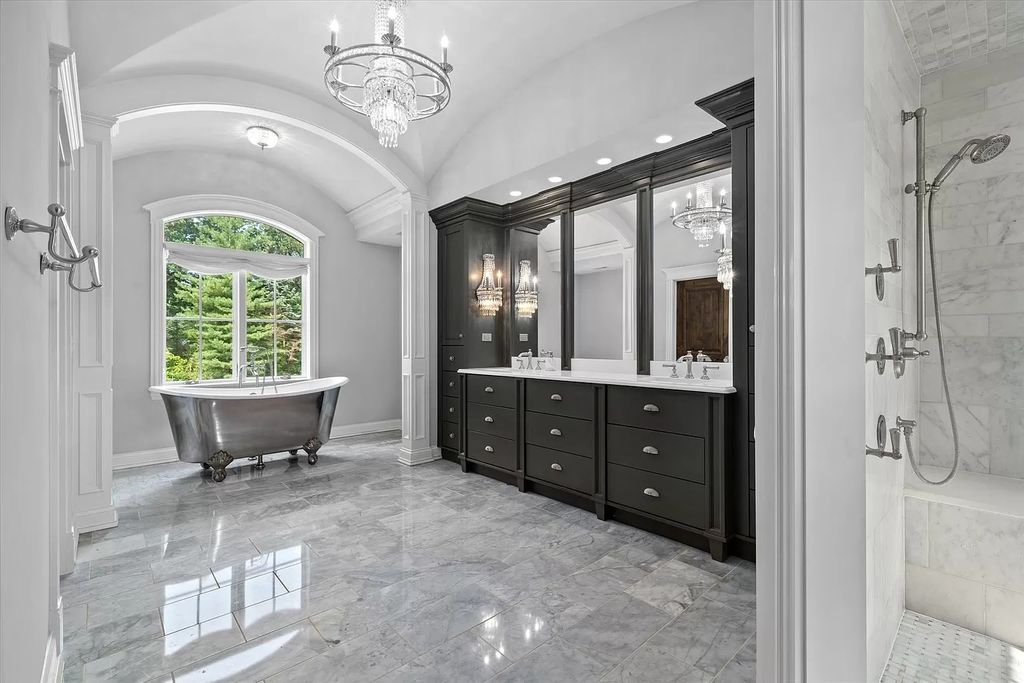 To achieve a retro look, consider using gray tiles with a classic pattern, such as herringbone or subway tiles. Pair the tiles with retro fixtures, such as a clawfoot bathtub or a pedestal sink, in a shade of gray. With a little creativity and inspiration, you can go retro with gray bathroom ideas and create a unique and stylish design that is both nostalgic and modern. Providing Unmatched Tranquility, and Picturesque Landscape, This Riverfront Estate Asks for $2.35 Million in Saint Charles
2. Painting The Ceiling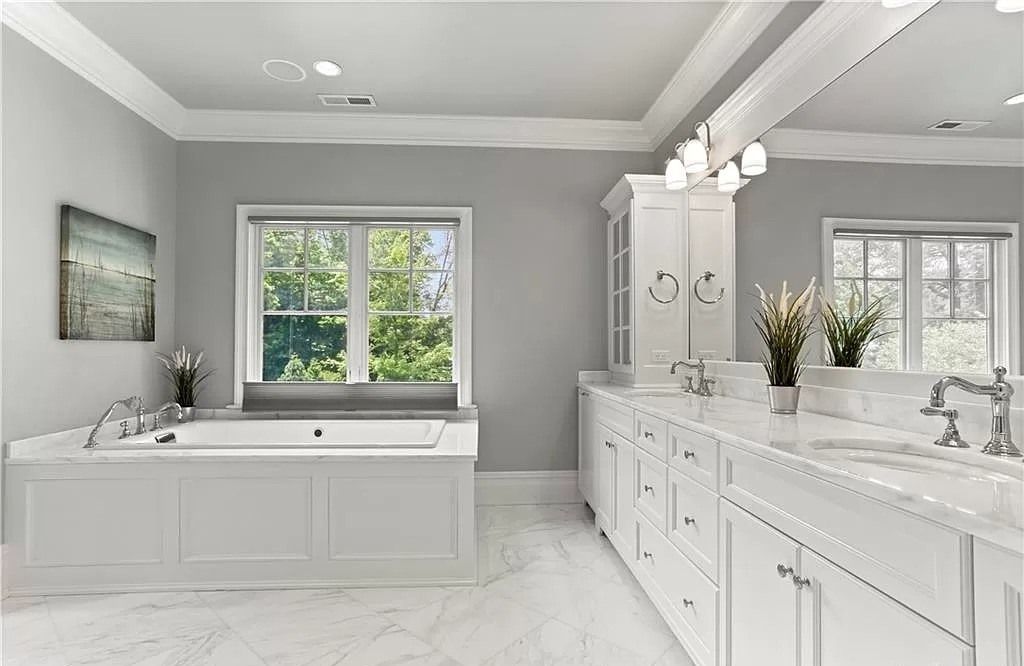 When it comes to gray bathroom ideas, painting the ceiling in a coordinating shade can be a great way to add interest and depth to the space. A light or medium gray ceiling can help balance out darker or bolder wall colors, creating a cohesive and calming atmosphere. Alternatively, a darker shade of gray on the ceiling can add drama and sophistication to a neutral or monochromatic bathroom. To enhance the effect, consider adding a decorative element, such as a statement light fixture or ceiling medallion, to draw the eye upward and make the ceiling a focal point of the room. This $3,500,000 Breathtaking Gem Offers Luxury, Elegance, and Unparalleled Quality for an Exquisite Lifestyle in Connecticut
3. Increase The Variety Of Tiles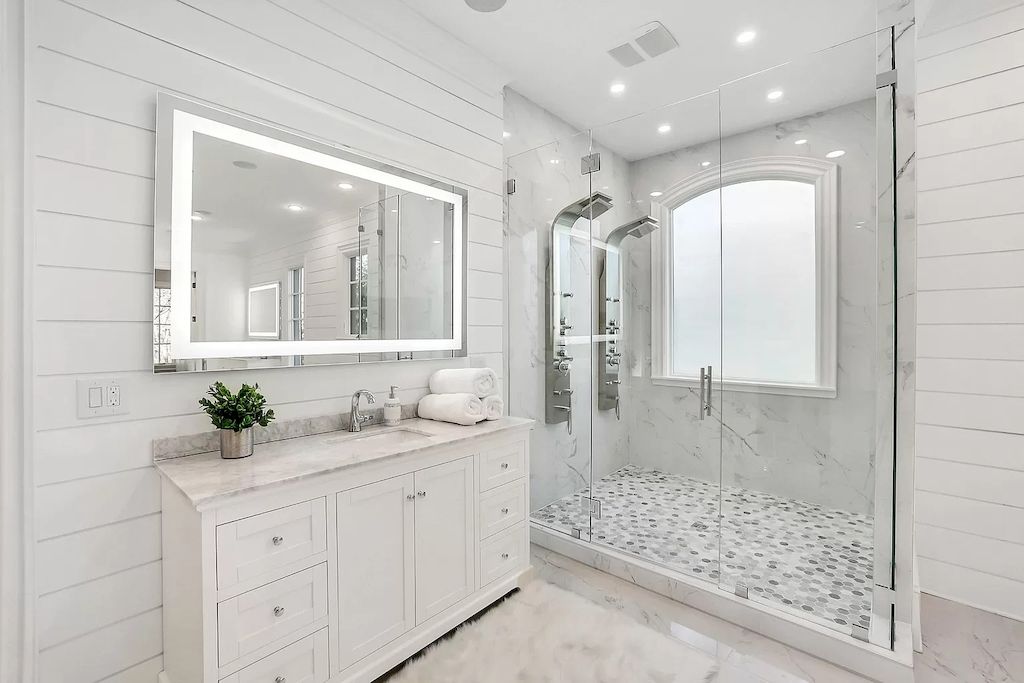 Gray bathroom ideas can be enhanced by using multiple variations of tiles. Mixing and matching different textures, sizes, and shades of gray tiles can create a dynamic and visually appealing look in the bathroom. For example, using a combination of matte and glossy tiles can add depth and dimension to the space. Using larger tiles on the floor and smaller tiles on the walls can create a sense of balance and harmony. Extraordinary Hilltop Estate with Spectacular Sunsets and Exquisite Views in Tennessee Listed at $7,499,999
4. Establish a Luxurious Spa Ambiance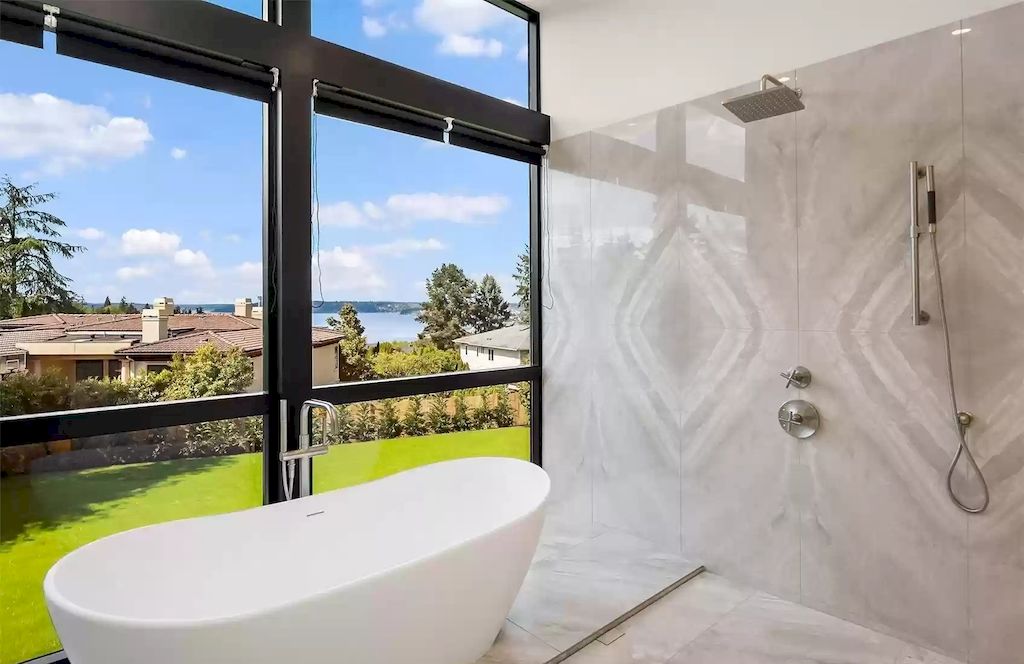 Gray bathroom ideas can be used to create a luxurious spa-like atmosphere in your home. To achieve this look, start by selecting high-quality materials, such as natural stone or marble to elevate the bathroom's design. Soft lighting and candles can help create a warm and relaxing ambiance, while plush towels and a cozy bathrobe can add to the indulgent feel. This $9,280,000 Gem Exhibits Unparalleled Architecture and Exquisite Minimalism in Washington
5. Set Against Warm Metals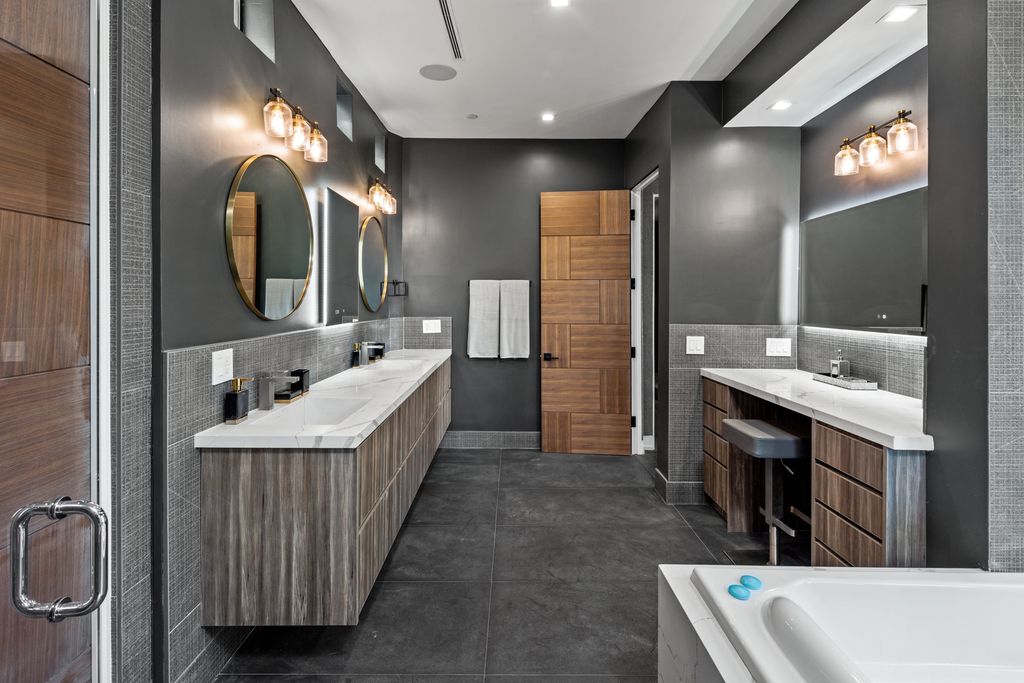 Gray bathroom ideas can be brought to life by incorporating warm metals to create a contrasting look. Mixing the coolness of gray with the warmth of metals like gold, brass or copper can add a touch of elegance and sophistication to your bathroom. Consider adding metallic fixtures, such as faucets, towel bars, and even showerheads, to contrast against the gray backdrop. This can create an opulent and stylish feel. To enhance the effect, add metallic accents such as mirrors with metallic frames. A Brand New Modern Home in Los Angeles with The Picturesque Surroundings hits The Market for $6,390,000
6. Move Halfway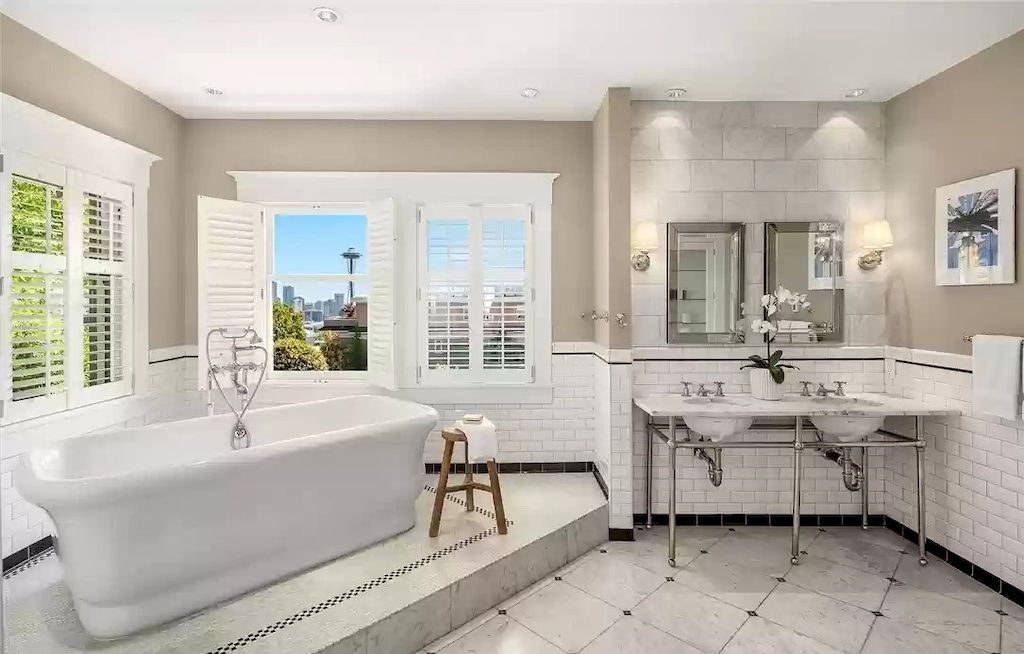 Gray bathroom ideas can be implemented by going halfway with the color scheme. If you're hesitant to commit to a fully gray bathroom, consider incorporating the color in smaller doses. For example, painting just the lower or upper half of the walls or using gray tiles as a border or accent can add visual interest. You can also choose to use gray accessories, such as towels, bath mats, or a shower curtain, to bring in the color. Palatial Estate of Irreplaceable Quality in Construction and Materials in Washington Listed at $4,850,000
7. Put Up a Fight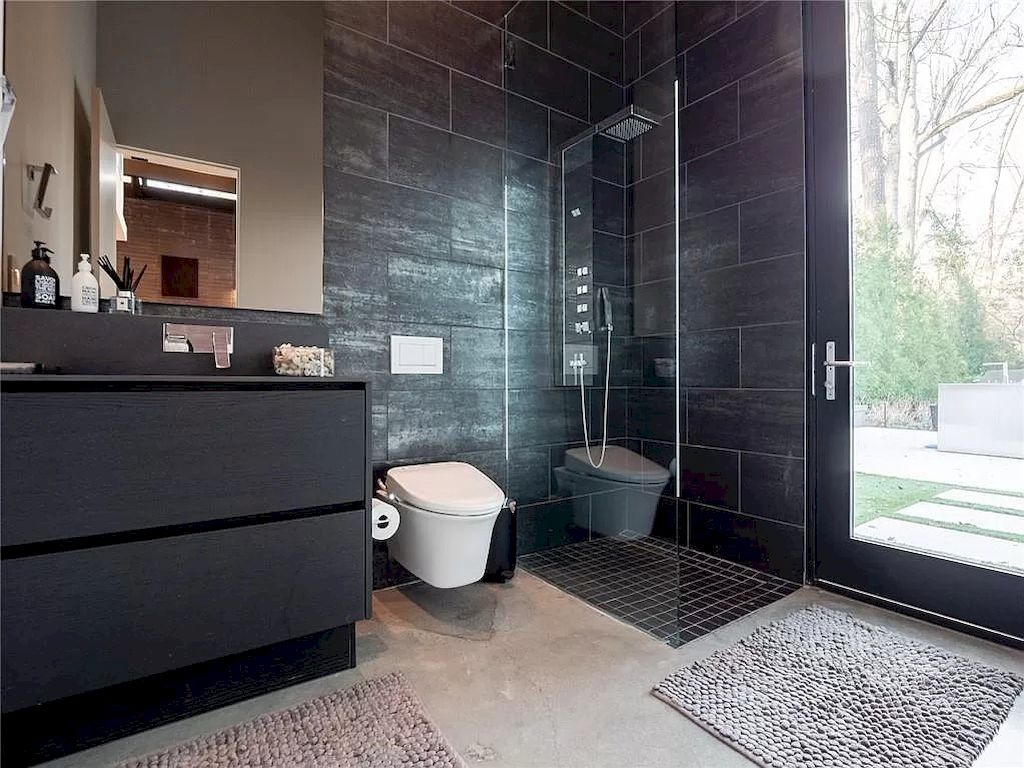 Gray bathroom ideas can be toughened up by adding industrial elements to the design. To achieve this look, consider using gray concrete tiles on the walls or floors. Exposed pipes and metal fixtures can add an edgy and industrial feel to the space. You can also incorporate black or dark gray metal accents, such as a metal-framed mirror or shelving, to further enhance the look. This Gorgeous Contemporary Home in Georgia Hits Market for $4,995,000
8. Layering It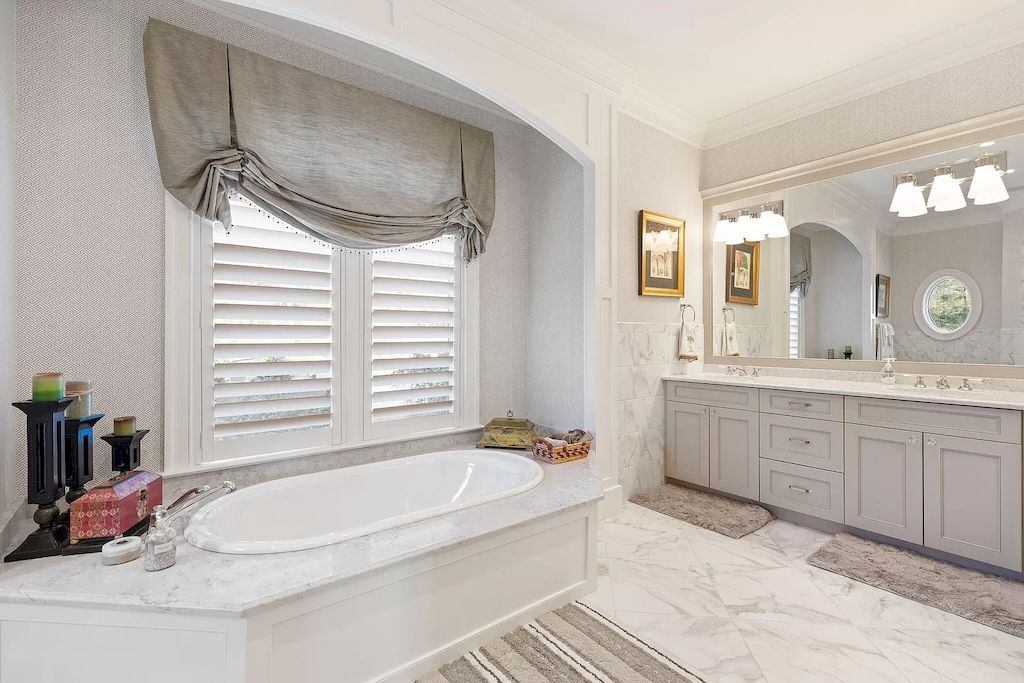 Gray bathroom ideas can be layered up to create a cozy and inviting atmosphere. Start with a base of light gray tiles on the floor and walls, and layer on different shades of gray through the use of accessories and textiles. Incorporate plush gray towels, a soft gray bath mat, and a gray shower curtain to add texture and depth to the space. A gray rug can also help to create a cozy feel underfoot. High-end Custom Built Home with Breathtaking Water Views in South Carolina on Market for $8,500,000
9. Introduce Natural Accents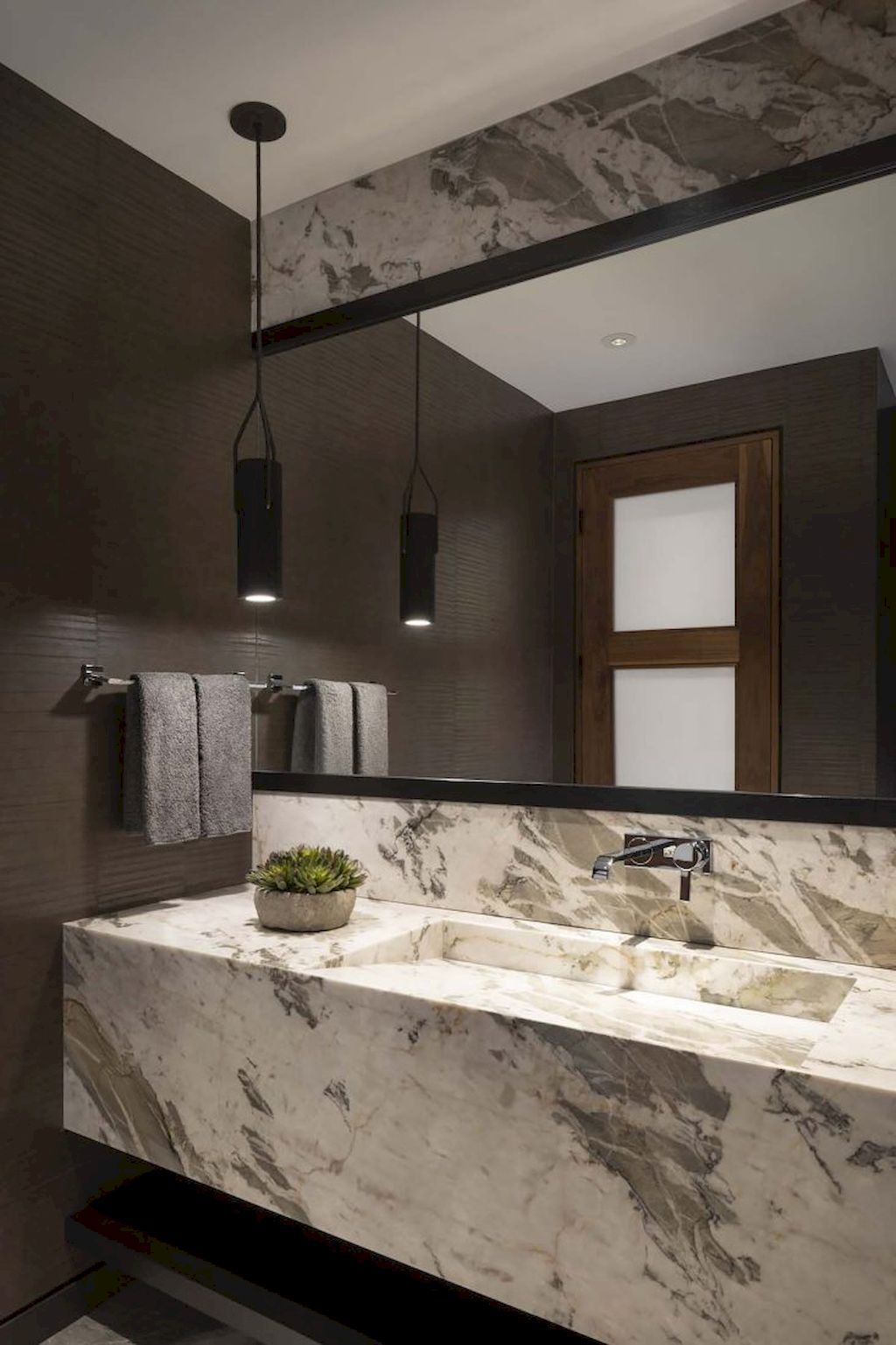 Gray bathroom ideas can be enhanced by adding natural accents to the space. Consider incorporating natural materials such as wood, stone, or greenery to create a relaxing and organic feel. A wooden vanity or stool can add warmth and texture to the space. Natural stone tiles on the floor or walls can add a touch of luxury and elegance. To bring in greenery, consider adding potted plants or a vase of flowers. Unique Shape Design of Crusader House in Arizona by Drewett Works
10. Wrap Tile Around the Walls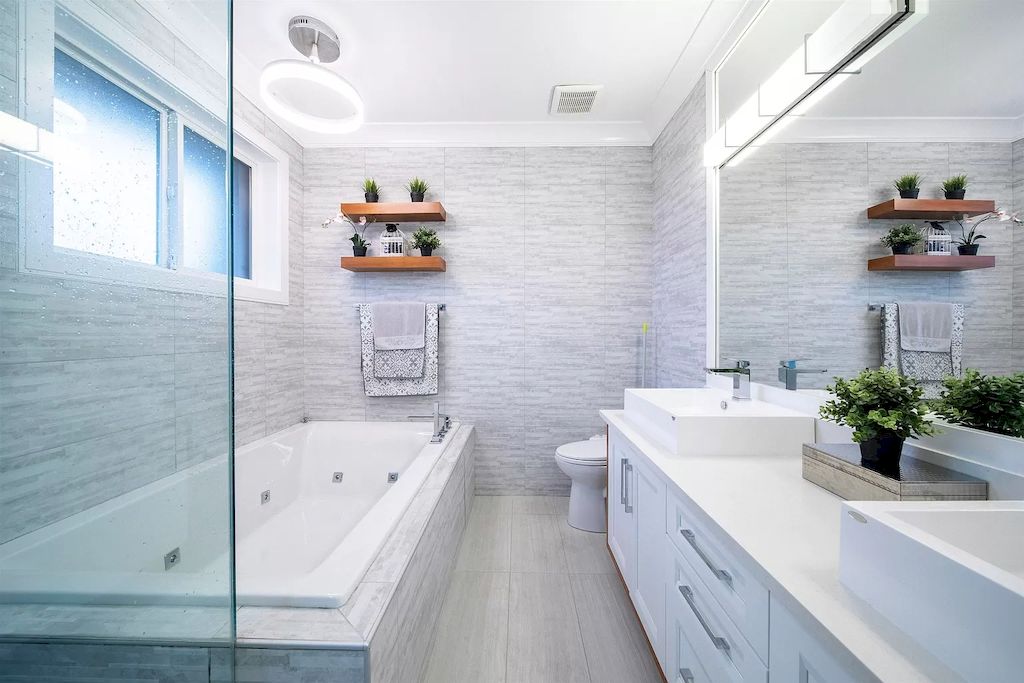 Your chance to treat yourself to a bathroom space that is appropriately luxurious is in a larger country property. The typical cast iron freestanding bath is still the most recognizable element of a traditional bathroom, and if you want to create a big impression, make it the focal point of the space. Yousef advises accomplishing this by physically placing the bath in the center of the room. This C$4,998,000 Open Concept Dream Home in Burnaby Offers Gorgeous City & Mountain Views
11. Utilize Glass Accents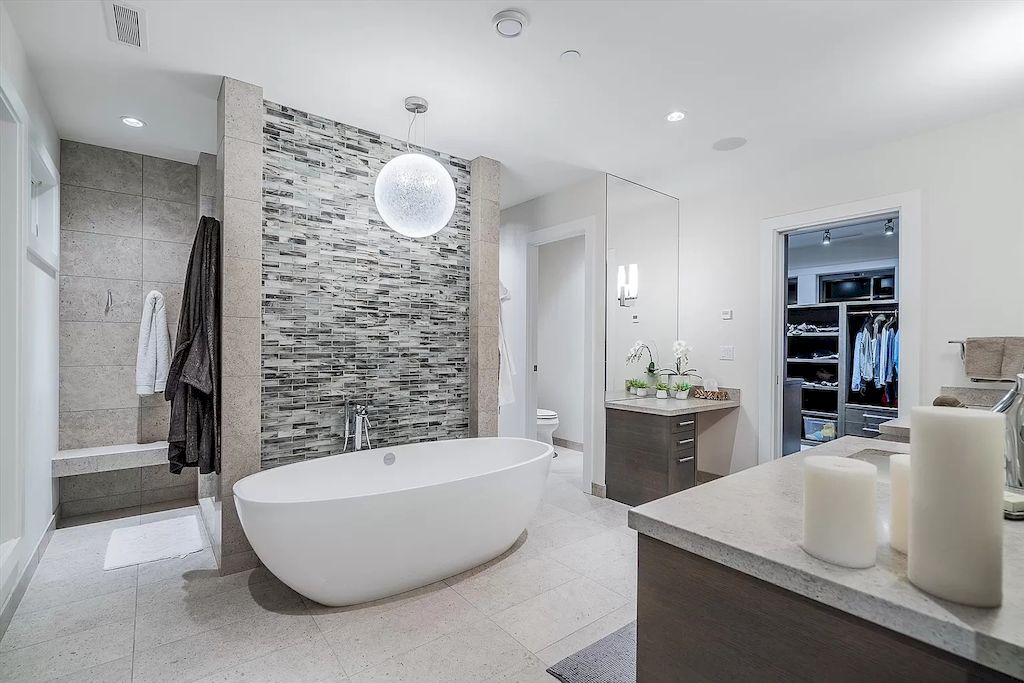 If you're looking for ways to elevate the style of your gray bathroom, consider using glass accents. Glass accents can add a touch of elegance and sophistication to your bathroom while also creating a sense of spaciousness. You can use glass in a variety of ways, from shower doors and partitions to shelves and decorative accents. This would be a wonderful Luxury idea. This C$12,880,000 Magnificent Estate in West Vancouver Offers Spectacular Close-in Ocean Views
12. Install Patterned Wallpaper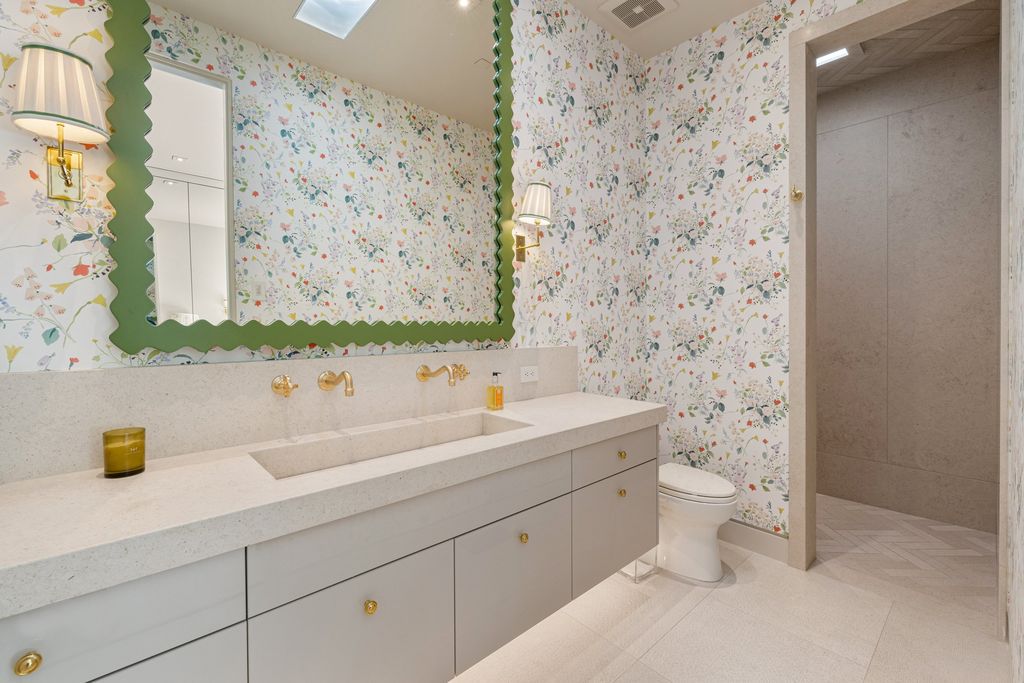 If you're looking for gray bathroom ideas, consider hanging patterned wallpaper to add some visual interest and texture to the space. Patterned wallpaper can make a bold statement or add a subtle touch of elegance depending on the design. To create a cohesive look, choose a wallpaper with shades of gray that complement the existing color scheme of the bathroom. This $11,200,000 Vintage Country Club Home is a True Trophy of Design with Perfectly Appointed Taste
13. Approach Taupe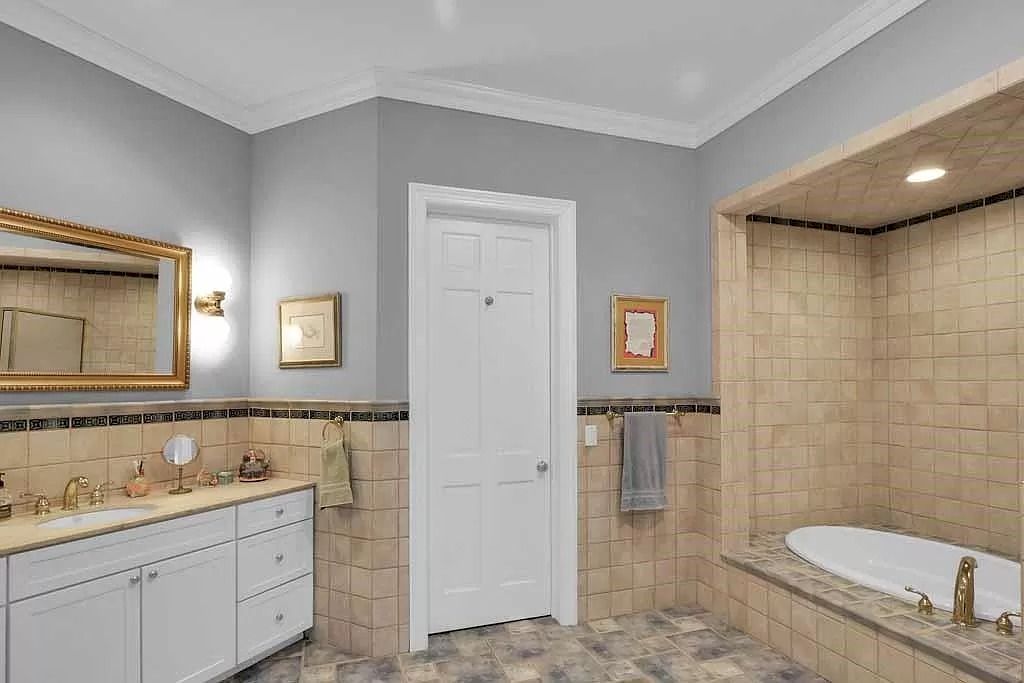 When it comes to gray bathroom ideas, taupe is a color that should not be overlooked. While gray is a classic choice for a bathroom, adding touches of taupe can give it a warmer, more inviting feel. Taupe is a versatile color that can be paired with a variety of shades of gray, creating a beautiful and harmonious color palette.. This Happy Home in Georgia Listed for $3,900,000
14. Ideas For Two-Tone Gray Bathrooms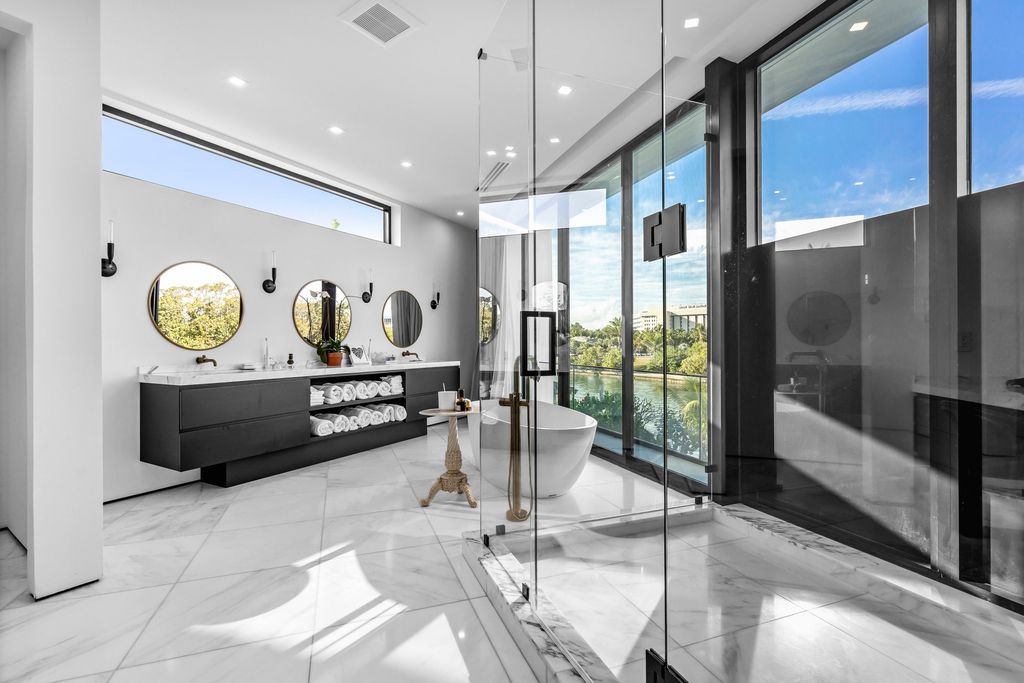 When it comes to bathroom design, gray is a popular color choice for many homeowners. The neutral shade pairs well with a variety of other colors and can create a soothing and sophisticated atmosphere in any bathroom. If you're looking to take your gray bathroom design to the next level, consider incorporating a two-tone gray color scheme. This can involve using two different shades of gray, such as light and dark gray tiles or paint colors, or pairing gray with another complementary color, such as white or black. This Stunning $22,000,000 New Construction Home in Miami Beach offers The Pinnacle of Florida Luxury Living
15. Lighting Concepts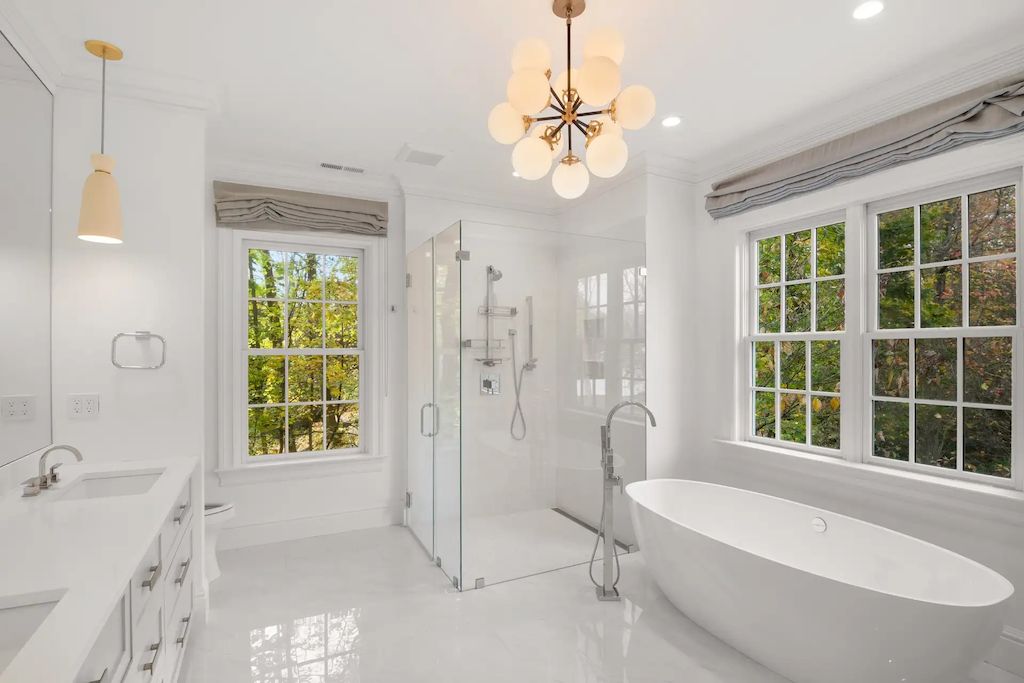 Lighting can make all the difference in creating a cozy and inviting atmosphere in a gray bathroom. To enhance the look of a gray bathroom, consider incorporating unique lighting ideas that complement the space. Installing wall sconces on either side of a bathroom mirror can provide an even amount of light and add a decorative touch. Pendant lights are another option that can be used to highlight specific areas of the bathroom, such as the bathtub or shower. Renovated and Styled with All Latest Modern Features, this Picturesque Classical Colonial in Connecticut Listed for $6,450,000
16. Traditional Grey Bathroom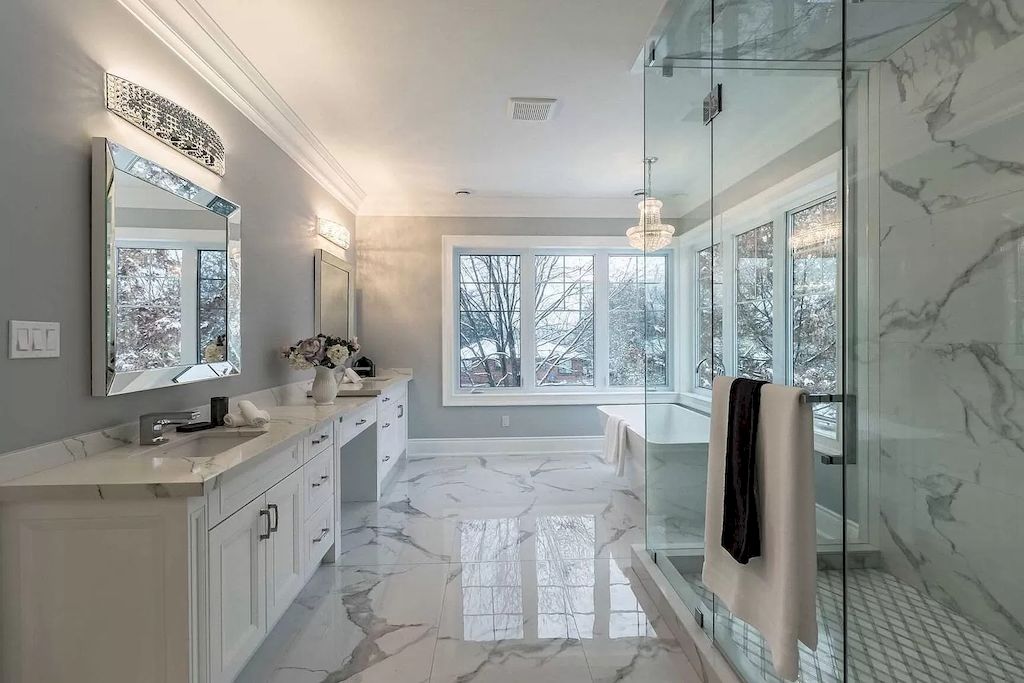 A traditional gray bathroom often features elements such as white marble countertops, classic subway tile backsplashes, and elegant light fixtures. You can incorporate different shades of gray, from light and airy to dark and moody, to create a layered and cohesive design. With the right design elements and a focus on classic details, a traditional gray bathroom can be a stylish and enduring addition to your home. This C$3,700,000 House is The Perfect Combination Of Style, Space, Finishes And Value in Ontario
17. Contemporary Gray Bathroom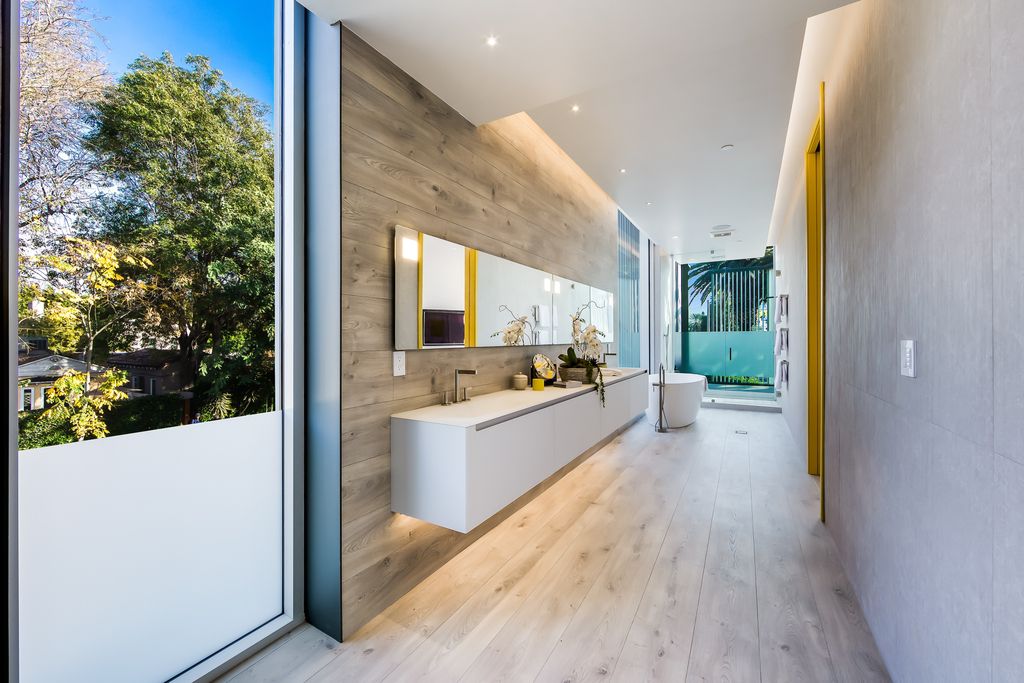 Gray bathrooms have become increasingly popular in modern home design, and it's easy to see why. This versatile color can create a calming and soothing atmosphere, while also providing a sleek and contemporary look. One modern gray bathroom idea is to use different shades of gray to create a monochromatic color scheme. You can add interest and texture by incorporating different materials, such as marble or concrete, in your flooring or shower walls. An Exquisite Urban Architectural Home in West Hollywood for Sale at $6,475,000
18. Minimalist Gray Bathroom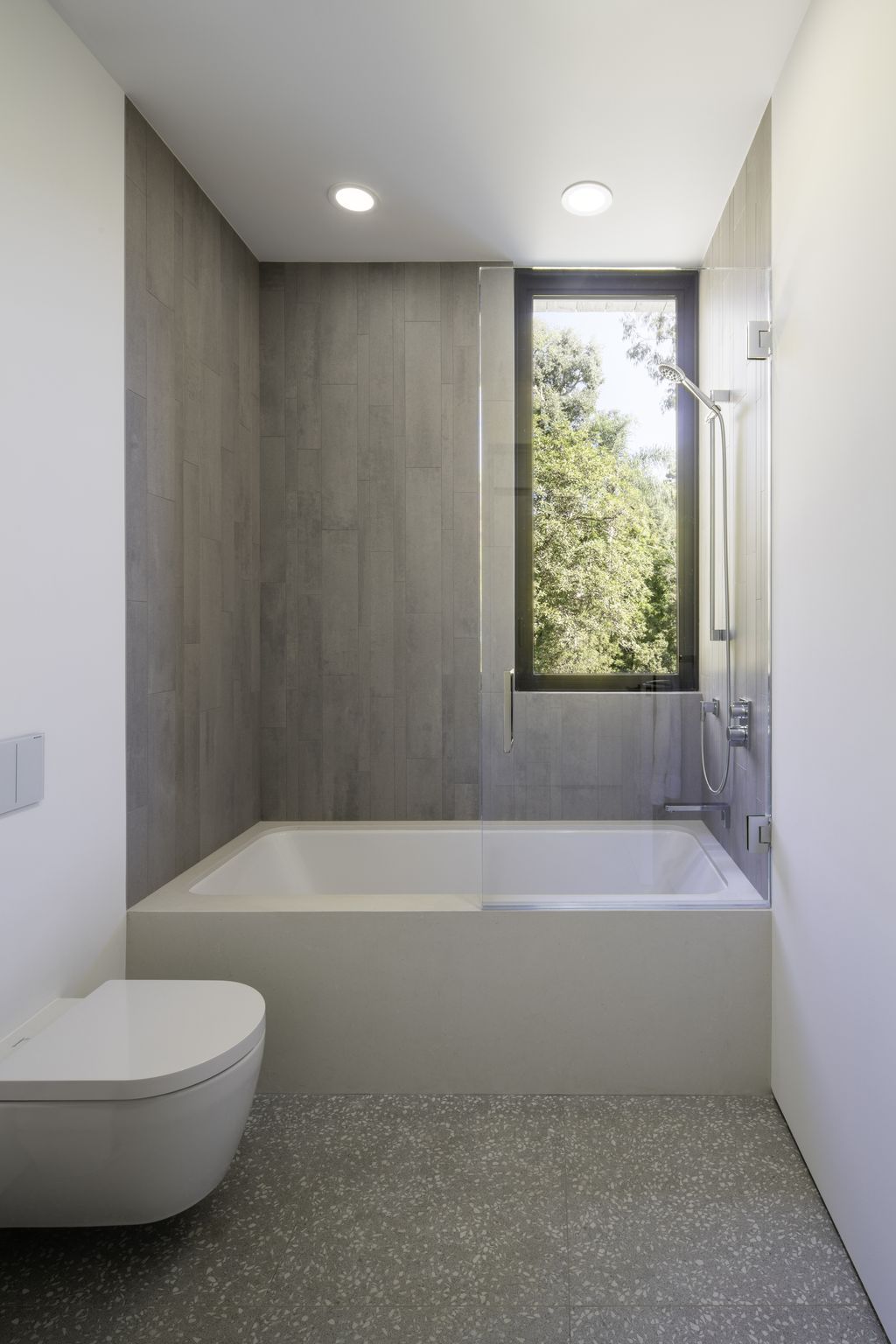 Choose minimalist gray bathroom ideas if you want to create a quiet and calming bathroom. Gray is a timeless and adaptable color that can be combined with a wide range of other colors to create a distinct and elegant style. Simple and streamlined fixtures, including as a frameless shower door, and minimalist lighting, are used in a minimalist approach to gray bathroom decor. Bridge House Nestled in Nature in Los Angeles by Dan Brunn Architecture
In conclusion, gray bathroom ideas offer a versatile and timeless approach to bathroom design. With its neutral and soothing tones, gray can create a serene and calming environment that's perfect for relaxation and rejuvenation. Whether you prefer a minimalist and modern design or a classic and elegant look, there are many ways to incorporate gray into your bathroom design. From gray tiles and fixtures to paint and accessories, there are endless possibilities for creating a stylish and functional gray bathroom that reflects your personal style and preferences. So, if you're planning to remodel or update your bathroom, consider incorporating gray into your design to achieve a timeless and sophisticated look. Do you like to find more fantastic living room ideas? Please do not hesitate to refer to our other articles listed below. 16 Ideas To Design an Elegant Living Space You'll Never Want to Leave
More Ideas For Living Room:
---
Thousand of high quality images of Living room and more you can see at Livingroom Gallery.