Date of Publishing:
Creative With Kitchen Cabinet Paint Ideas
Are you looking to breathe new life into your kitchen? A kitchen cabinet paint idea might be just what you need. Whether you're dreaming of a modern, rustic, or colorful kitchen, a fresh coat of paint on your cabinets can work wonders in transforming the entire space. Let's explore our 12 exciting and creative Kitchen Cabinet Paint Ideas below that will elevate your kitchen's style and make it a truly inviting and inspiring cooking and relaxing space for your family.
1. Starts With Brown Cabinets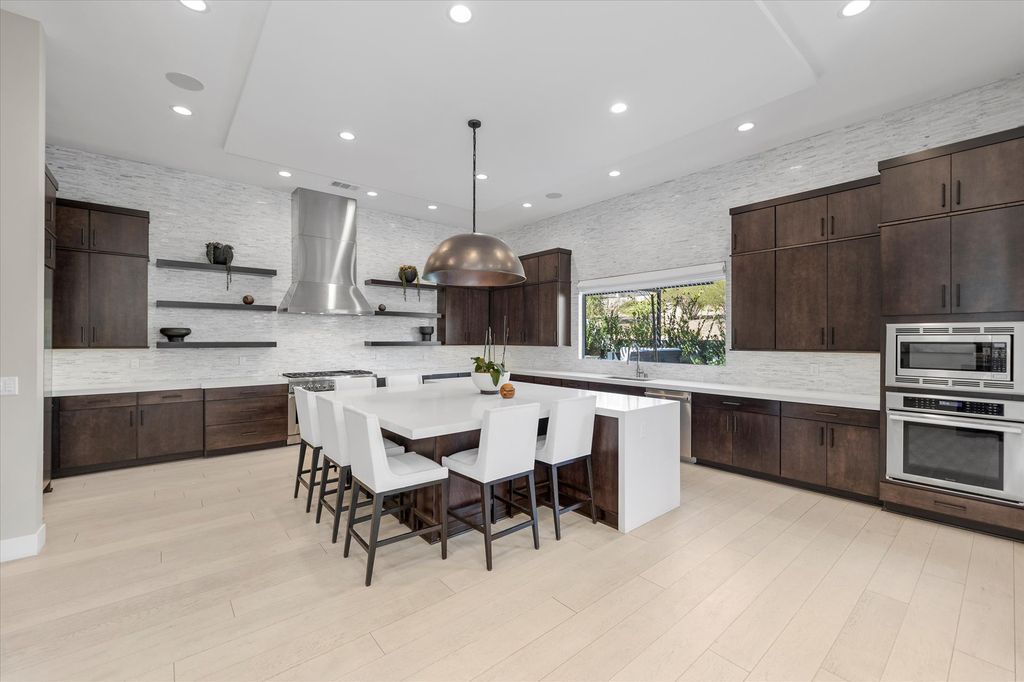 Brown cabinets for the kitchen are a popular choice for homeowners looking to add a touch of elegance and warmth to their culinary space. The rich, earthy tones of brown create a welcoming and cozy ambiance, making the kitchen a comfortable gathering place for family and friends. With a wide range of shades and finishes available, you can easily find brown cabinets that complement your kitchen's overall design and style. Upgrade your kitchen with these stunning cabinets and transform them into a space that truly reflects your personality and taste. A Designer Dream Home with A Thoughtfully Designed Open Floor Plan in Las Vegas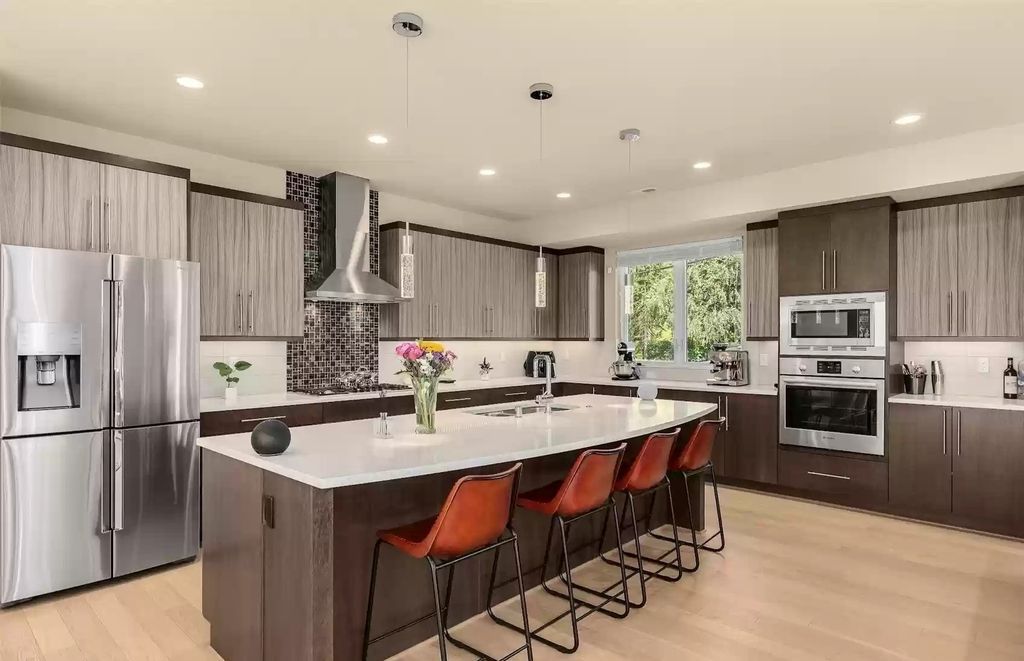 You may incorporate brown with other color tones for your kitchen cabinets, but it's crucial to ensure a harmonious color scheme. As shown in the kitchen cabinet paint ideas above, combining brown for lower cabinets with patterned grey for upper cabinets creates a perfectly balanced and stunning overall look. Beautiful Estate with Desirable Floor Plan in Kirkland Hits Market for $2.39M
2. Contrasting Shades Works All Times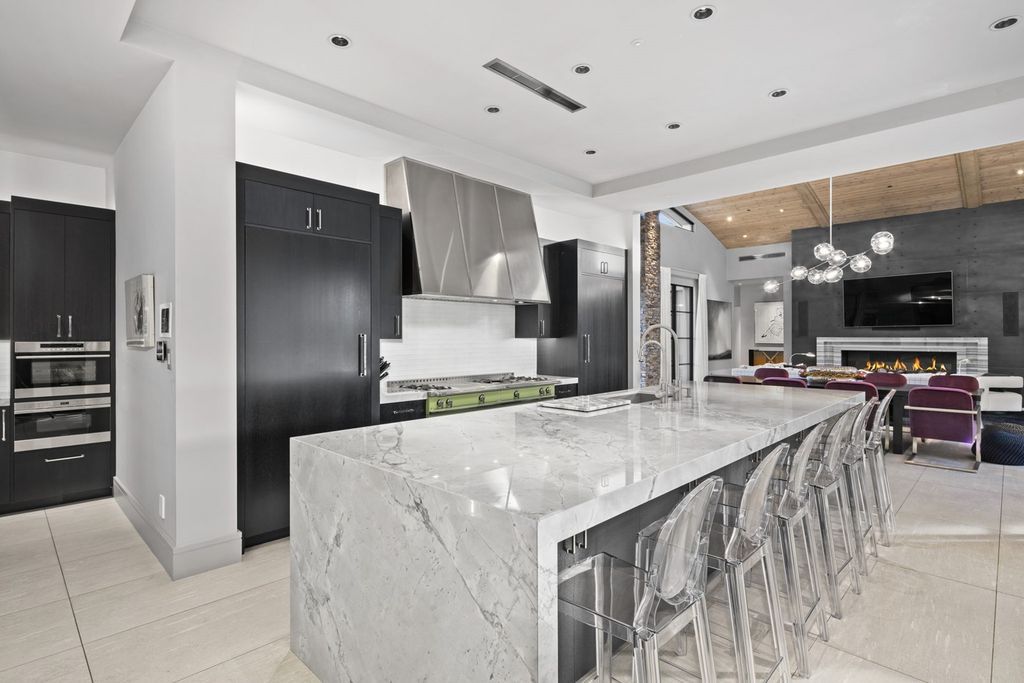 The contrast of colors is always applied in all aspects of design, from fashion to home interior design, and kitchen design is no exception. The presence of contrasting color pairs in kitchen interior design creates an irresistibly attractive space without the need for excessive effort and expense. As in the kitchen cabinet paint idea, the matte black cabinets harmoniously contrast with the light gray marble kitchen island, creating a captivating visual effect. A Simply Stunning Contemporary Home in Scottsdale with Striking Mountain Views for Sale at $7.25 Million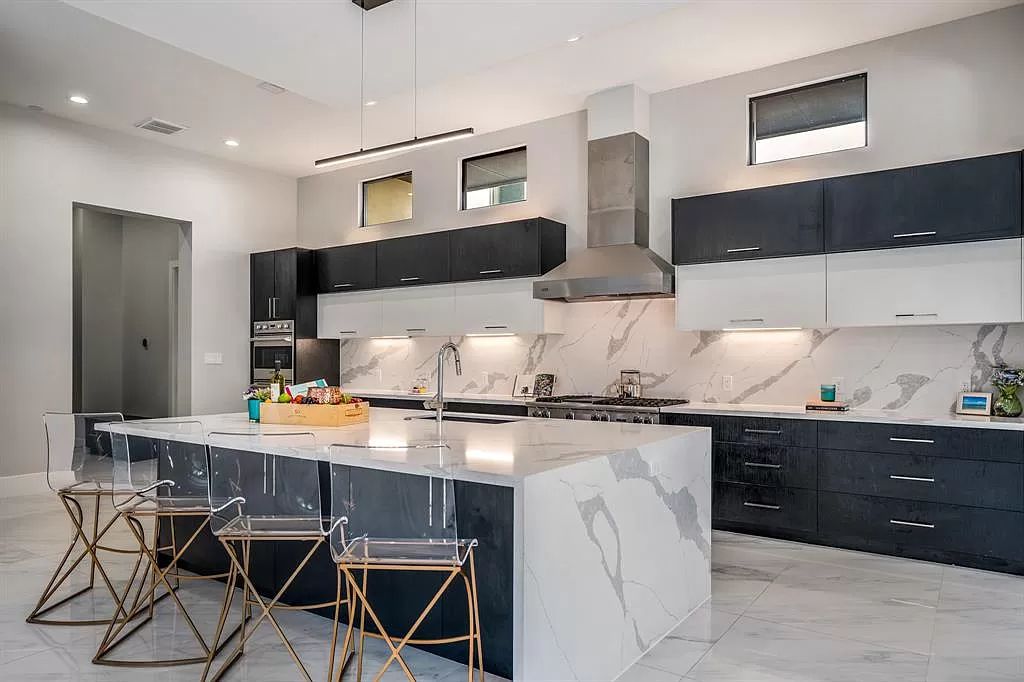 You also cannot overlook the combination of two classic colors, black and white – a prime example of the effectiveness of applying color contrast. This black and white kitchen cabinet in the above luxury idea approach not only adds depth and dimension but also allows for flexibility in incorporating various textures and materials, making the kitchen a truly inviting and stylish focal point of the home. This $3,600,000 Contemporary Home in Houston is The Epitome of Modern Luxury with Amazing Features
3. Sage Green Kitchen Cabinets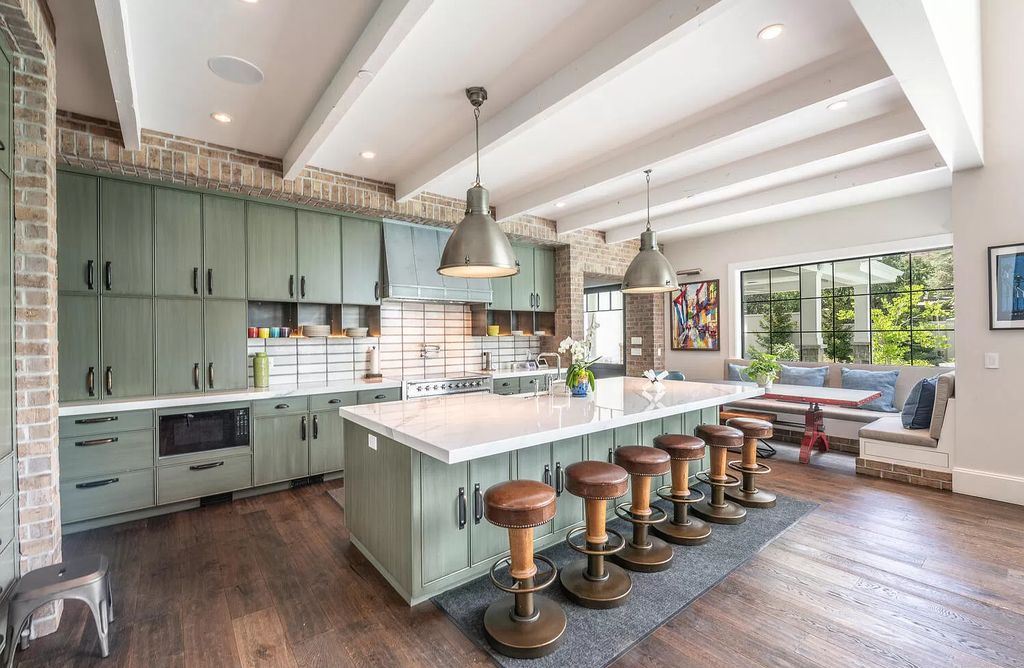 Sage green kitchen cabinets are the perfect choice for a vintage kitchen, evoking a charming and nostalgic ambiance. This classic hue complements the retro inspired decor, adding a touch of old world elegance to the space. The sage green cabinets, combined with vintage hardware and accents, create a timeless and inviting kitchen that celebrates the beauty of the past while remaining stylish and functional for the present. Magnificent Modern Farmhouse Nestled in A Picturesque Mountain Setting of Serene Tranquility and Panoramic Views Asking $8.75 Million in Salt Lake City
4. Beige Color Cabinets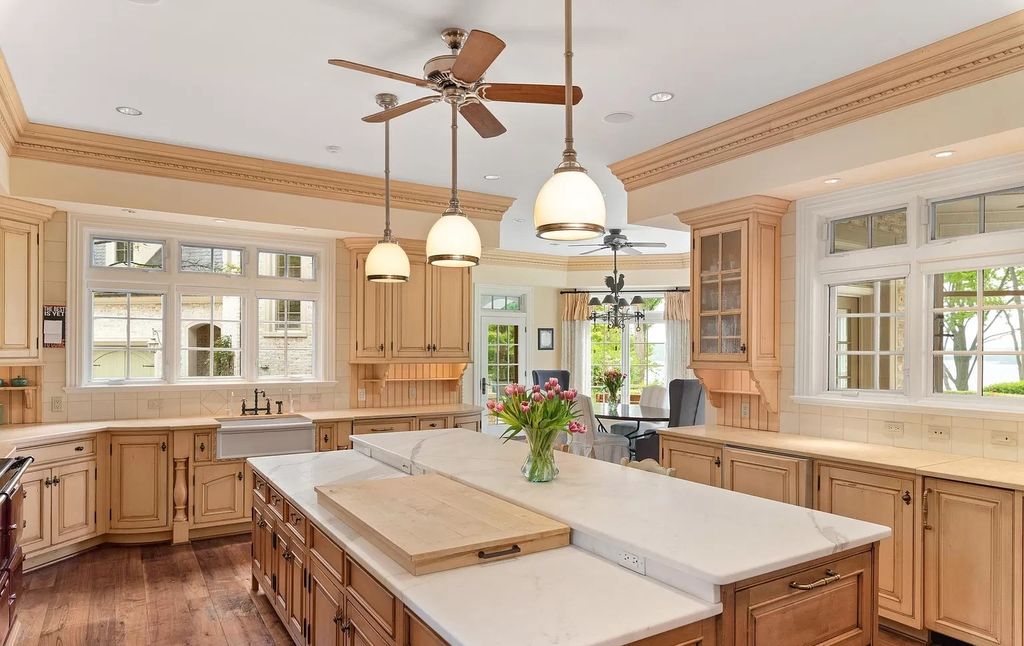 Beige color cabinets are a versatile choice for kitchen interior design, offering a sense of warmth and sophistication. The neutral tone of beige allows for seamless integration with various color palettes and design styles, from traditional to contemporary. These cabinets create a timeless and elegant atmosphere, providing a blank canvas to experiment with different textures and accessories. The above beige kitchen cabinets with molding details create a stunning kitchen place as the result of a modern and classic combination. Remarkable Gated 20-Acre Waterfront Estate in Severna Park with French-inspired Design
5. Deep Teal Cabinets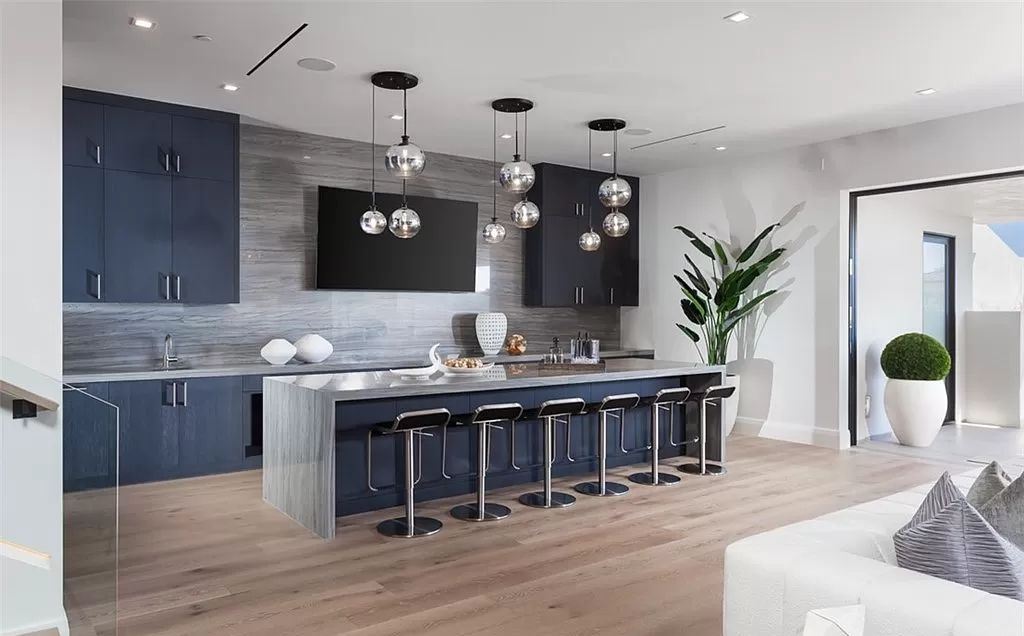 Transform your kitchen with the allure of deep teal cabinets. This captivating and rich hue adds a touch of drama and sophistication, becoming an exquisite focal point that elevates the overall design. Whether your kitchen embraces modern minimalism or classic elegance, deep teal cabinets work harmoniously with various decor styles, leaving a lasting impression on anyone who enters the room. Brand New Mansion on One of The Most Premier View Lots in all of Cameo Shores, Corona Del Mar hits The Market for $21,995,000
6. White Cabinets For Modern Kitchen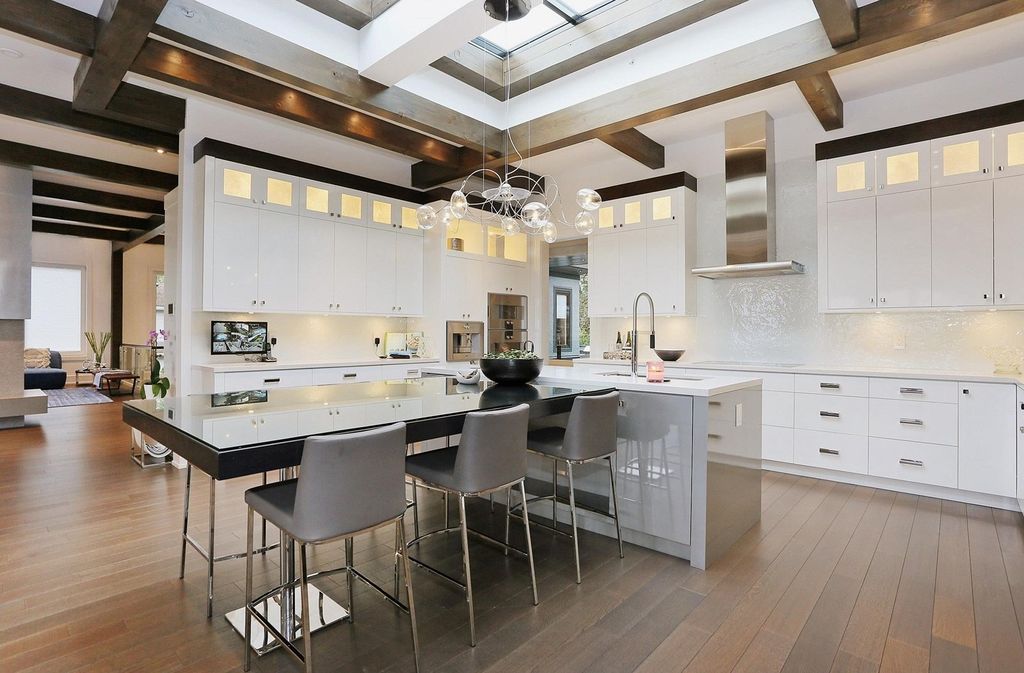 White cabinets are the epitome of a modern look kitchen, offering a clean, sleek, and timeless aesthetic. The crisp white hue brightens up the space, creating an open and airy atmosphere. Their versatility allows for easy integration with various materials and colors, making it effortless to customize the kitchen's style to suit contemporary tastes. Whether paired with stainless steel appliances or complemented by bold accents, white cabinets add a touch of elegance and sophistication, making the kitchen a stylish and inviting hub for modern living. Magnificent Estate in White Rock with Sensational Ocean Views Lists for C$7,980,000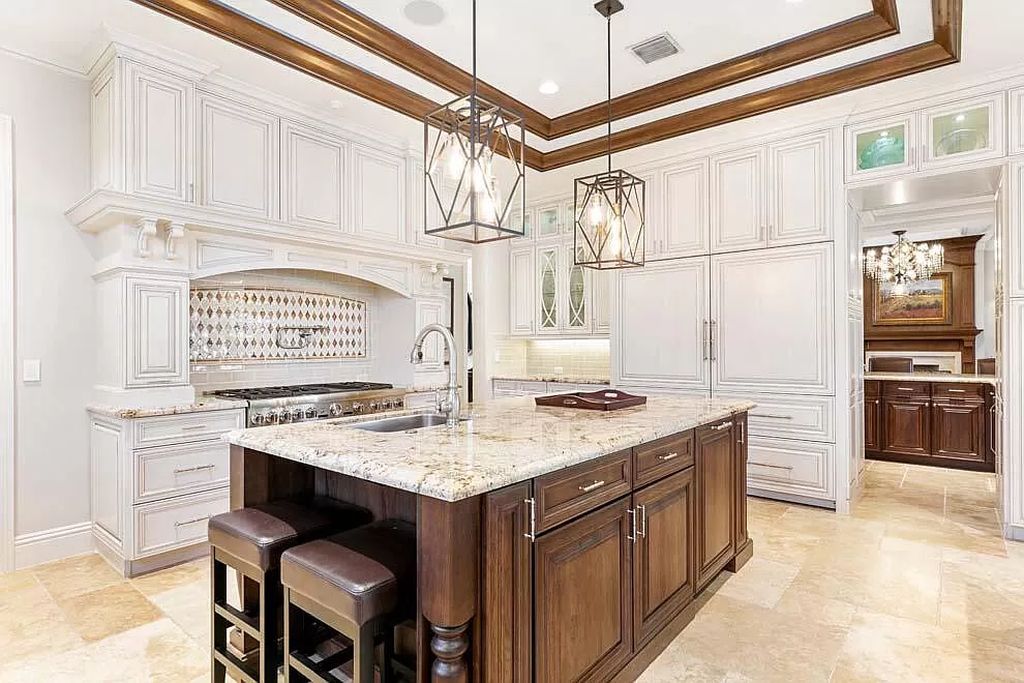 Embrace the charm of classic and cozy kitchen vibes with white cabinets. Their timeless appeal adds an elegant touch, while the white color reflects light, making the space bright and inviting. Transform your kitchen into a warm and welcoming haven by incorporating vintage inspired decor, creating a delightful atmosphere for cooking and gathering with loved ones. A Beautiful Home in Boca Raton with Luxurious Furnishings Throughout
7. Grey Cabinets Matches All Types Of Kitchens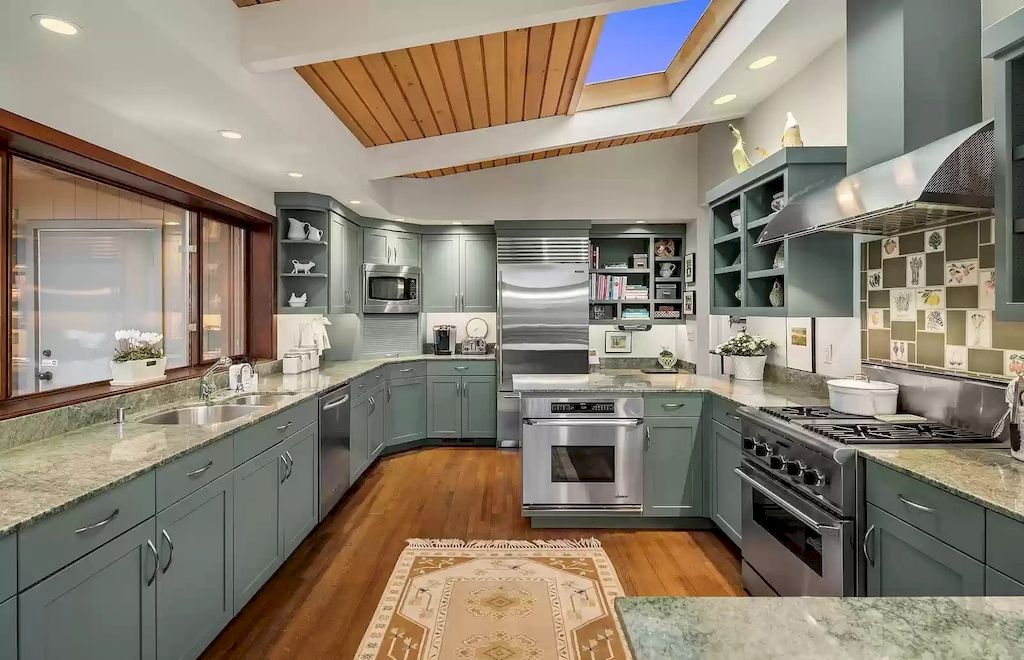 Whether you have a modern, traditional, or rustic kitchen, the understated elegance of grey cabinets seamlessly blends with the overall design. The neutral tone of grey allows you to experiment with various color schemes and styles, making it easy to create a customized look. Embrace the timeless appeal of grey cabinets, as they effortlessly bring a touch of harmony to any kitchen space. Note this kitchen cabinet paint idea for your motivation. This $3,950,000 Stunning Estate Commands Gorgeous Views of Mountains and Downtown Bellevue, Washington
8. Combination Of More Than Two Paints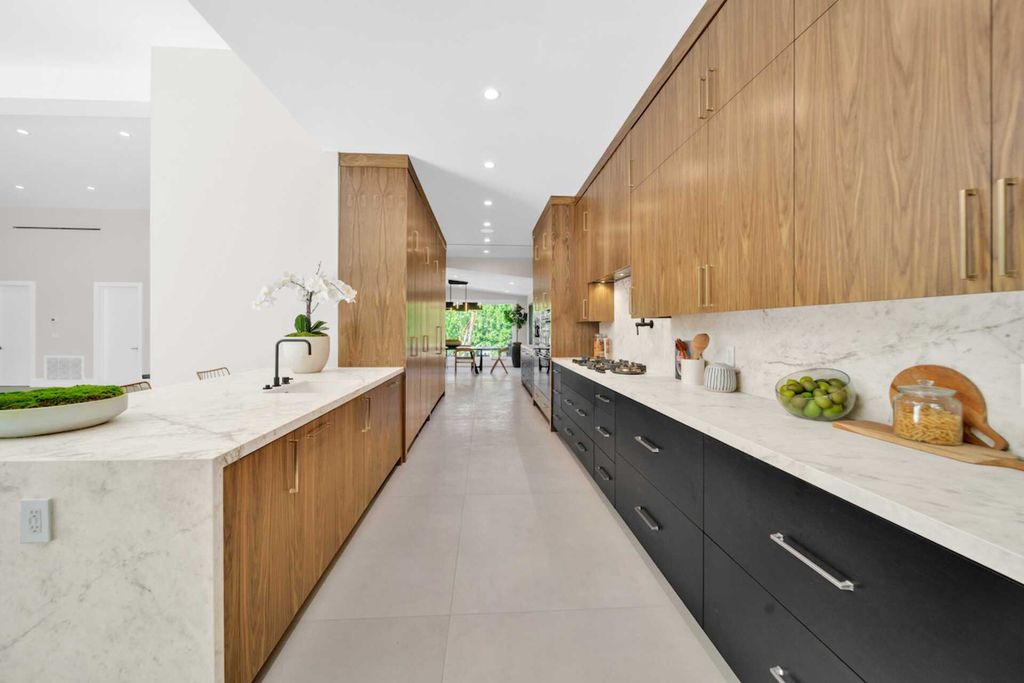 A combination of more than two paints for kitchen cabinets allows for a truly unique and personalized look. By blending different colors and finishes, you can create a captivating visual effect that enhances the kitchen's overall style. Whether it's a bold two-tone design or a subtle blend of complementary shades, this creative approach adds depth and character to the cabinets, transforming the kitchen into a one of a kind space. Brilliantly Renovated Contemporary Home in Encino offers Sophistication and Relaxation for Sale at $6,299,000
9. Shapes Of Red Paint Cabinets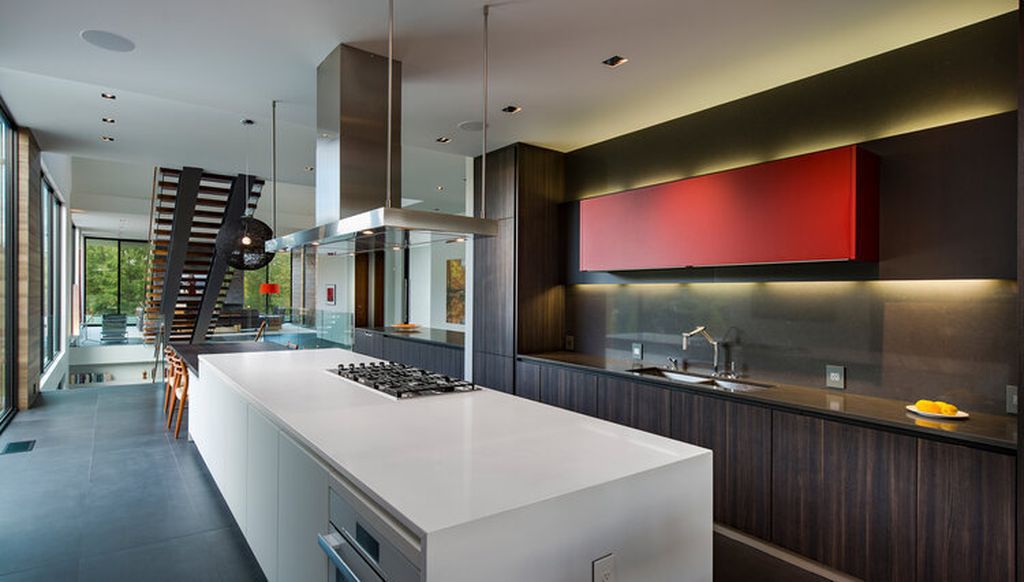 Shapes of red kitchen cabinets are the ideal choice for creating an effective focal point in fancy and luxury kitchens. Especially with the ruby red_the tone of allure and mystery. The deep and rich hue exudes opulence and elegance, instantly elevating the overall ambiance of the space. With their eye catching allure, these cabinets become the centerpiece of the kitchen, adding a touch of glamour and sophistication that is sure to impress. Hillside home Walker Road in Suburb of Washington by Whipple Russell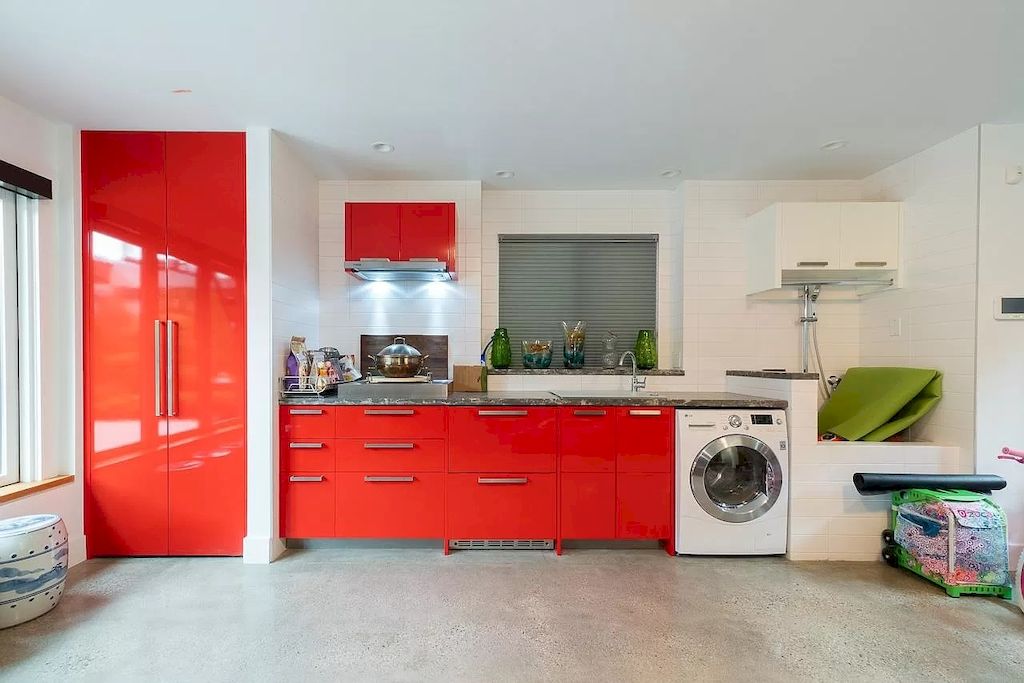 Coral red kitchen cabinets are the perfect addition to a modern kitchen, exuding elegance and charm from first sight. The vibrant and attractive hue adds a refreshing twist to contemporary design, creating a captivating focal point in the space. With their stylish allure, these cabinets infuse the kitchen with a sense of energy and sophistication. Fusion of Modern with Traditional Japanese Aesthetic Creates C$7,680,000 Unique House in Vancouver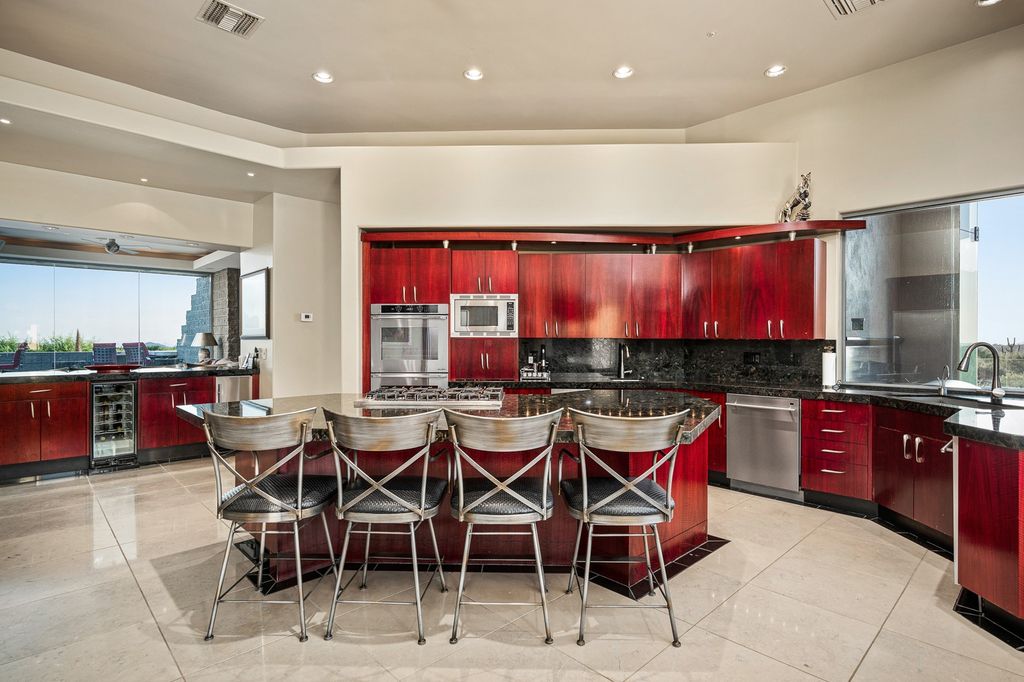 Wine red kitchen cabinets evoke a classic and timeless feel, adding a sense of warmth and sophistication to the space. The rich and deep hue exudes a luxurious and elegant ambiance, creating a charming focal point in any classic style kitchen. Such a luxury idea to transfer your kitchen style! Elegant contemporary home in Scottsdale with expansive Valley views as background sells for $5,000,000
10. All Over Black Cabinets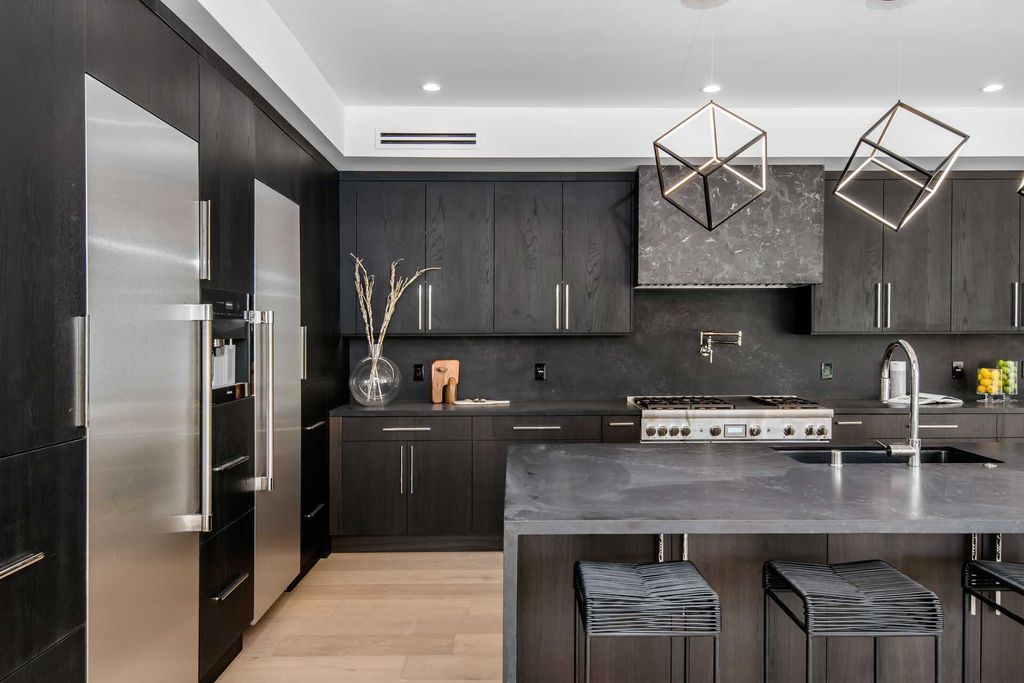 All over black cabinets create a bold and dramatic statement in the kitchen space. The sleek and modern look of black cabinets adds a sense of sophistication and luxury to the overall design. This striking color choice lends a contemporary and edgy feel, making the kitchen a stylish and captivating area that stands out with its unique charm. With such a luxury idea, your family meals will become even more relaxing and enjoyable than ever before. Absolutely Stunning Brand New Home in Bell Canyon features Impeccable Amenities for Sale at $4,399,000
11. Chicken Yellow Cabinets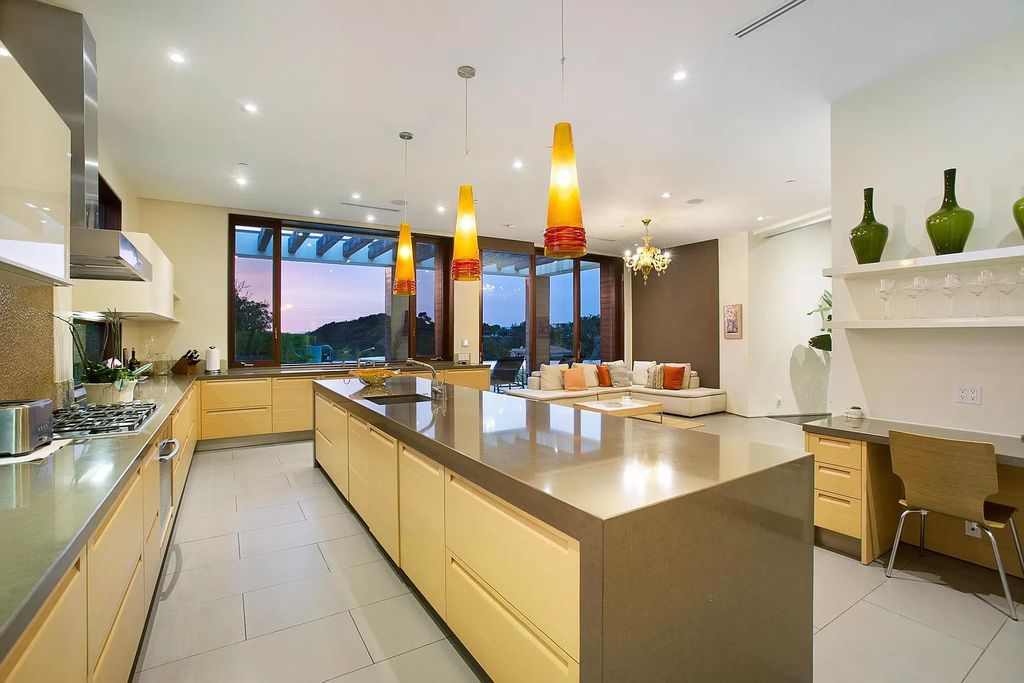 Chicken yellow cabinets bring an airy and vibrant vibe to the kitchen space. The cheerful and sunny hue instantly brightens up the room, creating a lively and inviting atmosphere. With these cabinets, the kitchen becomes a delightful and energizing space that exudes positivity and warmth. Adding some standout decorative items such as sleek metallic accents, stylish pendant lights, or vibrant floral arrangements to enhance your kitchen. Comfortable Contemporary Home perched atop Beverly Hills Exclusive Trousdale Neighborhood for Rent $75,000 a Month
12. Feminine With Baby Pink Cabinets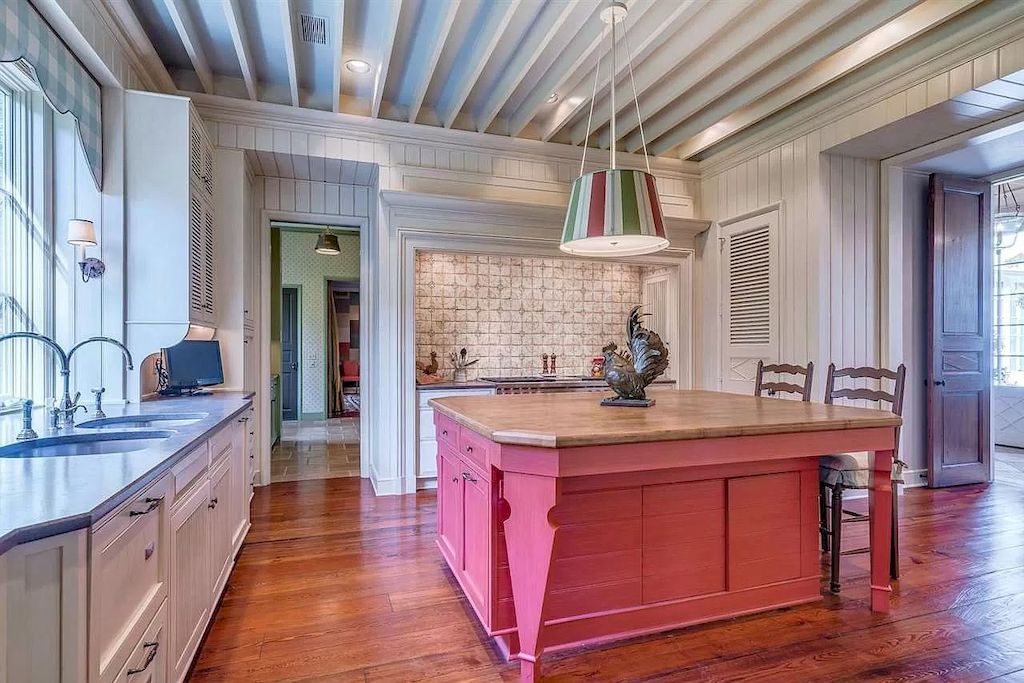 Create a feminine and charming kitchen space with baby pink cabinets mentioned in this kitchen cabinet paint ideas. The soft and delicate hue adds a touch of elegance and sophistication, bringing a sweet and inviting atmosphere to the room. Embrace the subtlety of these cabinets, and pair them with floral patterns, pastel accents, or vintage inspired decor to achieve a truly enchanting and delightful kitchen design. Gorgeous Home in Memphis, Tennessee Listed for $3,995,000
For more interesting and motivating kitchens ideas, you may refer other our wonderful articles, starting with The Perfect Blend of Style and Functions: Exploring The Most 20 Trendy Kitchen Designs
More Ideas For Kitchens:
---
Thousand of high-quality images of Kitchens and more you can see at Kitchen Gallery.