Date of Publishing:
Creative With Kitchen Designs
The kitchen in every family is usually the most used space, where everyone gathers, chats, eats, and relaxes. Therefore, kitchen designs should emphasize comfort, functionality, and elegance. Whether you're renovating or simply looking for ideas to create a dream living space, the 20 kitchen designs we have compiled below will provide you with suggestions and creative inspiration, encompassing a wide range of styles. Don't miss any details and let's explore together!
1. Opt The Kitchen Cabinets Colors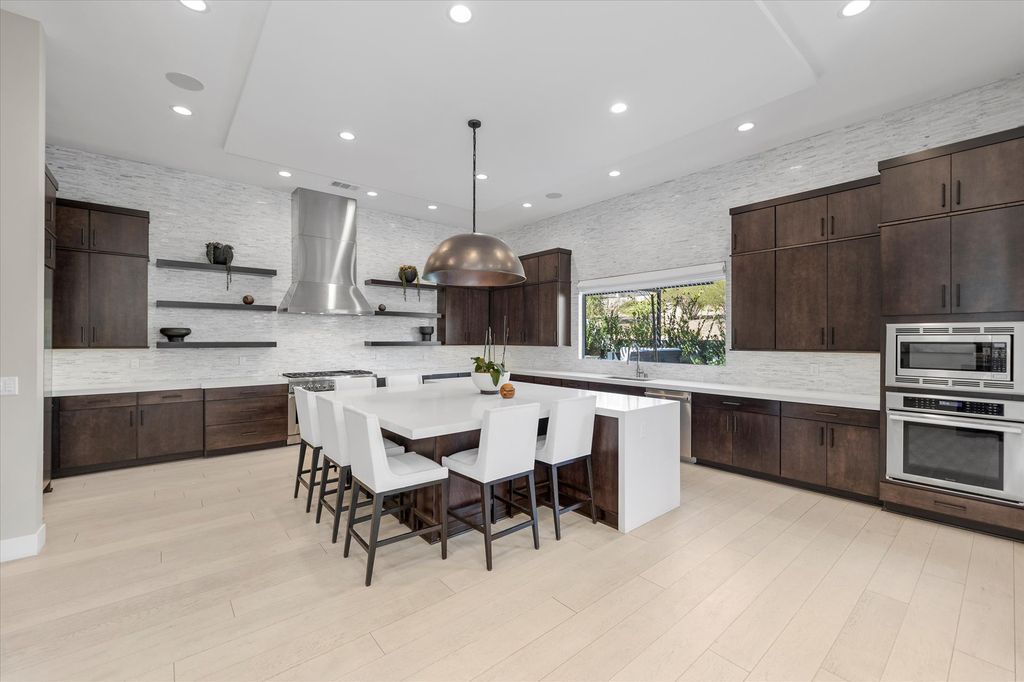 It is important to consider the spatial characteristics of the kitchen. If the homeowner has a spacious kitchen, there will be more options for cabinet colors, including the possibility of choosing dark hues. Additionally, to achieve a sophisticated look for the cabinets, it is essential to harmoniously coordinate suitable colors with the kitchen space. As seen in the aforementioned kitchen designs, the wall-mounted cabinets, open shelves, and lower wooden cabinets are meticulously finished in a rich dark brown tone, contrasting beautifully against the light gray walls and beige-colored wooden flooring. A Designer Dream Home with A Thoughtfully Designed Open Floor Plan in Las Vegas
2. Free Your Mind With Rustic Style Kitchen Designs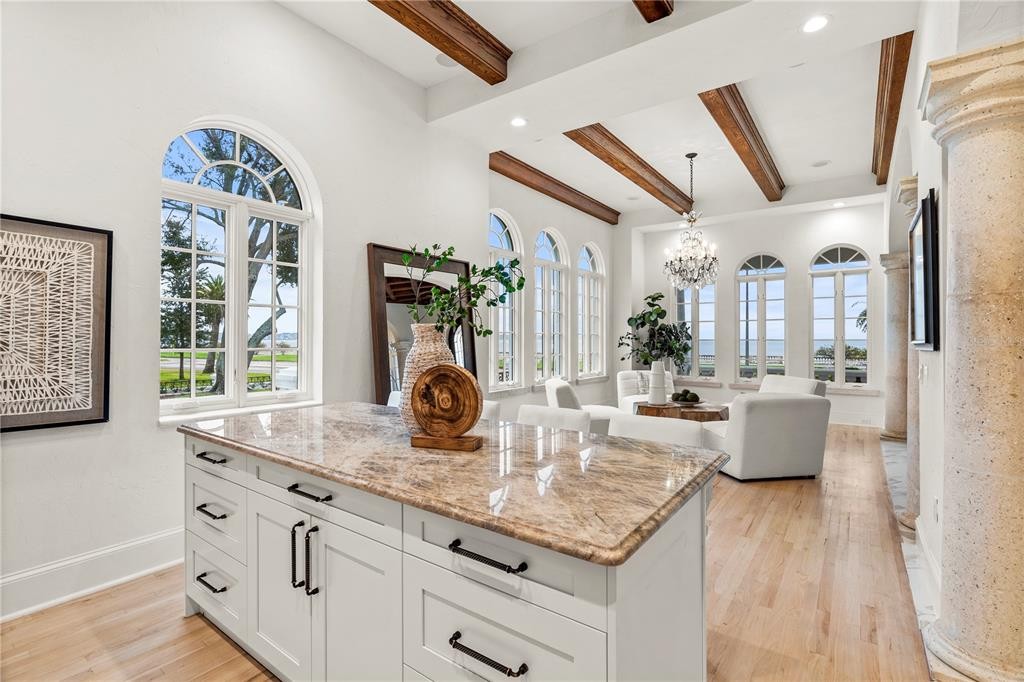 People often love the familiar and charming beauty of Rustic kitchens, as daily life can be overwhelming. A touch of simplicity and antiquity, combined with earthy tones, creates something wonderful for Rustic spaces. Pure white walls serve as a backdrop for objects and furniture in shades of cream and copper, accentuating the raw and peaceful elements of the Rustic style. An Elegantly Exquisite Estate on Iconic Bayshore Boulevard in Tampa on The Market for The First Time with Asking Price $5.45 Million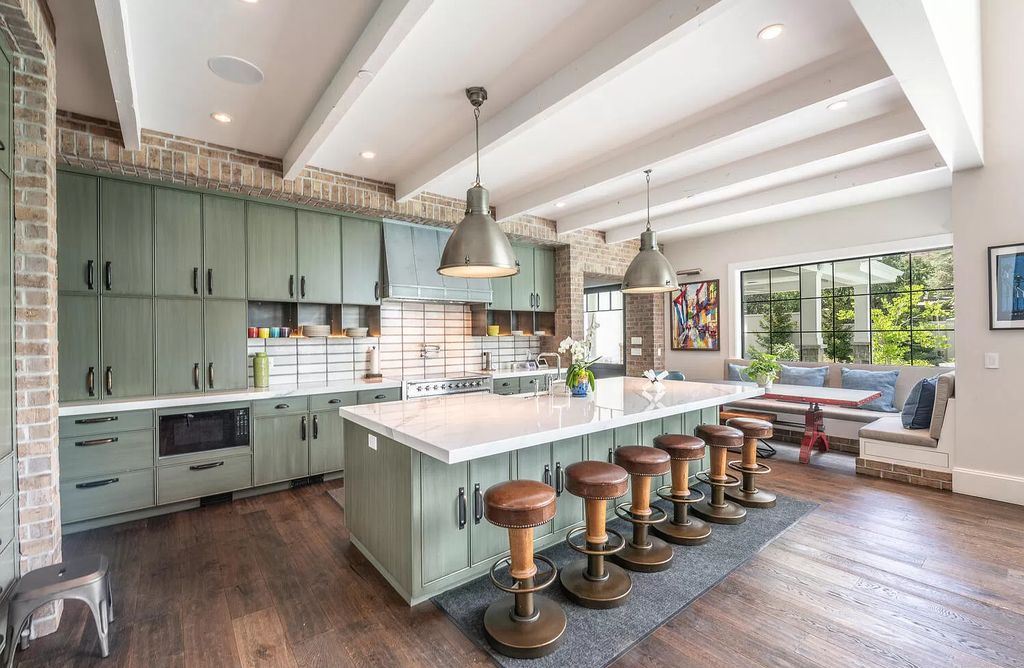 Adding a touch of gray to a portion of the kitchen cabinets won't disrupt the tranquil beauty of Rustic design but will still bring a fresh and captivating atmosphere to the space. Create a striking and eye-catching aesthetic for the Rustic setting with a stone wall and comfortable upholstered chairs. A harmonious color combination will make the space more appealing and add depth to its overall design. Magnificent Modern Farmhouse Nestled in A Picturesque Mountain Setting of Serene Tranquility and Panoramic Views Asking $12.75 Million in Salt Lake City
5. Amaze With French-Style Kitchen Designs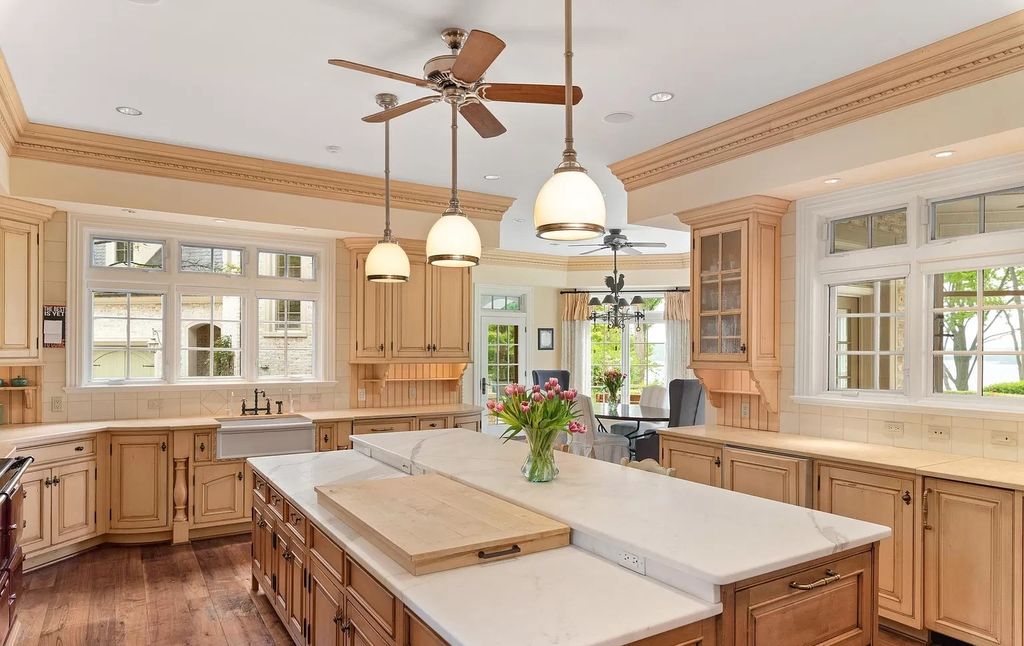 In this French-style kitchen designs, neutral colors are the perfect choice to create a light and peaceful space. Creamy white, soft yellow, and wooden browns are ideal color options. When it comes to the design style, you can combine modern and classic elements to achieve a harmonious balance. This blend adds sophistication and comfort to the space. Incorporating vintage items as decorative accents can create an impressive touch. Unique pieces like pendant lights, mirrors, and kitchen utensils may seem unconventional, but they perfectly enhance the overall aesthetic. Remarkable, Gated 20-Acre Waterfront Estate in Severna Park with French – inspired Design Lists for $15,900,000
6. Light Up The Space With Metallic Gold Details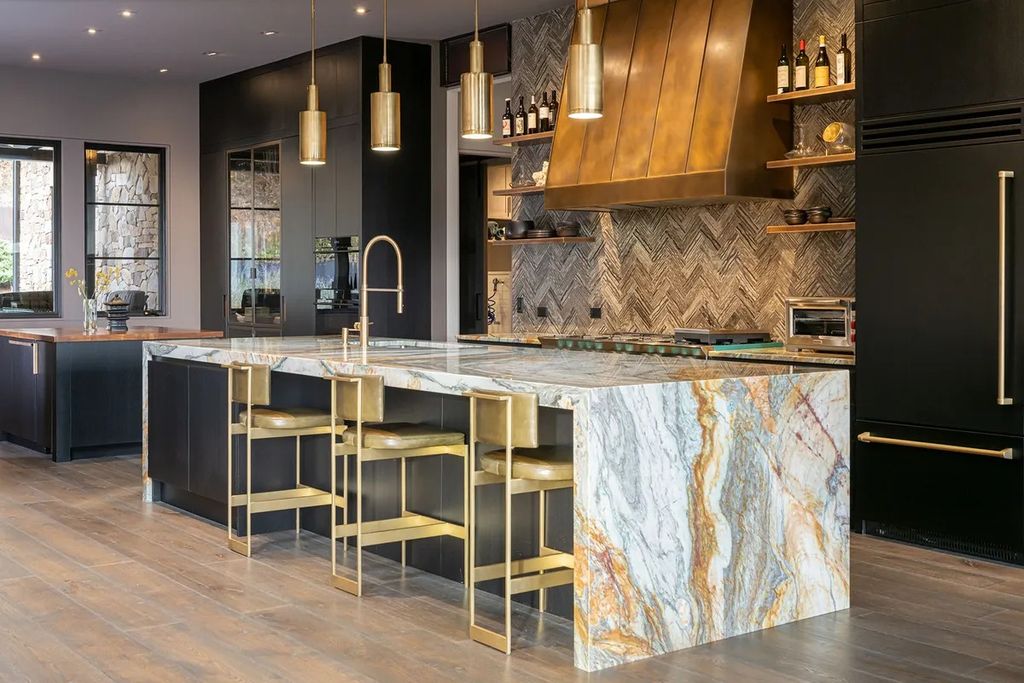 One of the best ways to bring a sense of sophistication to your kitchen, regardless of its design style, is by incorporating small gold metal details. Decorating your kitchen with gold accents is a simple yet highly effective approach that you shouldn't overlook. Consider choosing brass or shiny copper pendant lights, light fixtures, or frames to enhance the beauty of your family kitchen. Combining metallic gold furniture and accessories with darker tones like black or navy blue can create visually striking effects. Discretely Sited with Coveted Mountain Views, This Grand Manor in Fairview Asks for $7,950,000
7. Have More Than One Dining Area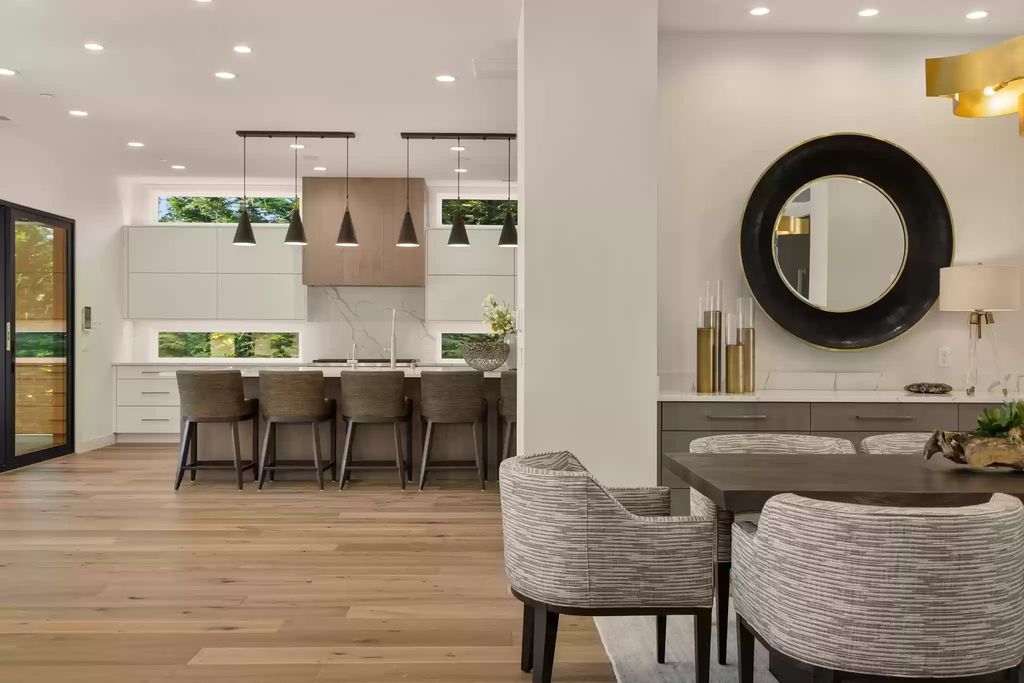 Who says every family can only have one dining area? The idea of having 2 or 3 dining areas in a home is not only possible but also incredibly effective, surpassing your imagination. In above mentioned kitchen design idea, in addition to setting up a dining room with a long table and cushioned chairs for cozy and formal gatherings, utilizing the kitchen island with minimalist wooden chairs creates one more fantastic dining area for the family. This concept offers ultimate comfort for all family members while adding a unique touch to the kitchen design. Providing Extra Space for Flawless Entertaining, Premier Modern Architecture in Clyde Hill Asks $8,750,000
8. Set Up The Open Concept Kitchen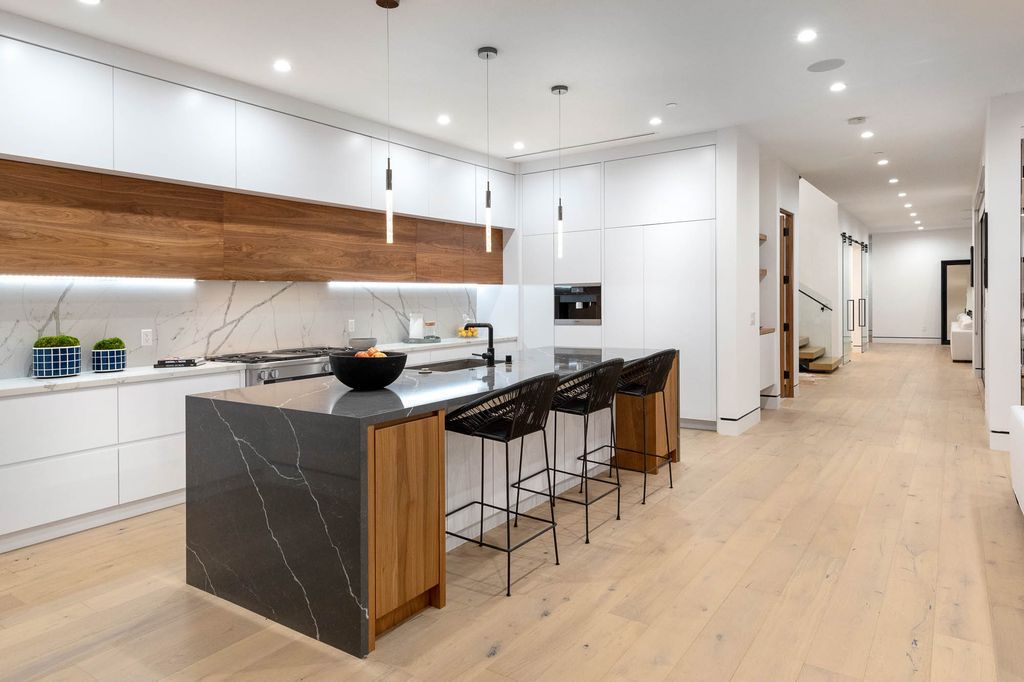 Open concept kitchens are a popular design trend in modern apartments. They combine the kitchen, dining area, and living room into one large space. This layout allows you to cook and socialize with family or guests at the same time. It also maximizes the use of space and lets in plenty of natural light. In this luxury idea, the kitchen island serves as a dining area and separates the kitchen from the living room. This works well in larger or medium sized apartments. For smaller spaces, you can create a mini kitchen bar to divide the area and add a unique touch. Stunning Modern Home in Venice on Renowned Penmar Avenue with An Open Floor Plan and A Gorgeous Floating Staircase on The Market for $4,999,000
9. Get Inspiration From Elegant Bar Counters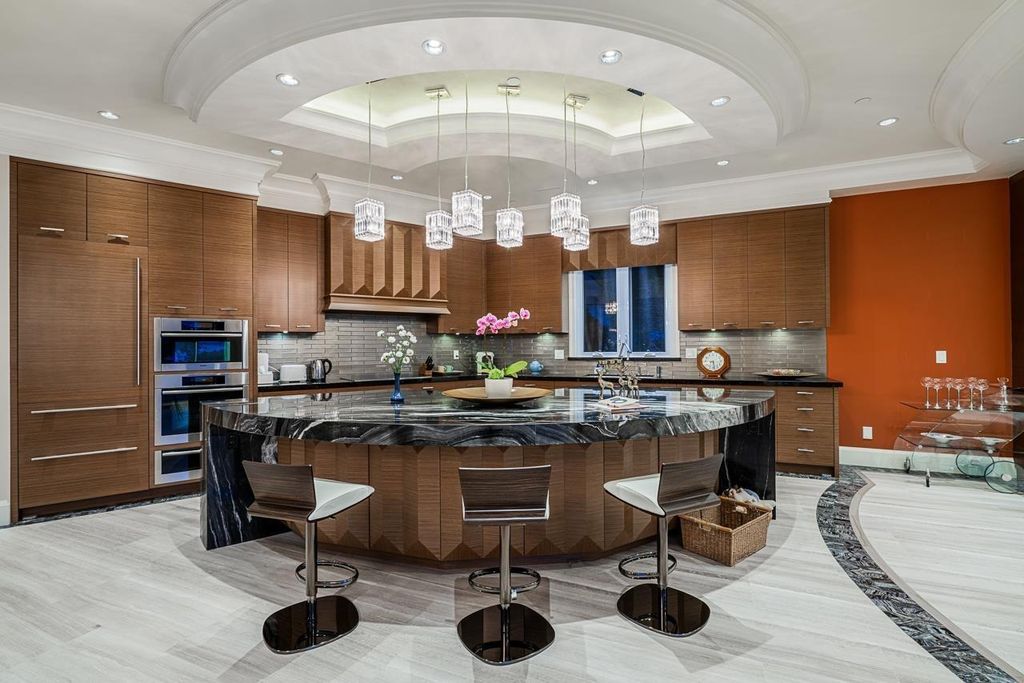 Inspired by elegant bar counters, the semi-circle kitchen island in these luxury designs is truly a masterpiece. With its sophisticated marble surface and the addition of swivel chairs, it immediately catches your eye. This kitchen island design is a favorite for families who have spacious kitchens, ideal for hosting family gatherings and friends. It evokes the feeling of dressing up in exquisite attire and visiting a stylish bar, where you can order your favorite drinks while relaxing and enjoying. Extraordinary Gated Waterfront Estate in West Vancouver
10. Hanging Pots And Kitchen Utensils From The Ceiling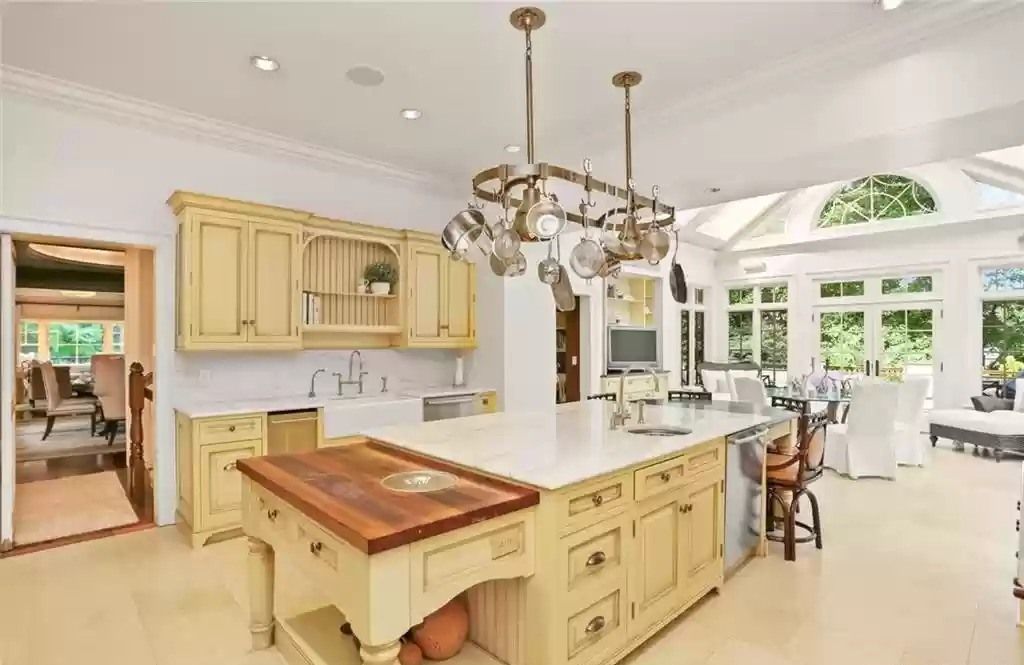 In order to create extra space for pots, pans and other utensils in the kitchen while also having a focal point, consider installing a sturdy ceiling rack with hooks. This kitchen design serves as a unique display for your family's favorite cooking utensils. For making the hanging rack even more dazzling, you can integrate a recessed lighting system around it. The metallic pots and pans will shine and become more eye catching than ever thanks to the reflected light. This $6,247,000 Majestic Colonial Home Oozes Bygone Charm and Today Comfort in Connecticut
11. Double Kitchen Islands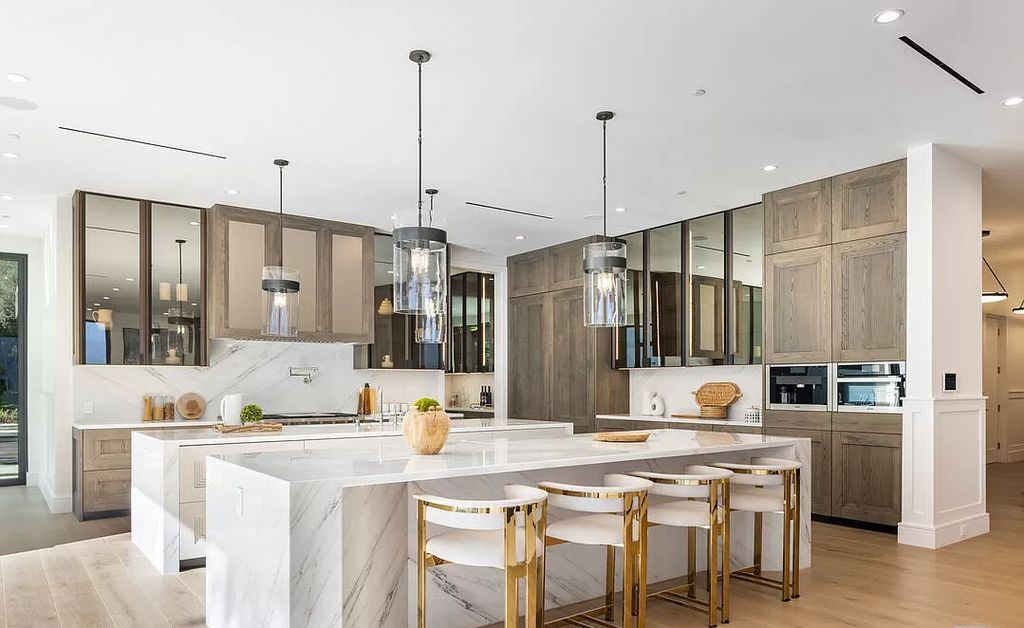 Some houses require more than one kitchen island, and the homeowners want each island to have a different layout. It all depends on the preferences of the homeowners. For some people, whether they are professional chefs or just home cooks, having two kitchen islands is essential. The kitchen is elevated to a luxurious level with a design featuring double marble clad kitchen islands. The exquisite cuts and dining chairs with gold accents bring a remarkably modern beauty. The two kitchen islands are also designed with additional cabinets to maximize storage space. This $29,995,000 Brand New Home in Los Angeles provides A Sophisticated Balance of Luxury Living with A Rustic Natural Environment
12. Optimizing Space With Wall-Mounted Sink And Induction Cooktop Design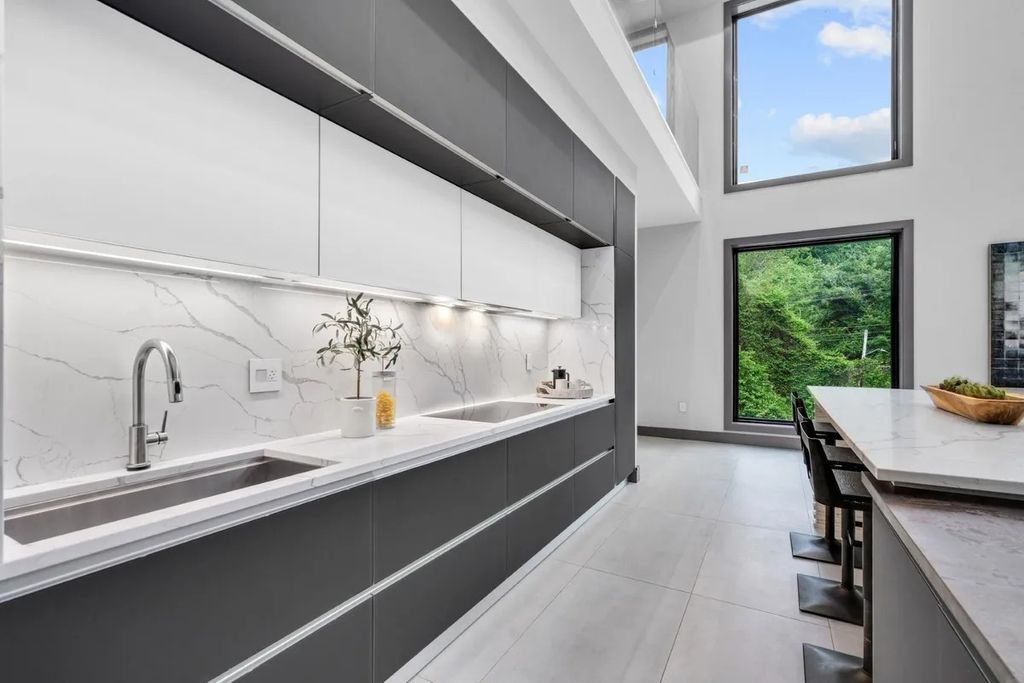 The use of wall mounted sink and induction cooktop design is a brilliant solution for maximizing space in any kitchen. This amazing idea allows for more efficient meal preparation and easier to clean up. This innovative design not only enhances the functionality of the kitchen but also creates a sleek and modern aesthetic. To further enhance the kitchen, choose the right colors and patterns for the backsplash and add some greenery for an eye-catching touch. With Emphasis on Sleek Form and Seamless Function, The Modern Residence in Virginia Prices at $3,645,000
13. Take Advantage Of The Outside Kitchen Scenic View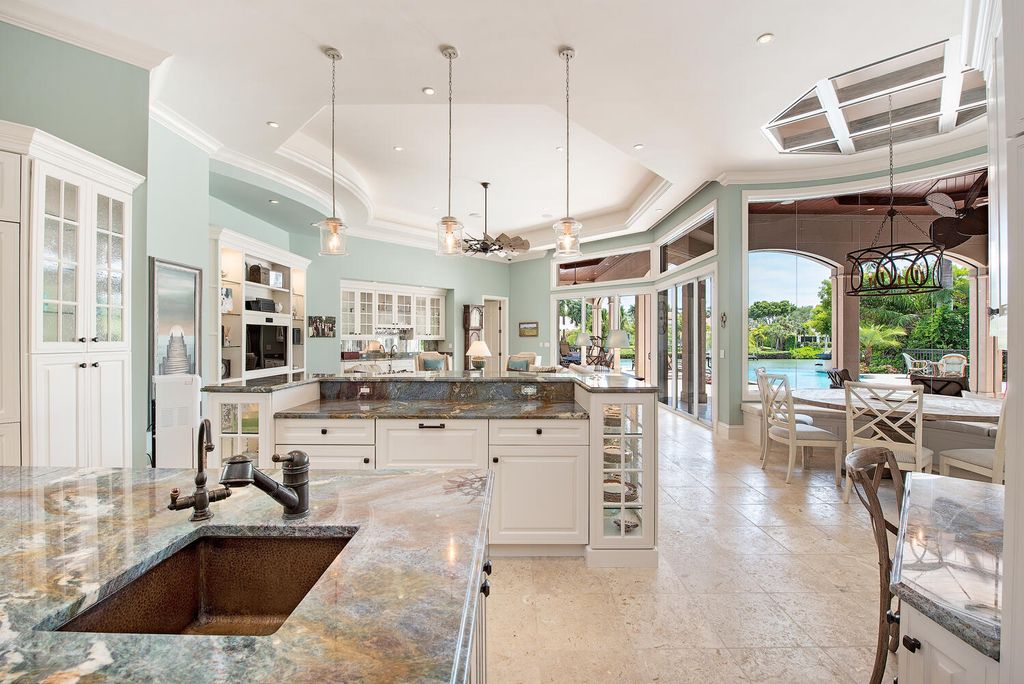 Taking advantage of the outside kitchen scenic view is a key aspect of luxury design. By positioning the kitchen in a way that captures the breathtaking outdoor landscape, you create a seamless connection between nature and your culinary experience. Using light tones for kitchen furniture, decorations, and wall paint is highly suitable in this case. One of A Kind Custom Home in Naples was Thoughtfully Designed with Expansive Outdoor Living Space Asking for $24,750,000
14. Unleash Your Creativity With An Outdoor Kitchen Design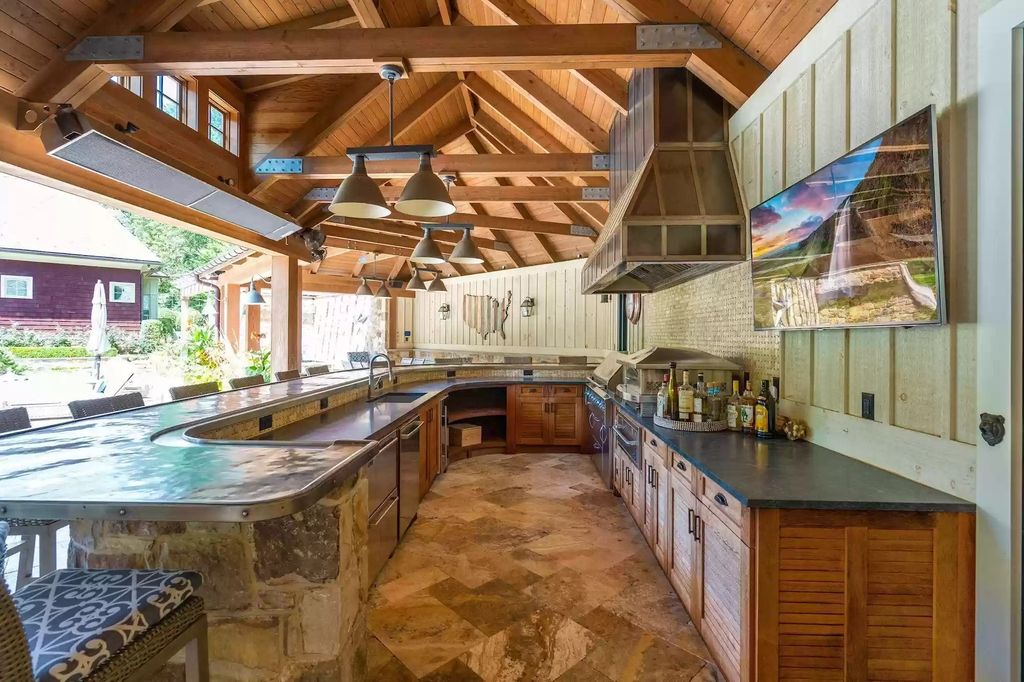 The outdoor kitchen design offers a world of possibilities, inviting you to embrace your creativity. With wooden dining tables and chairs, it creates a warm and inviting atmosphere where you can gather with friends and family. Whether it's hosting a delightful BBQ party or enjoying a casual outdoor dining experience, this space is perfect for entertaining guests. Enhanced by a standard lighting system, it ensures that your outdoor cooking and dining experiences are not limited by the setting sun or worried about the lighting conditions. This $8,500,000 Remarkable Estate Offers Privacy, and Resort-style Amenities in Virginia
15. Install Upper Cabinets/ Shelves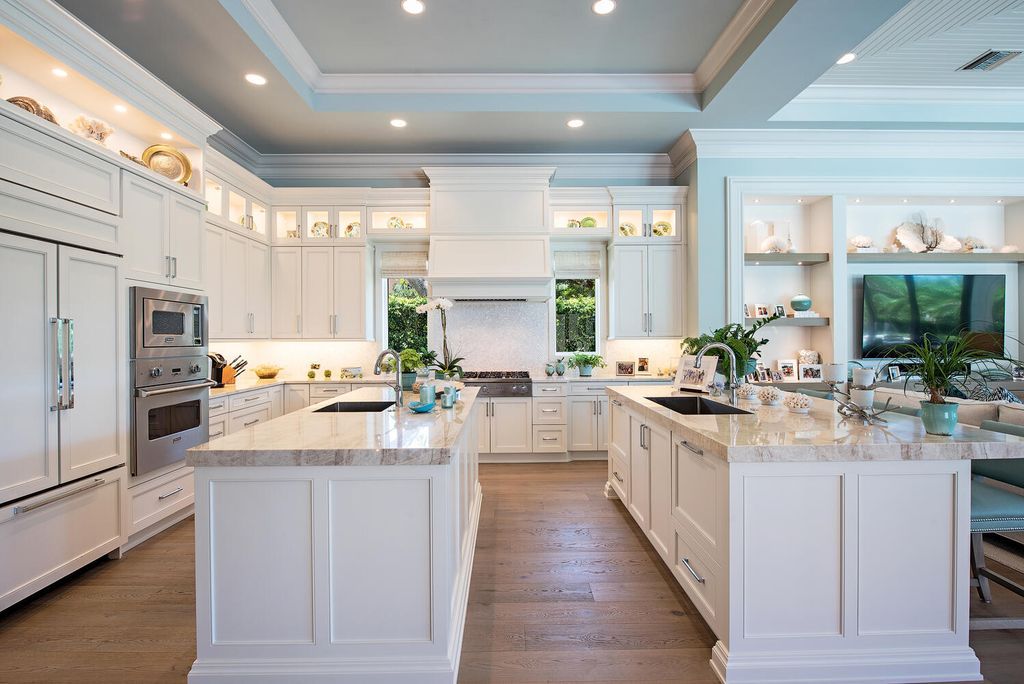 Enhance the functionality and organization of your kitchen by installing upper storage. By adding cabinets or shelves above your countertops, you can maximize your kitchen space and create additional storage options. In the above idea, the topmost level of the upper cabinets is utilized to showcase the owner's favorite dishware, creating a new focal point in the kitchen space that exceeds the perfection. Exceptional Custom Home in Naples with The Finest Finishes Comes to The Market at $5,970,000
16. Add The Nature Touches With Greenery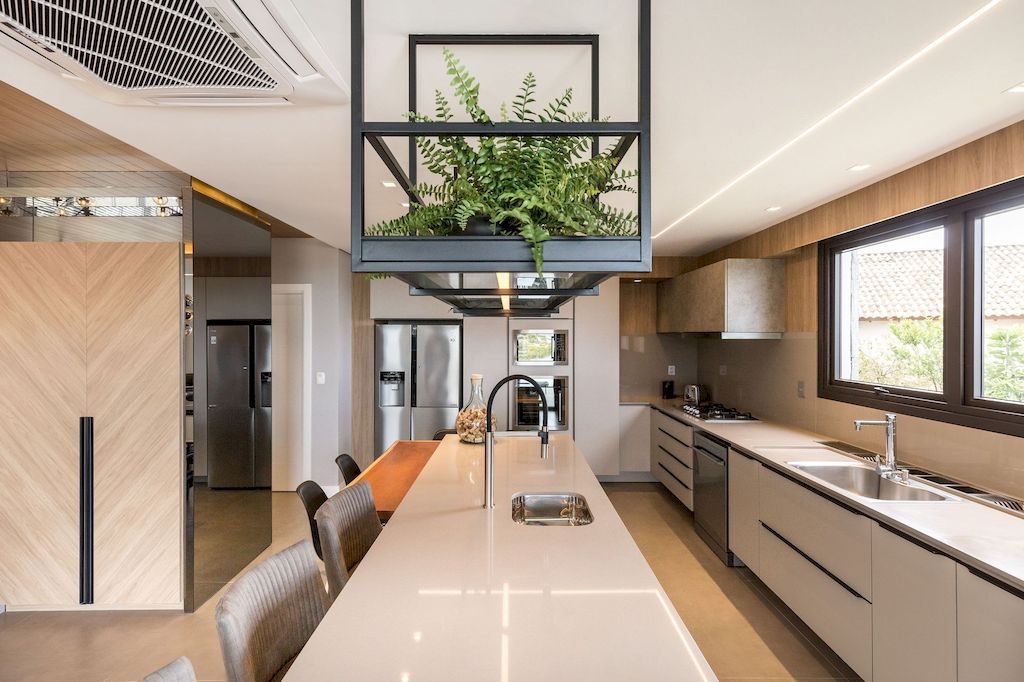 Elevate your kitchen design to new beauty standard with the unique addition of ceiling-mounted plant hangers, providing an innovative way to showcase your greenery. By incorporating these hangers, you not only introduce a touch of nature but also create additional space for displaying your potted plants. The presence of hanging green plants adds a stunning visual element, transforming your kitchen into a captivating and inviting space. AD House for Comfortable Living J.A. Becker Arquitetura e Construções
17. Transform Your Kitchen Space Into An Art Exhibition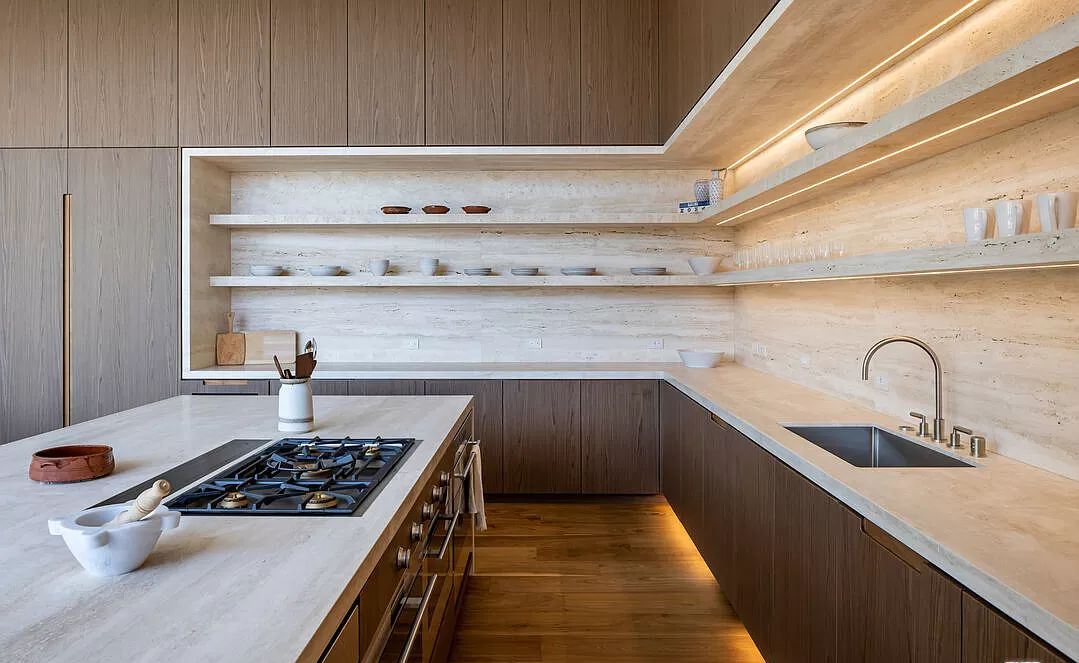 Transform your kitchen into an art exhibition with the presence of a high-quality L-shaped wall-mounted wooden shelf system, designed to be trendy and perfect for minimalist and modern enthusiasts. Arrange your collection of dishes, ceramic cups, and glassware purposefully, creating a new artistic display. Install LED lighting system for each shelf to ensure the perfect illumination for these art masterpieces. This $49,995,000 Bel Air Mansion offers World Class Design with Extraordinary Craftsmanship
18. Smartly Organize The Small Kitchen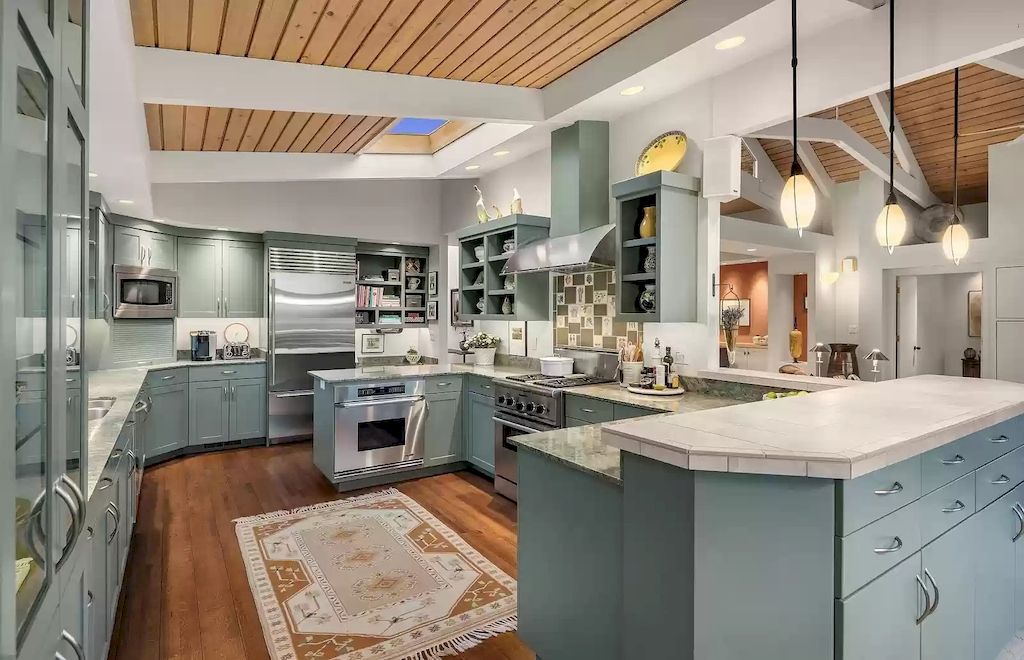 A small kitchen, when cleverly organized and arranged, can still provide all the necessary functionalities that a kitchen requires. Optimize every inch of available space by utilizing clever storage solutions, multifunctional furniture and collapsible accessories. You may maximize storage capacity with wall-mounted shelves or cabinets, and consider using hooks or magnetic strips to keep utensils within easy reach. This $3,950,000 Stunning Estate Commands Gorgeous Views of Mountains and Downtown Bellevue, Washington
19. The Effect Of Color Contrast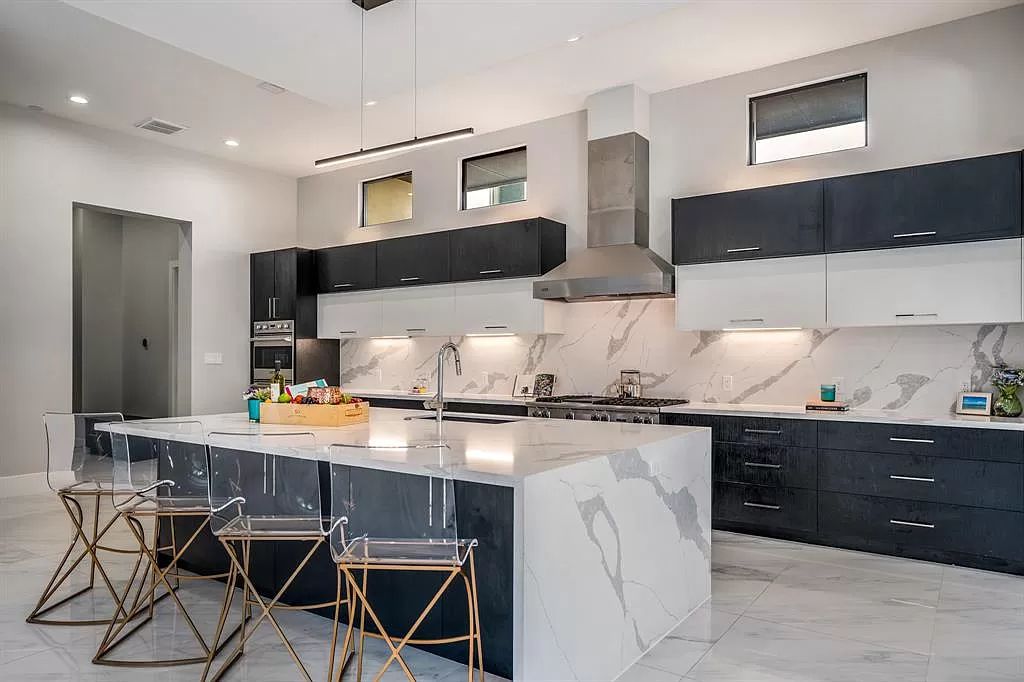 The contrast between black and white for kitchen appliances creates a striking and visually appealing effect. The sleekness of black appliances against a white backdrop and vice versace both adds a touch of modernity to the kitchen. As the modern kitchen design above, featuring upper and lower cabinets, a kitchen island, and countertops, using a combination of white and black tones as the main theme, will never go out of style and create a timeless and captivating ambiance. This $3,600,000 Contemporary Home in Houston is The Epitome of Modern Luxury with Amazing Features
20. Instance Amend Your Design With Patterned Kitchen Backsplash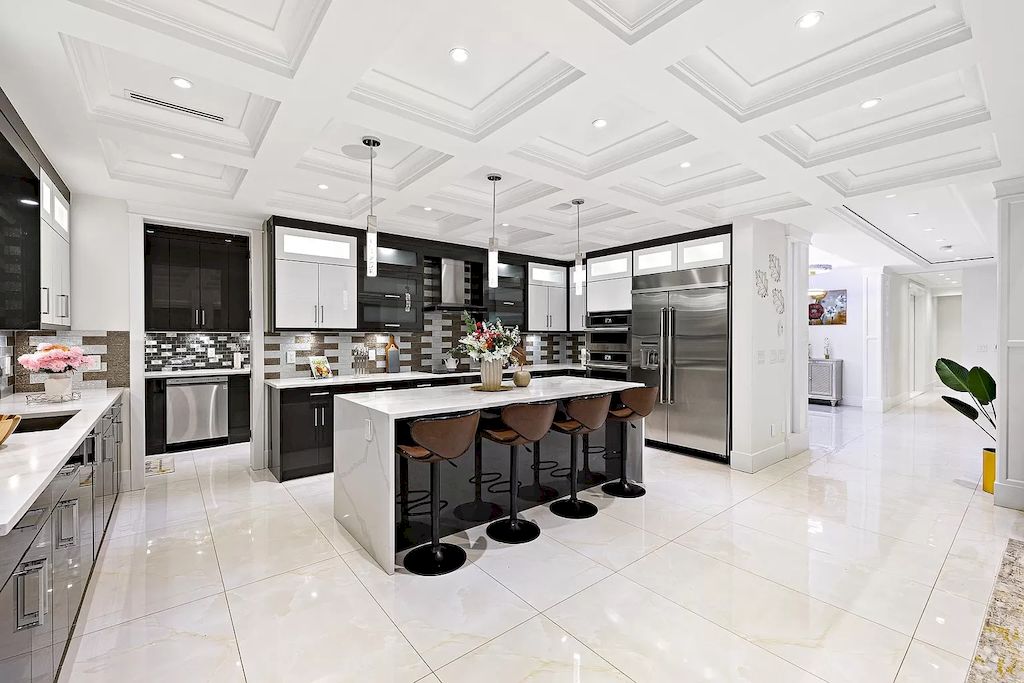 Create a focal point in your kitchen with the various patterns of a backsplash. The backsplash serves as both a functional and decorative element, protecting the walls while adding a touch of visual interest. Whether you choose a bold geometric design or a delicate mosaic, the backsplash elevates the overall aesthetic of the kitchen. The interplay of colors and textures brings depth and express the owner's characteristics, making it a stunning centerpiece. This C$3,499,000 Dream House in Surrey Offers Top of the Line Appliances and High-end Finishing
For your inspiration, motivation and amazing ideas for your kitchen designs, you may refer our other article 17 Dark Kitchen Ideas: Embrace Elegance and Sophistication
More Ideas For Kitchen:
---
Thousand of high quality images of the Kitchen and more you can see at Kitchen Gallery.