Date of Publishing:
Designing Your Dream Cottage Kitchen.
Are you tired of your outdated and uninspiring kitchen and yearning for a space that feels warm and inviting? Look no further than the cottage kitchen style. These kitchens are designed to be cozy and welcoming, making them perfect for both cooking and entertaining. With a focus on comfort and functionality, a cottage kitchen can be a great way to transform your space into a place that you love spending time in. When designing your cottage kitchen, consider using rustic materials such as natural wood, stone, or brick. These materials add a touch of warmth and texture to the space, creating a sense of coziness that is perfect for a cottage-style kitchen. Additionally, vintage accents can add a sense of nostalgia and charm, creating a unique and personalized space that reflects your style.
1. Hang a Pot Rack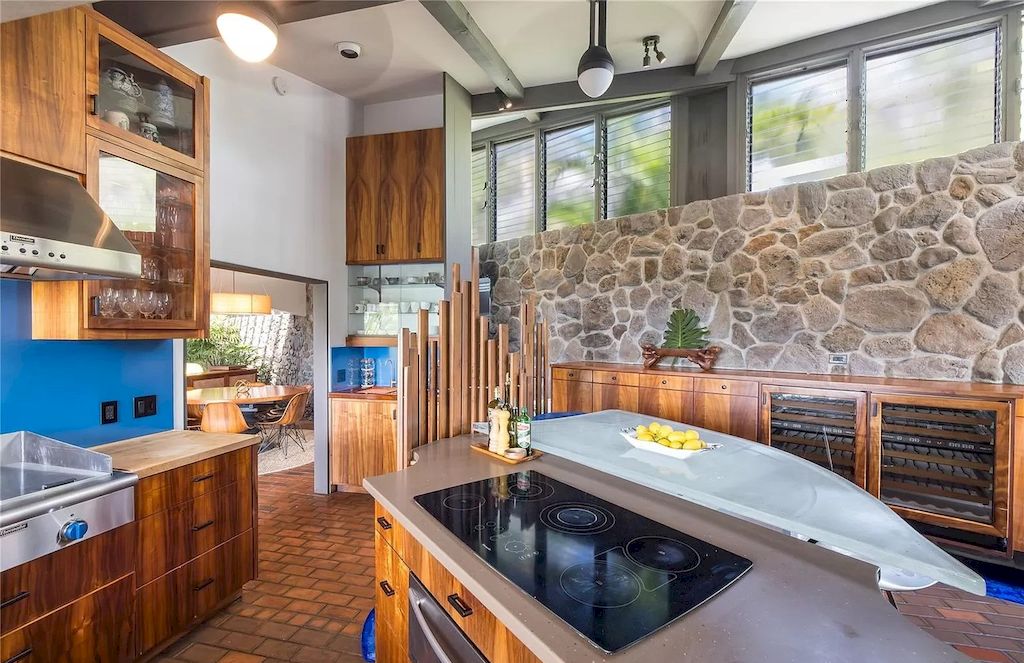 Bohemian style is all about self-expression, so don't be afraid to display your collections in your kitchen. This could be anything from vintage glassware to colorful spices. Open shelving can be a great way to showcase your collections, while also adding a touch of personality to your space. Get a Sense of Heritage and Sophistication in Hawaii in this $4,795,000 Beautiful Home
2. Use a Chalkboard Wall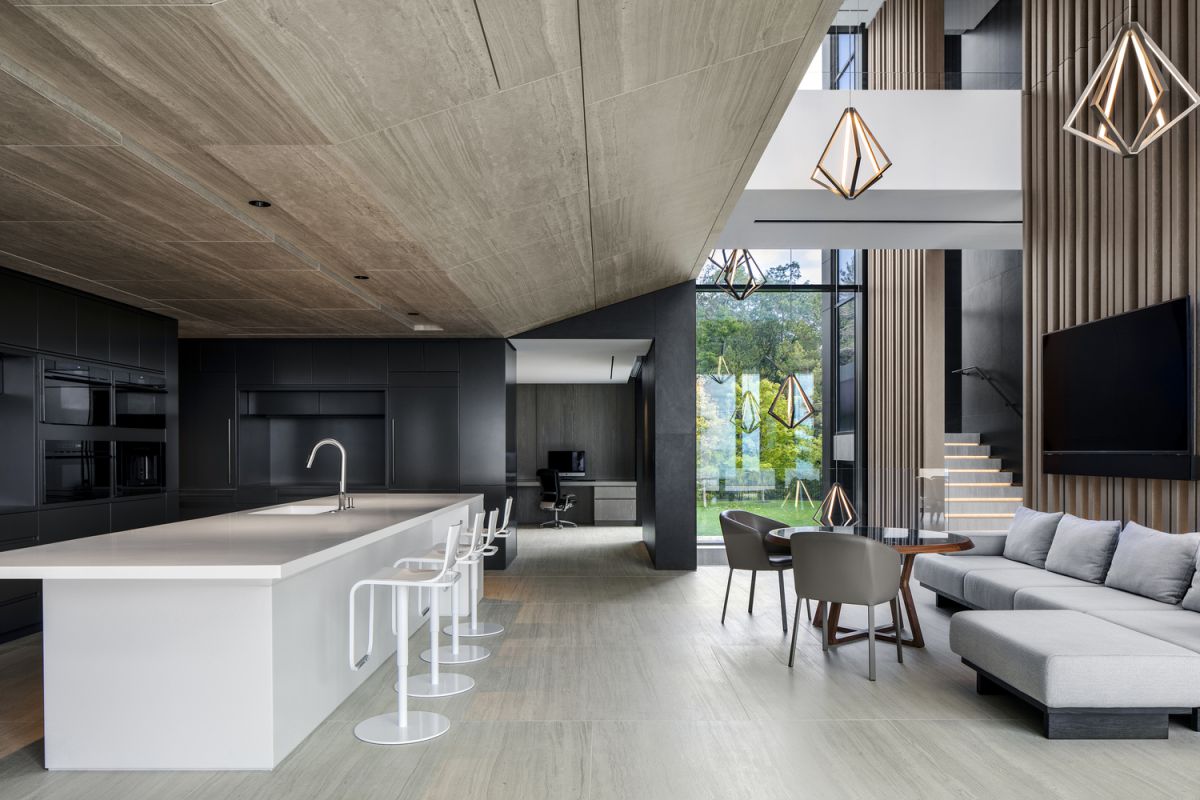 A chalkboard wall is a fun and functional addition to a cottage kitchen. Not only can you use it to write down your grocery list and recipes, but it also serves as a focal point. Chalkboard paint is easy to apply, and can be used on any wall in your kitchen. You can also frame the chalkboard with wood or metal for a more polished look. Lake Huron Modern Home in Ontario, Canada by SAOTA
3. Choose Soft Lighting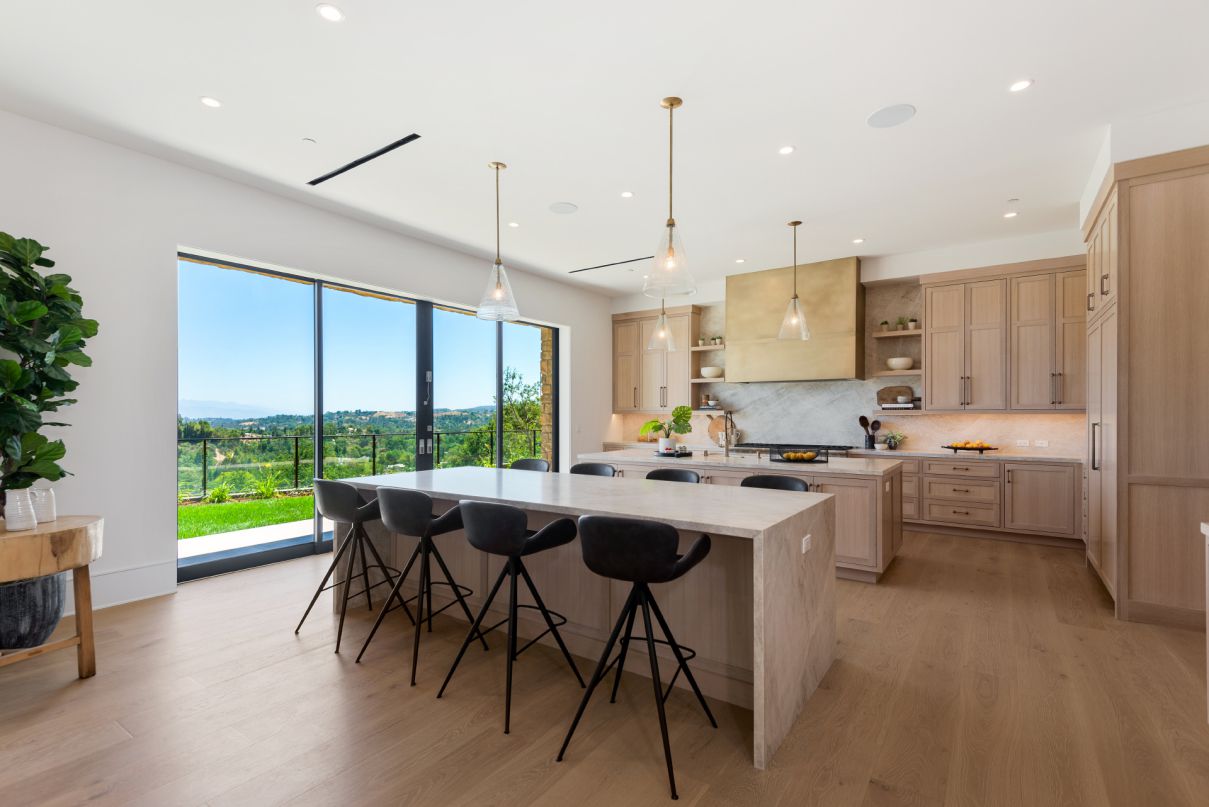 Soft lighting is an essential element of cottage kitchen design as it creates a warm and inviting atmosphere. To achieve this, consider using warm-toned light fixtures such as pendant lights or chandeliers with soft lighting. In addition, using natural light sources such as windows or skylights can also enhance the soft lighting in your kitchen. By choosing soft lighting fixtures, you can create a comfortable and inviting space that's perfect for cooking, entertaining, and relaxing. Gorgeous Hoback Glen Residence in Hidden Hills for Sale at $12.2 Million
4. Use Vintage Accessories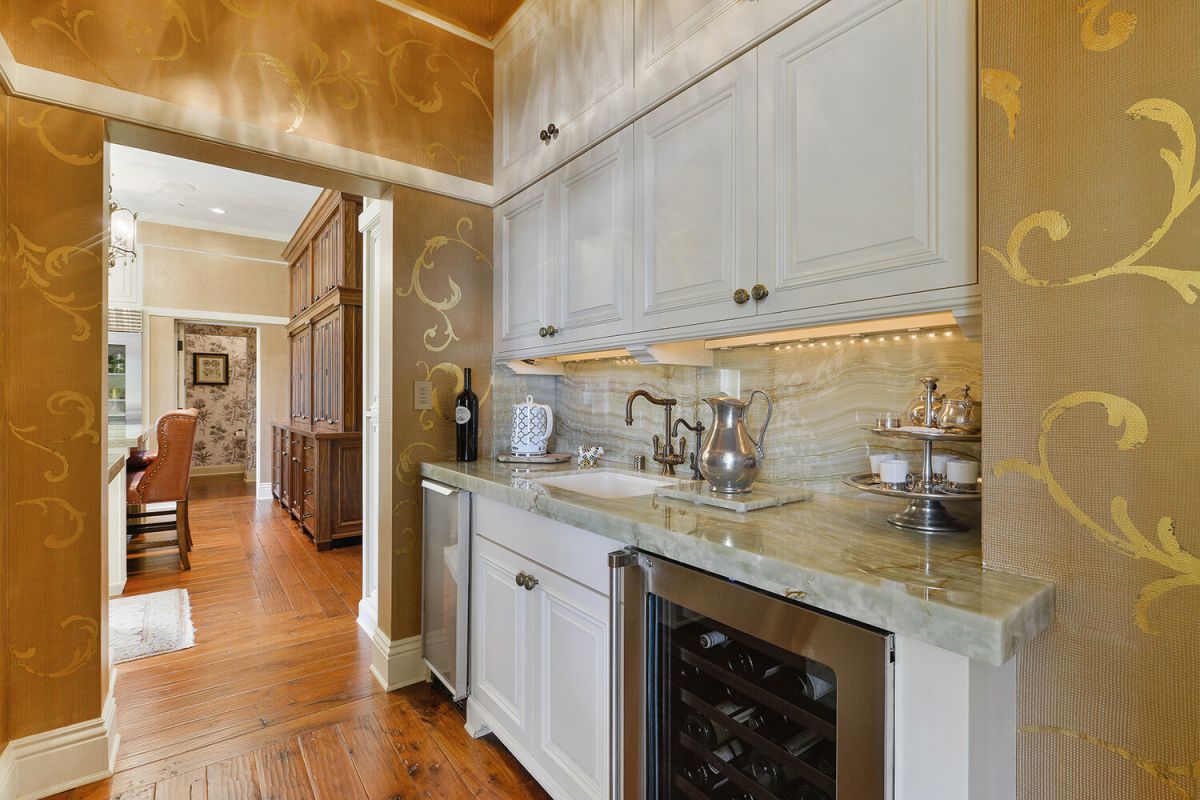 Vintage accessories are a great way to add character and charm to a cottage kitchen. You can use vintage tea towels, dishware, and even appliances to create a unique and eclectic look. Look for items at flea markets and antique stores, or shop online for vintage-inspired items. Thoughtfully Designed Alamo Estate returns Market for $19.8 Million
5. Create a Breakfast Nook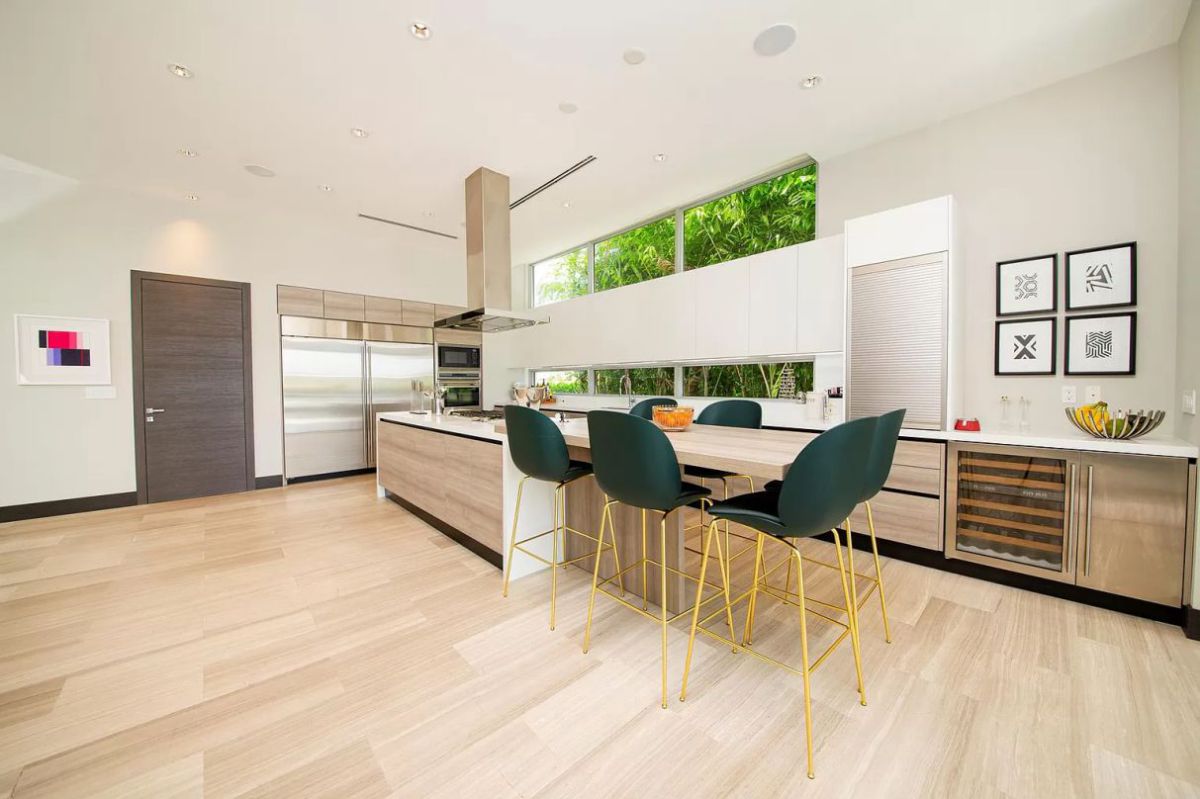 A breakfast nook is a charming addition to any cottage-style kitchen. It provides a cozy spot to enjoy your morning cup of coffee, read the paper, or catch up with friends over a casual meal. Not to mention, it can also serve as a great space-saving solution, especially in smaller kitchens where a separate dining area may not be feasible. When creating a breakfast nook, consider using built-in seating such as a banquette or bench, which not only saves space but also adds to the cozy, intimate feel of the nook. You could even use cushions and throw pillows in coordinating colors and patterns to make it even more inviting. Modern Waterfront Home in Miami Beach on Market for $6 Million
6. Use Natural Materials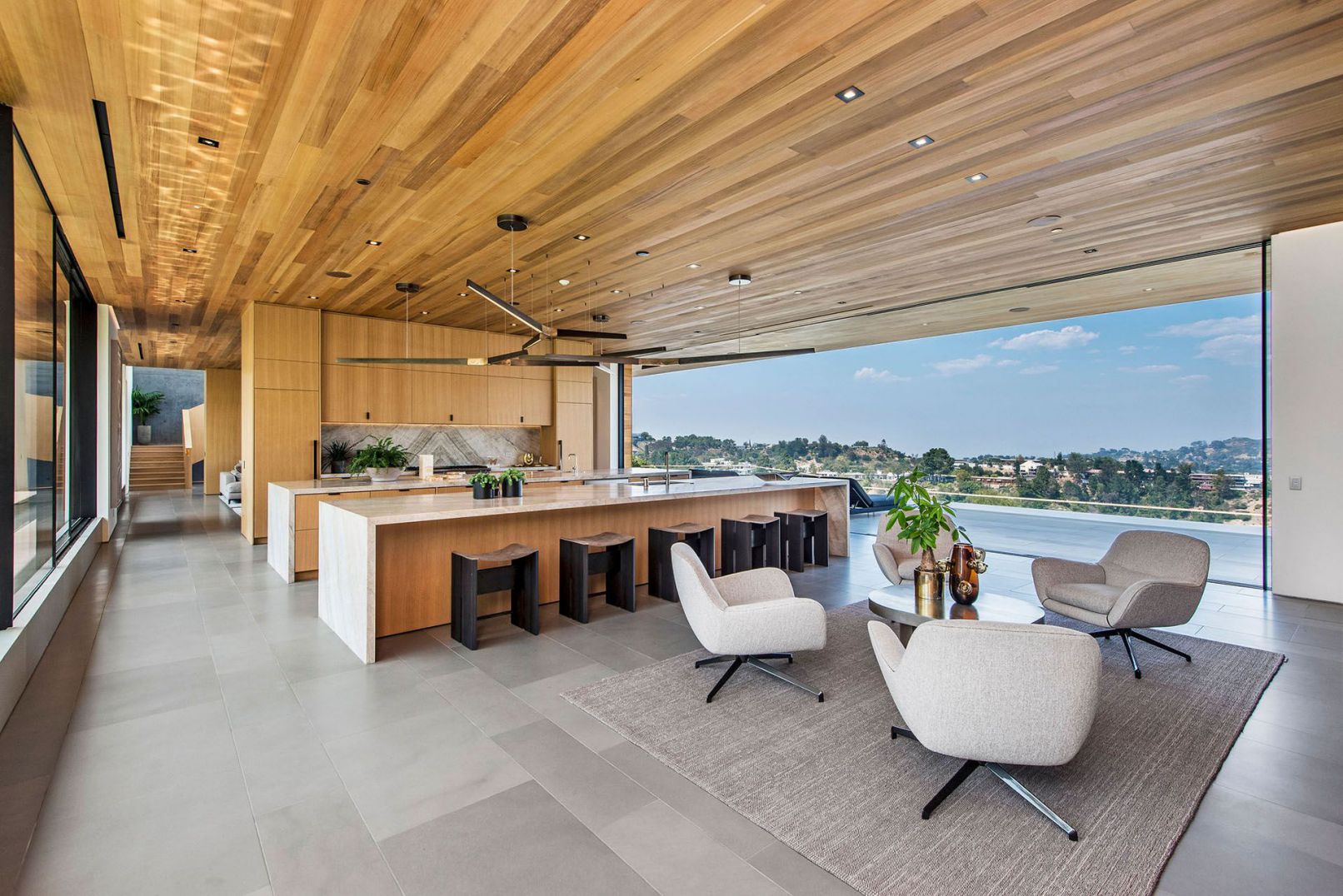 One way to incorporate natural materials into your cottage kitchen is by using a natural stone backsplash. A stone backsplash adds a touch of luxury to the space while also providing a durable and low-maintenance surface. The natural variation in the stone can create a unique and interesting look, and you can choose from a range of colors and patterns to fit your style. Another option is to use reclaimed wood for your kitchen countertops. Reclaimed wood adds a rustic and charming look to the space while also being an environmentally friendly choice. The natural imperfections and variations in the wood can give your kitchen a one-of-a-kind character, and it's also incredibly durable and long-lasting. Impeccably designed Carla Ridge Mansion in Los Angeles by Noah Walker
7. Add a Window Seat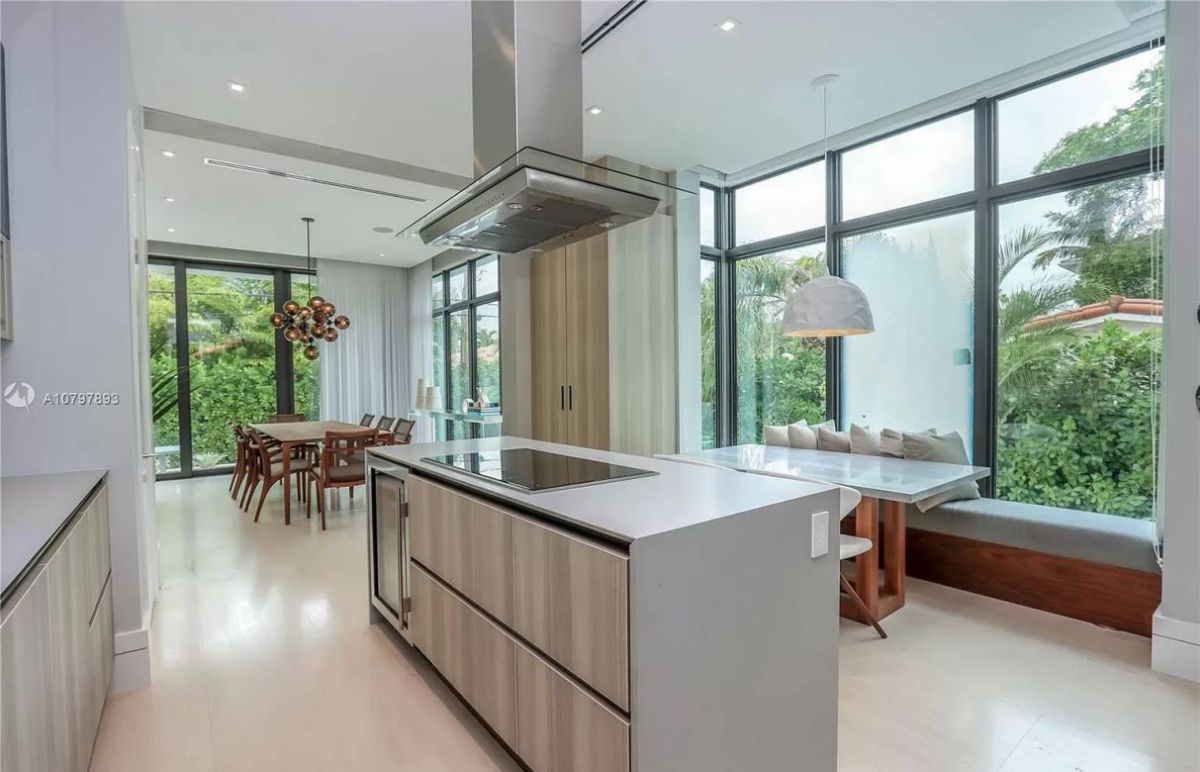 A window seat is a charming and practical addition to any cottage kitchen. It not only adds extra seating but also creates a cozy nook where you can relax, read a book, or simply enjoy the view outside. Plus, it can be a fun DIY project that you can easily customize to fit your style. To make your window seat even more functional, consider adding storage underneath. You can use baskets or built-in drawers to store extra blankets, books, or other items you want to keep close at hand. This can be especially useful in a small kitchen where storage space is at a premium. Buttonwood Drive Modern Home in Key Biscayne on Market for $4.2 Million
8. Use Colorful Accents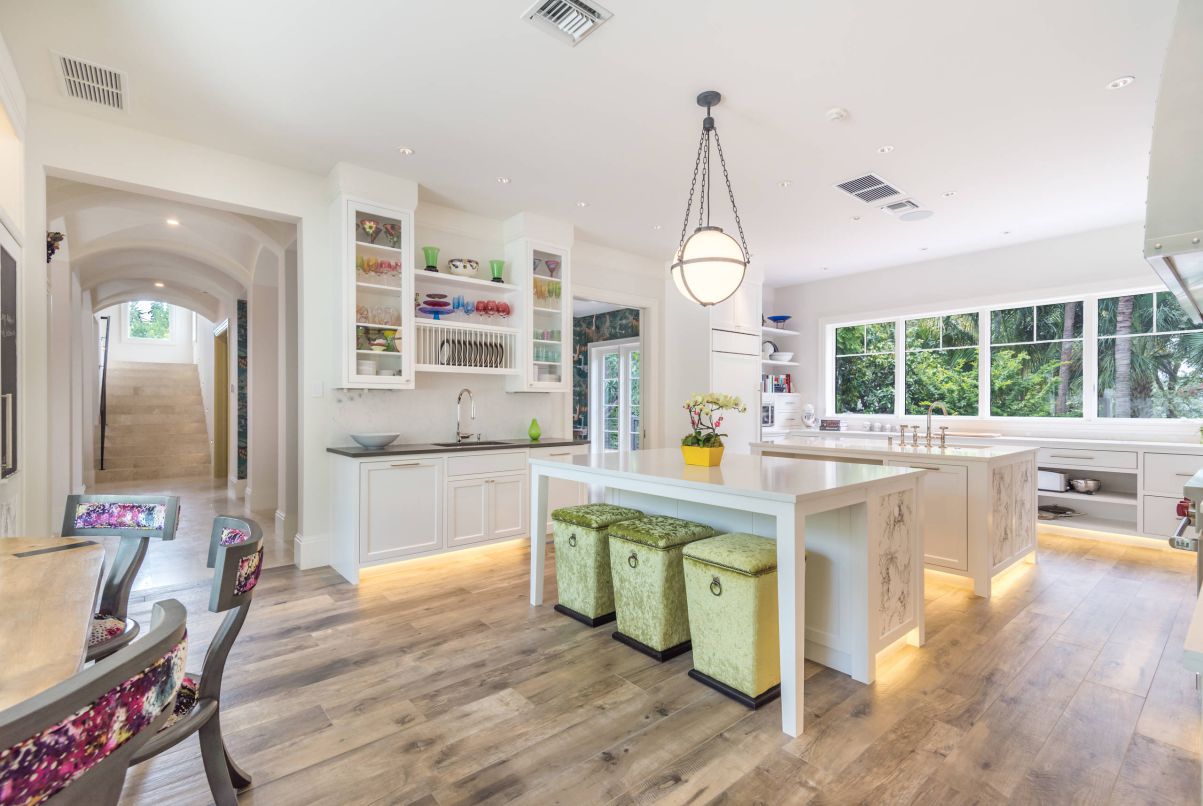 Using colorful accents is a great way to add personality and vibrancy to your cottage kitchen. You can add pops of color in various ways, such as through colorful tiles for your backsplash, a colorful rug or curtains, or even by displaying colorful dishes and glassware. You could also paint your cabinets in a bold shade or add a colorful accent wall to create a focal point in the room.  Fantastic Tropical Home in Naples, FL by Kukk Architecture & Design P.A.
9. Adding a Garden Window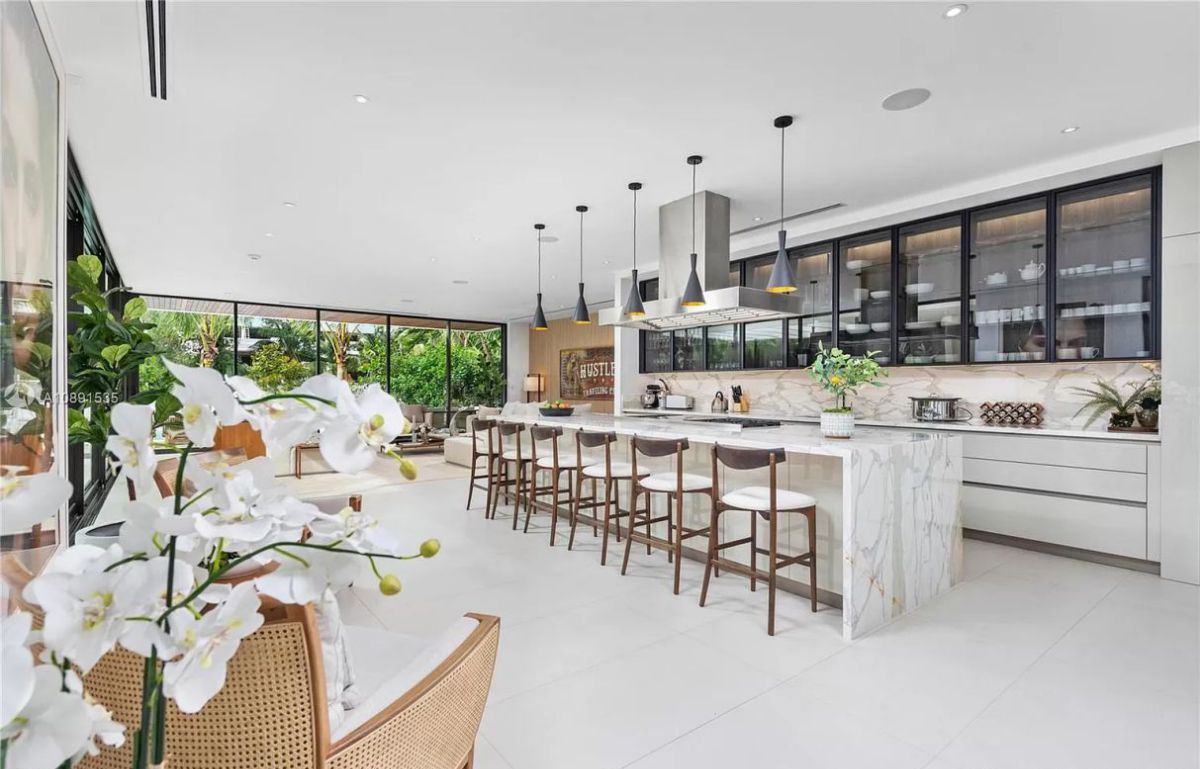 Adding a garden window is another fantastic idea to bring the outdoors into your kitchen. It provides natural light and can also serve as a mini greenhouse for growing your own herbs or small vegetables. A garden window is a great way to display your favorite plants or herbs and add some greenery to your kitchen. You can even use it as a spot to sit and enjoy the view while sipping your morning coffee. $15 Million Brand New Modern Elegant Waterfront Home in Miami Beach
10. Install a Vintage Chandelier or Pendant lights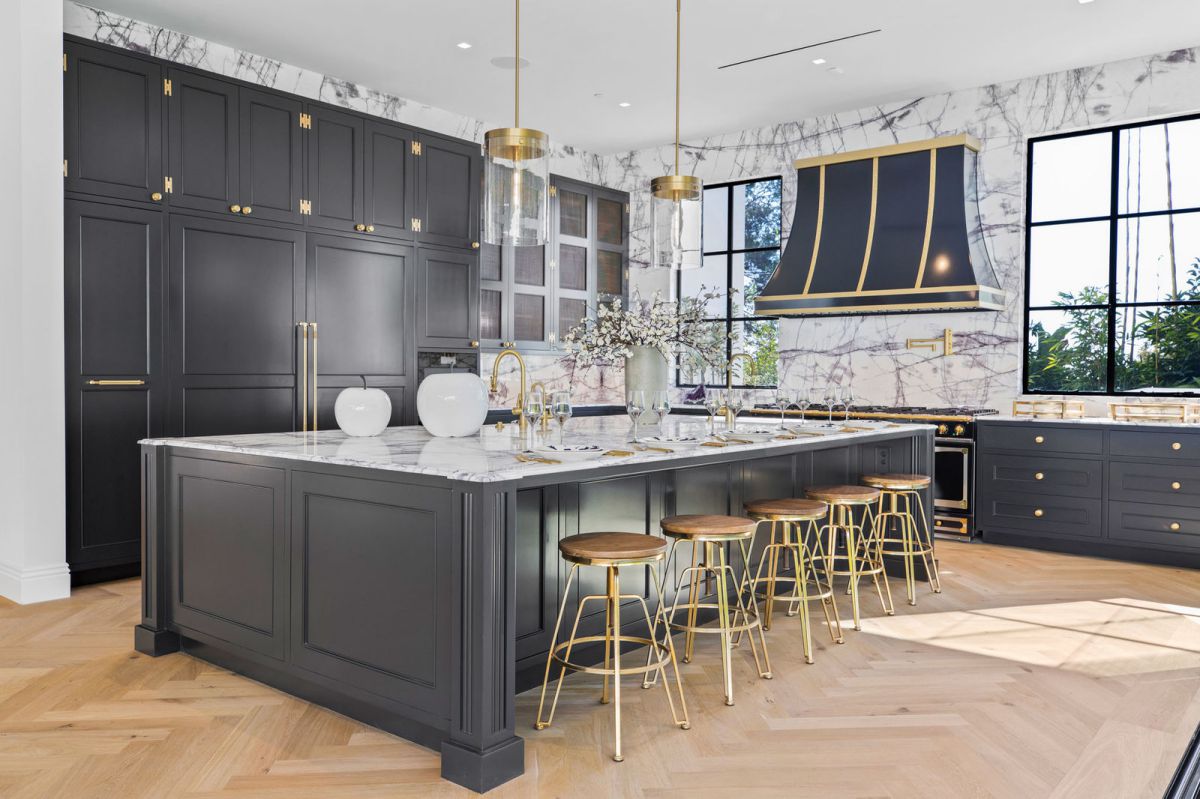 As a Luxury idea for a cottage kitchen. A vintage chandelier or pendant lights can add a touch of elegance and sophistication to your kitchen. Opt for chandeliers with crystal or glass details to create a glamorous look. Alternatively, you can choose pendant lights with a vintage-inspired design to add a touch of rustic charm. Sophisticated Living in Just Listed $14,595,000 New Los Angeles Home
11. Incorporate a Vintage Stove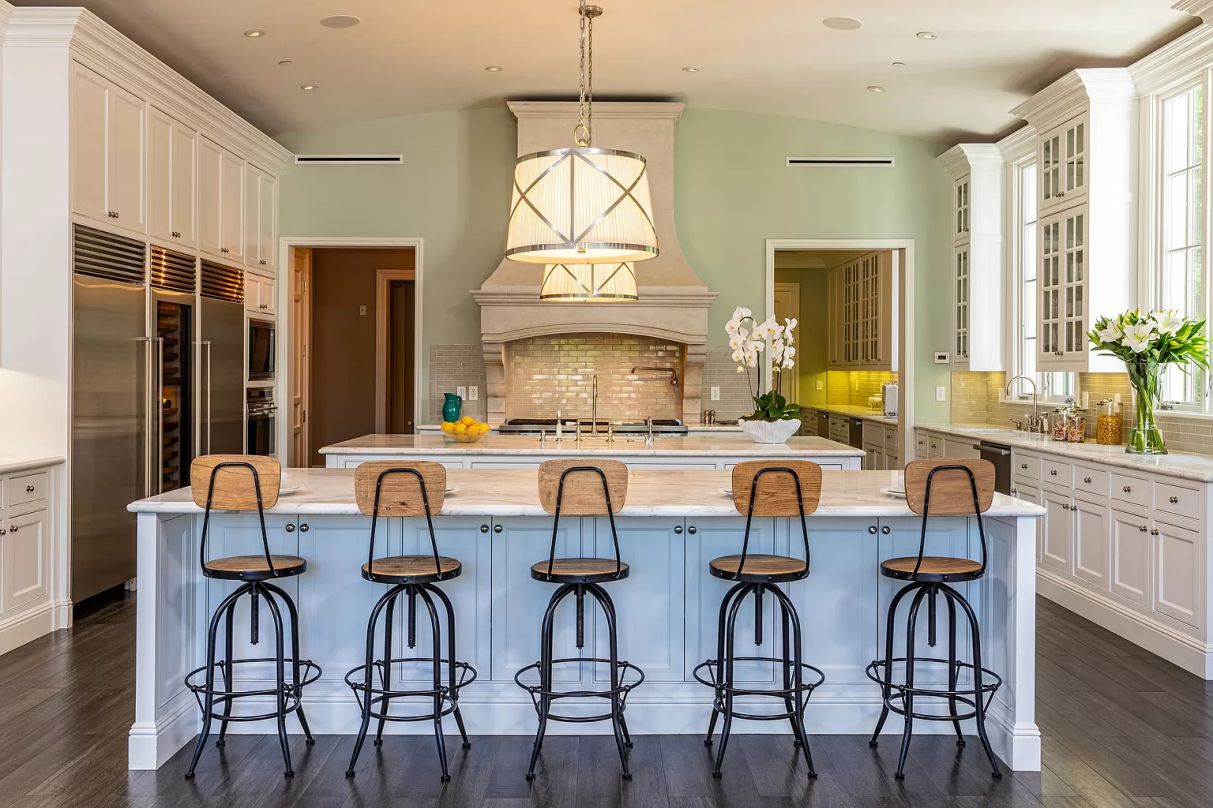 Incorporating a vintage stove or oven can add a touch of retro charm to your cottage kitchen. Look for antique stoves or ovens at second-hand stores or online marketplaces like eBay or Craigslist. Not only do these appliances add character and charm to your kitchen, but they can also be fully functional and reliable. Classically Styled European Estate in Beverly Hills on Market for $26 Million
12. Incorporating Patterned Tiles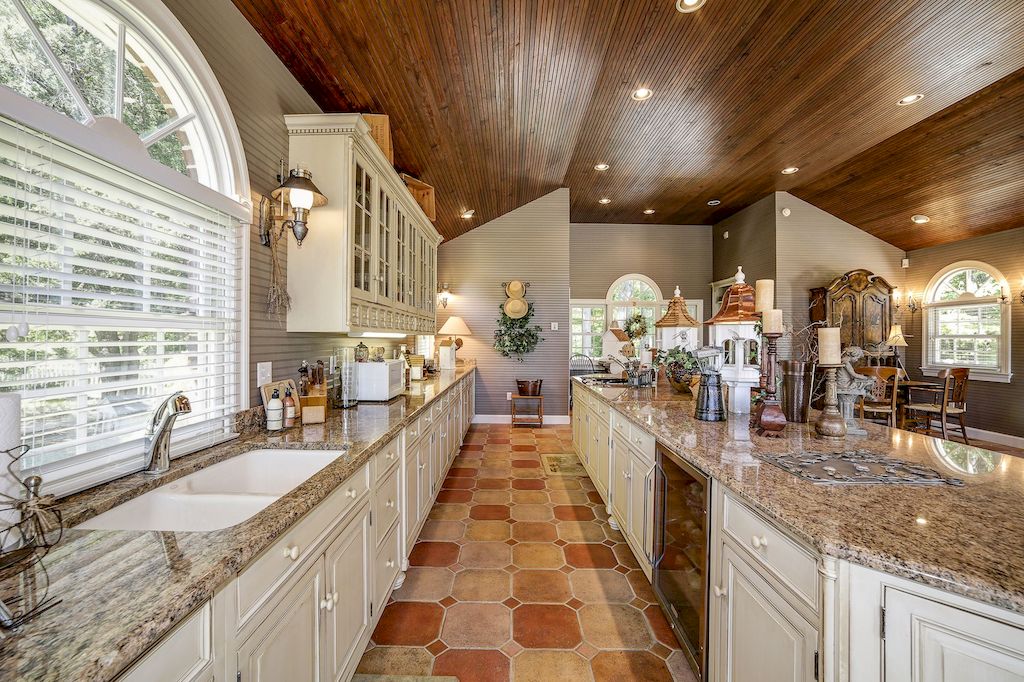 Incorporating patterned tiles can add a playful and colorful look to your cottage kitchen. You can use patterned tiles for your backsplash, floor, or countertop to add a touch of personality and charm. Opt for bold and vibrant patterns or more subtle and delicate designs, depending on your style. Magnificent Home in the Heart of Virginia Hits Market for $10,500,000
13. Install a Plate Rack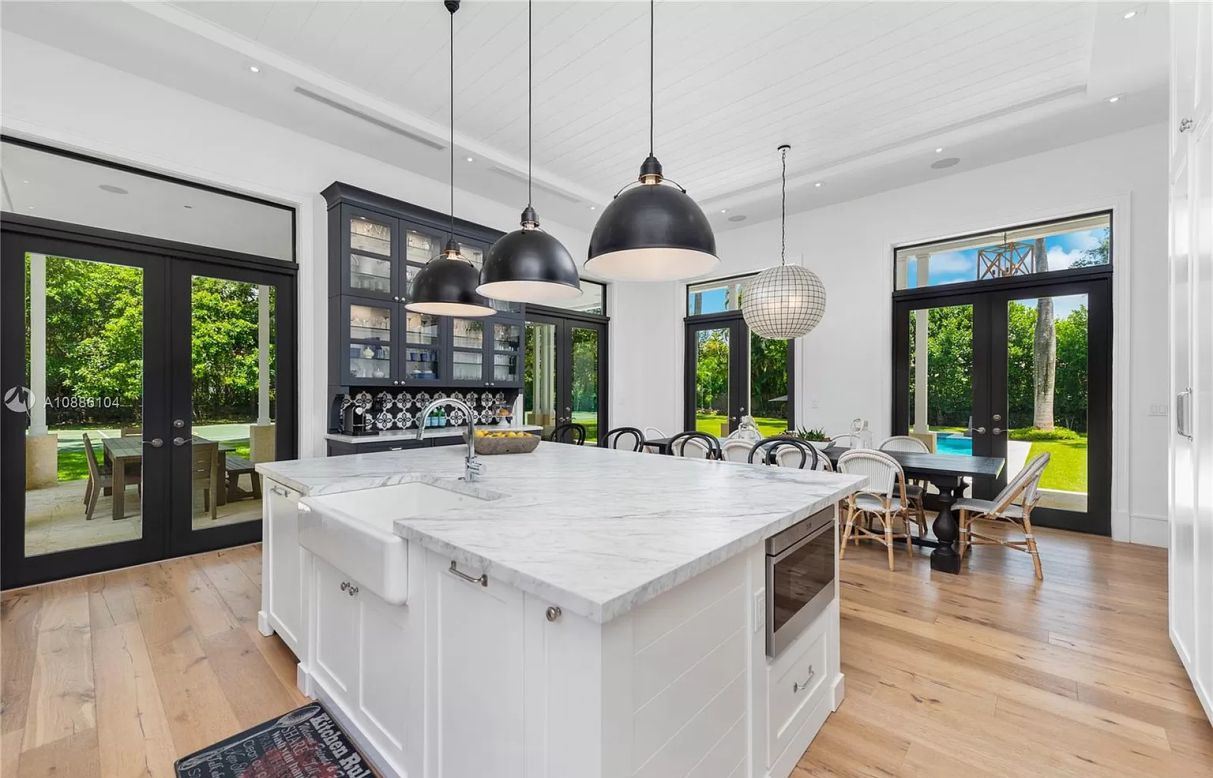 A plate rack is a great way to add storage and charm to a cottage kitchen. They can be installed on the walls or as freestanding units, and are perfect for displaying your favorite plates and dishes. Plate racks can be made from wood, metal, or wrought iron, and can be painted or stained to match the decor of your kitchen. Stunning Hamptons Style Residence in Miami for Sale at $6.2 Million
14. Add a Touch of Whimsy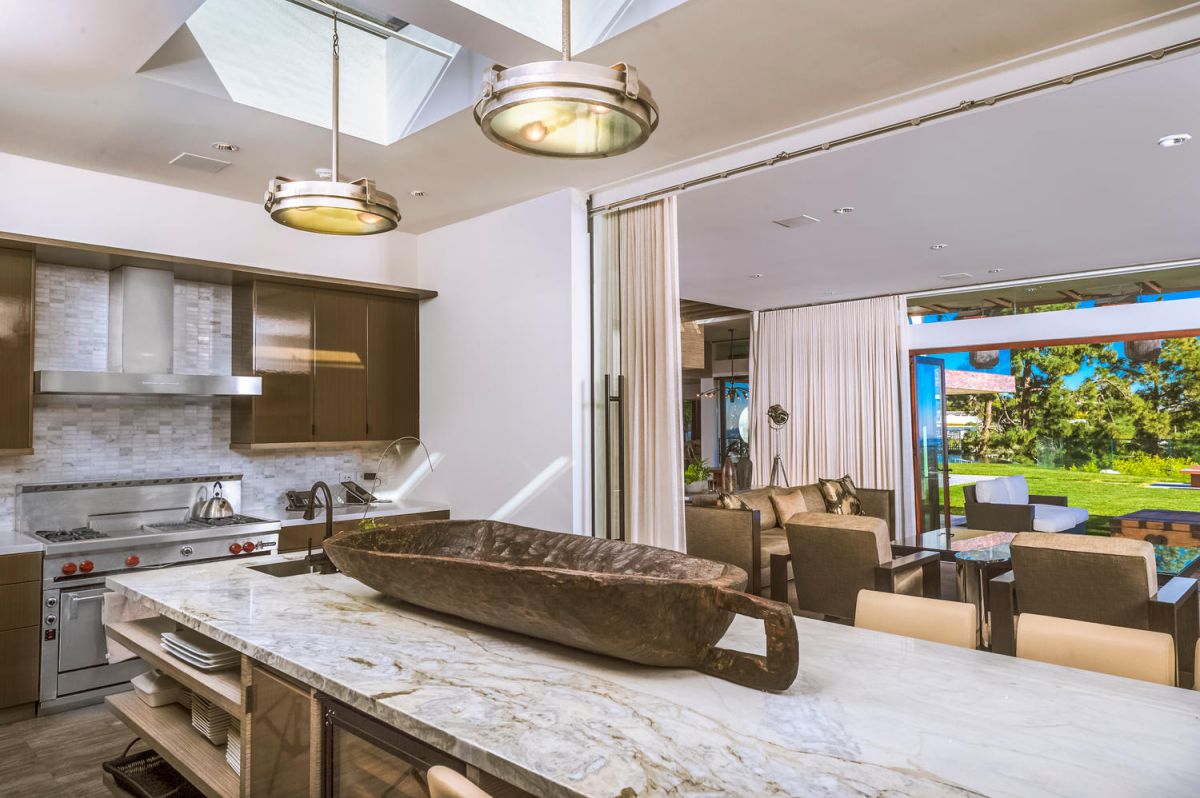 Cottage kitchens are known for their playful and whimsical vibe, so don't be afraid to add a touch of fun to your kitchen design. One way to achieve this is by incorporating unexpected elements such as a patterned tile backsplash, colorful pendant lights, or a unique piece of artwork. You can also experiment with patterned or textured wallpaper to add interest to the walls of your kitchen. Another way to add a touch of whimsy is by incorporating open shelving to display your favorite dishes or adding a chalkboard wall for jotting down notes or grocery lists. Extraordinary Lachman Lane Modern Home with Explosive Unobstructed Ocean Views
15. Embrace Rustic Charm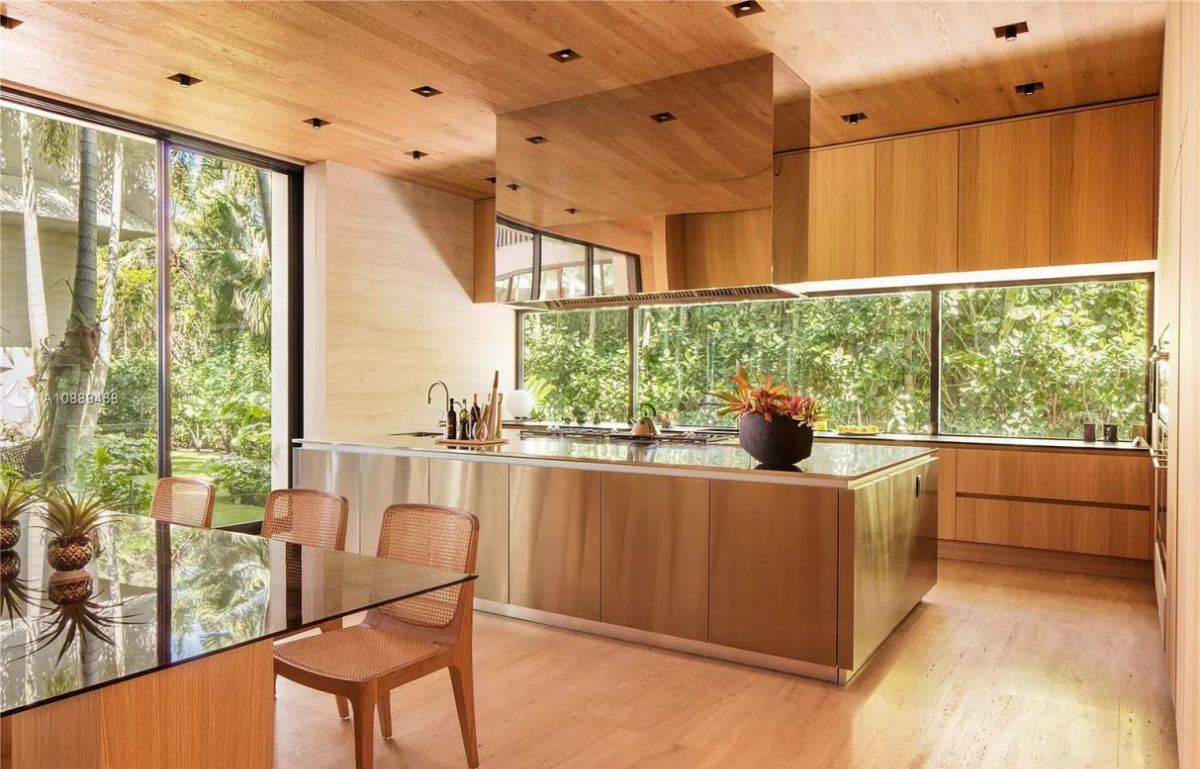 To create a charming cottage kitchen, it's essential to incorporate rustic elements that evoke warmth and coziness. One way to achieve this is by using natural materials such as wood, stone, and brick. For instance, you can opt for a wood-paneled ceiling or exposed wooden beams to add a touch of rustic charm to the space. Another way to infuse rusticity in your kitchen design is by choosing distressed cabinetry that has a vintage look. You can also consider incorporating vintage light fixtures or antique hardware to create an old-world feel in your kitchen. Ultimate Subtropical Modern Home in Bal Harbour returns for $25 Million
In conclusion, designing a charming and functional cottage kitchen is all about embracing the relaxed and casual vibe of this style. By incorporating rustic materials, vintage accents, and soft color palettes, you can create a space that is both inviting and practical. From creating a cozy breakfast nook to adding colorful accents and natural materials, these 20 creative ideas can help you design a delightful cottage kitchen that exudes warmth and comfort. Whether you're renovating your existing kitchen or starting from scratch, let these ideas inspire you to create the cottage kitchen of your dreams. You can check another article 13 Elegant Living Room Ideas to Achieve Dream Space for more creative ideas.
More Ideas For Living Room:
---
Thousand of high quality images of Living room and more you can see at Livingroom Gallery.