Date of Publishing:
Creative industrial kitchen ideas.
If you are thinking about renovating or designing a new kitchen, an industrial kitchen can be a great option. This type of kitchen design is known for its modern, minimalist aesthetic and focus on functionality. Industrial kitchens are often seen in commercial settings like restaurants and cafes, but they can also work well in a residential kitchen. In this article, we will discuss ten creative ideas for designing an industrial kitchen that will make your space both stylish and practical.
1. Add Greenery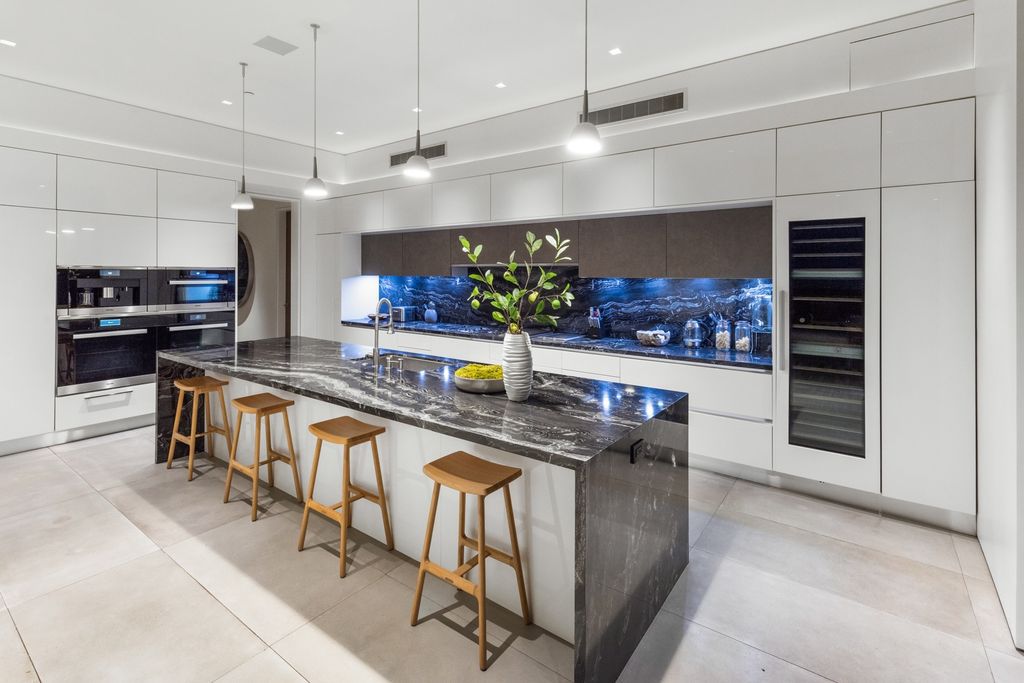 One way to add a touch of warmth and natural beauty to your industrial kitchen is by incorporating plants. Plants not only add life and color to a space, but they also have numerous health benefits. They can improve air quality by filtering out pollutants and releasing oxygen into the air, making your kitchen a healthier and more comfortable space to spend time in. There are many ways to incorporate plants into your industrial kitchen. If you have a windowsill, consider creating a small herb garden where you can grow fresh herbs to use in your cooking. Not only will this add visual interest to your space, but it will also provide you with fresh and flavorful ingredients to enhance your meals. This $12,995,000 Architectural Home in Los Angeles offers Captivating City and Ocean Views
2. Don't Forget About Lighting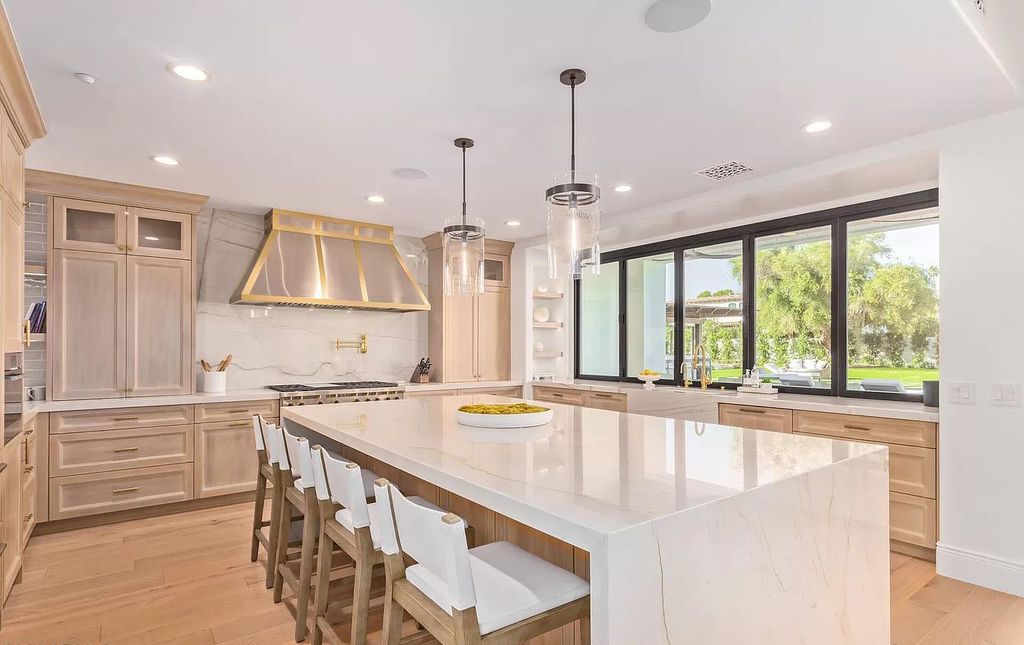 Lighting plays a crucial role in the design of any kitchen, including industrial kitchens. To create a cozy and welcoming ambiance, it's advisable to use pendant lights that have an industrial vibe or exposed bulbs. Additionally, incorporating natural light through large windows or skylights can further enhance your kitchen's aesthetics. Spectacular Arizona Estate hits Market for $7,250,000 with soaring mountain views
3. Use Reclaimed Materials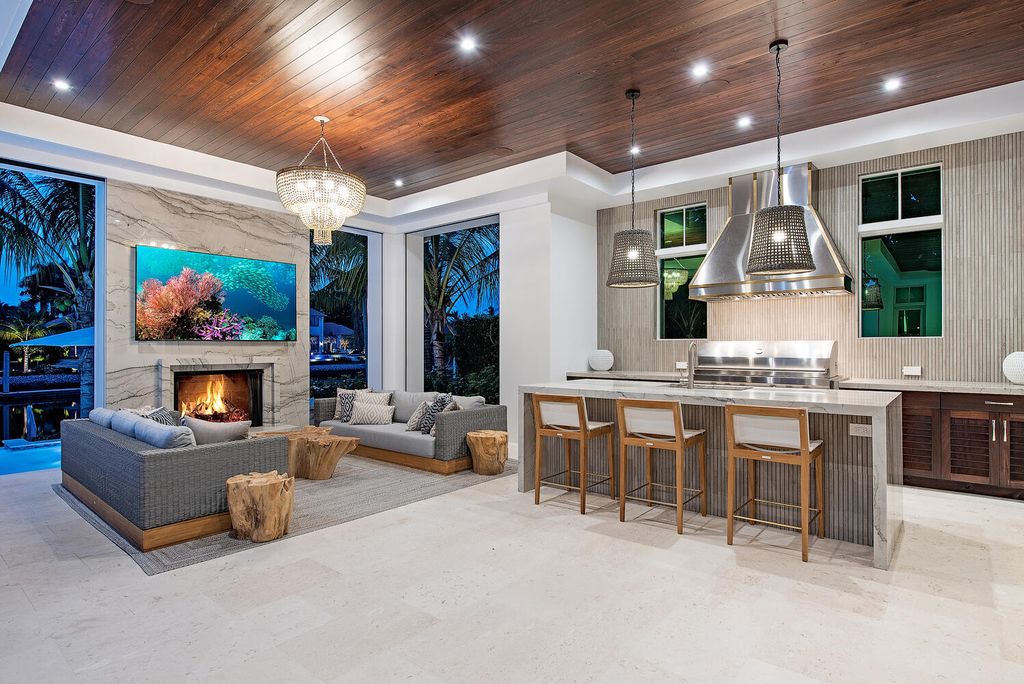 Using reclaimed materials in your industrial kitchen not only benefits the environment but also adds a touch of character and warmth. You may want to think about utilizing reclaimed wood for your countertops, flooring, or shelving, as well as repurposing old industrial equipment, such as metal pipes or pulleys, to create distinctive accent pieces. This approach allows you to create a truly unique and eco-friendly space that showcases your style and values. Impeccably Appointed Home in Naples Recently completed on the Market for $22,495,000
4. Create a Focal Point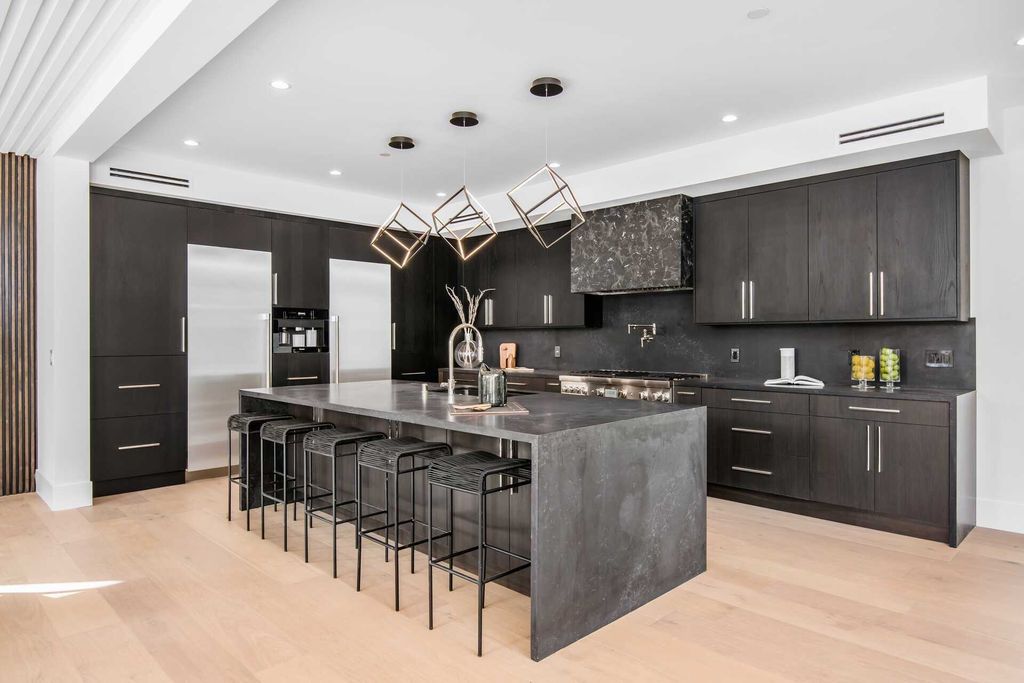 Incorporate a focal point into your industrial kitchen to draw the eye and add visual interest. This could be a statement light fixture, a textured backsplash, or a unique piece of artwork. A focal point can help break up the monotony of a neutral color palette and add a personal touch to your space. Absolutely Stunning Brand New Home in Bell Canyon features Impeccable Amenities for Sale at $4,399,000
5. Add a Pop of Color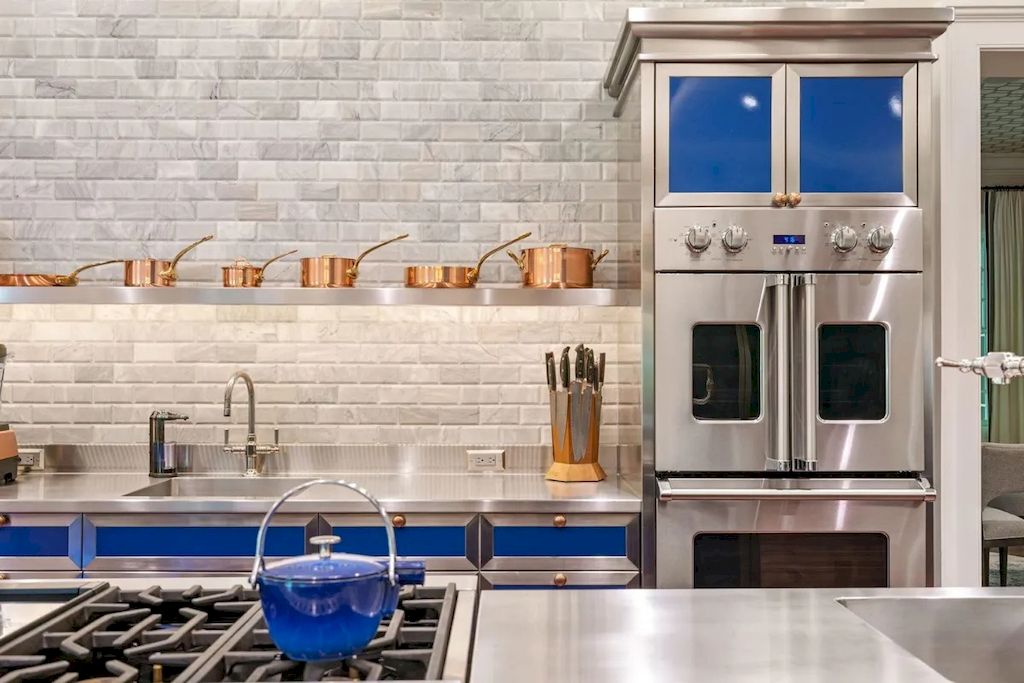 If you want to add a bit of personality to your industrial kitchen, consider adding a pop of color. A bright red backsplash, a bold blue island, or a vibrant yellow fridge can add a playful touch to your space while still maintaining its industrial edge. Tremendous and Noteworthy Residence in Virginia on Market for $14,700,000
6. Mix and Match Styles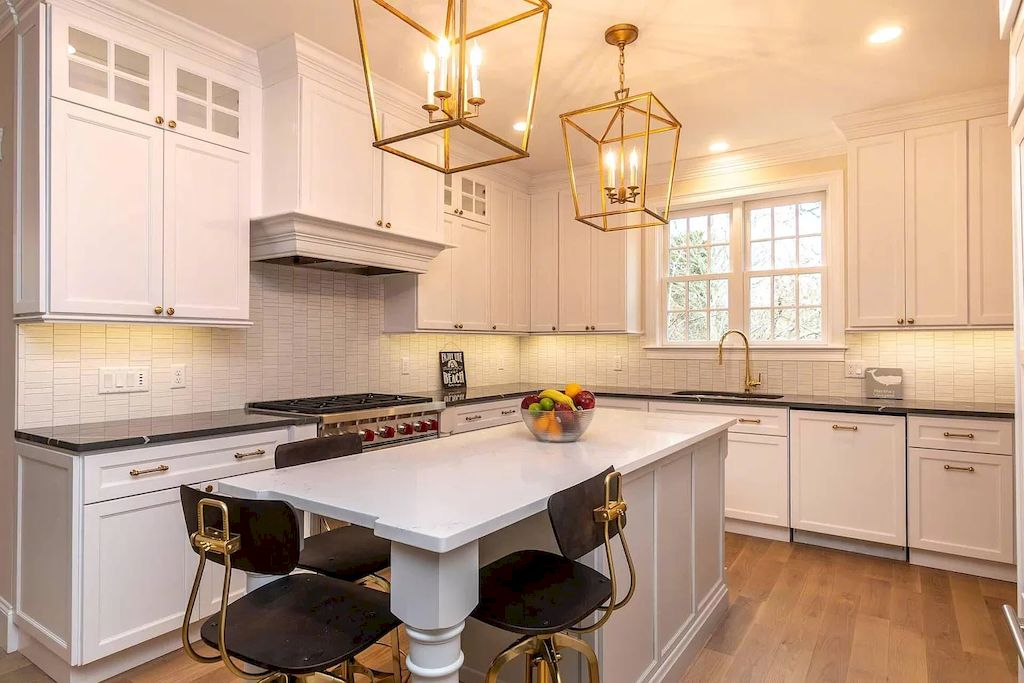 While an industrial kitchen is known for its minimalist aesthetic, that doesn't mean it has to be boring. Mix and match styles to add visual interest to your space. Consider adding a vintage pendant light or an industrial-style bar cart to your modern kitchen. Or, add a touch of glam with a brass faucet or gold-accented cabinet hardware. Gracious Colonial-style Retreat in Massachusetts Features Open-designed Floor Plan Listed for $4,995,000
7. Keep It Simple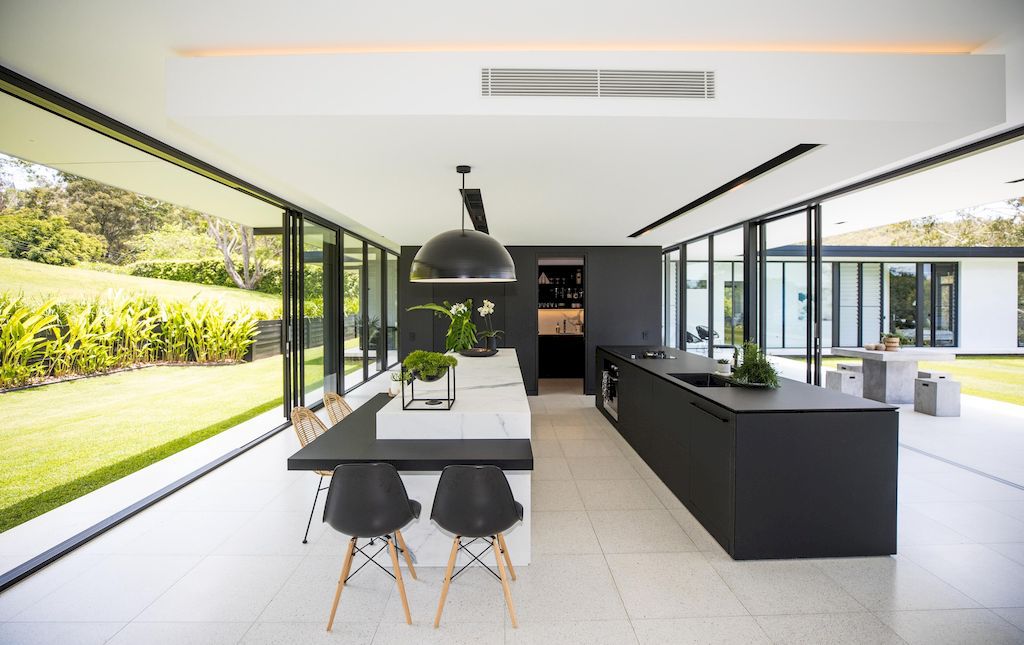 The key to achieving an industrial look in your kitchen is to keep it simple. Avoid clutter and unnecessary decoration, and instead focus on clean lines and minimalism. Opt for neutral colors like black, white, and gray, and consider using matte finishes instead of glossy ones. The Doonan Glasshouse, a resort-style residence by Sarah Waller Design
8. Focus on Functionality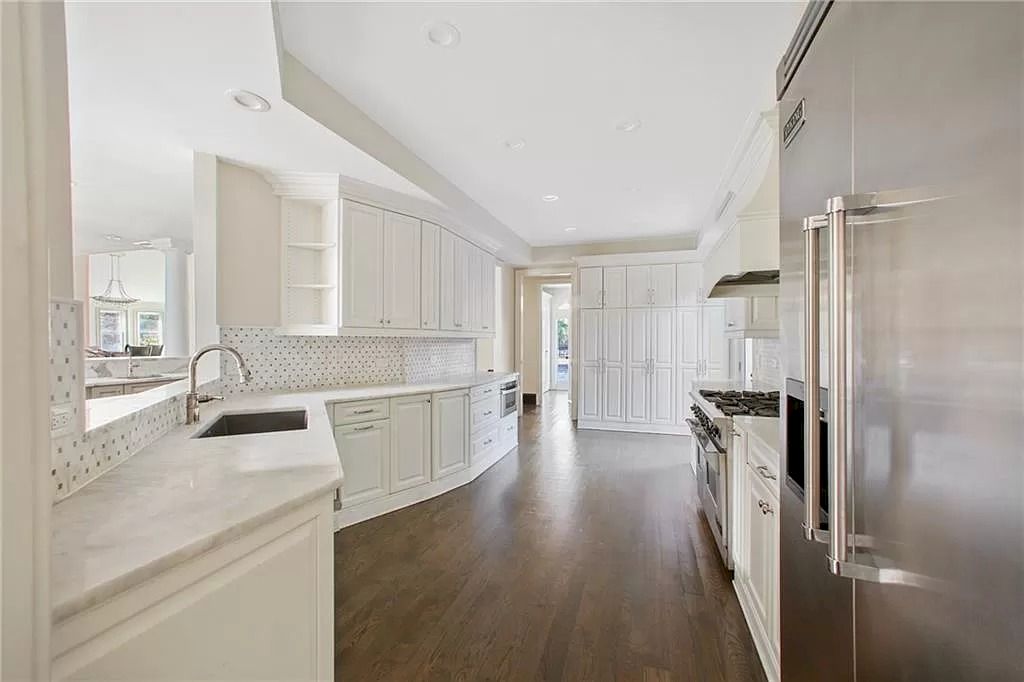 An industrial kitchen is all about function over form. When designing your kitchen, prioritize functionality by choosing appliances and fixtures that are both durable and efficient. Consider a commercial-grade range, a large sink with a pull-down faucet, and ample counter space for food prep. You can also add industrial-style storage solutions like open shelving, metal racks, and wire baskets to keep your kitchen organized and efficient. This $3,100,000 Palace Fulfills Whatever You Desire in Georgia
9. Choose Industrial Materials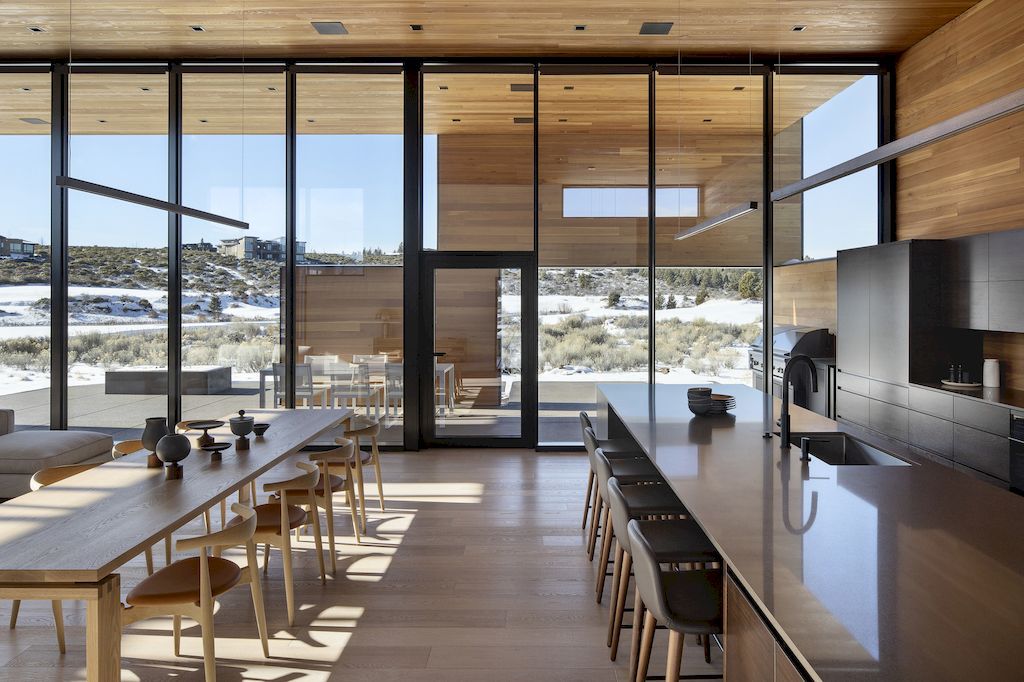 In addition to metal finishes, industrial kitchens often feature materials like concrete, brick, and reclaimed wood. These materials add texture and warmth to the space, while also giving it an industrial edge. Consider incorporating concrete countertops or flooring, exposed brick walls, or reclaimed wood accents in your kitchen design. High Desert Residence in volcanic Oregon landscape by Hacker Architects
10. Incorporate Metal Finishes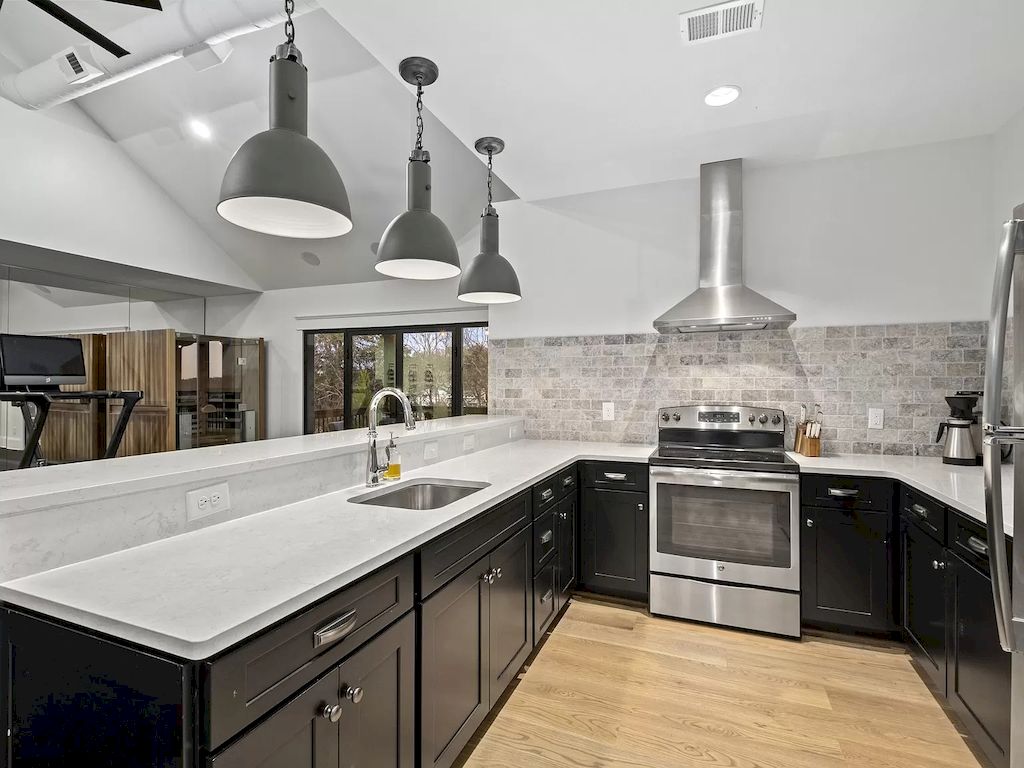 One of the most defining characteristics of an industrial kitchen is the use of metal finishes. Stainless steel, brushed nickel, and chrome are all popular choices for industrial kitchen design. You can incorporate metal finishes into your kitchen by using stainless steel appliances, faucets, and lighting fixtures. Metal shelving and racks can also be used to add storage and visual interest to your space. Quintessential White Farmhouse with Expansive Hilltop Views in Tennessee Priced at $7,000,000
11. Add an Island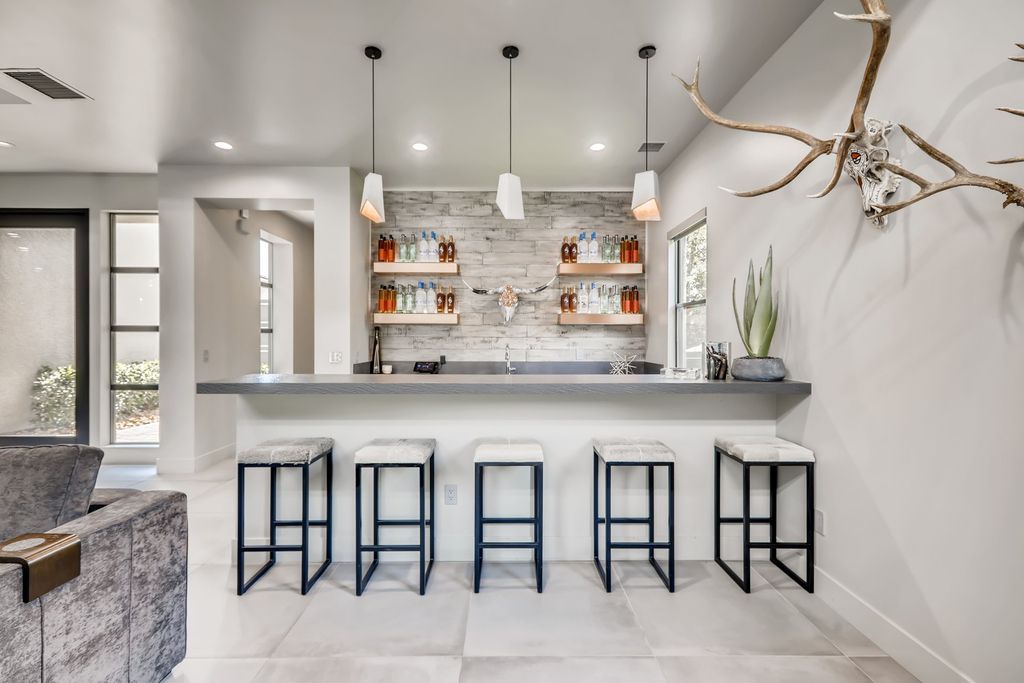 To ensure that your industrial kitchen island fits the overall style of the room, consider using reclaimed wood or metal for the base of the island. This will add an additional industrial touch that will tie the island into the rest of the design. You could also choose to incorporate other industrial elements into the island, such as metal accents or a concrete countertop, for a truly cohesive look.Amazing Desert Contemporary home in Nevada asking for $3,800,000
12. Opt for Open Shelving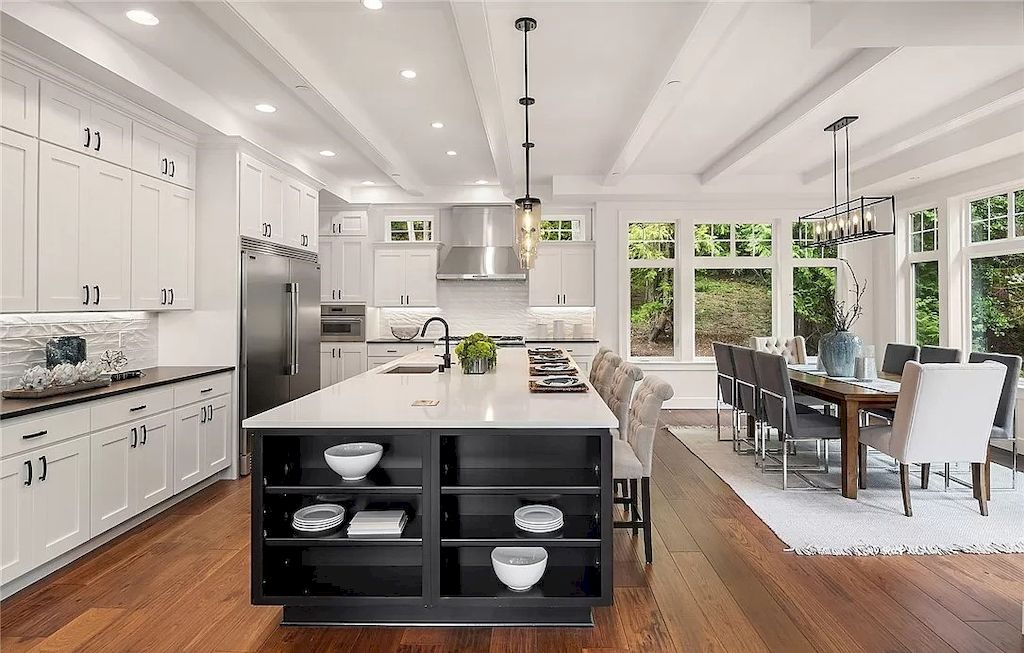 Another popular choice for industrial kitchen design is open shelving. Open shelving allows you to showcase your favorite dishes and kitchen accessories, adding a personalized touch to the space. But it also adds to the overall industrial aesthetic of the room, which is all about showcasing the raw materials and utilitarian function of the space. Soar with Eagles and Take in Majestic Mountain Views in $3,095,000 Hollywood Hill Estate
13. Choose Durable Materials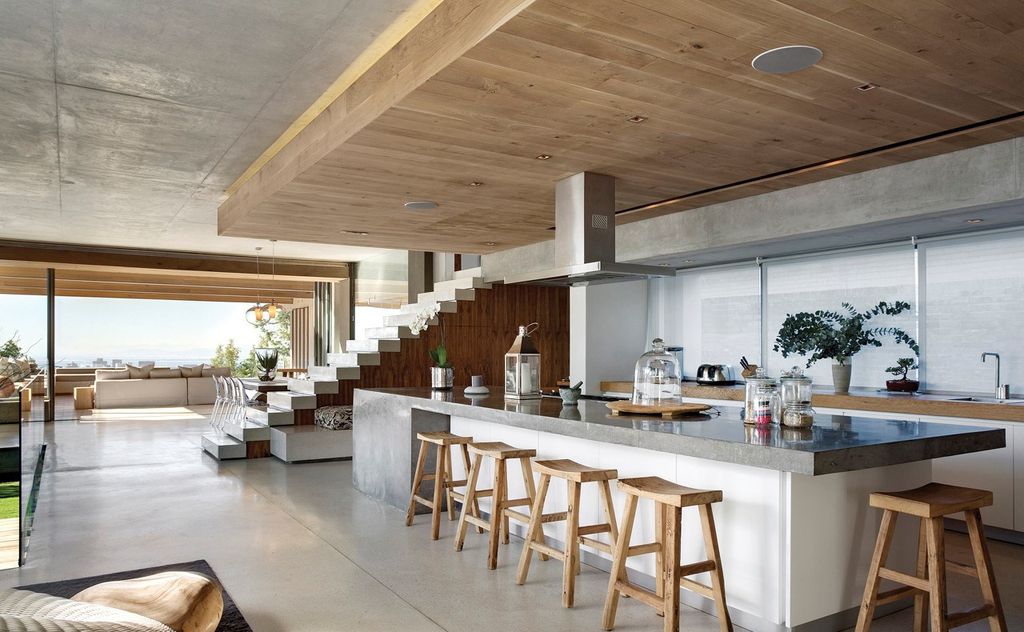 To create an effective industrial kitchen, it is important to choose materials that are both durable and functional, while also having an appealing style. Industrial kitchens are known for their heavy-duty cooking and entertaining, so it's essential that the materials can withstand daily wear and tear. Concrete is a versatile material that can be used for both flooring and countertops. It has a natural, industrial look that enhances the overall design of the kitchen, and it is also easy to clean, making it an ideal choice for busy kitchens. That is why concrete is a popular option for industrial kitchens. This also could be a wonderful Luxury idea. Glen 2961 House, an Incredible Modern Project in South Africa by SAOTA
14. Play with Texture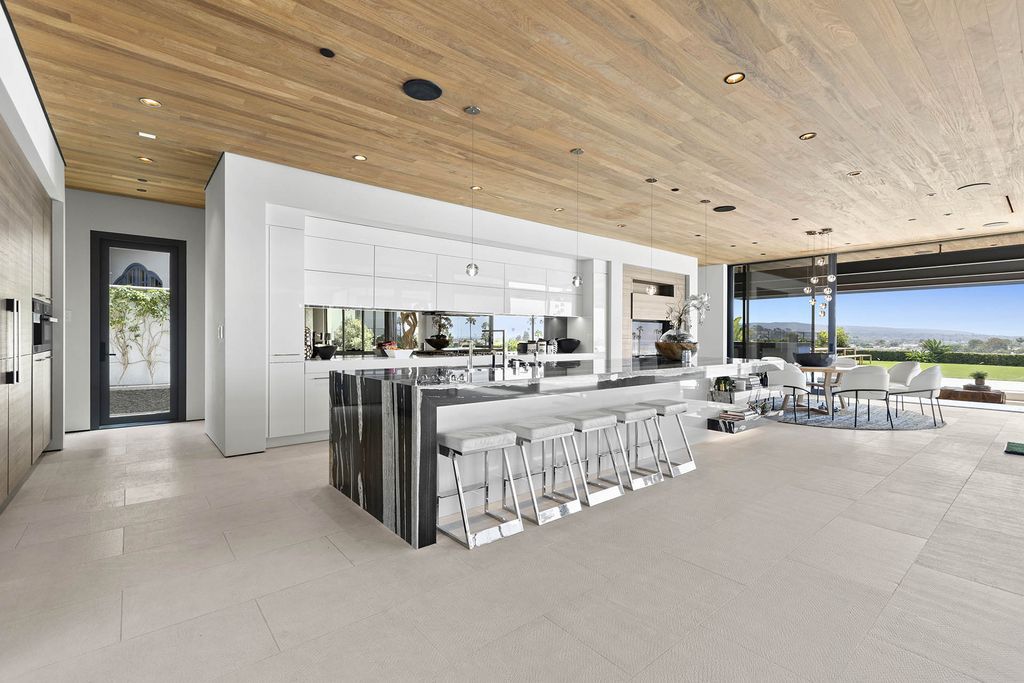 You have many options to choose from when designing an industrial kitchen. One popular choice is using rough-hewn wood. It adds warmth and depth to the space, particularly when utilized for an island or shelving. Concrete countertops are also a great way to incorporate texture, as they can be finished in various ways to achieve diverse patterns and textures. Spectacular Arizona Estate hits Market for $7,250,000 with soaring mountain views
15. Go for an Open Floor Plan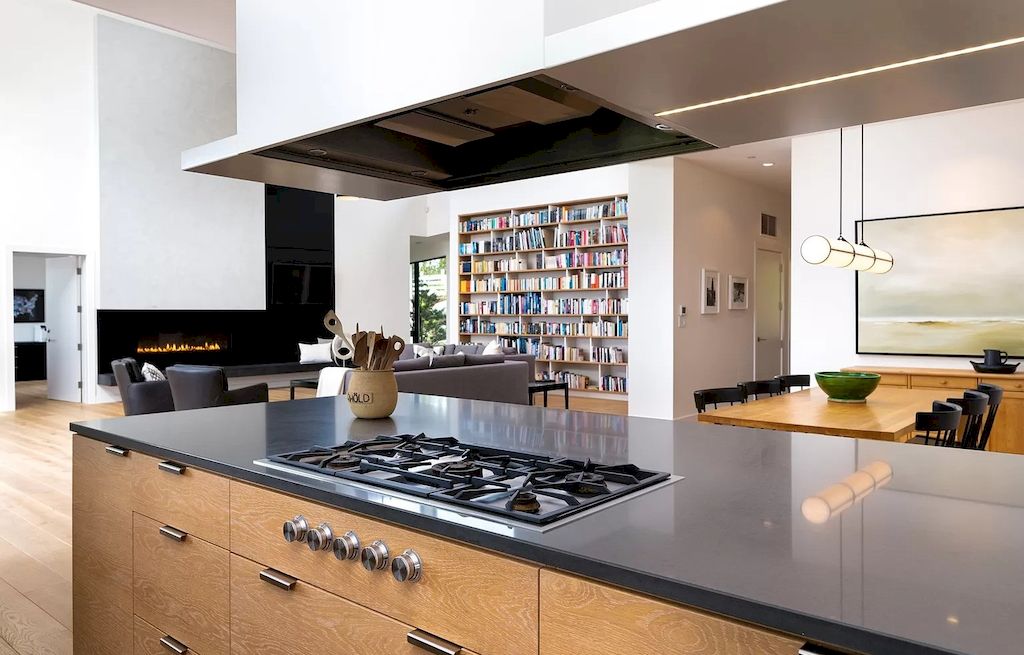 Choosing an open floor plan for your home's kitchen can have numerous benefits beyond just creating a spacious and airy atmosphere. One major advantage is the increased socialization and connectivity between different areas of the home. By removing walls or barriers that traditionally separate the kitchen from other living spaces. For example, in the dining or living room, an open floor plan encourages people to interact and communicate more freely. This can be especially beneficial for families with young children or those who like to entertain guests frequently. Astonishing Modern Home in Oregon with Impressive Equestrian Facilities Listing for $5,200,000
Industrial kitchen design can give your space a unique and interesting look by combining raw materials with refined touches. You can mix textures, add vintage finds, and use pops of color to create a functional yet stylish kitchen. You can achieve this design by using open shelving, industrial lighting, and other elements. Whether you're a professional chef or simply love to cook, consider adding industrial elements to your kitchen for a beautiful and functional space. For more amazing ideas, you can refer to another article that is available for your reference: Top Small Living Room Designs To Make The Most Of Your Space
More Ideas For Living Room:
---
Thousand of high quality images of Living room and more you can see at Livingroom Gallery.