Date of Publishing:
Interesting Splashback Ideas.
The splashback in your kitchen is not just a practical element that protects your walls from splatters and spills and it's also an opportunity to showcase your personal style and add visual interest to the space. With a wide range of materials, colors, patterns, and textures available, the design possibilities for your splashback are endless. Whether you prefer a sleek and modern look or a charming and rustic ambiance, there are numerous splashback ideas that can transform your kitchen into a truly unique and inviting space. Thus, we will explore a variety of splashback ideas that range from traditional to contemporary, allowing you to find inspiration and discover the perfect design that suits your taste and complements your kitchen's overall aesthetic. So, let's dive in and explore the exciting world of splashback design!
1. Geometric Patterns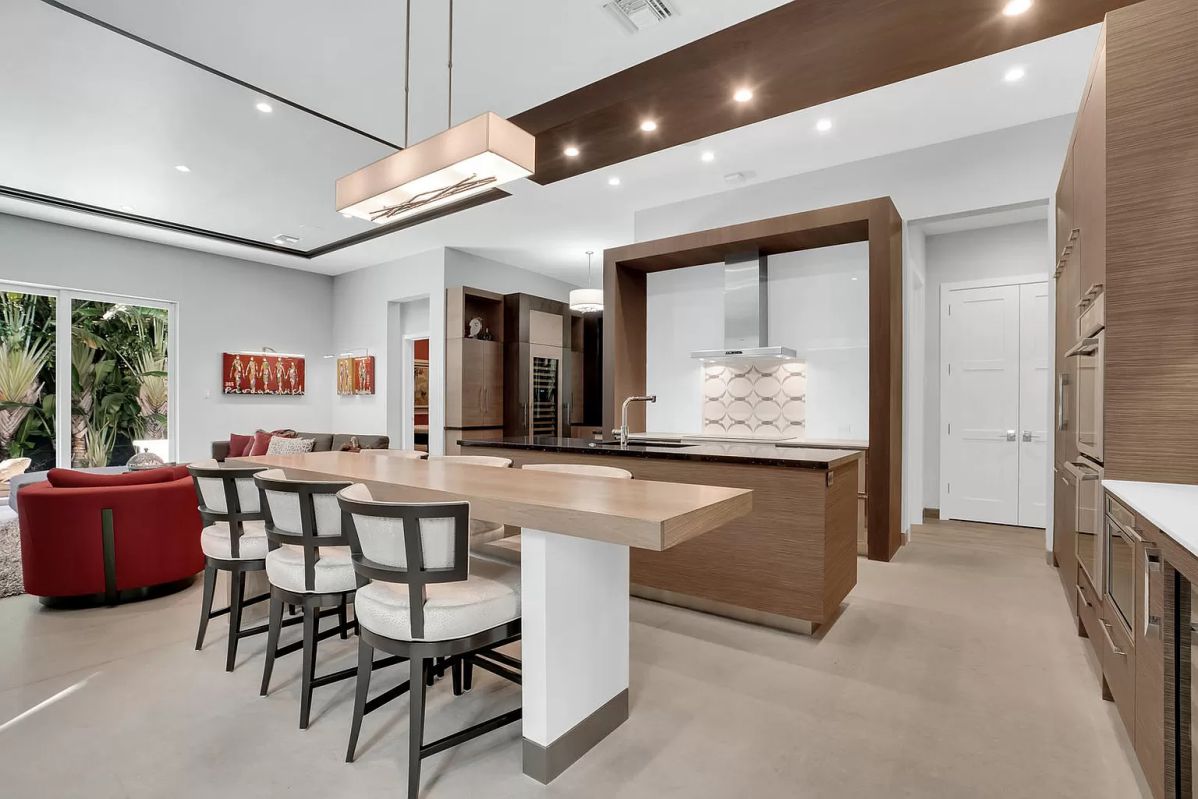 Create a modern and visually striking splashback by utilizing geometric patterned tiles. Whether it's a repetitive chevron design, a captivating interlocking motif. Also, mesmerizing tessellation, and geometric patterns can add a contemporary touch to your kitchen while still maintaining a sense of elegance and sophistication. A Poinciana Drive Modern Home in Fort Lauderdale Listed for $4,175,000
2. Sustainable Materials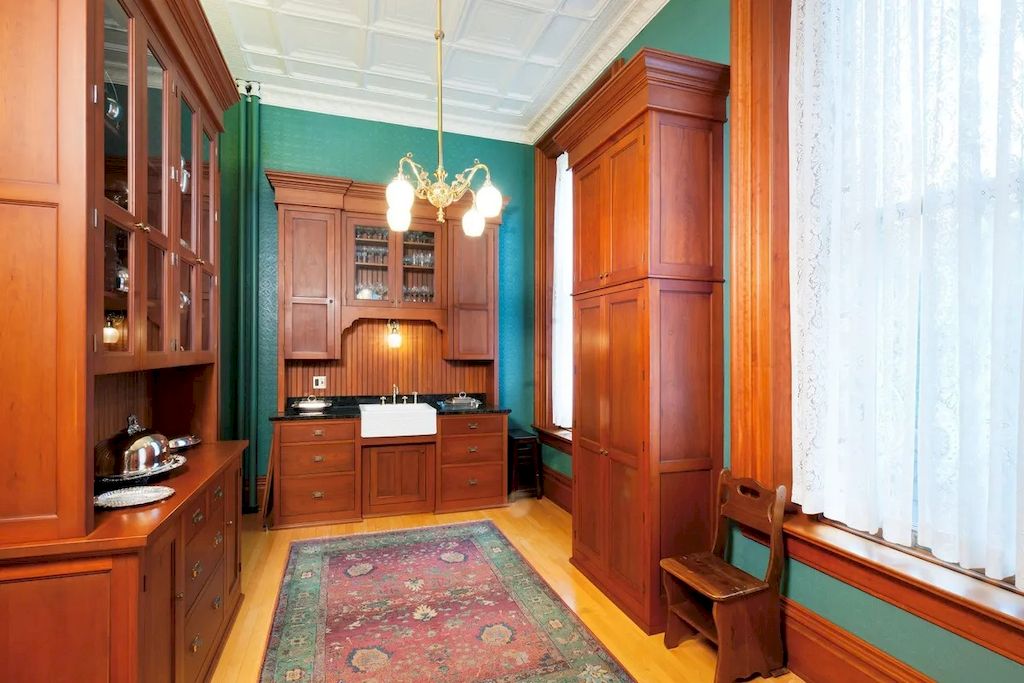 Embrace eco-friendly living by opting for splashback materials made from sustainable resources. Additionally, consider using recycled glass tiles or reclaimed wood panels to create a unique and environmentally conscious design. Not only will you contribute to reducing waste, but you'll also add a distinctive element to your kitchen that reflects your commitment to sustainability. This $3,280,000 Remarkable Residence is Truly a Piece of Art in Pennsylvania
3. Use Bold Colors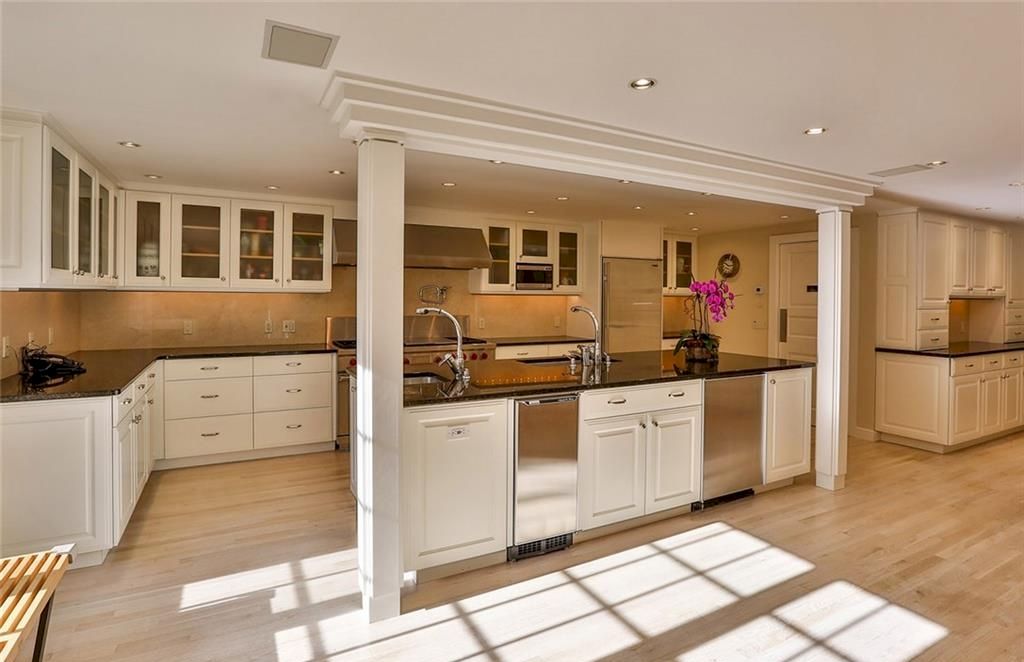 Metallic splashbacks will add a touch of glitz and grandeur to your kitchen. Furthermore, metallic tiles can instantly improve the aesthetic appeal of your kitchen if you choose sparkling gold, elegant silver, or fashionable copper. As a result, the reflective surfaces exude luxury and provide a gorgeous backdrop for your kitchen. Beautifully Maintained Compound Offers Complete Privacy in Connecticut Listed for $3,950,000
4. Pattern Play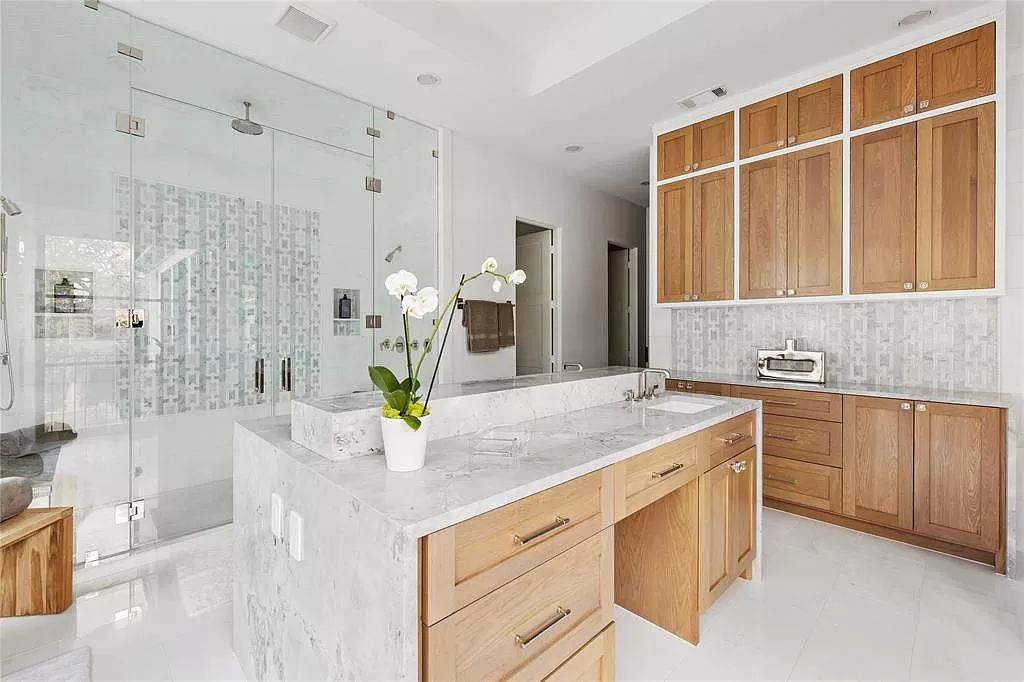 Break away from conventional tile layouts and embrace creative patterns for your splashback. Furthermore, to add visual interest and depth, experiment with herringbone, basketweave, or chevron arrangements. For instance, mixing and matching different tile shapes and sizes can create a dynamic and playful look that transforms your splashback into a captivating focal point. This $5,995,000 Brand New Houston Home is Absolutely Stunning and Inviting
5. Nature-inspired Tiles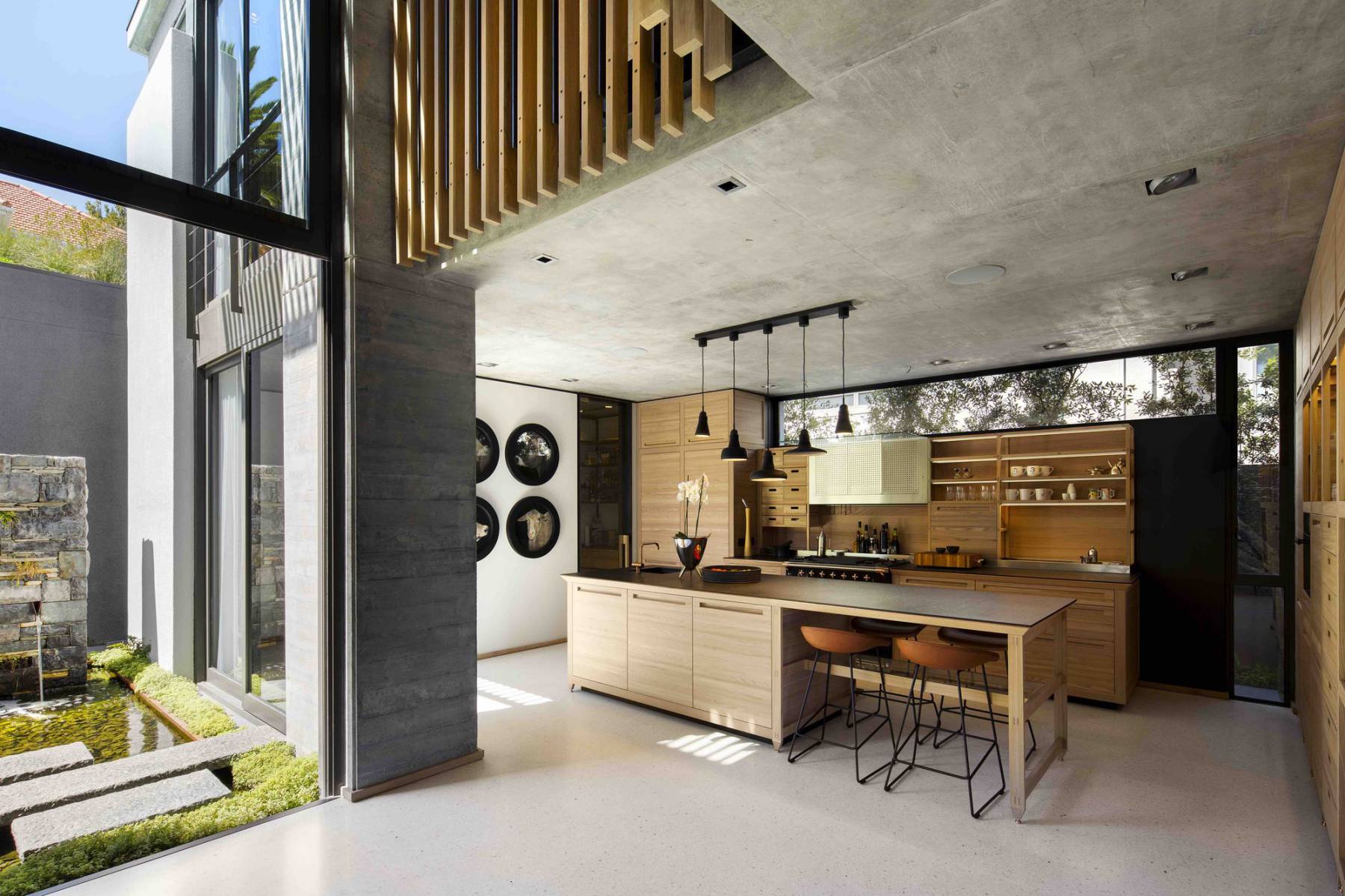 Nature-inspired tiles for your splashback will bring the beauty of nature within. Choose tiles that resemble natural elements such as wood, stone, or even floral designs. Furthermore, these tiles can create a relaxing and organic ambience, linking your kitchen to the peace and tranquillity of the outdoors. Clifton Modern Home in Cape Town by Malan Vorster Architects
6. Pop of Color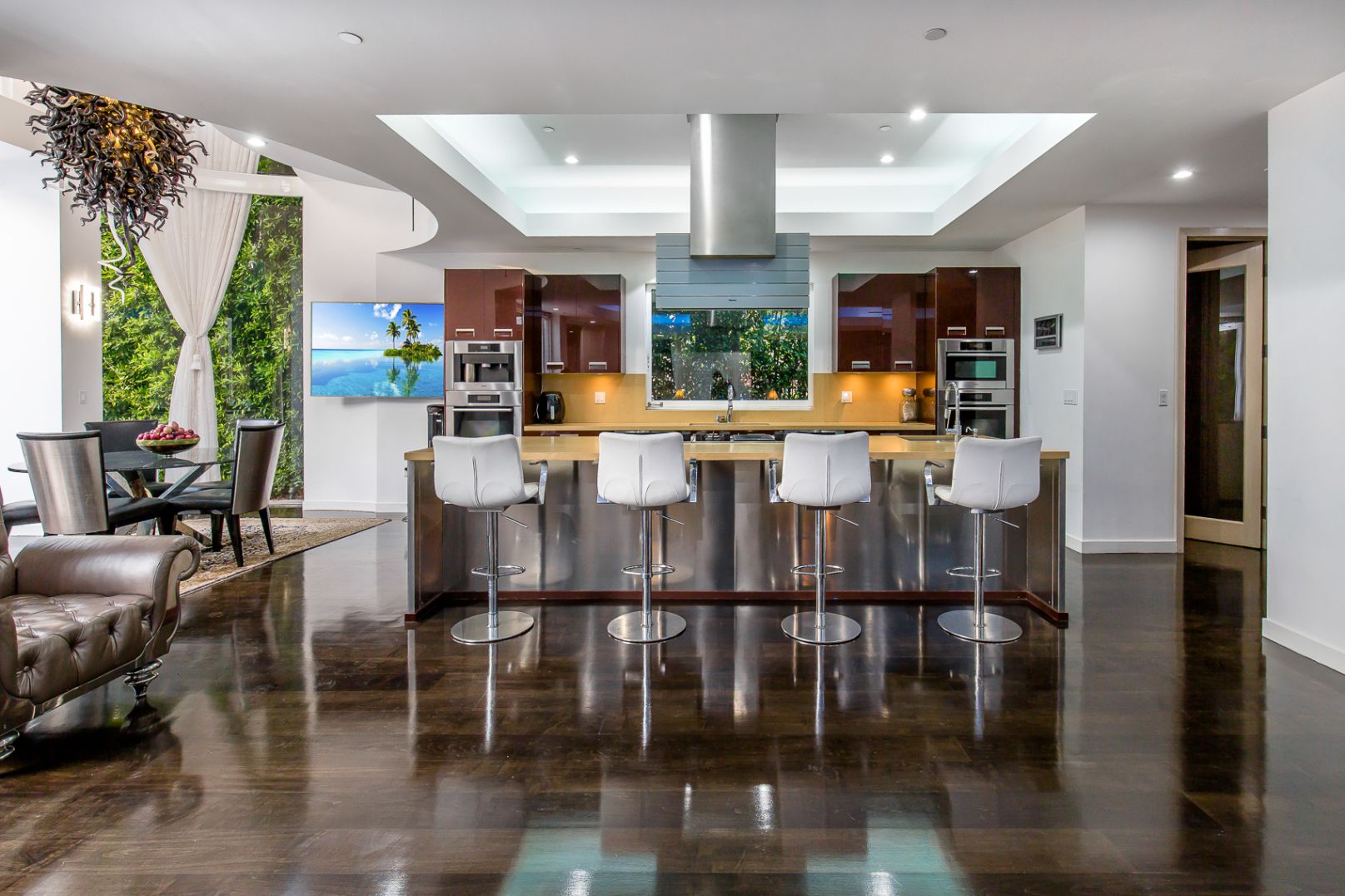 Infuse your kitchen with energy and vibrancy by incorporating a bold pop of color into your splashback design. Moreover, whether it's a single brightly colored tile interspersed among neutral tiles or a mosaic of vivid hues, a splash of color can liven up your kitchen and express your personal style. Stunning Georgina Avenue Modern Home in Sata Monica, California
7. Glass Panel Elegance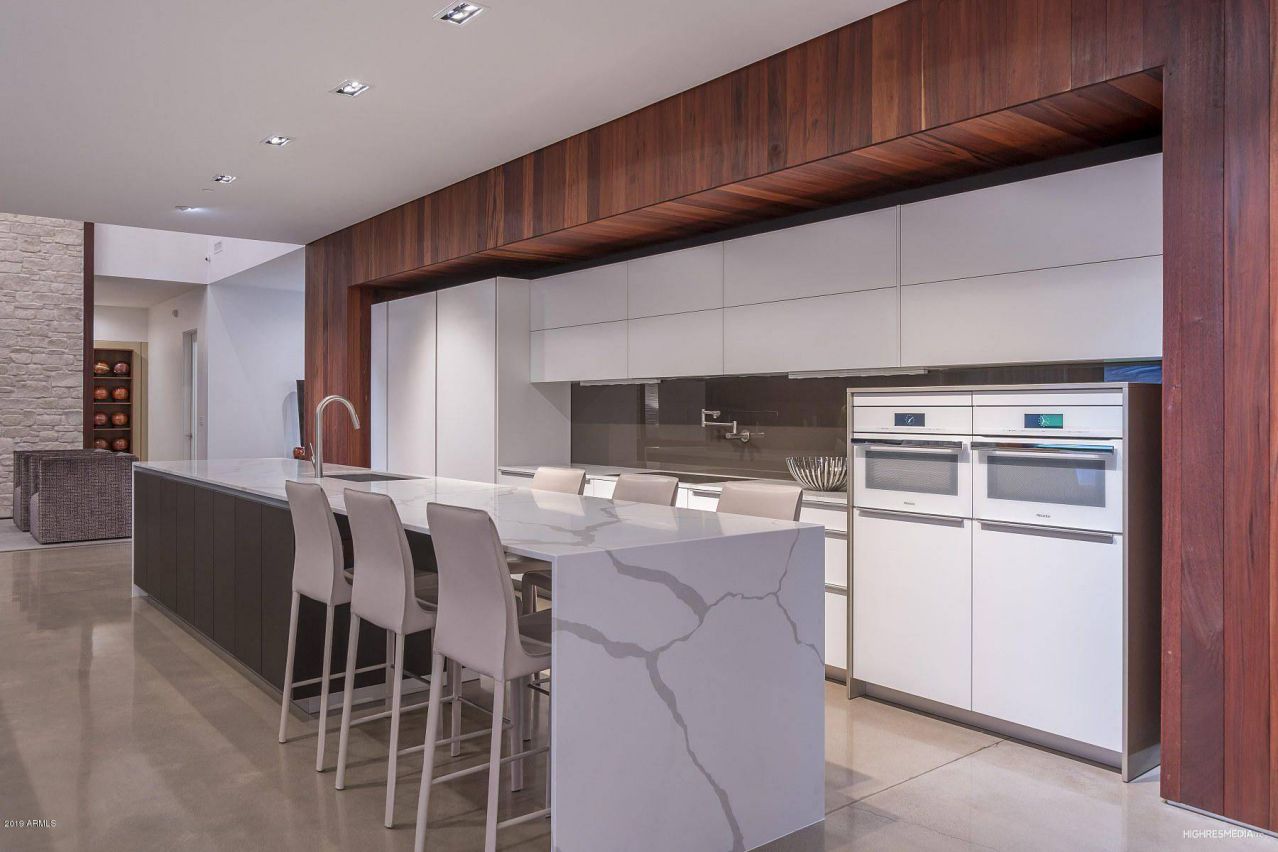 Opt for sleek and minimalist glass panels as your splashback to achieve a streamlined and sophisticated look. Additionally, available in various colors and finishes, glass panels provide a seamless and easy-to-clean surface that enhances the overall aesthetic of your kitchen. This also could be a wonderful Luxury idea. $6.995 Million Modern Masterpiece in Paradise Valley
8. Textured Tiles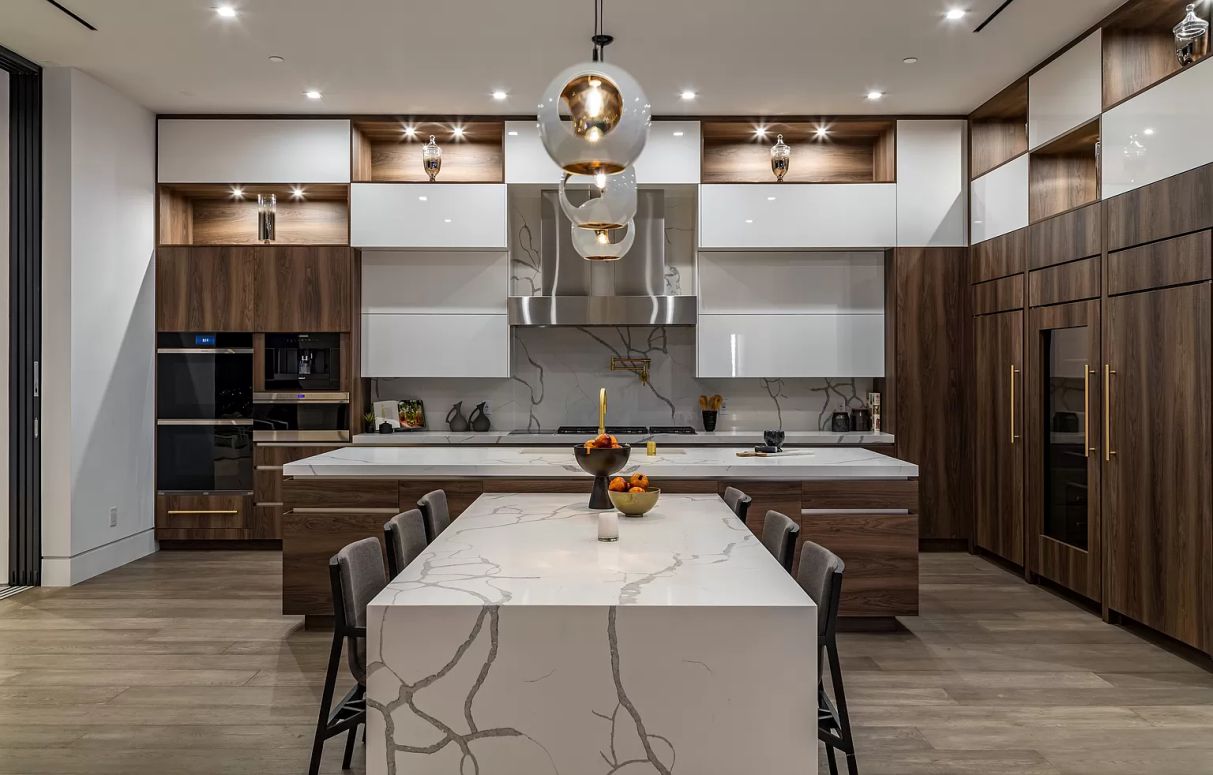 Add depth and tactile interest to your splashback with textured tiles. It's a raised relief pattern, a three-dimensional design, or a rough surface, textured tiles can create a captivating visual and sensory experience in your kitchen. Therefore, they can help conceal any imperfections or stains that may occur over time. One of the Bel Air's Newest Modern Mansions Listed for $19,899,000
9. Sleek Stainless Steel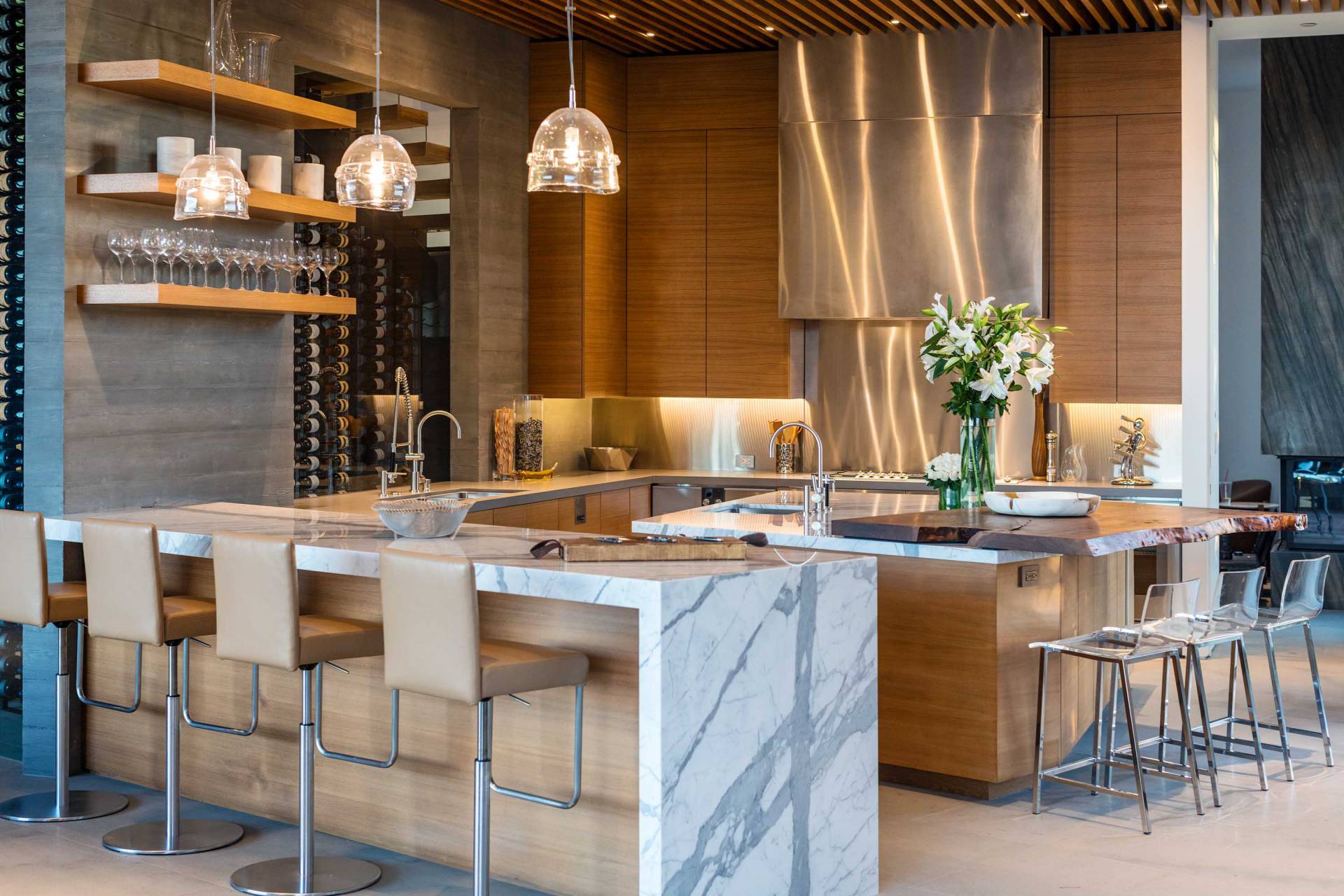 Choose a brushed or matte finish to enhance the sleekness of stainless steel. Furthermore, this gives a subtle texture to the splashback, giving it a more refined and elegant appearance. As a result, the stainless steel's reflective surface helps to bounce light throughout the kitchen, making it appear brighter and more spacious. Gilcrest Drive Modern Mansion in Los Angeles by Bonura Building
10. Natural Stone Beauty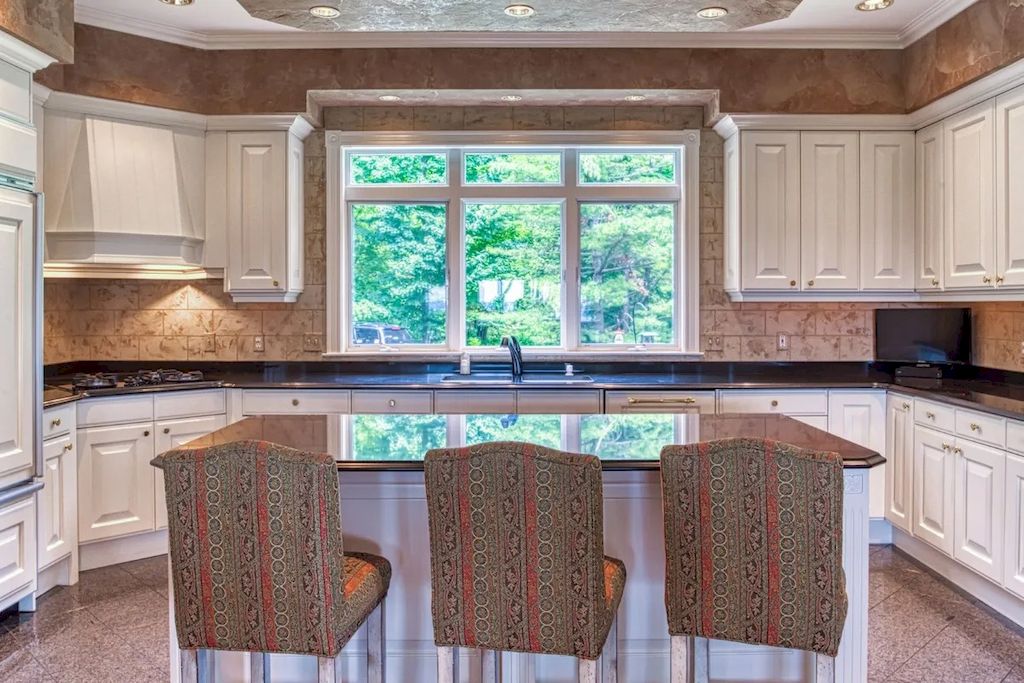 Explore the wide variety of natural stone options available for your splashback. Consider marble with its elegant veining, limestone with its soft and earthy tones, or quartzite with its durability and unique patterns. As a result, each stone type brings its own distinct beauty and can be tailored to match your kitchen's color scheme and style. This $4,250,000 Unique and Iconic Home Features Notable Detailing in Michigan
11. Playful Chalkboard Splashback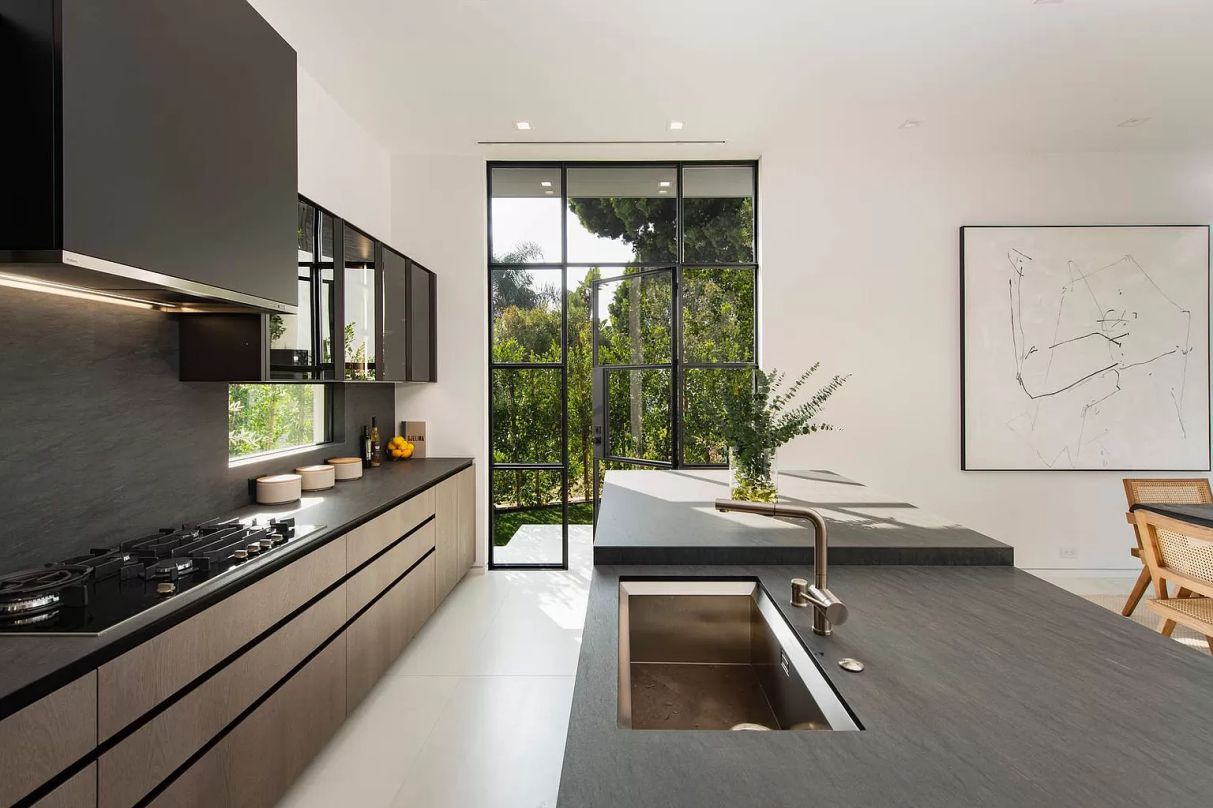 Take the chalkboard splashback idea further by incorporating functional elements. Install a chalk rail or shelf beneath the splashback to hold chalk and erasers, making it convenient to jot down notes, grocery lists, or even recipes. As a result, this playful and interactive feature adds a charming and practical touch to your kitchen. A Magnificent Contemporary Home in Hollywood Hills Listed for $5,195,000
12. Contemporary Concrete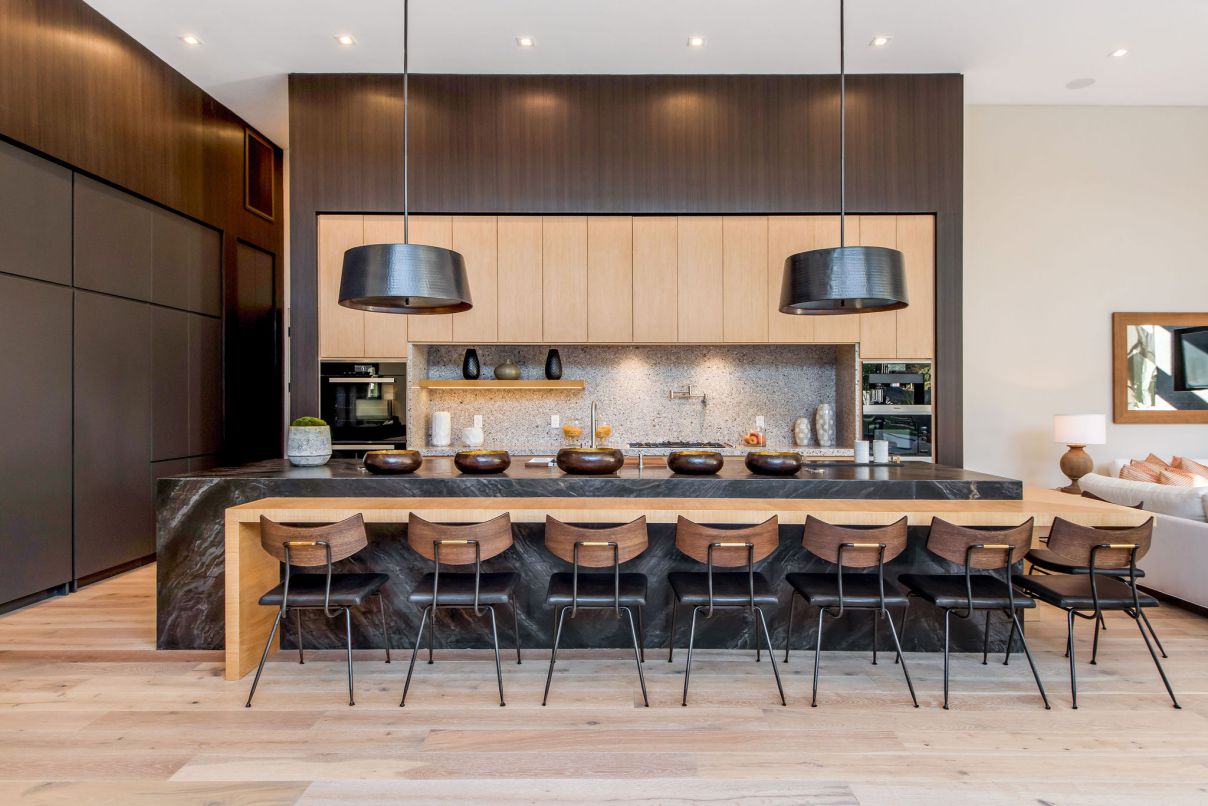 Experiment with different finishes to improve the contemporary appeal of a concrete splashback. Polished concrete has a smooth and glossy surface, but acid-etched concrete has a matte and textured appearance. Furthermore, you can experiment with colored concrete to bring subtle or bright colors, allowing for a totally unique splashback that compliments the decor of your kitchen. 1730 Rising Glen Rd in Los Angeles – Luxury Tour
13. Backlit Glass Splashback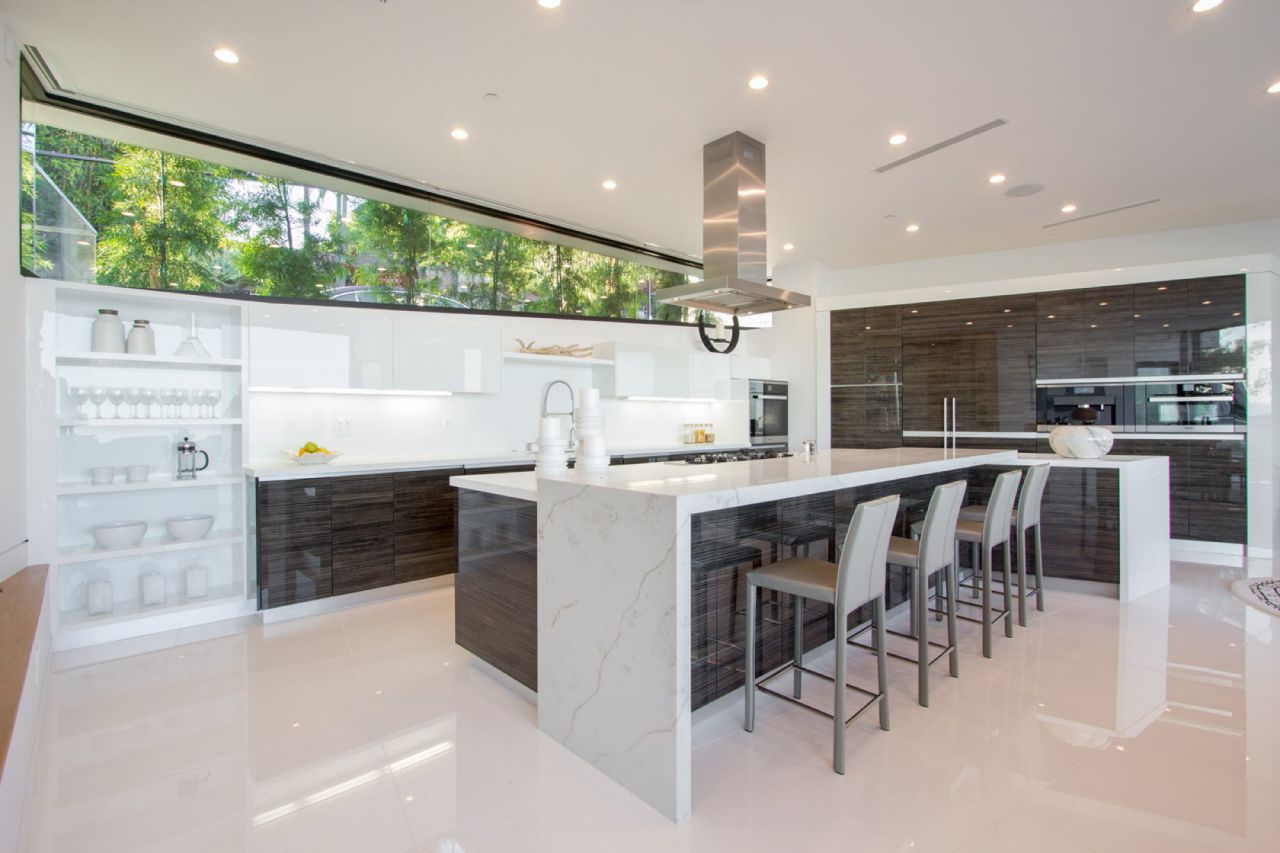 Create a mesmerizing effect by installing a backlit glass splashback. LED lights placed behind the glass panels illuminate the surface, adding a soft and enchanting glow to your kitchen. Thus, this option works particularly well in contemporary and minimalist designs. Inside A $8,000,000 Appian Way Modern Home Overlooking All of Los Angeles
14. Mix-and-Match Tile Medley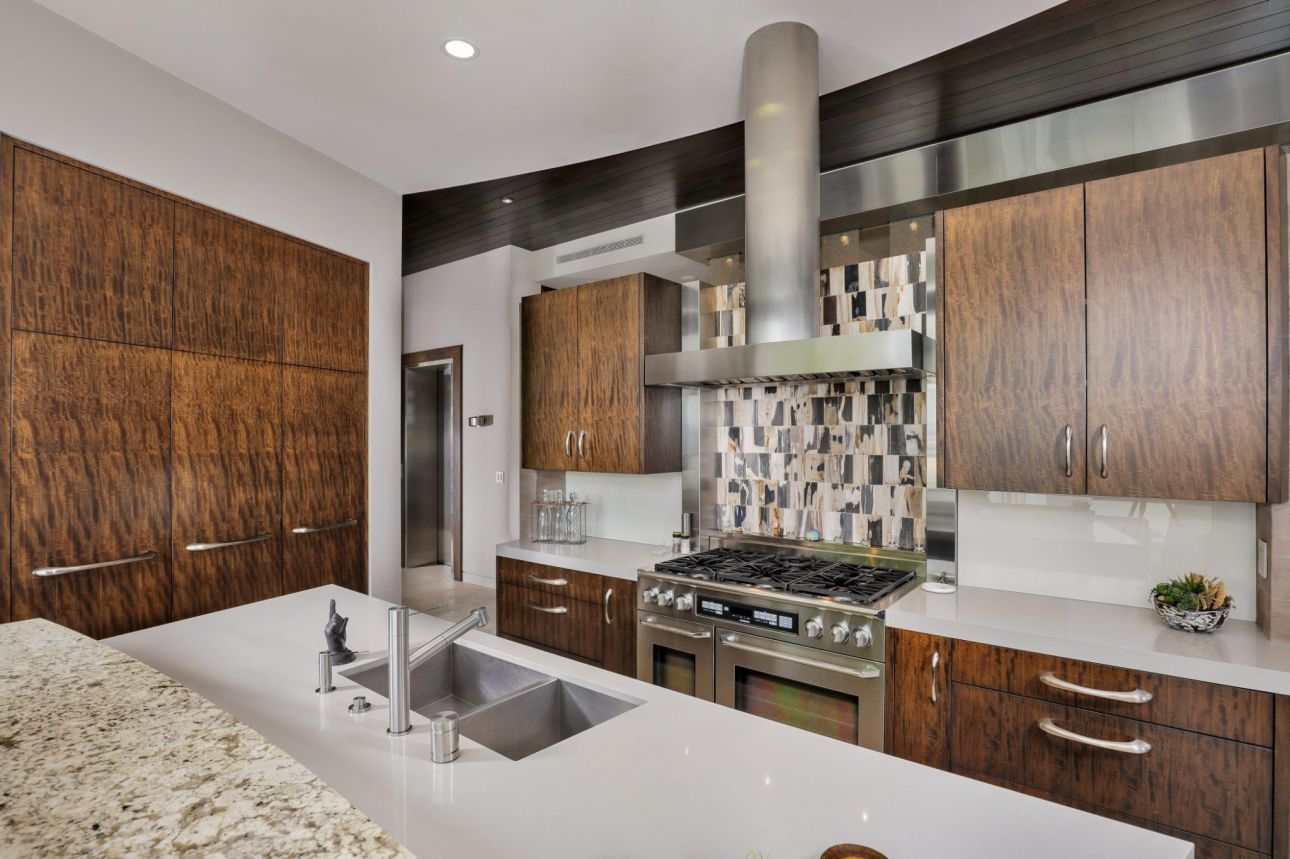 Create a playful and eclectic splashback by mixing and matching different types of tiles. Combine subway tiles with colorful mosaics, or blend patterned tiles with solid-colored ones to achieve a vibrant and visually intriguing design. Specifically, this approach allows for endless creativity and customization. Art and Architecture Brilliantly Collide in La Jolla Listed for $6,500,000
15. Stained Glass Mosaics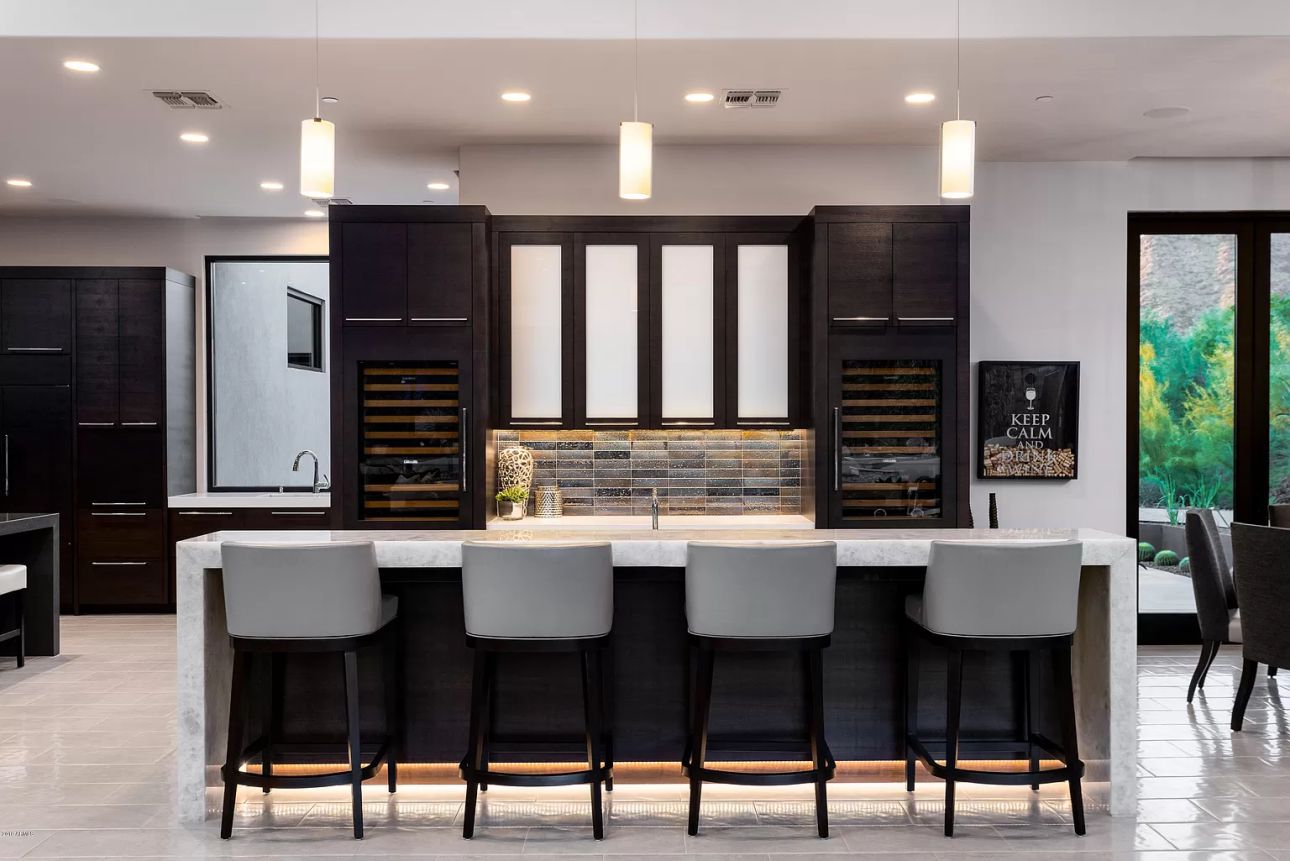 Infuse your kitchen with vibrant colors and intricate designs by incorporating stained glass mosaics into your splashback. These beautifully crafted tiles can feature geometric patterns, floral motifs, or even depict scenes or symbols that hold personal significance. Furthermore, stained glass mosaics create a captivating and artistic atmosphere in your kitchen. Multi Award Winning Estate in Paradise Valley Listed for $4,990,000
16. Terrazzo Tiles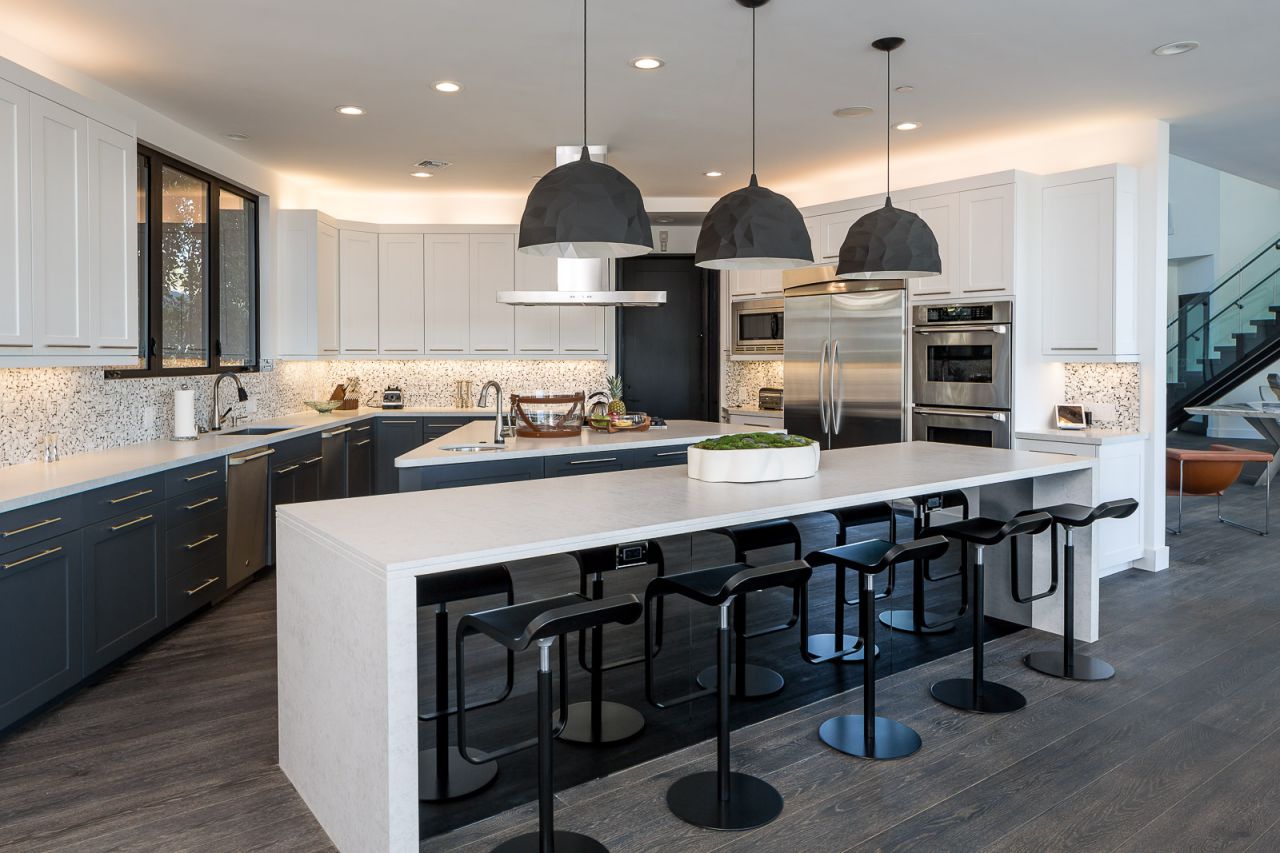 Embrace the trend of terrazzo by using terrazzo tiles for your splashback. Additionally, these composite tiles consist of chips of marble, quartz, or glass embedded in a cement or resin base, creating a unique speckled pattern. Terrazzo tiles offer a contemporary and sophisticated look that adds texture and visual interest to your kitchen. Beverly Hills Modern Home with Stunning Views
In conclusion, there is a wide range of creative and captivating ideas to consider when designing your splashback. From unique tile shapes and patterns to luxurious materials and artistic elements, the options are endless. Moreover, you may prefer a modern and sleek look or a vibrant and colorful design with glass mosaics. You can find the perfect splashback to suit your style and enhance your kitchen's overall aesthetic. Additionally, incorporating textured finishes, chalkboard panels, or even personalized ceramic murals adds a touch of individuality and creativity to your space. As a result, by exploring these splashback ideas and considering your personal preferences, you can transform your kitchen into a visually stunning and functional space that reflects your unique taste and personality. You can check another article 13 Elegant Living Room Ideas to Achieve Dream Space for more ideas.
More Ideas For Living Room:
---
Thousand of high quality images of Living room and more you can see at Livingroom Gallery.