Date of Publishing:
Creative With Living Room Interior Ideas
The living room is always considered the representative symbol of the house, the place to welcome guests, and most clearly show the personal style of the homeowner. The interior design ideas for the living room in addition to ensuring full functionality, the layout is also something that homeowners need to pay attention to. Many people have difficulty getting started with interior design ideas for their own living room, because of the obstacles in choosing the interior decoration style and the limited budget. Don't worry, we're here to support you with some great tips which are mentioned in the 15 helpful Living Room Interior Ideas below. Hopefully, this article will become a handbook for you. Let's get started!
1. Upholstered Furniture For Classic Look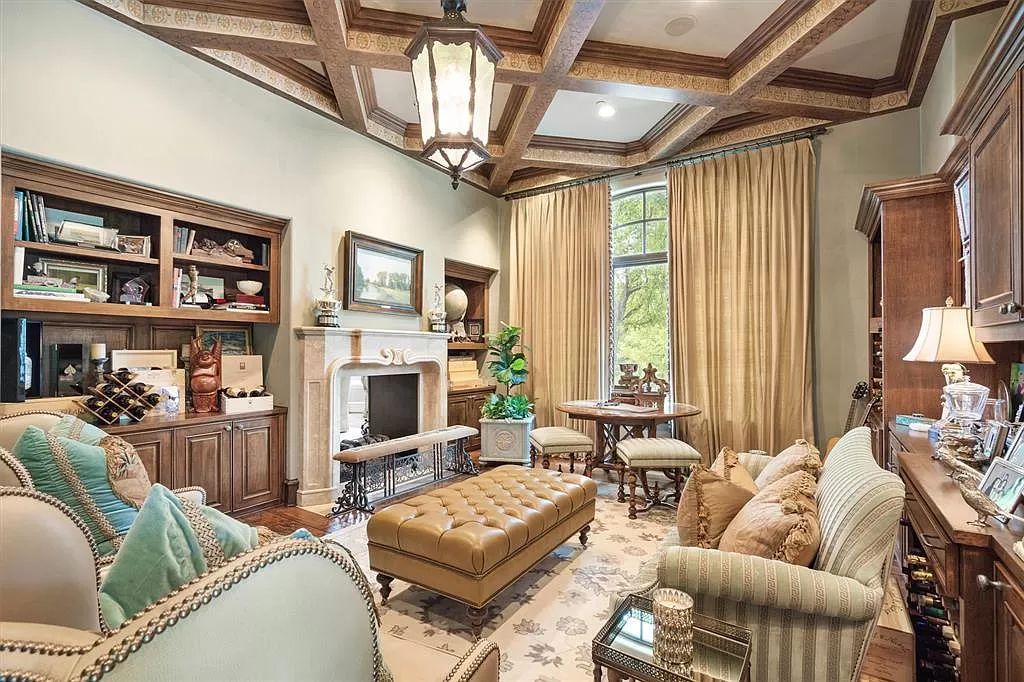 Nothing brings classic, cozy, and high-chic to your living room more than upholstered sofa sets. The above upholstered sofa set includes 1 couch, two single chairs with different textures, and complete with a coffee table upholstered with acacia motifs, all in the same neutral tone making the overall living room absolutely attractive. A set of large floor-to-ceiling curtains is the perfect background for a luxurious and classic upholstered sofa, contributing to ensuring absolute privacy for the homeowner. Exclusive Mira Vista Estate in Fort Worth features French Traditional with Contemporary Transitional Design Asks $4.825 Million
2. Furniture Colors Match The Wall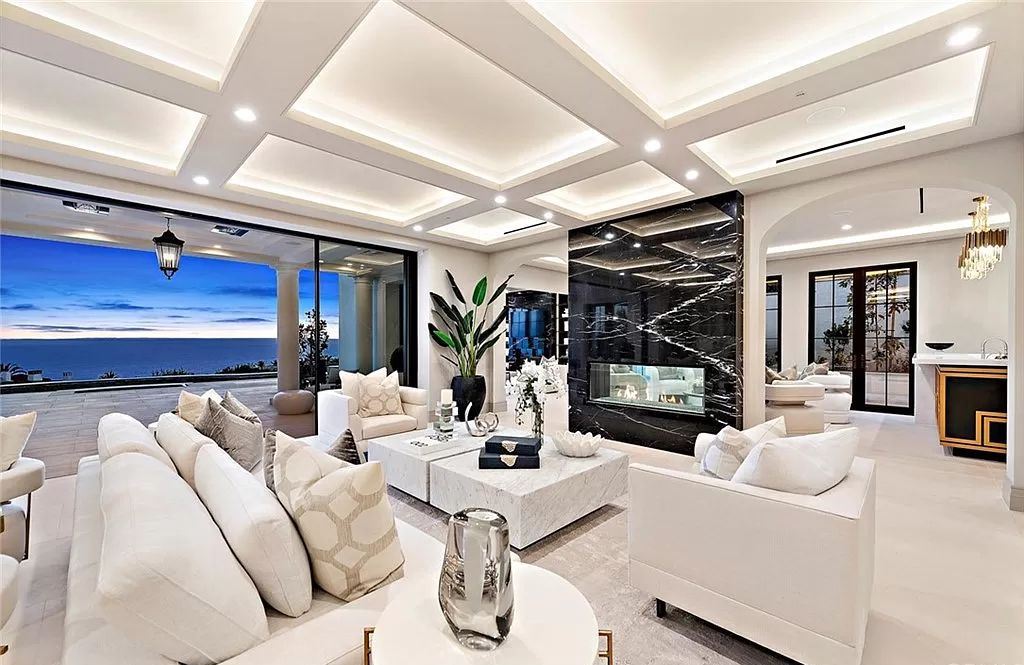 A good way to choose furniture for the living room is based on the wall paint. Bright paint colors such as white and cream are often chosen for modern living rooms with open spaces to cover the outside landscape. As in the Living Room Interior Ideas above, a large white cardboard sofa with a coffee table, a low backrest couch with a pair of single chairs is a perfect choice. It will be a privilege for the homeowner to be able to sit on the luxurious sofa and sip a cup of tea while enjoying the million-dollar landscape outside. Add more decorations or greenery plants to add color accents. Just Listed for $34 Million, Brand New Villa in Newport Coast showcases A Lifestyle of Unparalleled Luxury
3. Use The Eco-friendly Materials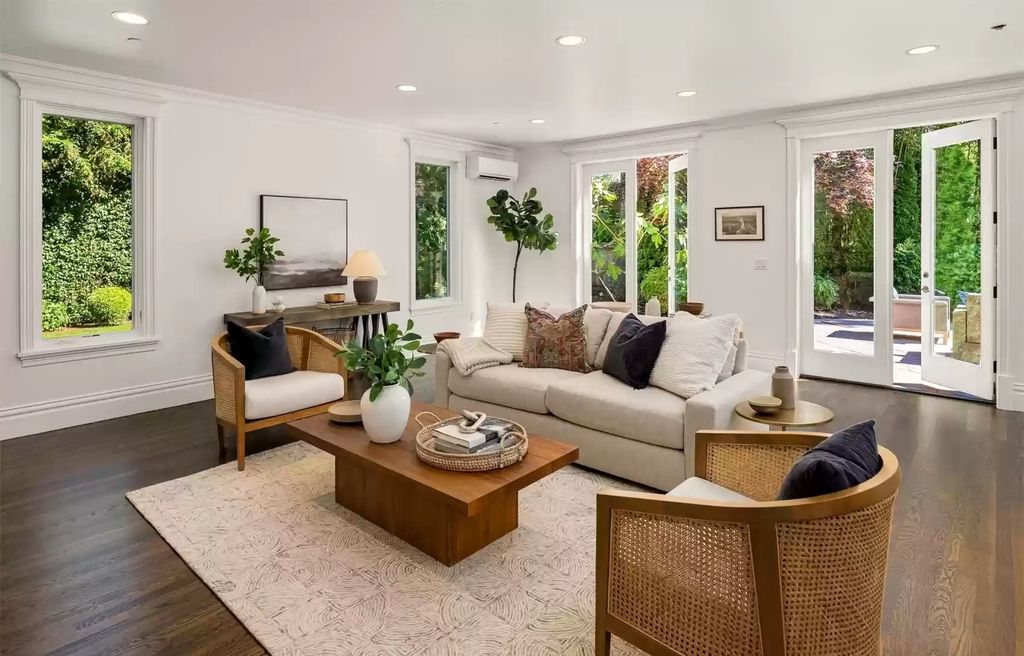 The trend of using furniture made of natural and recyclable materials such as rattan, bamboo, etc. is becoming more and more popular nowadays. The variety and simplicity in design make furniture using eco-friendly materials often used in spaces in the minimalist style, or coastal-style living room and create lots of luxury ideas. Affordable price is also an advantage of Furniture with eco-friendly materials. Embracing European Design, this Distinctive Medina Estate Hits Market for $5.9 Million
4. Display Some Artwork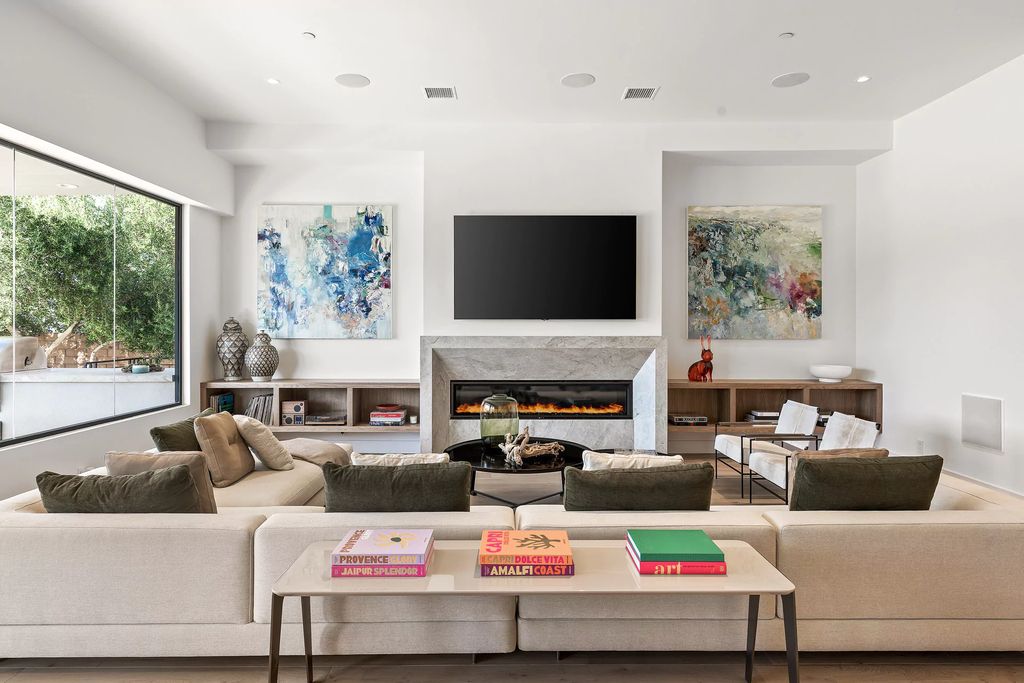 With large spaces such as the living room or bedroom, it is easy to see the interior designs with the appearance of luxurious and opulent large-frame artworks. In contrast, for small living rooms, large picture frames are often considered as an efficient way to expand the space. If you love the variety of small-format paintings, arranging them in clusters will make it easier to create a focal point. Dramatic Custom Masterpiece with Golf Course and Mountain Views and Sleek Timeless Finishes in Las Vegas Listing for $8,500,000
5. Extra Storage Space With Floor-to-ceiling Cabinets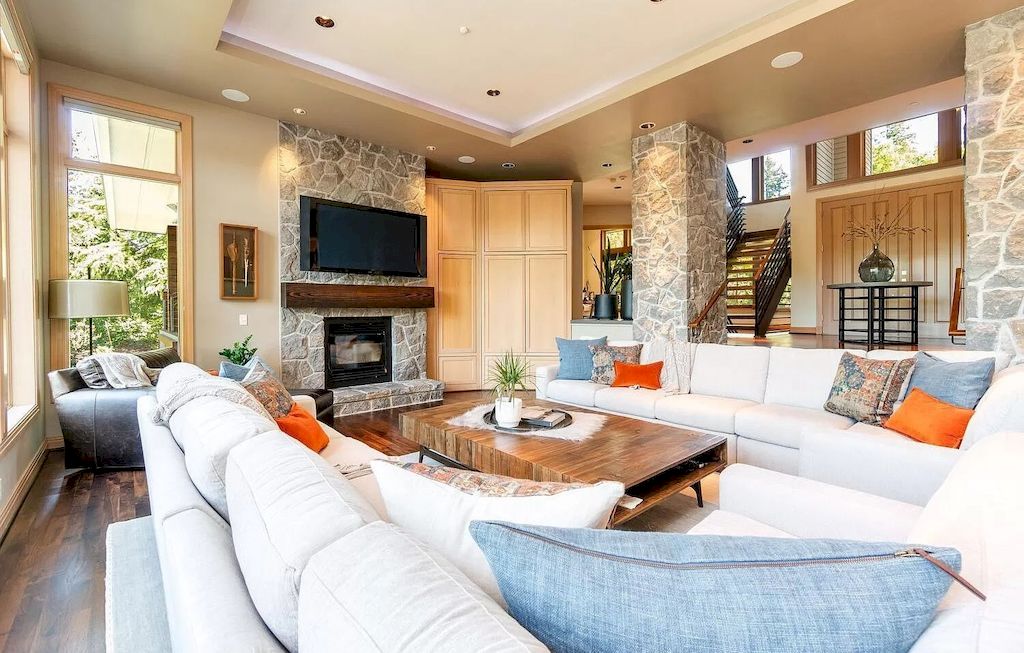 To increase storage space in the living room, you may add some floor-to-ceiling cabinets that are both modern and stylish. You will have a lot more storage space for even miscellaneous things and make the living room space more neat and tidy. Stunning River House in Oregon Designed with a Vacation-like Feel Priced at $4,500,000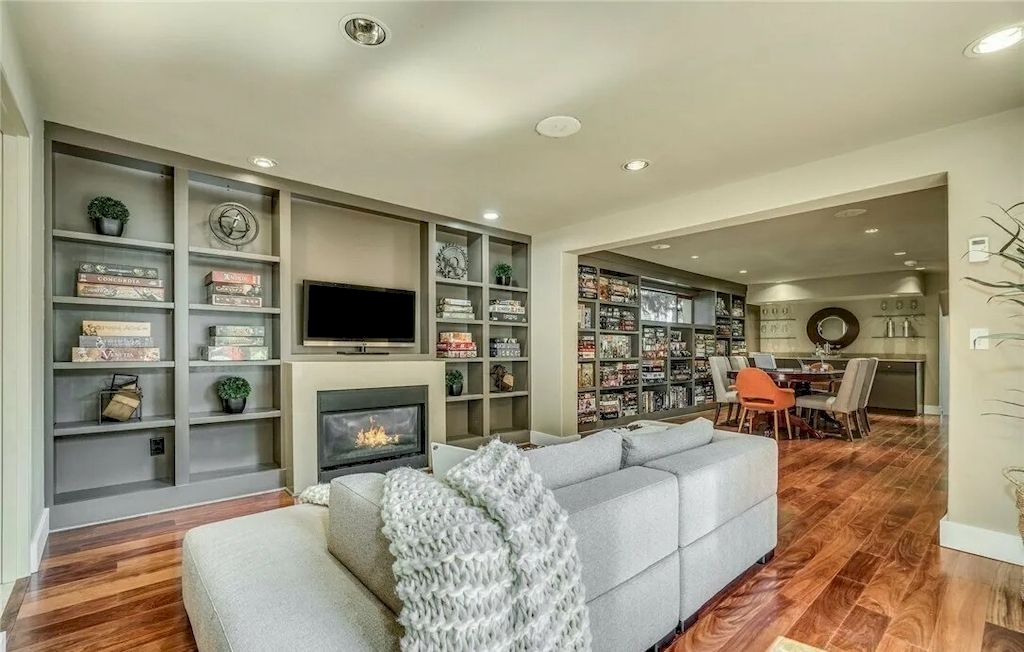 Or use space wisely with built-in shelves as in the living room design of the stunning Mediterranean waterfront villa above. Now you no longer have to worry about not having enough space to display your favorite items in the living room. Towards the desire to build a multi-functional living environment by combining the reading room, and the home office into the living room space. The books are arranged and used as effective decorations. Stunning Mediterranean Waterfront Villa in Washington with Modern Sensibility Sales at $4,199,900
6. Furniture For Industrial-style Living Room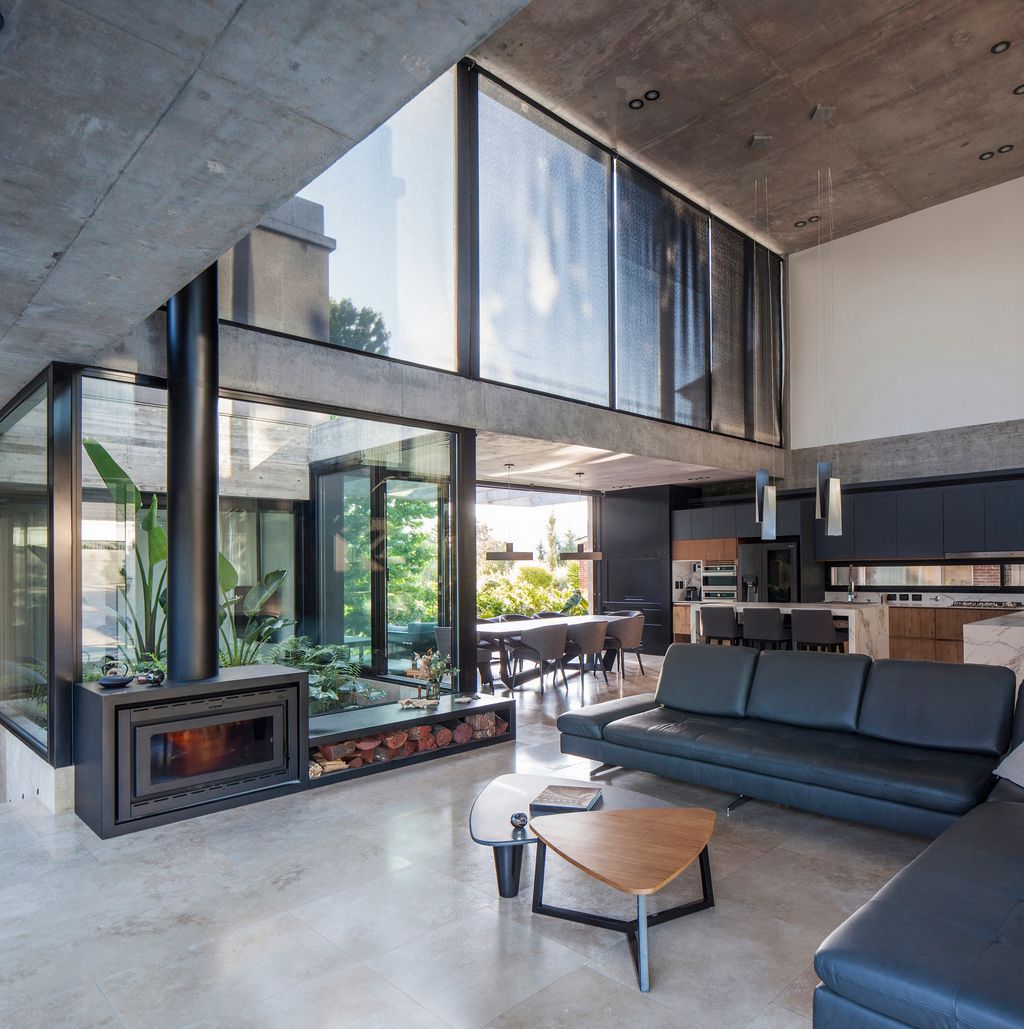 The industrial living room style is very popular in many places because it not only shows the natural boldness but also helps the space become more elegant and sophisticated. The interior of this style is required to be as minimal as possible with characteristic dark tones and metallic materials are also painted black. As in the luxury ideas above, a black faux leather sofa set with an industrial fireplace has created a perfect and powerful living room overall. Y-House-Stunning-2-storey-modern-Villa-by-Jorgelina-Tortorici-Asociados-9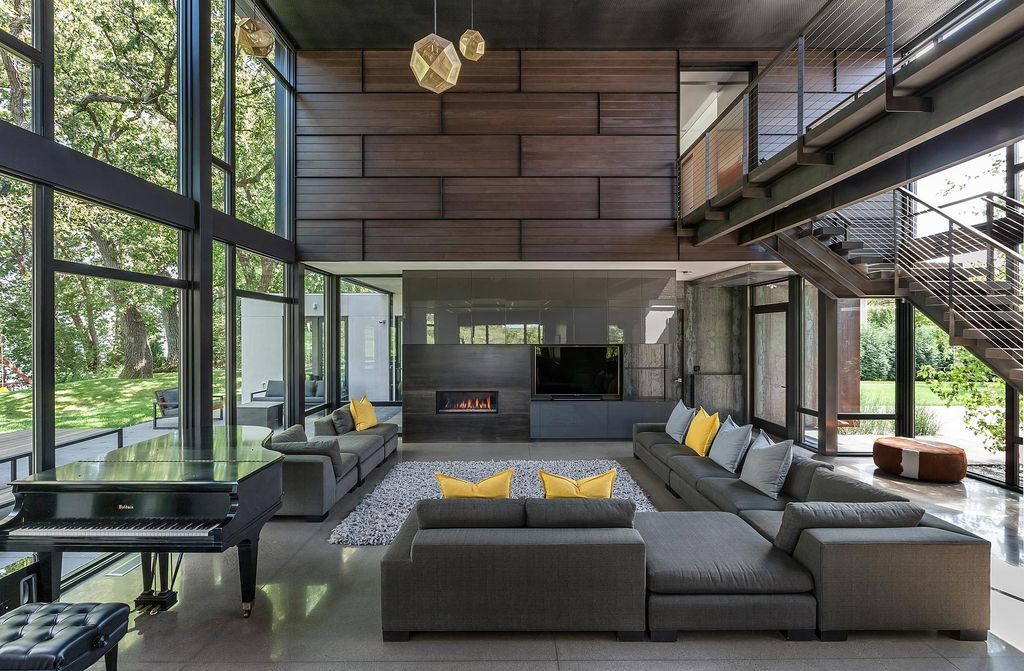 You can decorate more trees for industrial-style living room to optimize living space. Make a difference and accent by adding some brass furniture or decorations like a chandelier or a stylish metal coffee table. You can flexibly incorporate modern elements by using ceiling lights to highlight the beauty of the apartment. Lake-Waconia-House-an-Elegant-Home-by-ALTUS-Architecture-Design-10
7. Create Focal Points With Unique Furniture Designs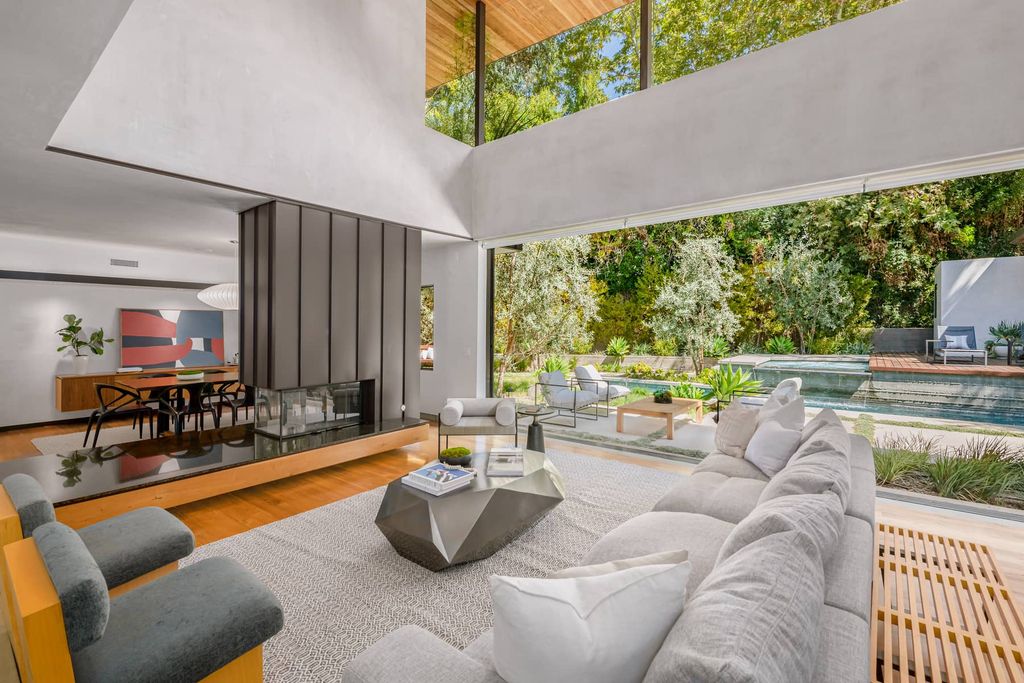 The furniture is used not only to ensure the minimum living conditions of any individual or family, but they are also great decorations. As in the Living Room Interior Ideas above, this unique geometric table has a low profile, meticulously honed to a platinum finish. Spectacular Brentwood Home with Sublime Setting for Sale at $7,695,000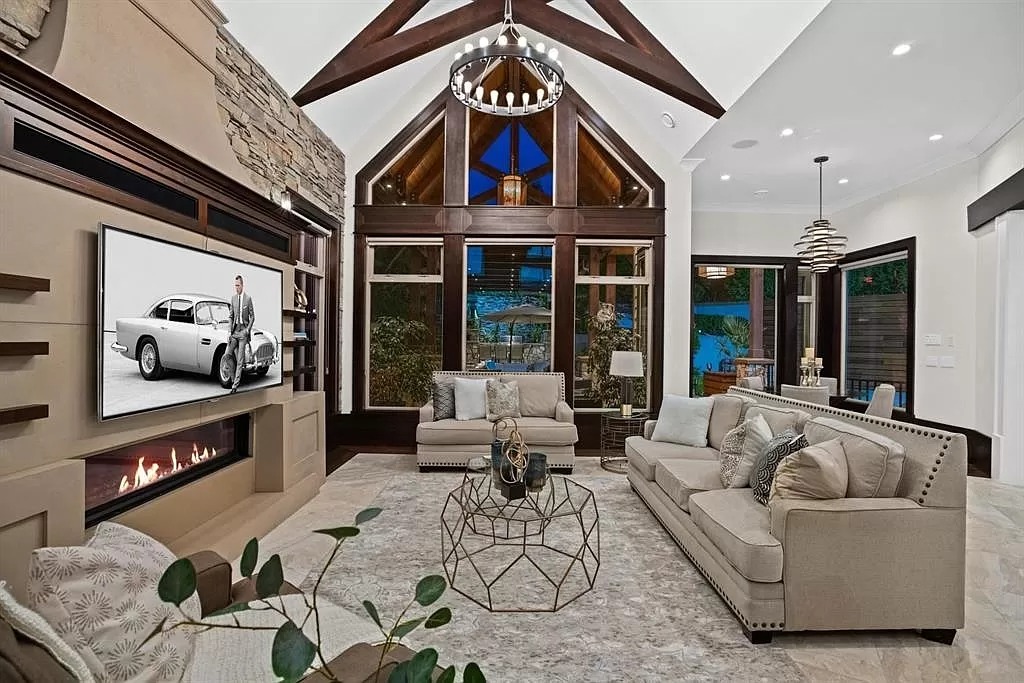 The pieces of furniture are used not only to ensure the minimum living conditions of any individual or family, but they are also great decorations. As in the Living Room Interior Ideas above, this unique geometric table has a low profile, meticulously honed to a platinum finish. Luxurious Whistler-Inspired Mansion in Surrey with Panoramic Mountain Views Asks C$4,199,000
8. Add More Attractive With Dark Tone Furniture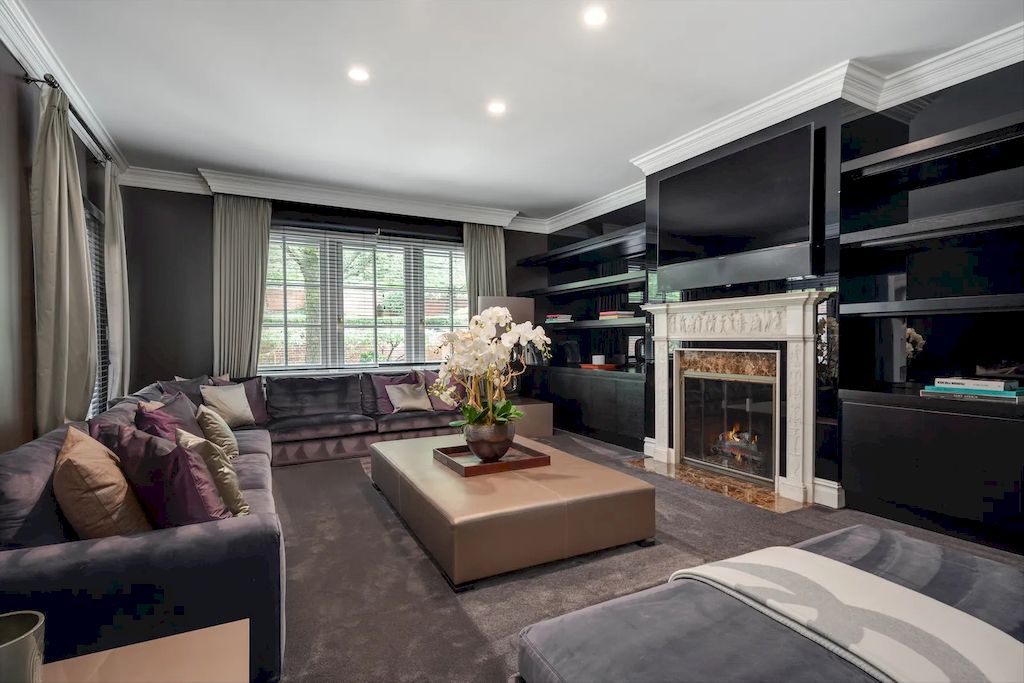 Add attraction, mystery, and charm to the gentlemen's living room space with the appearance of deep-toned furniture. Every aspect of the above luxury ideas shows the masculinity and strength of men. The L-shape deep purple sofa set, the set of black wall-mounted shelves, and the brown floor mats create a very interesting and harmonious color combination. A little bit of softness makes the space more balanced with vases on the table or a few greenery pots. Brick Mansion of Luxury Living Spaces and Endless Recreation World in New Jersey Priced at $9,990,000
9. Enhance Living Room Style With Curtains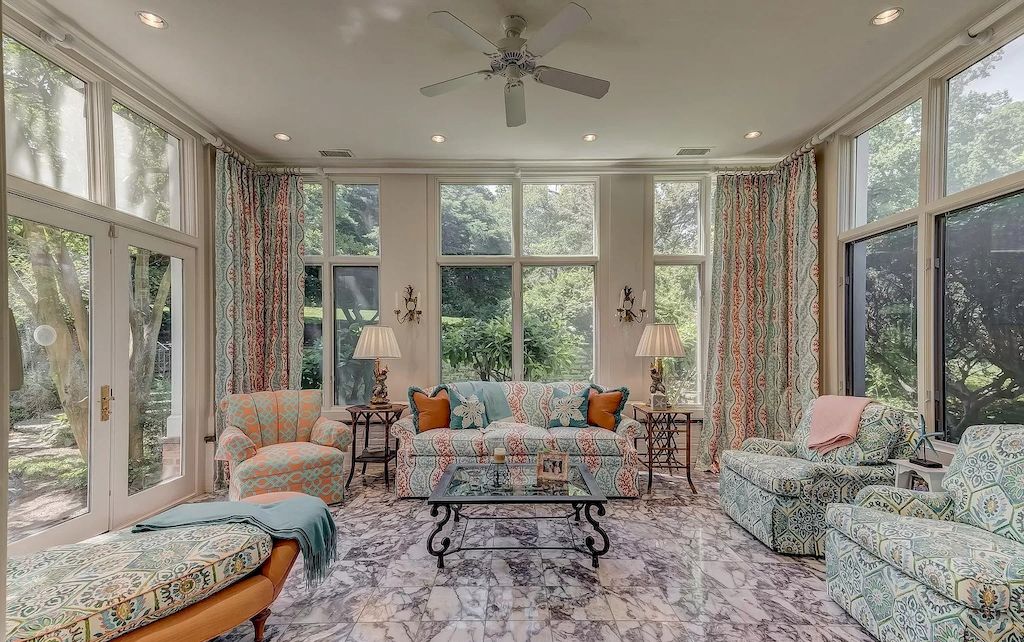 While searching the furniture supply for your living room may be your primary concern, there are plenty of other important design elements that must be considered and window curtains are definitely not a thing to ignore. When it comes to curtains, the options seem to be endless. But since they're available in every style and at a variety of prices, you can really create a look that fits your aesthetic and budget. Highly Coveted Maryland Mansion on Sale for $3,999,000
10. Add Luxury With Brass Decorations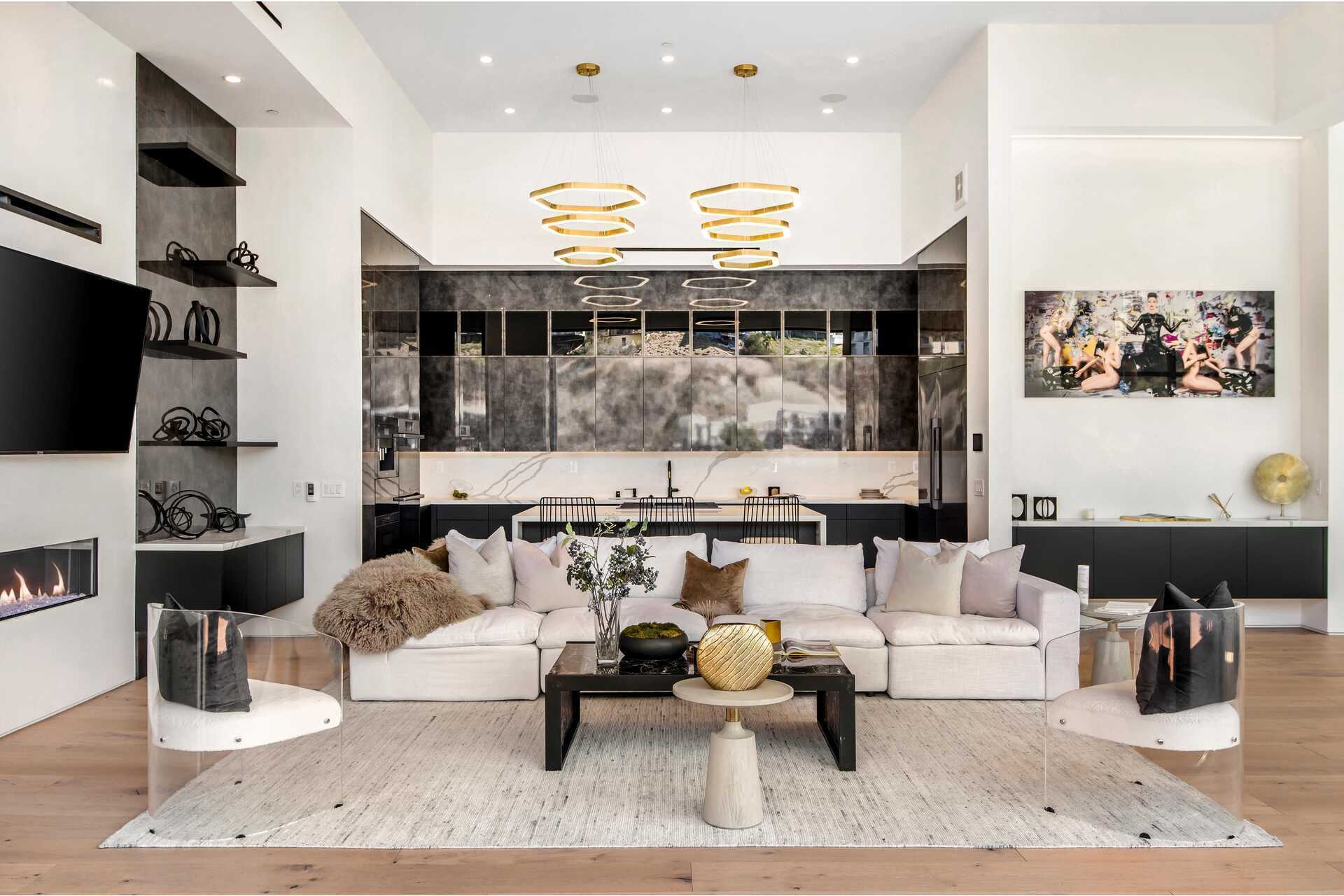 Dotted with a few brass decorations to make the living room space more attractive. Due to the variety of designs, brass decorations are not only suitable for classical-style spaces but also suitable for other spaces that are more modern and minimalist. The gilded chandeliers or pretty small vases reduce the shabby part of the classic without losing the inherent elegance and politeness. The advantage of brass items is that the core is made of stainless steel with outstanding oxidation resistance, so it is always shiny as new even after a long time of use. This $6,350,000 Newly Constructed Los Angeles Home is the Ultimate Hollywood Hills Haven
11. Furniture With A Personal Touch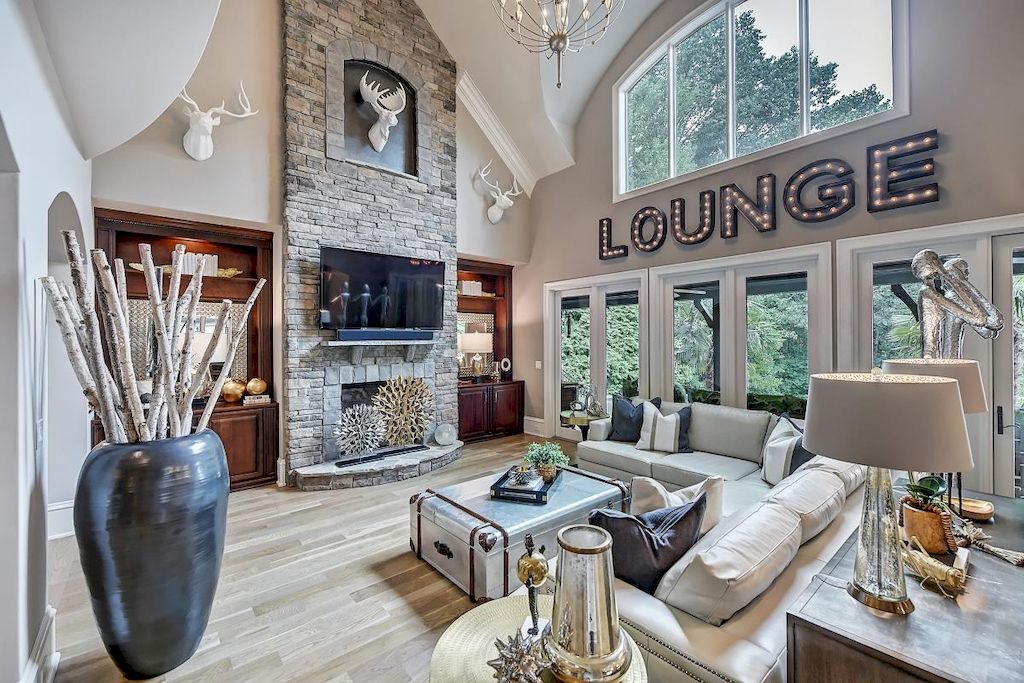 Putting your own personal touches on a room or a design is one of the best parts. For living room interior design concepts or for any other part of the house, any small details, decorative accents, a touch of color and cute little things make big things may be enough for your personal impression. If you don't know where to start, you can slowly add to your living room the decorations you like such as potted plants, artwork, pillows with good quotes about life. You will definitely be surprised with the final result. This $4,250,000 French Country Style Home Renovated to the Highest Standards and Comfort to Cater You in North Carolina
12. Spice Up With Colorful Furniture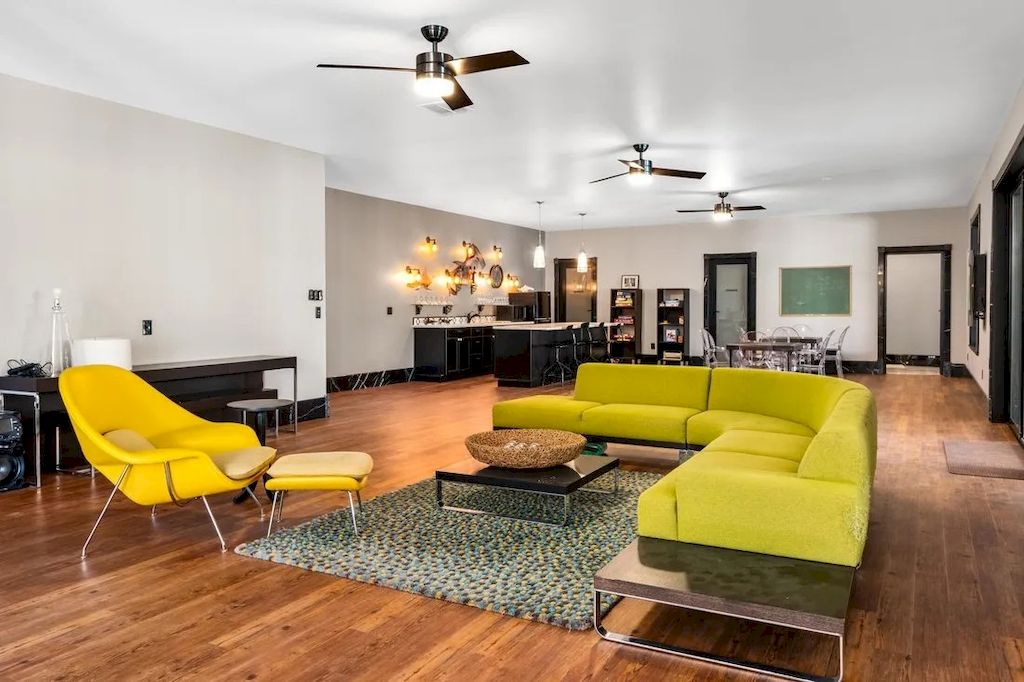 Completely renovate your living room without spending too much time and money with the appearance of colorful sofas for your living room space. Banana yellow and mustard yellow are both striking tones, with great contrast. As in the Living Room Interior Ideas above, the mustard yellow sofa set with the original yellow recliner makes the living room space seem bright. To avoid being overwhelmed, you should consider using other furniture pieces that are more muted. The $3,750,000 "Naoi Cailini Oga" Estate in Washington is Spectacular in Every Way
13. Bring The Outside In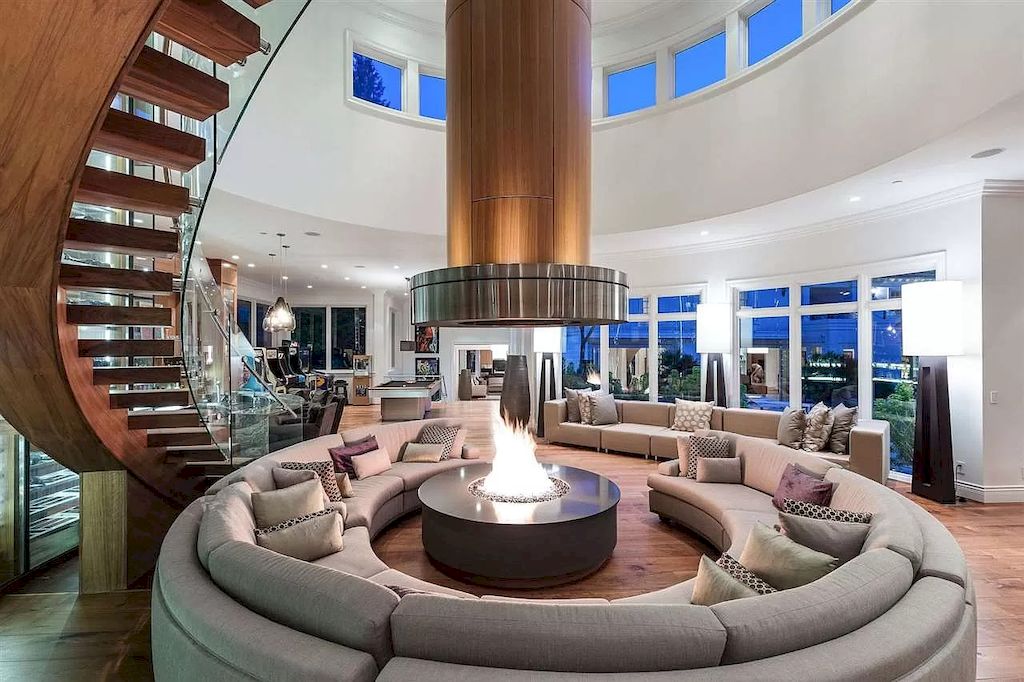 Bring the atmosphere of outdoor camping into your living room with the appearance of the curve-shaped sofa and indoor fire pit creating a great resting space for the whole family. Grill on the fire pit few marshmallows skewers, and start a few old stories are enough to organize a fun and cozy camping at home. How exciting! Spectacular West Vancouver House with Colonial Architecture and Astounding Contemporary Design Asks for C$22,995,000
14. Time For The Presence Of Monochrome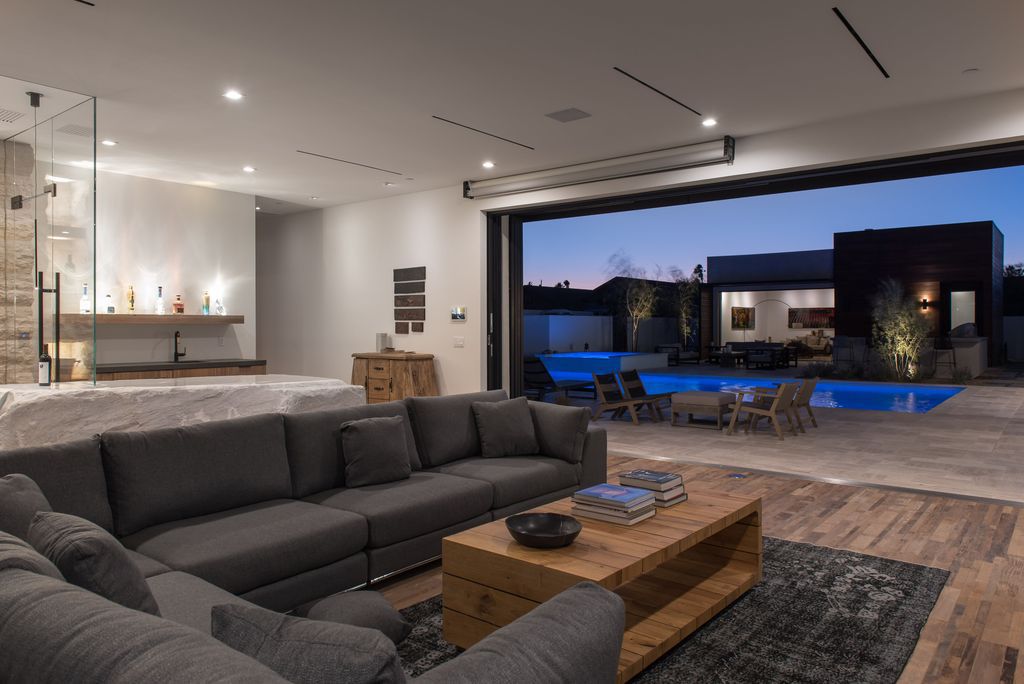 Many will suspect that the combination of monochrome tones in the interior is extremely boring. But for many lovers of the minimalist interior style, it is a perfect color combination choice. The oversized upholstered sofa and pillows match the grey wool rug, creating a warm and comfortable. How can you refuse such a peaceful space after spending a long tiring day? Kyoto House with traditional Japanese and unique Design by Jewel Homes
15. Light Up The Space With Exquisite Chandeliers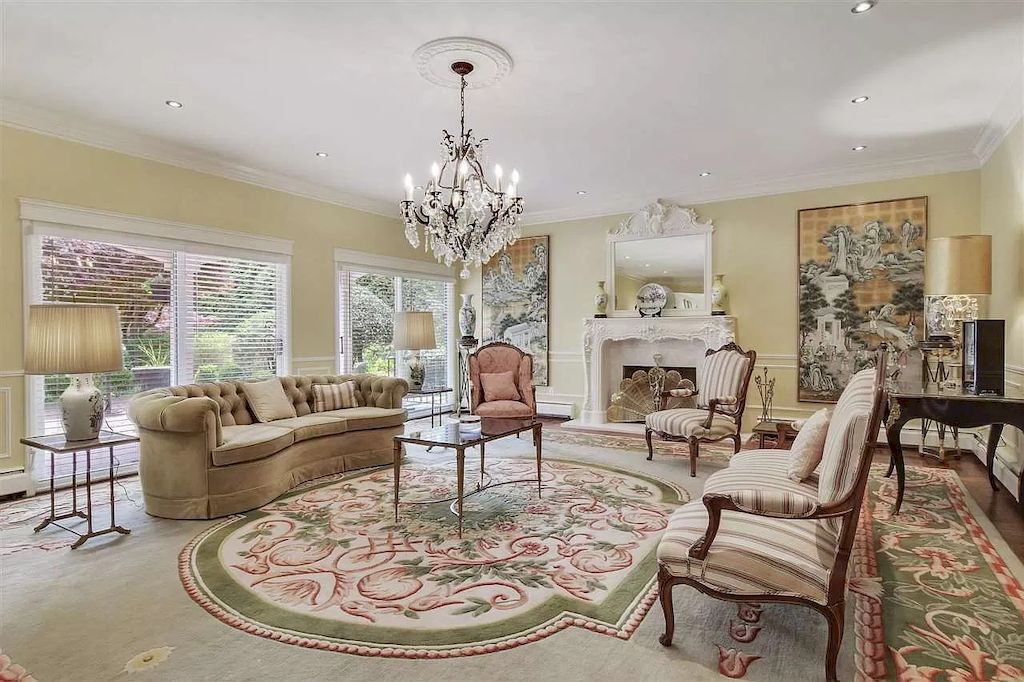 Type of chandeliers is not only have the function of lighting but also bring aesthetic beauty, creating an impressive highlight for the room. For large living rooms, using chandeliers is the optimal lighting solution. Luxurious chandeliers with exquisite details have accentuated the set of 2 chinoiserie wall paintings and full floor carpets in white, pink, and blue tones with beautiful floral motifs, as you can admire in the Living Room Interior Ideas above. Filling the Glitz and Glamour of Hollywood Past, West Vancouver House Asks for C$5,988,000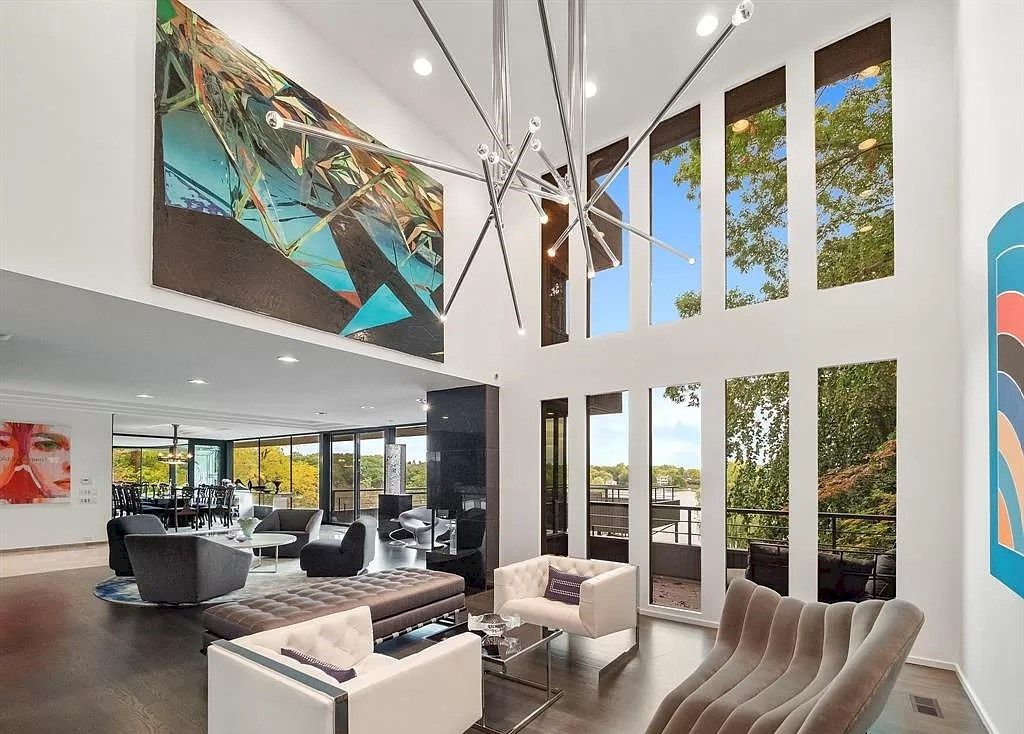 Or make your living room space unique with chandeliers with special designs and materials, like a real work of art. Gorgeous Lakefront Home in Michigan Available for $3,350,000
In conclusion, once you've determined the exact interior design style for the living room you're after, 60% of the work is done. Based on that, we will find furniture models that match the style we want, from sofa sets, decorations, lighting equipment, carpets, etc. All these thoughtful choices for any piece of furniture, when combined, create a perfect whole. And for more ideas and inspiration for living room design, you can find out more in 16 Decorating Ideas to Make Any Large Living Room Cozy
More Ideas For Living Room:
---
Thousand of high quality images of Living room and more you can see at Livingroom Gallery.