Date of Publishing:
Fantastic suggestions for green kitchen ideas.
Welcome to the world of green kitchens, where sustainability and style seamlessly combine to create a harmonious and eco-friendly space right in the heart of your home. Therefore, by embracing green practices, you have the power to transform your kitchen into a vibrant oasis that places emphasis on eco-friendly materials, energy efficiency, water conservation, and overall sustainability. In this article, we will explore the numerous benefits that come with adopting a green kitchen design. Additionally, we will provide you with a plethora of creative ideas on how to infuse the color green into every aspect of your kitchen, ranging from walls and cabinets to accessories and appliances. Thus, prepare to embark on a journey of discovery as we delve into the ways in which a green kitchen can contribute to a healthier planet while simultaneously crafting a refreshing and inviting atmosphere for you and your loved ones.
1. Green Accents for a Cohesive Look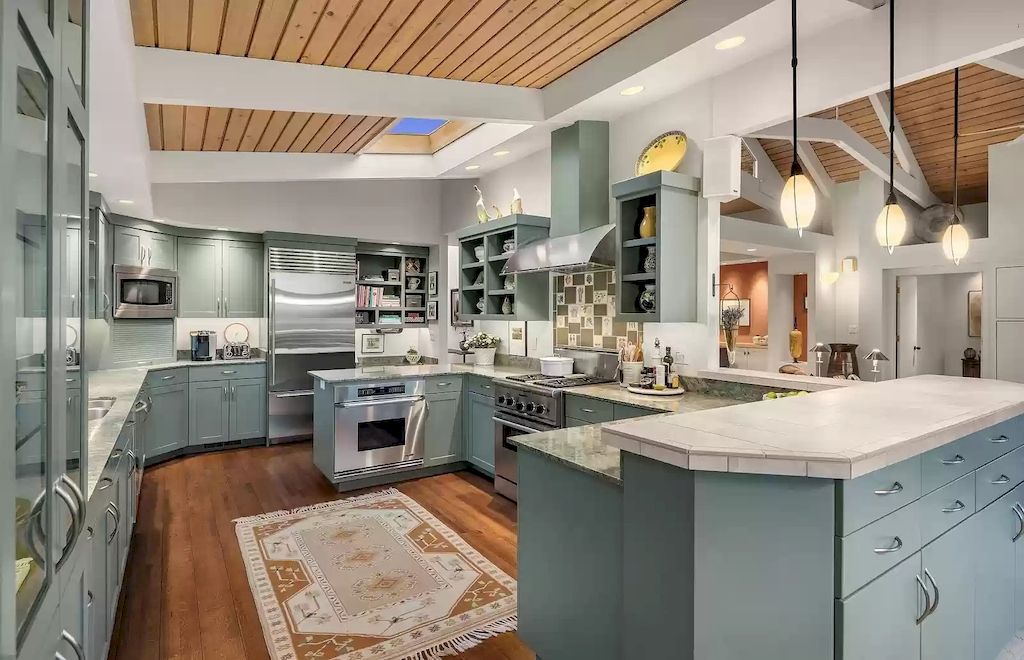 To create a green kitchen that is both eco-friendly and harmonious and it's important to incorporate green accents throughout the space. In addition, these small details can make a big difference in the overall design, adding a fresh and natural touch. Including green-colored accessories in your kitchen decor is a great way to achieve this. For example, choose dishware, utensils, and small appliances in various shades of green that complement your chosen color scheme. Whether it's plates, bowls, cups, or kitchen tools, so these carefully chosen green accents will not only bring everything together but also enhance the natural theme of your kitchen. This will elevate its visual appeal and create a space that truly embodies sustainability and style. This $3,950,000 Stunning Estate Commands Gorgeous Views of Mountains and Downtown Bellevue, Washington
2. Boosting Your Mood and Well-being with Green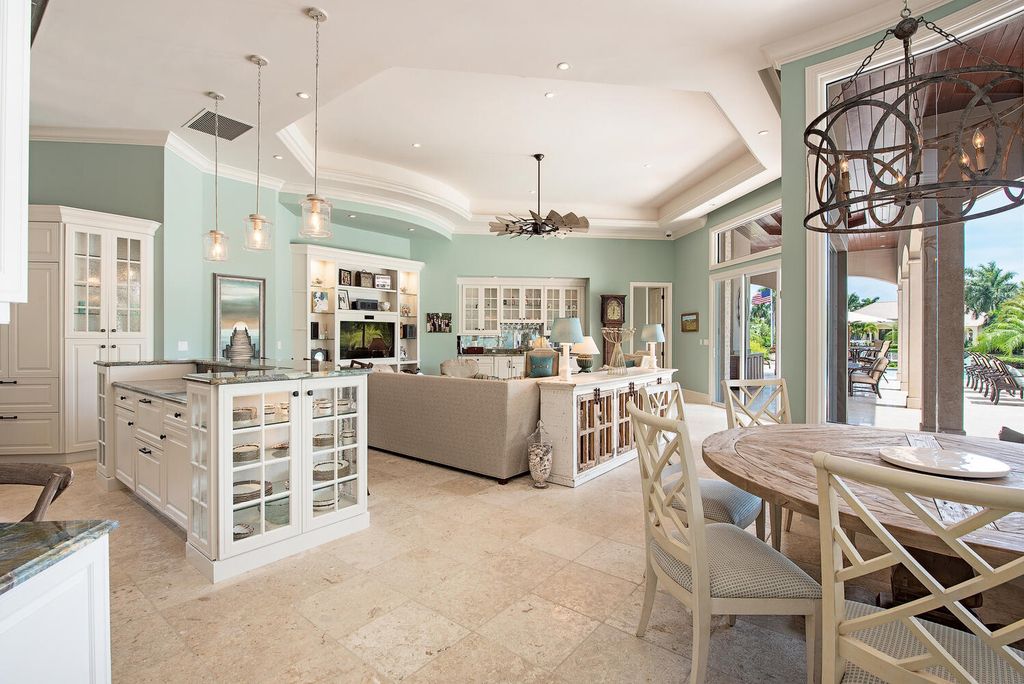 By incorporating shades of green into your kitchen, you can create a calming and rejuvenating environment that enhances your well-being. Because, green is widely associated with feelings of calmness, freshness, and vitality, making it the perfect choice to promote a positive mood and reduce stress in your kitchen. Experience the soothing effects of green as you create a space where you can feel rejuvenated and at ease. One of A Kind Custom Home in Naples was Thoughtfully Designed with Expansive Outdoor Living Space
3. Bringing the Outdoors In with Green Kitchen Design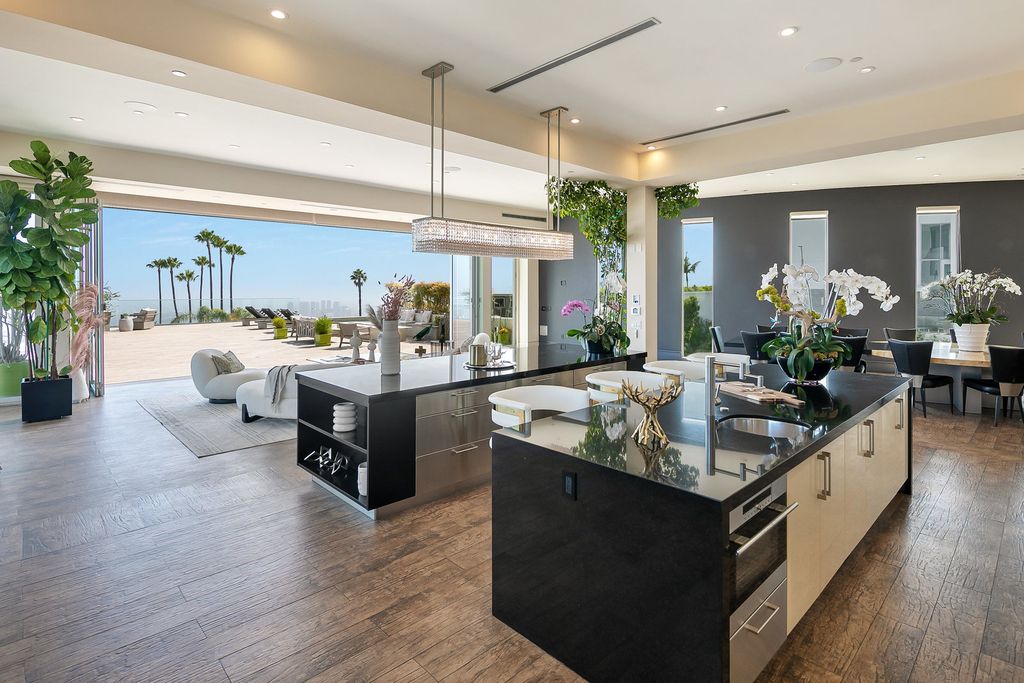 By incorporating the color green into your kitchen, you create a visual connection with the natural world. Green represents the lushness of plant life and the beauty of outdoor environments. Moreover, this connection with nature can have a profound impact on your overall experience in the kitchen. As a result, this can foster a sense of tranquility and a deeper appreciation for the environment. This $14,750,000 Dreamy Los Angeles Home offers Unprecedented and Most Explosive Views of The City
4. Reinforcing Sustainable Values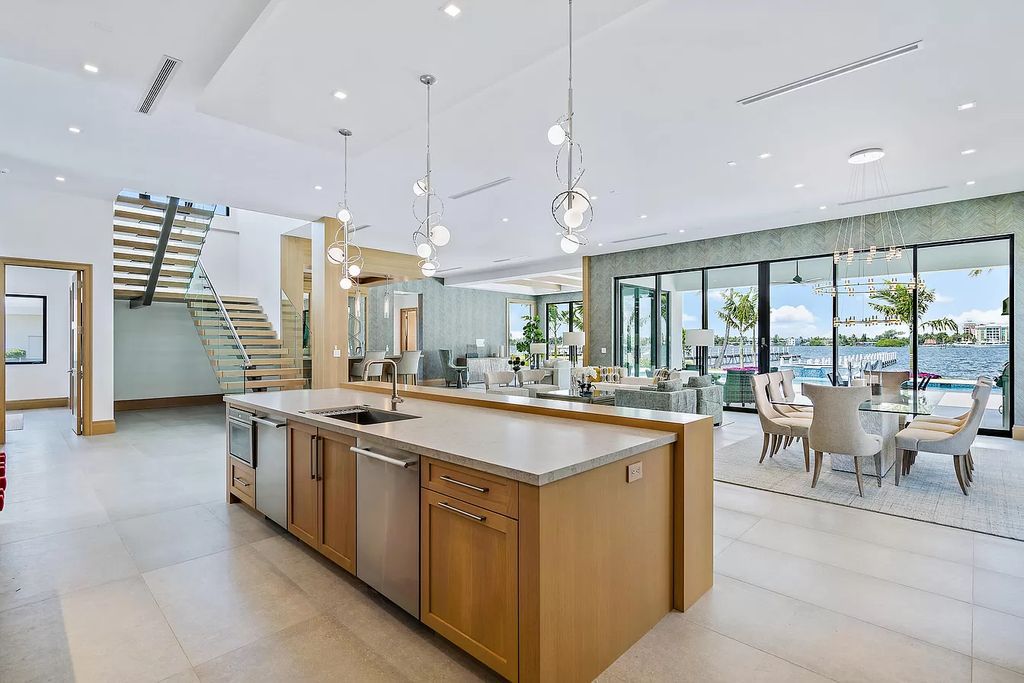 Choosing a green color scheme for your kitchen goes hand in hand with embracing sustainable practices. Because selecting eco-friendly materials and promoting energy efficiency, you contribute to a greener lifestyle and reduce your environmental footprint. A green kitchen becomes a tangible representation of your commitment to sustainability and encourages others to follow suit. Brand New Waterfront Home in Lake Worth with Wide Intracoastal Water Views hits The Market for $12,995,000
5. Green Accents and Accessories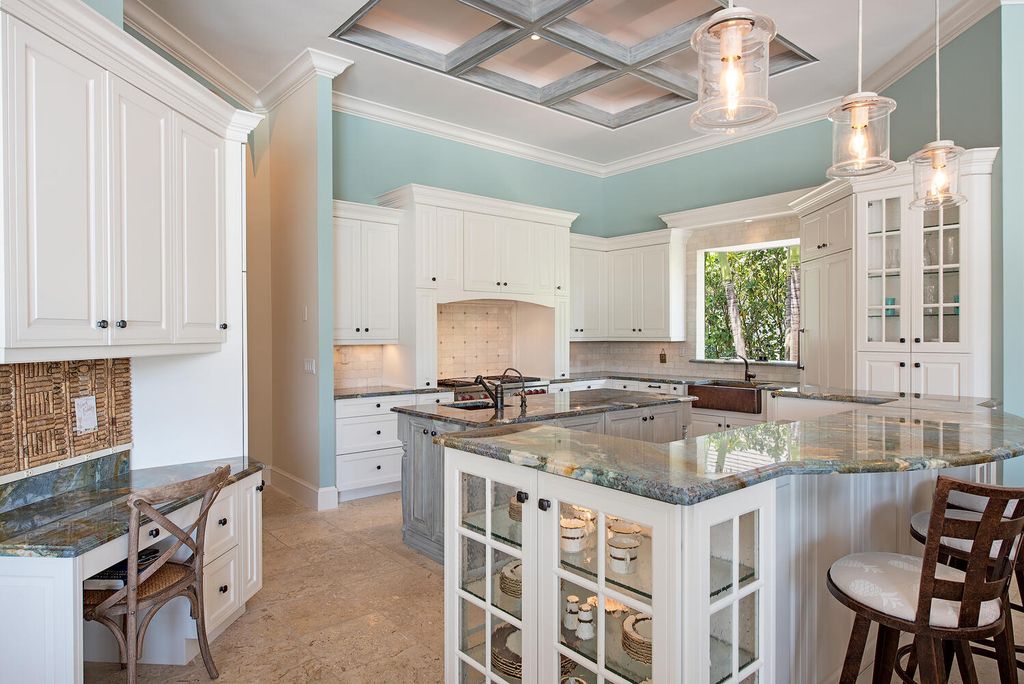 If you prefer a more subtle incorporation of green, use green accents and accessories throughout your kitchen. This can include green curtains, placemats, dish towels, or even green-colored kitchen utensils. As a result, These small touches will add hints of green and create a cohesive look in your kitchen. One of A Kind Custom Home in Naples was Thoughtfully Designed with Expansive Outdoor Living Space
6. Illuminating Your Kitchen with Green Lighting Fixtures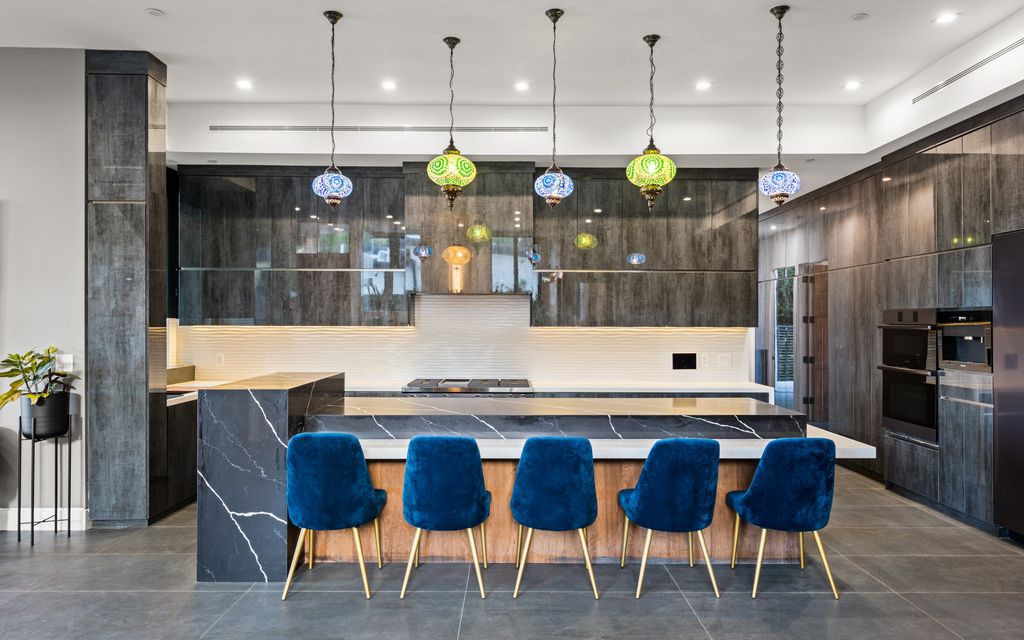 Choosing green lighting fixtures, such as pendant lights or chandeliers, can create a warm and eco-friendly glow in your kitchen. Furthermore, look for fixtures with green glass shades or green metal finishes to infuse the color into your kitchen's lighting design. A Brand New Modern Home in Los Angeles with The Picturesque Surroundings hits The Market for $6,390,000
7. Making a Bold Statement with a Green Kitchen Island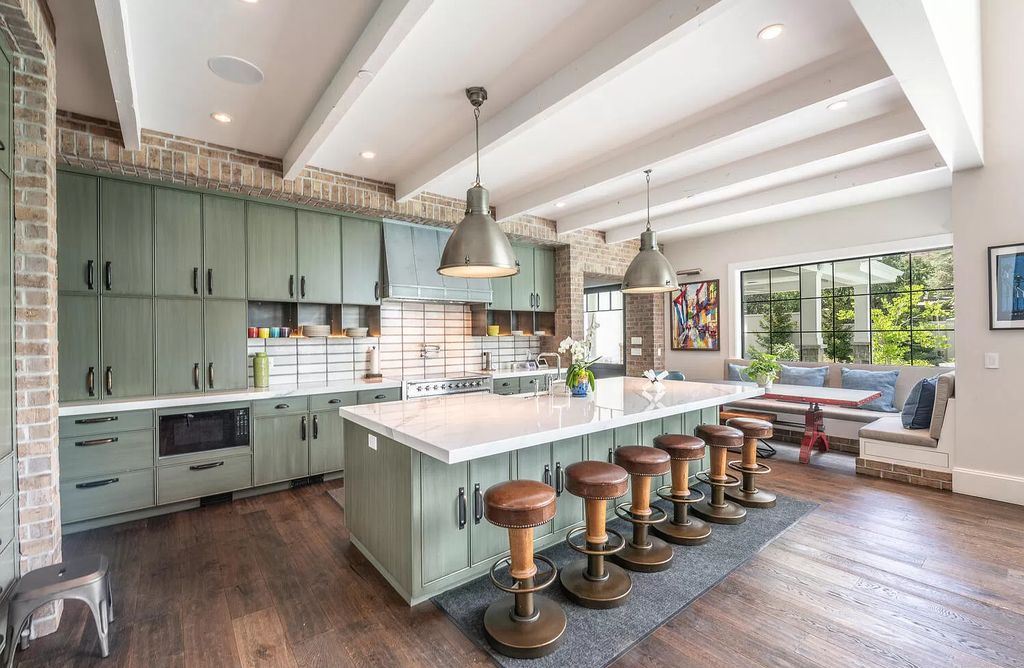 If you have a kitchen island, consider painting it green or using green-toned materials for its construction. A green kitchen island can become the centerpiece of your kitchen, adding a vibrant and eye-catching element to the space. Magnificent Modern Farmhouse Nestled in A Picturesque Mountain Setting of Serene Tranquility and Panoramic Views Asking $12.75 Million in Salt Lake City
8. Creating Visual Interest with Green Tile Patterns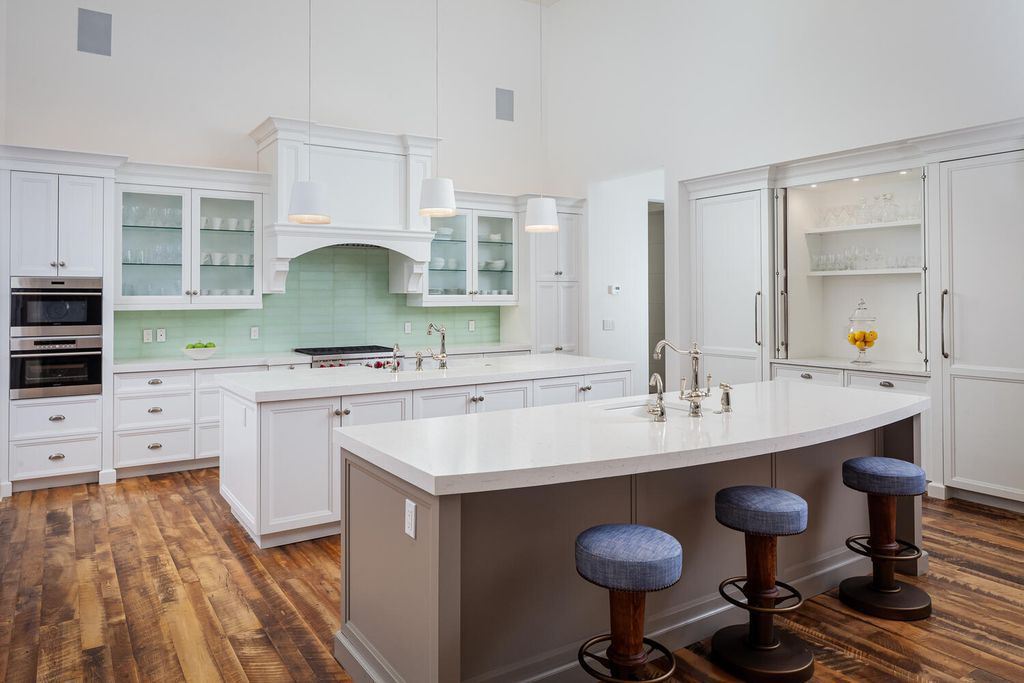 Incorporate green tiles with interesting patterns, such as herringbone or Moroccan-inspired designs, into your kitchen backsplash or flooring. Additionally, these intricate green tile patterns will add depth and visual interest, making your kitchen truly unique. This $9,995,000 Thoughtfully Designed Home in Naples offers Exceptional Floor Plan
9. Introducing Green Seating Options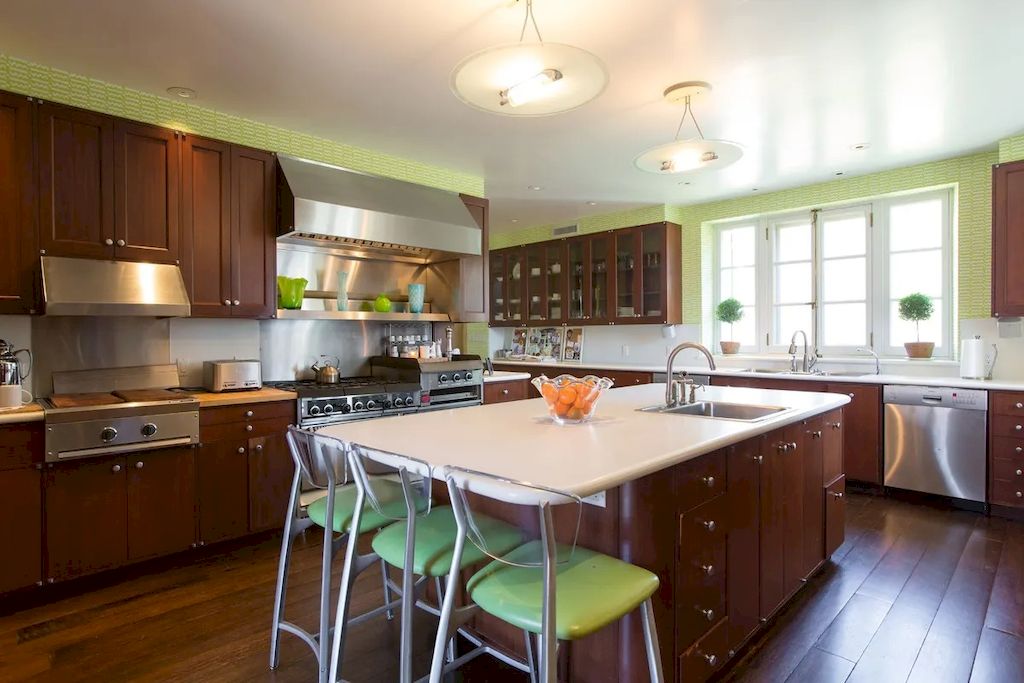 To enhance the overall aesthetic of your green kitchen, consider incorporating green chairs or stools in your kitchen island or dining area. Furthermore, These vibrant pops of green will not only add a playful element but also provide functional seating for your family and guests. Choose chairs or stools in shades of green that complement your kitchen's color scheme and style. In particular, whether you prefer a subtle mint green or a bold lime green, these seating options will create a focal point and add a touch of personality to your kitchen. Pennsylvania Estate of World-class Architecture and Private Park-like Setting Listed for $23,950,000
10. Green Tea and Herb Station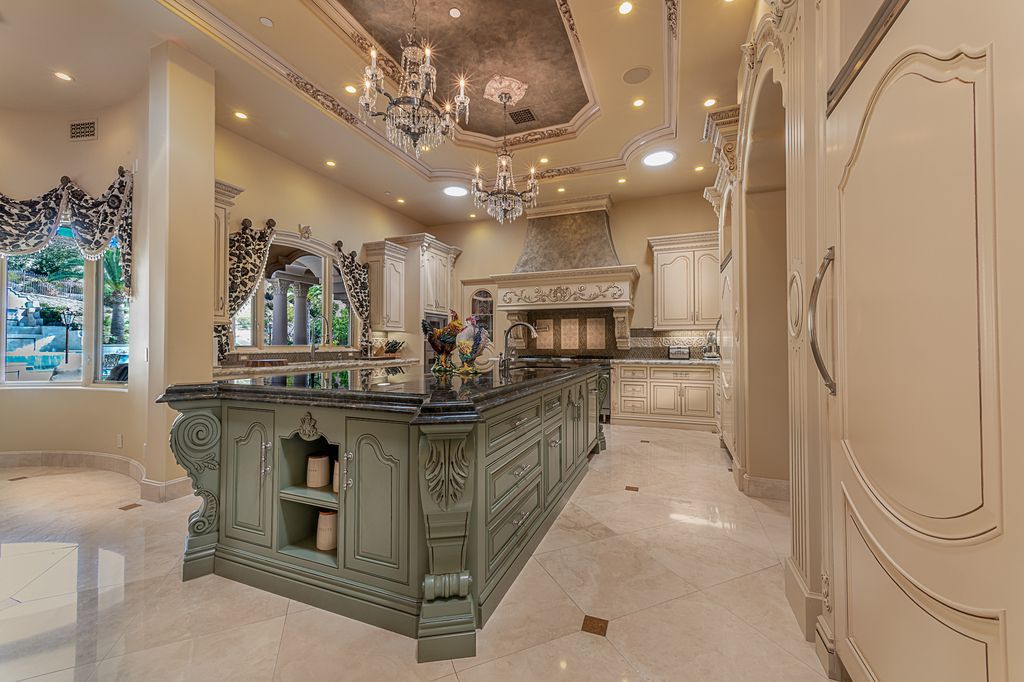 Create a dedicated green tea and herb station in your kitchen. Set up a display with various types of green tea, herbal teas, and accompanying accessories like teapots, cups, and a tea infuser. In addition, arrange potted herbs nearby, such as mint, basil, or lemon verbena, allowing you to easily access fresh herbs for tea infusions or cooking. This station not only promotes wellness and relaxation but also adds a touch of greenery to your kitchen. This invites a sense of serenity and rejuvenation. One of A Kind Home in Calabasas with Unparalleled Quality and Design Asking for $12,999,000
11. Adding a Green Rug or Mat for Comfort and Style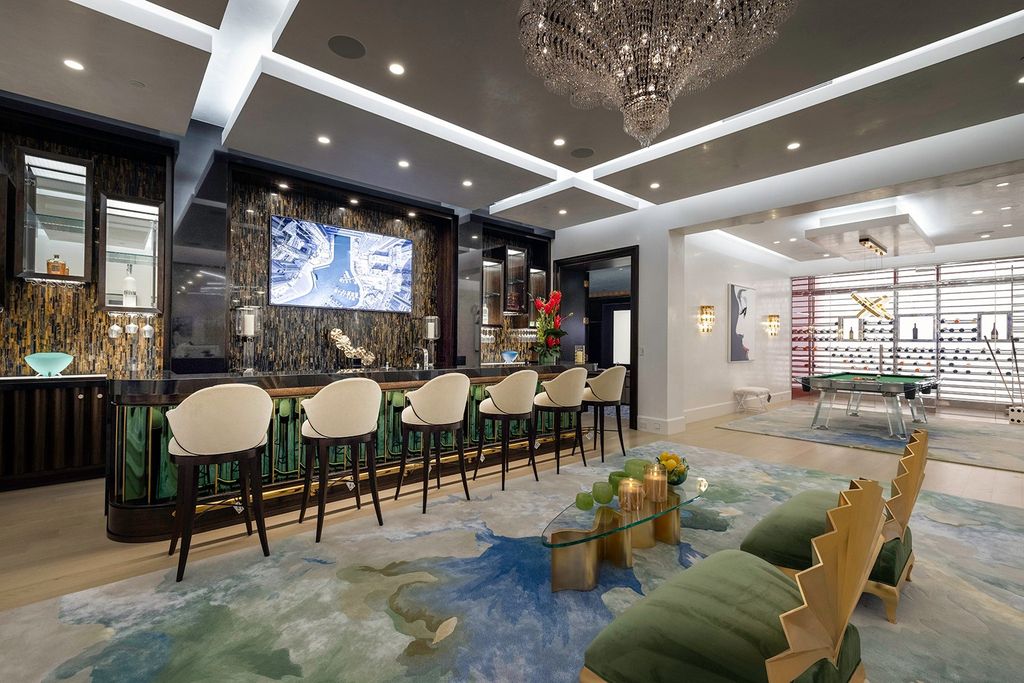 Place a green rug or mat in front of your sink or in high-traffic areas of your kitchen. This not only adds a comfortable cushion underfoot but also serves as an additional opportunity to infuse green into your kitchen decor. Moreover, whether you opt for a solid green rug or one with patterns and designs, it will enhance both the comfort and style of your kitchen space. Palais De Cristal Mansion is One of The Most Luxurious Estates in Newport Coast Asking for $69,800,000
12. Enhancing the Aesthetics with Green Wall Art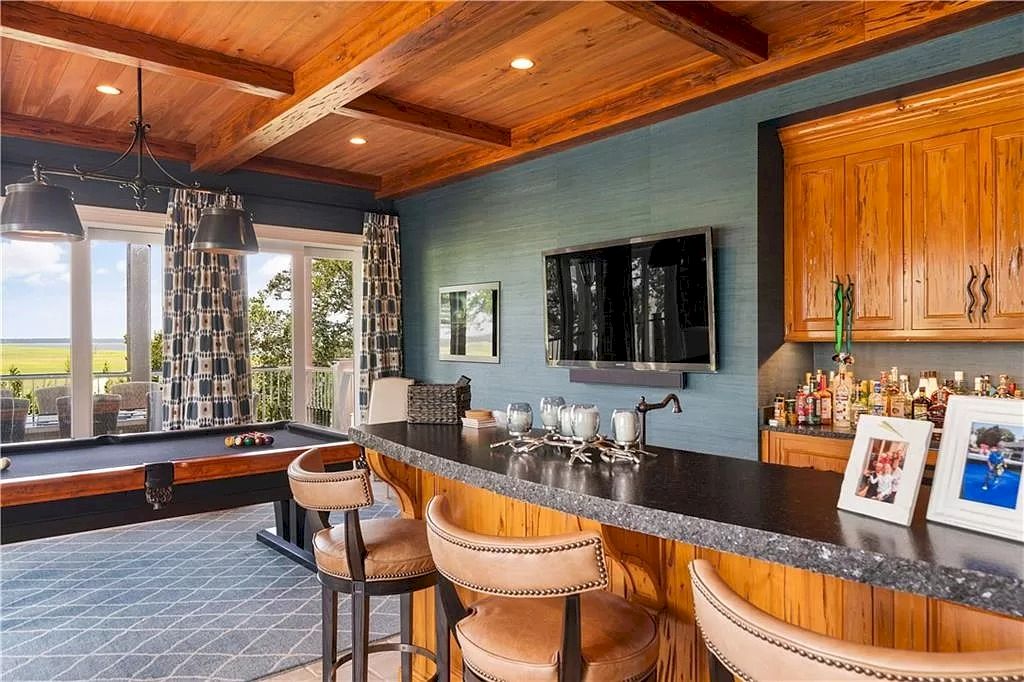 Hang green-themed wall art or paintings in your kitchen to elevate its visual appeal. Choose artwork that features botanical elements, landscapes, or abstract green designs. Therefore, green wall art adds a touch of sophistication and artistic flair, enhancing the overall ambiance of your kitchen. This $8,500,000 Peaceful Retreat Offers Ideal Layout for Entertaining or Family Gathering in Georgia
13. Elevating Green Table Settings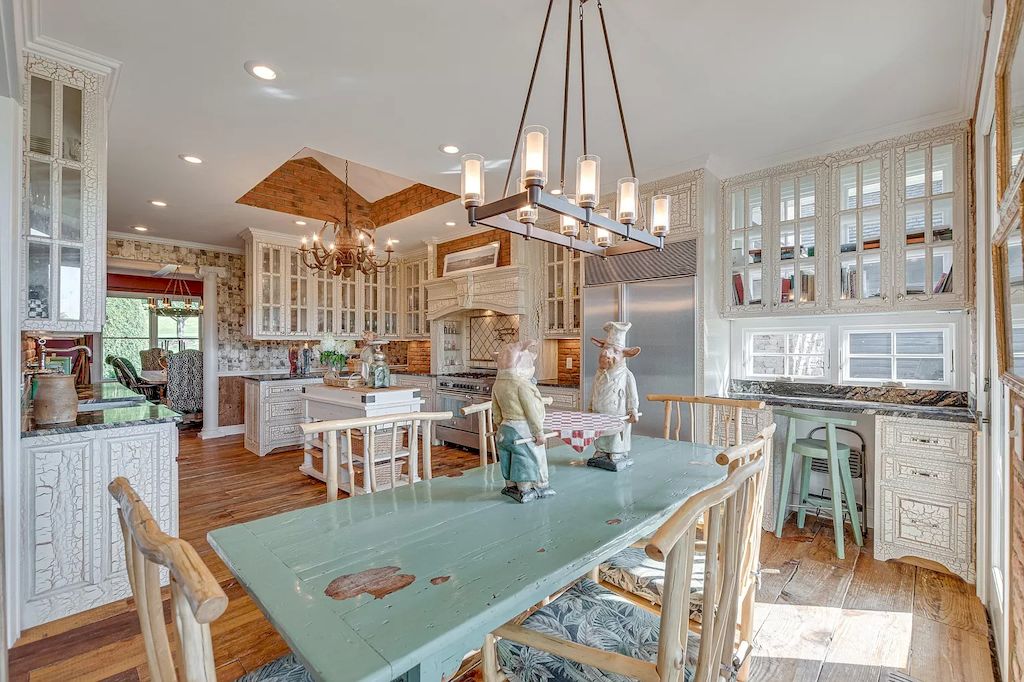 For special occasions or everyday meals, use green placemats and napkins to elevate your table settings. Whether it's a subtle shade of green or a bold and vibrant hue, these accessories will bring a fresh and inviting look to your dining area. Coordinate them with other green elements in your kitchen for a cohesive and stylish presentation. This $3,280,000 Finest Home Makes Bold Statement of Luxury and Unparalleled Privacy in Tennessee
14. Green Cabinet Doors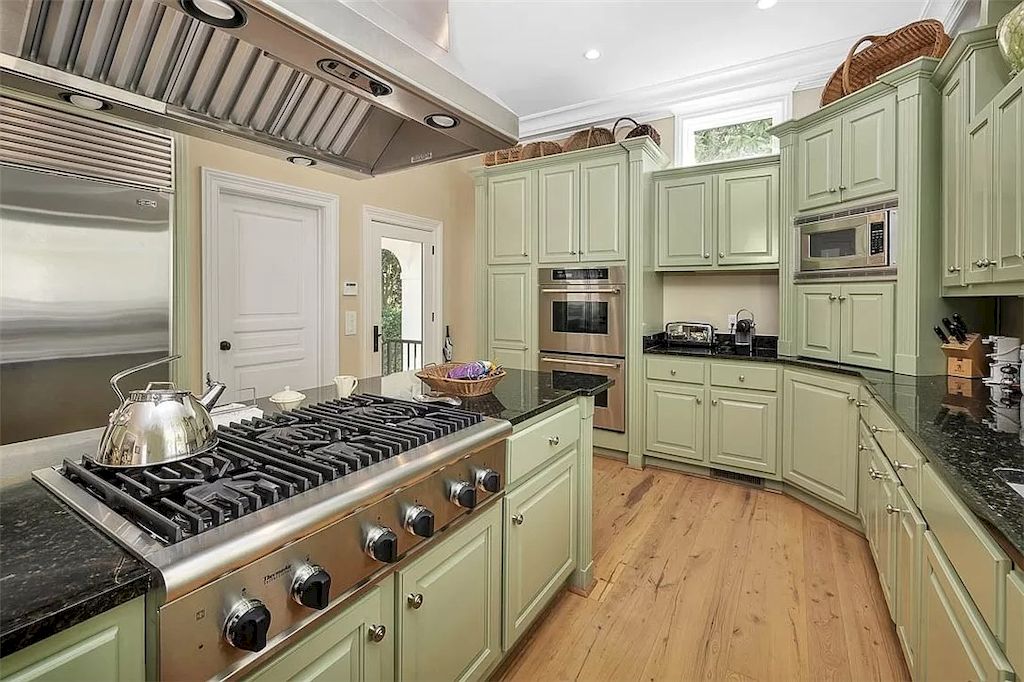 Replace your existing cabinet doors with ones painted in shades of green. Choose a hue that complements your kitchen's color scheme and creates a cohesive look. Soft pastel greens, earthy olive tones, or even vibrant lime shades can bring a fresh and inviting feel to your kitchen. This $4,625,000 Charming Home in Georgia is a Perfect Retreat for Your Family and Friends
15. Green Dishware and Utensils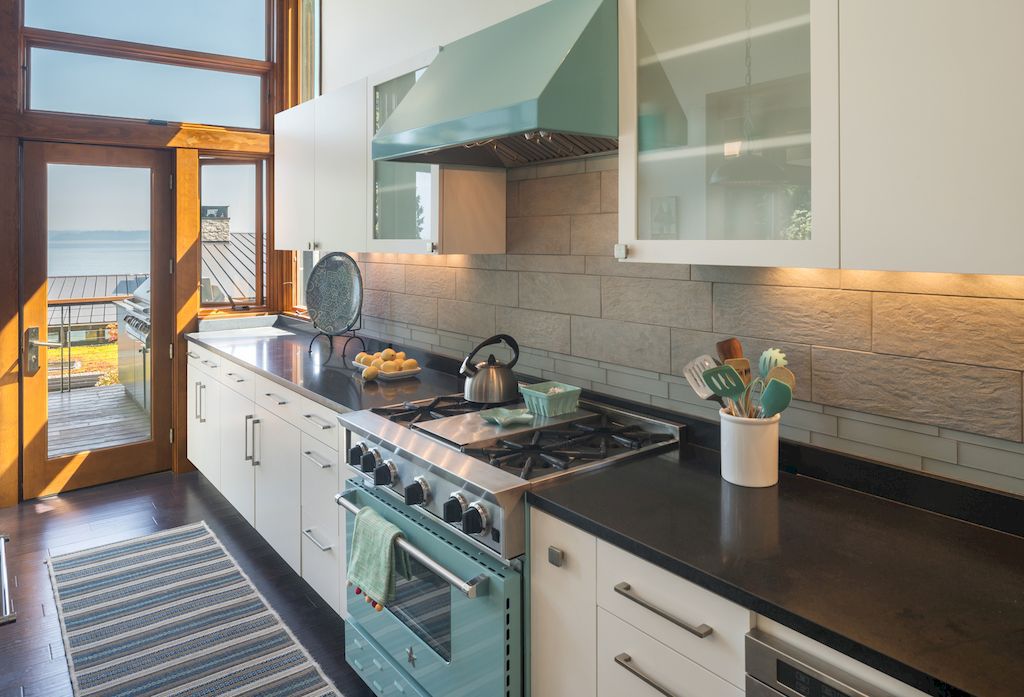 Serving your meals with green dishware and utensils not only adds a delightful aesthetic touch to your dining experience but also reinforces the green theme in your kitchen. Additionally, by investing in green-colored plates, bowls, cups, and kitchen tools, you create a cohesive and visually appealing environment that aligns with your commitment to sustainability. Imagine sitting down to a meal where each dish is beautifully presented on vibrant green plates and bowls. The color green has a calming effect and is often associated with freshness and nature. Island Retreat Features Pacific Northwest-style House by Coates Design
16. Green Fruit Bowl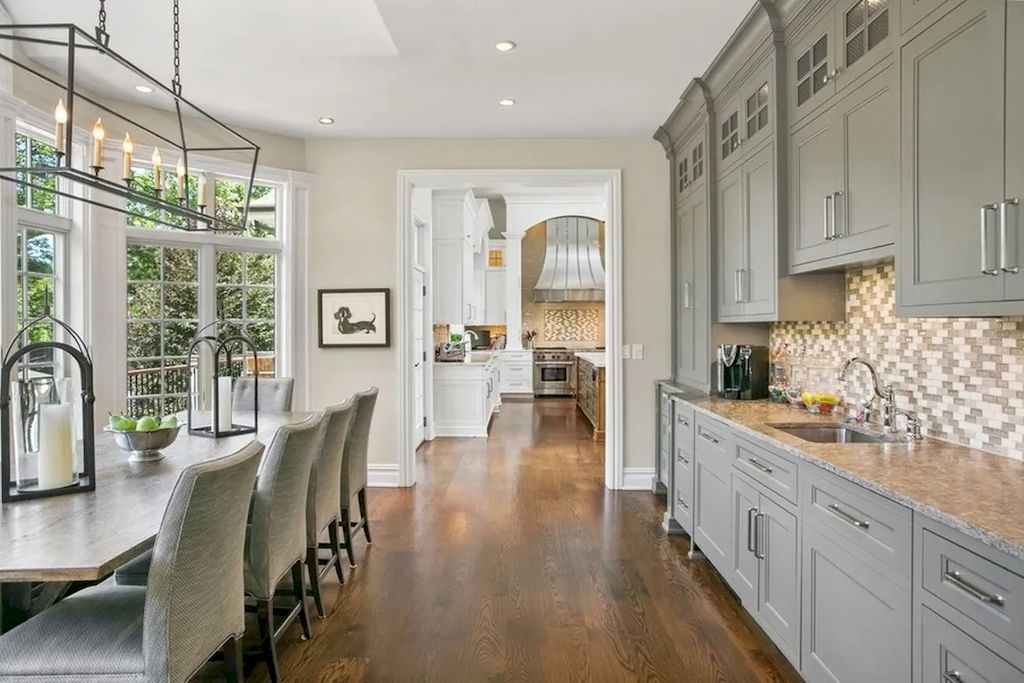 Enhance the visual appeal and promote healthy snacking in your kitchen by displaying fresh fruits in a green-colored bowl on your counter. This simple yet impactful addition serves multiple purposes, adding a vibrant pop of color while encouraging you and your family to make nutritious choices. Therefore, by opting for a green-colored bowl, you create a visually striking focal point that instantly draws attention and exudes a sense of freshness. The green hue complements the natural colors of the fruits, creating a harmonious display that showcases the beauty of nature's bounty. Pristine Colonial Farmhouse Compounds in New Jersey Listed at $6,650,000
17. Green Ceiling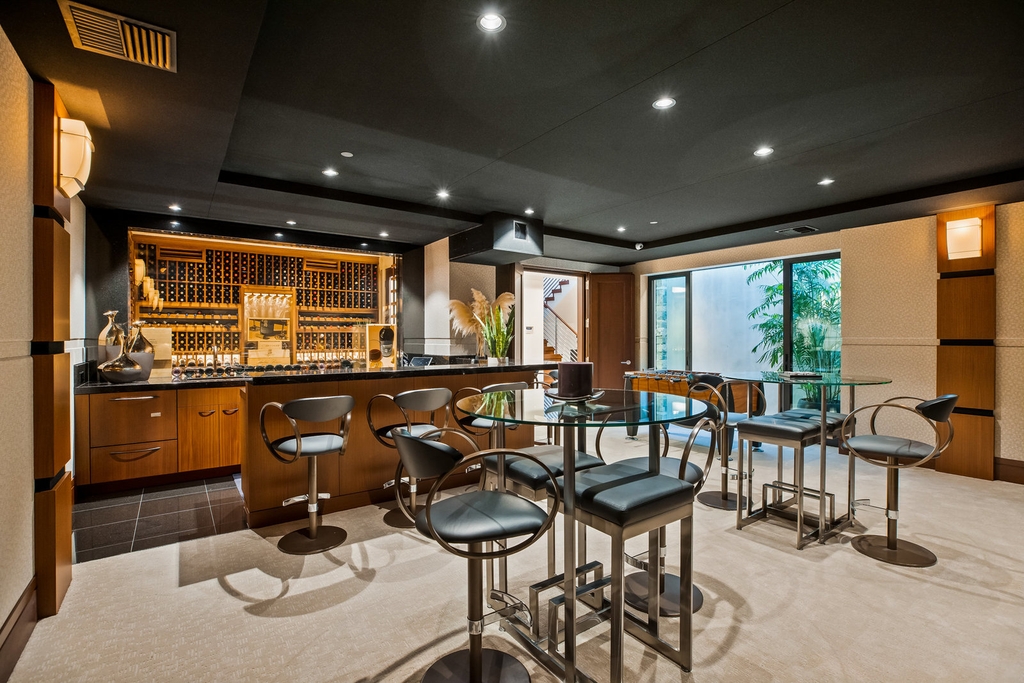 Transform your kitchen into a captivating space by painting the ceiling a shade of green. While it may seem unconventional, a green ceiling can be a striking design choice that adds an unexpected and visually interesting element to your kitchen. By opting for a light or pastel green, you create a sense of openness and freshness that mimics the natural world. This also could be a wonderful Luxury idea. Meticulously Completed Corona Del Mar Home in Coveted Irvine Terrace Estates Selling for $12,500,000
In conclusion, embracing a green kitchen design not only contributes to a healthier planet but also creates a refreshing and vibrant space in the heart of your home. Therefore, by prioritizing eco-friendly materials, energy efficiency, water conservation, and overall sustainability, you can transform your kitchen into an oasis of balance and harmony. Moreover, Incorporating the color green through various elements such as walls, cabinets, accessories, and appliances adds a touch of nature, growth, and vitality to your kitchen. You can check another article 13 Elegant Living Room Ideas to Achieve Dream Space for more ideas.
More Ideas For Living Room:
---
Thousand of high quality images of Living room and more you can see at Livingroom Gallery.