Date of Publishing:
Creative Dark Kitchen Ideas.
Dark hues are making a strong statement in kitchen decor in modern homes. Dark kitchens offer refinement, elegance, and a sense of mystery. Whether you choose deep black hues, rich charcoal tones, or brooding blue tones. Thus, you can integrate darkness into your kitchen may create an enticing environment. In this post, we'll look at 17 amazing dark kitchen ideas that will turn your kitchen into a sleek and contemporary retreat.
1. Opulent Onyx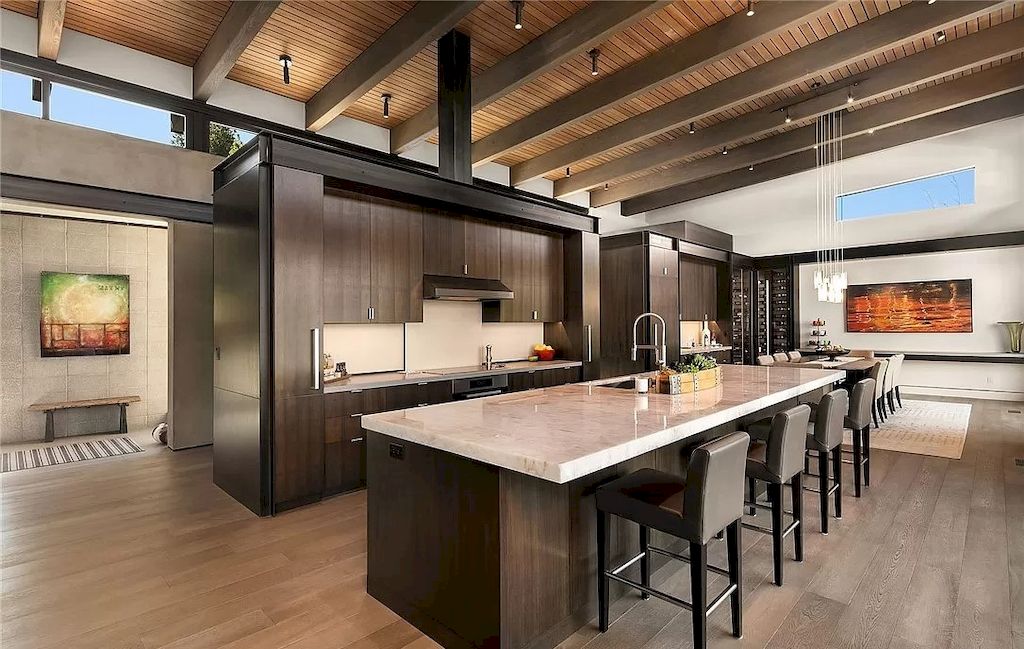 Consider adding the classic charm of onyx to your kitchen. This beautiful dark stone adds depth and drama to your area with its stunning black hue and occasional streaks of white or gold. Install ambient lighting to showcase its natural beauty and pair it with brass or gold accessories for a luxurious touch. Unrivaled Lakefront House in Washington on the Market for $6,500,000
2. Midnight Blue Bliss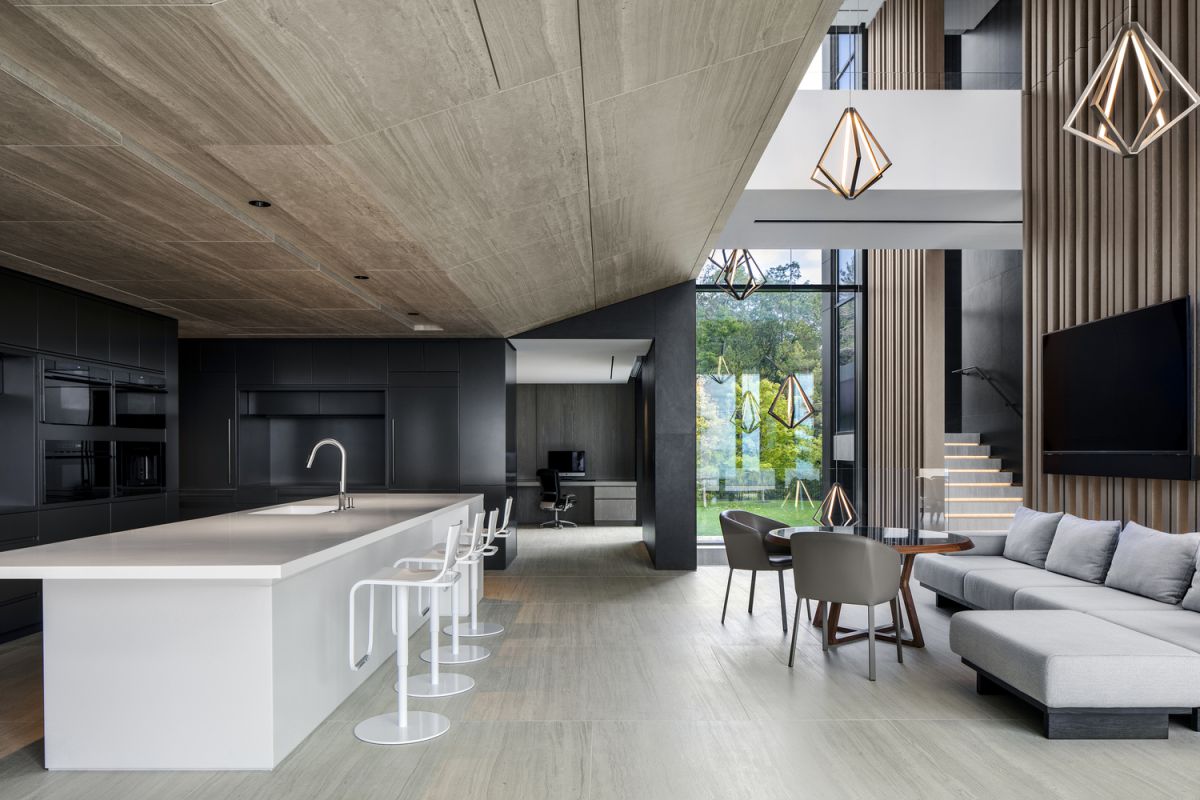 Indulge in the enticing attraction of midnight blue cabinetry for a sophisticated dark kitchen. The deep blue hue conveys a sense of tranquility and serenity. Moreover, it is an ideal choice for both classic and modern kitchens. We can use it with elegant stainless steel equipment and marble surfaces to create a harmonic contrast, Lake Huron Modern Home in Ontario, Canada by SAOTA
3. Charismatic Charcoal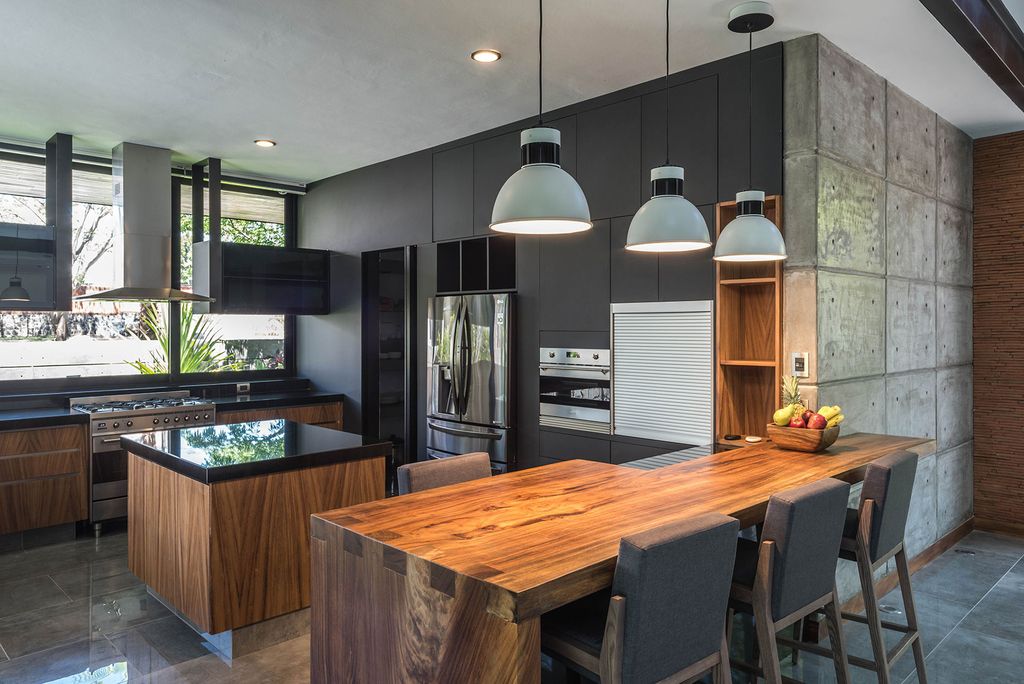 To obtain a sleek and modern look, embrace the appeal of charcoal cabinets. Charcoal's dark grey tone radiates refined elegance and combines very well with minimalist designs. Pair the cabinets with light-colored backsplashes and countertops. As a result, it will achieve a striking balance and optimize the visual effect. Kalyvas House, completely Integrate Environment by Di Frenna Arquitectos
4. Exquisite Espresso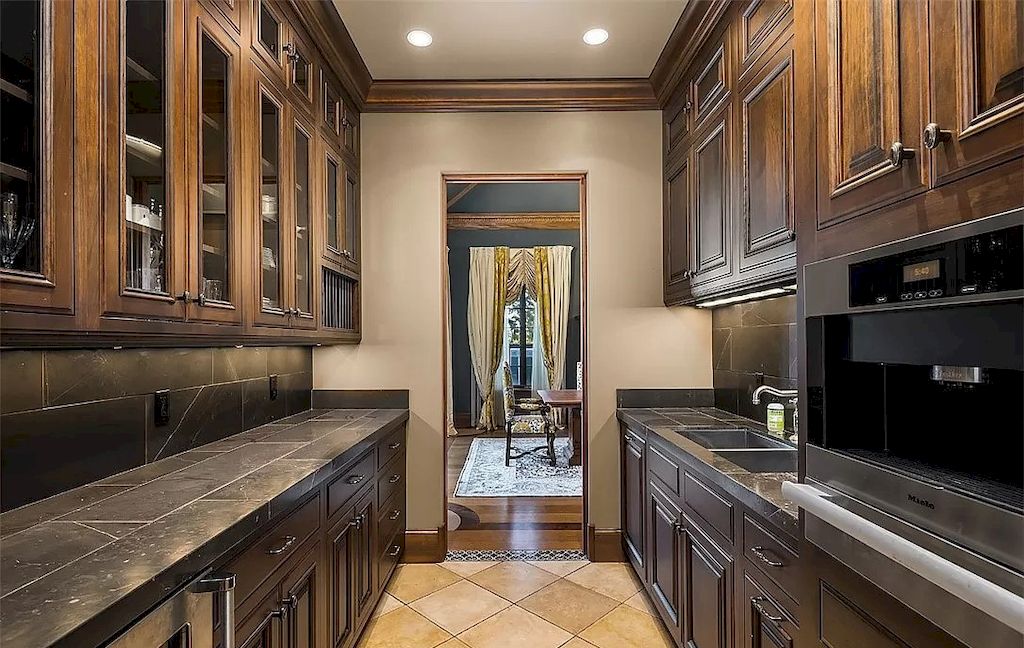 Choose espresso-colored cabinetry for a warm and inviting ambiance. These dark brown tones create a warm atmosphere evocative of a stylish coffee shop. Combine them with textured tiles, pendant lighting, and brass hardware to create a warm and inviting room. Mesmerizing, Unforgettable, And Must Be Seen, Eagle's Nest Estate in Washington Asks $22,500,000
5. Mysterious Matte Black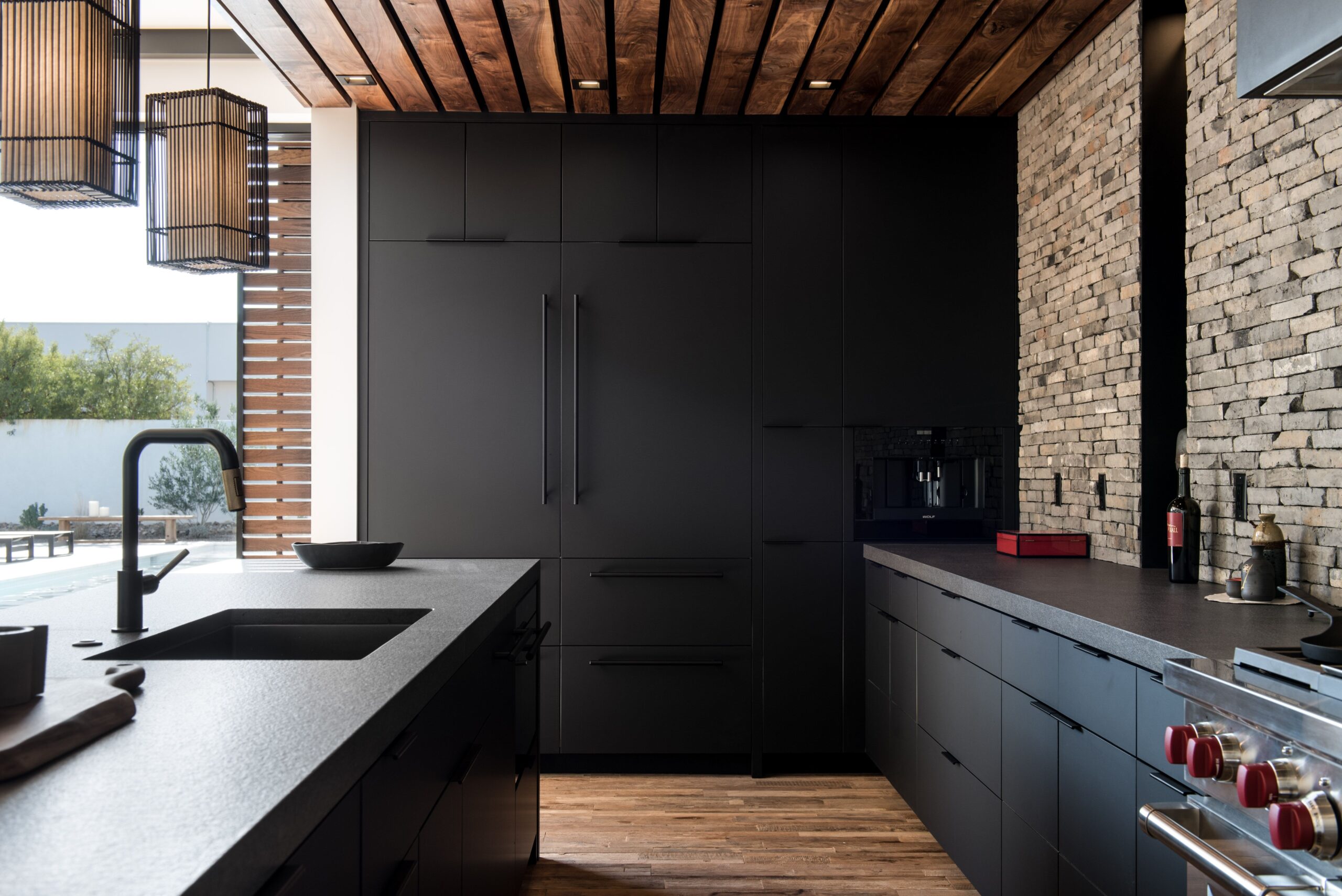 Matte black cabinets make a genuinely striking impression. Matte coatings have a velvety feel that adds depth and character to your kitchen. Combine sleek, modern hardware with light-colored countertops and backsplashes. Then you can create a dramatic contrast that showcases the beauty of the black. Kyoto House with traditional Japanese and unique Design by Jewel Homes
6. Luxurious Dark Wood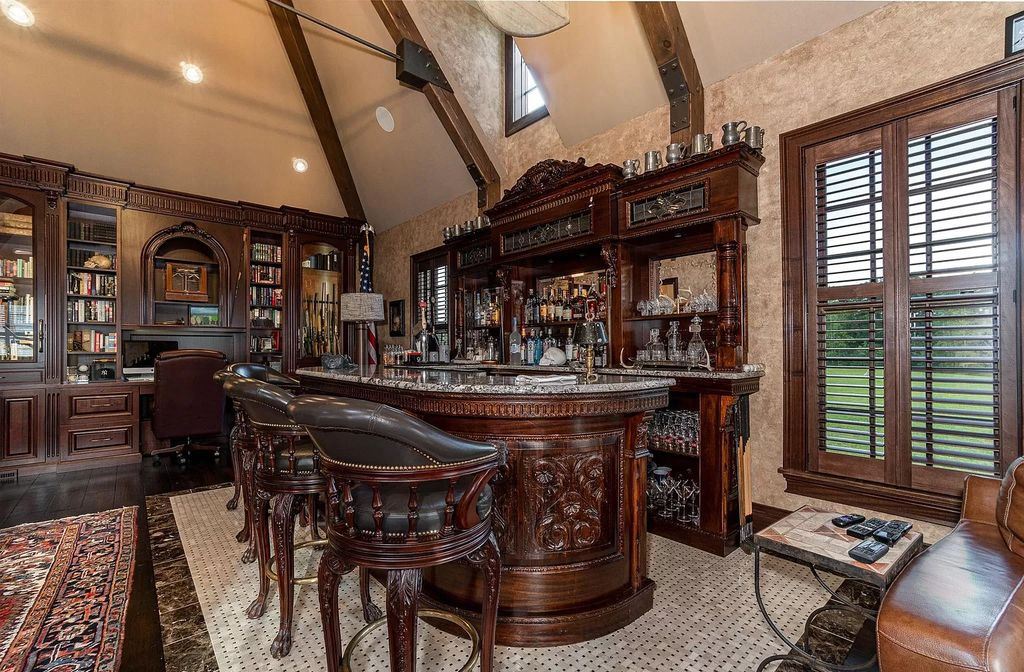 Dark oak cabinets convey beauty and sophistication like nothing else. For a classic look, choose rich mahogany or walnut finishes. Dark wood in your kitchen provides warmth and may be matched with brass fittings and marble worktops for a rich, high-end effect. This can also be a Luxury idea. Exquisite French Country Mansion in New York with lake views sells for $8,900,000
7. Glamorous Granite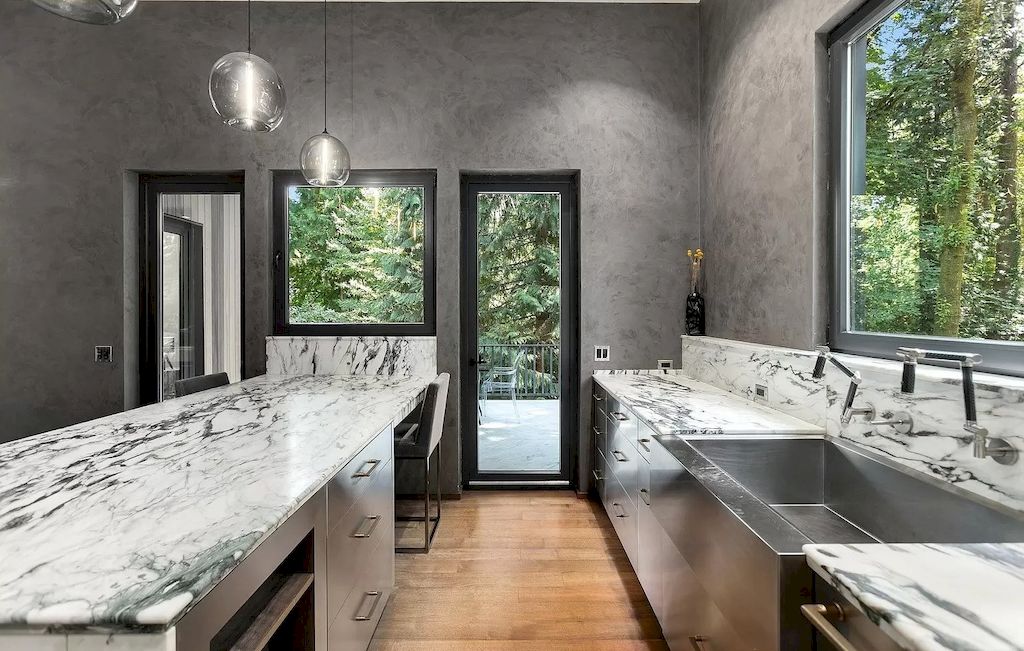 Granite countertops in dark shades such as black or deep grey bring a touch of opulence to your kitchen. The natural patterns and variations in the stone create a unique and luxurious look. Combine them with white or cream-colored cabinets for a striking contrast that showcases the beauty of the granite. Defining Effortless Living, This Modern Home in Oregon Asks for $3,050,000
8. Moody Metallics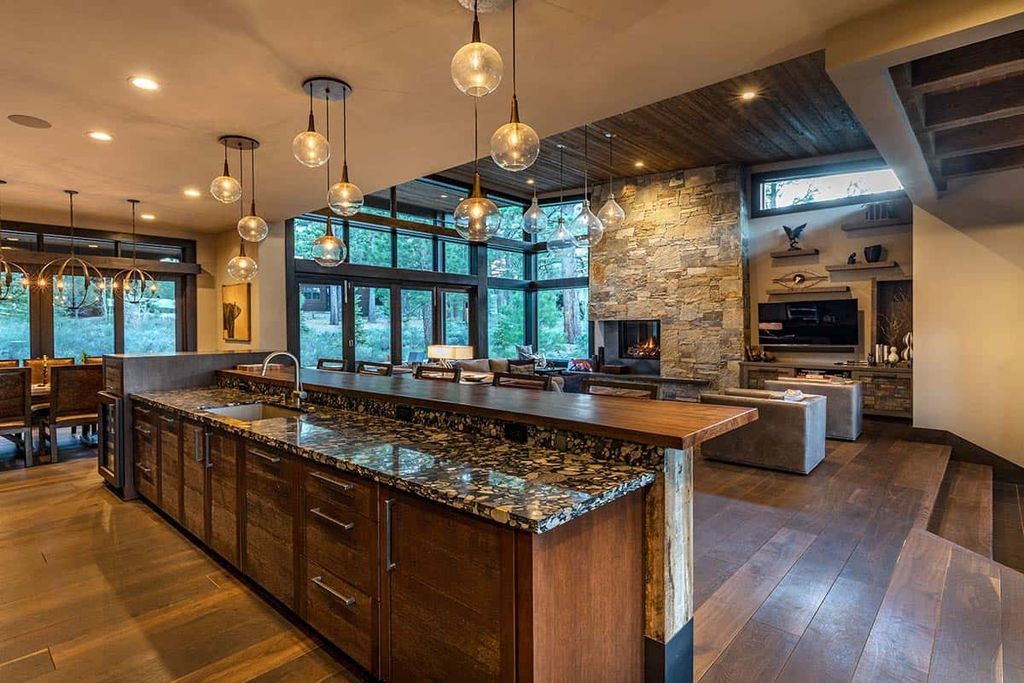 To add a bit of glam to your drab kitchen, include metallic accessories. Consider pendant lights made of copper, bronze fixtures, or stainless steel appliances. These gleaming elements will reflect light and offer an interesting contrast with the gloomy color scheme. This $5,995,000 Impressive Martis Camp Home has Large Outdoor Patio
9. Dark Tiles Delight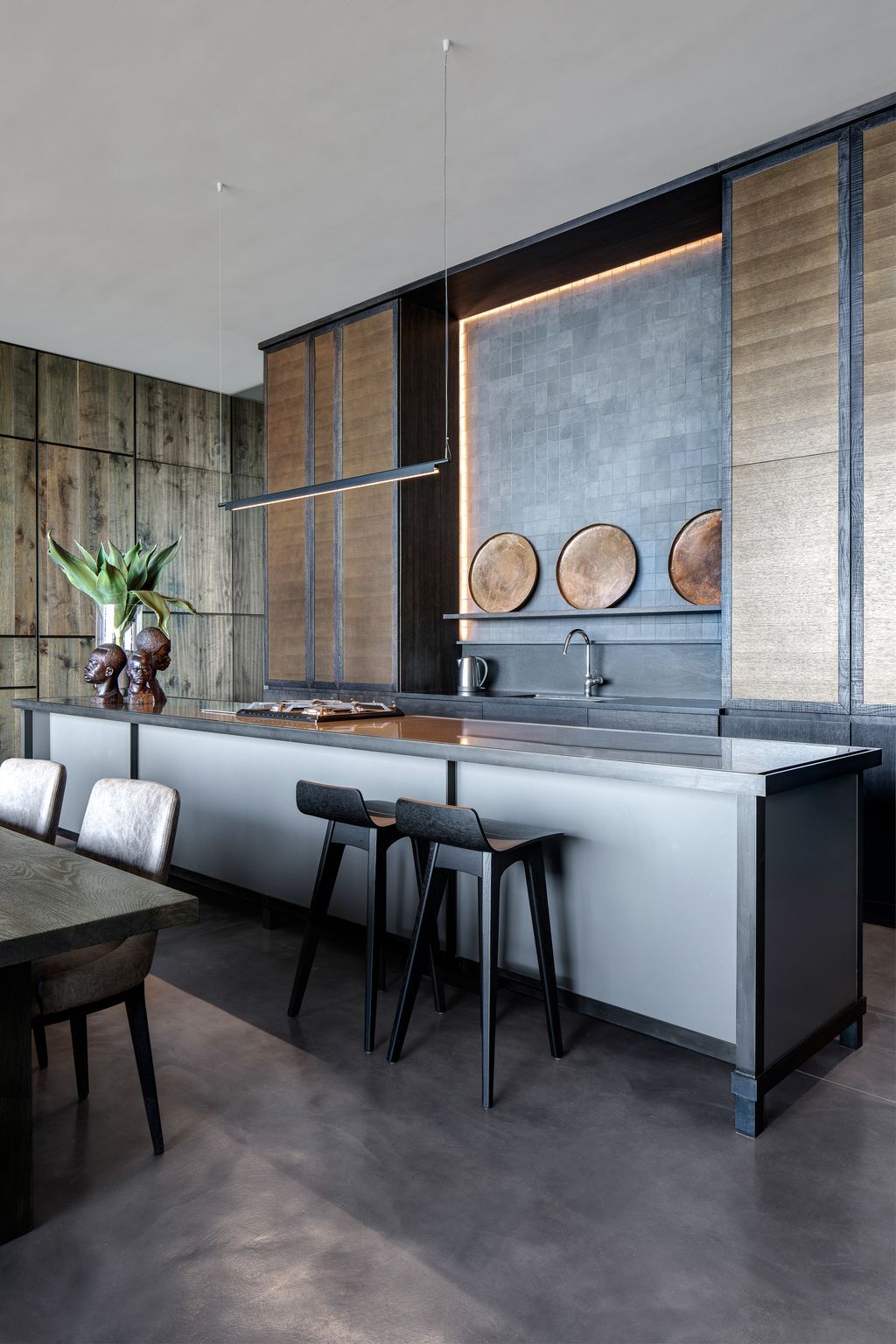 Take your dark kitchen to the next level with striking dark tiles. Consider installing a sleek, black subway tile backsplash or opt for patterned tiles in deep hues. These captivating designs will add visual interest and create a focal point in your kitchen. Kloof 145 House with Spectacular Ocean and Mountain Views by SAOTA
10. Lustrous Lighting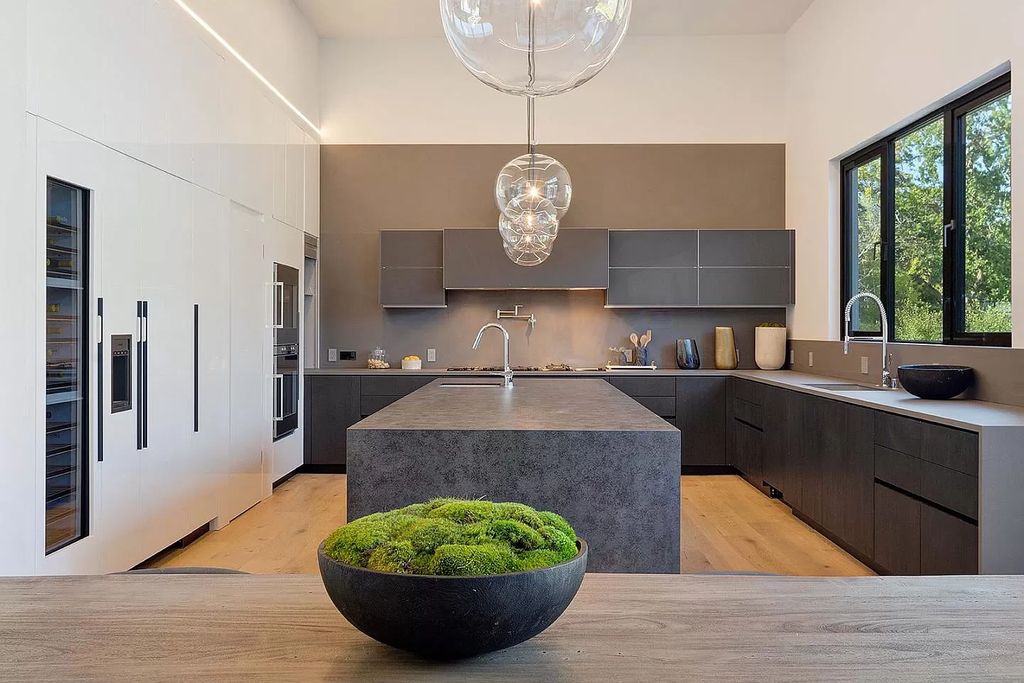 Pay attention to lighting to properly highlight the beauty of your dark kitchen. Install a layered look by combining ambient, task, and accent lighting. You might choose pendant lights, under-cabinet lighting, and track lighting. It could brighten different places and accentuate the textures and colors of your gloomy kitchen. This $9,149,000 Unique Home in Palo Alto is the Epitome of Luxury Modern Design and Construction Innovation
11. Dark Bohemian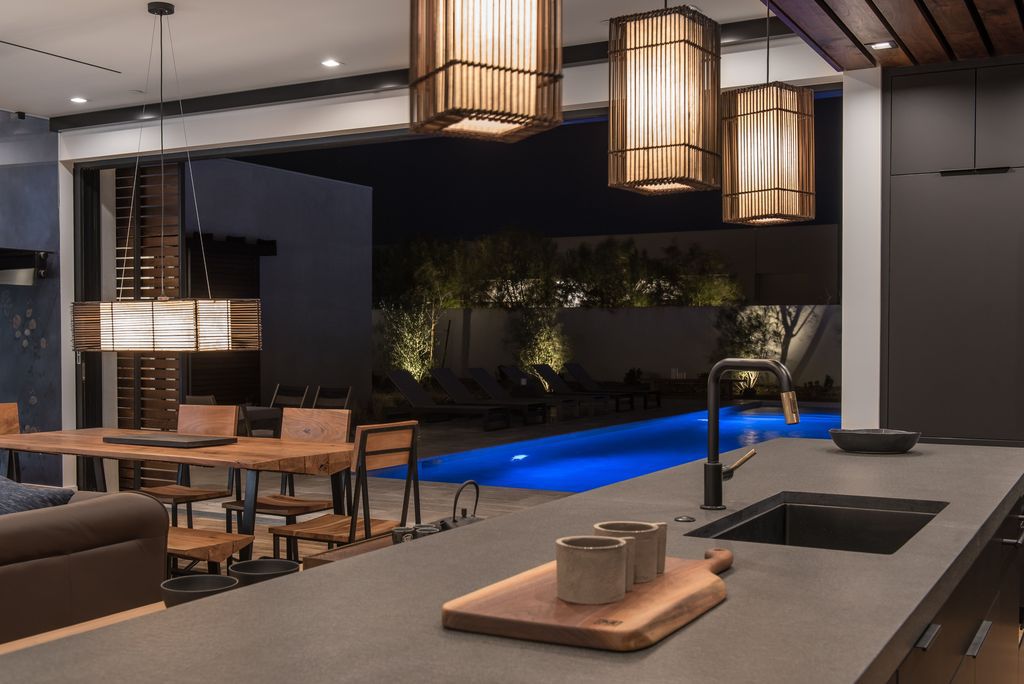 Infuse your kitchen with a bohemian vibe by incorporating dark colors and eclectic elements. Opt for dark teal or deep purple cabinets. Then, we can mix and match colorful tiles for the backsplash. Accessorize with vibrant rugs, macramé wall hangings, and plants to create a rich, boho-inspired space. Kyoto House with traditional Japanese and unique Design by Jewel Homes
12. Moody Greenery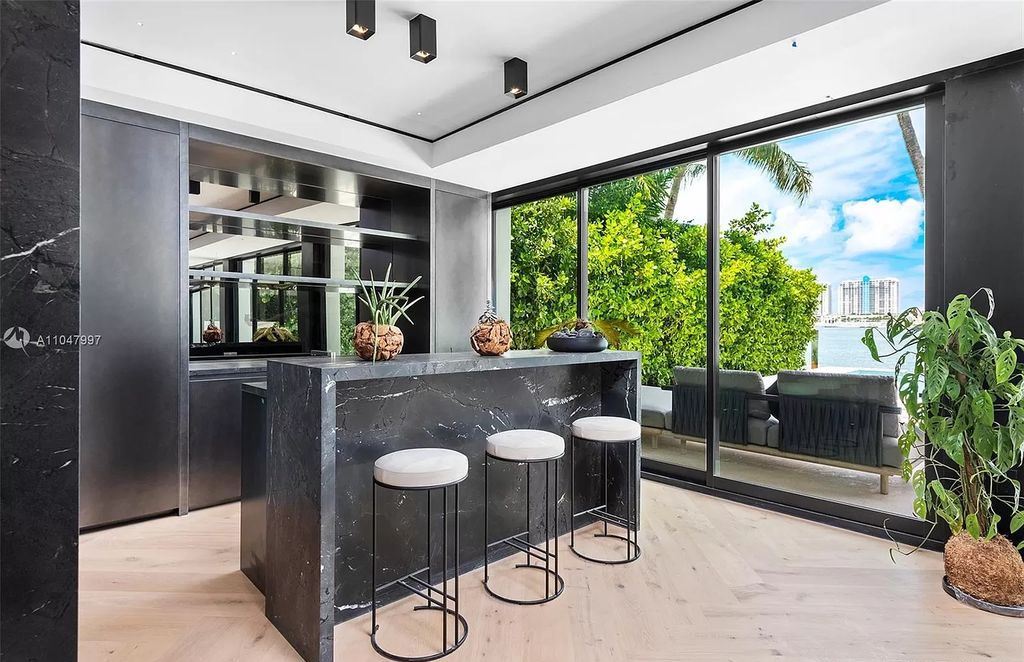 Experiment with rich green tones to add a natural touch to your gloomy kitchen. Consider the combination of forest green cabinets, black marble counters, and brass accents. Introduce indoor plants and herbs to provide freshness and life to the room. As a result, your kitchen will be embraced in a tranquil and earthy ambiance. An Ultra Luxury Modern Waterfront Home in Miami Beach
13. Bold and Geometric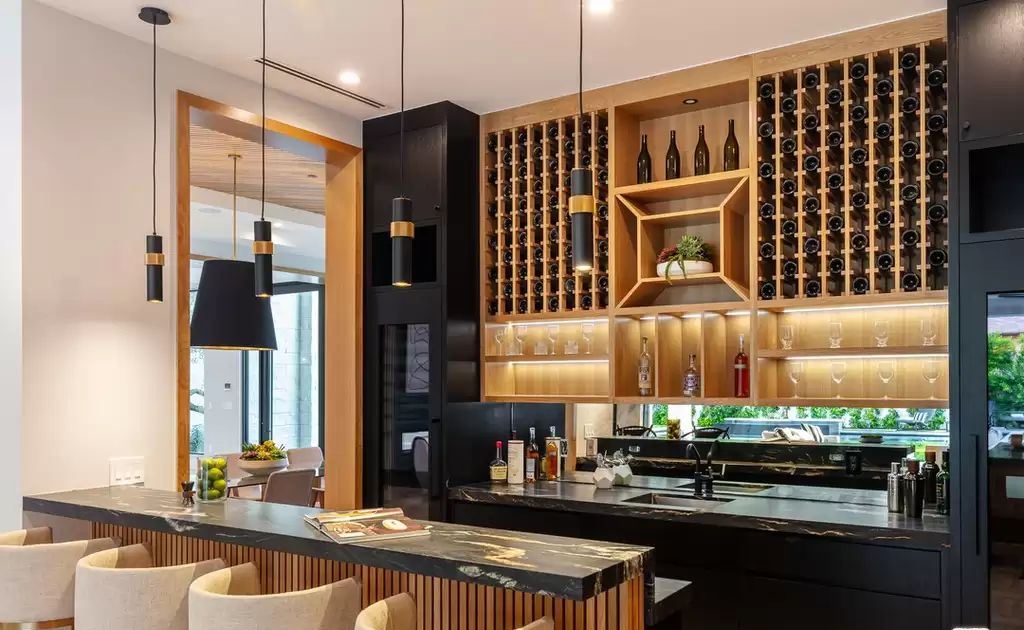 Incorporate strong geometric patterns into your design for a modern and creative kitchen. Choose dark cabinetry with clean lines and geometric backsplash tiles in contrasting hues to complement them. You can choose sleek stainless steel equipment and minimalist hardware to preserve a modern look. World Class Encino Home with Captivating Architecture hits Market for $8,995,000
14. Monochromatic Elegance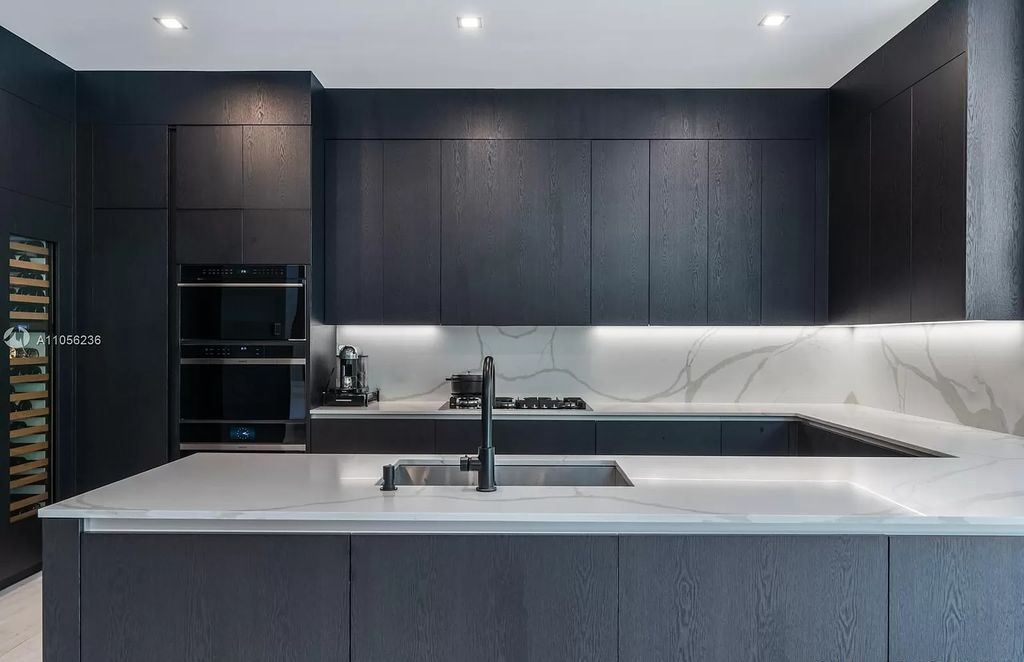 By using a monochromatic color scheme, you may create a classy and timeless kitchen. For the cabinets, countertops, and backsplash, use several tones of dark gray or black. Do not forget to create depth and aesthetic intrigue in the area. By using varied textures, such as matte and glossy finishes. Newly Built Tropical Modern Home in Miami Beach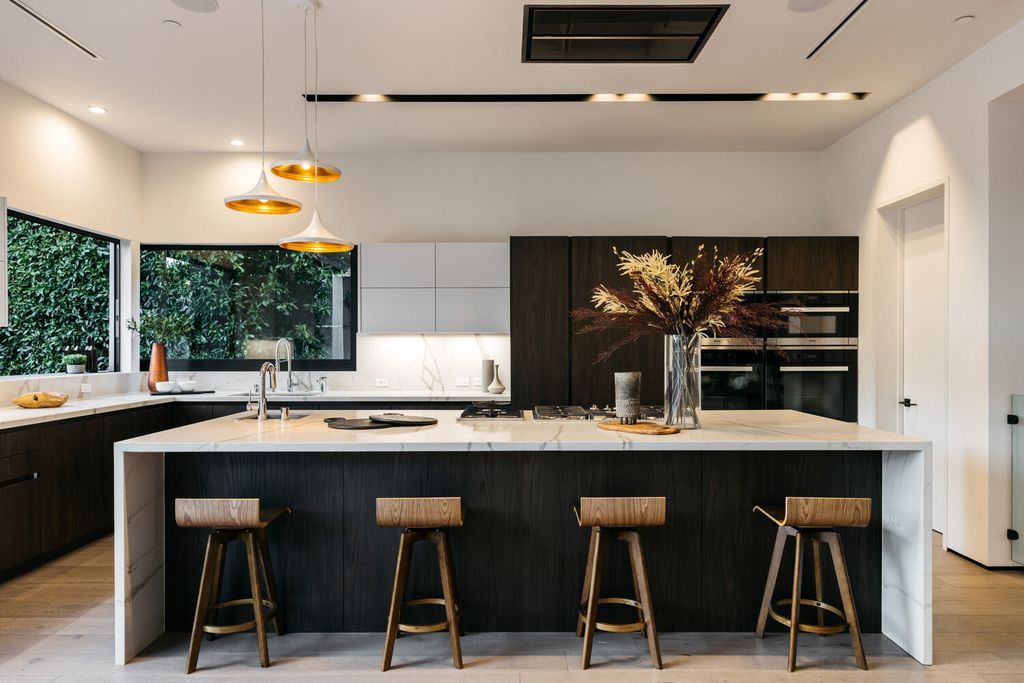 Combine a clean minimalist design with deep tones to create a Scandinavian-inspired dark kitchen. You can Go with matte black cabinets, light-colored counters, and open shelves to keep things bright and airy. In order to inject warmth and create a friendly ambiance, utilize natural wood features. For instance, we can use a dark oak floor or a walnut dining table. An Ultimate Modern Home for Entertaining in Los Angeles asking $4,995,000
16. Retro Vibes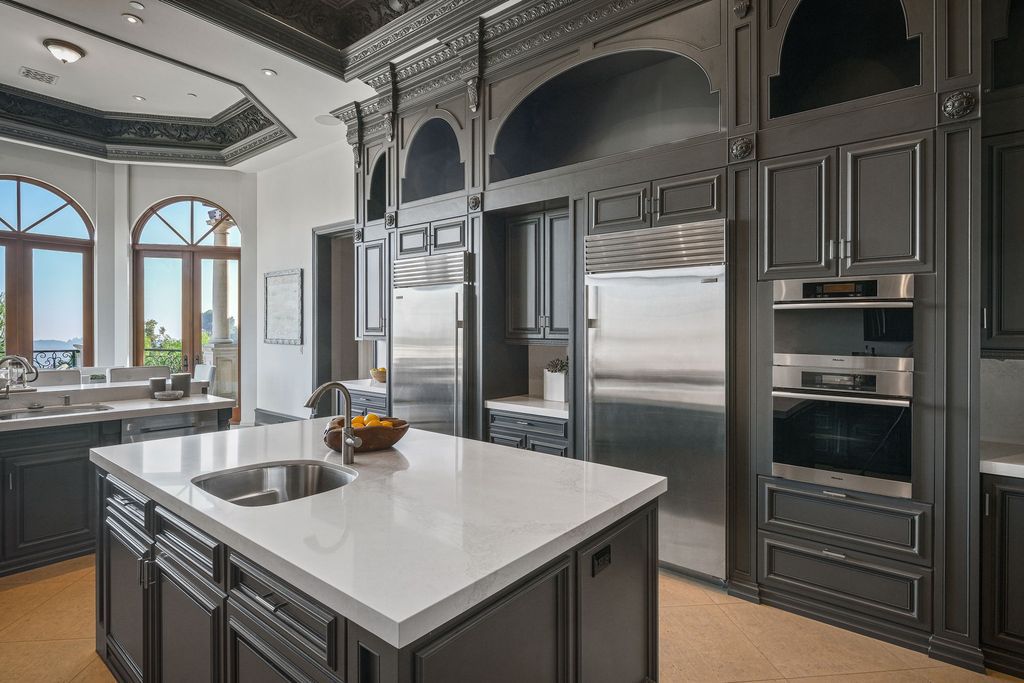 With a retro-themed dark kitchen that emanates vintage charm, you can embrace nostalgia. Choose cabinets in deep crimson, teal, or mustard yellow. We might include retro-inspired appliances, such as a bright refrigerator or a vintage-style oven. We can add classic signs, bright patterns, and retro-inspired bar stools to complete the vintage look. Extraordinary Lachman Lane Modern Home with Explosive Unobstructed Ocean Views
17. Art Deco Glam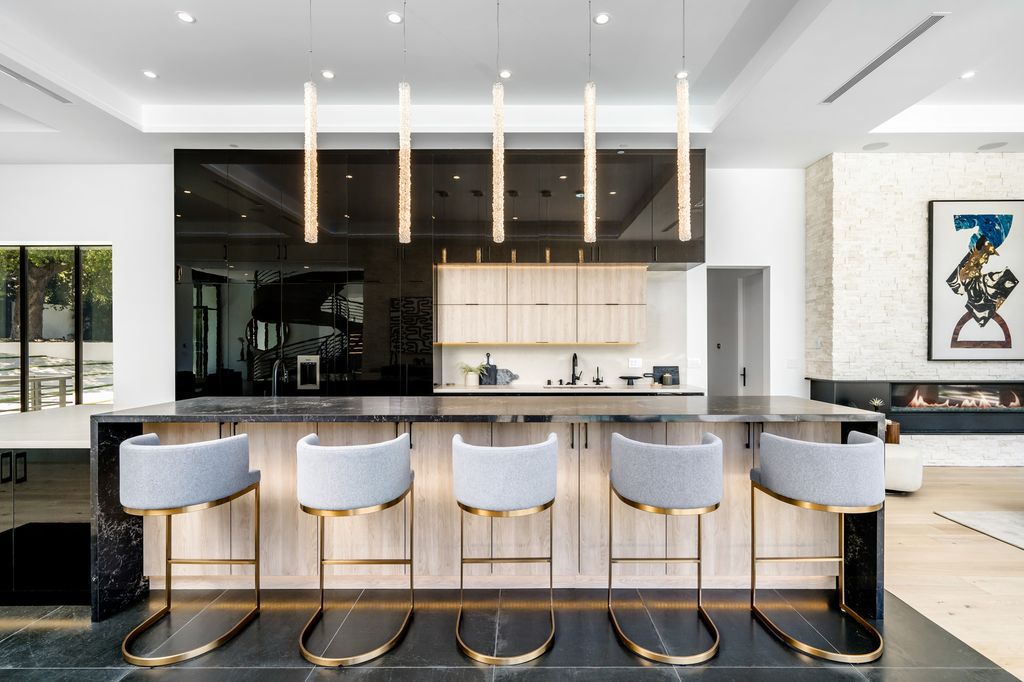 Design dark kitchen ideas with strong geometric patterns and rich accessories to evoke the elegance of the Art Deco era. You can choose cabinets with black and gold, mirrored backsplashes, and sleek marble counters. It will capture the essence of this lavish aesthetic, using velvet bar stools, crystal chandeliers, and geometric tile floors. Brand New unique Home in Los Angeles with spiraling staircase
Dark hues in your kitchen design may boost the mood by creating a feeling of elegance, refinement, and even a hint of mystery. This article's 17 dark kitchen ideas offer a variety of styles and thoughts for transforming your cooking environment into a compelling retreat. So go ahead and let your imagination go wild as you construct your ideal dark kitchen. You can change your kitchen into a room that oozes elegance, sophistication, and personal flare. Enjoy the process and get the benefits of a stunningly designed dark kitchen. It will fascinate and inspire you for years to come. You can check another article 20 Colorful Living Room Ideas: Transform Your Space with Vibrant Design for more creative ideas.
More Ideas For Living Room:
---
Thousand of high quality images of Living room and more you can see at Livingroom Gallery.