Date of Publishing:
Creative With Modern Bathroom Ideas
Today's bathroom design has become more chic and modern, breaking away from the normative standards of the original bathroom. There are countless finishing options; such as bathrooms with open layouts or combined with a bedroom that is both unique and uplifting. When the modern style is on the throne, minimalism but elegance will always be the factor to focus on. You will have countless options to apply to the bathroom that we may not have thought of before. With the ideas below, decorating a modern and luxurious bathroom has become a lot easier depending on your preferences. We have summarized 13 Modern Bathroom Ideas below to support you in orienting your own bathroom concepts. Let's find out together.
1. Bathroom Ideas For Multi Function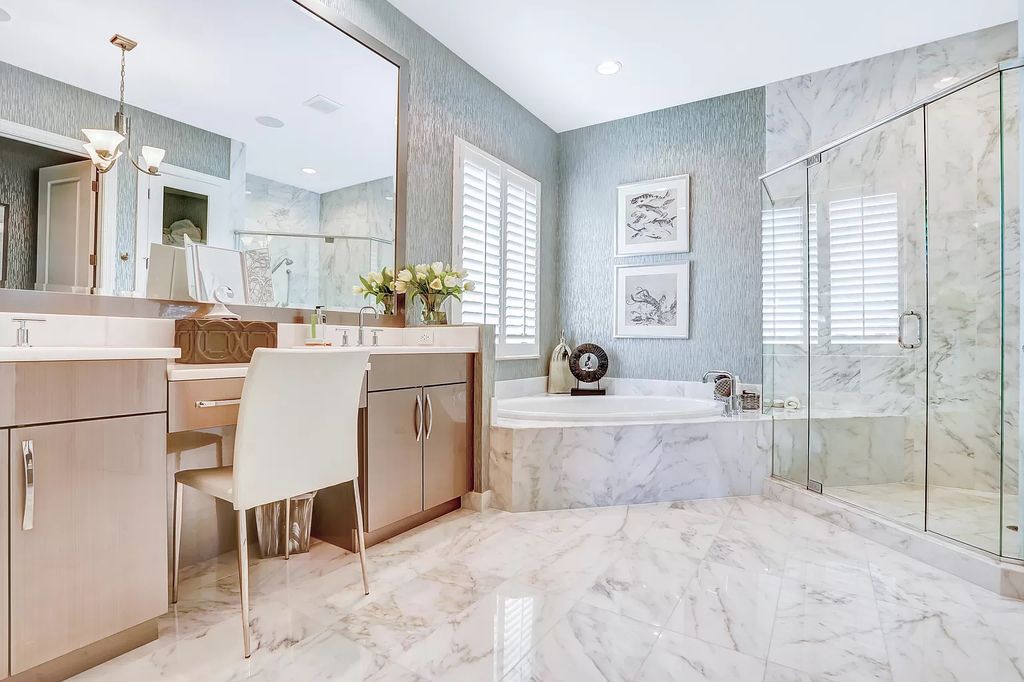 In housing design ideas, whether in any area in the house, it is aimed at maximizing the use and use of the truly smart space. Place an additional dressing table adjacent to the hand sink or located between two hand sinks with seats like in Modern Bathroom Ideas above, you have a bathroom space with enough function. Combine sơm drawers under the sink to supplement more storage space for your bathroom. This $6,975,000 Exceptional Home in Boca Raton has Ultimate Amenities for Relaxation and Entertainment
2. Design Your Bathroom Around View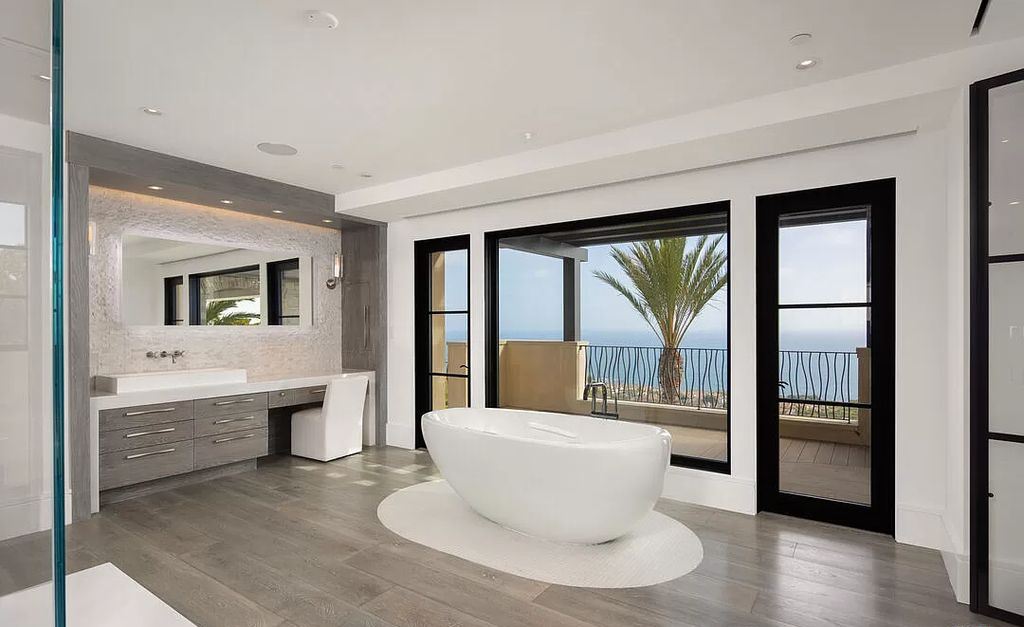 Determining the layout of the space in design is also very important. That is how to enhance what you want to be in the center of any room. The floating bath is cleverly placed by the glass window from the ceiling to the impressive floor to attract the eyes of anyone when entering the room. The great landscape outside the window is completely raised by this arrangement. Come to The Market at $62,000,000! This Unique Property in Newport Coast showcases The Highest Level of Ultra Luxury Coastal Living
3. Modern Bathroom Ideas With High Contrast Colors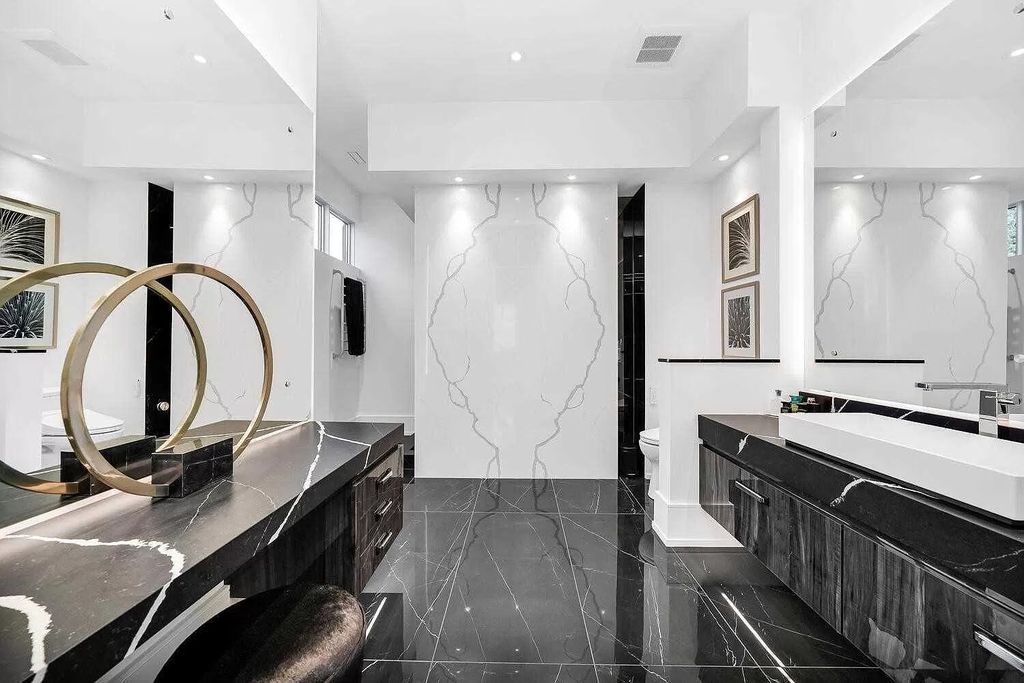 The strong contrast between white and black tones is impossible not to mention when creating design ideas with modern style and timeless. Marble with delicate patterns, with black selected for the entire bathroom floor and a hand sink that contrasts with the white of the ceiling and the bathroom wall, produces a beyond compared design. Exquisite Custom Home in Ontario with Sprawling Open Concept Living Spaces Asks for C$9,198,000
4. Ensure The Light Quality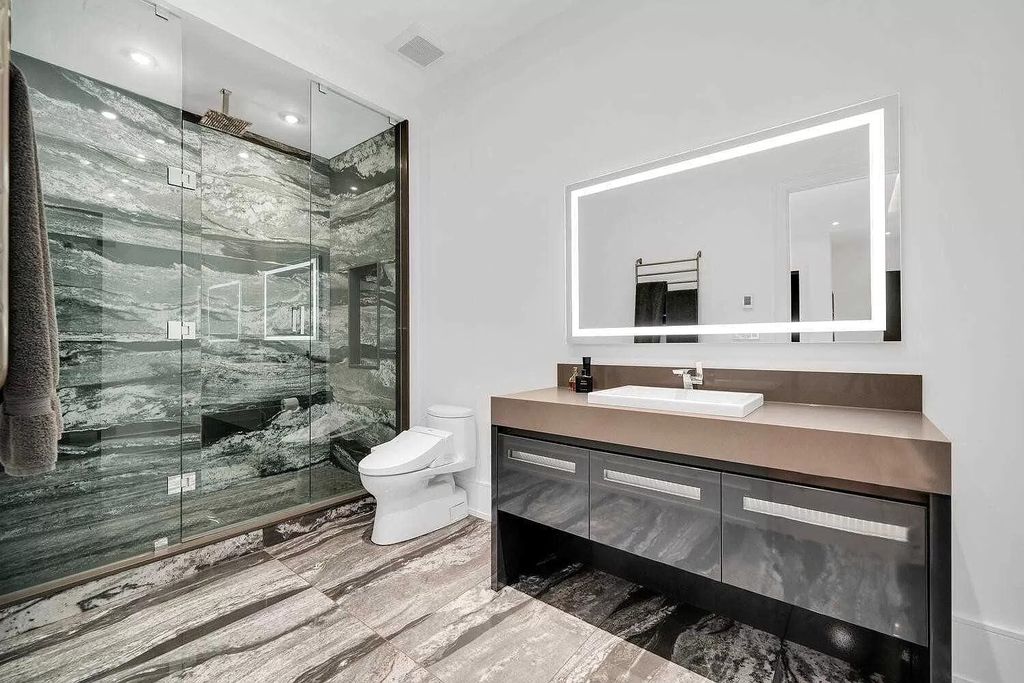 To ensure the quality of light for the bathroom, in addition to the modern ceiling light system that is often used, you can ensure local light quality by installing wall mounted pairs of lights with various types for choosing or installing mirrors with LED lights. At the same time, it is also a decorative accessory for your bathroom design more attractive. Exquisite Custom Home in Ontario with Sprawling Open Concept Living Spaces Asks for C$9,198,000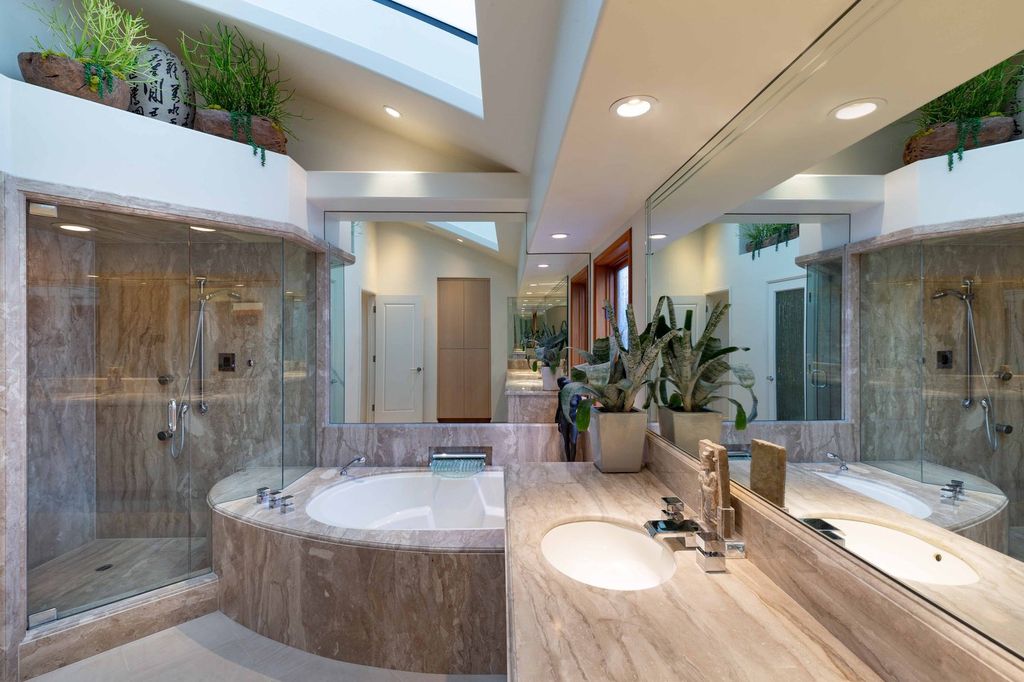 Skylights are often included in the living room design for environmentally friendly housing designs, but it also appeared in Modern Bathroom Ideas above. A great way to bring the natural touches, namely natural light crept into each corner of your bathroom to avoid darkness and humidity. As the result, you do not have to worry about the lovely greenery pots that you display in the bathroom does not have enough light to grow. This $21,500,000 Contemporary Oceanfront Home in Newport Beach Enjoys A Very Desirable Level of Privacy
5. Add More Golden Details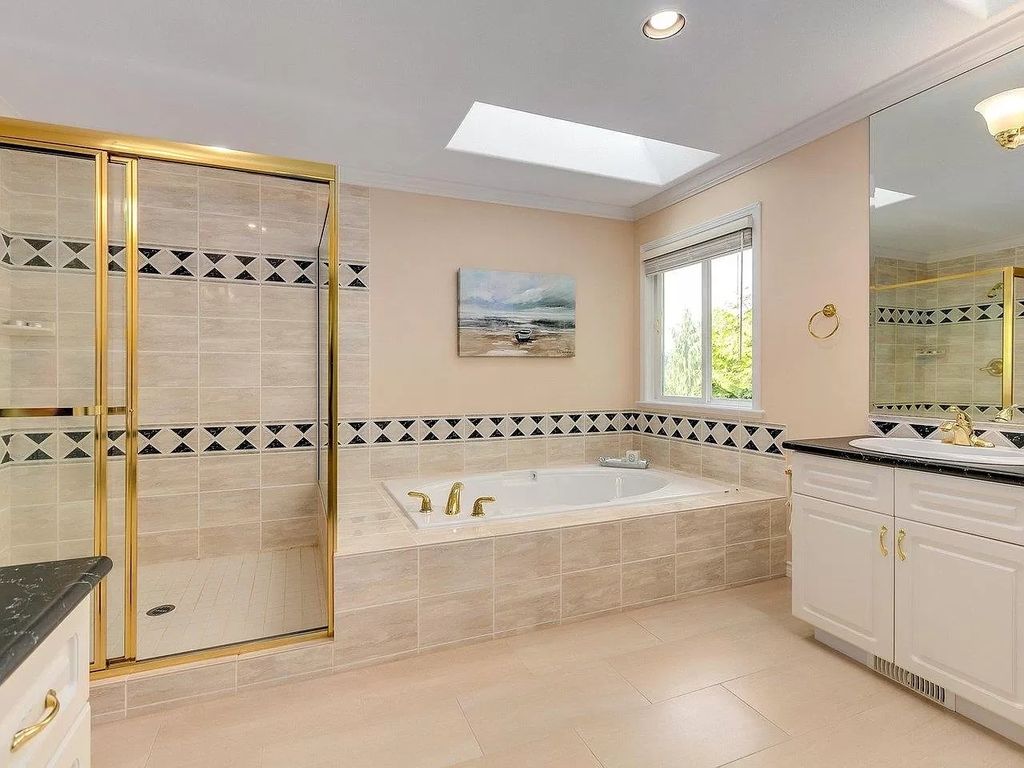 The instant way to bring modernity and attract into the Modern Bathroom Ideas is the appearance of golden details. Depending on how you arrange it, these accents can appear scattered around the bathroom such as: the metal frame for the glass panels of the shower zone, the handle of the shelves under the hand sinks, or the water tap of the bathtub. Resort-Like Executive Home in Surrey with Endless Entertainment Spaces Asks for C$3,499,000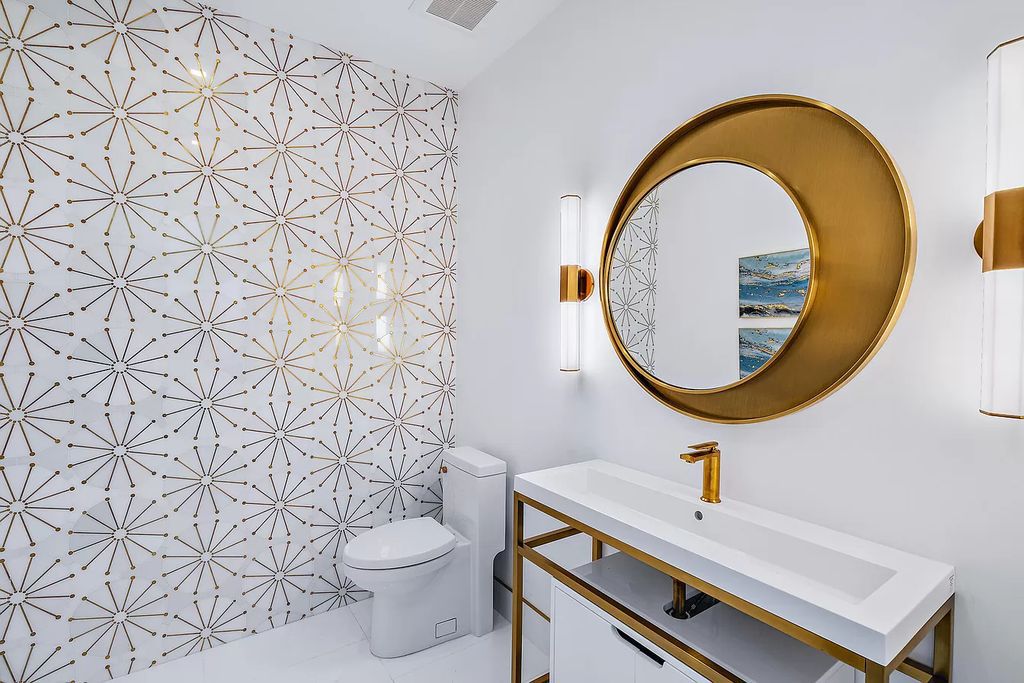 You can also consider arranging the golden details that appear concentrated in only one or two areas in your bathroom to create an attractive focal point. As in the luxury ideas above. Brand New Waterfront Home in Lake Worth with Wide Intracoastal Water Views hits The Market for $12,995,000
6. Add More Seatings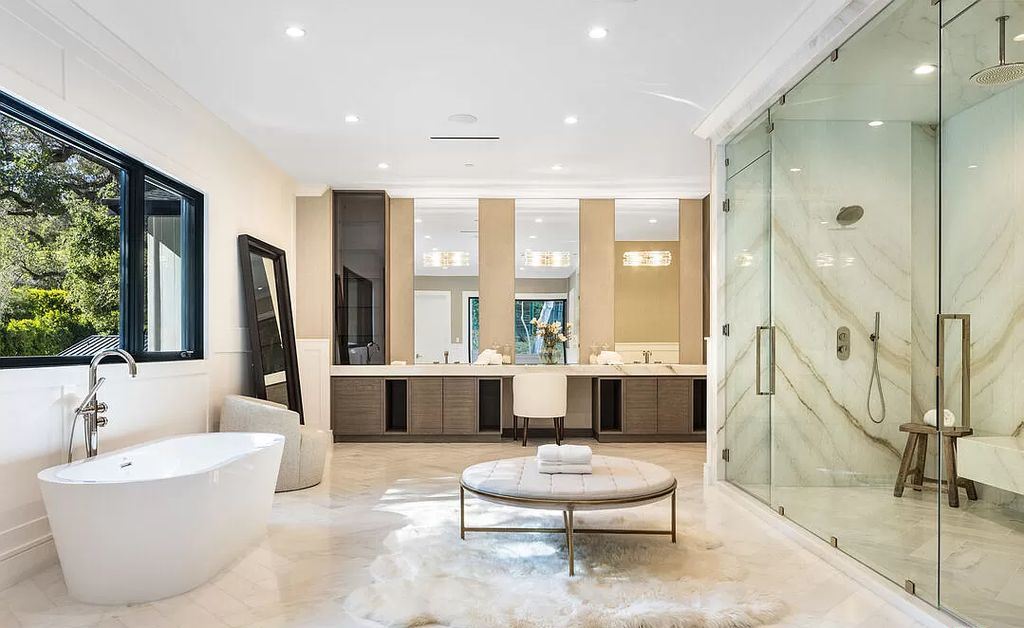 With large bathrooms, utilities such as the bath area, bathtub and hand sink will be arranged and designed neatly on the sides of the room and left the central area empty. You can consider getting more seats or places for personal belongings when you take a shower, by arranging an additional chair with a modern design and a soft carpet under your feet. You will be very surprised about the benefits that this brings. This $29,995,000 Brand New Home in Los Angeles provides A Sophisticated Balance of Luxury Living with A Rustic Natural Environment
7. Use Wall Mounted Furniture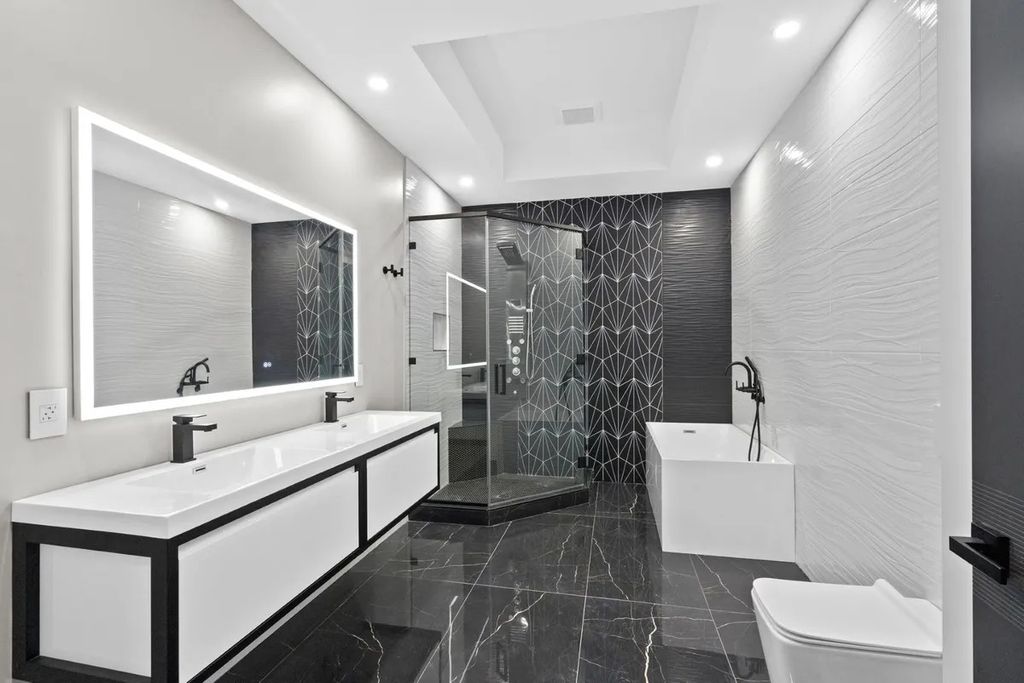 Make the most of the space for storing stuff without affecting the installation of the utilities needed for the bathroom with the presence of wall mounted shelves. The shelves are usually designed to be given under the hand sinks, both convenient for use and bringing modernity and attraction. The installation of large shelves on the wall also creates favorable conditions for cleaning the bathroom floor. With Emphasis on Sleek Form and Seamless Function, The Modern Residence in Virginia Prices at $3,645,000
8. Prioritize For Opening Spaces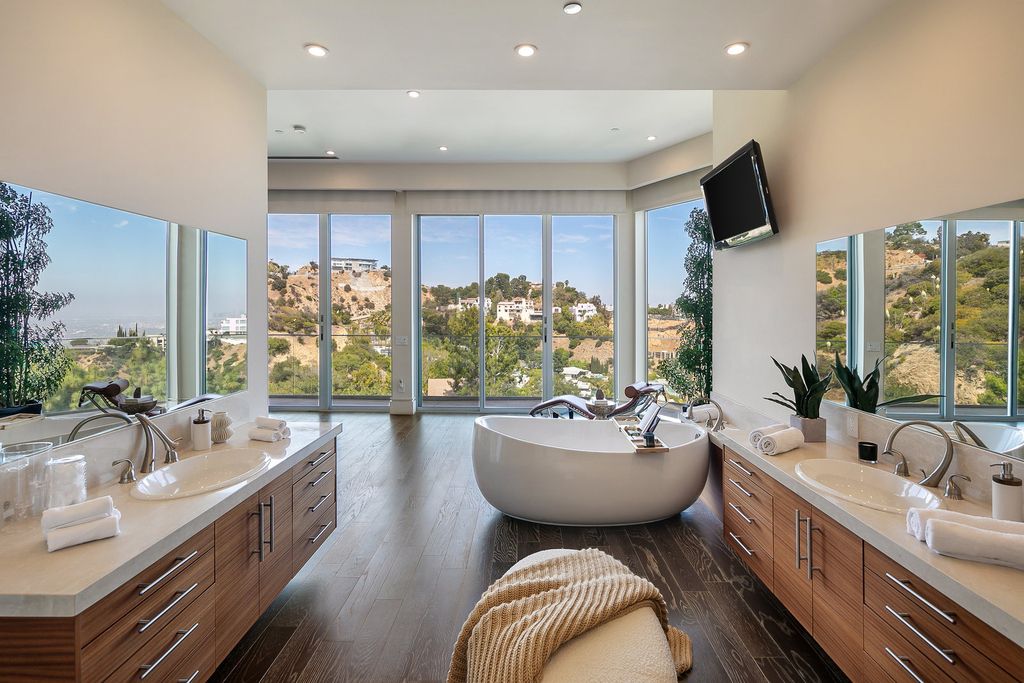 Bathrooms with open space are one of the outstanding trends in the design service because of the clear advantages that this style brings. Especially, couples often choose to design open bathrooms to eliminate the gap, creating a sense of connection. The walls and partitions are gradually being removed, helping to show off the beautiful bathroom as well as creating comfort as well associated with nature. Luxury ideas is a typical example of that. This $14,750,000 Dreamy Los Angeles Home offers Unprecedented and Most Explosive Views of The City
9. Use Grey Concrete For A Modern Look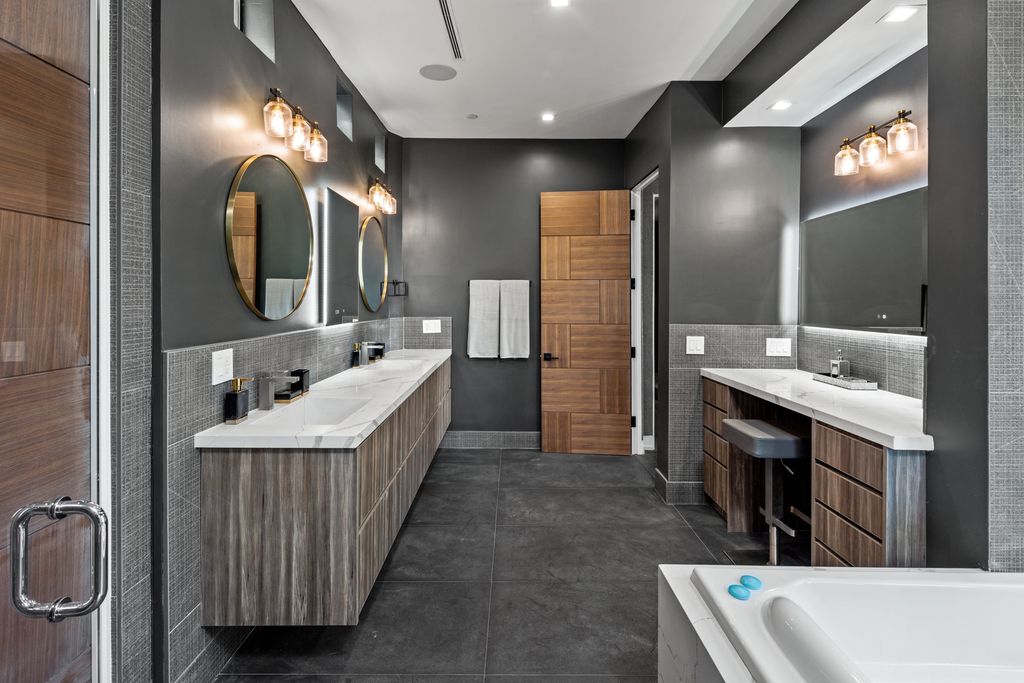 If you feel bored with regular bathroom tiles, perhaps concrete tiles will be the perfect choice for you. Modern concrete bricks have overcome the disadvantages of natural raw cement, combined with a unique texture design to create a flexible color change that gives your bathroom space more elegant, sophisticated, and luxurious. Minimalism is the trend in current and future interior design. And cement tiles have been improved to become an important part of this style. A Brand New Modern Home in Los Angeles with The Picturesque Surroundings hits The Market for $6,390,000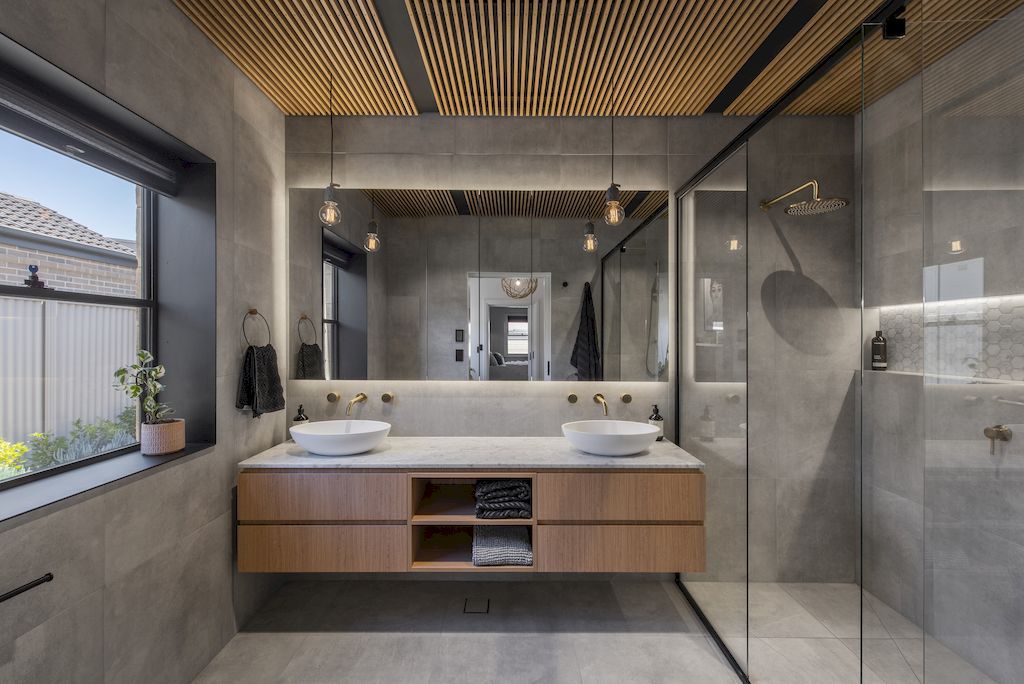 Cement tiles are also very suitable for bathroom designs in industrial styles. The wooden ceiling tiles are combined with a pair of ceiling lights to make the overall bathroom with an industrial style more and more complete. Plympton House with Flexible Living Space connect to Outdoor by Contech
10. Use Glass Panels For Zoning Spaces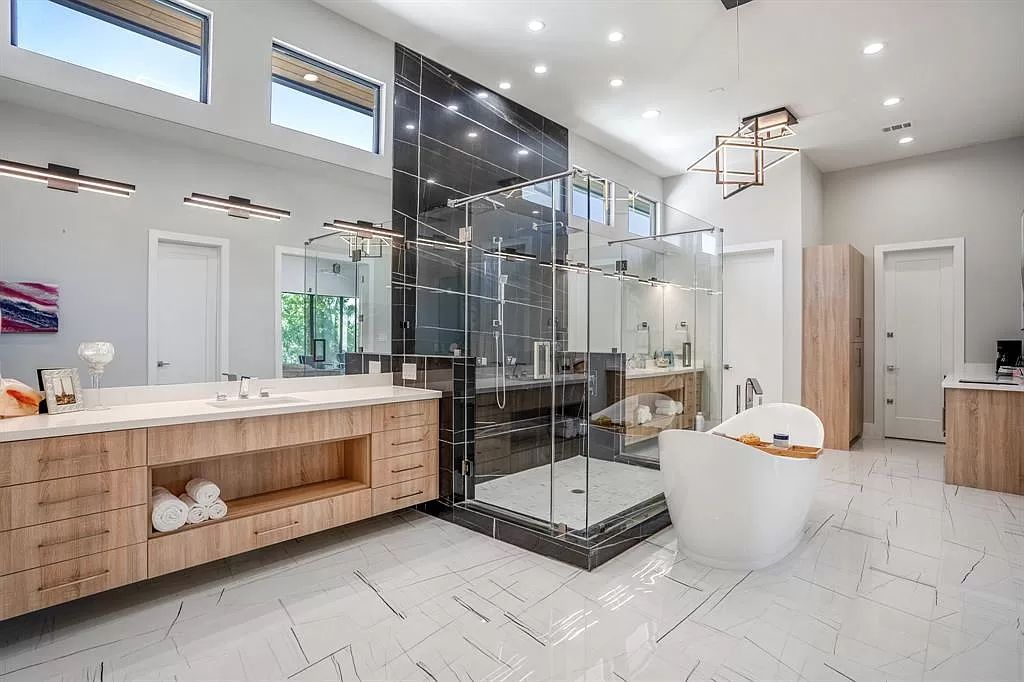 Divide the area in Modern Bathroom Ideas smart by using glass panels. The length of the panels may be considered depending on the area of the areas divided as you wish. Many bathrooms with small and low ceilings can use floor to ceiling glass panels to make the most of the space and create visual effects that make the overall bathroom more spacious and airy. This $3,600,000 Contemporary Home in Houston is The Epitome of Modern Luxury with Amazing Features
11. Do Not Forget Natural Touches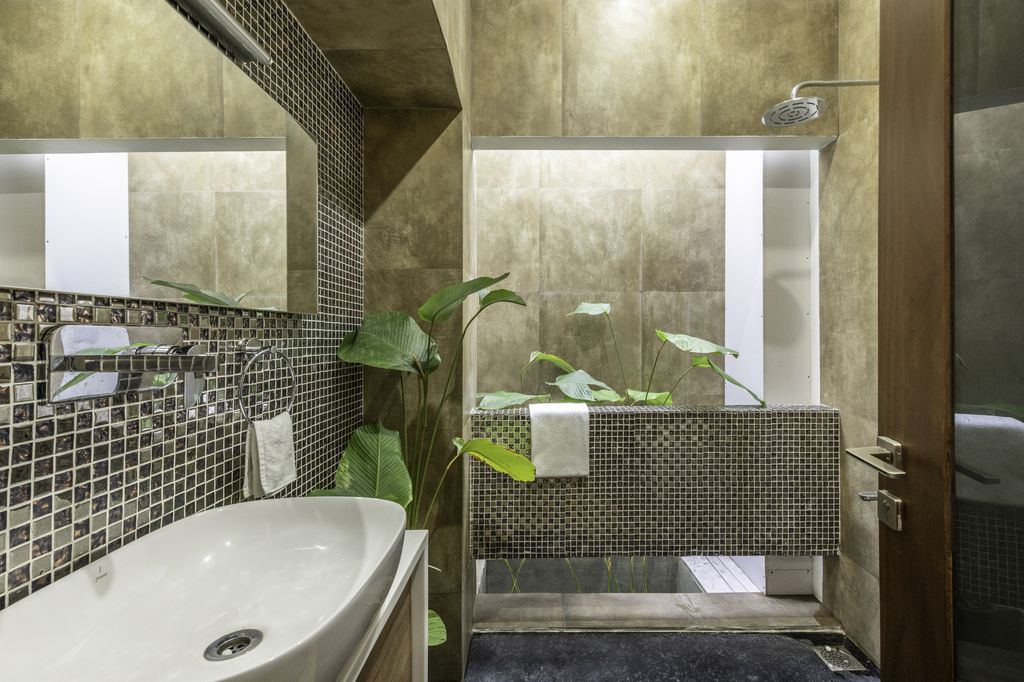 To bring the beauty of nature into your bathroom as well as for decoration, you can put in a few beautiful bonsai pots of different sizes and types. You should consider and wisely choose indoor plants without too much natural light needed for growing. Le Tranquil House, Minimalism in a tropical setting by Studio WhiteScape
12. Add More Paintings And Wall Hang Fittings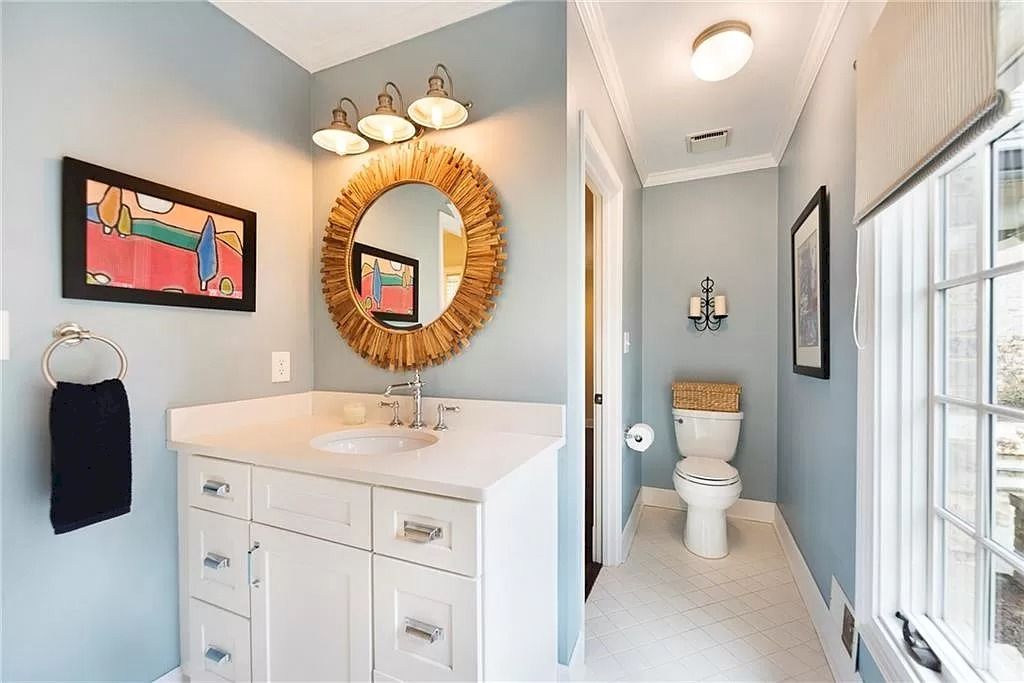 There are many accessories and wall hang fittings you can use for your living room decoration. Of course, this choice depends entirely on the personal preferences and aesthetic eyes of each person. As in Modern Bathroom Ideas above, the art paintings are displayed on the empty walls and a round mirror with unique details around the sink creating very prominent accents. Coveted Home in Georgia of Unmatched Construction and Thoughtful Design Listed at $3,250,000
13. Modern Bathroom Ideas For Two Or More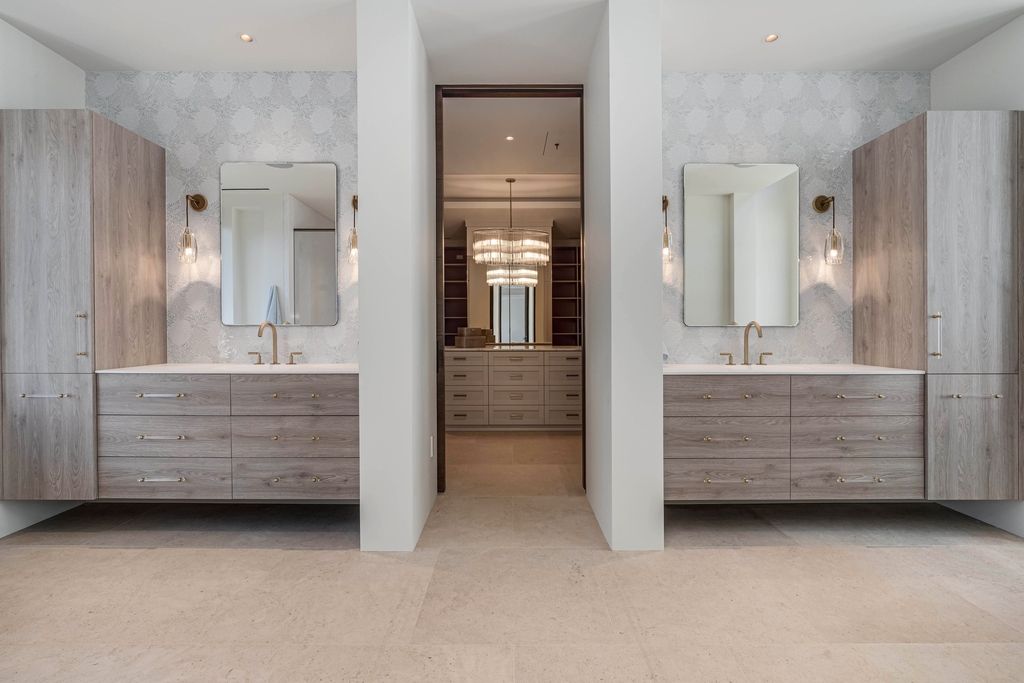 Just married couples or large families always need a bathroom space with all the functions to create absolute convenience for members when using. Depending on the financial conditions of families/ couples, different sanitary ware products will be selected. As in Modern Bathroom Ideas aforementioned, two hand sinks are placed on both sides of the dressing room entrance with wall mounted shelves to add storage space. This design ensures that members can perform personal activities more conveniently and with as less waiting as possible. Newly Built Modern Farmhouse in Napa with Exceptional Custom Finishes on Market for $10,000,000
 For more amazing ideas, you may look at the post 20 Bathroom Ideas and Designs We Expect for 2023
More Ideas For Bathroom:
---
Thousand of high quality images of Bathrooms and more you can see at Bathroom Gallery.