Date of Publishing:
Creative With Small Bathroom Layout Ideas
Designing small spaces can be a challenging task, especially when it comes to bathrooms that require full utility and privacy. However, with the right tips and tricks, it's not impossible to make your bathroom look more spacious. In this article, we have gathered 11 practical Small Bathroom Layout Ideas with great examples to provide you with inspiration and suggestions on how to optimize your own bathroom space. Get ready to take notes and explore together!
1. Optimize Your Bathroom Space By Utilizing The Dead Corner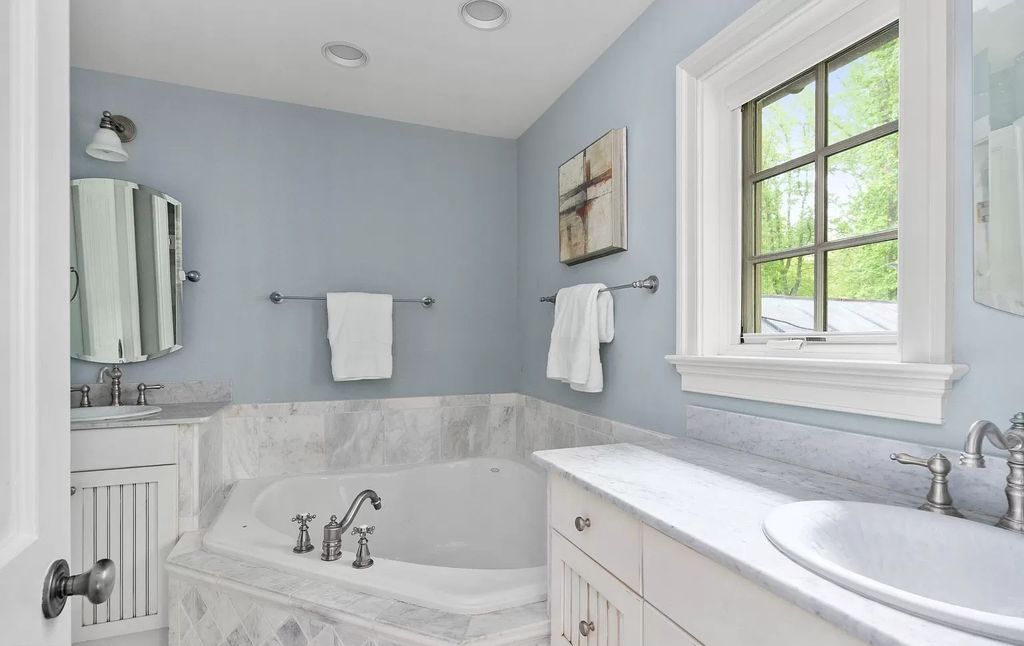 The bathroom's dead corner is a frequently discussed topic in home design. It can be challenging to design and install additional bathtubs in small or irregularly shaped bathrooms. However, with a bit of creativity and effort in design, there is a solution to every seemingly impossible problem. Corner tubs are the perfect solution for such bathrooms, providing both functionality and aesthetic appeal. Transform your bathroom into a comfortable and convenient space with a corner tub. Remarkable, Gated 20-Acre Waterfront Estate in Severna Park with French – inspired Design Lists for $15,900,000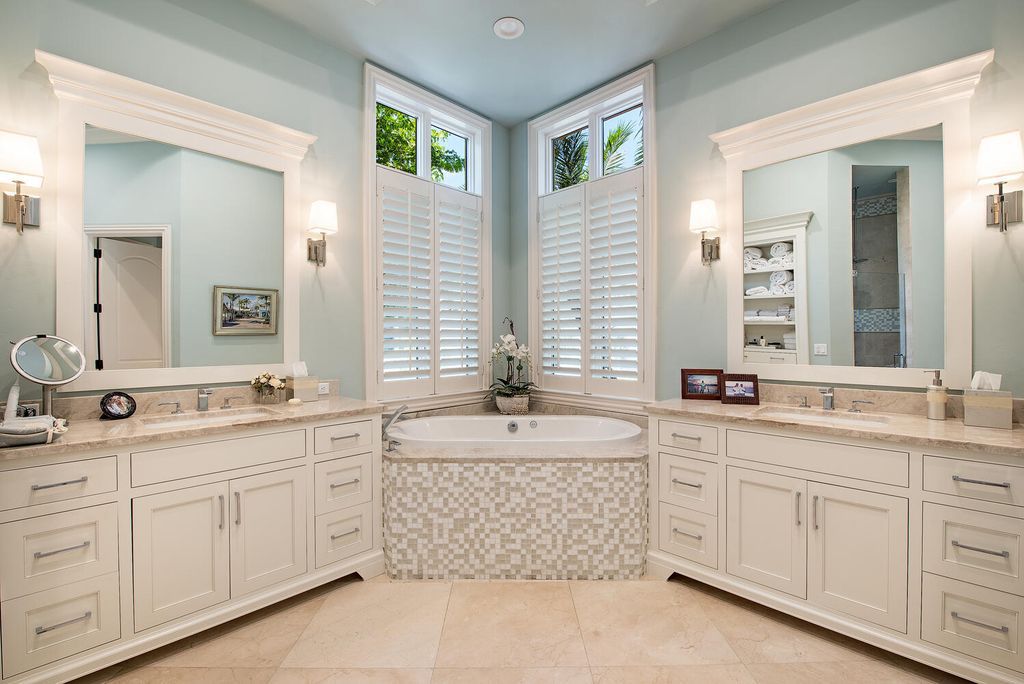 You can also refer to some other types of bathtubs to install for the dead corner of the bathroom. As in the Small Bathroom Layout Ideas above, the compact built in tub has a round shape and a base adorned with decorative stone tiles to help maximize the small yet unique bathroom space. Exceptional Custom Home in Naples with The Finest Finishes Comes to The Market at $5,970,000
2. Opt For A Smaller Furniture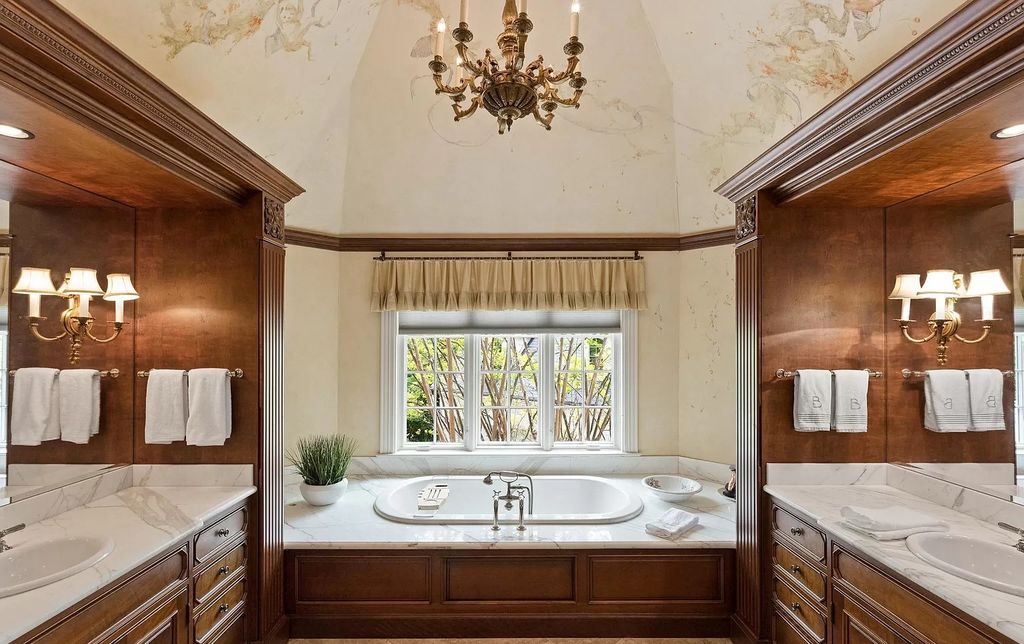 For bathrooms with a small area, the appearance of bathroom furniture with a smaller size is obvious. The purpose of this is to make the most of the bathroom space and make sure your bathroom is functional. As in the luxury ideas above, instead of using large oval bathtubs, a small and beautiful built in bathtub half of the normal size was chosen to fit in a position near the window. This clever design choice demonstrates how you can still enjoy a luxurious bathroom experience while working with a smaller area. Remarkable, Gated 20-Acre Waterfront Estate in Severna Park with French – inspired Design Lists for $15,900,000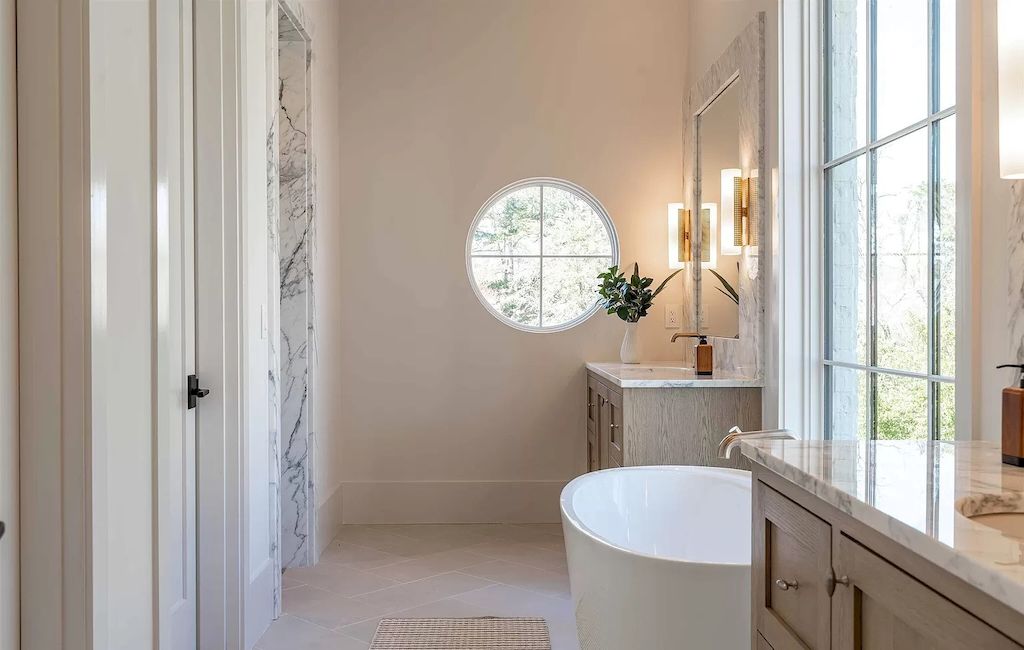 In small bathrooms, it's crucial to take note of the available traveling space and ensure comfortable passage. Using smaller bathroom furniture is a smart way to optimize the limited area, as it allows for easier cleaning and improves mobility. Keep in mind this helpful hint to create a functional and comfortable bathroom. Tastefully Designed for Beauty and Comfort Throughout, this Gorgeous Home in Georgia Listed at $3,495,000
3. Use Glass Material To Amplify The Space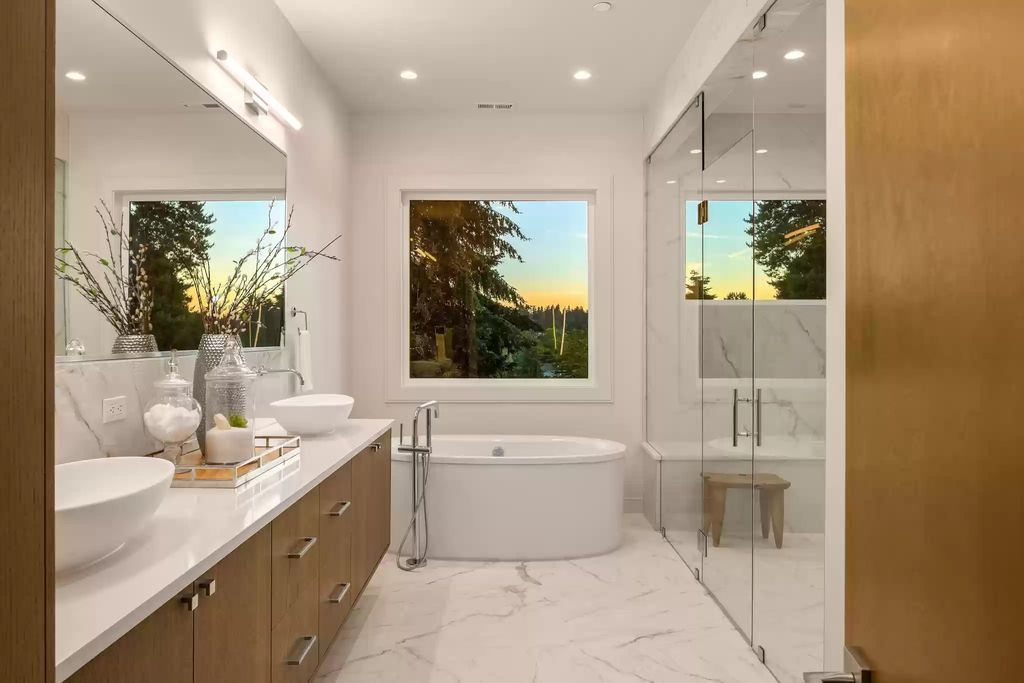 Using glass in architecture in general and interiors in particular has become a strong trend; not only in large scale projects but also in small and medium sized ones. In particular, glass material is used a lot in small spaces because of its ability to effectively amplify the space it brings. As shown in Small Bathroom Layout Ideas, glass paneled doors are used to separate the shower area from the toilet, creating a clean and modern look. Moreover, the installation of the glass door facing the mirror makes the effect of space amplification for a small bathroom to a new level. Providing Extra Space for Flawless Entertaining, Premier Modern Architecture in Clyde Hill Asks $8,750,000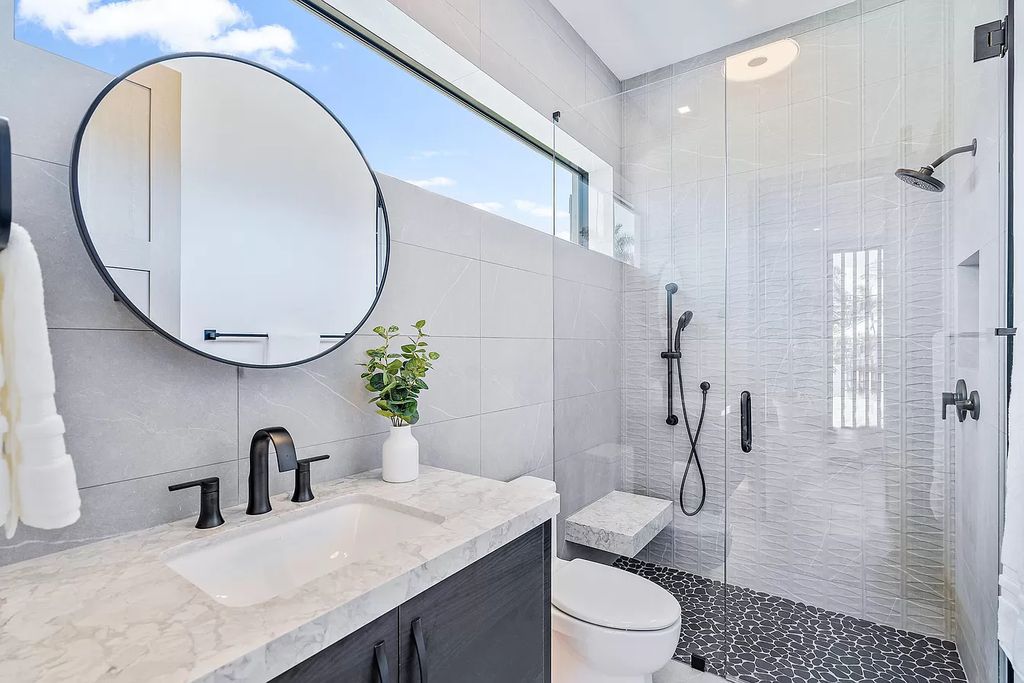 Using glass panels is a smart way to divide the space in the bathroom and create a clean as well as cohesive look without making the area feel suffocating. This approach is particularly useful for small and medium sized bathrooms where space is limited. Incorporate glass panels into your bathroom design to achieve a visually appealing and spacious feel. Brand New Waterfront Home in Lake Worth with Wide Intracoastal Water Views hits The Market for $12,995,000
4. Install The Pocket Door Instead Of Swing Door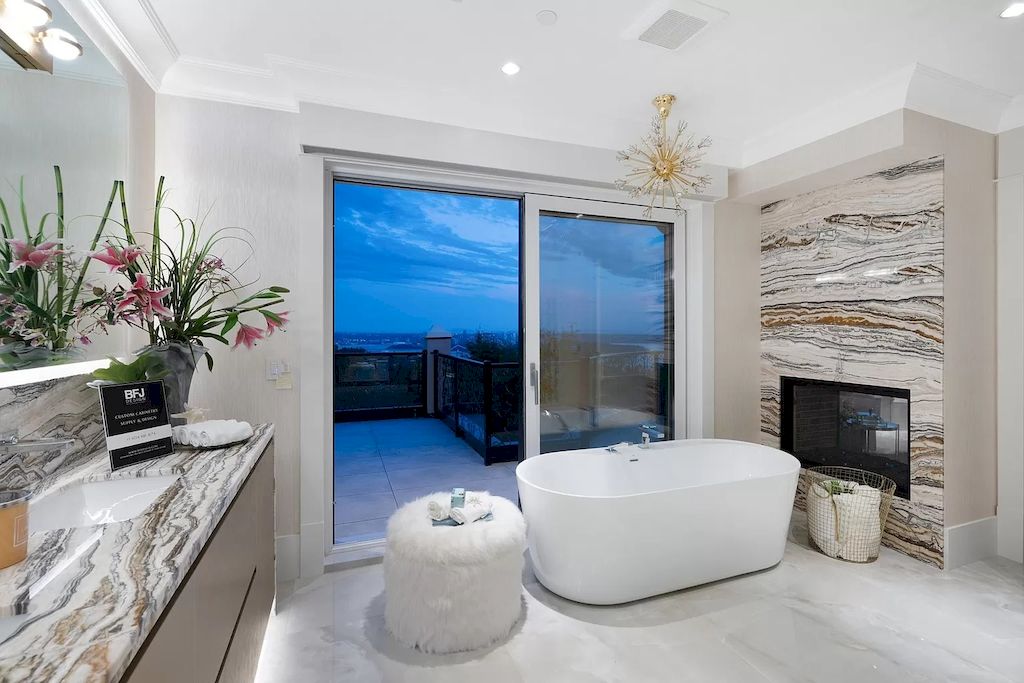 In small houses, every centimeter of space counts, including the bathroom. Sliding doors are an essential solution to optimize space, especially for bathrooms that are too small for a traditional swinging door. Additionally, they help to save space while maintaining aesthetic appeal. You may consider incorporating sliding doors into your bathroom design to maximize the available space and achieve a visually appealing and functional bathroom. Flawless Residence in West Vancouver Captures Enviable Ocean Views Asking for C$16,800,000
5. Match The Backsplash Hue To Bathroom Floor Tiles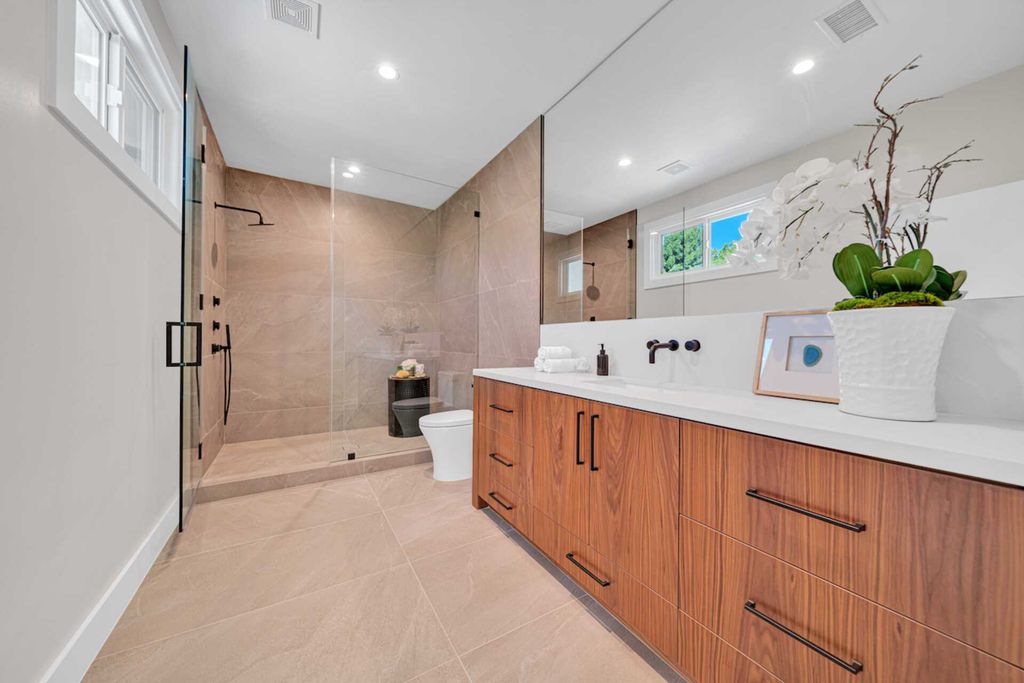 In housing design, choosing the right colors is essential, especially for small indoor spaces like bathrooms. The right color scheme can greatly affect the overall feel of the room. As shown in Small Bathroom Layout Ideas, choosing tiles of the same color for the bathroom floor and backsplash can create the illusion of a more spacious bathroom, the aisles becoming longer and more comfortable. Brilliantly Renovated Contemporary Home in Encino offers Sophistication and Relaxation for Sale at $6,299,000
6. Minimize Cumbersome Decorative Details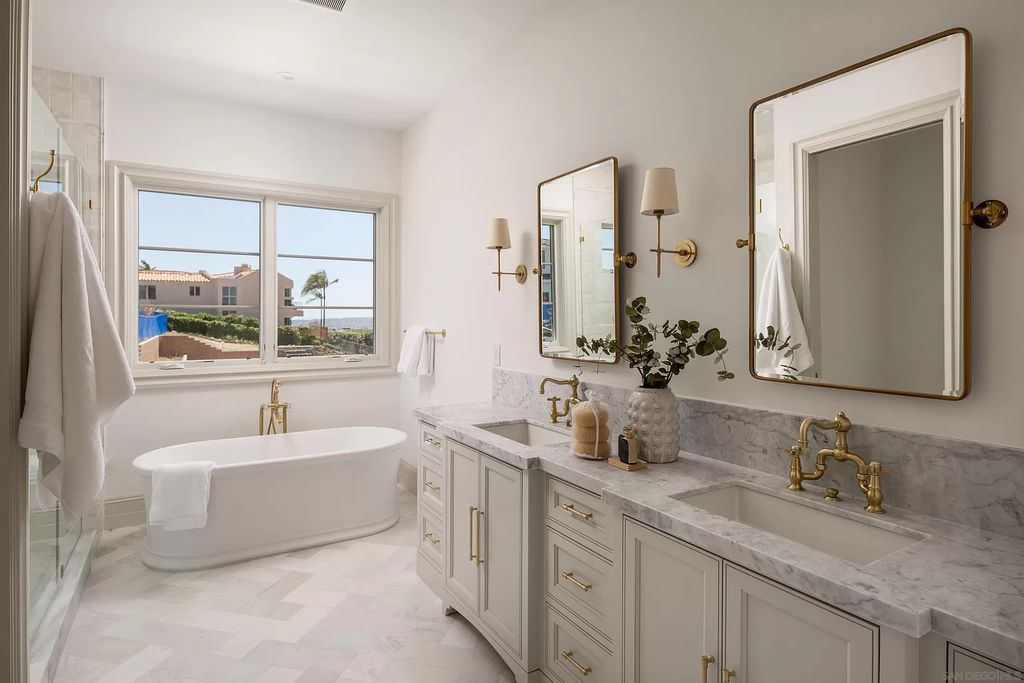 For bathrooms with small areas, homeowners must use light colored furniture and equipment to create a visually appealing and spacious bathroom. Opt for minimalist style furniture that avoids bulky decorative details that can take up valuable space. As shown in the Small Bathroom Layout Ideas above, creamy white was chosen for the floor and wall tiles; showers, toilets, and bathtubs are used with shiny surfaces and simple colors. Stunning Brand New Construction Home in San Diego was Meticulously Designed Comes to The Market at $5,775,000
7. Choose Floating Cabinets To Maximize Floor Space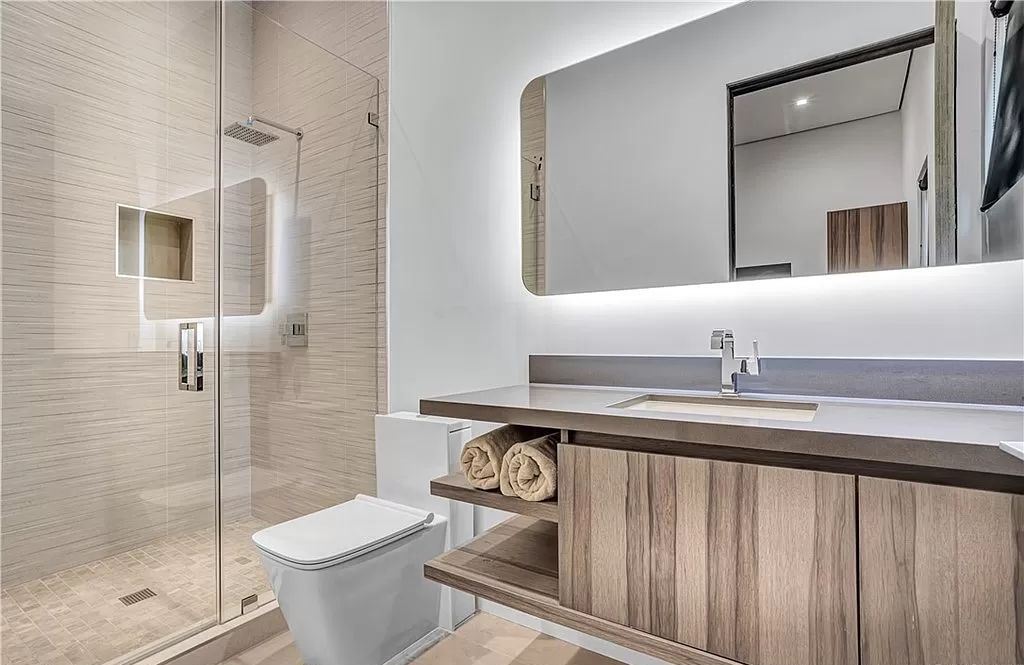 In addition to using smaller sized furniture, wall mounted furniture is also a great way to save floor space and make your small bathroom feel more spacious. Floating wash basins are an example. Don't hesitate to try it. Look for smaller sink designs with slimmer sink edges and you'll be amazed at how effective it can be. Utilize the space under the sink as a storage space to optimize the use and restructure of the bathroom space. This $7,495,000 Masterfully Crafted Home in Tarzana offers The Highest Degree of Style and Modern Conveniences
8. Choose your primary palette wisely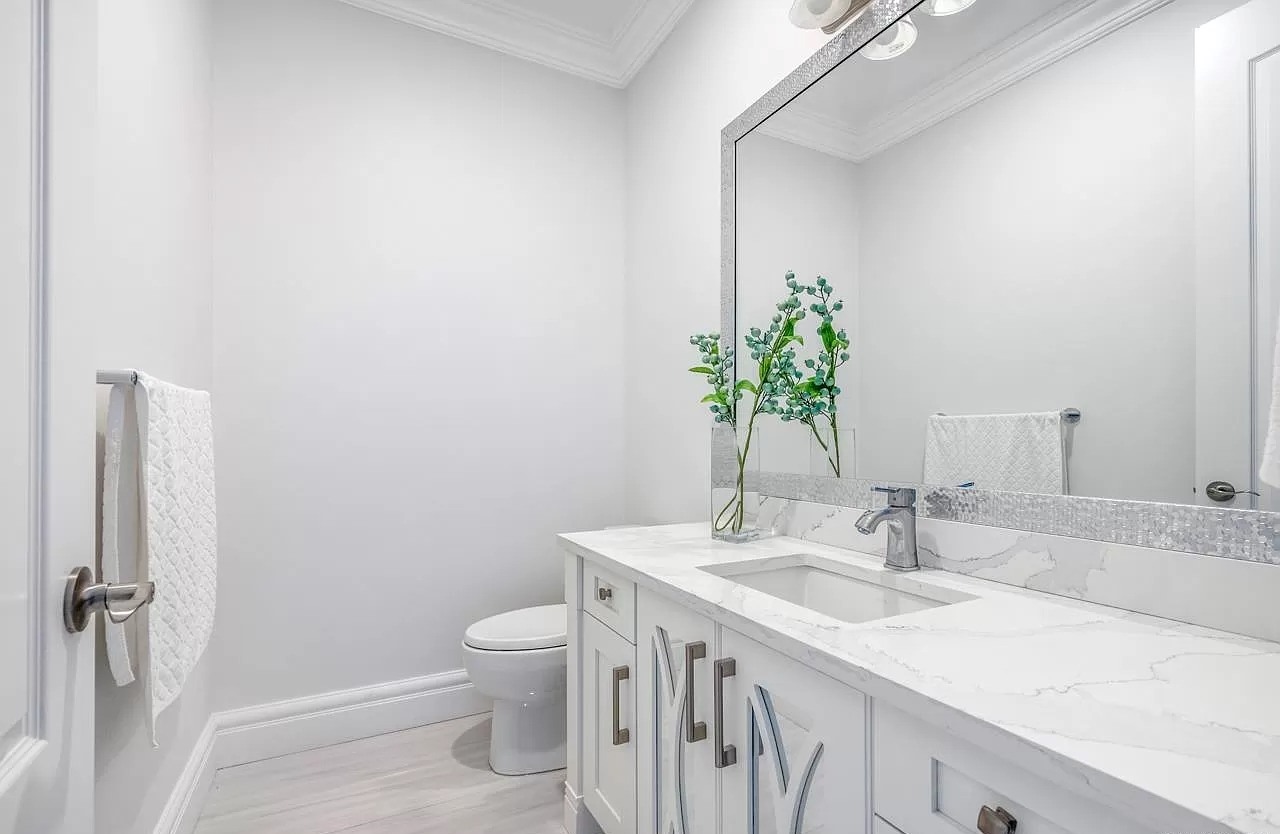 When choosing a color palette for small spaces, especially bathrooms, you should choose neutral or pastel colors. These colors always promote their ability to expand the area, making your bathroom much more spacious. Not only that, the use of these colors can promote a relaxing atmosphere. Popular colors include white, ivory, and gray, which are easy to mix and match. You can find great examples of this in the luxury ideas mentioned above. This C$3,200,000 Custom House in Richmond Offers the Ideal Layout for Entertaining and Gathering with Family
9. Try the Wet Room Layout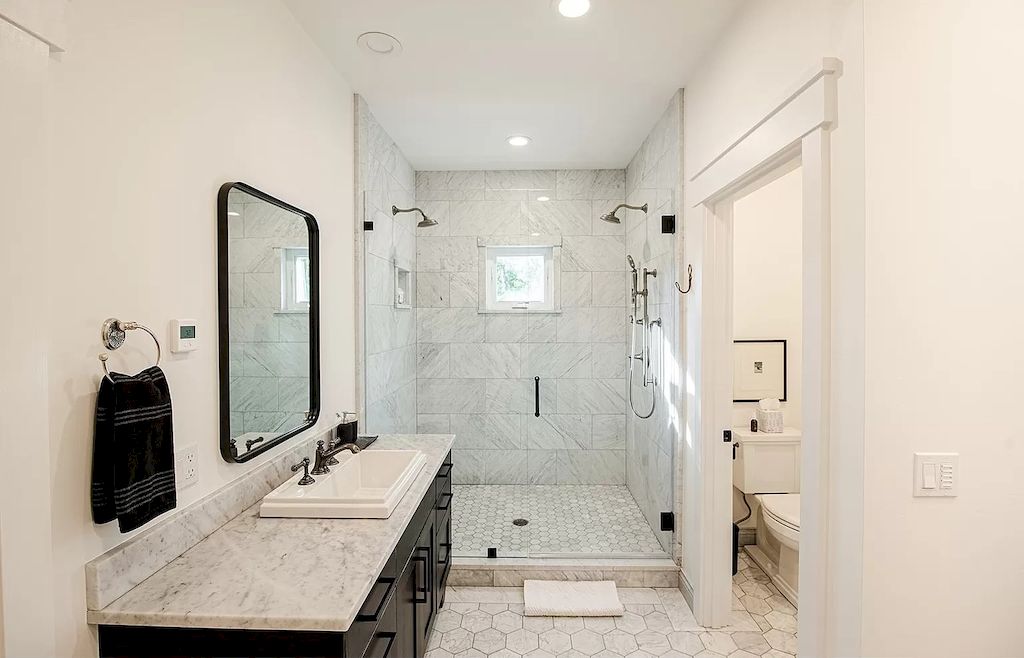 A wet room is becoming an increasingly popular option for small bathrooms as it provides a solution when you don't have enough space to divide a bathtub and a separate shower. With a wet room, you can share the same floor with other bathroom amenities, making cleaning and maintenance much easier. Moreover, it can provide a spacious shower area for the household and give a luxurious hotel-like look to the bathroom. Such an interesting option to carefully consider! Mountain Chic Home in Oregon with the Ultimate Nature-Inspired Design Asks for $4,200,000
10. Maximize Your Bathroom With Built In Wall Shelves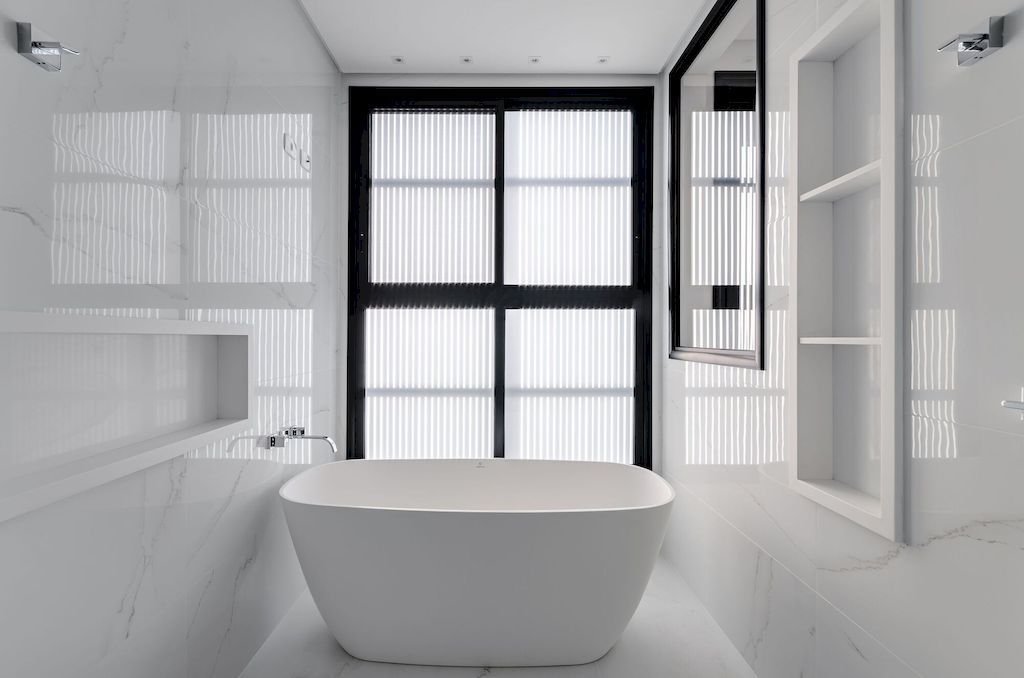 Just like hanging bars, wall cabinets, and shelves will help save space in a small bathroom. At the same time, the cabinets with straight and thin edges bring a modern, luxurious, and minimalist style, showing the owner's taste instead of complicated, convex, and concave cabinets that take up large space. As in the Small Bathroom Layout Ideas above, the wall-mounted cabinet shelves are designed with three separate compartments to help increase the storage capacity of the bathroom and bring a youthful, modern but still very elegant look to the overall. Alpha House for residents´ privacy & comfort by Otta Albernaz Arquitetura
11. Ensure The Lighting Quality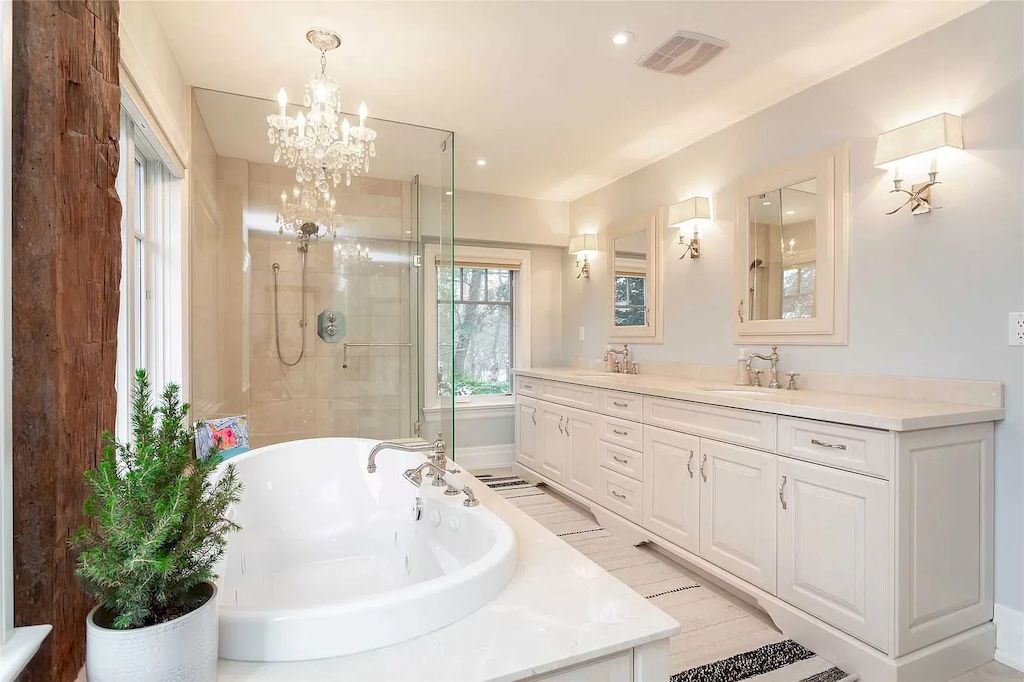 To prevent small bathrooms from feeling cramped and humid, it's best to steer clear of dark colors that can create an unhygienic environment. Without ample natural light, the bathroom can seem dreary and unwelcoming, even with artificial illumination. Thus, it's crucial to ensure proper lighting. Large windows and no roof can make small modern bathrooms look great, but if privacy is a concern, soft light bulbs are a suitable alternative to strong, orange-yellow beams that are better suited to other areas. Spectacular Upgraded Multi Generational Home in Ontario on the Market for C$3,495,000
For more bathroom ideas, you may refer to our other articles, such as 18 Timeless and Versatile Gray Bathroom Ideas for an Amazing Look
More Ideas For Bathroom:
---
Thousand of high quality images of Bathrooms and more you can see at Bathroom Gallery.