Date of Publishing:
Brilliant Bookshelf Ideas For Living Room.
We have a lifelong relationship with my books. We like reminiscing about our literary journeys every time we glance at our tiny library. For suggestions on how to organize these bound beauties, we enjoy looking at new living room bookshelf designs. Bookshelves serve as both a place to store books and a place to exhibit accessories. Find out how to decorate bookshelves so they are beautiful and functional. You can transform a blank set of shelves into a tastefully selected arrangement using these bookshelf ideas for the living room.
1. Spread Out the Whole Wall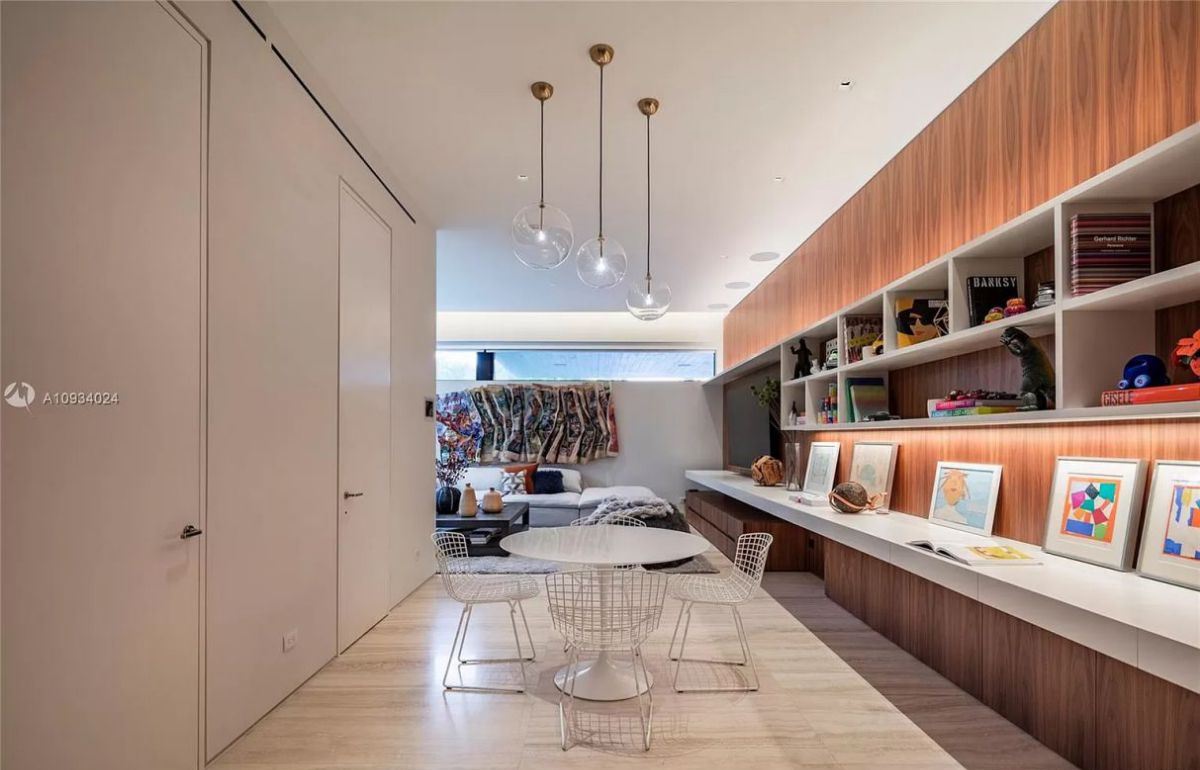 Because of the round dining table and wall-to-wall bookcases, this dining room may be utilized as both a formal gathering place and a study. Because books are vibrant, they serve as both literature and art.  A Bal Harbour Tropical Modern House returns Market for $26,500,000
2. Make New Builds Seem Old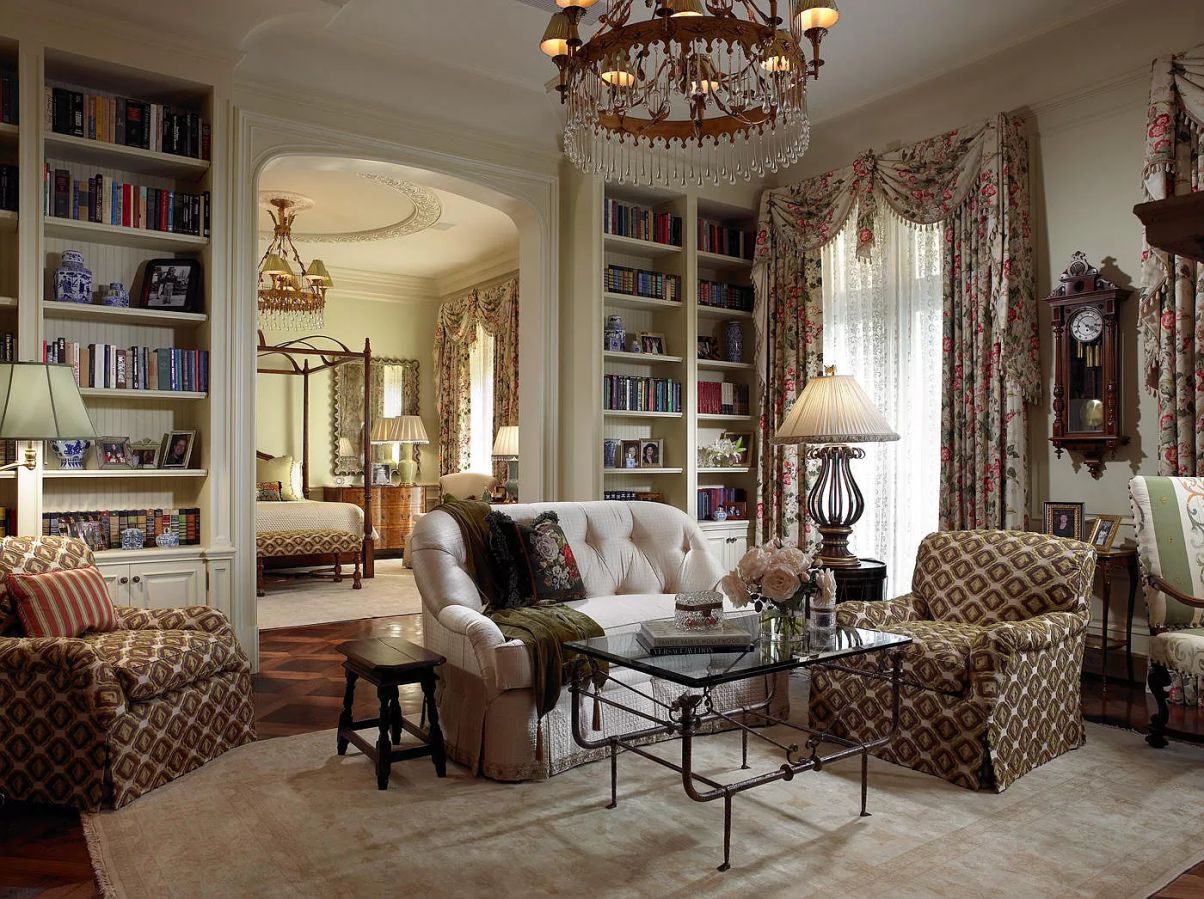 By painting it a neutral color that contrasts with the floral drapes, you can make this built-in bookcase stand out. The exposed wood beam and the antique and used books give the living room a more lived-in and cozy atmosphere.  An Exceptional Mediterranean Jupiter Home for Sale at $18,995,000
3. The Warmest Hug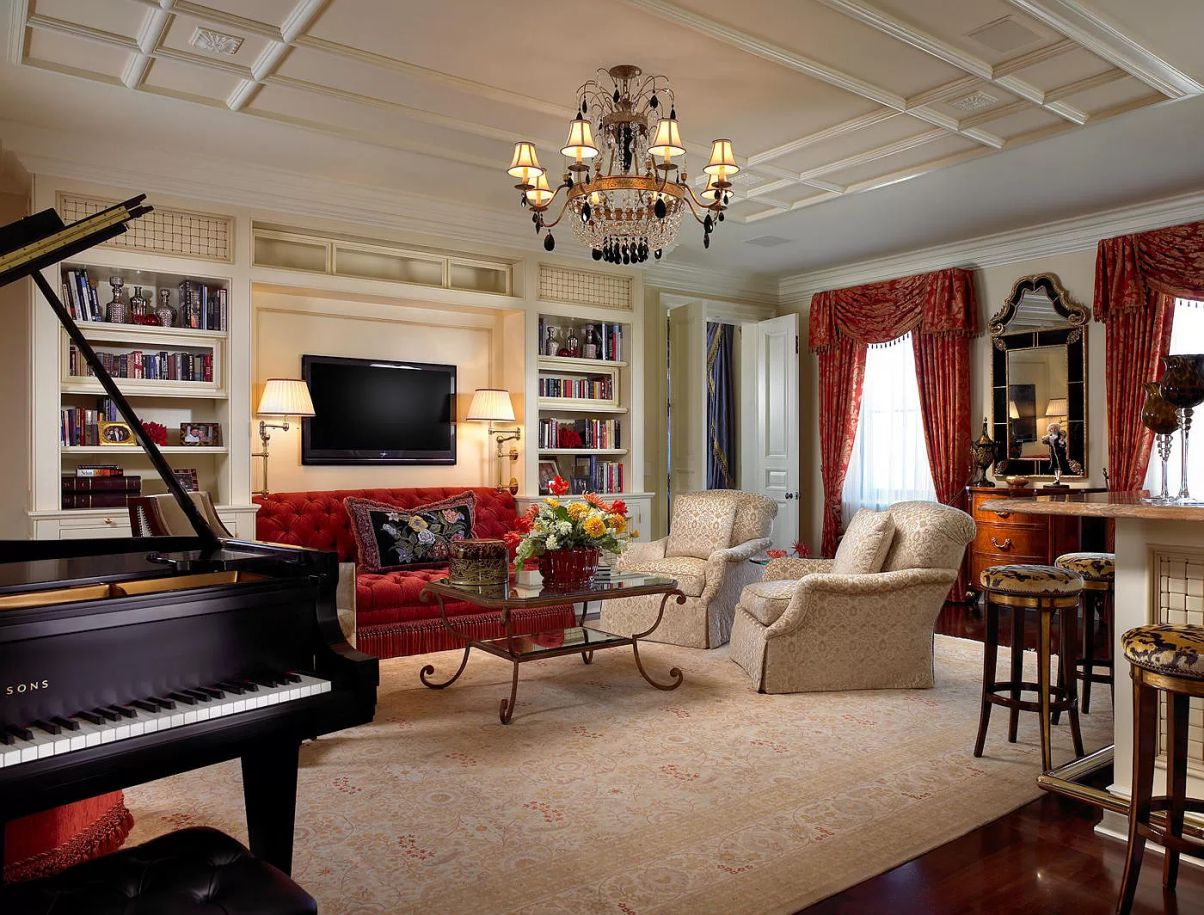 This living room's coziness is enhanced by traditional built-in bookshelves that are painted a warm chestnut shade. Make sure the built-in cabinets are a solid extension of the space to get this look. They frame the sitting arrangement and impart a cozy feeling by acting as an embrace. An Exceptional Mediterranean Jupiter Home for Sale at $18,995,000.
4. Keeping It Simple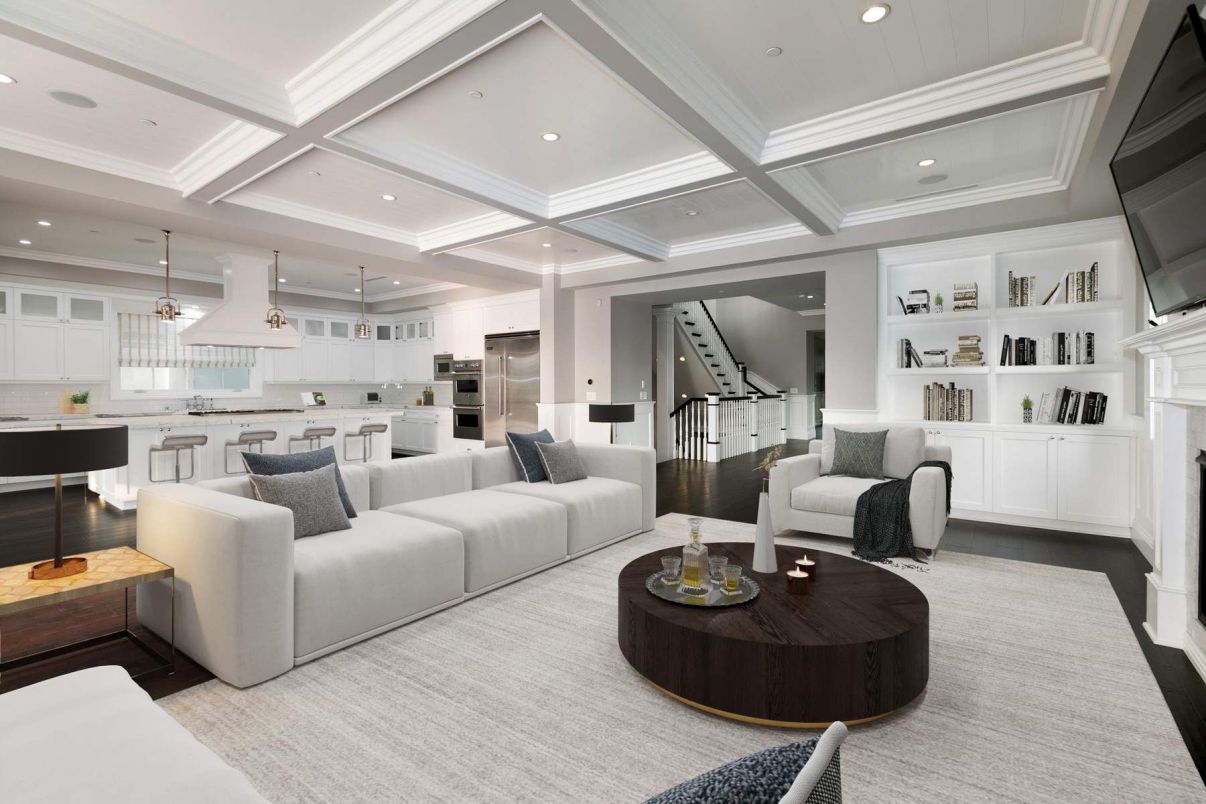 A traditional neutral color scheme can be used to create a modern appearance. The space feels open and potential-filled thanks to the combination of floating shelves and closed lower cabinets painted white, as well as the absence of hardware and ornamental accents. Brilliant 5 bed 7 bath Pacific Palisades Home for Sale at $7.1 Million.
5. Bright & Simple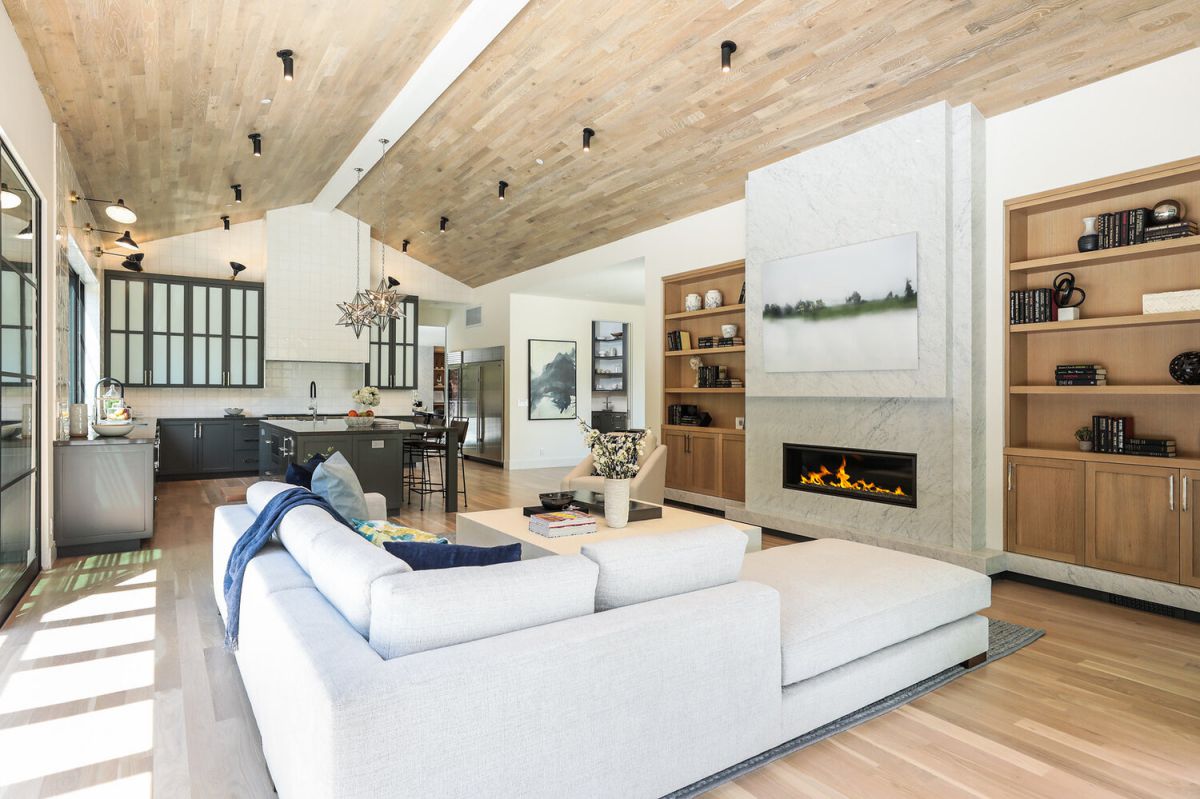 Built-in shelf customization need not be limited to measurements. A fantastic technique to add interest to a space and create a focal wall is to paint built-ins so that they contrast or complement other colors in the area. New Modern European Atherton Home for Sale at $15.85 Million
6. Be Brave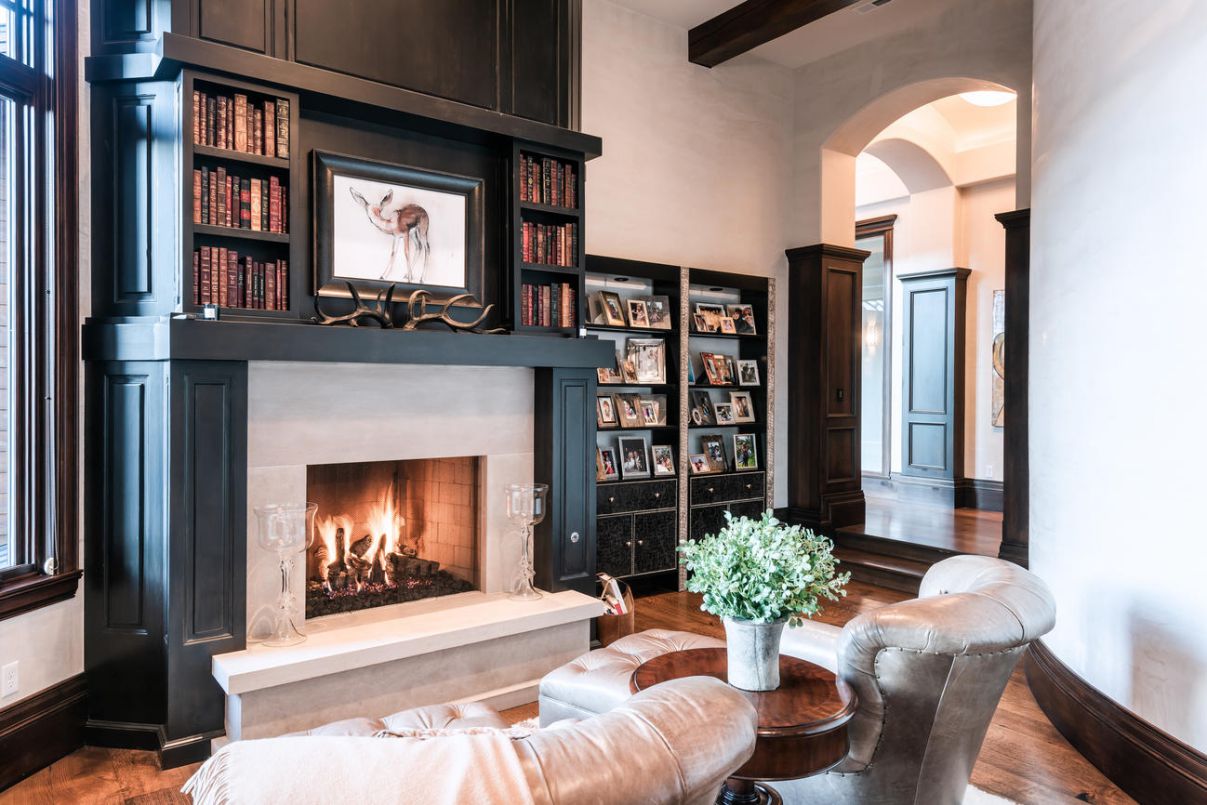 By painting your built-ins a vivid or striking color, like this pattern, you may give them some life. Although these units have a simple, conventional design, their striking black hue gives them a classic, opulent feel. Utah Mountain Home on White Pine Canyon by Upwall Design Architects
7. Take a Wrap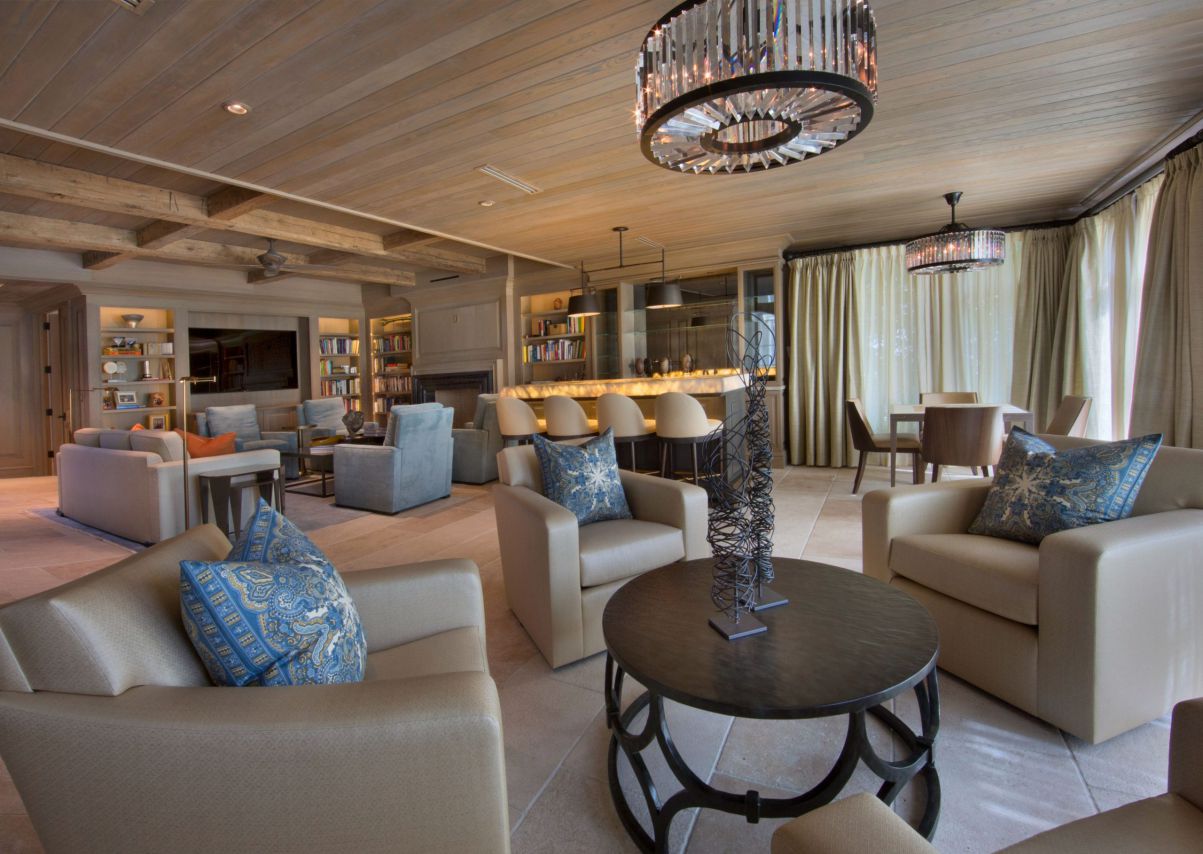 The beauty of built-ins is that they can be customized to suit a home's or homeowner's specific needs. In this room, the shelves wrap around the corner, providing plenty of storage and display space. The contrasting color manages to create a focal point in the midst of all the shelves. Additionally, a blank area was left above the desk to create a simple workspace—further proof of how customizable installed shelving can be. A $14,995,000 Fort Lauderdale Home on Market features Unique Elegance
8. Create a Custom Shelf Size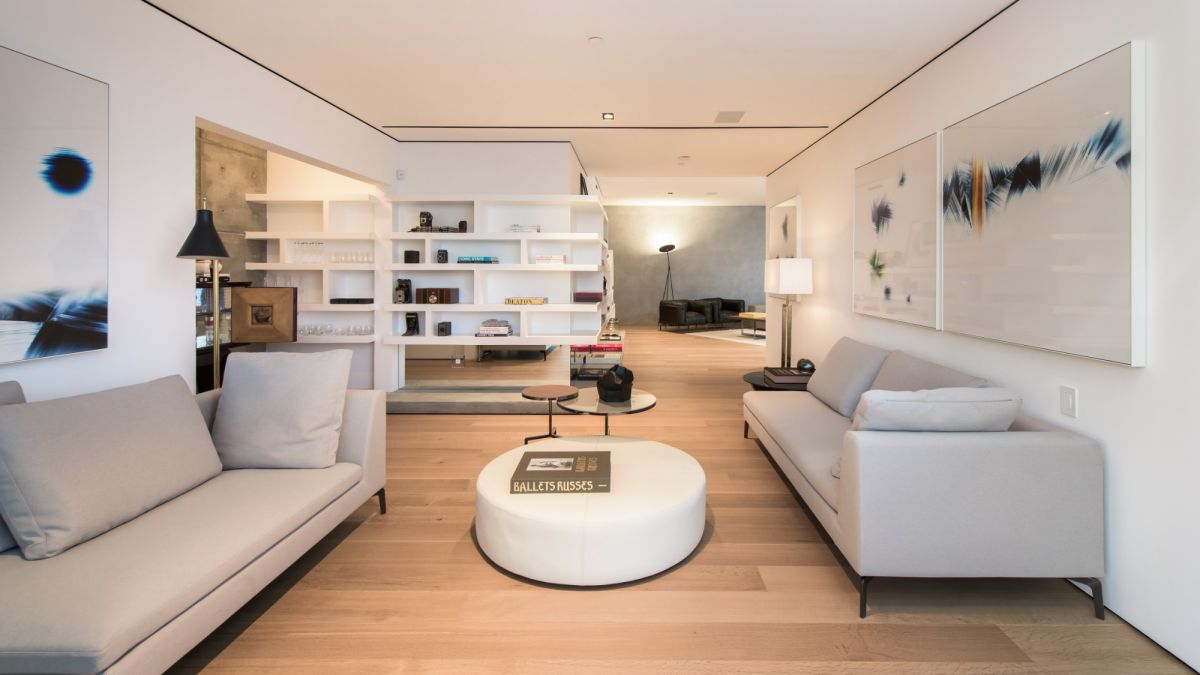 The exact same size and style of shelving on every level is frequently what comes to mind when we think of it, but that is not always the case. Instead of being uniform in size and shape throughout, this built-in comes in a variety of sizes to accommodate various styles of decor. This modest change adds visual appeal and makes it easier to fit the items you want on display in the end. Enjoy the Best Cityscape Views in Los Angeles Home is Asking $8,275,000
9. Utilize the Whole Wall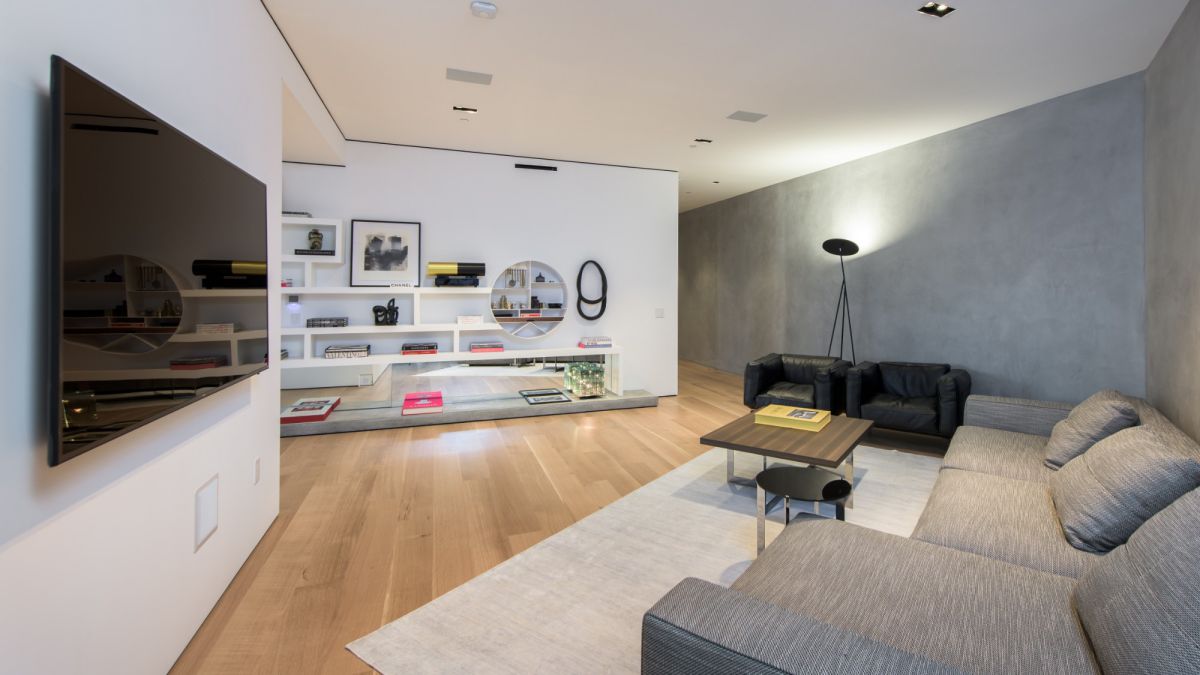 This striking study uses every available inch of space. In a space this small hosting such a large collection, the built-in cubbies flanking the doorway and with the stair shape generate visual impact and keep usable floor space clutter-free.  Enjoy the Best Cityscape Views in Los Angeles Home is Asking $8,275,000
10. Hardware to Beautify Enclosures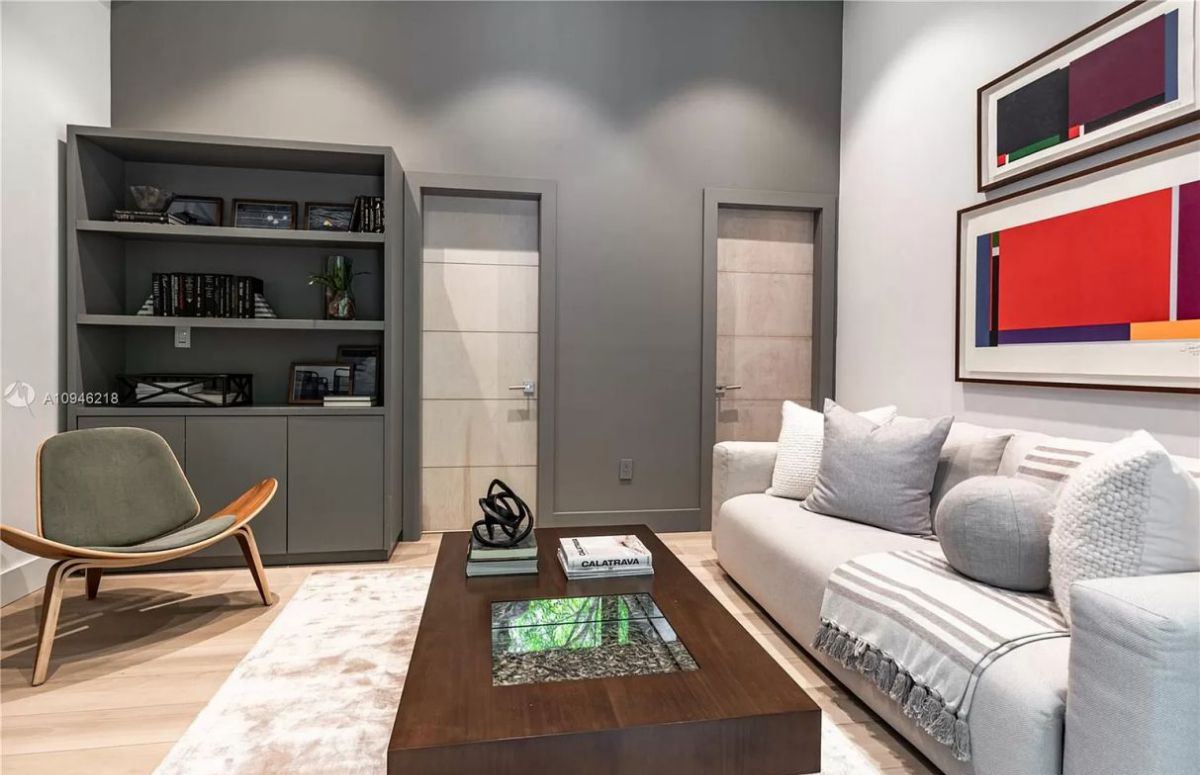 Create a comfortable reading area with a light-filled window close to your book collection. It is formally designated as a reading area with a comfortable chair and warm lighting. Additionally, choose enclosures for the bottom half of the built-in shelves if you need to keep anything other than books so that you may conceal ugly items. Extra points for cool hardware, like this living room.  An Architectural Concept of Beverly Hill Mansion by McClean Design
11. Recreational Area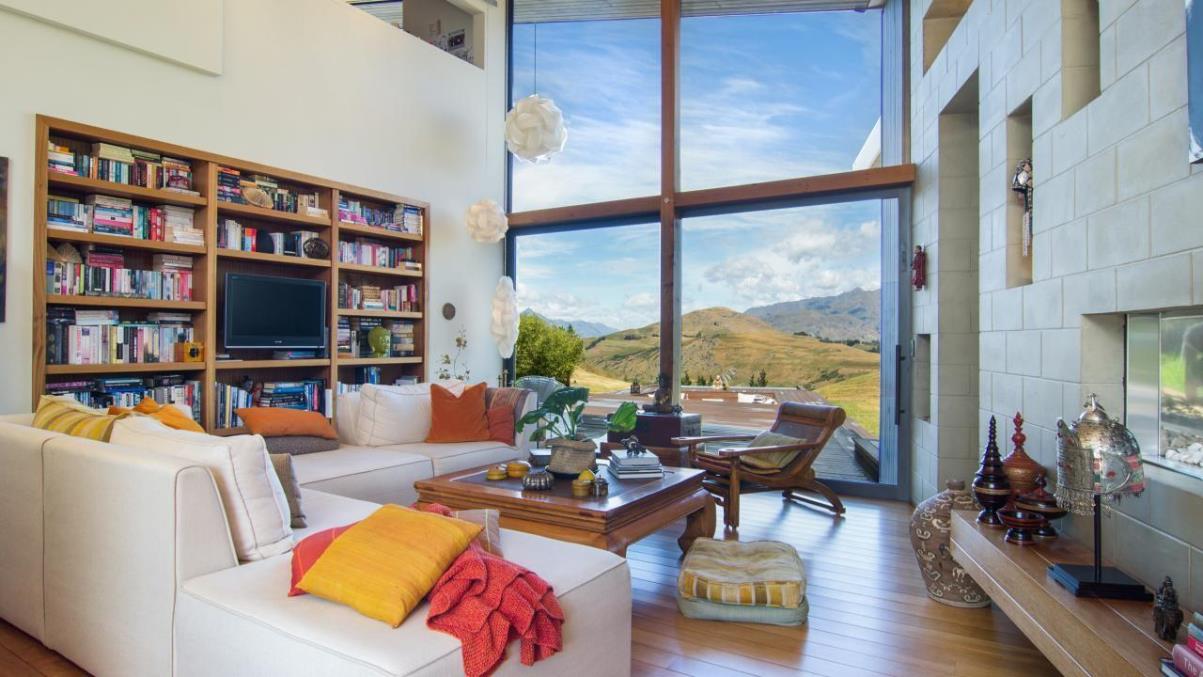 Modern built-ins that are sleek and entertaining-oriented can add drama to a living area. Given the long-standing popularity of media centers, converting a straightforward stand into a built-in with lots of space makes perfect sense. This version's matte black finish in a living room creates a chic setting that works. An Exceptional Contemporary Home in Lake Hayes, New Zealand
12. Beige Is The Choice For A New Update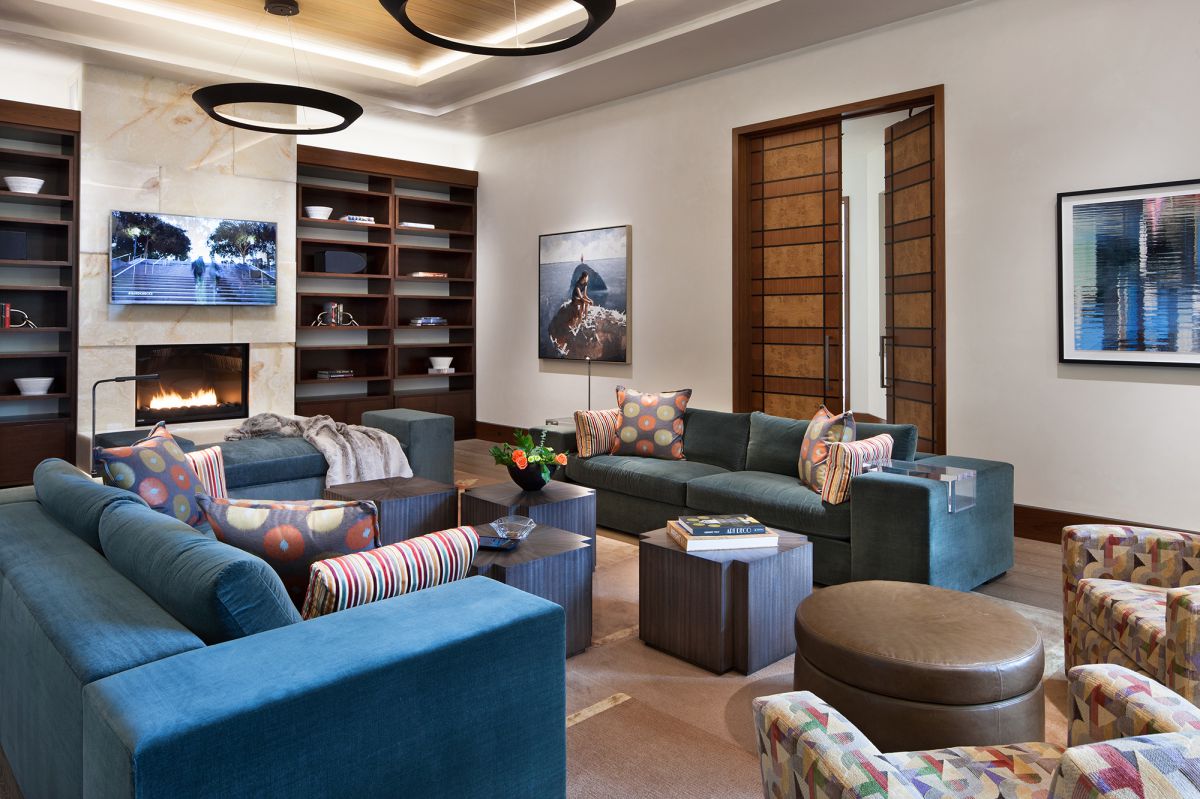 Because they are so adaptable, traditional brown built-ins with open shelving go with just about every living room design. The built-ins will always fit in if you choose a straightforward cabinet style, even if your tastes change and you decide to renovate. Aspen Park Mountain House in Colorado by Charles Cunniffe Architects
13. Short and Bold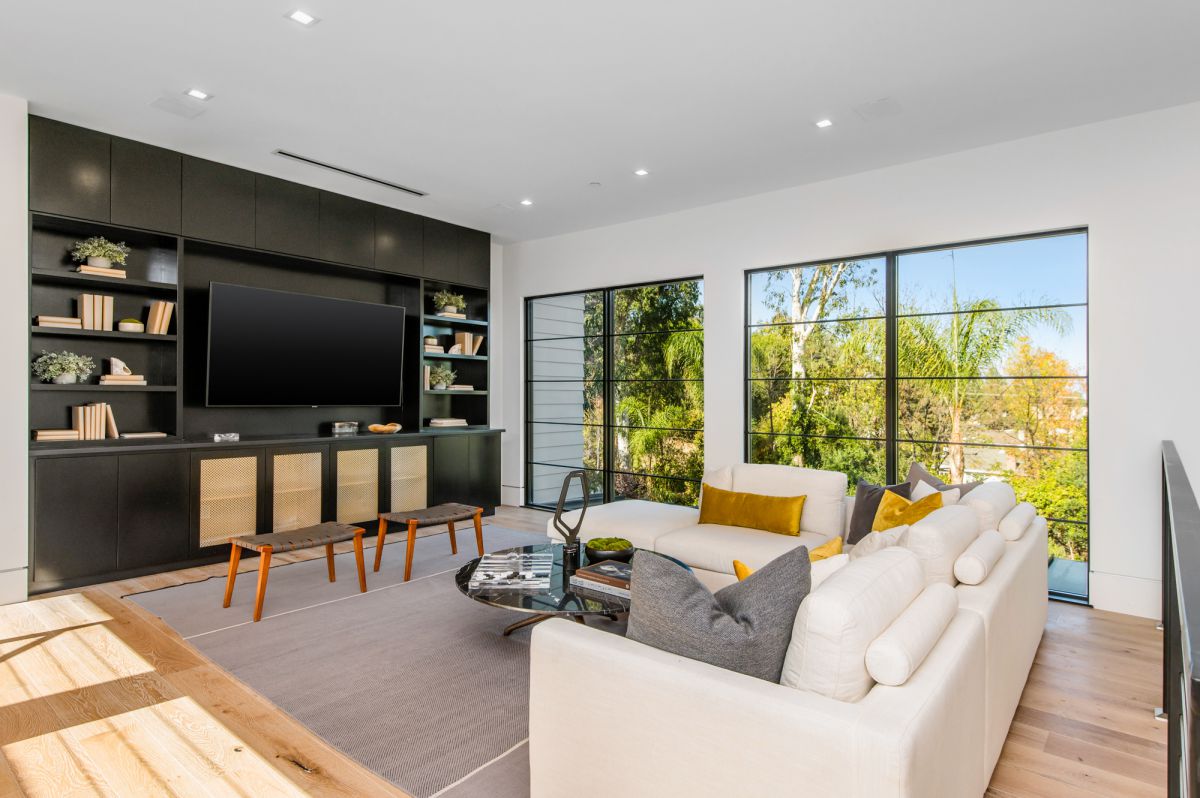 Built-ins should be made to suit the homeowner's preferences and requirements. While for some that could entail options that reach the ceiling, for others with smaller living spaces, something brief and sweet will suffice. This little built-in is perched directly over the cabinets and functions almost as a vertical extension (rather than keeping the shelving on the sides for a wider appearance). The television, a few books, and a few minor decorative things fit well in. An Absolutely Epic Home in Tarzana for Sale at Price $7,800,000
14. Painted Bookcases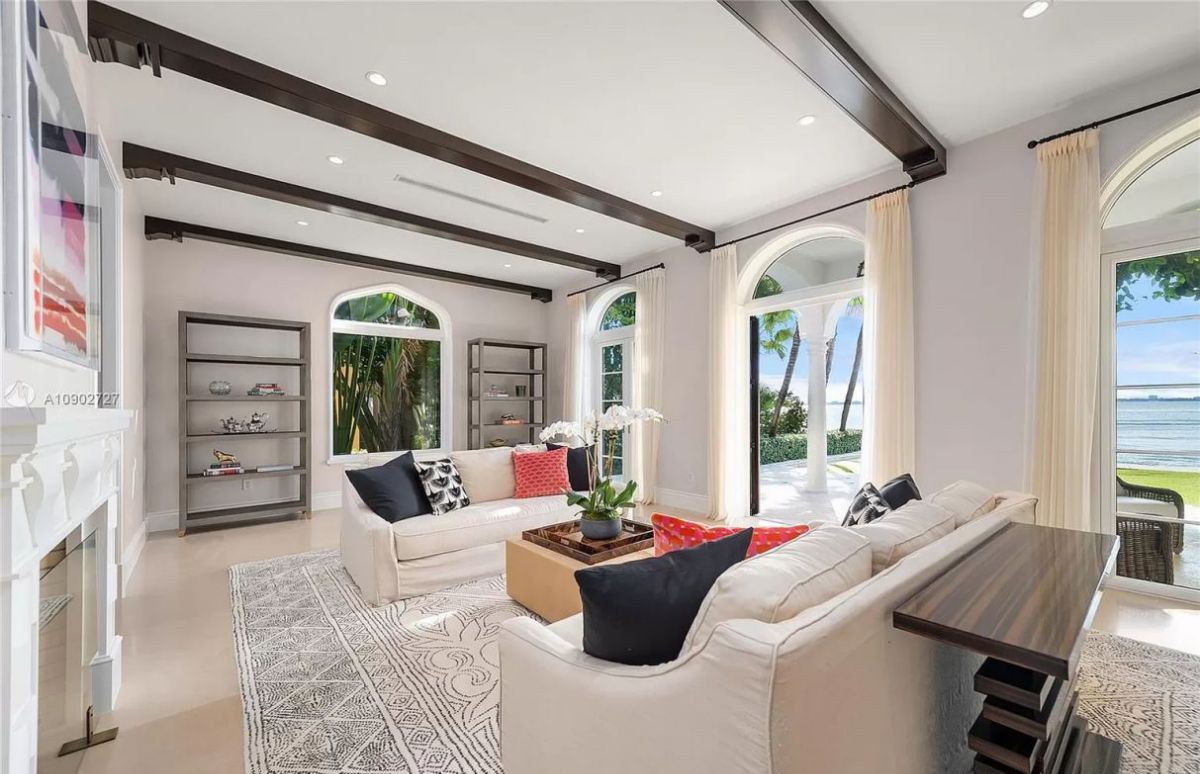 Bookshelves typically come in neutral wood, black, or white tones. This makes sense given that the exhibited books and goods are typically what draw people in. But that doesn't mean the shelf itself can't catch some attention, exactly like these grey bookcases do. Bright paint significantly raises the bar. Spanish Style Home in Miami Beach on Market asks for $15.9 Million
15. Dual Tone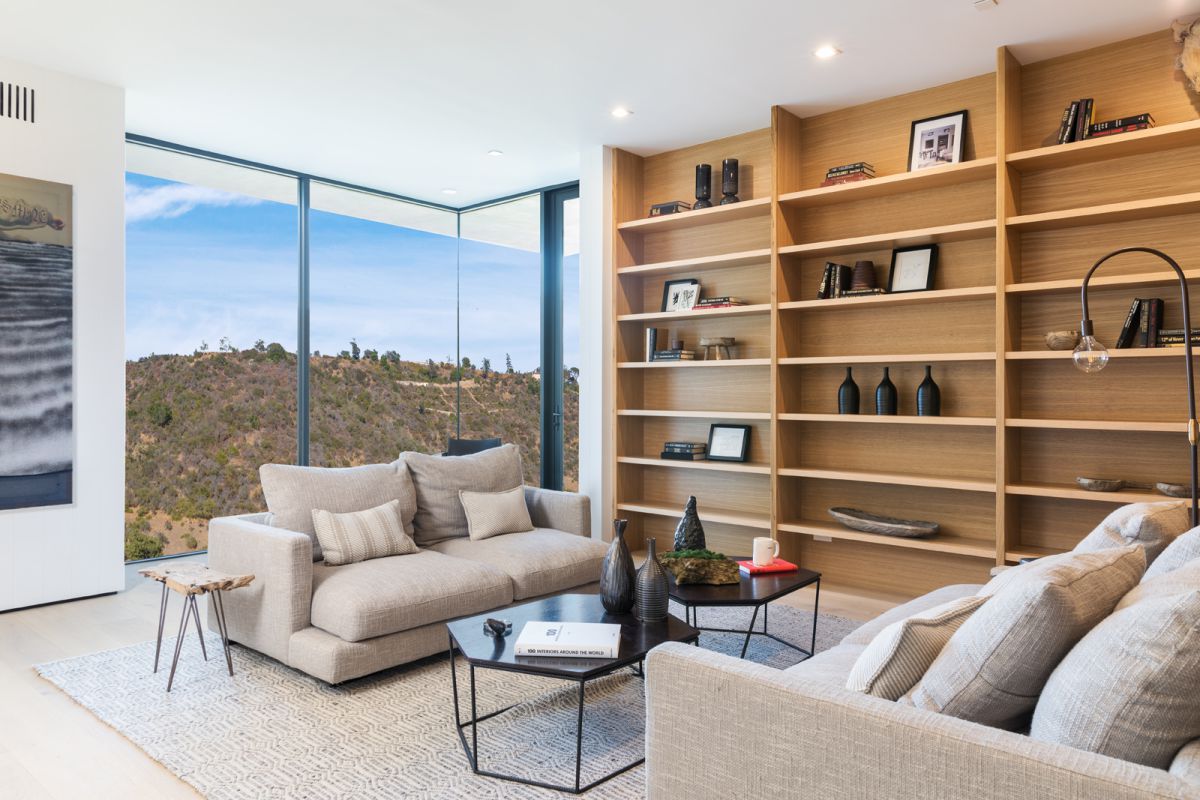 Built-in shelf customization need not be limited to measurements. A fantastic technique to add interest to a space and create a focal wall is to paint built-ins so that they contrast or complement other colors in the area. Sandall Infinity House in Los Angeles designed by Jae Omar Design
16. Shelf Floating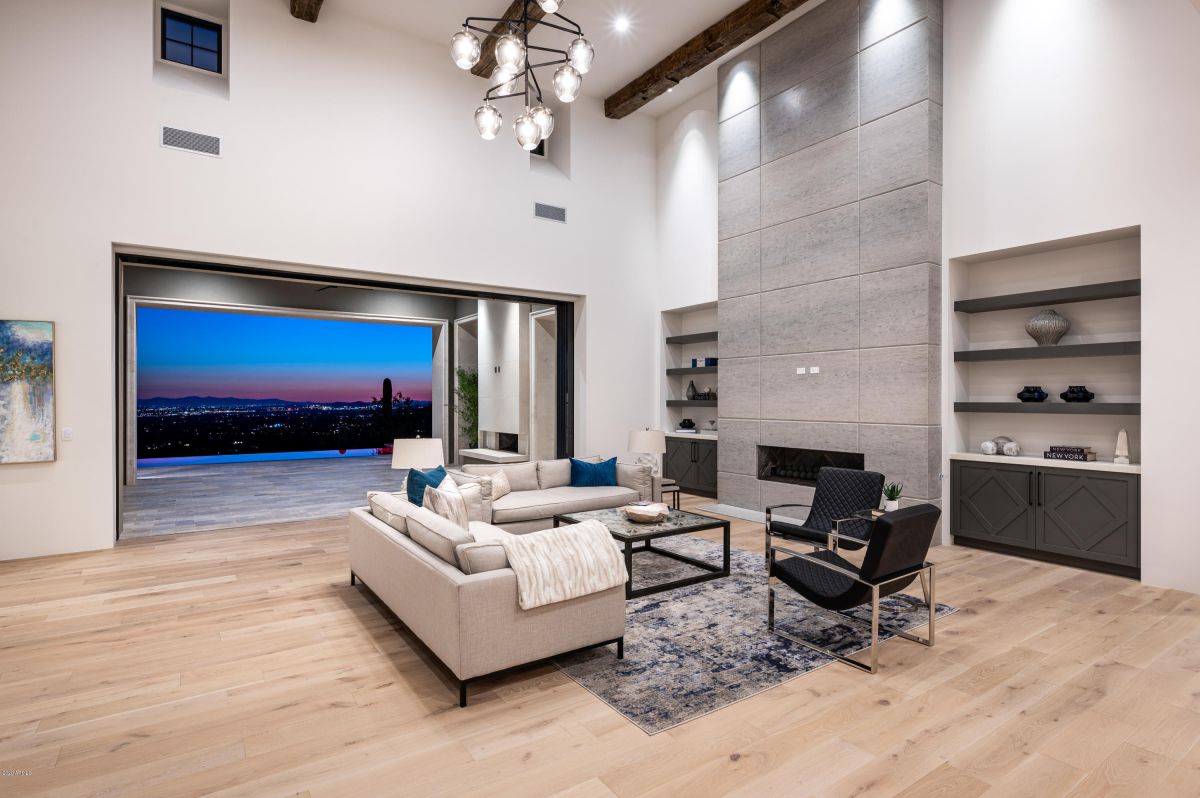 The built-in process is made easier by floating shelves. No matter how tall or how wide a piece of wood is, it may be chopped to fit a number of spaces. This living room is a modern fantasy with its gray-painted brick fireplace, oak floating shelves, and dark grey lower cupboards. New Mediterranean Scottsdale House for Sale at $6.35 Million.
Drawing up a blueprint for your living room is where we believe the greatest place to start when designing a living room from scratch should be. You can accomplish this with the help of many fantastic websites and applications, or you can stick with the basics and use graph paper and a pencil. Then develop a list of everything you want or need in the room, including furniture, decor, lighting, and storage for the living room. And begin arranging it in the space; experiment with different arrangements according to your strategy. For more amazing ideas, you may look at the post 15 Simple And Surprising Living Room Decoration Ideas
More Ideas For Living Room:
---
Thousand of high quality images of Living room and more you can see at Livingroom Gallery.