Date of Publishing:
New Design Trends, Pink And Gray Living Room Ideas
Have you ever considered using two opposing tones in the living room – cool gray and warm pink? Not to worry, the collection below showcases a variety of creative styles. Allow us to point you in the right direction with a unique decor in which pinks and grays make an unexpected appearance in the living room. Join us in researching and discovering pink and gray living room ideas for a new 2022 trend.
1. Pink Pastels Brighten Up The Gray Living Room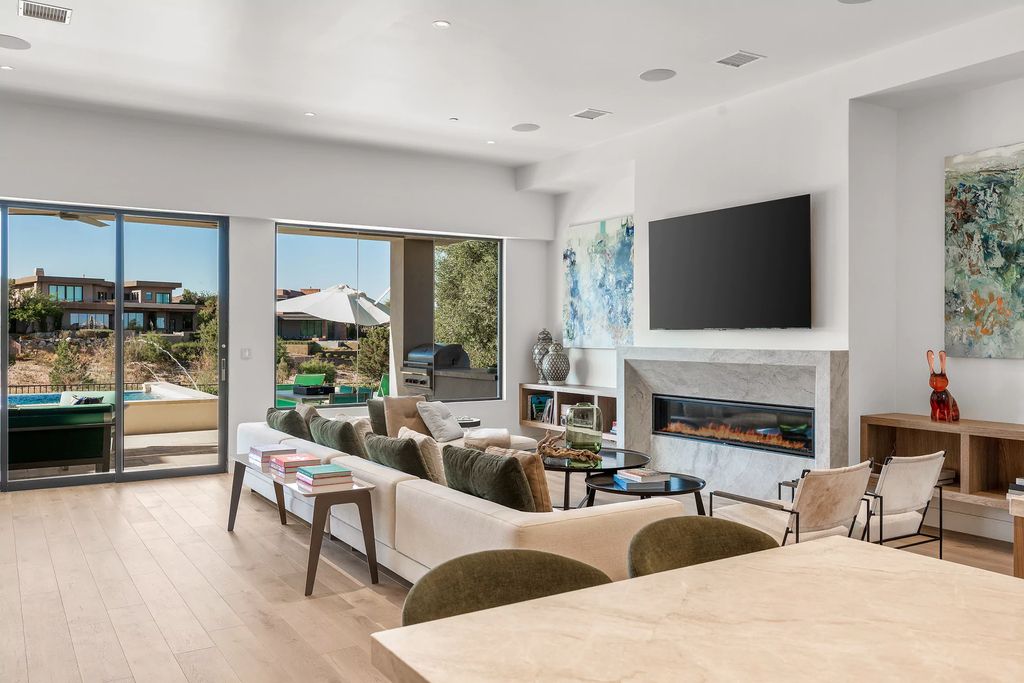 You don't have to limit your palette when looking for colors that go with gray. Simply allocate a reasonable amount and ratio in the color scheme. Cool grays can work well with pastel pinks, whether as details on the wall plane or on the furniture. This will bring about balance. Dramatic Custom Masterpiece with Golf Course and Mountain Views and Sleek Timeless Finishes in Las Vegas Listing for $8,500,000
2. Gentle With A Country Flair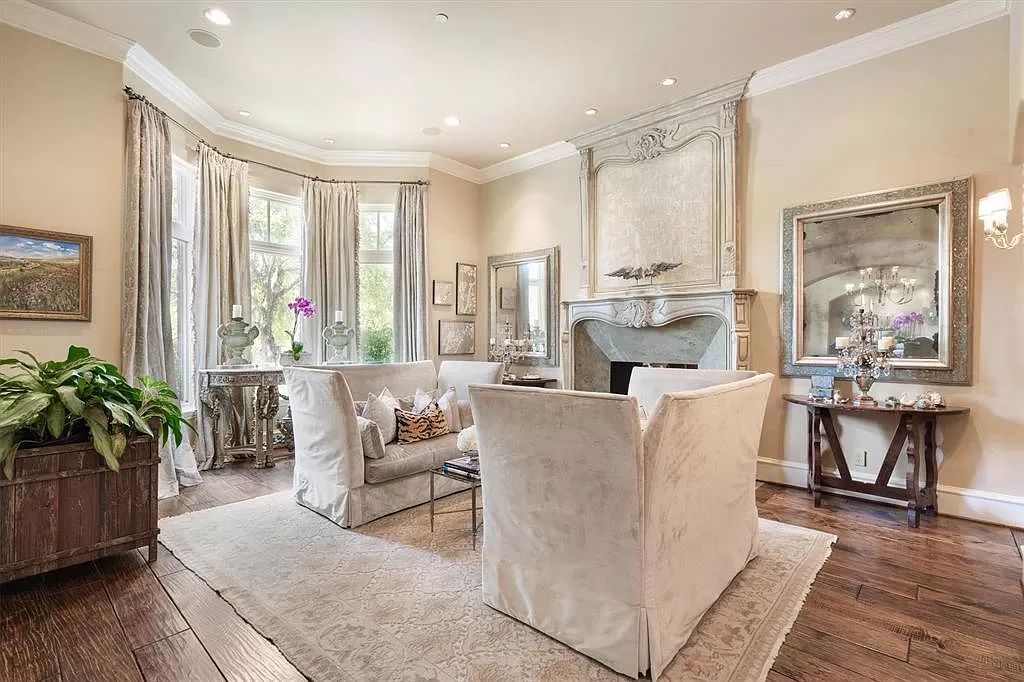 Changing the placement of color tones is another way to coordinate pink and gray in your living room. When selecting a color and pattern for your sofa, make sure it complements the main color tone of the room. All paint colors and interior colors have a hint of time when choosing a country style. Exclusive Mira Vista Estate in Fort Worth features French Traditional with Contemporary Transitional Design Asks $4.825 Million
3. From The Floor To The Ceiling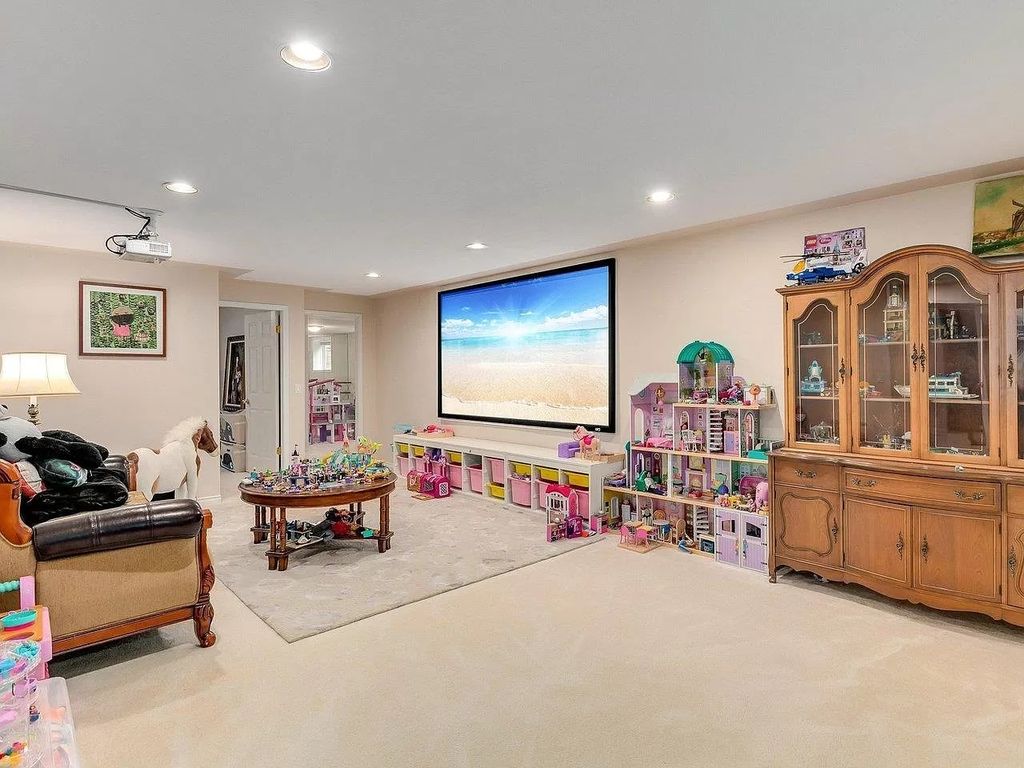 Pretty curtains, rugs, and children's play sets can be used to complement the living room, adding instant warmth. With the pink collection, it is ideal for warming up rooms with gentle neutral colors. To be more neutral, the presence of cold gray will make the room's color palette work as well as it can. Resort-Like Executive Home in Surrey with Endless Entertainment Spaces Asks for C$3,499,000
4. The Pink Color Stands Out Against The Light Gray Background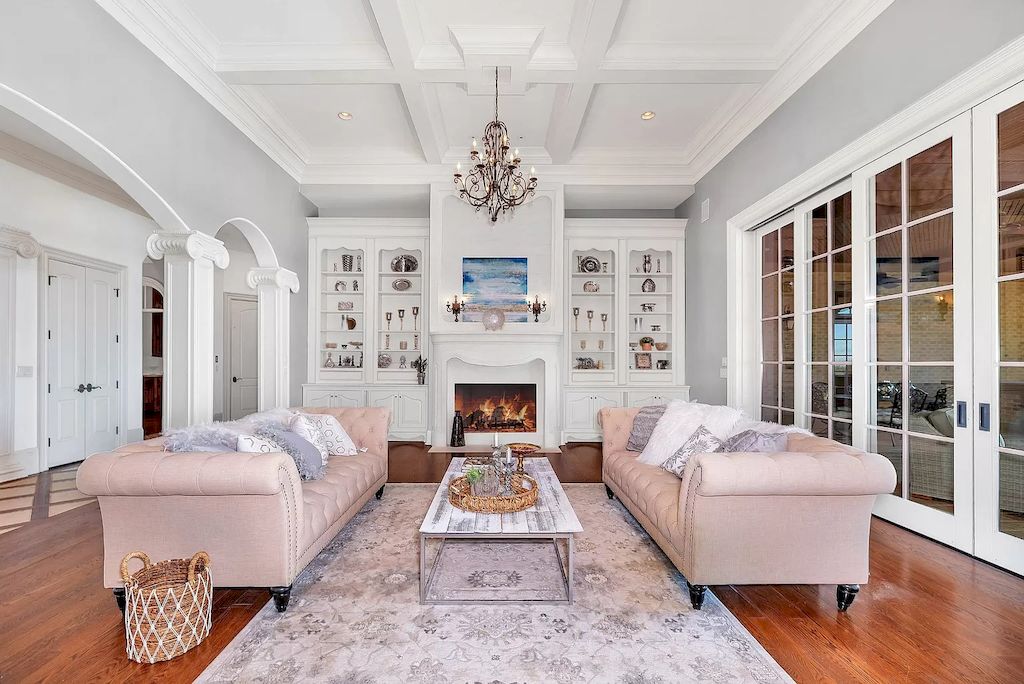 Choose a pastel pink sofa and stick to the open plan architecture to add light to your gray living room scheme. Despite the interesting color contrast of warm pinks and cool grays, the intensity of the tones shows a certain harmony. Pink is a fun color that works well with gray living room ideas. Extraordinary Hilltop Estate with Spectacular Sunsets and Exquisite Views in Tennessee Listed at $7,499,999
5. Make A Statement With Curtains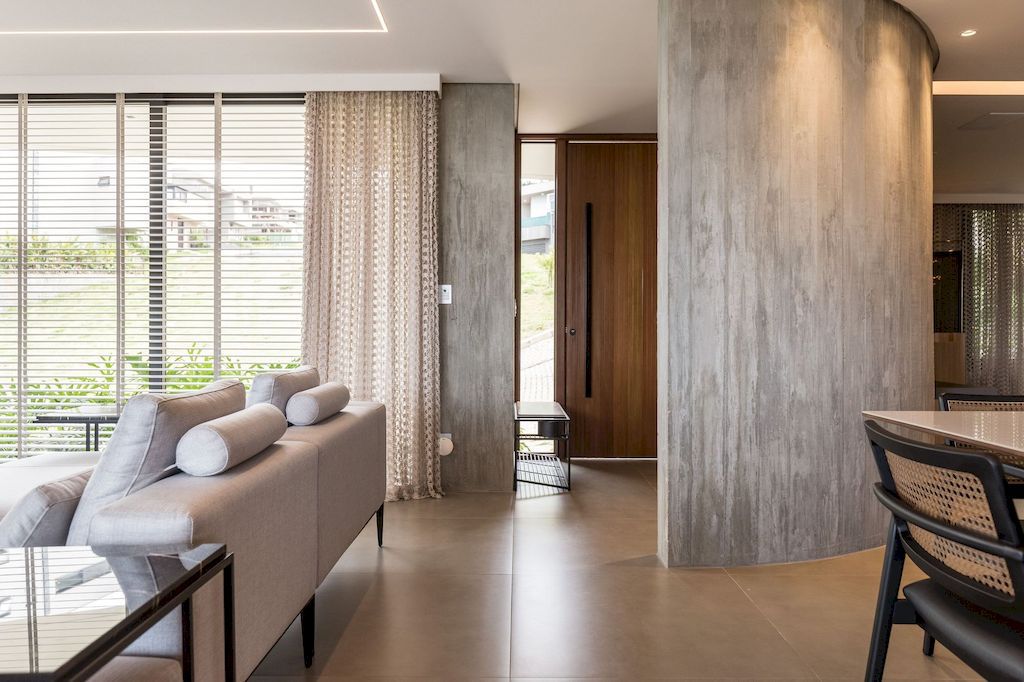 Curtains are an excellent way to introduce a romantic and sophisticated pink palette into your living space. As the combination with glass doors is already built into your home, this is also an easier way to get a private space. With glossy gray interiors and semicircular door frames, everything becomes more artistic and luxurious. AD House for Comfortable Living J.A. Becker Arquitetura e Construções
6. Interior With Alternating Pink And Gray Tones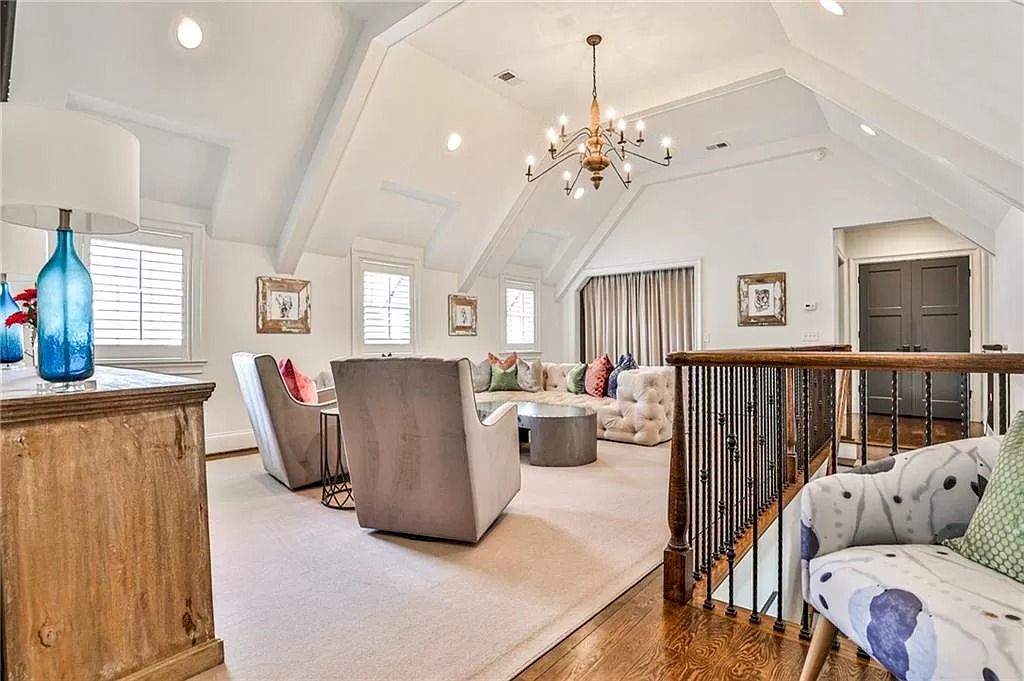 If you like the idea of soft and warm pastel pink tones, try them out on your rugs and furniture. Decorate them with light gray and white tones on the window frames and other wall decorations. Pink, as the present rose, creates a sense of calm in any environment. A light gray hard fabric sofa will provide a calming contrast in your space. This $3,850,000 Elegant Home in Georgia Re-images a Resort through the Lens of Its Architecture, Landscape and Finishes
7. Mix In Some Pink Light With Gray Paint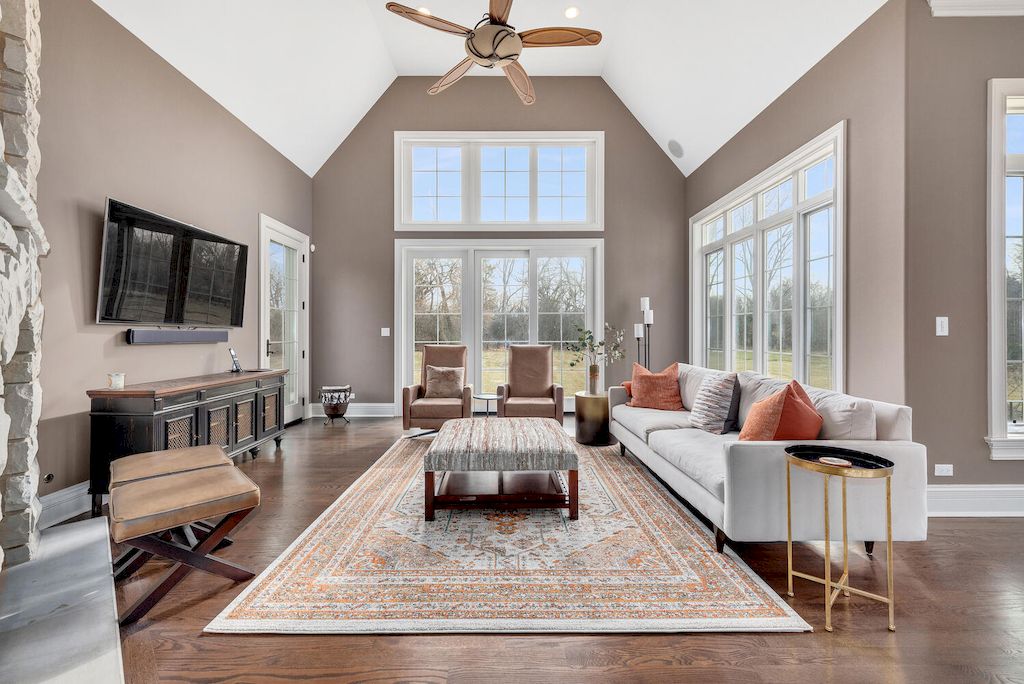 Typically, you would only consider combining gray and pink colors for separate interiors and locations. Mix them into the same paint color as shown in this design example. This wall is a mix of brown, pink, and earth tones, with the earth tones dominating. Gray is a color that goes well with everything from cool off-white to warm, mysterious neutrals. This $3,375,000 Exceptional Residence in Illinois Features Perfect Interior and Construction Quality
8. Decorate With An Ottoman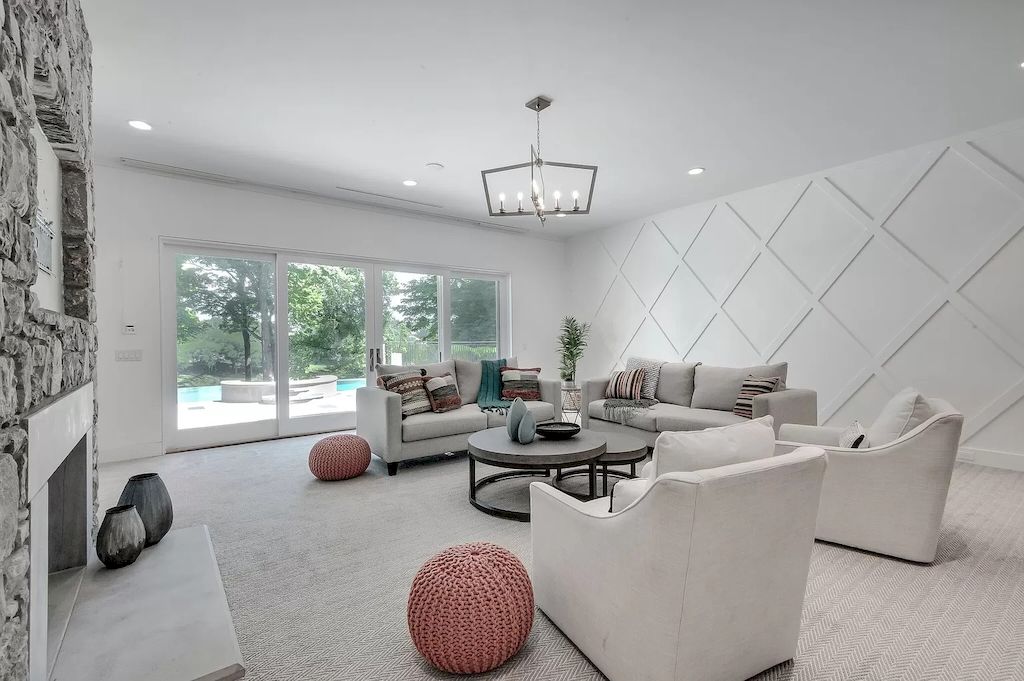 Choosing white walls provides a comfortable foundation on which to build and display neutral furniture. The cool gray tones, combined with the stone wall, create a refreshing winter environment. The addition of warm tones, such as deep pink, on the other hand, creates contrast and highlights, which is great for creating attraction and depth in the living room. The pink ottoman is also useful for making more space around you. Truly One-of-a-kind Property in Tennessee on Market for $4,750,000
9. Decorative Motifs In Combination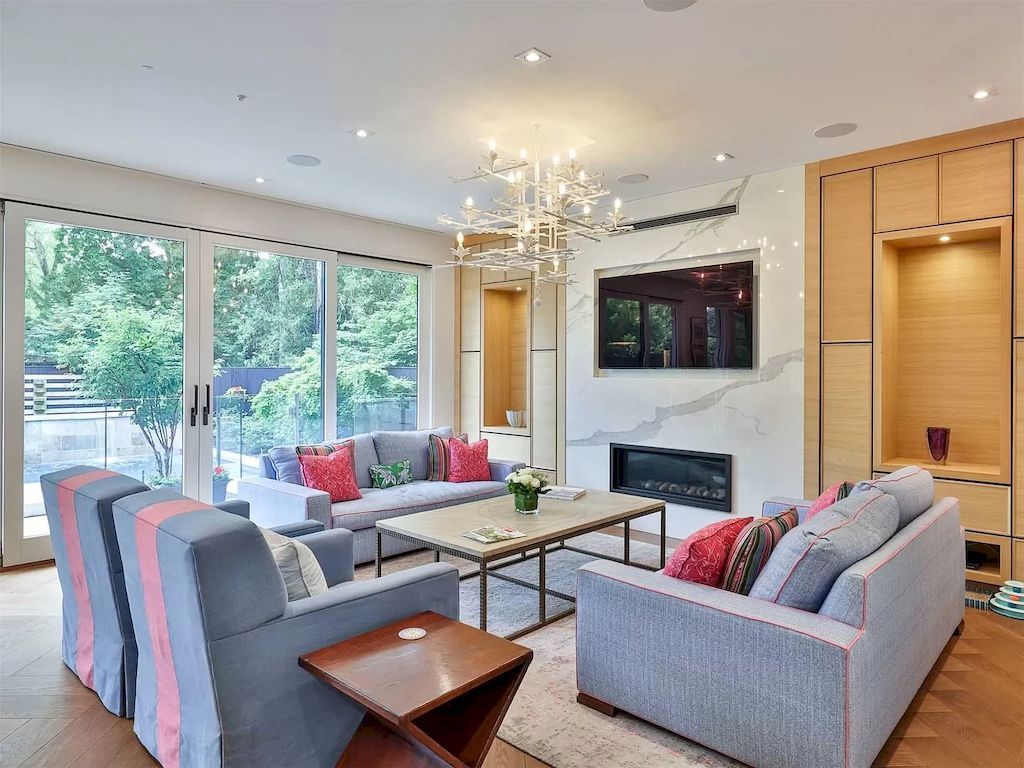 Different shades of gray tones can elicit various emotions. For a sexy and youthful look, choose blue-gray and deep lotus-pink colors. This is the ideal complement to a hard fabric sofa set. Prepare an extra gray fur rug to add to the room's appearance and warmth. Contemporary Georgian Masterpiece in Toronto on the Market at C$8,750,000
10. Pale Pink Draws Attention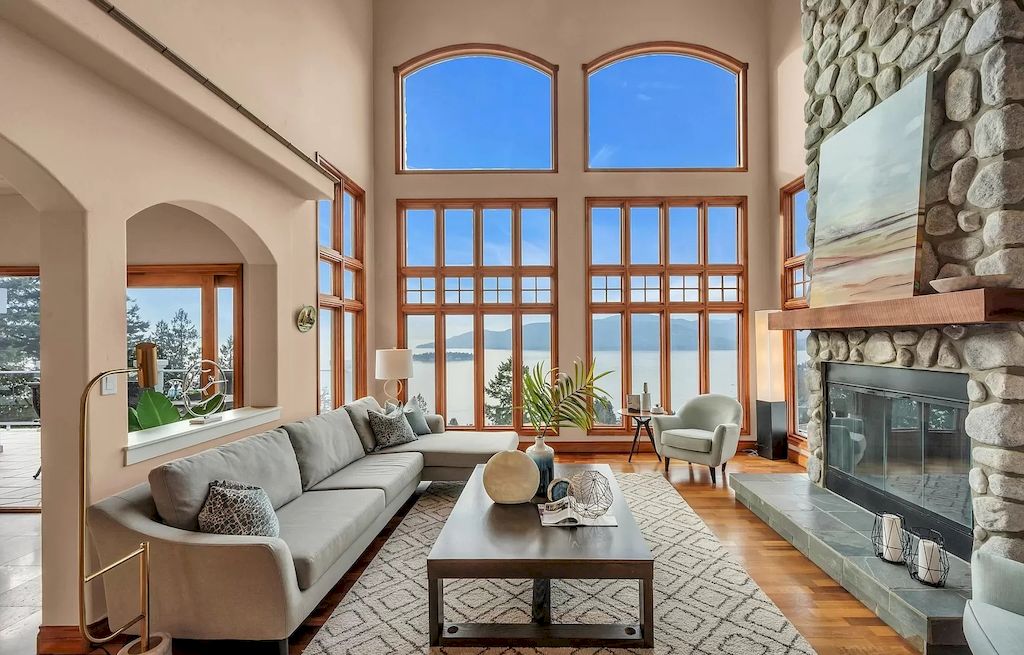 Pink always appears to be sweet and sugary. More specifically, when they are introduced through sophisticated and smart wall paint colors. Even with double-height living rooms, it has become the winning foundation for modern homes. If you want to make your living room more appealing and rich, use metal on furniture such as a lamp or a small coffee table. Perched high on the Hill above Sea view, Mediterranean Villa in West Vancouver Asks for C$7,888,000
11. Use The Pink Couch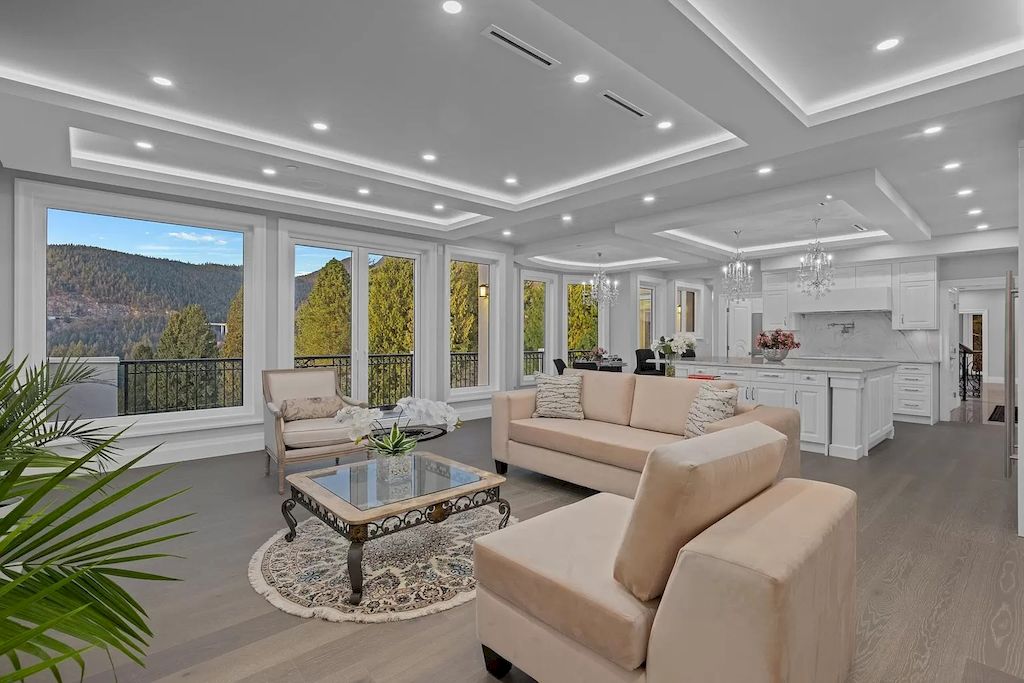 Instead of a large sofa with bright colors, this standard pastel pink sofa stands out in the gray and white home. Pink is a versatile color that is surprisingly simple to coordinate and can work well in traditional neutral color spaces. Pink colors with harmonious tones should be used because they avoid creating jarring feelings. Lapping up Ocean-to-Mountain Vistas, Sun-Swept Exquisite Home in West Vancouver Sells for C$5,998,000
12. Pink Dotted Color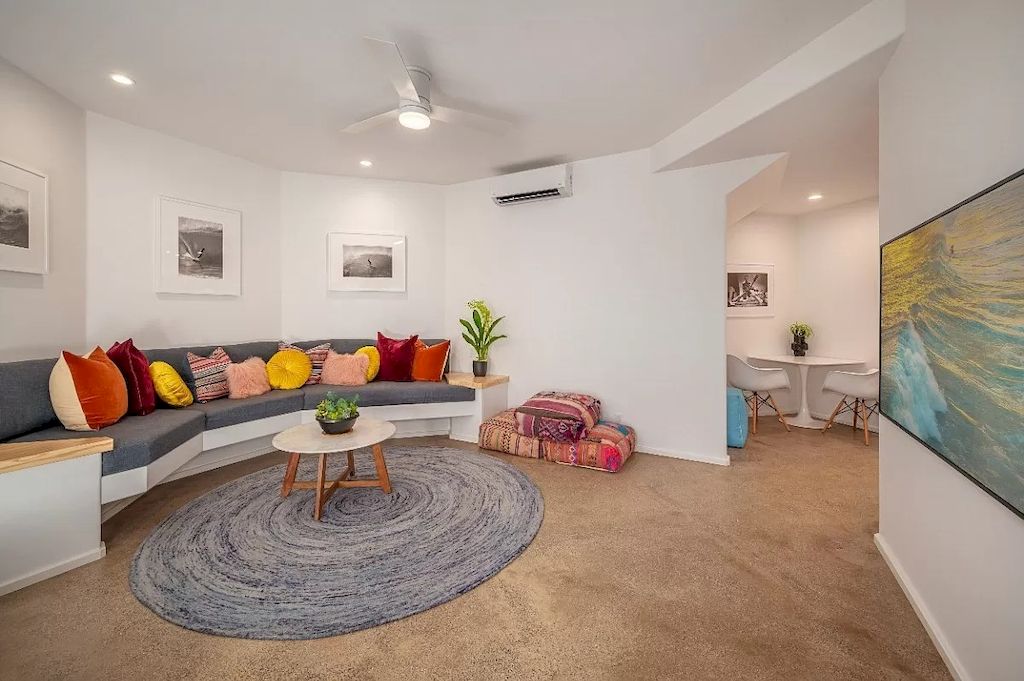 Use textures to replicate your love of pink on any object in your living room. A solid white pedestal supports this gray couch living room, which is accented with some colorful pillows. This tip is great because it's simple to change up the furniture and decor for a more versatile look. This $8,200,000 Special Retreat Offers All Sensational Aspects in Hawaii
13. Exclusive Carpet Choice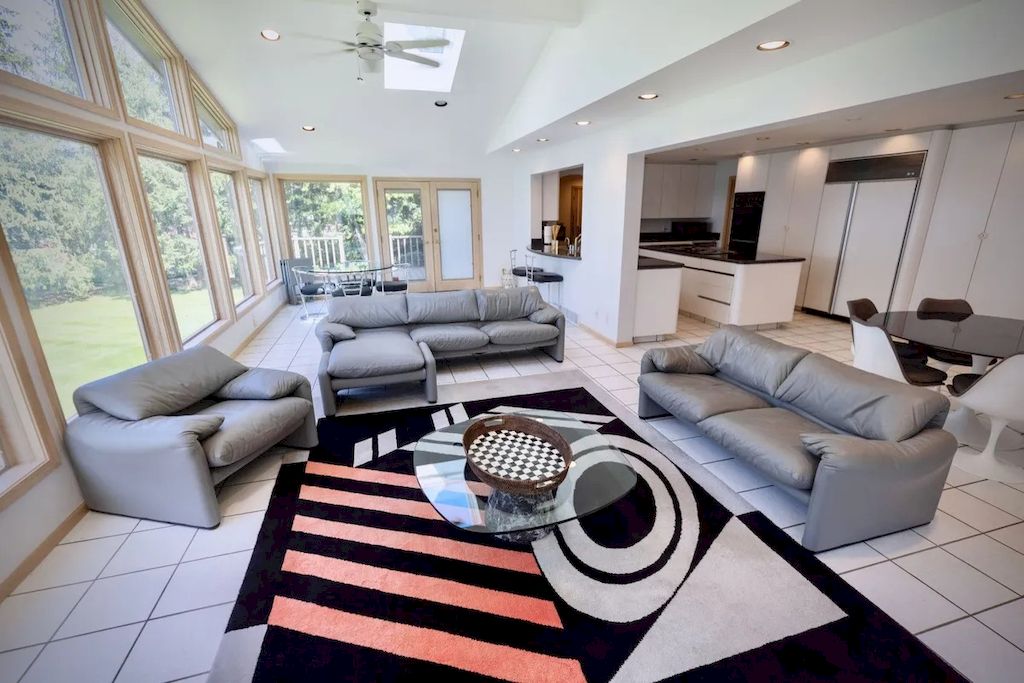 You can incorporate pink into your living room design by selecting a unique rug. Some people prefer pastel pink, while others prefer deep pink. Remember to select the appropriate gray shades for an overall color palette. A hot pink rug is ideal for making a strong statement. Prestigious and Private Lake Front Estate in Michigan Listed for $3,600,000
14. Symmetrical Living Room With A Balanced Design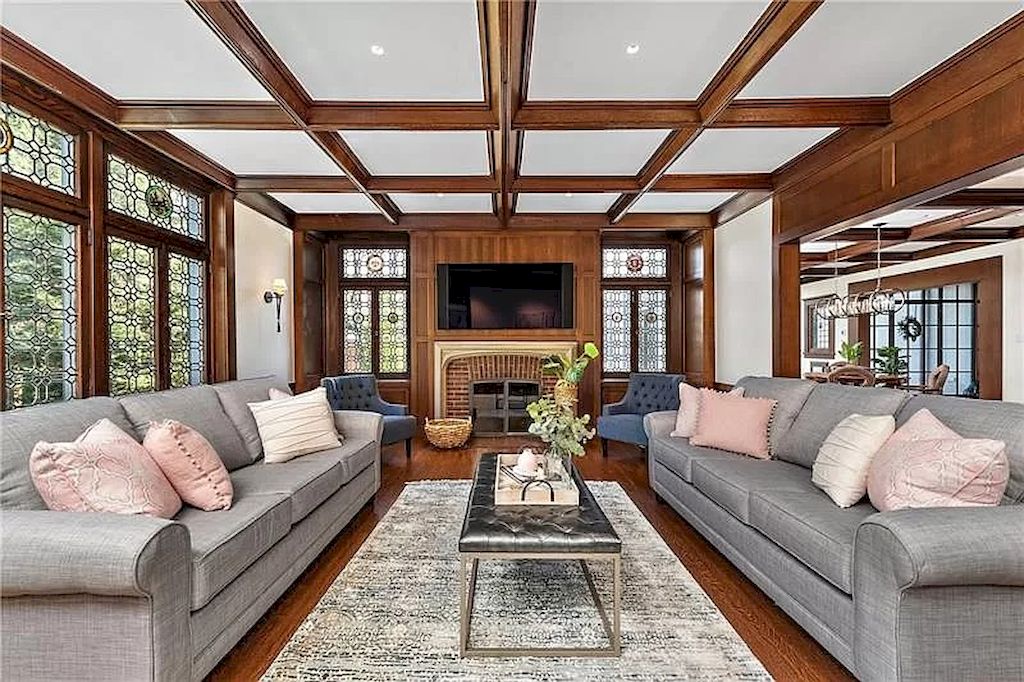 Modern living room with solid wood architecture and modern features, including a gray sofa set on tan silk fabric. Soft, gentle pastel pink pillows adorn the strong space. A gray chair can be brought to life with attractive shades. This arrangement exhibits a good color balance and interweaving. Discover Timeless Beauty and Classic Style of this $6,250,000 Outstanding Residence in Pennsylvania
15. Maintain A Bright Beach View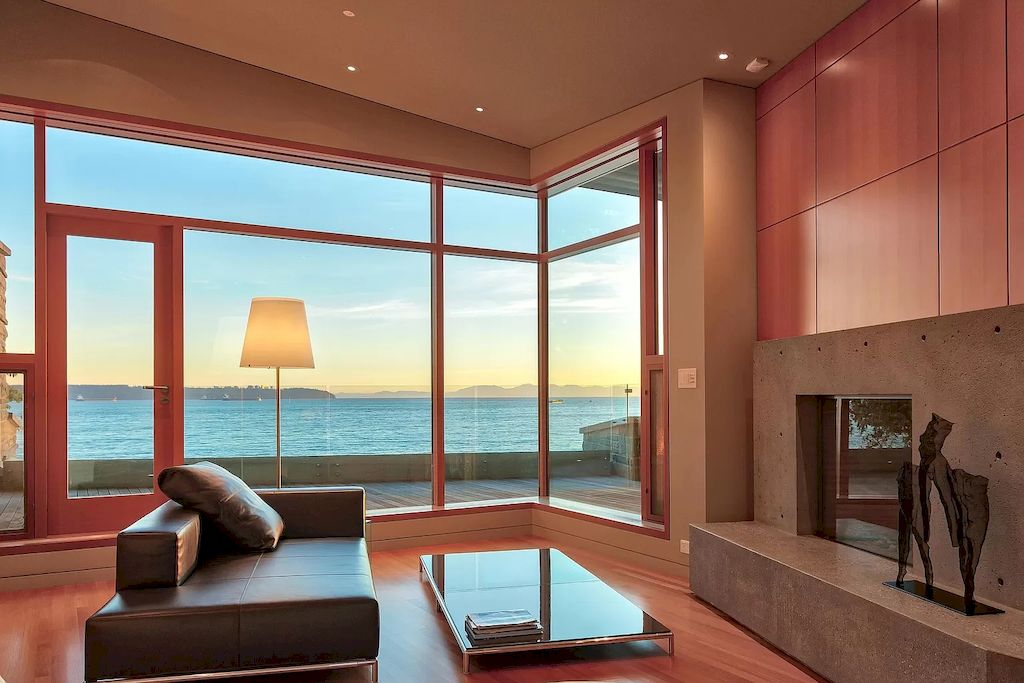 The room was filled with shimmering and warm pink this time. Complement the decor scheme with modern wood paneling and a gleaming leather sofa as the room's focal point. Use other modern sculptures, such as these statues, and well-lit tree lights to capitalize on the modern coral pink trend. Experience the Energizing Allure of the Ocean at This C$26,800,000 World Class Luxury Estate in West Vancouver
16. Shades Of Grey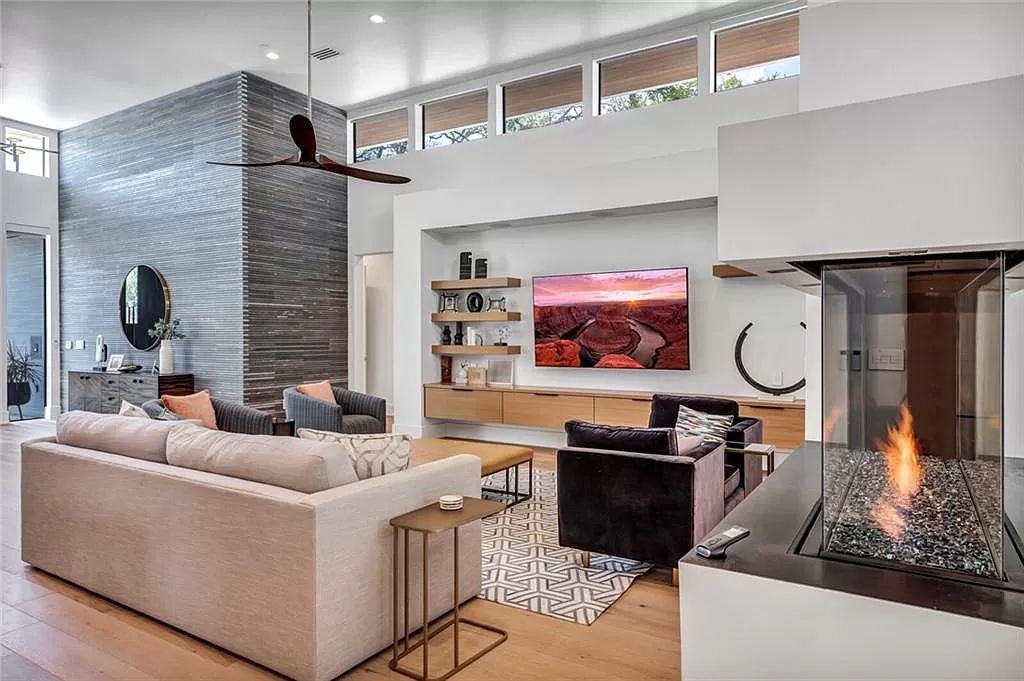 Although the room is minimalist in design, the art of color selection and mixing allows for the creation of a unique personality. The main wall displayed flexibility and diversity by using only a simple gray color with different shades. The use of various gray shades is also intended to divide the area in the living room of the home. A pale earthy pink sofa is typical of contemporary design. An Exquisite Modern Home in Austin with Amazing Layout Asking for $6,995,000
Gray and pink can complement each other nicely, but the tones must be carefully chosen. Cool grays are offset by warm pinks to create a sophisticated look. Furthermore, the interior material is an important consideration for the living room space with this unique idea. So, you can learn more living room Ideas brown couch for more combinations.
More Ideas For Living Room:
---
Thousand of high quality images of Living room and more you can see at Livingroom Gallery.