Date of Publishing:
We all know the importance of sleep. It is a method that helps us not only to rest physically but also mentally. Therefore, it is imperative to come up with ideas to design bedrooms for each house, to reach maximum comfort. The interior choices for the bedroom also clearly show the owner's personality. For more ideas and inspiration in choosing the interior for your bedroom, we've gathered below 27 chic and attractive Interior Bedroom Design Ideas that you can't miss. Let's check it out.
1. Bedroom Interior In Farmhouse Style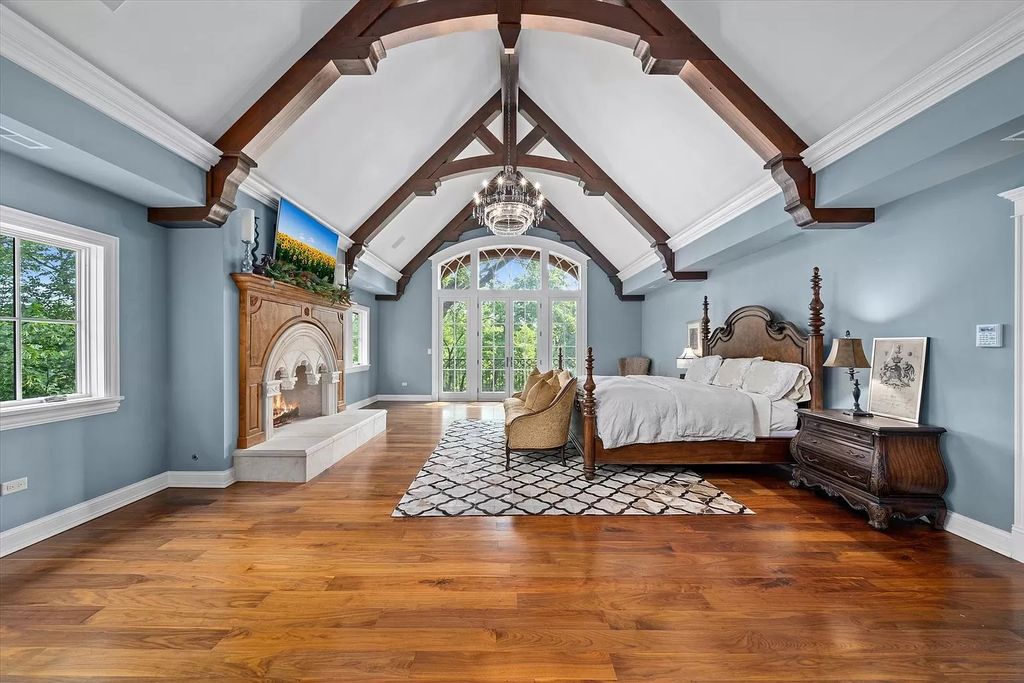 Wood planks, a built-in fireplace as the focal point, a vaulted ceiling with wooden beams, and classic wood nightstand combine to create the perfect farmhouse style for the bedroom. The overall look should be more complete thanks to the appearance of Erie blue and white hues chosen for the paint color of the walls and vaulted ceiling. Providing Unmatched Tranquility, and Picturesque Landscape, This Riverfront Estate Asks for $2.35 Million in Saint Charles
2. Cozy Log Cabin Bedroom Of Family Retreat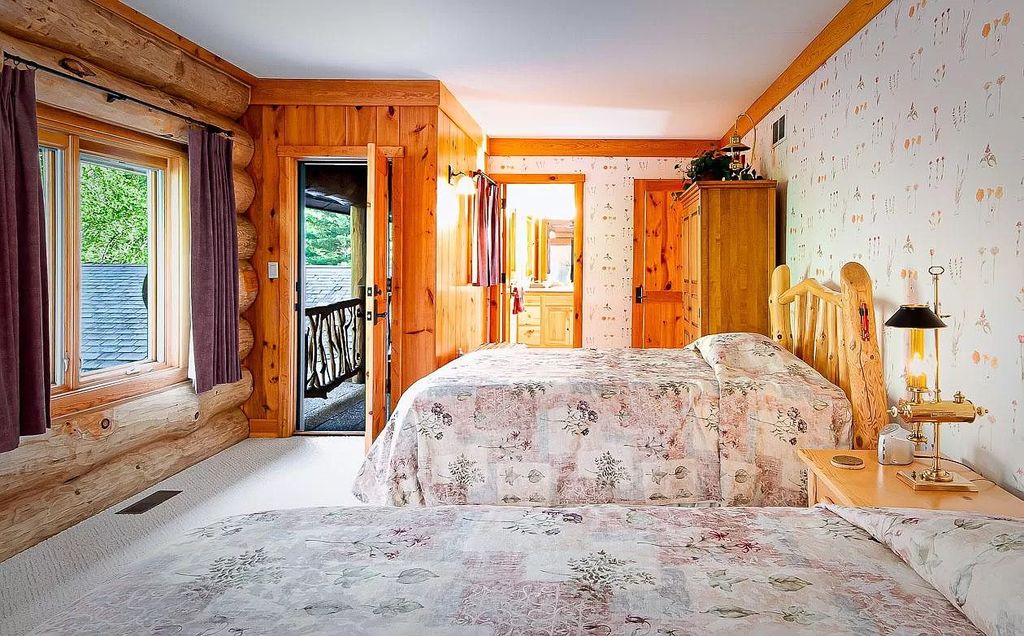 Immerse yourself in nature and receive sunlight as soon as you open your eyes to welcome a new day with a handcrafted log cabin bedroom, which combines classic elegance with modern comfort. The self-contained bedroom with laminated wood walls, a large window at the end of the bed, handcrafted bed headboard, floral bedding and the indoor bathroom is perfect for family gatherings. Stunning Retreat of Unparalleled Design and Quality of Craftsmanship in Watersmeet Listed at $8.5M
3. Add Some Recliners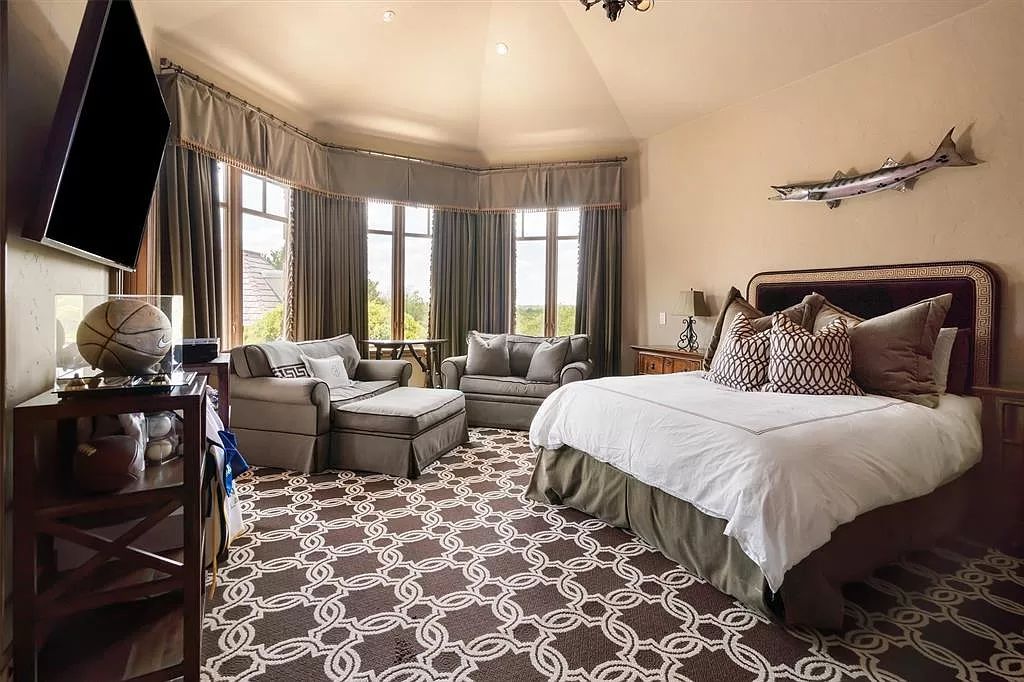 In addition to beds and other bedroom interiors, a great way to supplement more space and seating area in your bedroom is to arrange recliners or other chairs. Place these chairs near the windows, like the bay windows in the example above, to make the bedroom feel more spacious and tidy. Exclusive Mira Vista Estate in Fort Worth features French Traditional with Contemporary Transitional Design Asks $4.825 Million
4. Try Luxe Bedding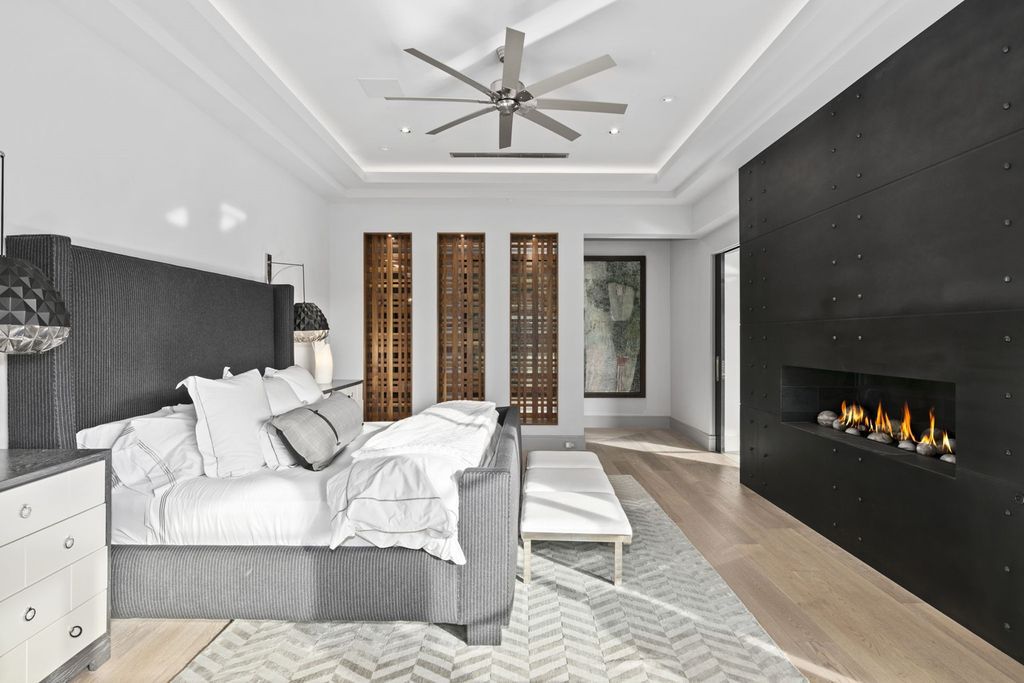 Give your bedroom a hotel feel with cozy white sheets and an assortment of complementary throw pillows. Cool tones such as the shapes of gray, and black of the built-in fireplace cover make this bedroom more modern and luxurious than ever. An idea is quite suitable for strong gentlemen. A Simply Stunning Contemporary Home in Scottsdale with Striking Mountain Views for Sale at $7.25 Million
5. Pop Up Your Bedroom With  Entresol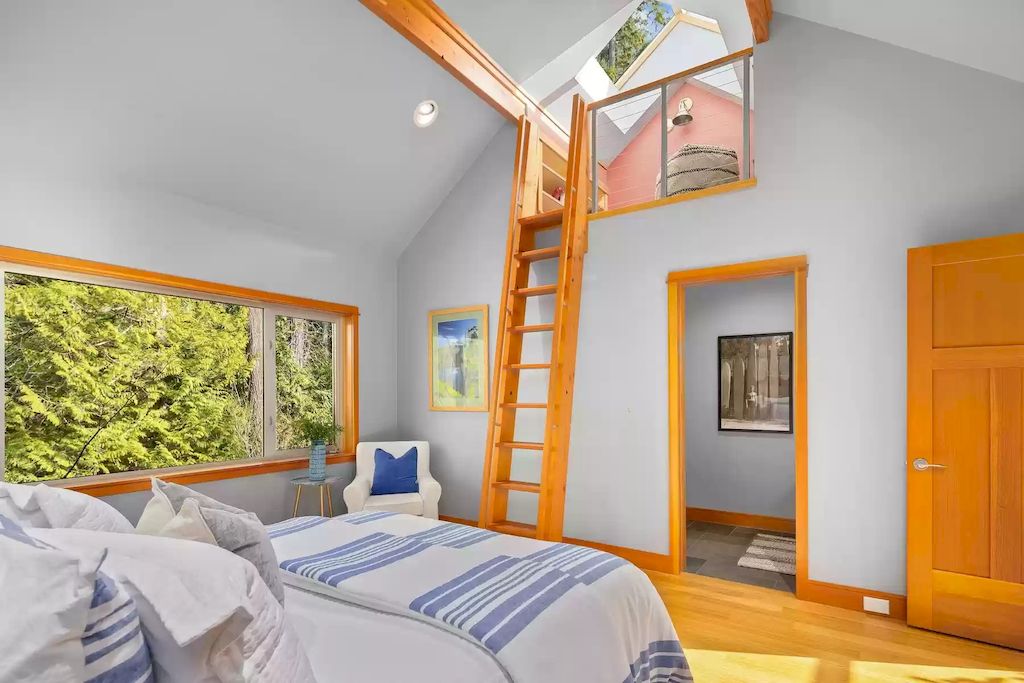 You want your bedroom to have more space to store things, play or even rest for guests when your home has an important event. Consider setting up entresol. For a one-level house, the entresol helps the space become more spacious and unique. Set a lazy chair, small shelves, and a glass ceiling for the entresol, and you get a perfect space for a romantic evening with wine and stargazing. This $5,498,000 Farmhouse-inspired Estate in Washington Leaves You Breathless
6. Use Bunks For Large Family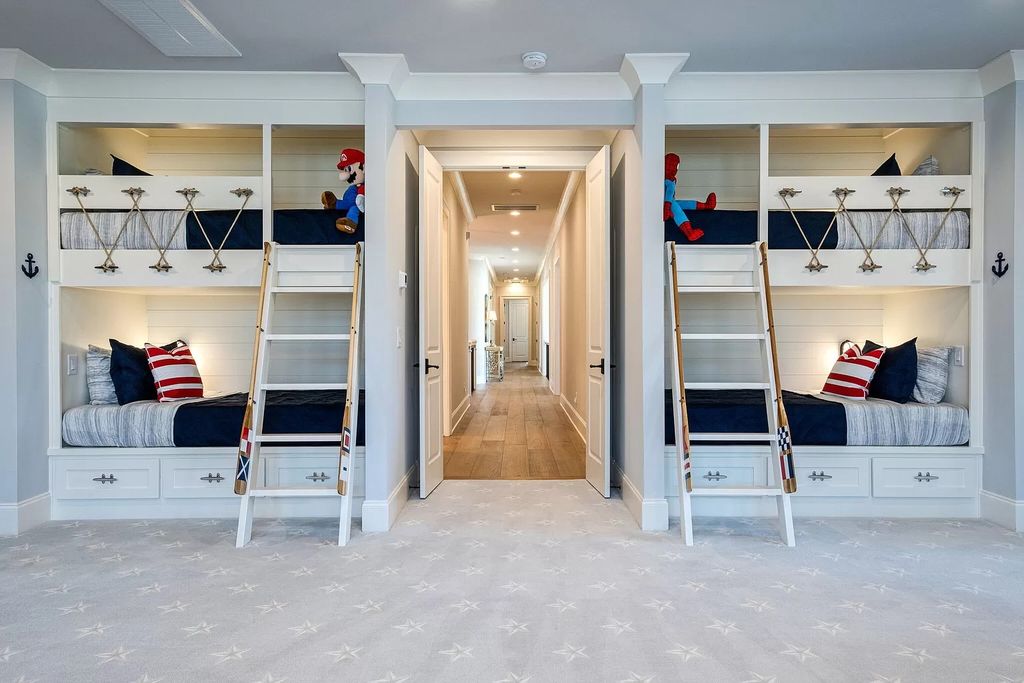 Do not worry about arranging and decorating bedrooms for families with many members. The large bedroom with bunks and ladders is a perfect idea. This $5.935M Spectacular Waterfront Home Commands Breathtaking Lake and Sunset Views in College Grove
7. Install Bedside Lighting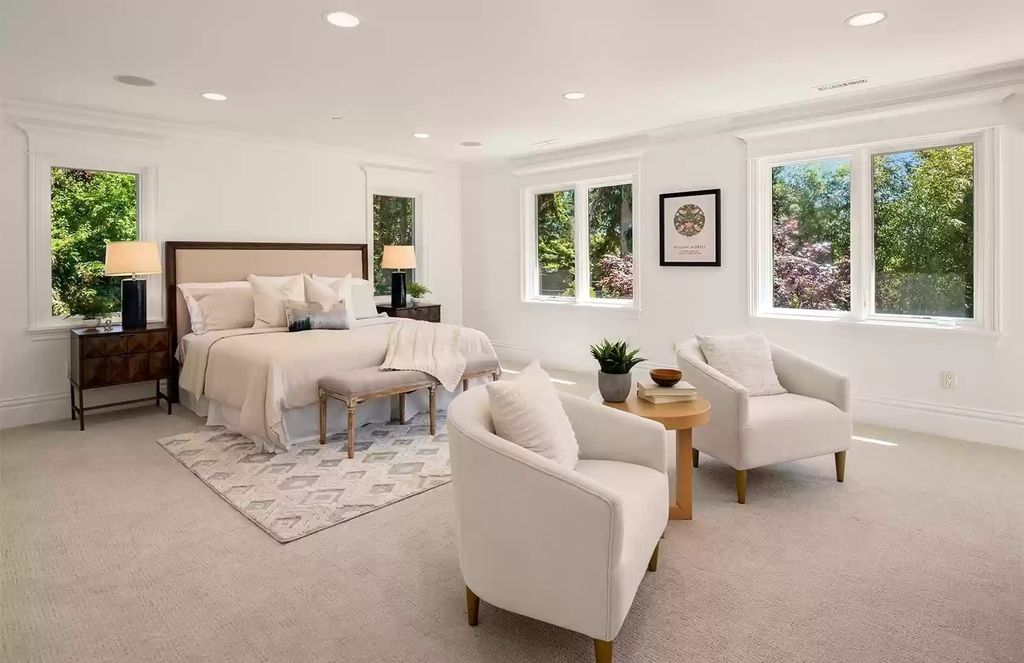 Make your bedroom interior more complete by adding bedside lighting to the set of 2 drawers nightstands with the wooden bases. Your bedroom thus becomes structurally balanced and adds eye-catching accents. Embracing European Design, this Distinctive Medina Estate Hits Market for $5.9 Million
8. Add More Peaceful With Floral French Curtains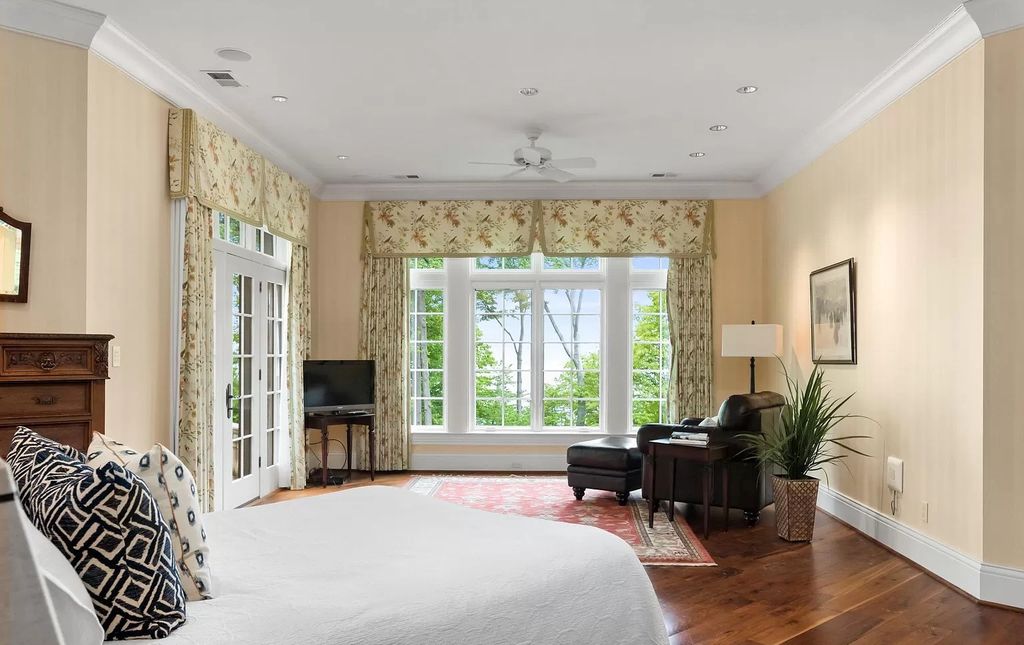 Bring the poetry and peace of the countryside into your bedroom with the presence of two sets of Floral French Curtains. Choosing the color of the wall paint over the color of the curtain is a good idea if you want to consult. Remarkable, Gated 20-Acre Waterfront Estate in Severna Park with French – inspired Design Lists for $15,900,000
9. Consider Unique Headboard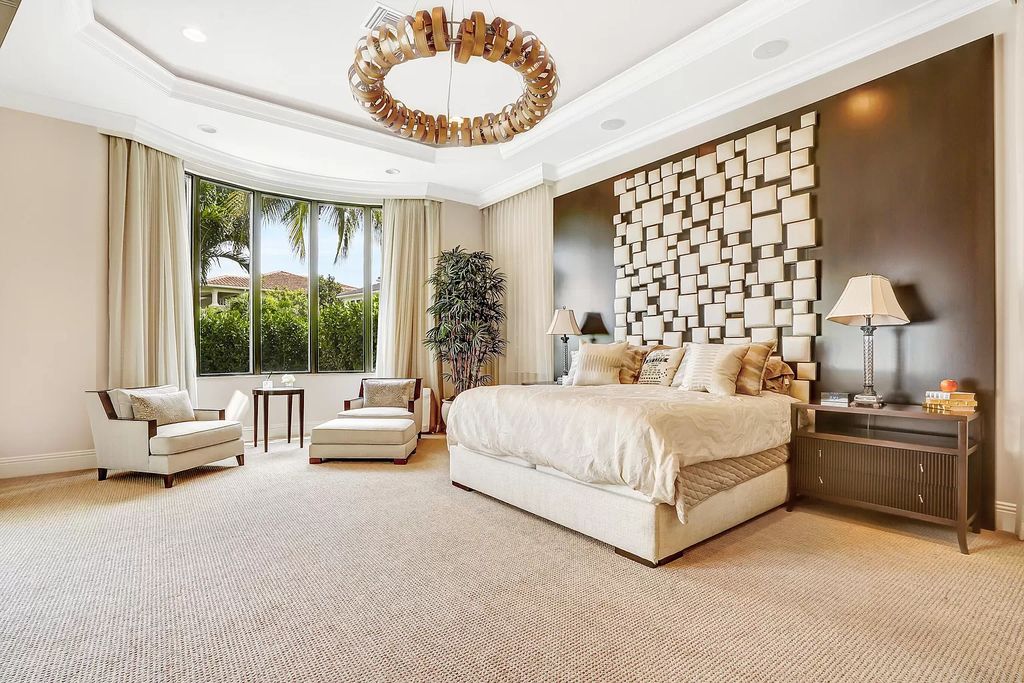 Do not forget or ignore the decoration of the bed's headboard. You can uplift the design scheme with eye-catching and unique headboards such as: wood headboards, metal headboards, upholstered headboards, leather headboards and many other types of headboards that you may consider. This $6,975,000 Exceptional Home in Boca Raton has Ultimate Amenities for Relaxation and Entertainment
10. Try Canopy King Bed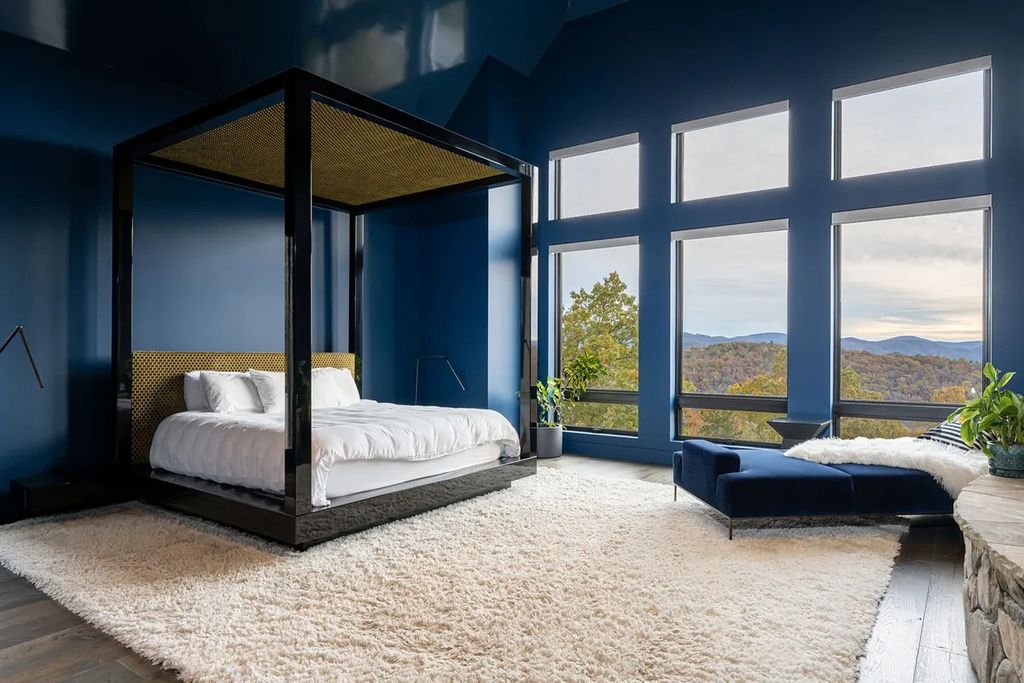 Canopy beds are defined as a magical and wistful addition to any bedroom. In many modern homes, a king canopy bed frame is often left bare with the geometric frame to act as a sleek, minimalist statement. Discretely Sited with Coveted Mountain Views, This Grand Manor in Fairview Asks for $7,950,000
11. Focus On Choosing Interior Material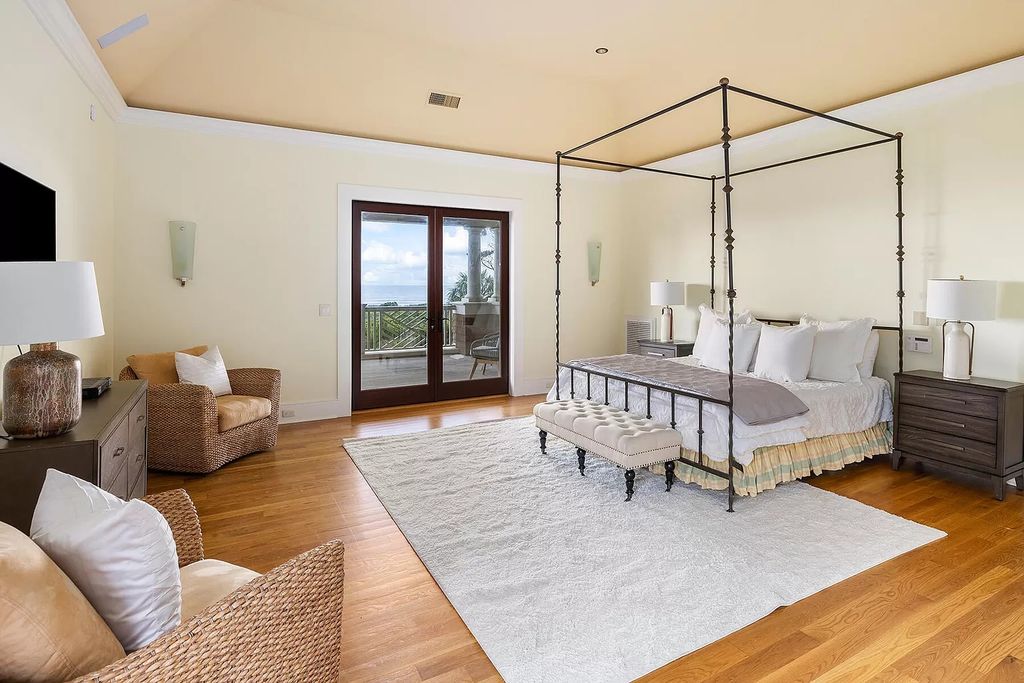 In addition to designing and installing large window frames, you can bring elements of nature into your bedroom or any other space by adding furniture made from eco-friendly materials. Pair of wicker single chairs is a prime example of that point. Providing an Uncompromising Beach Lifestyle Unique to Kiawah Island, This House Lists for $20,000,000
12. Try Nightstands With Attractive Designs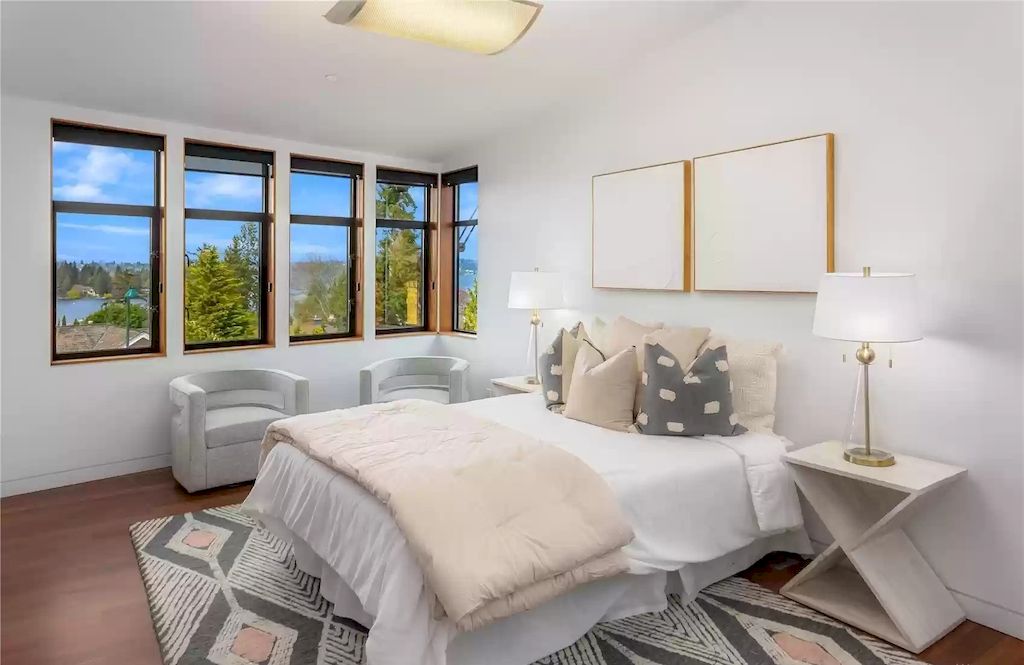 Just installing a set of nightstands with a special and attractive design is already a worthwhile highlight for your bedroom. To combine with the unique nightstand and become the complete background for the bed, you can follow the rule of threes or rule of twos to set up artwork frames or any other decorations for the space above your bed. Sculpted and Honed to Bring a Fresh Air for a Purposeful Living in Washington, this Estate Listed at $6,250,000
13. Switch Out Nightstand Lighting For Others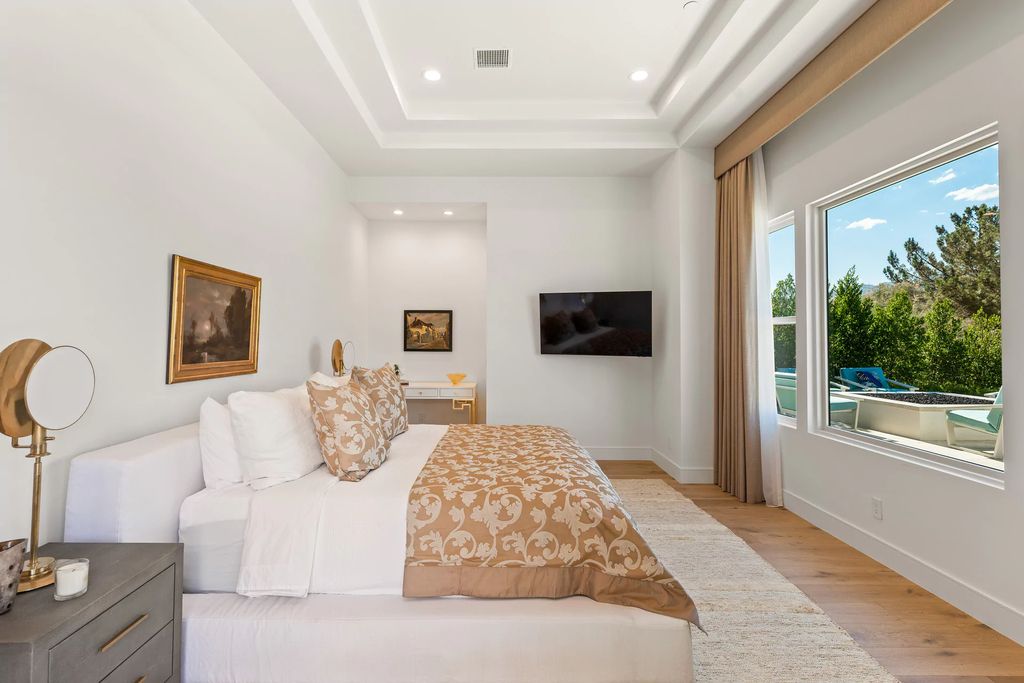 In addition to using table lights for nightstands, you can also consider using other decorative items to display here, like a brass-plated table mirror in the Interior Bedroom Design Ideas above. Dramatic Custom Masterpiece with Golf Course and Mountain Views and Sleek Timeless Finishes in Las Vegas Listing for $8,500,000
14. Install Wall Mirrors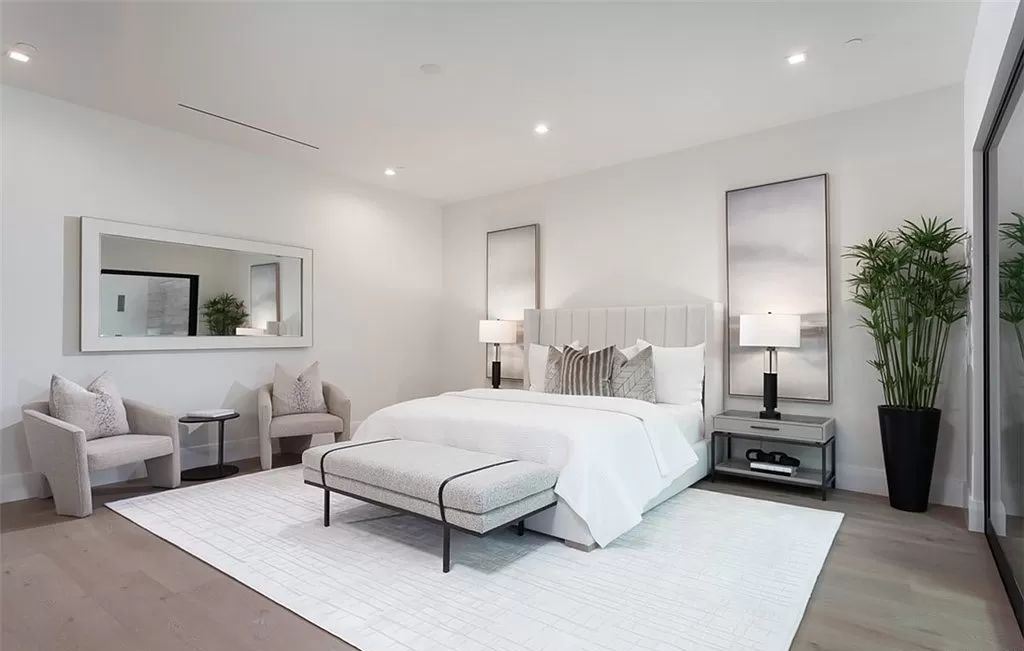 Worried about your bedroom being cramped and secret because your space has no windows? Wall mirrors are the tried-and-true way of bouncing more light around a windowless space. Brand New Mansion on One of The Most Premier View Lots in all of Cameo Shores, Corona Del Mar hits The Market for $21,995,000
15. Curate With Wall-mounted Shelves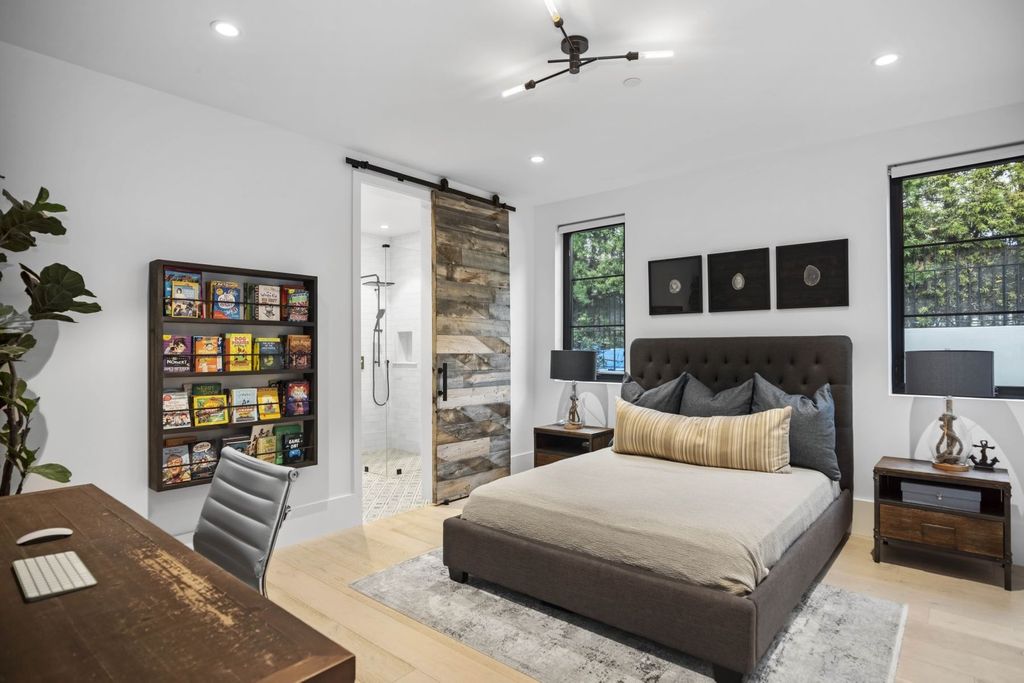 Tidy up your space by installing shelves on empty walls to re-arrange your books or display pretty decorations. This way helps you invest in efficient storage that uses every last inch of space. This $11,995,000 Remarkable Newly Constructed Modern Home in Newport Beach offers Five-star Amenities
16. Minimalist Interior Bedroom Design Ideas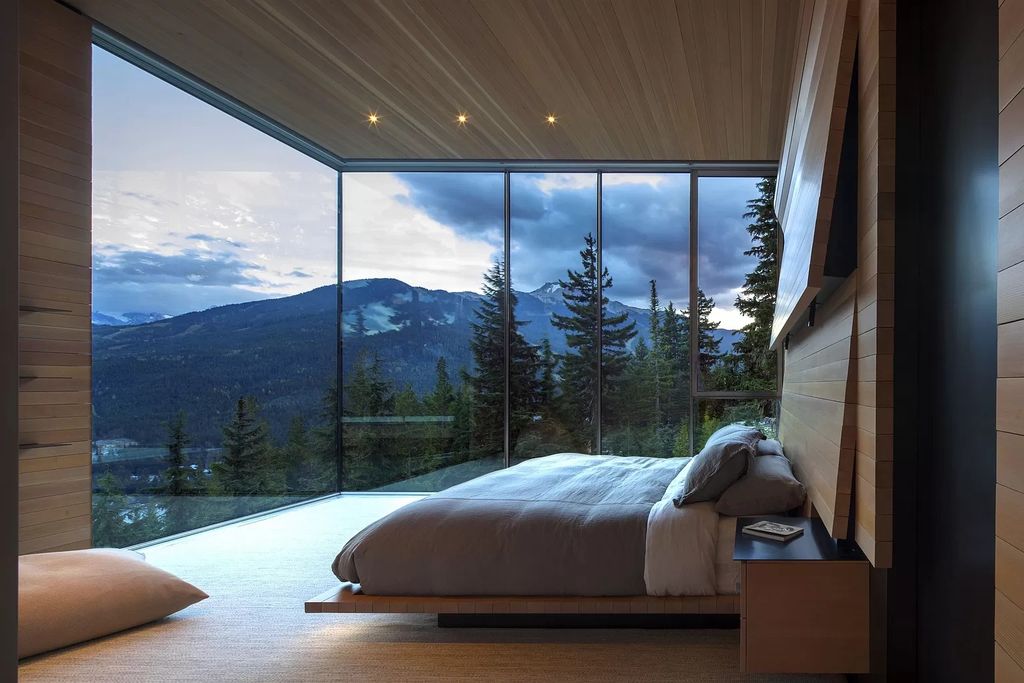 With a minimalist bedroom, the use of sophisticated and colorful furniture is not necessary. Let warm earthy tones prevail with floor-to-ceiling wood paneling. A wooden plank bed is used in combination with a headboard as built-in cabinets to make the most of the space. Enjoy the majestic view of nature from every corner with glass floor-to-ceiling windows. Blend Perfectly with the Surrounding Landscape, Architectural Masterpiece in Whistler Listing for C$39,000,000
17. False Ceiling Design For Chandelier Display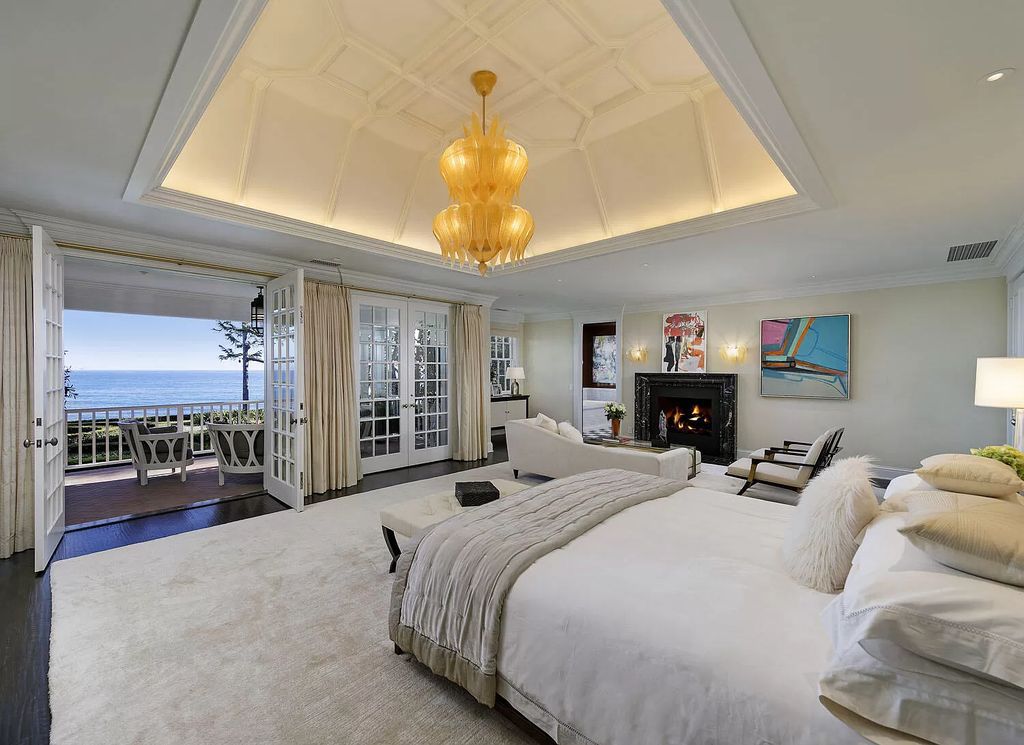 Turn your master suite into a palatial and lively palace with the false ceiling design to display a truly luxurious and sophisticated chandelier. There are many different styles and patterns of chandeliers that you can refer to for your bedroom. Spectacular Oceanfront Property Unlike Any Other in Carpinteria offers Quintessential California Living for Sale at $65,000,000
18. Set Up Wardrobe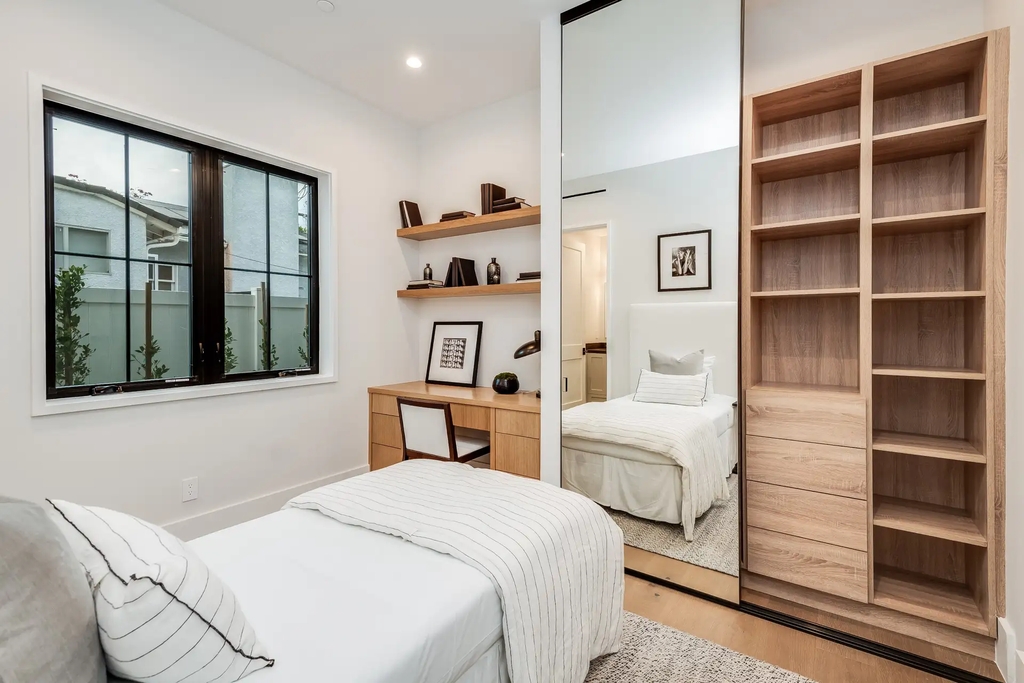 Currently, modern apartments with large areas often prioritize separate bedrooms and storage space for clothes and other items. But for small spaces, you should prioritize the area of your bedroom for installing wardrobes with many compartments and wall-mounted cabinets for storage, organizing, and optimizing bedroom space. A Gorgeous New Construction Home in prestigious Colfax Meadows of Studio City Aiming for $3,895,00
19. Supplement Stripped Interior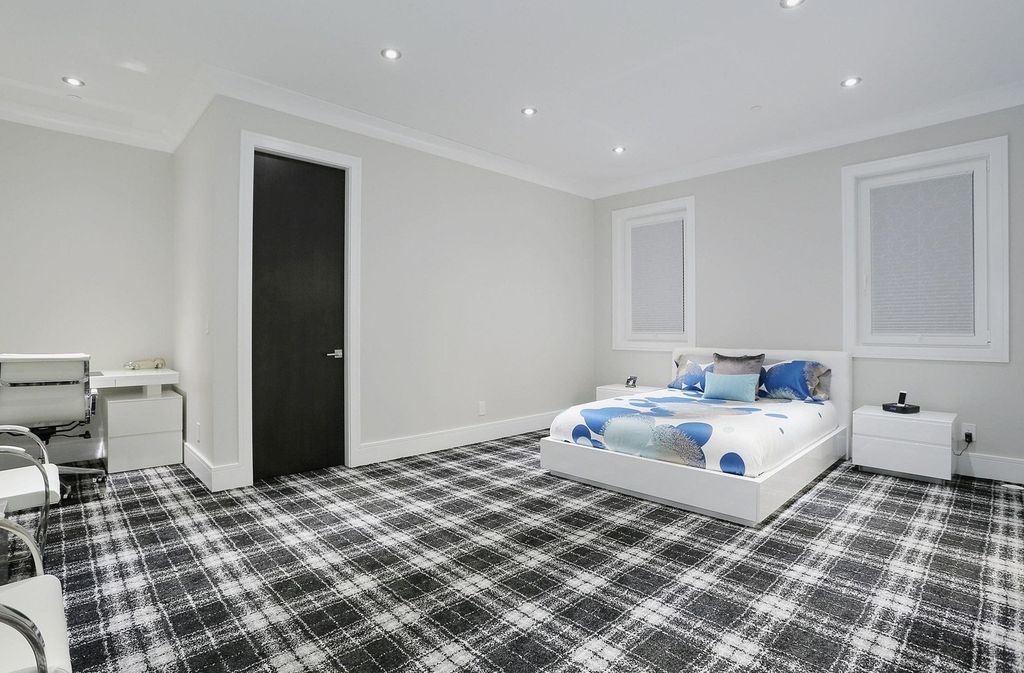 Here's the secret to nautical decor works. Use stripes in varying widths and shades, such as all-floor carpet in this Interior Bedroom Design Ideas to keep the light grey, white, and blue palette feeling modern and eye-catching. You can consider the size of the carpet to match the area of ​​the room covered and bring a harmonious overall. Magnificent Estate in White Rock with Sensational Ocean Views Lists for C$7,980,000
20. Built-In Seating For Bedroom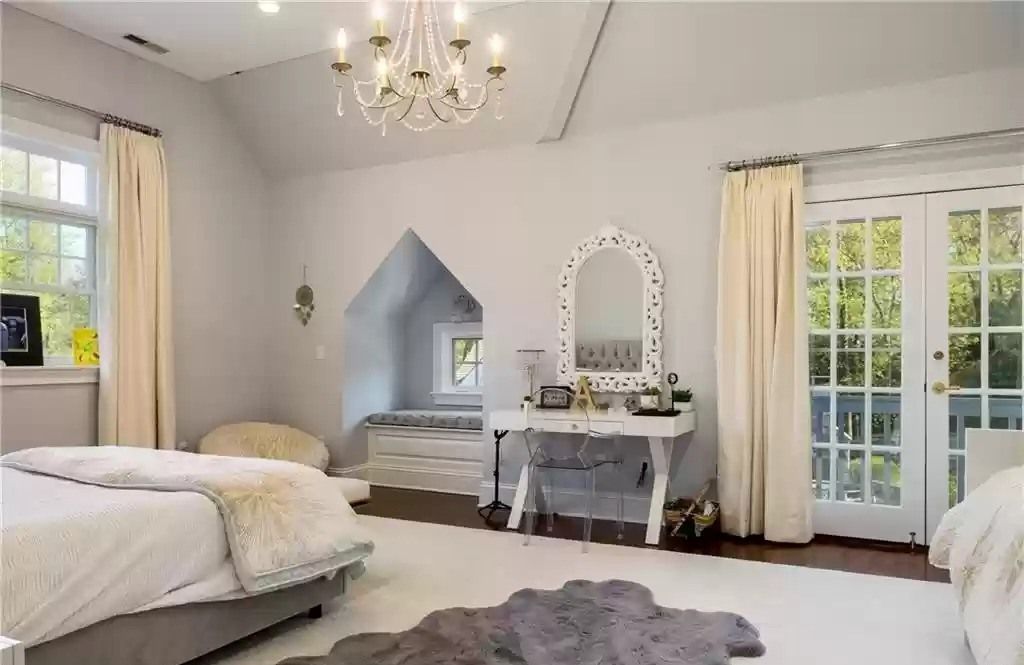 Another way to design a seating area for your bedroom is built-in seating. Adding a small bench for a pre-designed alcove will help you have enough privacy to read a book, drink afternoon tea or enjoy the early morning sunlight and scenery when you wake up. Masterfully Crafted to Every Detail, this Shingled Nantucket-style Manor in Connecticut Listed at $3,495,000
21. Boho Bedroom Style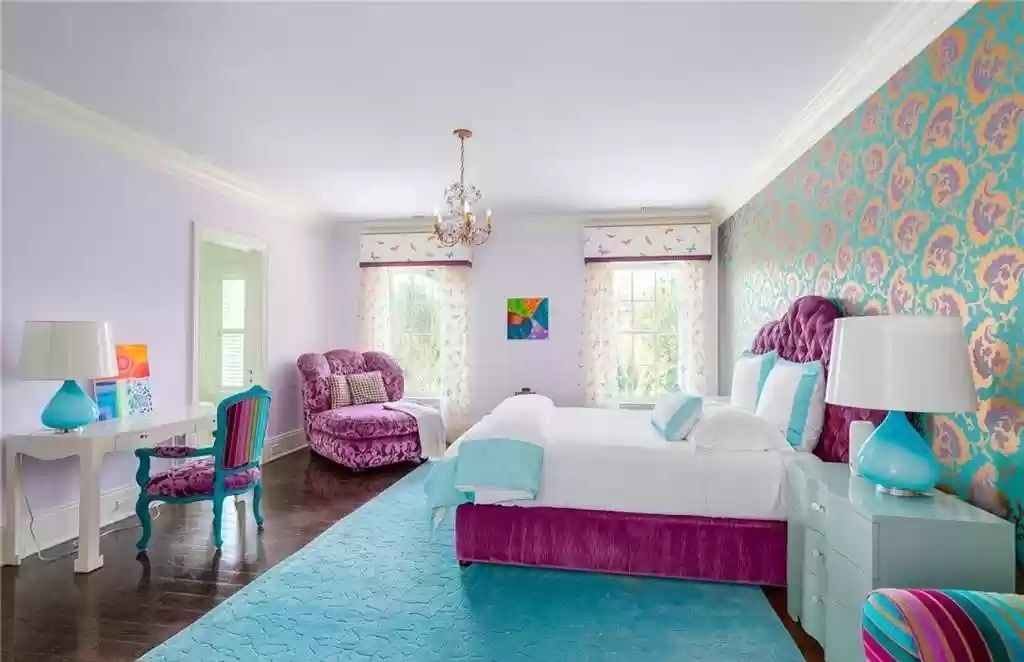 Try bold and rebellious colors for your bedroom interior and bedding to bring the Boho vibe into your bedroom space. A teal blue rug matches the color of the upholstery and the floral wallpaper. Continue the exotic selection with plenty of modern touches, such as metal chandeliers and ceramic nightstand lighting. Designed with Enjoyment in Mind, This Impressive Residence in Connecticut Asks $12,250,000
22. Renovate Your Space With Daybed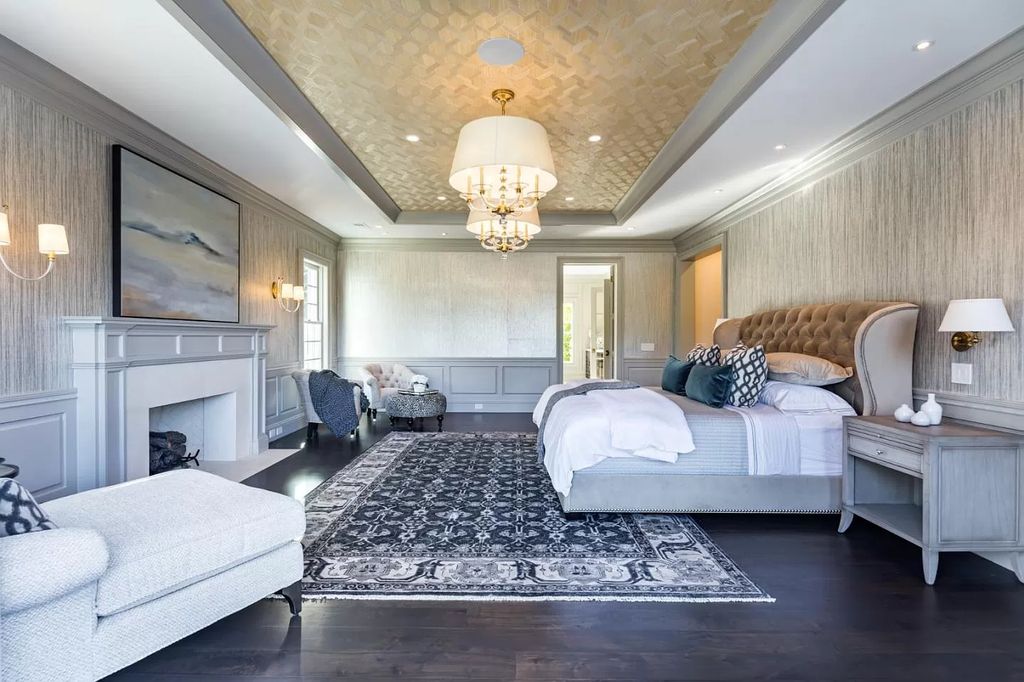 A day bed is always the perfect seating solution and a great place to take a nap after a hectic morning at work or you're exhausted from caring for your kids all day long. Try one in your own master bedroom for a chic innovation. Recently Renovated American Colonial Home in Atherton with Newly Landscaped Backyard for Sale at $19,988,000
23. Settle On An Oversized Plant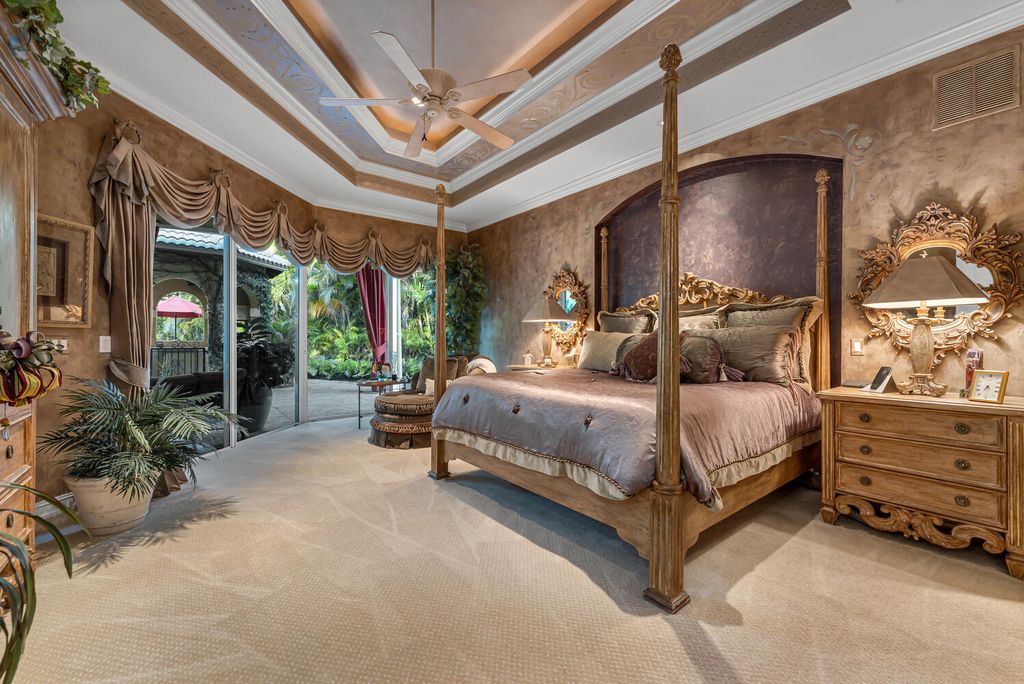 Greenery never fails to breathe life into a space. Try an oversized plant to make even more of an impact. This will be a highlight for the bedroom with Renaissance architecture style furniture with a canopy king bed and other decorations with quite sophisticated details. This $5,499,777 Exceptional Custom Home in Naples is Ideal for Entertaining with Luxurious Amenities
24. Create A Seating Area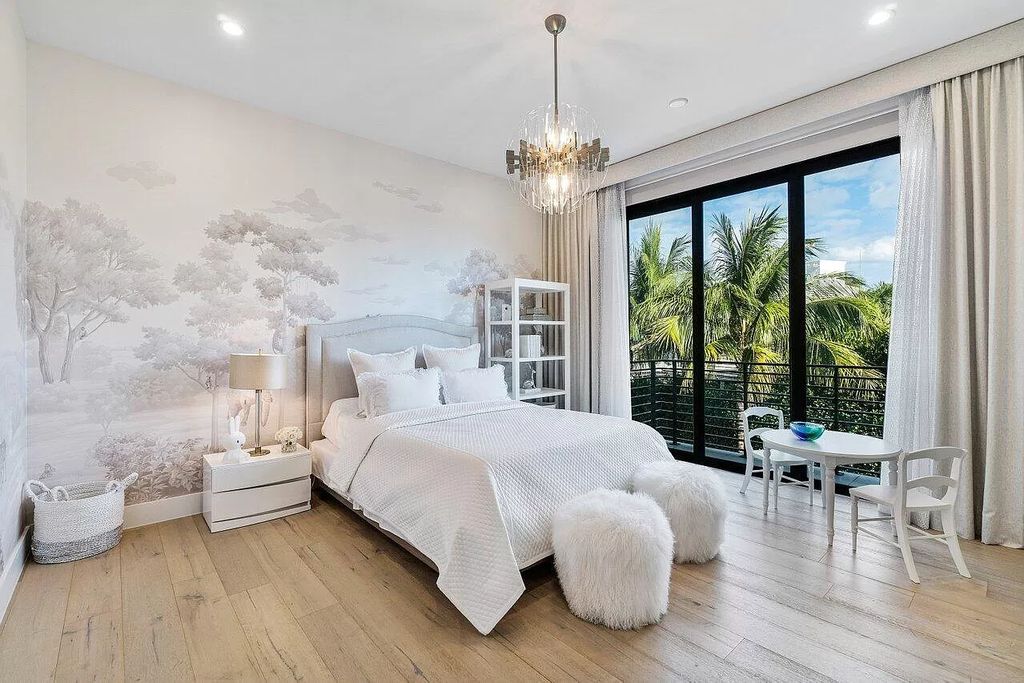 Make your spacious bedroom more functional by arranging a small set of tables and chairs as well as some ottomans to create a stunning seating area for a relaxing time. The earthy tone from the wood-paneled bedroom floor has highlighted the creamy white tone used for the entire bedroom from the interior to the paint color. This $8,700,000 Modern European Home in Boca Raton has An Incredible Backyard Space
25. Lay Down The Rugs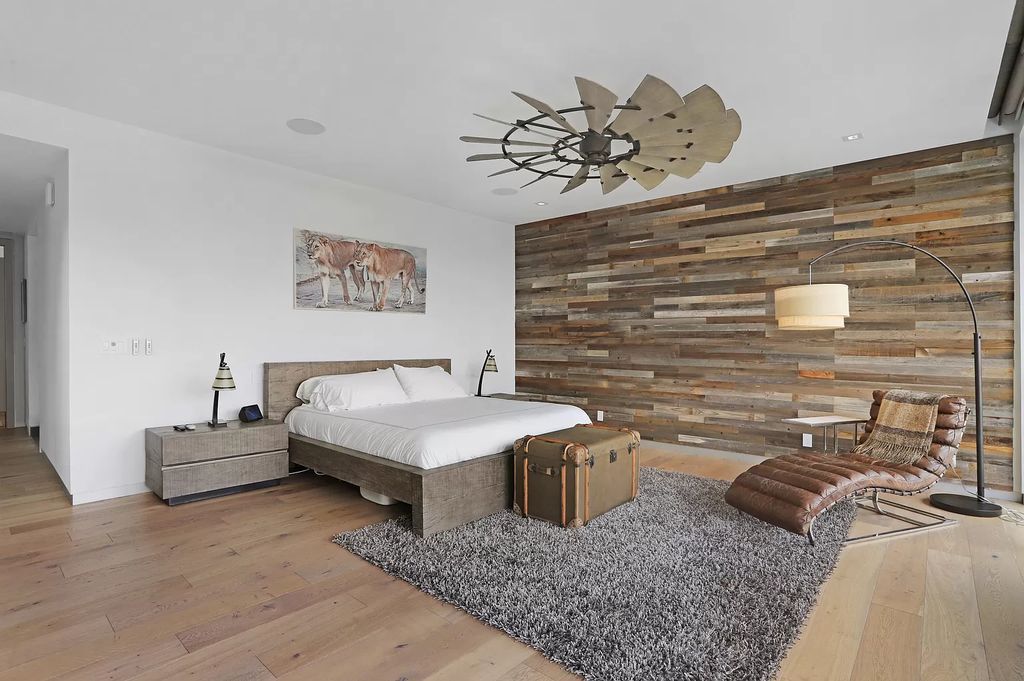 Let the feeling of comfort and pleasure appear in every step you take in your own bedroom by spreading a super soft rug under your feet. You don't even need to use slippers. This is also the perfect spot to play with your pet. This $6,195,000 Contemporary Waterfront Home in Boca Raton has A Dramatic Two Story Great Room
26. Add More Fun With A Swing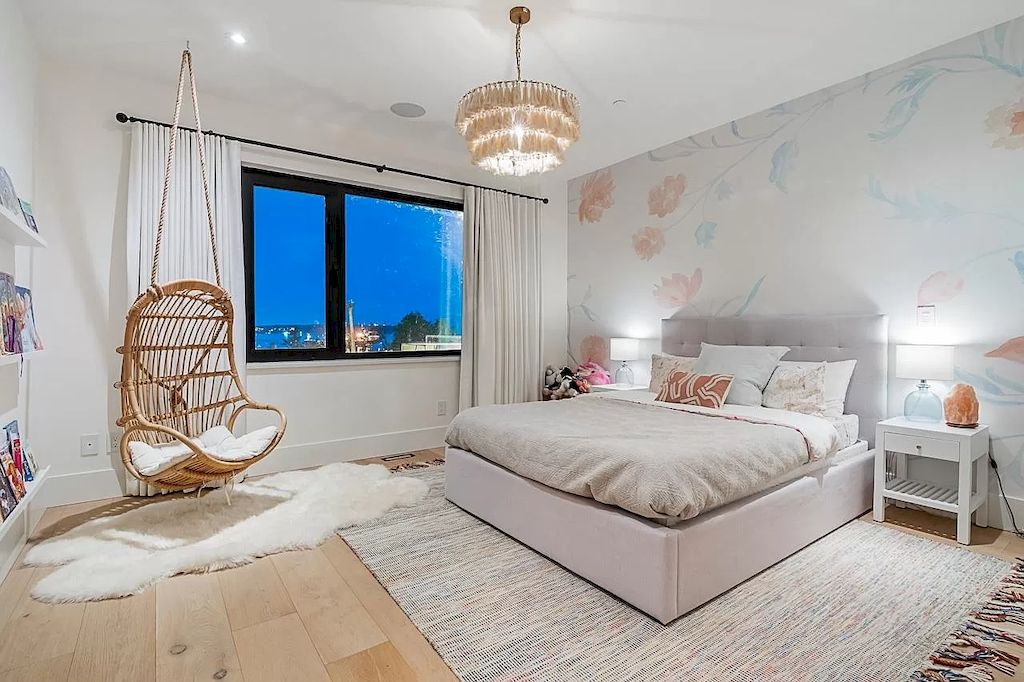 Minimizing the happy, joyful vibe that the outdoor entertainment area brings to you into a small handcrafted wicker swing fixed to the ceiling. Add a soft velvet or wool rug underneath and you've got an indoor miniature photography studio at once. This C$7,950,000 Sensational Modern Beach House Offer a Balance of Aesthetics and Technology in West Vancouver
27. Save More Space By Storage Beds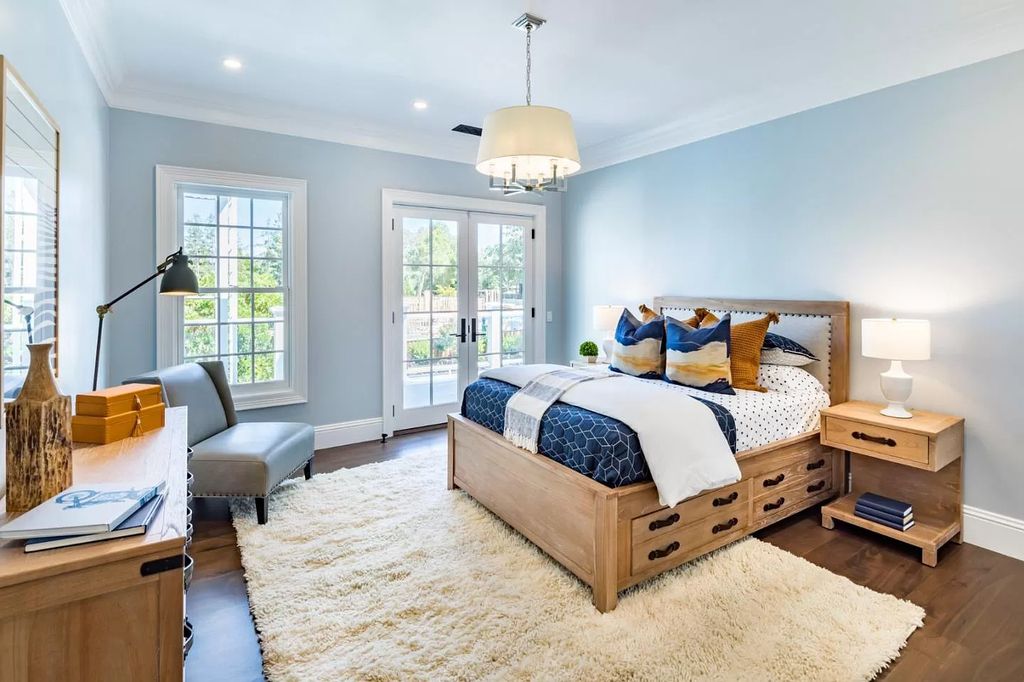 If your bedroom is quite small, experiment with a cozy storage bed. It's an ideal and stylish spot to store your belongings without taking up much-needed space, for a neat and tidy look. It's also a discreet place for you to keep your own secret items. Nobody is gonna find out. Recently Renovated American Colonial Home in Atherton with Newly Landscaped Backyard for Sale at $19,988,000
In conclusion, depending on the area and style of the bedroom, you will have the basis to choose the right furniture for your bedroom space. Remember, healthy sleep starts with a bedroom you love and feel comfortable in. So feel free to choose furniture and other elements for the room according to your taste and you must really love them. For more bedroom ideas, you may refer Top Tips For Small Bedroom Design Ideas In 2022
More Ideas For Living Room:
---
Thousand of high quality images of Living room and more you can see at Livingroom Gallery.