Date of Publishing:

Bedroom Accessories for an Elegant Space
The bedroom will become the perfect cocoon with the right decoration choices to ensure you can relax and have a peaceful sleep. Whether you have a traditional rustic style bedroom or a modern chic, youthful, and minimalist bedroom, everything needs to be highlighted, from colors to decorating trends. To keep your space inspired, check out the bedroom accessories we've selected to create luxurious and intimate spaces. With simple tricks, you will have an unexpected bedroom effect.
1. Showcase the Collection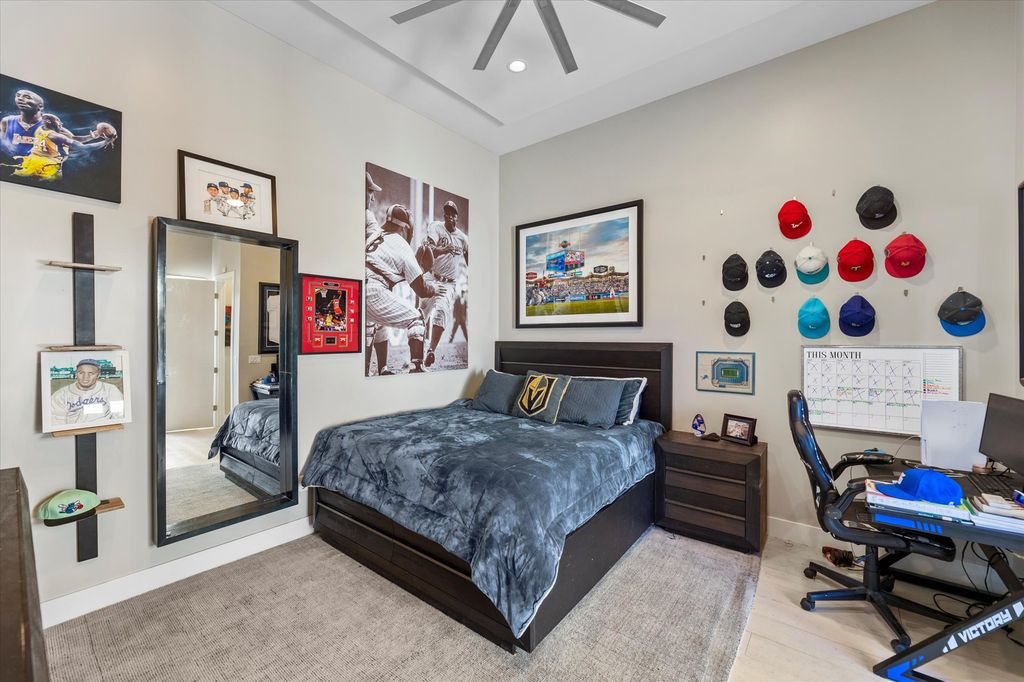 The shelves or hangers in the bedroom should not be overlooked so that you can display your favorite collection while also making the room more organized. Because of the variety of colors, the vibrant paintings and hat collections in the room create a focal point. The brightening element that adds a cool feeling to the bedroom space is the white walls.  A Designer Dream Home with A Thoughtfully Designed Open Floor Plan in Las Vegas is Selling for $3.7 Million
2. Bedroom Lighting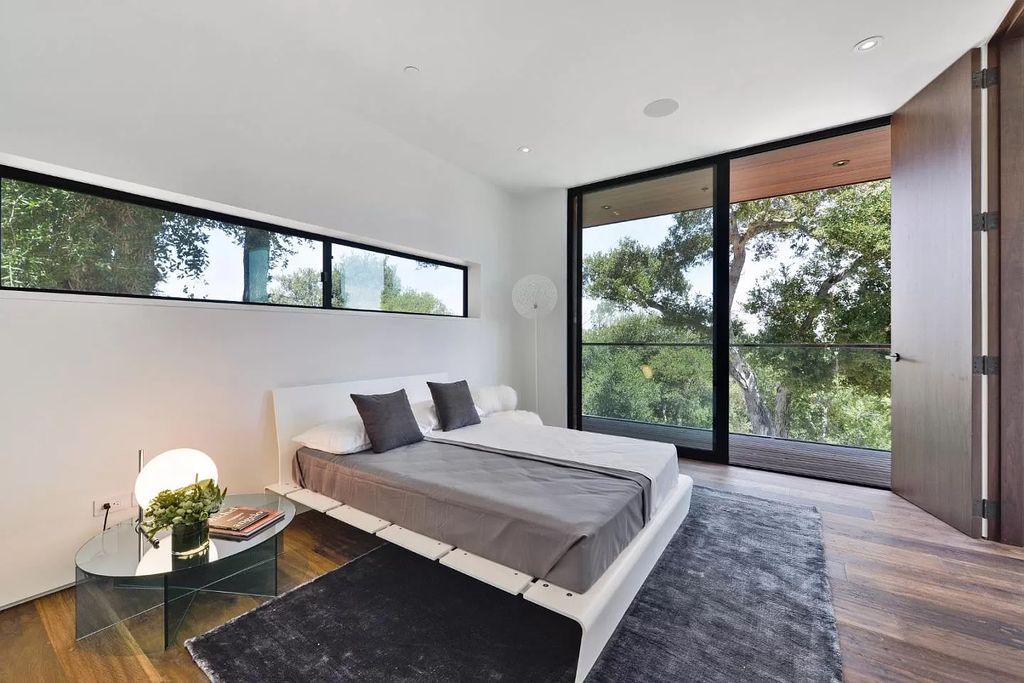 When you can upgrade the space through the design and selection of bedroom accessories, rooms with neutral paint colors will not fade. Rather than modern minimalism, "smash" classic architecture. At the same time, you can spend hours "scouring the market" for youthful and unique designs like the two lamps in this design. This $25,000,000 Architectural Home in Los Altos offers Magnificent Panoramic Bay Area Views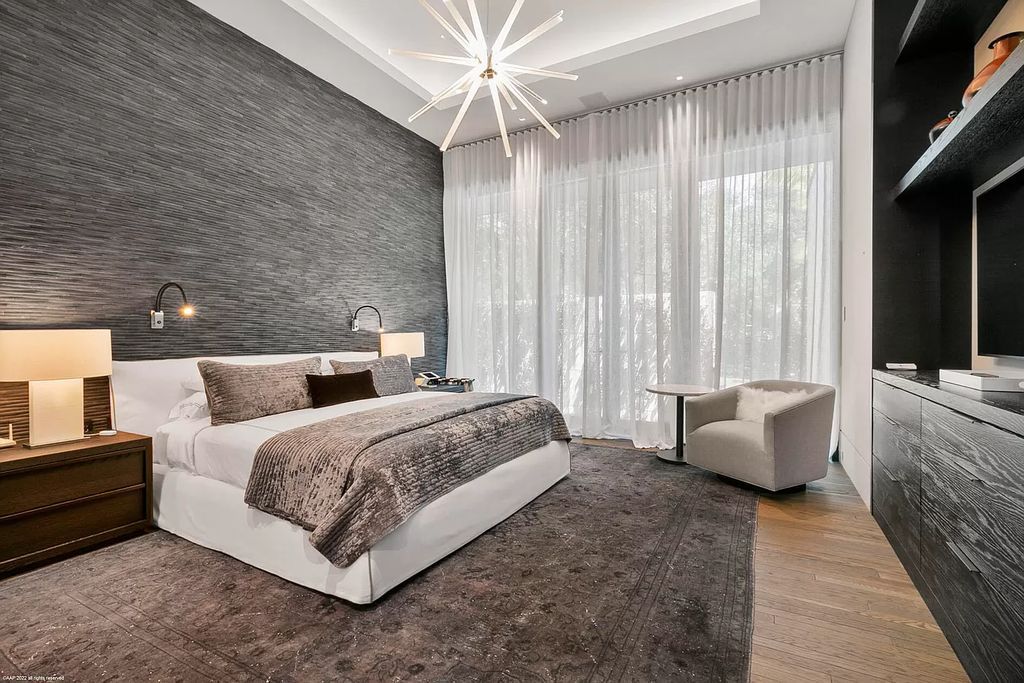 Color-inspired bedroom design, like this one in Jupiter, Florida. A unique gray panel wall is the ideal backdrop for other soft, light colors. Meanwhile, the use of yellow light from the table lamp and wall lamp adds to the room's convenience and warmth. This $47.5 Million Signature Mansion in Jupiter Florida with over 16,000 SF of Resort Like Living Space is A Timeless Work of Art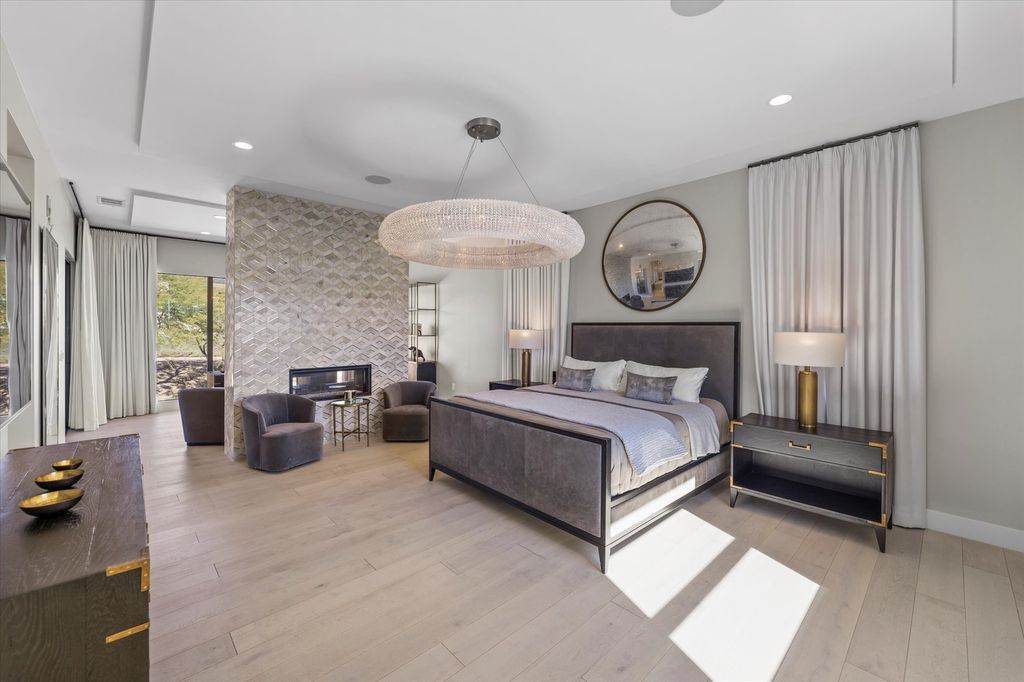 Stone pendant lights add a luxurious and light-filled touch to the space's neutral-colored interiors. White curtains and contemporary furniture immediately add warmth and intimacy. Simultaneously, the partition wall and fireplace area help to make the space more private. A Designer Dream Home with A Thoughtfully Designed Open Floor Plan in Las Vegas is Selling for $3.7 Million
3. End-of-Bed Ottoman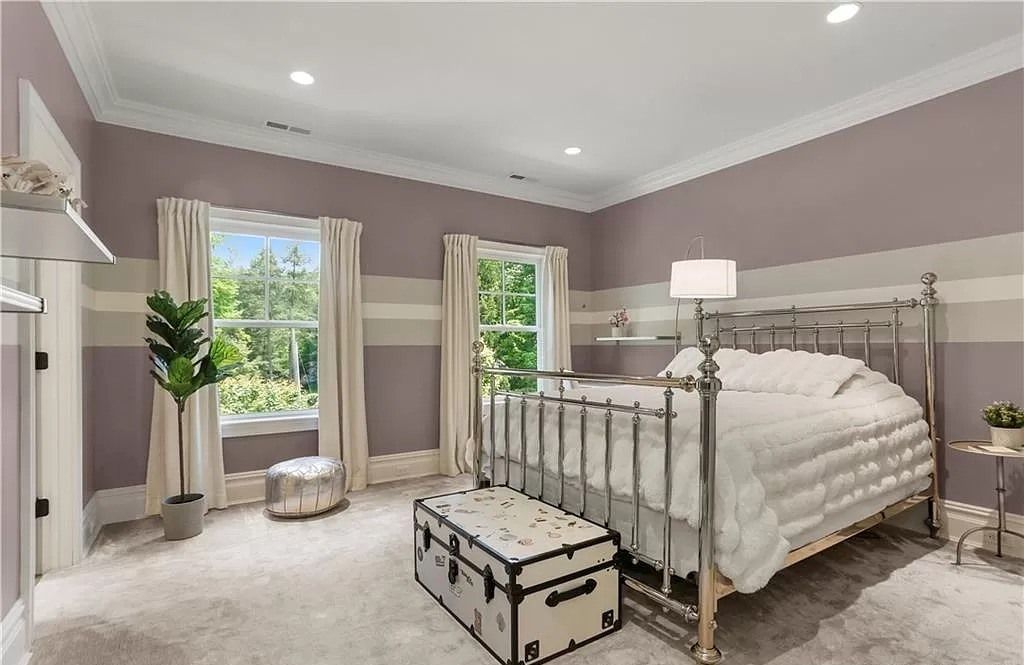 Black and white are always opposite colors that complement each other perfectly. These basic colors always add life and interest to a bedroom. The end-of-bed ottoman has become popular, but it still stands out in the world of bedroom accessories. Don't pass up the chance to make the most of your ideas. This $3,500,000 Breathtaking Gem Offers Luxury, Elegance, and Unparalleled Quality for an Exquisite Lifestyle in Connecticut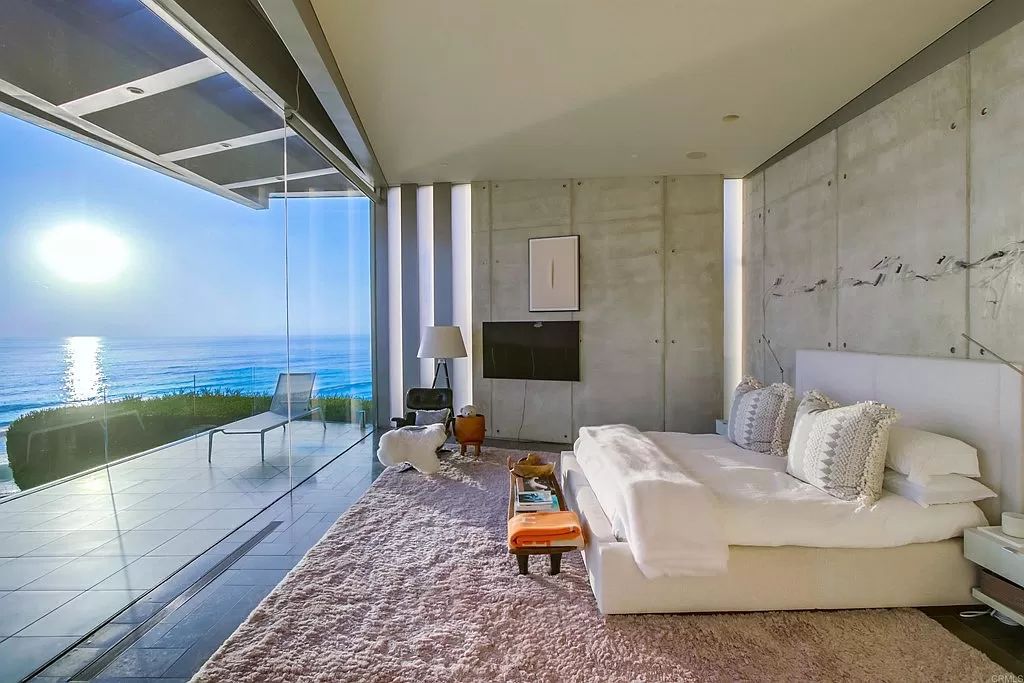 You can use the same concept as the end-of-bed ottoman to create an end-of-bed table. It can be installed to fit the size and shape of the bedroom space to assist in storing frequently used items. Select the appropriate end-of-bed table model based on the design style. This $23,500,000 Iconic Architectural Home in Encinitas is An Ideal Combination of Ultimate Luxury and Coastal Living
4. Cut Out a Corner of The Lazy Chair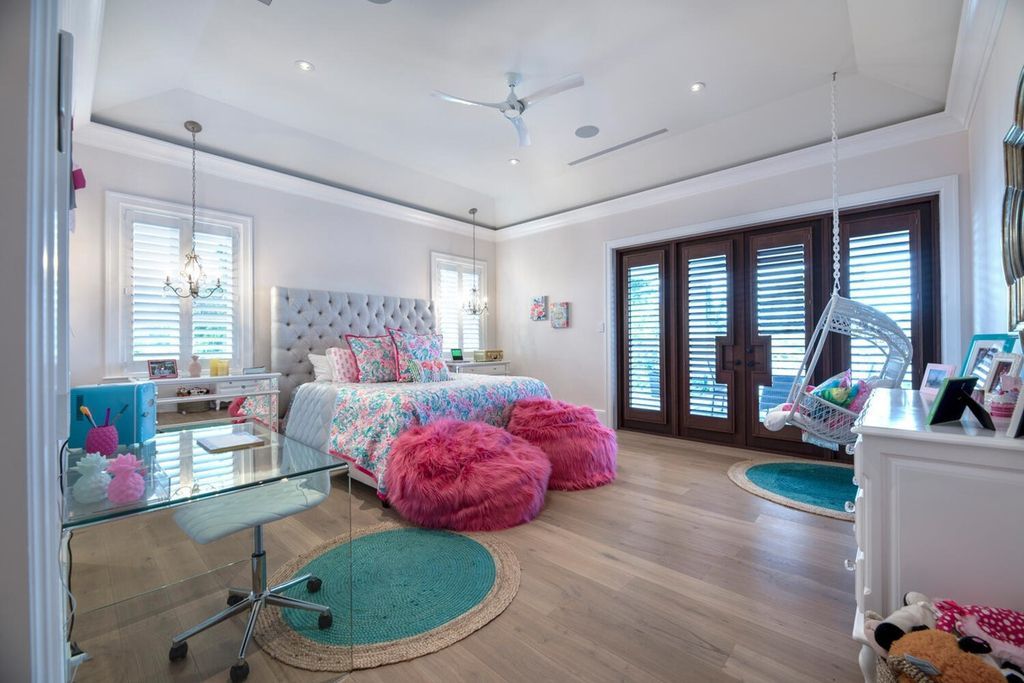 Because it always brings joy and vivacity, the swing is not just for the outdoors. This hanging chair and bag chair will provide you with a sense of warmth and relaxation as you curl up with your favorite book and music. Magnificent Custom Built Home located on A Breathtaking Lot in North Palm Beach Asking for $14,900,000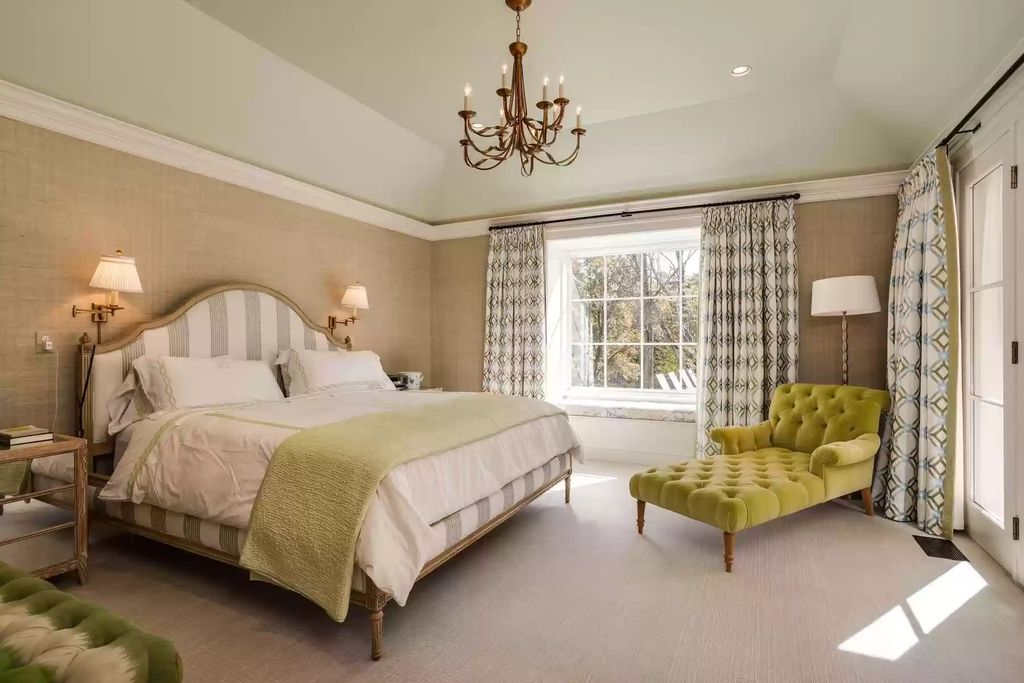 A long couch can add a sense of tranquillity and relaxation to a modern bedroom. They are especially useful when you can lie down and take a nap. 40 Acres Superb Country Property in Virginia with all of Life's Desired Amenities Lists for $5,950,000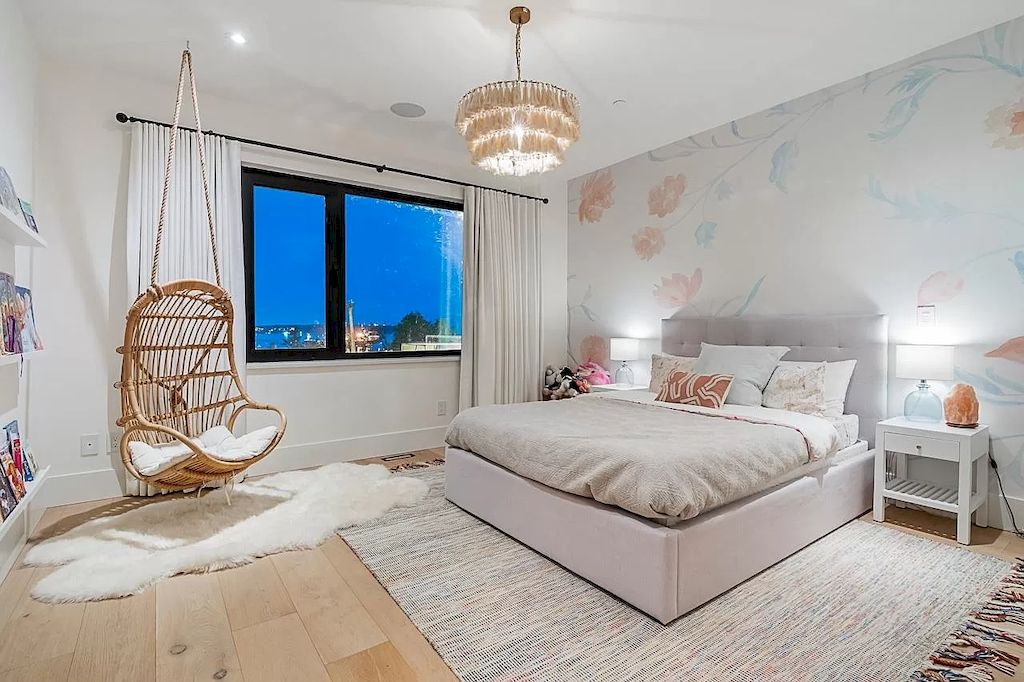 A swing chair can also serve as an interesting cocoon, allowing you to entertain in your bedroom. A swinging chair can create a cozy spot in your room to curl up with a book or simply relax. This C$7,950,000 Sensational Modern Beach House Offer a Balance of Aesthetics and Technology in West Vancouver
5. Create a Focal Point with Your Wardrobe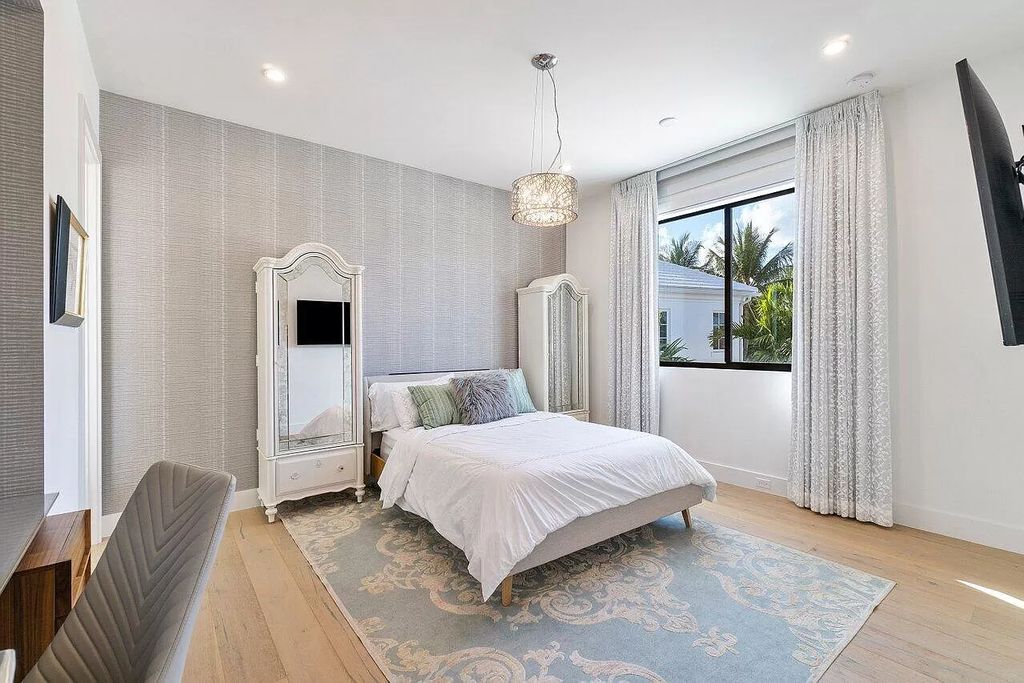 The silver wallpaper on the walls gives the room a unique and youthful appearance. The white elements work well together to add light and romance to this monochrome bedroom. Sure, there are the gilded curtains and intricately sculpted wardrobes. This $8,700,000 Modern European Home in Boca Raton has An Incredible Backyard Space
6. Hanging Soft Silk Curtains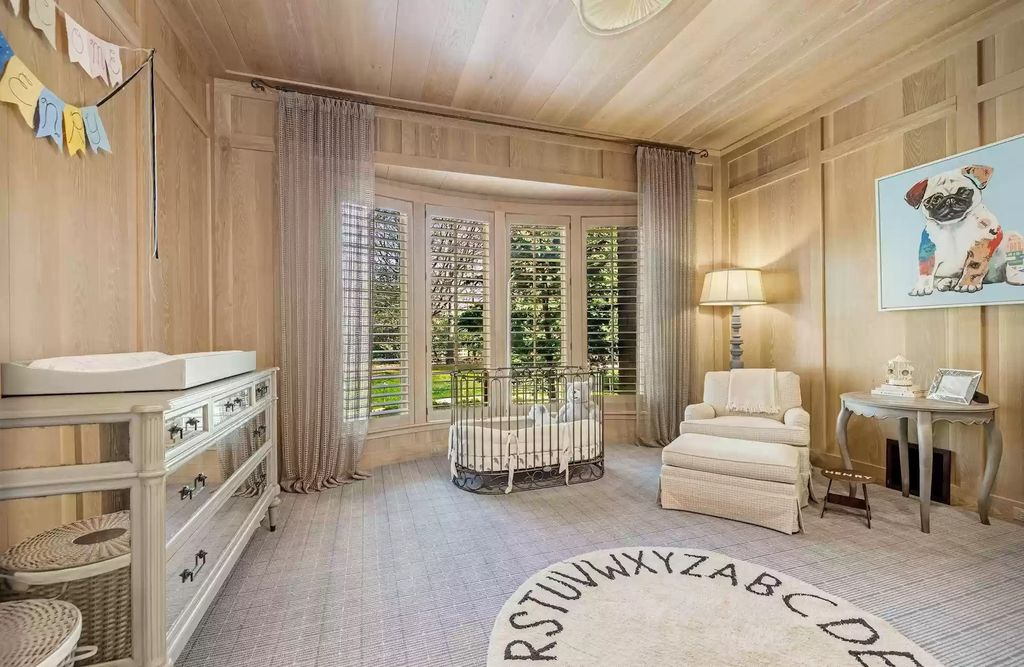 The designers improved this room by installing wood paneled walls. Unlike other bedrooms, this one is ideal for a baby, with a lovely crib and a warm neutral setting. Everything is flawless, including the delicate furniture, lighting, and curtains. This $8,500,000 Remarkable Estate Offers Privacy, and Resort-style Amenities in Virginia
7. Experience with a Stylish Wall Mirror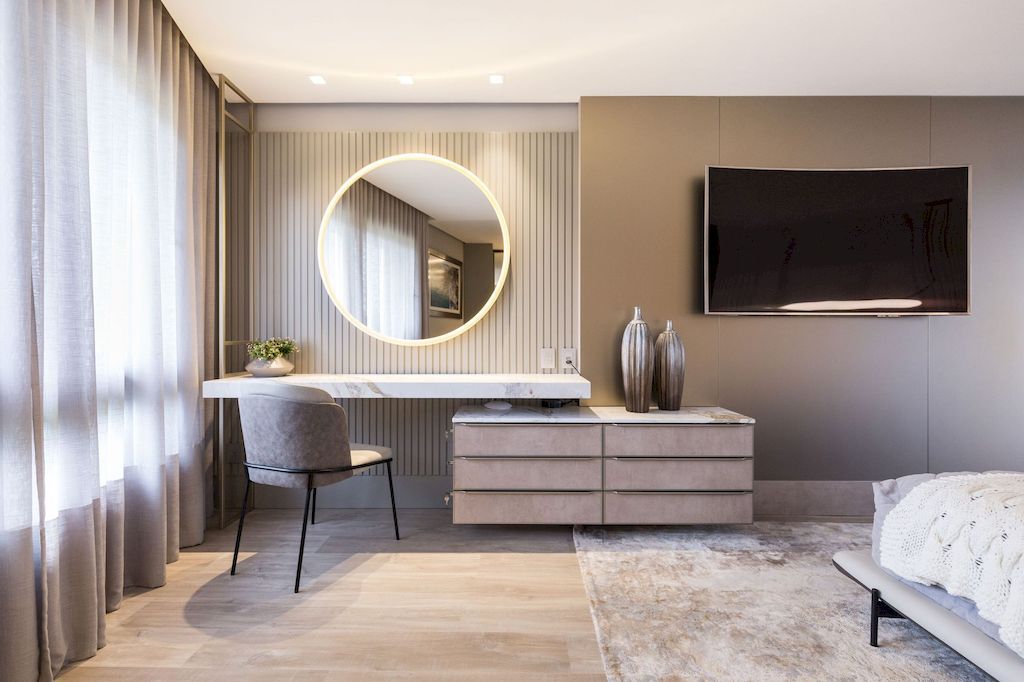 Allow a dressing table to become the focal point of your bedroom and play an appealing role. To have a modern, youthful space, you must keep up with decorating trends, such as this dressing table design. Despite the fact that the interior design is very simple, leaning toward a streamlined style, the effect created by the colors and materials is too perfect. AD House for Comfortable Living J.A. Becker Arquitetura e Construções
8. Go For a Luxury Bedroom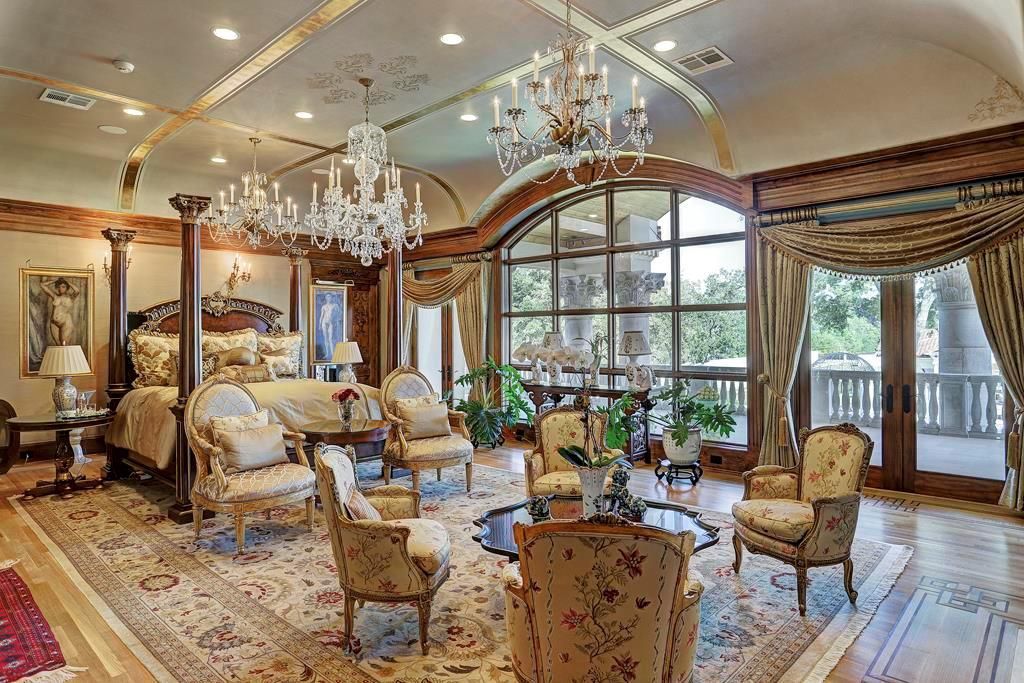 There are numerous bedroom accessories that can be placed in the large luxury ideas bedroom, including main furniture such as beds and cabinets, or you can create more space around the fireplace or near the window area. Everything from the overall design to the trendy chandeliers and contemporary couch sets is a perfect match. This $12,950,000 Mega Mansion in Houston is A Palladian Paradise offers Spectacular Resort Style Living and Entertaining
9. Design a Monochromatic Room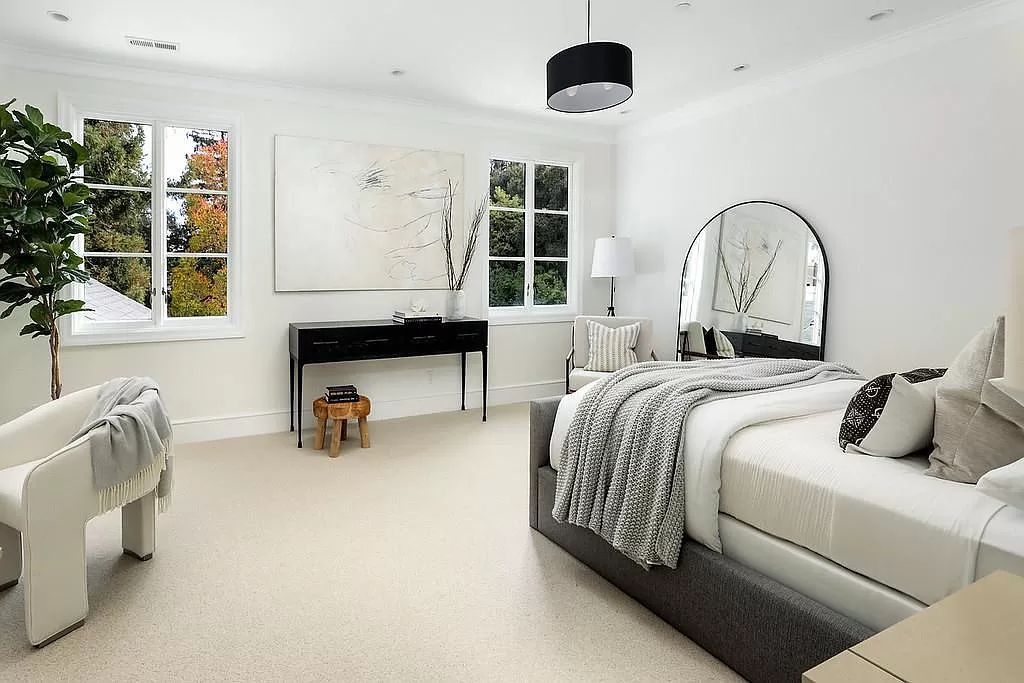 If you know how to coordinate in a rhythmic way, monochromatic colors will be a simple but effective way to create depth and attraction for the bedroom. The bedroom in Menlo Park is made up of only two colors: black and white, but it is full of artistry thanks to the careful placement of bedroom accessories such as a stool or a mirror in the corner of the room. One of A Kind Home in Menlo Park with A Huge Backyard Perfect for Entertainment Asking for $26,499,000
10. Introduce Color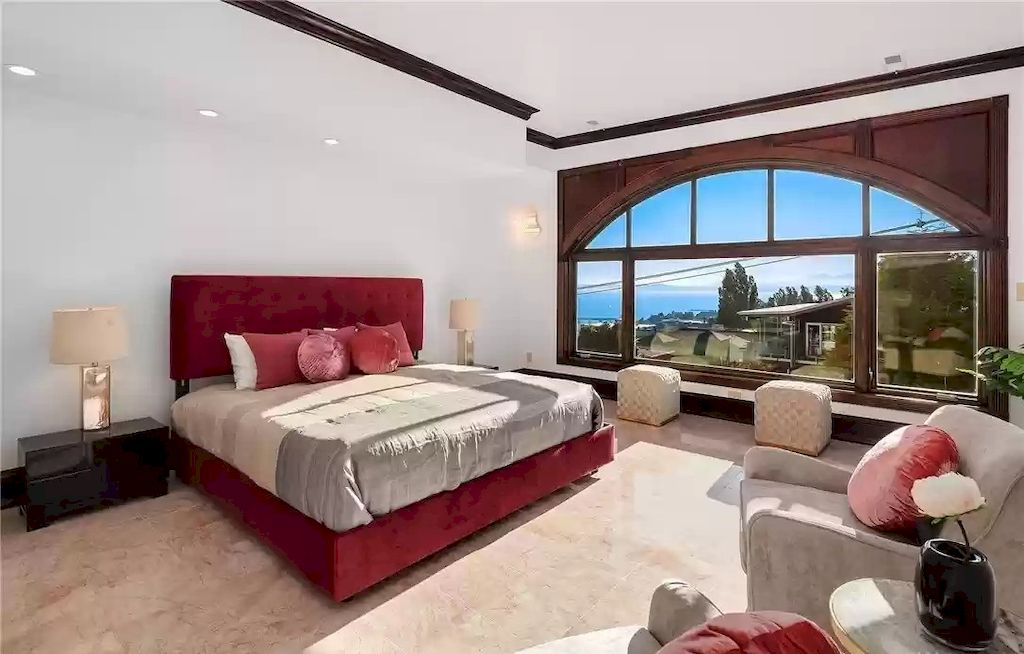 This bedroom comes to life with the use of light and color through focal-effect furniture. The homeowner chooses sweet colors and windows with lots of sunlight to achieve an airy and spacious space while still displaying warmth and closeness. Commanding Breathtaking Views from the Highest Peak in Queen Anne, Washington, this Stunning Mansion Listed at $8,250,000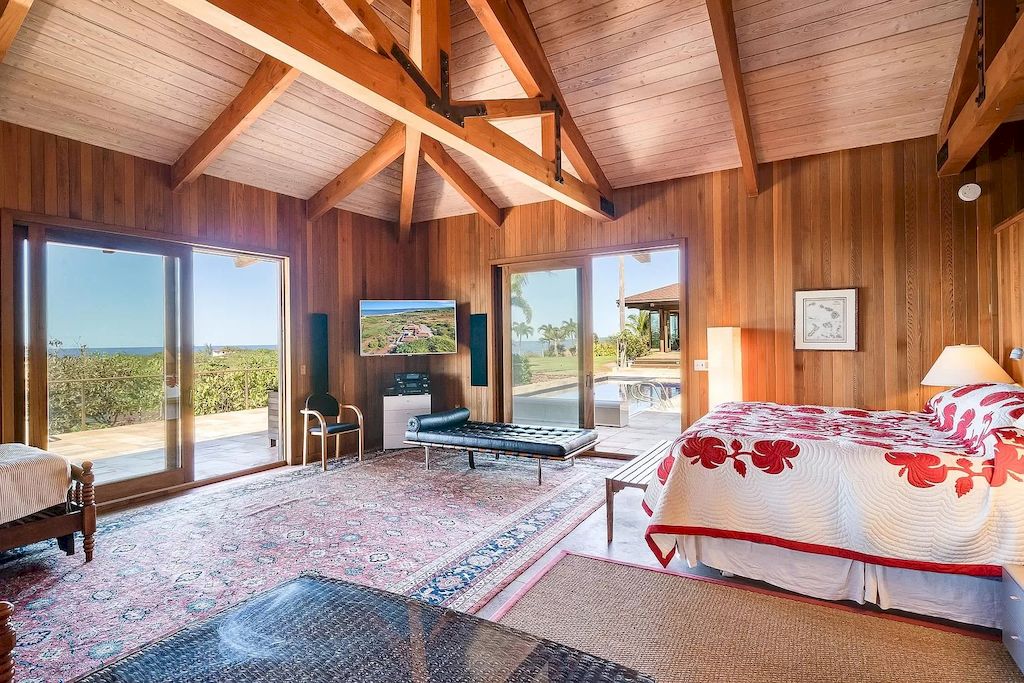 The carpet is another bedroom accessory that can add "breath" and color to the room. The textures and materials you choose make the space more cohesive and add to the style. Featuring Picturesque Land and Panoramic Ocean Views, this Slice of Paradise in Hawaii Listed at $3,400,000
11. Decorate with Tents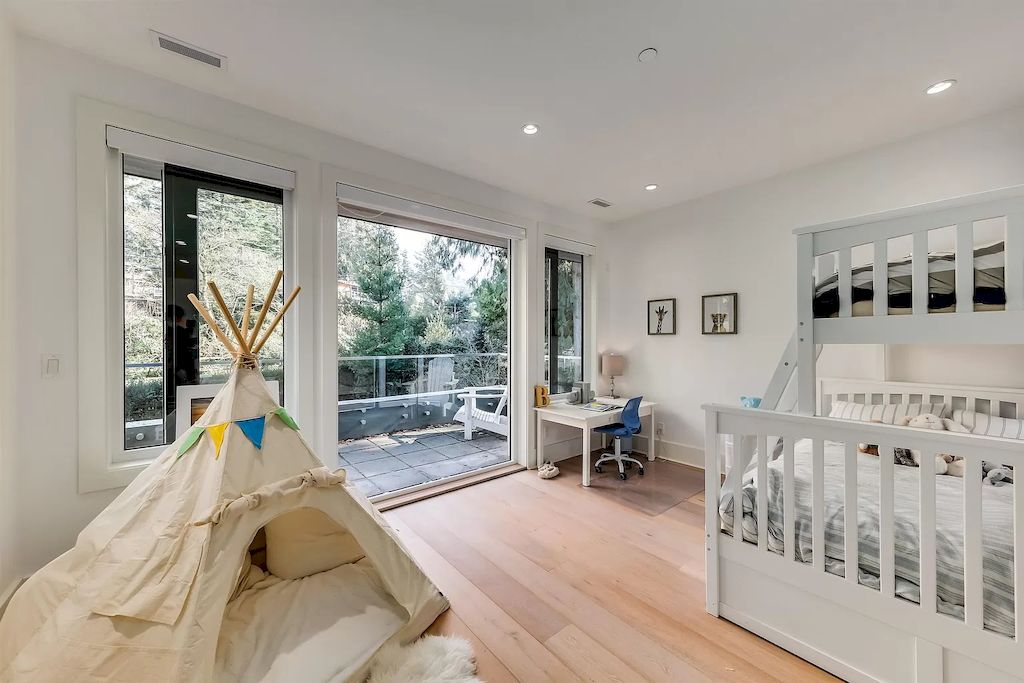 Set up a tent in their bedroom to meet their need for "importance" and entertainment. Your children will undoubtedly be very proud of this "territory" and will invent many games in it. Enjoy an Elegant yet Effortless Lifestyle at This C$5,788,000 Seaside Retreat in West Vancouver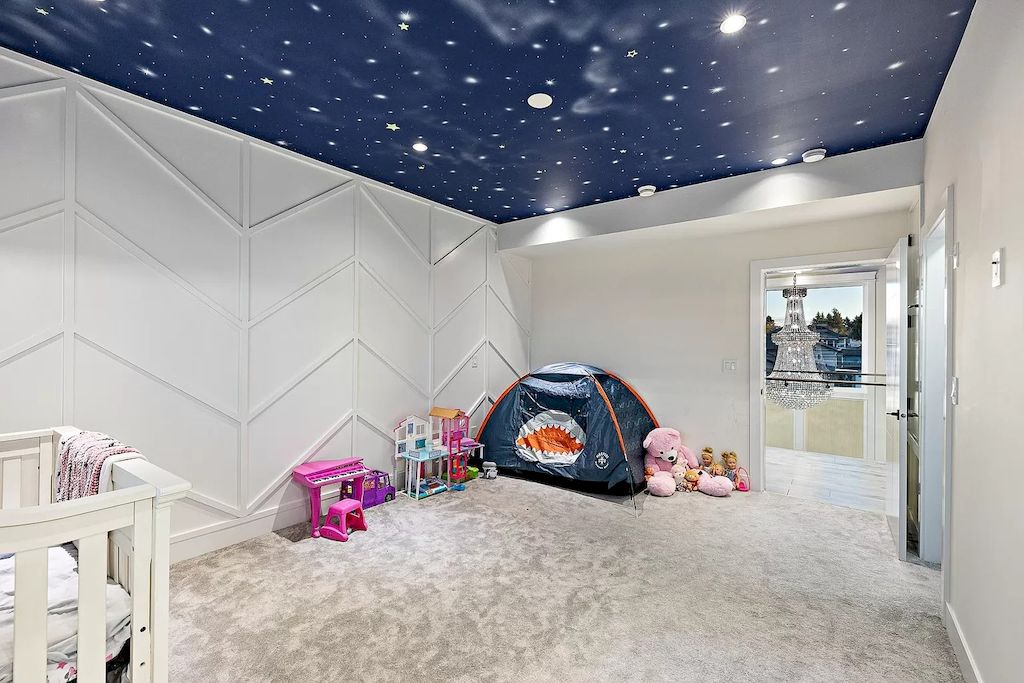 Even more vivid when combined with "fairy" motifs, as seen in the above bedroom design. Adding layers of patterns and materials to the space increases visual appeal and encourages young children's creativity. This C$3,499,000 Dream House in Surrey Offers Top of the Line Appliances and High-end Finishing
12. Fun with Wallpaper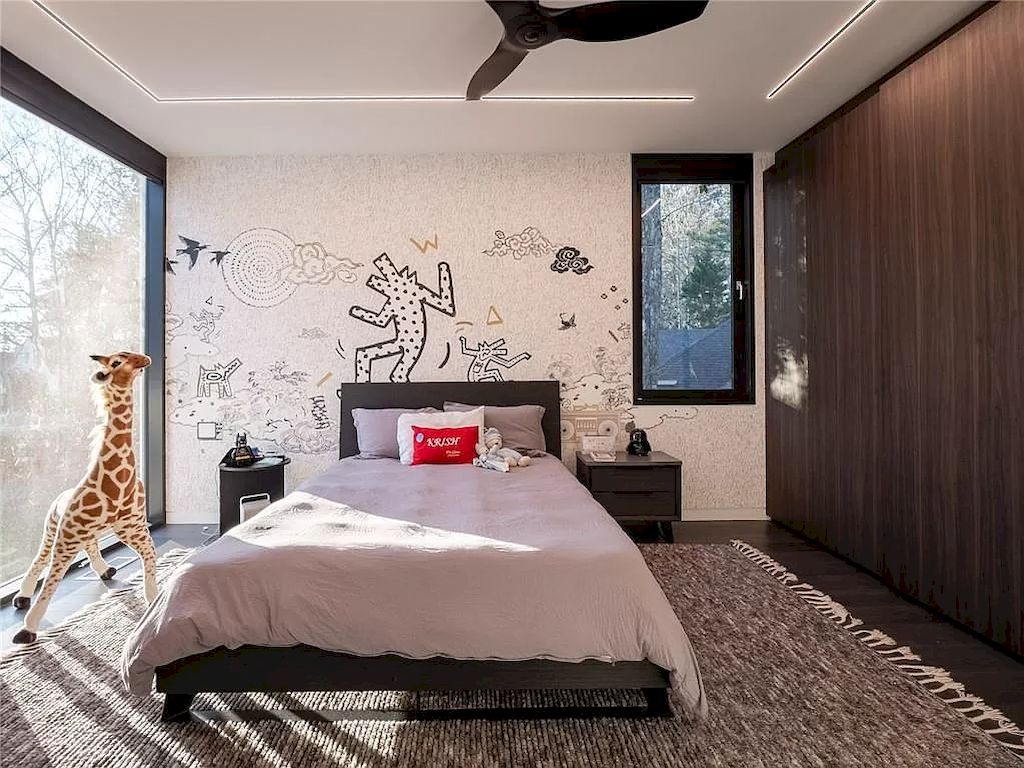 Consider wallpaper if you enjoy vibrant spaces and want to easily change the "color" of your bedroom. It's also an excellent way to conceal a design flaw. This Gorgeous Contemporary Home in Georgia Hits Market for $4,995,000
You will undoubtedly create the ideal bedroom space in which to unwind and curl up at the end of the day. The color of the walls reflects the bedding, curtains, and wardrobes, which all express personal taste. It is sure to be a source of inspiration for your design with a list selected from the most unique designs with popular bedroom accessories. So, you can learn more bedroom themes.
More Ideas For Bedroom:
---
Thousand of high quality images of Bedroom and more you can see at Bedroom Gallery.