Date of Publishing:
Creative With Bedroom Ideas For Couples
If you are looking for bedroom ideas for couples, then this article is the inspiration for you. We have compiled 14 Bedroom Ideas For Couples below as the best examples of bedrooms designed with the needs of couples in mind. Whether you've just decided to move in together or you already have kids, decorating your bedroom should be a joint effort of both of you with the aim of providing great comfort and privacy at the same time. Let's check it out and take notes together so as not to miss any details!
1. Use Multifunctional Furniture For Your Bedroom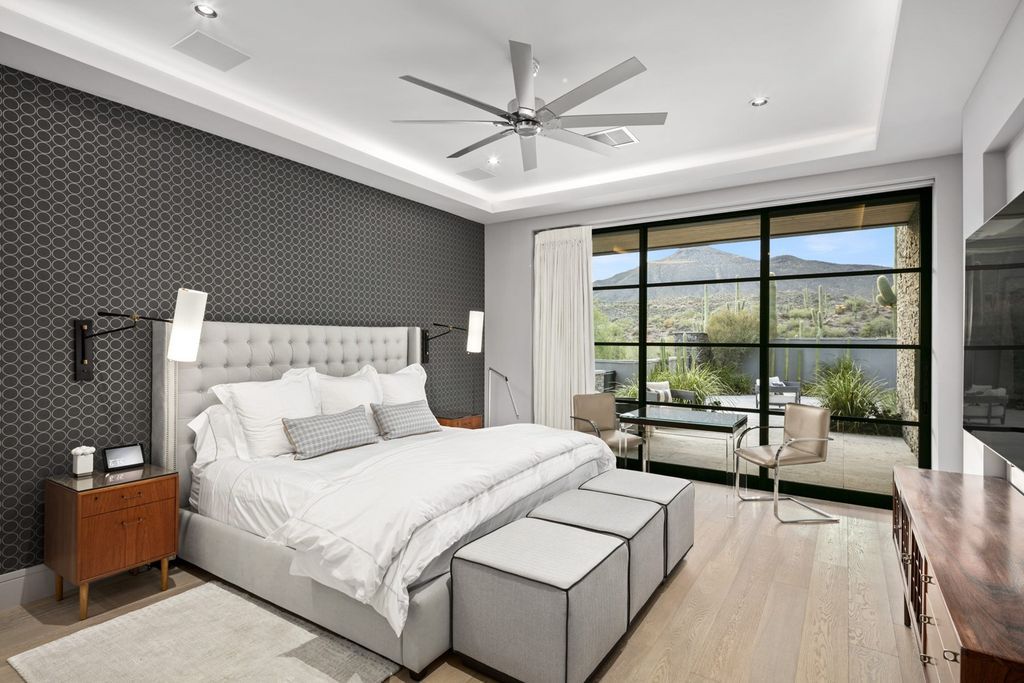 It is obvious that couples will need a bedroom with more storage space than when single. But not every bedroom is suitable for a major renovation. Then, multifunctional furniture will be a perfect choice. As in the Bedroom Ideas For Couples above, 3 separate ottomans are cleverly combined into a very creative bedroom bench. The hollow inside the ottomans allows you to add a lot of personal stuff if you wish. A Simply Stunning Contemporary Home in Scottsdale with Striking Mountain Views for Sale at $7.25 Million
2. Bedroom Ideas With Dressing Room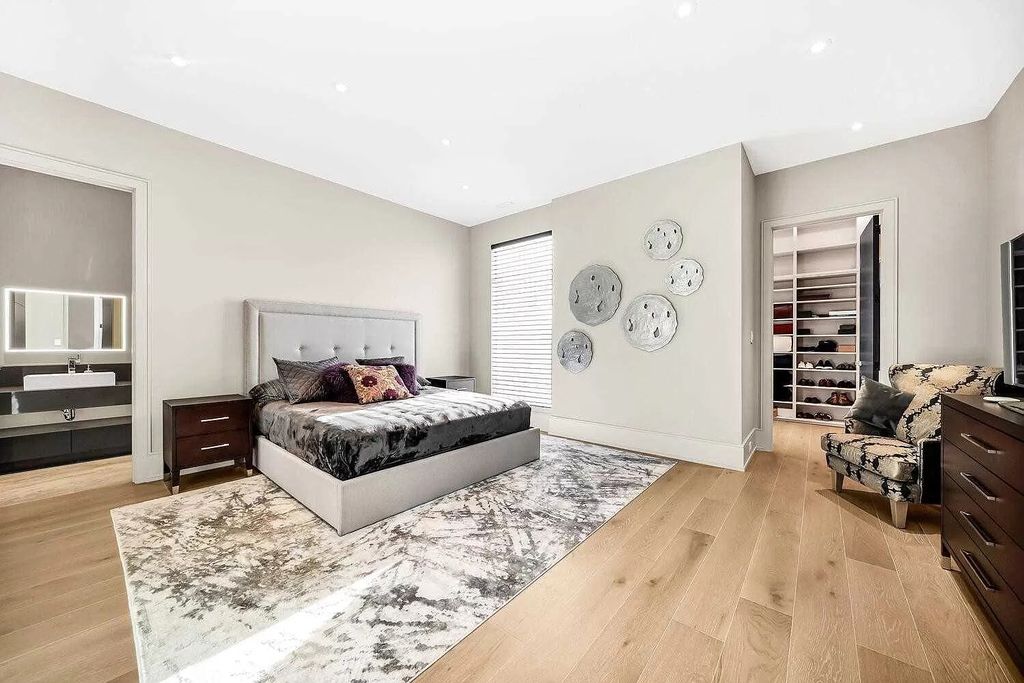 Setting up a dressing room within the bedroom is considered a must-try idea, requiring serious consideration from couples. Having room to store your own clothes makes it much easier for you to organize and put everything in order, making your bedroom neat and tidy. And the most important reason is privacy. You can as well add a separate bathroom for your master suite, like in the luxury ideas above. Exquisite Custom Home in Ontario with Sprawling Open Concept Living Spaces Asks for C$9,198,000
3. Bedrooms Ideas For Single Storey House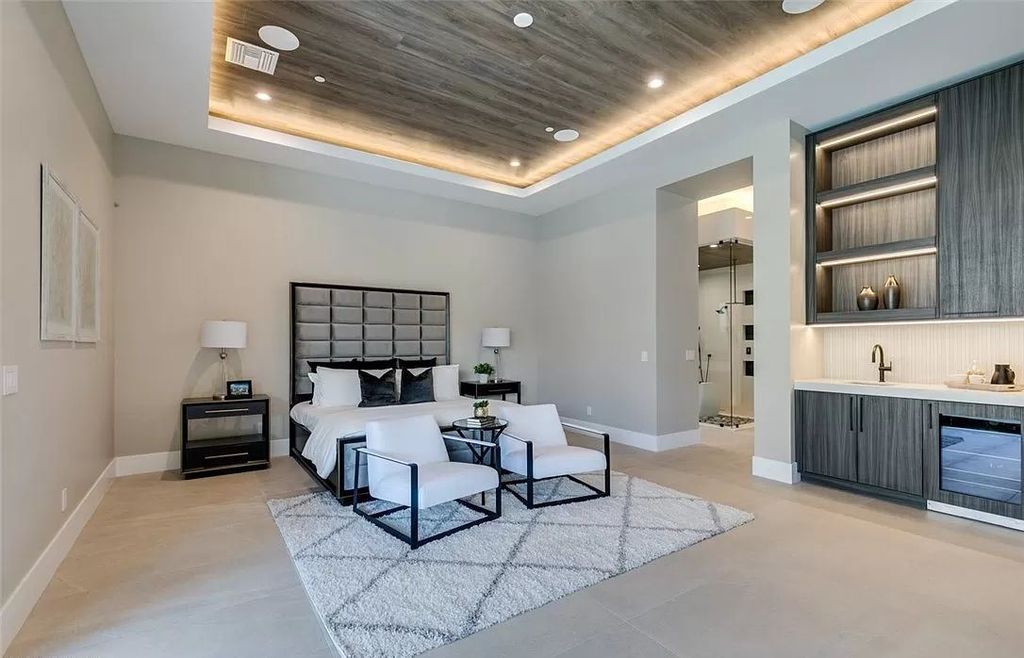 The advantages of living space and materials used for a one-storey house with open space are always attractive to young modern couples. Therefore, it became a trend thanks to being quite popularly applied. No need for a large budget, the couple also had an ideal living space. A note for the design of a bedroom in a one-storey house is to choose furniture that does not take up too much space to decorate, the bedroom area should also be calculated reasonably and evenly with the remaining ancillary areas. This $4,395,000 Luxurious Entertainer's Dream Home in Las Vegas is Thoughtfully Designed Masterpiece
4. Choose Built-in Wardrobe For Modern Look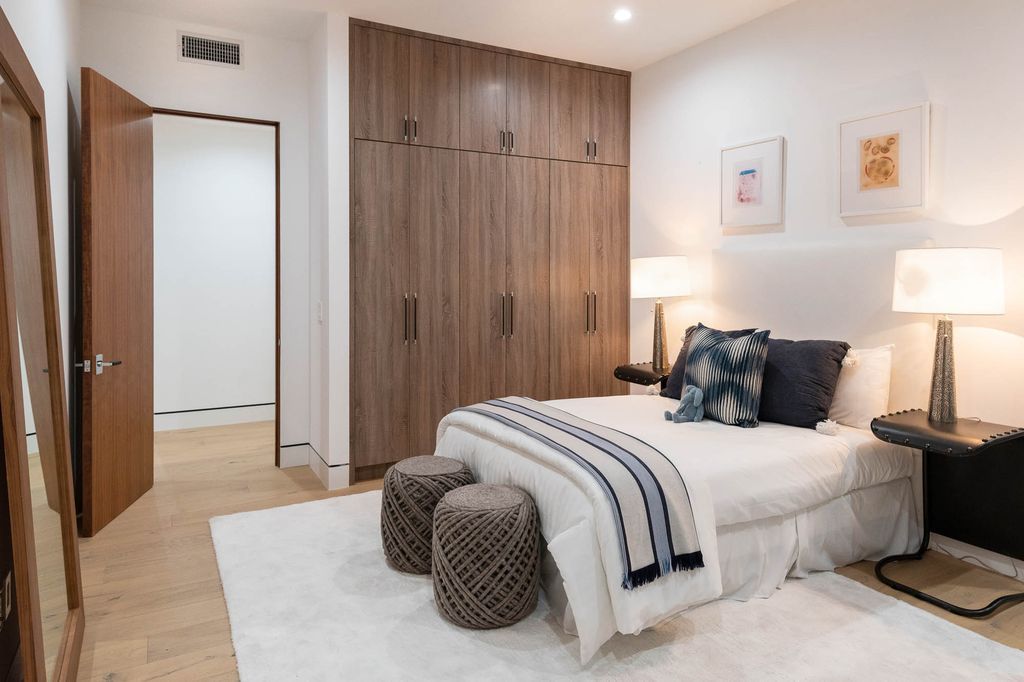 For bedrooms with a small area, the use of the built-in wardrobe is always suggested, both saving space and giving your bedroom a modern and luxurious look. Usually, this type of wardrobe will be designed to be close to the ceiling to maximize use. Built-in wardrobes have many different models and designs depending on your needs and budget such as aluminum built-in wardrobes, wooden built-in wardrobes, etc. Stunning Modern Home in Venice on Renowned Penmar Avenue with An Open Floor Plan and A Gorgeous Floating Staircase on The Market for $4,999,000
5. Add Some Personal Touches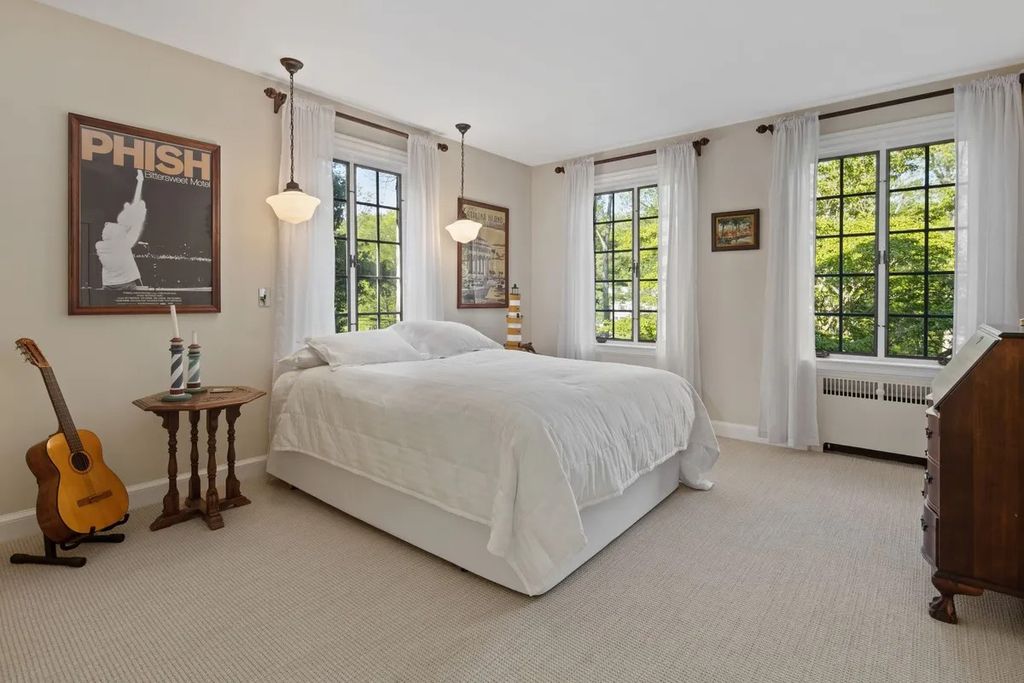 It is well known that the bedroom design for couples must be based on the personality and preferences of both people, creating balance and comfort for both. But adding a little personal touch will make your bedroom space unique. Show your love of art with a guitar set with a stand, along with contemporary art paintings like in the above luxury ideas. The Architectural Details of this $3,775,000 Manor Reflect Exceptional Quality and Craftsmanship in Connecticut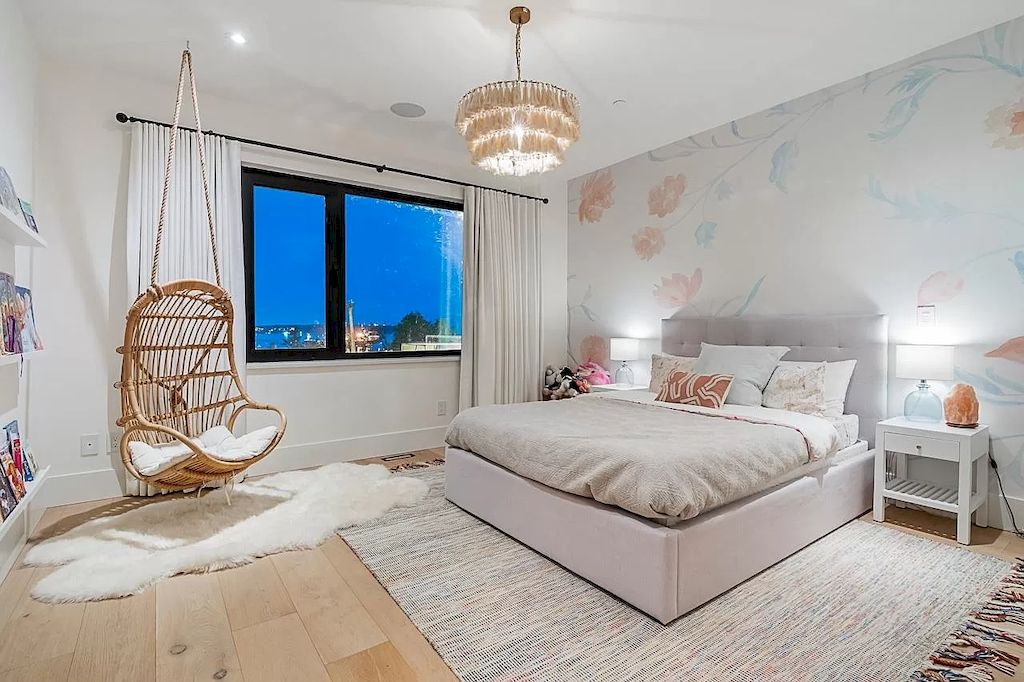 Or add femininity with a ceiling-mounted hand-woven rattan swing with floral wallpaper. Install a few more wall-mounted shelves and you also have more space to display your favorite paintings, souvenirs from your travels, or limited edition comic books are also ways to create marks for the couple's bedrooms. This C$7,950,000 Sensational Modern Beach House Offer a Balance of Aesthetics and Technology in West Vancouver
6. Set Up Balcony For Relaxing Time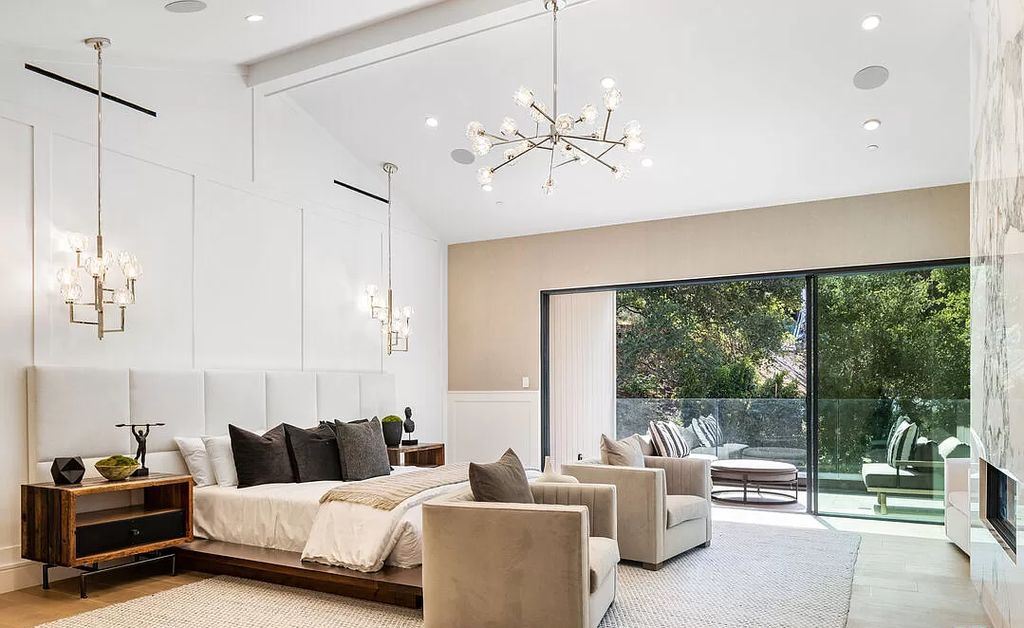 Don't waste the balcony space adjacent to your bedroom. Add a set of beautiful small sofas, a few pots of plants, and colorful lights and you have a very chill space to relax or take artistic photos right at home. You will have a space separate from the bedroom to work, sip tea or make phone calls without fear of affecting your partner resting in the room. This $29,995,000 Brand New Home in Los Angeles provides A Sophisticated Balance of Luxury Living with A Rustic Natural Environment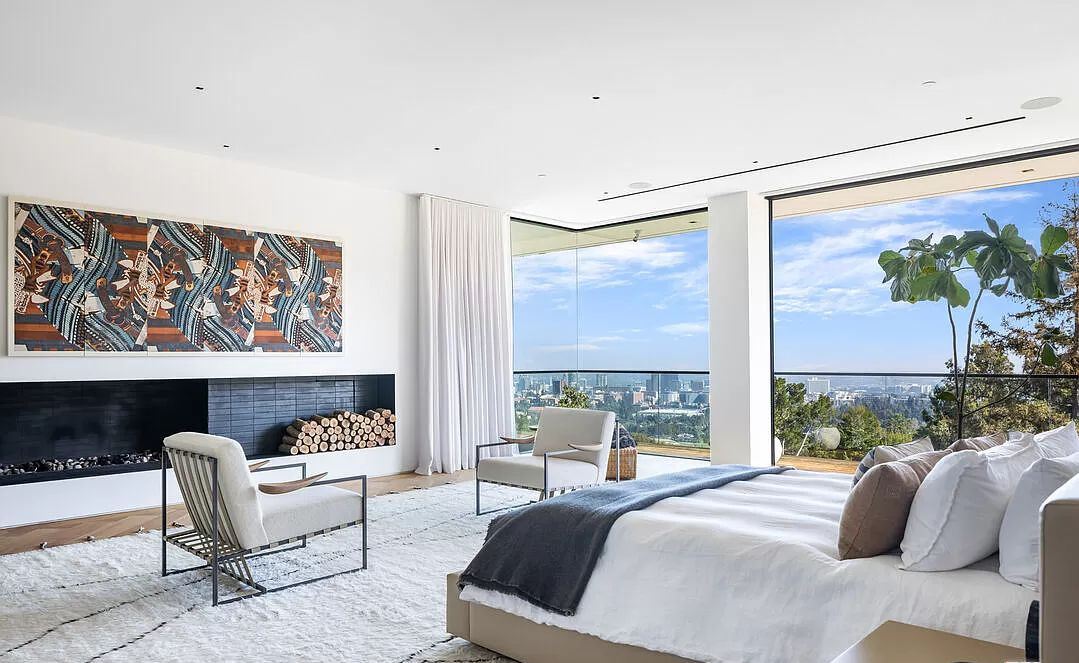 Enjoying the million-dollar view from your own bedroom is completely possible. Dividing the bedroom and balcony space with floor-to-ceiling glass window panels and sliding glass doors to help you free up your eyes. Add a set of curtains in the same tone as the wall paint and you have a bedroom with a view of a luxury retreat. This $63,500,000 Bel Air Mansion offers World Class Design with Extraordinary Craftsmanship
7. Add More Space With Daybeds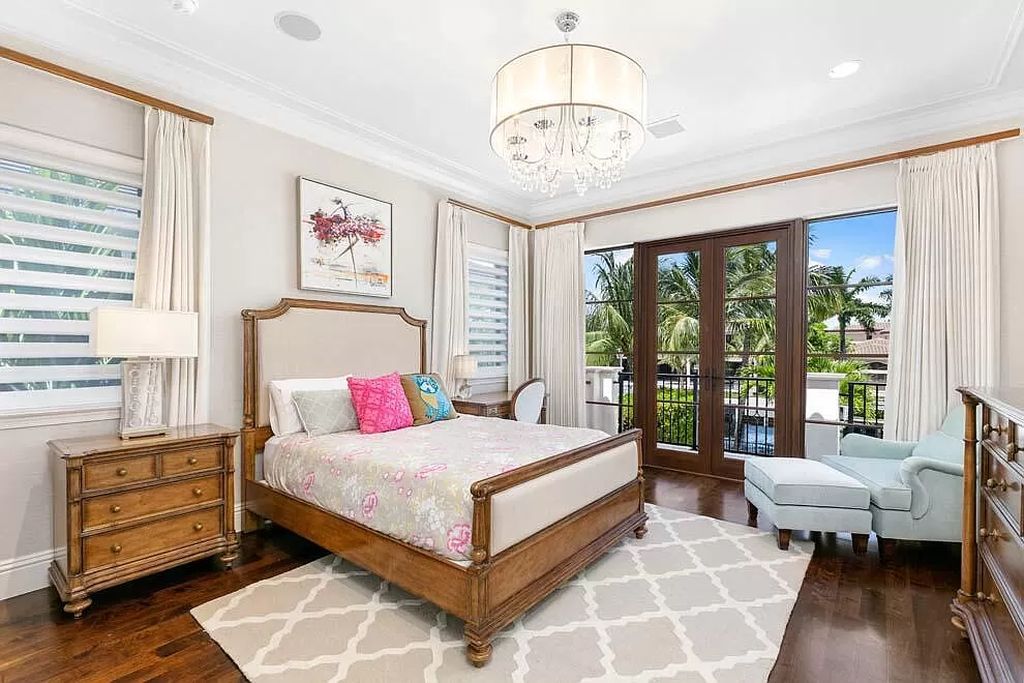 Daybeds are great because they can work as both a sleeping area and a couch. The daybed can be the perfect solution for any 'space' issues and decoration in all sizes, styles, and colors for your bedroom. You can have a comfortable nap after a house cleaning session with the daybed. Or if you want to give up sleeping space for your children (in case you have visitors and want to reserve a room for them), a daybed is a great and instant solution. A Beautiful Home in Boca Raton with Luxurious Furnishings Throughout Asking for $16,500,000
8. Consider The Storage Beds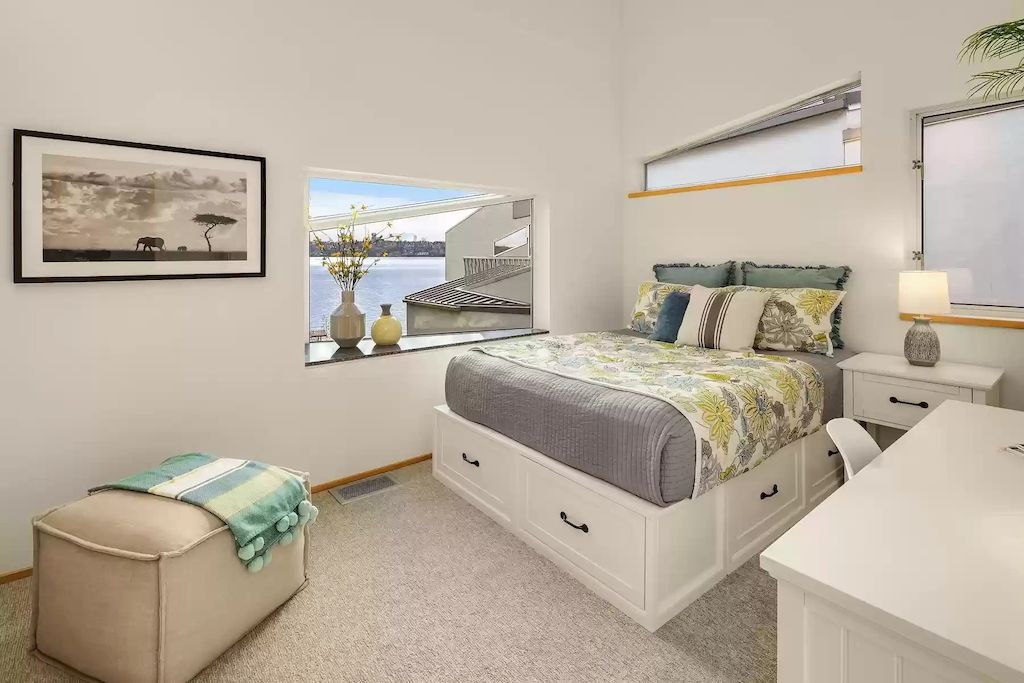 Another solution to get more storage space for couples' bedrooms is storage beds. All storage bed ideas add an amount of stuff-stashing space to your room without compromising the look. It's also an easy way to make your Bedroom Ideas For Couples's outstanding feature even more impressive. Entirely Dream Residence with Extraordinary Architecture in Washington Hits Market for $21,500,000
9. Install Built-in Bookshefts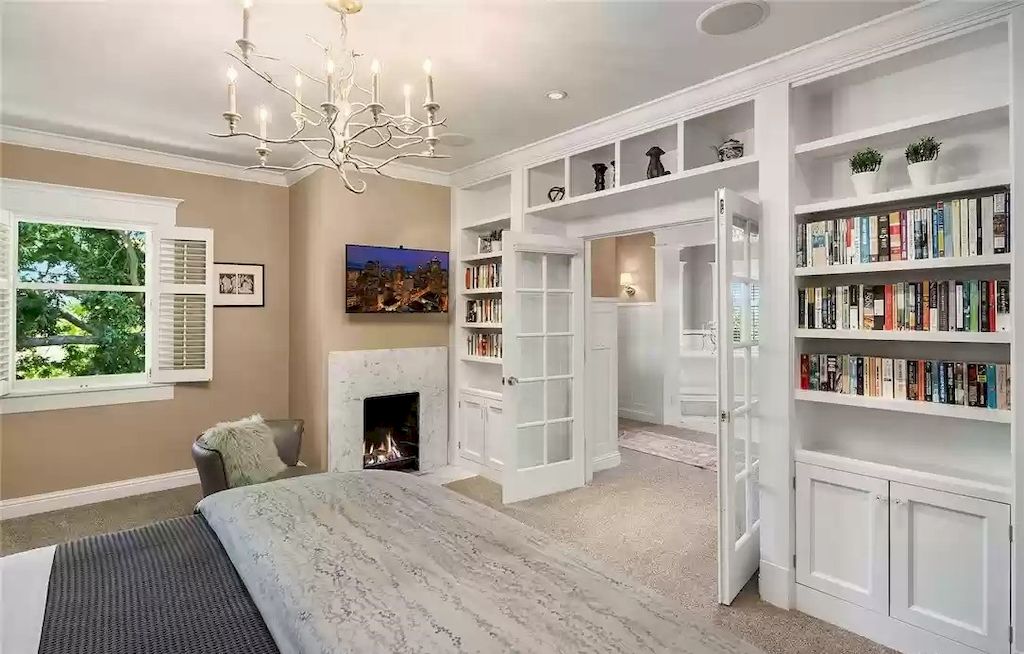 Create more places to tidy up your favorite books and display your favorite decorations with built-in bookshelves that don't take up too much space. It will be a bit difficult when you want to get items from above, but it's only a small problem. Remember to dedicate some lower drawers for storing necessities or some personal items you don't want anyone to touch. Palatial Estate of Irreplaceable Quality in Construction and Materials in Washington Listed at $4,850,000
10. Curate Seating Area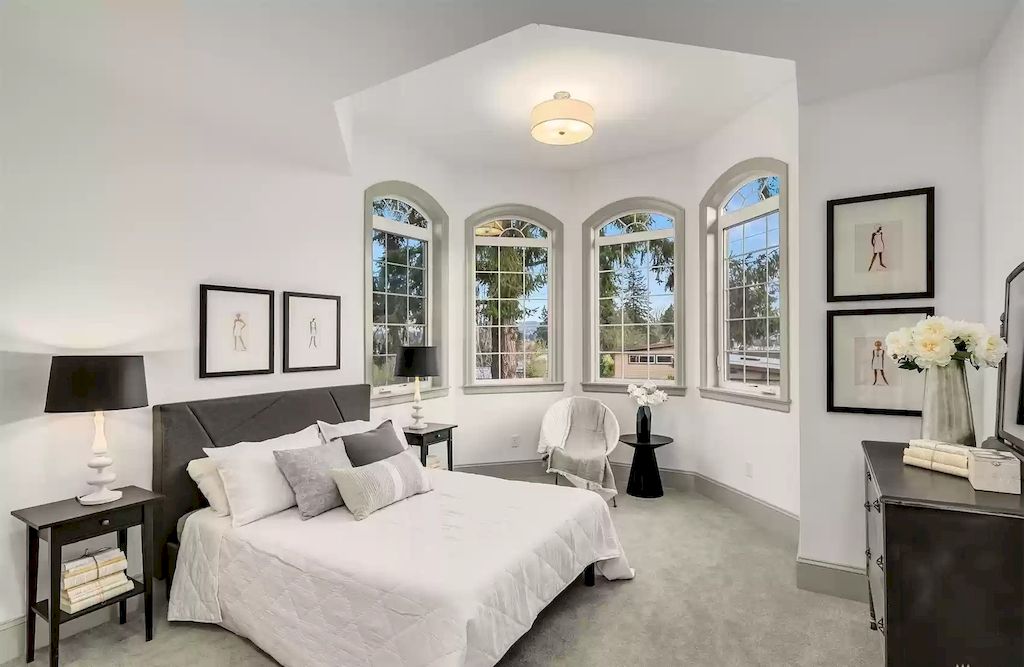 Add a little romance to the couple's bedroom with the arrangement of the seating area. Ensure lighting conditions for the seating area by arranging this area near the bay windows or adding the lights to facilitate reading, working, or enjoying an afternoon tea. You can also take advantage of the empty spaces in the bedroom to quickly create a seating area and solve the problem of seating. This $4,898,990 Stunning Estate in Washington Features Spectacular Chef's Kitchen with Top of the Line Appliances
11. Prioritize The Selection Of Light Tones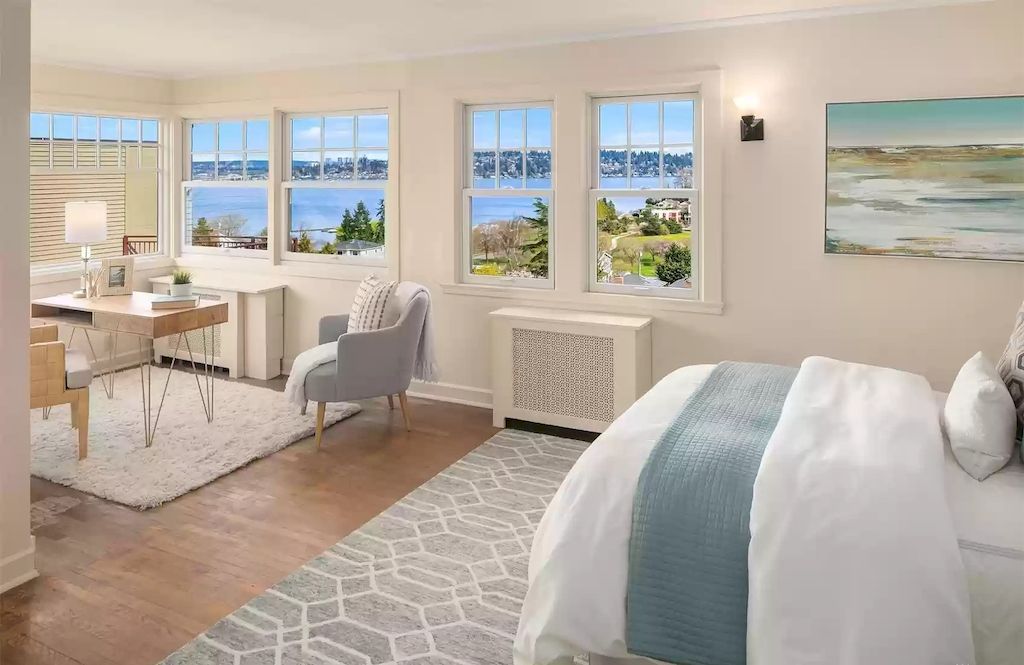 Couples who come up with ideas for the design of their dream bedroom often look to modern and youthful styles. So, wall paints and interiors with light tones are often recommended. As in the above-mentioned Bedroom Ideas For Couples, the minimalist bedroom is fulfilled with a combination of white, pale gray, brown, and blue tones. Of course, you can also use bold and striking colors, but be careful in how to coordinate them to avoid creating an overwhelming whole. Impressive Spanish Revival Style Estate Featuring Classic Elegance in Washington Listed at $3,495,000
12. Set Aside A Place To Play With Your Child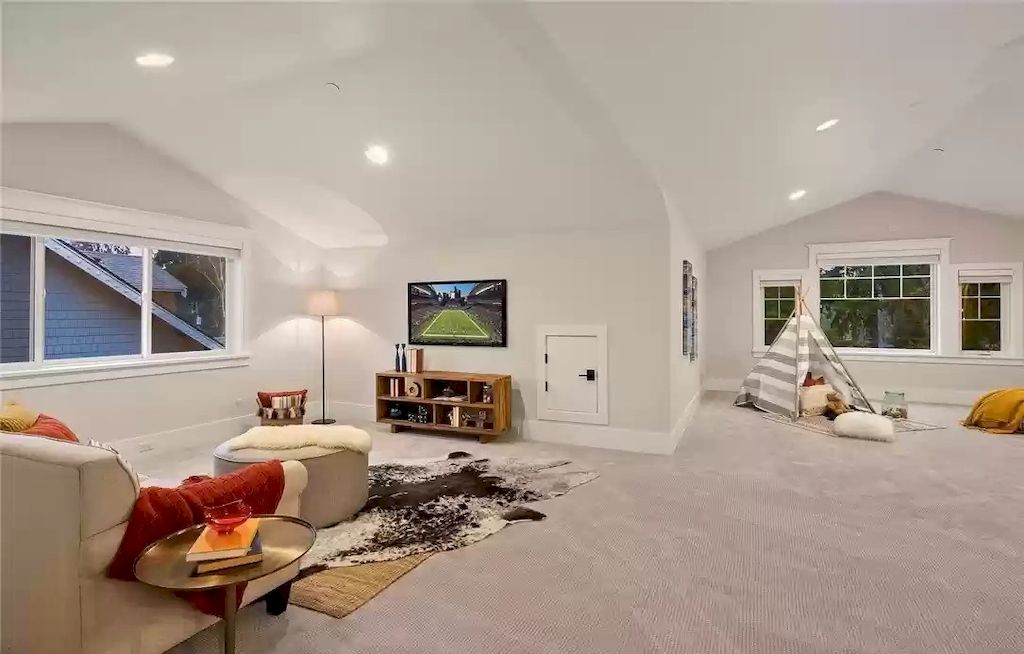 Couples can consider future plans, such as havings children when designing the bedroom. Choose furniture and arrange them intelligently so that they do not take up too much floor space. After that, you can dedicate a part of the bedroom to design a play area for your children. It's also a way for you to bond with your children. American Classic Estate with Intelligent Floor Plan, Perfect for Today Living Needs in Washington Listed at $3,298,000
13. Install Lights On Both Sides Of The Bed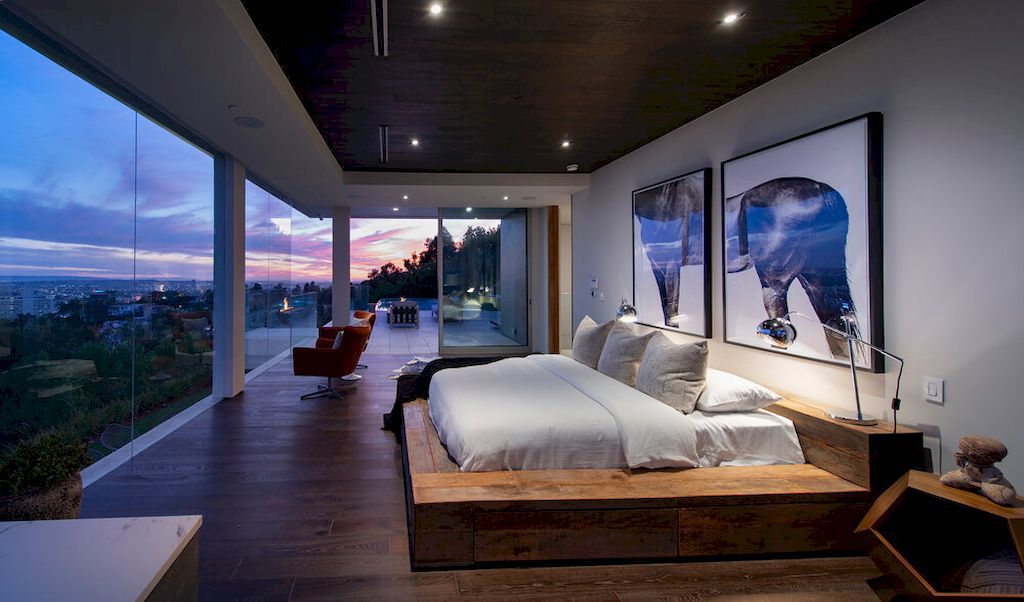 Bedroom decoration is not only beautiful but also functional. Placing a stylish table lamp on each side of the bed not only adds a touch of style but also helps you balance the light. This is the key to creating a comfortable design. For couples organizing a small bedroom, a good trick is to make the space between the sides of the room symmetrical. You can add a nightstand for each partner and make sure both are comfortable. Luxury Modern House Los Tilos in Los Angeles by Whipple Russell
14. Add Some Romance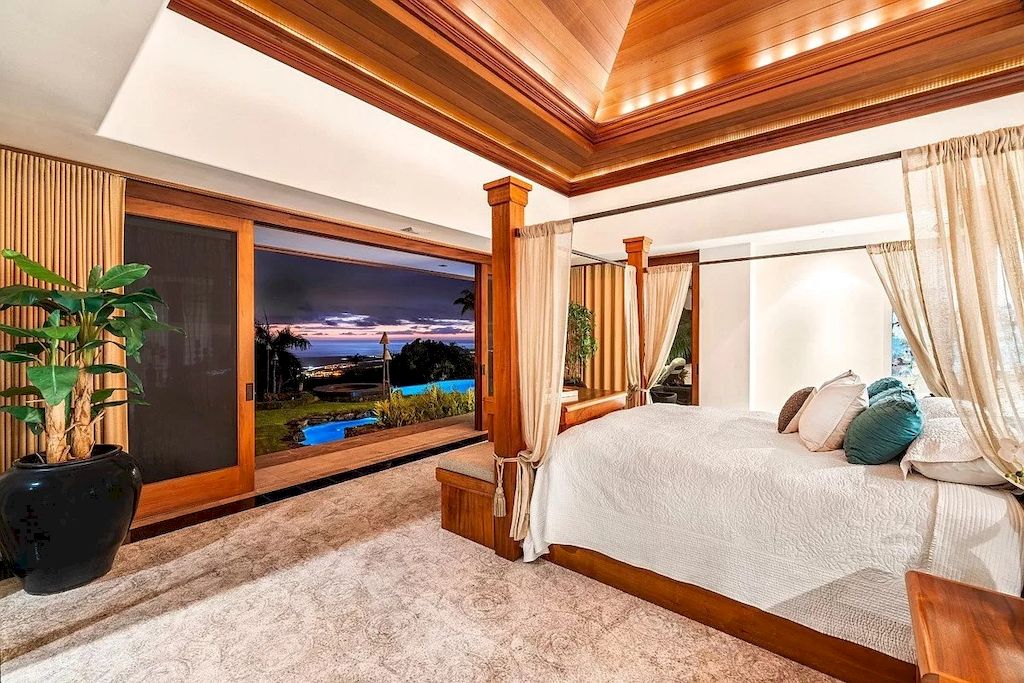 It would be boring if the couple's bedroom didn't add a little romance. How can love be without this? In the luxury ideas above, you can add more romance or more ambiance with the presence of the bed curtain set, giving the two of you a relaxing and quiet private space. A few pairs of scented candles also make your private space more wonderful. Remember to choose a scent that you both love. Exceptional Luxury Resort-style Residence in Hawaii Listed for $5,850,000
The most important thing when designing a bedroom for couples is to ensure balance. For couples, the bedroom must be the most special place in the house, where two people can heal after the chaos of daily life. The bedroom for a couple should still have a personal touch so that both of you feel really comfortable when you return there after a long day. For more ideas and inspiration, you can refer to 17 Original Bedroom Layout Ideas for a Functional and Comfortable Space
More Ideas For Bedrooms:
---
Thousand of high-quality images of Bedrooms and more you can see at Bedroom Gallery.