Date of Publishing:
Creative Grey and White Bedroom Designs
Grey and white bedroom ideas are a flexible interior design option that seems as at home in a traditional setting as they do in a modern one. They are cool and contemporary. No matter your bedroom style, mixing grey and white is one of the most common color combinations you can choose from when choosing a color scheme for your bedroom ideas. A trendy neutral pair, its tonality makes it perform well on its own with few interruptions or as a great foundation for other color selections.
1. Add Texture To A Serene Color Palette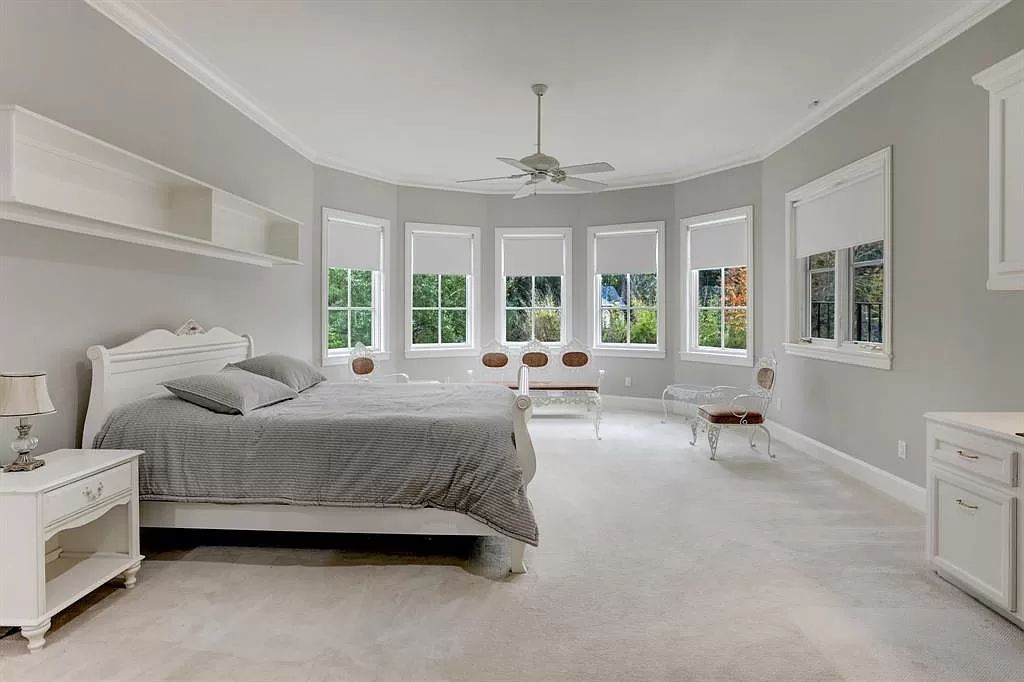 We kept the room airy and ethereal by employing a palette of soothing soft white and grey bedroom ideas, along with an abundance of textures, to create the ideal sanctuary to clear one's mind at the end of a stressful day. Grand Classic French Home in Houston with Beautifully Landscaped Grounds Asking for $4,195,000
2. The Best Lighting Should Be Paid For In A Grey And White Bedroom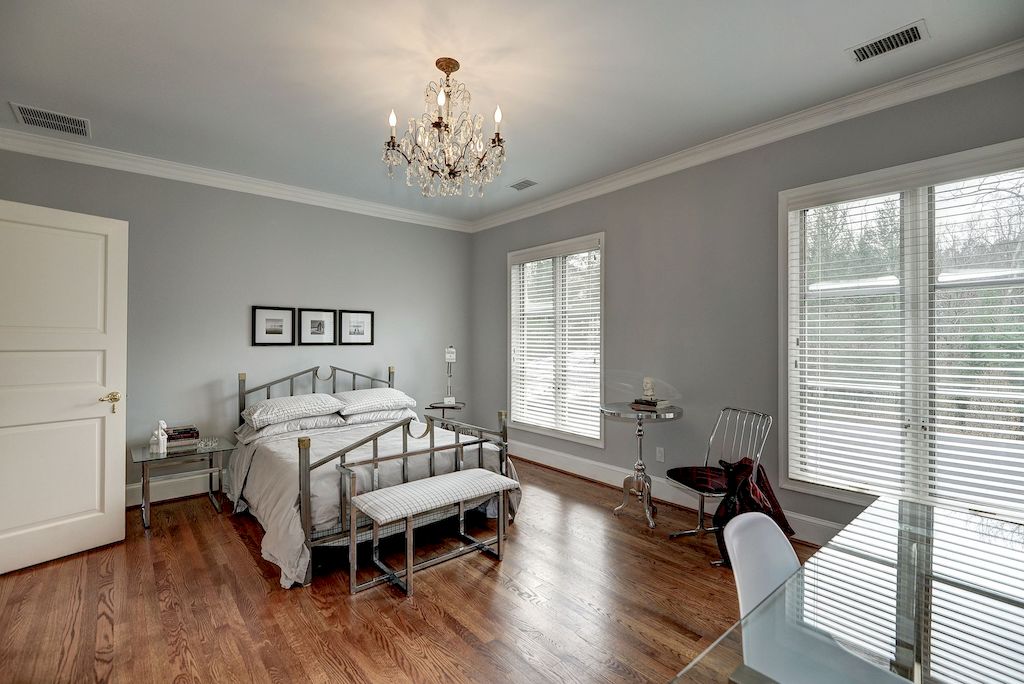 Being a neutral color combination that functions as a blank canvas on which you can make your imprint, grey and white bedroom ideas are versatile and go with most colors. However, if your bedroom faces north, it's important to think about the finest bedroom lighting ideas and possibilities before you select a color scheme with grey as its base. Elegant Gated Property Enjoys Landscaped Grounds and Spectacular Pool in Virginia Listed for $4,350,000
3. Make The Ideal Backdrop For A Patterned Headboard By Paint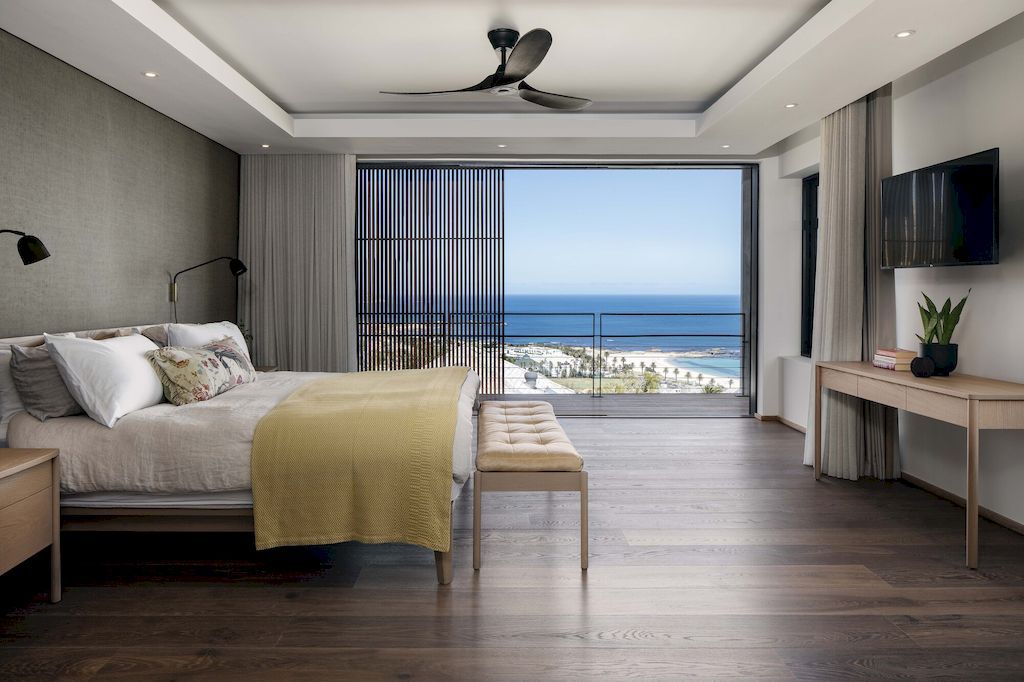 Grey and white are the ideal blank canvas to introduce headboard ideas that are absolutely distinctive and adventurous if you are having trouble deciding on the best bedroom colors for your space. Because they are timeless, natural, and beautiful, greys, whites, and other comparable neutrals provide excellent bases that go well with just about anything. Your choice of white or grey paint on the walls creates a beautiful and adaptable backdrop for the rest of your room's design, allowing you to add color elsewhere without it being overpowering.  Camps Bay House designed by Malan Vorster Architecture Interior Design
4. Select a Focal Wall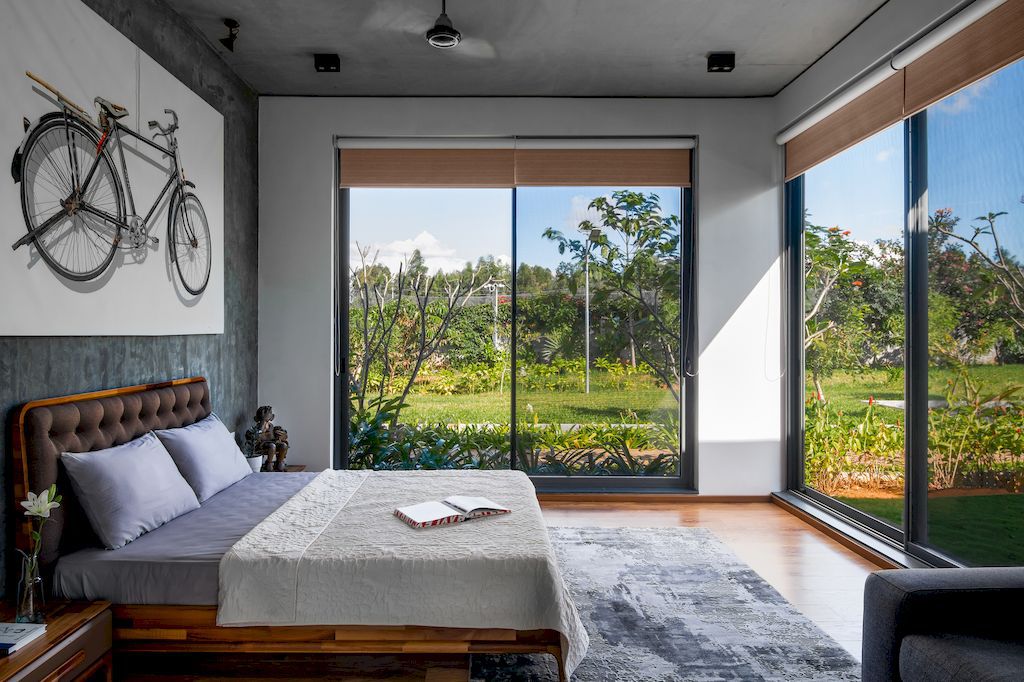 Consider using grey as a feature wall color. A grey feature wall may really anchor your room and allow for a play on contrasts, with lighter bedding and furnishings standing out against a darker wall. This is especially true if you're still concerned about utilizing it in huge amounts. Utilizing wallpaper or textured wall panels can give your room more oomph by bringing in more personality and style. Janapriya Residence with airy open Space in India by Keystone Architects
5. Layers upon Layers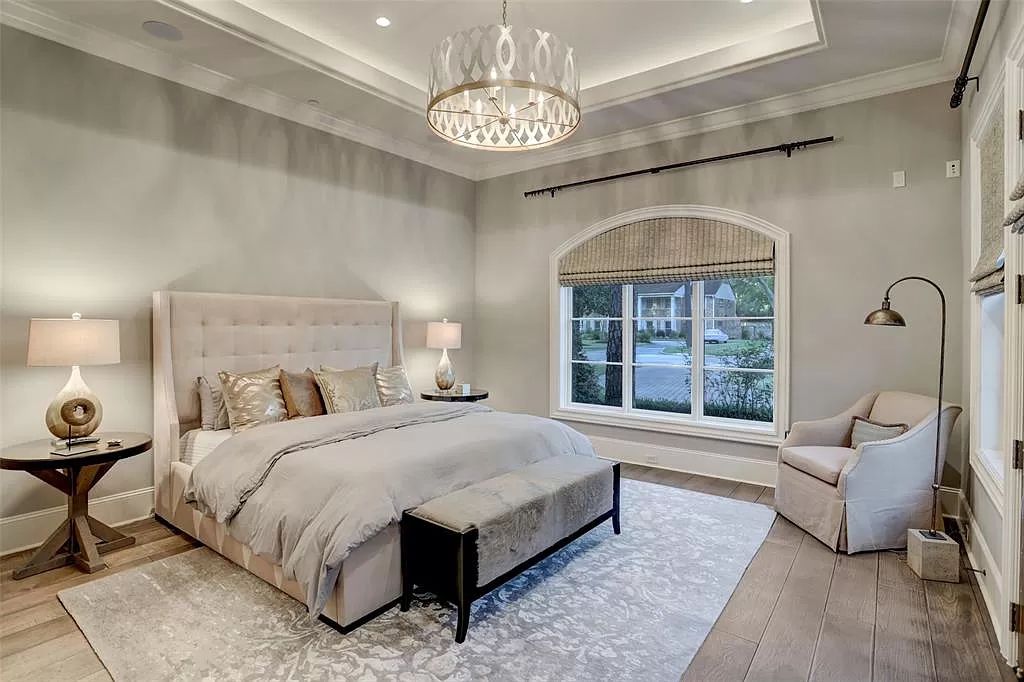 Layers are key for a cozy design, both in terms of texture and color. Different shades of grey give a plain, neutral area depth and interest. Naturally, textures are crucial. Add soft throws and duvets, plush cushions, and faux fur rugs to your home to make it cozy and comfy. Incredible Home with Wonderful Outdoor Spaces in Houston Asking for $3,850,000
6. Keep It Simple In A White And Grey Room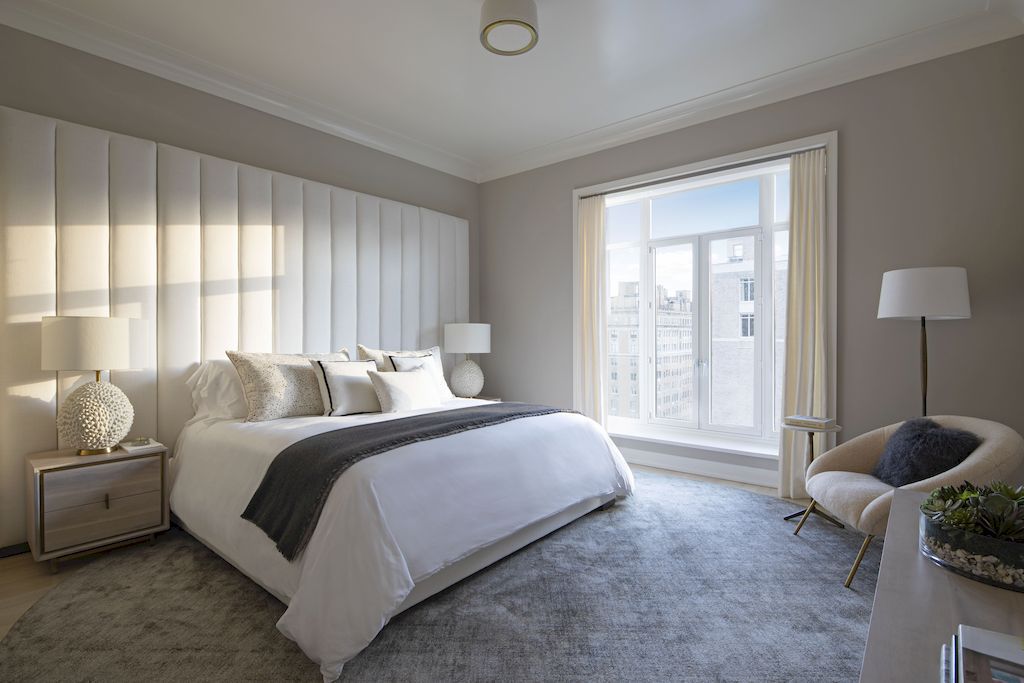 Ideas for grey and white bedrooms don't have to be cold and clinical. A bedroom should be a haven, a place to relax away from the hustle and bustle of daily life. Even if the look of the room changes, the simplicity of a minimalistic blend of rich wood finishes and muted, neutral tones will stand out. 40 East End Boutique Condo, Stunning high end luxury project in New York
7. Select A Pretty Floral Wall Covering With A Grey Base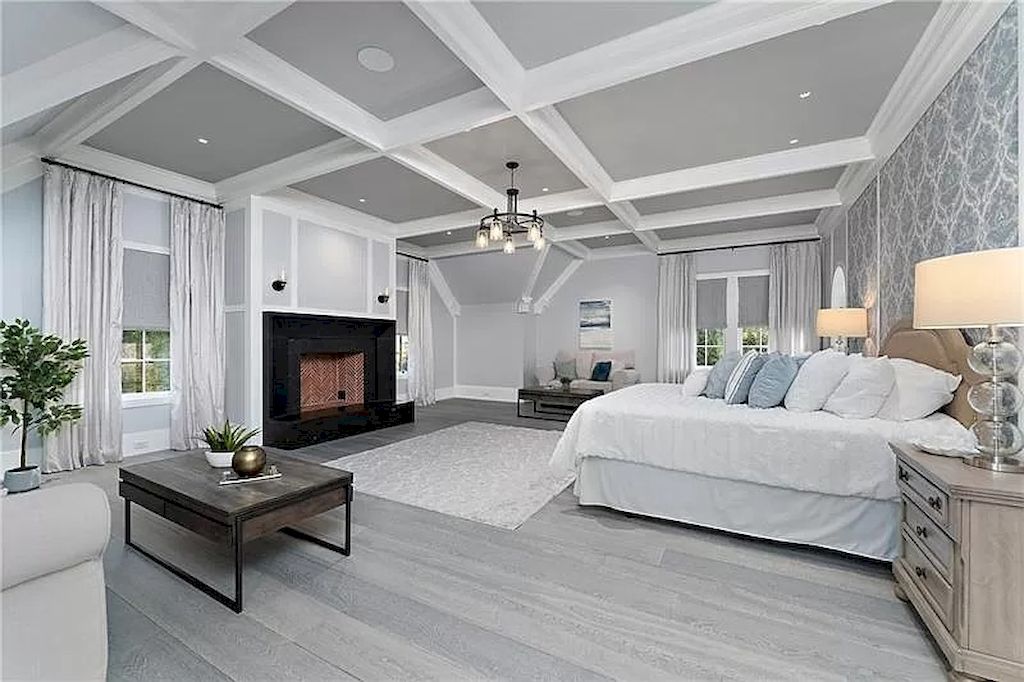 The proper wall décor ideas are crucial in determining the tone you want to create in your grey and white bedroom, which should be a place to rest and relax after a hard day. In the case of guest bedrooms, a space to make visitors feel at home. In this room, the owner's penchant for serene hues is predominant. Discover Timeless Beauty and Classic Style of this $6,250,000 Outstanding Residence in Pennsylvania
8. A Restful Bedroom Should Be Dark Grey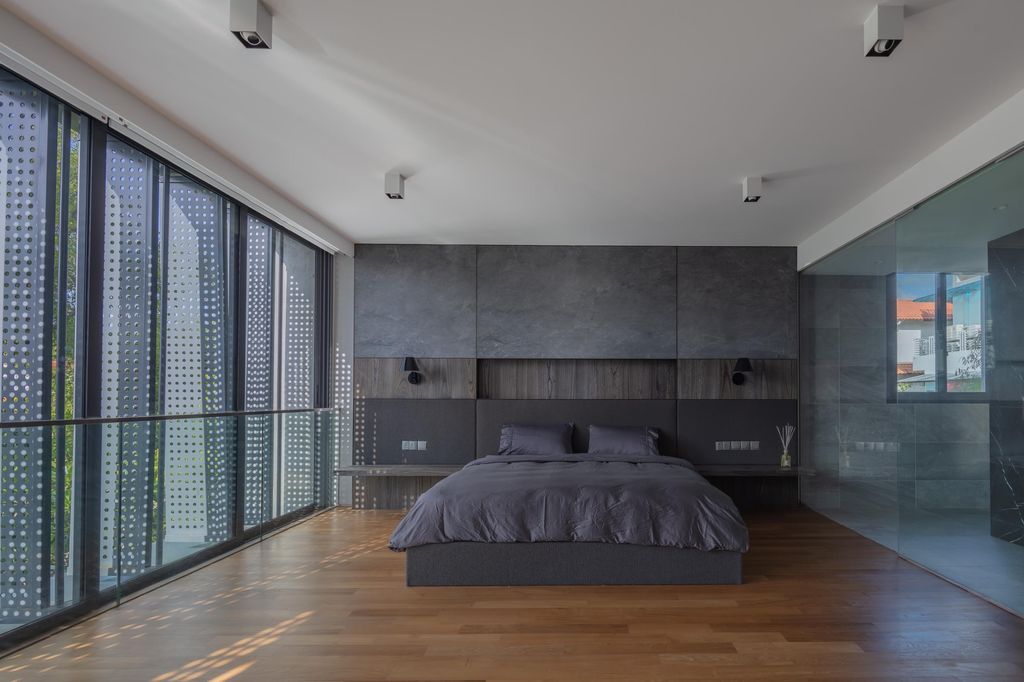 Decorating with grey and white has enduring appeal because it forms a wonderful backdrop and is timeless. However, much like white, different shades of grey have different undertones, so care should be taken when choosing one. To create a peaceful haven for sleep, use layers of tonal natural colors and deep soporific colours like deep grey "Scree" or powerful rich "Vulcan" grey. Green Revelation House Enveloped by Lush Gardens by HYLA Architects
9. Go Light and Breezy with Grey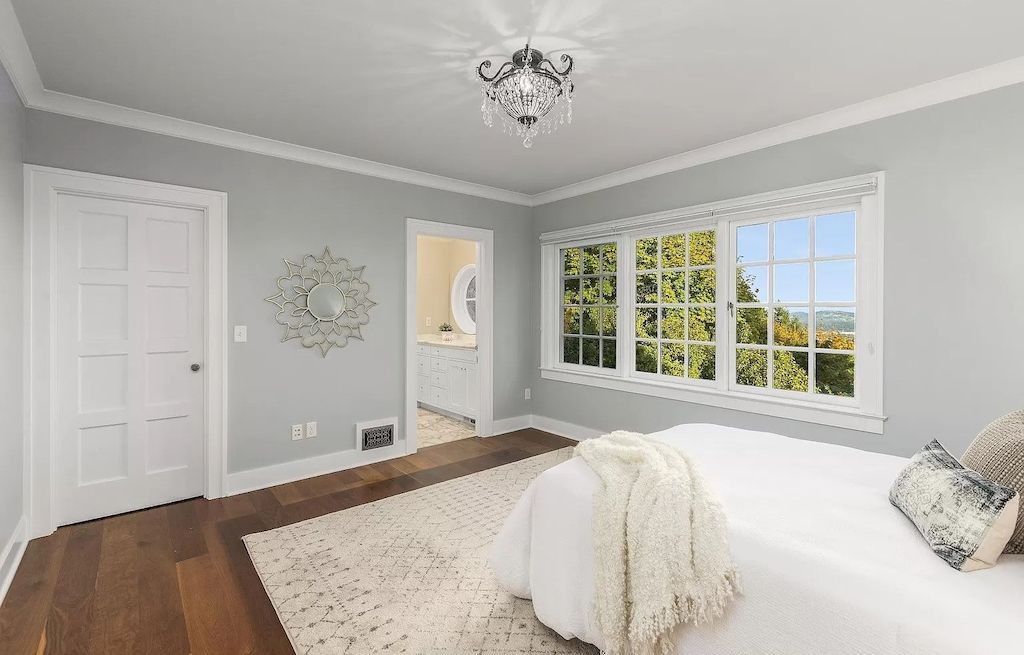 Choosing a light grey color instead of white is a terrific way to make a room feel airy and comfortable. There are many options for creativity when working with a monochromatic aesthetic. For instance, if the space is anchored by a large, dark-grey object like a bed or a rug, adding several shades and tones of grey (ranging from charcoal to creamy off-white) can offer texture and intrigue and drive the eye upward!  Captivating Estate in Oregon with Dazzling Views Asks for $4,985,000
10. Consider Decorating Your Bedroom In White, Grey, And Pink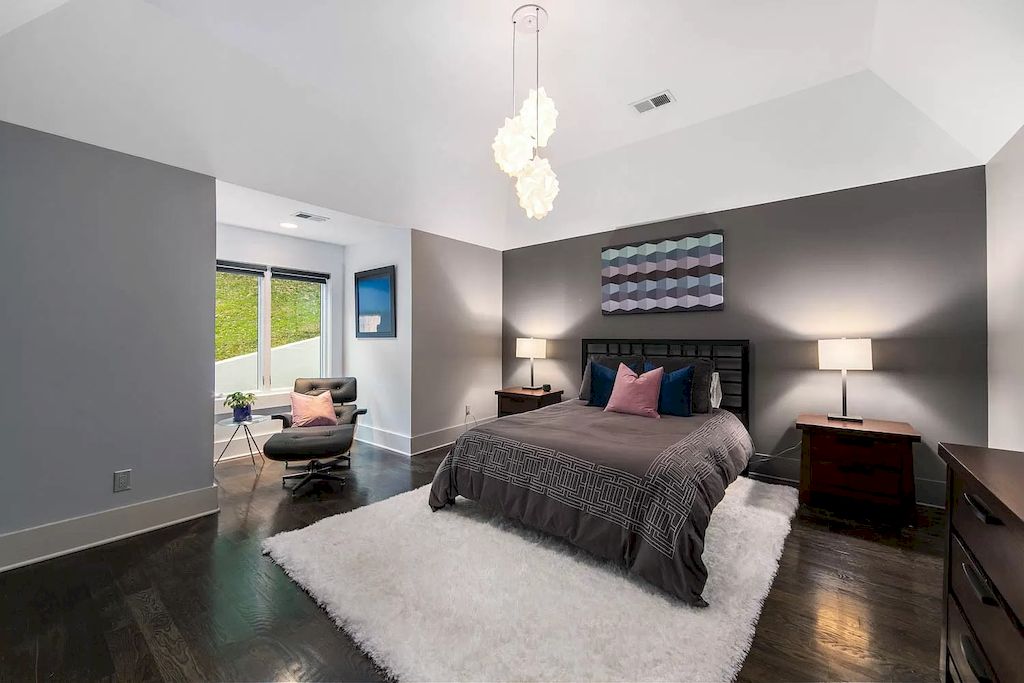 White, grey, and pink is a calming and quite trendy color combination if you're seeking for a subtle burst of color. Dusty pink's chilly undertones go perfectly with grey, especially when used as a transitional color in a room with both light and dark tones. Pink particularly shines when it's used as an accent color, such as with a polished vase or a soft velvet cushion, to add subtle flair against a peaceful, neutral background. This $5,250,000 Modern Entertainer's Dream Mansion Offers Sophisticated, Modern Living Space in Tennessee
11. Assess The Color Block Technique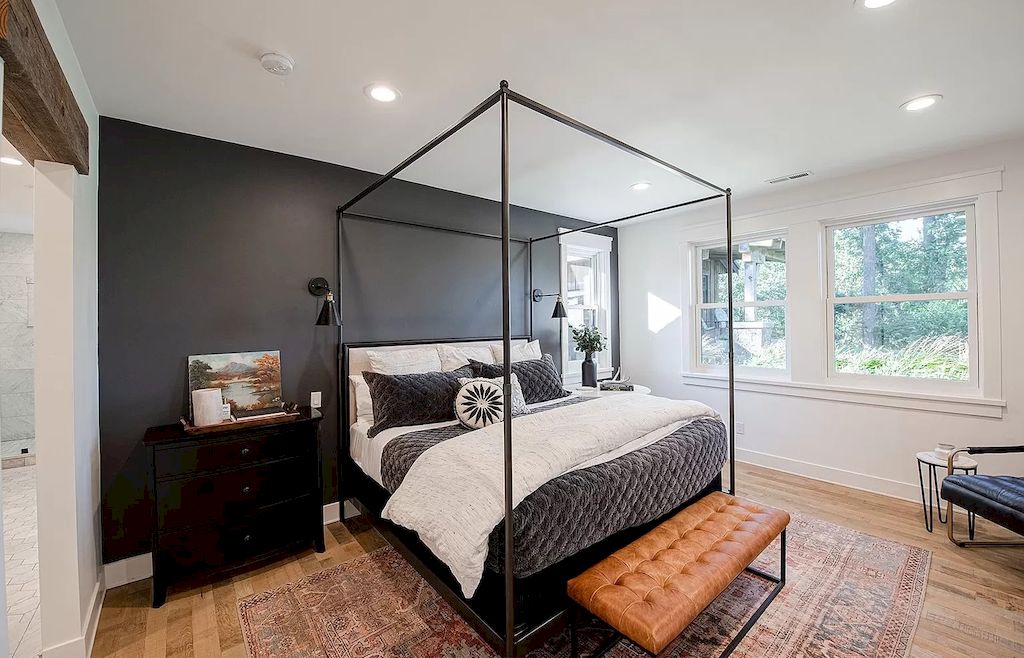 Never assume that employing white, grey, and other neutral colors is boring; working with architectural "families" and their minor color variations can result in a creative, opulent design. One of the best ways to incorporate humorous design elements into a bedroom concept is through color blocking within a monochromatic color scheme. Mountain Chic Home in Oregon with the Ultimate Nature-Inspired Design Asks for $4,200,000
12. Play around with Patterns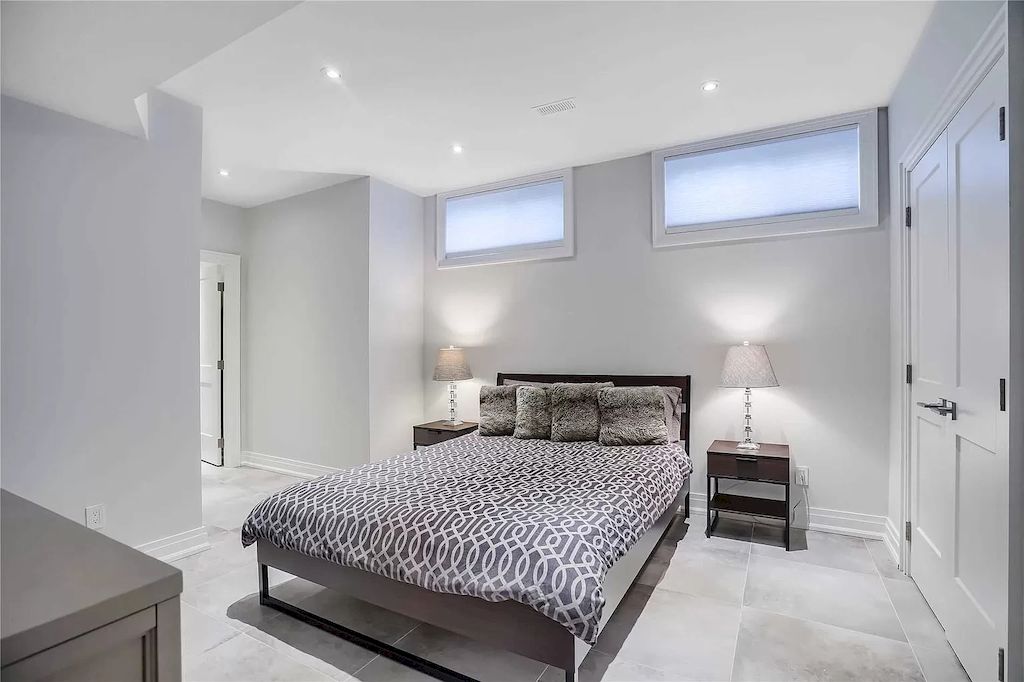 Given that grey is a very subdued color, the possibilities for playing with clashing patterns are virtually endless. A grey bedroom can also benefit from playing with patterns, such as a herringbone or chequered print. Custom-Built High Efficiency Luxury Smart Residence in Ontario Asks for C$4,800,000
13. Natural Textures add Warmth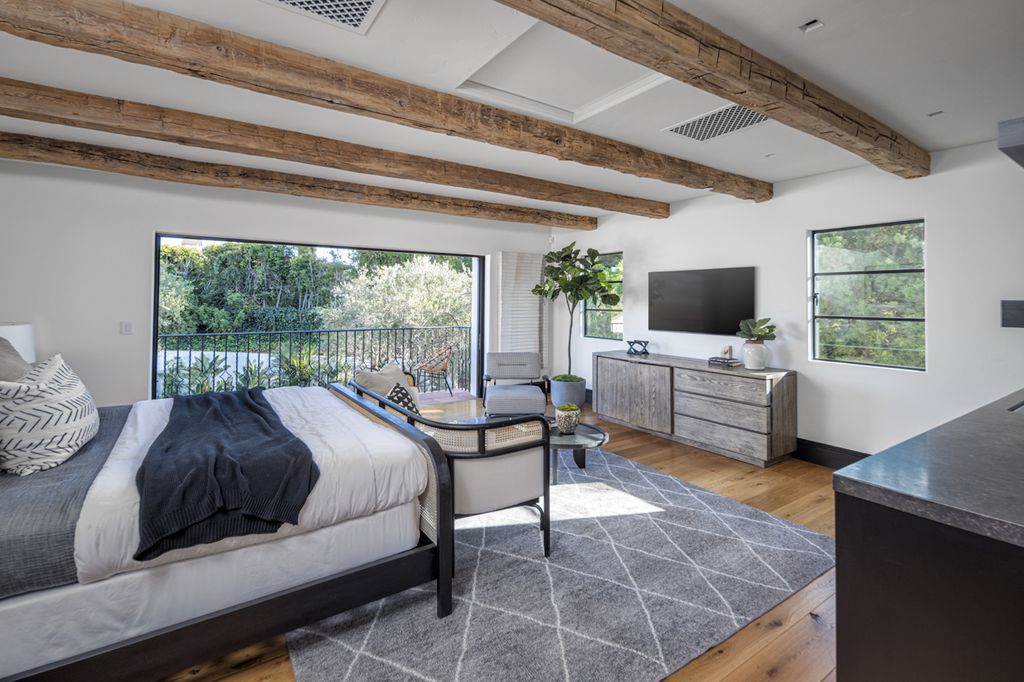 Including natural elements and tones is an easy, hospitable way to add visual and textural interest to grey spaces because they run the risk of looking austere and sparse otherwise. It can be as easy as adding a wooden side table for its warm tones and organic feel. Rattan baskets and greenery create a light, summery mood all year long. Meticulously Crafted Los Angeles Spanish Mansion in Prime Little Holmby for Sale at $18,995,000
14. Use Silver to Stay Current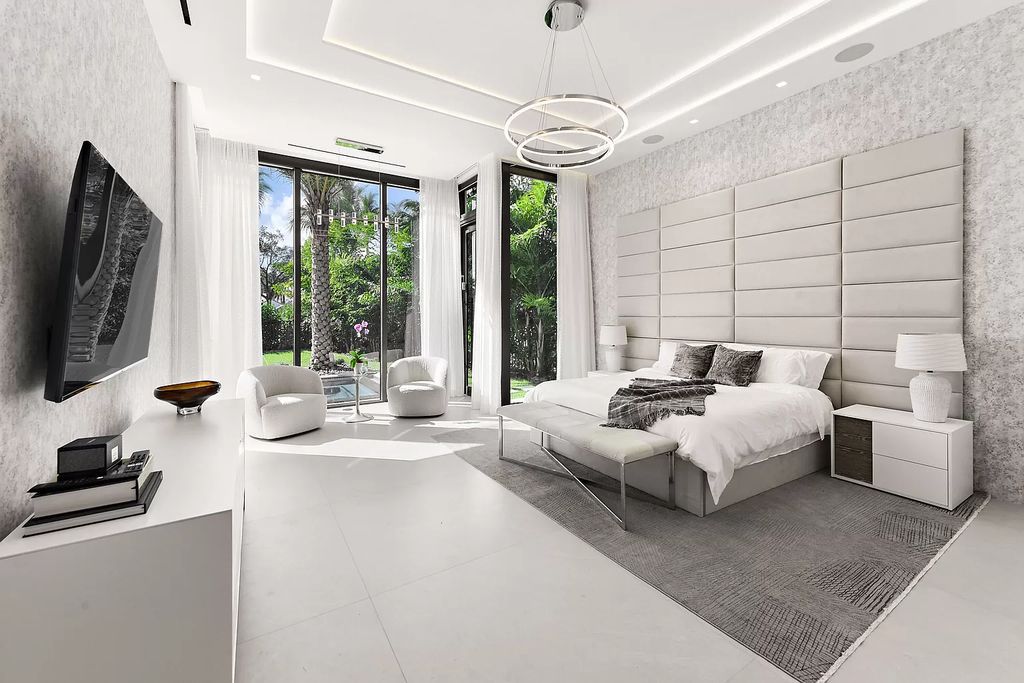 It's difficult to resist a dash of sparkle, and silver adds plenty of shine and glitz to the bedroom. Going big with a silver velvet bed gives you the option to either keep the rest of the space basic and understated or to play up the drama with similarly glam accents like a chandelier or enormous mirrors. Or you may include it subtly, such with a wall hanging or mirror with an inspired design, or even with a few lamps or pillows. Newly Completed Modern Luxury Home in Boca Raton hits Market for $6,195,000
15. Introduce A Bold Color Or Element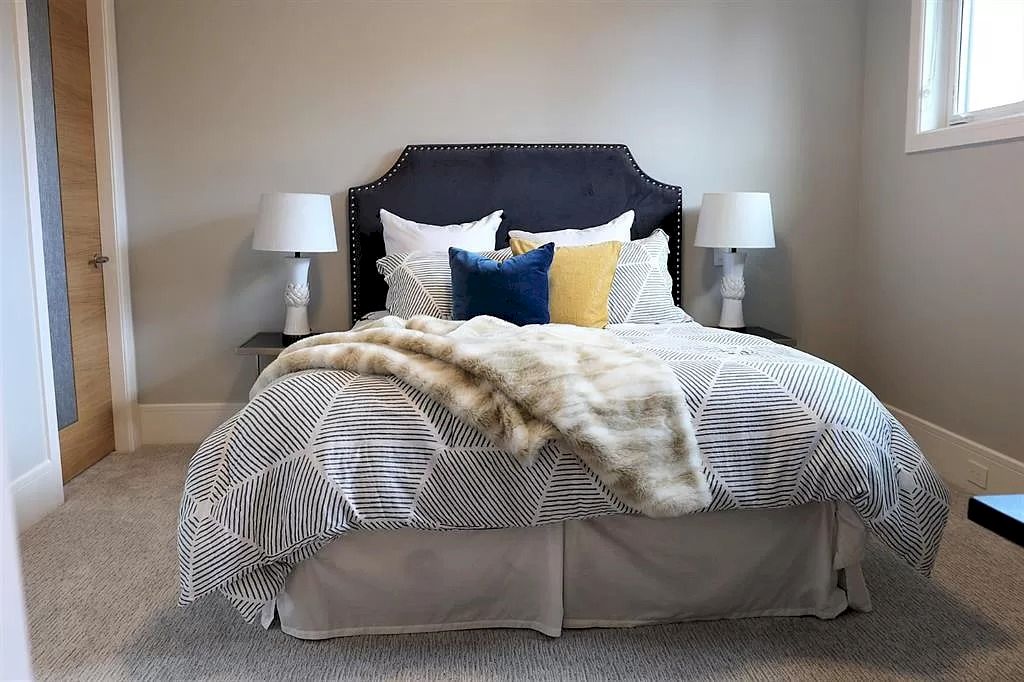 In the bedroom, we tend to choose more subdued color schemes, but darker or moodier tones can actually work really well with small bedroom ideas. They provide the impression of depth and provide a warm, cocoon-like feeling, which is perfect for any quaint bedroom. To give the walls an industrial vibe, we advise using a mid-toned grey. This will be lifted by layering delicate color accents, such as an apple green or another earthy hue like ochre, terracotta, or a softer peach. This C$4,850,000 Out­stand­ing Prop­erty in Alberta Of­fers Stun­ning Architecture, Stat­e of­ the­ ar­t Fea­tures
16. Hang Paper On The Wall Above The Bed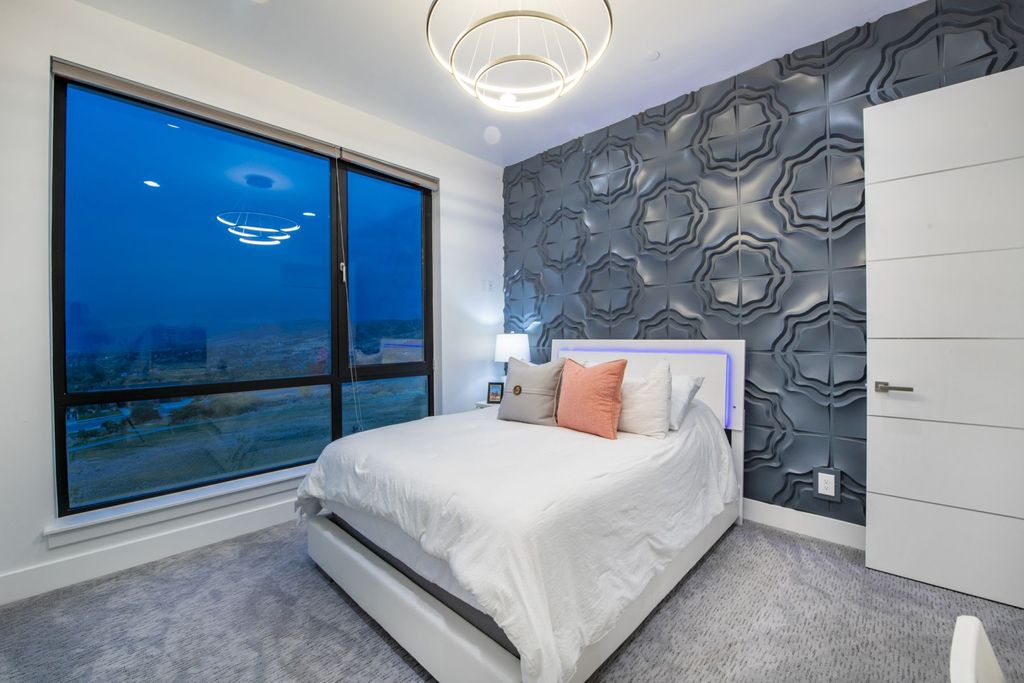 There are other options besides paint to spice up your room. Your area can benefit from a modest yet impactful grey and white wallpaper makeover in the bedroom. Brand new luxury modern home in Utah sells for $5,835,000 with unbeatable breathtaking views of mountain, city and lake
The best thing about a grey-and-white color scheme for a bedroom is that it complements just about any other color. Partnering a grey-and-white color scheme with the same or a related color is a great technique to bring out the undertone. A grey with a green undertone, for instance, will make the undertone more prominent when furnished with green bedroom ideas, while a grey with a pink undertone will look stunning when paired with lilac or even red bedroom ideas. For more amazing ideas, you may look at the post: Top Small Living Room Designs To Make The Most Of Your Space
More Ideas For Living Room:
---
Thousand of high quality images of Living room and more you can see at Livingroom Gallery.