Date of Publishing:
Black and white tones are often designed based on minimalism, which is considered the best color combination to create luxury ideas. Simple and classic, they add sophistication to any room, providing a chic style that's always on-trend. These twelve gorgeous Black And White Bedrooms below show off a lot of different shades of black and white in the bedroom, and it's sure to make you stop and stare. Let's start exploring together.
1. Use Black As The Accent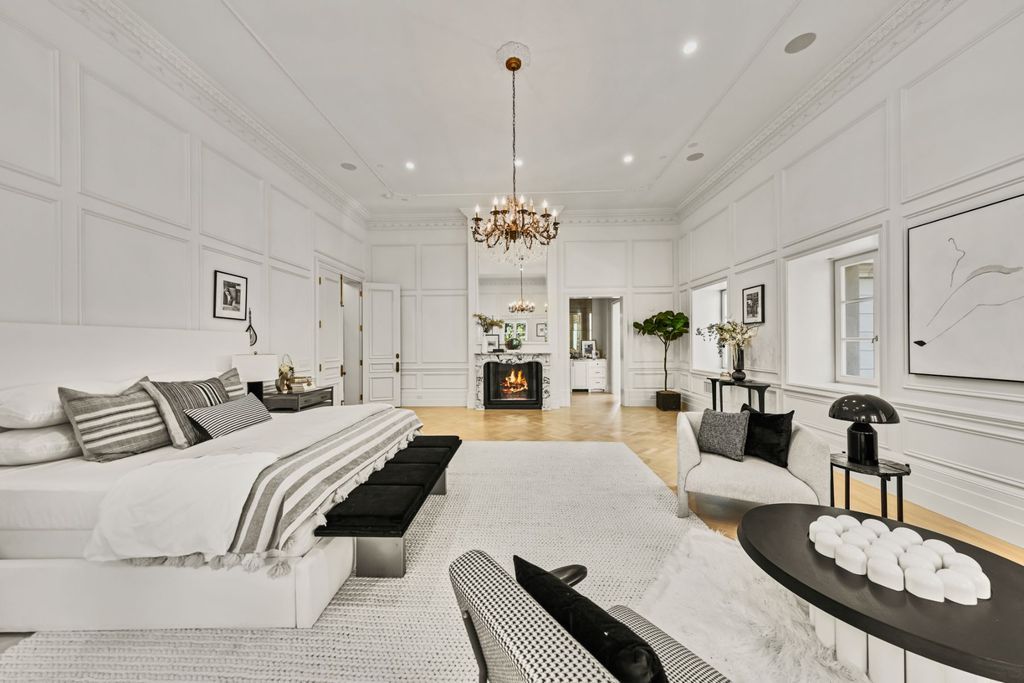 The above Black And White Bedroom is built by the synthesis of many ways of combining white and black colors. The white ceiling, paint, and rug create maximum contrast and provide the background for accent pieces such as table lamps, a bedroom bench, and throw pillows. The small polka dot pattern of the chair set used for seating areas is also a highlight to help your bedroom look more trendy. Newly Built Mansion in Bel Air with Quality Comparable to The Traditional Chateaus hits The Market for $26,500,000
2. Do Not Forget To Add Motifs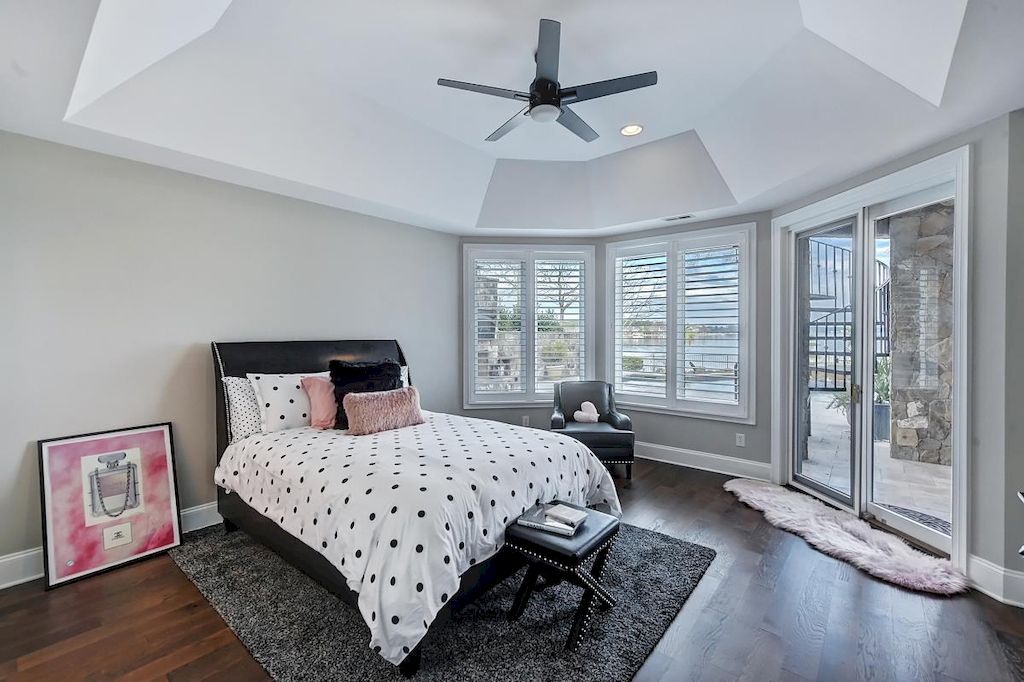 The polka dot pattern is not only one of the very hot trends in the field of fashion design, but it is also becoming very popular in home decoration. The small black polka dot pattern used prominently on the white background of the bedding makes your bed no longer monotonous and is also a very beautiful decorative highlight for the overall room. Elegant and Private Waterfront Estate in North Carolina on Market for $3,390,000
3. Various Black And White Carpets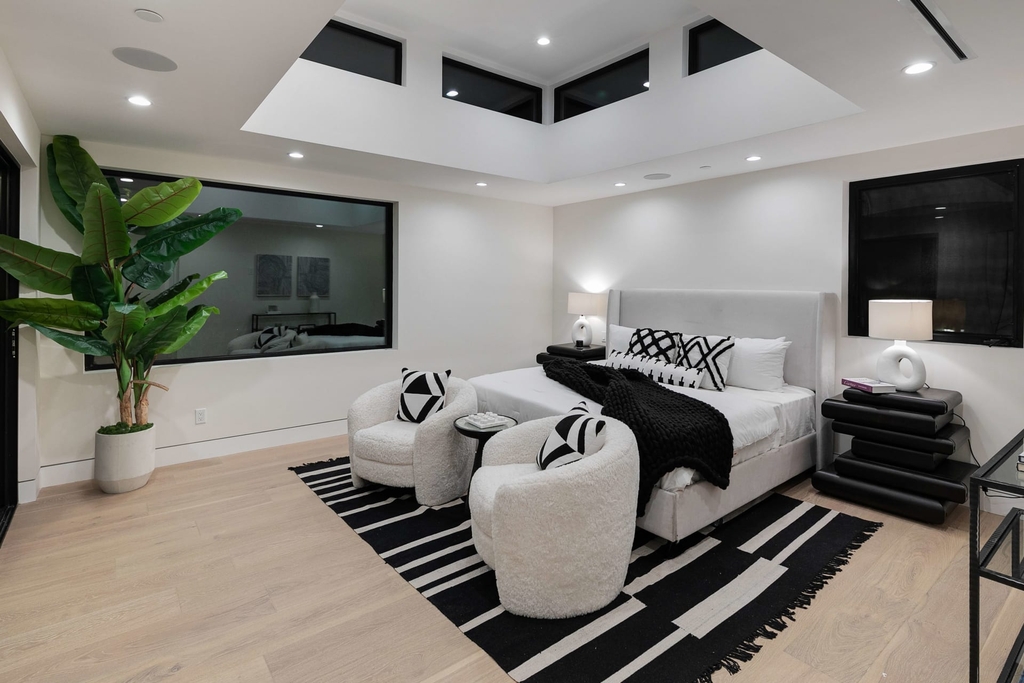 The simplest way to bring black and white tones into your bedroom is to spread out a rug with different textures, materials, and shapes. Bring a modern yet classic touch to your bedroom with black and white Scandinavian carpets with distinctive tassel detailing. A Brand New Construction Home in The Heart of Coveted Beverly Grove hits The Market for $3,995,000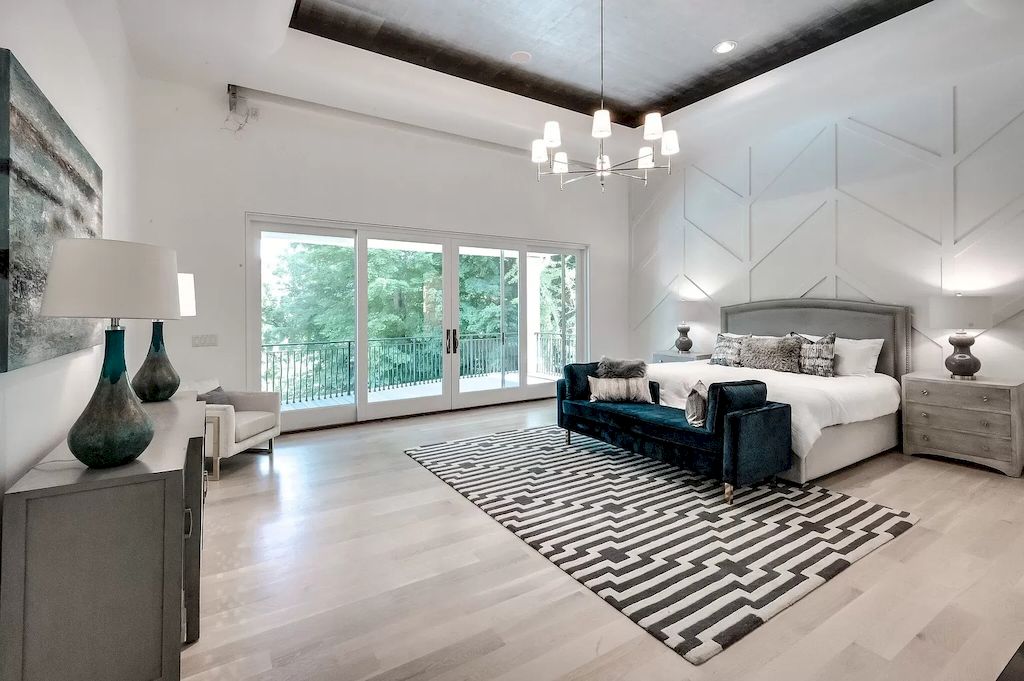 Or a warm felt rug with black and white tones and geometric patterns, bringing a modern and dynamic as well as a youthful look instantly into your bedroom. Truly One-of-a-kind Property in Tennessee on Market for $4,750,000
4. Make A Path To Your Cozy Bed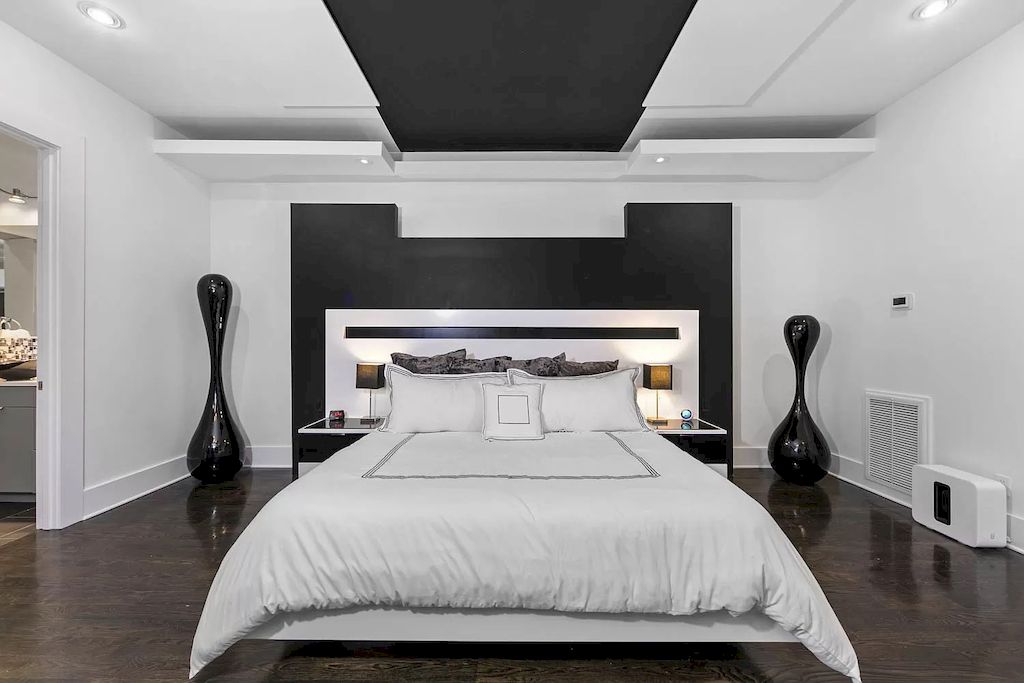 The bedroom ceiling is divided into black and white sections alternating with black in the middle as creating a smooth path leading to your cozy bed. The bed with an extended black and white headboard both creates a focal point and becomes a place to display some of your favorite items, or a modern night light set. This $5,250,000 Modern Entertainer's Dream Mansion Offers Sophisticated, Modern Living Space in Tennessee
5. Black Daybed For All-White Vintage Bedroom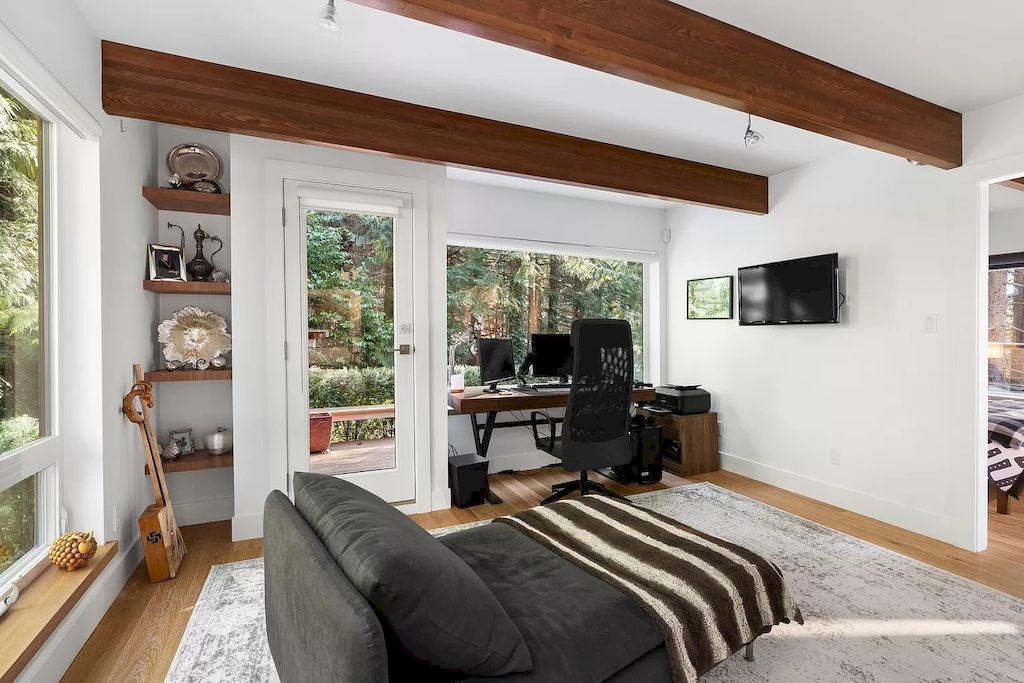 Installing a daybed for the bedroom makes your space much cozier. You'll have more space to read, chat with friends, or take a nice, refreshing nap to re-energize. A black upholstery daybed with a thin blanket like the one in the idea above will be a nice little highlight but bring a lot of functionality, and also matches with all-white vintage bedroom ideas. This C$3,050,000 Stunning Home in Lions Bay truly Embodies the Beauty of the WestCoast
6. Add Big-Size Furniture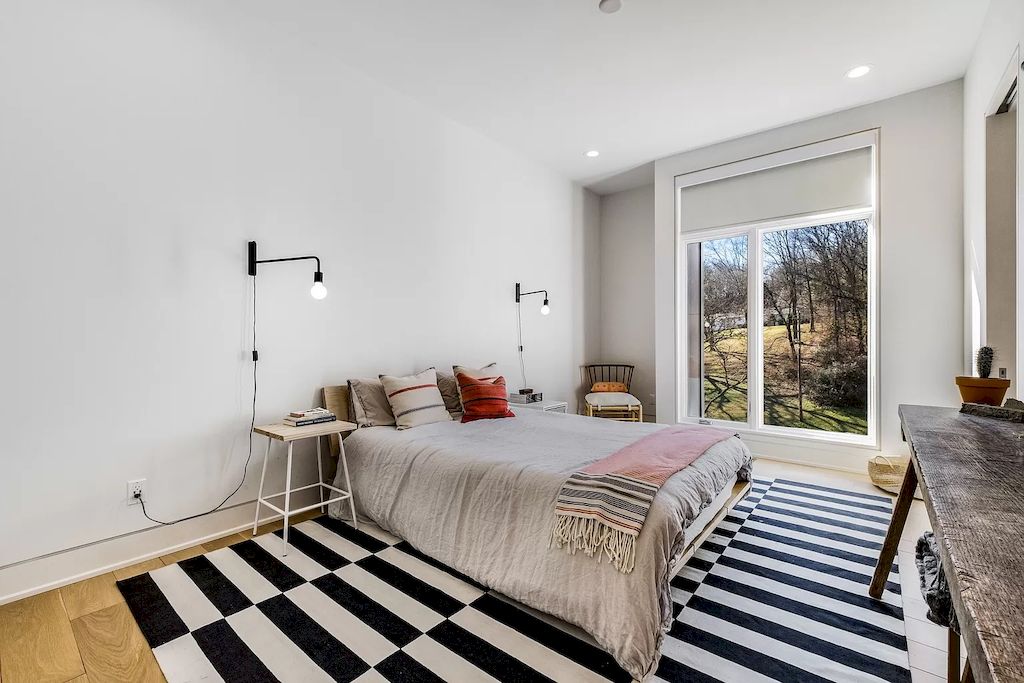 You love the minimalist style and do not want to decorate too much furniture for the bedroom, you want your bedroom to be simply as a place of rest and absolute relaxation. So to create accents, you should consider large-sized decorations or furniture. As in the Black And White Bedrooms above, a large black and white felt rug is used as the focal point and adds warmth to the room. You don't even have to wear slippers at all. Bathed in Natural Light and Elegant in Every Detail, this Masterpiece in Tennessee Listed at $4,999,990
7. Choose Wall Paint Wisely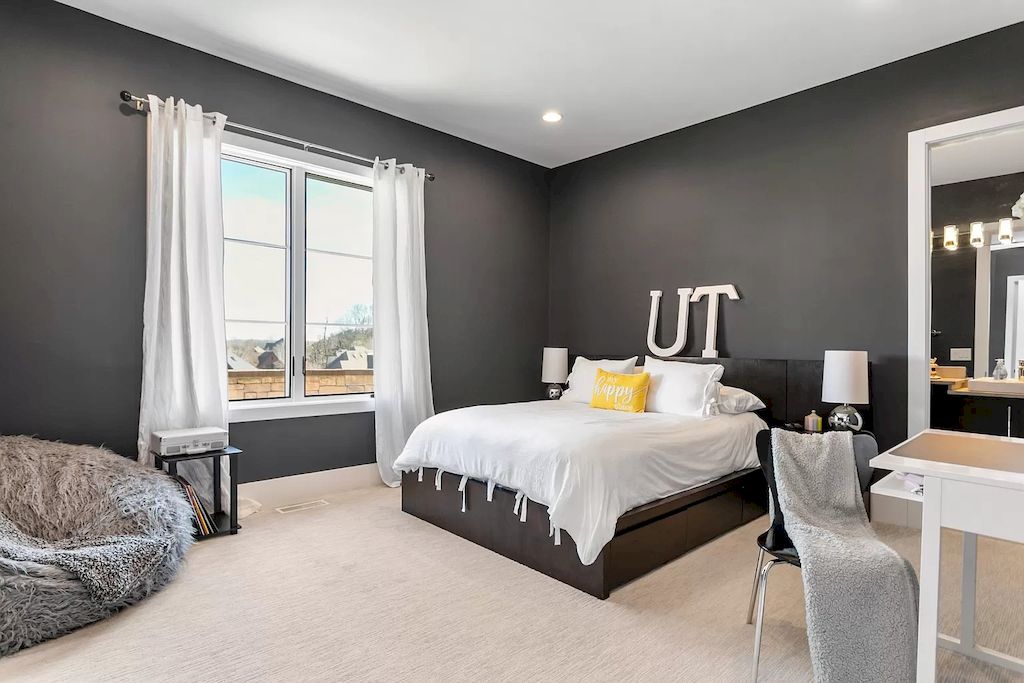 This Black And White Bedroom is minimalist, not too focused on cumbersome details but still brings an attractive black and white overall. This space oscillates between black and white patches, in turn. The large array of colors is created from ceilings and walls to full floor rugs to other furniture and decor items such as mirrors, vanity sets, faux fur lazy chairs, and table lamps. This $3,300,000 Stunning Home Offers Fantastic Features and Unique Details in Tennessee
8. Feel Free To Choose Bedding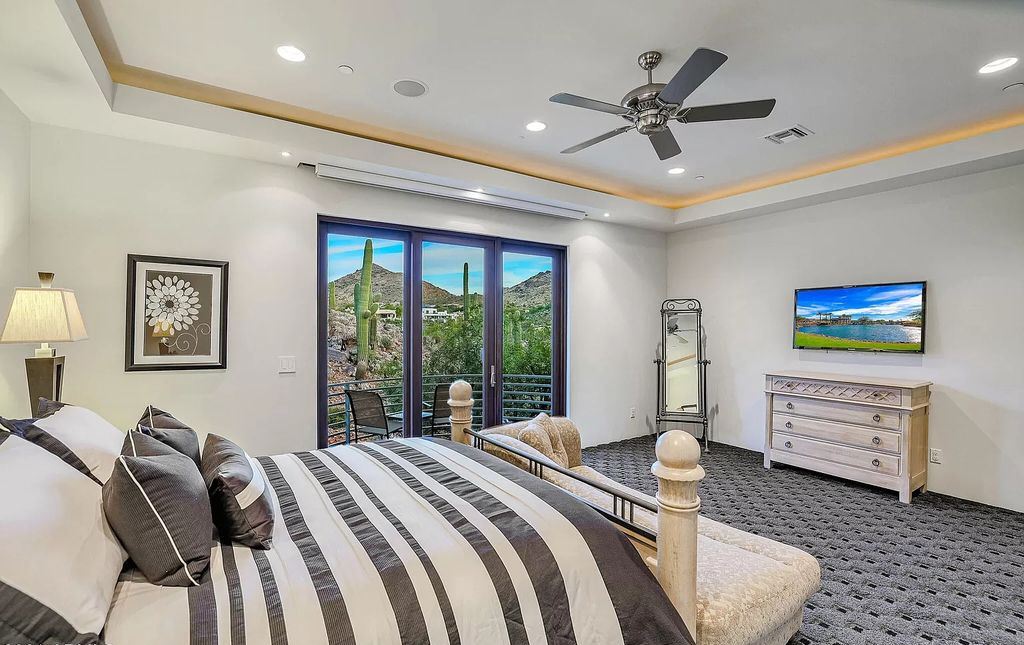 If you have chosen white and black tones as the main colors for your bedroom, you will be extremely comfortable and free in choosing bedding because of the multitude of shades of black and white with different textures. As in luxury ideas above, the separate black and white cardboard pillowcase combined with the quilt cover with alternating black and white patterns creates a very pleasing whole. This $6,290,000 Superb House in Arizona overwhelms you with sparkling city light views
9. Black And White For Large Area Bedroom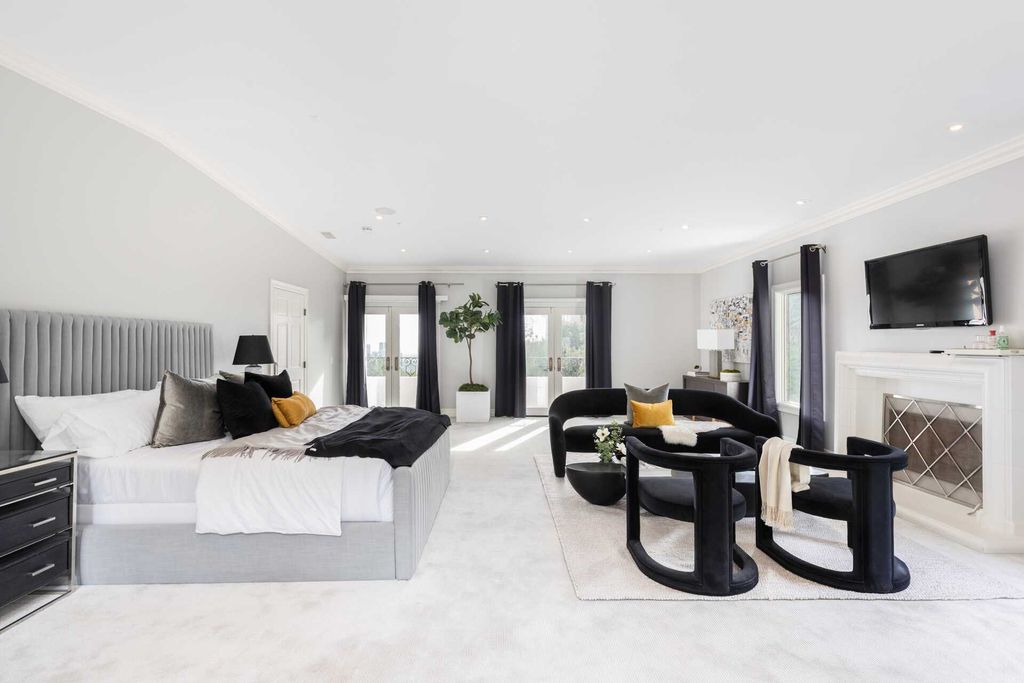 For bedrooms with a large area, white will often be chosen as the main color to avoid feeling too stuffy when using black as the main tone. Using a thin black chiffon fabric curtain for the windows, and a seating area covered with black velvet upholstery with a different design, you have an overall quality bedroom, ensuring both flexible living and the view. Who can refuse luxury ideas like this? This $7,950,000 Beverly Hills Home is An Entertainer's Paradise with Comfortable Living Spaces
10. Do Not Underestimate The Little Touches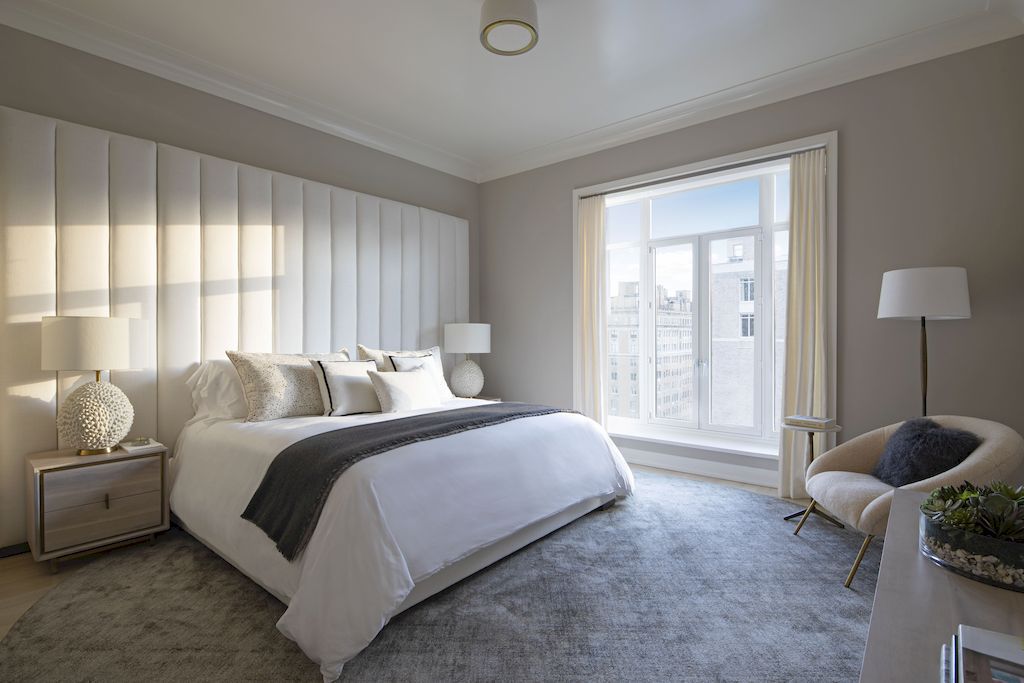 Small things can make a big impact on the overall look of a bedroom. It is the blanket with jet black tones, along with a pretty small throw pillow that adds personality to the overall room without overwhelming the space. The large window is installed with a simple set of white pleated curtains to ensure the best light quality for beautiful Black And White Bedrooms. 40 East End Boutique Condo, Stunning high end luxury project in New York
11. Black And White With Classic Bedroom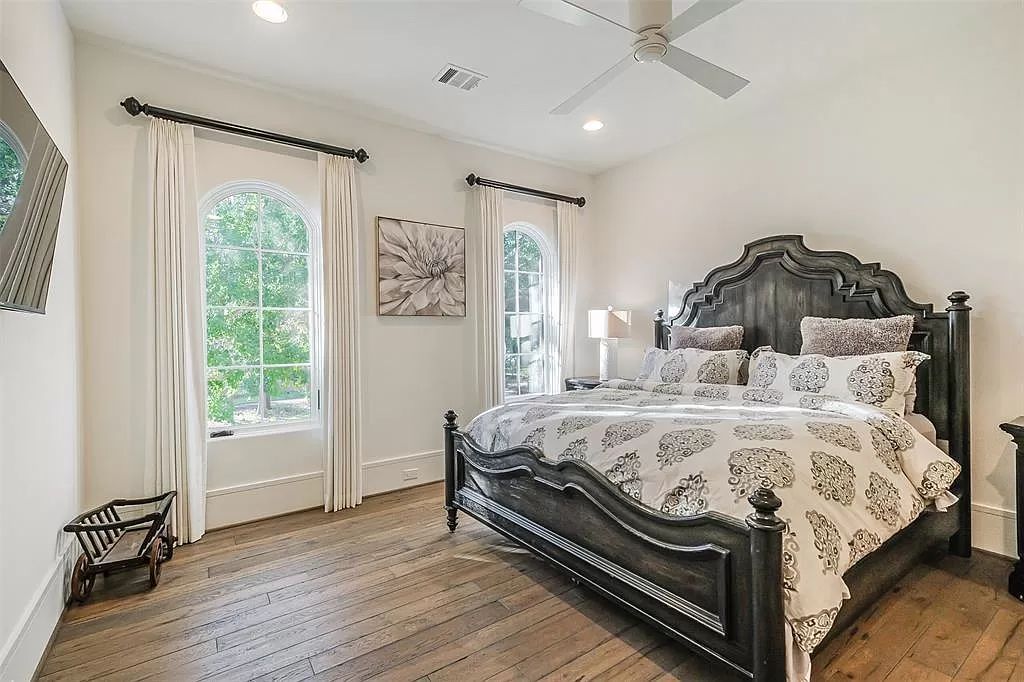 Shades of black and white are perfect for a classic bedroom, you won't have to worry about applying this color combo to be too modern than you ask for. The white tone is used as the main color to make the pop-up distressed wood bedframe with the mark of time. The white cardboard bedding set with classic Damask motifs is a classic highlight with gentle and loving touches. This $4,795,000 Elegant Home in Houston has Spacious Dining Room and Sheltered Patios
12. Add More Gradients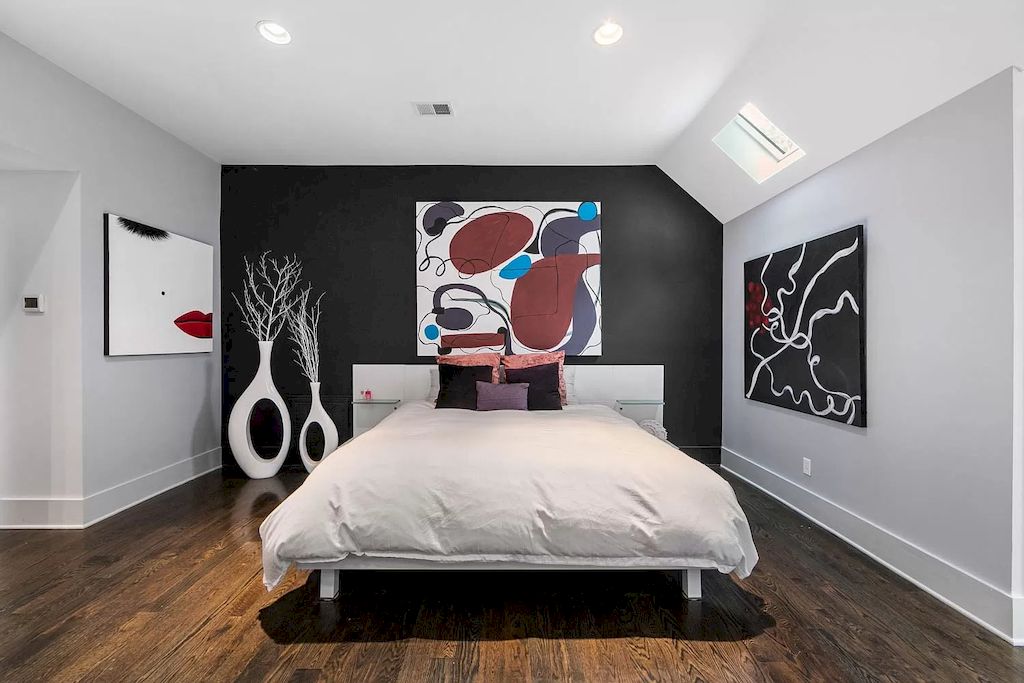 You can easily create an accent color through decorative accents like pillows or blankets for a black-and-white bedroom. Shades of blue, red, and purple through abstract paintings, a unique set of fake white vases, and an exciting twist of pink tones in the cushions have a calming effect on the space and darken the black. of the room becomes softer. This $5,250,000 Modern Entertainer's Dream Mansion Offers Sophisticated, Modern Living Space in Tennessee
In conclusion, decorating a black and white bedroom can be quite much harder than said. You will want to be sure you create the perfect balance between black and white without overdoing one another. Whether it's a combination of white and/or in any shade, minimalism or elegance, and highlights, all should contain contrast and depth. The striking walls combined with the headboard, the choice of bedding and rugs, or the subtlety in the choice of texture will all affect the balance of white and black in the bedroom. For more outstanding ideas in the design and decoration of your own bedroom, you may refer 14 Cute Bedroom Ideas: Infuse Your Space With Life.
More Ideas For Living Room:
---
Thousand of high quality images of Living room and more you can see at Livingroom Gallery.