Date of Publishing:
Are you so familiar with Neutral Hues, Earthy Hues, Gray and Yellow pallets, etc? You would like to find a tone for your living room or a color that can be combined with all of the hues mentioned above? As you are looking around for that color, we would like to recommend you try teal. When paired with the right colors, and right interiors and applied in the correct way, teal can be an outstanding pick for any living room. Scroll down, refer to 20 Teal Living Room Ideas and you'll be persuaded that it is the more than perfect choice for your living room for sure. Let's check it out.
1. Apply A Teal Sofa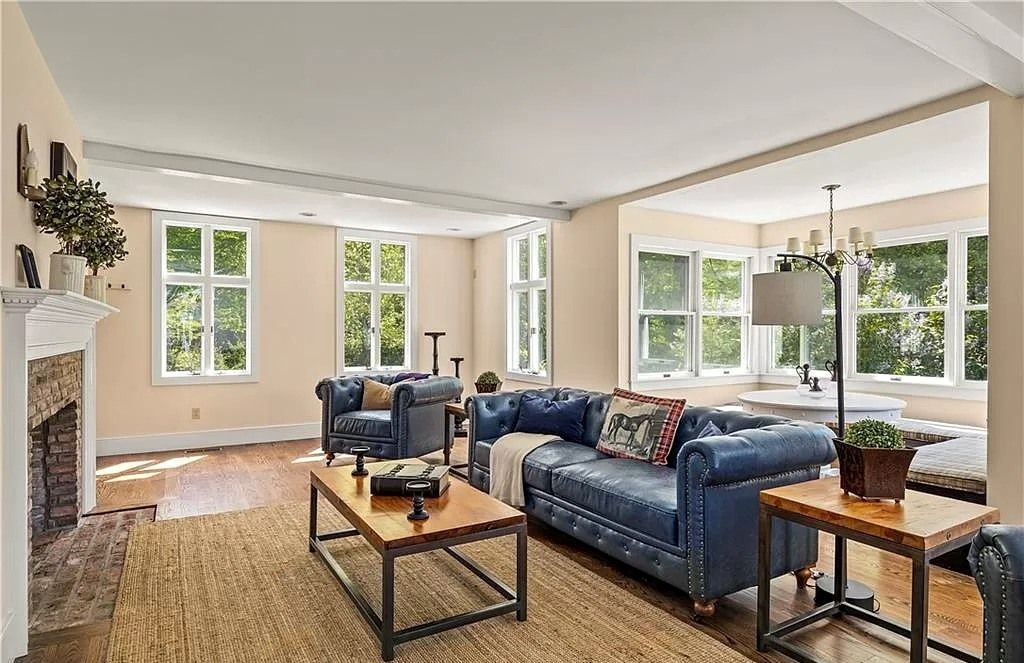 The easiest way to add teal to your living room is with a perfect sofa set with teal color. In addition, you can also combine with armchair, low backrest sofa, etc with many different teal tones depending on your personal preference. Ideas have no limits. Explore Endless Possibilities of Satisfying Your Lifestyle Demands in this $4,750,000 Elegant Country Estate in Connecticut
2. Unique Living Room With Purple Teal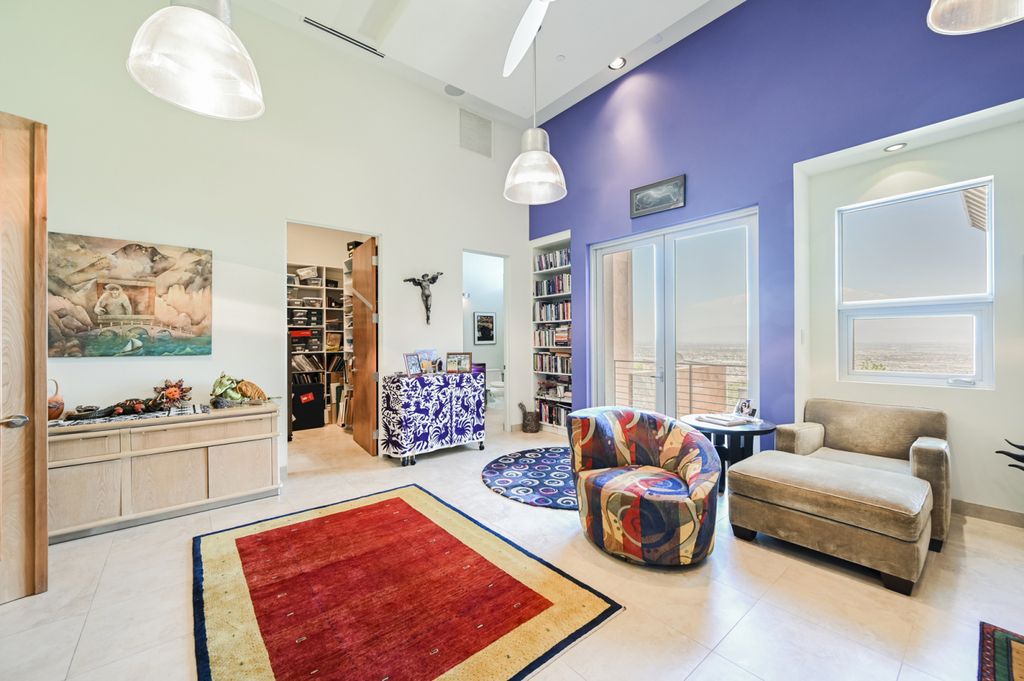 Purple teal is usually quite rarely used when creating Teal Living Room Ideas. But why not? Using only purple teal tone on one side of the living room really created an interesting highlight and brought a bit of a vintage touch. Unparalleled Single Story home in Henderson, Nevada hits the Market for $4,200,000
3. Paint Your Fireplace And Built In Cabinet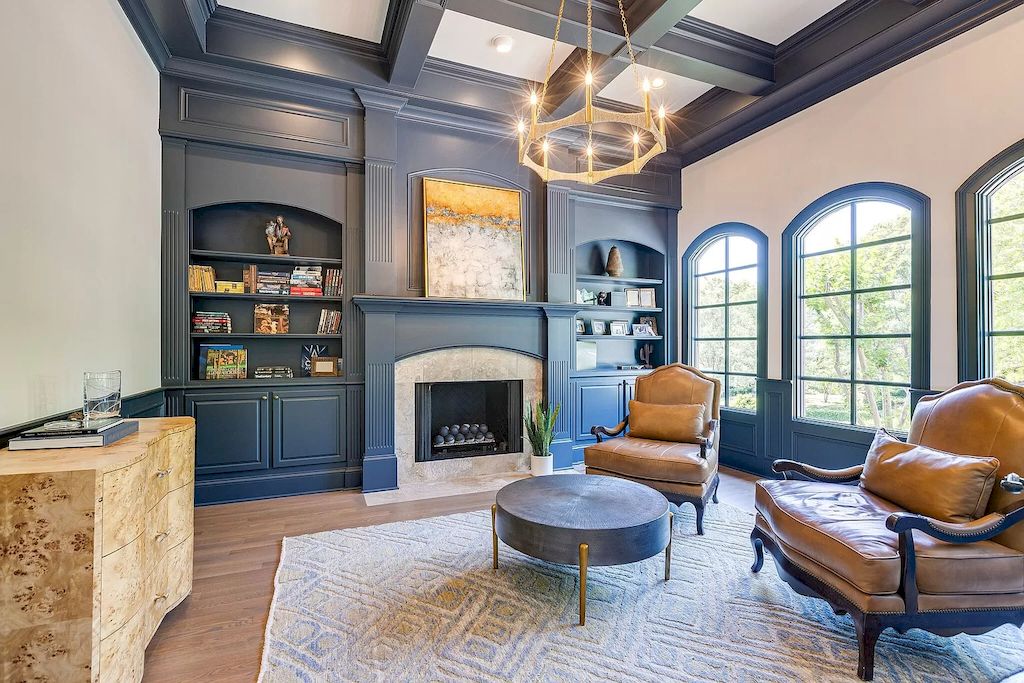 Painted in bold teal from the fireplace's exterior surrounds as a treatment to embrace the focal point, built in bookshelves as well as the ceiling and windows make your living room more cozy. More than that, you totally can supplement extra interest with co ordinating and pleasantly contrasting artwork (yellow and cream white hue painting work well in this example). This $3,499,900 Fabulous Home in Tennessee has Everything You Need to Live a Lavish Lifestyle
4. Let Neon Teal Light Up Your Room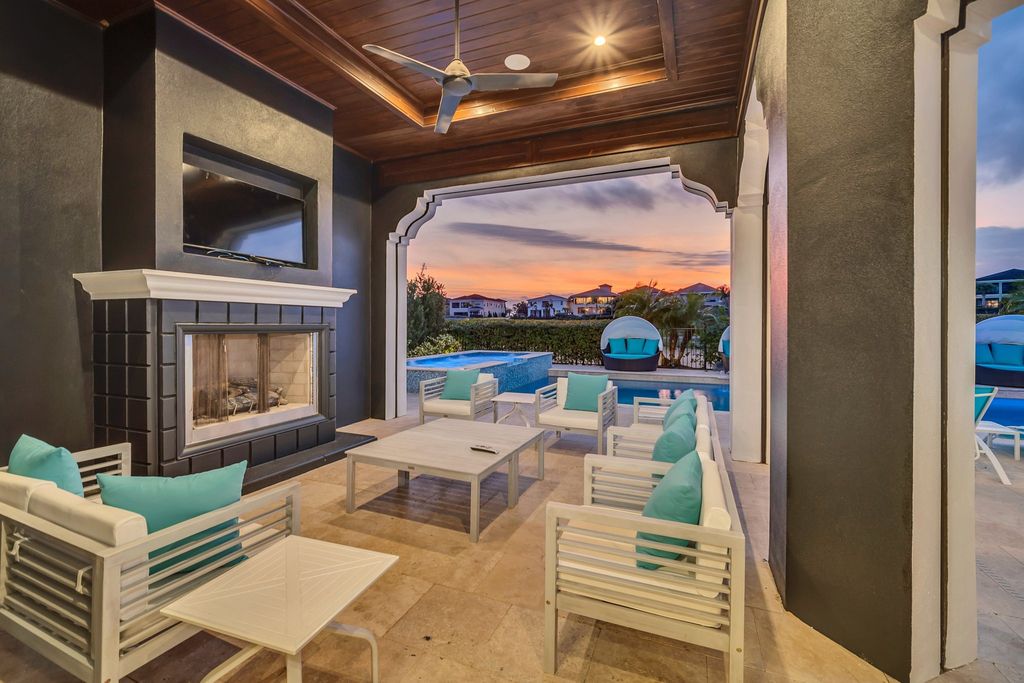 Neon tones always work great in elevating a somewhat traditional living room. And the neon blue teal used for the pillows has once again completed that task perfectly. This $6,900,000 Resort Style Home in Reunion has An Open Contemporary Floor Plan which Exudes Luxury
5. Teal In Various Material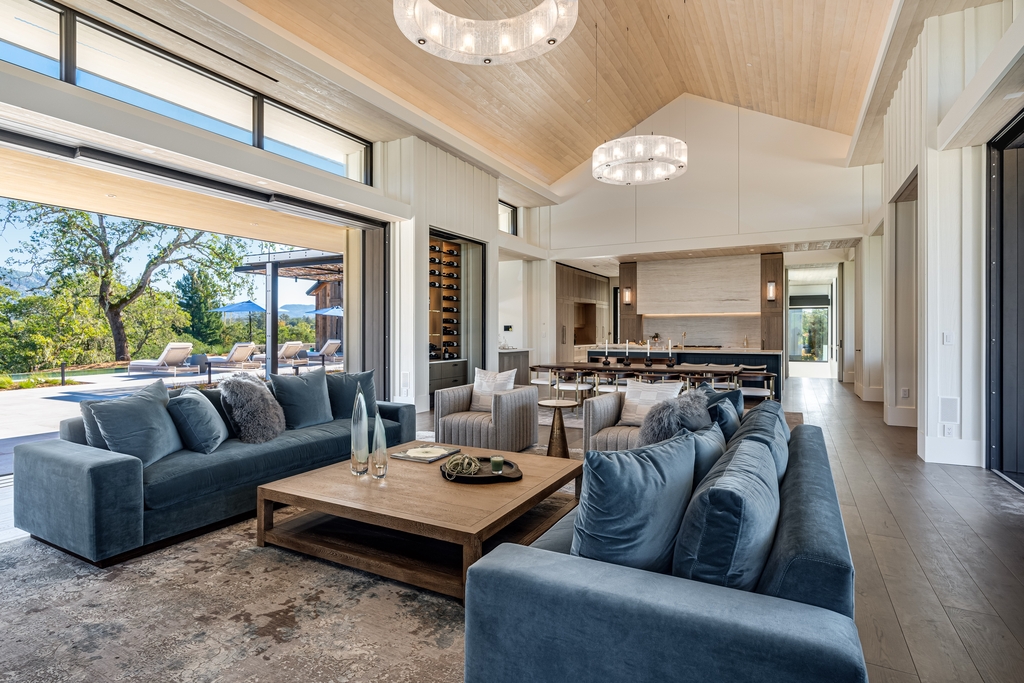 Teal work well on a variety of fabrics such as the living room sofa set in blue teal velvet or the rug in gray tones combining with patchy textures in this living room example. Thanks to that, the living room becomes much more modern and eye catching. Newly Built Modern Farmhouse in Napa with Exceptional Custom Finishes on Market for $10,000,000
6. Decorate With Teal Hues Paintings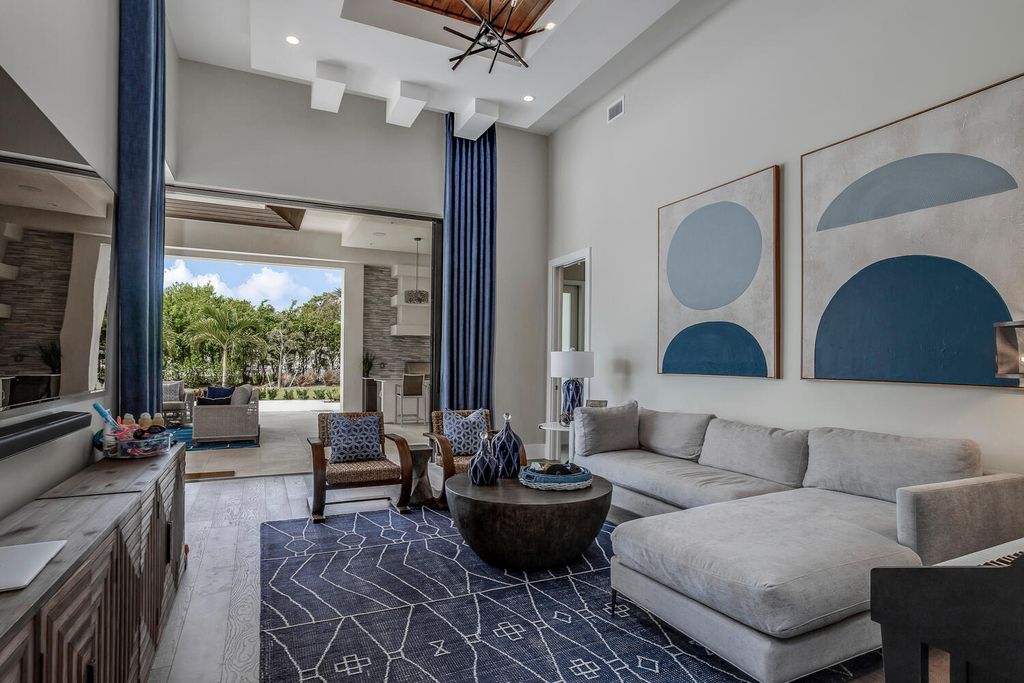 With the purpose of creating the grey and teal living room idea, one of the obvious options is to use teal as your accent color, such as artworks or curtains. This will give your living room a lively feel and will draw attention to focal area of the room. This $6,290,000 Transitional Modern Home in Naples has A Spacious Floor Plan Perfect for Entertaining
7. Combination Of Teal and Mustard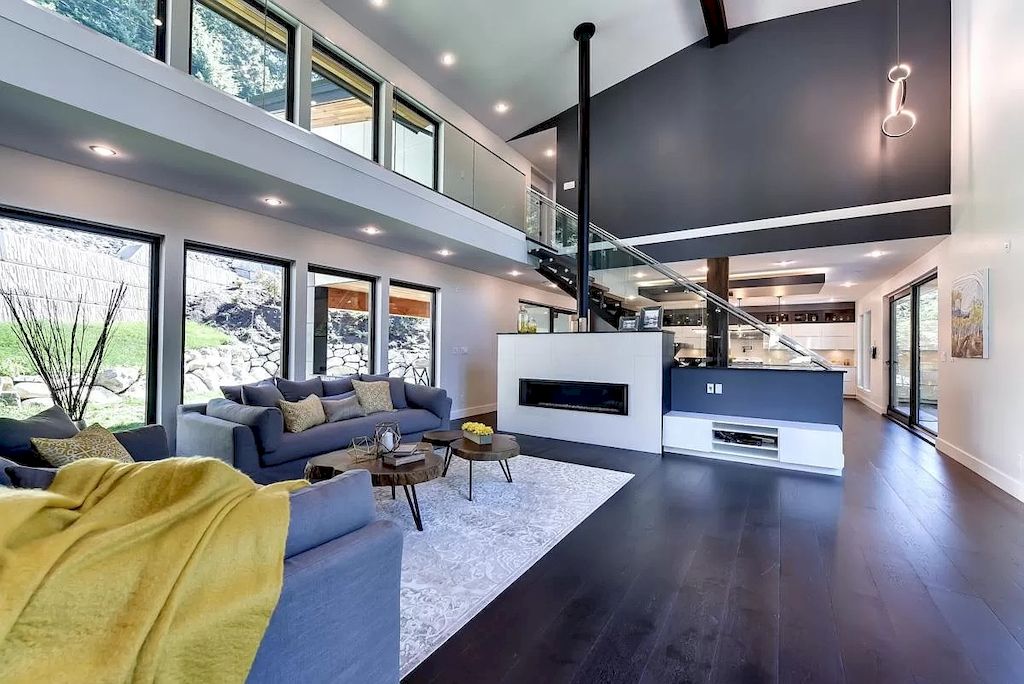 8. Blueish Teal And Reds Combo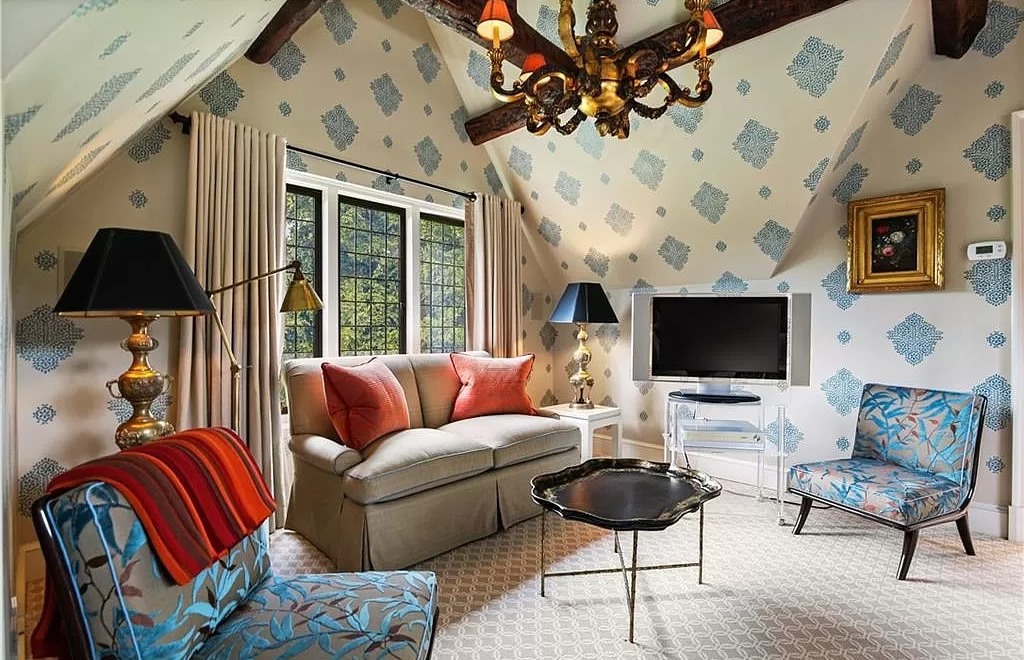 Red and teal, especially a blueish teal, are the good answer to your living room color combo wonder. Pick one color to use as the main shade, and use another as the accent. I love the use of blueish teal for the armchair and patterns of this living room ceiling, especially when paired alongside the red throw the blanket and pillow. Peaceful Mid-country Retreat in Connecticut Hits Market for $13,500,000
9. Try Teal Accent Armchairs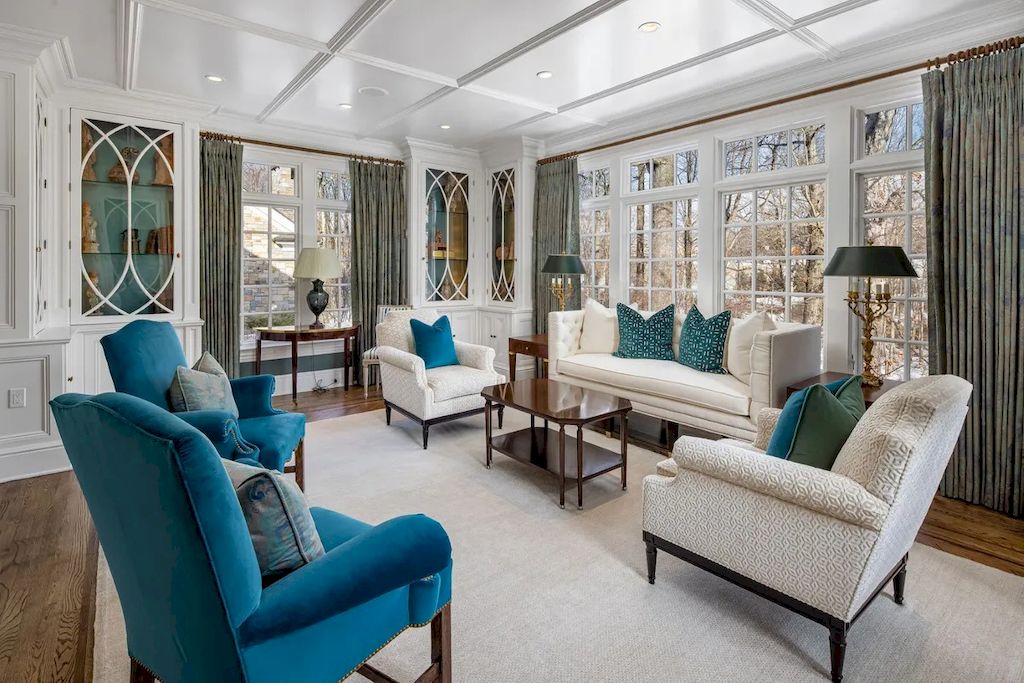 A pair of teal accent armchairs is the easiest and most effective way to bring some teal details into your living room. Feasting Your Eyes on this $5,900,000 Exceptional Home in New Jersey
10. Dark Grey Teal For Modern Living Room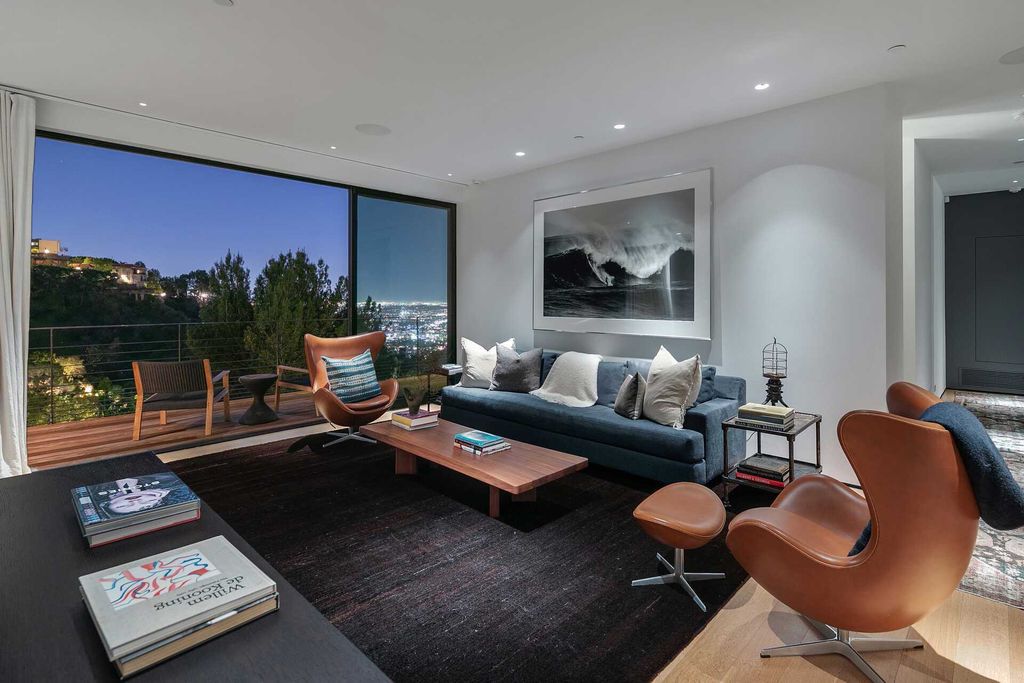 Dark Gray Tea of the sofa is very matching with this modern living room overall. This living room idea with dark gray teal is very suitable for those who love this minimalist style but still very attractive and hard to go out of fashion. A West Hollywood Home above the Sunset Strip with Far-reaching City Views Asking for $18,500,000
11. Use A Greenish Teal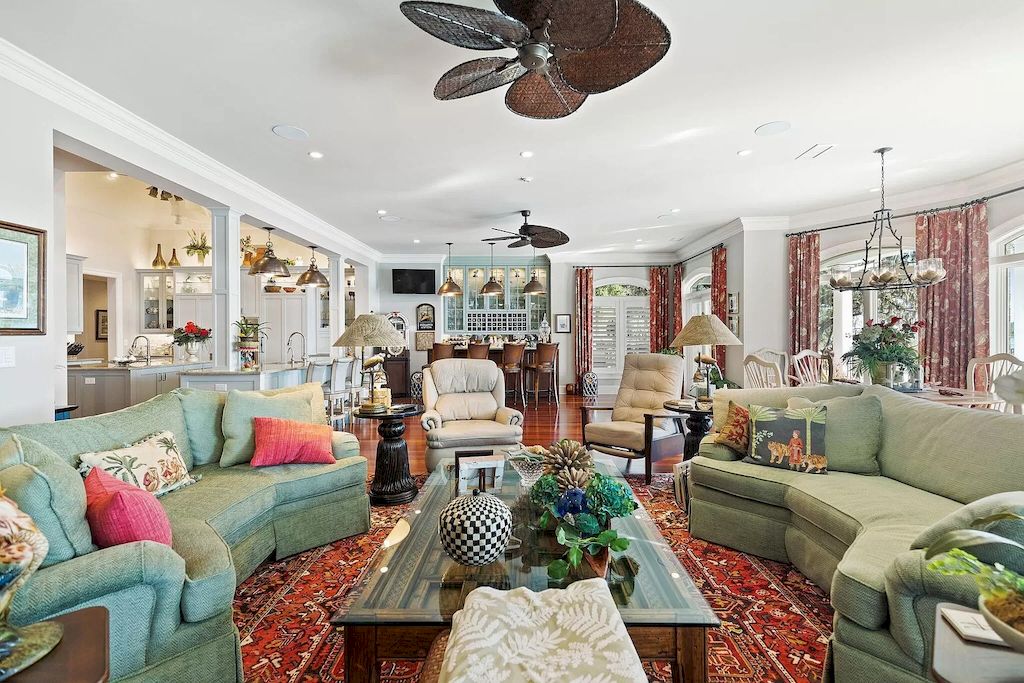 The greenish teal can be a great color for a living room with a more eclectic or vintage look. Additionally, a greenish teal is often lighter than a blueish teal, making it good pick for smaller spaces. Simultaneously, this is also a worthy choice for those who love nature and want to bring natural elements into the living room. High-end Custom Built Home with Breathtaking Water Views in South Carolina on Market for $8,500,000
12. Introduce Teal Through Textured Rug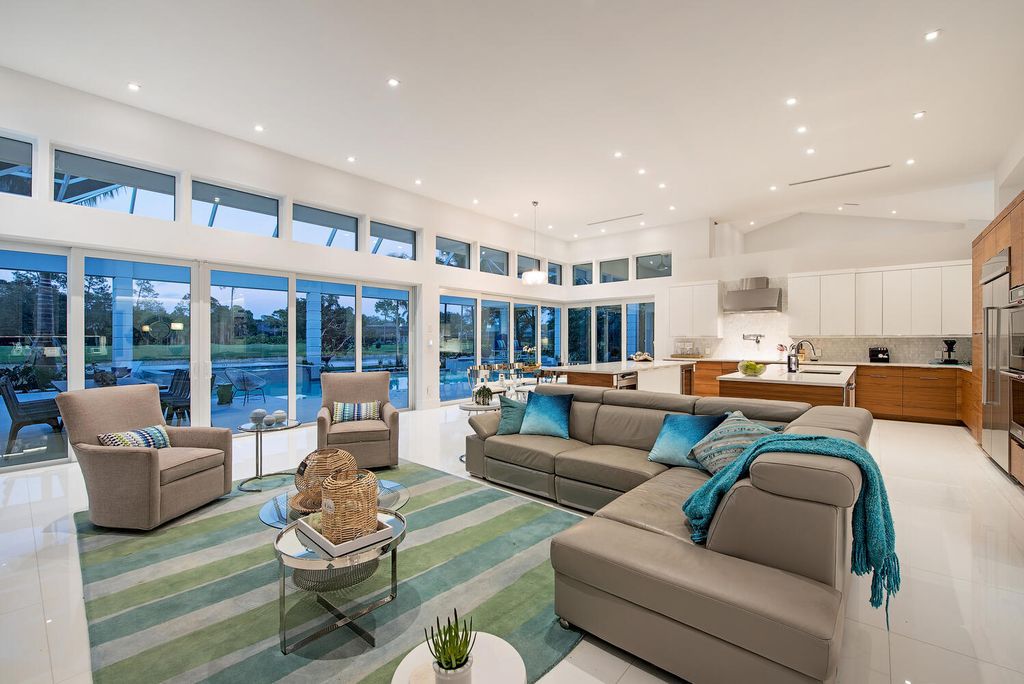 Funky textured rug, ombre pillow in teal hue in this Teal Living Rooms Ideas are a brilliant way to add teal color to an otherwise neutral room, as you may see. Additionally, you may pair with metallic accents for a glamorous and eye catching look. This $8,495,000 Naples Home has An Incredible Resort-style Pool on A Sprawling Lot
13. Try A Teal Coffee Table For Eclectic Look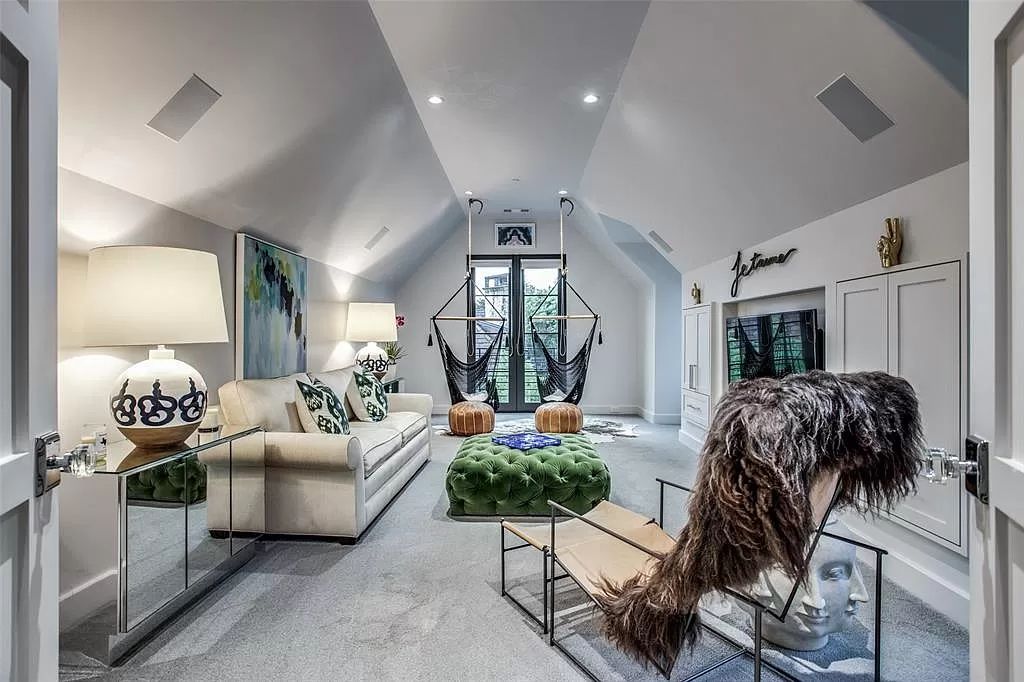 Do not hesitate to bring in accents of teal with smaller pieces of interior like coffee and side tables to your living room. This living room with indoor-outdoor strong connection become more interesting than ever. Sophisticated Custom Home in Dallas has Spectacular Outdoor Area listed for $5,750,000
14. Pair Teal With Metallic Decorations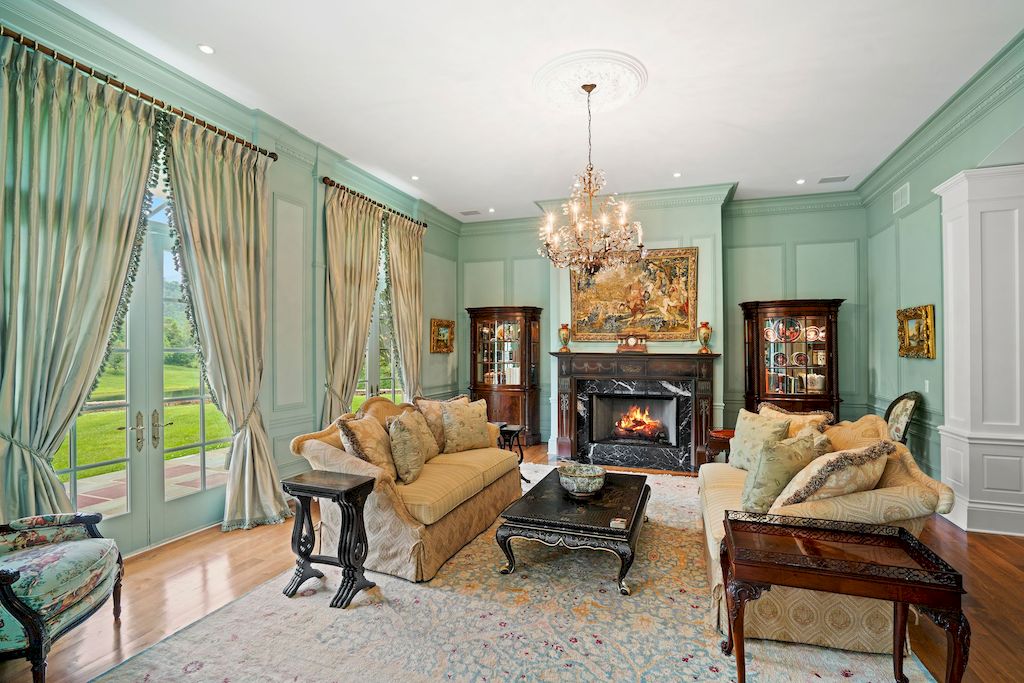 Another perfect teal combination can be seen in teal and metallic decorations. The warm golden hues of the brass (such as chandelier, a pair of vases) provide a good contrast to the cooler tones of teal (light greenish teal in this living room idea, as you may see). Ultimate Private Home Commands Magnificent Panoramic Views in Virginia Listed for $19,500,000
15. Do Not Forget Floral Pattern Teal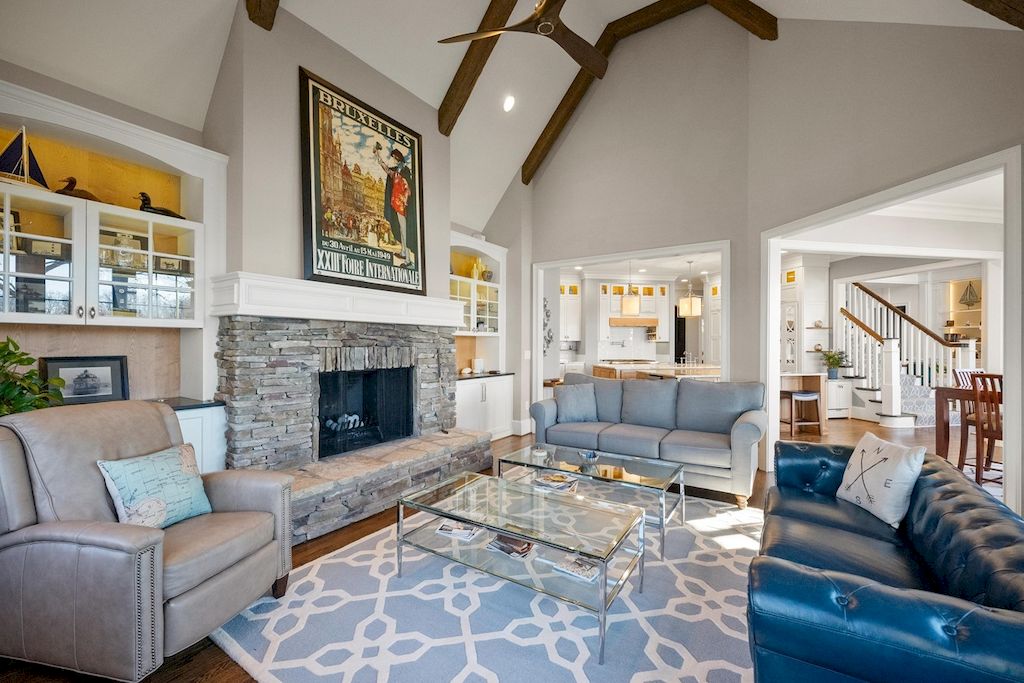 The teal palette isn't just about monochromatic colors. For a striking yet sophisticated look, you can use living room finishes with the combination of teal and patterns (like floral patterns rug in the living room idea above) for spicing up your place. Extraordinary Waterfront Home in North Carolina Listed for $3,190,000
16. Use Teal As A Focal Point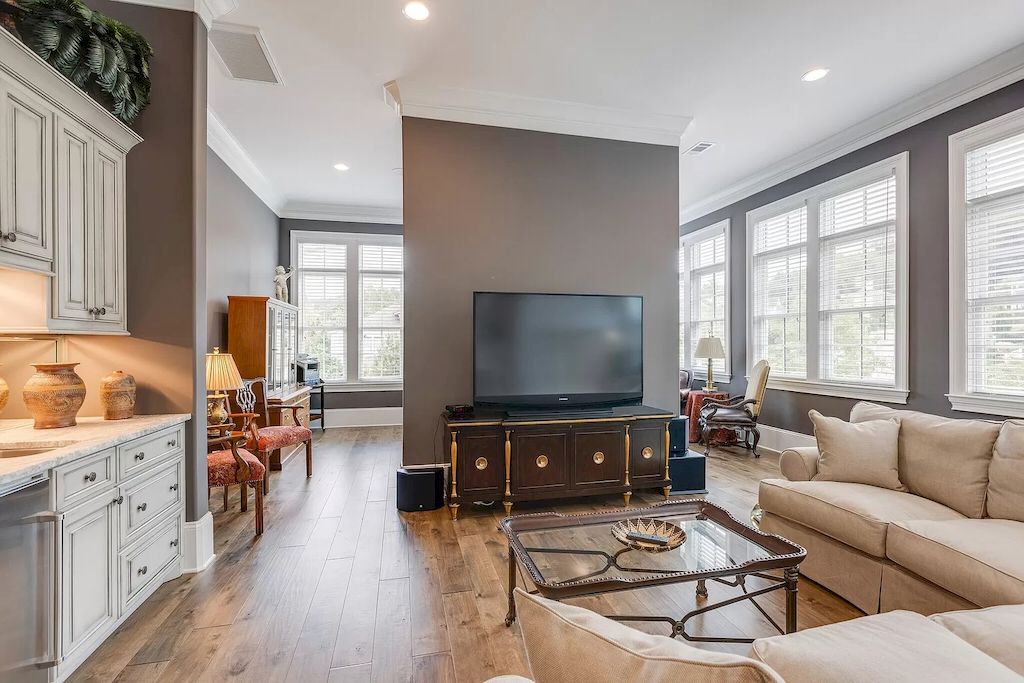 Teal can be used as the paint for the background of any finishes, furniture or electrical devices such as the television. Prestigious Westhaven Home with Amazing Views in Tennessee Listed for $3,500,000
17. Pop Up With Marble Textured Greenish Wall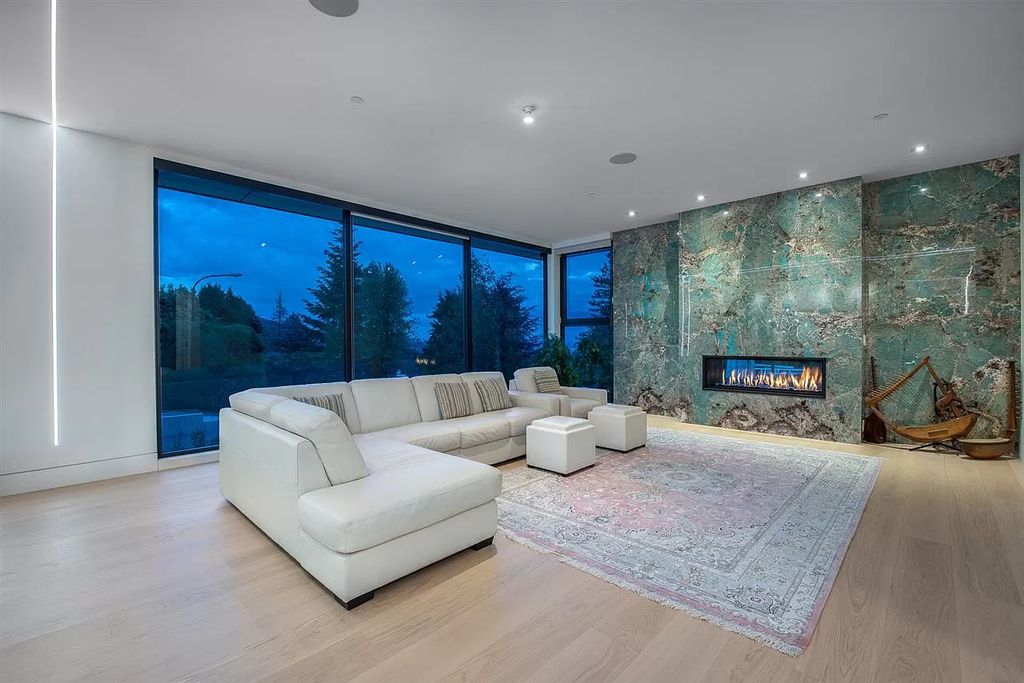 This marble textured greenish wall is the design inspiration we've been searching for Teal Living Room Ideas. This greenish teal wall matches the built in fireplace as well as the white walls and high ceiling. Gorgeous House in West Vancouver Overlooking Stunning Mountain & City Views for Sale at C$7,980,000
18. Use Teal Hue For Rustic Vibe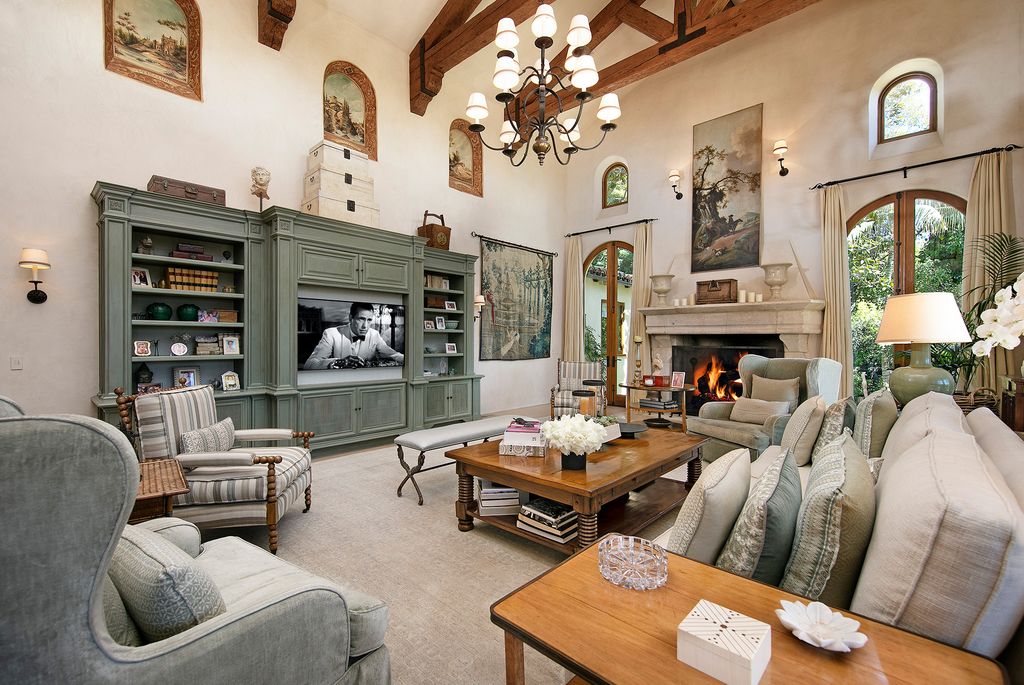 Gray teal and beige tones are used to bring the living room idea to a rustic and farmhouse style. Such an comfy place for all to gather! Beautiful Italian Architecture Inspired Mansion in Pacific Palisades for Sale at $46,500,000
19. Mix Teal And Grey Finishes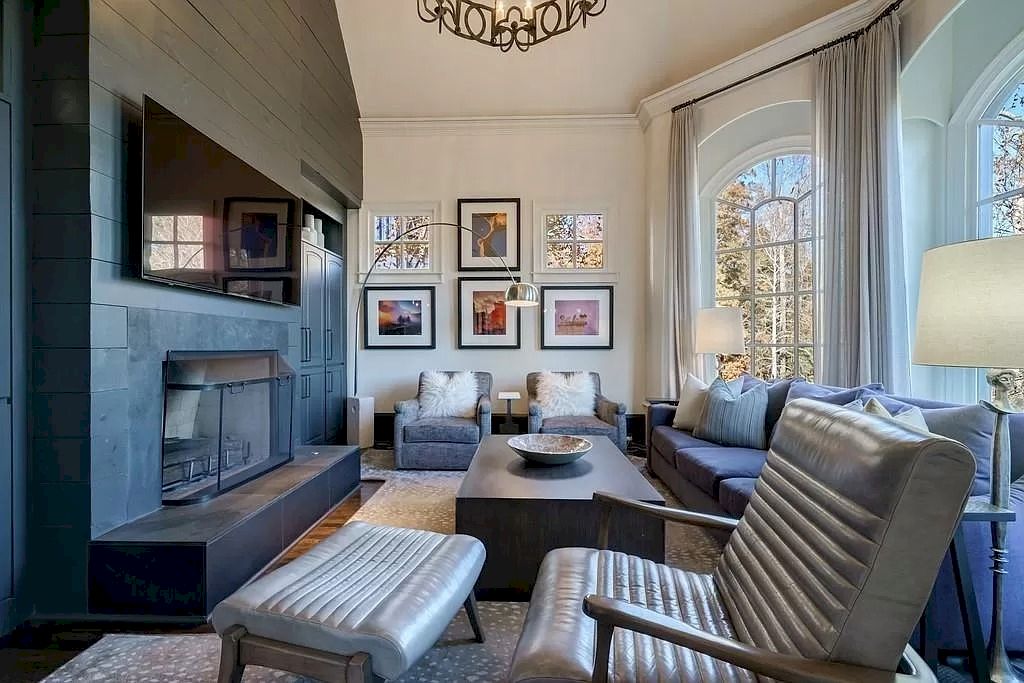 For spaces that use a lot of deep tones to give an angular feel, teal hue can be used to bring a softer look. The contrast between the black color of the stone cladding around the fireplace, the gray tone of the recliner and the light gray of the curtain is quite interesting and creates a balanced overall. Gorgeous European Inspired Home in Georgia Hits Market for $3,150,000
20. Embrace A Neutral Living Room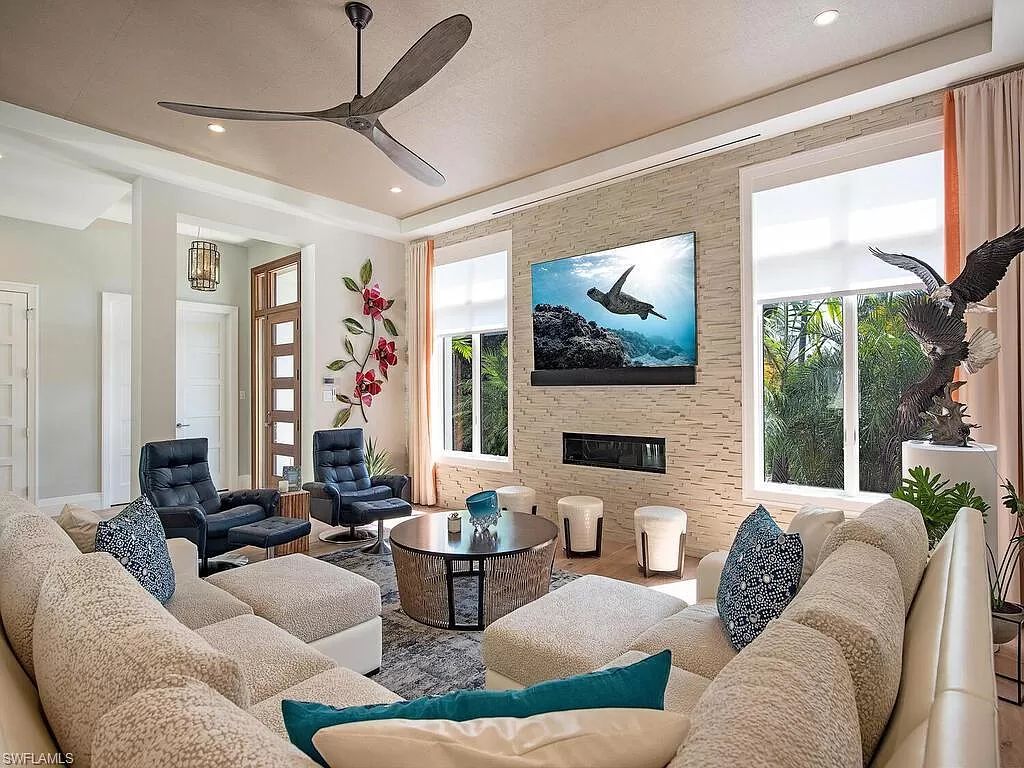 Beige tone can never be boring when it is enhanced by teal even in small details. From the decoration on the coffee table, to the pillow in green teal and teal texture, all have done their targets well to make the overall living room more attractive. This combination is quite suitable recommendation for living rooms with small space. This $12,500,000 Tropical Home in Naples offers High end Finishes Throughout and Expansive Open Floor Plan
In short, if you're looking to grab the attention of your guests as well as provide a dramatic pop of color, teal is the perfect choice. Tea tree color can be combined with many other tones, creating a creative and attractive living room idea. Of course, you won't know until you try it, and I promise you won't be disappointed. Hopefully our suggestions mentioned in this article have given you many good ideas for your living room in particular and for your dream home in general. Looking for more inspiration for living room ideas? Check out our Making the Most of Tiny Spaces: 13 Small Living Room Apartment
More Ideas For Living Room:
---
Thousand of high quality images of Living room and more you can see at Livingroom Gallery.