The vintage house design style is defined as a harmonious combination of classic and modern, reflecting people's life in the 1950s – 1980s. The vintage style is very popular and has been widely applied in housing design in general and living room design in particular. Vintage-style living room will give you a feeling of lightness, a living space with nostalgia, the most idyllic but still attractive enough for all guests to visit your home. With the characteristics of lightness and romance, the Vintage design style promises to bring you the best living space. Keep reading to enjoy 24 Vintage Living Room Ideas that inspire you to design your own lovely living room.
1. Vintage Color Scheme Living Room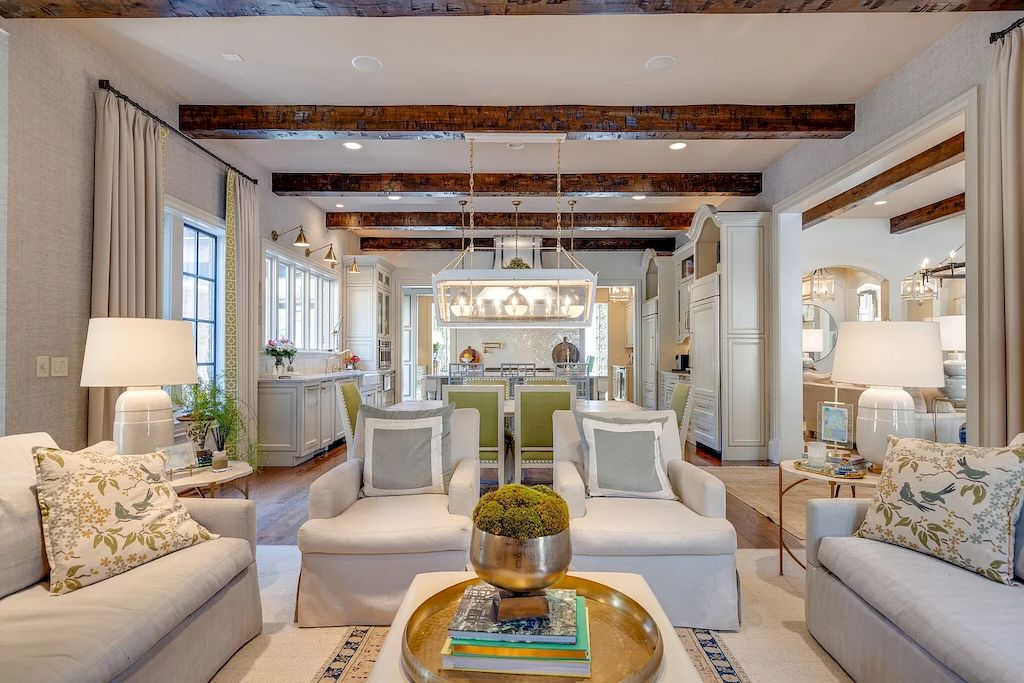 Vintage colors are gentle colors, bearing the look of tradition and tenderness. There are 3 most typical vintage tones: brown, moss and beige. In this vintage living room idea, beige color is chosen to be used for the whole room from the furniture, to the carpet and the wall paint to bring a sense of elegance, lightness and a hint of nostalgia. Providing an Uncompromising Beach Lifestyle Unique to Kiawah Island, This House Lists for $20,000,000
2. Classic Vintage Vibe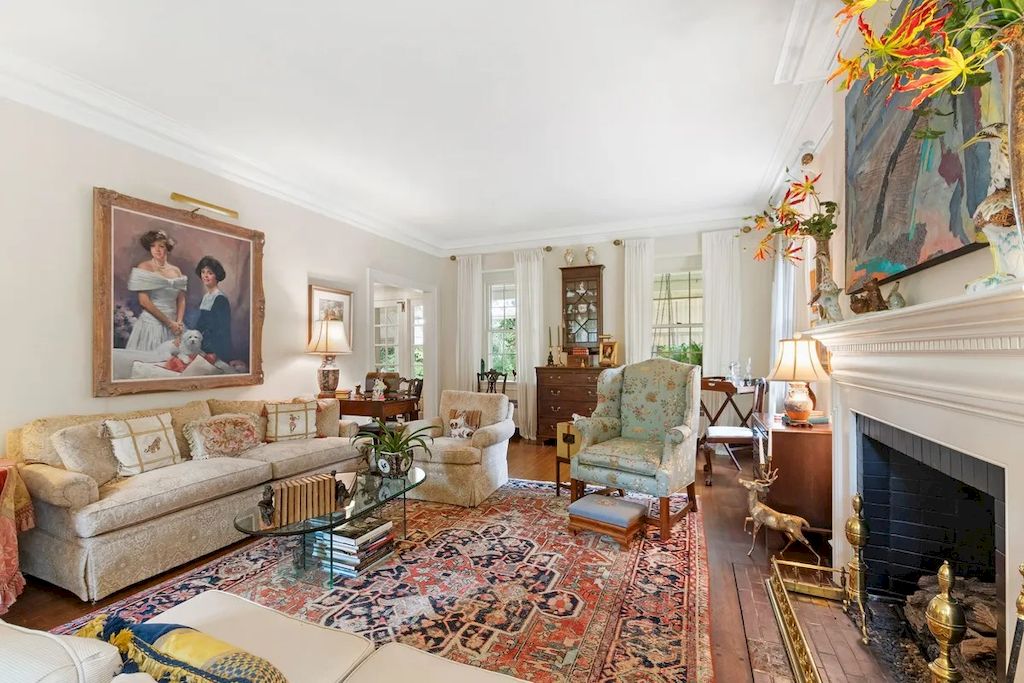 The living room is designed in a traditional Vintage style with the main white color, using items such as tables, chairs, cabinets, antique clocks, and metal decorations… all have elegant and soft lines. The indispensable feature is the use of white lace curtains, cotton pillows and carpets with stylized motifs. Moreover, two large paintings decorated for the living room also clearly show the Vintage style. Traditional Federal Style Home in North Carolina Listed for $3,250,000
3. Open The Vintage Space With High Ceiling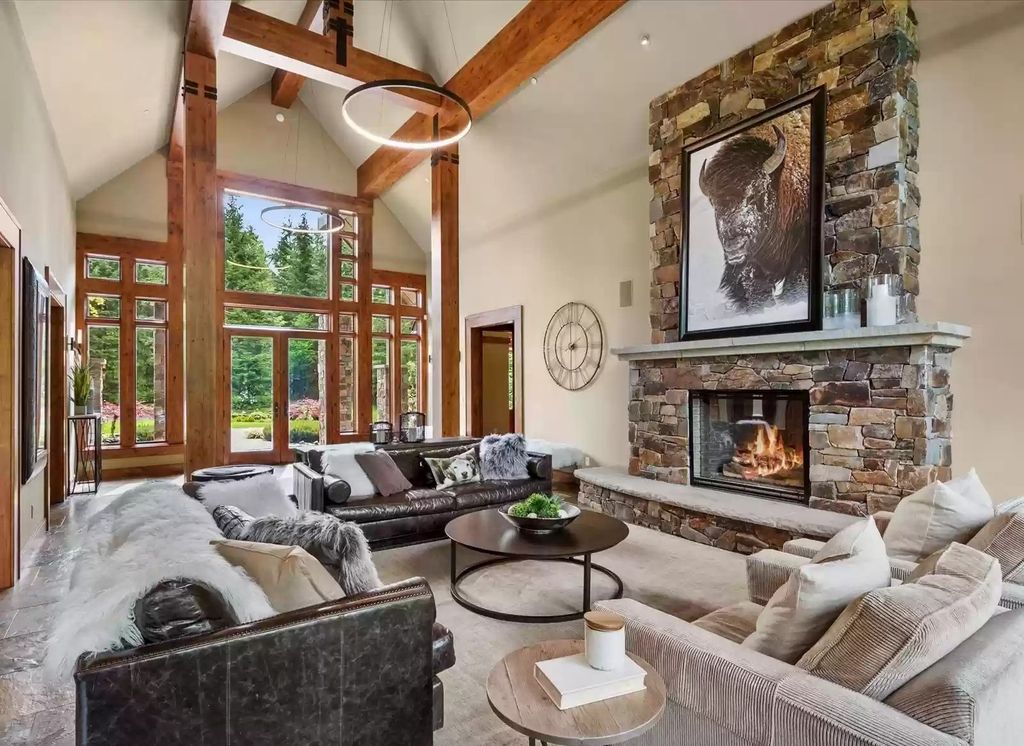 White coffered ceiling and walls effortlessly open this vintage living room idea. A huge picture, classic natural stone fireplace, fur blanket, and pillow add more vintage flavor to this stunning space. The dark-toned of sofa and distinctive table reinsure the living room with unmatched warmth. This $4,250,000 Irreplaceable Jewel Offers Uncompromising Quality and Ultimate Serenity in Washington
4. Mixture Of Colorful Color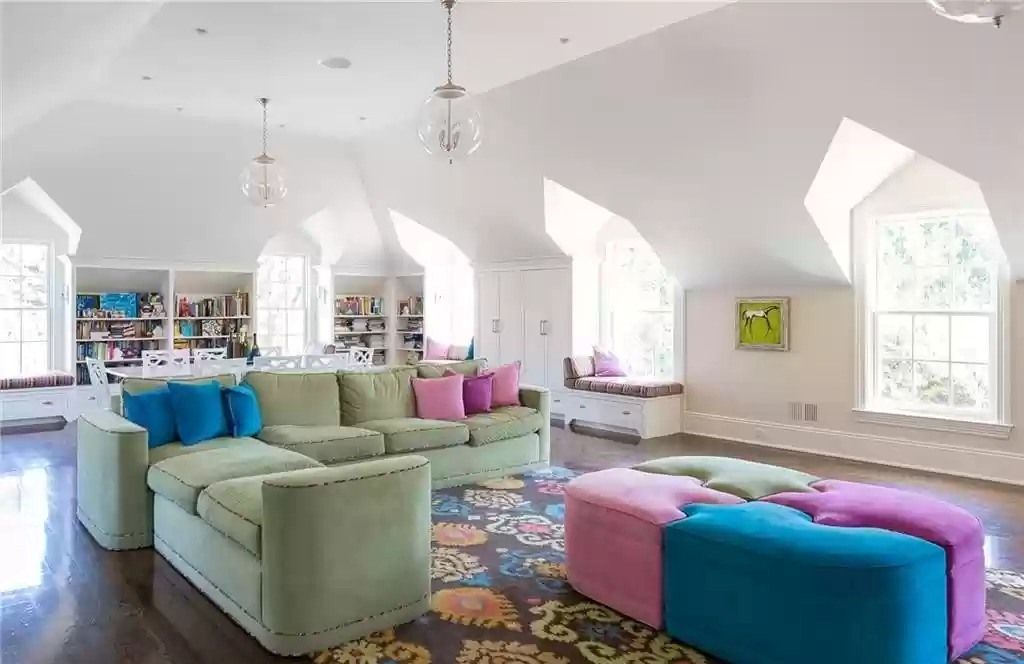 Do not hesitate to bring the Hawaiian vibe to your vintage living room idea by combining vibrant tones. You have to admit that you are not able to take your eye off this stunning set of sofas and creative table coffee which is created by four colorful puzzles. Such a remarkable idea! Designed with Enjoyment in Mind, This Impressive Residence in Connecticut Asks $12,250,000
5. Bring Vintage Elements To Small Space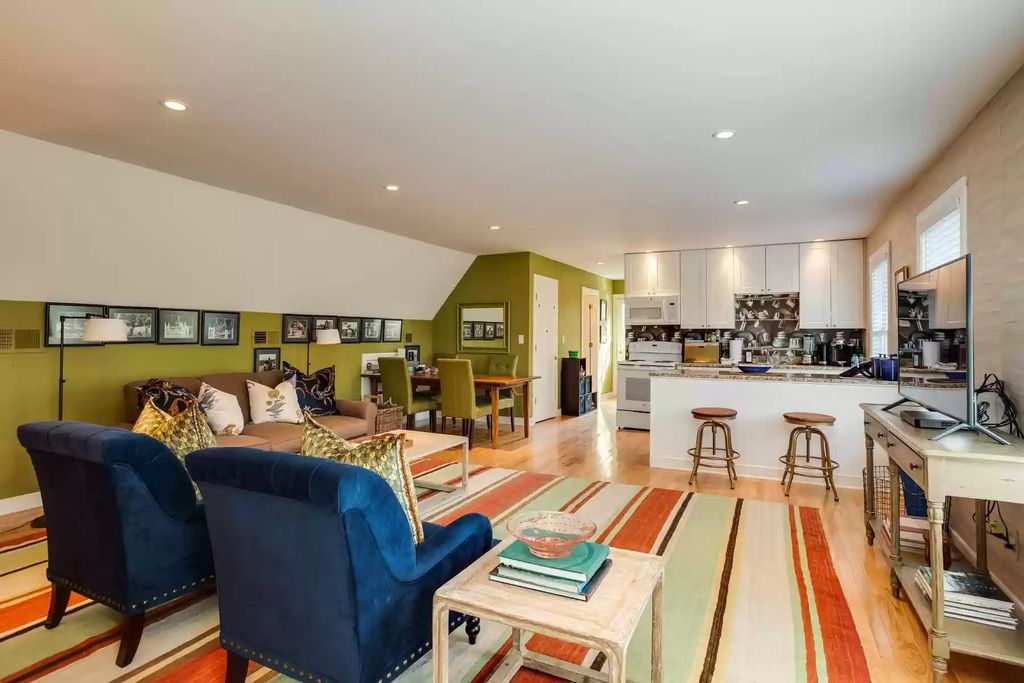 The vintage style is perfect for smaller spaces. This living room incorporates a spacious sectional. This space can comfortably accommodate a large family or friends if you enjoy entertaining and relaxing. A pair of single sofa in velvet, a colorful rug, and teal paint for the wall brings a vintage style to the room. Such a wonderful spot for family gatherings. 40 Acres Superb Country Property in Virginia with all of Life's Desired Amenities Lists for $5,950,000
6. Geometric Shapes And Patterns For Eye-Catching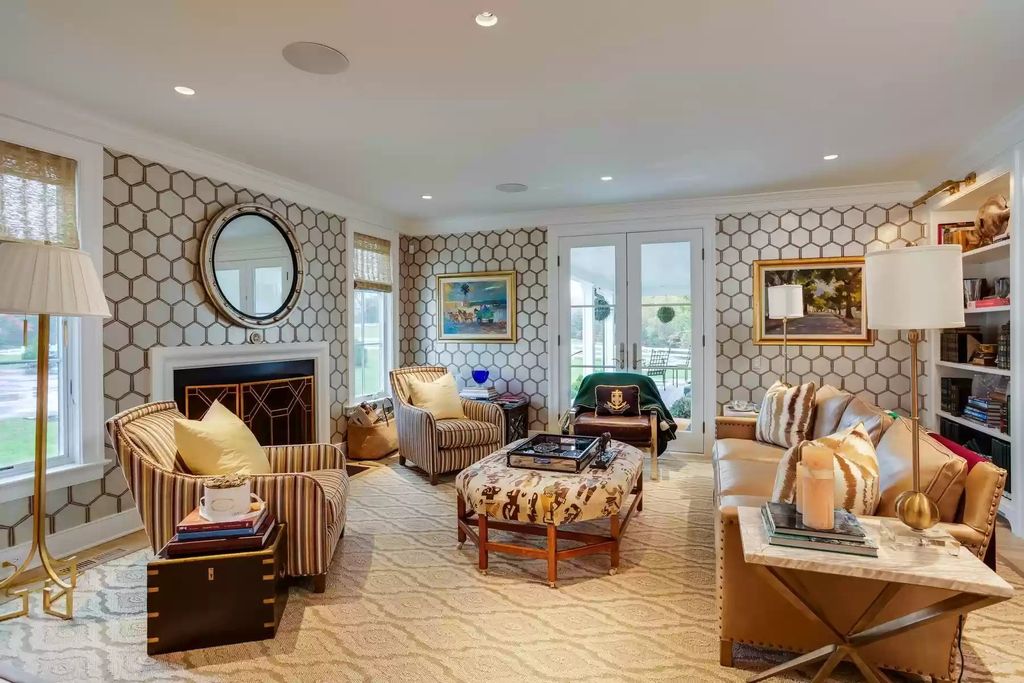 Geometric shapes and patterns are so popular in particular and in vintage living room design in general! The honeycomblike pattern is decorated on 04 sides of the room raising the overall to a new level. Think of smaller but noticeable accent items too, such as cushions, artwork, vases, or table lamps bringing the lighting party. 40 Acres Superb Country Property in Virginia with all of Life's Desired Amenities Lists for $5,950,000
7. Farmhouse Design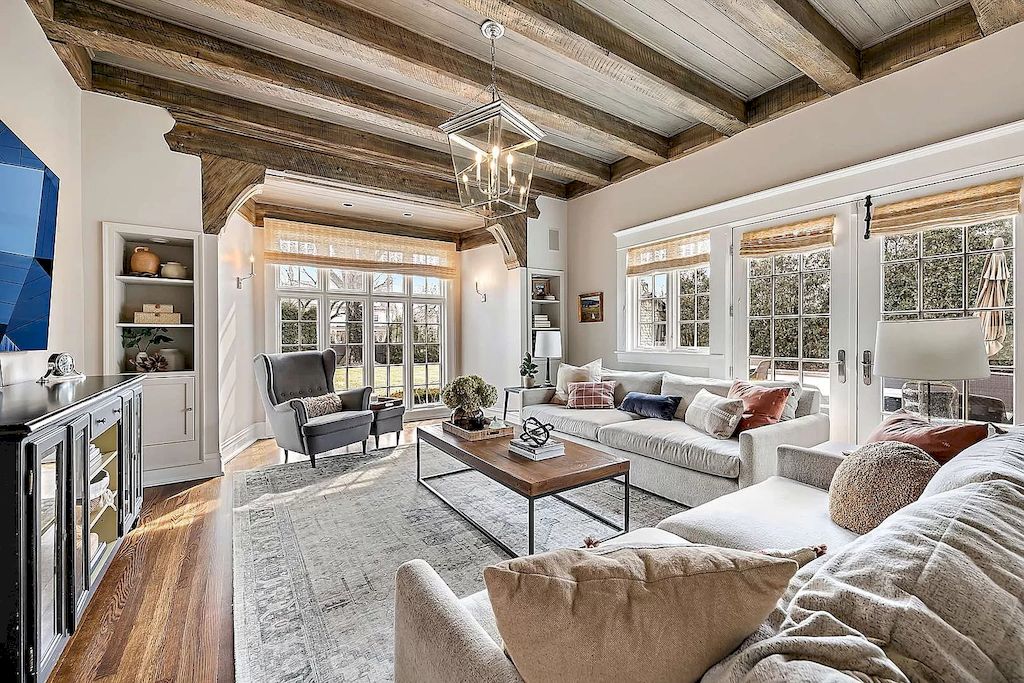 The familiar Vintage Living Room Idea formula with cream and light gray tones creates a warm and airy feel. High ceilings and floor-to-ceiling make the space feel spacious and bright by catching the sunlight from outside. A credenza and built-in cabinet will work for any living room as it offers plenty of storage space and be perfect for exhibiting crockery fines. As an Expression of Classical Style, this Renovated Residential Beauty in Illinois Hits Market for $2,995,000
8. Use Cherished Chairs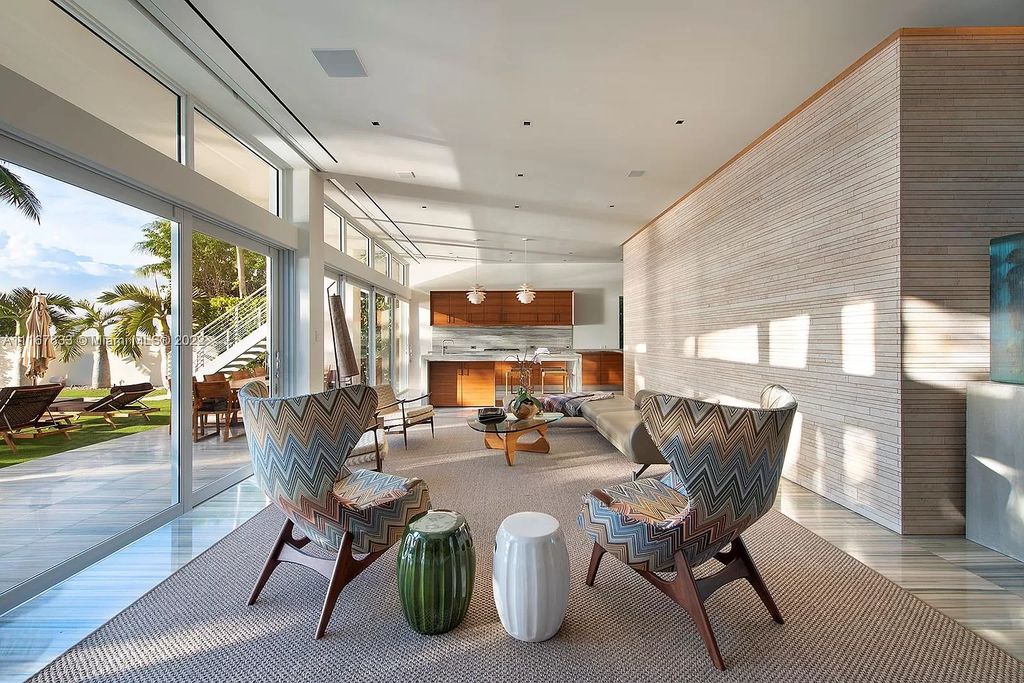 Vintage chairs can describe their own story with their eye-catching shapes and attractive patterns. Gather a few kinds of chairs, coughs, and ottomans together in your living room or you totally may try "mix and match" styles for even more intrigued look. Stunning Miami Beach Tropical Modern Home with Wide Open West Bay Views for Rent at $65,000 a Month
9. Funny Combination Of Emerald Green And Teal Blue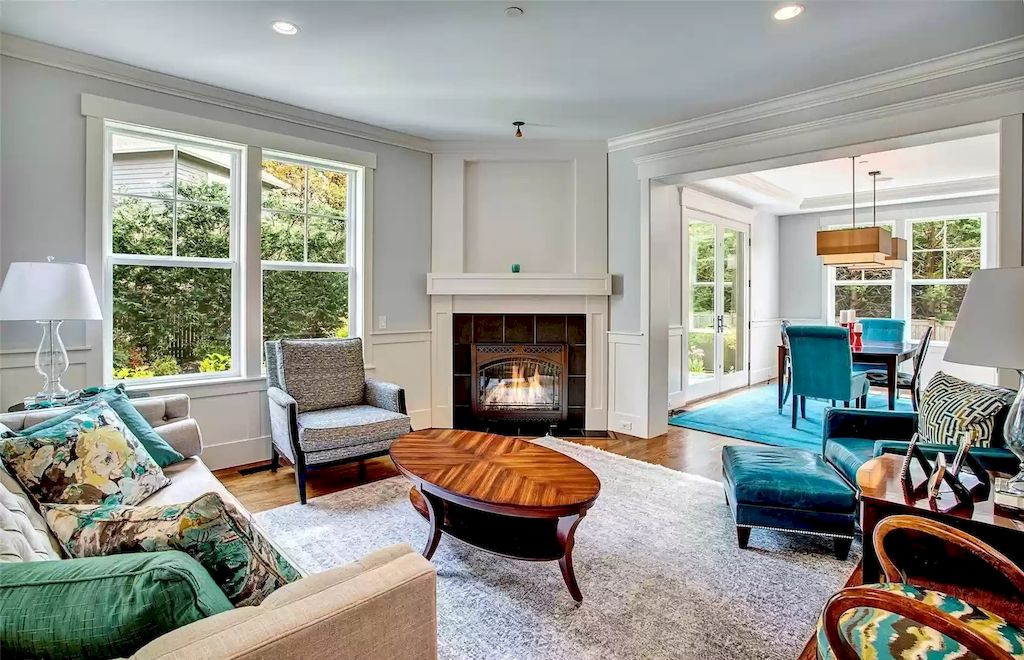 Celebrate the color party that was the typical characteristics of 1970s vintage design with emerald green and floral pattern pillows. Simultaneously, you have to mention the teal blue which is used for the daybed and kitchen rug over there. While we see a lot of neutral spaces these days and you feel quite bored about that, let's embrace your space with colors as much as you wish. Timeless Estate with Fabulous Floor Plan and Quality Finishes Throughout in Washington Listed at $4,999,900
10. Do Not Forget Oval-Shaped Ottoman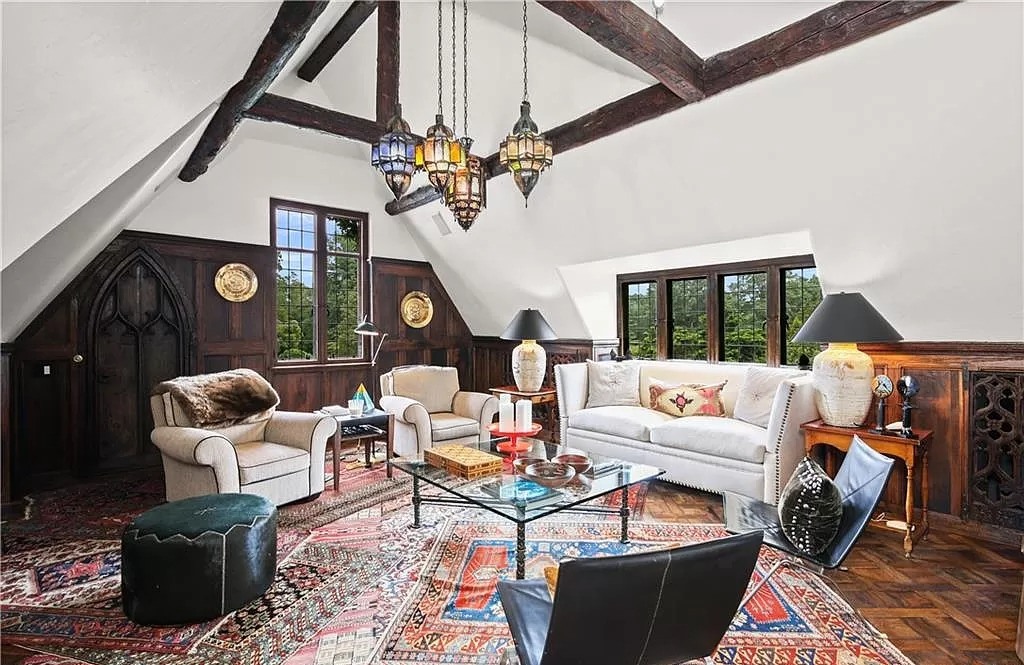 The variety of seats is the focal point of this vintage living room idea. Especially, the ottoman always, as usual, clearly express its role in vintage style decoration and is advisable for a living room with quite small space or a space with multi-function. Peaceful Mid-country Retreat in Connecticut Hits Market for $13,500,000
11. Vintage Living Room Ideas With Lots Of Pillows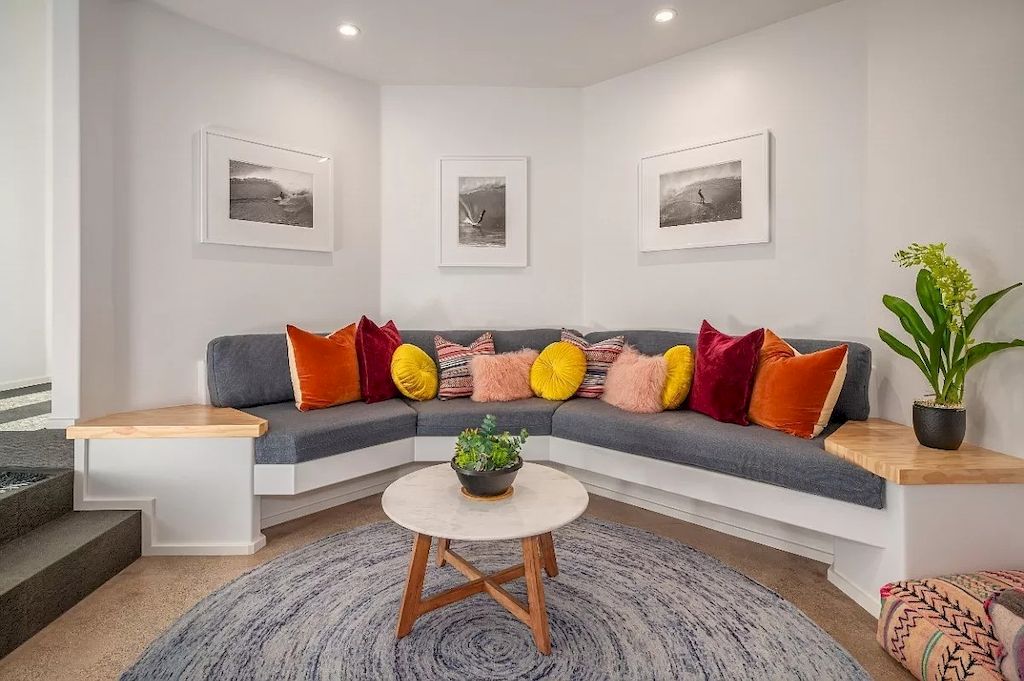 In my opinion, in order to leverage the vintage vibe, add some pillows. More pillows, more joy – especially when they contain vivid colors and patterns. For this above living room idea, rose-colored, mustard, burnt orange, and red velvet are applied for creating an impeccable combination. This living area has us ready to curl up, talk and relax for hours on end. This $8,200,000 Special Retreat Offers All Sensational Aspects in Hawaii
12. Minimalist Interior For Vintage Look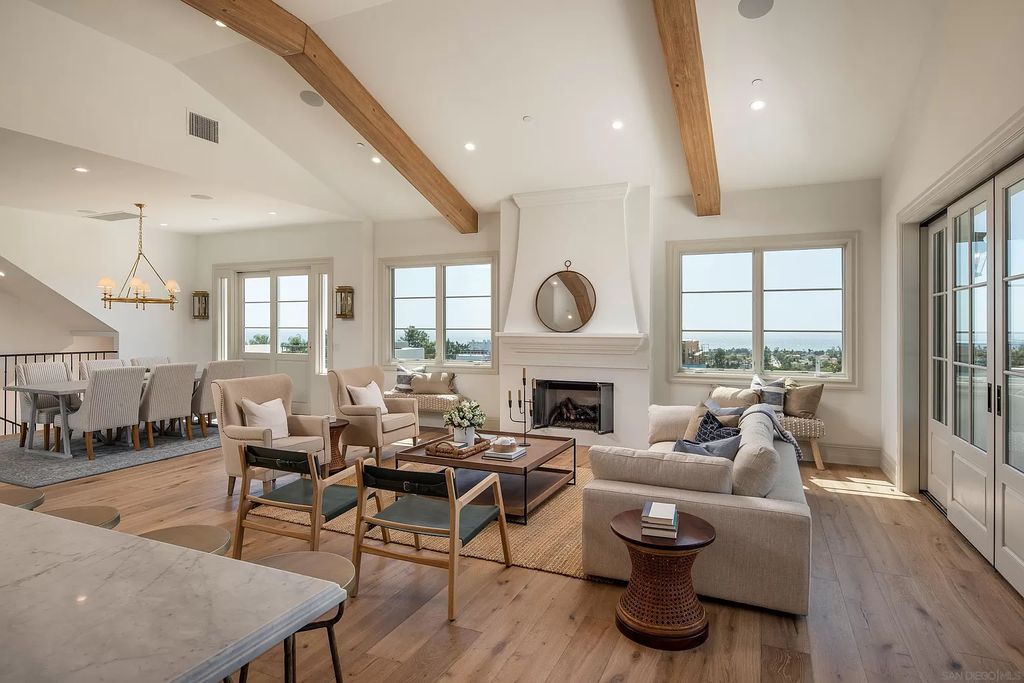 This living room layout helps you understand more about the impact of minimalist interiors. The handcrafted neutral sofa set with black chairs is installed to showcase a mix of mid-century modern and vintage touches. The vaulted ceiling and wooden floor make the furniture stand out more than ever. Stunning Brand New Construction Home in San Diego was Meticulously Designed Comes to The Market at $5,775,000
13. Various Shapes of Reds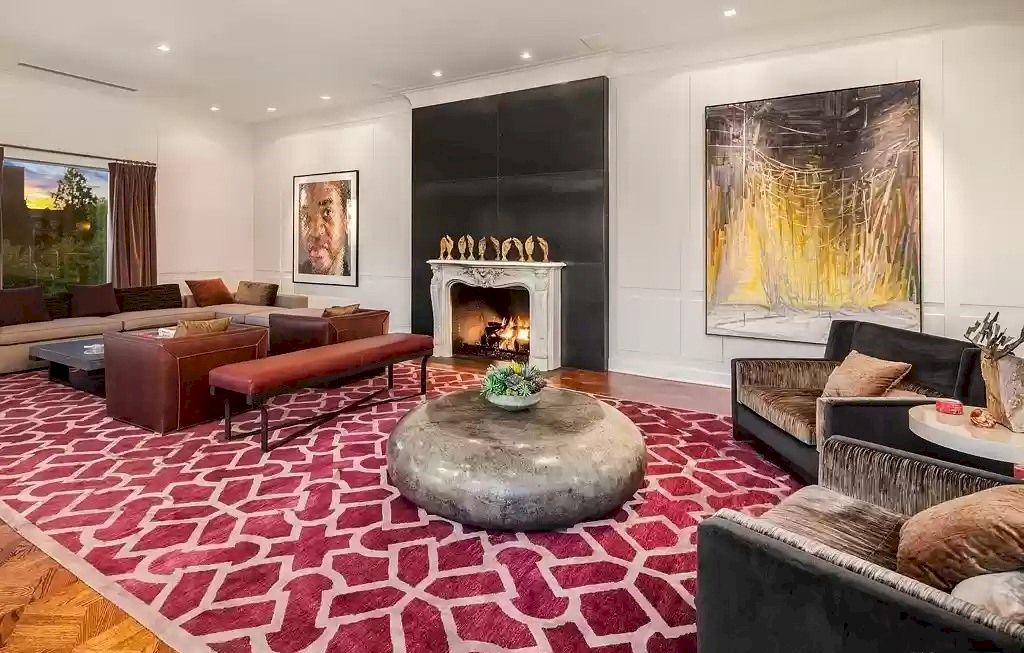 Red is a color that many people love, and this Vintage Living Room Idea is redecorated in shades of red. The red chair matches the pillows on the couch as well as adds some warmth to your space with its welcoming hue. A geometric pattern red rug is thrown underneath as background for the round-shaped stone coffee table that suits any home décor style. Sophisticated and Chic, this Neo-Classical Revival Style Mansion in Washington Listed at $16,000,000
14. Pink Vintage-themed Living Room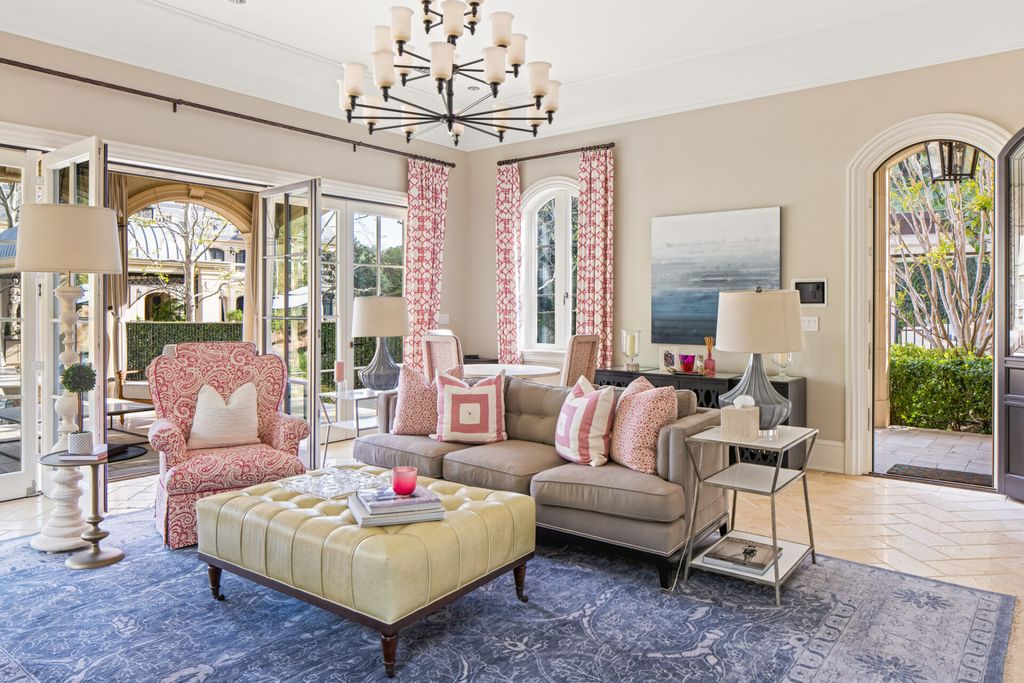 If you love feminine and highly decorative interiors, this Vintage Living Room Idea is created just for you. Still the typical neutral tone for vintage designs, but prominent on it are rose-colored pallets from textured curtains to pillows and armchairs. Level up the lovely and sweet living room with the creamy white coffee table that matches the table lamp and chandelier above. A beautiful living room that makes you never want to leave. The Premiere Mansion in Beverly Hills Built with The Finest Quality of Materials and Craftsmanship Ever Seen Asking for $87,500,000
15. Great Creations With Suitcases As Coffee Tables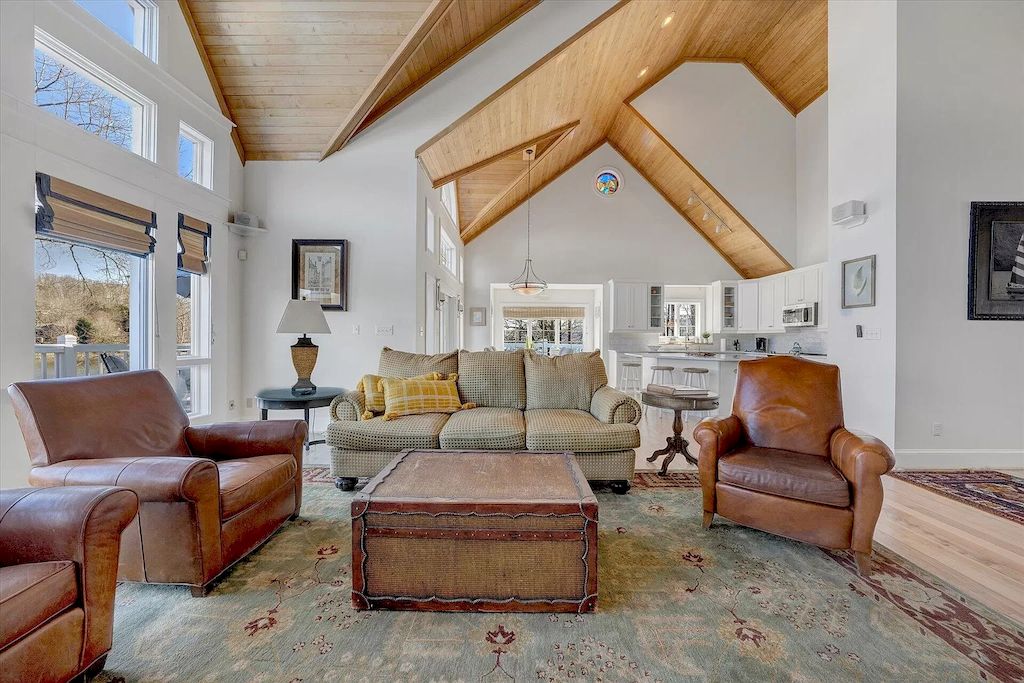 Wondering how to make your living room appear more spacious? Exploit some old suitcases and use them as a side table or coffee table as you may see in this Vintage Living Room Idea! You can completely use this special "suitcase" table as a place to store some of your secret items. Nobody gonna know! Trust me. Combined with a leather sofa and checkered pattern, this is also a typical farmhouse design. Enjoying a Sip of Coffee with Gorgeous Water Views in this $3,050,000 Spacious Lakefront Home in Virginia
16. Distinctive Coffee Table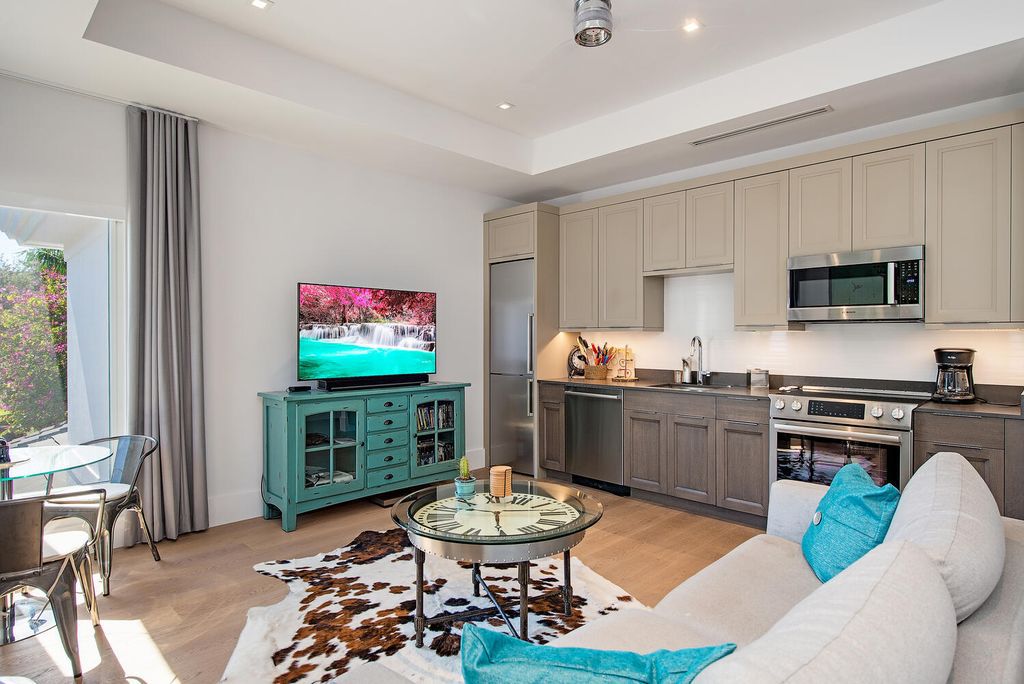 The clock will be the next item consistent for the vintage living room. Reminiscent of time, the antique clock is placed in the living room next to the sofa set bringing elegance and is a special attraction for those who enter your space. What makes this above living room special, there is no clock placed in the living room space or on the wall, but on the coffee table in the middle of the room. Such a great multi-purpose idea! This $8,495,000 Naples Home has An Incredible Resort-style Pool on A Sprawling Lot
17. Fur Blanket And Rug Works Well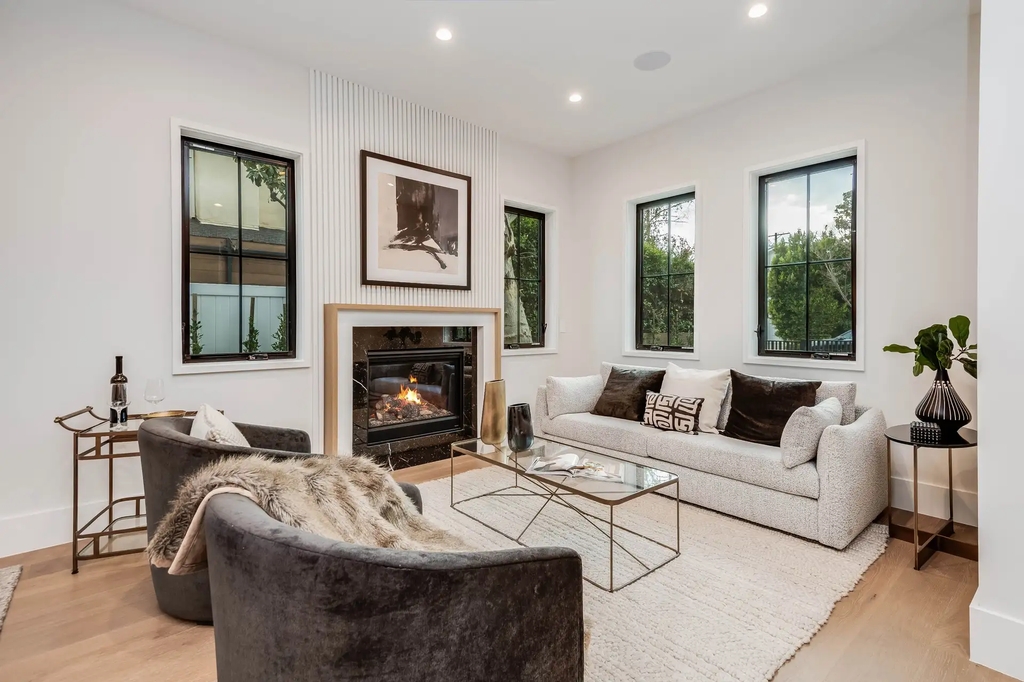 Supplementing a little warmth and lovely to your space is easy with the use of brass and vintage textures. Use fur rugs or blankets and place dark-colored silk pillows on leather couches for an awesome aesthetic experience. For more inspiration, decorate with knitted blankets instead of fur and more plant for an outdoor-indoor feeling. A Gorgeous New Construction Home in prestigious Colfax Meadows of Studio City Aiming for $3,895,000
18. Combination Of Stylish Seats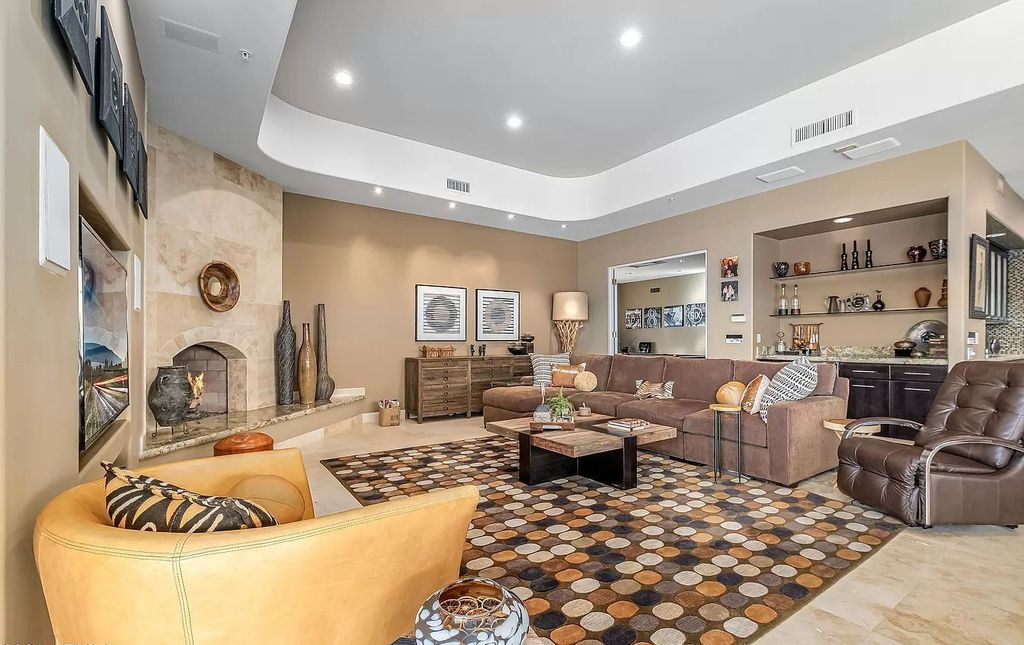 Besides the ottoman, there are so many types of stylish seats you may use for your Vintage Living Room Idea. Such as an iconic curvy chair, long sofa, or recliner. All in one for bringing a piece of the glorious 1970s into your space. Classic Elegant Single Level Home in Scottsdale, Arizona sells for $4,900,000
19. Vintage Living Room Ideas With Bohemian Decorations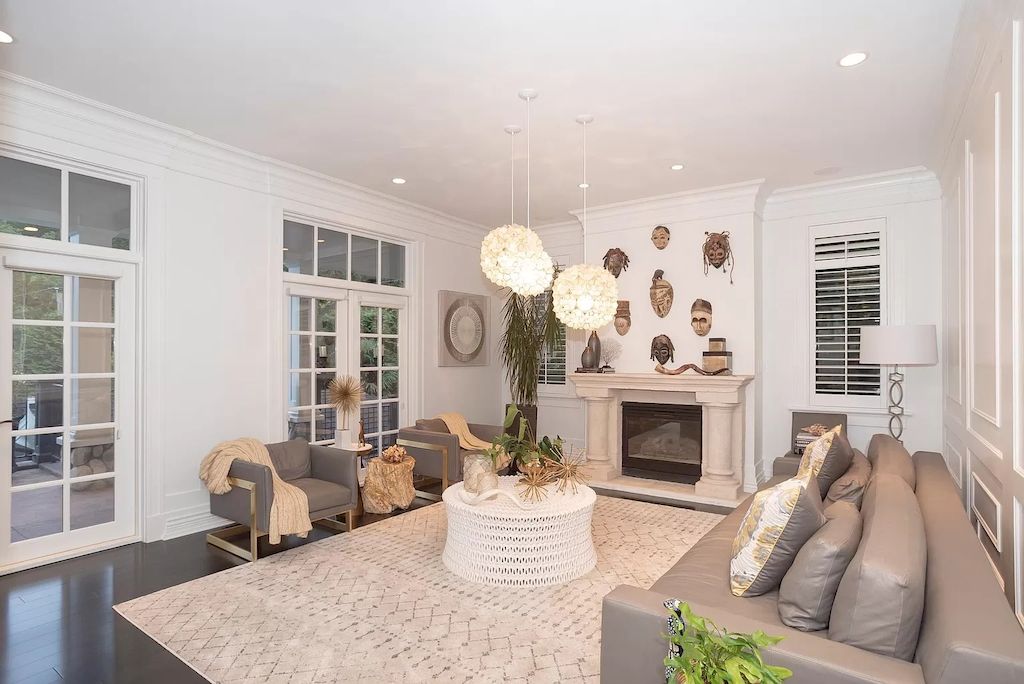 Bring the love of Bohemia into your Vintage Living Room Idea by using the Papuan Wooden Mask in your decoration. You can hang it above the fireplace like in the room or anywhere in the room you want. This C$8,998,000 Spectacular Property in West Vancouver Offers Privacy Yet a Sun Filled Sky
20. Use Floral Patterns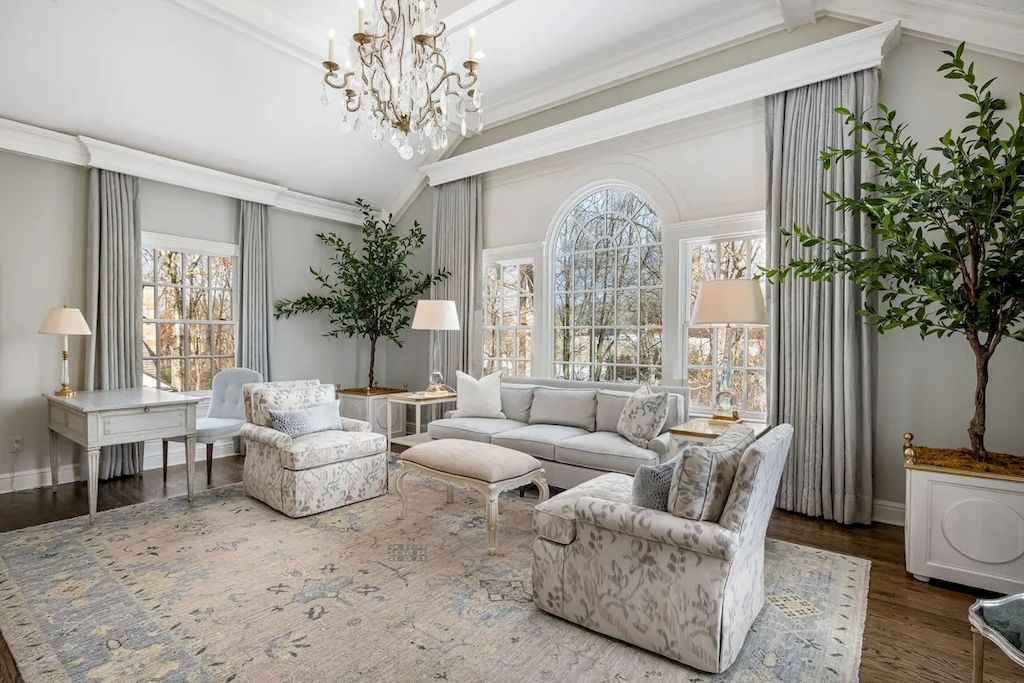 What expresses vintage more than floral pieces? Based on your decision, lovely floral patterns may appear in every detail of the room or just some corners, in the cover of the single sofa, pillow, and huge rug underneath for this living room. These are a fun reminder of simpler times, can easily be collected, and have lots of ways to incorporate into interior design. Feasting Your Eyes on this $5,900,000 Exceptional Home in New Jersey
21. Apply Mustard Hue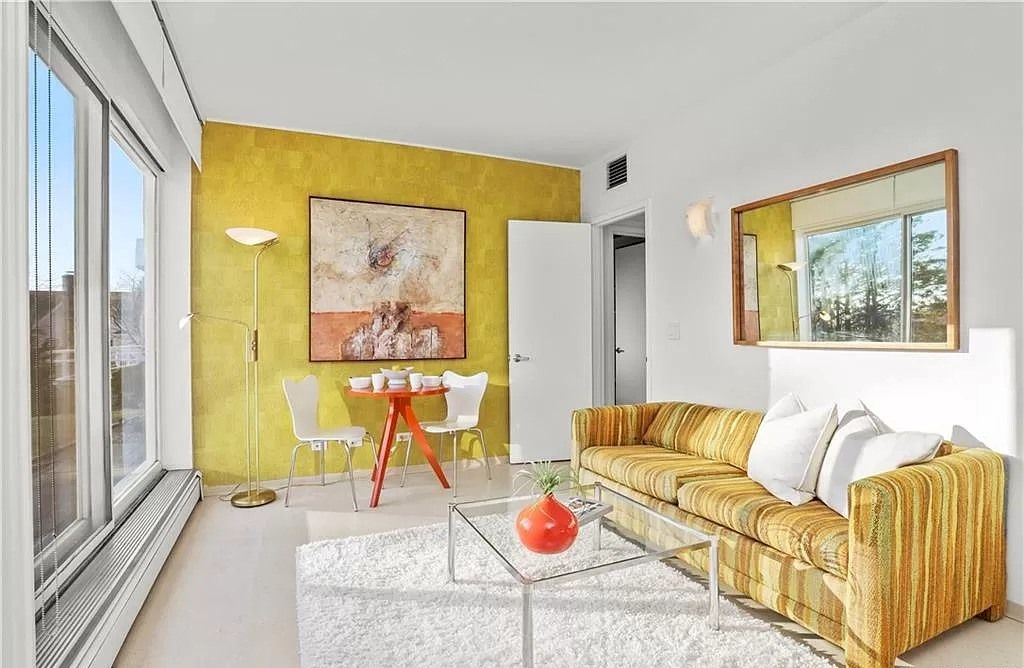 Try another way to decorate your vintage living room using various tones of yellow for vintage texture. Using mustard paint for the wall and arranging an amber-colored cough are effective ways to light up your quite small space. Sophisticated and Functional Home in Connecticut Listed at $3,500,000
22. Vintage Living Room Idea With Enormous Picture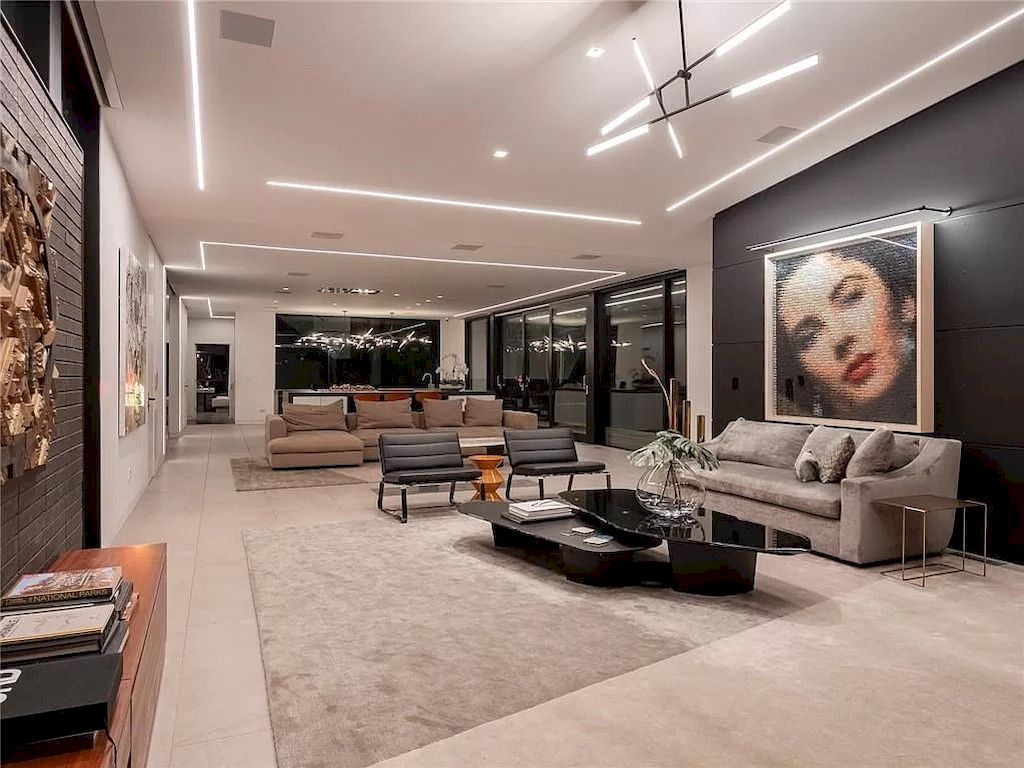 Searching for Vintage Living Room Ideas? So, apply this design. As you see, the space appears so wonderful. The living room boasts an oversized black and white photo, that stands out against the black painted wall. It quickly delivers a retro feel to the seating space. Glass side and high-end coffee tables lighten up your living room. Lastly, throw grey pillows to leverage the overall. This Gorgeous Contemporary Home in Georgia Hits Market for $4,995,000
23. Natural Stone Wall As The Focal Point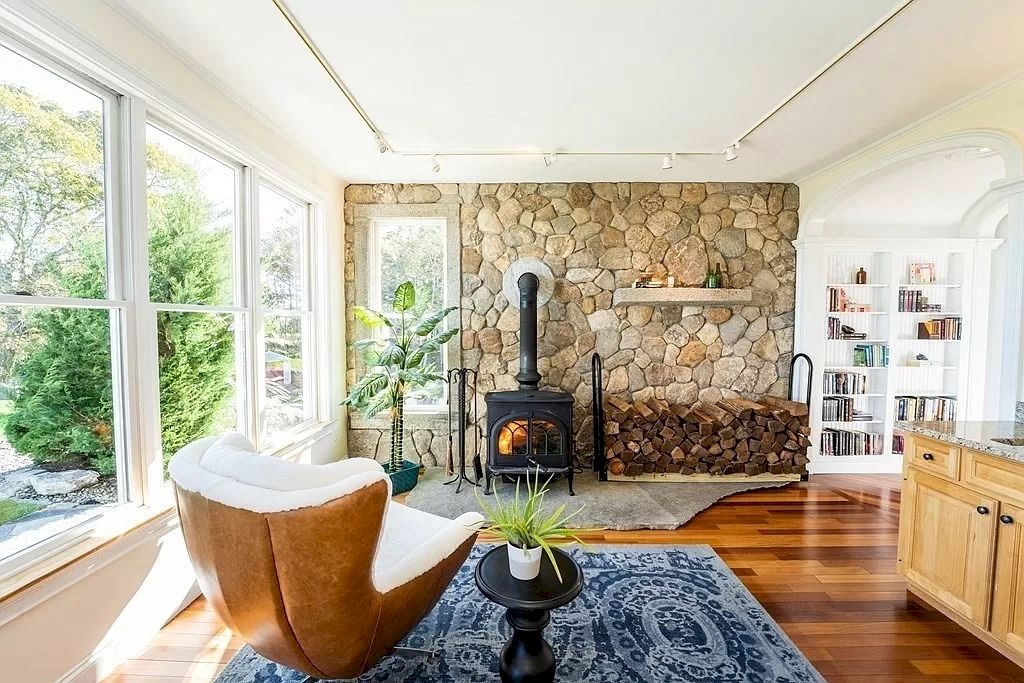 This living room features the natural stone wall as the focal point and background at the same time embracing the traditional fireplace. This combination brings the breath of time. For more vintage elements, you may add some plants to your room for the free-spirited vibe and remind us of the chill. The choice is yours. Stunning Newly Renovated Mid-Century Modern Home in Los Angeles for Sale at $4,995,000
24. Add Unique Modern Daybed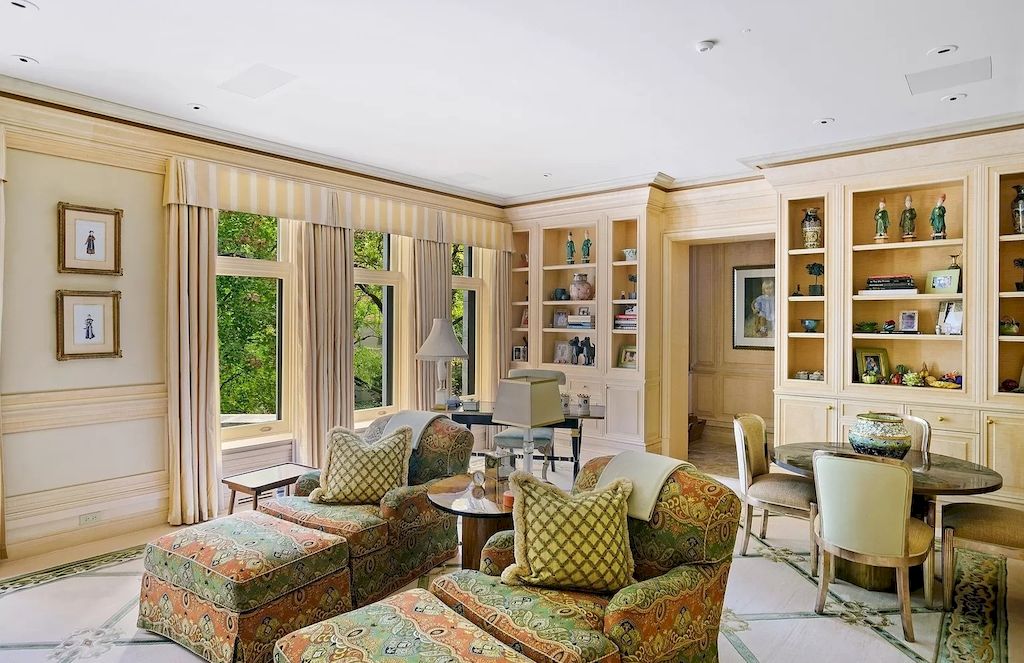 This Vintage Living room Idea is complete with a vintage daybed and an armchair that will have you reminiscing about your childhood. Such a stunning spot to relax and gather the whole family for any occasion! Magnificent Residence of State-of-the-art Infrastructure, and Meticulous Architectural Design in Illinois Listed at $18,750,000
In conclusion, the Vintage Style in housing design has been very popular ever since. The modern vintage style also has a few improvements compared to the traditional vintage style but still remains the characteristics. From the use of rich colors in paint and interior to play with floral and geometric motifs, they are all outstanding features of the vintage style. Combine vintage with rustic or minimalist style or decorate with antique or bohemian fines to give a perfect and unique whole. Hopefully, you may find the above reference ideas useful and help you in creating your dream space. For more useful living room ideas inspiration, you may refer 15 Lighting Designs for Living Rooms to Instantly Brighten the Space
More Ideas For Living Room:
---
Thousand of high quality images of Living room and more you can see at Livingroom Gallery.