There are many types of beautiful furniture that can decorate your living room, depending on the design of the house as well as the eyes of the homeowner. Especially with the sofa. This is the most important highlight of the living room, what makes the guests first impression when entering your house. Sofas are often designed with many different materials and colors, one of which is brown leather sofa. And here are 15 typical and unique Living Rooms With Brown Leather Sofa for your inspiration.
1. Matching With Wooden Wall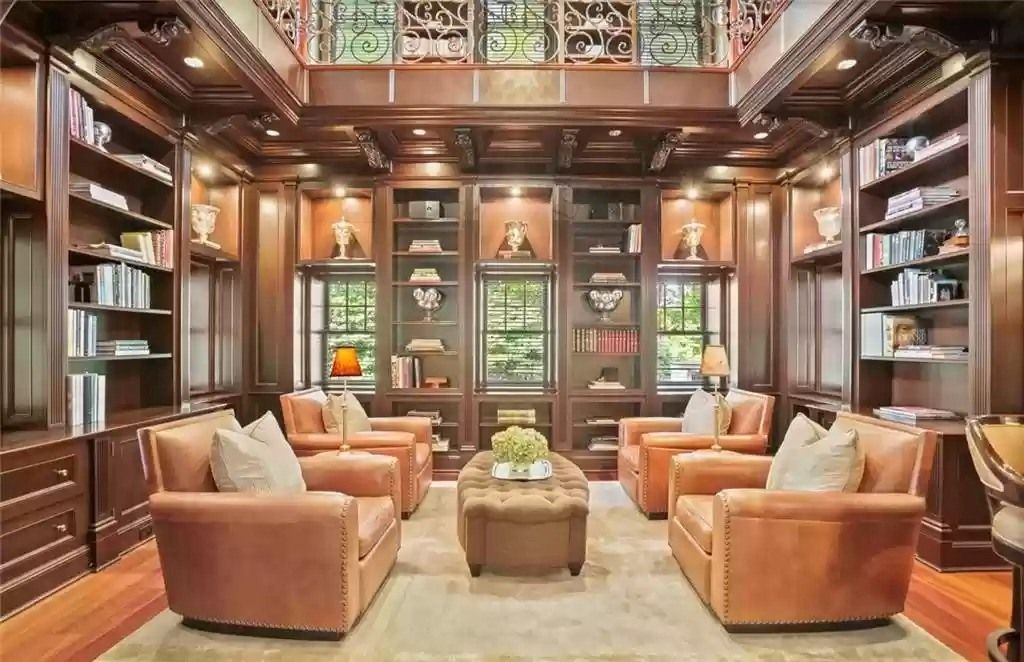 Brown tones are used from dark to light from the walls and bookshelves, to the neutral brown tones of the faux leather sofa set and finally to the tortilla brown hue carpet. This combination creates a feeling of both classic and modern, creating a space that is both warm and comfortable to relax as well as work. This $6,247,000 Majestic Colonial Home Oozes Bygone Charm and Today Comfort in Connecticut
2. Dark Brown Leather Sofa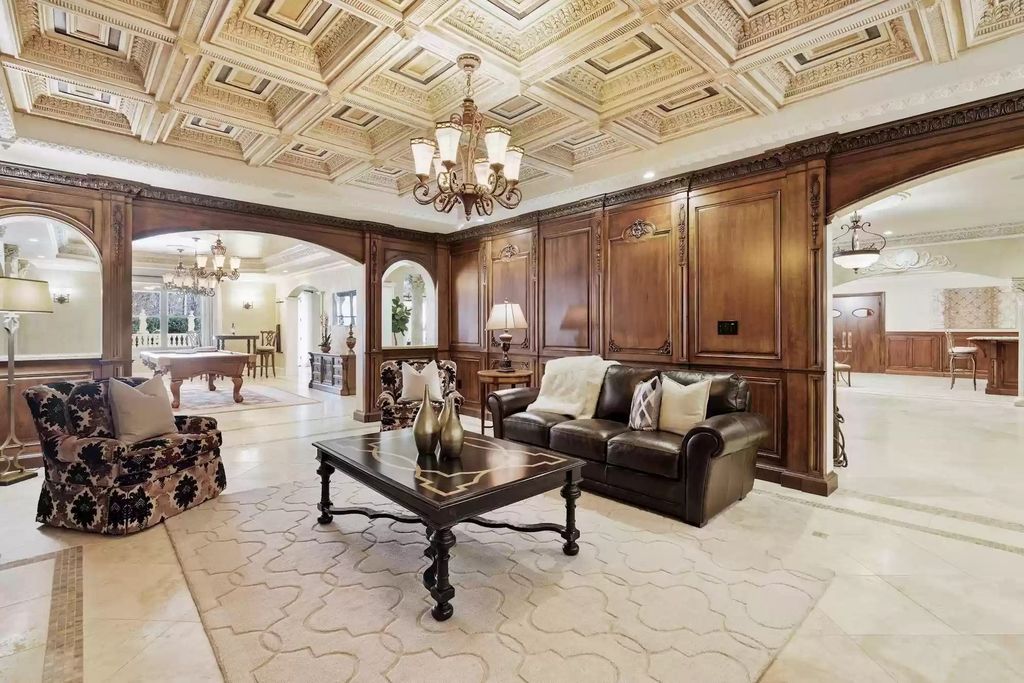 The dark brown faux leather sofa set is a stark contrast to the floor and ceiling tiles with its handcraft square design. Adding blankets, brightly colored pillows and gilded metal vases is a smart and subtle move. Blending Opulence and Old-World Craftsmanship, This Lavish Estate in Virginia Lists for $6,998,000
3. Leather Sofa With Fun Textures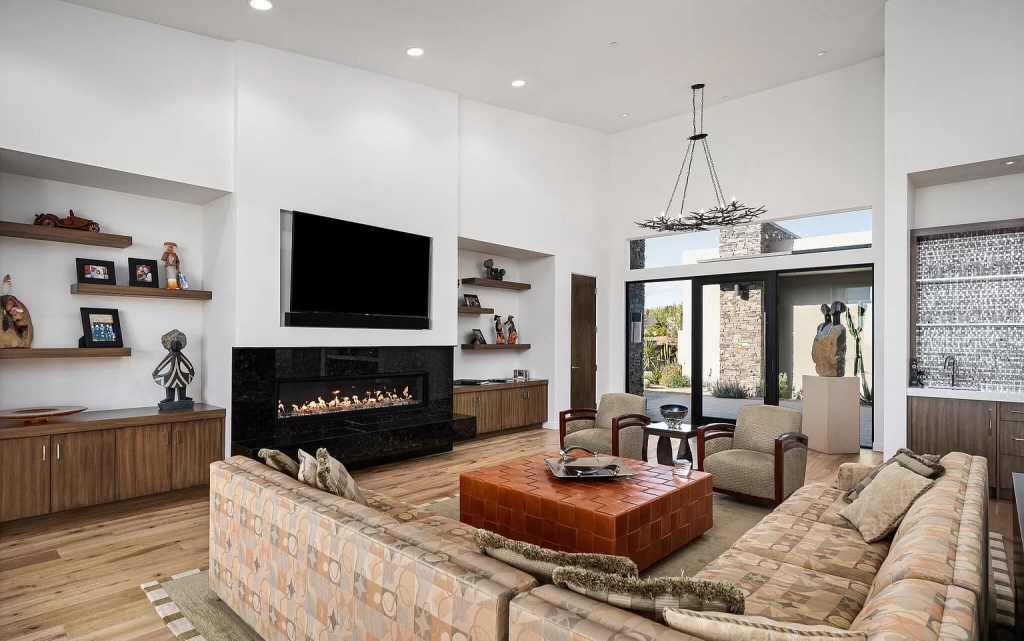 This living room idea is another mix of warm hues. The highlight is the milk tea brown faux leather sofa set in L-shape with fun textures and a low backrest to create a comfortable feeling. The table of burnt brick tones with square motifs is also very matching with this sofa set. This $4,750,000 Outstanding Contemporary Home in Scottsdale offers privacy and sunset views
4. Do Not Forget The Tree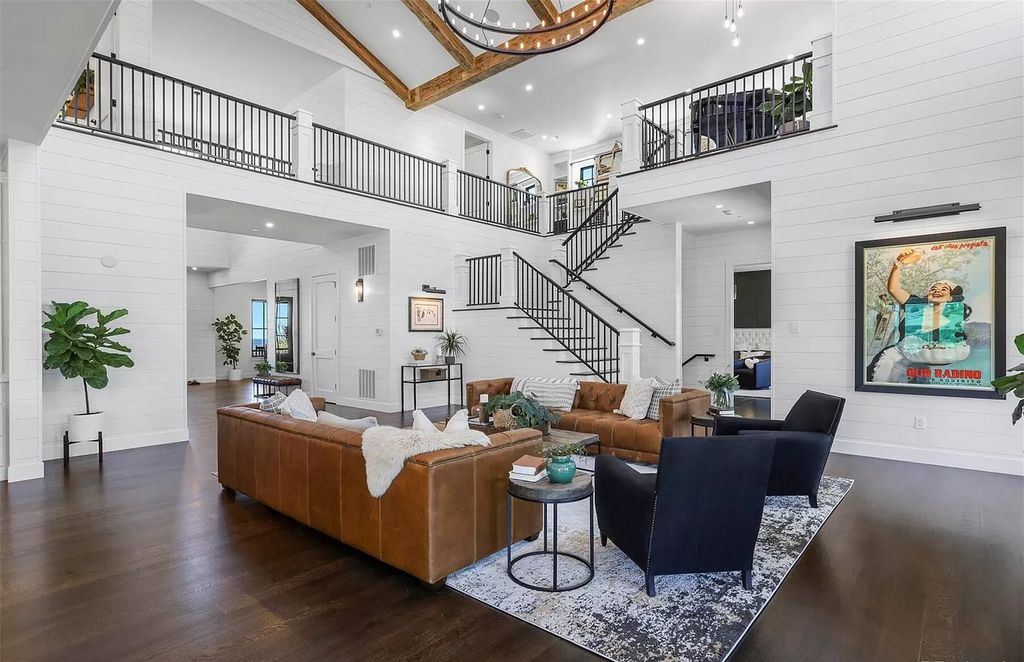 The use of ornamental plants in decoration is always considered when planning ideas for today's modern living rooms. The combination of small bonsai trees, and a square-shaped cream brown faux leather sofa set both adds accents to the living room, and is a very suitable decoration combo for living room ideas using bright hue, neutral or pastel colors. A great Living Rooms With Brown Leather Sofa to consider and refer. An extraordinary residence in Colorado blending a style of modern farmhouse with European flair asks for $5,000,000
5. Eye-catching Combination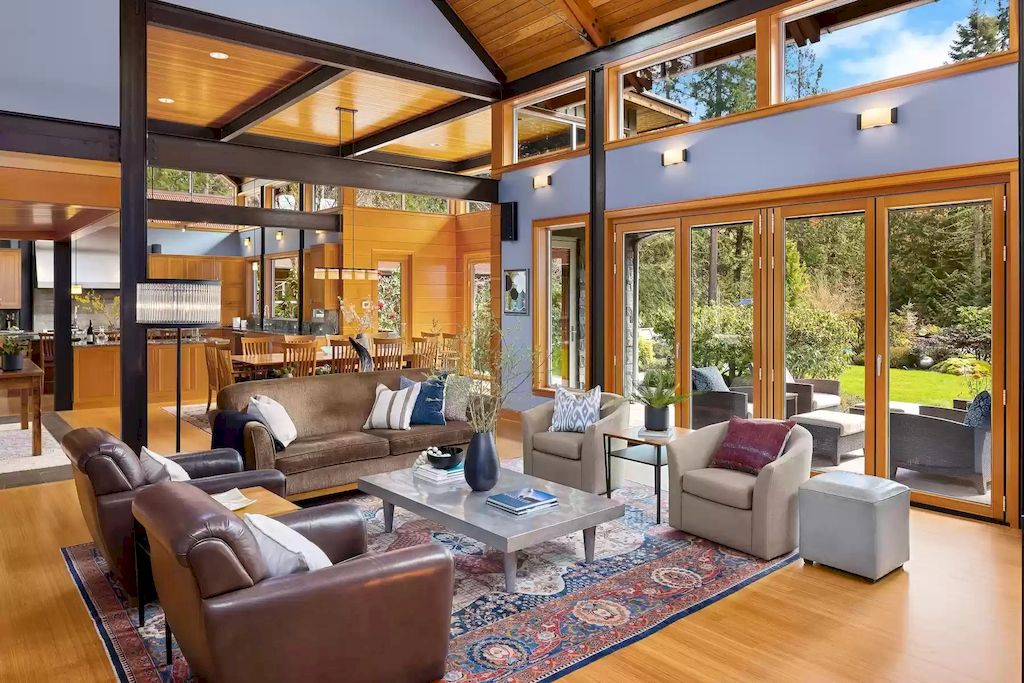 The color block in housing and furniture design is never boring. Leather sofa set in three tones caramel brown, cream white and light grey combined with a lot of pillow models in different materials. Moreover, the beam along with the door brace are also painted in earthy tones to create a very matching feeling with this leather sofa set. This $5,498,000 Farmhouse-inspired Estate in Washington Leaves You Breathless
6. Combination With Skylight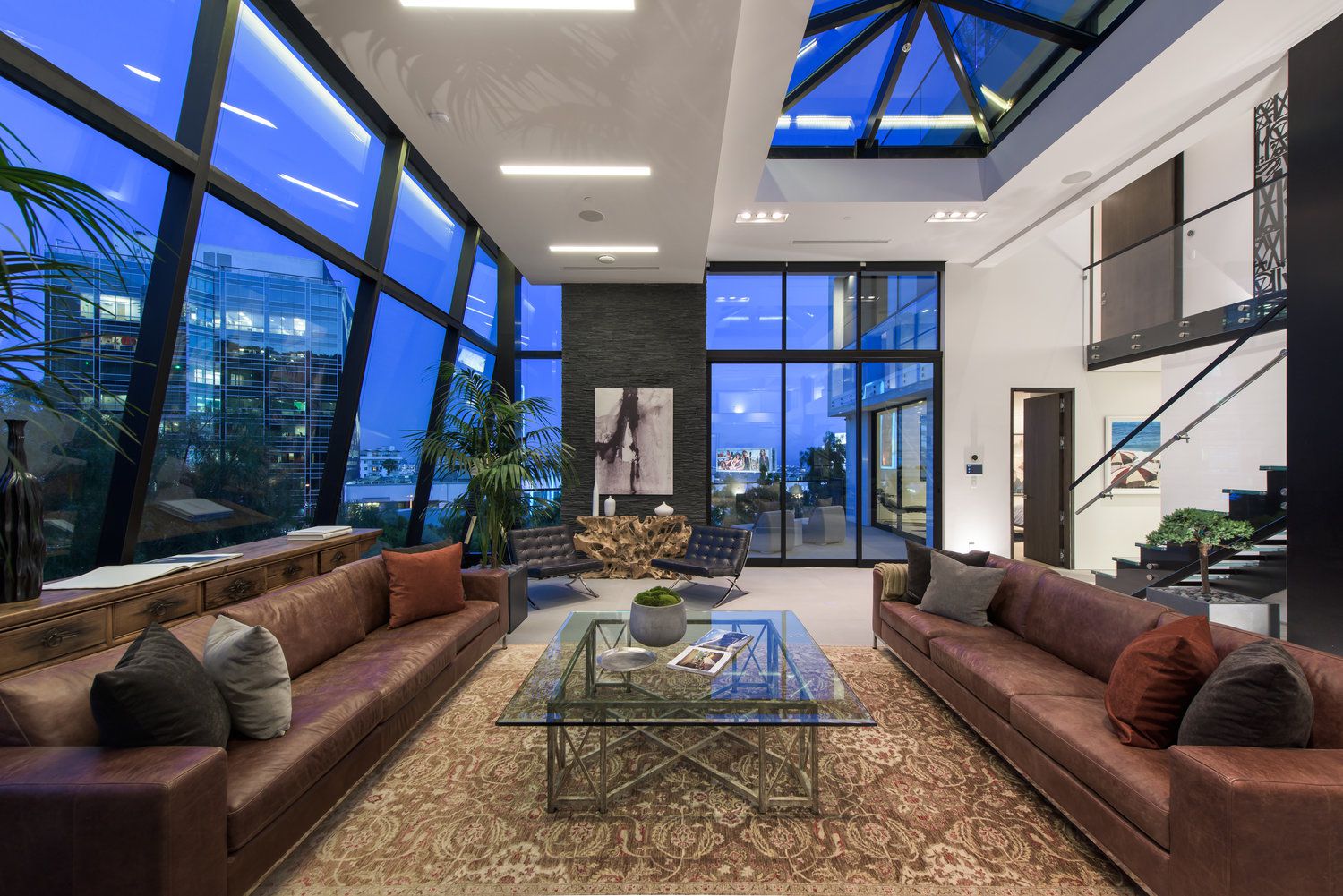 To make the most of the natural light from the outside of the house, the living room is designed to install skylights and glass walls on four sides of the room, making the living room stand out. The long faux leather sofa set is very consistent with the overall, create a great highlight for living rooms with such a large area. After a stressful working day, the family relaxes on this sofa, sips some coffee and zoom out to admire the twilight. There really is nothing better than that. Striking Architectural Modern Londonderry Place Home in Los Angeles
7. Do Not Forget The Pillows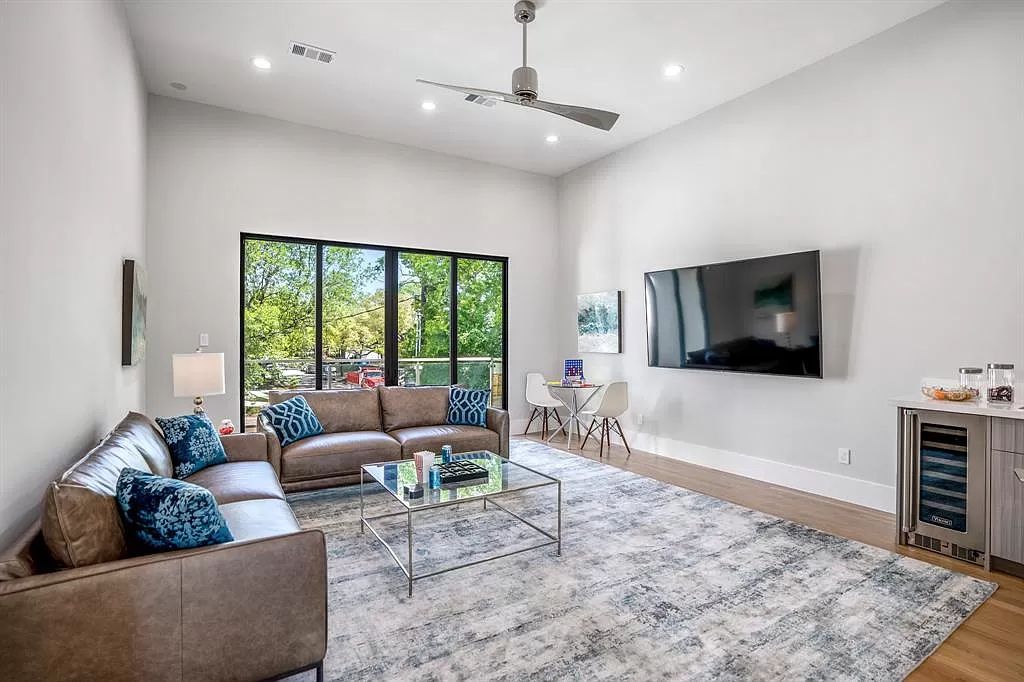 In these living room ideas, the brown leather sofa set in combination with the overall living room is designed with gray tones from paint to carpet, creating a feeling of absolute minimalism. This sofa set can be combined with many different pillow models, from tones to materials. This $3,600,000 Contemporary Home in Houston is The Epitome of Modern Luxury with Amazing Features
8. Spice Things Up With Warm Reds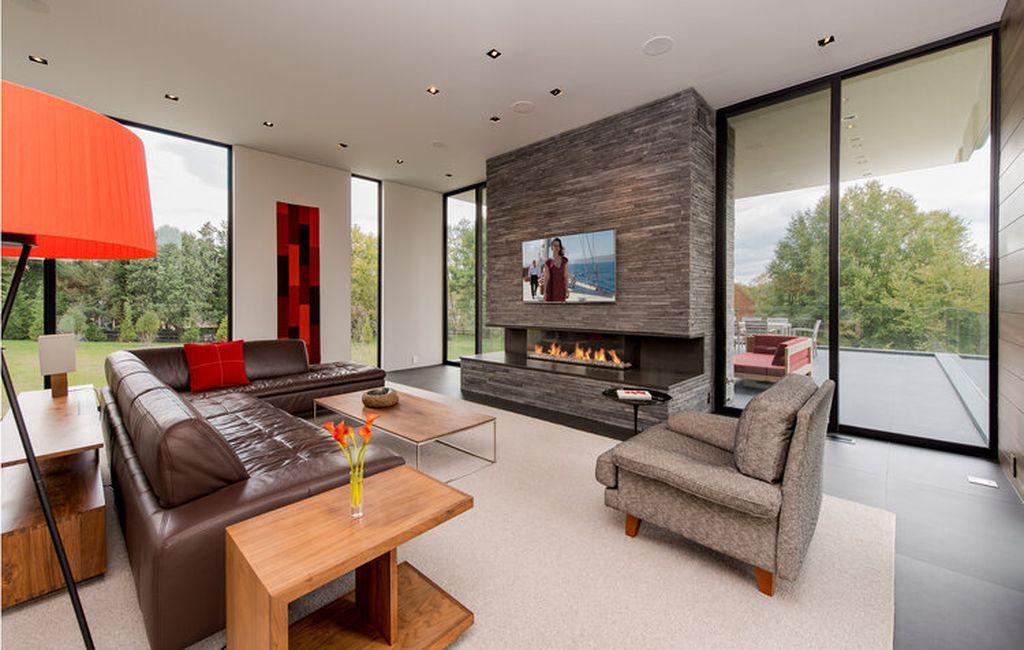 L-Shape brown faux leather sofa set elevates the living room with earthy neutrals and warm red decoration in the decorations. Combined with high ceiling and glass door and modern fire place to create a living room space that is both airy, cozy and very trendy. That Living Rooms With Brown Leather Sofa design makes anyone can't take their eyes off. Hillside home Walker Road in Suburb of Washington by Whipple Russell
9. Enormous Version Of Tree House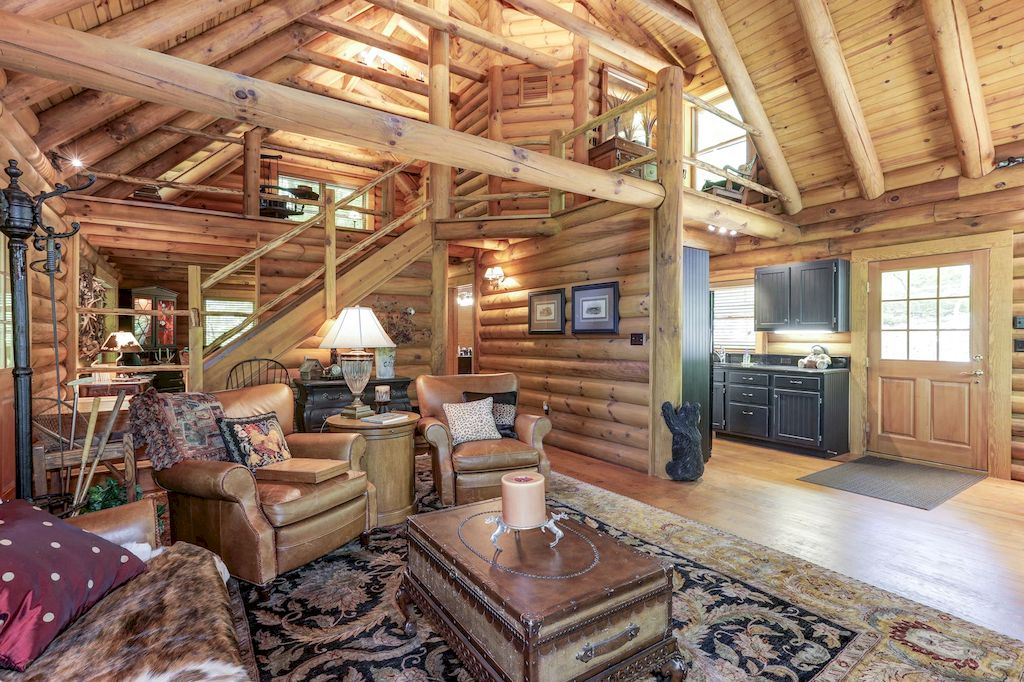 Using wood as the main material for the entire wall, ceiling and floor, this design transforms the living room into a large version of the tree house, creating a feeling that is both modern and a little wild. The chestnut-brown leather sofa set combined with a patterned rug makes the entire living room look striking. Such a unique. Magnificent Home in the Heart of Virginia Hits Market for $10,500,000
10. Compact Single Sofa Saves Space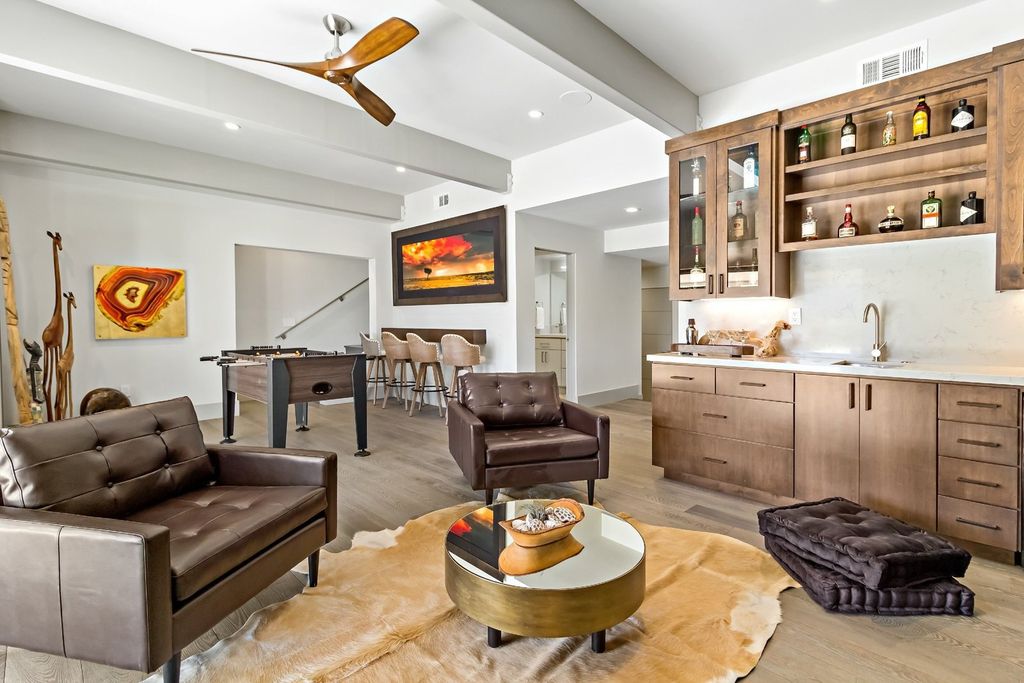 The single leather brown sofas are great for small space, designed for multi-functional use, both as a living room, as a kitchen and as an entertainment area. The wine cabinet with sable brown hue is installed next to the dark-toned sofa to create a great place to relax and rest. Just sit back, sink in, and enjoy a glass of wine! That is gonna made your day. A Hilltop Home embraces The Breathtaking Orinda Views for Sale at $4,650,000
11. Elevate The Classic Style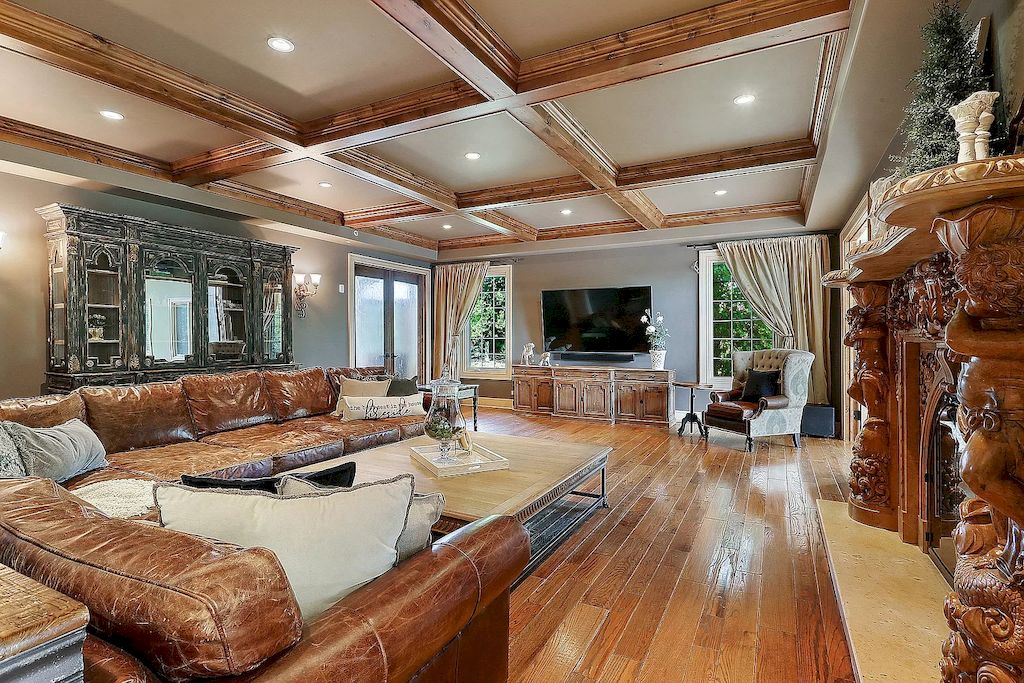 Who says classical living rooms are boring and outdated? With living rooms decorated with a lot of meticulous and handcrafted wooden furniture, wooden floors are only really boring if you don't know how to combine them with other accent furniture. An L-shape sofa set in wrinkled leather material and a couple of cream-colored pillows is the highlight of this timeless living room. This $3,750,000 Glamour and Inspiring Masterpiece in Illinois Masterfully Designed for Luxury Living Space and Utmost Entertaining Space
12. Ideas For The Busy Gentleman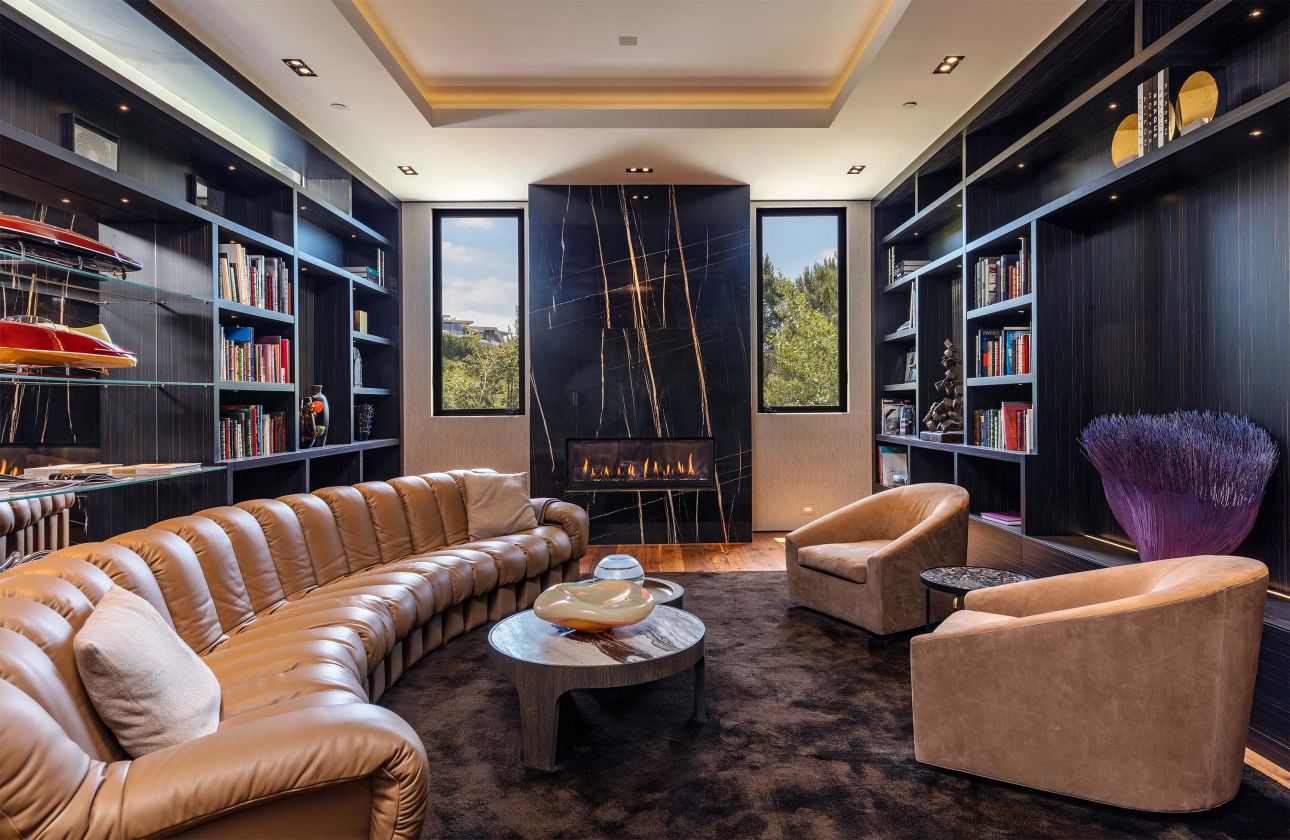 The living room is designed in a minimalist style but still strong and masculine to show the personality of the house-owner. The brown leather sofa set includes a camel in rough shape long sofa, a single sofa and a stylized drinking table that are used to accentuate the two dark brown built-in wooden cabinets on opposite sides of the living room. what a simple design but still extremely attractive. This $5,700,000 Private Estate in Illinois Defines Phenomenal Architecture Design with Outstanding Craftsmanship
13. Warm Up An All-white Room.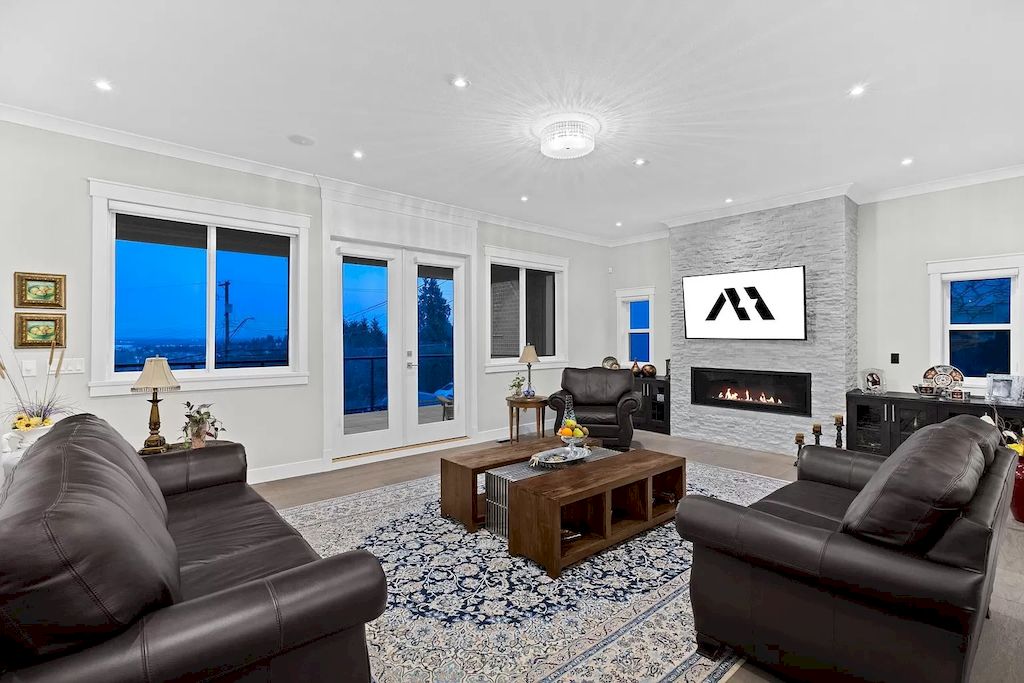 This all-white space might look cold and uninviting without the comfy dark brown sofa to warm things up. A mix of blue tone with interesting textures and furnishings inject small pops of color into the room. The all-white wall crisply contrasts the sofa's dark brown color and rounded edges. Beautiful Contemporary Home in Coquitlam with Plenty of Natural Light Sells for C$4,288,000
14. Single Tone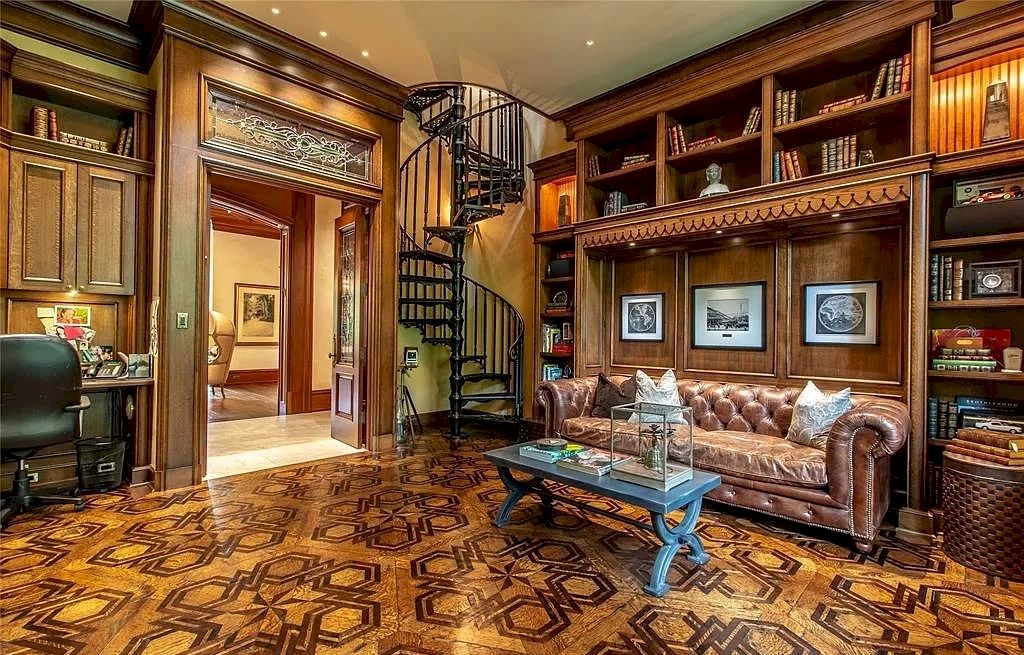 Who said you need multiple colors to make your living area attractive? Sometimes, having everything in a similar shade still catches the visitor's eye. While working on your brown leather sofa decorating, try to tune every other element in the same tone. For example, you can add a big brown rug on the floor or other furniture in the shade of brown to get an aesthetic look. Magnificent Estate Built with Unsurpassed Quality, Craftsmanship and Finest Materials in Michigan Listed at $5,699,000
15. Harmony With Nature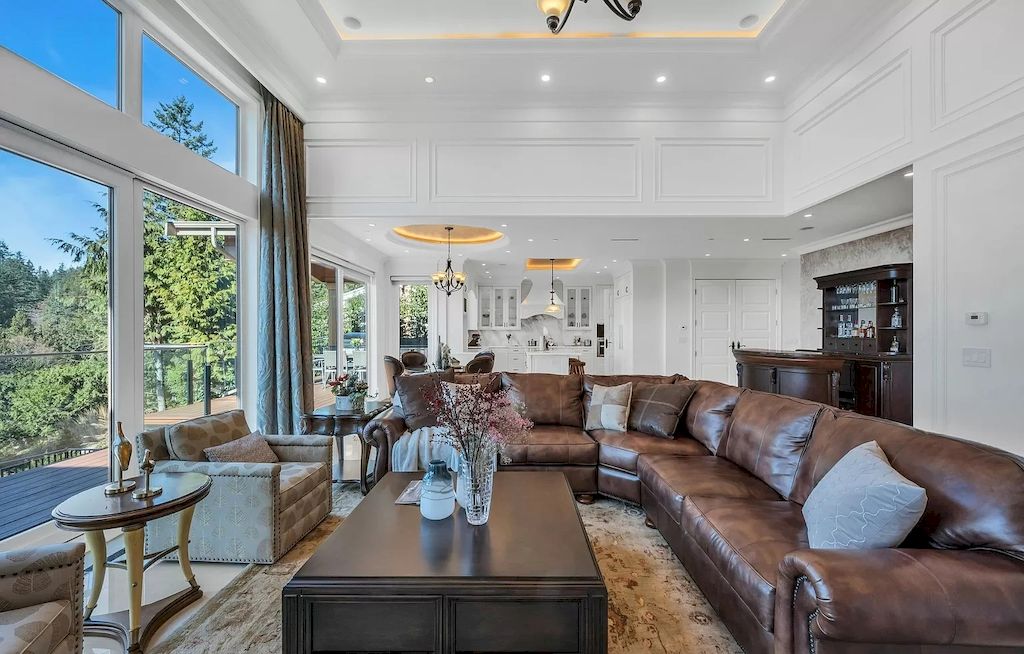 The sofa set uses glossy leatherette material, combined with installed glass panels that extends throughout the living room to the kitchen, creating the feeling that the room is full of natural light. The color of the sofa makes the creamy white wall paint even more prominent. Resting on this sofa and admiring the natural scenery is truly a wonderful experience. European inspired Residence with Unobstructed Water Views in West Vancouver Asks for C$6,280,000
With each house built, it is a product, the crystallization of so many enthusiasms of its creator. To create the perfect product, every small part, every detail of the house needs meticulous care, from the living room, kitchen to the bedroom and other amenities. Hopefully, with these 15 ideas of Living Rooms With Brown Leather Sofa, you will find a style of design for your own living room, as well as other sections. Although the brown leather sofa is difficult to match with other patterns, if successful, you will have an unexpected result. You can refer to the article 16 Green Living Room Ideas – Stylish Looks To Copy In Your Space for for more interesting ideas.
More Ideas For Living Room:
---
Thousand of high quality images of Living room and more you can see at Livingroom Gallery.