If you enjoy nature and want to incorporate shades of green into your palette, but are unsure how to fit into the overall architectural style – or simply don't know which paint color to choose, trends, please see the article below. Whether you want green with gray or green with yellow, you can find it not only on the walls or on the furniture in your favorite green accent designs. Learn which green tones work and shine in your living room, whether modern or farmhouse, in the 16 living room ideas green below.
1. Create a Cool Space with Shades of Green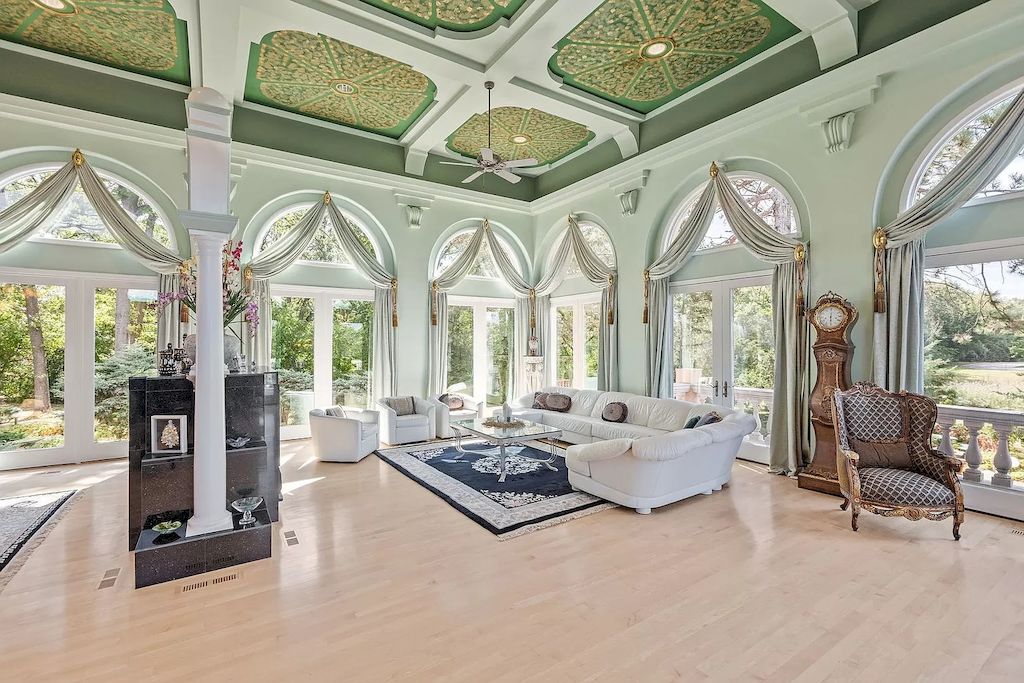 How spacious does this living room appear? Although there are many strong detailed textures in all of the very thick and solid designs, these elements take place in the room without feeling overwhelming. Interlocking beam ceilings create fern green squares. Meanwhile, the main paint color in the living room is pistachio green, which is a cool, gentle tone. It creates a very relaxing environment with a simple color palette. True Masterpiece Perfectly Blends Mid-Century Modern and Mediterranean Architecture in Illinois List at $5,000,000
2. Enliven the Floral Pattern in the Living Room with Mint Green Paint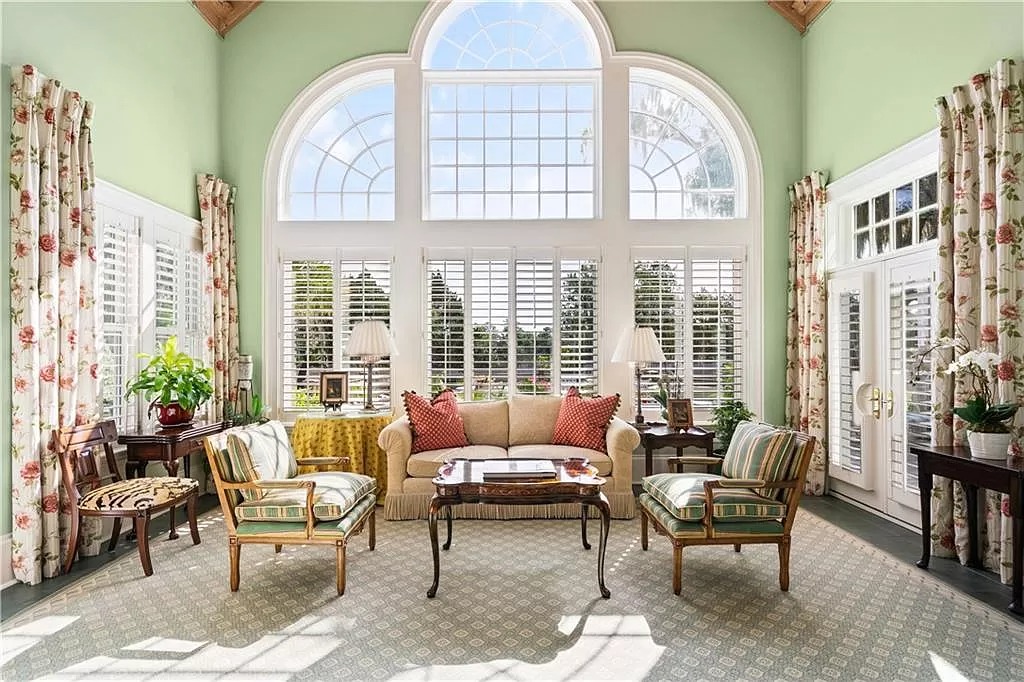 Looking for green living room ideas but don't want to be disconnected? To make your space more appealing, pair floral-patterned curtains with country-style wooden couches. Beginning with the arched main door, this will add sophistication, lightness, and highlight the room's style. The best finish for this living room is mint green. Do you like this green living room ideas? A Life of Ease in Georgia in This $4,295,000 Estate
3. Keep the Nostalgic Style in the Living Room with Pistachio Green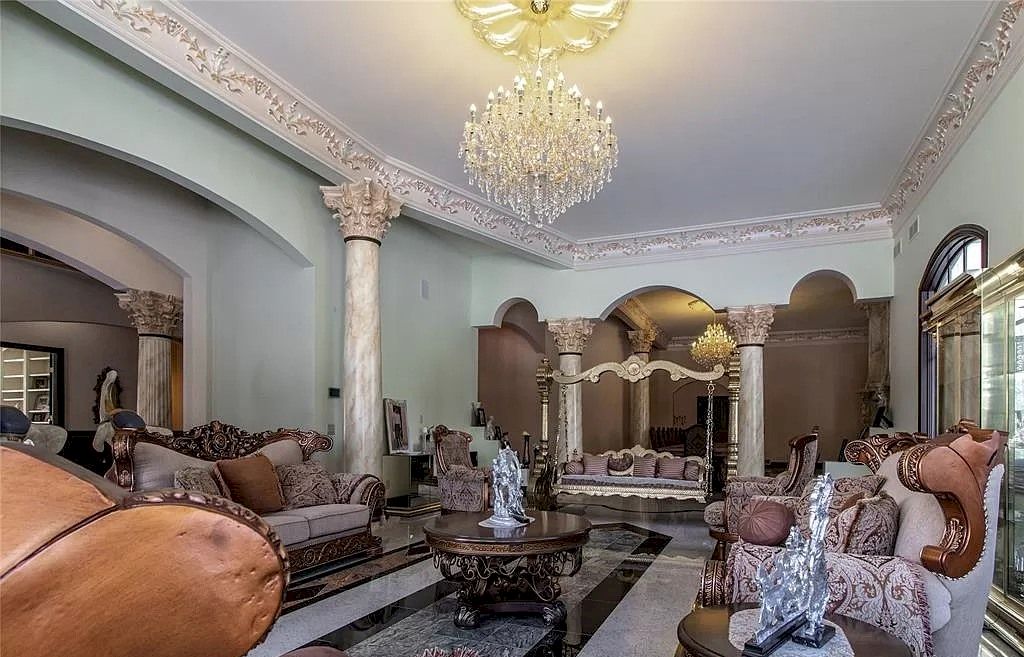 The large, wood-paneled living room is decorated with traditional 21st-century motifs and timeless colors. As a result, even if you have a modern open space, you should choose paint colors that are gentle, not bright, and not too glossy if you own this space. Pistachio green is a proportional mixture of green and gray. This is the choice for a classic but not faded living room. Going through Complete Floor to Ceiling Renovation, this Amazing Home in Michigan Hits Market for $4,900,000
4. Create an Elegant Look with Emerald Green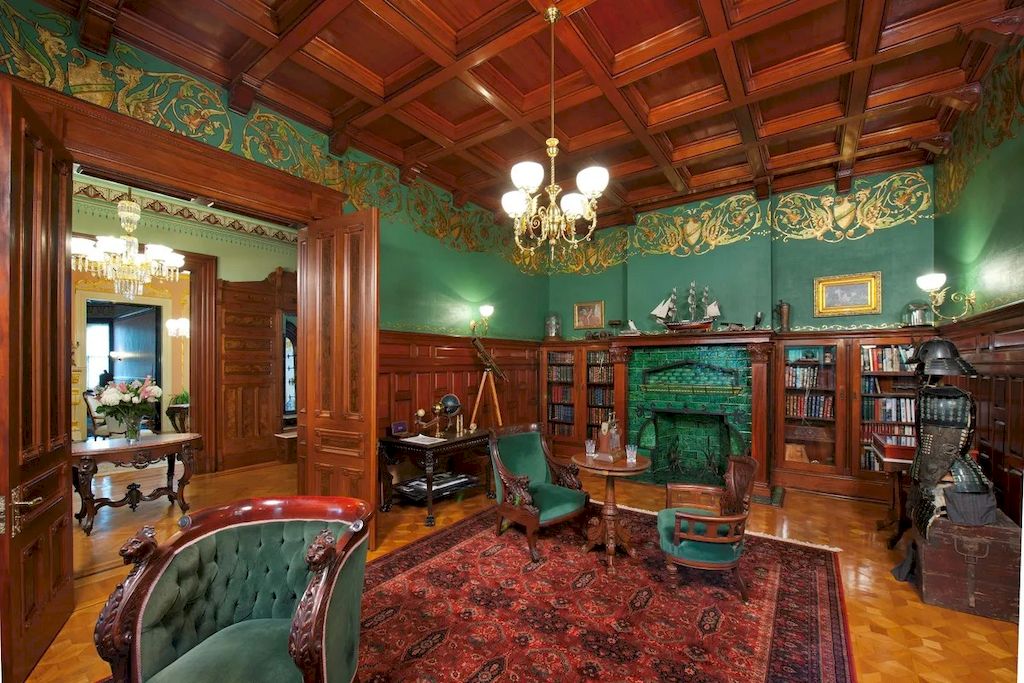 Greens that are cool and bold are ideal for creating a formal design scheme. Specifically, when combined with glossy brown wood furniture and gold-colored patterns that are drawn flexibly. This traditional living room has created a connection with an interwoven design of paint colors and furniture; even the brick fireplace is painted in the same tone of green. The space is modern, but it has a vintage feel thanks to the brocade carpet and the chest in the corner of the room. This $3,280,000 Remarkable Residence is Truly a Piece of Art in Pennsylvania
5. Choose Olive Green for Farmhouse Room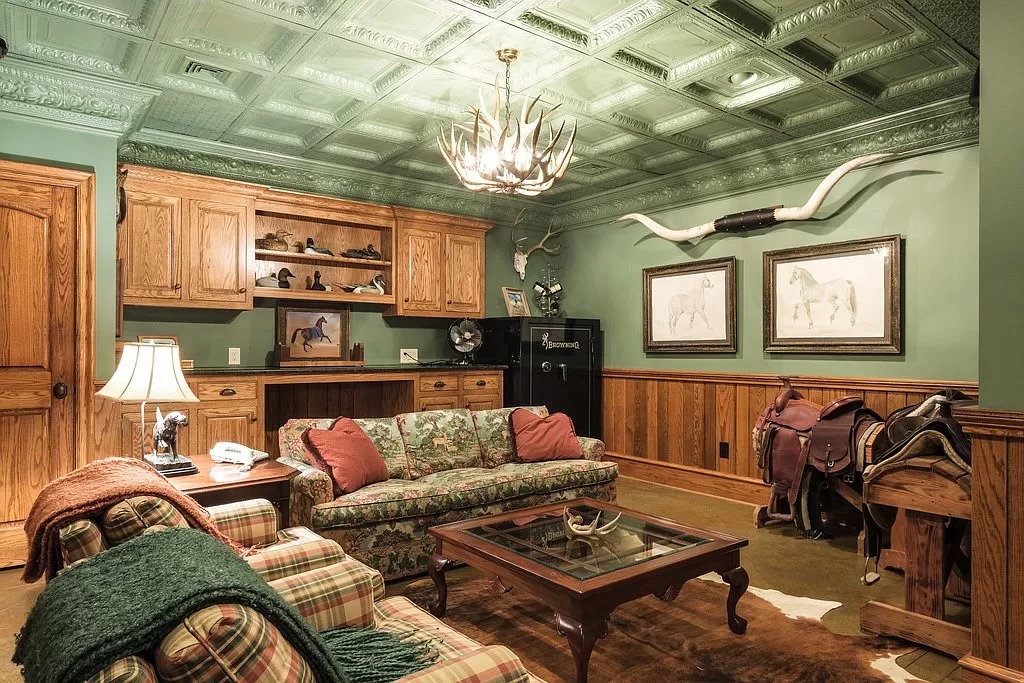 Choose a bold color tone that is far from neutral if your living room is traditionally styled but still wants to show regular modern updates. Instead of using common architectural elements such as wooden walls or neutral colors, you can display animal models or incorporate natural elements (tree branches or animal horns) into the living room space. This room's classicism is enhanced by a set of amplifiers and olive green paint. Country French Style Home in Tennessee Offered at $3,500,000
6. Complement Warm Hues with a Cool Green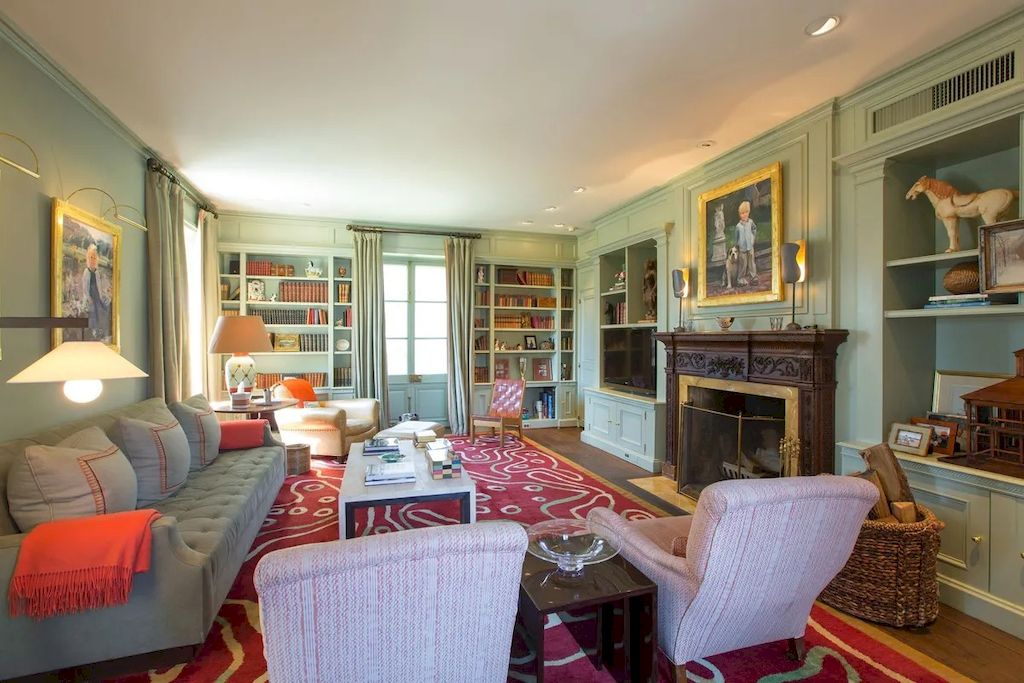 The combination of wood floors and dark velvet carpets creates a cozy and intimate atmosphere. If you want green living room ideas to match the traditional style, choose a color tone that complements the dark wood color while also ensuring that the tone harmonizes the light and softens the heavy atmosphere due to the nature of wood. A variety of table lamps with yellow lights add a warm touch. Decorate the room with supplementary items, such as a basket with spokes. Pennsylvania Estate of World-class Architecture and Private Park-like Setting Listed for $23,950,000
7. Choose a Color for a Feature Wall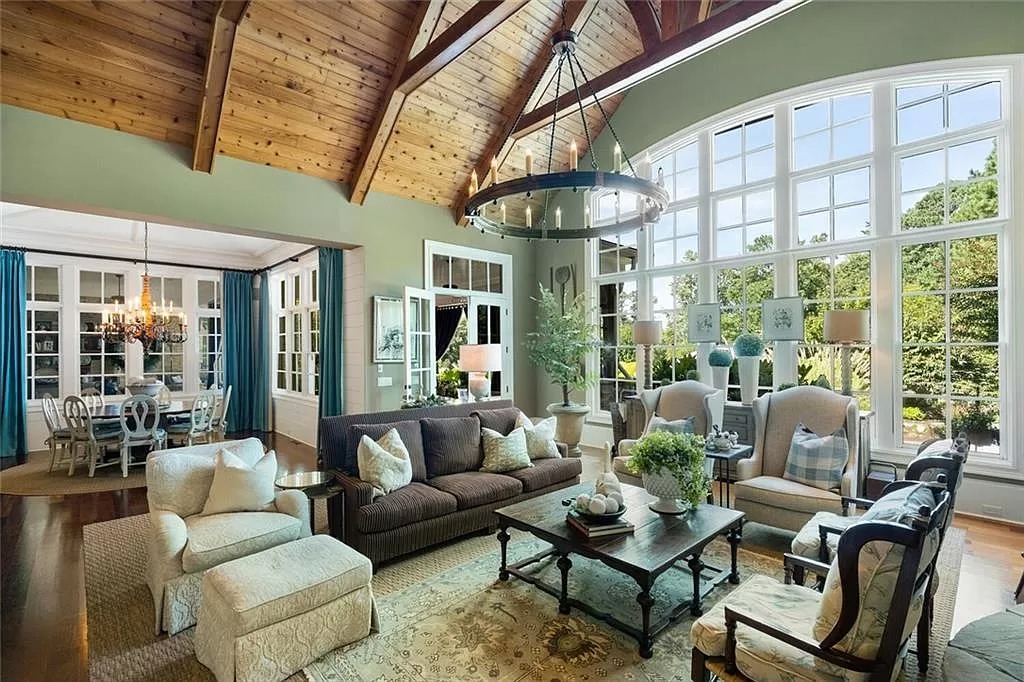 Green is a popular color for country houses or farmhouses because it represents closeness to nature. However, depending on the shades of green, each paint color will be appropriate for the design trends and interior of the room. Shades of green mixed with gray can be used in a living room with a wooden spire and a candlelight chandelier – a classic space. Adding a few trees opens up the space significantly. Georgia Private and Beautiful Estate Listed for $5,250,000
8. Pick Out a Green Wallpaper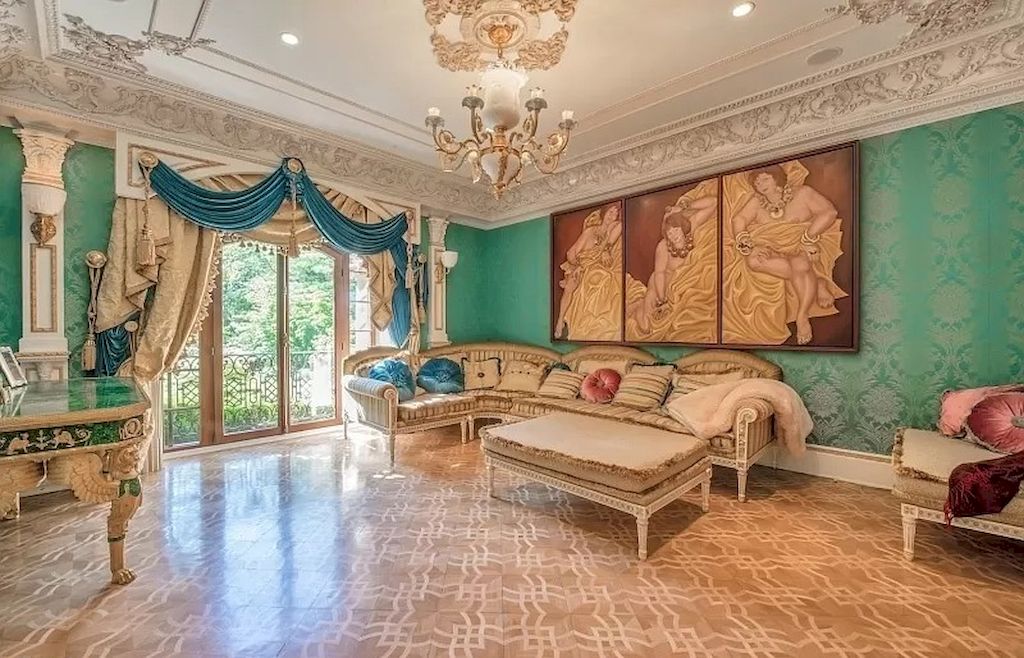 If you want something other than a monochrome paint color on your walls, you can look at wallpaper samples. This will break the simplicity and make you more adaptable when changing the paint color or decoration of your room. It will be difficult to create embossed textures or 3D patterns on painted walls, but these types of wallpaper can easily overcome this. Not only that, but it is now much easier to order a product in a unique color. New Jersey Lavish Palace on Market for $11,800,000
9. Cool Down the Living Room with a Green Velvet Sofa.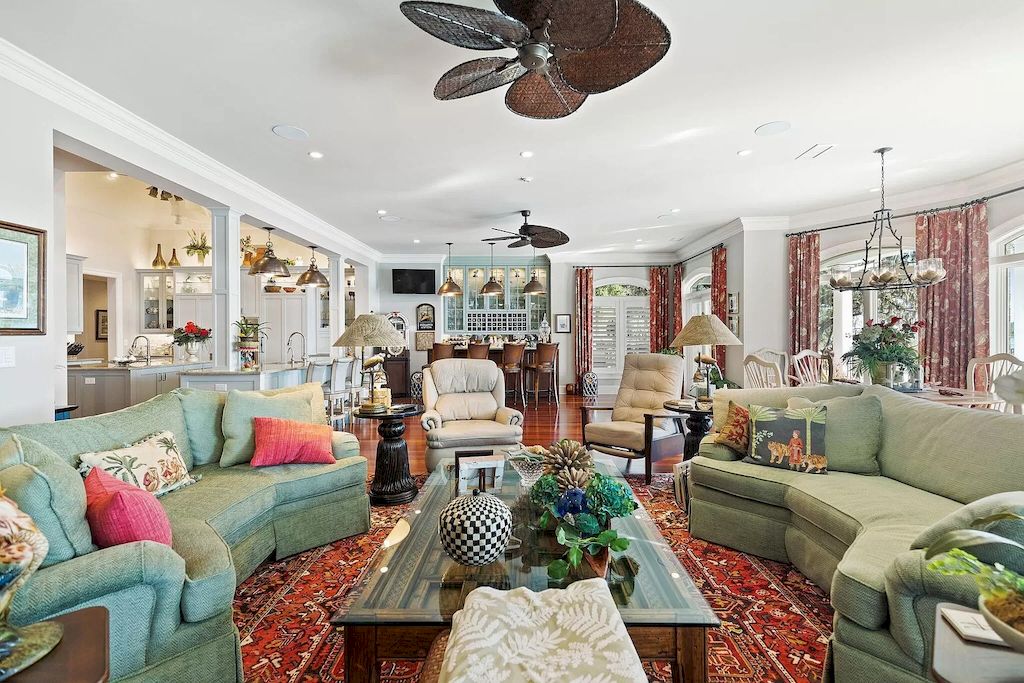 Do you like the color green but don't want to cover the entire room in it? To help enhance your space, add a main piece of green furniture. You do not have to use a single color tone for the sofa set, but you can combine several shades of green as long as they are harmonious. The soft contrast between the color of the sofa set and the hot, glossy carpet gives this living room sophistication and vibrancy. High-end Custom Built Home with Breathtaking Water Views in South Carolina on Market for $8,500,000
10. Warm Up Living Room with Basil Green Shades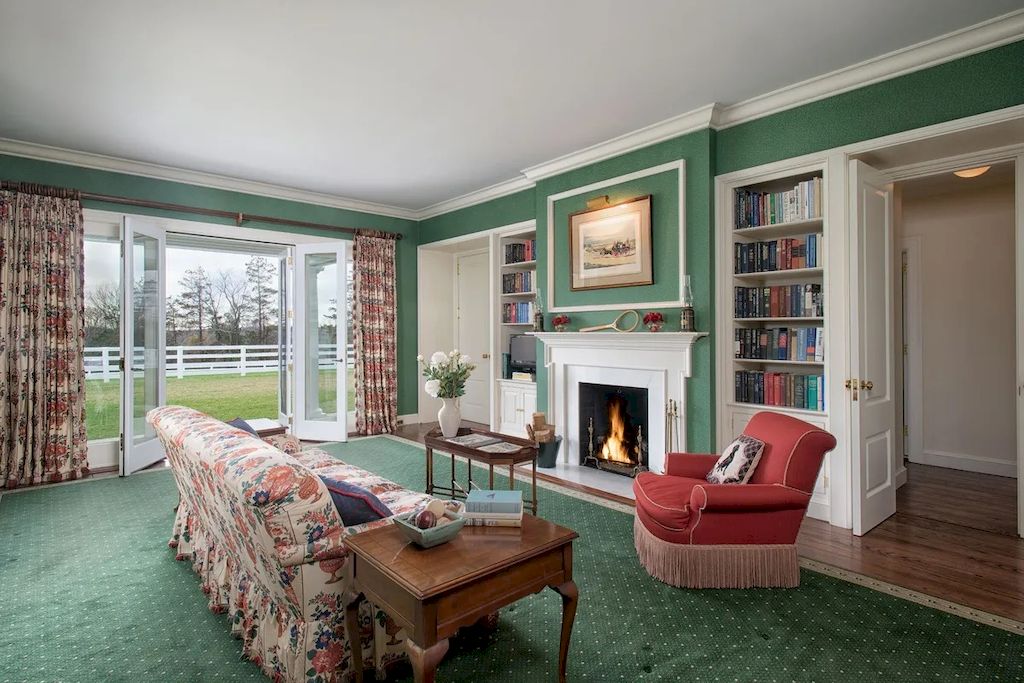 You can't miss this shade of green, which always evokes summer and warm climates. Furniture in bold, warm tones, such as red, can add even more warmth to a green room. Covering the floor with a green carpet in the same tone has given your room a more continental feel. Use floral motifs to create a vibrant environment. This $14,900,000 Classical Villa Contributes to the Timeless Elegance in Connecticut
11. Go Two – Tone For a Contemporary Living Room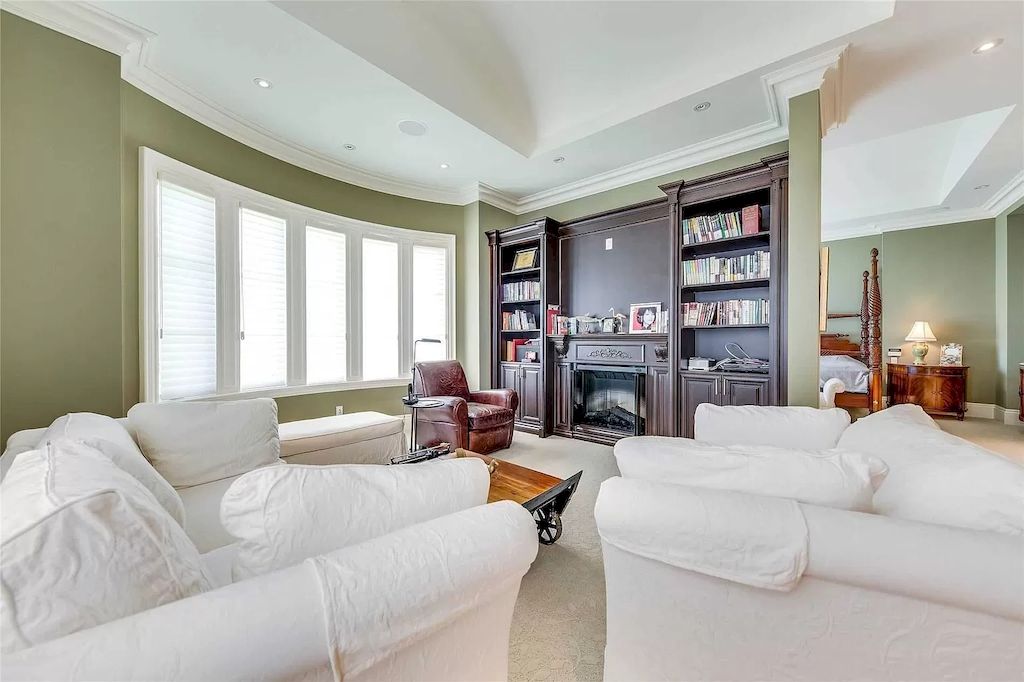 If you don't want to take chances with green, choose a soothing color tone for the white furniture. The dark olive green variation combines green, yellow, and gray. This is a color that is cool but not too bright or too dark. It will work well in a light, minimalist setting. Immaculate Stone Gated Residence in Ontario Lists for C$5,580,000
12. Make a Statement with Bold Green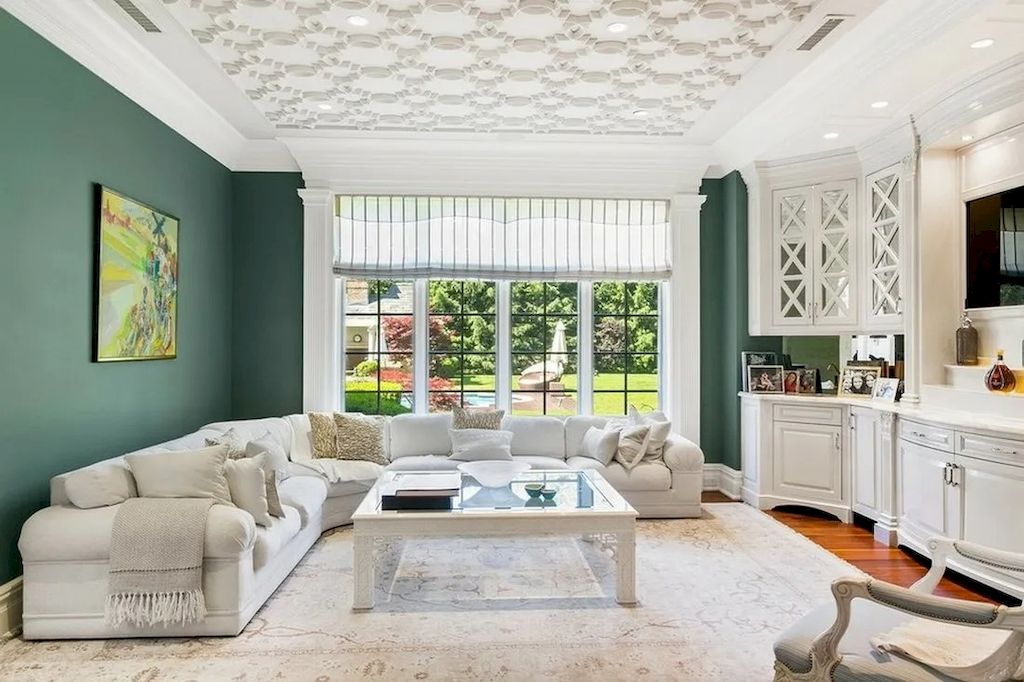 If you already have a ceiling with dense and detailed textures, wall cladding should be simple and minimal. That doesn't mean your space should be boring; instead, use bright colors to draw attention to it. This shade of green is known as pine green, and it exudes sophistication and solidity. Besides, we've always been fans of adding a splash of color to the neutral, which creates the perfect contrast. New Jersey Enticing Manor Priced at $15,900,000
13. Glossy Walls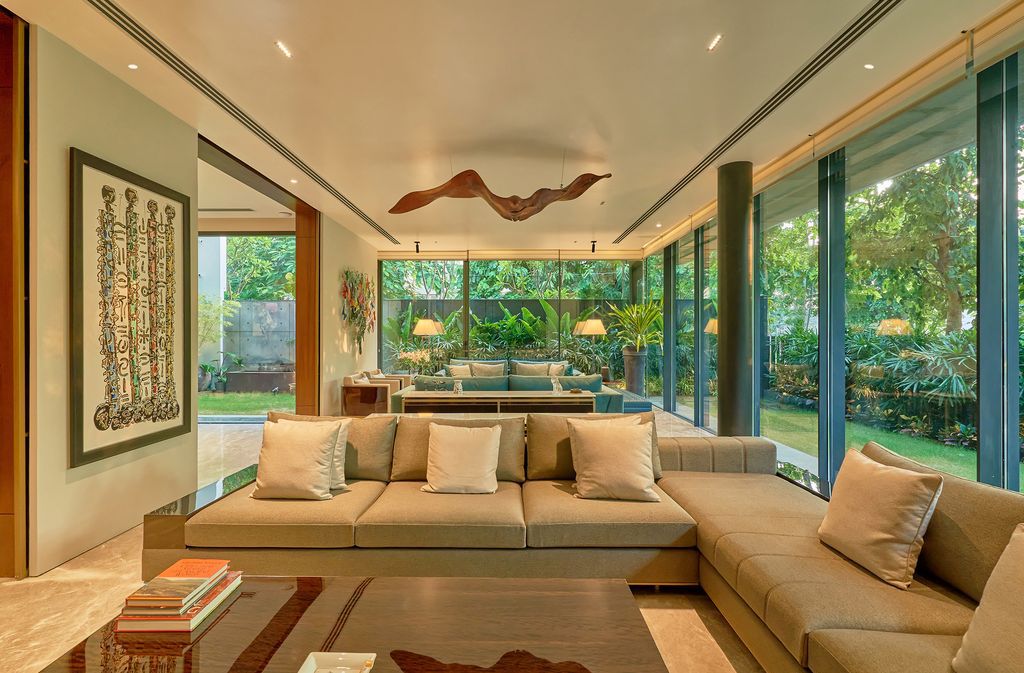 This design is a perfect blend of Japanese architectural style and Western modern style. Classic sofa with low height, close to the floor, and extra storage. The partition walls opposite the large glass door are painted in a glossy olive green. This combination of paint colors and materials reflects light and connects the spaces. The green layers compelled us to explore all of the colors. Monochrome House, Privacy, Openness in Modern style by DADA Partners
14. All the Way to the Top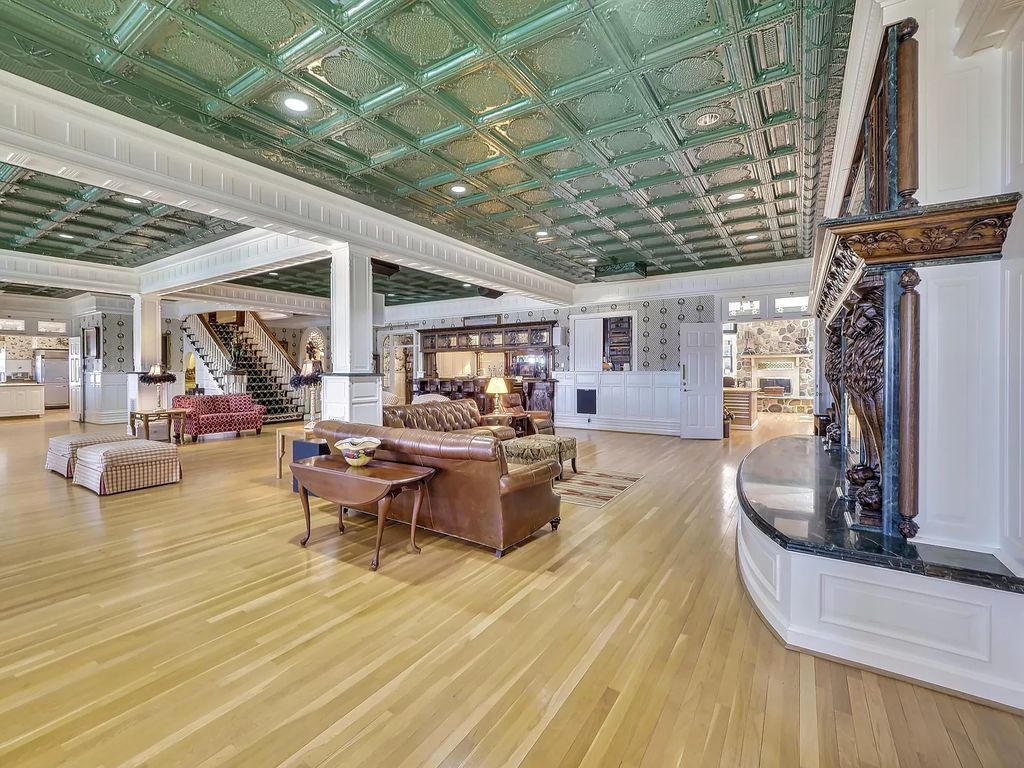 The open living space features bold color and pattern combinations. The pure green on the ceiling, unmixed with any other color, is the unexpected point that ties all of the spaces in the house together. It looks great with the white painted walls and the brown leather sofa set. Recognizable Home in Michigan with Panoramic Views of Mullett Lake Sells for $5,950,000
15. Spotlight from the Green Rug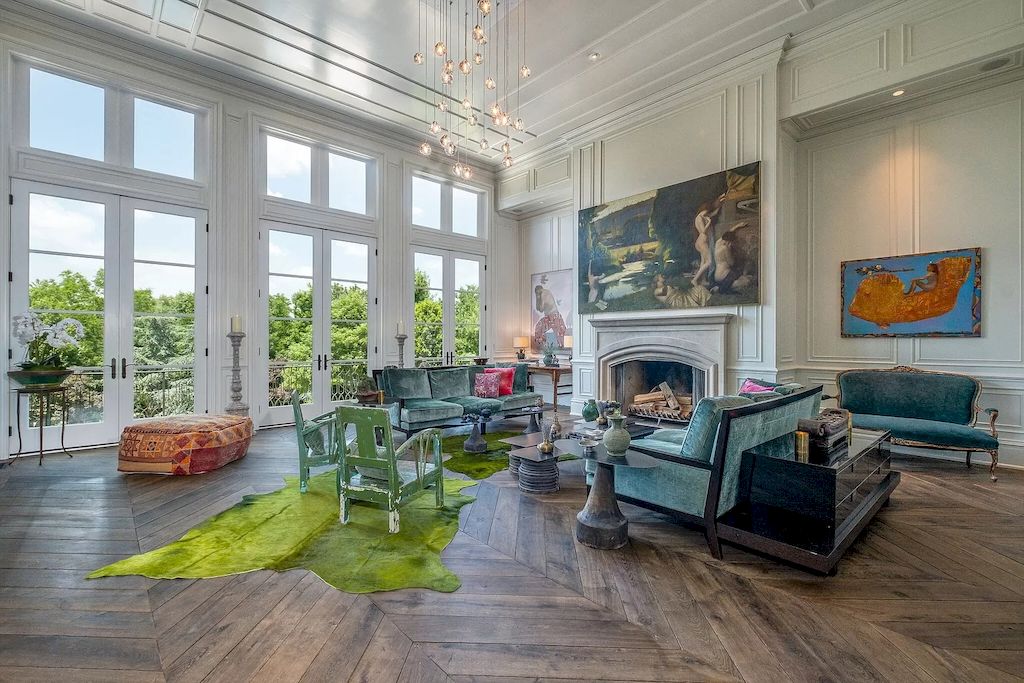 Instead of painting the entire house green for the traditional living room, the designer chose some furniture to be the focal point. A leafy green carpet and a few chairs are more than enough to add some color to this stark white space. Because of the velvet material used, a dark pistachio green sofa blends in with this warm space. Breathtaking Hilltop Estate with Exquisite Details and Finishes in Tennessee Listed for $8,250,000
16. Tropical Dreams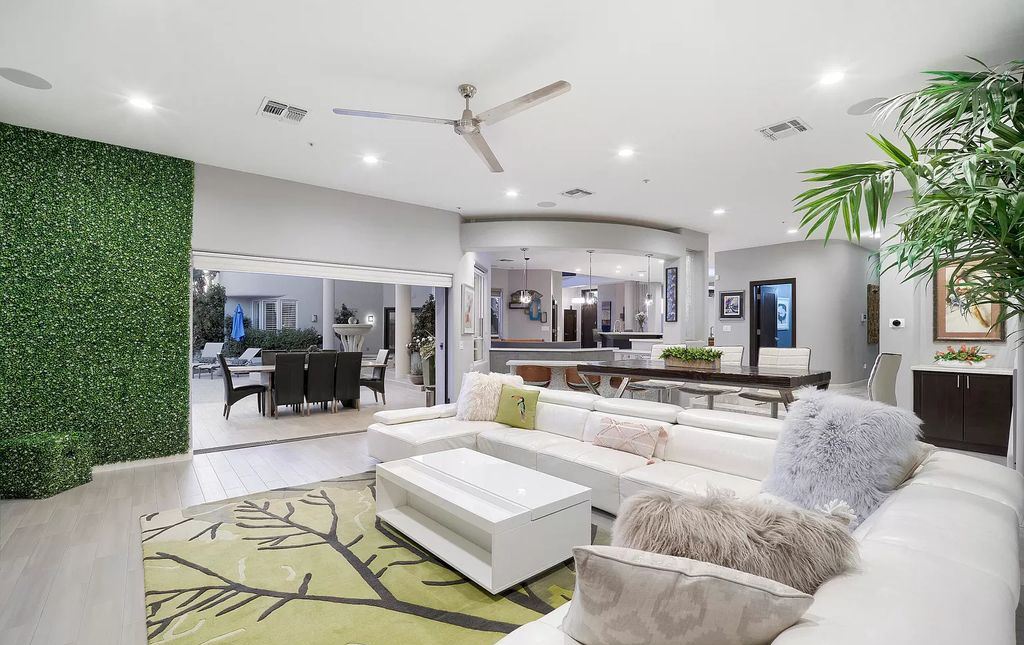 This house looks more like a miniature forest than a city house. This is due to the vibrant wall, as well as the green plant pattern carpet and other green plants in the room. The love of green cannot help but be reflected in the pillows. Because of the clever layout, all of the above elements are inextricably linked. Breathtaking contemporary home in Arizona delights with million dollar views for Sale at $3,900,000
This is a vibrant color that looks good in any shade. From pure greens to green shades mixed with gray, each maintains a sleek and relaxed appearance. Not only that, but green complements all tones, from white to neutral to classic brown wood. We walk you through the best green combinations, even overlaid with green. It allows you to transform your living room more easily and feel more at ease in busy cities.
More Ideas For Living Room:
---
Thousand of high quality images of Living room and more you can see at Livingroom Gallery.