Date of Publishing:
Architecture Design of Whistler Ski House
Description About The Project
Whistler Ski House designed by Olson Kundig, is a modern yet cozy family retreat in the Coast Mountains of Western Canada which has all the creature comforts and style to spare. Although, the terrain and mountain environment may be harsh, but the house is a modern oasis of all the amenities a family could want during a getaway. Indeed, the house built ten feet above the ground, which makes it look like is floating among the trees and above the snow. More than just a design feature, the elevation protects the main part of the house from the flood – prone lakeshore.
The house is actually two distinct buildings connected by a glass – walled bridge that spans 80 feet. The largest of the two wings contains the living and dining spaces, master bedroom, and two guest rooms. Besides, the second wing houses all the family's children in four rooms.
Especially, one of the most intriguing elements of the house is a custom horizontal shutter system. The design not only creates privacy. But it also protects textiles, upholstery and art inside the house from fading due to the harsh snow glare. It's a simple system that uses crank and switch controls to transform the façade according to the weather and the family's needs. Also, the shutters can convert the front from a bank of windows to one that is semi – exposed, shielded by raw – edged Douglas fir louvers.
Once inside, the house has great style and a very sophisticated yet relaxed ambiance. Plenty of open space makes the area flexible for all the things a larger group of family and friends will want to do. Moreover, comfortable furniture and cozy throws add to the warmth of the light – filled space.
The Architecture Design Project Information: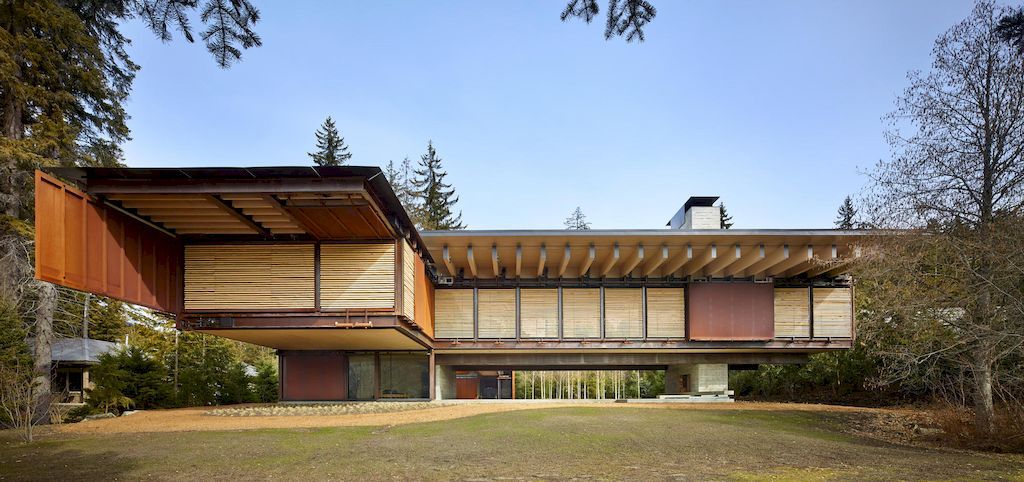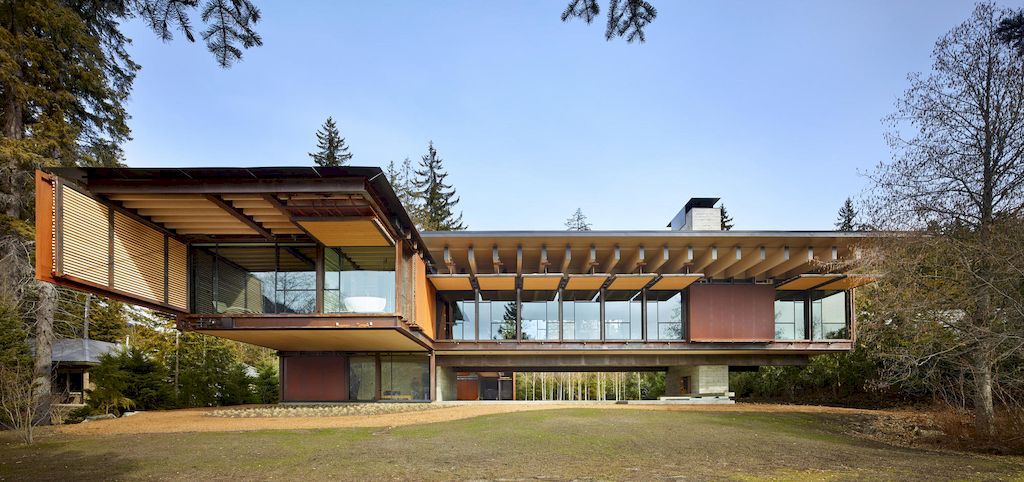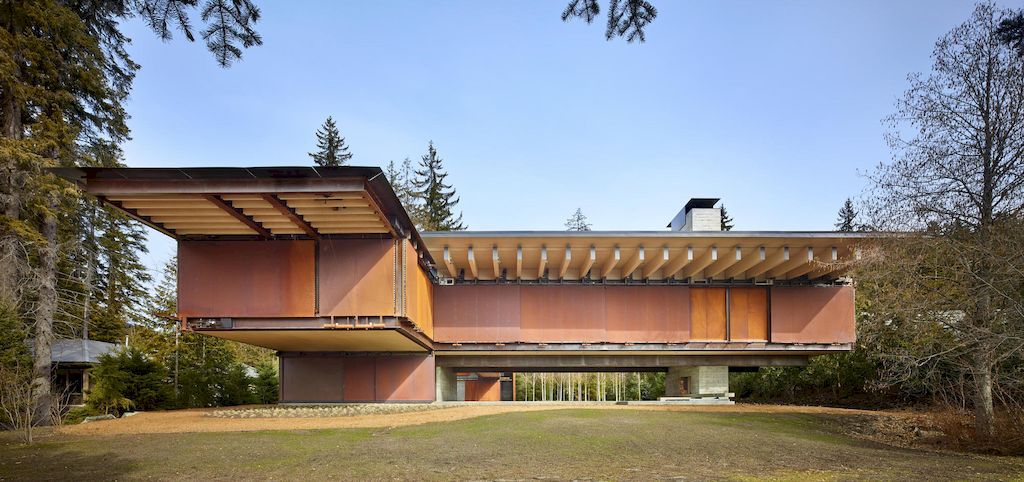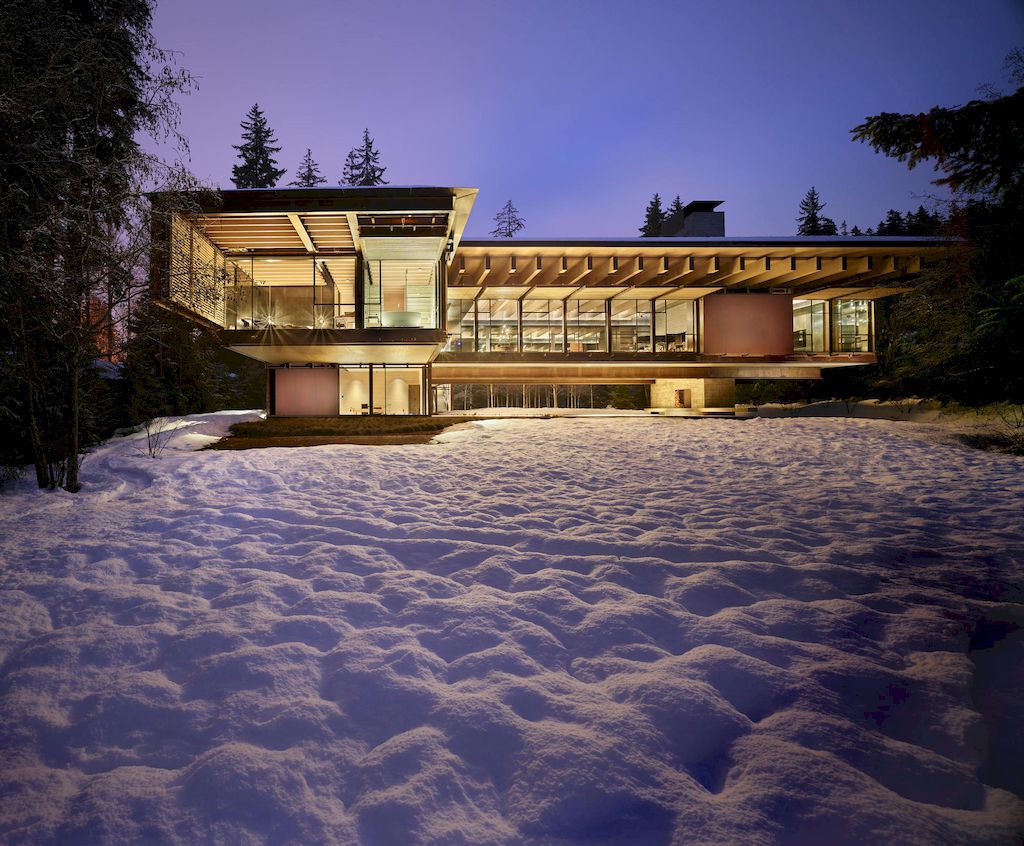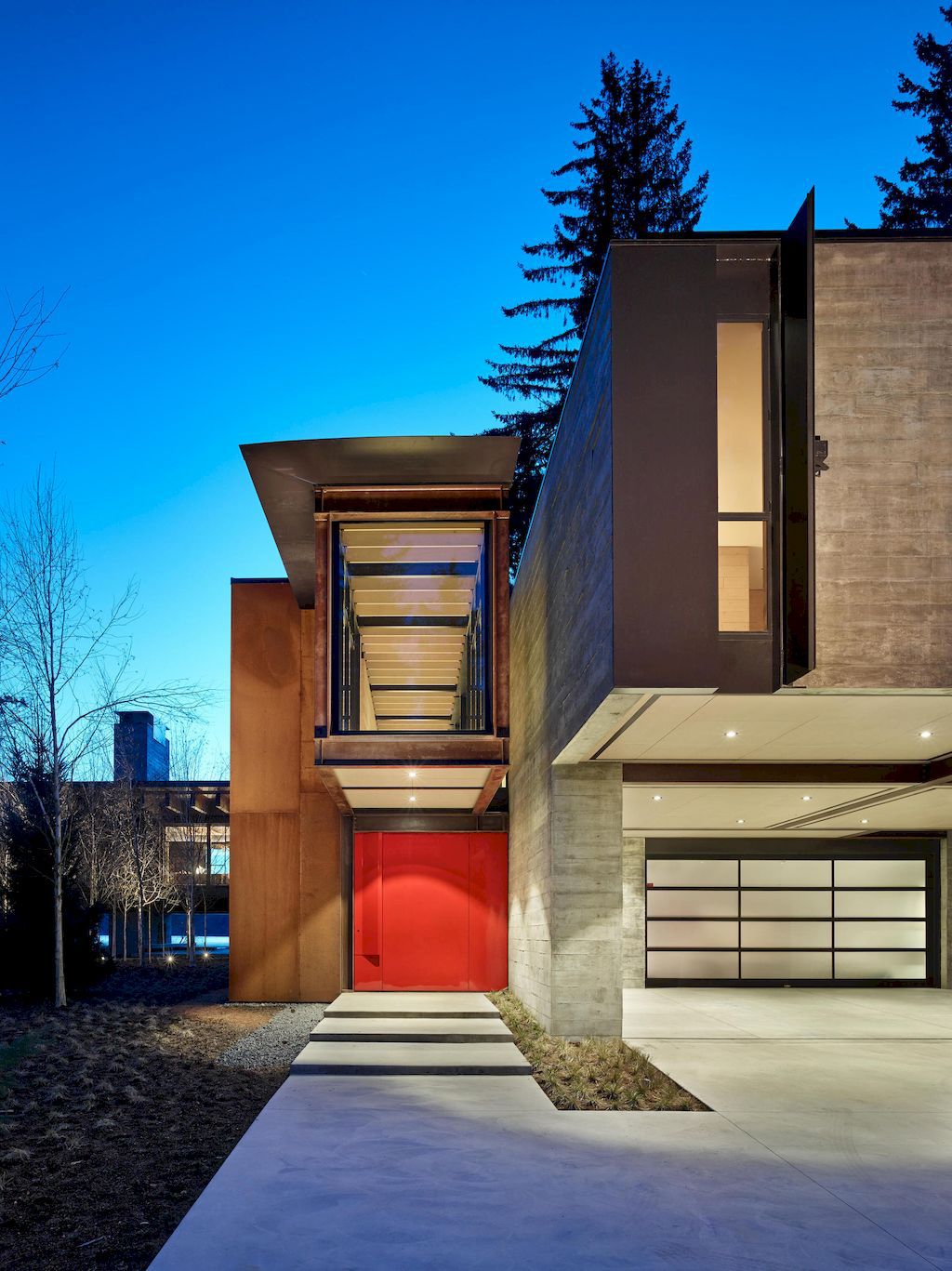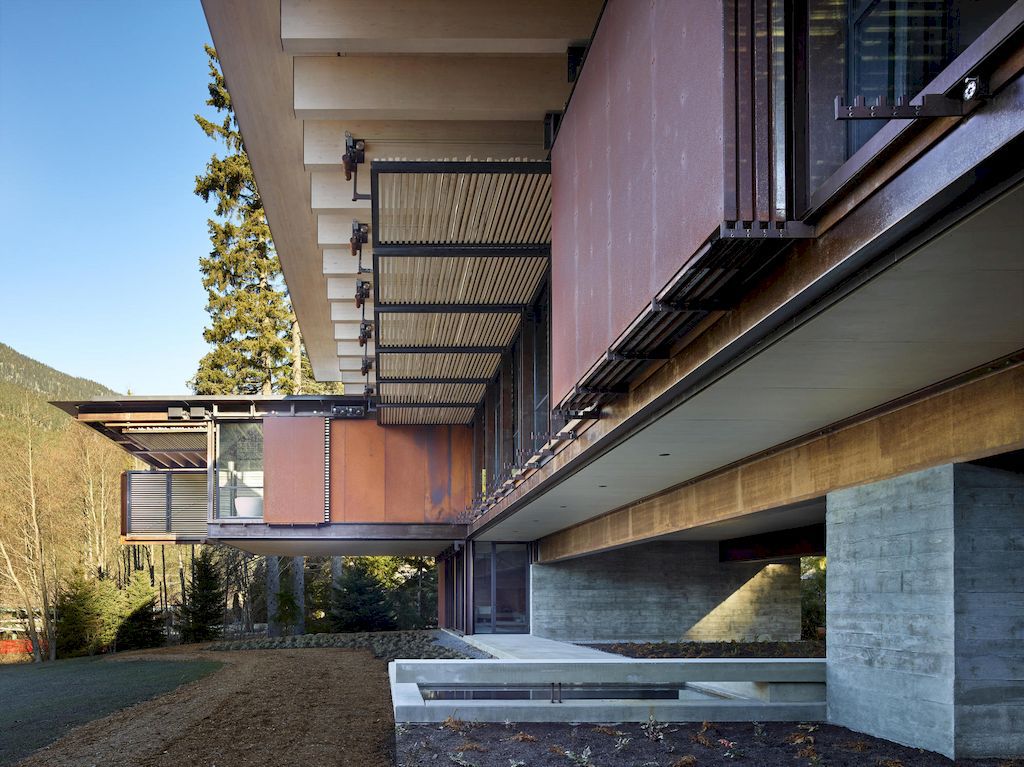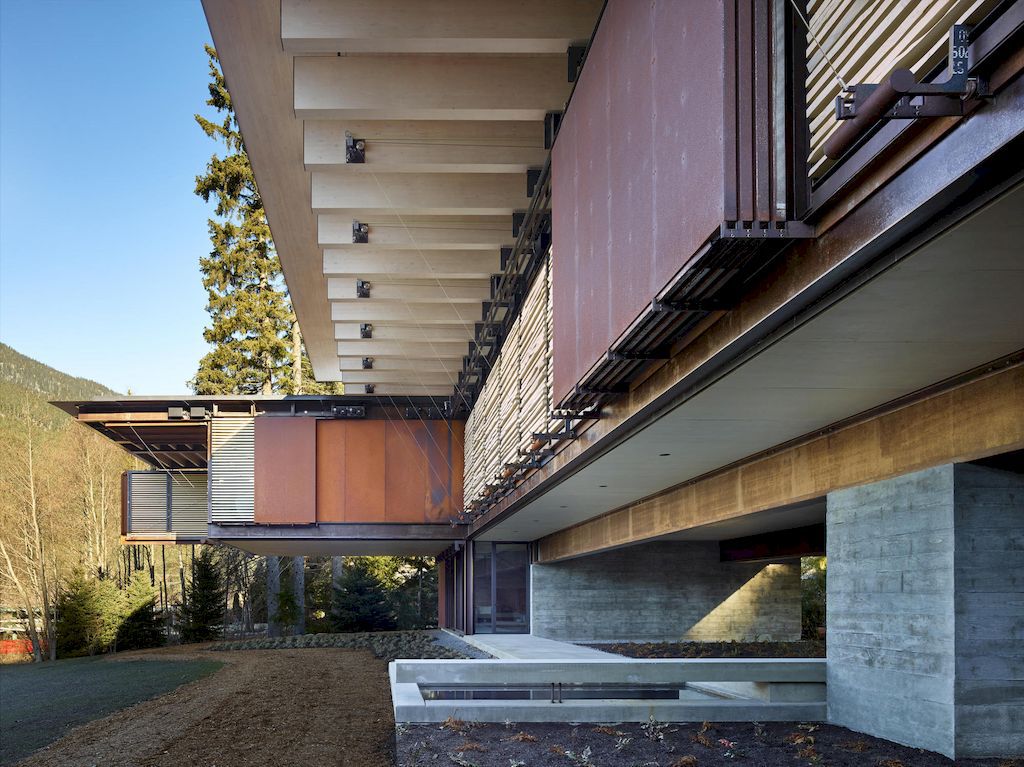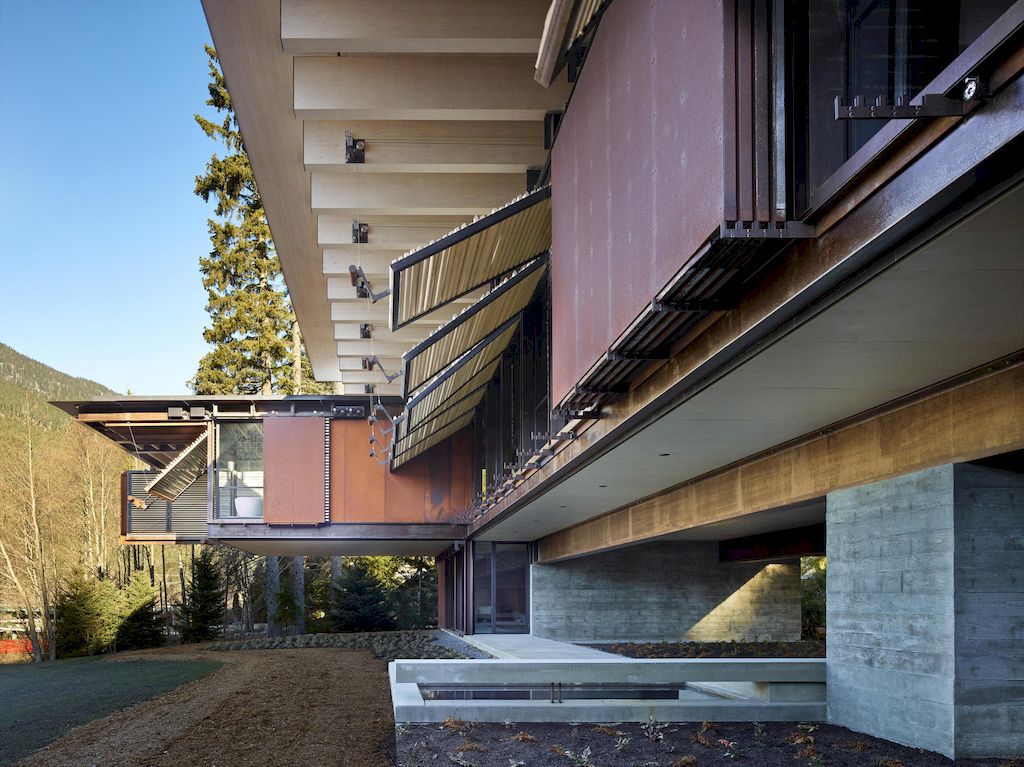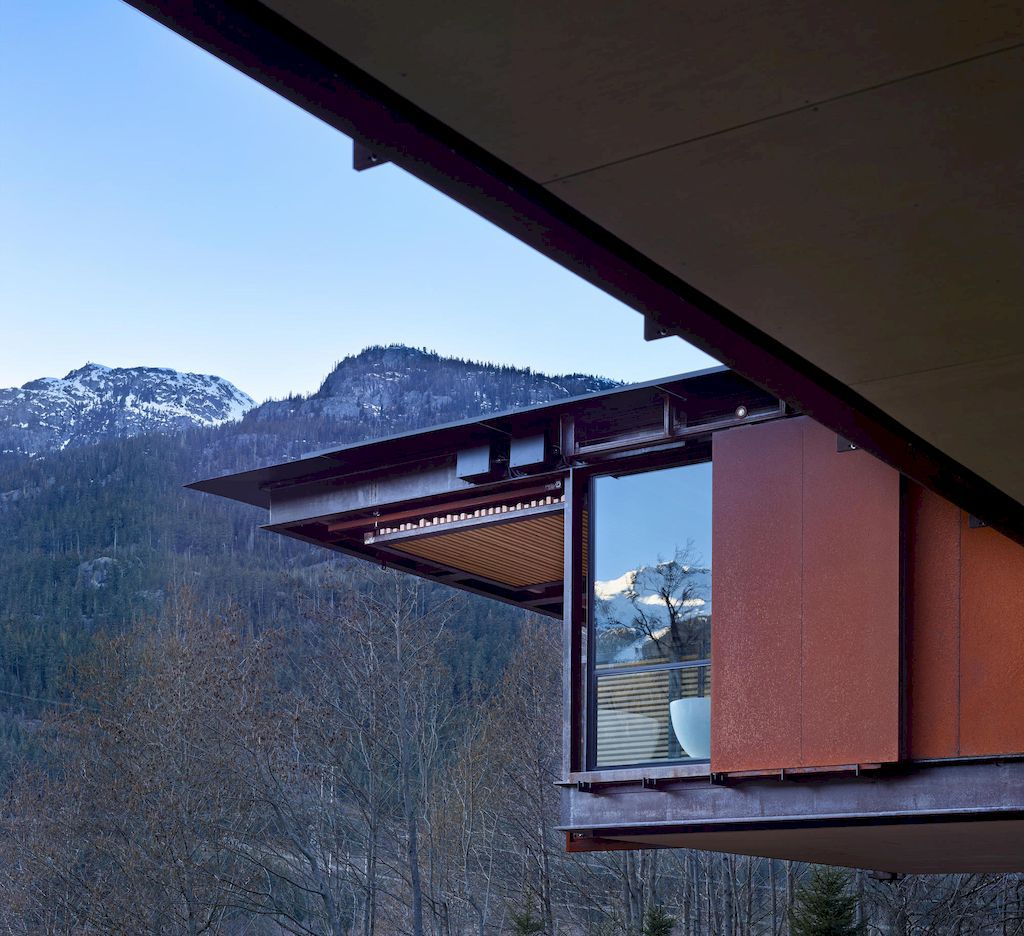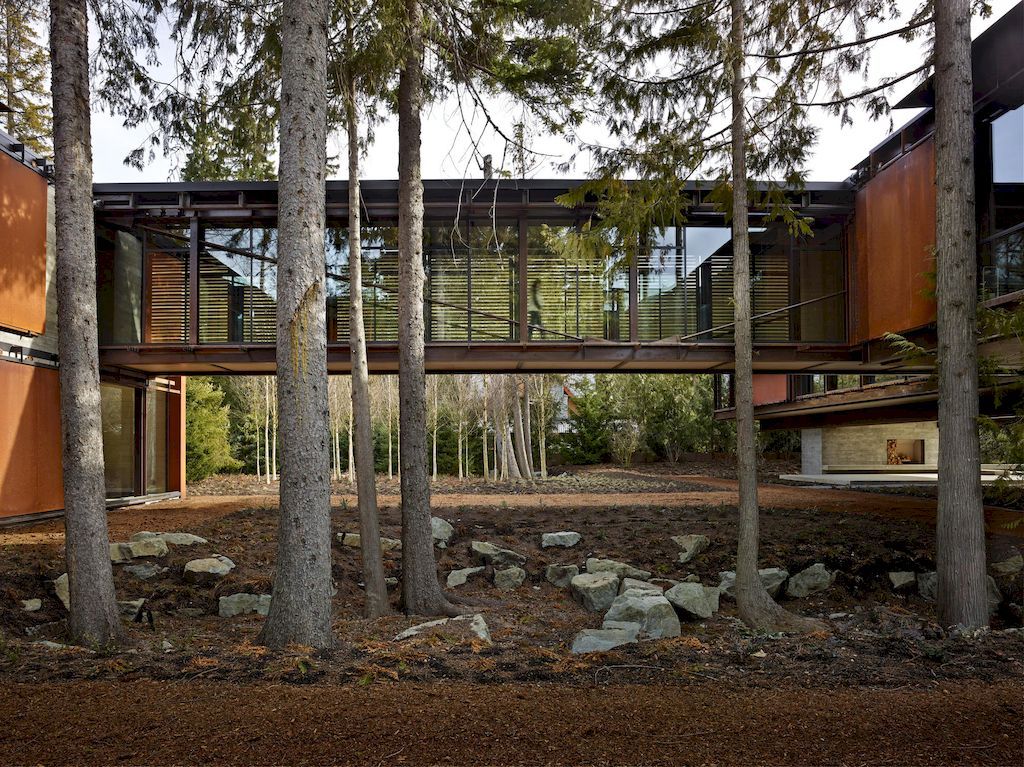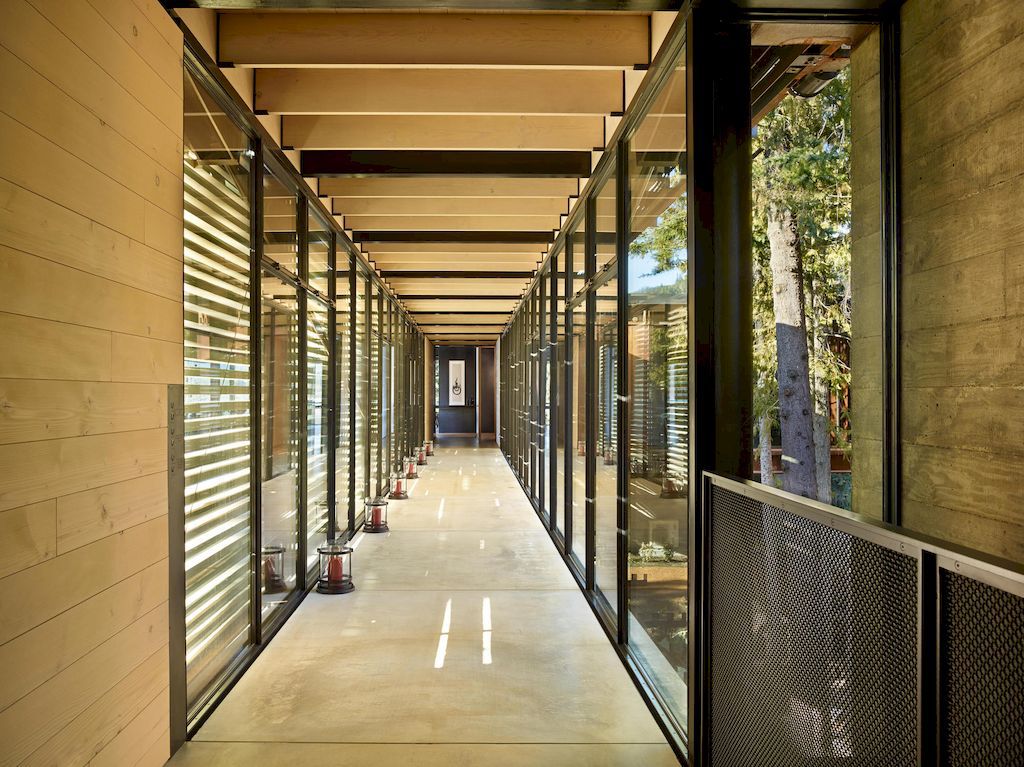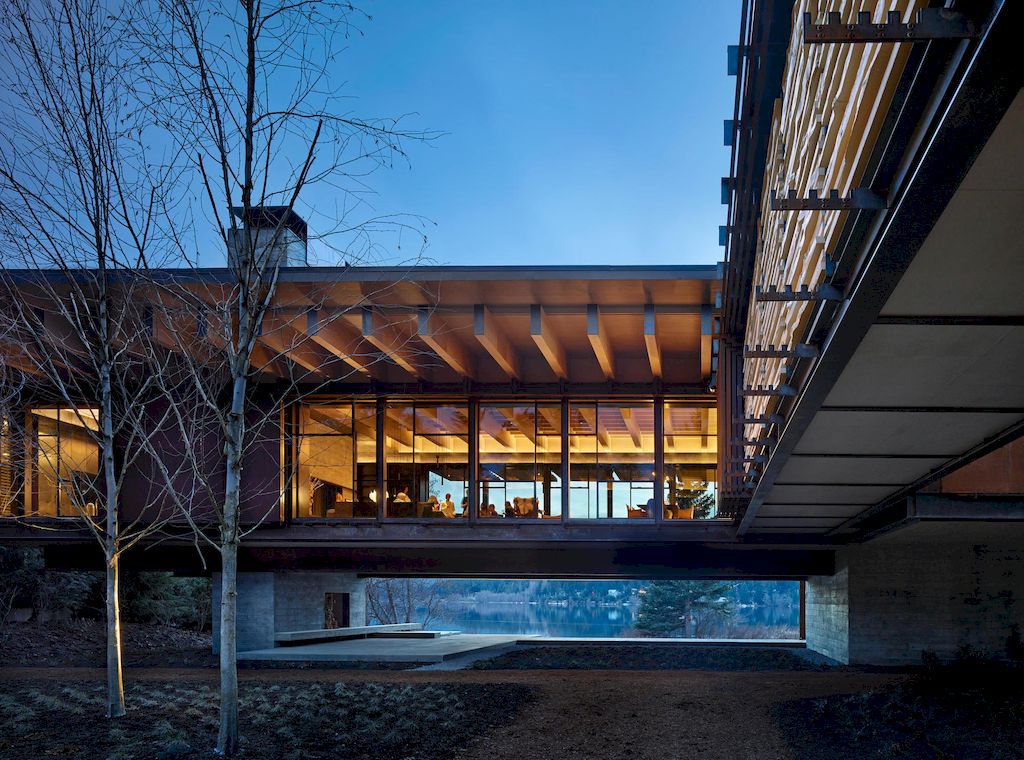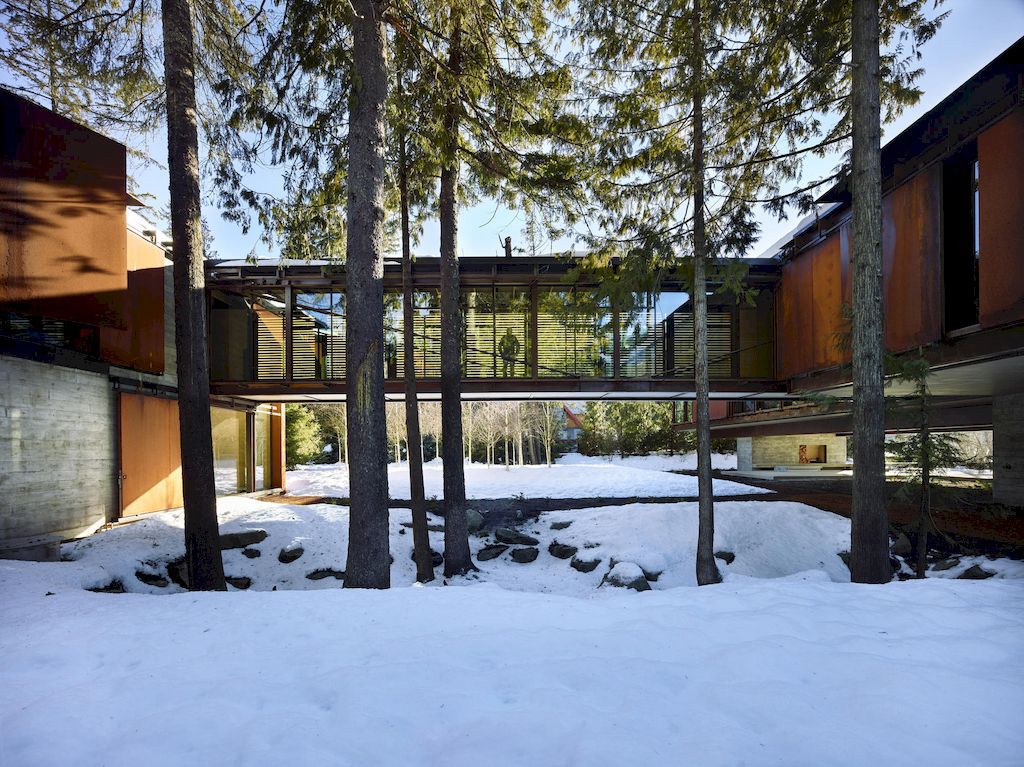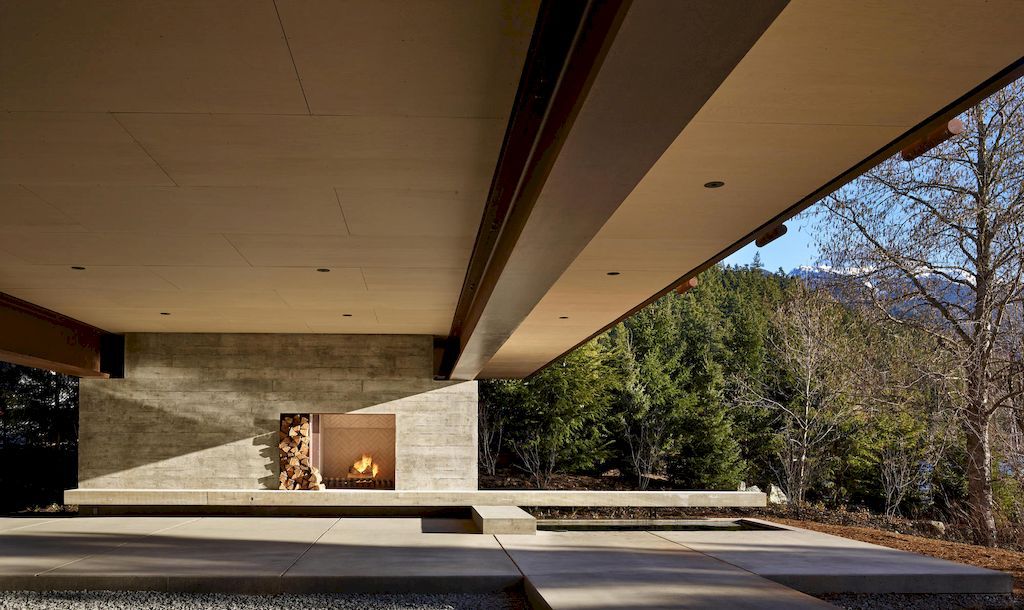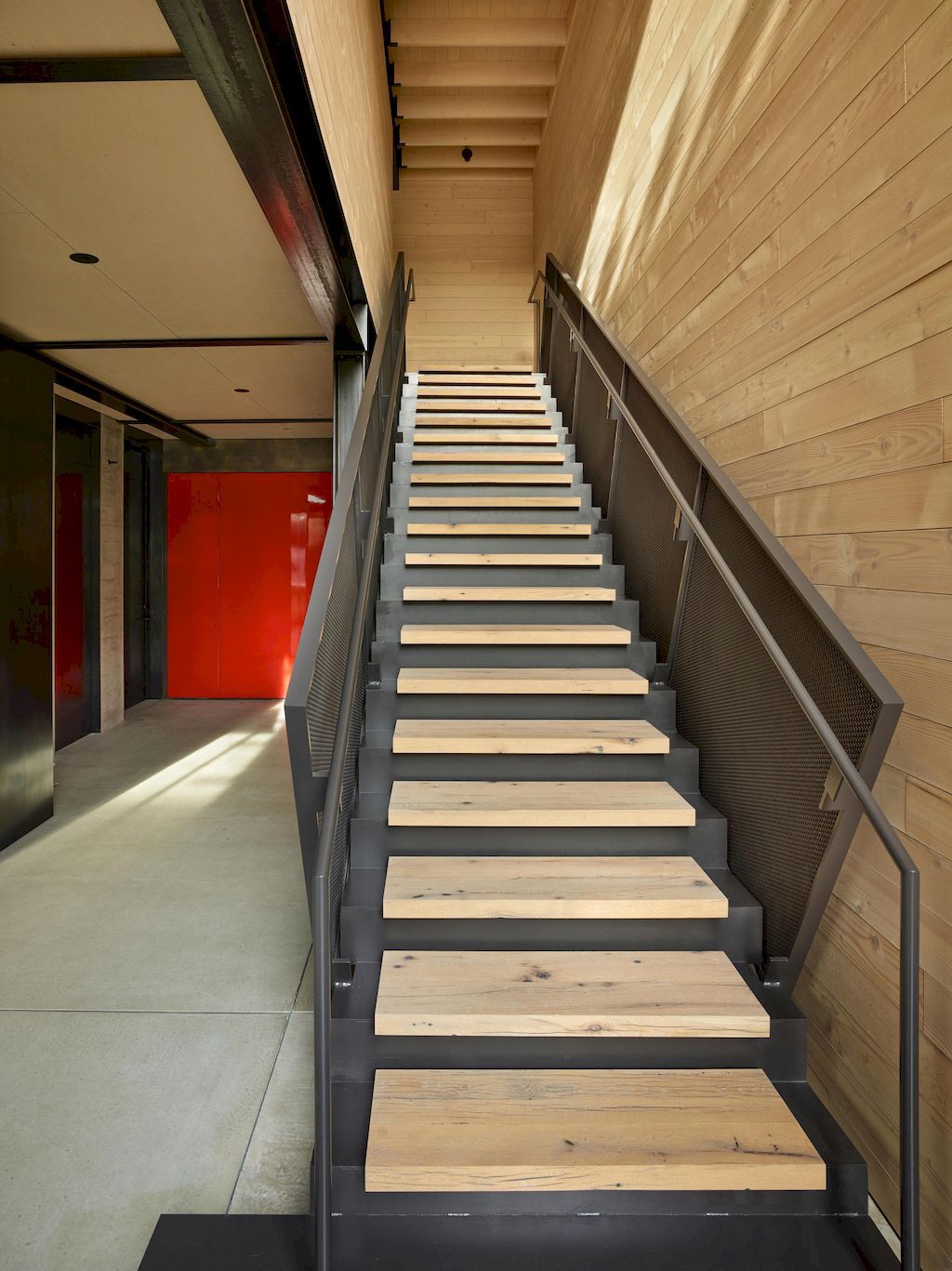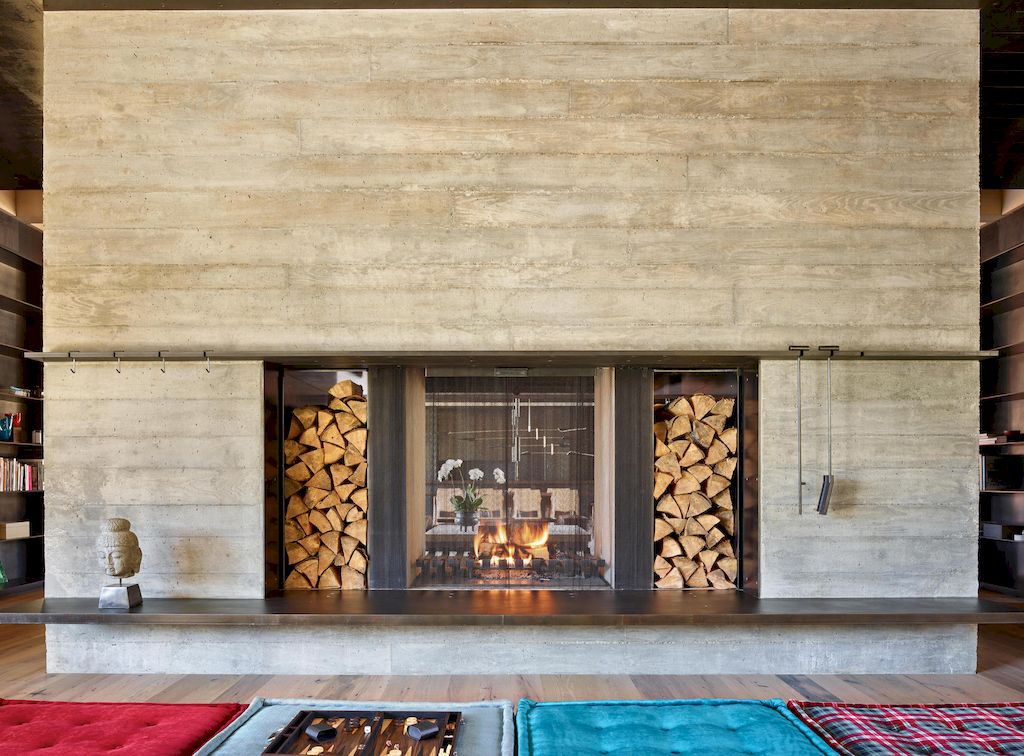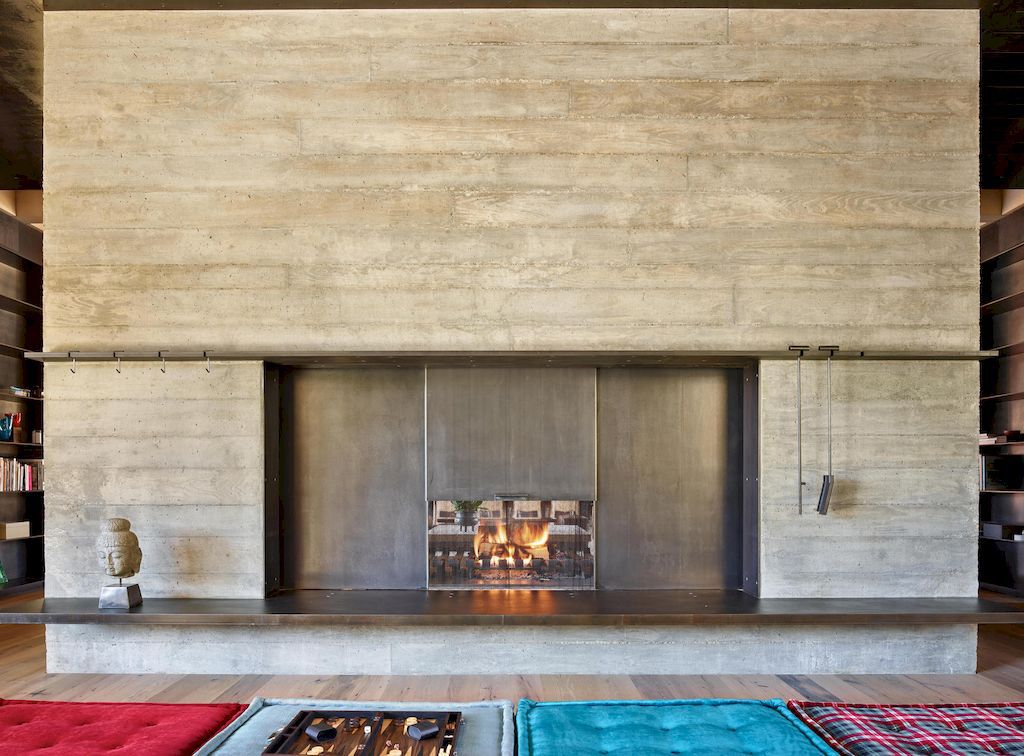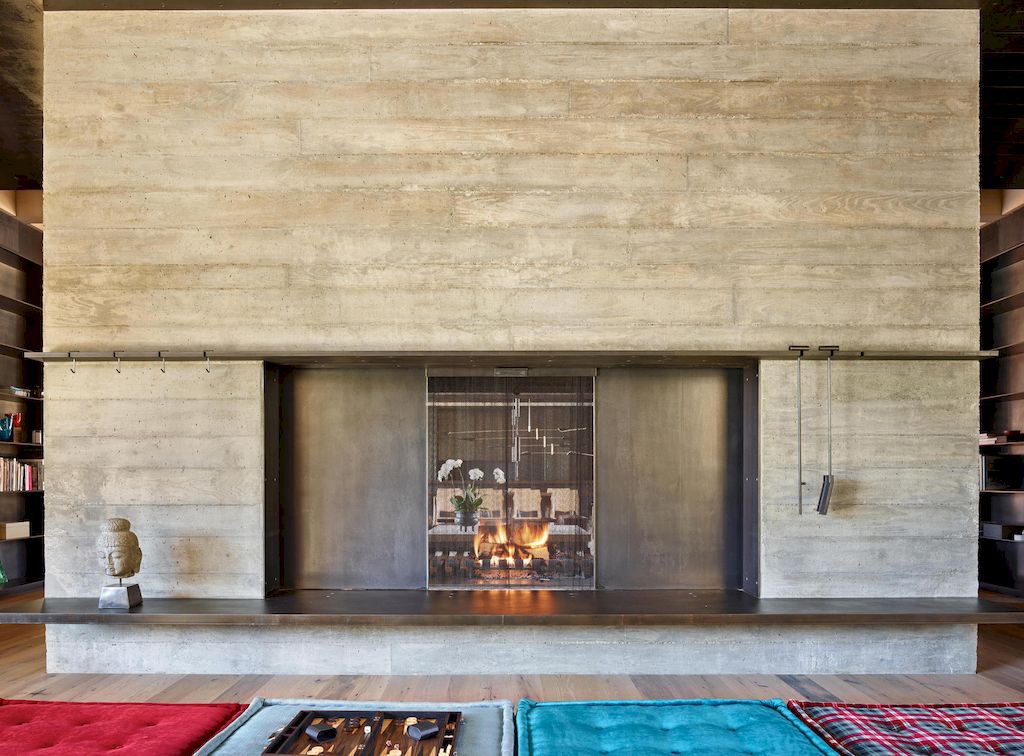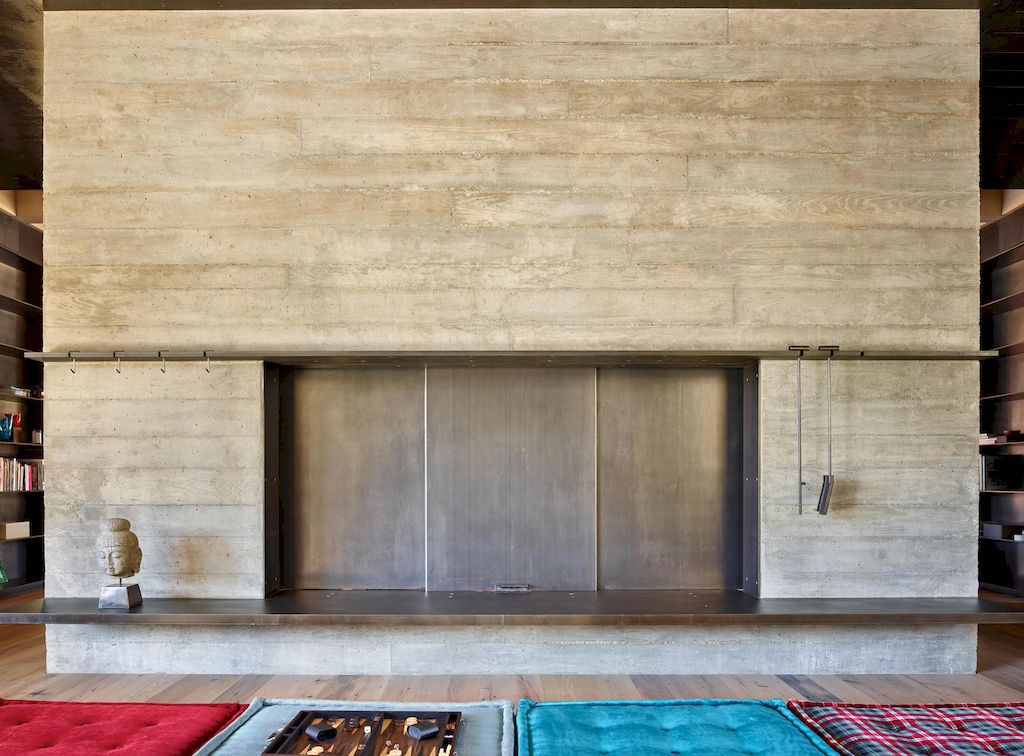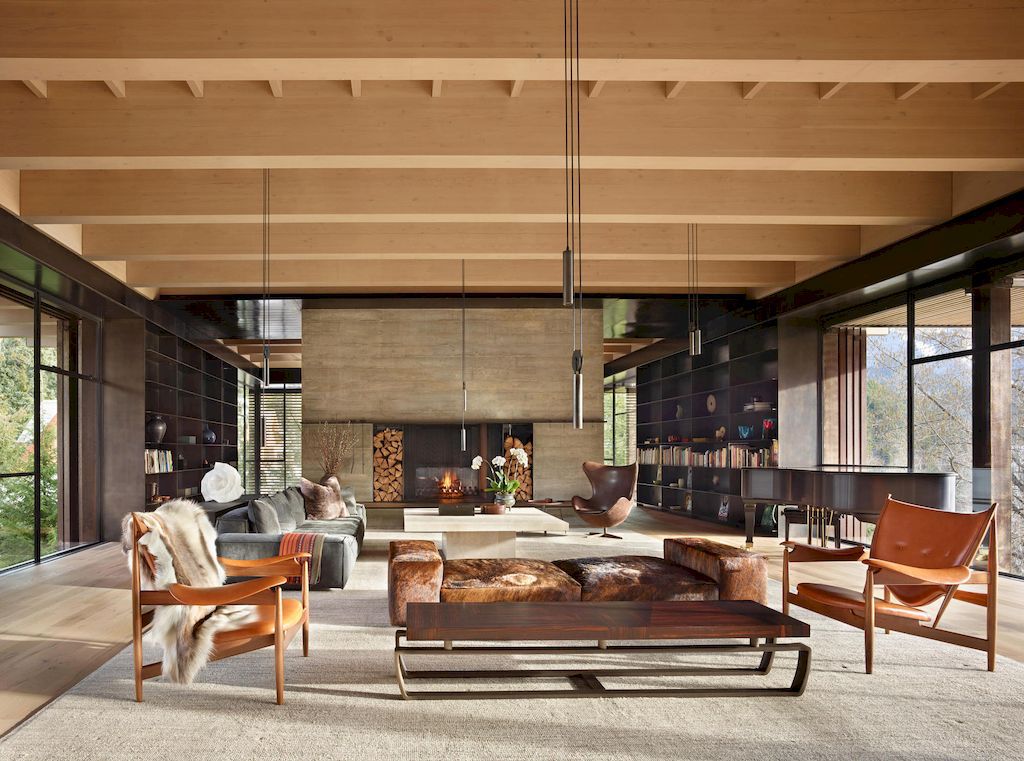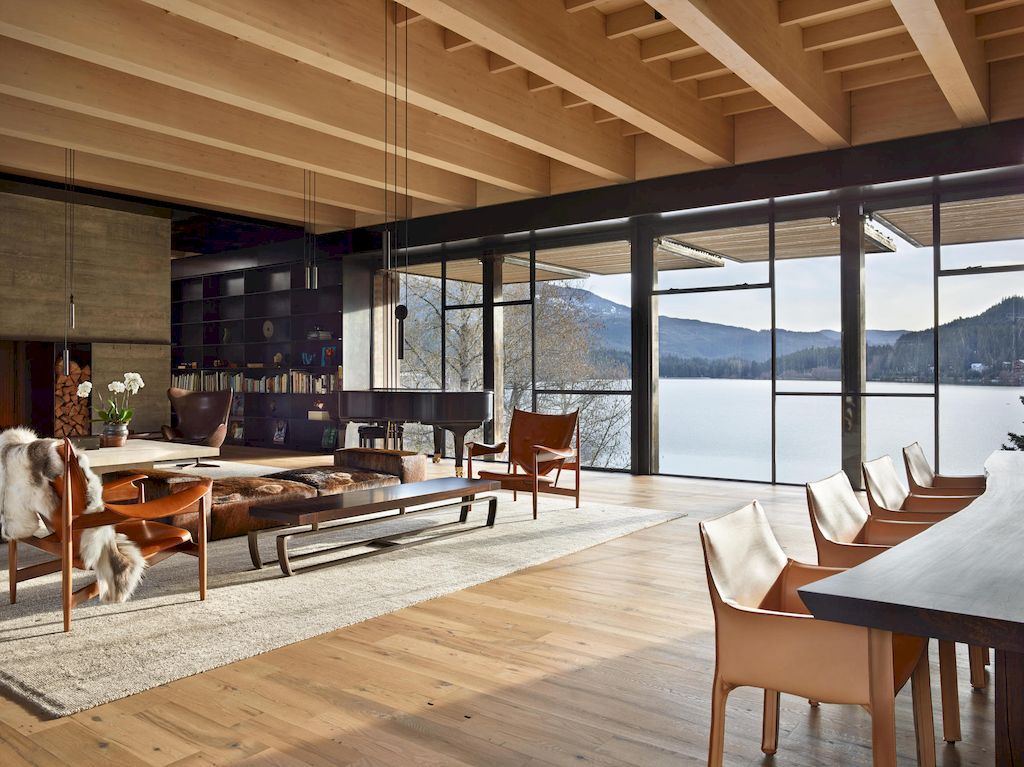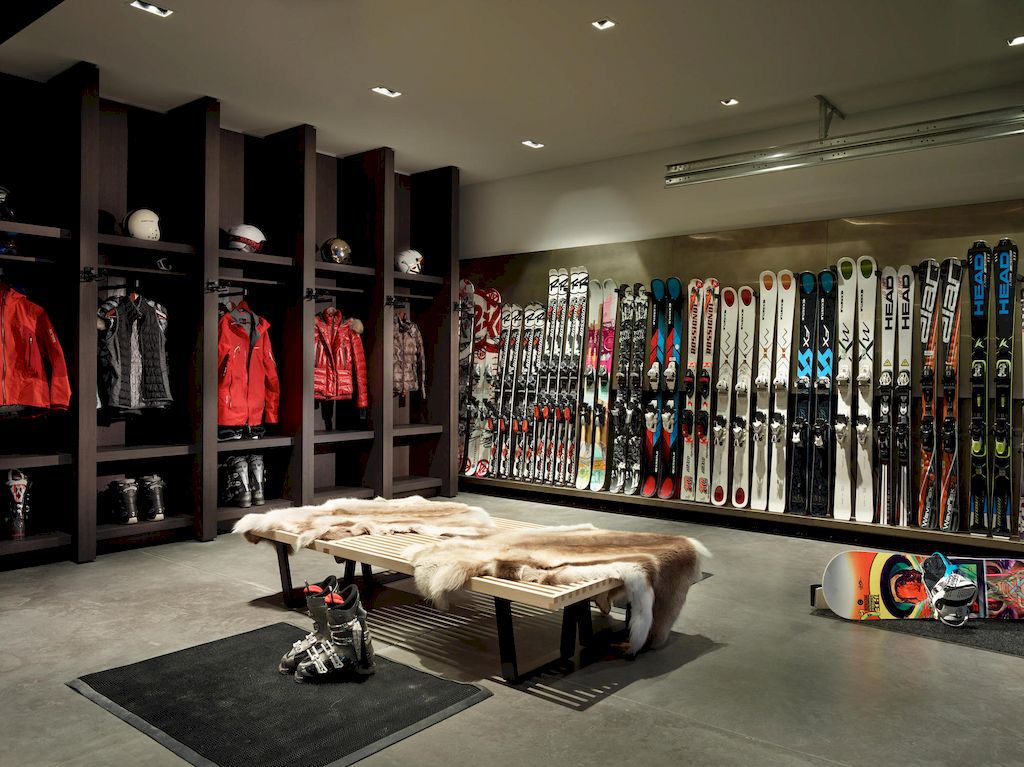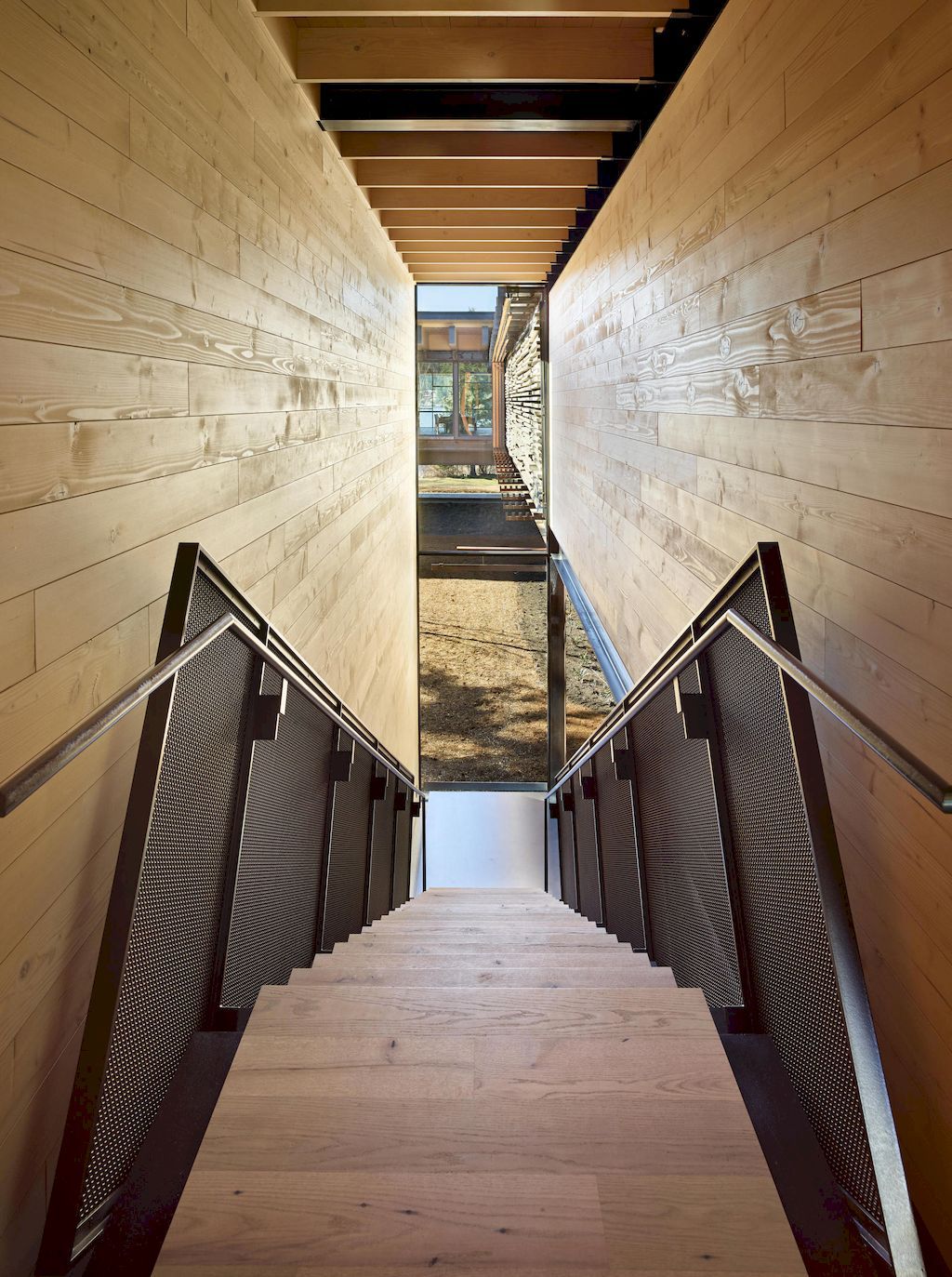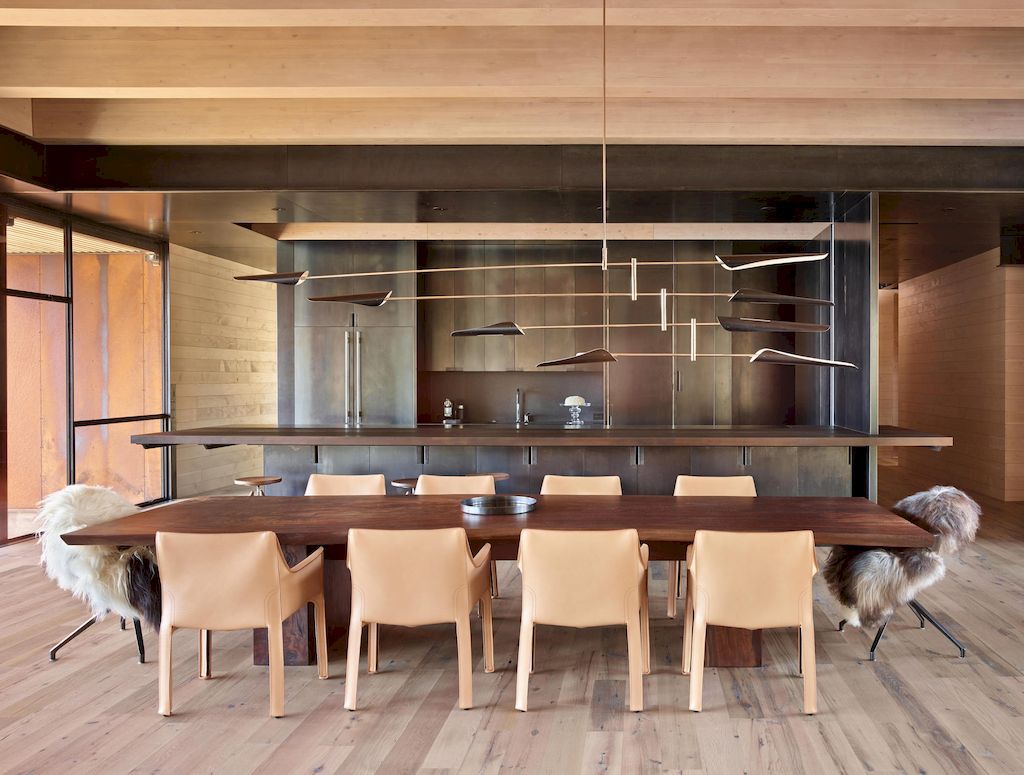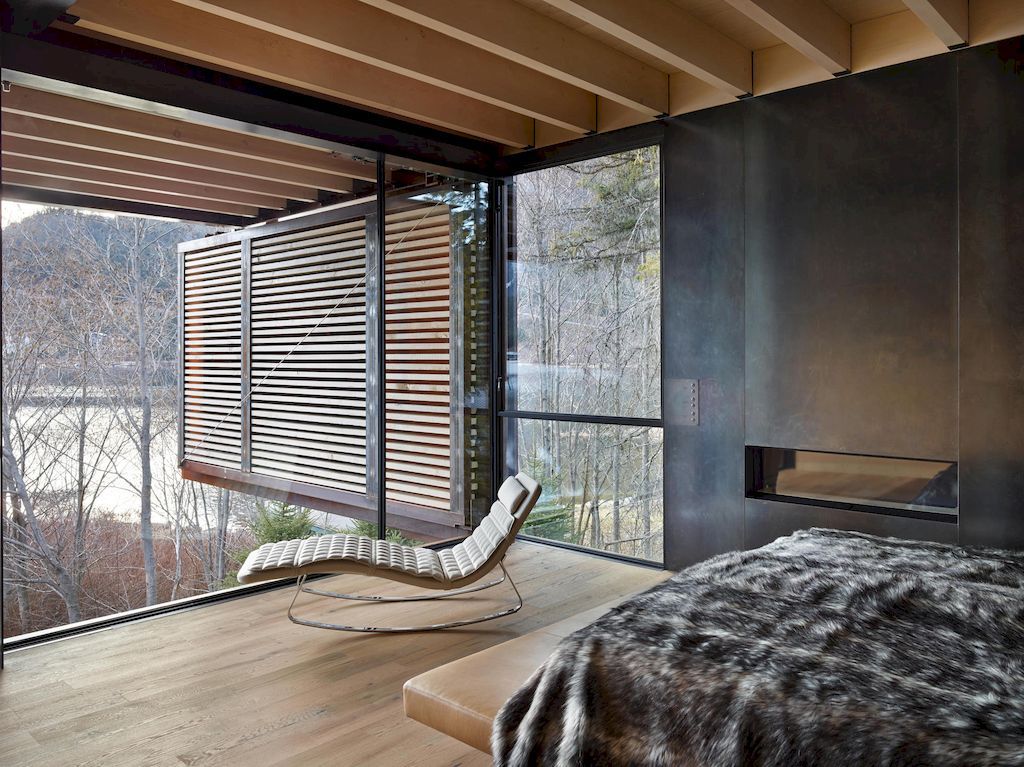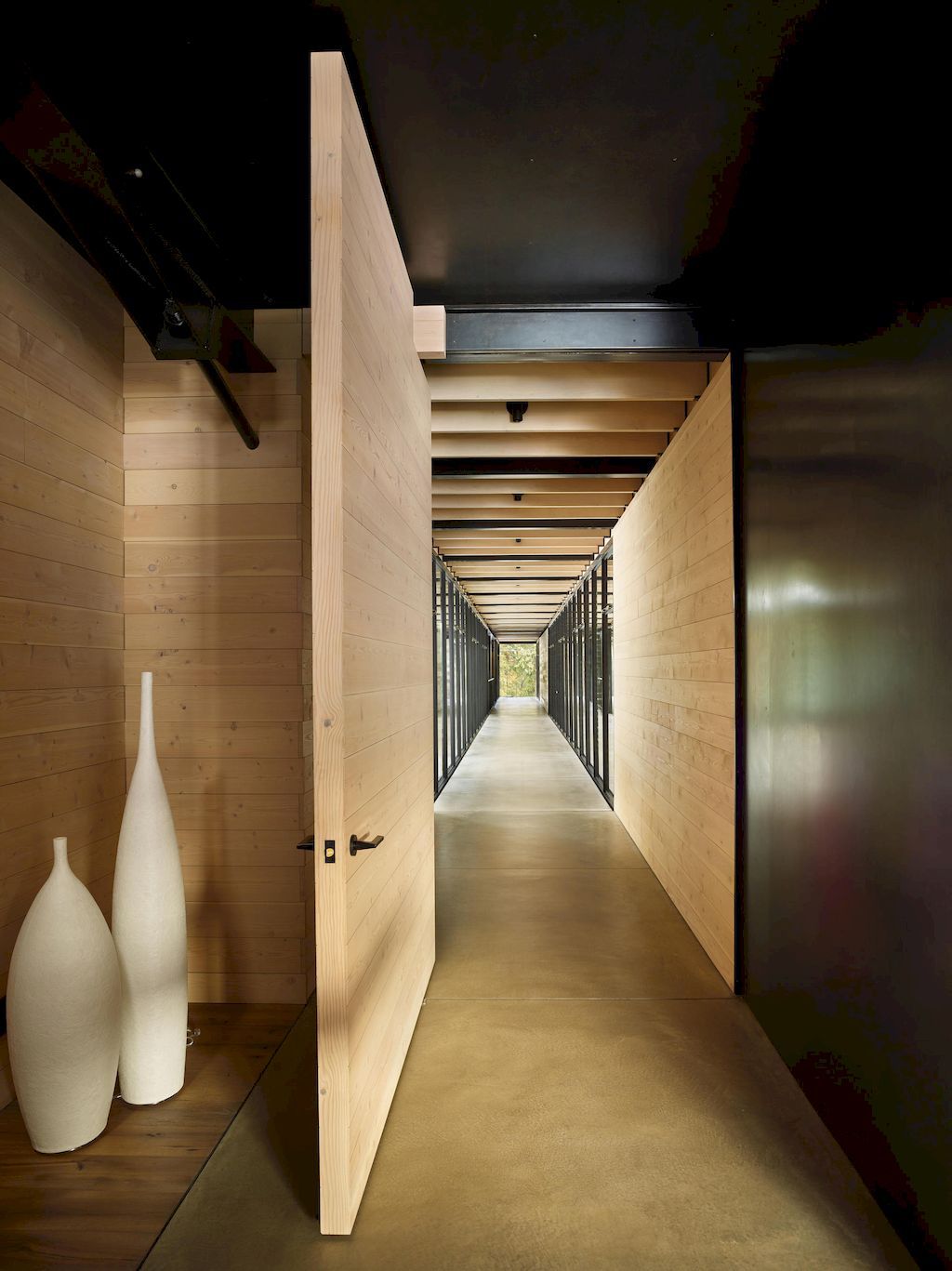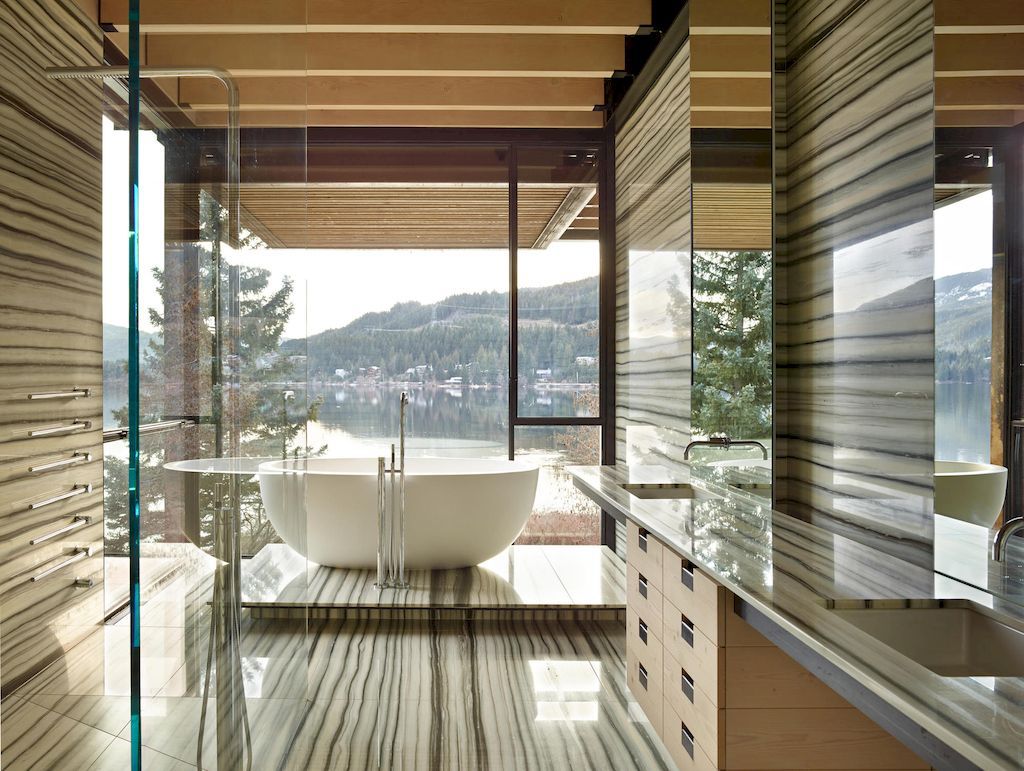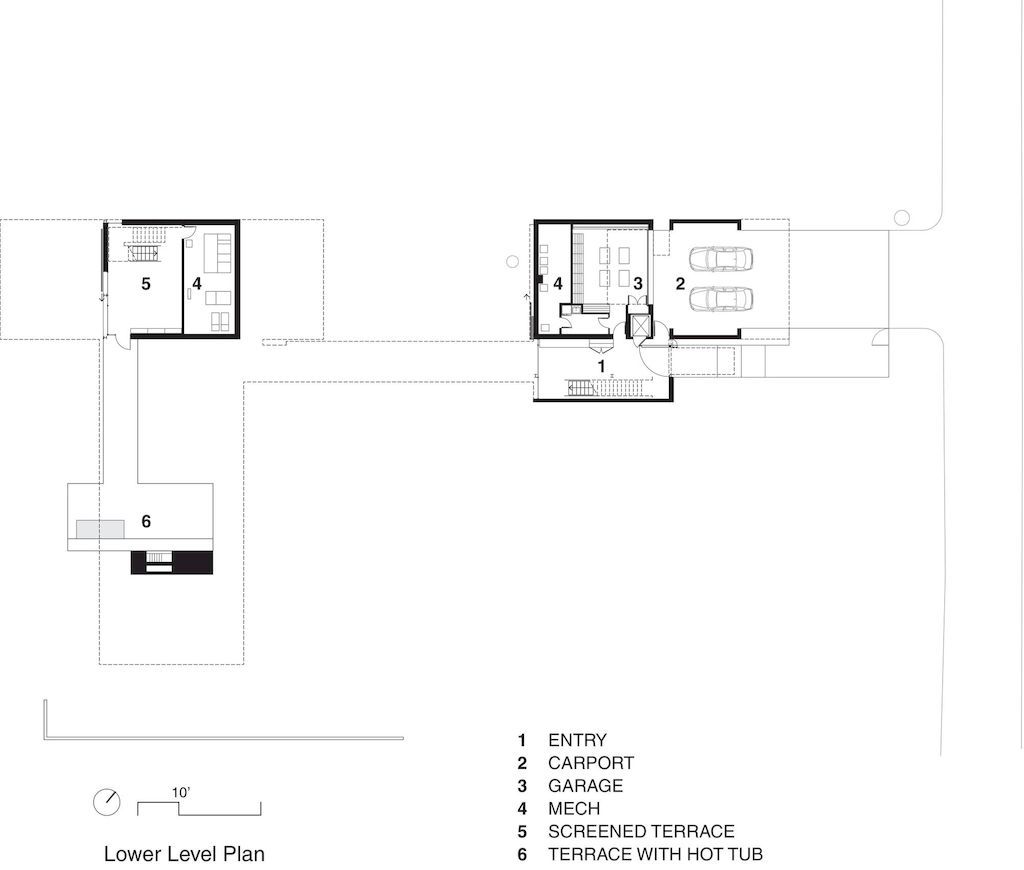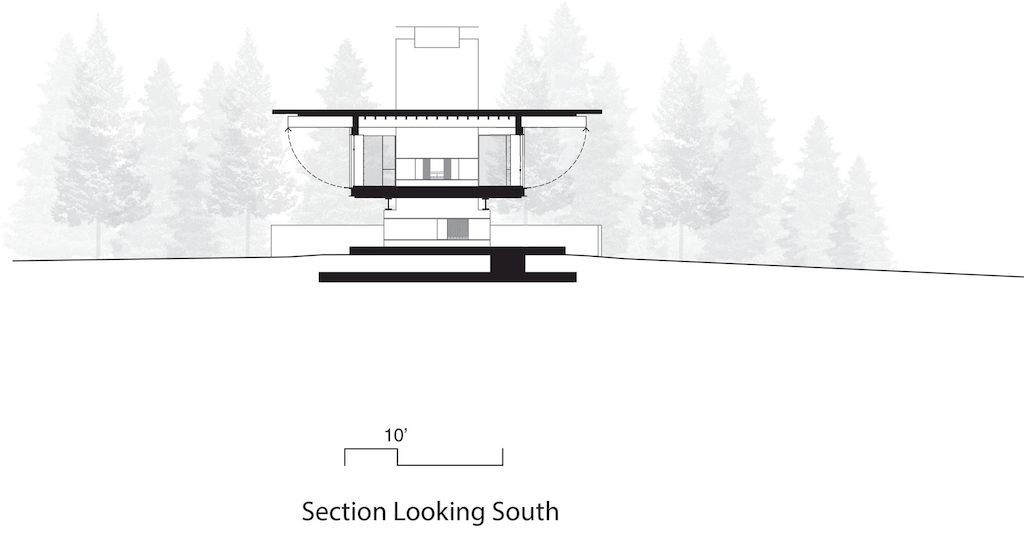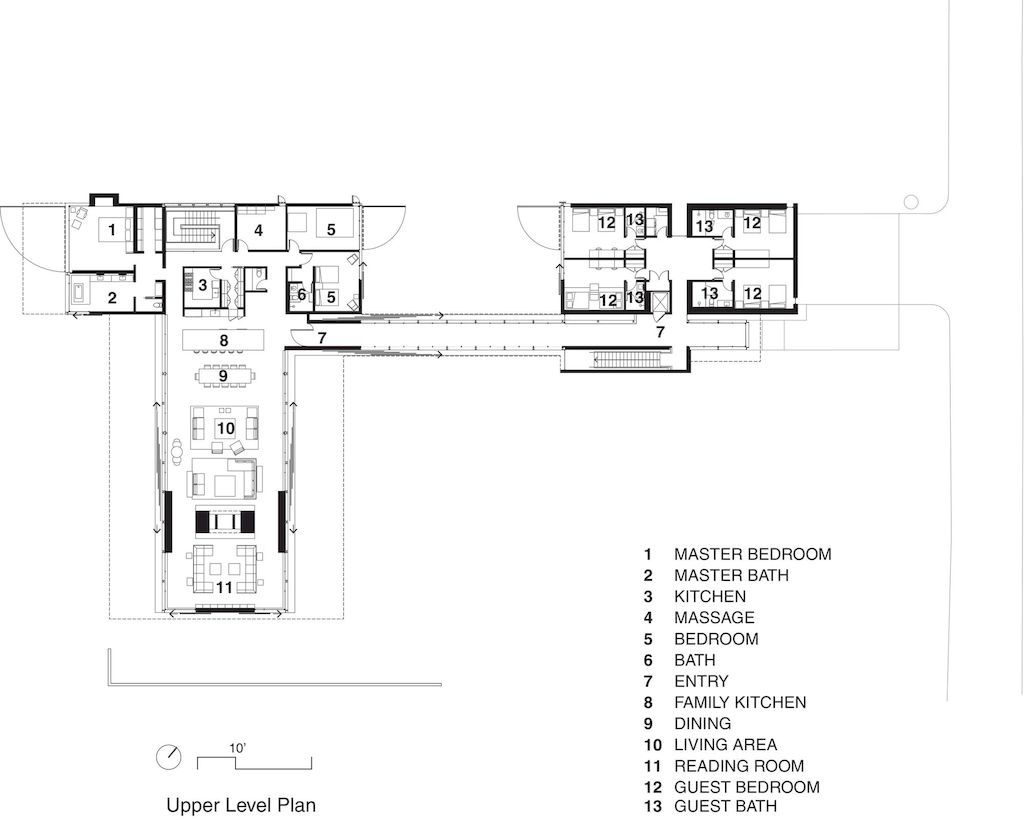 The Whistler Ski House Gallery: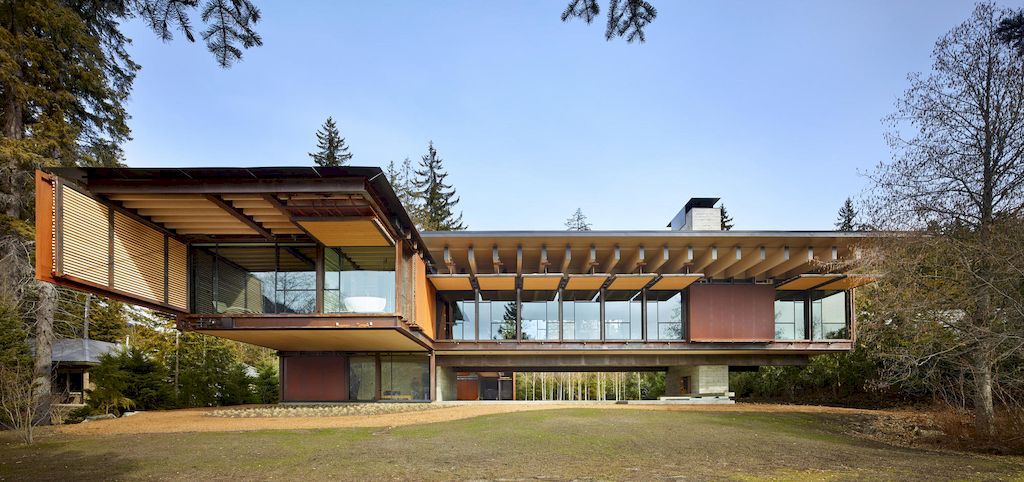 Text by the Architects: Set in the Coast Mountains of Western Canada, Whistler Ski House is a family retreat built to withstand the harsh mountain environment. Elevated ten feet above grade, the main level provides a sense of occupying the tree canopy while also floating above snowdrifts and flood prone lake shore. Due to the nature of the deep soft soil on the lake shore and the home's location in a high seismic risk zone, the house supported on a continuous 2-foot thick raft slab on densified soil, created by a series of vibro-densified rock columns that extend 60 to 68 feet deep into the ground. The raft slab "floats" on the densified soil which allows the house to remain stationary during a seismic event that would cause un-densified soil to slide into the lake.
Photo credit:  Benjamin Benschneider | Source: Olson Kundig
For more information about this project; please contact the Architecture firm :
– Add: 159 S Jackson St # 600, Seattle, WA 98104, United States.
– Tel: +1 206-624-5670
– Email: [email protected]
More Projects in Canada here:
---