Date of Publishing:
There are many people who think that the design and interior decoration of houses is only for and more suitable for women than for men because of their gentle personality, and love of beauty. But in my opinion, this is not true, because everyone has the right to love beauty, whether male or female. Housing design idea for men is a thing as it should. There are only differences in aesthetics, choice of furniture ,and color tones between men and women. Especially in the living room – the place to welcome guests is also to give them the first impression of your personality. We have gathered the 12 Living Room Ideas For Men below that show off the charm, masculinity, and freedom for your reference. Let's enjoy it!
1. Let's Start With Neutral Color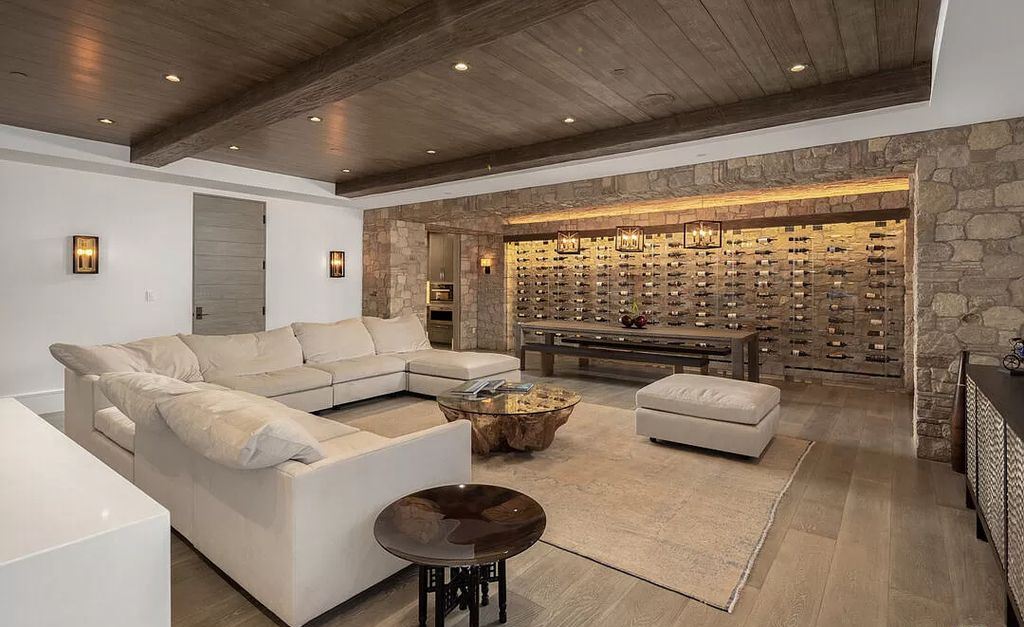 The Living Room Ideas For Men do not necessarily apply black and white as the only color. It is completely possible to use other tones such as neutral tones with cream white and brown as shown in the image above. Moreover, the luxurious, spacious wine room becomes even more prominent thanks to the neutral tones used for the furniture, floors, and ceilings. Come to The Market at $62,000,000! This Unique Property in Newport Coast showcases The Highest Level of Ultra Luxury Coastal Living
2. Install Floor To Ceiling Windows For Liberal Style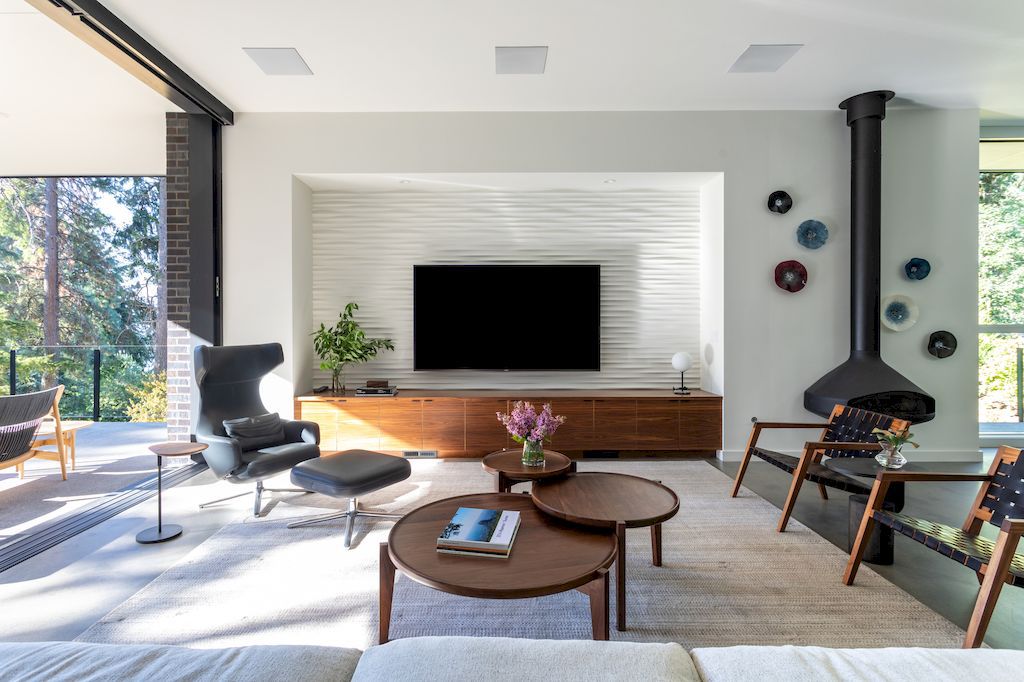 With the main purpose of making the most of sunlight and bringing outside natural space inside your home, glass floor-to-ceiling windows are always the optimal choice to bring airy space and a liberal style. Minimalist furniture is suitable for the modern gentleman, helping to strike a balance between clean minimalism and luxurious comfort for their living room. Hood River East House in Oregon, US by EB Architecture + Design
3. Make An Impact With Faux Fur And Animal Prints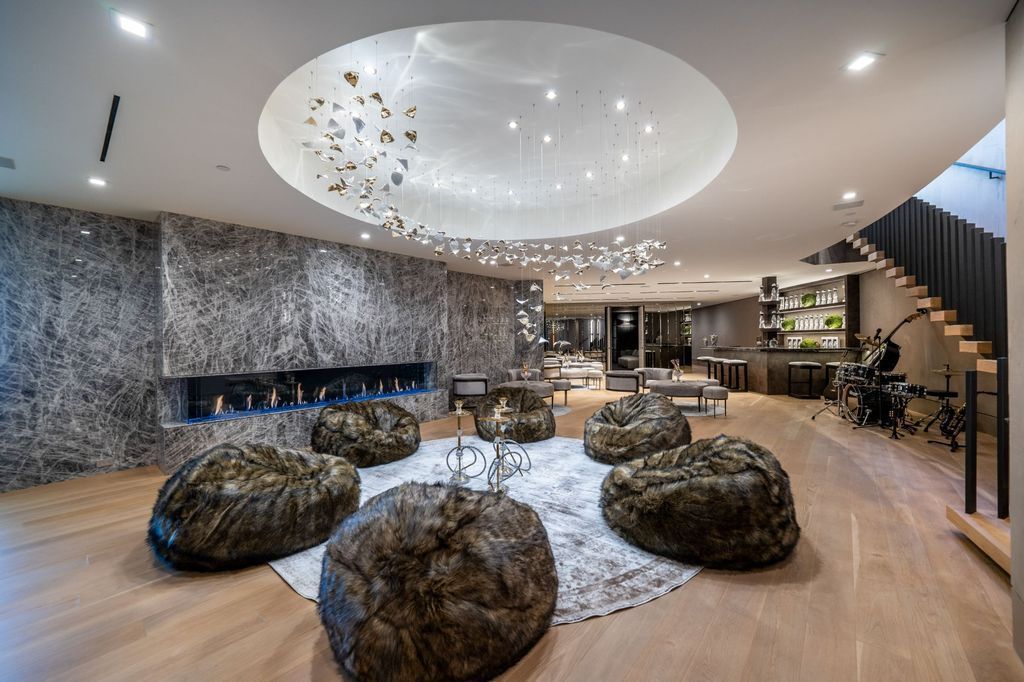 Give your living room a wild and unique look with a set of five bean bag chairs with faux fur and animal prints. The fireplace area and the surrounding wall elevate the overall living room with a unique stone pattern. The spacious living room as in the above idea is very consistent for gatherings of friends and family. Brand New Mega Mansion in Los Angeles with Endless Views hits Market for $77,000,000
4. Party Of Neutrals And Black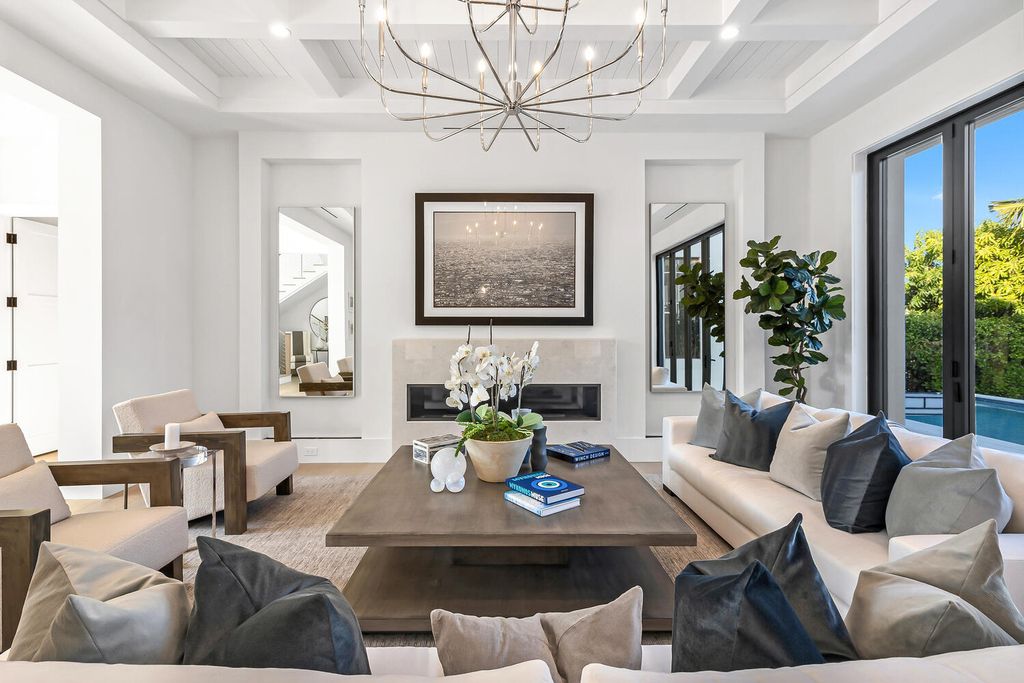 You as well can create focal points for the living room by combining black tones with other brighter tones such as white, and beige in the interior selection. As in the living room idea above, the use of lots of pillows in different tones from black, dark greys, pale grey, blue-grey, and tortilla brown has created a party of neutral colors. Contemporary Gated Estate with Amazing Ocean Views Prices at C$7,980,000 in West Vancouver
5. Combine With Small Pieces Of Color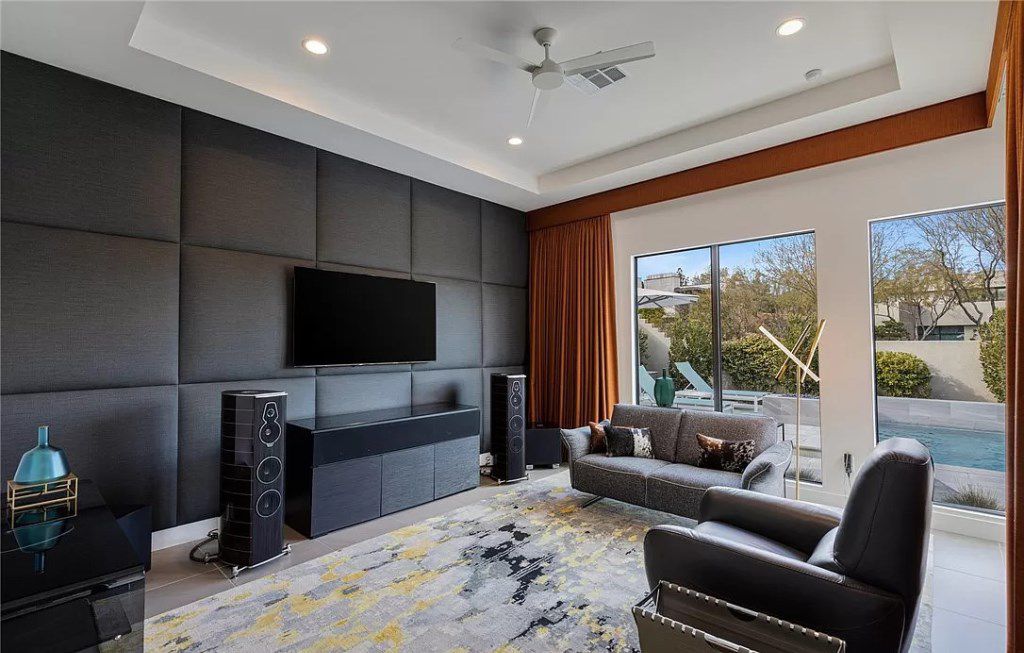 For gentlemen who often love dark tones like dark grey, dark brown, or black when designing a living room because of the mystery, masculinity, and charm it brings, this living room idea is for you. But don't forget to incorporate some color, like a woven rug with a yellow pattern or a gingerbread brown curtain. An interesting combination with the purpose of creating eye-catching accents. Stunning Desert Contemporary Luxury House in Nevada asks for $3,580,000
6. Let The Black Tone Shine Its Way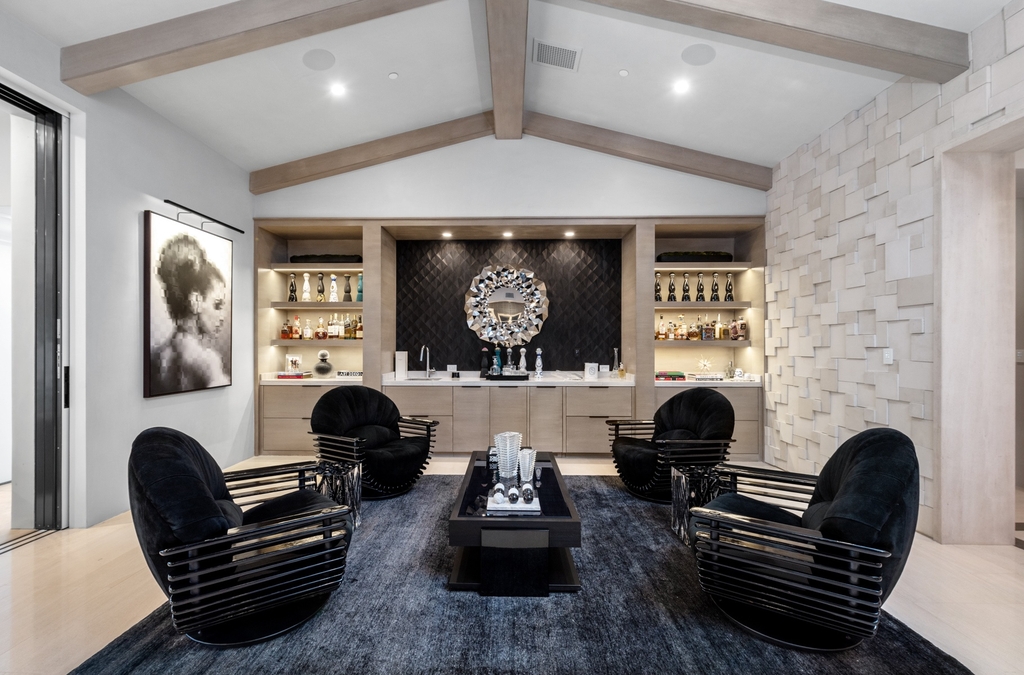 The Living Room Ideas For Men are not necessarily always black as the main theme, but black with ingenuity in application and layout will bring any gentleman's living room to the top of luxury. A set of four jet-black recliners with stylized armrests, along with a built-in cabinet displaying expensive bottles of wine, makes the overall living room a miniature bar. Such an amazing spot for friend gatherings or dating! This $16,995,000 Custom Home in Newport Beach Showcases Unparalleled Luxury Living
7. Build Perfect Space For Gentleman With An Artist's Soul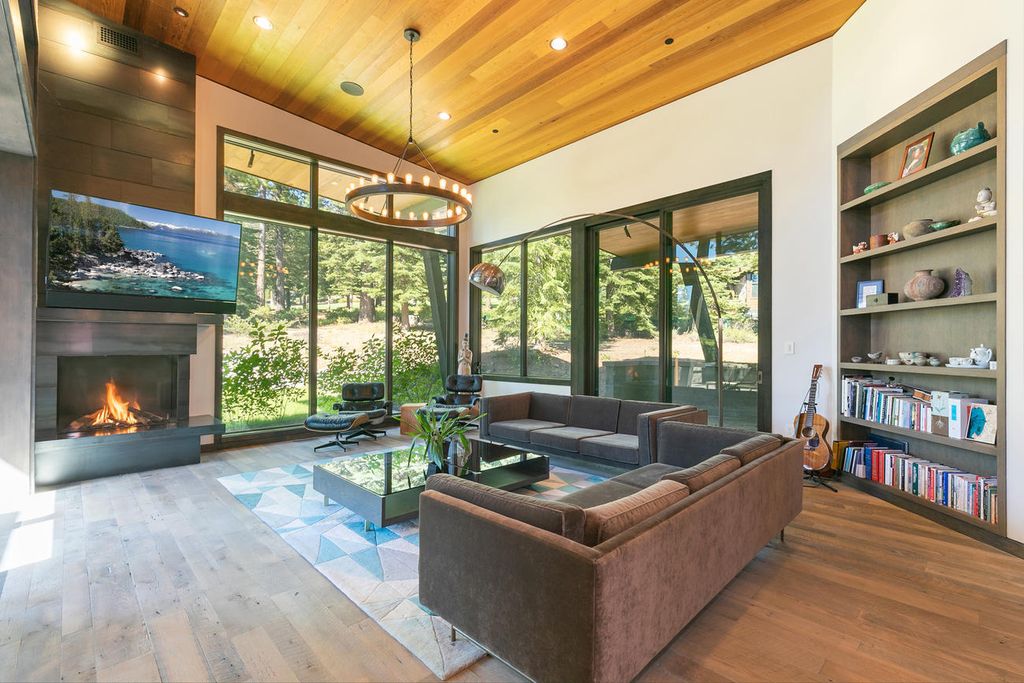 Take some space in your living room to display books by installing a built-in cabinet that doesn't take up a lot of space, or using musical instruments like a guitar, or a piano as a decoration for your living room. Let the living room be both a place to welcome guests and a place for you to show your passion for reading or music. And for me, the image of a man playing a song by guitar song or piano is so impressive and captivating. This $8,950,000 Stunning Contemporary Home in Truckee with Exceptional Outdoor Living Spaces
8. Design Small Space For Men With Multifunction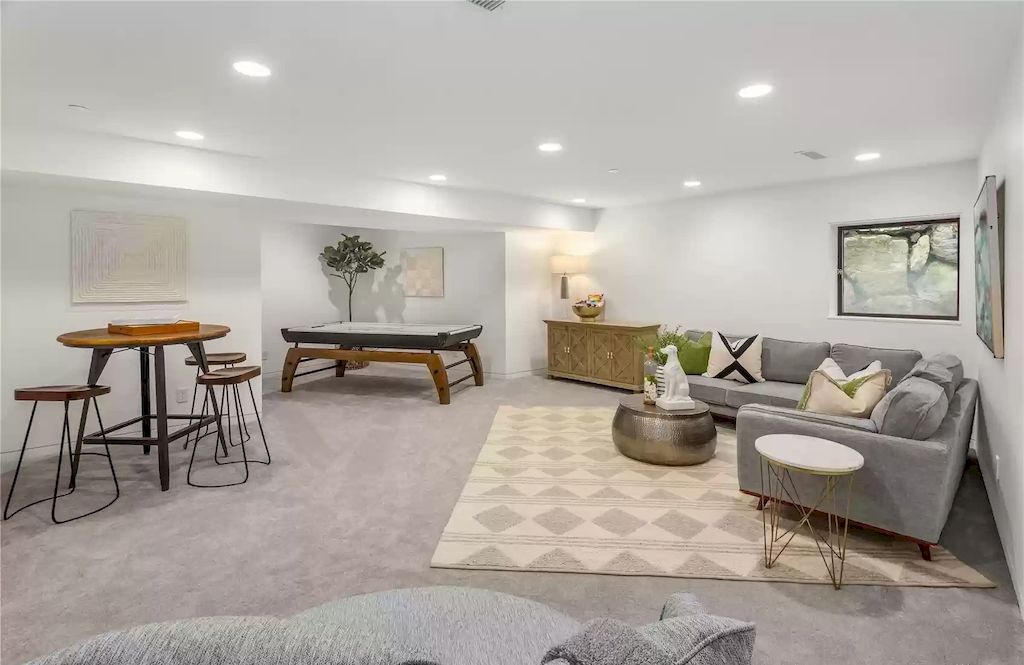 With small living rooms, you can completely integrate the dining space and entertaining area such as billiards into the same living room. This ensures that your living room, although small, is still very full of amenities for gentlemen. In my opinion, you should choose light colors for the interior and wall paint colors for a small room, to create a visual effect that makes your space more spacious. Sculpted and Honed to Bring a Fresh Air for a Purposeful Living in Washington, this Estate Listed at $6,250,000
9. Provide A Blank Spot To Display Artworks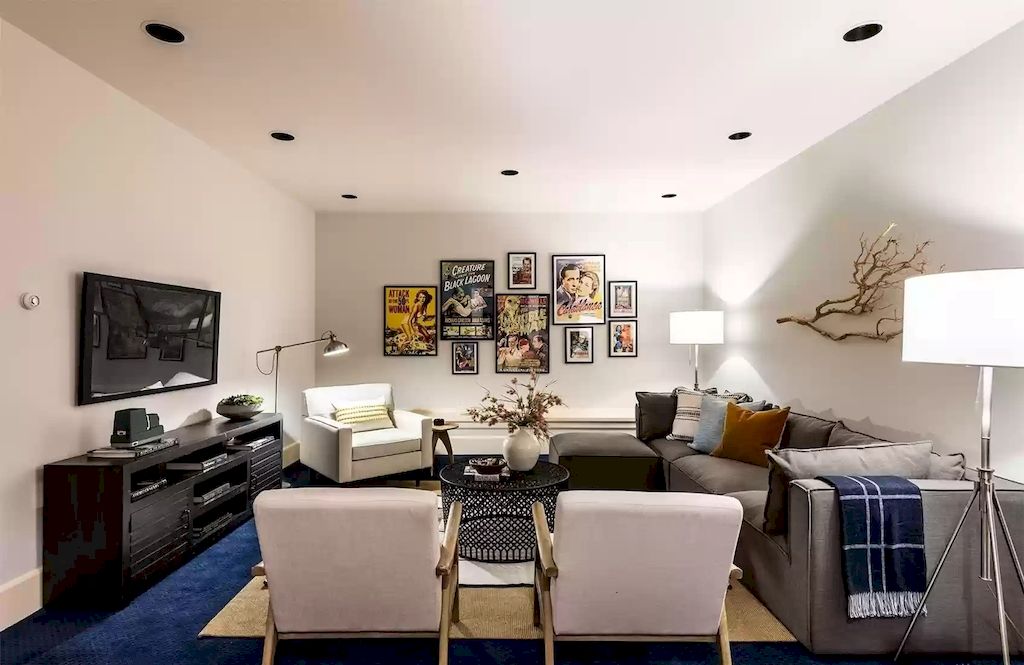 One more living room decoration idea for gentlemen: Choose the neutral hue for wall color paint, it will provide the perfect backdrop for a prestigious gallery wall to display your beloved and precious paintings. Don't forget to arrange some table lamps, or floor lamps around, to turn your gallery wall into a true exhibition. Surely anyone who visits your house must be in awe. Exceptional Lake and Mountain Views Meet Your Eyes from this $4,285,000 Gorgeous Estate in Washington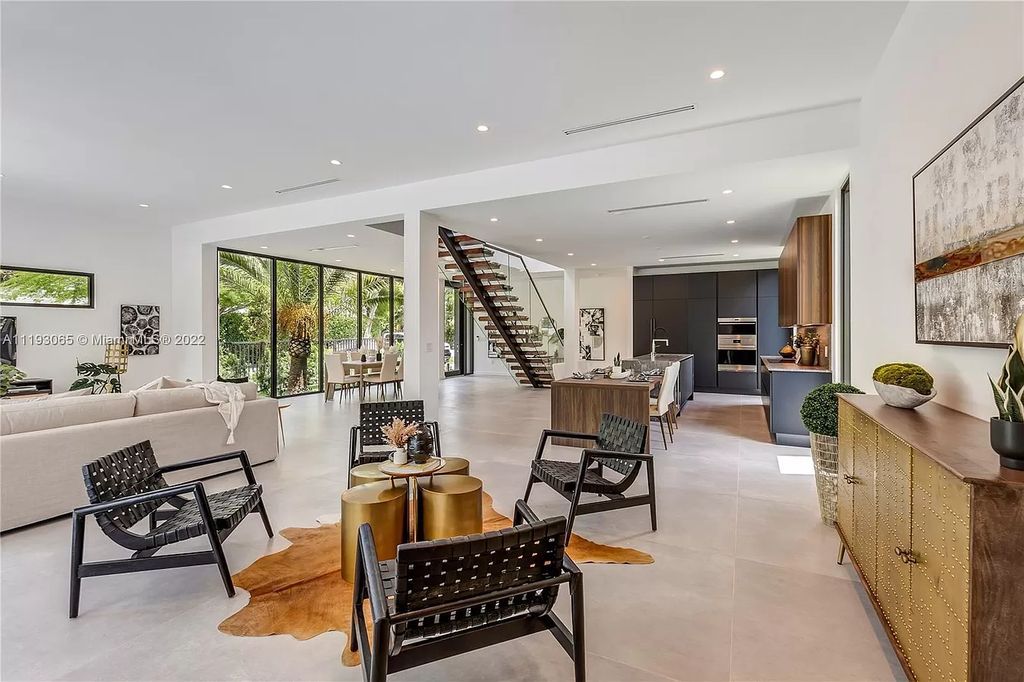 This gentleman's living room idea is designed in Scandinavian style, with the outstanding feature of using white paint color for the entire room along with a variety of decorations; From brass decorations that stand out in white paint to beautiful small plant pots. This design style is quite suitable for large rooms, a space divided into small zones with different functions. This $5,195,000 Brand New Construction Home in Miami was Built with Top of The Line Finishes
11. Bring Industrial Feel Into Your Living Room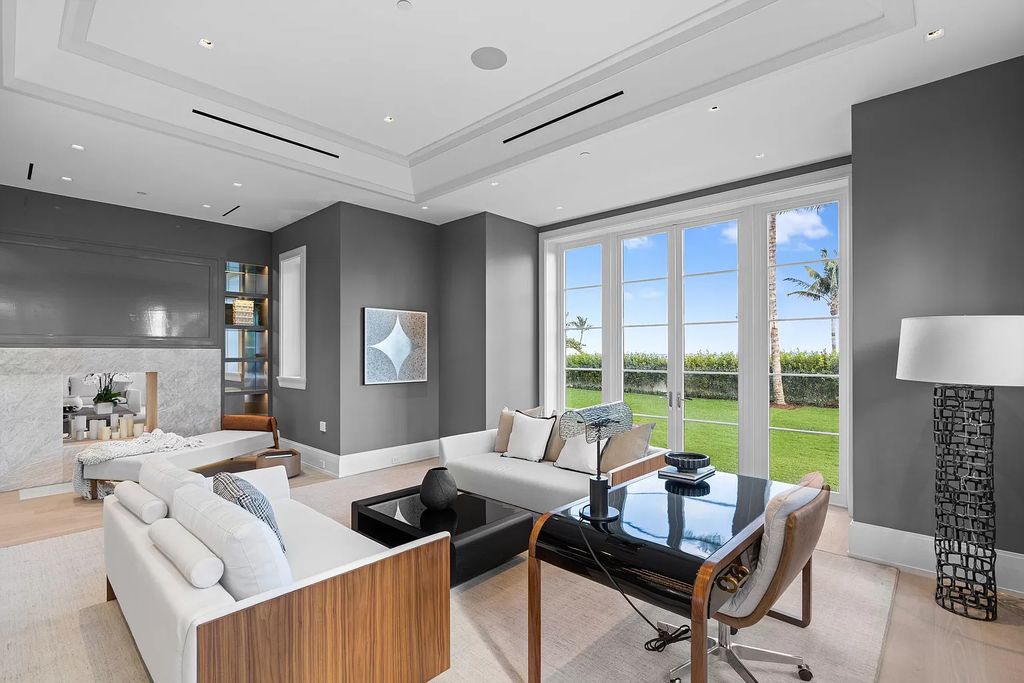 The characteristic of industrial style is the harmonious arrangement of space, the use of dark tones for the entire wall as well as interior colors or just a few details as accents. Moreover, the door frame design to make the most of natural light and adequate for the family's health is also one of these style features. To better suit the lifestyle of a busy gentleman, you can also arrange a small space in the living room to install a set of desks and chairs serving for working purposes as you may see in the above Living Room Idea For Men. Newly Completed Mansion on Palm Beach Island with Gorgeous Spanning Views of The Atlantic Ocean Selling for $52,500,000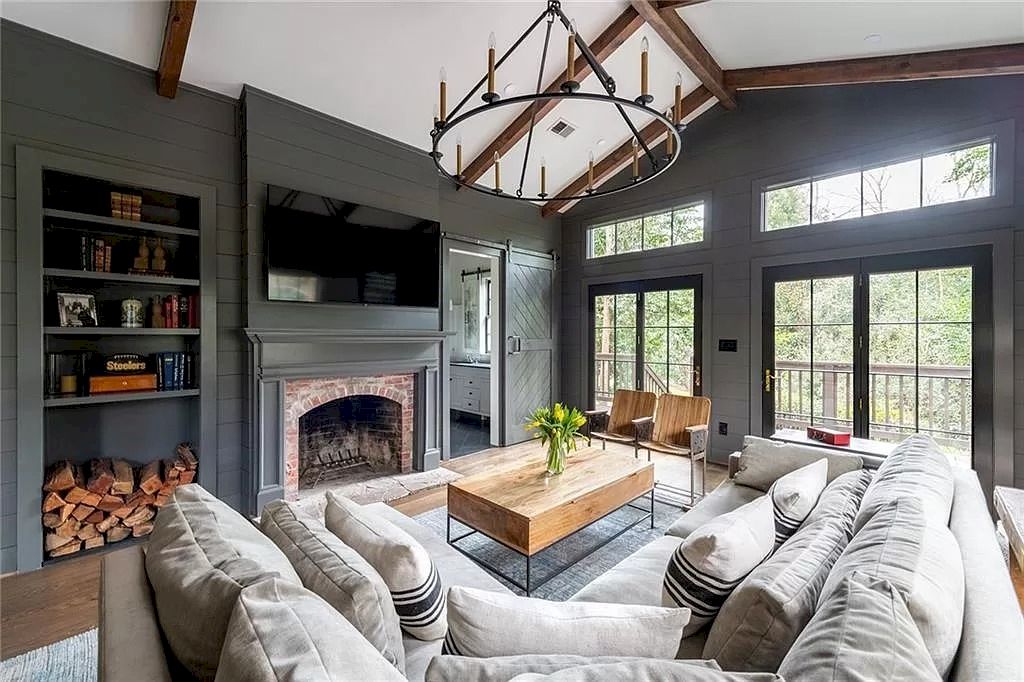 Many gentlemen add some military characteristics to the design of their living room to create a highlight. Using navy green tones for the decoration of the fireplace and built-in cabinet both shows masculinity, while also popping up the L-shape sofa with neutral upholstery, contrasting with the coffee table and a pair of wooden single chairs. The high ceiling and large doors make the overall living room more airy and spacious. What an undeniable combination! Considered as the Unbeatable Elegance in Georgia, this Gorgeous Home Hits Market for $4,650,000
As a result, to create Living Room Ideas For Men, focusing on minimalist furniture selection and investing in unfussy, practical furniture are required. Moreover, it is recommended to choose a neutral hue such as white, beige, and grey to create a perfect overall with an attractive look. You can also dedicate a portion of your living room to personal interests such as a display of paintings, musical instruments, or a small bar. For more ideas and inspiration, you can refer to the article 16 Ideas For A Cool And Relaxing Schem In A Neutral Living Room.
More Ideas For Living Room:
---
Thousand of high-quality images of Living rooms and more you can see at Livingroom Gallery.