Brilliant Neutral Living Room Ideas
A pleasant living area might have the ideal foundation thanks to neutral colors. Shades of white, cream, gray, brown, and black when used in paint, furniture, and decor, produce easygoing, livable color schemes. You may create a welcoming space that matches your style using these living room ideas neutral.
1. Select The Proper White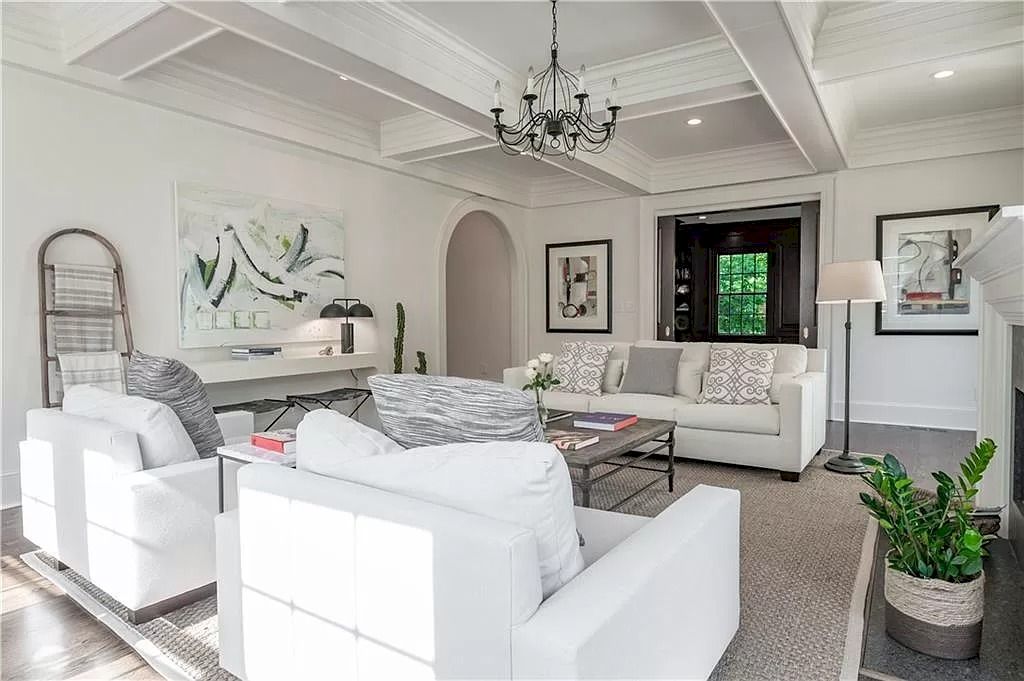 A living room that uses only one neutral color, such as white in this area or another neutral color like grey or beige, has a certain chicness about it. Again, the texture is important if you want to go monochromatic, so choose a variety of fabrics and finishes for the space. As there is very little visual clutter, using one hue consistently makes small living spaces look bigger and brighter.  The Classically Beautiful Estate in Georgia Listed for $5,475,000
2. Play Around With Brown Tones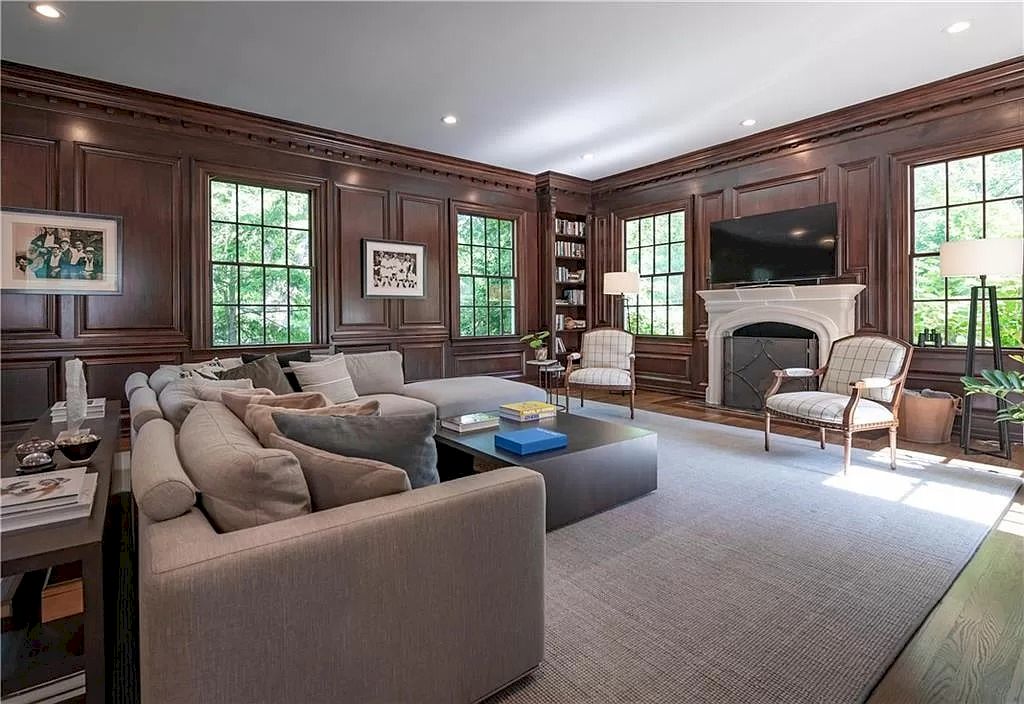 Although beige is becoming more and more fashionable as a neutral color, we would add that deeper colors like brown and even a soft black can also be used in neutral color schemes. The area can be given depth and a good contrast that isn't as severe as black or grey by adding brown tones to a brighter color scheme. It gives a place a very warm, welcoming atmosphere.  The Classically Beautiful Estate in Georgia Listed for $5,475,000
3. Plus One Color to the Neutral Palette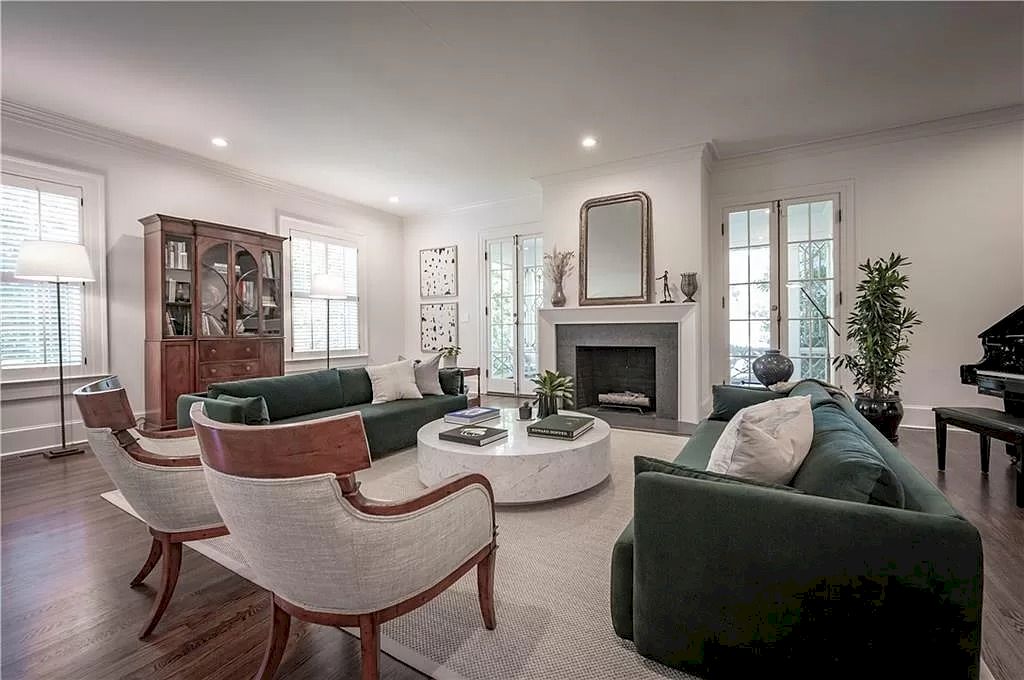 Pick one striking color to brighten up the palette in a living space where neutrals are the norm. Without the addition of green accents, the combination of cream, medium brown, and white in this design of a neutral living room could have come off as uninteresting. A velvet sofa and plants are how the color stands out. The Classically Beautiful Estate in Georgia Listed for $5,475,000
4. Neutral Traditional Living Room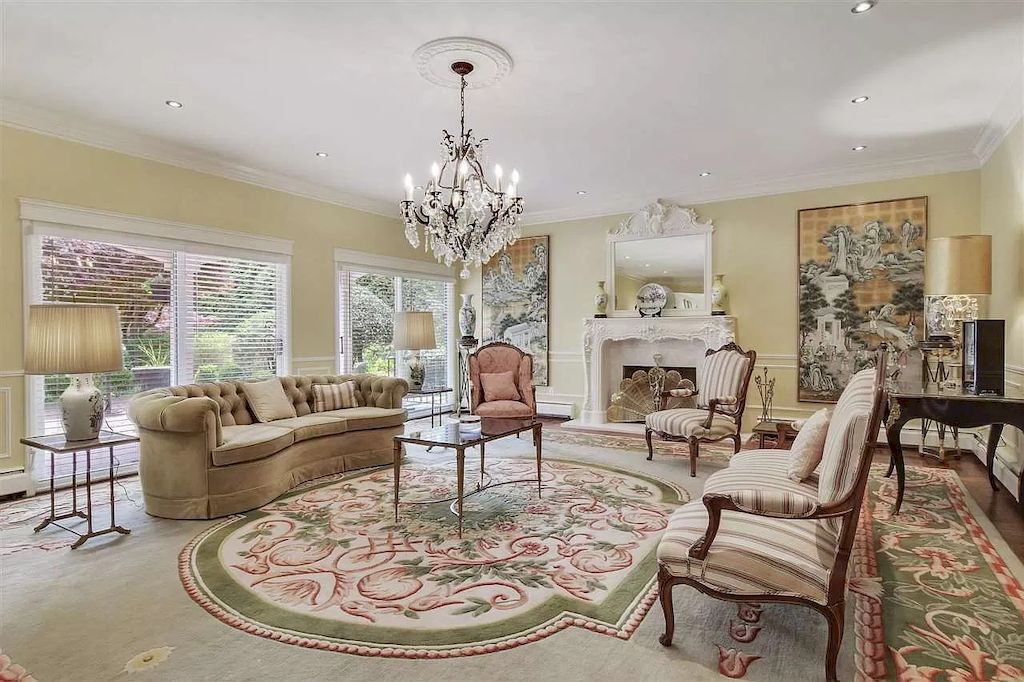 Put a modern spin on the tradition to dress up your beige living space. For this cozy neutral living room concept, use beige-colored hues. Choose furniture upholstered in relaxed velvets or reupholster antiques in eye-catching patterns. The timeless appeal of the neutral living room furniture with traditional profiles is enhanced by the addition of fresh textiles. Add a combination of elegant and rustic accents for a unique look. Filling the Glitz and Glamour of Hollywood Past, West Vancouver House Asks for C$5,988,000
5. Neutral Modern Living Room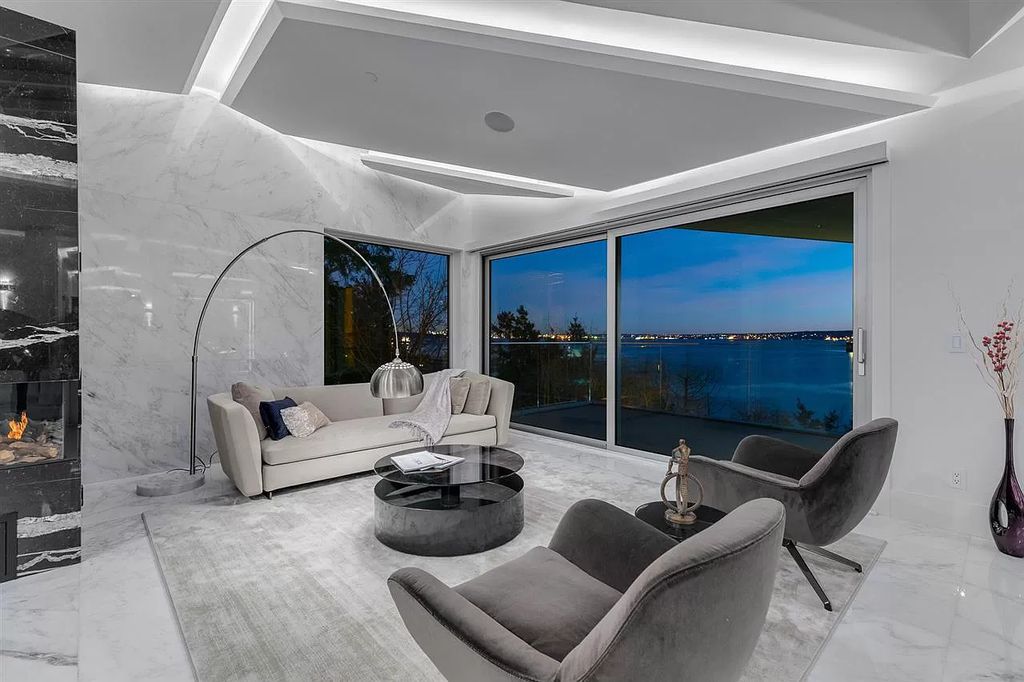 In this neutral living room, the use of cool gray and clean white creates a contemporary atmosphere. Warmth is added to the palette by richly stained wood floors and a few wooden furnishings. The deeper wood tones serve as a solid foundation for the room and prevent the neutral living room hues from looking too sterile or washed out.  Flying Kite-Shaped Residence in West Vancouver with Breathtaking Ocean Views Asks for C$12,990,000
6. Black and White Living Room Ideas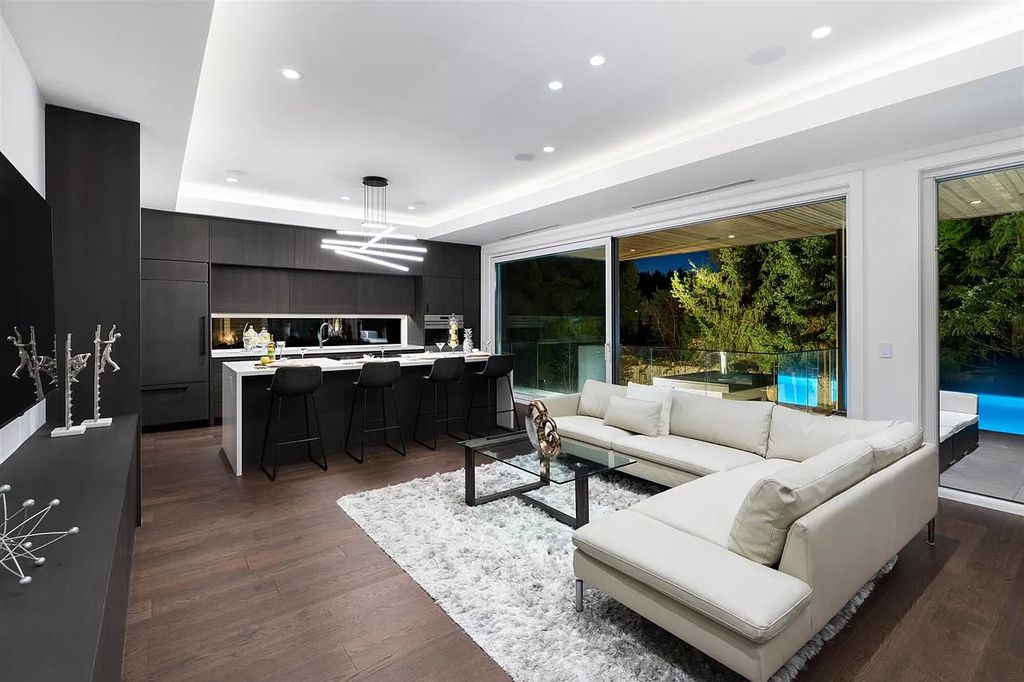 A simple yet eye-catching neutral color palette for living rooms is black and white. In this shiplap-covered living room, the white is contrasted with a black paneled accent wall. The placement of the black and off-white furnishings in the living room is done such to emphasize the contrast between the two neutral colors. To give the dark hue some life, choose black paint colors with a slightly reflecting finish, like satin or semi-gloss.  Stunning Views, Unbeatable Value on this C$5,998,000 Cypress Mountain Home in West Vancouver
7. Dark Neutral Living Room Ideas Can Generate A Cozy Feel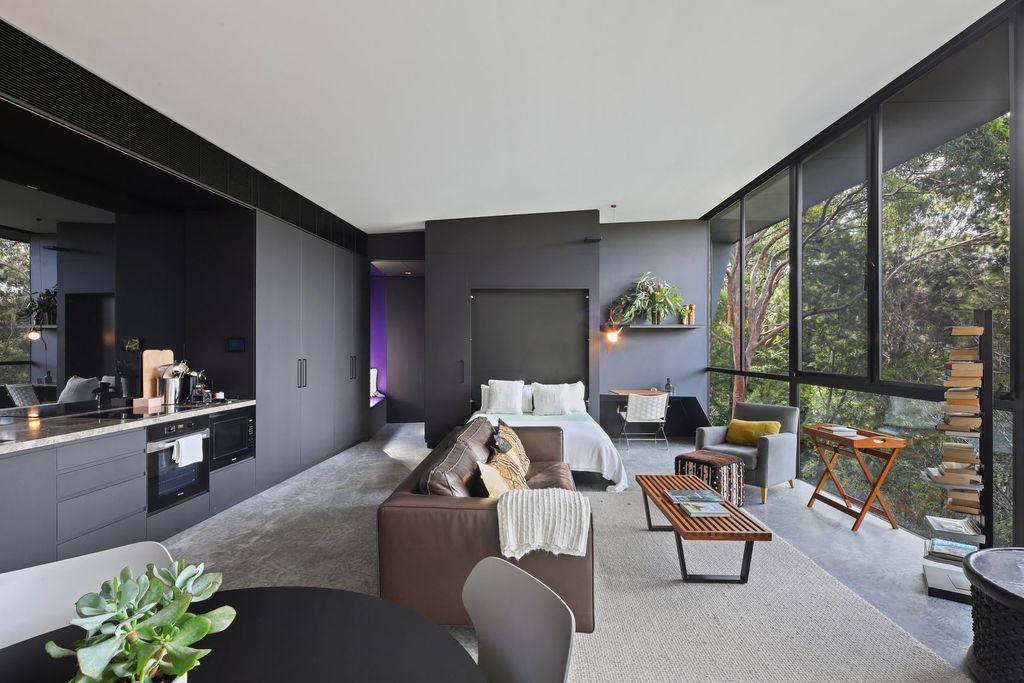 A brilliant technique to give a room a modern appearance while preserving old and classical characteristics is to use a dark neutral palette as a base. Turning up the texture volumes will assist create atmosphere and character and prevent the environment from looking too flat and one-dimensional in a room where the colors have been subdued. Visionary serene home in New South Wales with monumental view for Sale
8. Make A Point About The Ceiling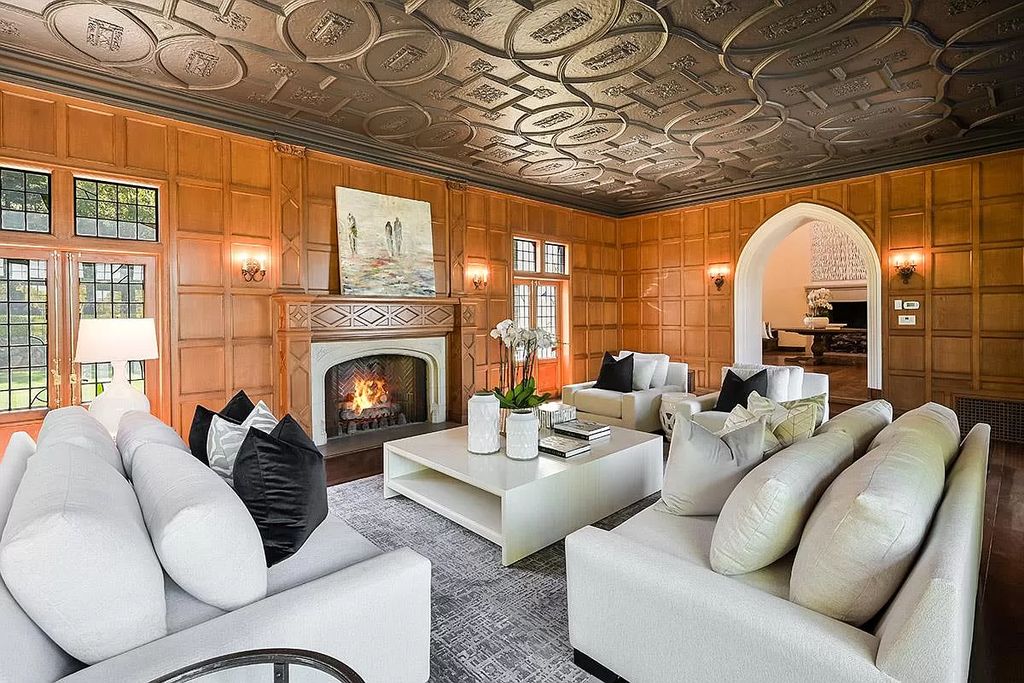 Keep the area neutral at eye level and add the color on the ceiling for another fantastic neutral living room concept to add some drama. If you really want to make a statement, add wallpaper. In this room, the color scheme still seems soft and the dark grey isn't something too wild, but you could choose a black ceiling or even a really dramatic hue. A $16,800,000 Impressive Hillsborough Home has Multiple Expansive Stone Patio Areas
9. Stock Up On Wood, Leather, And Linen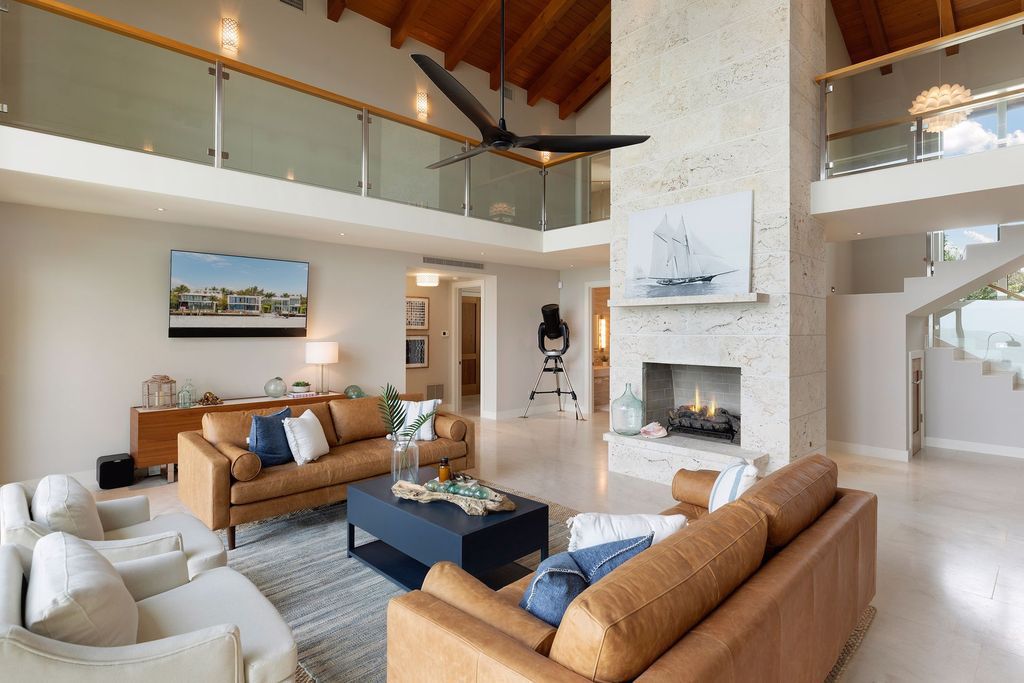 When decorating with neutrals, adding as much texture as you can adds interest and depth, which are crucial elements when strong colors are absent from the space. Think about combining chunky knits, velvets, linens, and leather with warm metallics like brass and bronze.  Take in Stunning Florida Sunsets from any level of this $8,700,000 Bayfront Home
10. Layer Texture And Pattern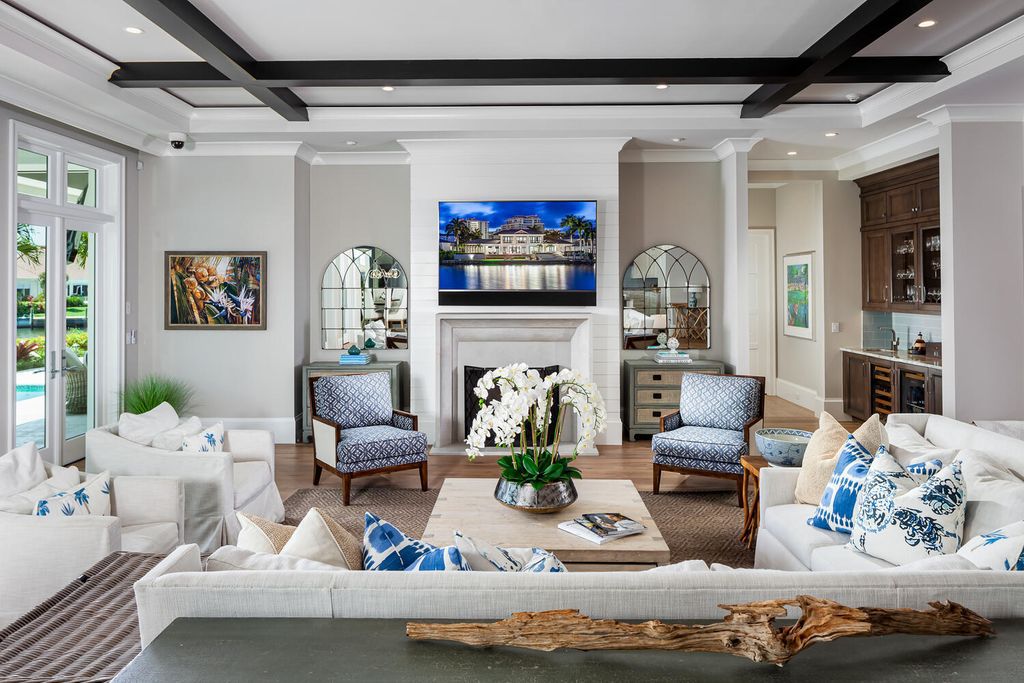 A timeless method for designing a stunning scheme with a feeling of tranquility is to use a tranquil combination of neutral colors. To add depth and interest to neutral living room ideas, the trick is to integrate a subtle pattern. With a muted color palette, pattern and texture take center stage in this design. A variety of small-scale designs on repetition give ornamental appeal to a space without overwhelming it, as opposed to large-scale prints that can feel overwhelming. A $14,995,000 West Indies-styled Home in Naples comes with Panoramic Wide Water Views
11. Neutral Living Room Ideas: Take Light Levels Into Account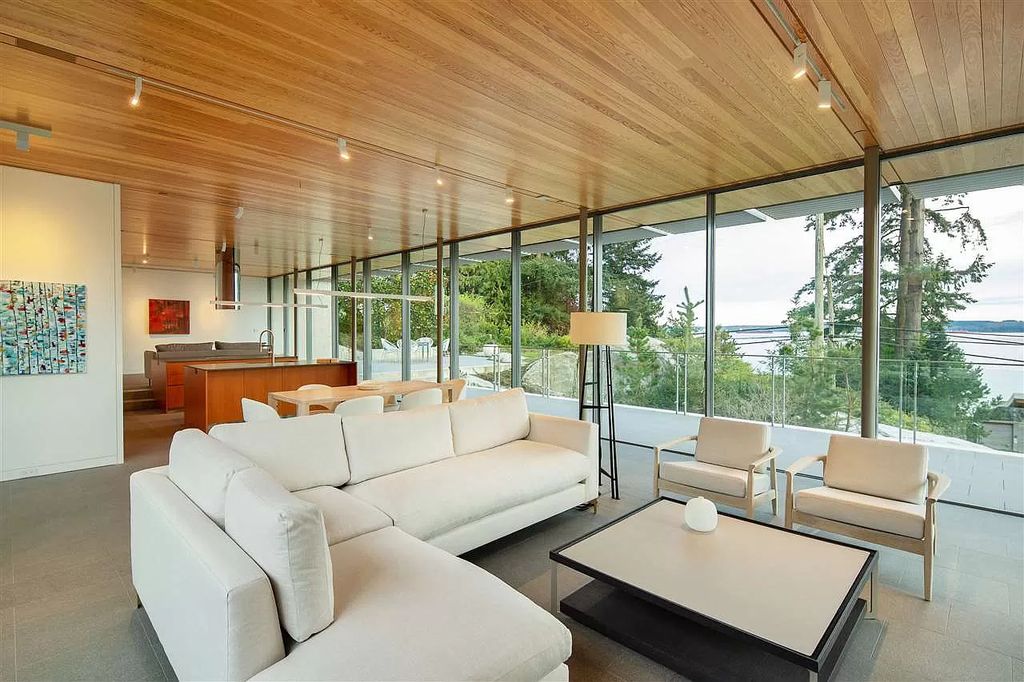 The quality of the light is crucial when selecting neutrals. In areas with lots of natural light, we frequently use lighter colors and take advantage of the lovely shadowing that develops during the day, adding still another layer of complexity. Darker neutrals can work wonders in spaces with little natural light because they naturally make a space feel moodier.  Tranquility and Serene by the Sea Villa in West Vancouver Selling for C$9,790,000
12. Disclose The Warmth Of Wood For Natural Tones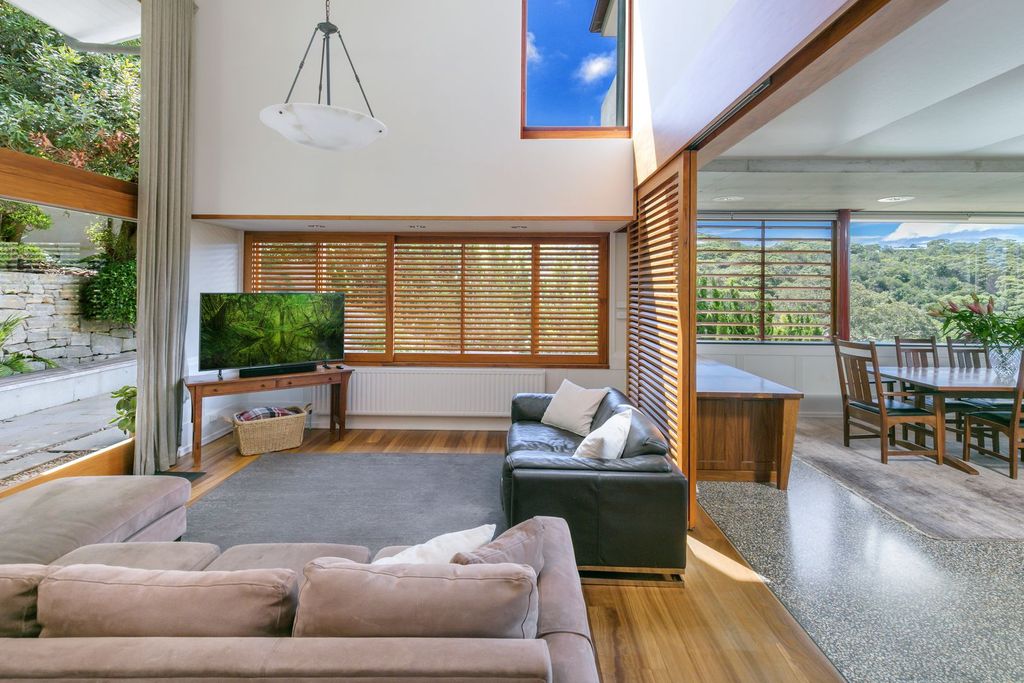 Adding warmth is a good notion if you're considering white living room ideas. When you add natural timber items, the plain, neutral walls of the living room instantly look better. The buffet has a contemporary elegance thanks to its nicely reeded front. The panels of the deep window frame reflect the warm wood tones. The flatweave rug and linen curtain both add more texture. Superb Mosman home built by Michael Robilliard for Sale at price request
13. Painting Your Living Room In Gray Shades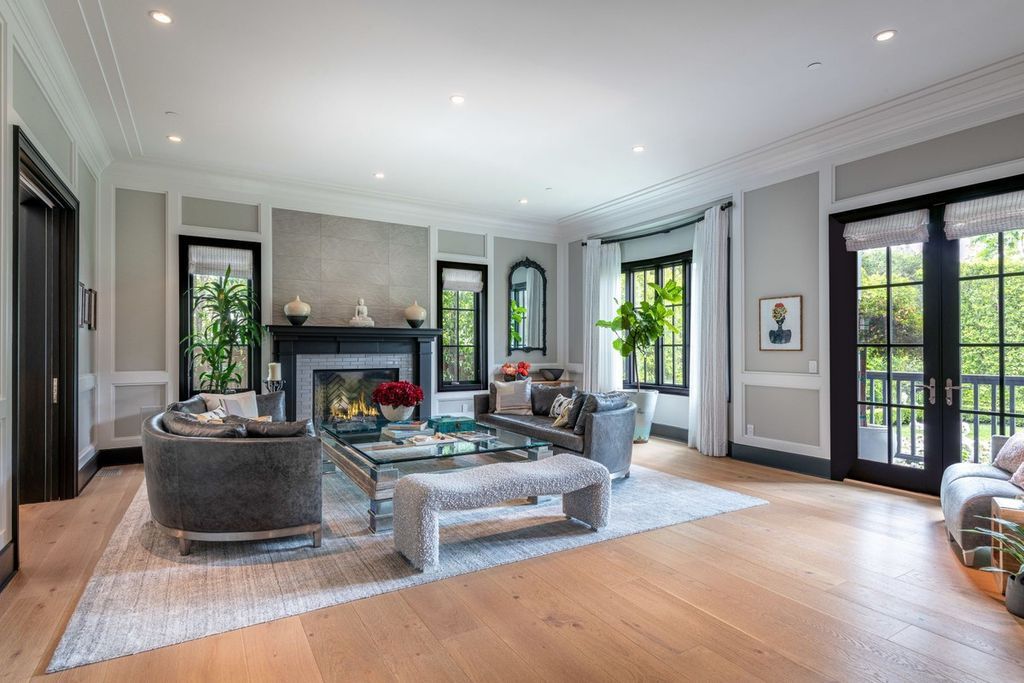 Ideas for gray living rooms are definitely in style. This cold color is a go-to for anyone looking for an easy-to-live-with tone that will mix with practically any other color. It gives a space a sophisticated edge, elegance, and refinement. Gray is a hue that most people choose because of its adaptability; as a neutral, gray serves as a canvas on which you may paint whatever you want. Swoon-worthy Encino Home offers Sophisticated Lifestyle Asking for $10,995,000
14. Introduce A Hint Of Glamorous Metallics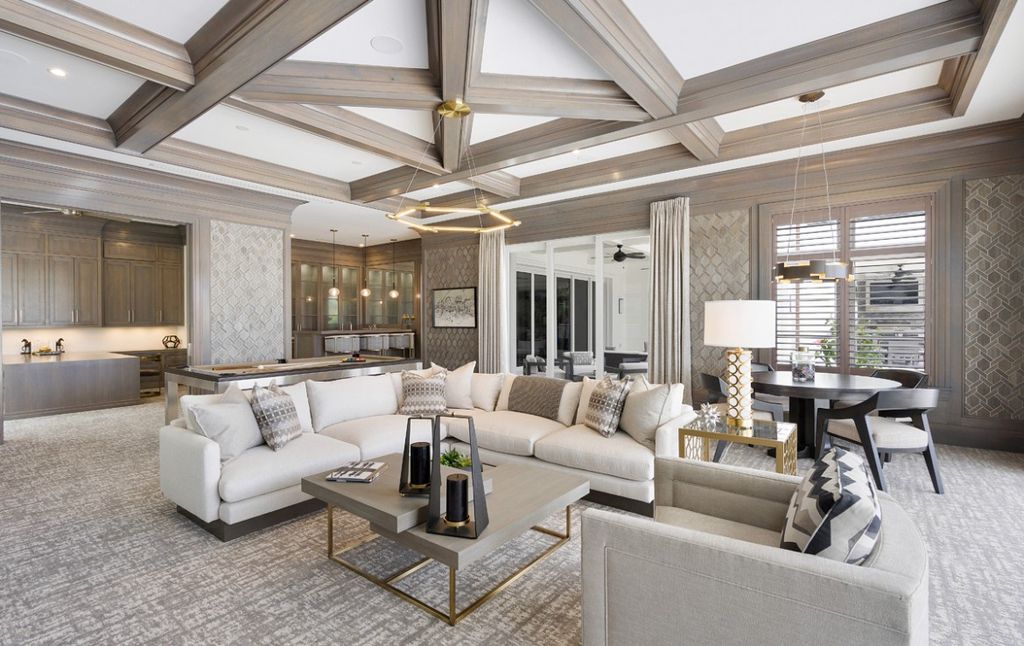 Gold in particular is a classic technique to convey wealth in a space using metallics. Using precious metals in a room has long been a way to convey a sense of importance (or depending on your point of view, brashness) in a home. From the sparing use of precious metals as thread in tapestry and embroidery in the Medieval period to opulent Art Deco interiors and, later, the prevalence of shiny brassware in the 1980s.  Intracoastal Waterway Dream Home in Florida built by Wietsma Lippolis Construction
15. Choose Pastels For A Whimsical Look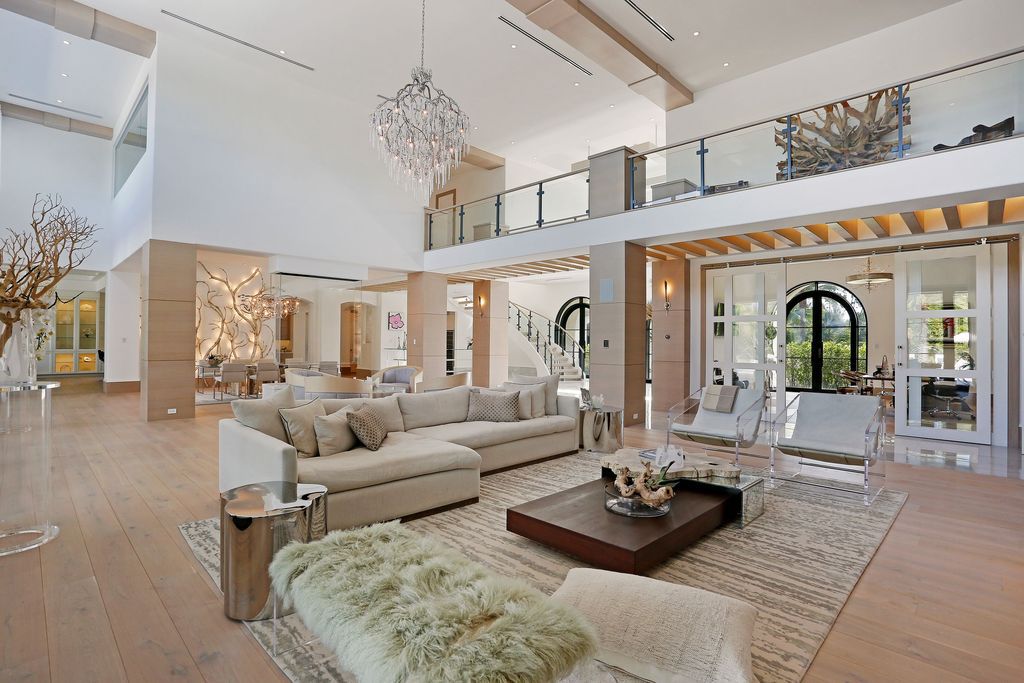 And as this stunning design demonstrates, a neutral living room need not be devoid of color. Just be sure to choose the correct neutrals when using soft pastels in a setting. A extremely clean white would work as a contrast to the playfulness of the pastels, or you could take inspiration from this color scheme and pair a soft light grey with light green. An adult interpretation on the pastel trend. An Ultra-luxury Resort Style Home in Naples hits the Market for $15,250,000
16. Neutral, Cozy Living Room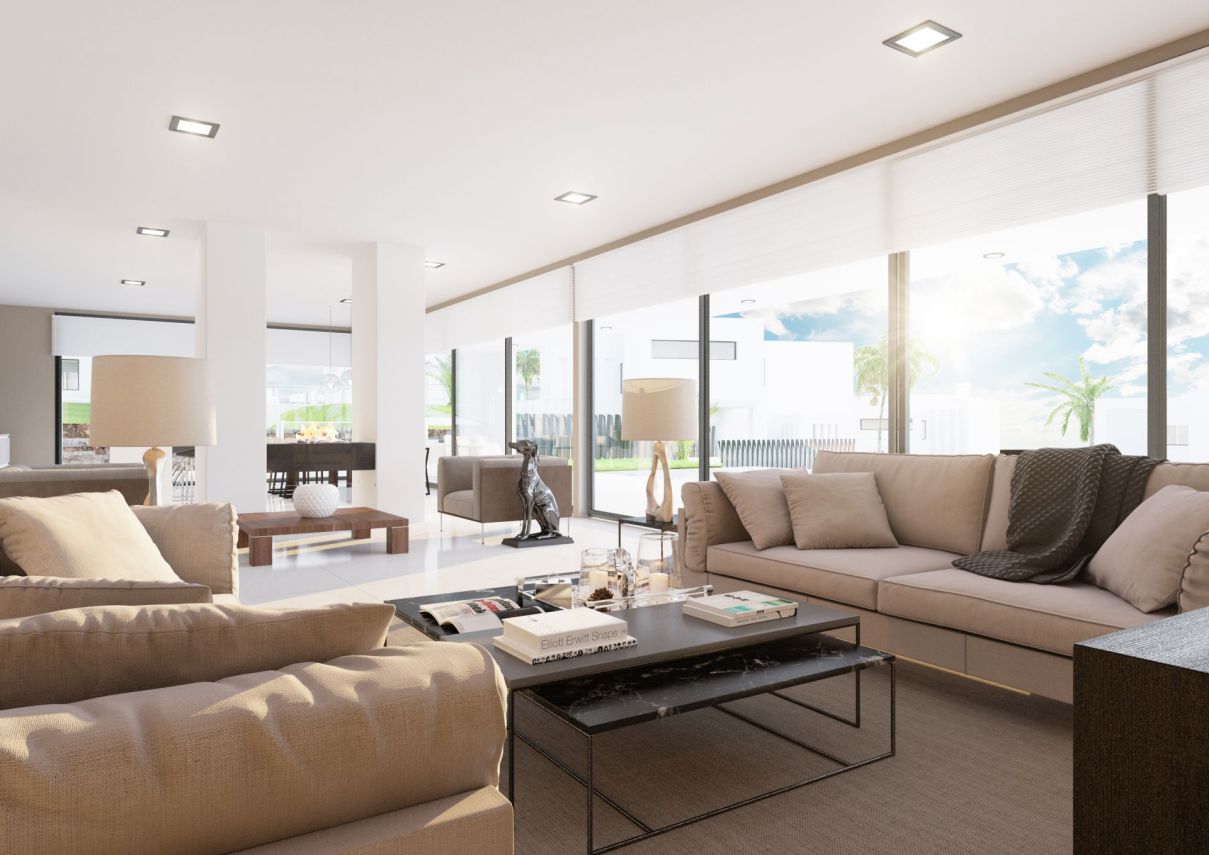 For a calming impact, use one neutral living room hue in high quantities. Warm white is used in this space to decorate the walls, ceiling, trim, area rug, sofa, and window treatments, giving the space a cozy feel. Throw pillows and accent pieces of furniture add subdued color without detracting from the overall neutral aesthetic. Design Concept for 5 Bedroom Contemporary Villa in Marbella, Spain
Your choice truly comes down to style and the feature of your room as any neutral color can serve as the ideal foundation for a living room color design. Look at the direction your room faces and the quantity of natural light it receives before choosing a neutral color. The general rule is that north-facing rooms with little natural light work best with warmer tones to balance the gloom and chill. Of course, there are exceptions. You can be more creative when decorating south-facing rooms with natural light because both cool-toned and warmer-toned colors look good there. For more amazing ideas, you may look at the post 24 Vintage Living Room Ideas That Offer Elegant And Endless Inspiration
More Ideas For Living Room:
---
Thousand of high quality images of Living room and more you can see at Livingroom Gallery.