Date of Publishing:
In addition to minimalist or rustic living room ideas, Natural Living Room Ideas are also considered as a great choice for your living room. Natural housing design is becoming more and more popular, emphasizing on bringing natural elements into the design, using interiors made of natural materials or eco-friendly designs. The combination and use of patterns is also an important factor in natural-style designs. And with the aim of giving you some helpful suggestions, we would like to introduce to you 18 outstanding Natural Living Room Ideas for such a warm and pretty living room with interesting elements.
1. Indoor Skylight For Eco-Friendly Space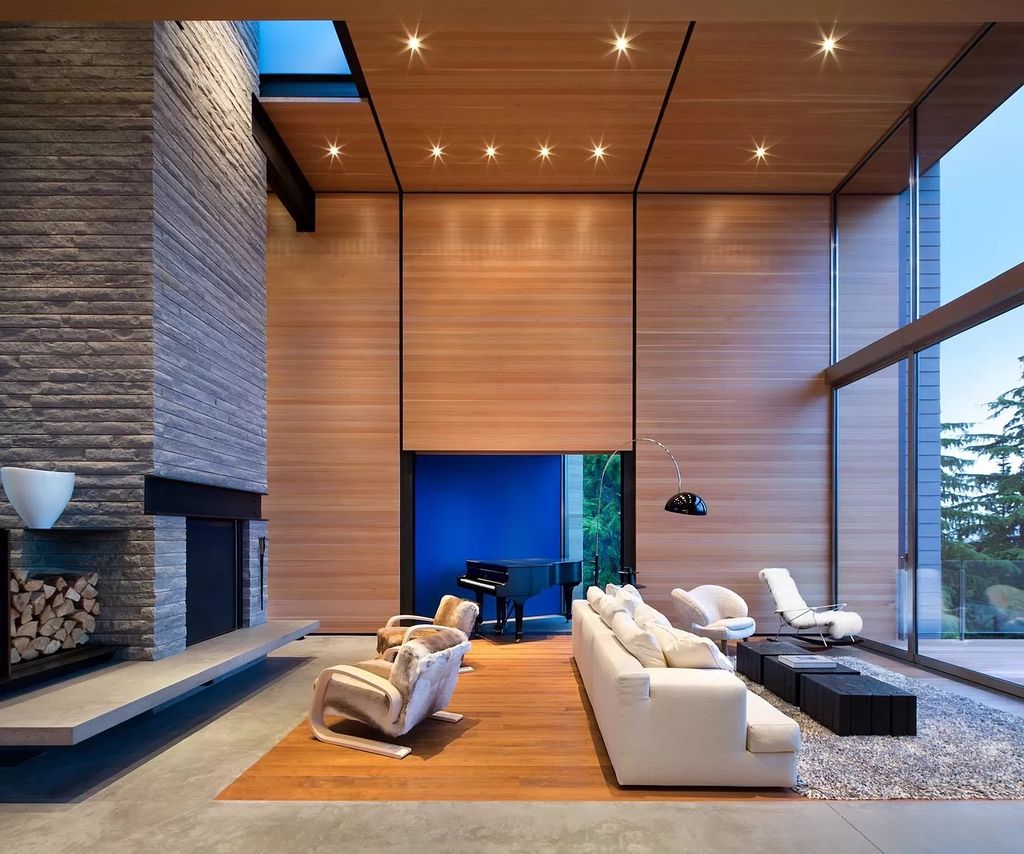 Opening the skylight for designs with high-ceiling walls brings visual effects as a focal point for the room while taking advantage of natural light from the outside. You can imagine, on sunny days, the room becomes bright, warm, and in harmony with nature. Just a change small point but brings a lot of benefits. Blend Perfectly with the Surrounding Landscape, Architectural Masterpiece in Whistler Listing for C$39,000,000
2. Meticulously Handcrafted Finishes With Natural Material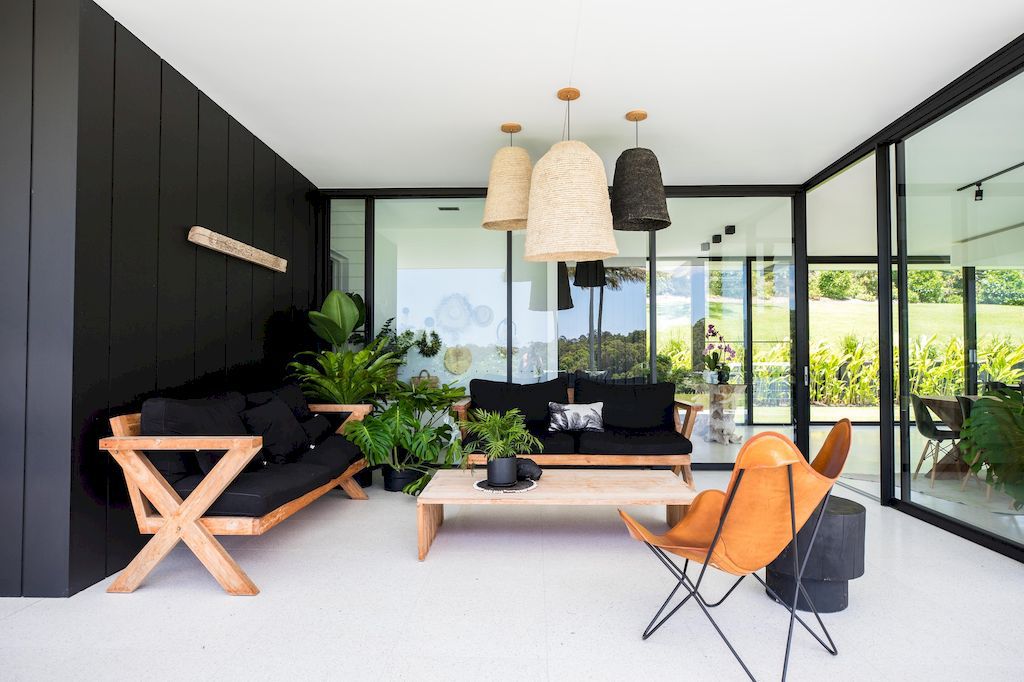 The meticulously handcrafted finishes with natural materials (such as wood, sedge, etc) will be spiced up your living room. For example, the sedge chandelier with sizes in black and beige is both unique and attractive. The Doonan Glasshouse, a resort-style residence by Sarah Waller Design
3. Clad Natural Stone For Fireplace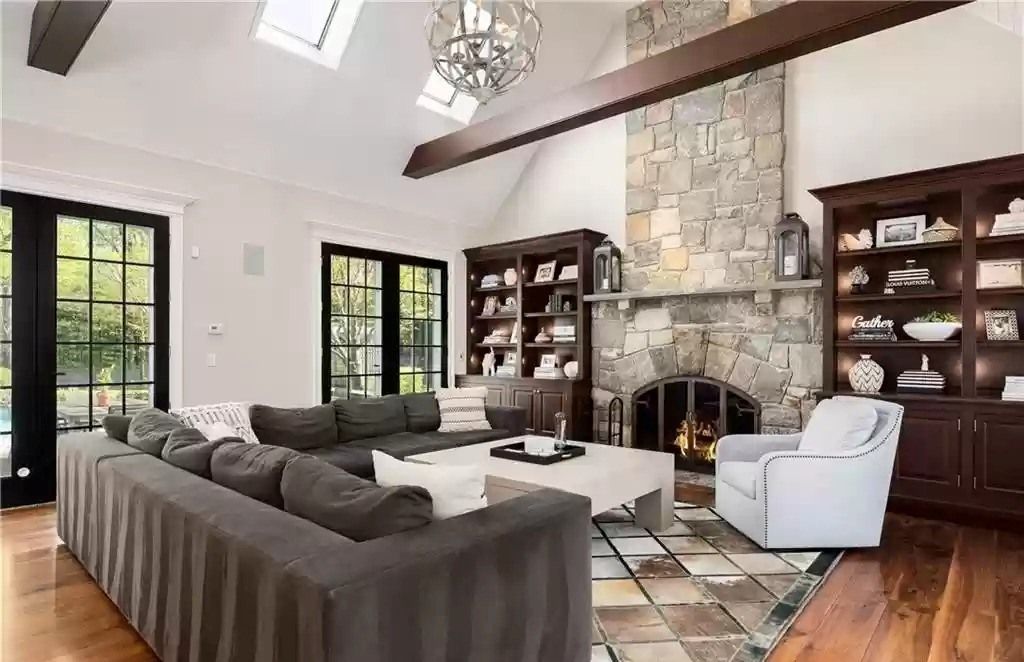 The fireplace is the focal point of the living room because it is always located in the center of the room, where people gather. In this design, the homeowner used natural stone to cover the entire exterior of the fireplace. The tone of the natural stones is also very marching with the color of the carpet and the L-shape sofa set in the living room. Masterfully Crafted to Every Detail, this Shingled Nantucket-style Manor in Connecticut Listed at $3,495,000
4. Do Not Hesitate To Apply Rich Tones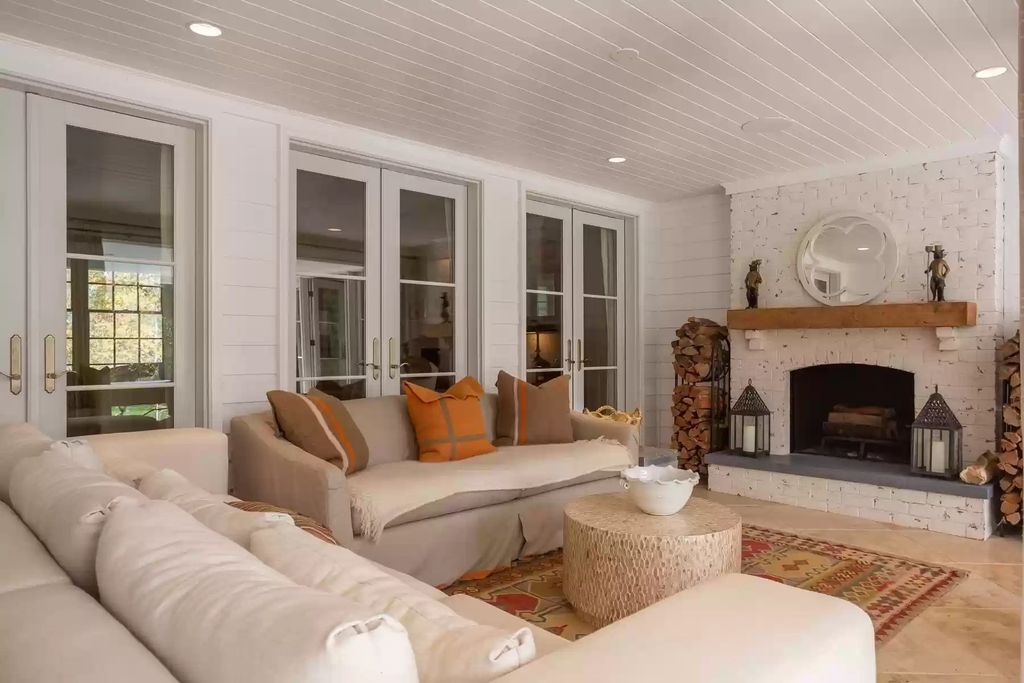 This living room has a warm, natural feel to it, thanks to the rich tones of brown, red and caramel, and the use of different wood types. The effect of decorative items such as pillows and rugs with rich tones cannot be denied, the overall living room is light up and much more prominent. Must be considered! 40 Acres Superb Country Property in Virginia with all of Life's Desired Amenities Lists for $5,950,000
5. Decorate With Nature-Themed Paintings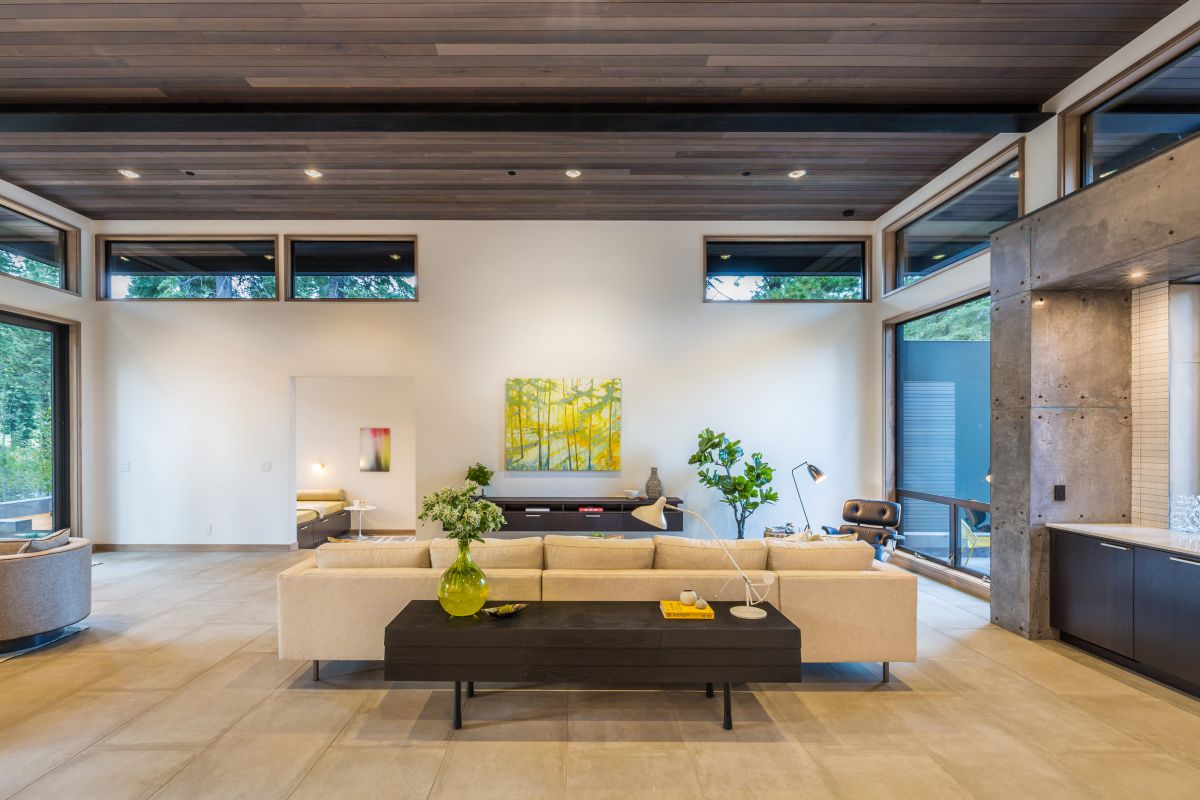 The use of paintings as decorations for the living room is an idea that is always considered, as a great way to bring natural elements to your space. For Natural Living Room Ideas, using nature-themed paintings, combined with vases or bonsai pots, is a great natural highlight. With this living room idea, the wall painting in the middle of the room with green and yellow tones has done its target very well. It is more than perfect! Olana Residence in Martis Camp, California by Sagemodern
6. Earthy Tone For Cozy Places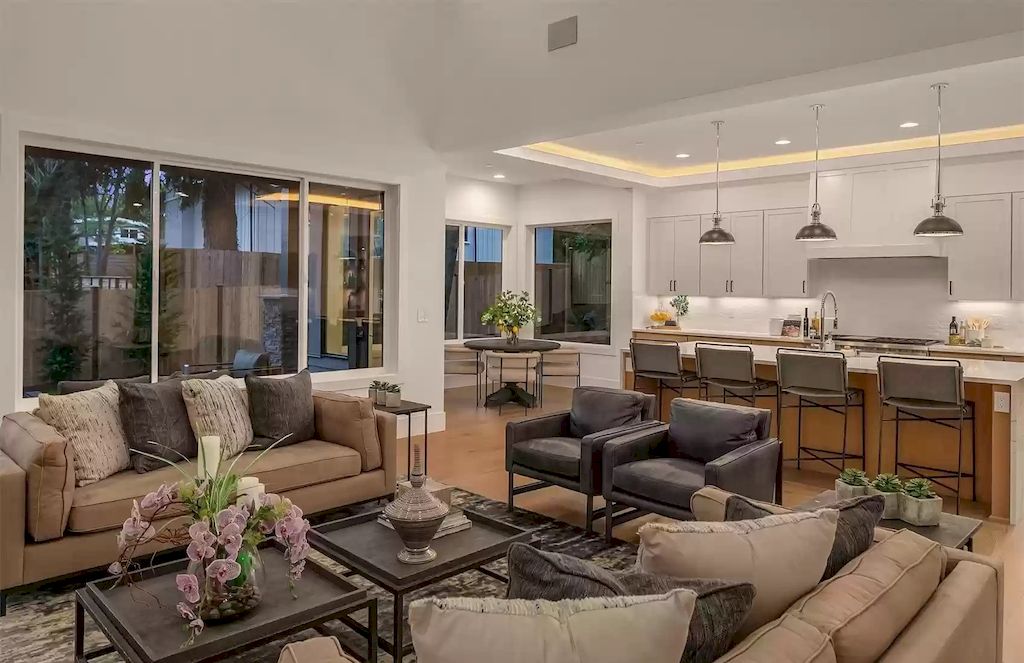 Earth tones describe a palette of colors inspired by nature. Browns, grays of the wall paint, greens of the flowerpots, and tans of the set of sofa work together harmoniously to mimic the color scheme found in the great outdoors. Such a stunning way to bring beautiful nature inside your small space. Ideal Custom Home of Ideal Entertainment Spaces in Washington Hits Market for $3,398,000
7. Wooden Wall For Timeless Beauty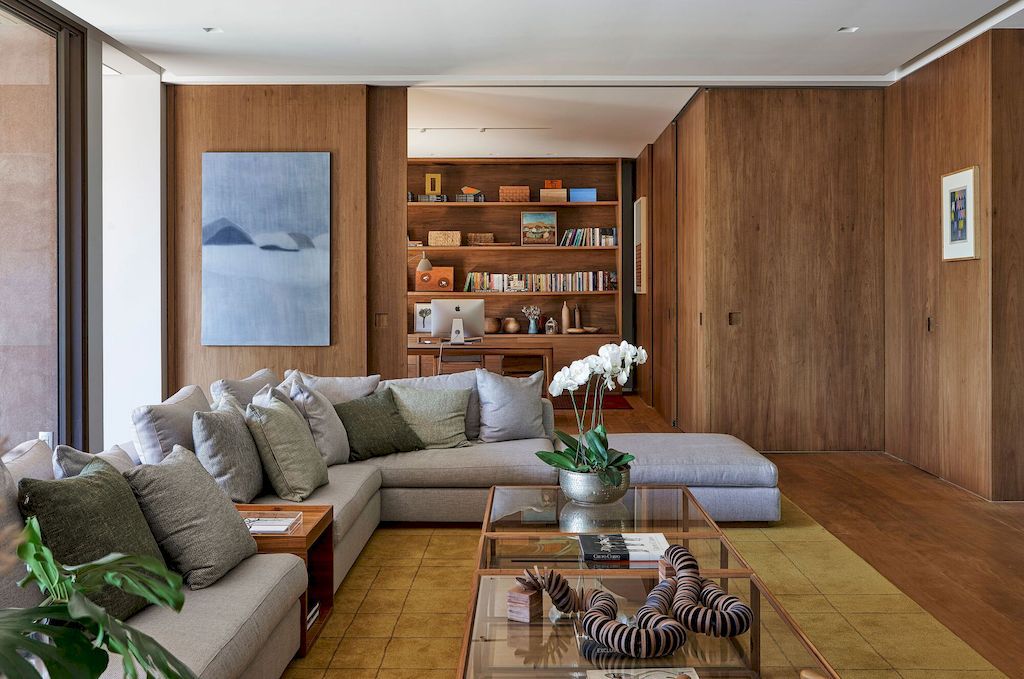 Using natural wood for the entire living room walls and floors is also an effective way to bring natural elements into your living room. Although it is quite difficult to take care of because natural wood has many problems compared to industrial wood, but the durability is much better and it is really hard to be outdated. Passos House with Open Concept and Integrated Spaces by David Guerra
8. Room With A View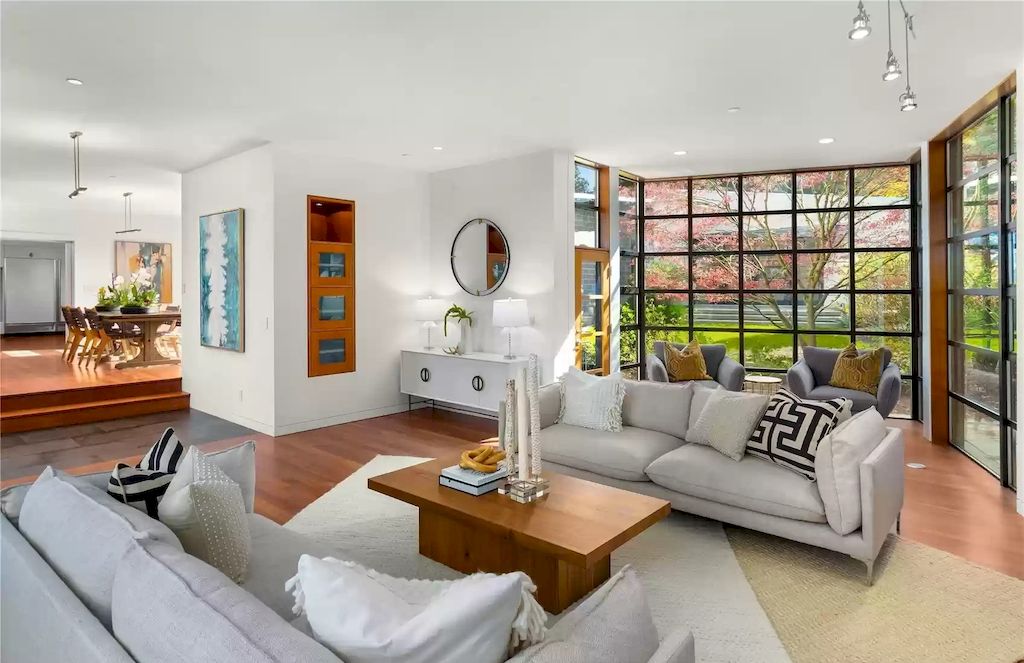 In this Natural Living Room Idea, the use of glass walls to divide the living room and the garden outside both helps make use of natural light and helps your living room have a brilliant garden view that makes you unable to take your eyes off. This design is very suitable for houses with large areas and surrounded by a spacious garden. Sculpted and Honed to Bring a Fresh Air for a Purposeful Living in Washington, this Estate Listed at $6,250,000
9. Try To Design Outdoor Living Room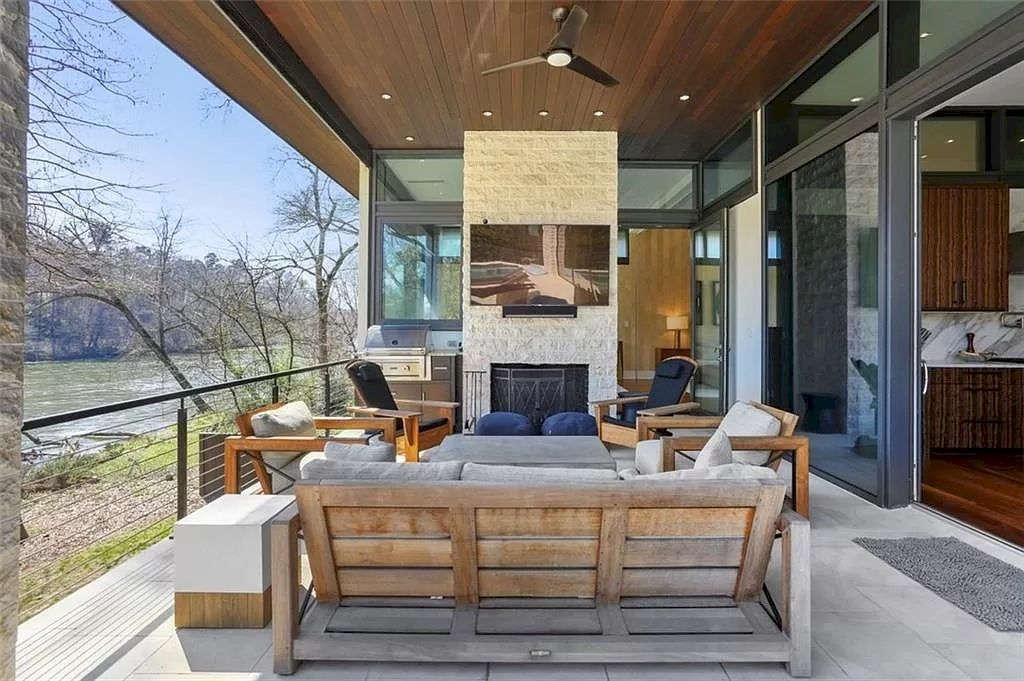 Let's try some new and daring ideas. People are so familiar with the indoor living room. But an outdoor living room is also such a good and potential idea, bold and worth trying. There is nothing better than relaxing, talking to each other, and still enjoying the sunlight and natural beauty landscape outside your home. This $10,000,000 Riverfront Estate Illustrates an Artwork of Uncompromising Construction and Exquisite Finishes in Georgia
10. Hot-trend Floral And Leaf Pattern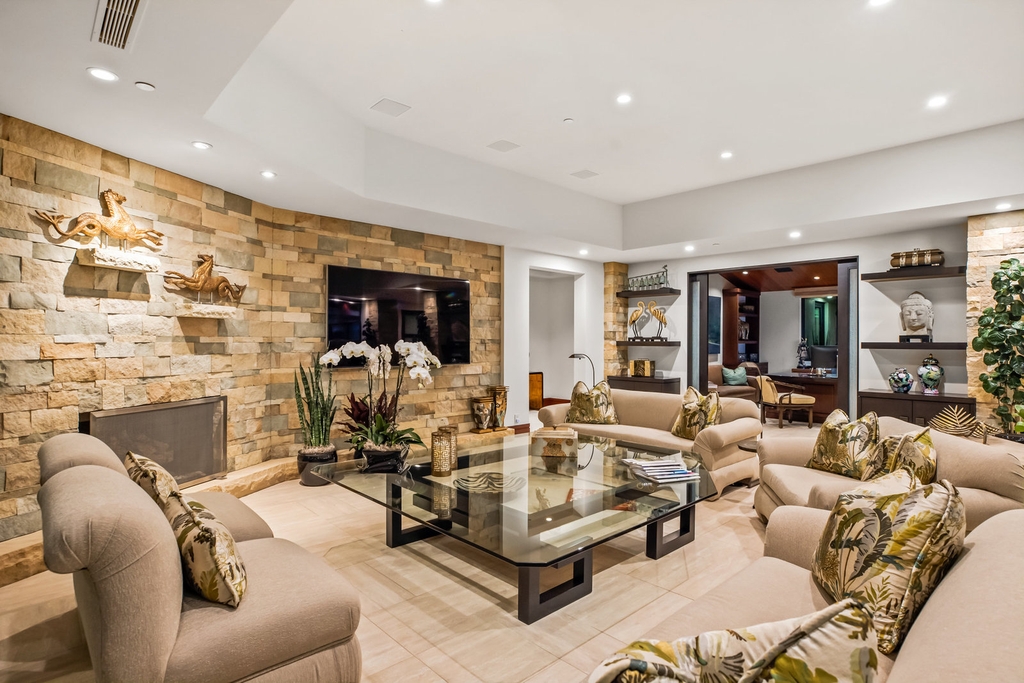 Do not just apply boring monochrome colors to decorate your living room. If you would like your living room to stand out and incorporate natural elements, don't forget the floral and leaf pattern. For this design, the homeowner used fabric with floral motifs for the pillows, giving the feeling that you are embracing nature in your own arms. Meticulously Completed Corona Del Mar Home in Coveted Irvine Terrace Estates Selling for $12,500,000
11. Pay Attention To Interior Color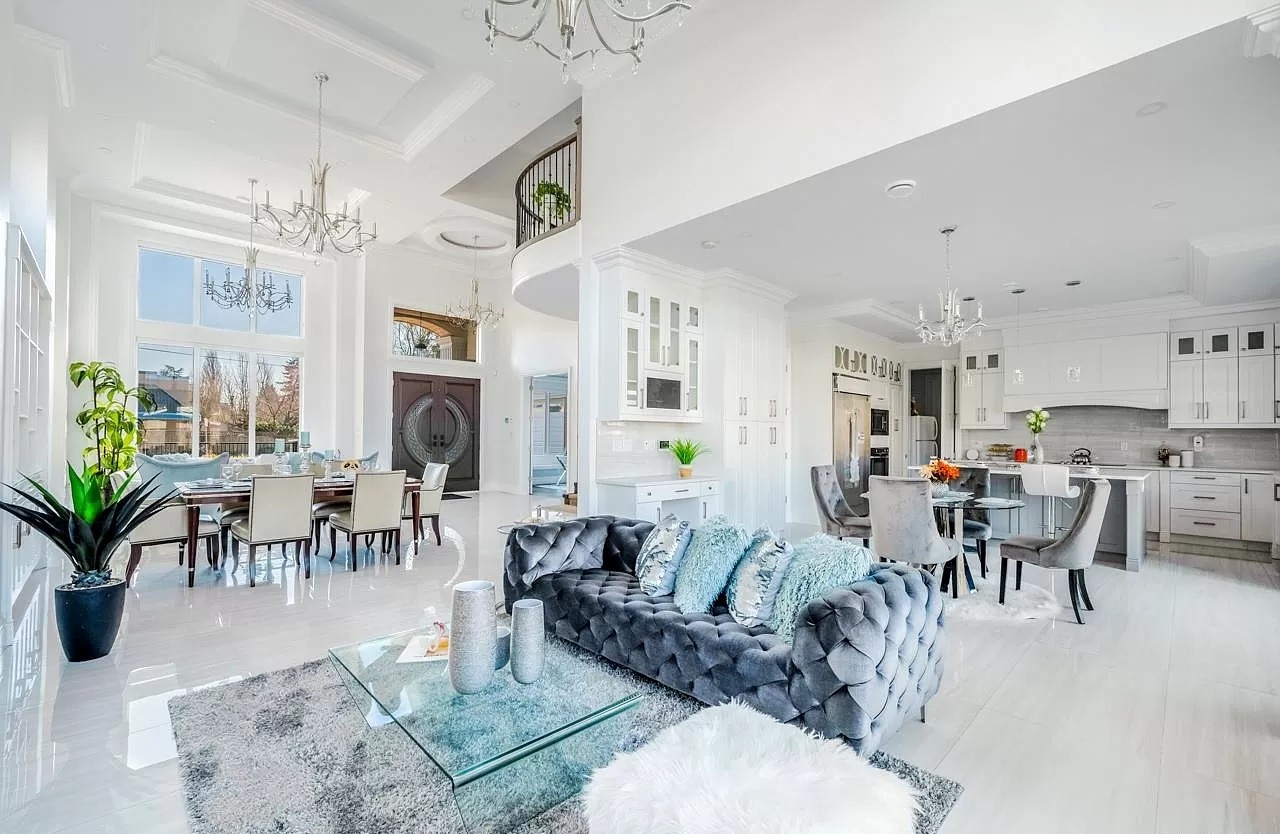 The blue hue of this living room has a very good visual effect. Feeling like the sound of the waves, the white sand of the beach is right in front of your doorstep. This C$3,200,000 Custom House in Richmond Offers the Ideal Layout for Entertaining and Gathering with Family
12. Floor To Ceiling Wall For More Spacious Space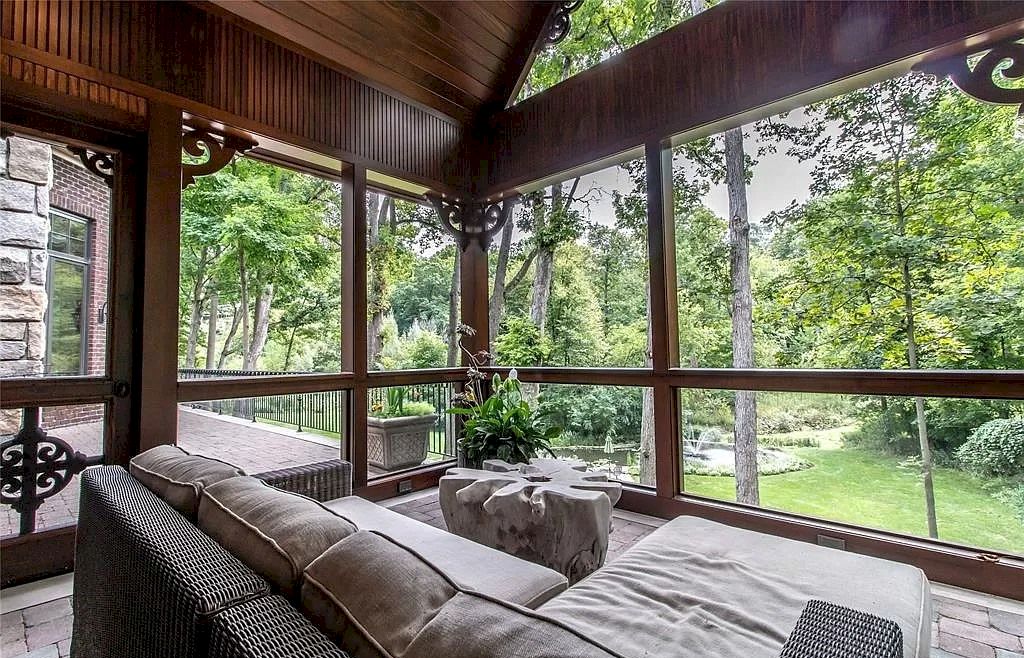 There is undeniable the effect that glass floor-to-ceiling windows bring to your living room. For this design, glass floor-to-ceiling walls are installed on all 4 sides of the room to have a better view of the landscape with lots of greenery outside and bring an absolute resort feeling. Such a magnificent living room idea for a resort-style house. Magnificent Estate Built with Unsurpassed Quality, Craftsmanship and Finest Materials in Michigan Listed at $5,699,000
13. Living Room Idea With Open Space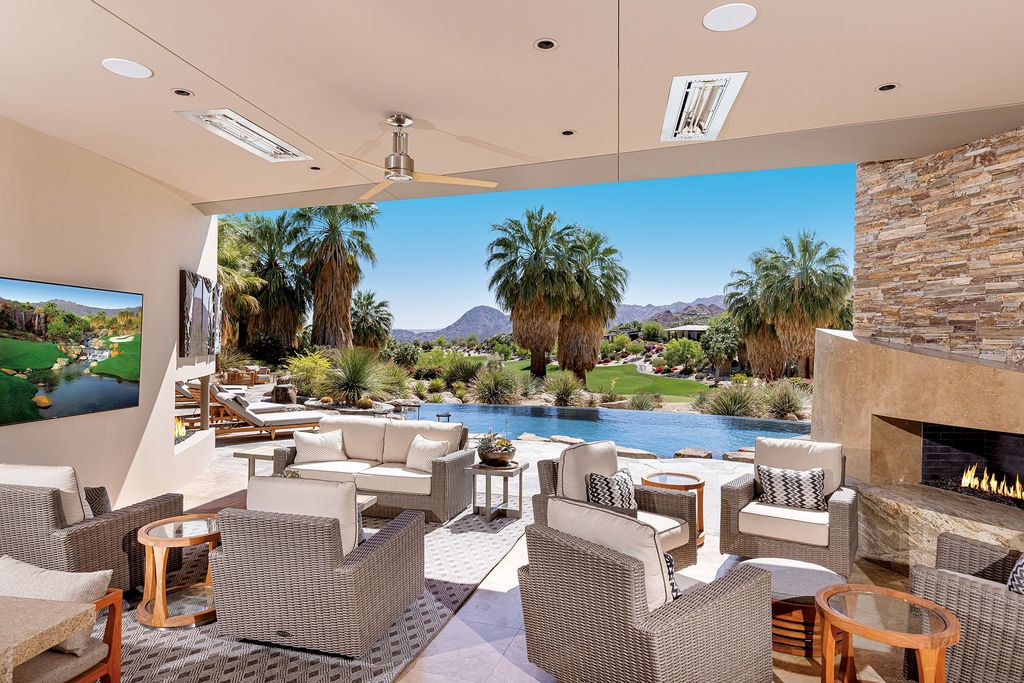 The living room is designed adjacent to the outside swimming pool and the desert landscape is undeniable. The living room space is designed to be open to the outside swimming pool, creating a feeling of absolute ventilation. Beige tones are used to make the overall living room even more spacious. Such a smart way to bring the unequaled outdoor living into your living room. This $11,300,000 Professionally Furnished Home in Palm Desert features the Desert Living at Its Finest
14. Animal Prints Decoration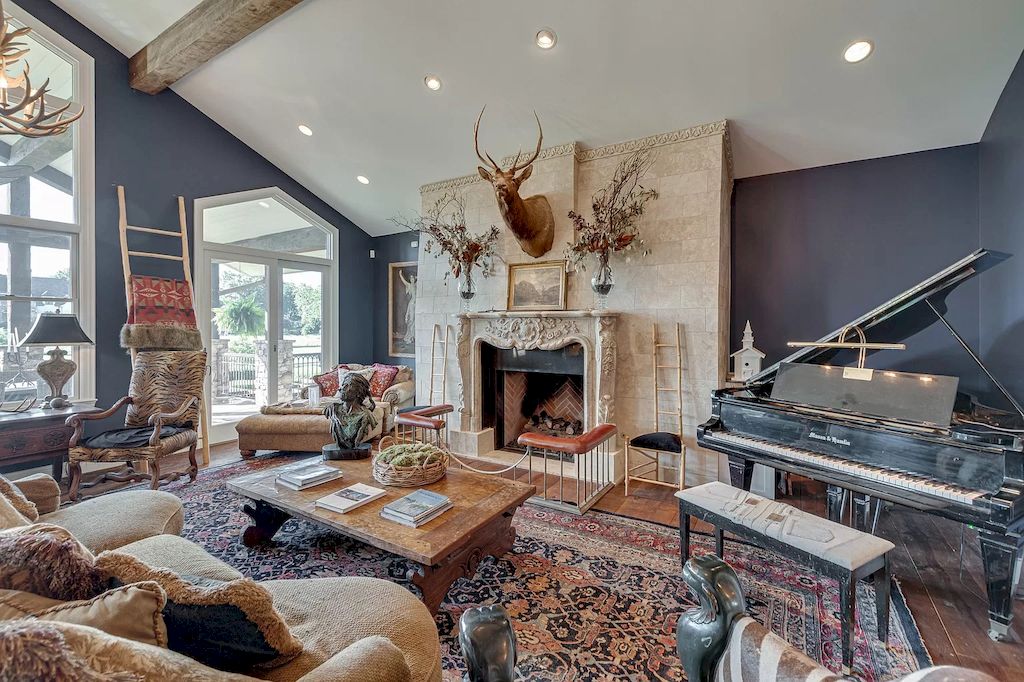 Animal prints are a natural fit for colorful, extensive interiors. Living room furniture with animal prints truly commands attention. Here, patterns inspired by tigers and zebras on upholstered armchairs and sofas add another layer of pattern and personality of the homeowner. Adding gargoyles such as elk mounted on the wall as shown in the picture is also an idea worth considering. This $3,280,000 Finest Home Makes Bold Statement of Luxury and Unparalleled Privacy in Tennessee
15. Curate A Small Space For Indoor Garden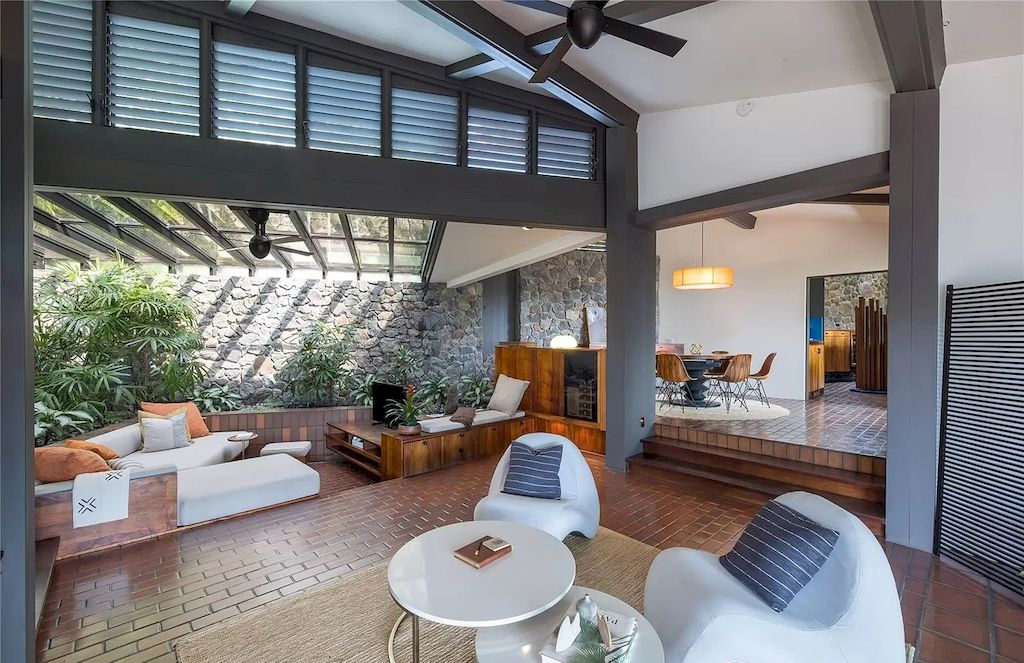 The green color of plants will help your eyes relax after a long working day. Try arranging a small corner of the living room to set up a small garden with a few different plants. That small garden will become the center point as well as a "natural point" to spice up your Natural Living Room Ideas. Get a Sense of Heritage and Sophistication in Hawaii in this $4,795,000 Beautiful Home
16. Bring The Seasons To Your Living Room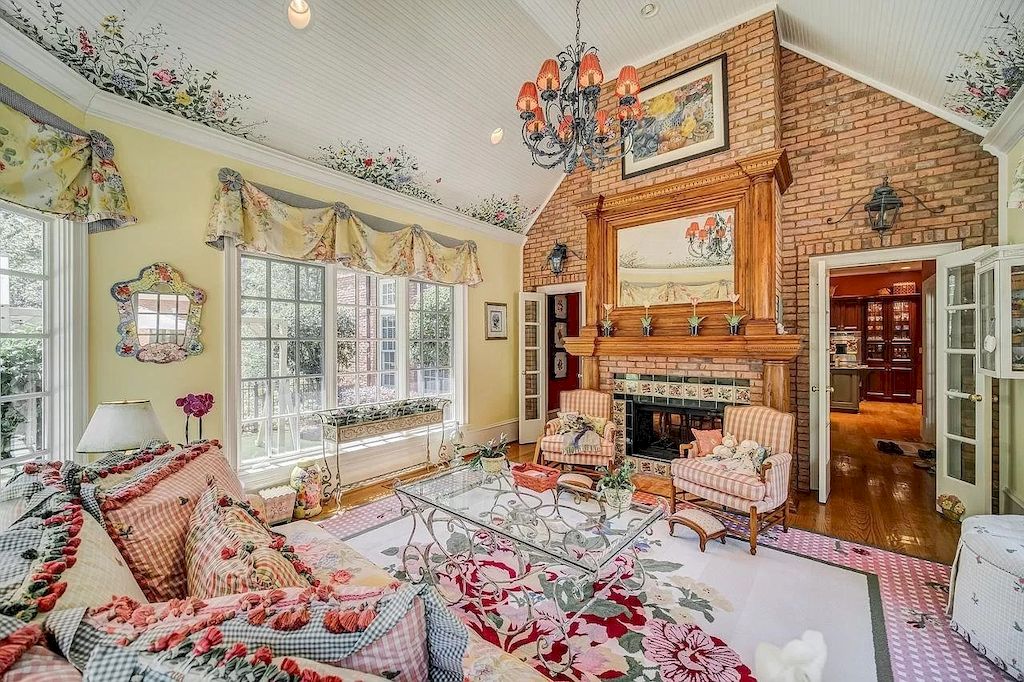 You can use colors that represent each season of the year for your living room. For example with the Natural Living Room Ideas above, bring the vibrant spring into your living room by decorating by some colorful tones such as dark pink, red, orange, and brown with floral motifs. From pillowcases, floor rugs, and curtains to house overflows, all have spring floral motifs. It's like a dance of flowers! Exquisite Custom-Built English Estate in Georgia Hits Market for $5,750,000
17. Use Greens Paint For The Wall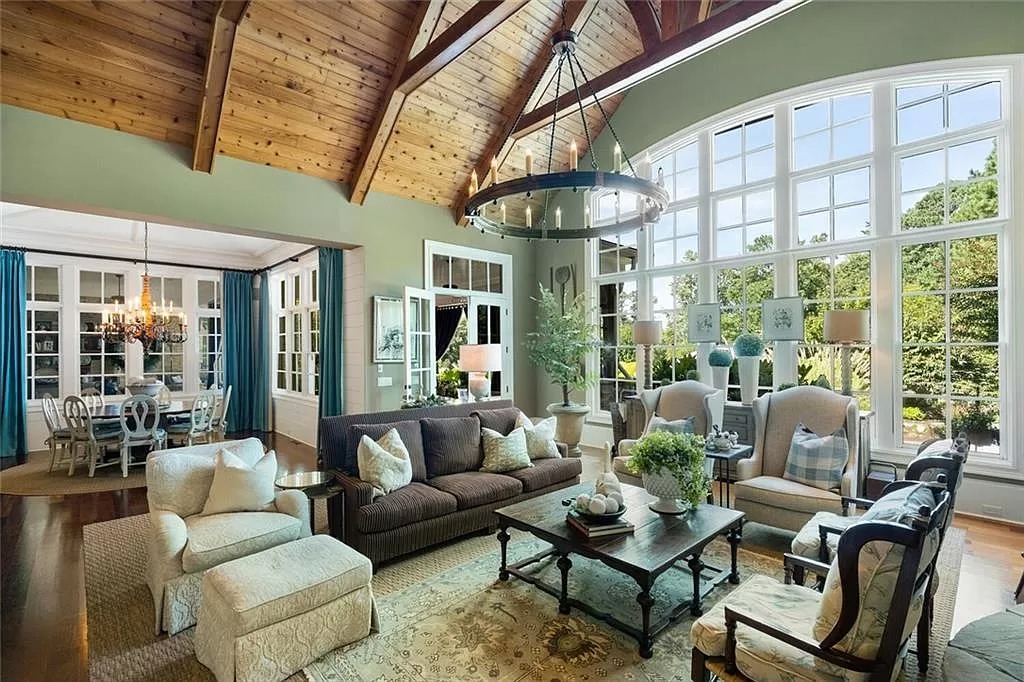 Green patterns are used very effectively for this living room. From mint green hue for wall paint to ruby green for curtains. It all comes together and brings nature into your room. Just looking at it, you can imagine the images of cool summer breezes weaving in the green trees. Georgia Private and Beautiful Estate Listed for $5,250,000
18. Decorate By Flowerpots Or Bonsai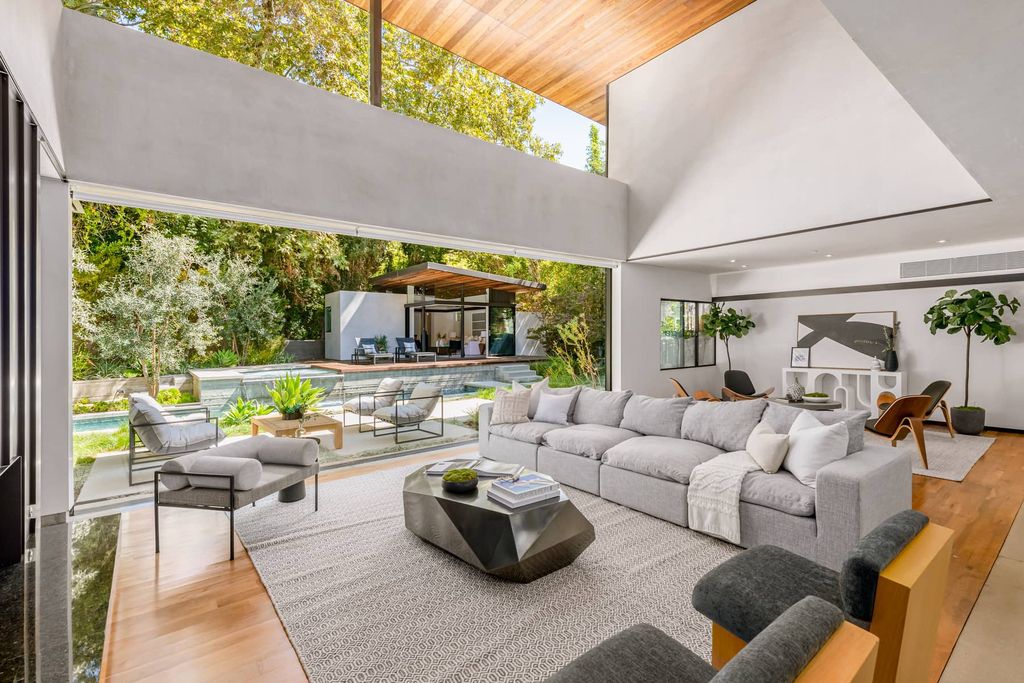 You may consider decorating your living room by using flower pots, and bonsai as accents for the living room with a natural style if you don't want to spend the area of the living room creating an indoor garden. These decorative bonsai pots are also easy to change, from type to placement to suit your taste and mood. Spectacular Brentwood Home with Sublime Setting for Sale at $7,695,000
In conclusion, the above 18 Natural Living Room Ideas will give you some recommendations and hints for your living room, hopefully. Depending on the area you want to use for the living room, if the area is large, you can completely cut a small area to make an outdoor garden or with a smaller area, you can focus on installing the Interior with natural materials or choose color tones accordingly. This all depends on your selection. You as well check other our posted article 14 Best Ways To Decorate Beige Living Room Ideas for more living room ideas.
More Ideas For Living Room:
---
Thousand of high-quality images of Living rooms and more you can see at Livingroom Gallery.