Farmhouse is a popular trend nowadays, especially in industrial society, with the goal of a sustainable home design style with time but still solid with the present. Although they share characteristics such as organic materials or neutral colors, we can distinguish them by incorporating some modern elements. Living room ideas farmhouse has never been boring for architecture and design enthusiasts of all ages.
1. Brick Wall Living Room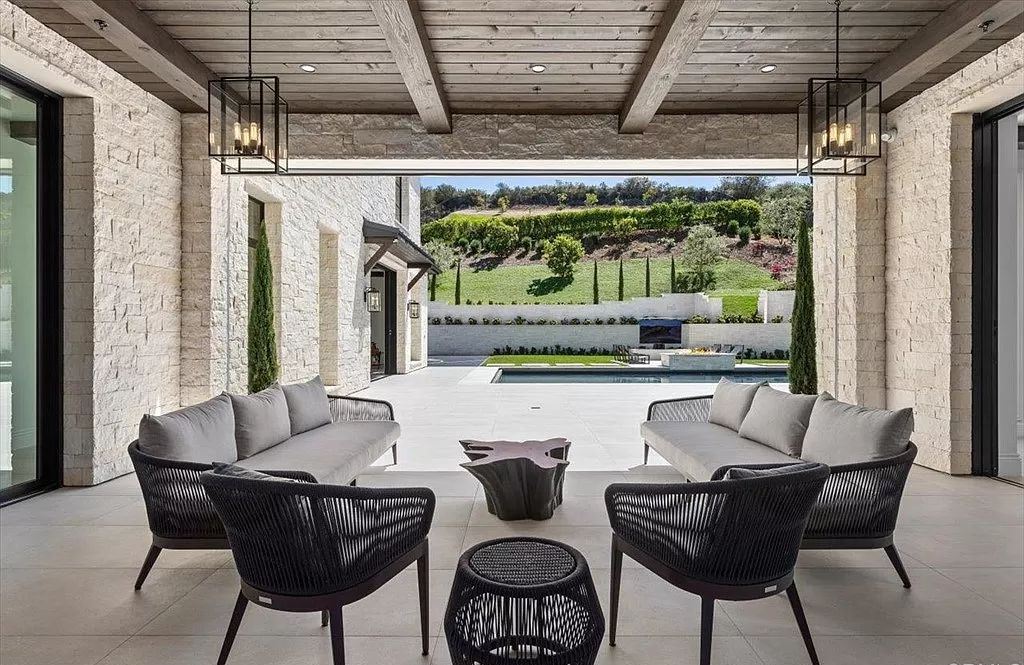 By incorporating organic building materials into the architectural space, you can let the living room speak for itself. This room features farmhouse elements in a stylish living room made of stilt wood and stone wall cladding, as well as industrial wicker chairs. The use of natural materials enhances the essential characteristics of the farmhouse style space. Then, to draw attention, add a tree stump tea table and candlelight chandeliers. This $16,495,00 Newly Built Home in Rancho Santa Fe offers Elevated Living with Exquisite Bespoke Designer Finishes
2. Decor by a Wall-Mounted Movie Projector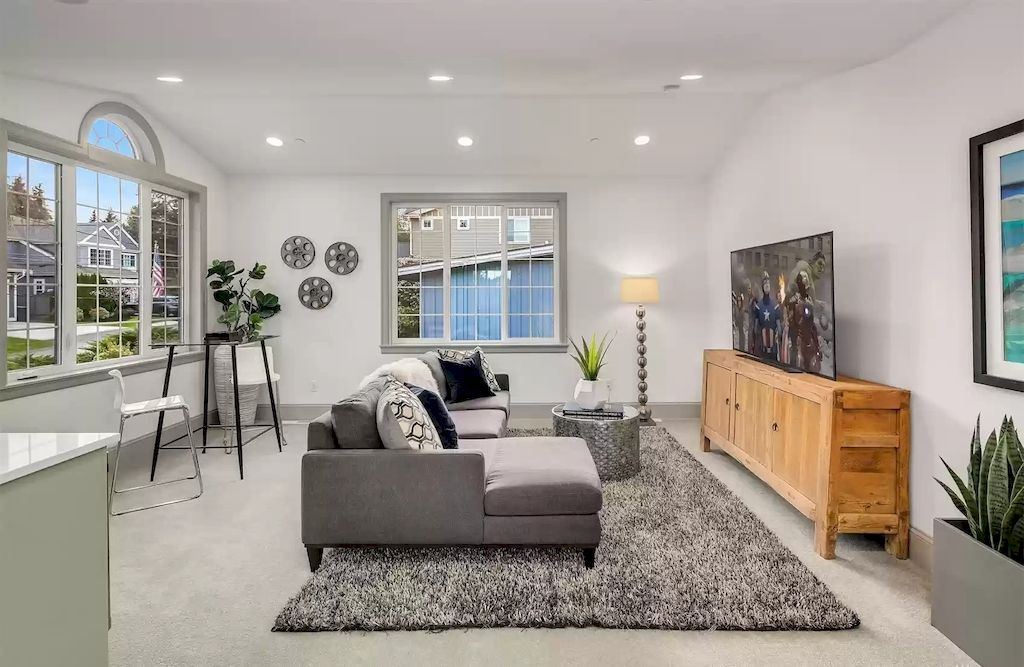 Someone devised a cinema concept for decorating a living room with popular and minimalistic items. The room's design is quite harmonious due to the careful selection and arrangement of everything from the window design to the movie tapes hanging on the wall, as well as the art installation. Not only that, but the presence of a wooden TV stand adds to the rustic theme. This $4,898,990 Stunning Estate in Washington Features Spectacular Chef's Kitchen with Top of the Line Appliances
3. Bring Modern Style to Farmhouse Living Room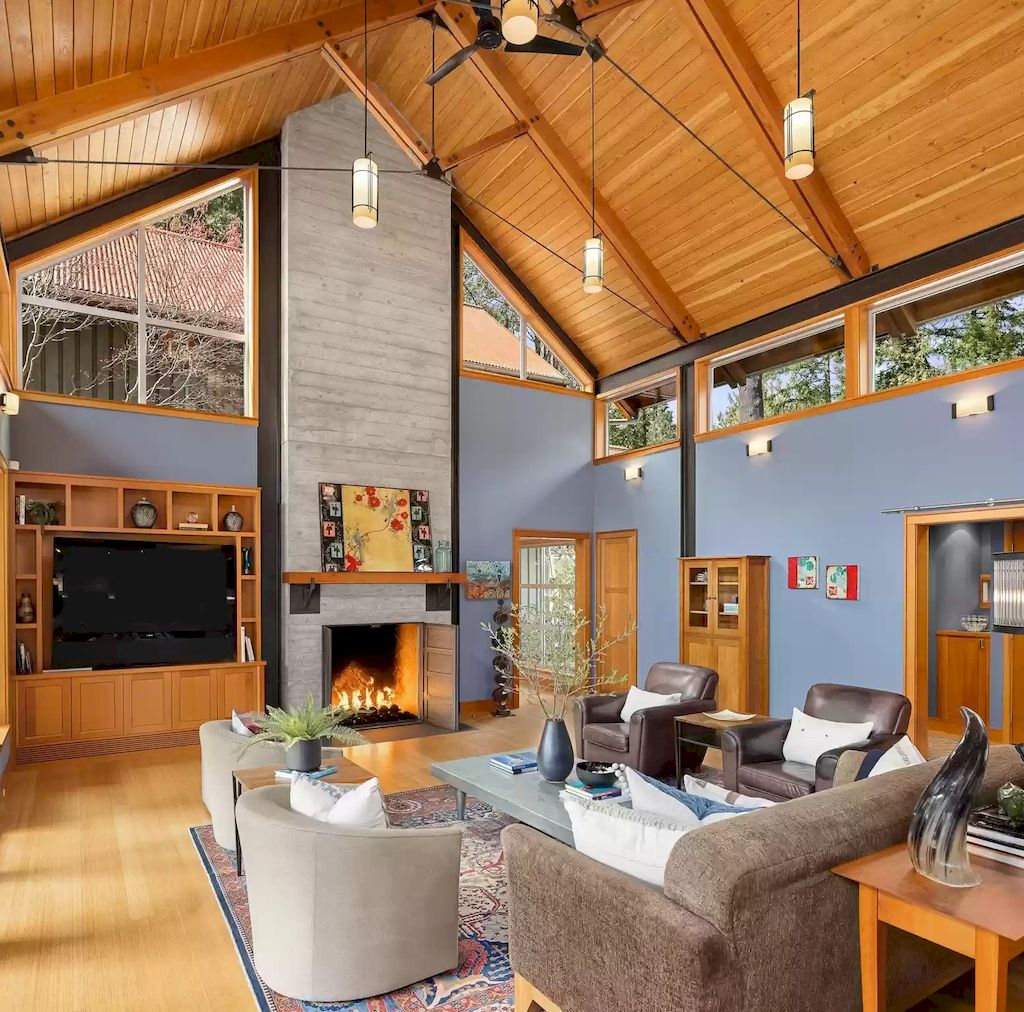 The use of light glossy paint and glass doors can be considered a modern house style rather than a farmhouse style. The brown wooden spire stands out even more because they all exude youth and brilliance. The interweaving of polished brown wood furniture on a cerulean-painted background complements the room's style. You can benefit from natural light through large glass windows that can be arranged to suit your decorating needs. This $5,498,000 Farmhouse-inspired Estate in Washington Leaves You Breathless
4. Rustic Wooden Table with Minimalist Design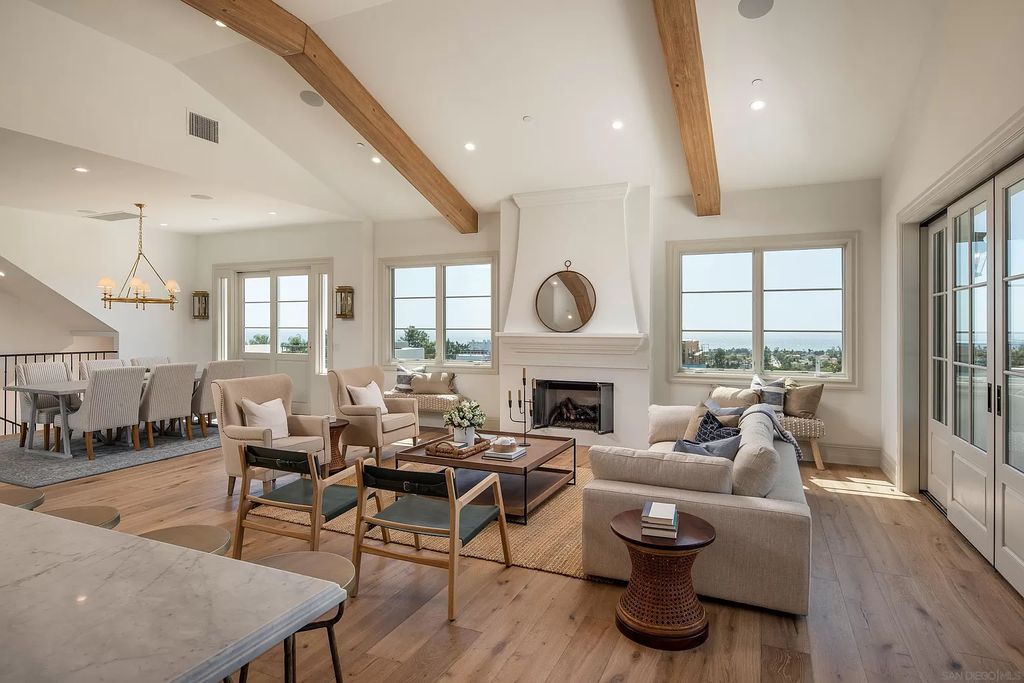 Most farmhouse living room ideas do not require a lot of color, but spaces that follow this style will use basic color tones like white, cream, and wood. The coffee table, for example, provides storage with two dark brown wooden panels in this design. For extra decoration, add a few flower pots, candle lights, or a simple cup holder. Wooden recliners and sedge rugs are unquestionably necessary in this living room. Stunning Brand New Construction Home in San Diego was Meticulously Designed Comes to The Market at $5,775,000
5. Antique Coffee Table with Internal Storage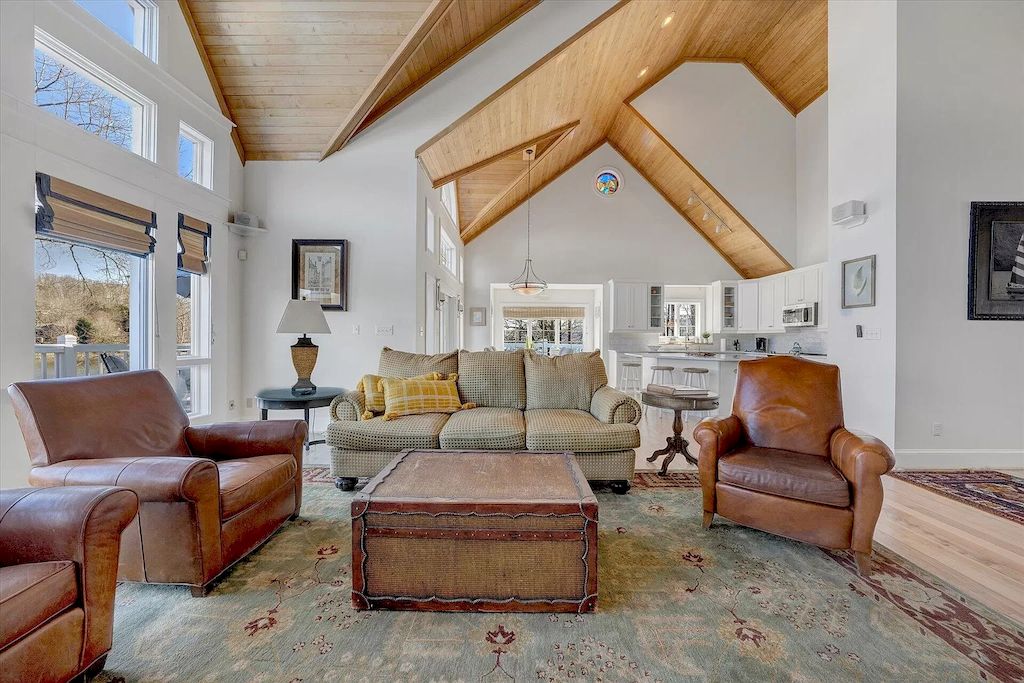 The farmhouse living room concept emphasizes the simplicity of the amount of furniture as well as the ease of storage and arrangement. The use of antique colors on the brown leather sofa and the Persian rug is the focal point of the entire room, and the rustic coffee table is inspired by the chest. For a warm, intimate feel, add a few lamps, pillows, and sedge window curtains. The transformation on the spire is a great way to make a room stand out. Enjoying a Sip of Coffee with Gorgeous Water Views in this $3,050,000 Spacious Lakefront Home in Virginia
6. Wallpaper that Looks Like Bricks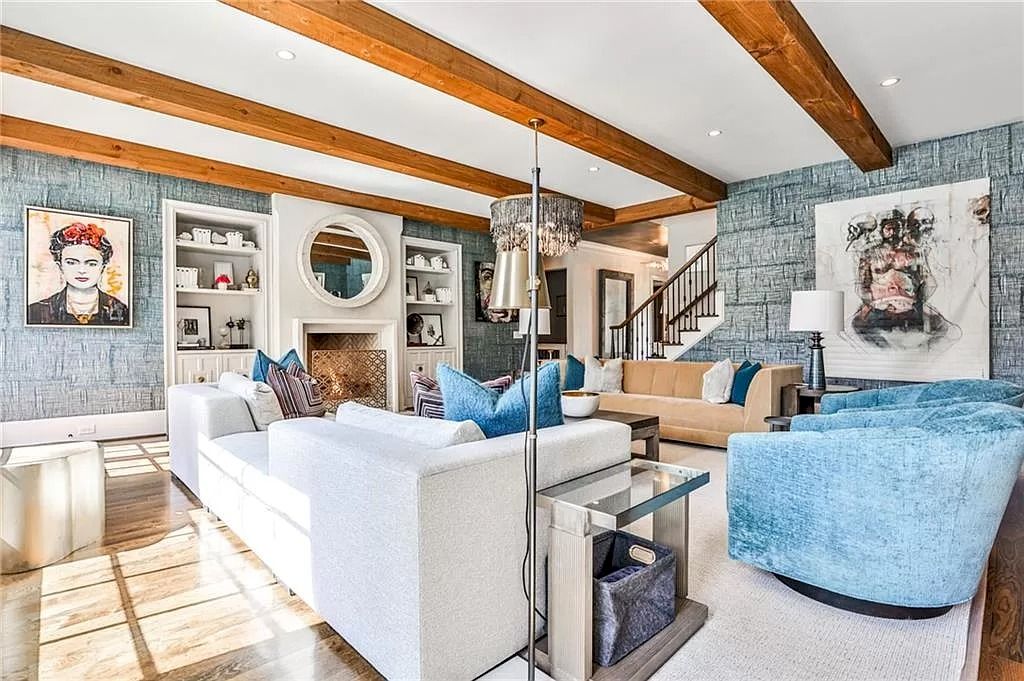 You may discover ways to be flexible in changing the decor of your home, such as by using wallpaper. To match the farmhouse living room ideas, the wallpaper with 3D brick pattern is the most harmonious with wooden beams architecture, and it still retains the space's youthfulness due to the chosen color. The variety in sofa selection also helps to break up the monotony of this style of selection. To keep things neat and tidy, add a few drink tables and cabinets. This $3,850,000 Elegant Home in Georgia Re-images a Resort through the Lens of Its Architecture, Landscape and Finishes
7. Unique Ottoman Chair with Basic Pattern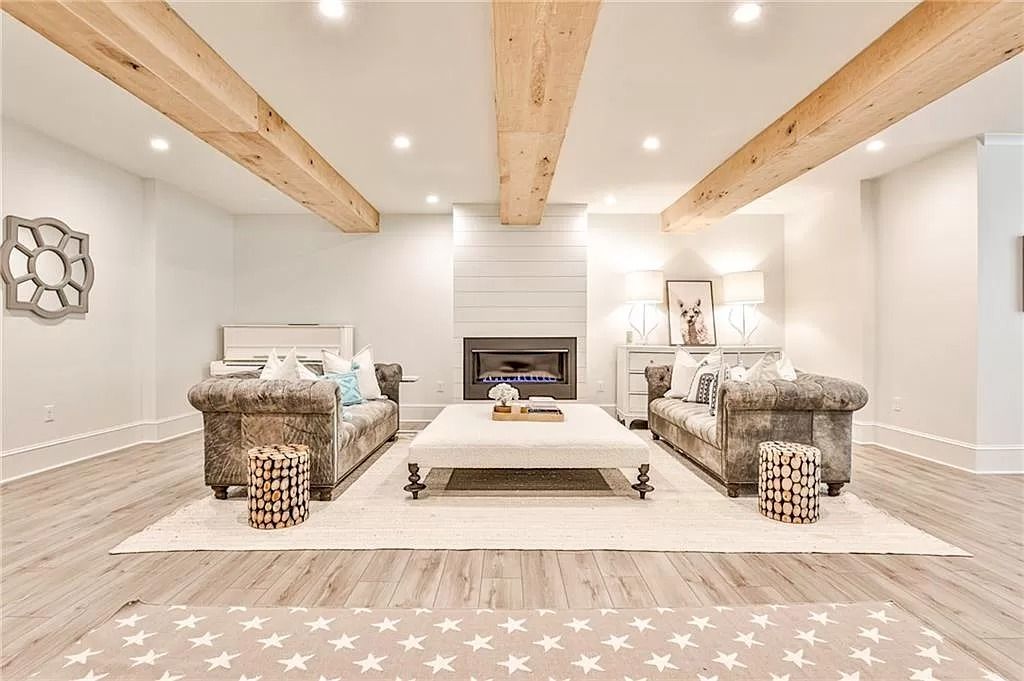 Using unique items, such as ottomans and special paintings, is a fun and exciting way to bring your room to life. The floating motifs on the ottoman chair and the self-drawn picture of the family's child distinguish this space. It also demonstrates affection and affection when displayed in the most special location. This $3,850,000 Elegant Home in Georgia Re-images a Resort through the Lens of Its Architecture, Landscape and Finishes
8. Pure with Floral Accents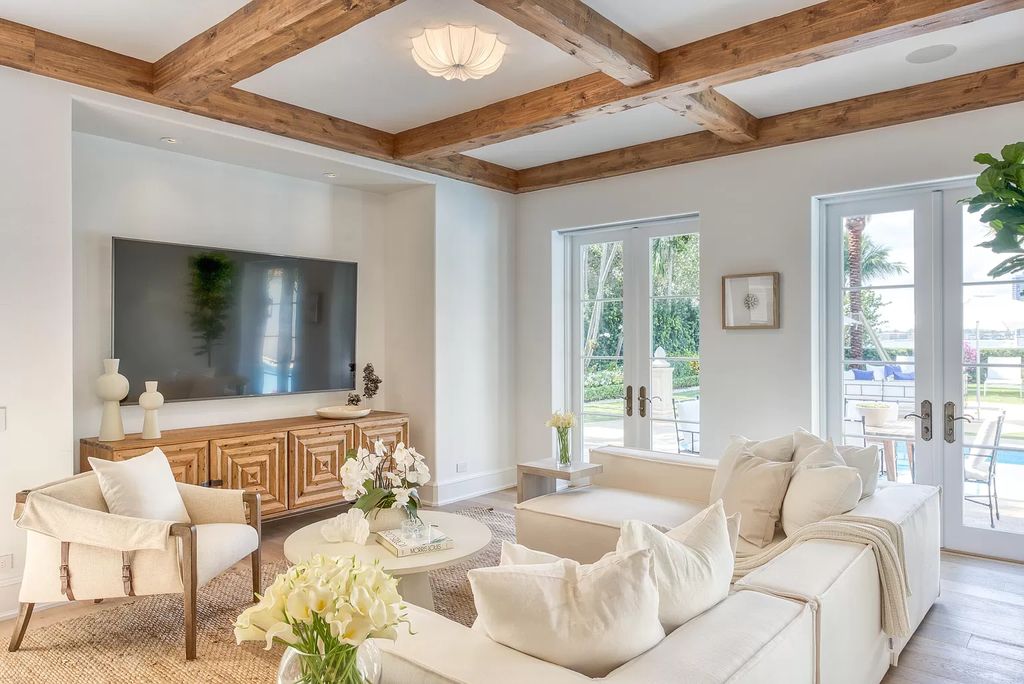 The gentle flower vases and the white sofa set made of sliding fabric are the perfect highlights of this space. It easily opens up and brightens the space, while other furniture made of old wood is symbolic and promotes the farmhouse style. You can choose from a variety of baby petals in soft colors that are great for personalizing the piece to match the style of your living room. A Wonderful Mediterranean Villa in Palm Beach with Exquisite Finishes Asking for $49,500,000
9. Living Room Ideas Farmhouse with Shiplap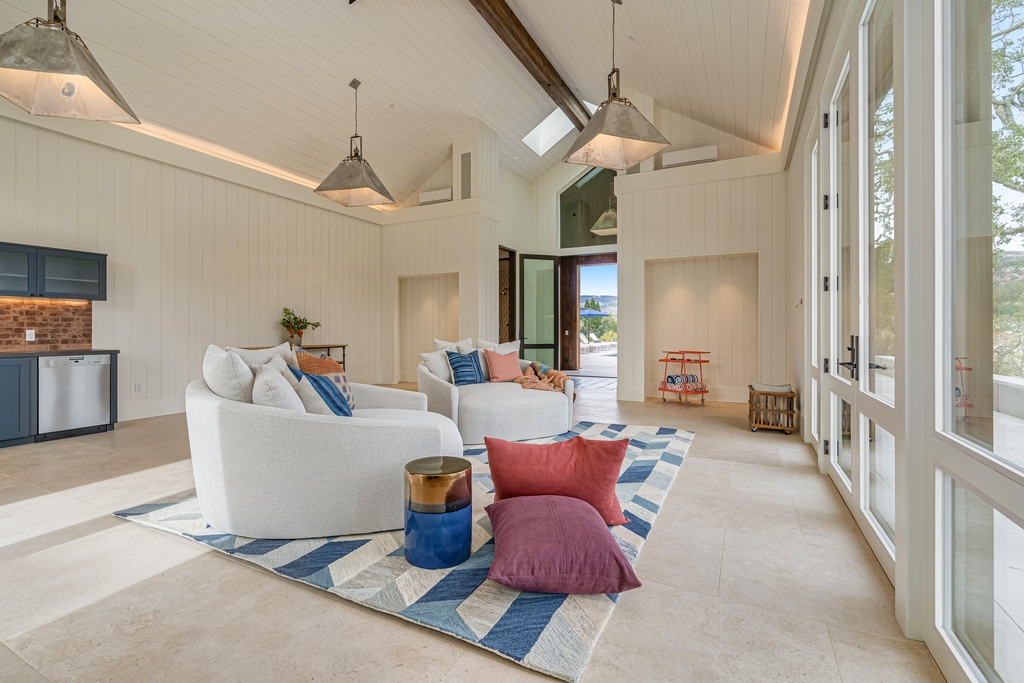 Sure, wood was commonly used in farmhouses in the past, so shiplap is one of the simplest ways to incorporate this style into your home. Consider using horizontal or vertical panels and colors that can be reused when building. The room took on the appearance of a tent, with large, long pillows and a medium-sized rug, and no coffee table. Newly Built Modern Farmhouse in Napa with Exceptional Custom Finishes on Market for $10,000,000
10. Use Smooth Tiles for the Floor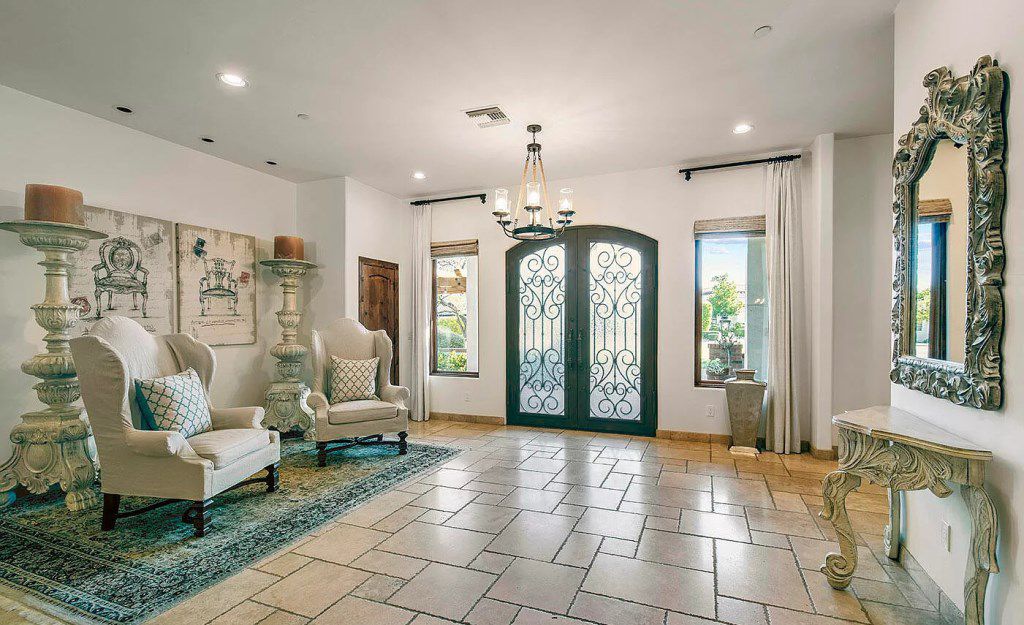 There is always a debate about whether rough tile or smooth tile should be used for farmhouses. If the architecture of your house has bold farm house characteristics, the use of rough tile will help break the simplicity of this style. Meanwhile, if the designs around you, the roof top, and the walls are still modern, you should consider bringing smooth tile into the space to promote a hint of history. Beautiful $3,400,000 single story Residence in Arizona makes you stop and stare
12. Classic Candle Light on the Fireplace Shelf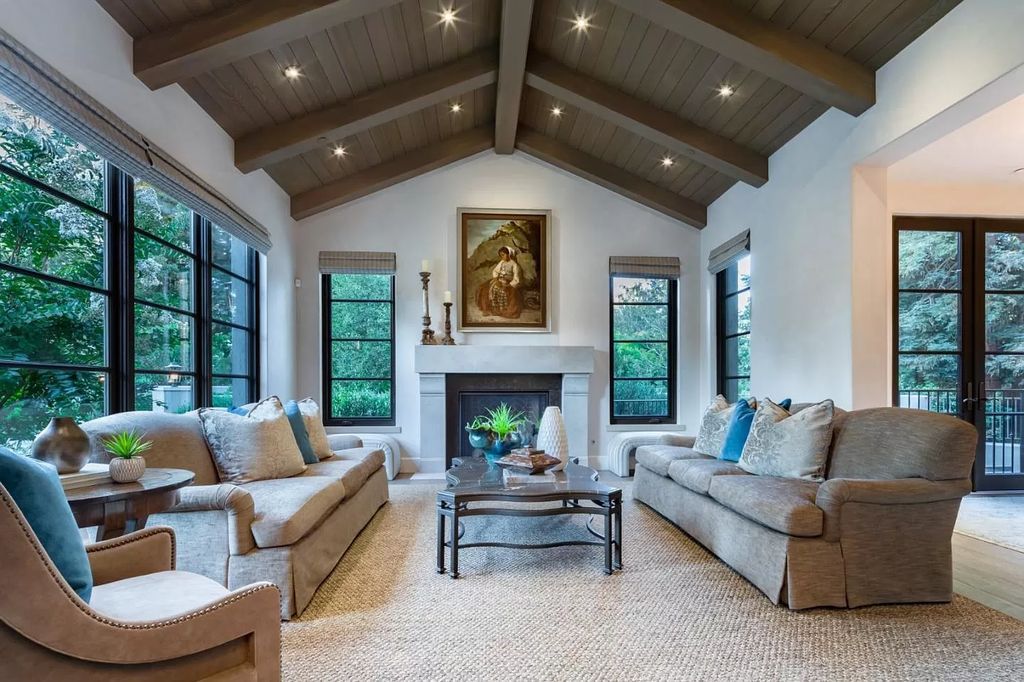 The lightness and closeness of the farmhouse living room contribute to its allure. So why aren't they displayed in our rooms? From the wooden spire to the traditional fireplace area, the living room is completely classically decorated. Without being fussy, create depth to increase the value of the room. This $15,988,000 Spectacular Atherton Home offers Grand-scale Formal Rooms Made for Entertaining
12. Add Spotlight on the Wall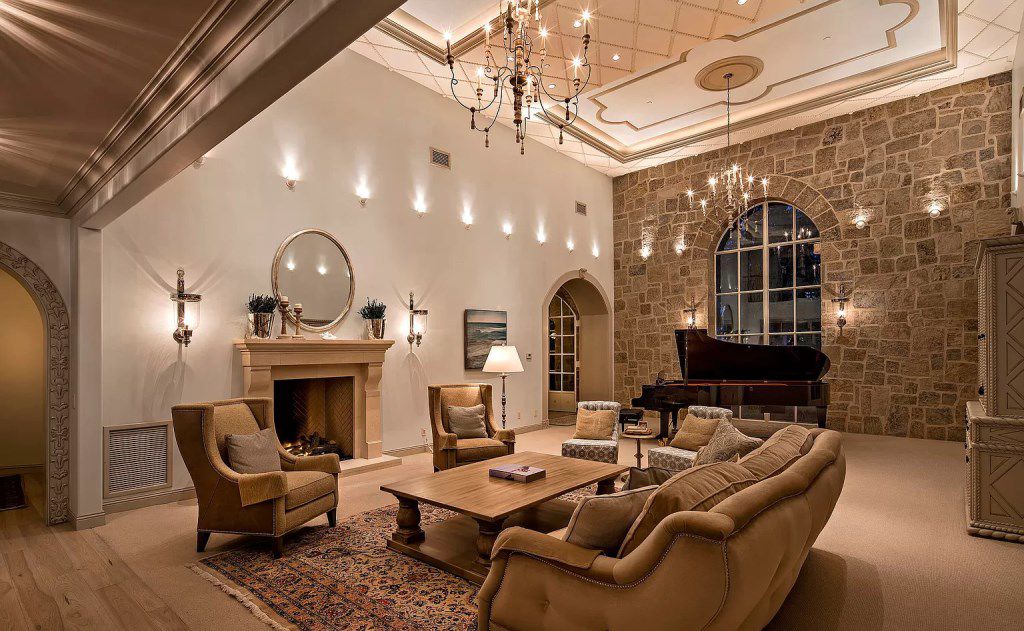 Who says farm life can't be luxurious? You can give a traditional room a look that is both comfortable and meets your sparkle expectations with a simple twist. This farmhouse living room features a felt sofa and a brick wall, but it is also accented with spotlights that add effect throughout the room. This $12,900,000 Paradise Valley Estate represents true timeless elegance
13. Modern Fireplace in Farmhouse Living Room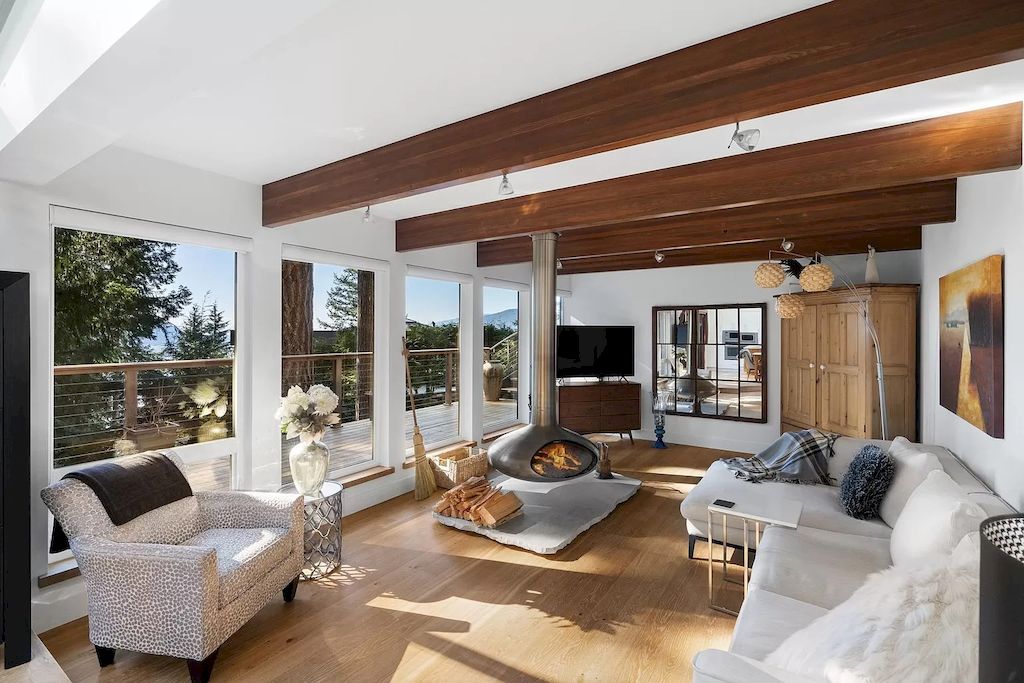 The farmhouse style's simplicity will be the trend in today's industrial life. This living room allows you to highlight the farmhouse's features, such as wooden beams, silver wood corner cabinets, or hard fabric sofa sets. Aside from that, there is a modern metal appearance, such as the fireplace hanging in the middle of the house. This technique is even uncommon in modern styles. This C$3,050,000 Stunning Home in Lions Bay truly Embodies the Beauty of the WestCoast
14. Farmhouse Living Room in Monochrome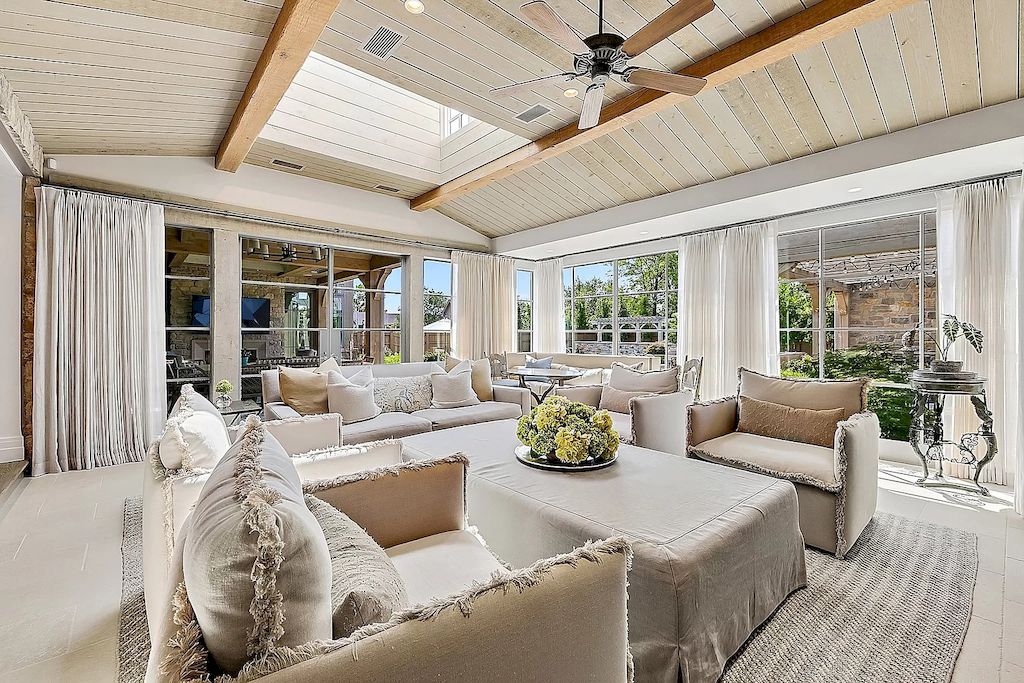 Farmhouse living rooms are ideal for relaxing, especially when combined with blankets on the sofa or wooden bundles around the fireplace. Decorative details can be used in any style living room to complete the space. The above design is an example of a contemporary farmhouse living room that combines traditional and modern elements. Magnificent Stone Manor in Illinois Hits Market for $14,999,000
15. Use Bifold Doors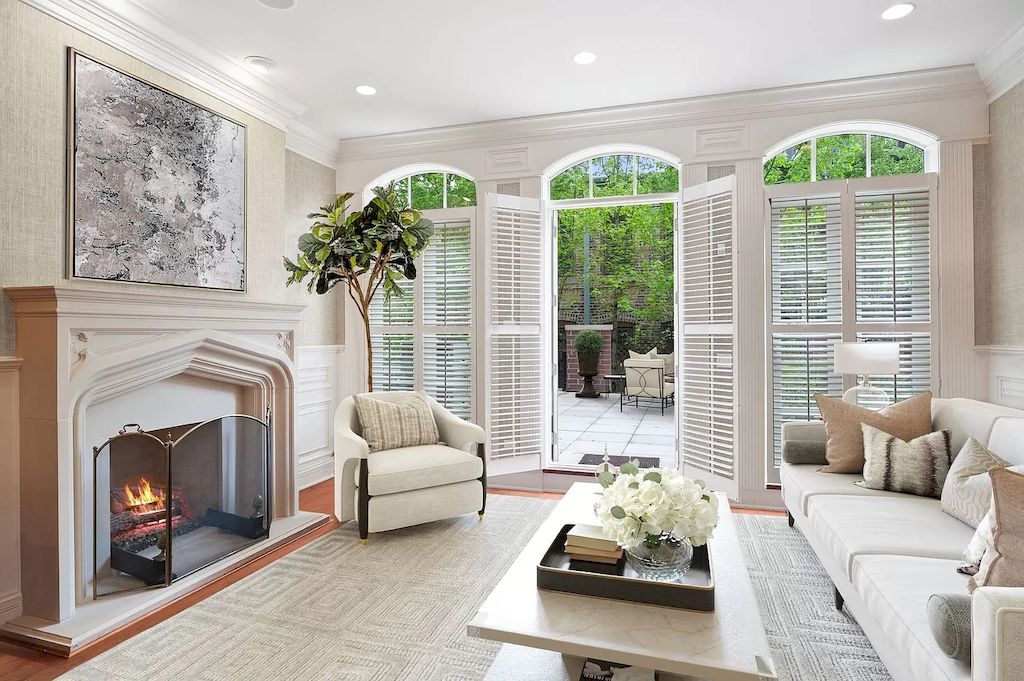 Bifold doors add a sense of tradition and history to any space. Furthermore, they always allow natural light into your room. In most cases, the bifold door is combined with a glass door on the outside, allowing light to enter while keeping insects out. To add to the sense of closeness to nature, the simple cup holder is adorned with a vase of gentle white flowers. This Beautifully Maintained Residence with Park-like Setting Offers Privacy and Tranquility in Illinois Hits Market for $6,295,000
16. Shelf hand crafted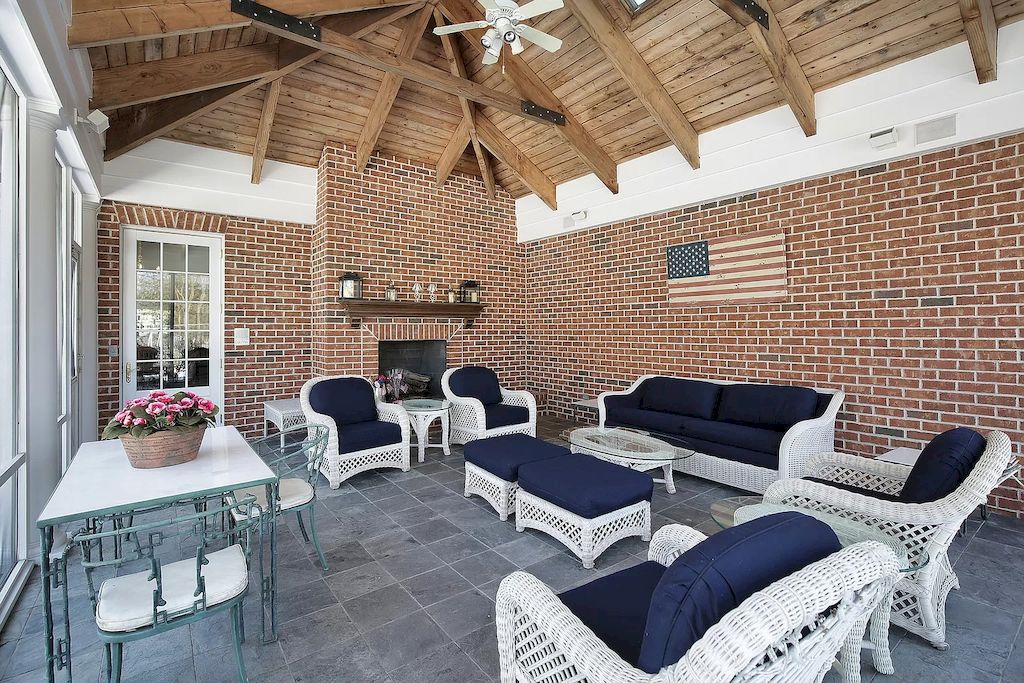 Aside from white, which is the traditional color of a farmhouse living room, red brick is also a popular choice for this style. However, because red bricks make your living room space narrower, not many people choose to cover the entire wall with them. Instead, the combination of a wooden roof and red brick will create a warm, natural environment. More specifically, the homeowner was very careful in selecting the color of the sofa cushion, which reflected the characteristics of an American village. Outstanding Georgian Home in Illinois Listed at $4,999,000
At any given time, everyone wishes to own a farmhouse in order to be closer to nature. Bricks surround the walls, and the wooden spire evokes nostalgia. Decorate freely with gentle flower vases or homemade hangers. It's no surprise that the rustic items in living room ideas farmhouse have grown in popularity in recent years.
More Ideas For Living Room:
---
Thousand of high quality images of Living room and more you can see at Livingroom Gallery.