Creative With Living Room Ideas Eclectic
If you want to make your living room more dynamic, diverse, and appealing, look into living room ideas eclectic. Because they are made up of several types, you will find diverse design trends and aesthetics with this style, which can be quirky or new depending on your direction and style. There may be a mix of classic and modern elements in the general architecture, or a mix of hot and cool colors generating opposing arrays. We've gathered 19 eclectic living room designs that are both striking and unique for design inspiration.
1. Turn to the Wall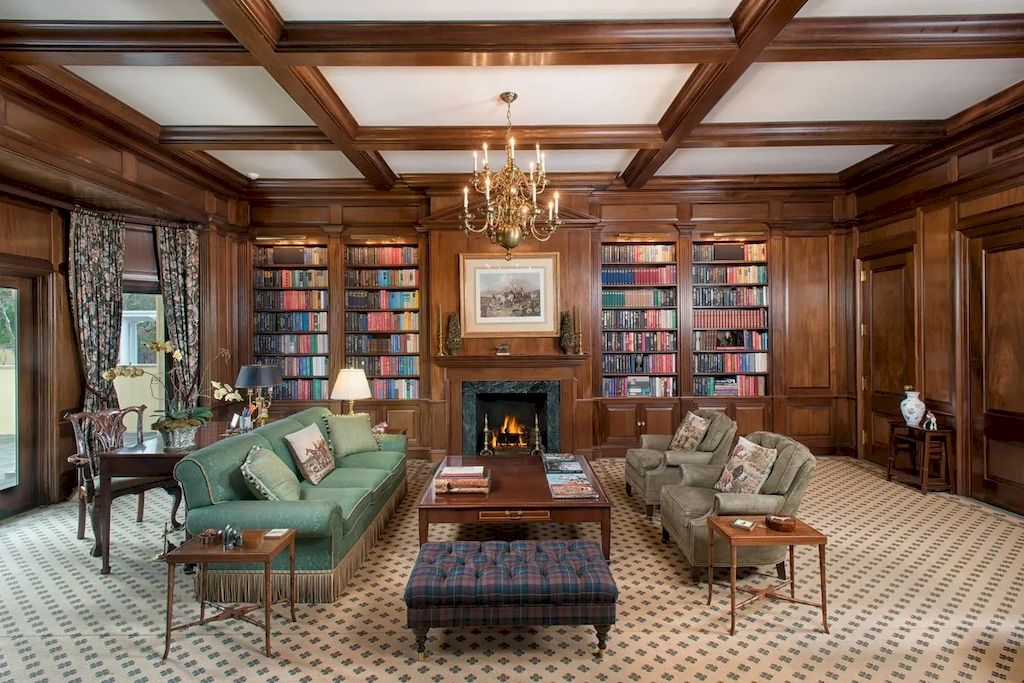 The gallery wall has become a fixture in most living rooms, and it appears that this style is here to stay. It can be as basic as hanging art or family photos on the wall, or it can be as elaborate as the built-in cabinet shown above. Favorite books span the full plane of the wall. Furthermore, the varied combination of green couch and main wood hue highlight this style. This $14,900,000 Classical Villa Contributes to the Timeless Elegance in Connecticut
2. Practice Balance in Living Room Ideas Eclectic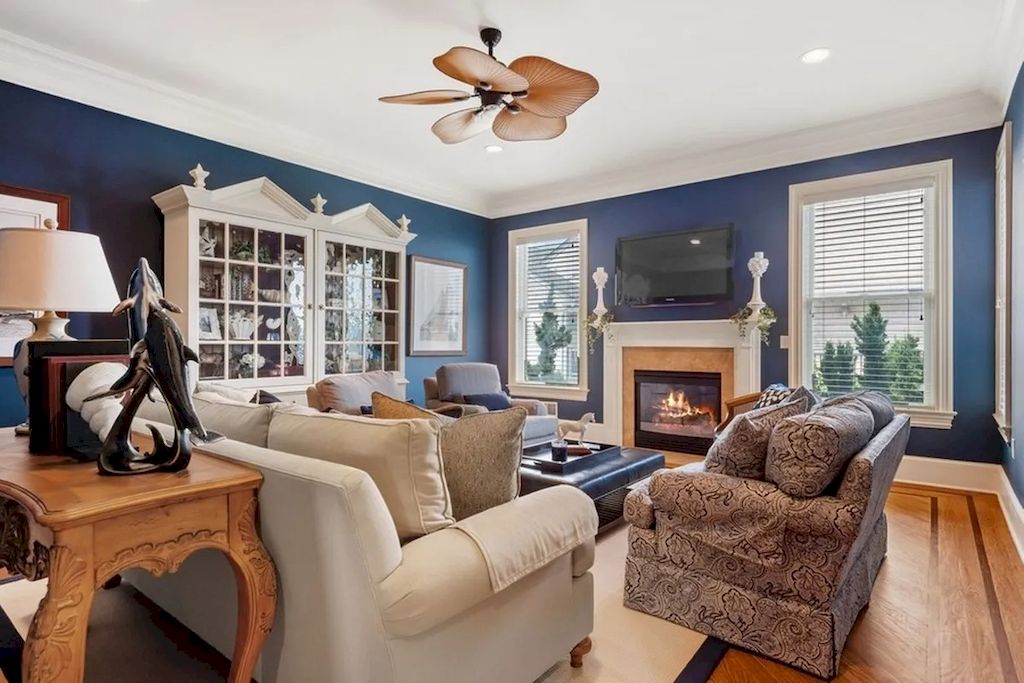 A design goal has always been to achieve a balance of proportions and symmetry. More specifically, eclectic style necessitates a balance of many styles and hues. As with this design, the designer developed a rhythm between three tones of cream, brown, and glossy navy. The environment isn't exactly lighthearted, despite the fact that the majority of the colors are neutral tones. The arrival of the large painted wall transforms the style of living room ideas eclectic in a unique way. This $9,500,000 Perfect Retreat Greets You with Luxurious Lifestyle and Breathtaking Ocean Views in New Jersey
3. Bring Natural Come In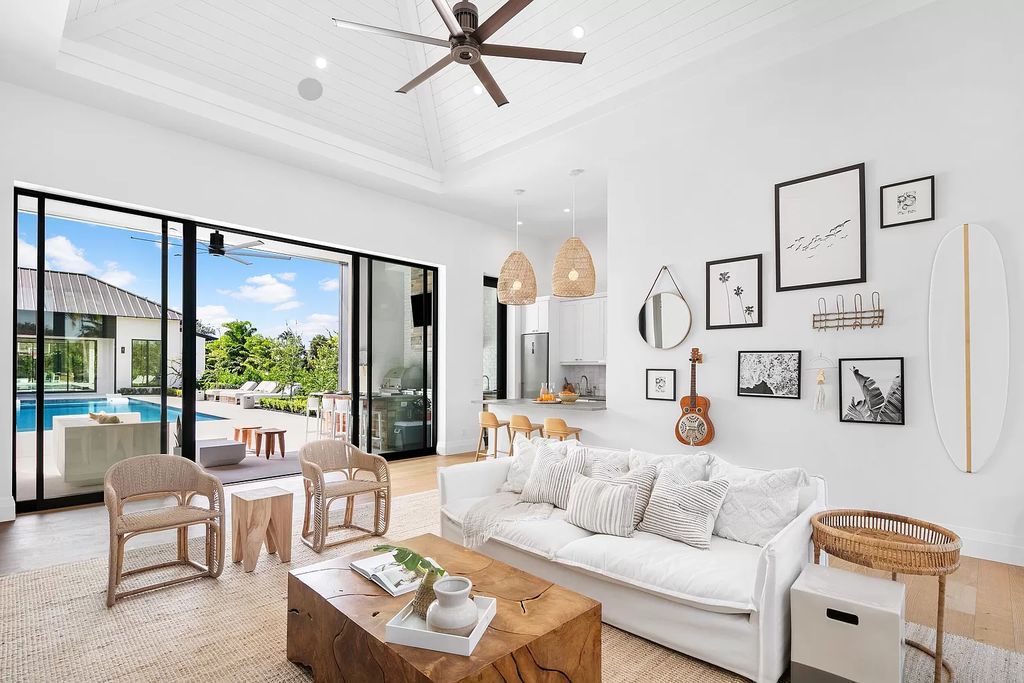 The first thing that springs to mind when thinking about eclectic living room style is a space packed with furniture in a variety of styles. Instead of filling that space, you can divide it into two parts: the display area and the play area. The harmony of atmosphere and color is the hallmark of living room ideas eclectic. The homeowner has picked an area to showcase commemorative images and holiday souvenir goods in two basic color tones: black and white. An Impeccable New Contemporary Home in Delray Beach offered at $10,000,000
4. Create a Focal Point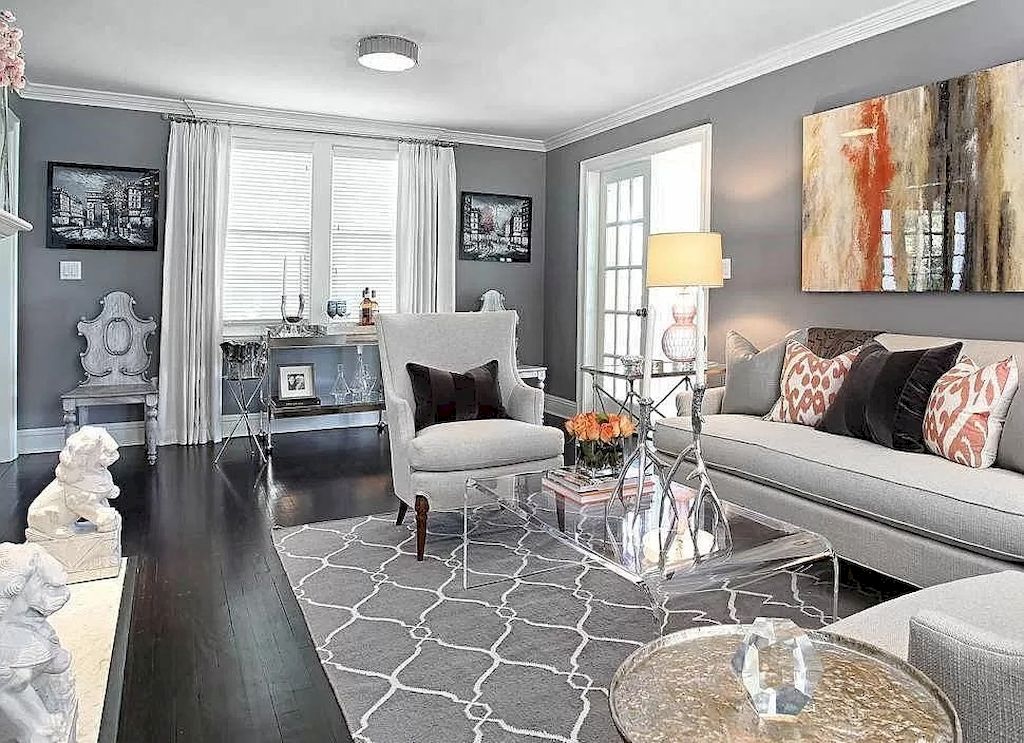 Despite the fact that an eclectic style includes a huge variety of things, the room must always have one or more focal points. With the area coated in gray tones and gleaming silver, the appearance of other colors will be appealing. Not only that, but intentionally arranging the colors on the same side helps to increase the depth of the area. Shiny things at the center table will become the center more easily from then on. Stylish Renovations Perfectly Blended with Original Architectural Details in this Connecticut $3,875,000 Beautiful Estate
5. Display Collected Items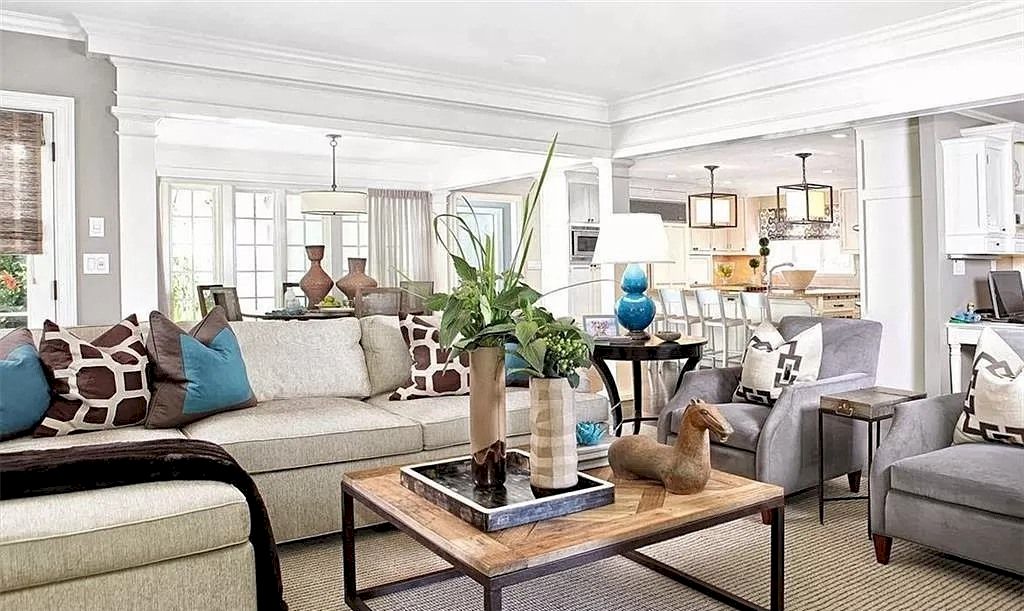 Living room ideas eclectic are frequently based on the blending of materials from several sources. This is a style that may be expressed in a multitude of ways while still necessitating personal engagement and relationship. One of the greatest ways to exhibit this style is to scatter your favorite objects, such as ceramic vases, figurines, and plants, across the space. Stylish Renovations Perfectly Blended with Original Architectural Details in this Connecticut $3,875,000 Beautiful Estate
6. Mix Textures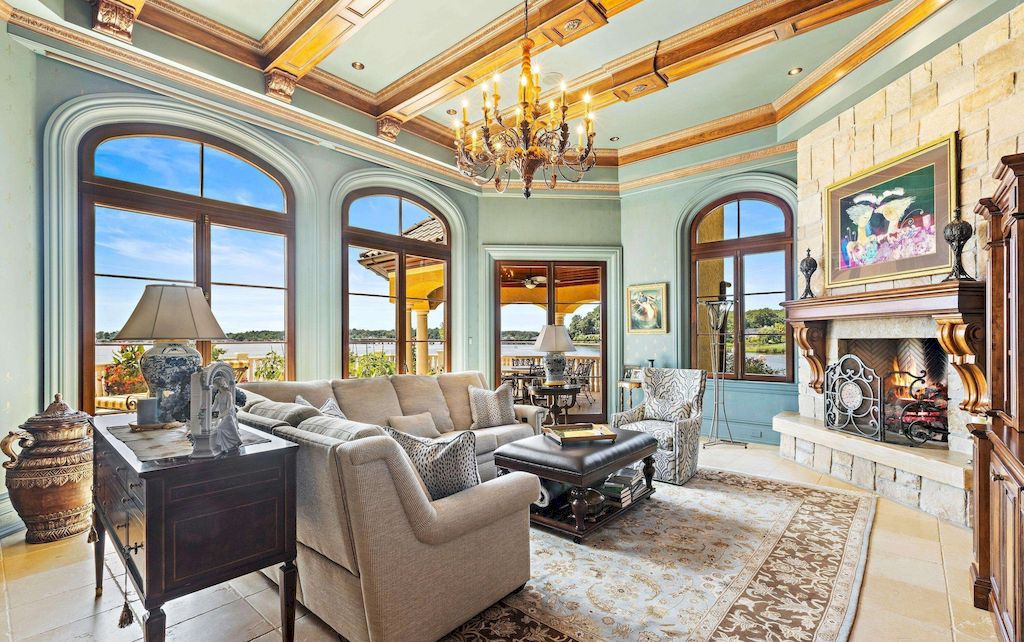 To give interest to the room, mix coarse and fine materials. The fireplace area is full of classicism with structural architecture made of massive bricks, which contrasts with the glossy paint that represents the youthful style. This combination makes no sense because the general architectural style of the room is in keeping with the royal classic trend. The consistency of the ceramic elements is also emphasized in this design. New Jersey Lavish and Luxurious Paradise Inspired by Love of the Sea and Joy of Family and Friends Listed for $17,500,000
7. Eclective Living Room with Warm Tones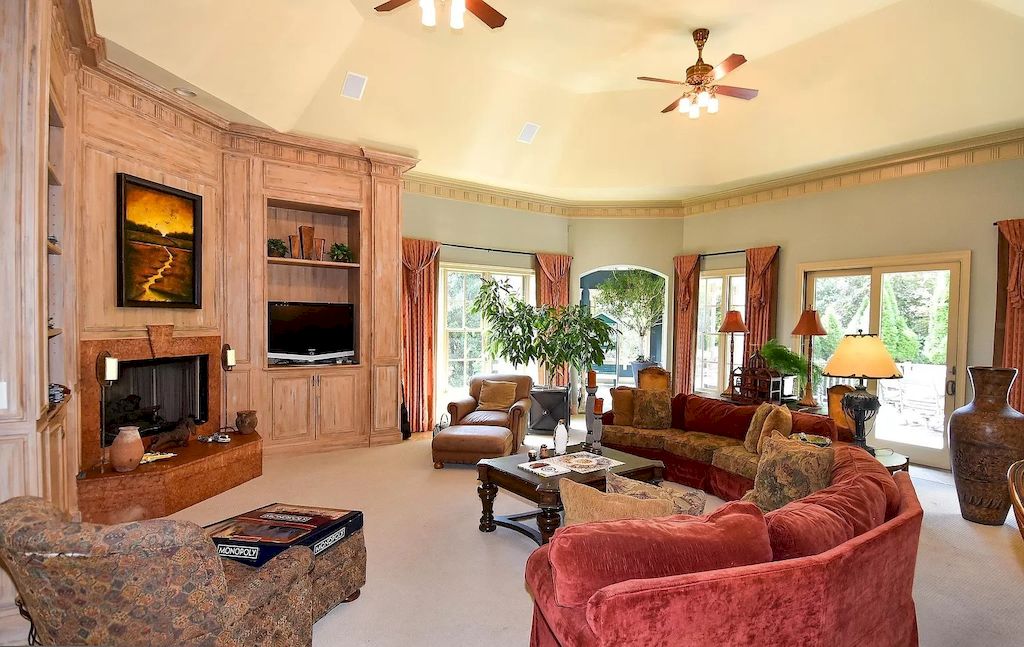 Variations in eclectic styles are not always diametrically opposed; they can be various tints with the same tones. Unlike other plywood cabinets, this one has a pastel pink paint hue that is both delicate and has the appearance of having been used for a long period. The curtains and wall paint, on the other hand, are in a traditional and modern design. The appearance of a couch made of earthy brown velvet material helps to balance these two places. This Maryland $3,375,000 Formidable Estate Emanates Warmth and Down-to-earth Sophistication
8. Slim Metal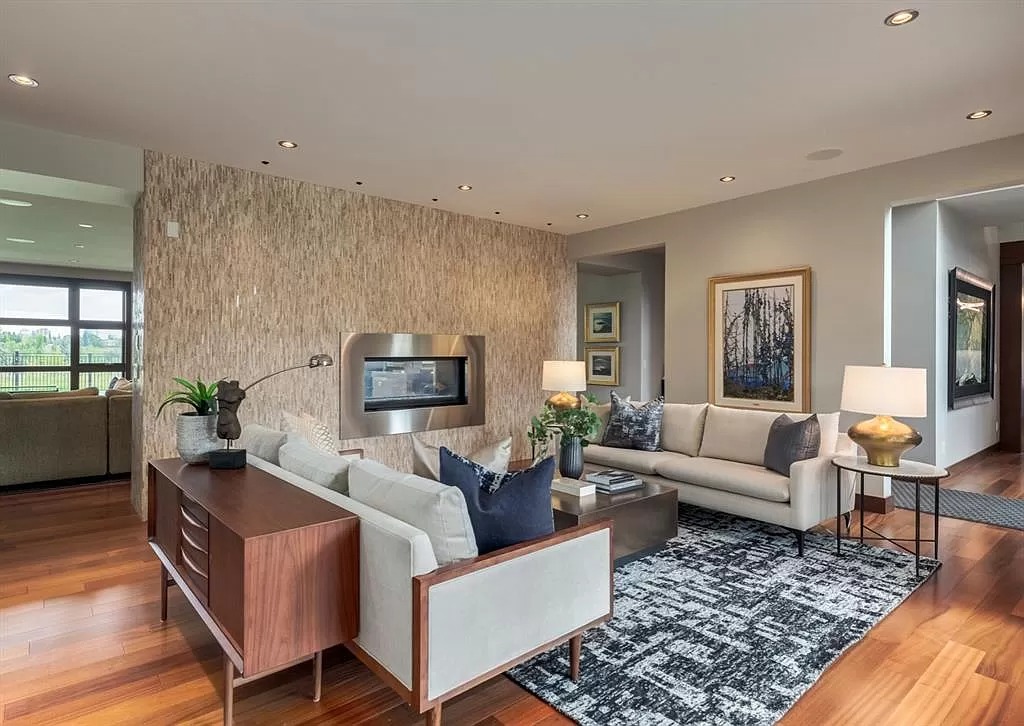 To have eclectic living room ideas, you don't have to have a vast space to showcase a variety of items. Only a black and white rug and a brown material wall can form a border for the living room space. In this modern environment, the fireplace with glass top and sleek metal table lamp add a different aesthetic. The furniture's only commonality is its classic and compact style. Luxury and Tranquility Meet in This C$4,695,000 Remarkable Contemporary House in Alberta
9. Combine Modern and Traditional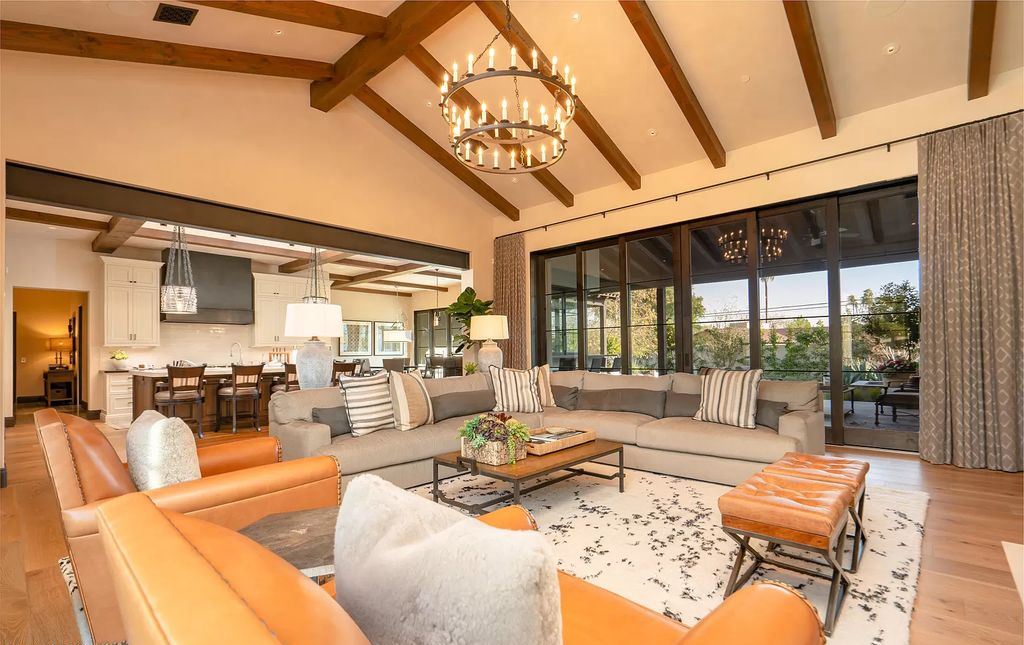 In these eclectic living room ideas, we appreciate the seamless harmony between the color of the chandelier and the color of the sofa's leather. While the overall building is ancient, with the spire and oak beams, the inside follows the current minimalist trend. The main entrance is designed to let in as much natural light as possible, and it is slender, simple, and youthful. Impressive Arcadia house in Arizona designed by Caroline DeCesare hits Market for $3,750,000
10. Unobtrusive cocoon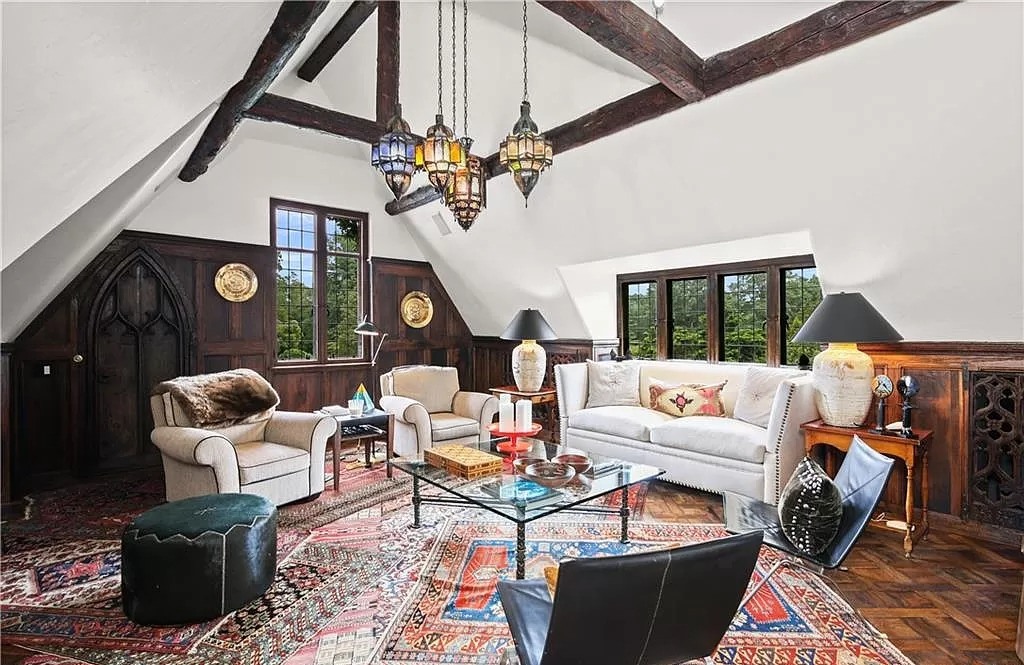 The variety of seats is the focal point of this eclectic living room ideas. Both the sofa, chair, and ottoman are made of the same high-quality black leather material. It's not unusual to see leather chairs on top of a brocade carpet because the owner's color palette is extremely subdued. The main door's style and the shape of the ceiling light give this space a wonderfully vintage feel. Peaceful Mid-country Retreat in Connecticut Hits Market for $13,500,000
11. Fun with Colors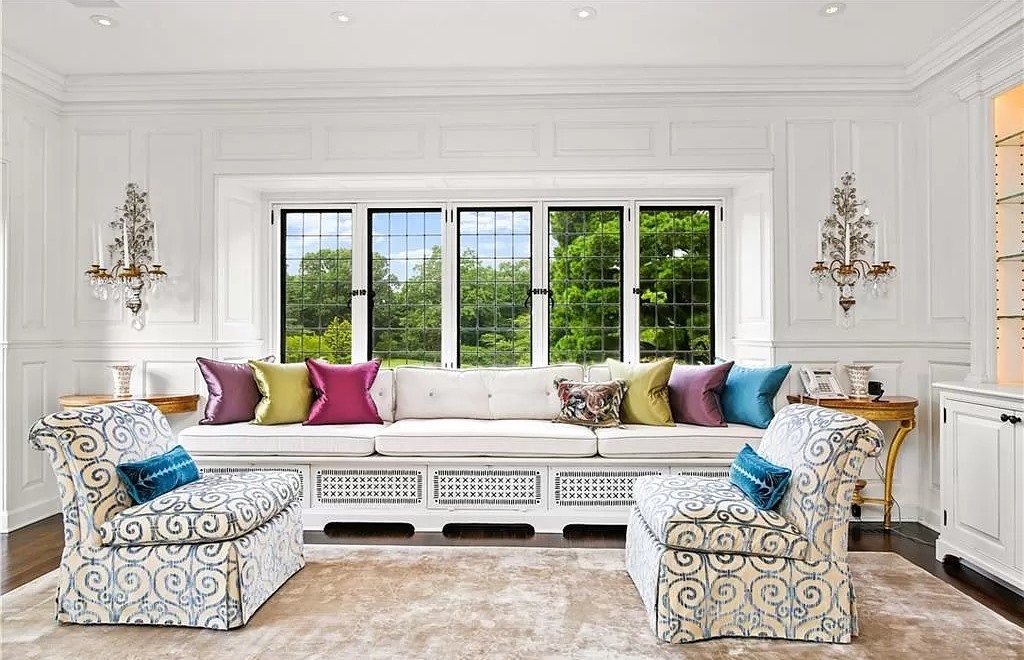 In a living room packed with pristine white, glossy silk pillows display a colorful palette. To display variety, you don't always need to bring in a lot of stuff. It is enough to make the eyes happy with just one thing that has varied shapes, colors, and materials. Pillows of various shapes and sizes will also serve varied functions. Peaceful Mid-country Retreat in Connecticut Hits Market for $13,500,000
12. Grounded Chairs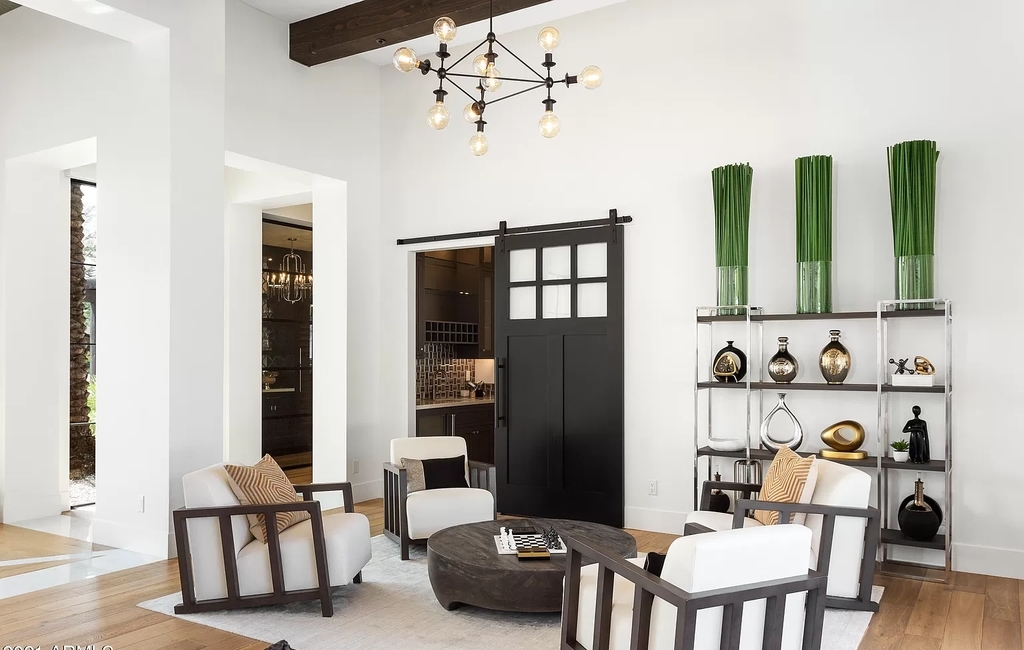 The arrival of green from nature in a living room with black and white tones relieves industrial stress. In a different corner, a basic, rustic bookcase is used to display gathered artifacts ranging from flower vases to rare statues. The cushions are also modified in a playful but delicate manner, making them acceptable for different rooms in the country. Marvelous Arizona homes offering majestic mountain views hits Market for $6,499,999
13. Shades of Blue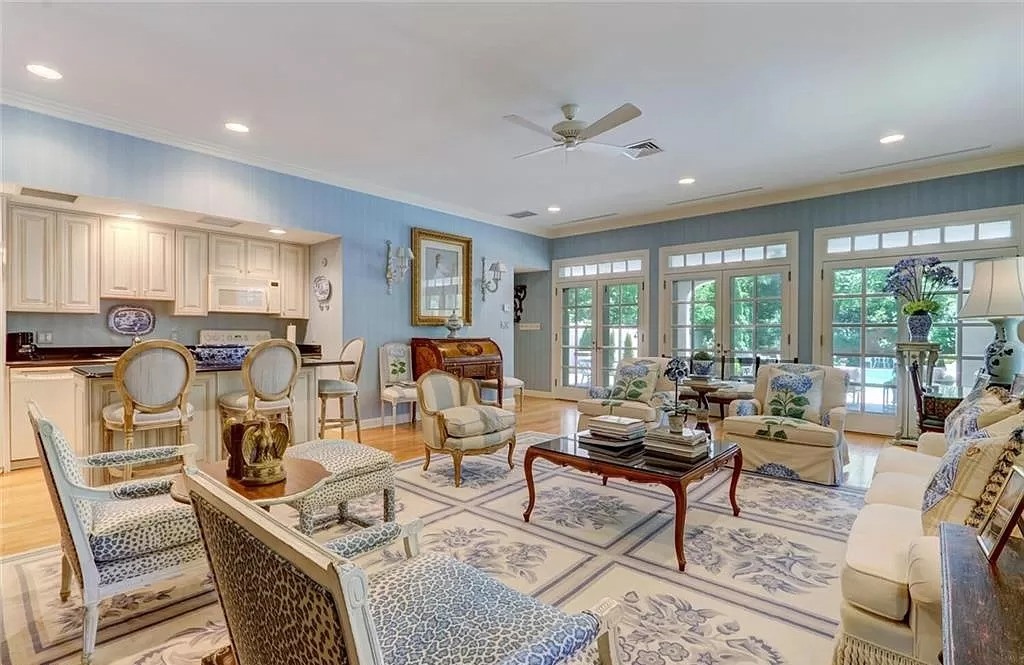 This open living area has an eclectic aesthetic and an airy and light layout. Everything from house paint to carpets and sofa sets to ornamental flower vases is inspired by clouds. Despite the fact that the colors are quite youthful in terms of current trends, the decorative textures on the furniture are really classic. This combination gives the place a very royal yet relaxed appearance. This $7,495,000 Magnificent Georgian Remains an Icon of Old Irving Park Neighborhood in North Carolina
14. Try a Gallery Wall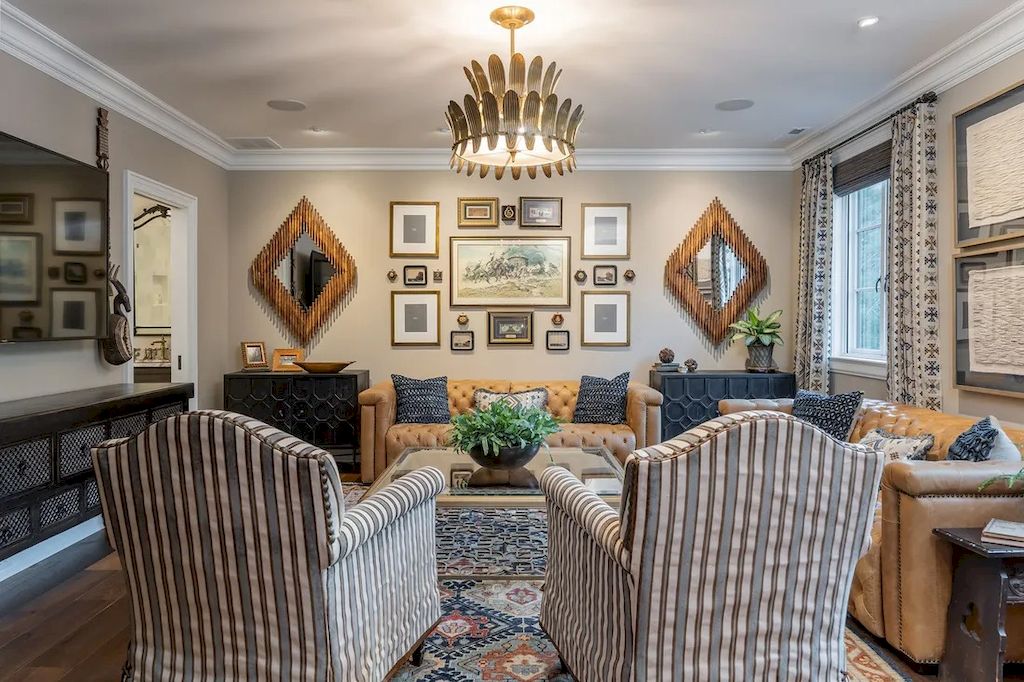 With its magnificent layout, perfect symmetry both vertically and horizontally, and a chandelier that offers just the proper amount of light to the space, this living room is truly in motion. Photographs from various eras, framed in various sizes and patterns, have transformed the wall into an exhibition space. Meanwhile, the rustic and simple sofa style unifies and connects the space. This design also makes use of the trick of having a mirror on the wall to improve the depth of the room. This $9,750,000 Stunning, New State-of-the-art Home in North Carolina Combines Historic Charm with Today Cutting-edge Smart
15. Glass Doors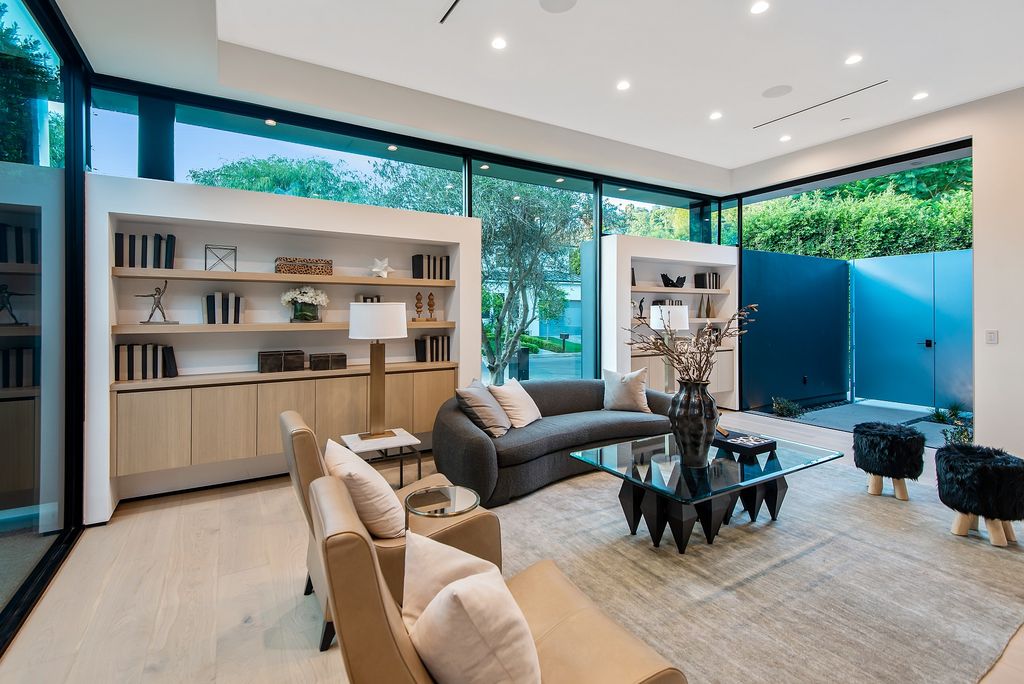 If you like the glass paneling for the door area but are concerned about the light explosion, look at the design above. The same architecture uses glass for the majority of the doors on one side of the wall, but the entire space will be darkened by blue glass wallpaper and a section of a wooden door painted dark green. This design has resulted in a modern and unique cocoon. The appearance of many different types of chairs and display items reflects the expression of eclectic living room ideas. Absolutely Exquisite Upscale Modern Home in Brentwood hits Market for $5,999,950
16. Celebrate Cloud Board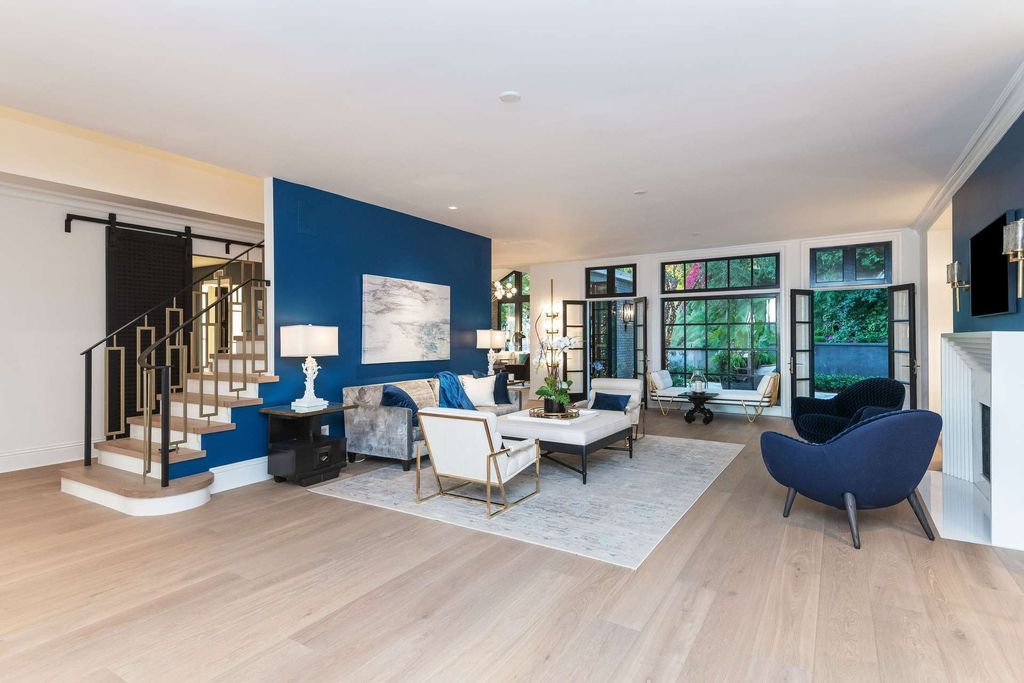 A brightly colored divider that is flexibly constructed to fit the staircase area can make an eye-catching effect. It serves as a backdrop to the remainder of the scenario. The table lamps' light reflects off the board, and the wall painting evokes a charming fairy tale. You can use the seats that are scattered across the space in a variety of ways. A Newly Built Transitional Architectural Home in Los Angeles for Sale at $21,590,000
17. The Picture's Puzzle Parts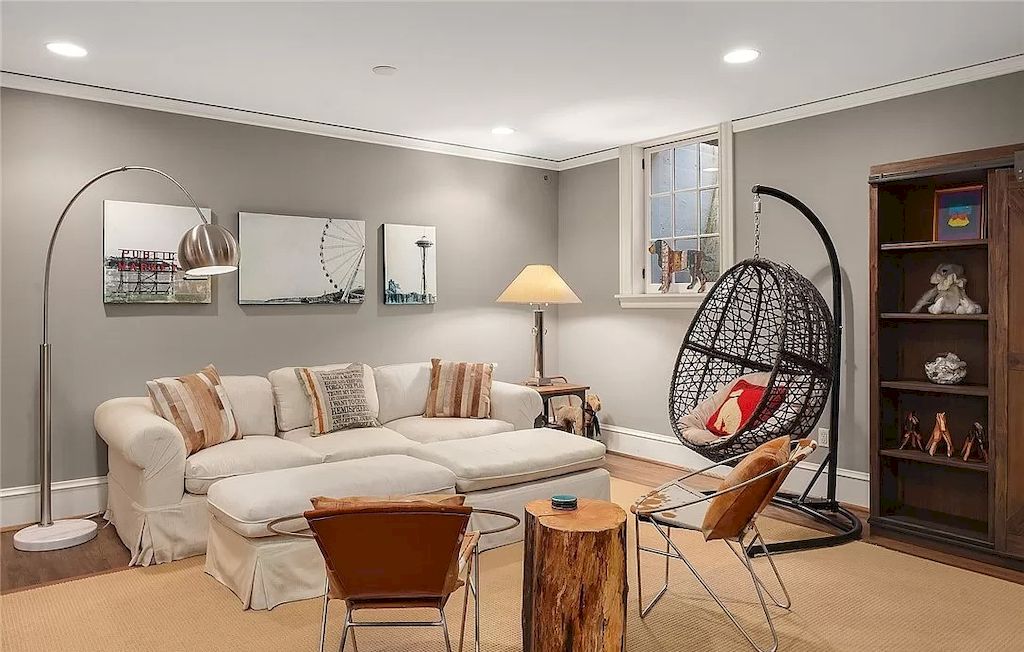 The rustic and natural materials used to create the snug and peaceful cocoon. A swing chair for a cool corner and a tree lamp for a cozy private space. The traditional sofa set, in particular, is plain but blended with chandelier elegance. The elements of the picture on the wall appear fragmented, although they are in fact closely related in terms of content. $5,495,000 Georgian Colonial House in Seattle Where Past & Present Meet Harmoniously
18. Transformational Rhythm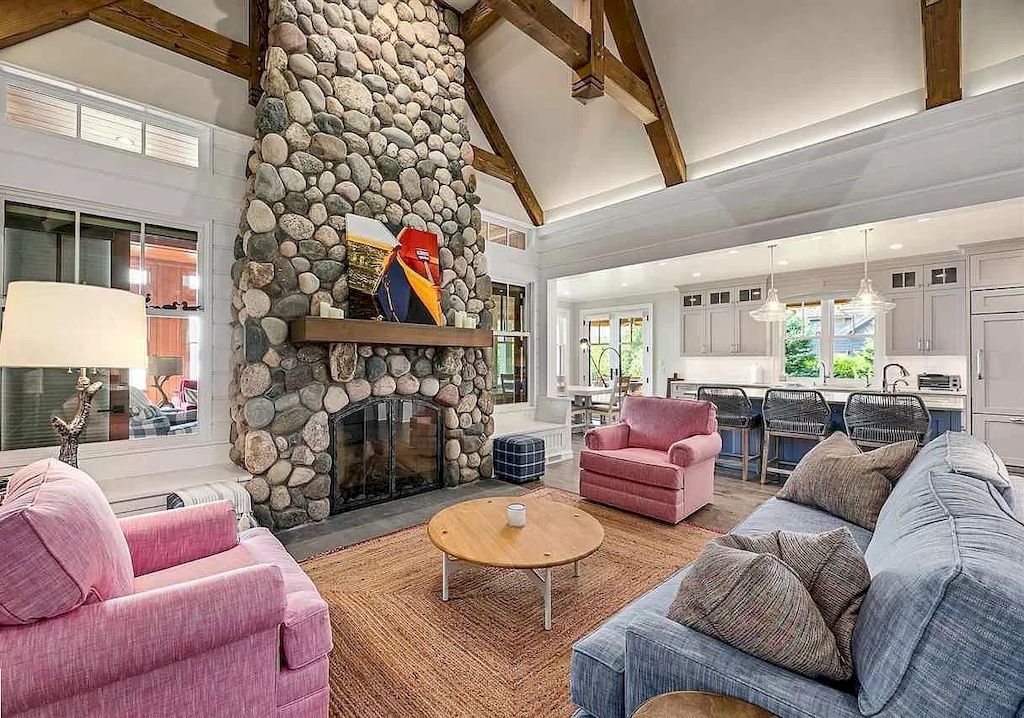 All of these sceneries have a rustic feel to them, from the overall design to the interior materials used. A country photo is portrayed through diverse living room ideas with a vintage fireplace and wooden spire beams. But the homeowner doesn't stop there; a pink sofa serves as a focal point with youthful qualities. As the material produces old tones of pink, the addition of this color does not generate excess. Michigan Lovers Captivated by the Originality of This $3,800,000 Residence
19. Multiple Syles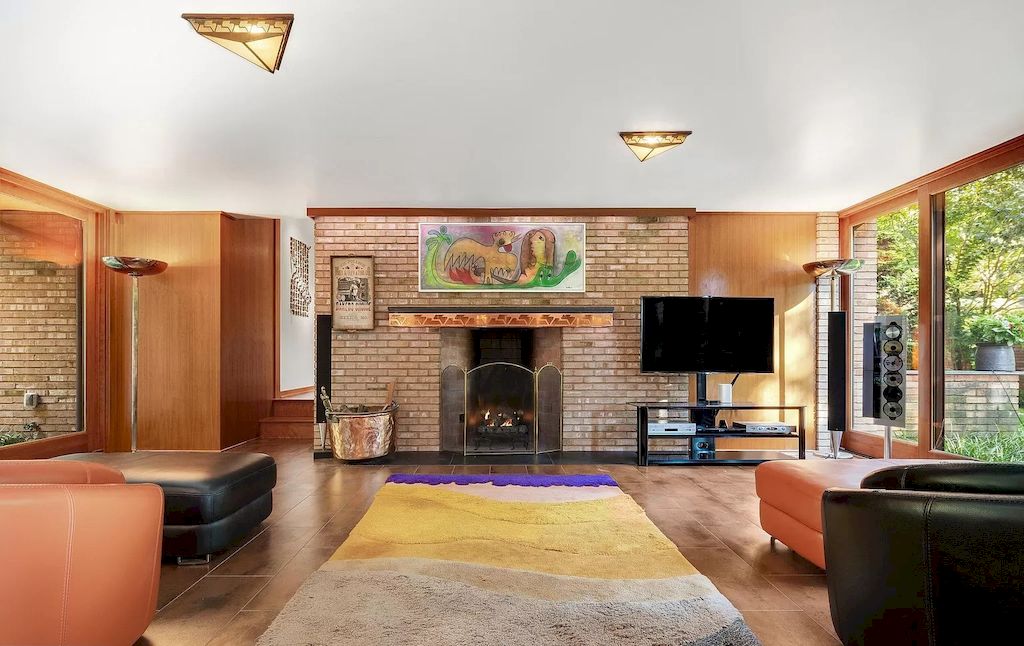 The living room is full of modernism, but it also includes classic elements in living room ideas eclectic. The carpet is the first example of adaptability; it outperforms the popularity of current carpets in terms of color and purpose. Furthermore, the general architecture and primary interiors are chosen and designed in a contemporary and energetic manner. Going deeper is the allure of the brick fireplace, which brings the antique style closer. New Jersey Contemporary House of Glass Walls and Earth-tone Bricks on Market for $5,350,000
As a result, eclecticism is not uncommon; any piece of the puzzle can be put together. On the contrary, in order to create a very rhythmic setting, the designer must be able to use numerous guidelines in a flexible approach in order to come up with great eclectic living room ideas. You can get rid of the usual rural or classic house norms and replace them with bursts of bright colors or innovative patterns. In this trendy living area, you are expressing your unique style through expert organizing.
More Ideas For Living Room:
---
Thousand of high quality images of Living room and more you can see at Livingroom Gallery.