Date of Publishing:
Clever Living Room Ideas Small Space To Transform Your Home
The most flexible area of the house is the living room. We may spend hours there reading, working, thinking, or just relaxing on the couch and spending time with our loved ones. A little area can be used to create a dreamscape. To make the most of your little area, all you need is a well-thought-out strategy and some resourceful suggestions for living room ideas small space. Here, we've gathered some examples of small living rooms along with creative suggestions for enlarging your own space by changing the colors, furniture, lighting, and other elements.
1. Stick To A Single Color Scheme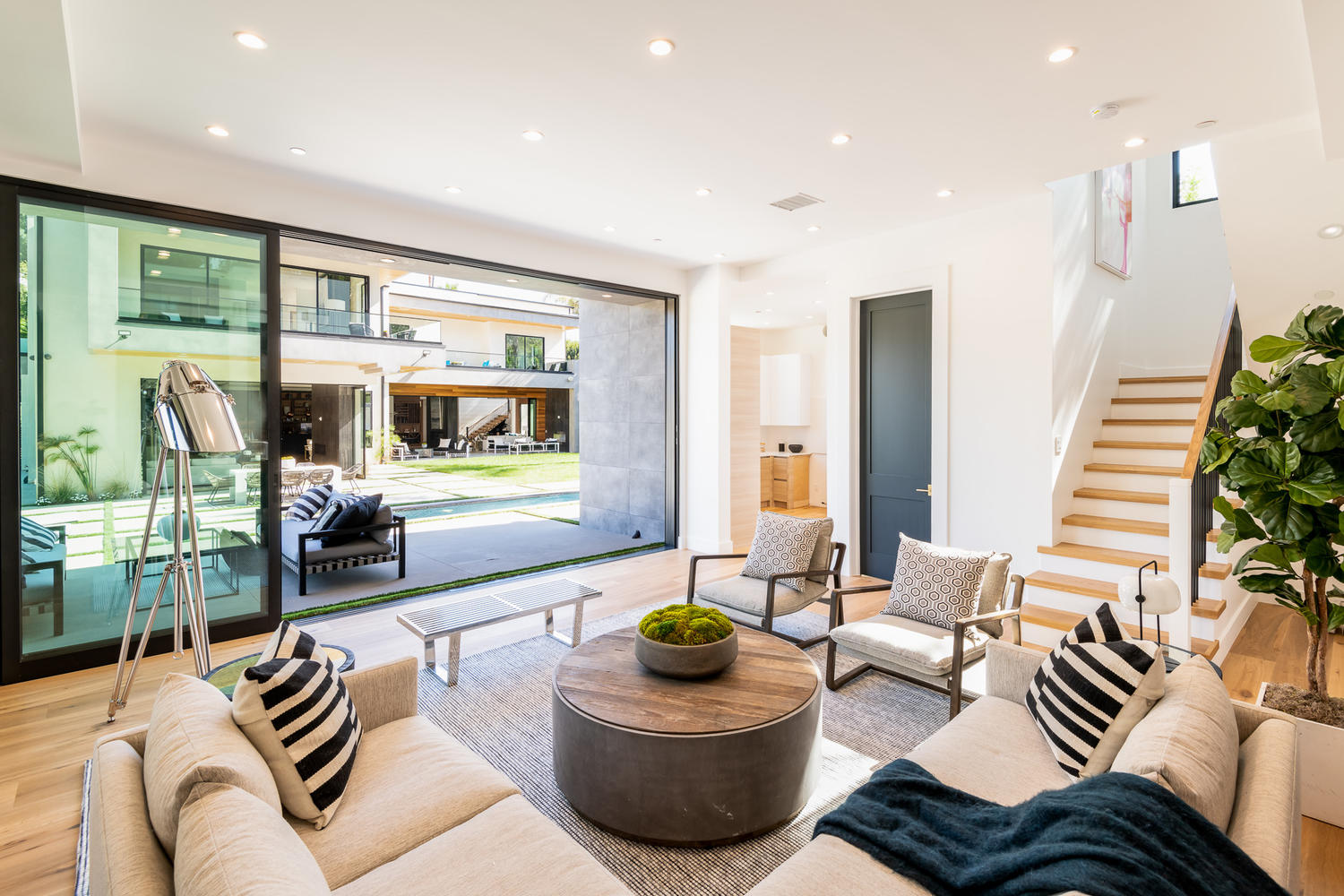 The most important thing to keep in mind when designing a tiny room is to make sure all of the tones adhere to the same color palette, which will create flow throughout the space. Focus on monochromatic and tone colors instead, since they will highlight the scheme even more. Ultra-exclusive Valley Meadow Home in Royal Oaks Community of Encino, California
2. Practice Balance in Living Room Ideas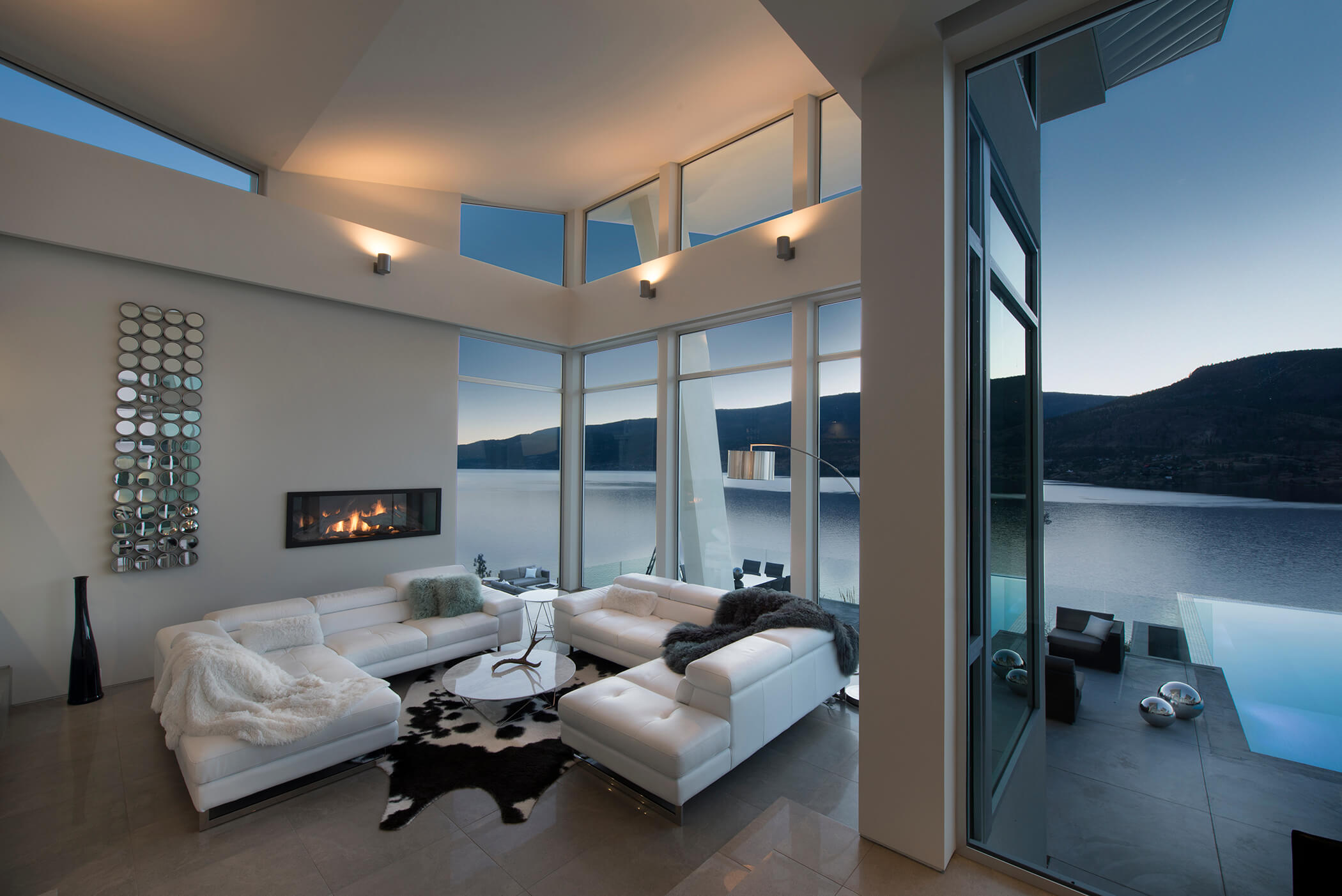 Light colors are fantastic for walls since they make a space appear bigger, but if you want to keep the area feeling cozy, you may use a darker floor color. Dark floors and light walls will provide a tidy appearance. Amazing Sin-Ceras Luxury Home in Canada by All Elements.
3. Look For Small-Scale Furnishings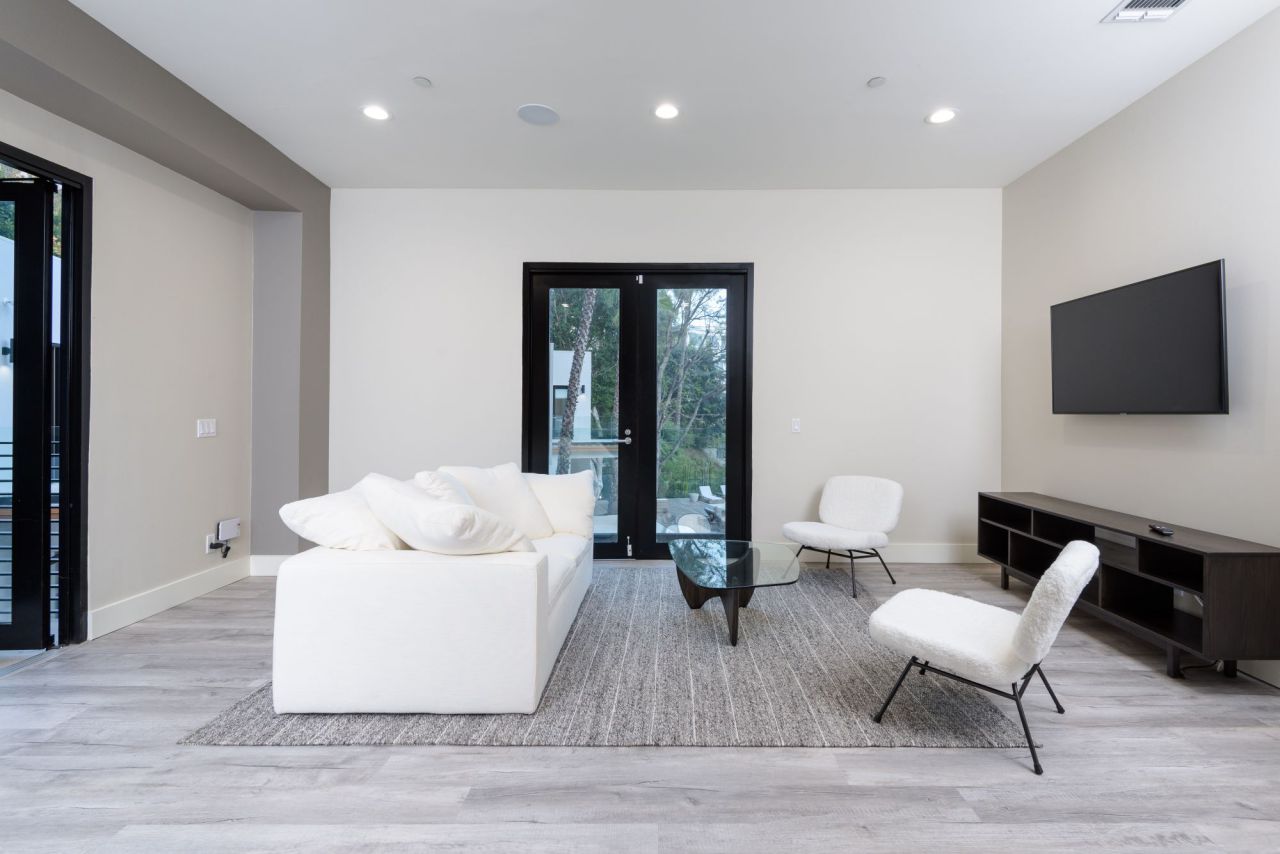 Looking for narrow space living room ideas for a tiny apartment? Find a plan that is ideal. To get the same appearance, seek for furniture with compact dimensions and lanky, ethereal items with little visible weight. Make the most of every inch of available space by positioning huge bookshelves and your sofa close to the wall. Exquisite Haslam Ter Estate Returns the market for $9,995,000
4. Generate A Sense Of Infinity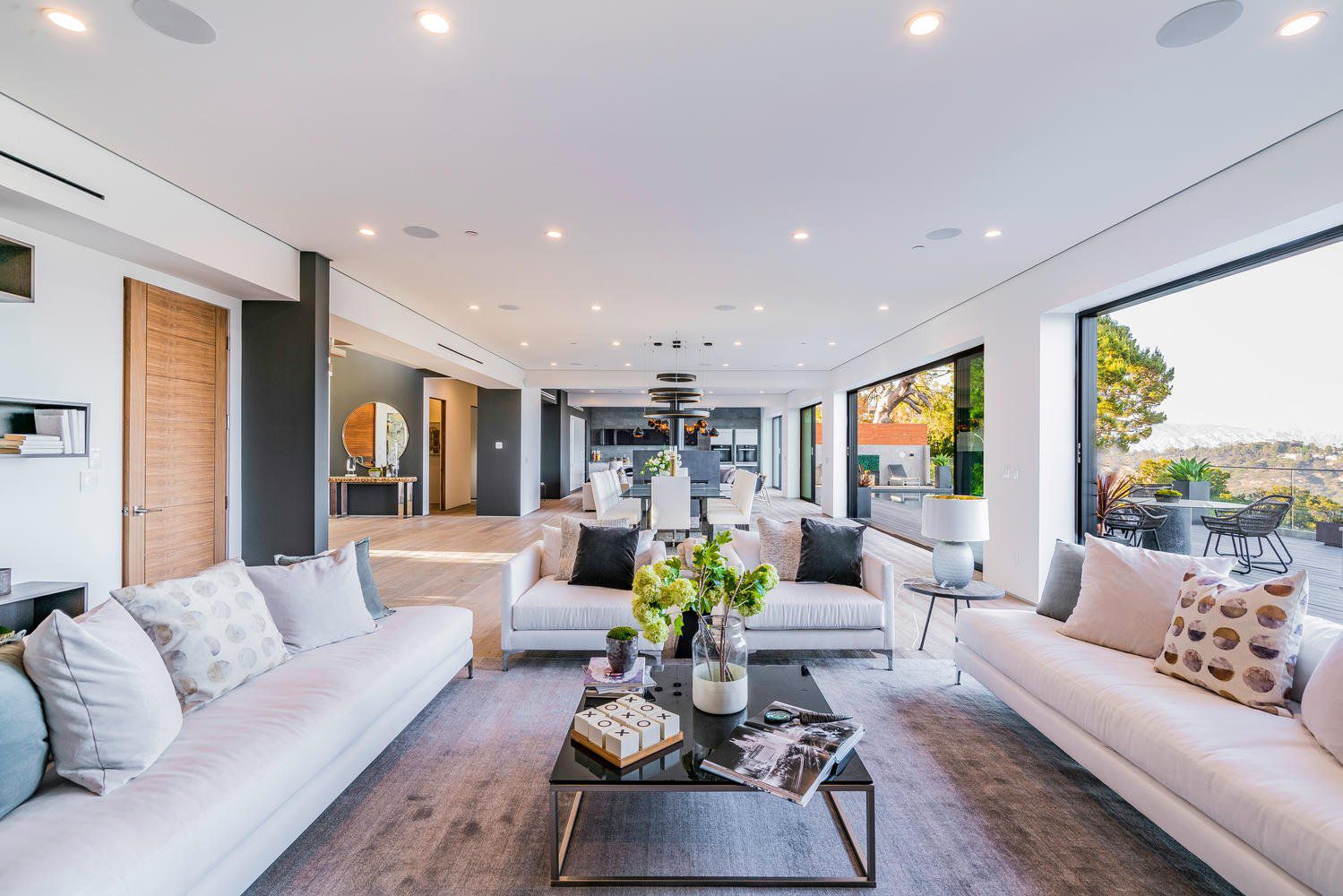 Paint is a great technique for increasing the feeling of space in a small room. The ceiling of this tiny living room was painted with the same pure white paint that was used on the walls, which pushed the lines between the different surfaces back and gave the area a loftier and more spacious aspect. Elegant Roscomare Road Modern Home in Los Angles
5. Build Up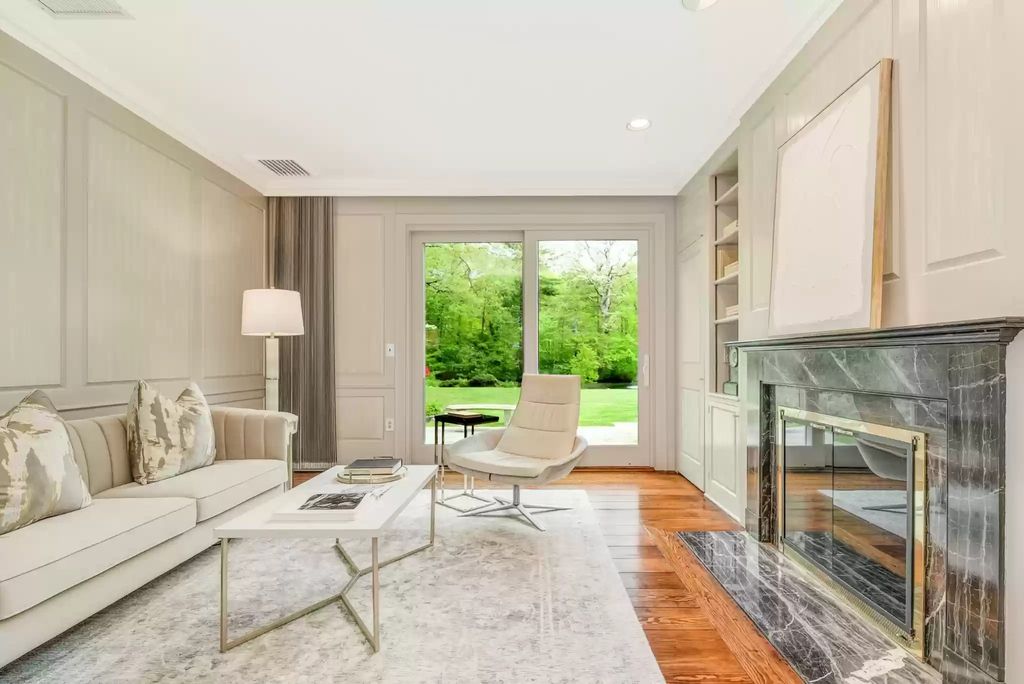 If you have high ceilings in your house, you can make the most of them. Think vertically when decorating to draw the eye up and give the impression that your home is larger by using tall mirrors, high bookcases, and drapes set several inches above your real windows. These techniques, together with the addition of a smaller loveseat sofa and a miniature trunk as a coffee table, are exactly what provides the appearance of extra space in this chic but compact studio. Enjoy Natural Beauty in Connecticut through Nearly Every Window of this $3,850,000 Stunning Private Estate
6. Select A Neutral Plan Based On Symmetry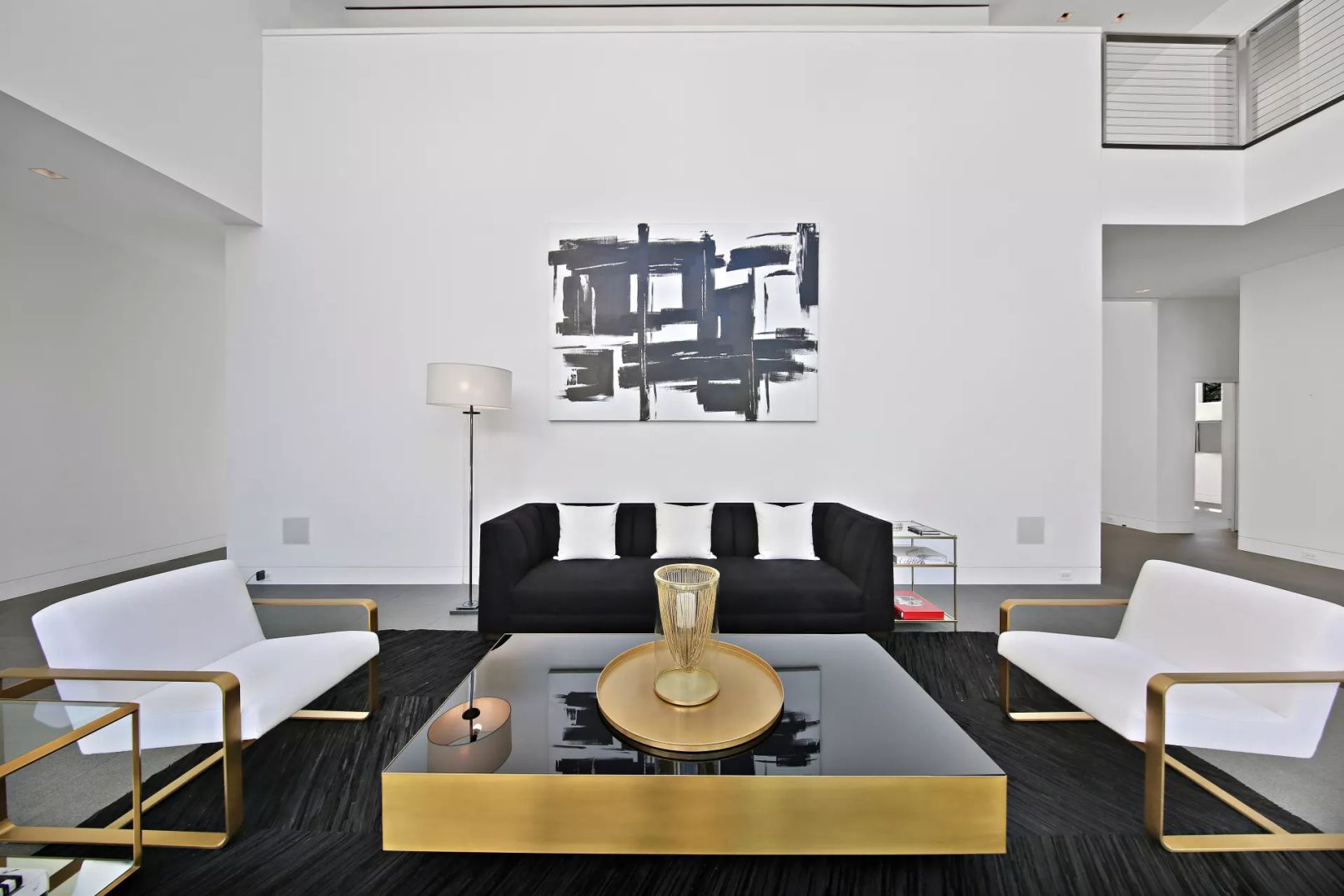 Interior designers use symmetry to provide harmony and a sense of tranquility. This is fantastic for improving a tiny living area and works nicely in lengthy living rooms. If you decorate with serene neutrals, you may maximize the tranquility. The attention is diverted from the living room's enormity by the stunning brass accents, which are a key component of the interior design. Stunning Cutting Edge Hinsdale Modern Home in Illinois
7. Fix A Small Living Room With Lights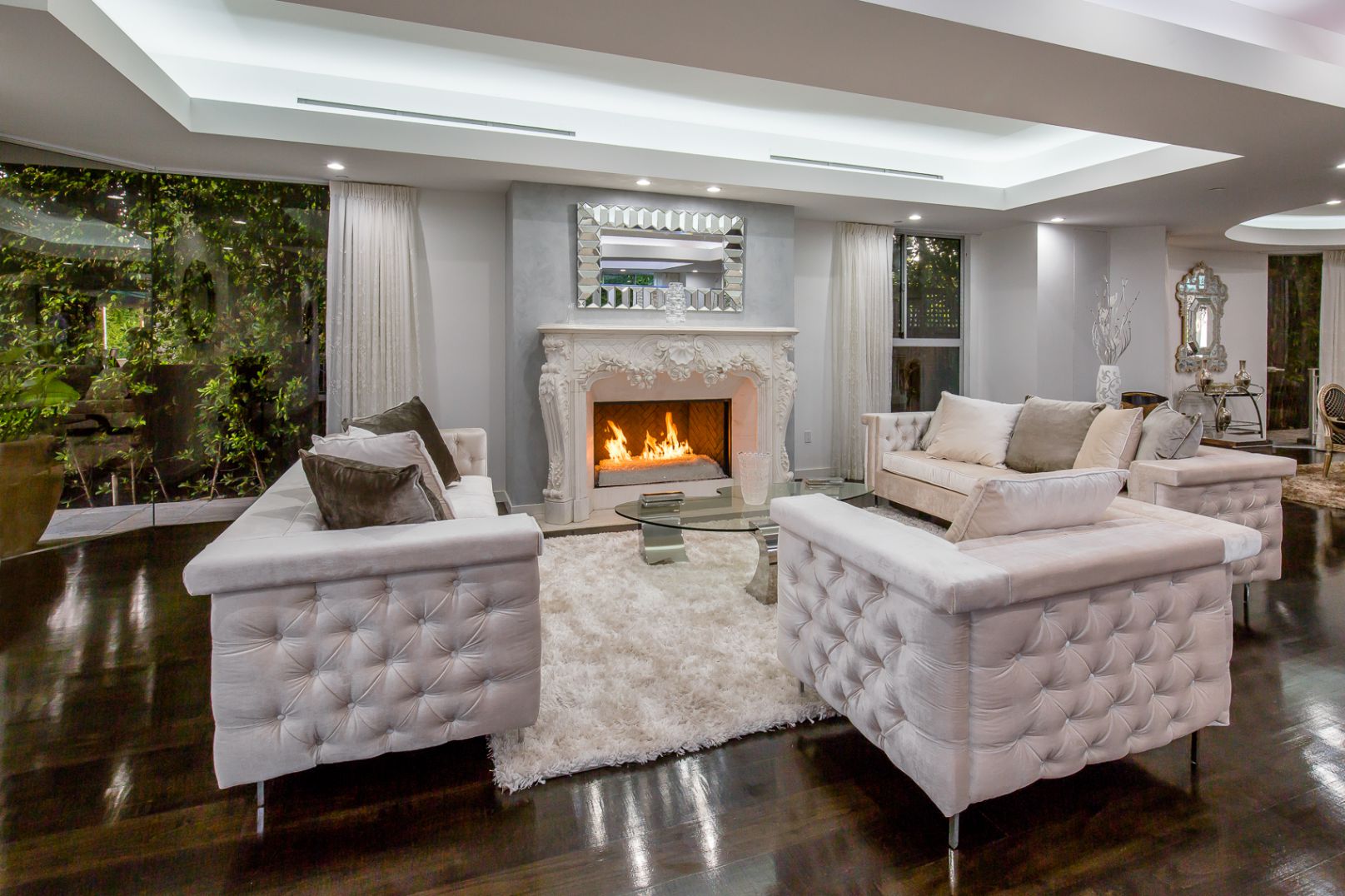 Light quickly brightens a space, so remove any heavy, dark window coverings and let as much natural light as possible to flood inside. To bring natural light into your room during the day while maintaining seclusion at night, use sheer window coverings or put up white wooden blinds or shutters. Stunning Georgina Avenue Modern Home in Sata Monica, California
8. Hang Artwork In A Compact Area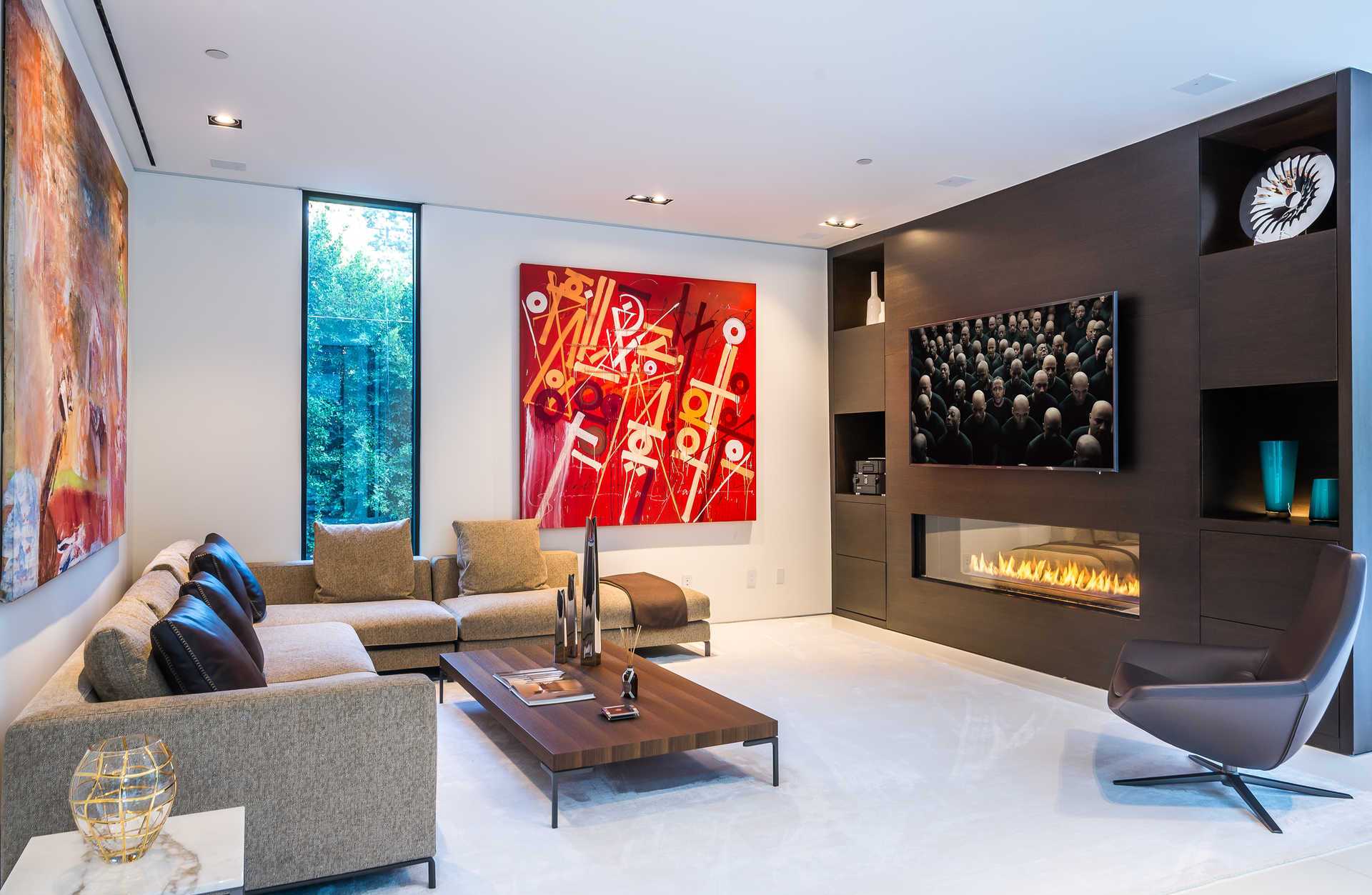 Frequently, bigger is better when designing a feature wall for a living area. Simply put one or two large pieces of artwork on your walls to make the area feel broader and more spacious. Walls that are covered with photos and other wall hangings sometimes make a room feel walled in, tight and crowded. Lago Vista Drive Modern Home in Los Angeles.
9. Wall Openings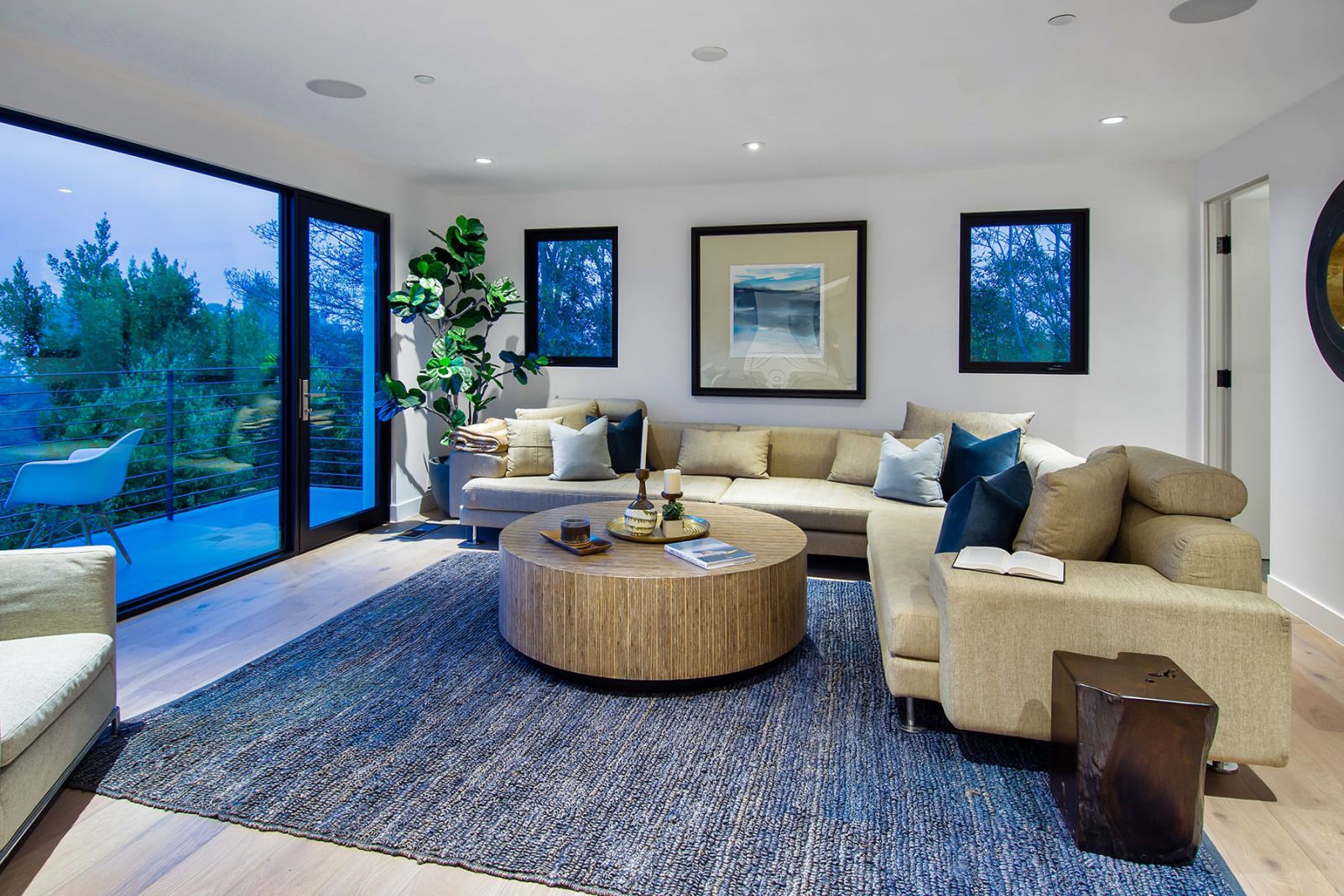 Opening up some walls will give your small living space a fresh, bright, and contemporary vibe. When you open up the area and let natural light in, you'll get a sensation of brightness and freshness. Floor-to-ceiling windows, doors, or side panels can all be installed. To make it appear bigger, you may also paint your walls a light color and use white trim.  Breathtaking Views Linda Flora Drive Modern Home in Bel Air, California
10. Go For Neutral Carpets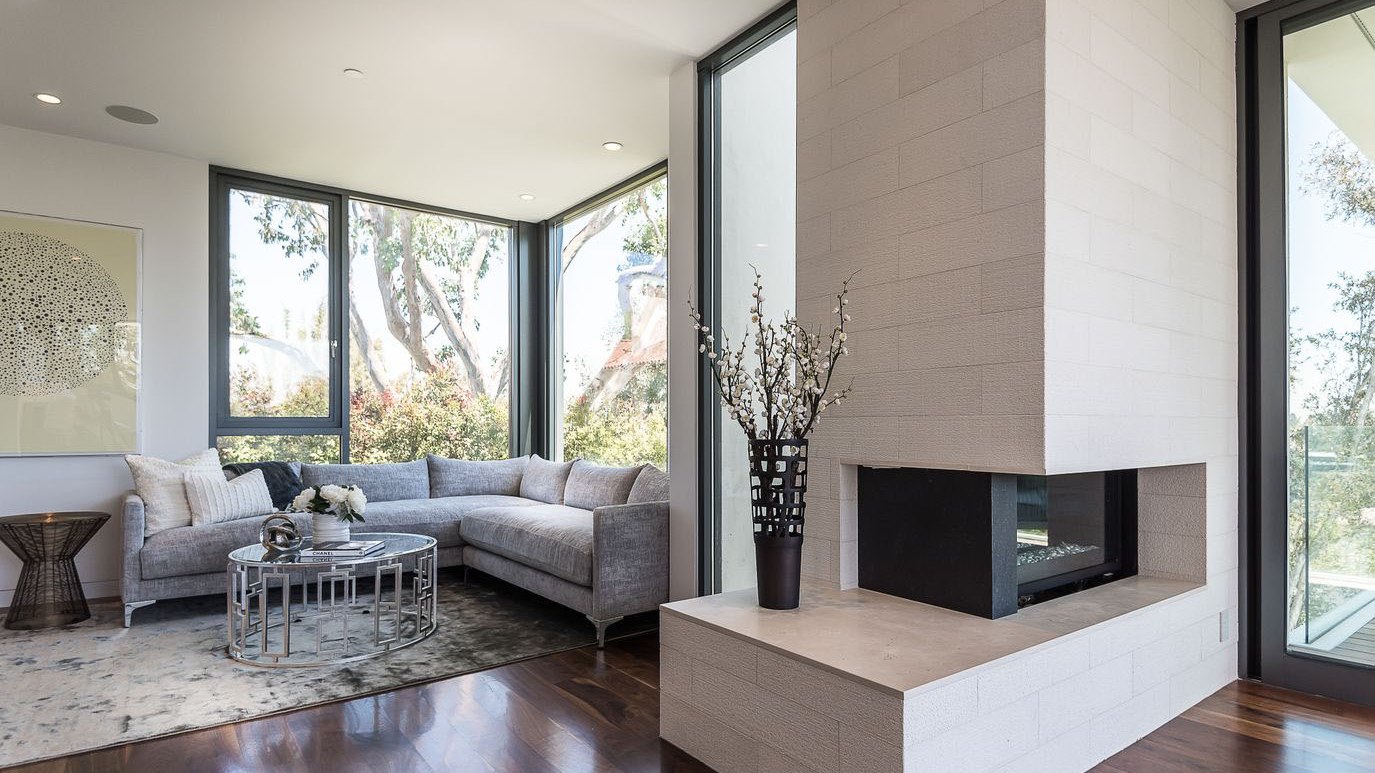 A small area will look larger with neutral color schemes, but your carpets or rugs will benefit most from this effect. No of the size of the space, choosing light-colored fabrics will make it appear airy and expansive. Extraordinary Palisades Riviera Modern Home in California by O plus L
11. A Color-Blocking Trick Can Be Used To Reduce The Size Of A Living Room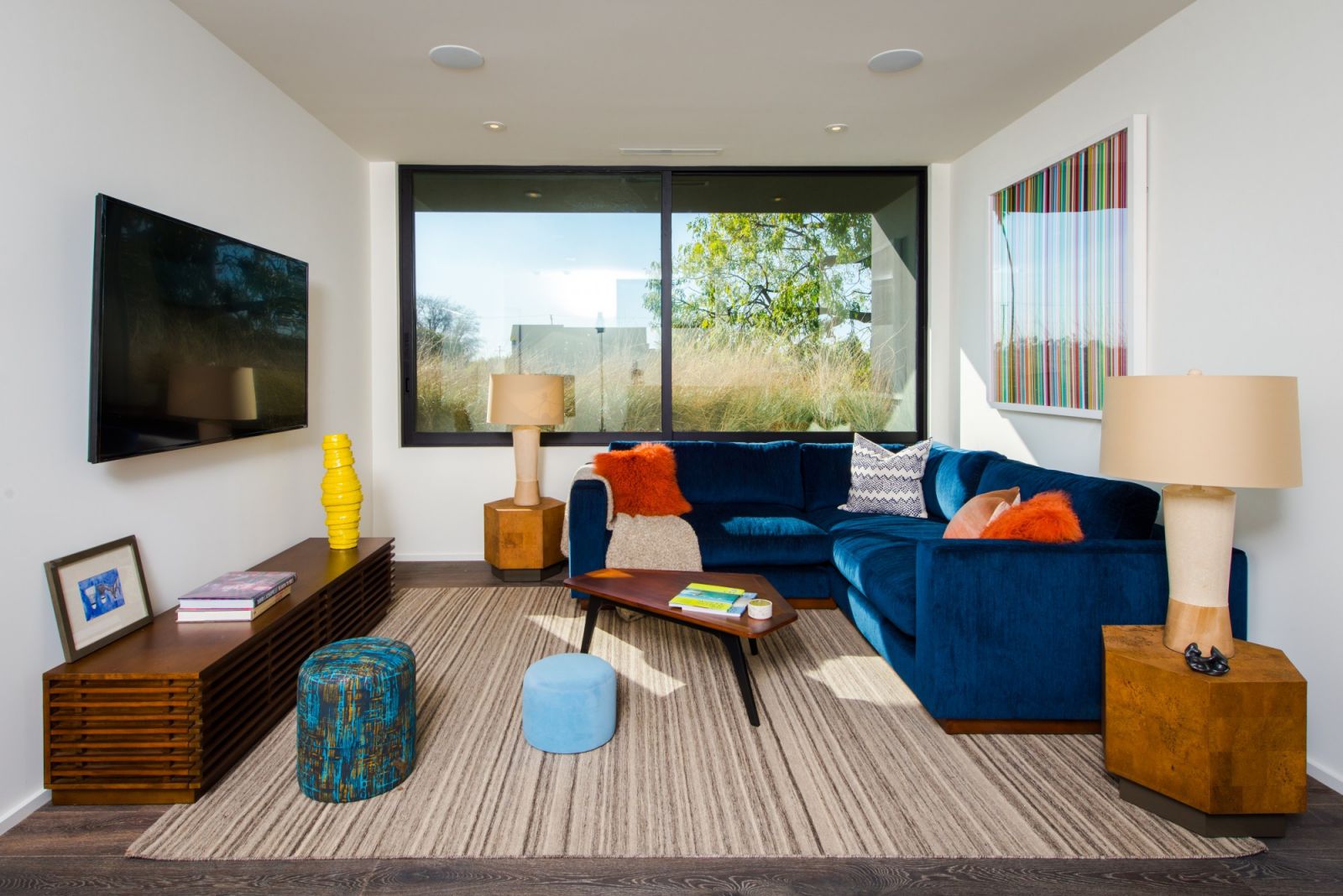 The atmosphere of your home depends on finding the ideal couch for a tiny living room. Why not have your old couch redecorated rather than buying a new one if you are unable to discover a brand-new sofa that you adore but it looks a touch worn out and ratty around the edges? Given a second chance, it can still be comfortable and stylish and is more environmentally friendly. And this is where the secret comes in: if you make your sofa the center of attention in your living room, it will draw attention away from how big your room actually is.  Dramatic Appleton Way Modern Home in Venice, California by Marmol Radziner
12. Avoid The Sofa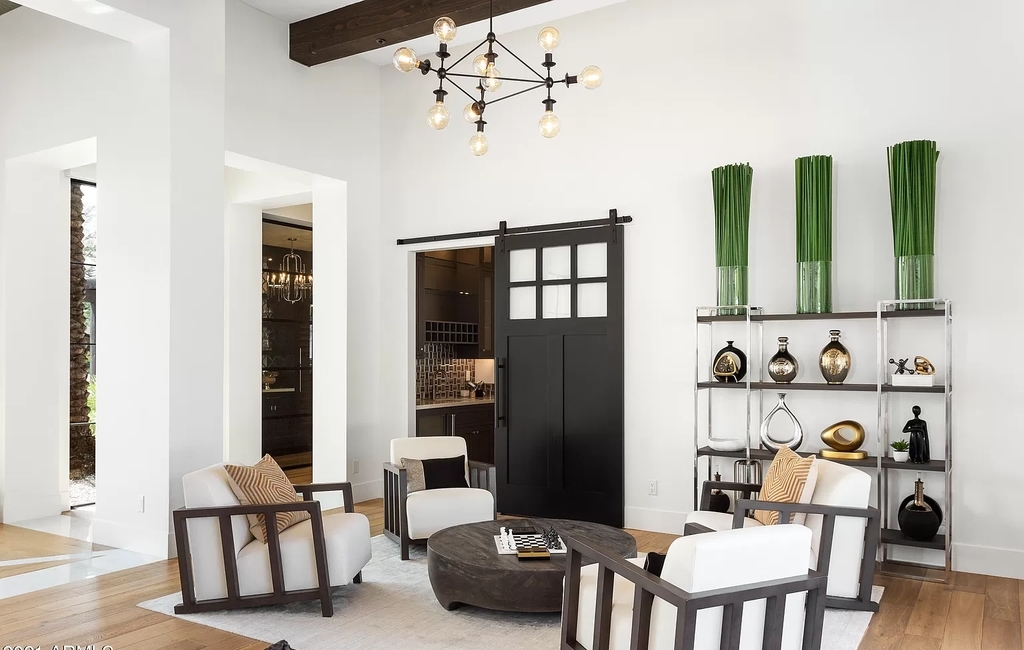 Create a seating area with two smaller chairs rather than filling your tiny living room with many sofas or a big sectional. Without making the area smaller, you may design a warm, inviting setting. To make the chairs feel like a part of the area, place them near the entertainment center or coffee table that serves as the room's main point. Marvelous Arizona homes offering majestic mountain views hits Market for $6,499,999
13. Lower Your Furniture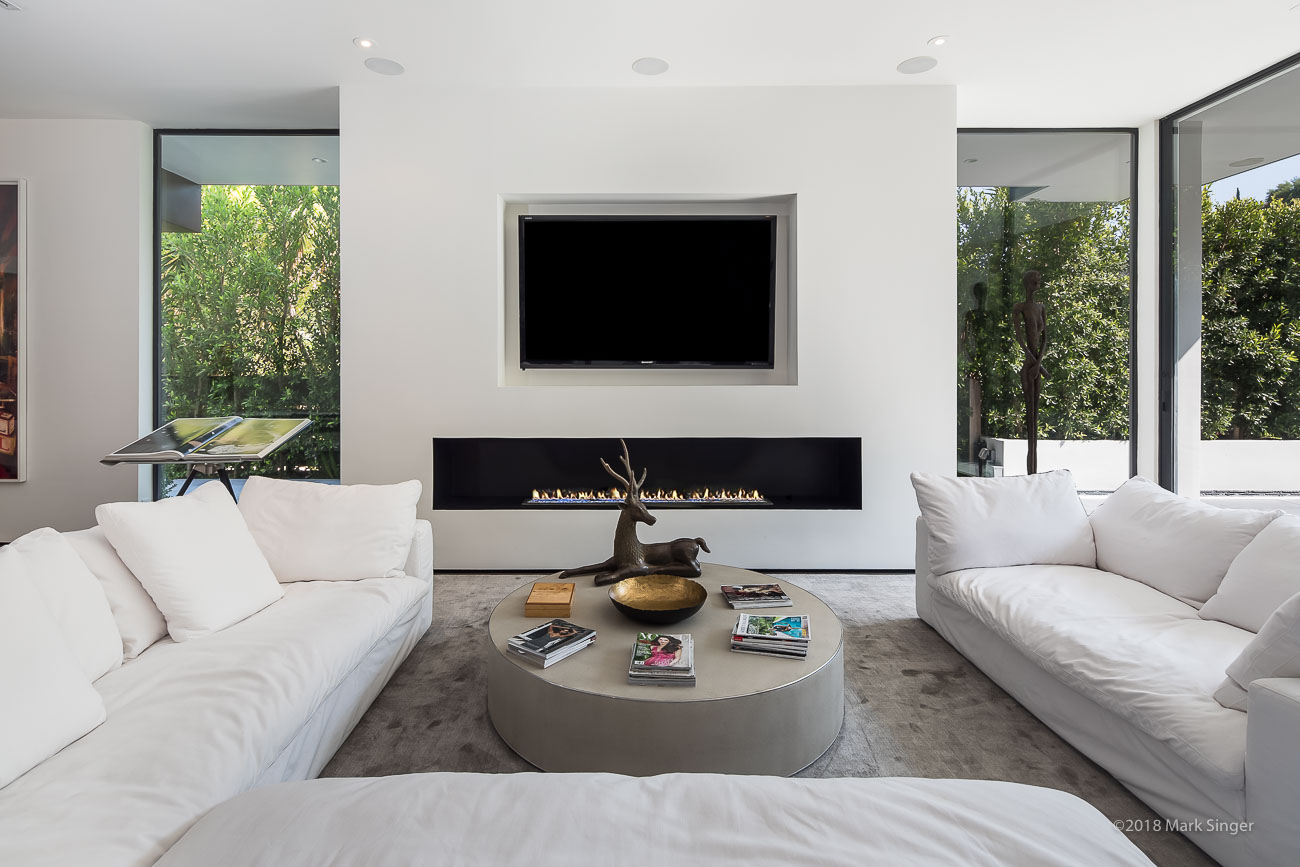 Compare higher and lower style features in the decoration. The contrast of high and low designs will lengthen your space and provide the appearance of a larger area, including low-slung sofas and chairs, low coffee tables, and ottomans. Rising Glen Modern Home – Truly unique confluence of modernity and luxury
14. Float Your TV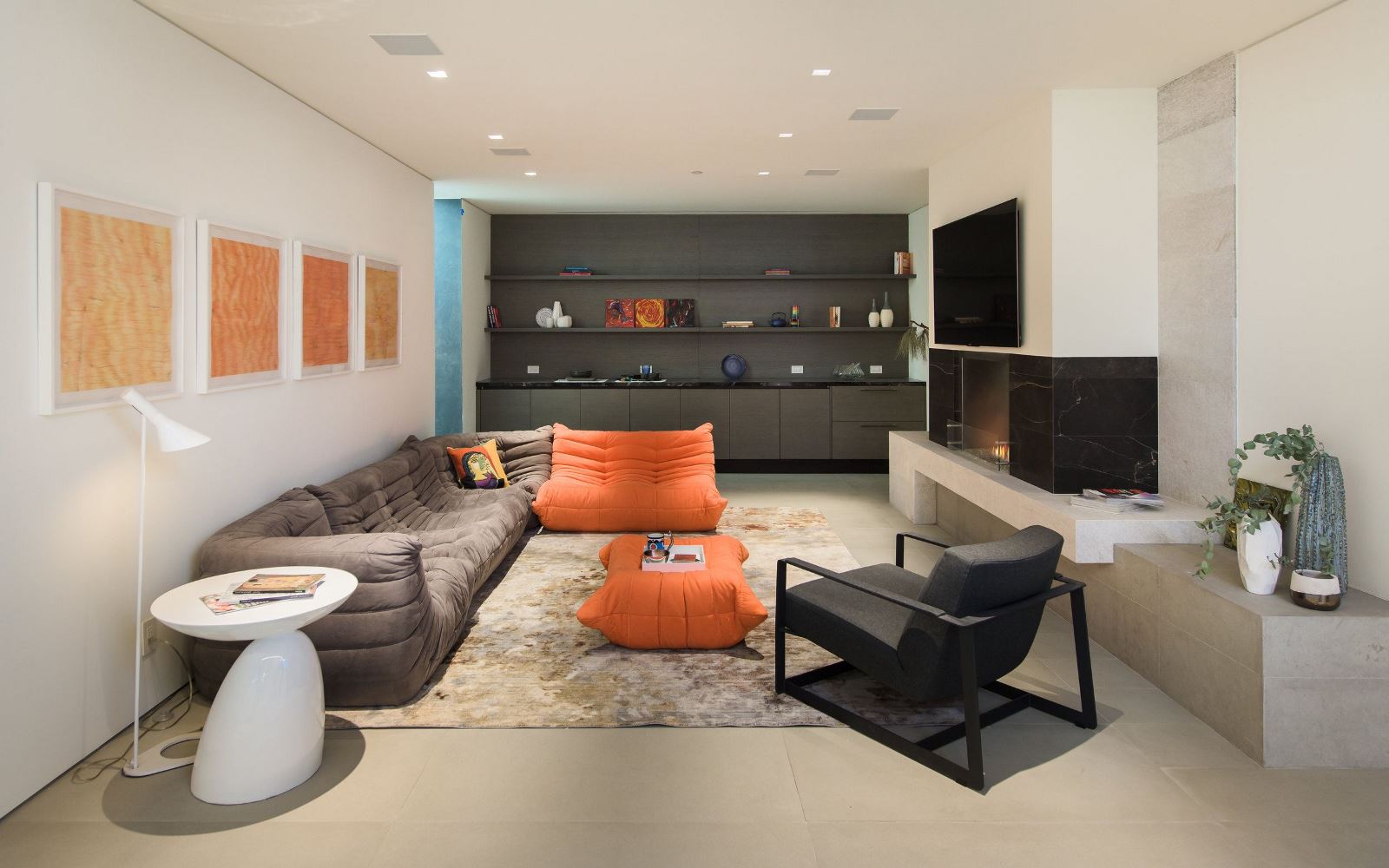 Consider a floating media center if you want to free up floor space, avoid using a large, bulky media box, and create something striking. Install floating shelves above and below the television after mounting it to the wall. Perfect Marcheeta Place Modern Home in Los Angeles by Frank Gehry
15. Utilize Minimalism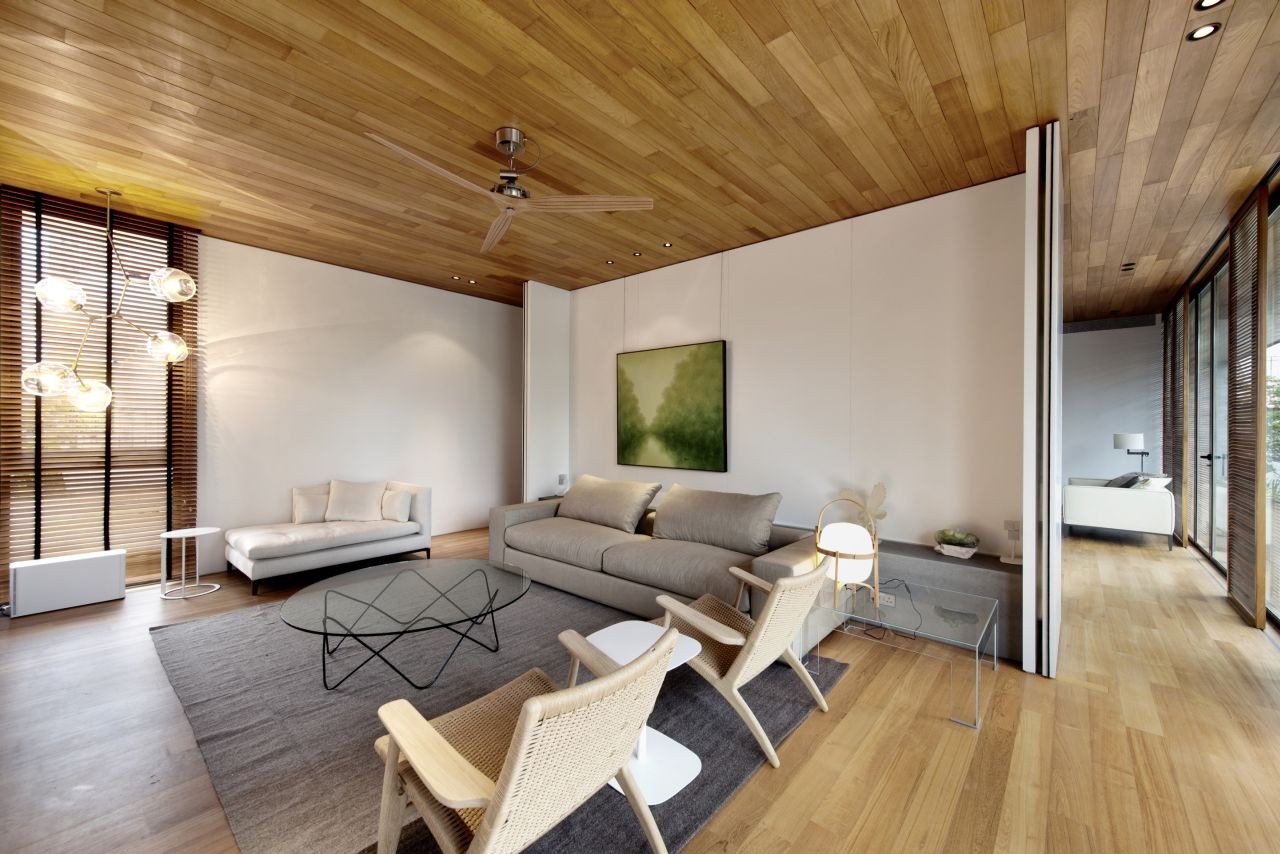 The better, the less furniture. To avoid needing to fill the space with a lot of furniture, use multipurpose pieces. Try to be inventive and mix & match. The Wall House in Singapore by FARM
16. Add Layers Of Lighting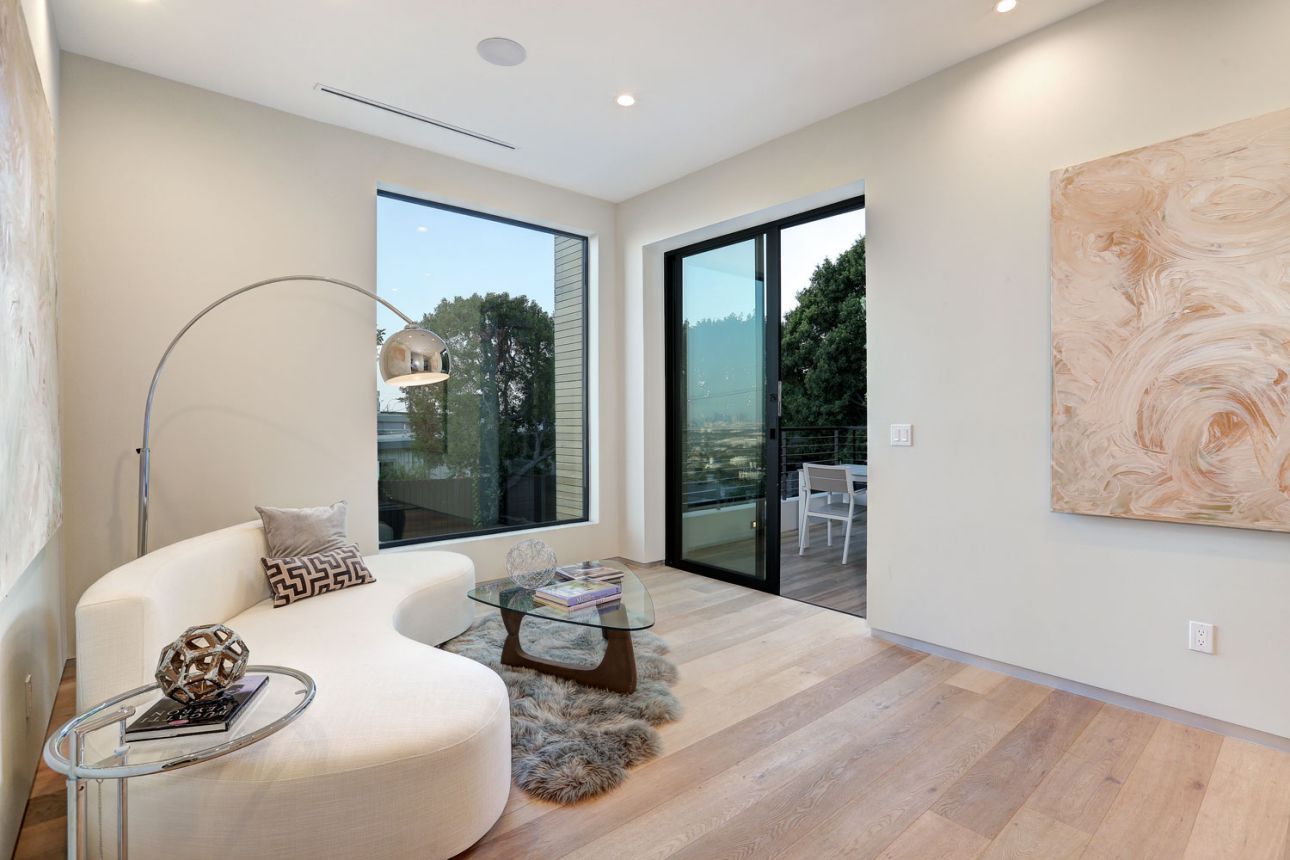 Layering the heights of your lighting is essential, so make sure you have wall lights, lots of lamplights, and overhead pendant lights with a dimmable control. Select window coverings that can both provide pools of light for the environment and direct light for purposes like reading. Wall lights that cast gentle upward and downward slants of light will help give the impression that the room is taller.  Sleek Hollywood Boulevard Residence in Los Angeles
17. A Small Living Room Can Be Extended By Nature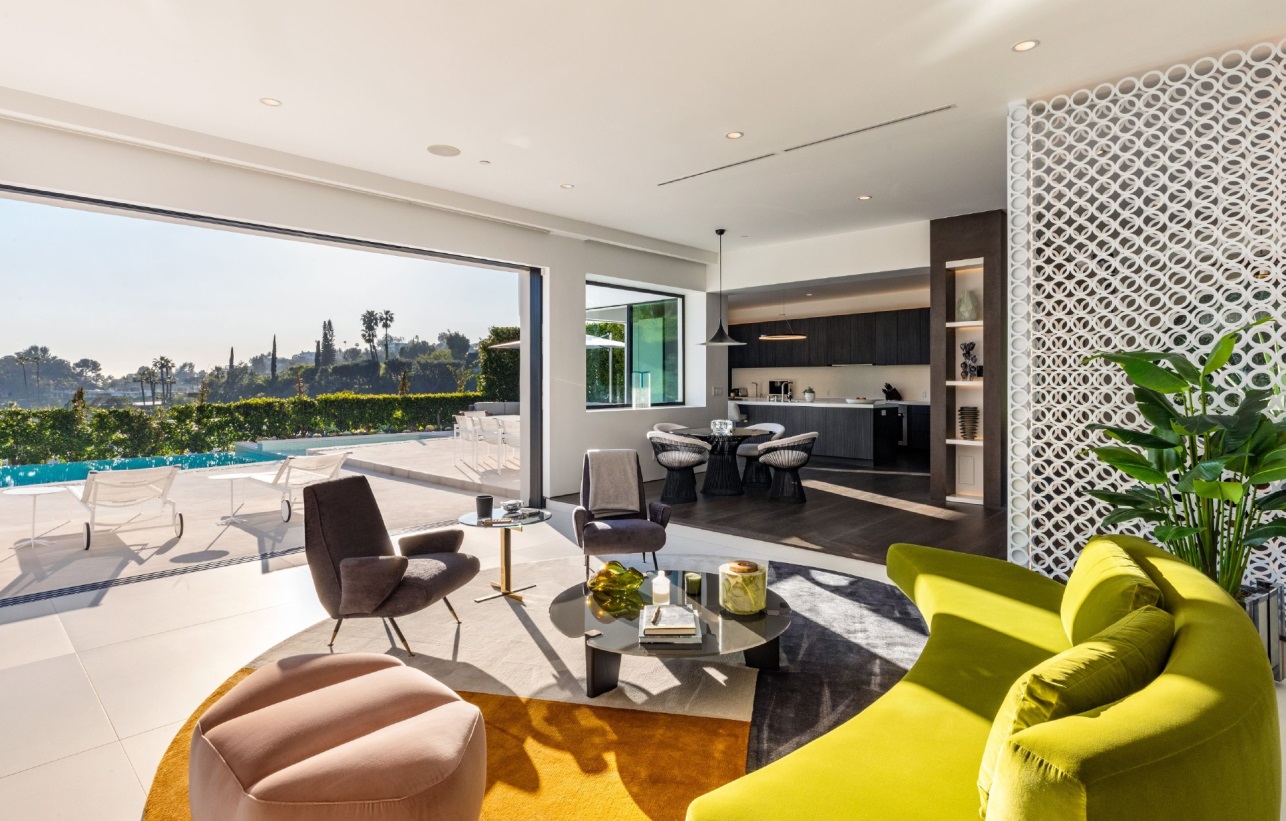 For a springlike vibe, we can choose floral textiles with green and a stark white background. A soft white wall contrasts with the emerald velvet green couch and pillows, so we can add green accents that are drawn from the artwork to help tie this exquisite scheme together. Sleek North Crescent Heights Home in Los Angeles
In order to help you renovate your house like an expert, here is our collection of 17 original ideas for small living rooms. As long as you have a strategy in place and have things organized, you can actually do a lot in the space that you have. Keep in mind that keeping things simple is the key to creating a living space that is warm and inviting. For more amazing ideas, you may look at the post 40 Adorable Living Room Ideas Minimalist For A Stunning Home.
More Ideas For Living Room:
---
Thousand of high quality images of Living room and more you can see at Livingroom Gallery.