Date of Publishing:
Brilliant Living Room Ideas With Fireplace
The center of the living room is the fireplace, where friends and family naturally congregate for an evening of entertainment or relaxation. The fireplace beckons us in with its cozy warmth and light. Finding the ideal addition to your space can transform the room from one of function into one full of ambiance and conviviality. When it comes to living room ideas fireplace, it becomes more than just another design element but also a major focal point.
1. Using Marble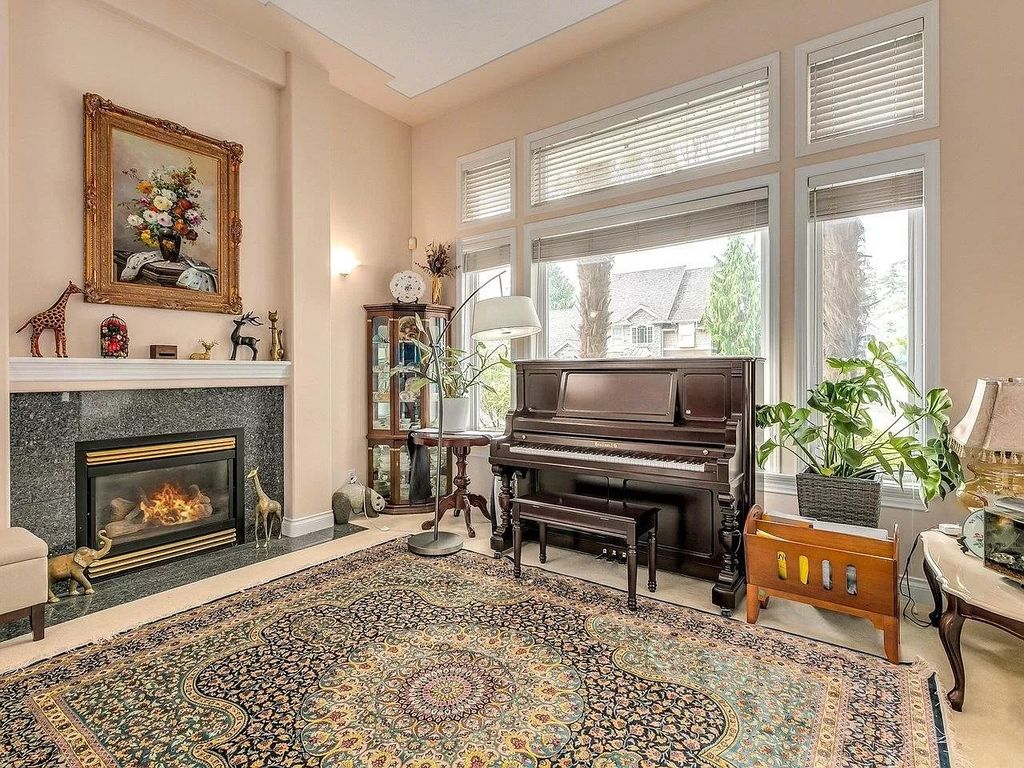 Marble is a simple way to add elegance to a living room. With a fireplace is the perfect spot to showcase it. When one observes the substantial marble stone enclosing the smaller fireplace between two adjacent rooms. It is easy to comprehend why marble is such a prevalent element in home design. It creates a chic, contemporary atmosphere in the room. Resort-Like Executive Home in Surrey with Endless Entertainment Spaces Asks for C$3,499,000
2. Rugged Stone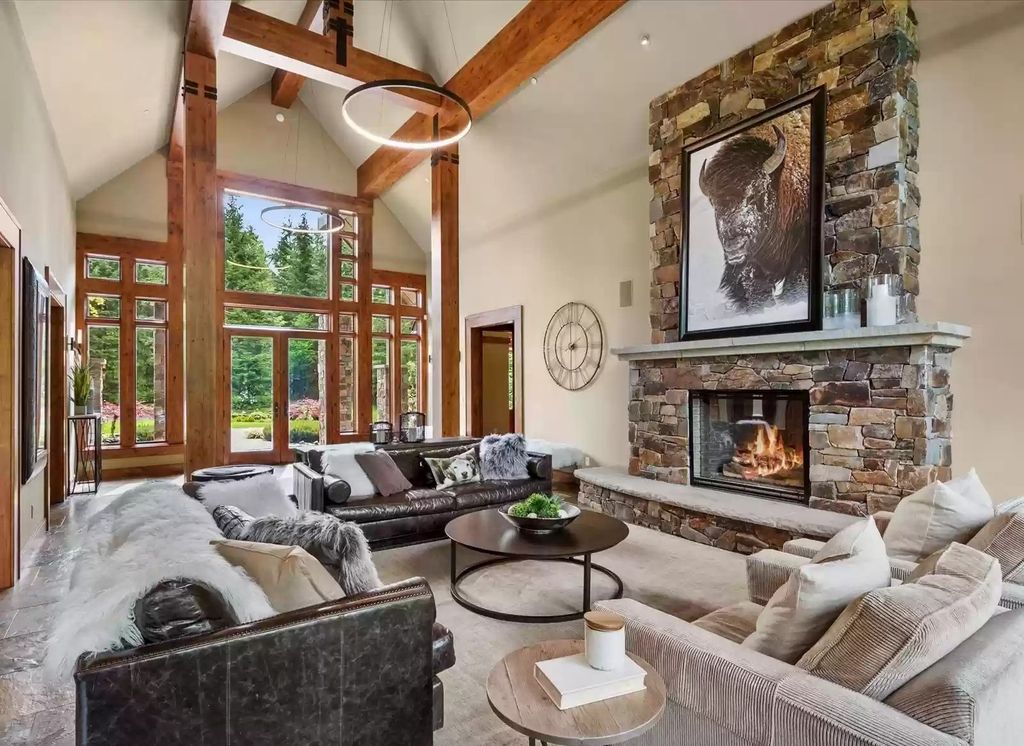 There are other fantastic options for living room ideas fireplace, as evidenced by the rough stone version in this location. A blazing fire makes it simple to persuade the company to congregate there. It feels leisurely and natural due to the uneven beauty produced by the various sizes and shapes of the stones. This $4,250,000 Irreplaceable Jewel Offers Uncompromising Quality and Ultimate Serenity in Washington
3. Textured Fireplace With Floating Wood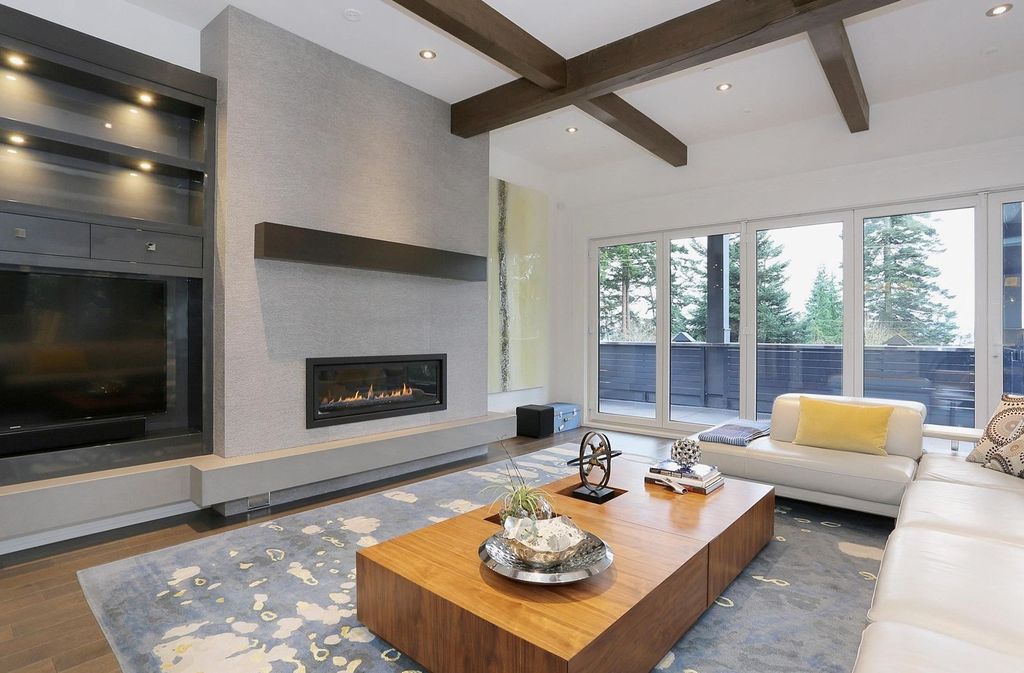 The texture has a big impact on how your fireplace is made. No matter if you choose to make it look like stone or tile. In order to achieve balance and the appearance of three dimensions, the one in this living room employs materials that are unevenly overlapping. Magnificent Estate in White Rock with Sensational Ocean Views Lists for C$7,980,000
4. Subtle And Minimalist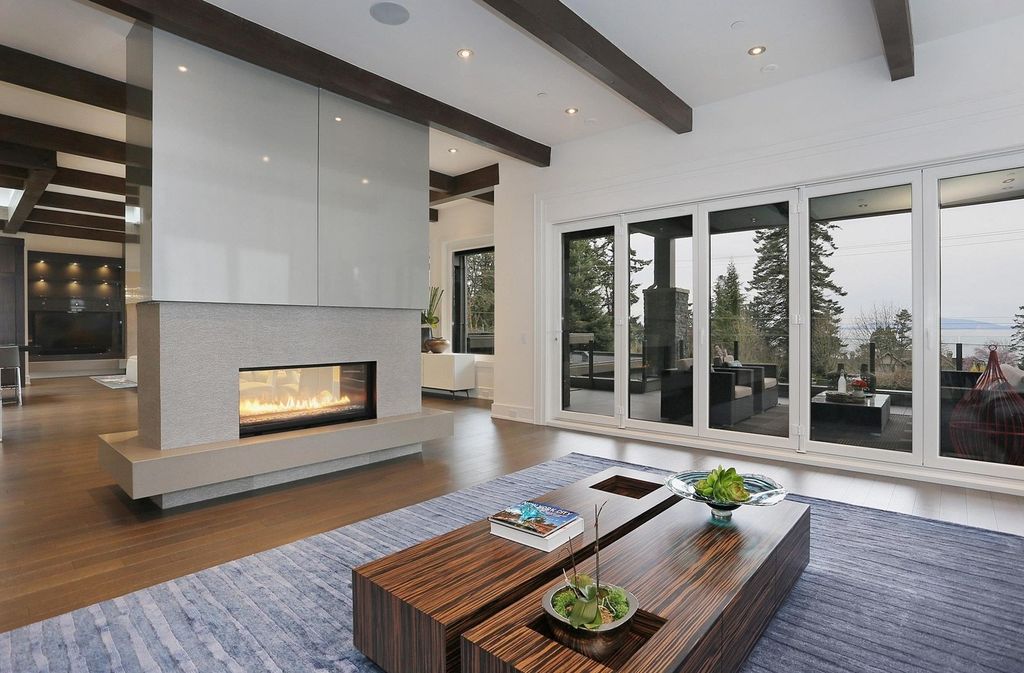 By choosing gentle colors and mellow tones, you can help create the relaxing atmosphere you typically associate with gathering around a fireplace. This gray tile with marbleized patterns appears calm due to the black and white ceiling above. Magnificent Estate in White Rock with Sensational Ocean Views Lists for C$7,980,000
5. Magic Tricks With Mirrors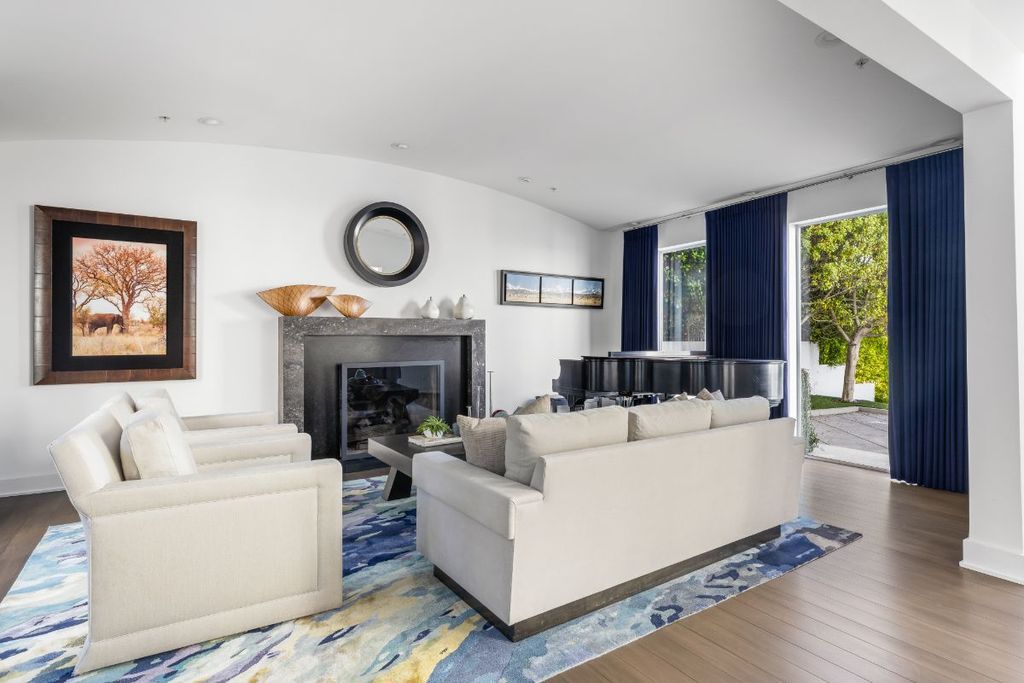 A stunning mirror might occasionally be all you need to make a stylish statement. It is possible to hang a lovely ornamental mirror over the fireplace without using up the entire mantel. This chic, modern look of the French salon is inescapable.  A Beverly Hills Contemporary Home with Complete Privacy in Mulholland Estates Asking for $9,995,000
6. Traditional Living Room With Fireplace And Television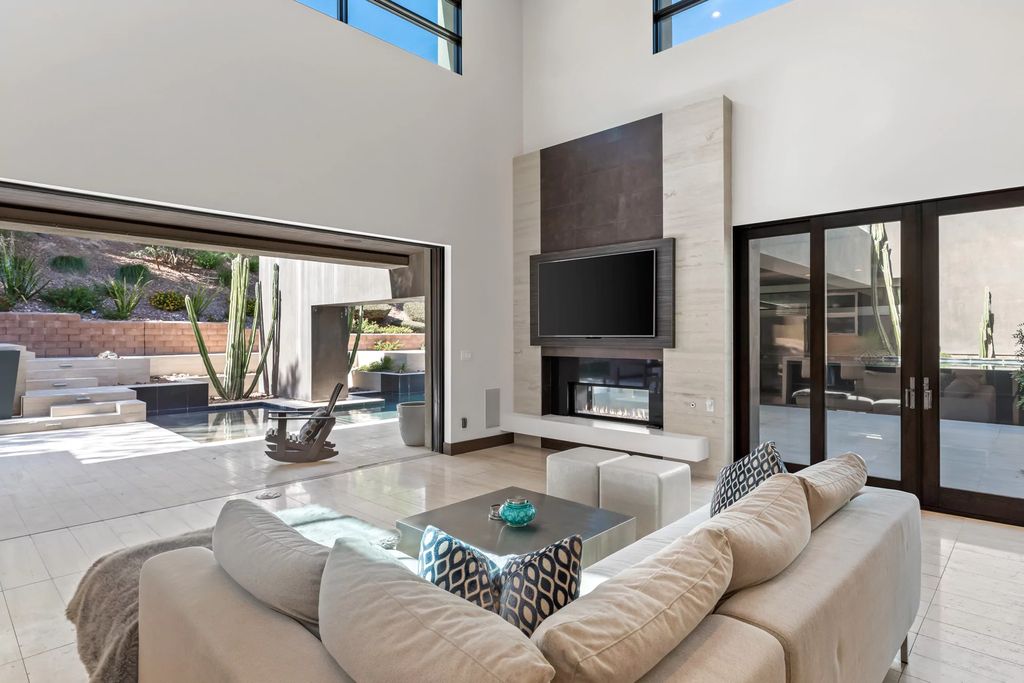 The fact that a fireplace and a television typically become the focal points of living rooms makes it challenging to make them function together. In this living room, the television is above and the fireplace is below. The TV appears to be the perfect complement thanks to the neutral color scheme and dark wood accents.  This $5,750,000 Blue Heron Home in Las Vegas showcases the Pinnacle of Luxurious Desert Living
7. Display Art Near Your Fireplace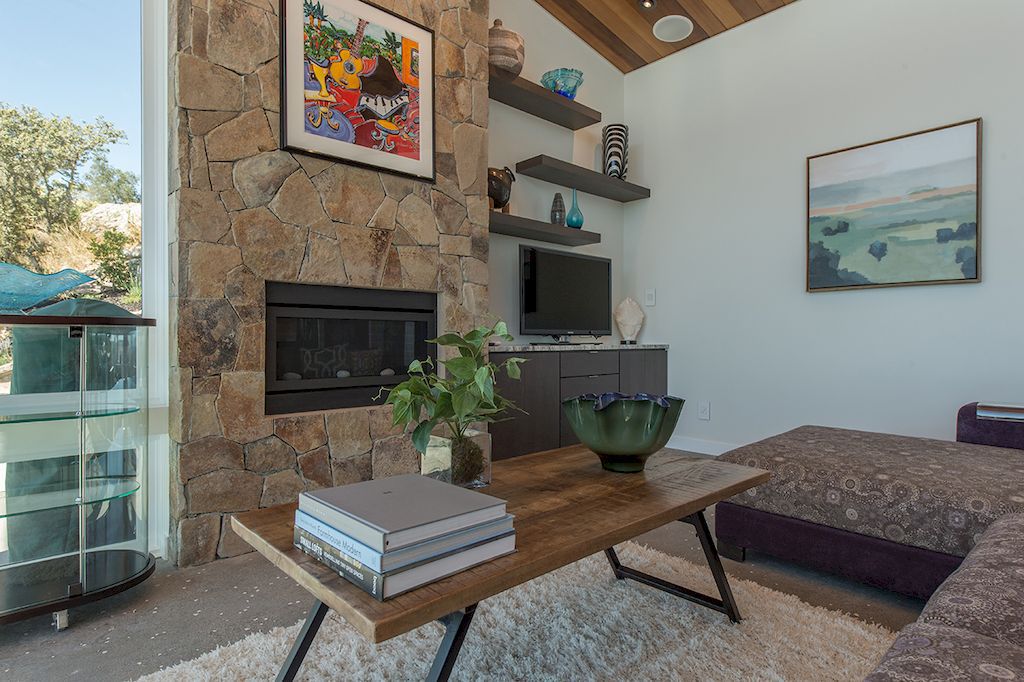 Although a modern home has wonderful straight walls and clean lines, it frequently lacks the personality of a more ancient building. On this crimson, antique wall, you can hang a dramatic photo collage. The artwork frames the log burner well and gives the view from the armchairs a really intriguing feel. Sonoma Valley Guest House Overlook Beautiful Nature by Coates Design
8. Consider Alternatives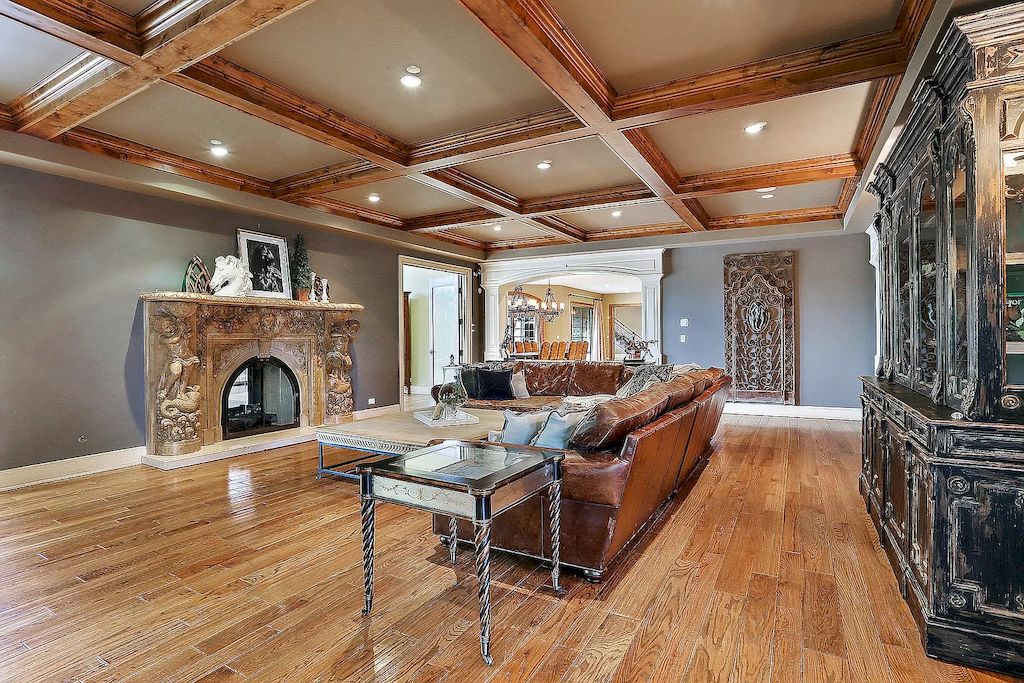 You don't need to waste the space even though your fireplace is small and inoperable. The apartment has decided to install a mirror in place of the fireplace. However, for a more rustic look, we could also hang decorations like plants, artwork, and small objects like a striking stack of birch logs.  This $3,750,000 Glamour and Inspiring Masterpiece in Illinois Masterfully Designed for Luxury Living Space and Utmost Entertaining Space
9. Play Around With Neutrals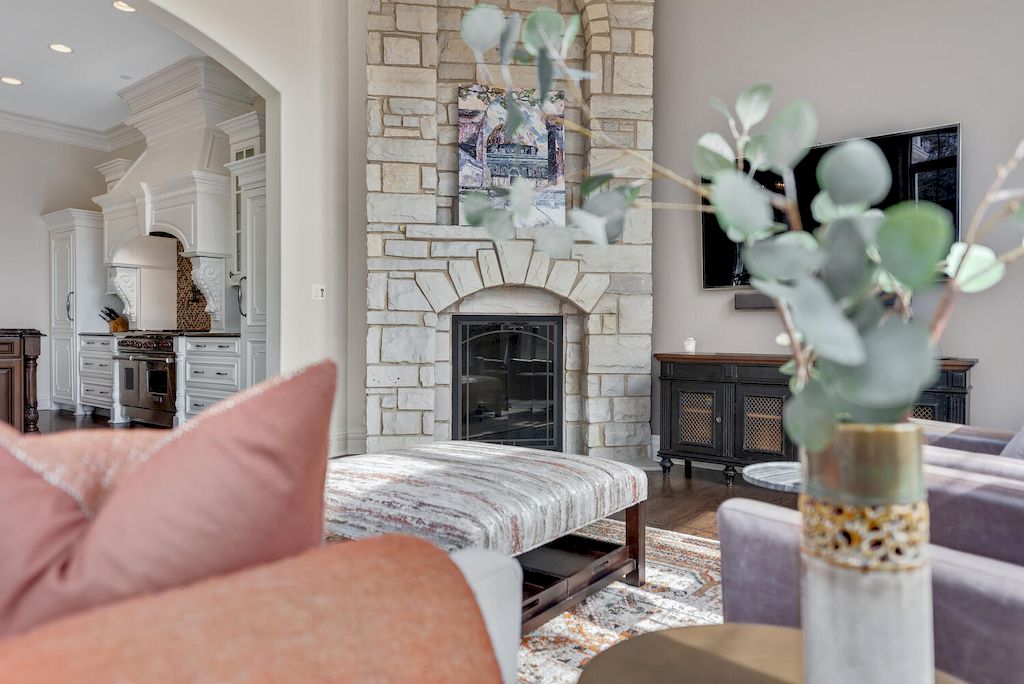 The ability to decorate a neutral living room that nevertheless feels comfortable shows mastery of the space. We adore the way the artwork was piled on top of the fireplace mantel and how the many neutral color tones were used to create a tonal display. This $3,375,000 Exceptional Residence in Illinois Features Perfect Interior and Construction Quality
10. The Farmhouse Look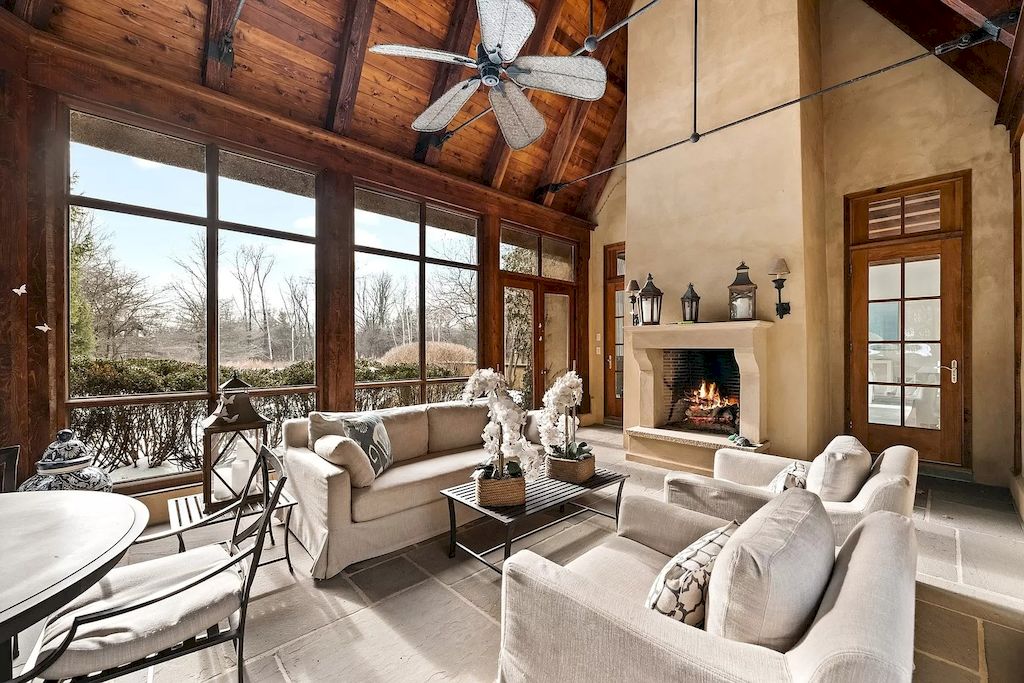 With a stone fireplace surrounding, a living room might have a little bit of a farmhouse feel. You don't have to go all out with a massive stone fireplace and hearth to achieve the whole effect, as this room, courtesy, shows. Stone is used in this fireplace's design to give it a cozy and welcoming farmhouse feel. This $5,700,000 Private Estate in Illinois Defines Phenomenal Architecture Design with Outstanding Craftsmanship
11. Chose A Low Fireplace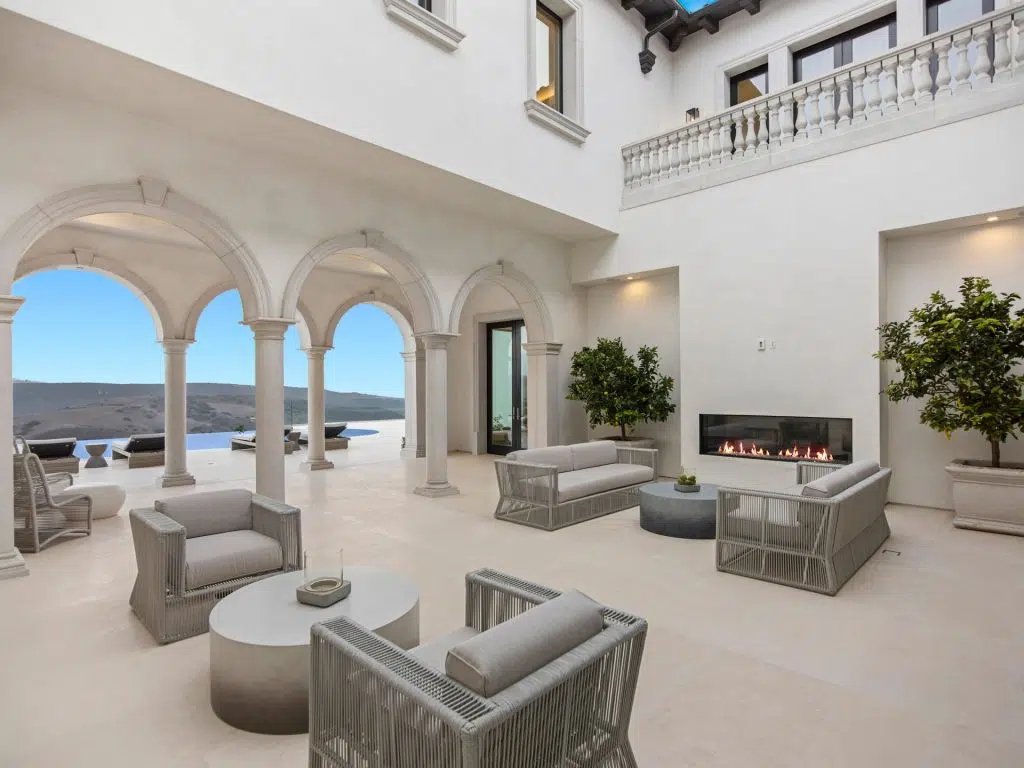 To finish and enhance a modern design in your home, consider a linear approach to your fireplace. The space's use of clean, horizontal lines will complement and blend in with the overall design. By being placed next to a modernist painting or, if in a more family-oriented living space, beneath it, this understated design can still take center stage. A Brand New Masterfully Designed Hilltop Villa in Newport Coast hits The Market for $35,000,000
12. Black And White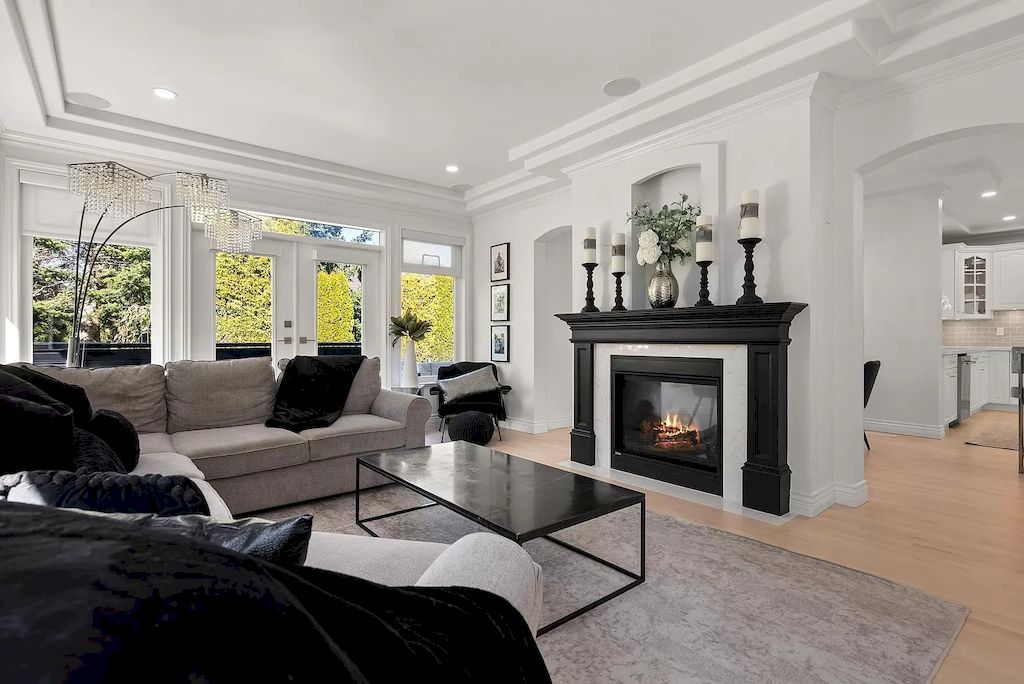 The traditional color combination of black and white is suitable for use in any space. This living room acknowledges this by maintaining a largely white background and incorporating minor amounts of neutral in the surrounding space. In particular, the fireplace offers a dramatic contrast between the black mantle and the white shiplap wall behind it. Beautifully Updated Executive Home in Surrey with Stunning Back Yard Asks for C$3,298,000
13. A Small But Perfectly Formed Thing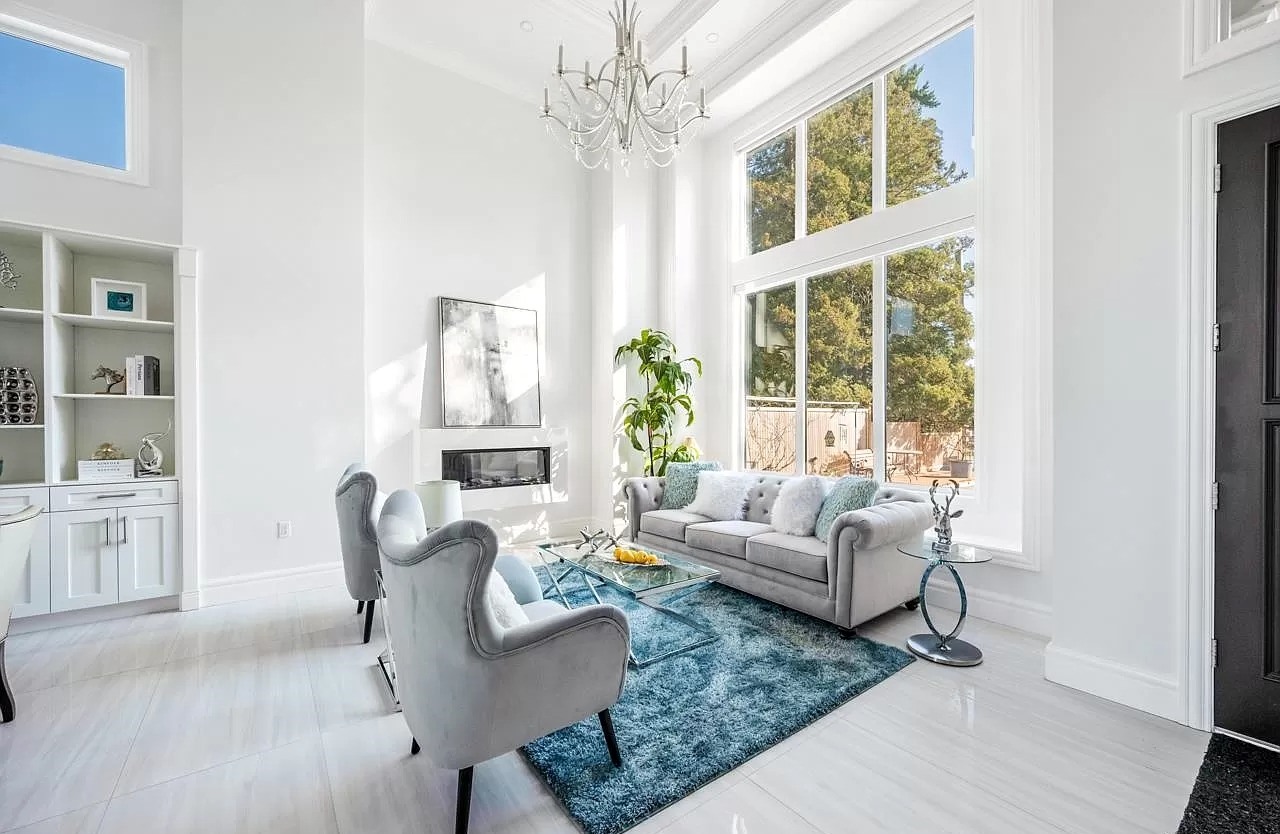 Fireplaces don't always have to be elaborately decorated affairs with marble and fine details; they can also be straightforward and genuine. This charming fireplace is still spacious enough to fit this compact log burner, which will keep you warm and cozy. Perfect for beautifying living rooms of all sizes.  This C$3,200,000 Custom House in Richmond Offers the Ideal Layout for Entertaining and Gathering with Family
14. Classic Brick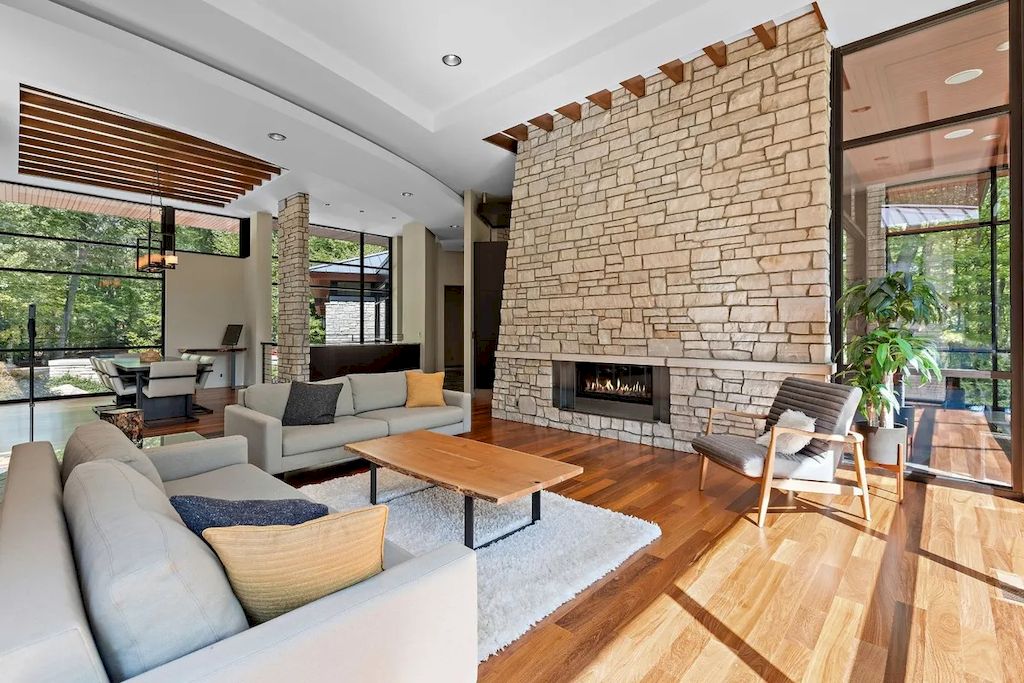 Nothing compares to a traditional brick fireplace, in all honesty. Farmhouse, industrial, and even futuristic designs may all incorporate a rustic vibe. The home's fireplace sticks out sharply and was specially built to accommodate the roof's inclination. As a consequence, a timeless and welcoming setting is created. Make this Peaceful, Private and Relaxing Oasis Yours in Michigan at the Cost of $3,099,000
15. Englarge Your Frame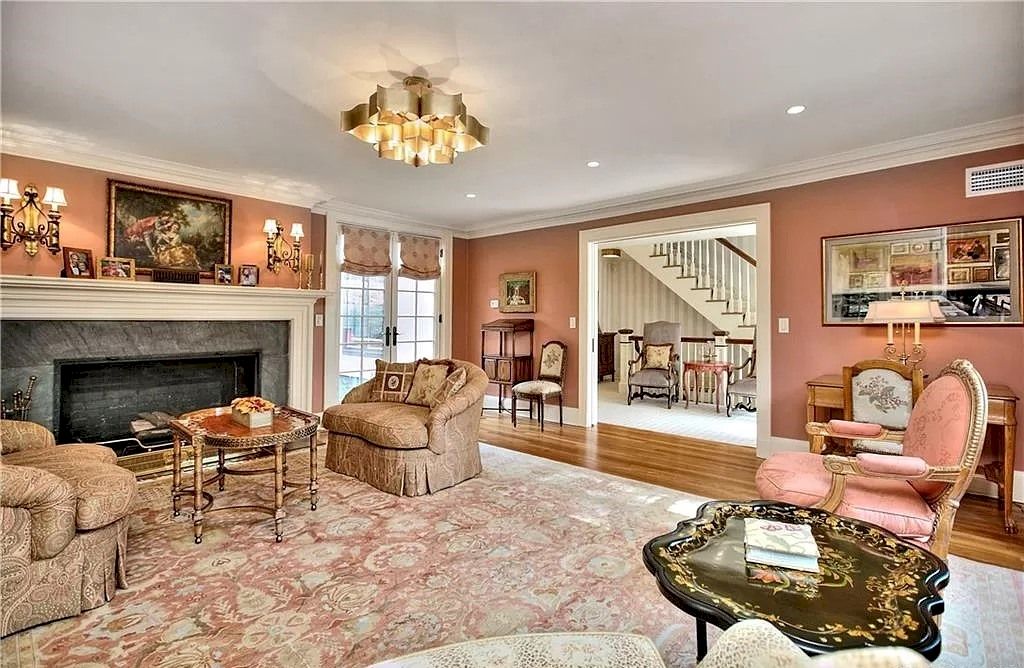 Give your fireplace the proper framing so that everyone can see it. Although the fireplace surround may appear to be the only thing necessary to frame a fireplace, the insert may provide that extra touch of drama and elevate the overall design. Select an inner insert that complements the surround effectively, such as this dramatic, black inset that draws attention to the marble's deepest veins. This $2,995,000 Magnificent Home in Connecticut Embodies the Romantic Beauty of an English Country Manor
16. Bold And Striking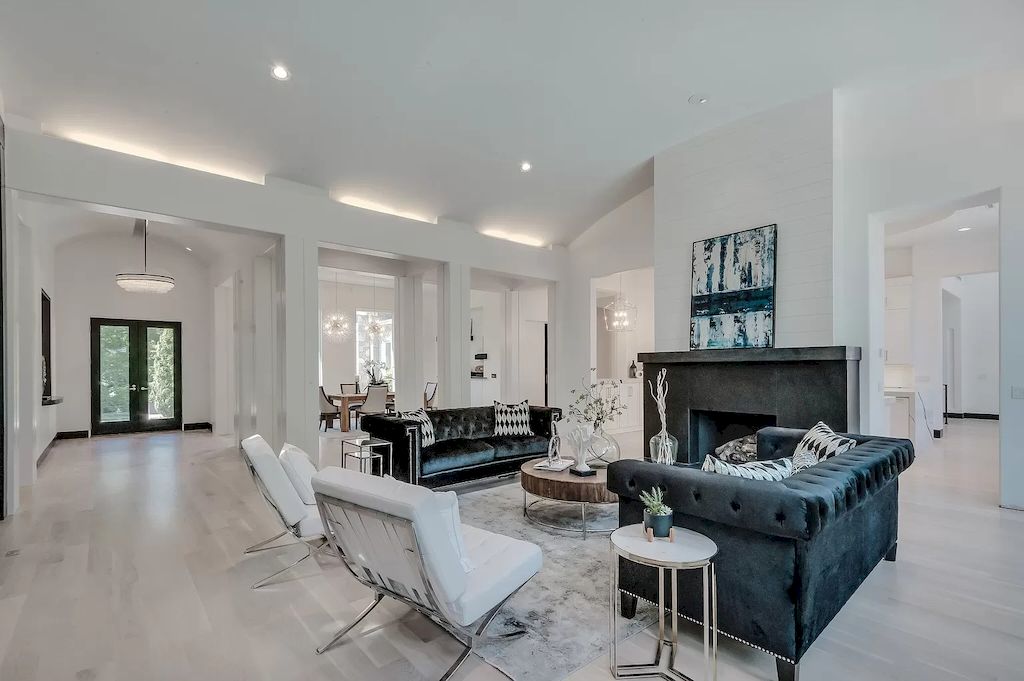 It only makes sense to have fun with fireplaces as they are frequently the center of attention in living spaces. A modern black mantle was used with this bold fireplace Interior to create a playful and creative design. It is both a work of art in and of itself and enhances the other artwork. Truly One-of-a-kind Property in Tennessee on Market for $4,750,000
Fireplaces are a ton of fun and a gorgeous, practical addition to any home. Depending on your personal aesthetic preferences, there are numerous types and numerous ways to decorate them. However, you should approach decorating around your fireplace is a fantastic way if you follow these guiding principles. You can design a space that both incorporates the fireplace and plays off of its aesthetics to create interest and vibrancy as long as you can achieve the balance of scale, color, texture, and orientation. Check out 12 Yellow and Grey Living Room Ideas – How to apply this unique combo for even more incredible suggestions for your living room.
More Ideas For Living Room:
---
Thousand of high-quality images of Living rooms and more you can see at Livingroom Gallery.