Creative With Living Room Ideas Contemporary
When you quickly search, there are plenty of living room ideas contemporary available. But with so many options and variations on what is considered "contemporary," browsing might be a little daunting. To help you become inspired, we decided to compile all of our favorite contemporary living room ideas in one location. Although some of the frills and fuss of conventional living room designs may be missing from modern living room ideas, that doesn't mean they can't still be cozy and welcoming, as these spaces show.
1. Combine A Variety Of Materials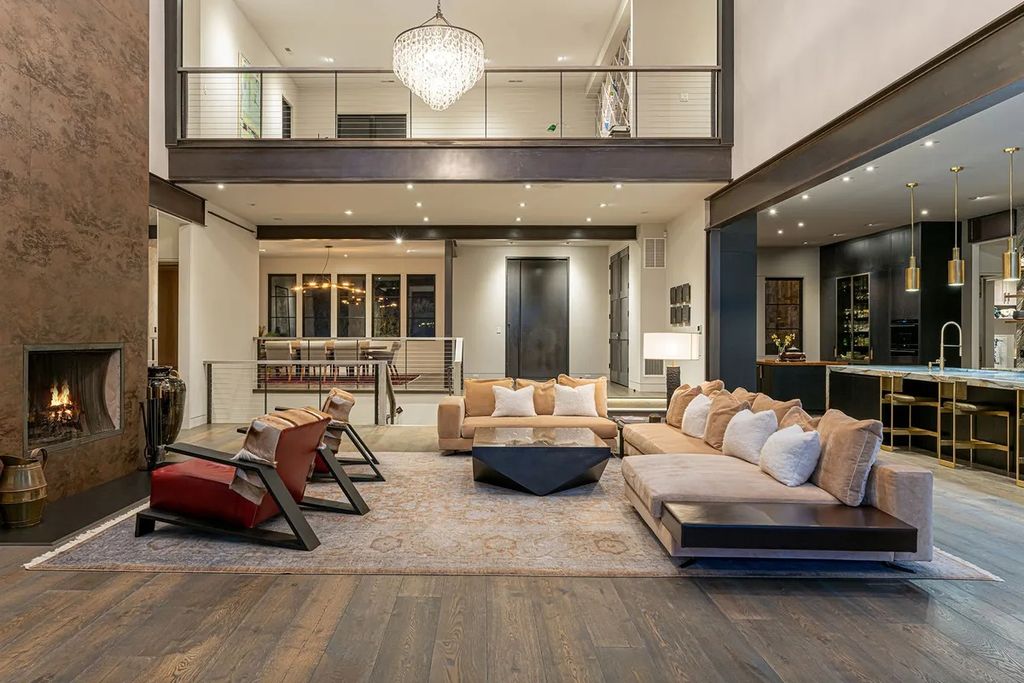 Don't be hesitant to display any material combination in your living room, whether it be fabric and acrylic, marble and wood, or anything else you can think of. In this illustration, several materials, like velvet, wood, metal, and lots of space, are blended. Discretely Sited with Coveted Mountain Views, This Grand Manor in Fairview Asks for $7,950,000.
2. Concentrate On Cream And Wood Tone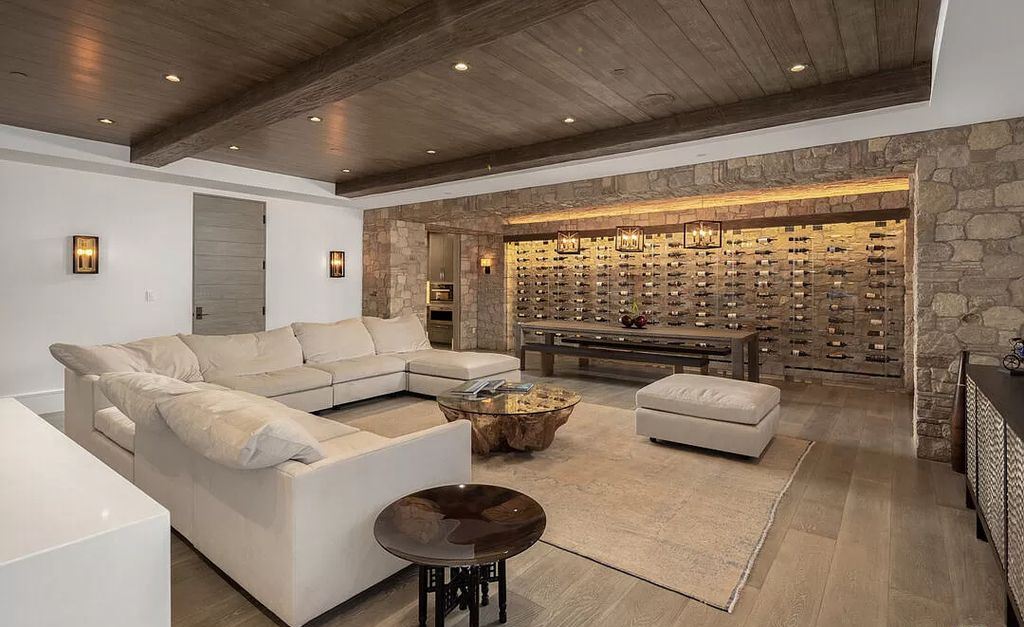 In this contemporary living area, cream accents and natural wood tones are everywhere. This color scheme hits the ideal balance between fresh and warm when combined with angular furniture and clean lines. The big sofa also makes the room feel open and welcoming. Come to The Market at $62,000,000! This Unique Property in Newport Coast showcases The Highest Level of Ultra Luxury Coastal Living.
3. Choose Natural Lighting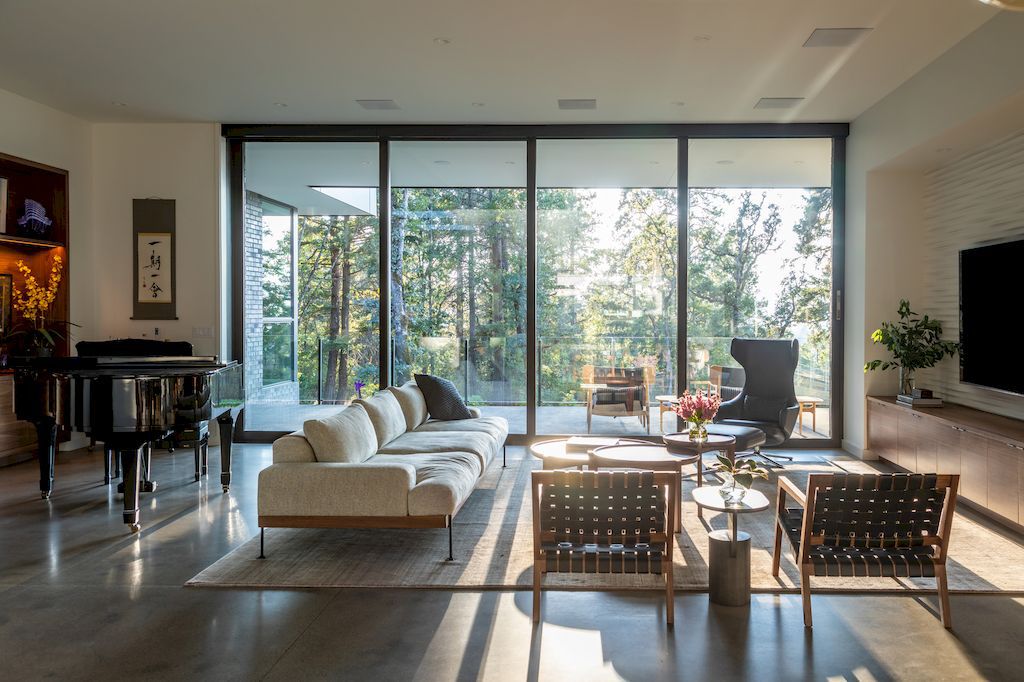 The ultimate luxury in modern design may be abundant natural light. So let the window coverings and curtains open. Replace your heavy drapes with lighter or sheer ones if they're too dark. Hood River East House in Oregon, US by EB Architecture + Design
4. Pick White Walls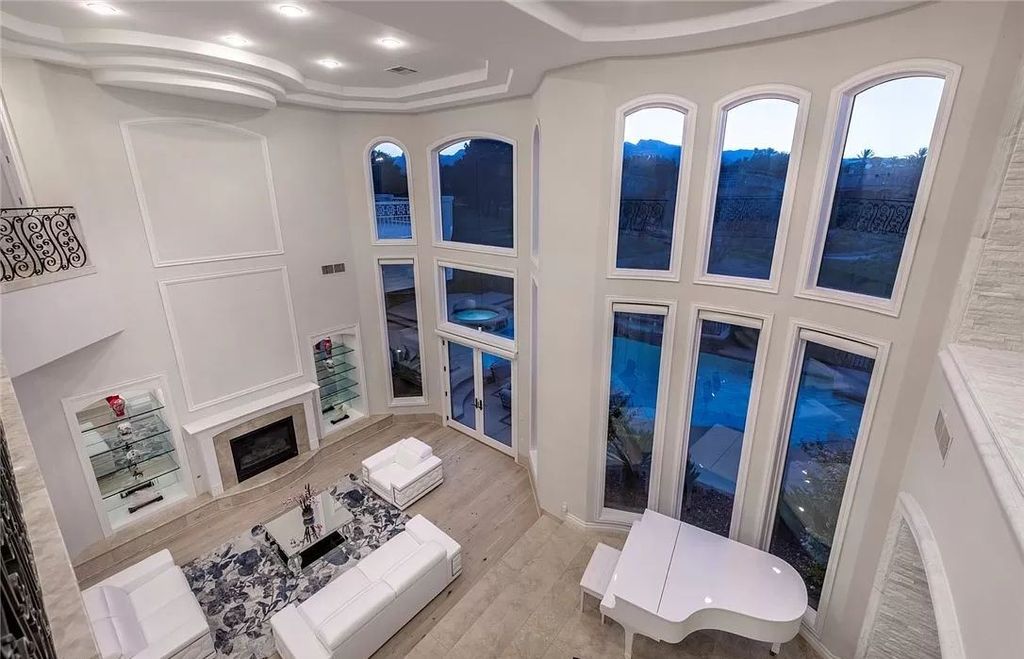 White walls, make furniture in a modern living room stand out. Here, an abstract rug gives an otherwise neutral room the ideal splash of color. The aesthetic feels utterly current. This $4,900,000 Spectacular Home in Las Vegas has A Lush and Impeccably Landscaped Backyard with Incredible Mountain Views
5. Wall And Ceiling Alignment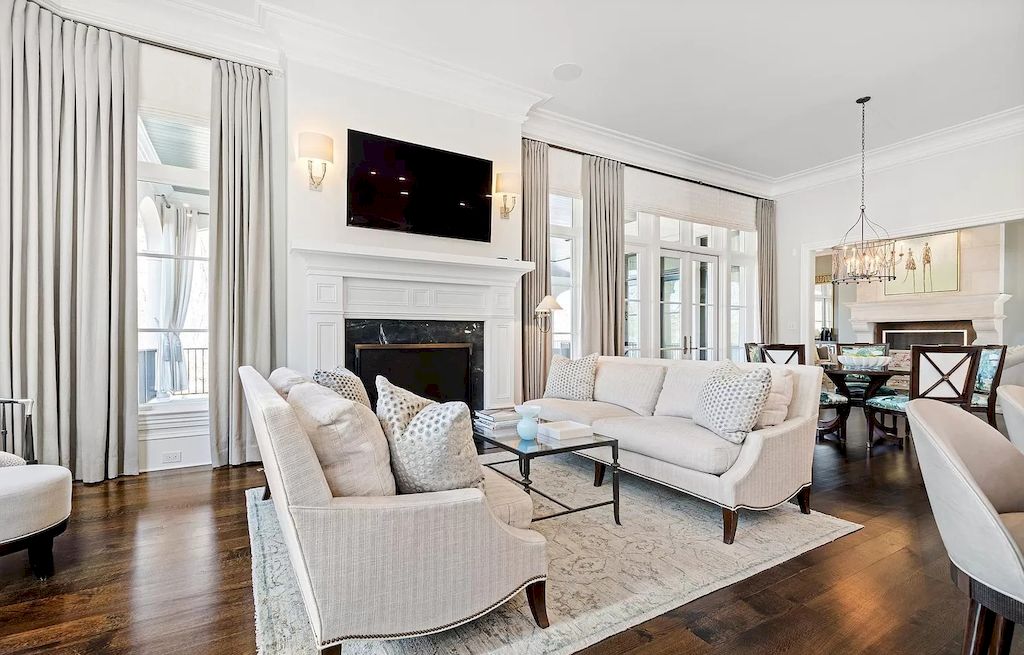 This room has a feeling of simple cleanliness because of its all-white decor, including the ceiling. The way the various materials used for the walls and the ceiling beams' matching hues interact with the room's all-white furnishings is intriguing. This One of North Carolina Finest Homes Hits Market for $9,000,000
6. Take A Maximalist Stance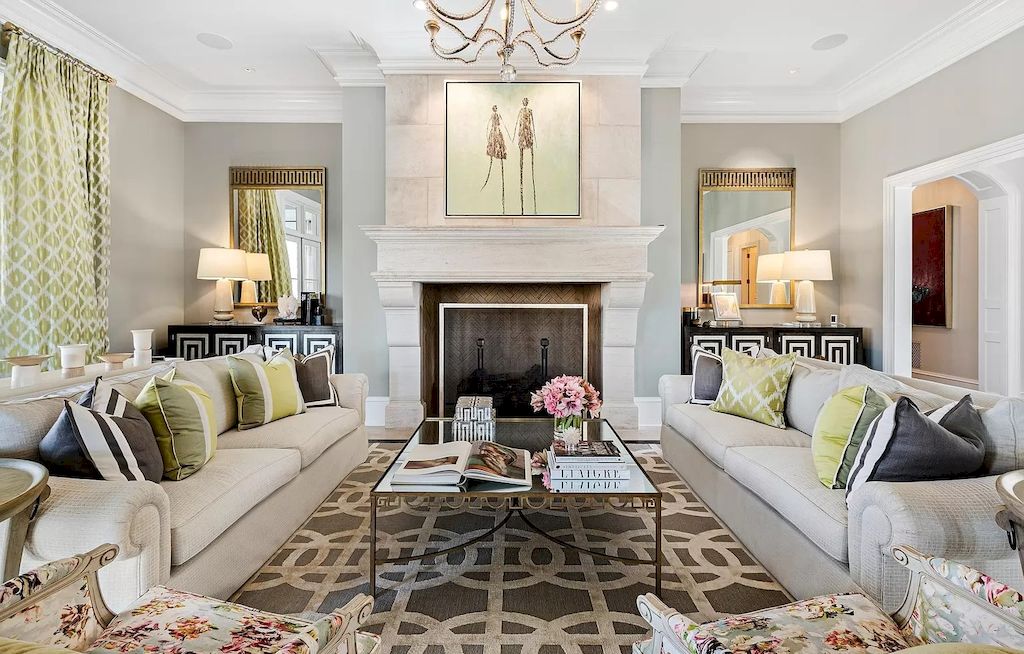 The maxim "more is more" is one of the main interior design trends of the year. Layers of interest can be created by combining color, pattern, and texture. Don't be afraid to express yourself; consider using flowery chintz, woven geometrics, bullion fringe, a traditional table lamp, and a modern floor lamp. This One of North Carolina Finest Homes Hits Market for $9,000,000
7. Balance With Plants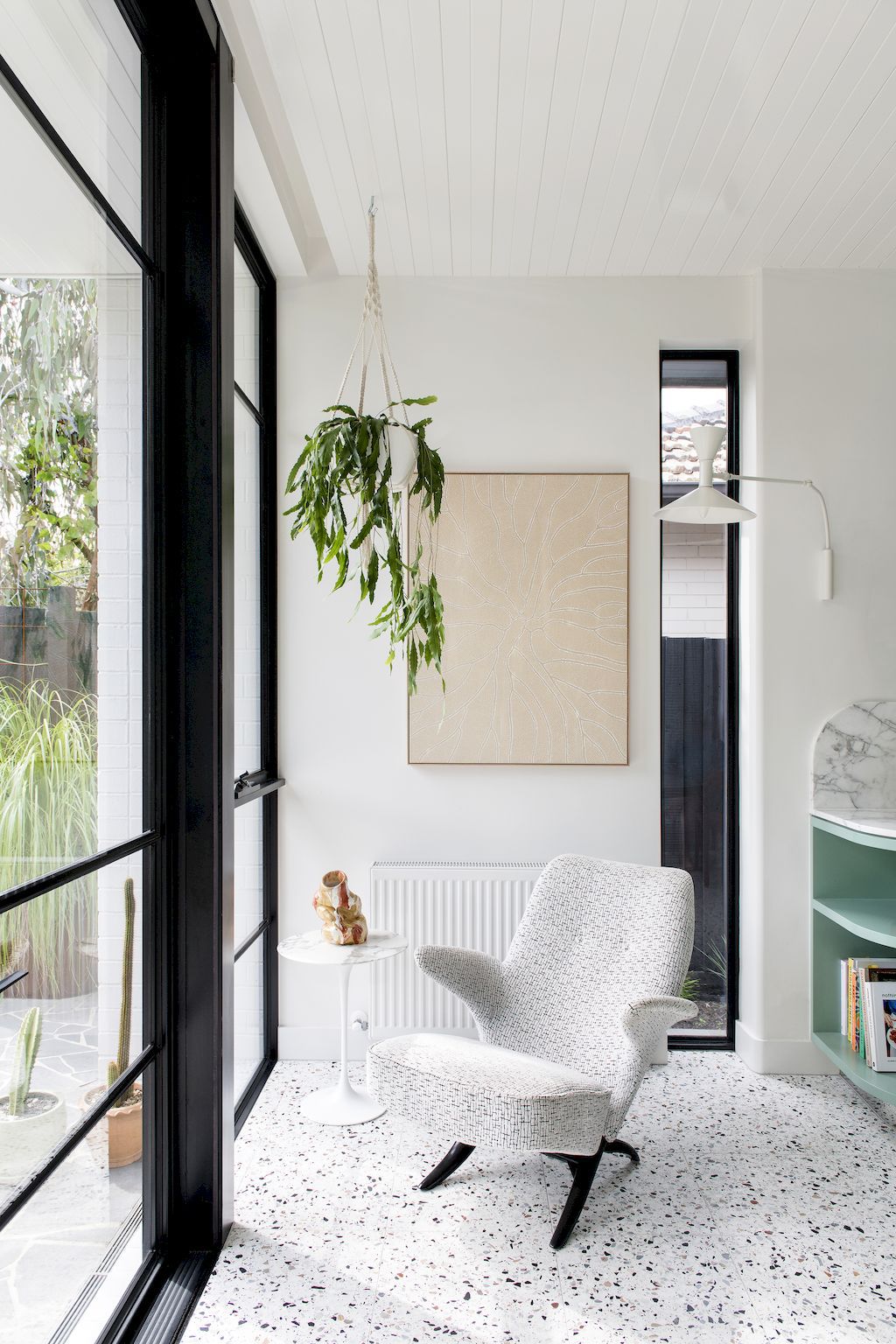 You may create a contemporary, peaceful refuge in any living space by using plants. We advise growing mollusks in unadorned pots. Balance in the area can be achieved in part by the size of the tree. Flemington house, Minty fresh addition in Australia by Lisa Breeze Architect
8. Make A Plan With A Lot Of Wooden Elements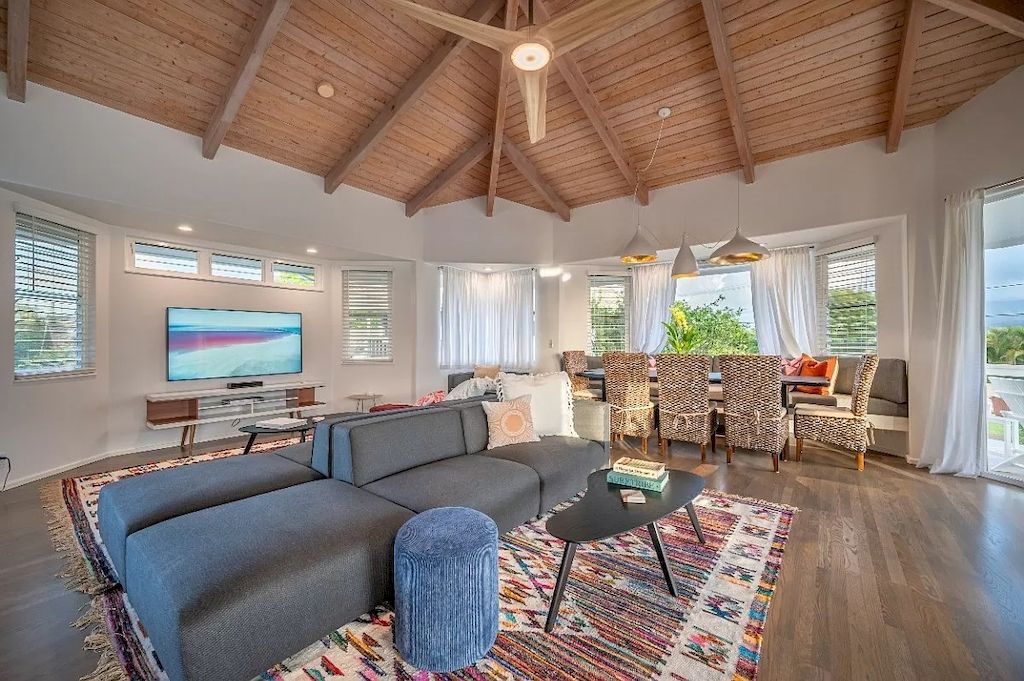 The phrase "something old, something new" isn't simply reserved for weddings. Interior designers have long practiced blending rustic and contemporary styles. Therefore, it should come as no surprise that this modern traditional living room with the off-white decor is a little Scandi and a little farmhouse, but there is no denying its trendy credentials. This $8,200,000 Special Retreat Offers All Sensational Aspects in Hawaii
9. Pick Clean Lines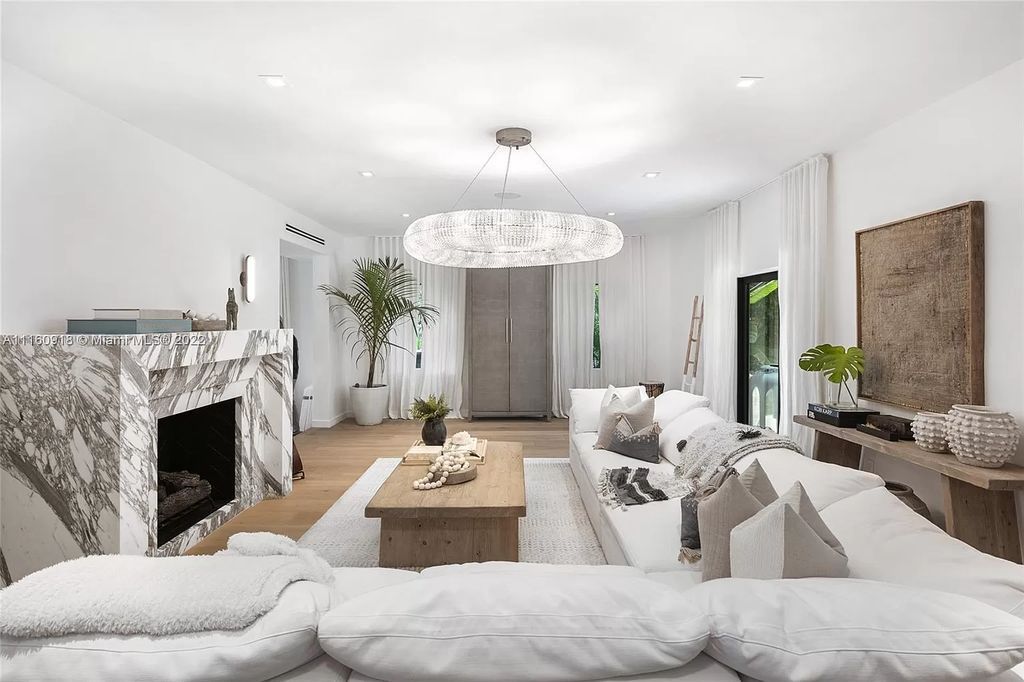 Nothing overly ornate or decorative, but simply neat and well-fitted. The description certainly applies to this room. An atmosphere with only straight lines and raised furniture is wholly contemporary. Additionally, the distinctive overhead lighting makes a statement without cluttering or overwhelming the space. This $19,995,000 Breathtaking Transitional Spanish Villa in Miami Beach features The Highest Quality Finishes
10. Put The Color Blocking Paint Trend To The Test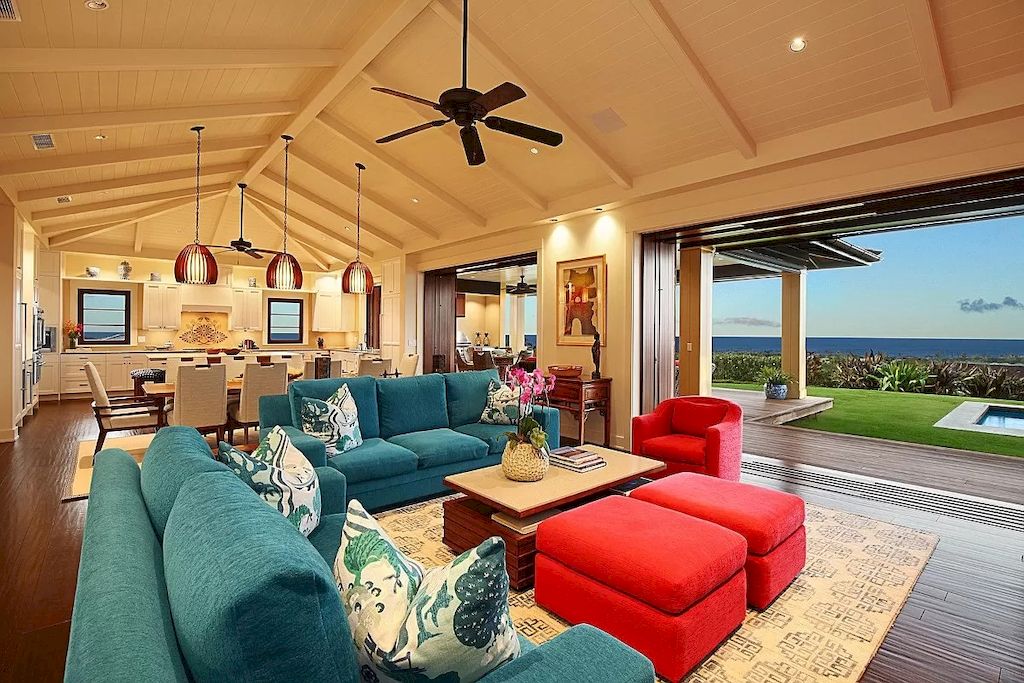 As we've hopefully shown, when designing a straightforward, contemporary lounge, you can get a little color-crazy. So why not use the newest color-blocking wall design trend? In creating this design, restraint was crucial. Despite the sofa's vibrant colors, the carpeting underneath unifies them and ties the entire design together. To get it perfect, pair one or two brights with some neutral ground colors. Exquisite Japanese-inspired Home Offers Modern Living with Elegance, Privacy and Breathtaking Island Views Listed at $10,200,000
11. Dark Colors And A Minimalist Look Are Best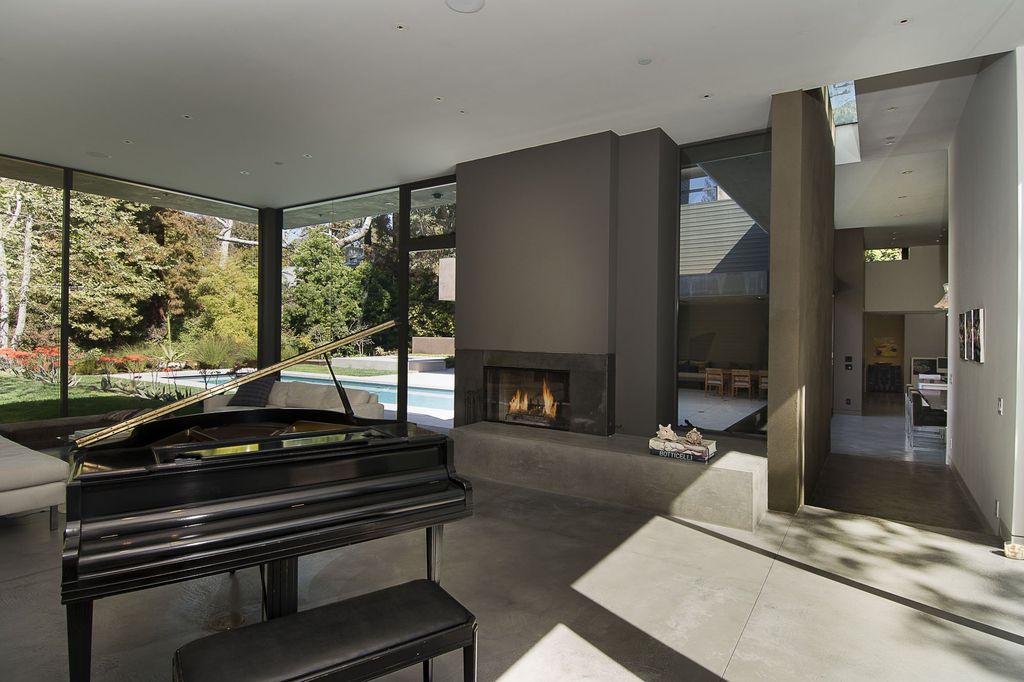 Modern living rooms can also be dark and dramatic because they're not always light and airy. Paint all four walls a very dark charcoal to create a sleek, cozy area, or go with a black living room theme for a softer look. Keep your decor in the colder tones by using greys and blues, and add some lighter woods for some contrast. Naturally, a large statement houseplant would also be nice. Peaceful Mid-country Retreat in Connecticut Hits Market for $13,500,000
12. A Tranquil Modern Living Room Appearance And Sense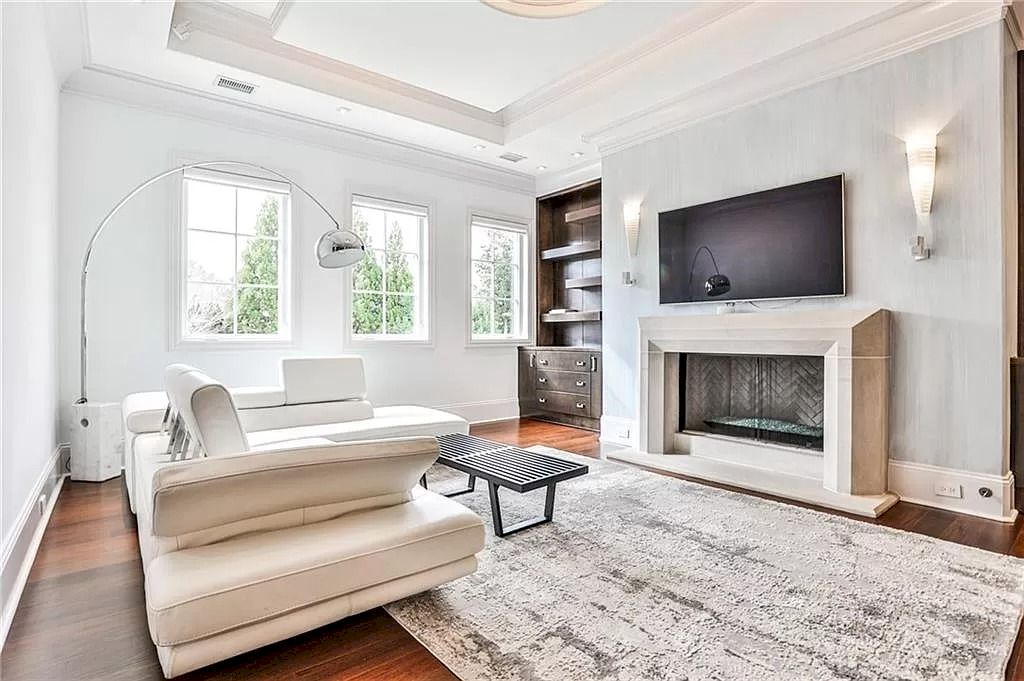 Keep the living area uncluttered and understated while also emphasizing that we enjoy relaxing and getting comfortable here. Although the clean, minimalist appearance can be incredibly pleasant for any movie night or time spent reading, modern is frequently misinterpreted for being sparse or uncomfortable. Amazing Custom Estate in Georgia Hits Market for $5,500,000
13. Wood And Leather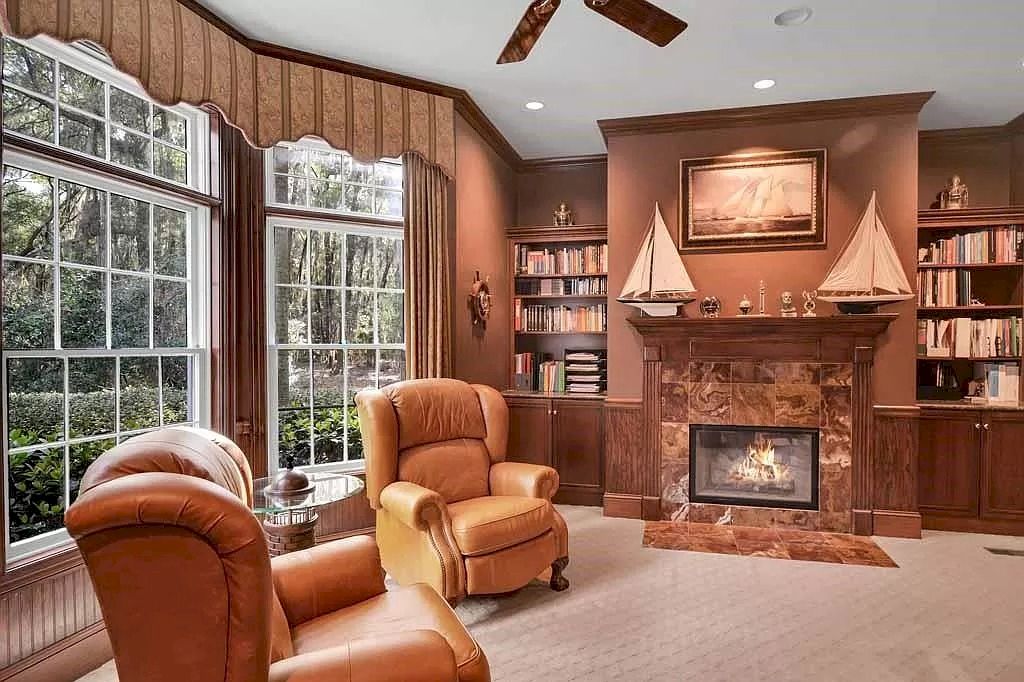 It's not necessary for modern living spaces to be sleek and simple. By incorporating warm elements like leather and wood into a contemporary area, you can create a more rustic atmosphere. To duplicate this charming style, combine leather furniture with minimal decor and soft hues. This Happy Home in Georgia Listed for $3,900,000
14. Go Moody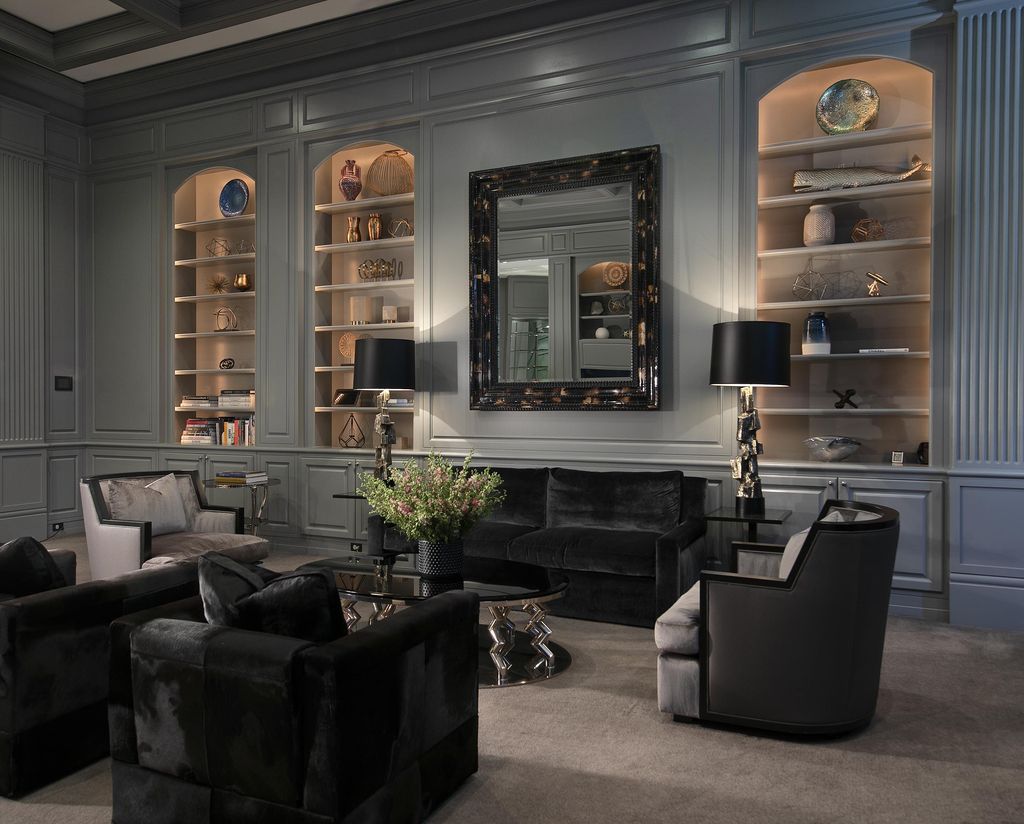 Choose a dark-toned color scheme that you'll stick with. This living room has a contemporary feel thanks to its simple lines and metal and velvet accents. $165,000,000! THE MANOR a Showplace of The Highest Caliber is Back Up for Sale
15. Use Mirrors To Bump The Light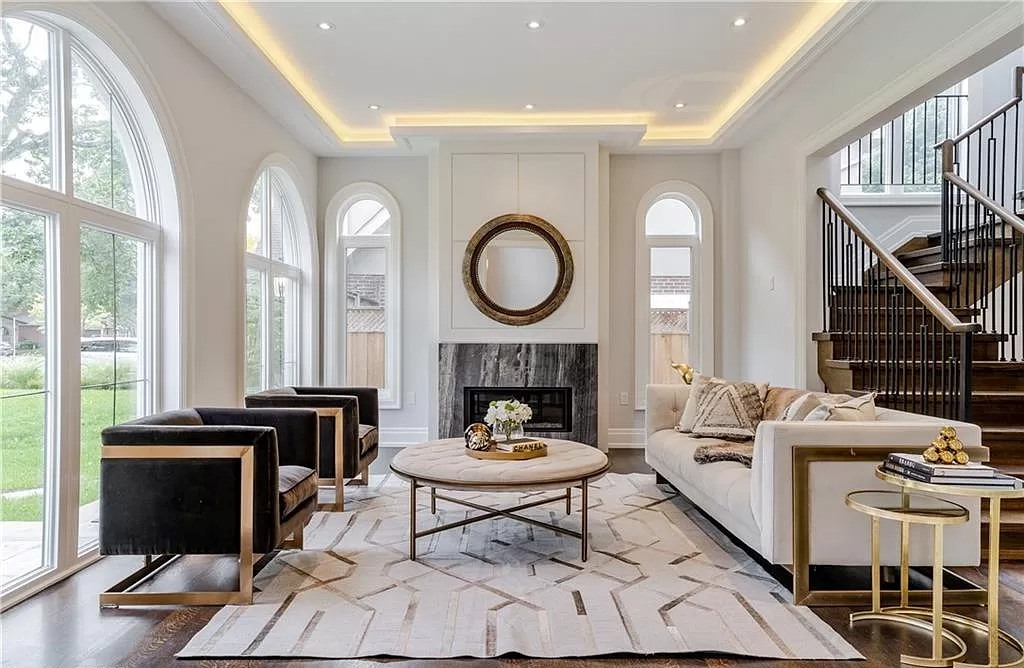 Modern compact living rooms will look and feel bigger and brighter thanks to the chicest mirror designs. The energy of a room can be opened up with the help of a round mirror. Think of it as a work of art if you want to find one for your living room. A hanging mirror across from the window will reflect more light, further expanding the space. Stunning Two Storey Custom Built House in Ontario Lists for C$5,200,000
Modern living rooms are alluring due to its simple furnishings, design, and lines. The design aesthetic is motivated by the desire to simplify and declutter domestic life. There are numerous possibilities available when it comes to living room ideas comtemporary. There are methods to make your living room look modern even if you have a little space. You can check other article 20 Teal Living Room Ideas – How To Warm Up And Create High End Space for more living room ideas.
More Ideas For Living Room:
---
Thousand of high quality images of Living room and more you can see at Livingroom Gallery.